Wondering how to plan a trip without all the headaches? Yeah, travel planning can be quite the doozy.
It's time-consuming, overwhelming, and downright confusing; there's flights to book, currencies to convert, time to take off, and activities to plan. And that's not even considering all the getting around once you actually arrive!
Don't let the stresses of travel planning get in the way of heading to your dream destination. I get it, though, I really do, there's a lot to do. Planning a trip can seem like a daunting task. But I'm here to help with my travel planning tips!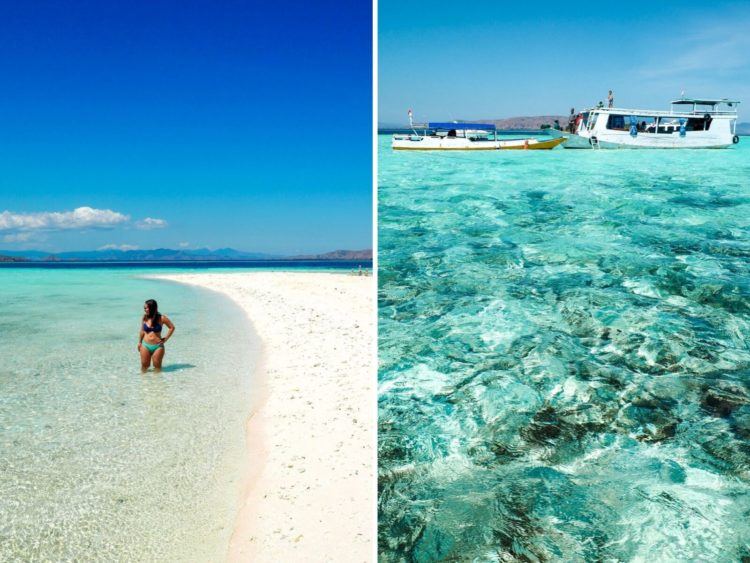 Luckily, I've planned dozens (and dozens) of trips, from quick weekend jaunts to Napa Valley and Lassen Volcanic National Park, to faraway exotic destinations like Bali and Morocco (with ridiculously detailed itineraries).
After lots of trial and error (and making tons of mistakes on my part) I've figured out a way to ease the travel planning process. I've narrowed it down to an easy 18 steps on how to plan a trip, so you, too, can take the trip of your dreams. Whether it's a 5-day beach break or a culturally diverse 2-week trip to Thailand, follow my advice below and you'll be off before you know it.
I'm kinda known for my crazy-detailed itineraries, and get lots of people asking me for help on others. I haven't been everywhere, so wanted to provide this trip planning resource so you can plan epic trips of your own!
This is my exact trip planning method – it's kinda ingrained in me now, but after getting it all down on paper, I realized I actually prefer doing things in a set step-by-step basis! Perfect for you because you can copy how I plan my trips!
So if you're looking for a STEP-BY-STEP guide (made for busy professionals like you), continue reading, because this trip itinerary planner is juuuust the thing you're looking for. Don't blame me if you plan too many vacations. :p
→ Read Next: How to Travel More (with a full time 9-5 job)
How to Plan a Trip: Actionable steps to planning a trip of your dreams
Step 1: Inspiration + Fun/General Research
Before we get started on the specifics of how to plan a trip, start with some travel inspo! And sometimes, just getting inspired is half the fun of actually booking the trip (at least it is for me).
I like to use Pinterest, Instagram, good old fashioned travel mags (at the dentist/doctor or when strolling through my favorite store Target), and of course, travel blogs. I constantly find myself swooning over photos I see, and sometimes even book a trip based off of one photo alone, like that time I begged my sister to head off to Chefchaoen with me (I'm a highly visual person if you haven't noticed).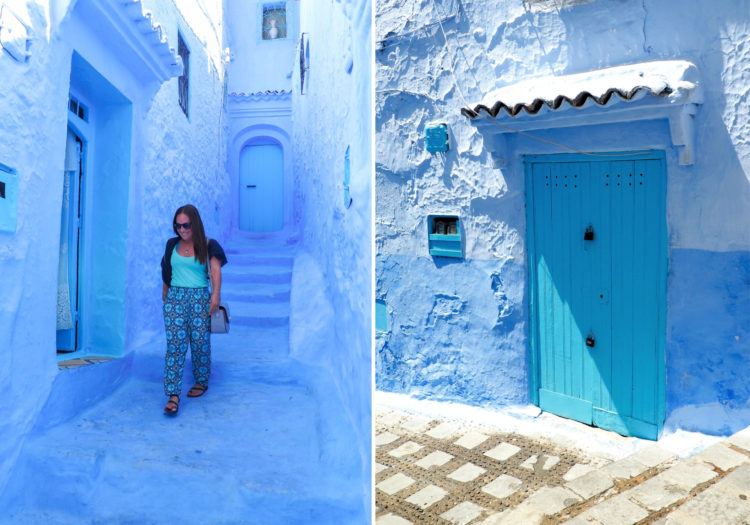 Since my mind goes into overload during the inspiration phase, I make sure to organize what I find right away as efficiently as humanly possible.
Enter, Google Maps. As soon as I find a spot I wanna visit (whether it be as specific as a restaurant in a little town or a country as a whole), I type it into Google Maps and hit Save → Want to Go. This way, all my finds are kept neatly in one place, and already plotted on a map to see general locations. You should see my Google Maps – it's covered in those little green pin markers.
A few posts for some inspiration right over here: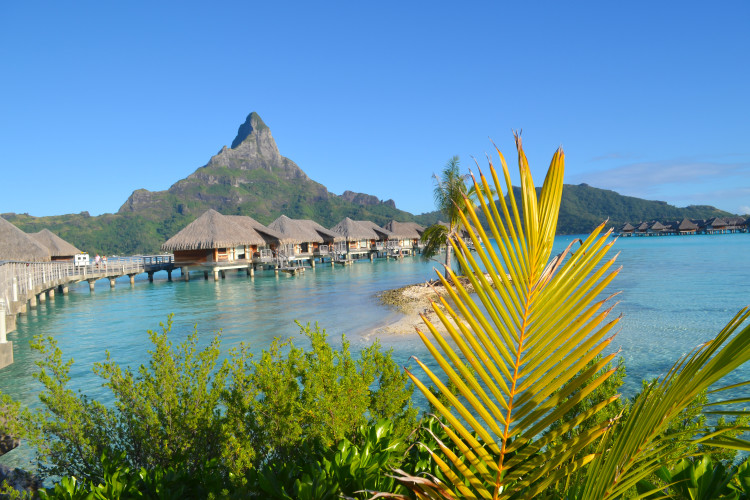 Specific Bucket-list worthy experiences:
Once you've narrowed down your list to a few places you wanna go, figure out how much time you'll need and the best time of year to visit. Make this quick – no need to do intense research just yet. We're still in the beginning phases of how to plan your trip. They'll be time later for lots and lots of googling, reading, and finalizing.
Jot it down on paper in 3 columns: Places I Want to See, Time Needed, and Best Time of Year to Visit (based off of weather). I quickly google "best time to go to ____". Example here: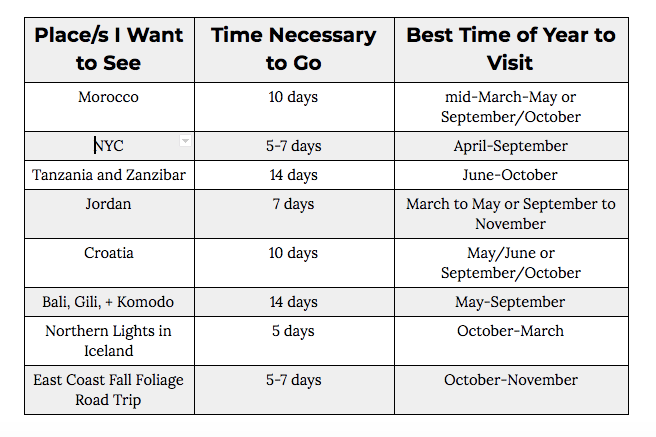 Step 2: Decide on your Destination and Trip Length
How much time are you allocating to this trip? Are you able to use a bunch of PTO and make it an epic adventure? When can you travel? Before you even begin to plan your trip, you've gotta know where you're going and for how long!
Be as specific as possible. Instead of saying "I want to go to Europe", specify the exact country, and then cities within. "I'm headed to Barcelona and Valencia!" sounds much more real, and you've got a much more specific goal to work towards.
Think about the type of trip you want – are you a "see-as-much-as-possible" and "cross-it-off-the-list" type of traveler, or do you want to take a few days to really get to know a place inside and out? I'm more of the first type (hey, yolo, right?), but I'm starting to appreciate spending ample time in destinations I really love.
What kind of weather do you want? Are you looking for a frozen, ice-filled fantasy or longing for a few days basking in the sun? How do cultural and foodie experiences sound? Are you looking to stay close-ish to home or are you prepared to travel far? All questions you gotta ask yourself when choosing a destination.
TIPS FOR SHORTER TRIPS (up to 7 days)
If you know you'll only have a few days, don't pick a place that'll take you 2 days to get to. We want to maximize the amount of time you'll actually have in your destination.
And Psst – don't think there's much around you? Think again. There's likely loads within a few hours.
For example, from NYC, you can get to London in just under 7 hours, the Caribbean/Central America in 3/4 hours (depending on where), Iceland in just 5 ½, and the other side of the country in 6.
From San Francisco, you can get to Japan in 10 hours, Mexico City in 4 ½, and Hawaii in 5. Cliche, I know, but the world really is your oyster.
Only have a few days? Check out these sample itineraries I've created to see exactly how much I'm able to fit in in just a few days!
Coming from the States:
Coming from Europe:
Coming from Asia:
TIPS FOR LONGER TRIPS (1 week+)
Longer trips are undeniably much harder to plan, since there's a bunch of logistics involved in getting from place to place. You probably won't be staying in the same exact spot for all 7+ days. But as long as you start your research early and follow my itinerary planning advice below, you'll be a step above everyone else blindly crafting their schedules. P
ractice really does make perfect, so the first long, multi-destination trip you plan will be the hardest. Expect a few hiccups, but just go along with it; that's just part of traveling!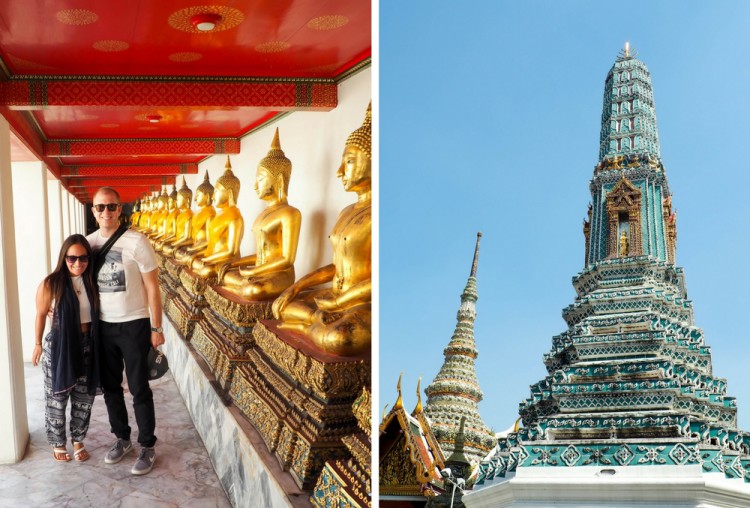 If you've got a longer amount of time, check out these bucket-list worthy destinations for inspiration (and plus, I already planned out the bulk of these itineraries = less leg work/heavy research for you):
And right after I decide on a destination, I always research to see if a visa is involved. Some you can get upon arrival at the airport, while others you need to apply and wait for.
Don't book a ticket without knowing the visa situation, as airlines don't check for proper documentation before you book your flight (and it's possible you'll get turned away at the airport and need to go back home just as soon as you arrive into the country which requires a visa – not fun!).
Step 3: Choose your Approximate Travel Dates
If you've done your due diligence and filled out your own travel planning worksheet above, you already know the best time to visit your dream destination. However, when considering the best time to travel, there's quite a few factors to think about.
Weather
No one wants to get to their destination after planning for months only to realize they forgot to look into the weather patterns. Will it be rainy season? Hurricane season? Ridiculously over-the-top blazing hot (sweating profusely is no fun for anyone). I've had friends visit Bora Bora (a wildly-expensive once-in-a-lifetime trip) in the rainy season and I crossed my fingers for sun for them.
I always like to visit a destination in either the high season or shoulder season, for the best chance of perfect or near-perfect weather. I'm someone who despises rain with a passion (some may like it, but just think about if your activities will be dampered because of some precipitation). This is extra important to me, and I'd rather pay a bit more money for higher possibilities of sun and no rain/clouds.
Of course, you cannot predict the weather months from now, but I always look at the expected weather trends in my intended travel month and stay away from the rainy/hurricane season.
Crowds
For the best combo of pleasant weather and minimal crowds, it's wise to travel in the shoulder season (weeks/months outside of high season). This will of course change from destination to destination, but in general, late April-early June and September-October is shoulder season in many parts of both Europe and the USA.
Think about when kids are back in school – if you visit when school is in attendance, you'll have less families traveling and therefore fewer overall people.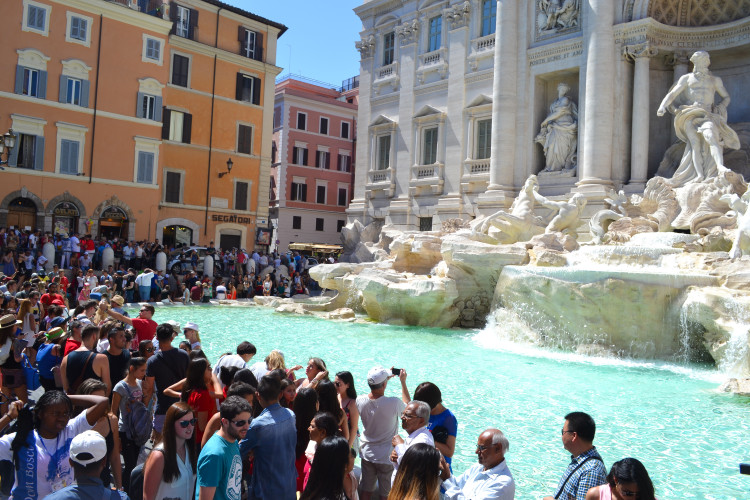 Cost
Note that high season typically sees higher costs (but hey, it's high season for a reason!). If you can visit when kids are back in school, you'll have higher chances of finding a good deal. Visiting during a holiday? If you can plan your travels bypassing Christmas and New Years, you'll automatically save a whole bunch, as this is the most expensive time to travel to most places.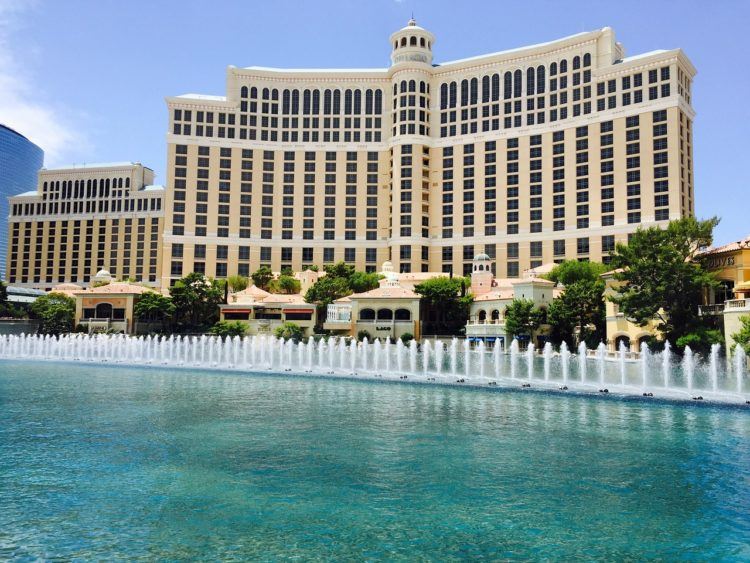 Attending a Specific Event
Is there a specific festival/event/animal migration you want to attend/witness? For example, Oktoberfest in Germany, whale watching in Monterey, safari in Africa, and Burning Man in Nevada. Full Moon Party in Thailand and the Day of the Dead in Mexico are two other examples.
You'll need to obviously plan your trip around these dates/months. Do note that it'll most likely be one of the most costliest times to visit, so plan to book flights and accommodations way in advance.
No need to plan exact dates just yet, just know the general timeframe of when you want to go. For example, this could be 1) early June 2021, 2) between Thanksgiving and Christmas, 3) birthday month, etc.
Step 4: Decide on your Travel Partners
Are you planning on traveling solo or with friends/family/significant other?
Traveling with Friends/Family/Children?
Traveling with other people can be a bit more difficult to plan (you've got other people's interests and budgets to cater to), but the memories will be even sweeter when you can reminisce about your fantastic trip together in a few months.
Planning a trip with family? You'll likely be deciding on your destination together. Remember – it's all a compromise. If I want a few days of running around a major city, we always make sure to head to smaller towns/spend a day or two relaxing on the beach for my husband later on in the trip. Everyone should be part of the decision-making process.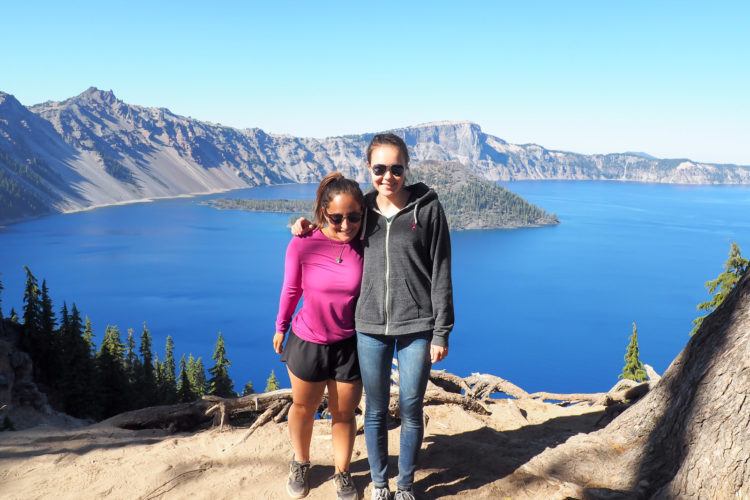 When I'm traveling with friends, I like to have my desired destination in mind as well as approximate dates. Don't go to your friend and say "wanna travel next year?". It's way too open-ended, especially if you have a general idea of where you wanna go. I just started planning a trip for Spring Break, so asked my friend if she wants to accompany me on a trip to Jordan in late March. See, much more specific.
Always know the type of accommodation you both prefer, if this will be a budget/mid-range/luxury trip, and how the other person feels about spending some time solo (if one person wants to do something but the other really doesn't want to). Your bestest of friends may make the worst travel buddies – be upfront about as much as possible and you'll have the greatest chance of a smooth trip.
Traveling Solo?
Never traveled solo before? Don't fret – I just started traveling solo a few years ago and fell in love with the whole concept! It's all so freeing! You can pick and choose all your activities, have cupcakes for breakfast (guilty!), and take as many photos as you want (64597 or 0)! Things do end up being a bit more expensive because you've got no one to split the bill with, so I typically stay in hostels and eat tons of street food to help with costs.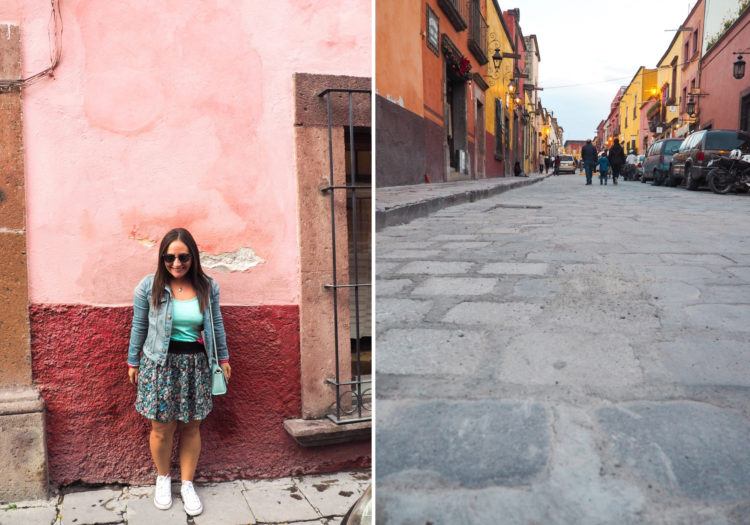 When traveling solo for the first time, I recommend heading to a country that speaks your language, has an easy currency conversion, and is known for being safe and with a good tourist infrastructure. I loved traveling solo in Iceland, London, and Croatia solo, and would highly recommend these countries for first-time solo travelers!
→ All my female solo travel tips over here (useful for you men as well, but it's catered towards women, just FYI). 🙂
Step 5: Research Trip Costs
Before you can you do research on trip costs, you've gotta know where you're going (obviously, because places all cost a different amount of money), how long you plan to travel for (more days = more money, usually), and when you aim to go (high season vs. low season can be wildly different in terms of financials).
See, this is why you need to figure out how long you're planning to travel for before you do your research on trip costs. Every night at a hotel, plus food and activities per day, will add up quickly.
But it's true – a vacation is only as expensive as you make it. Don't expect baller champagne on a beer budget. That being said, you still can have a hell-of-a-time without spending a fortune.
Everyone told us that Japan would be over-the-top expensive, and we found it pretty in line with other trips we've taken. Must have been those inexpensive AirBnBs we found and eating cheap street food everyday.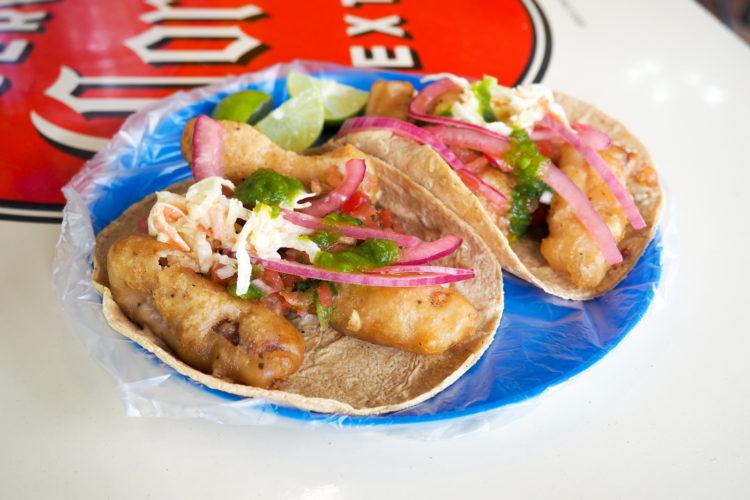 If you're traveling solo you won't have many opportunities to cut these costs down (hostels are great for solo travelers), but if you've got a travel partner and are planning on sharing accommodation, you can automatically save 50% on hotels, car rentals, some activities, etc.
Make a rough outline of how much you think the trip will cost, approximations of course. Be sure to note flight, hotel, meals, activities, transportation, and any possible extras. The more research you do, the fewer surprises you'll have later on.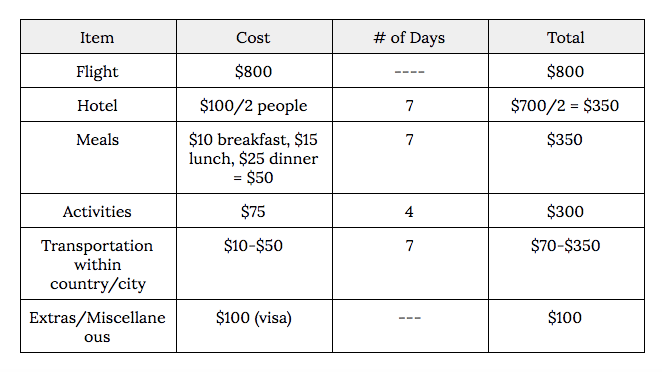 In addition, when thinking about your budget, think about areas in which you could save some money, and what hotels/activities/experiences you feel comfortable splurging on. Would you rather stay at that posh 5 star resort for 2 nights or take a helicopter ride in Maui? Do you prefer a fancy spa treatment or a night out at the opera? It's wise to pick and choose a few things you know you can't live without, and try and cut corners in other areas.
For example, we sometimes stay at airport hotels if we're arriving late into our destination, which saves us money as they are typically less expensive than hotels in downtown. The next morning we check into the more expensive hotel, but have already saved a bunch of money by spending a night at the less expensive hotel, without impacting our travel plans at all!
Make sure to think about transportation costs too, as these can vary greatly depending on where you're going. I'm not talking about transportation to your first destination, but how you'll actually get around once you're there. You can get anywhere in NYC for $2.75 (which I miss greatly), but if you wanna take day trips outta the city it's a whole other ball game.
Think about if you'll be traveling to different cities/places during your trip – be sure to account for a car rental, trains, buses, public transit, Uber, taxis, domestic flights, etc.
*** Always overestimate the cost of travel. There are lots of unexpected and unforeseen costs involved (unfortunately). It's always best to over over prepared, especially when it comes to finances!!! And if you don't use all the money you save, you can always allocate the funds to your next trip. Boom!
And once you've figured all this out, you can set a rough budget for yourself. I say rough, because things are gonna change. Travel can be wildly unpredictable (especially if you haven't done enough research).
Step 6: SAVE, SAVE, SAVE!
Time to get saving, my soon-to-be world-traveling friends. Because, well, hate to break it to ya, but you need a large chunk of change to pay for all your fun. You don't need to save up enough cash for your entire trip all at once, but make sure you have a plan as to how you'll do so before your trip arrives.
As you're booking flights, hotels, activities, and as other trip-related expenses come up, you'll want to have a sufficient amount of money to cover these things straight away.
NEVER go into credit card debt to travel. Just please don't. Wait an extra few months/year to travel if you need to. The world ain't going anywhere, but the credit card companies will charge you a hell of a beast of interest, that's for sure.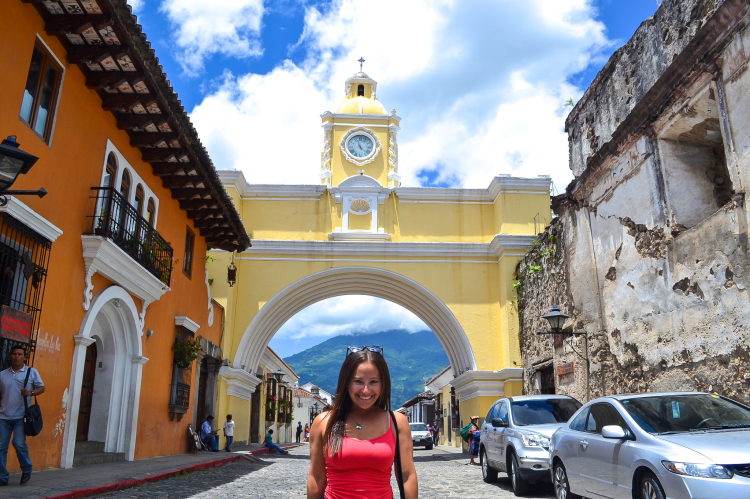 To make your finances black and white, write down all the things you spend money on each month (rent/mortgage, car payment/insurance, groceries, gym memberships, etc). Then look at your credit card and write down all the miscellaneous stuff. You may be surprised to see that you've spent ~300/month on coffees or ~$80/month on that pilates membership you haven't used since February.
See if you can split the cost of Amazon Prime/Spotify/Netflix with a friend/family member, as even saving an extra $40 per month can get you a few nights in some places.
Think about ways you can slightly alter your everyday life to save for your trip. Every time you forgo that expensive morning latte or night out at the club/bar, you're a few dollars closer to your dream trip.
Your friends don't understand? Get new friends. Haha – but really, explain to them that a night out can cost as much as entry to the Vatican or a few days bumming around in Belize.
Get rid of those weekly/monthly subscription boxes, make your morning coffee at home, and save dinners out for special occasions. There are a billion ways to save money, you just gotta be creative sometimes.
And if you're lucky, you'll already have some extra cash lying around to plan your trip- but just remember, never take money out of your emergency fund to go off traveling. Set up a different bank account, with the sole purpose being money saved for travel.
Step 7: Apply for a no-fee ATM card
And since we're talking cash, now's the time to apply for a no-fee ATM card.
If you want to avoid those pesky ATM fees every time you take out cash while away, simply look into a no-fee debit/ATM card, such as one through Charles Schwab (which I have and love). You can use the card at any ATM in the world, and Schwab will reimburse you all the ATM fees at the end of the month. Pretty neat, right?
It's by far the best debit card for traveling Americans. We transfer some money into our Schwab account before a trip, and use that as our spending money (do note that it takes a few days for money to transfer between banks, so do this a few days before jetting off).
More info on Charles Schwab here.
ATM fees quickly add up, with many banks charging around $5 or so per transaction. When traveling, I don't like to keep a whole lotta cash on me at hand, so rely on local ATMs to take out small amounts when need be. Why shell out money when you don't have to, right?
Step 8: Apply for a travel rewards credit card
Not all credit cards are created equal. I repeat. Not all credit cards are created equal. If you plan on traveling quite a bit (or even just once), it's wise to look into a travel rewards credit card for the bonus miles and perks that come along with it.
There are many to choose from, including more general travel cards as well as airline/hotel/brand specific.
We currently use and love the Chase Sapphire Reserve®, which not only gives us $300 a year statement credit for travel, but grants us access into Priority Pass airport lounges worldwide, provides free auto insurance when renting cars, lost luggage reimbursement, and even a concierge service, (and oh so much more).
Don't let the $450 annual fee scare you; it's actually only $150 once you spend $300 on travel. Chase typically has great promotions, so be on the lookout for ones providing ~50k+ bonus miles (good for a roundtrip flight to almost anywhere in the world). There's also the Chase Sapphire, which still comes with heaps of benefits, but you don't get lounge access and other perks.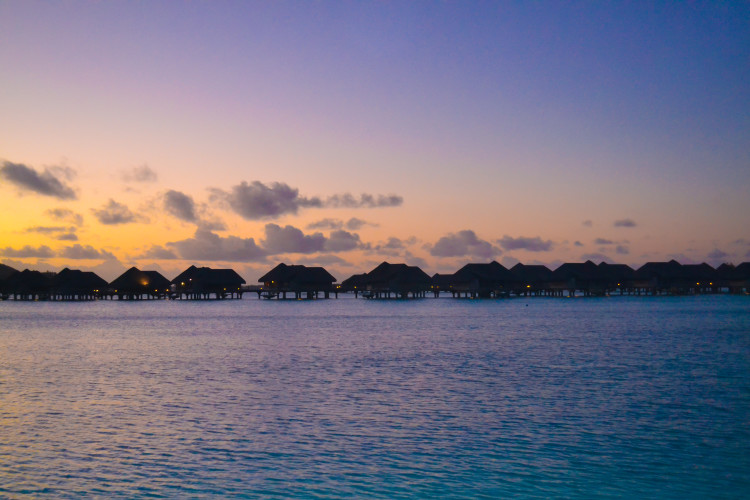 In addition, we also use an airline specific credit card, the Delta American Express, since my husband's airline of choice is Delta. Whenever we book Delta flights using this card, we get extra bonus miles, which we can put to use for future free flights. I wouldn't recommend only traveling with AMEX though, as many places around the world only take VISA/Mastercard. Hence our need for both.
Other recommended cards include Capital One® Venture® Rewards Credit Card, The Platinum Card® from American Express, and the Chase Ink Business Preferred Card.
When looking for a travel credit card to apply for, check to make sure it has no international ATM withdrawal fees, no currency conversion fees, and reward points for travel (airlines/hotels/cars/etc).
And just FYI, Travelers Checks are kiiiinda a thing of the past, so be sure to have a credit card ok for international use.
Step 9: Book Flights
Booking flights is one of the most nerve-wracking parts of the travel planning process for me. And why? Because not only do flight prices fluctuate daily, but once you book, you only have 24 hours to cancel (as long as you're booking from the USA). I find it incredibly intimidating, especially because I'm always trying to get the best possible price. And all those options! So confusing!
I rely on Skyscanner and Google Flights when looking for the cheapest possible flights, and sometimes also look on Kiwi. I tend to sway towards Skyscanner the most because it allows you to search an entire month (or time of year) to find the absolute cheapest flight available.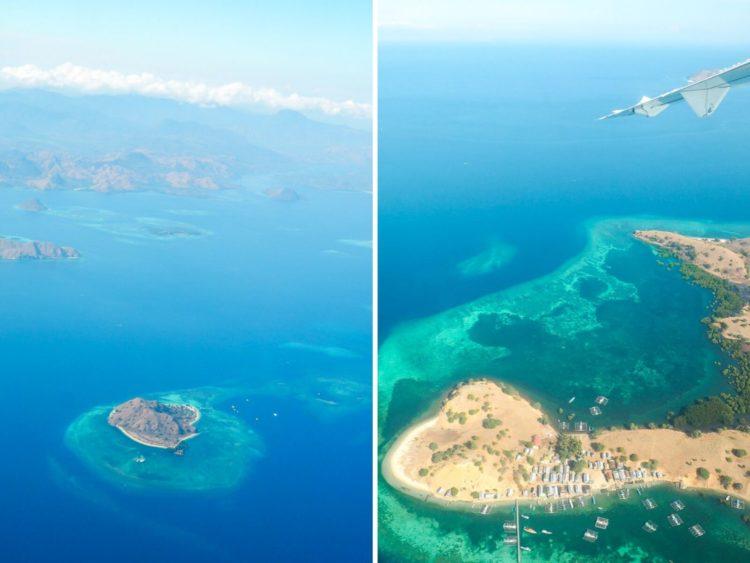 If I ever purchase a flight through a third-party, I make sure to call the airline and confirm my reservation number.
However, 99.99% of the time I book directly through the airlines themselves. Once you find a good deal on Skyscanner or Google Flights, go directly to the airline website to book the flight. And don't forget to input any airline numbers you are a partner of to rack up those skymiles for later use!
→ Psst– check out Skyscanner and set up price alerts to snag the best deal.
However, always be sure to check low-cost airlines, as they are not always included in third-party sites. A good list can be found here. Southwest and Frontier Air are good options in the USA. More tips on getting the best price on airfare here.
Don't be that person who paid the most on a flight → be flexible, use miles if you can, and sign up for email notifications (I like to use Skyscanner and Google Flights for this). If you're a bit more flexible with your destination, make sure to sign up for Scott's Cheap Flights and The Flight Deal, as you'll receive insane flight deals. The more flexibility you have, the better your chances of scoring a great price. Be willing to fly midweek and off-hours, at the least, if you can.
Search for low airfares and hit BUY when you feel comfortable (don't wait as flight prices can drastically change within hours)! Here are some additional tips on finding cheap airfare! I'm a serial advanced planner when it comes to expensive, long-haul flights, but some of my friends score good deals by waiting until a month or two before. It all depends on your comfort level.
Before booking, you'll want to have a general idea of your travel route, as this may impact your flights. Will you be flying into one city and out of another? Are you booking a round trip ticket?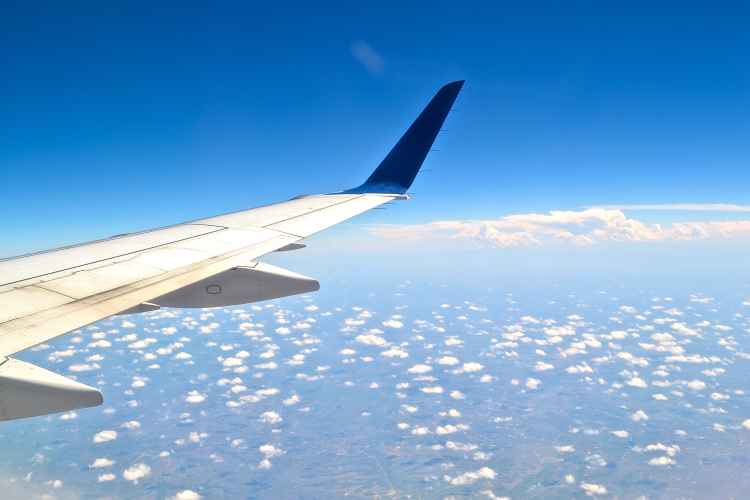 An important note on Passports: Traveling internationally? Can't leave the country without a valid passport, am I right?! Many countries require at least 6 remaining months on passports before you leave or in order to even enter the country.
If you need to order a new passport, you can check out this passport guide for help, and if you're traveling within 6-8 weeks (amount of time it usually takes to process passports), you'll need to get an expedited passport which you'll receive in approximately 3 weeks for an extra $60. Well worth the money if you find yourself in a pinch and desperately need that passport ASAP.
Step 10: Book Hotels/Accommodations
I like to book hotels relatively early on in my planning process. Why? If you're traveling during high season (which happens to be me more often than not), there's a chance your desired hotels could be all booked up! We tend to book hotels that we can cancel, just in case our travel itinerary changes or we find accommodation that suits us better. Most of the time refundable rooms cost a bit more, so just something to keep in mind.
When searching for rooms, I typically do a quick check on HotelsCombined, since they find the best price by checking dozens of booking sites.
When booking accommodation, think about how far the hotel/apartment is from the city center and the activities you want to do. Sometimes, booking a hotel that's way cheaper will end up costing more than a slightly-more-expensive hotel if you need to shell out extra dough to get yourself places.
Think about how much time you'll be spending in the hotel. If you're planning to be out and about all day, why book a fancy room when all you'll be doing is sleeping and showering there?
We book over-the-top resorts/hotels when we know for a fact that we'll be able to enjoy all the amenities. Like that time in Bali we stayed at a resort with our own private pool, lush jungle views, and multiple infinity pools. But we were planning on spending an entire day taking advantage of the hotel so it made sense. In Tokyo when we're out stuffing our faces all day? Not so much.
A few additional places we look for accommodation:
Hotel Tonight: My go-to for last minute deals. Think road-tripping and spontaneous weekend trips. We once paid $23 for a (really nice) hotel in Reno, Nevada. You can now check and book up to seven days in advance. Top tip: download the app in advance in case you're stuck without wifi for a bit. Use my promo code JKLEINER for a free $25 towards your first booking.
AirBnB: In some cases, we find ourselves wanting a more local experience, so we look to AirBnB for an apartment or condo. With AirBnB, you can rent out private rooms, entire apartments, and even full houses! We've had some fantastic experiences and wonderful hosts, and saved a ton of money! Save an additional $40 off your first stay here!
My number 1 tip: heavily research where you are staying – read all the reviews and make sure the property owner is readily available to contact. Always check the cancellation policy.
→ New to AirBnB? We're giving you a coupon of $40 off your first stay of $75 or more!
Expedia: So great for package deals, as you can literally saves 100's by purchasing flight and hotel together. Plus, with their rewards program, you can store your points for even greater savings down the line.
Step 11: Get Vaccinated/Medications if Needed
It's always wise to schedule a travel appointment with your doctor so you can decide what's best when it comes to vaccinations and precautionary medications with trained medical staff. In addition, I always check the CDC website for recommendations on the such.
Some are more standard vaccines you can get with your primary care doctor, but others (like Yellow Fever for our upcoming trip to Africa), you'll need to arrange for in advance.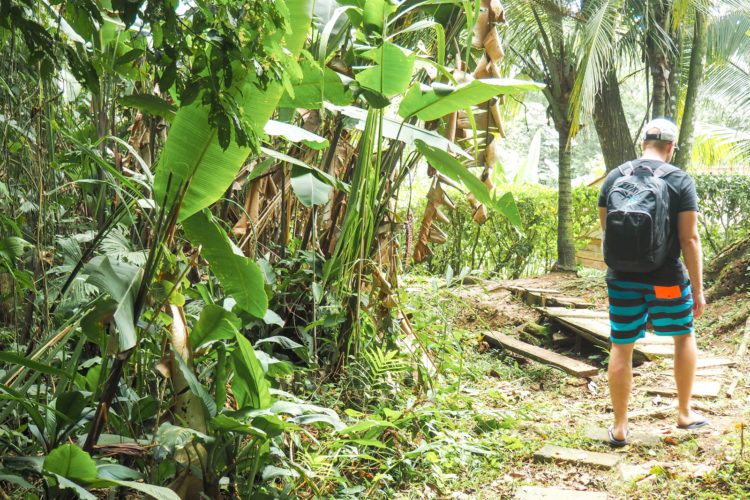 It's wise to know which vaccines you'll need early-ish on in the travel planning process, as some need to be specifically ordered and other vaccinations you'll need multiple, specifically timed spaced-out appointments. Some vaccines are only recommended if you're visiting particular parts of a country, so don't feel like you need to get them all if you aren't even visiting the infected areas.
In addition, research if you need to show proof of vaccines upon arrival into a particular country (they may not let you in without the proper documentation). Ack!
It's also a wise time to talk to your doctor about any medications (like Malaria pills we took in Thailand and Bali) you may want to bring along.
Step 12: Decide on WiFi/cell service
Some like to be away from it all and go wifi-free, while others will feel more safe and secure knowing they can use their phones. It all comes down to personal preference. I rely on my phone way too much to go completely data-free, so always make sure I have a set plan in place before leaving on any international trip.
Personal Wifi Hotspot
Although you will most likely have wifi at your accommodation, it's a good idea to bring along a pocket-sized personal WiFi hotspot, to keep you connected during your time abroad. WiFi hotspots are a cost effective option to ensure you can use GPS apps like Google Maps, check your emails, and catch up with friends and family while away.
With this portable device, you'll have WiFi wherever you go (even if your phone doesn't have service), unlimited internet (on up to five devices at a time!!!), and it's fast and reliable. At less than $9 a day, this device can't really be beat.
Note that some cell phone plans allow for international use, but many of these are costly. I accidentally turned on my phone service for LESS THAN 2 MINUTES once and got charged $150 by my phone carrier! I desperately wished I had a personal WiFi hotspot with me then!
Find more information and plan options here. HIGHLY RECOMMENDED especially when you don't speak the native language of the country you're visiting. A true life saver.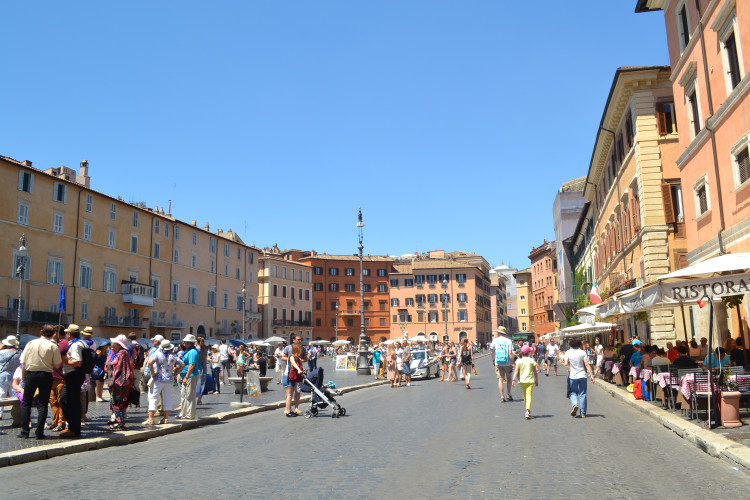 Other Options
Other options include bringing along an unlocked phone so you can use local SIM cards, and looking for plans which include international data.
If you're thinking about doing a bunch of international travel over the next few years, it may be worth switching to T-Mobile if the service is decent in your home area. My husband and I currently use T-Mobile, and get access to free data in over 210 countries (excluding the one country I was charged an obscene amount of money in – but that was my fault).
Some teched-out cities even have free wifi throughout the city – need to check beforehand (don't count on this as it's a relatively new thing, and I wouldn't rely on the free wifi in case an emergency occurs).
Psst: I always bring a portable battery charger to recharge throughout the day since I rely on my phone heavily for directions!
Step 13: Research + Map Out Activities/Restaurants
Ohhhh, this is where it gets really fun in my eyes. Activities are the bulk of your trip, and probably the main reason you're visiting the area (besides the food, of course).
Here's how I like to do it:
1. First, I do some research on things to do in the area (this includes food tours, beaches, museums, popular attractions, hikes, etc), day trips which peak my interest, and anything else I find exciting on Get Your Guide, Viator, and AirBnB Experiences (use this promo code for $15 off your first AirBnB experience).
I'm a BIG FAN of Get Your Guide and Viator when it comes to perusing activities and signing up for tours (they have SO many options). I've been using both of these sites for years, and can honestly say 99% of the time the tours are downright AWESOME and a good bang for your buck. I like to plan in advance (sometimes too far in advance), and being able to book specific activities (with the ability to cancel if need be) is something I love about Get Your Guide and Viator.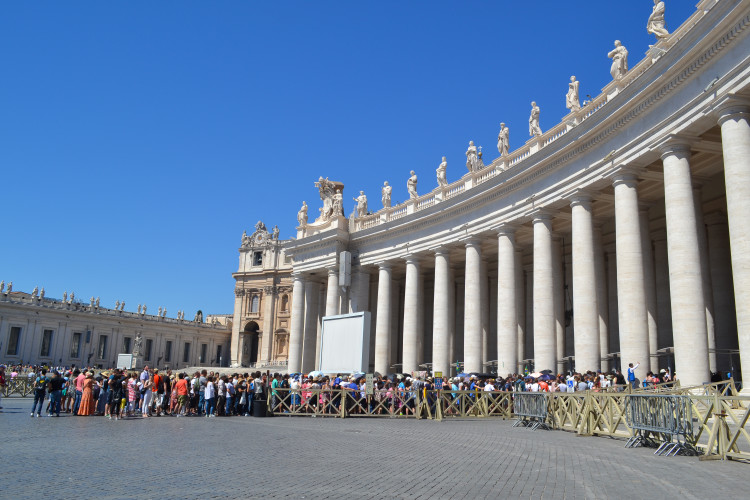 I recently started using AirBnB Experiences, as they offer some more local-type experiences, such as cooking classes in chef's homes (I learned how to make macarons in Paris this way!), photography sessions, and more niche city walks.
I also like to use travel blogs from those writers I trust (not all travel bloggers have the same credibility unfortunately, so if something sounds odd/wacky, I do further research/cross reference facts). In order to do this, I usually google destination + "blog", and pick them out one by one in the search results. You tend to get additional tips and insights you normally wouldn't have on other large-party sites.
Depending on the destination, I'll peruse Lonely Planet for even more must-do's. I used to rely on TripAdvisor, but after I learned that many reviews are fake/bought, I stopped using them entirely.
2. Plot each "attraction/museum/beach/restaurant" on a map → I've been using Google Maps lately and love it! If you prefer to use paper maps, get a large one so you can easily see all the spots! But why waste paper and money?
3. Look at the map, and take note as to where these activities fall. I then separate the activities into different areas. This helps figure out which attractions you should see together on a particular day. You don't wanna be running back and forth across the city/town/destination out of stupidity silliness. Group attractions together that are in the same proximity/close distance.
4. Think about how much time each activity will take. Some attractions will only take a few minutes, while others you may want to devote entire hours. Don't aim to see a whole bunch of super-intensive things in the same day; try and space them out if you can.
5. Star your top "things to do" in each location. These are the things you'll aim to see on your trip, while the others will be extra bonuses. Because, lets face it, if you only have 3 days in Paris, you probably won't have time to see all 235232 museums.
At the end of this process, you should have a handful of main activities you wanna check out, as well as a bunch more less time-intensive ones, listed out by location/proximity to each other.
Depending on the type of traveler you are, you may want to book a few guided tours of the city/area you're visiting. When I travel (especially on my solo jaunts), I tend to book a few guided tours and day trips. I always meet a few chatty people and end up hanging with them the entire day!
It's also nice to have someone guide me around for a bit (solo travel gets exhausting). Guided day trips are great if you don't wanna worry about getting lost on public transport and/or don't wanna rent a car.
Inspiration for Things to Do/Tours/Day Trips
If there's a particular + popular restaurant/dining experience your longing after, it's wise to make a reservation in advance. When we went to Mexico City, we had to book our table a few months ahead of time, and there still wasn't much availability!
Step 14: Plan Your Day-to-Day Itinerary
Don't overplan, but definitely keep track of the tours you booked and other sites on your wishlist. I tend to make exceptionally long Google Docs (for easy access without wifi), and roughly plan out my days. This makes sure I don't forget what's going on each day; especially helpful if your trip consists of a few different towns/cities/etc.
I always put the date, day of week, and location in the left column, then details about my day in the right.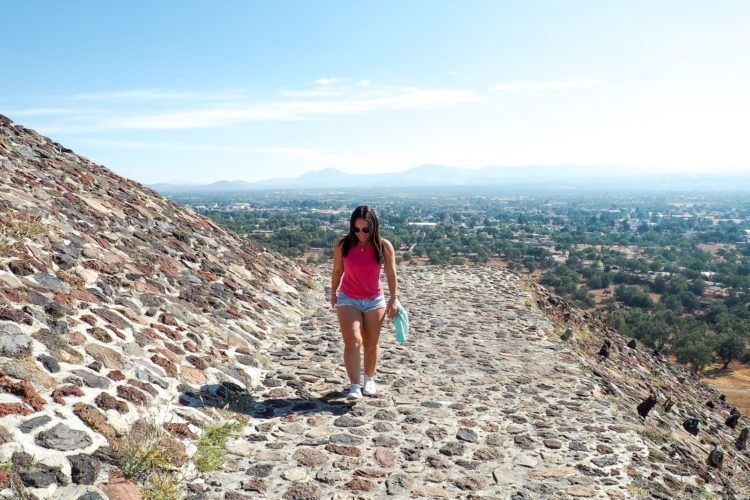 Some tours are only offered on certain days, so you may need to play around with your day-to-day itinerary until it works out.
The example below (a random few days during my two weeks in Croatia) is not as crazily detailed as my normal ones, but you get the picture: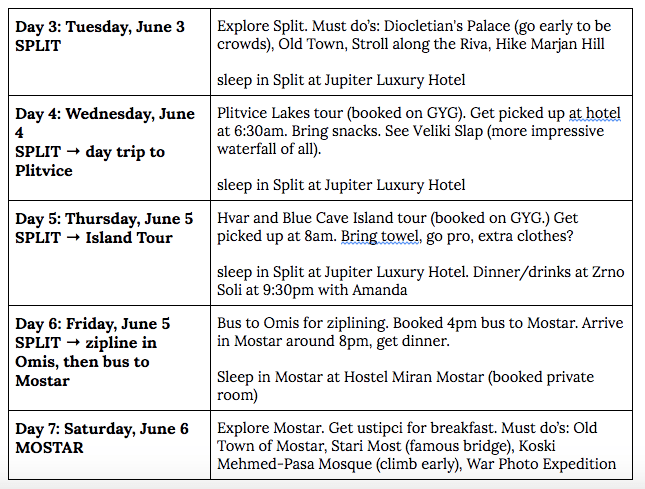 Once the itinerary is all set, I then go ahead and book all tours and skip-the-line tickets for popular attractions (imagine not booking a ticket in advance for Frida Khalo's House in Mexico City, the Louvre in Paris, or the Sagrada Familia in Barcelona). Don't waste your time waiting in line. Spend 3 minutes booking your tickets now and you'll be thanking yourself later on during your trip.
Step 15: Book a Car Rental (if need be)
Heading off on a road trip (one of my favorite types of trips)? Don't forget to book a car rental for the duration of your stay!
In order to save some money, think about if you'll actually need the car for your entire trip. Are you staying put in your first destination for a few days? Can you get around on foot or inexpensive public transport? Will you really need a car then? Book the car rental for the night before/morning of your first real road trip day.
→ Search for the cheapest car rentals over here!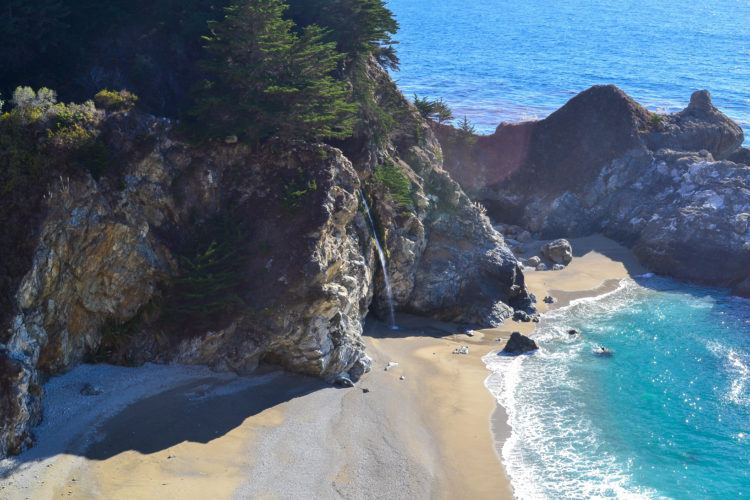 And if you're primarily visiting one city and doing a few day trips, can you move all your day trips to the beginning/end of your trip to only book the car for 3 days, instead of say 7? It's silly to pay for an extra day if the car will just sit there all day.
But always check how much a weekly car will cost – sometimes there are deals, and a rental may end up being cheaper in total if you book for longer (crazy, huh?)! It's wise to think about parking fees and such before getting too excited though.
Additional Reading: Tips and Tricks for your Next Roadtrip
Step 16: Buy travel insurance
Confession time:  I was always that girl who never really understood the value of travel insurance.  Honestly, I thought it was a complete waste of money. After checking out the highly recommended Safety Wing, I finally came to the realization that it really is worth the (small) extra cost, and it's just plain stupid to travel without. 
Safety Wing is not just for medical insurance, but also helps when luggage is lost, you need to cancel a trip, or when your gear is stolen or damaged when traveling.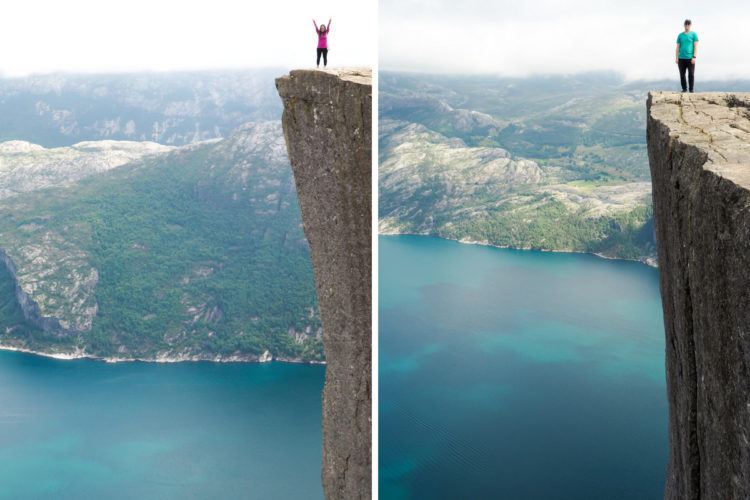 Even better, you can purchase at home or overseas (while already traveling) & make claims online from anywhere in the world. There's really no excuse, especially since the insurance only costs a few dollars a day. You'll be kicking yourself mid-trip if something goes wrong and you've got to pay tons out of pocket.
They say if you can't afford travel insurance, you can't afford to travel.  Now I won't travel without it. Get a FREE quote. Planning a trip abroad? Just get the insurance. No excuses.
Step 17: Before you go action items
Thought you were done? So close, just a few more things to do when planning a trip! These last-minute items can literally be done in the few days leading up to your trip. Some only take a minute, but are oh-so-important.
Tell your credit card companies you're traveling (you don't want any cards to get denied because of suspected fraud/theft)
Arrange for pets to be watched and plants to be watered.
Get familiar with currency rates. They obviously vary from country to country, and can sometimes be as easy as moving the decimal point a few spots, or as confusing as dividing everything by 7.3. Download a currency converter for your phone for easy conversions on the road (I like Currency XE).
Learn a few important words/phrases in the local language. I find Duolingo quite fun!
Do some research on safety, common scams, and any areas to avoid in the destinations you're visiting. It's also wise to check out any cultural norms/basic manners in your destination.
Let friends and family know you're traveling. Be safe – someone at home should always know exactly where you are, especially if you're traveling solo.
Transfer money into Schwab account: remember, this takes a few days, so be sure to transfer as much cash as you think you'll need for the beginning of your trip. I like to make it easy and just do one bulk transfer before we leave. Remember, using Schwab saves you all those precious ATM fees!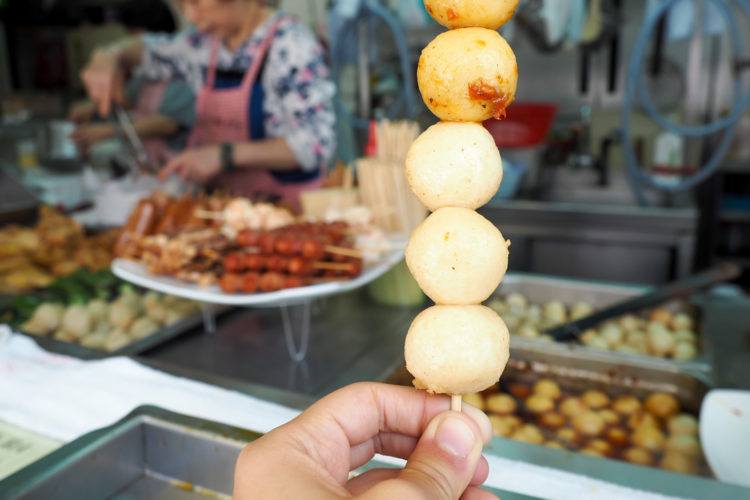 Buy necessary items: Depending on where you're going, you may need to pack something specific. Traveling internationally? You'll most likely need a plug adaptor (this one works in all countries) and possibly a converter for voltage. You'll probably wanna pack a wide-brimmed hat and reef-safe sunscreen for warm-weather destinations. A sarong to cover up with for visiting temples in Asia.
Scan/take photos of your travel documents. In the chance that something happens to originals, you'll at least have an electronic version. I upload my documents to the cloud (I like to use Dropbox), and they're also stored in my camera roll on my phone for even easier access. Do this for:

Passports
Credit cards you are bringing
Travel insurance documents
Rough itinerary
Flight/Hotel/Activity reservations
I also like to print out a copy (or 2) of my passport and keep in a separate place. If I'm keeping my passport in my purse with me, I also put a copy in my suitcase/husband's carryon just in case.
A REALLY IMPORTANT EXTRA TIP: Figure out how you'll get to your accommodation/into the city from the airport before you take off. The last thing you wanna do when you're completely drained from sitting on the plane for 10 hours (with potential jet lag) is to figure out how to get to your first stop.
Be kind to yourself and at least write it down (on your handy-dandy Google Doc) beforehand. Consider the time you're arriving, as public transport may not work all hours of the night.
Step 18: Start Packing!
Phew – so close! I suggest starting to take things out a few days before your trip so you don't forget anything important. Make sure you've got your passport, additional form of ID, copies of credit cards and other documents, and your itinerary. You'll also want to check the plug/socket type and make sure you have one/a few which fit.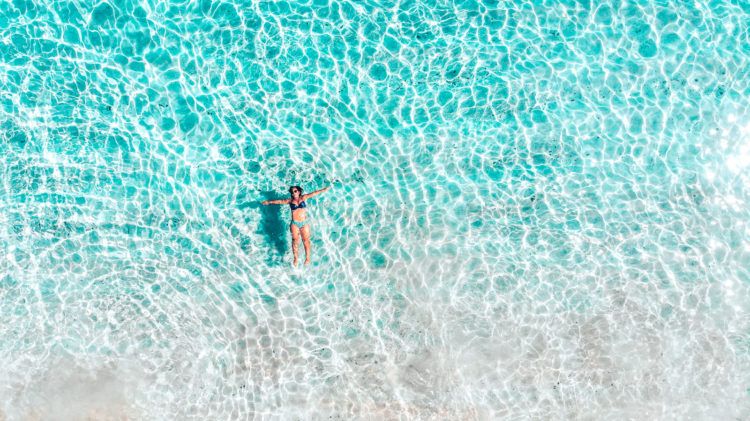 A few of my top packing tips:
Know your airline's baggage fee policy. Don't wanna show up at the airport expecting to get 2 huge suitcases for free and end up having to pay $$$ for them. A great list can be found here, but it's always wise to triple check on the actual airline website.
Pack light. Most people take way more than they actually need. Think about the activities you planned earlier, and pack according to that. Put everything on your bed and take out half of the clothing you think you need (yes, half). Not only will this reduce potential fees at the airport, but it'll make it easier to get around with less baggage.
Keep all your absolute essentials and one change of clothes in a carry-on. Lost baggage happens; don't let it ruin your trip. Always keep medications and expensive electronics on your body, as well as a toothbrush!
Come prepared. We always take along something for motion sickness, altitude sickness, stomach bugs (anti-diarrheal), and other general over-the-counter meds including fever-reducers, pain reliever (Tylenol or motrin), an antihistamine, and antibiotic ointment. Throw a bunch of band aids in your bag as well. You just never know what'll happen and if you'll have access to these quickly and easily on the road.
Use packing cubes. I don't know how I managed to travel before packing cubes came into my life. They are oh so helpful for organization and to keep my bag from exploding. And if you haven't ordered packing cubes in time, you can always use large plastic bags. Better yet, roll your clothes into packing cubes and you'll be golden.
Step 19: And you're off!
You did it! You planned your trip! Now go enjoy the fruits of your labor and have the time of your life! Just remember to stay safe and take lots of photos! Be sure to read how to stay entertained on long flights before you leave so you're first 3, 7, or 10 hours of travel isn't a complete bore!
Hope this ridiculously detailed guide on how to plan a trip helped! Where are you hoping to travel soon?! Now, go help a friend plan a trip, pronto!