Headed to Italy for the weekend and looking for the best things to do during your 2 days in Venice? Hoping to fill your Venice itinerary with the city's hot spots and absolute must-eats? Well, you're in luck, my gelato-loving friends, this post was written just for you!
Venice is one of those cities that's on everyone's bucket list, and rightfully so. The famous city on the water has been a popular tourist destination for centuries, and from the looks of it, visitors just keep on coming. The city has even thought about limiting the number of us out-of-towners out of sheer desperation to preserve their city.
And I'm part of the problem – I visited twice in one summer a few years ago, whoops! Can you blame me?! Travelers from all around the globe come to Venice every year to see the beauty for themselves, and beautiful it is. Pictures just don't do Venice justice. They really don't. And 2 days in Venice is the perfect amount of time to see what this city's all about. Go to Rome afterwards, it's just marvelous.
The history of Venice as one of the greatest naval powers of the world is reflected in the intricate details of the palazzo's, the elegant bridges, and grand churches. Venice is like a beautiful maze where around every corner lies another picturesque square, street, or canal. You truly have to see it for yourself (just don't forget your camera). Once you're there and standing in the middle of it all, you'll probably want to stay forever.
And trust me- there's so many things to see and do that you'll have no trouble filling your 2-day Venice itinerary! Plus, it's Italy after all, so if all else fails, you can always EAT 'til your hearts content. But really, there's tons of spectacular things to do in Venice, so be sure to do more than stuff your face (but no judgments here… I'm no stranger to mountain high gelatos and Aperol Spritzes). :p
It's been a few years since I visited the city (whoa, was 2016 really that long ago?), and let's face it, I only spent 2 days in Venice each time. Thankfully for all of us (I want to go back), I've enlisted help from fellow blogger and Venice-lover Sophie from Just Heading Out. She's visited the city a whole handful of times, and much more recently than myself! Below, she shares with us not only all her top things to do in Venice, but an entire Venice travel blog, including all the basics you need to know before visiting this beautiful little city.
Venice Pre-Travel Guide:
When to go
Venice is so popular that its busy year round, with the peak tourist times being July and August. Is this the best time to visit? If you like crazy crowds and sweltering heat, then go for it! However, coincidentally (or not), there are virtually no Italians to be found in Venice in August (( wonder why). For a slightly more relaxing experience, head to the city in late autumn or early spring. The area will still be quite busy, but not as ridiculous as those prime-time summer months (and the weather will be more conducive for sightseeing).
My honest opinion? Keep your visits to the city short and sweet – there are other worthy spots in Italy you won't want to miss if you're traveling long and far to Europe. You may be wondering if 2 days in Venice is enough, and thankfully, if you plan your trip right, you can see all the top highlights and more in a short time span. Consider 3 days in Venice if you want to visit the surrounding islands of Burano and/or Murano (highly recommended; read more below).
Getting around
Getting to Venice is easy enough. You can fly into Marco Polo airport and take the bus from there to the city. However, many visitors choose to come by train from elsewhere in Italy, in which case you will have to transfer from Venezia Mestre to Venezia Santa Lucia station. On the western edge of the island, you'll find both the train and bus stations, as well as the cities big parking structure (for those coming by car). It's very important to note that cars and other motorized vehicles are banned within Venice itself – they wouldn't be much use in the narrow streets anyways. Say goodbye to your typical modes of transport during your 2 days in Venice!
All transportation in Venice is done by water, through water taxis, gondolas, and Vaporettos. How fun! Note that all of these are much more expensive than regular public transportation. However, if you're planning to stay on the main island of Venice, you can get around everywhere on foot.
If you want to visit other islands, such as Giudecca, Murano, and/or Burano, you will need to take the Vaporetto. Tickets for these "waterbuses" cost €7,50 for a single fare and €20 for a day pass. With the Venice Card and Rolling Venice Card, you can get a discount on a multiday pass, but that is only worth it if you plan to spend more than 2 days in Venice or if you are staying on Giudecca.
Important Things to Pack
Venice can get very hot during the summer and cold during the winter. If you plan to brave the heat and crowds in summer, be sure to pack a scarf to cover your shoulders and/or knees before going into churches. And sunscreen and a hat can never hurt either.
For winter visits, take a warm, waterproof jacket. Venice is prone to rain and high water in fall and spring, so take rain boots and a waterproof jacket for any autumn visits. At any time of year, take comfortable shoes as you will be doing a lot of walking and the streets in Venice are not suited to heels (leave those fancy things at home!)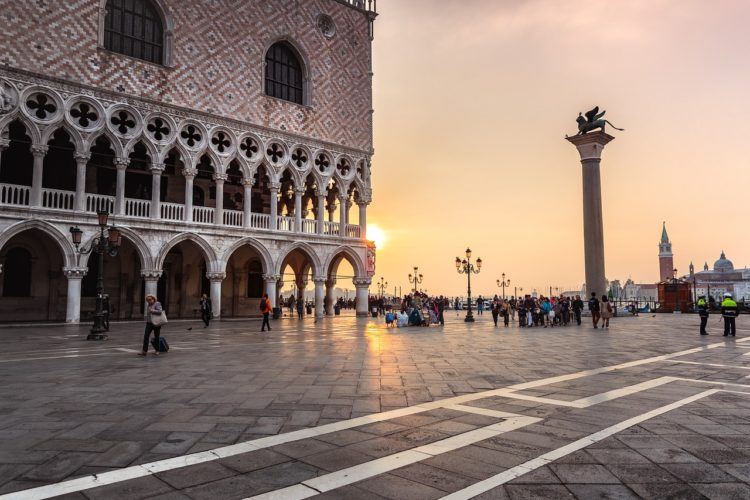 Unfortunately, mass tourism also attracts pickpockets. Be careful with your belongings and keep valuables in your front pockets, a secure cross body bag, or a money belt. Since this Venice itinerary includes a bunch of top tourist sites, be sure to be extra careful at all times!
Where to stay during your 2 days in Venice
Accommodation in Venice is notoriously expensive. The city is small with very strict building laws, so there are only a few big hotels. You can choose to stay on the islands (where the actual city of Venice is located), or the nearby mainland.
Staying in Venice: You'll be near all the action, but expect lots of crowds all times of day (in the busy summer season of course).
Recommended hotels: Hilton Molino Stucky Venice (sophisticated rooms in a restored flour mill), JW Marriott Venice Resort & Spa (posh spa getaway), Rialto Unique Venice (traditional Venetian-style rooms), and Il Veliero Romantico (as romantic as it gets).
Staying on the Mainland: The mainland, around Venice Mestre, is where you will find the most affordable accommodation. It's quite far from charming part of the municipality, but you're only a short bus, train, or car ride away from Venice. Most people want to be in the center of Venice, making accommodation there the most expensive, but since the city isn't that big, there is no harm in looking for a place in the more affordable Castello neighborhood or on nearby Giudecca Island (a 10 minute ferry ride away to lively San Marco Piazza).
AirBnB: One of the biggest problems facing Venice today is the renting of apartments and houses on Airbnb, which has driven locals and students to move to the mainland. To respect locals, I'd opt out of using AirBnB for accommodation.
Helpful Italian Phrases
Italian is a beautiful and melodic language, but it often gets butchered by foreigners. Think Brad Pitt in Inglorious Bastards (ha!) Venice is touristic enough that everyone speaks at least a little English, so you'll be able to get by without speaking a word of Italian. If you do want to impress the locals, these phrases may come in handy:
Buongiorno/Buonasera – Good day/ Good evening
Grazie (mille) – Thank you (very much)
Prego – You're welcome
Dov'é …? – Where is …?
Quanto costa? – How much is it?
Vorrei un/una … – I would like a … (when ordering food or drinks)
Per favore – Please
Parla Inglese? – Do you speak English?
Non parlo Italiano – I don't speak Italian.
So without further ado, since you ultimately came here wondering what to do in Venice, keep on reading! All the Venice top attractions, coming right up!
Things to add to your 2-Day Venice Itinerary:
1. Join the Venice Free Walking Tour
The best way to learn more about the fascinating history of Venice is by joining the Venice Free Walking Tour. This company offers several different walking tours that provide context to all the beauty you're seeing. They are dedicated to slow tourism, as a counter movement to the mass tourism that's making Venice unlivable for locals. So by booking a tour with them, you're guaranteed a good and sustainable tour.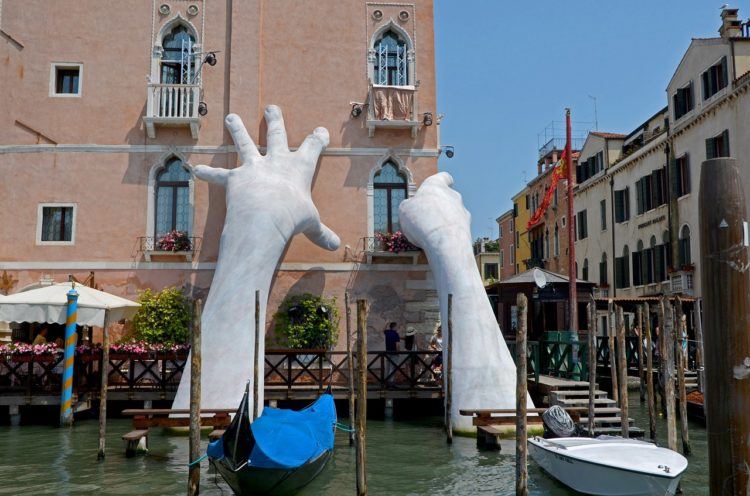 The Free Walking Tour also shows you a different side of Venice, the hidden gems instead of the big tourist attractions. This is one of the best things to do in Venice on your first day, so that you get a feeling for the city and tips from the guides for the rest of your stay.
2. Visit the Piazza San Marco
One of those big tourist attractions is the Piazza San Marco, the most famous square of Venice, and a must-do on any Venice itinerary. During the day, the Piazza is crowded with tourists, street vendors, and pickpockets. For a quieter experience, visit the square early in the morning or late at night. It is equally beautiful then and you might even be able to get a picture without other people in it.
Bars and restaurants along the Piazza are notorious tourist traps. Do not sit down here for food or a drink. Not only are you paying dearly for subpar quality, but they also charge extra for the music that's played on the square. A coffee here might cost you as much as €15!
3. Step inside the Basilica di San Marco
The crowning jewel of the Piazza San Marco is the stunning Basilica San Marco. This incredibly ornate cathedral was built in 1063. The church is absolutely stunning with colorful details and glittering gold. The inside is beautiful as well, and the entrance is free. You will have to wait in line for a quick glimpse inside, as it's an absolute must see in Venice and almost everyone knows this. The line for the Basilica can take up to a few hours in the burning Italian sun. Don't take any chances and get in line around 9 am, half an hour before the church opens.
However, if you don't feel like wasting your precious time in Venice snagging a ticket (I don't blame you), I highly encourage you to go once everyone has left. And yes, on this tour, you can head inside St. Mark's Basilica after hours (the guard even has to unlock the door)! You'll have all the gold mosaics, the incredible Pala d'Oro, and the crypt all to yourself and the others (max 15) from your local historian guide. Read rave reviews and book tickets here.
Note that you are not allowed to take pictures (hence why I'm showing you the outside architecture instead), shoulders and knees need to be covered, and you cannot take backpacks or luggage inside. Instead, you can leave it at the luggage deposit around the corner.
4. Marvel at the art in Palazzo Ducale (Doge's Palace)
The other important building in the Piazza San Marco is the Palazzo Ducale. The Doge's Palace is the palace of the former ruler of Venice. Aside from the history of the palace, it is also filled with outstanding art.
One way way to visit the palace is by booking your ticket online so you won't have to wait as long to get in. There is also an audio guide available. Some parts of the palace can only be visited as part of a guided tour called the "Secret Itineraries Tour." A ticket for the tour doubles as a regular entry ticket and costs the same.
Another option is to book a tour which includes both skip-the-line tickets along with a guide, ensuring you don't miss out on learning the stories of the rise and fall of the Venetian Empire. Psst – with this ticket, you'll also gain skip-the-line entrance to the opulent St. Mark's Basilica as well. Two tickets with one booking? Can't beat that. Read reviews (over 1500 of them!) and book tickets here.
5. Cross the Ponte Rialto
Aside from the Piazza San Marco, the most popular thing to do in Venice is to walk across the Ponte Rialto. This is one of the two bridges crossing the Canal Grande. It is an elegant structure, and from atop the bridge, you have a beautiful view of the canal. It gets very crowded during the day here as well, but luckily the bridge is even more romantic (and quieter) when it's lit up at night.
6. Take a boat ride to Murano & Burano
Venice is built in a lagoon with several small islands around it. The two most famous are arguably Murano and Burano. Both are a popular day trip from Venice. Murano is famous for the handblown artisanal glass that's been produced on the island for centuries. You can visit some of the glass factories and buy the beautifully crafted art and jewelry all around the island. A bit further lies Burano. The big appeal of this tiny island is the pretty different colored houses. Historically Burano is also home to expertly handcrafted lace, which you can still buy on the island. Another absolute must-do on any Venice itinerary, especially if you love color like me!
You can easily reach Murano and Burano with the public Vaporetto. If you are planning to visit Murano and Burano in one day, get a day ticket, so you can hop on and off as often as you like for a 24 hour period.
7. Take a romantic Gondola ride
Out of all the things to do in Venice, a gondola ride is probably what people associate with the city the most. These typical long black boats have become a symbol for the city. Although they are still on of the most popular things to do in Venice, it is not quite as romantic as it once was. The gondola drivers are not all attractive young men, and they certainly don't sing. Gondola rides have standardized prices at 80 euro's for half an hour during the day and 100 euro at night.
If you want a boat to yourself, don't book ahead through an agency, but at one of the stops along the canal. Otherwise, you will likely be sharing your boat with another couple. For a budget gondola experience, you can cross the Canal Grande in a traghetto. These smaller, less ornate boats serve as ferries and cost only 2 euro per 3 minute trip across the canal.
8. Cross the water to Giudecca
Giudecca is the big island just south of Venice. There is no bridge connecting the two, so to visit, you have to take the Vaporetto. Giudecca is slightly less gentrified than the main island, and the residents are trying very hard to resist the mass tourism from spreading there. The boardwalk that runs along the north of Giudecca offers a stunning view of Venice, including the Piazza San Marco. Giudecca is also home to the Chiesa del Redentore, a beautiful church built after the last plague outbreak in Venice.
9. Eat local dishes
Italian cuisine is incredibly diverse, and every region has their own specialty. For this reason, people say you shouldn't order pizza in Venice. Of course, you can get a decent pizza in Venice, but it isn't traditional. Instead, opt for seafood and the local finger food: chicette. In the afternoon, relax with an Aperol Spritz and a few of these delicious little sandwiches, similar to Spanish tapas.
You can also find great gelato in Venice, especially at Grom, who serve authentic traditional artisanal ice cream.
10. Shop your heart out
Shopping in Venice is a dream, that's why it's a good idea to carve out some time on your Venice itinerary to do so. There are high-end designer shops everywhere as well as cute local boutiques. Take a break from sightseeing and all the cultural things to do in Venice to buy a few amazing souvenirs, like a mask for Carnevale!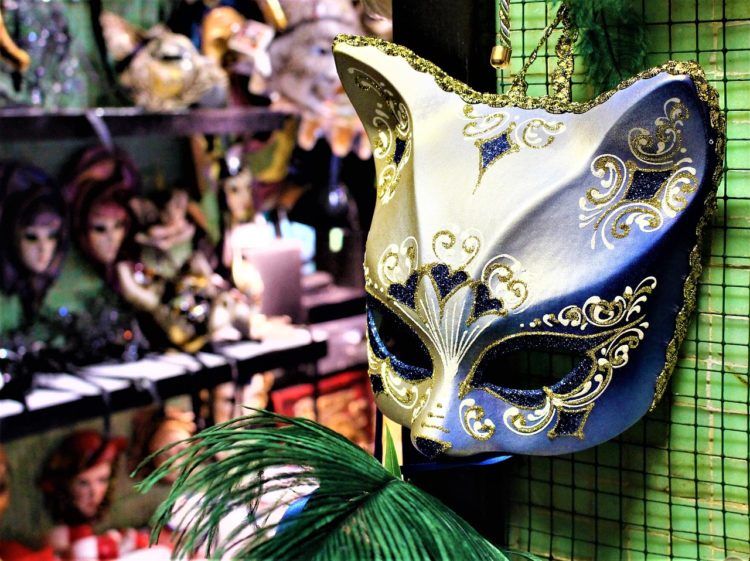 Avoid the gaudy, overpriced souvenir shops and buy some local traditional products to take home instead. There are shops selling excellent leather good everywhere and beautiful traditional marbled paper products.
11. Operate the inventions of Leonardo da Vinci
The Muso Leonardo da Vinci is a small museum in a former church, perfect if you are looking for a short activity. It is dedicated to the life, art, and work of the Renaissance genius. You can find information about his life, and many of his inventions have been rebuilt so that you can see and operate them. This is certainly one the most unique things to do in Venice and great for a rainy day.
12. Relax at the beach on Lido
Although Venice is built on the water, there are no beaches or places to swim. Lido is the closest beach, and once the temperatures rise, this is where you'll find the locals lounging on the beach. You can get to Lido by Vaporetto, and it's the perfect place for a relaxing break from the crowds in Venice.
13. Get lost in Castello
Another good place to hide from the mass tourism is the Castello neighborhood. This neighborhood starts to the east of Piazza San Marco, but most tourists don't bother venturing out. A shame, because Castello has plenty of charm of its own.
Cozy little streets, traditional restaurants, and museums, getting lost in Castello means discovering the real Venice. This is the most authentic part of Venice, where the few locals that are left live. Castello is also where you find the Giardini delle Biennale, a big park filled with modern art.
14. Party at a festival
While the nightlife in Venice mostly consists of couples taking romantic evening strolls, the Venetians do know how to party. The most famous festival is, of course, the Carnavale in February. People come from all around the world to witness this Catholic celebration of excess before Lent in Venice. The baroque masquerade draws 3 million visitors every year.
Less famous, but not less fun is the Feste del Redentore at the end of July. A temporary, 24-hour, boat bridge is built every year between Giudecca and Venice to facilitate a procession from the Basilica di San Marco to the Redentore Church. It started as s religious festival to celebrate the end of the plague, but it has turned into a beloved party. People claim prime spots along the Giudecca boardwalk with plaids and tables to watch the firework show over Venice. Everyone eats, drinks and dances the night away and local youth end the festival with a sunrise dive in the water at Lido.
Venice is also known for the annual art festival, such as the Venice Film Festival, which is the perfect place to see new movies and spot celebrities.
15. Visit San Georgio Maggiore
The church of San Georgio Maggiore lies on a tiny island next to Giudecca. The basilica was designed by Andrea Palladio who designed many villas and public buildings in the Veneto region during the 16th century. The church is still used by the Benedict monks. The impressive outside hides the beautiful frescoes on the interior of the church. Apart from the church, the island also houses a beautiful library and an open-air theatre.
So there ya have it, the best things to do in Venice in 2 days! Are you visiting soon?! What are you most excited to add to your Venice itinerary?!