Planning your trip and looking for the best 3 day Barcelona itinerary?! Look no further! Whether you've got a full week or just 3 days in Barcelona, you can be sure you'll never be left bored. La Rambla. Tapas and sangria. Antoni Gaudi. Oh, and you can't forget about the Sagrada Familia! This city is all that and waaaaay more.
I've been to Barcelona a few times, but to be completely honest, I just didn't get it the first time around. Maybe I was already utterly exhausted from days traveling prior, but on my second trip I finally found the magic — and I wanted to stay even longer.
I'm not sure how I missed all the art, the architecture, the charm, and modernist landmarks on that initial trip. But boy am I glad I gave Barcelona another shot – I'd go back in a heartbeat. And yes, if you're wondering what to do in Barcelona for 3 days, I got you my friend!
Barcelona, the beautiful and cosmopolitan capital city of the Catalonia region, is the perfect place to start any extended Europe itinerary, like this 2 week trip throughout Spain right over here (one of my favorite European trips to date). Just understand that since Barcelona is absolutely huge, you definitely won't be able to see everything in 3 days!
But don't fret – I've compiled all the must-do's into a neatly packed 3 day Barcelona itinerary for anyone out there looking to not only get in all the touristy stuff, but some more local things as well! Just make sure you add in some ample time for eating — did someone say tapas, sangria, and churros con chocolate!? You bet I did!
Before we get started, it's wise to point out that you should really consider purchasing the Barcelona Pass or Barcelona Card if you wanna visit a bunch of museums and tourist sites during your 3 days in Barcelona. With free and discounted admission to a whole slew of attractions (including skip the line access), the perks greatly outweigh the cost.
When to go to Barcelona
This southern Catalonian city is quite lucky to experience a rather pleasant Mediterranean climate, and because of this, there's not really a bad time to visit Barcelona.
Spring/Fall (shoulder season): If you're looking for comfortable sightseeing temps (a balmy 73F or so), I would choose to visit in the early summer (May – June) and fall (September – October). The crowds are not as intense as during the high season of summer, prices are a bit less expensive, and the weather is usually quite pleasant.
Summer: The summer months of July and August bring intense scorching heat, so just beware and be kind to yourself by staying hydrated and taking frequent breaks from the sun by heading indoors. Beware that summer also sees the heaviest tourist traffic, meaning you'll be wandering La Rambla and admiring the Sagrada Familia with 72,493 of your closest friends (close approximation). If crowds are not your thing, it's best to wait until the shoulder season (see above). The two times I visited Barcelona it was during July, and boy was I sweating profusely – it was not fun.
Winter: Although winter days tend to be rather crisp and cold (Barcelona is quite close to the mountains), the city is usually pretty sunny with bright blue skies. You'll want to carry an umbrella in late fall and winter as rain is not uncommon, as well as a heavy-ish jacket (it is winter after all).
Where to Stay in Barcelona
If it's your first or 7th time visiting Barcelona, you'll most likely want to stay in the city center (the Gothic Quarter, El Born, and Eixample are all great choices). Not only are these the most convenient areas to stay for visiting the top tourist attractions, but they also have direct access to the airport and public transportation options for getting around easily.
When I was first designing our Barcelona itinerary, I almost accidentally booked a hotel elsewhere – whoops! Don't make that mistake!
H10 Art Hotel: Ever wondered what it's like to stay at an art gallery? Well, now's your chance – the H10 Art Gallery is not only stylish and art-themed (I mean, it's in their name), but there's a gallery full of contemporary works of art (featuring not only paintings but lithographs and sculptures as well).
Every room is decked out with it's own design, so if you stay more than once, you'll never have the same boring old room. Oh, and there's a terrace top pool AND a 100-year old olive tree on the patio, but who's keeping track. Psst: I'm not a die-hard art fan, but still enjoyed this hotel very much!
And plus, since it's located in the Eixample district, you'll be steps away from some top tourist sites (including Gaudi's La Pedrera, Casa Batllo, and Placa Catalunya) and a whole slew of great restaurants.
How to Get Around Barcelona
With one of the best public transport systems in all of Europe (yup, true story), getting around Barcelona is fast and easy.
Hop-On Hop-Off Bus: Yes, it's a tad touristy and let's face it, wildly cheesy, but the hop-on hop-off tourist bus really is a super simple way of getting around Barcelona! With multiple routes and ticket options, you can be sure you'll be able to cram in oh so much of what the city has to offer in a short amount of time. Purchase tickets in advance to start using the hop-on hop-off bus on day 1 of your 3 days in Barcelona.
Metro: Faster than the public bus, cheap, and minimum waiting time! There's tons of metro stations around the city, and you can save some money by buying a T10 Ticket, which, you guessed it, is valid for 10 rides. It's cheaper than purchasing 10 tickets individually, and you can share with friends/family.
*Important note: always be on the lookout for thieves when using the metro. They are sneaky-sneaky, so just be aware and keep your belongings close!
A few times when the metro won't be your best friend:
Headed to the beach? Use the bus instead, as its quicker than the metro.
Plan to take the train if you're heading outta the city for the day on a day trip to let's say, Sitges, Gerona, Costa Brava, etc.
→ Have more than 3 days in Barcelona?! Add a few day trips to your Barcelona itinerary! My list of top day trips from Barcelona riiiight over here!
What to Eat in Barcelona:
Be sure to pig out on allll the tapas (no judgement, I promise), and wash it down with some cava (sparkling Spanish wine) and sangria (obviously, this IS Spain afterall)! As far as tapas go, don't leave your 3 days in Barcelona without trying manchego cheese, potato croquettes, bombas, iberico ham, a Spanish omelet (eaten all day long), patatas bravas, and pa amb tomaquet.
In addition, it really wouldn't be a proper Barcelona itinerary without urging you to feast on some paella, creme catalana, fresh fish and seafood (mmm calamari), chorizo, gazpacho, pisto, and bocadillos (Spanish sandwiches).
Do note that the majority of locals (and visitors) in Barcelona eat dinner quite late – around 9pm or so! Also, the portions are not as large as during lunch time, most likely because who wants to stuff their face right before bed time?
If you're looking for a super-special meal, make a reservation at Enigma, a 40-course cutting-edge gastronomy delight. Be sure to reserve early, and come hungry (obviously).
Additional Tips for Barcelona:
Be sure to book your tickets online ahead of time. Planning on visiting some Gaudi sites, including La Sagrada Familia, Park Guell, or Casa Mila – book in advance (click on links to buy!). By doing so, you'll also get to skip the long lines and won't waste your precious, precious time!
Keep a watchful eye out on your belongings. Barcelona is a crowded city, and because of that, pick pocketing can occur without you even realizing. Always keep your possessions in front of you and never leave your bag open.
Get around super easily to all the typical tourist hot-spots via hop-on hop-off bus! No shame – you are playing tourist afterall!
And now what you ultimately came to this Barcelona travel blog for – a super-varied perfect 3 days in Barcelona itinerary! Including all my favorites!
Day 1
MORNING: Park Guell
Start off your first morning getting to know Gaudi a bit, at what is probably my favorite of all of his masterpieces in Barcelona – Park Guell! With colorful mosaic gardens and tons of architectonic elements (it's a beautiful icon of the city and one of the most impressive public parks in the world), I bet you'll love it too. His landscape gardening is strange, enchanting, and flamboyant, and no less than extraordinary. Just come prepared and know what to expect.
Although it's a little off the beaten track and can be a bit confusing if you can't read the signs within the park (there's little to no English signage), Park Guell is totally worth the effort. Definitely one of the top things to do in Barcelona in 3 days (don't miss it!).
It should be noted that there are two areas throughout the park: the Free Access Area, which is indeed free of charge and still absolutely spectacular, and the Monumental Zone, which requires a timed ticket bought in advance (which sell out quickly in the summer months). Those colorful sculptures and mosaics you always see pictures of – well, those are located within the ticketed Monumental Zone. And at only a few euro, it's definitely worth it to see.
Buy tickets in advance here or hop on a walking tour of the marvelous park to ensure you see it in all it's glamour (it can be confusing for those who've never been – we actually got lost a few times!)
Top tip: Barcelona is quite hilly, and the entrance to the park is noooo different. Plan to wear comfy shoes today.
AFTERNOON: Tibidabo – OR – Barca Stadium Tour
Choice 1) Tibidabo
Once you've had your fair share of mosaic-tiled giant lizards and exuberant walkways, make your way over to Tibidabo Mountain, known for not only it's impressive views of the city and an amusement park and Roman Catholic Church as well.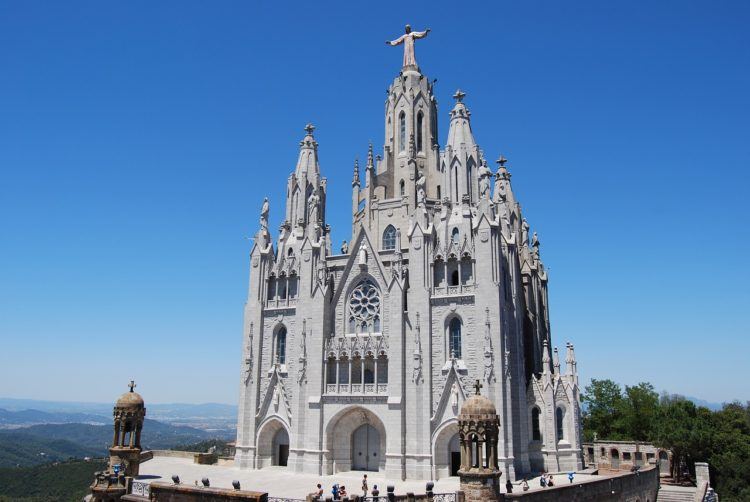 And get this – it's actually the tallest mountain in the Collserola mountain range at 512 meters, so of course it has panoramic views of the city and the surrounding coastline (duh). Thankfully there's a few ways to reach the mighty Tibidabo, if, ya know, an intense uphill climb wasn't part of your Barcelona itinerary:
TRAM AND FUNICULAR: Tramvia Blau (old-school tram) from Avinguda Tibidabo FGC Station to Plaza Doctor Andreu (which gets you halfway up the mountain – stop at the cafe for some refreshments if you so please), and then a funicular that goes straight up to the top of Tibidabo (lets you off right near the church and amusement park)
TIBIBUS: few different starting points – Placa Catalunya or FGC from Catalunya
Things to do once you reach Tibidabo summit:
Tibidabo Amusement Park: Spend the afternoon screaming your heart out at one of the oldest functioning amusement parks in the world. Built in 1889, this charming little theme park is home to a whole slew of whimsical rides, perfect for both kids and adults. You can either choose to buy an admission ticket (which is decent value since it's under $15) and plan on spending some time there, or you can pay for individual rides themselves on the Tibidabo Sky Walk (located outside the gates of the park).
Tibidabo Church (Temple de Sagrat Cor): Built in 1806 and since renovated in 1902, this Neo-Gothic structure, (also known as the Temple of the Sacred Heart of Jesus), is an architectural masterpiece – just wait until you see it in person (completely swoon worthy). And for even higher views of the city down below, you can take an elevator to the top of the church.
**Top Tip at Tibidabo: There's not many options for food at the top of the mountain, and therefore whatever you do find will undoubtedly be quite pricey. Either pay up or plan ahead and bring your own little picnic – or just have some lunch after exploring Park Guell.
-or-
Choice 2: Barcelona Stadium tour
If views and churches and rides just aren't your thing (hey, everyone's different!), plan to take a Barca Stadium tour instead! Futbol (soccer to us in the states) is huuuuuge in Spain and especially Barcelona, so get out there and tour Camp Nou, the largest football stadium in all of Europe and home to FC Barcelona!
You can also choose to visit the museum (included in both tours below) to learn all about FC Barcelona and it's legendary players. Not only will the guided tour provide a panoramic view of the whole stadium, but you'll get to visit the most symbolic areas of Camp Nou, including the visitors changing room, the television studio, the mixed zone, the press room, and even the commentary boxes.
Tours do sell out (as they're not offered everyday), so be sure to snag your tickets ahead of time.
And if you feel you might get a tad hungry during the tour, be sure to book the Barca Stadium Experience with Tapas Brunch! Can't go wrong with some tapas, cava, and a view of the stadium, that's for sure! Now go on, feel the true Barça passion!
Psst: as you may have realized, if you wanna do the Barca tour you may need to swap Park Guell for later in the day – no worries, an easy switcheroo! Just be sure to buy your timed ticket for the Monumenal Zone for a later time and don't cut it too close!
NIGHT: Food tour and optional Flamenco Show!
So much around Barcelona (and Spain in general) revolves around it's food culture, so might as well get a head start on your first night! I mean, wouldn't it be an absolute shame to be eating allll the wrong things your entire 3 days in Barcelona? Learn from the pros and stuff your face with the best of the best. Mmmm I'm getting hungry just thinking about the Manchego and serrano ham.
And thankfully, there's a few different options for your dinner needs:
Tour Option 1: Evening Tapas 3-Hour Walking Tour (starts at 5pm, lasts for 3 hours)
On this group tour, not only will you learn the secrets of the Mediterranean diet, but you'll also visit the famous food market of La Boqueria (don't worry, we'll go there again later on during our 3 days in Barcelona) and learn how to order authentic Spanish snacks at 3 different tapas spots!
Did someone say montadito, pa amb tomàquet, and porró?! Not sure what those are? You'll soon find out!
Tour Option 2: El Barrio Tapas and Wine Tour (starts at 5:30pm, lasts for 3.5 hours)
Winos, you're in luck, because this tour provides its guests with not 1, not 2, not 3, but 4 glasses of delicious Spanish wine or and cava (sparkling wine) – one for each Catalan tapas dish you have!. You'll be wandering around the vibrant area of El Barrio, noshing on local dishes at some of the best local bars and taverns around.
Tour Option 3: Tapas and Flamenco Show! (starts at 7:30pm, 3 hours)
Looking for a bit more Spanish culture (and yes, that includes eating of course), you'll wanna sign up for this one. After you've checked out a few tapas hot spots in the Gothic Quarter, just sit back, relax, and get ready for a 45-minute authentic Flamenco show!
Day 2
MORNING: La Sagrada Familia
This architectural beauty is the world's largest unfinished Roman Catholic church, which was designed by famous Catalan architect Antoni Gaudí. You won't believe it, but construction started all the way back in the 1880's and is not planned to be finished for a few more years!
Words just can't describe how amazing this cathedral is – both the inside and the outside. When the sun streams through the colored stained glass windows you can get some amazing photographs! It truly feels like you're in another world, and it's absolutely stunning!
Being Barcelona's number one attraction (yup, #1 alright!), the Sagrada Familia will undoubtedly be very crowded. My suggestion: definitely get your tickets ahead of time – do so here (100% non-negotiable if you actually wanna see the inside). Lines are very very long, and you most likely won't even get in if you don't have a pre-purchased ticket. Buy your tickets here and save yourself the hassle of (fingers crossed) hoping to get in the day off (mostly unheard of).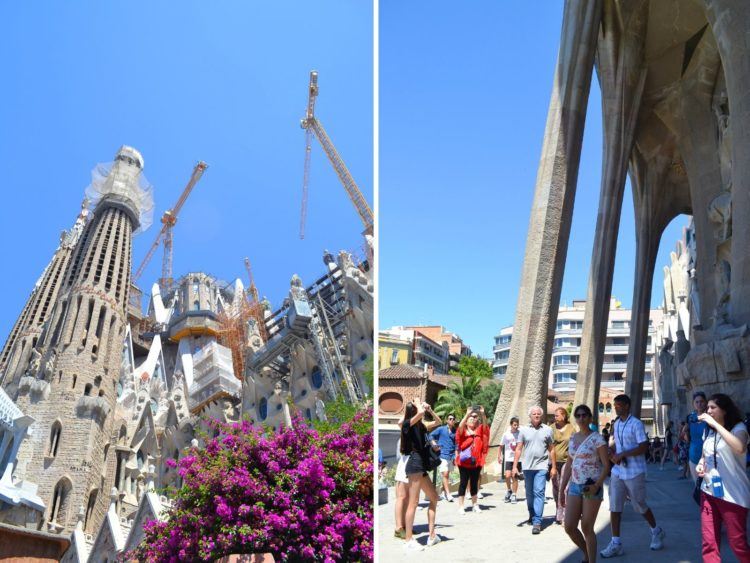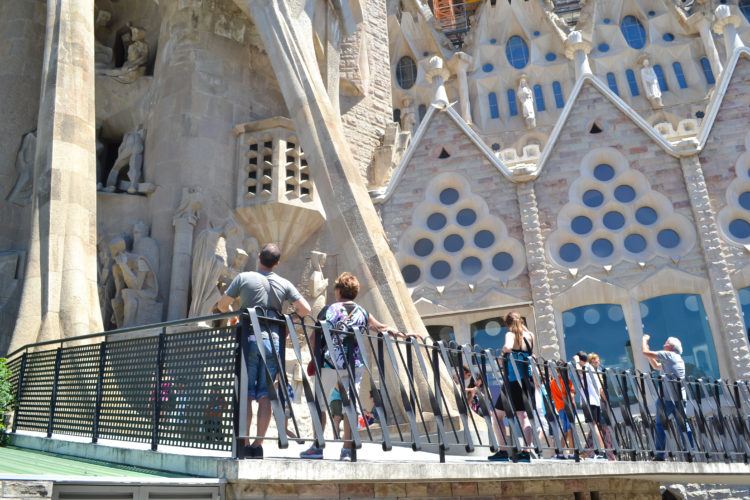 Basically, as soon as you know your intended dates for Barcelona, book your tickets to see La Sagrada Familia. You can opt for the optional audio tour recording if you'd like in order to learn about the building and it's marvelous architecture. Ticket prices:
€15 for basic entry
23.80 euros for access to the towers and a guide.
AFTERNOON: Casa Batlló and Casa Mila
Casa Batlló: Another Gaudi UNESCO site that shouldn't be missed, even if you only make it to the outside! The vibrant exterior of the building displays colorful mosaics made from broken ceramic tiles, while bone-like adornments surround its windows, aka another must-see!
When I was planning out my Barcelona itinerary on my initial visit, I knew I had to include Casa Batlló – it seriously looks like a house from a fairy tale. Like I said, even the outside is something especial!
Tickets are recommended to be bought well in-advance as well (which will also save you a few euros!), and includes an enhanced reality and virtual video tour of the entire house which is pretty cool! Buy tickets in advance here. Or want to skip the crowds and have the place almost to yourself? Buy your early morning tickets here and start exploring before the general public is allowed in!
Casa Mila (aka La Pedrera): Another spectacular work of art by Gaudi, and located just a few blocks from Casa Batlló. Also known as "The stone quarry" for its unconventional rough-looking appearance, it's one of the most famous buildings of the Catalan Art Nouveau period and one of Gaudí's most ambitious works.
Aka don't miss it – even if you just see it from the outside (although it was quite spectacular inside as well). I'm talking wrought-iron balconies, light-filled courtyards, and by far the best rooftop in the world (Gaudi even transformed the chimneys and staircase exits into sculptures – you just gotta see it). Oh, and it's even starred in more than 15 international films! Something else to add to your Barcelona bucket list, sorry! Buy skip the line tickets here.
LATE AFTERNOON/SUNSET: Bunkers of Carmel
Who's up for a sunset stroll, (okay, fine, let's call it a mini hike), to one of Barcelona's most popular sunset spots? We absolutely LOVED this spot and are oh so glad our hotel, the H10 Art Hotel, recommended this to us (we were at a loss for what to do one late afternoon). The Bunkers of Carmel sit atop Turo de la Rovira hill, and are actually abandoned military aircraft defences!
Depending on how you get to the area, it'll be between a 15-30 minute uphill walk. BUT oh yes, it's worth it for those drool-worthy panoramic birds-eye views of the entire city down below.
Get here soon because this site is increasing in popularity by the minute, despite being one of the cities best kept secrets (well, not anymore!).
Day 3
MORNING: Gothic Quarter
Ohhh, the charming Gothic Quarter, an area every Barcelona itinerary should most definitely cover. The Gothic Quarter is located within the center of the old city of Barcelona, stretching from Las Ramblas to Via Laietana. It's filled with narrow medieval streets, trendy bars, delish Catalan restaurants, and vendors selling everything from leather and jewelry to flowers and street-food.
In order words, don't miss it, as you'll find many buildings dating back to the Medieval Times here (whoaaaaa). And if you're into biking, check out this tour – you'll ride around Barcelona and hit up a bunch of cool spots all within three hours for about 20 bucks! Segway more your style? You've got that option too! Be aware that pickpocketers are known to hang around this area, so be extra cautious, keep your bag/backpack in front of you, and keep your wallet in your front pocket.
Within the area, be sure to check out Santa Maria Del Mar (absolutely free of charge), the beautiful Barcelona Cathedral, Citadel Park (also known as Parc de la Ciutadella), the MACBA, the Picasso Museum, Palau Güell (an early mansion designed by Gaudi), La Rambla, and Mercado de la Boqueria. Yeah, there's a lot to do in the Gothic Quarter, so start your day relatively early, grab some breakfast in the area, and start the exploring!
My favorite, La Rambla, the absolute heartbeat if the city! It wouldn't be a proper visit to Barcelona without a stroll on La Rambla (it's a gorgeous tree-lined pedestrian street). There's loads to do here, with tons of stores, restaurants, and places for sangria pit stops.
Watch out for pickpockets here as well, as Las Ramblas is a popular bustling city street. And make sure you head to La Boqueria Market for loads of fresh fruit juice (1 euro or so), tasty empanadas, tons of candy and olives, and cured meats! Yummm.
LATE AFTERNOON: Barcelona Waterfront and Barceloneta Beach
If you've had enough of Gaudi's masterpieces and wandering around La Rambla, head on over to the beach! Yes, there's a beach in Barcelona, who knew?! La Barceloneta is known for its sandy beaches and many seafood restaurants and clubs along the boardwalk, and it's the perfect spot for some R&R after running around the past few days! Take an afternoon to relax with some sangria in your hand – doesn't get much better than that!
Be sure to check out the yachts at Port Vell (Old Port), Maremagnum (a bustling shopping complex – good to get outta the heat for a bit, you'll see), Mirador de Colum (Columbus Monument), and the aquarium (largest in Europe)!
NIGHT: More choices!
Choice 1: Montjuïc Magic Fountain
Looking for something different to do at night in Barcelona? Head to the Montjuïc magic fountains! These fountains are not your average fountains – they're a spectacular display of color, light, motion, music and water acrobatics. Absolutely insane. Check out the schedule as the fountains perform on different nights during the year, or simply join a tour to ensure you end up there on the right day!
-or-
Choice 2: Sunset Sailing Cruise
We're going on a boat! If you're looking for something a bit romantic or just like the idea of getting out on the water, book yourself and your loved one/s on a sunset sailing cruise! You'll sail away into the Mediterranean Sea, while admiring the Barcelona skyline as the sun sets into the warm waters. Read reviews and book tour here.
And if you have more time, consider one of the wonderful day trips from Barcelona, including Monserrat (for some dramatic landscapes), Sitges (a lively beach town south of the city), and Girona (on my itinerary for next time).
Are you currently planning your 3 day Barcelona itinerary? Which of these things to do in Barcelona in 3 days will you be adding to your trip?