Looking for information on Norway's Preikestolen hike (also known as the Pulpit Rock hike?) Keep on reading, my Norway-obsessed friends, as this post will tell you everything you need to know about getting from Stavanger to Preikestolen, preparing for the Preikestolen hike, and much, much more.
The Pulpit Rock Hike is on so many Norway bucket lists. Photos are allll over Instagram and Pinterest, and just one look at the views clearly explains why this Preikestolen hike is on everyone's wish list.
I'm guilty as well, and after obsessing over the pictures I had seen for way too long, I finally made the pulpit rock hike a reality on my recent Norway road trip.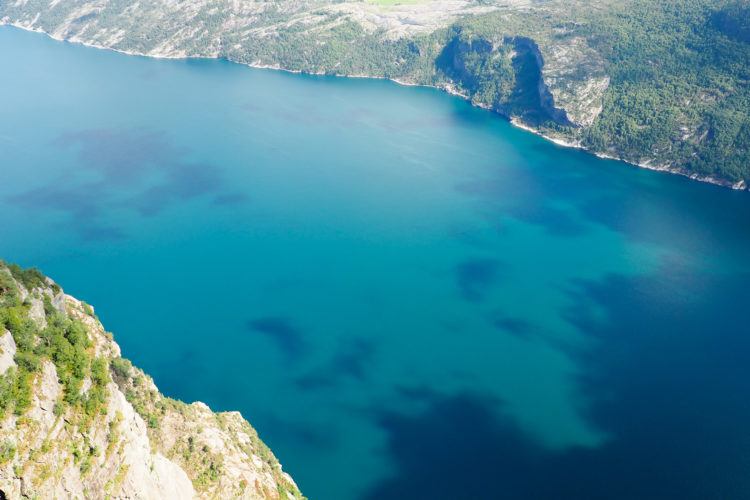 Our day accomplishing the Preikestolen hike was one of the most spectacular days on our recent trip to Norway. Not only did the views of the Lysefjord impress and then some, but the hike tested both our mental and physical strength. We were still a tad jet lagged, had headed out in misty weather, and were already kinda hungry (we like to eat, ok!?).
Read Next: 10 Days in Norway: A Complete Norway Road Trip Itinerary
To say the views from the top of Pulpit Rock were one of the highlights of our Norway trip is a complete understatement. Just look at that turquoise water!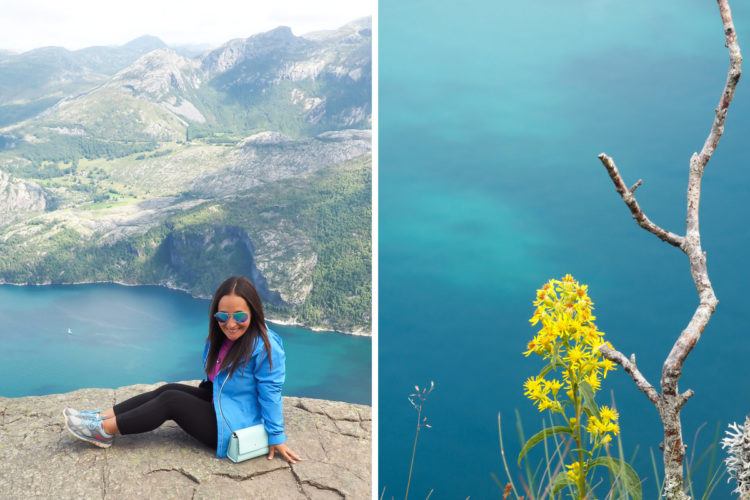 Ok, now all the information you need to get your own Preikestolen hike under way!
Getting to the Pulpit Rock Hike:
Heading from Stavanger to Preikestolen?! That's what we did on our Norway trip! The Pulpit Rock hike starts at the parking lot of the Preikestolen Mountain Lodge, which is about 90 minutes away from Stavanger. The Mountain Lodge has a restaurant, restrooms and other facilities should you need them before or after your hike.
There are a few different ways to get here:
Drive yourself if you've rented a car (about 90 minutes away)
Take the ferry from Stavanger to Tau (40 minutes), then a bus from Tau to the base of the Preikestolen hike (30 minutes) → more info below
Driving Yourself
If you are in fact renting a car and don't like hiking with other people, it's recommended to do the Preikestolen hike early in the morning (starting by 8 a.m.) or after 3 p.m, especially if it's prime tourist season (June-August).
The hike is popular, you'll see! We visited on a misty, cloudy morning so thankfully I'm sure that deterred some from doing the hike when we did.
Using Public Transportation to the Pulpit Rock Hike
I highly recommend taking public transportation (ferry and bus), as it's all exceptionally reliable and quite easy once you've figured it out. You can also buy pre-purchased tickets ahead of time if you're like that (we didn't and were able to buy tickets to the ferry on board and a bus ticket once we arrived in Tau).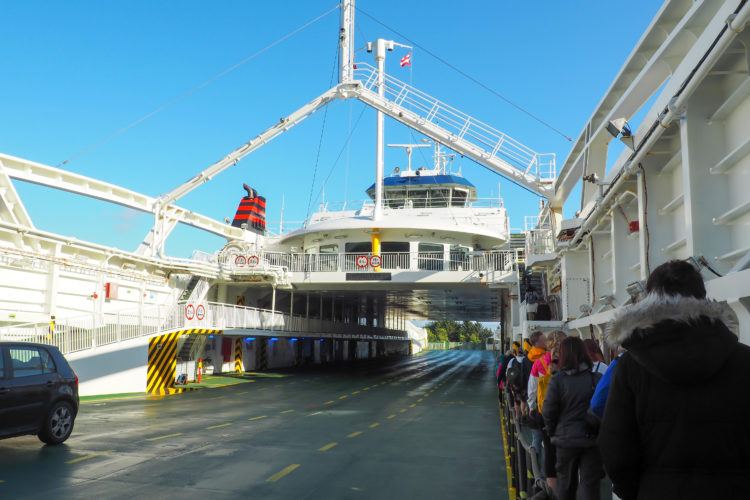 1. The Stavanger – Tau ferry runs all year, with departures every 40 minutes on weekdays, and slightly less on Saturdays and Sundays. The ferry leaves from Fiskepiren, with the crossing taking about 35-40 minutes. Norled is the provider of the ferry company if you're wondering.
2. Once you've reached Tau by ferry, you'll go by bus/coach to Preikestolen Mountain Lodge (starting point for the hike). Note that the buses are only available between April and September, and you'll need to hire a costly taxi from Tau to Preikestolen Mountain Lodge if you're visiting during low season.
Note that you can also stay closer to the start of the hike as well if you don't feel like making the trek on the same day (which really wasn't bad at all though). The nearest places to stay to hike Pulpit Rock are Preikestolen Fjellstue and Lilland Hotell.
Map with ferry and bus route
When to go:
The main hiking season for Preikestolen is late April through October, although peak season coincides with the summer months (June through August). It is during these three months that you'll find the most crowds, particularly because of summer vacations and cruise ship season.
If you're visiting during this time, it's best to save your Pulpit Rock hike for a weekday, as locals tend to visit on the weekend.
Snow closes the trail from November to March, so the frosty winter months are not advised for the Preikestolen hike.
Looking for something a bit different and want to bypass all the crowds altogether? Start the walk in the middle of the night and aim to reach the top a bit before sun rise!
I can't even begin to imagine just how magical it'd be to see the sun rise and reveal the incredible view above the Lysefjord. If you do this, please oh please report back to me with photos! Remember to be begin the trek about 2.5 hours before scheduled sun rise.
There's even organized tours if you don't feel comfortable hiking in the dark. Personally, I'd be the first to join a tour at this hour since I definitely don't trust myself sans light!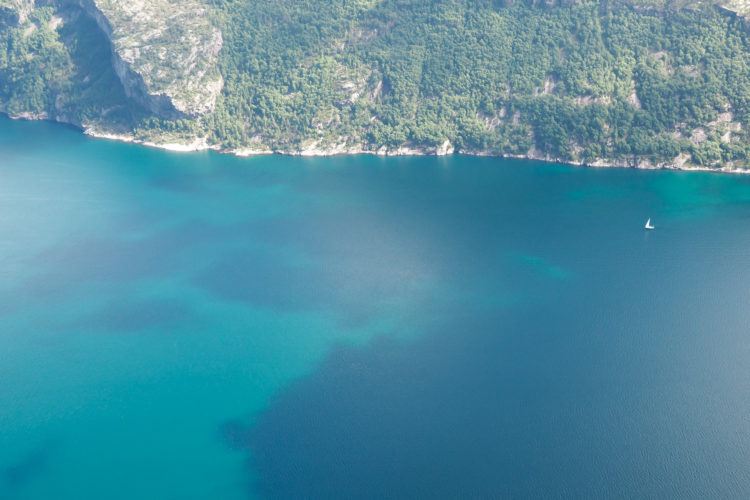 The Pulpit Rock Hike:
First things first – the Preikestolen hike takes around 4-5 hours round trip, is 4.4 miles (7.6km) long (roundtrip), and has an elevation gain of ~1,000 feet (350m). It's very safe, just be sure to stay on the trail and not veer to close to the mountain edges.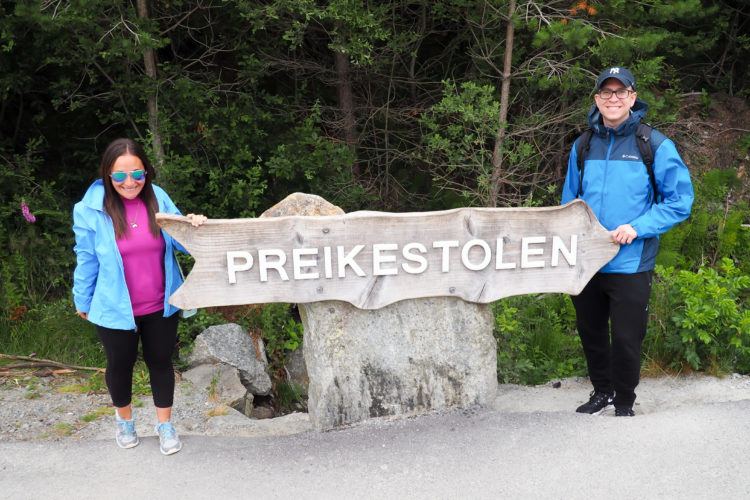 You'll hear many different opinions on the strenuousness of the hike to Pulpit Rock depending on who you ask. I thought the hike was clearly moderate, while the husband thought it was more on the strenuous side (but he isn't a fan of hiking). Some blogs actually say the hike is easy, which I find to be wildly inaccurate (unless you're a professional hiker or something of that nature).
The trail is well-marked with a mix of wooden sign posts and stone piles painted with red T's. But most days you can just follow the crowds! You'll also notice poles with information printed on them marking the distance hiked (wahoo) and the distance left to hike (wah) in both directions.
There is no scrambling involved, although you'll be hiking a few difficult elevation ascents which makes the hike somewhat strenuous.
Here's a quick snapshot of the actual hike:
20 minutes of uphill hiking on rock steps (quite intense)
A bunch of almost-flat boardwalks
30-40 minutes of true elevation gain towards the end of the hike on boulders
We most definitely stopped a few times during the uphill stretches to catch our breath – no shame in that! If you've got good weather they'll be views along the way so snap a few photos, have a quick snack, and you'll be good to go!
Sure it's a taxing hike, but once you reach the top, you'll instantly forget about all that huffing and puffing. You'll be rewarded with a panorama of mountains with the glistening Lysefjord below. I couldn't stop taking photos it was just so beautiful!
We got EXTREMELY lucky and the fog and clouds finally burned off a bit after we made the final ascent.
Be sure to account for some time at the top of Preikestolen, as we spent about 45 minutes (or longer!) staring at the views, getting in some good photography, and just reveling in the fresh Norwegian air.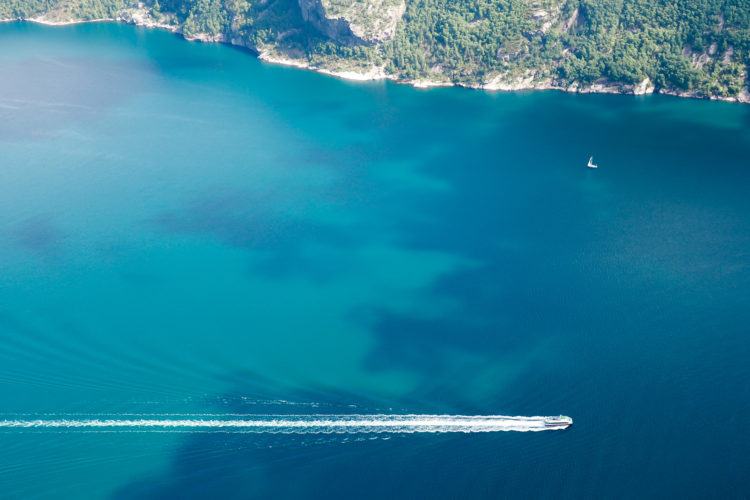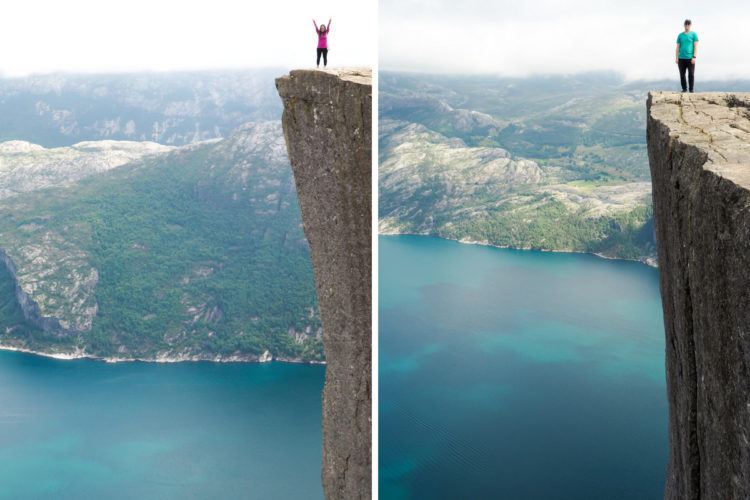 Solo or with a guide?
If you don't trust your hiking abilities or just feel more comfortable with a Pulpit Rock pro, you have the option to join a guided tour! Thankfully, they run daily from April to October, subject to weather conditions of course!
What to wear and bring:
Since you'll never really know the exact weather (it seems to change on the fly in Norway), be sure to take along (or wear) some layers. It's also recommended to bring a thin jacket that's both waterproof and windproof.
We encountered some light rain, mist, and gusts of wind during our hike to Pulpit Rock, and were so glad we had brought our jackets with us. You don't need anything heavy since you'll be soon sweating from all the uphill battles on the trek. It's possible to experience sunshine, rain, snow, and wind all on the same day, so just be prepared for all the elements!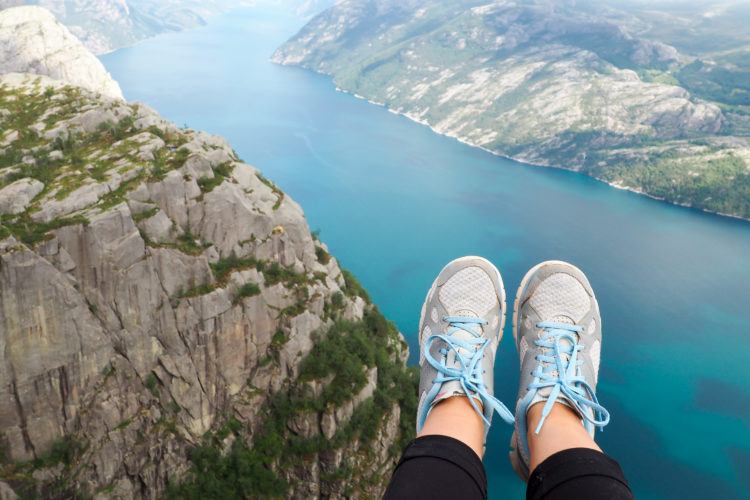 It's up to you if you feel comfortable wearing sneakers on the hike or not. We both felt fine in our trainers, but many recommend hiking boots since parts of the hike go through rough terrain. Boots always provide more foot and ankle support than regular old running shoes do, so just keep this in mind.
The hike to Preikestolen was the only real hike we had planned on our entire 10 day Norway itinerary, so we didn't want to waste precious space in our suitcase by lugging around some heavy boots.
Note that there are no shops and/or facilities on the climb, so make sure to take enough water for the duration of the hike, a few snacks (we like granola and protein bars), and possibly a lunch to eat the top or near the top.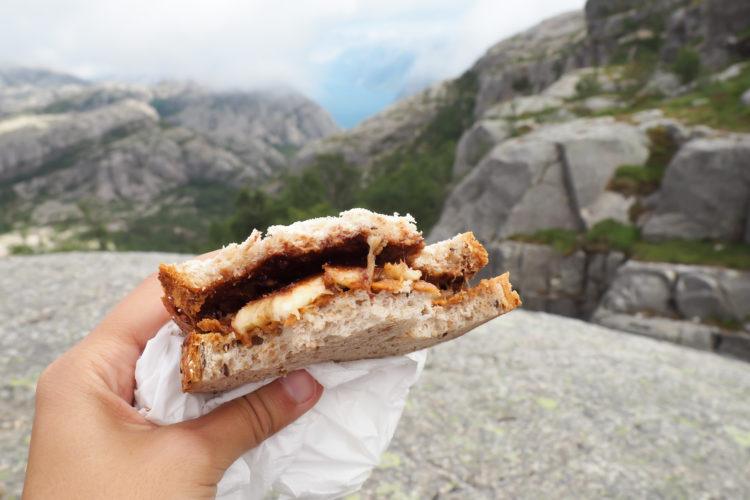 Are you planning a trip to Norway soon?! Any further questions about the Preikestolen hike?!