Planning a California coast road trip?! Taking a drive down the PCH?! You're in the right place! I've got loads of info for you!
A road trip down the California Coast on the Pacific Coast Highway (Highway 1) is an unforgettable way to see so much of what the state has to offer.
From waterfalls and castles (yes, really), to spectacular beaches and theme parks, there's absolutely no shortage of things to do on the California Coast.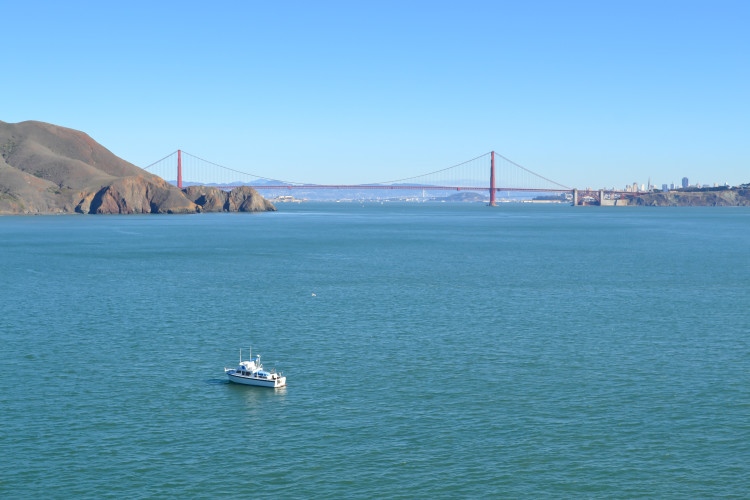 Whether you've got a weekend or a few weeks to travel, you can fill your time with a wide array of California experiences. Let's get this Pacific Coast Highway road trip under way!
Being one of the most scenic drives in the world (and rightfully so), I advise you to take your sweet time to really savor all the charming beauty of this west coast road trip down California.
And before we go into it, if you've got even more time in California and you'd like to visit a few spots off the coast, check out my latest post: 45 (Extremely) Beautiful Places in California (opens in new tab, don't worry!) << lots more itinerary inspiration for your California road trip!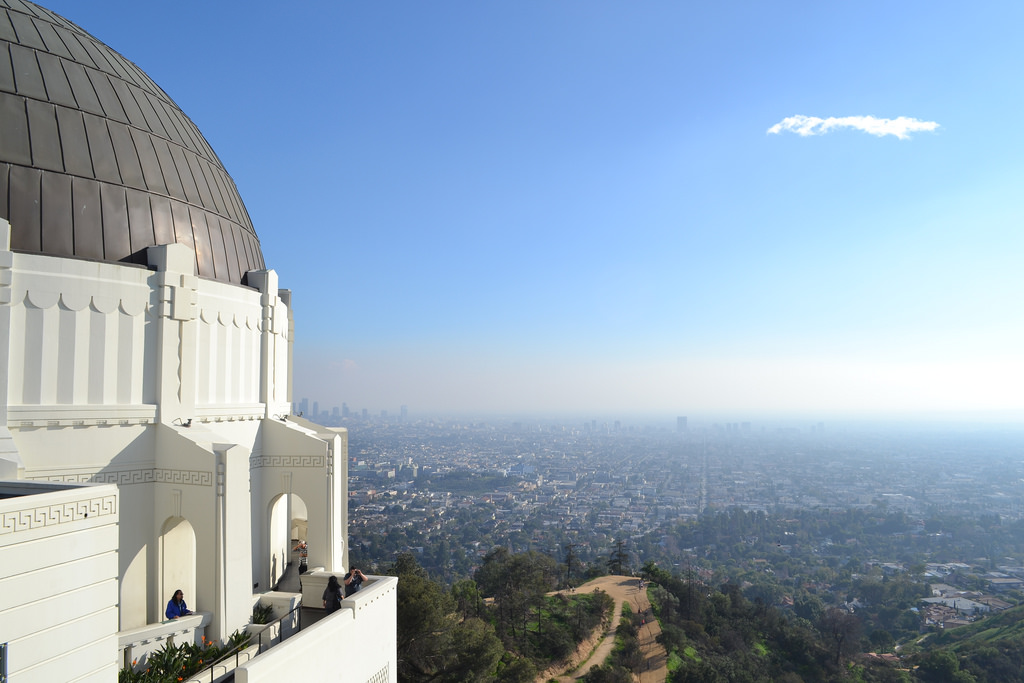 Recommended Route down the California Coast
Stop 1: San Francisco, California
Stop 2: Half Moon Bay
Stop 3: Santa Cruz
Stop 4: Monterey/Carmel-by-the-Sea
Stop 5: Big Sur
Stop 6: San Simeon
Stop 7: San Luis Obispo/Pismo Beach
Stop 8: Solvang
Stop 9: Santa Barbara
Stop 10: Ventura → Channel Islands
Stop 11: Malibu
Stop 12: Los Angeles/Santa Monica
Stop 13: Anaheim
Stop 14: Orange County
Stop 15: San Diego
ALL 75 of my favorite PCH stops RIGHT over here! There's tons of ideas in this California coast road trip itinerary, but those are my absolute favorites.
Note that the number of stops you'll be able to make highly depends on how much time you have allotted for this California road trip.
Suggested One-Week Itinerary: If you have a week or so for this drive down the California Coast, I recommend a day in SF (depending on whether you've been or not), a day in Carmel/Monterey, a day in Big Sur, stopping at Hearst Castle in San Simeon, dune-bashing (if that's your thing) in Pismo Beach, a day in Santa Barbara, stopping in Malibu en route of LA, checking out the main sights of LA/Santa Monica, then some beach time in Orange County.
Yes, it'll be pretty jam-packed, but highly doable if you plan your drives correctly. You can really spend an infinite amount of time on the California Coast, so it's hard to say exactly how long this road trip will take. It highly depends on your interest, how much time you wanna spend in the cities, and how much driving per day you wanna do.
Note that you can drive directly from San Francisco to LA in roughly 6 hours, but this route (via Highway 101 and Highway 5) will take you inland, meaning you'll miss out on so much of the Central Coast.
If you're planning to drive round trip, I highly recommend that you drive South down the coast via Highway 1 – the Pacific Coast Highway, and then venture back up North via Highway 5 and Highway 101.
You can drive either way (from SF to LA/San Diego -or- LA/San Diego to SF), but I prefer driving South, starting in the SF Bay Area and making my way down to LA/SD. Pssst: the views are better this way as the car will be closer to the water. 😉
Renting a Car: Since this is in fact a road trip, you'll need a vehicle to get you from place to place! Worth mentioning so you don't forget to account for the cost of a rental car when following this California coast road trip itinerary!
I like to search via this site in order to compare rental companies to see who has the best price.
Note that many rental car shops charge extra for returning their cars at different pick up/drop off locations – just something to keep in mind (it may be worth the extra 6 hour drive back to your original starting point to avoid this pesky fee).
Search for the cheapest car rentals over here!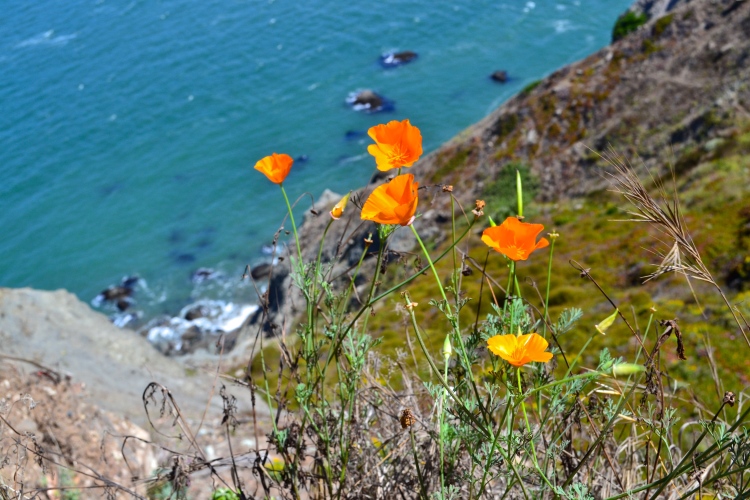 WHERE TO GET THE BEST FLIGHT DEALS TO CALIFORNIA:
First things first, if you're not a resident of San Francisco (or LA), you'll of course need to get yourself there. Since SFO is a major international airport, and a hub for many airlines, you can easily find cheap airfare within the states.
I swear by Skyscanner and Google Flights, and always always always use these two sites when looking for airfare. The option to watch prices and get email notifications are top notch and one of my favorite features of the two.
Always check budget airlines that may not be listed, especially if you are coming from other areas of the US with shorter flight times. A great list of budget airlines can be found here.
If you'll be following this itinerary and heading south (without driving the direct 6+ hours back to San Francisco), you'll want to book two one-way tickets. 1) HOME → SFO, 2) LAX→ HOME. Make sure to search for one-way flights when booking tickets.
Totally your call, but I suggest flying round trip from the same airport so you can avoid one-way drop off rental car fees.
When to Drive Down the California Coast
Keep in mind that the summer months (June, July, and August) are usually rather foggy in San Francisco and down the California coast. Because of this, some mornings will be pretty damp and misty. For best weather and best chance of sunshine, plan for a road trip in either late September or October.
If summer is your only option, you may get lucky with clear skies, but don't count on it. However, with this in mind, the fog usually clears up by mid-morning/afternoon. Normal summer temps are in the low-60's to mid-70's, so bring a jacket and reconsider that convertible! "May Grey, June Gloom" is a real thing out here.
*All drive times are approximations. Traffic can be heavy at some points along the drive, and you'll likely be getting out of your car occasionally to take photos along the way.
Stumped on what to pack for a California road trip itinerary? Check out this ultimate road trip essentials packing guide (opens in new tab)!
What to Pack for your Pacific coast highway road trip (rotate sideways on Mobile)
Now let's get this California coast road trip planning on it's way!
California Coast Road Trip Itinerary:
1) Start in San Francisco
Ahhh, SF, my favorite city; although technically I'm biased because I chose to move to the city by the bay from NYC a few years ago. 😉
A few San Francisco must do's include either walking or driving over the Golden Gate Bridge, wandering around Fisherman's Wharf (and stuffing your face with an ice cream sundae at Ghirardelli's), getting spooked at Alcatraz Island (go on the night tour!), relaxing with some coffee in Union Square, walking down twisty Lombard Street, and riding a cable car.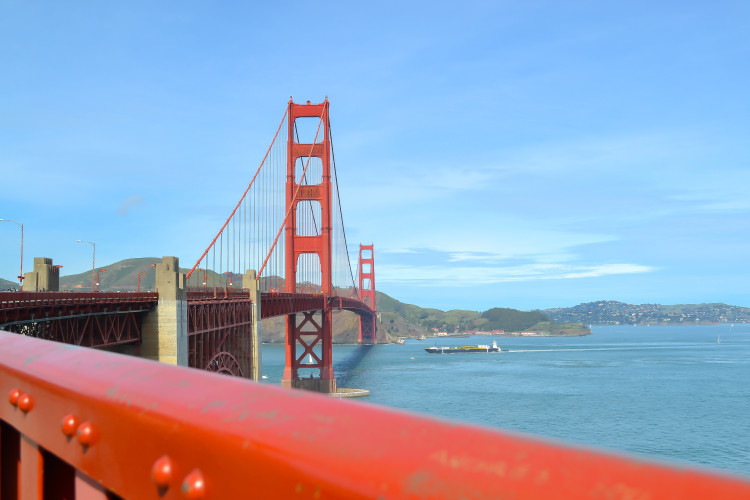 Get some great views at either Twin Peaks or the top of Coit Tower, check out the Painted Ladies, commonly known as the "Full House" houses, and nosh on some sourdough bread, fresh pasta in North Beach, and a burrito in the Mission District.
Other things to do in San Francisco include taking a panoramic night tour of city, cruise around the bay in a catamaran (champagne included!), see the Golden Gate Bridge from above on a seaplane tour, and taking a day trip to Napa Valley (not to be missed on any PCH road trip!)
Visiting San Francisco for the first time? Read THIS and THIS. 🙂 And make sure to check out this perfect 3-day SF itinerary!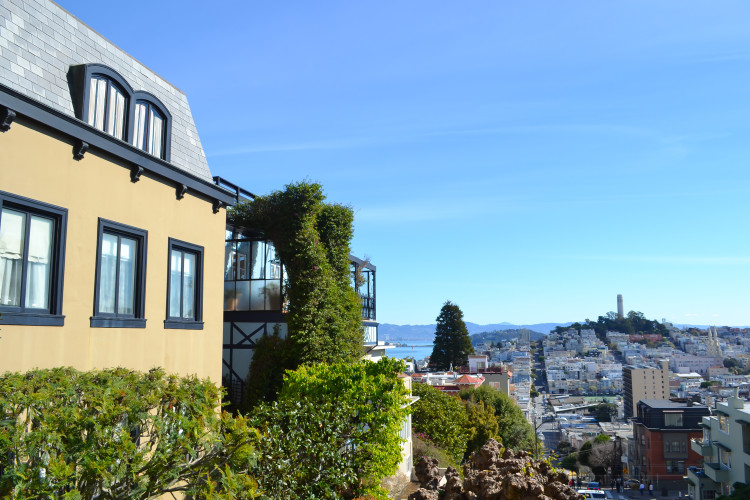 Beware, parking is not the greatest (and garages are expensive), and public transportation is somewhat lacking. I've lived here for 4 years now and still don't love touring the city via car.
I recommend playing tourist and taking a full tour of the city instead of trying to do everything on your own. Or rent bikes, electric bikes (!!!), or even a really fun (and kind of cheesy) goCar if you'd prefer to fly solo. Uber is always a good suggestion, and with my discount code (jessicak148), you can get a few bucks off your first ride!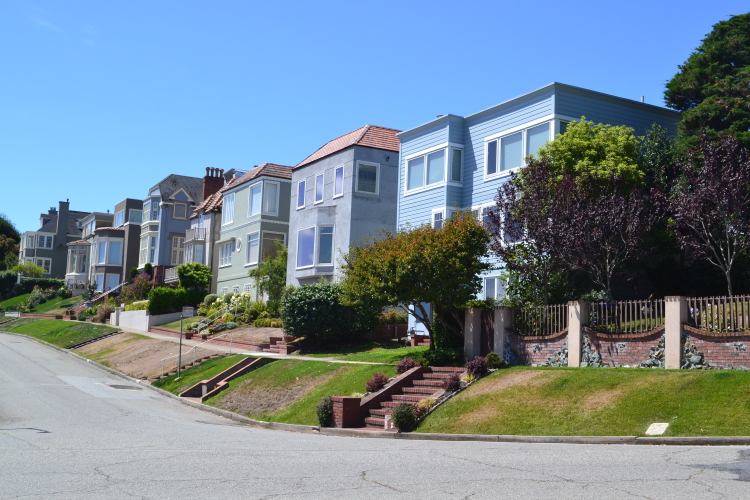 Read More about San Francisco:
Where to Stay in San Francisco
2) Half Moon Bay (45 minutes from SF)
Your first official stop on your California coast road trip (unless you wanna make a few stops in Pacifica/Pescadero – I've got a whole road trip guide from San Francisco to Santa Cruz here)! Say goodbye to the city and venture on over to Half Moon Bay, a cozy little seaside village right on the coast.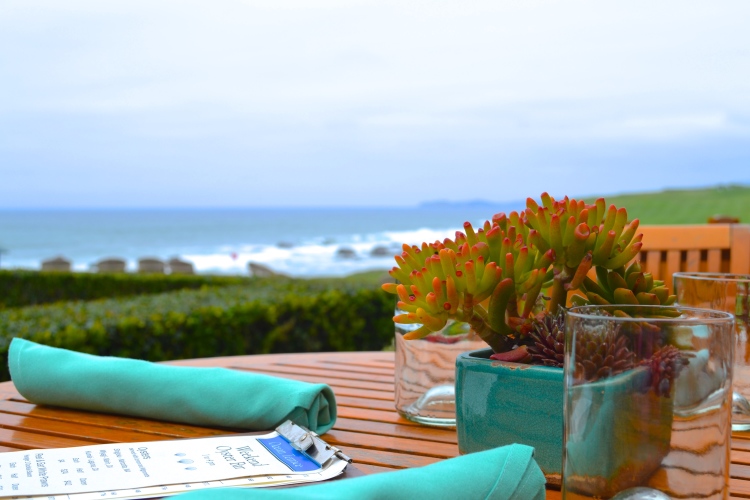 You could easily plan a full day's worth of activities here, but I suggest spending either a morning or afternoon, unless you want to take the plunge and stay at the ever-so-beautiful Ritz Carlton.
A few must do's: go for a stroll on one of the many beaches that dot this area of the coastline (my favorites: Poplar, Mavericks, and Miramar), wander around Half Moon Bay Main Street, walk the coastal trail, and indulge in a lobster roll from Sam's Chowder House.
Read More about Half Moon Bay:
3) Santa Cruz (1 hour from Half Moon Bay)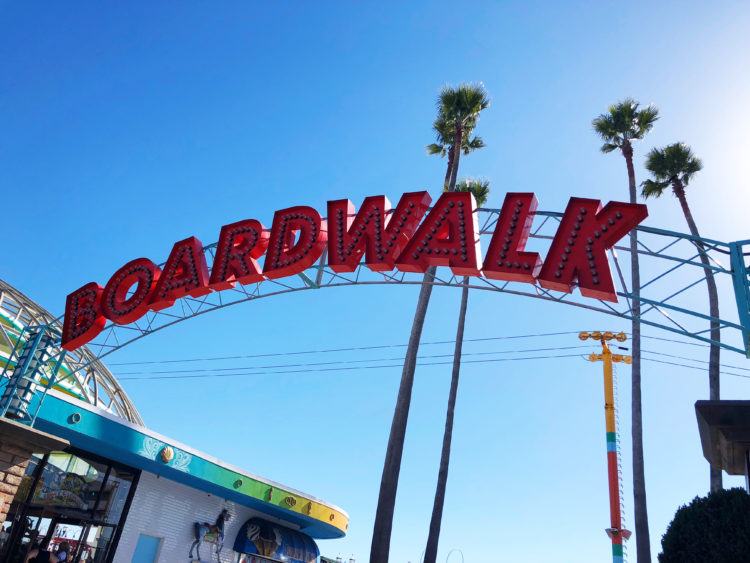 Drive a bit further on Highway 1 and you'll reach Santa Cruz, where I suggest stopping for a few hours. Walk on the Santa Cruz Beach Boardwalk, ride the Giant Dipper and/or the Ferris Wheel right on the beach, and stop for a snack or two (churros and funnel cake are my favorites).
Also, don't miss the Mystery Spot, which I won't give away for obvious reasons, and make sure you try Marianne's before heading out (the absolute BEST ice cream in the area).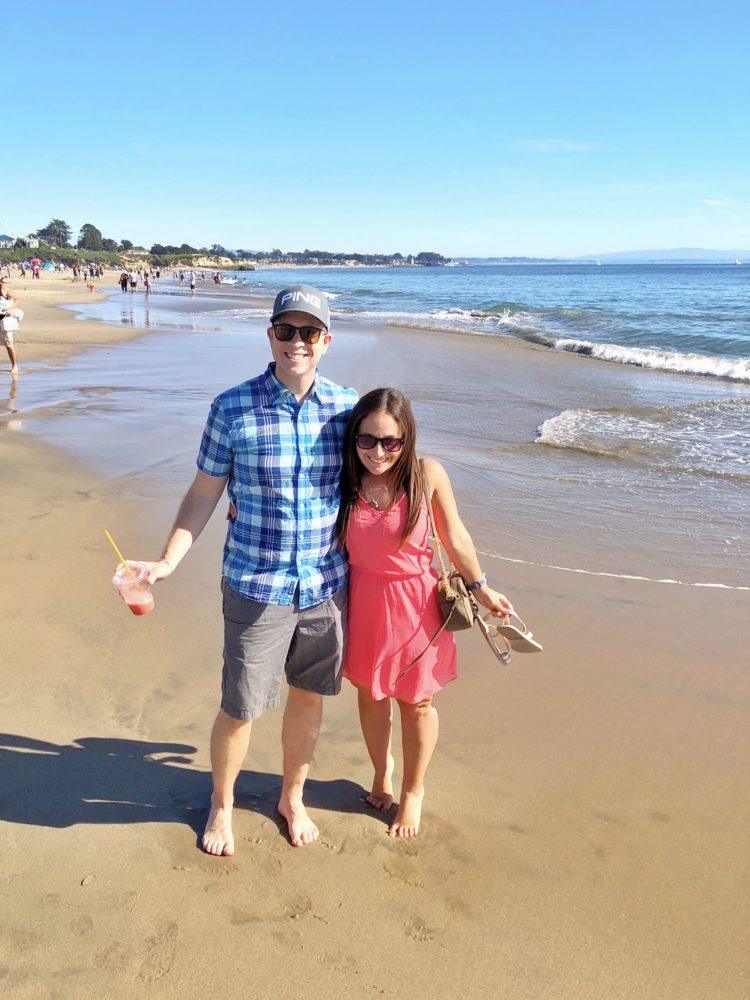 Read More about Santa Cruz:
15+ Things to do in Santa Cruz
4) Monterey/Carmel-by-the-Sea (45 minutes from Santa Cruz)
Next up on our Pacific Coast Highway road trip – Monterey and Carmel! California is just full of sweet little seaside towns, and this area, despite being rather touristy, is definitely one to stop at.
Monterey and Carmel are only a few miles apart, and I highly suggest spending the night in either of these towns (Monterey being the more affordable option) while on your California coast road trip.
A few recommended activities and bites: bundle up on a whale watching tour, indulge in clam chowder at Old Fisherman's wharf, walk around Cannery Row, and spend a few hours at the Monterey Bay Aquarium (included in the San Francisco CityPASS if you've gotten it previously).
Don't miss a walk around the charming little town of Carmel, cruising around the area in a Sea Car, watching the sunset at Carmel Beach Park, and stopping at the viewpoints along the 17 Mile Drive.
On our most recent visit, I couldn't stop raving about the food, with my favorites being the Monterey Crepe Company, Red's Donuts, and The Poke Lab. I really should make an-depth guide to Monterey soon!
Read More about Monterey/Carmel:
Where to Stay in Monterey:
5) Big Sur (50 minutes from Monterey)
Next up: Big Sur, famous for a reason and many people's favorite stop on this California coast road trip itinerary. Most people are surprised at how little "civilization" is around here – no traffic lights, strip malls, or banks.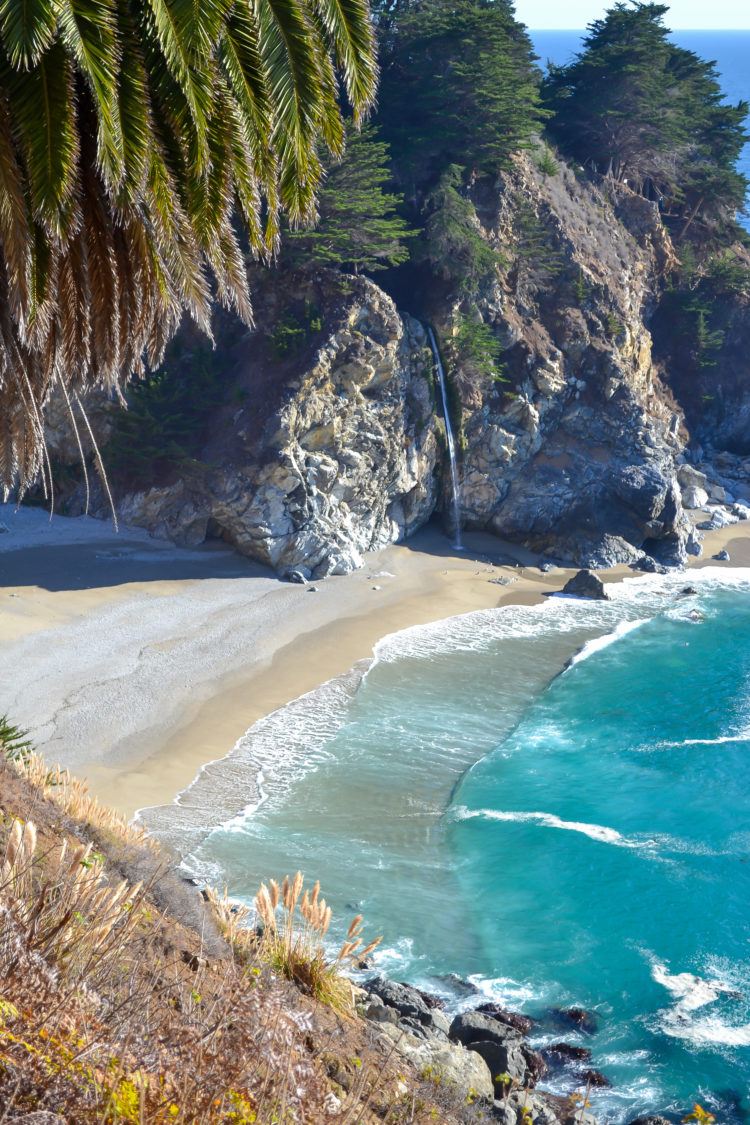 It's more of a state of mind rather than a specific point on a map, encompassing about 90 sunny Californian miles down the coast.
With this being said, plan to drive down the coast and consider setting up camp/hotel in another location, unless you want to fork over some big bucks for a luxury hotel. I recommend everyone spend a bit of time in Big Sur on a California coast road trip (at least half a day)– it's too remarkable to miss!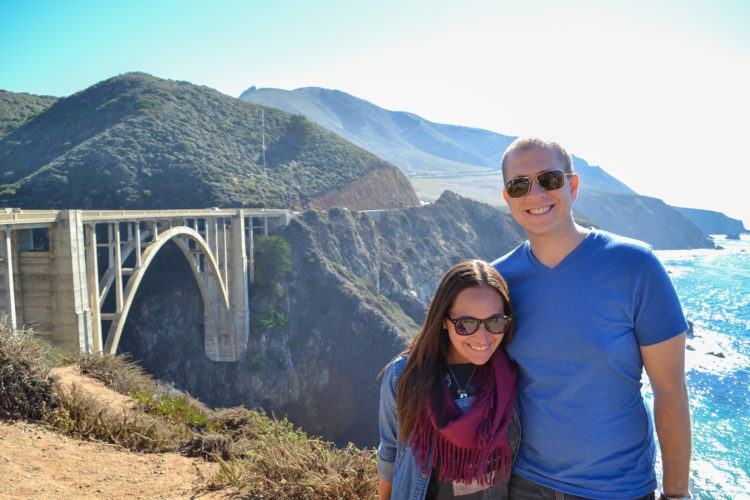 You'll be stopping on the side of the highway so many times you'll lose count – the coast line is just that spectacular! It's known for its winding turns, seaside cliffs, and breathtaking views of the often misty coastline.
A few must-do's here in Big Sur: see McWay Falls at Julia Pfeiffer Burns State Park, wiggle your toes in purple sand at Pfeiffer Beach (yes, parts of it really are purple, I was surprised too…), marvel at the Bixby Creek Bridge, and check out all the views from Point Lobos. OH, and if you're visiting between February and April, definitely find the hidden blooms at Calla Lily Valley!
Read More on Big Sur
Where to Stay in Big Sur (Super Duper Beautiful Luxury Spots)
6) San Simeon (2 – 4 hours drive, depending on how many stops you make in Big Sur)
Did you think you'd be stopping at a castle on your California coast road trip? When I first learned about Hearst Castle, I was mesmerized. Being a historic landmark on the coast, tours do fill up in advance, so be sure to book your spot ahead of time.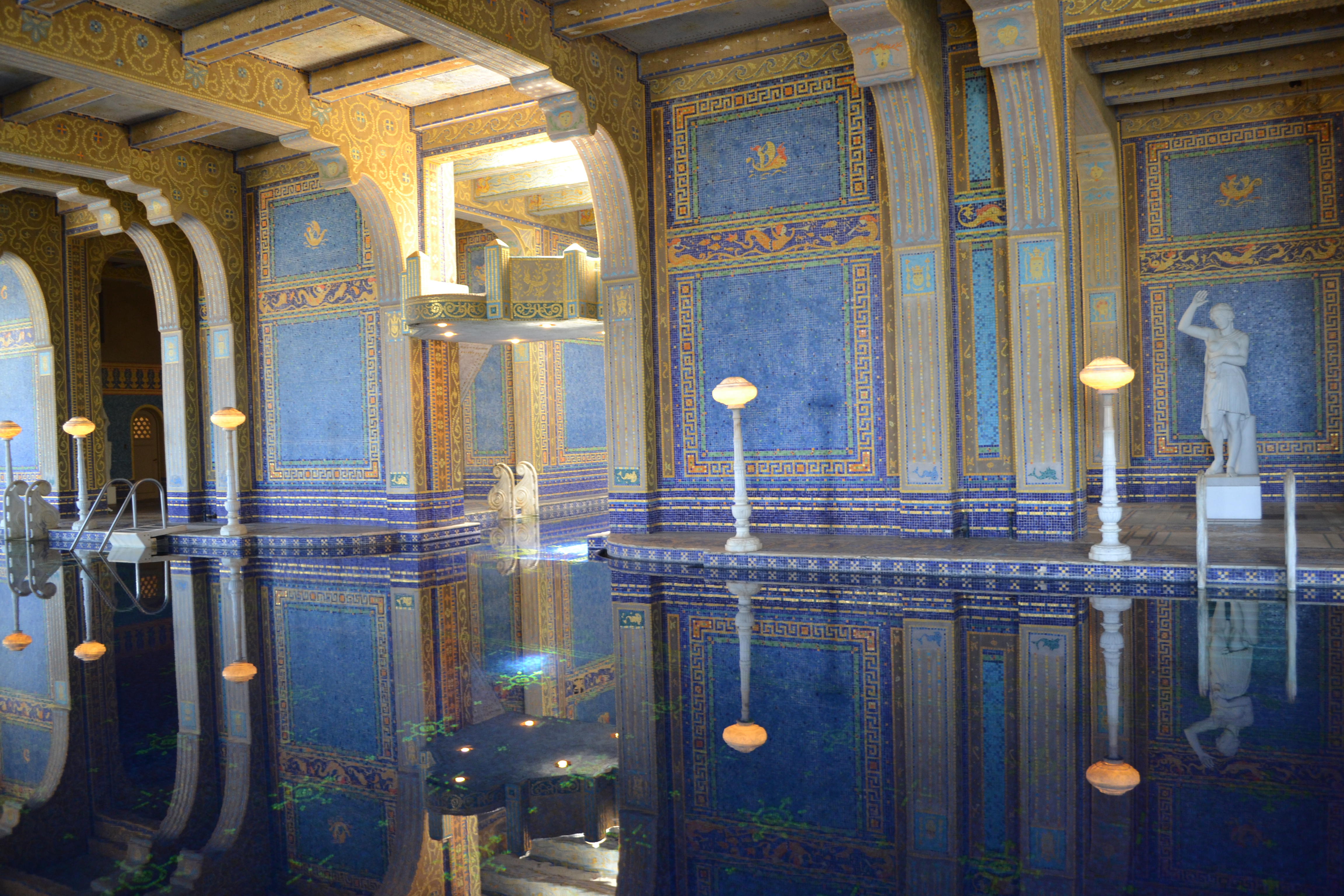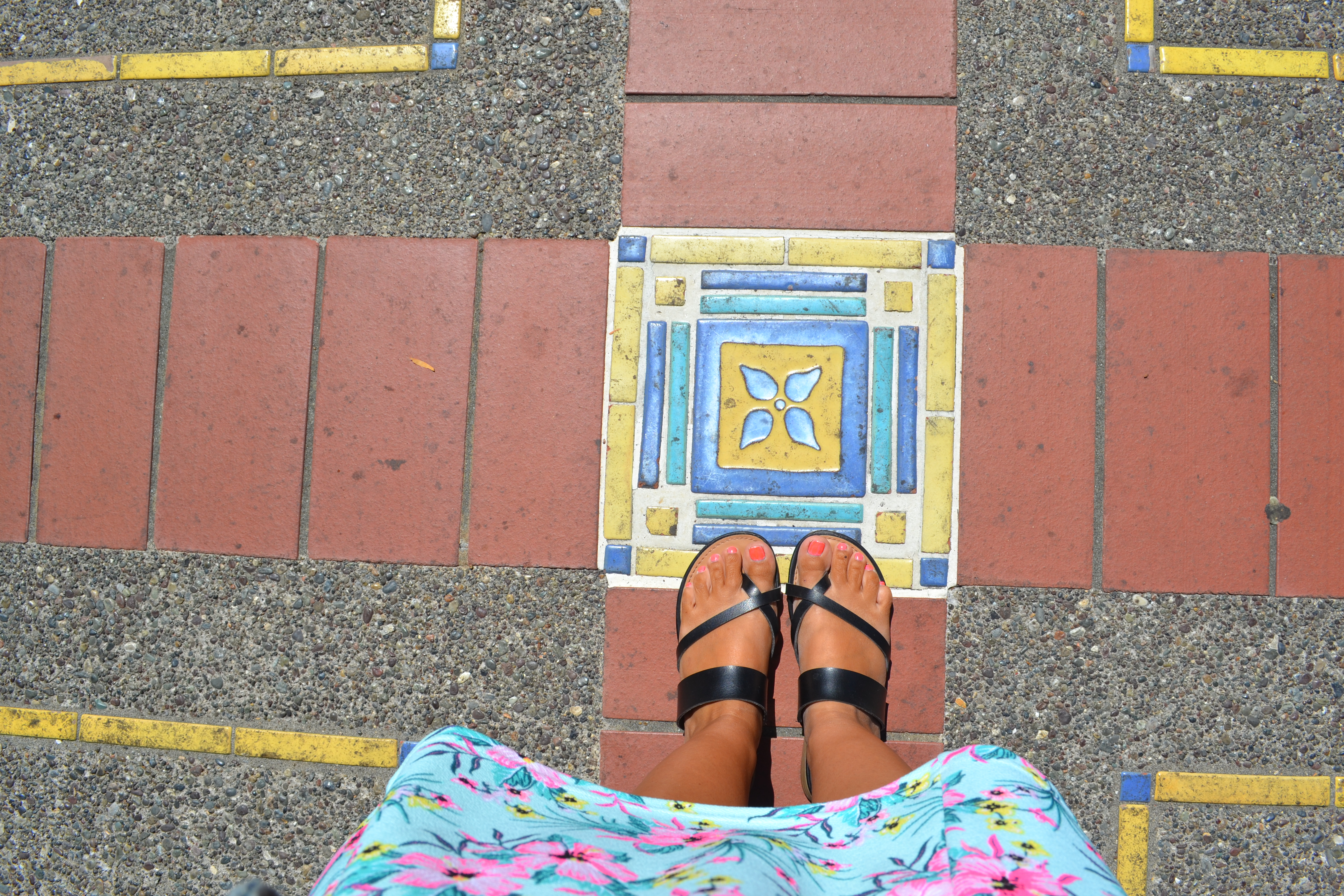 First time visiting? Sign up for the Grand Rooms Tour – and that's exactly what you'll see – plenty of spectacularly ornate rooms, plus lots of time to explore the absolutely stunning grounds.
Non-negotiable on any California Coast road trip, in my opinion. Be sure to look out for the zebra on the side of the highway as you enter/leave. Bizarre, opulent, and oddly satisfying.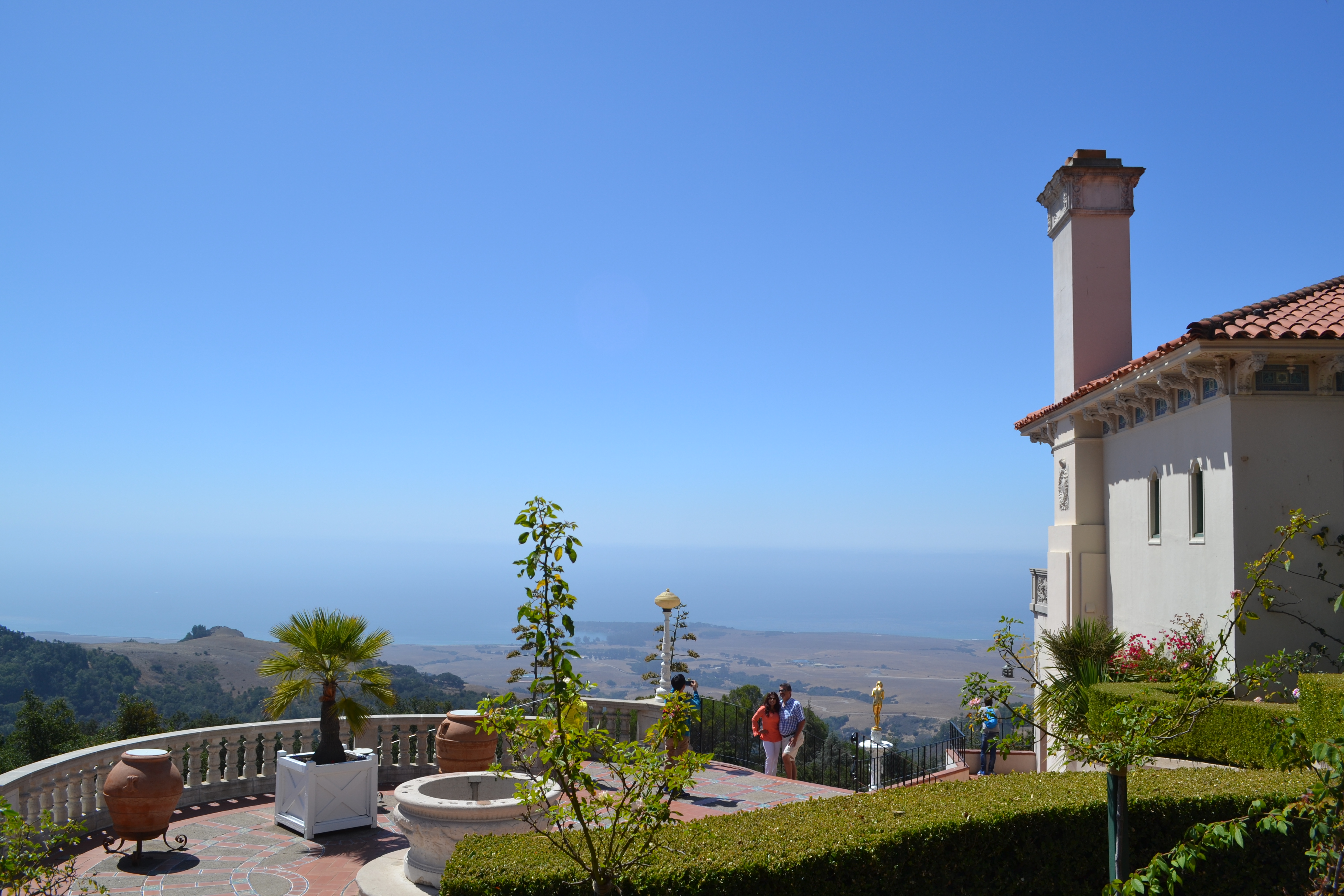 And while you're in the area, make sure to stop at Piedras Blancas Elephant Seal Rookery, a popular spot to observe elephant seals with its own boardwalk and viewing areas.
The best times to visit the rookery are in late January, late April, and late October, but visits are encouraged year round. Have you seen an elephant seal use their large, inflatable noses to make noise? It's pretty wild!
7) San Luis Obispo/Pismo Beach/Morro Bay/Paso Robles (45 minutes from San Simeon)
So there's kinda a lot to do in this little area – so best to pick and choose your favorites (if not, you can easily spend a whole week here!).
In SLO (what locals refer to as San Luis Obispo), sip pink drinks at the Madonna Inn, stuff your face with bbq are Firestone Grill, blow bubbles at the Bubble Gum Wall in downtown, and grab donuts at SLO Donut Company (SloDoCo). All my favorites, and I can't image an afternoon not doing any of these.
Looking to stretch your legs? Opt for the Bluff Trail at Montaña de Oro State Park, a 3.4 mile round trip relatively flat path with (better-than-okay) ocean views.
Thought Napa/Sonoma were the only wine countries in California? Winos – you're in luck. This part of your California coast road trip (in Paso Robles) features over 100 wineries, and deciding which to visit is the hardest part!
The DAOU Vineyards gets constant praise, and with it's wonderful wine, olive oil, and views, it's hard to beat!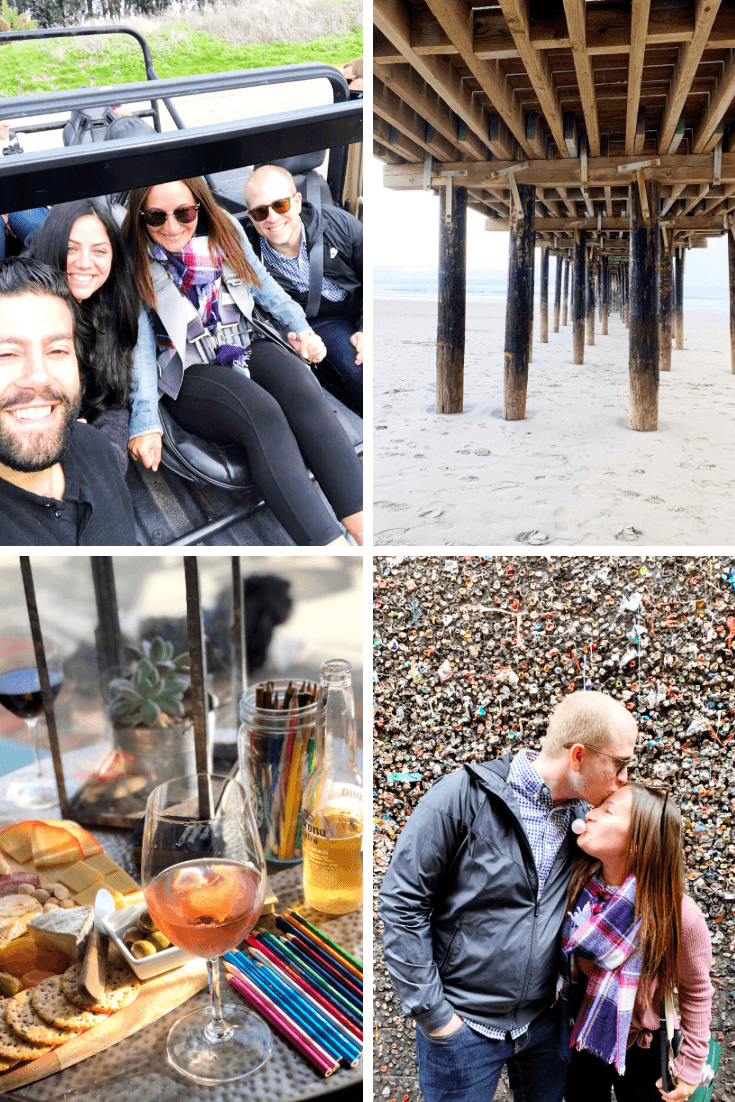 Want someone else to take you around? Probably a good idea if you'll be drinking lots of wine! Hop on a full-day hop-on, hop-off wine tasting tour (yes, they exist!) and you can choose your own itinerary in Paso Robles Wine Country.
Or take the easy way out and let someone else decide for you on this Ultimate Wine Experience in San Luis Obispo (foodie lunch and 3-5 wineries included!).
You need to include a dune buggy ride on Pismo Beach on your Pacific Coast Highway road trip! One of the most epic things to do in this area! More info on that here. Nowhere else in California can you drive a vehicle on a public beach!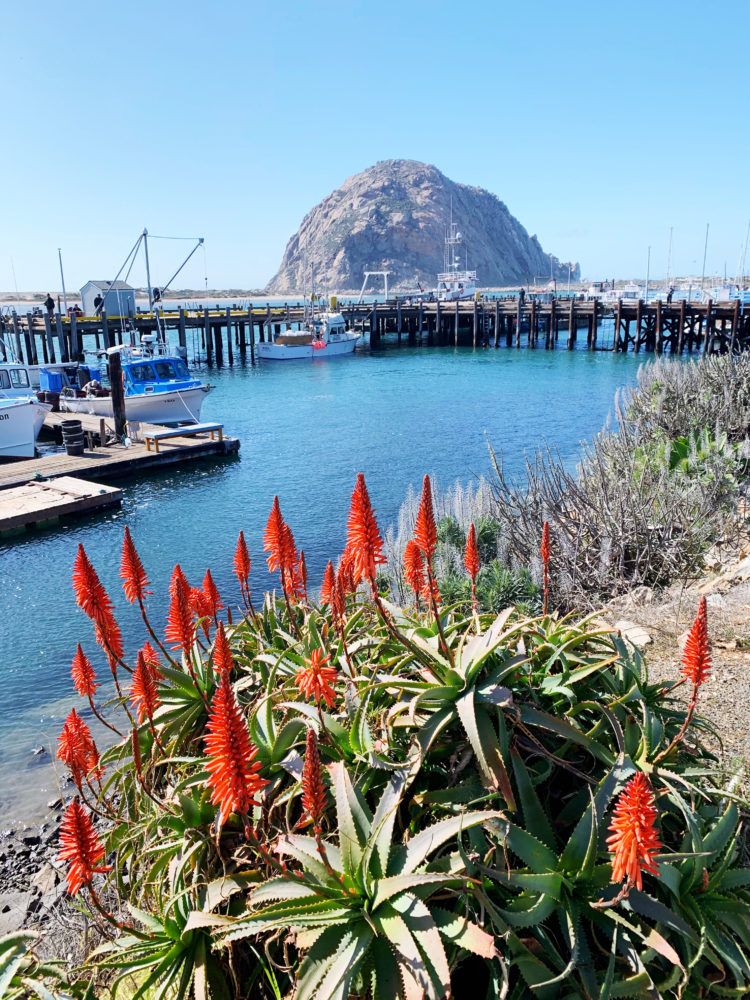 Before getting to SLO, you may as well make a pit stop in Moro Bay. If the weather cooperates (always a gamble over here), you'll be rewarded with views of the giant monolith. Be sure to walk around the nearby beach to find sand dollars, and grab a cinnamon bun from one of the local bakeries.
If you're thinking of stopping here for the night (or have had too much to drink…), consider staying at no other than the wildly famous Madonna Inn. But be sure to save your breakfast appetite for SLO's legendary Big Sky Café. Oh, and there's always beach time as well if the weather cooperates.
8) Solvang (1 hour from San Luis Obispo)
A bit in-land, but well worth the few miles off the highway. This cute little area will feel as if you've been transplanted to a Danish village, with authentic Dutch bakeries and international cuisine. Worth a quick pit stop, for the pastries alone (try the aebleskiver – pancake puffs). 🙂
Stroll the village to spot Danish icons including the Little Mermaid Fountain, a handful of historic windmills, the giant red clog, and Round Tower. There's also two historic churches to check out, Old Mission Santa Ines and Bethania Lutheran.
Looking for something a bit more active? See the unique architecture of the only Danish city in The West via segway tour! They are so much fun and an easy way to get around!
9) Santa Barbara (45 minutes from Solvang)
An absolute must-stop on any Pacific Coast Highway road trip! Here in Santa Barbara – dubbed the American Riviera – you'll find widespread beaches and a truly relaxed atmosphere.
Downtown you'll find Mediterranean-style white stucco buildings with red-tile roofs, which accurately reflect the city's Spanish colonial heritage.
And the food! Oh, the food here! Consider joining a historic Santa Barbara Food Tasting Tour to get a true feel for what the locals love here (hint hint: includes Northern Italian dishes, gourmet cheese, local wine and handcrafted chocolates… yum).
Rather take a beer tour? Sign up for the Self-Guided Santa Barbara Lagoon Loop Craft Beer Trail (yes, it's a thing down here).
Don't miss Old Mission Santa Barbara, a historic church known for its beauty, a panoramic view of the city from the Clock Tower observation deck of the Santa Barbara County Courthouse, and the Santa Barbara Public Market.
Save some time for Stearn's Wharf and then beach it up, you deserve it! If you haven't noticed by now, I'm all about that ice cream – satisfy your sweet tooth at McConnell's Fine Ice Creams (worth the wait and then some).
And whatever you do, don't leave Santa Barbara without taking a surf lesson (<– reserve your spot now, as they can fill up pretty quickly during the warmer months).
Where to Stay in Santa Barbara:
Recommended Tours in Santa Barbara:
10) Ventura for Channel Islands National Park (40 minutes from Santa Barbara)
Usually not very common on a 'traditional' California coast road trip, but I couldn't leave this destination off the list. In Ventura, be sure to check out Mission San Buenaventura, Olivas Adoble, and Oxnard Beach Part.
This vibrant town is the unexpected spot to make your way to Channel Islands National Park, located just off the coast via ferry, plane, or private boat.
Take a break from the crazy urban life and go for a hike on the Channel Islands, literally! The park is comprised of 5 islands and their surrounding mile of ocean, so it's best to decide beforehand where and what to go/do.
Head to Inspiration Point on Anacapa Island for some of the best views of the National Park, and/or you can snorkel/dive/kayak in Landing Cove (Anacapa Island) or at Scorpion Anchorage (Santa Cruz Island). If you're on Santa Cruz Island, be sure to check out Cavern Point, which provides a spectacular view after a short hike. You can even go whale watching around here!
FYI – there is NO transportation available on the islands – you have to either walk, kayak, or cruise around via private boat. Bicycles are not allowed. Plan a day trip here from Ventura to get your nature fix.
Recommended Channel Islands Tours
11) Malibu (50 minutes from Ventura)
Just the name "Malibu" sounds exotic and beachy to me. Here on your California coast road trip you'll find wide stretches of beaches, celebrity homes, and The Getty Villa (which is said to be absolutely stunning).
But Malibu is more than just that, including stunning canyons, horse ranches, waterfront restaurants, acres of land, and lots and lots of hiking trails. You can also take a private surf lesson if you missed out in Santa Barbara!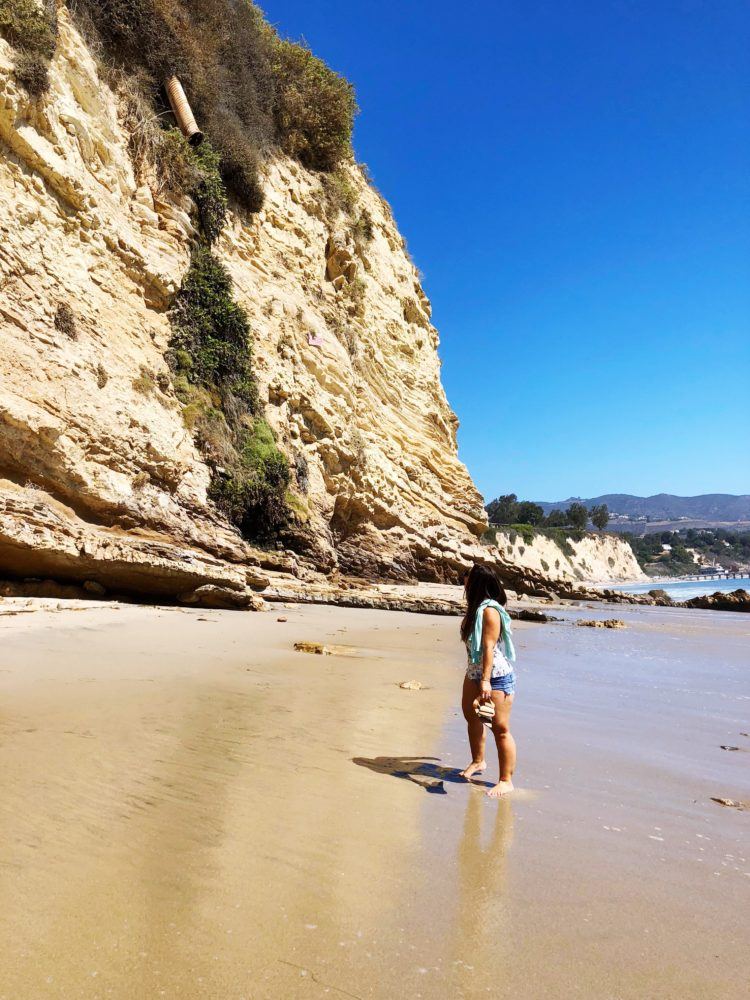 A few spots not to miss: Paradise Cove (the only restaurant you can actually drink on the beach), Geoffrey's Malibu for a wonderful lunch view (get some fresh seafood here!), Point Dume Beach (you'll always see dolphins!), Malibu Pier, a tour of celebrity homes, and wide and sandy Zuma Beach, known for its excellent surf.
Don't leave without some gelato from Grom Gelateria, the absolute best of the best! And if you're a sucker for fantastic views like me, don't miss out on a Malibu scenic airplane tour! Your pictures will be epic, I promise!
12) Los Angeles/ Santa Monica (50 minutes from Malibu)
I highly suggest you spend at least 2-3 days here as there is just SO much to do. You'll want to divide your time between Downtown LA (DTLA) and Santa Monica/Venice Beach, with possible other stops to make as well.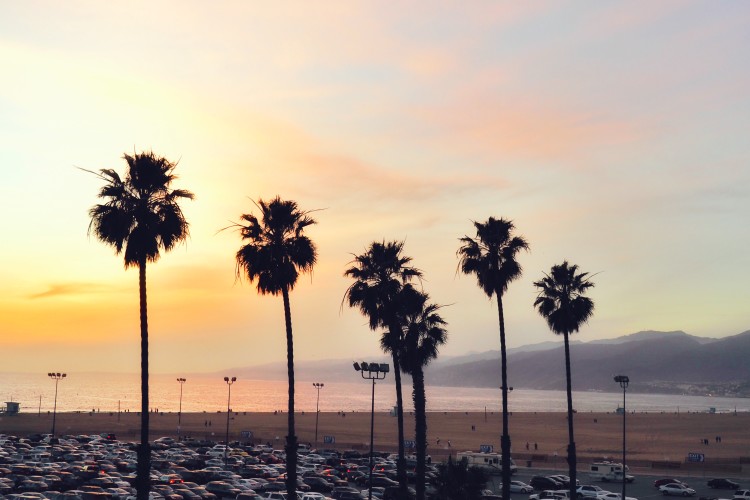 After checking out all the necessary tourist hot spots, you'll have more time to envelope yourself in the "true" feeling of Los Angeles. Promise me you won't miss a Warner Brothers Hollywood Studio Tour!
In DTLA, I highly suggest the Broad Museum (FREE, but usually a long wait time), getting an egg sandwich at Eggslut, The Last Bookstore, macaroons at Bouttega Louie, and culture and snacks in Little Tokyo.
Don't feel like walking? Take a segway tour of DTLA! Don't feel like figuring out public transportation? A hop-on, hop-off bus of the LA area is always the way to go!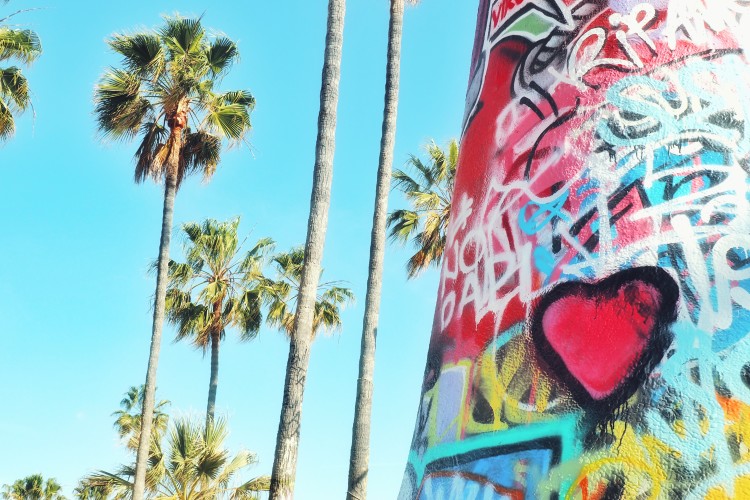 In Santa Monica and Venice, be sure to check out the Santa Monica Boardwalk (ride the ferris wheel and/or the coaster during sunset), Abbot Kinney Boulevard, Venice Canals, and the Venice Beach Boardwalk.
In addition, you can't miss the Urban Lights exhibit at the Los Angeles County Museum of Art (LACMA)! You'll find pretty cool murals all around the area as well if that's your type of thing (it most definitely is mine)!
Hike in the Hollywood Hills, take an airplane tour of Santa Monica and the coastline, go on a tour of some movie stars' homes,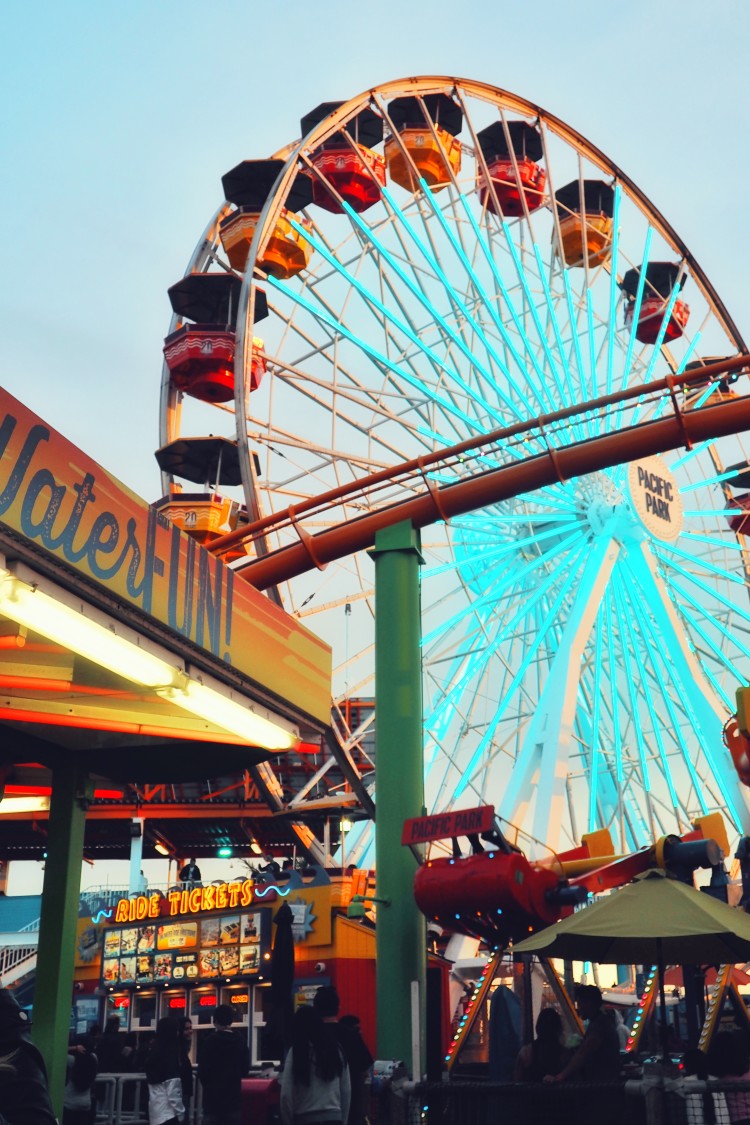 Read More about Los Angeles/Santa Monica:
Where to Stay in Los Angeles/Santa Monica
The Orlando Hotel (middle of West Hollywood and lots of great Mexican nearby!)
HI Hostel (perfect for solo travelers, and around the block from the beach)
13) Anaheim for Disneyland (45 minutes from LA)
Disney lovers will enjoy this spot for sure, but just for the record, Disneyland is not as large and/or "wow!!!!" as Disney World. I had a Disney-fanatic-friend visit Disneyland a few months back and she was not impressed to say the least.
Save this stop if you've never been to the location in Florida, or if you can't stand not to check it out for yourself. Regardless, you'll have a grand ol' time on the rollercoasters and indulging in all things Mickey.
A few parks to check out (click to buy tickets): Universal Studios Hollywood, Disneyland Park, Adventure City, and Disney California Adventure Park.
I highly recommend getting these theme park tickets in advance to by-pass any super-long lines and spend more time in the parks. You'll save yourself lots of time, that's for sure!
14) Orange County: Huntington Beach/Newport Beach/Laguna Beach (35 minutes from Anaheim)
This stretch of coast is absolutely BEAUTIFUL and should not be missed if your itinerary has you driving down to San Diego (or even as an extra stop from the LA/Ahaheim area).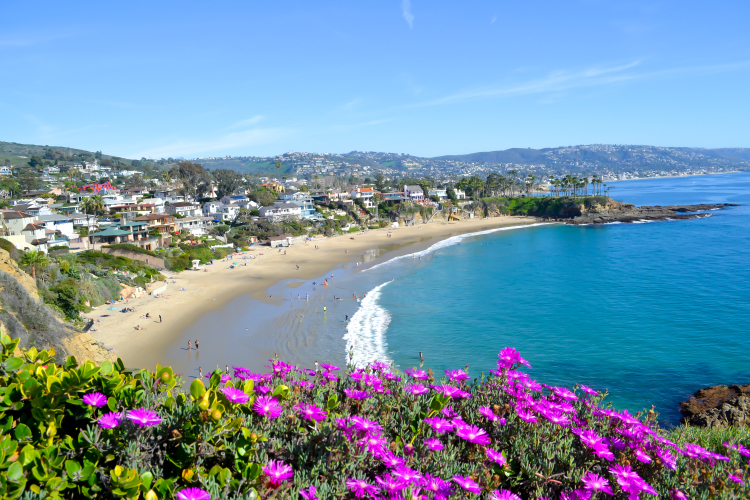 Here you'll find manicured beach towns, a hell of a lot of beautiful people, and even more beautiful stretches of sand with mesmerizing sunsets.
The beaches are plentiful, but my favorites include Huntington Beach, Newport Beach, and Laguna Beach, all within a few miles of each other. We recently spent a bit of time in San Clemente, and fell in love with the town! Don't miss gelato at Gelato Paradiso and the views from Heisler Park and Dana Point.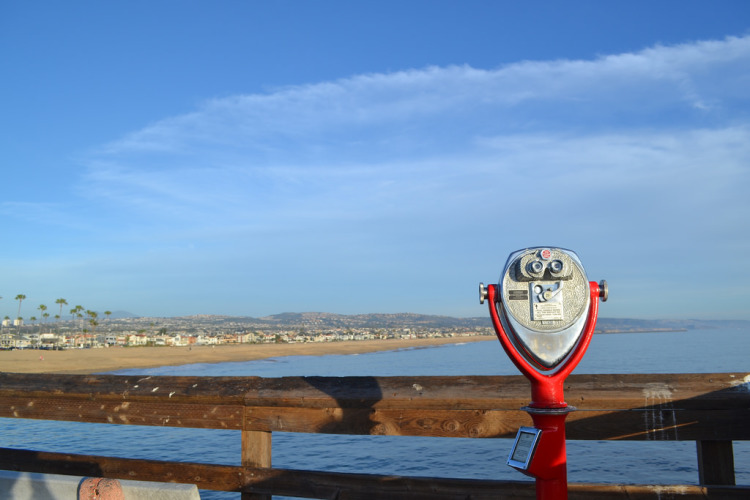 You won't want to skip "The OC" on your California coast road trip – I can promise you that!
Read More about Orange County/Southern California
Want to extend your PCH road trip?!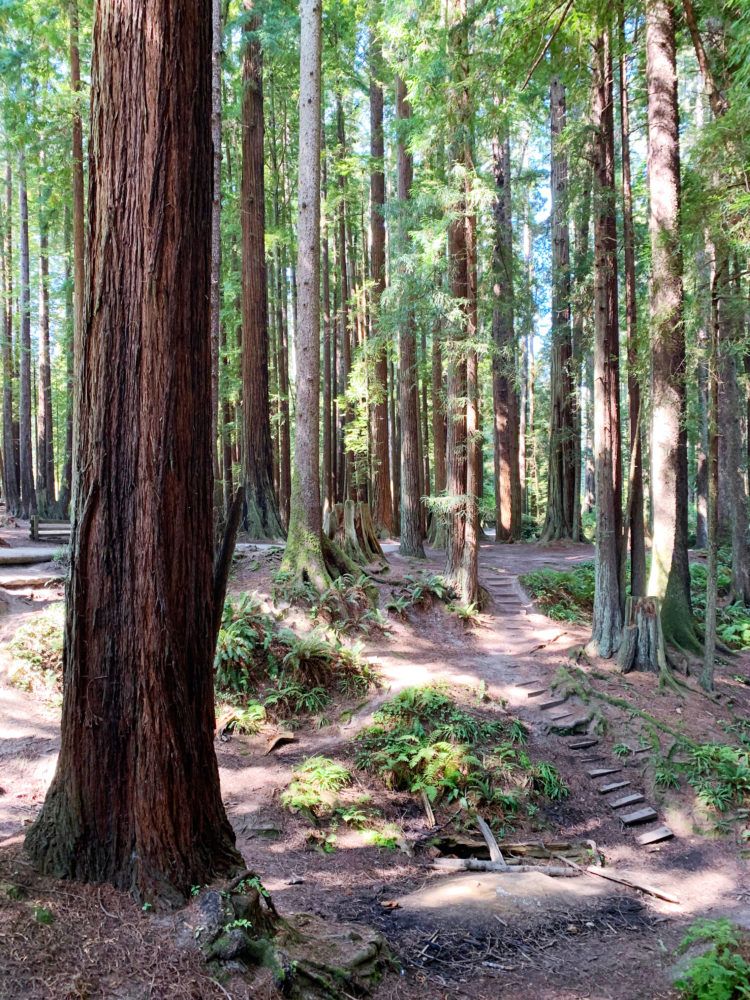 1) GO FURTHER SOUTH! You could choose to venture even further south to San Diego, as there's lots and lots to do! Watch this space for updates and more information on California, including best things to do in San Diego as well!
2) START MORE NORTHERN! Interested in starting this Pacific Coast Highway road trip a bit north of San Francisco? Check out the drive from San Francisco to Mendocino, highly recommended in my opinion if you've got a few more days to explore! A weekend in Mendocino is the perfect way to start your trip! And if you're looking for some redwoods, you'll find lots around here!
3) HEAD ALL THE WAY TO SEATTLE! Yes, it's possible! If you have ample extra time, say another week (or more), check all these stops on a San Francisco to Seattle road trip! Crater Lake and donuts, anyone?!
Have you ever take a California coast road trip?! Is taking a road trip down the Pacific Coast Highway on your bucket list?!