Headed to Las Vegas and looking for the best 3 day Las Vegas itinerary? Keep on reading for opulent hotels, sugary snacks, and luxurious spa treatments. See, it's not all kitschy casinos and high-cash table games!
I've taken my fair share of 3 day trips to Vegas (heck, I've gone just to see Usher perform #noshame and visit the Valley of Fire – my all time favorite day trip). But with all the things to see and do, I always get overwhelmed when attempting to create the perfect Vegas itinerary for you guys!
We've been to Vegas dozens of times (now that we live in San Francisco we go multiple a times a year), and are always finding new things to do. While it doesn't have the beaches we crave in other destinations (Hawaii, San Diego, and Half Moon Bay, I'm looking at you), we always love our time in the desert.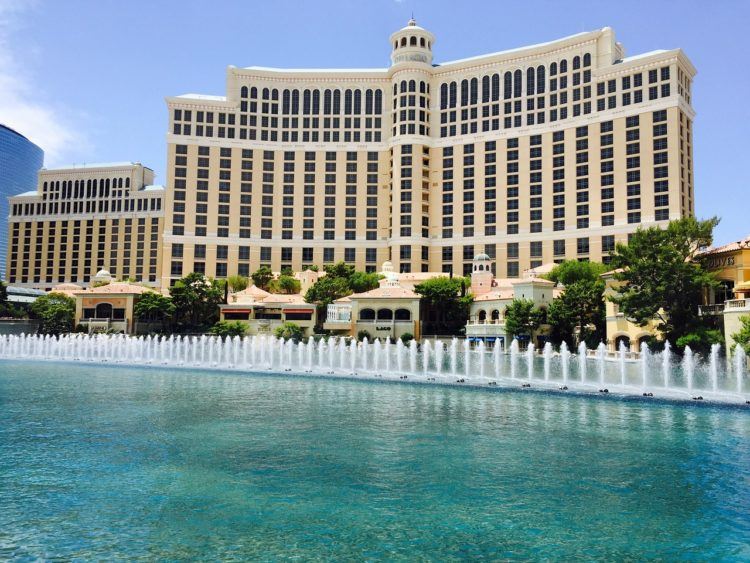 Want to create your own Vegas itinerary?! Or visiting for the 3rd, 4th, or 5th time? Check out these 100+ things to do in Las Vegas — the ultimate bucket list!
3 days in Vegas is a good amount of time to see the top tourist sites, do a little gambling (I said a little!), and get a little crazy in the clubs/pools. And after your long weekend in Vegas, you'll be ready to go home back to normal life, I promise you that. Vegas is overwhelming, over-stimulating, and just overall quite a trip.
So when Monique, from get this – My Perfect Itinerary – offered to spill the beans on the perfect 3 days in Las Vegas, I just couldn't say no. Aaaaand she's a local, so what could be more fitting?
Enjoy, and lemme know down below in the comments if anything imperative should be added!
A 3 day weekend in Las Vegas is easily doable if you are anywhere on the west coast of the United States. In this guide, I will show you the touristy experiences (actually worth doing) and local tips (I do currently live here!) to give you a well-rounded Las Vegas vacation!
Las Vegas is an extremely famous city known for its epic party scene, amazing year-round weather, luxurious hotels, gambling on every corner, and notable movie spots. Being born and raised in Las Vegas, I will show you the ins and outs of this amazing city!
Where to Stay in Las Vegas?
Were you paying attention when I said Las Vegas is known for its luxurious hotels? Well, if you zoned out in paragraph two… you need to grab a coffee to zone back into this 2,000+ word guide!
Whether it's your first time in Las Vegas or 100th time, you will want to find a hotel along the Las Vegas Strip for your 3 days in Vegas. When I refer to "The Strip," this means the four and a half mile strip of hotels and casinos along Las Vegas Blvd. This area is competitive with luxurious and unique hotels, fitting every country you can think of.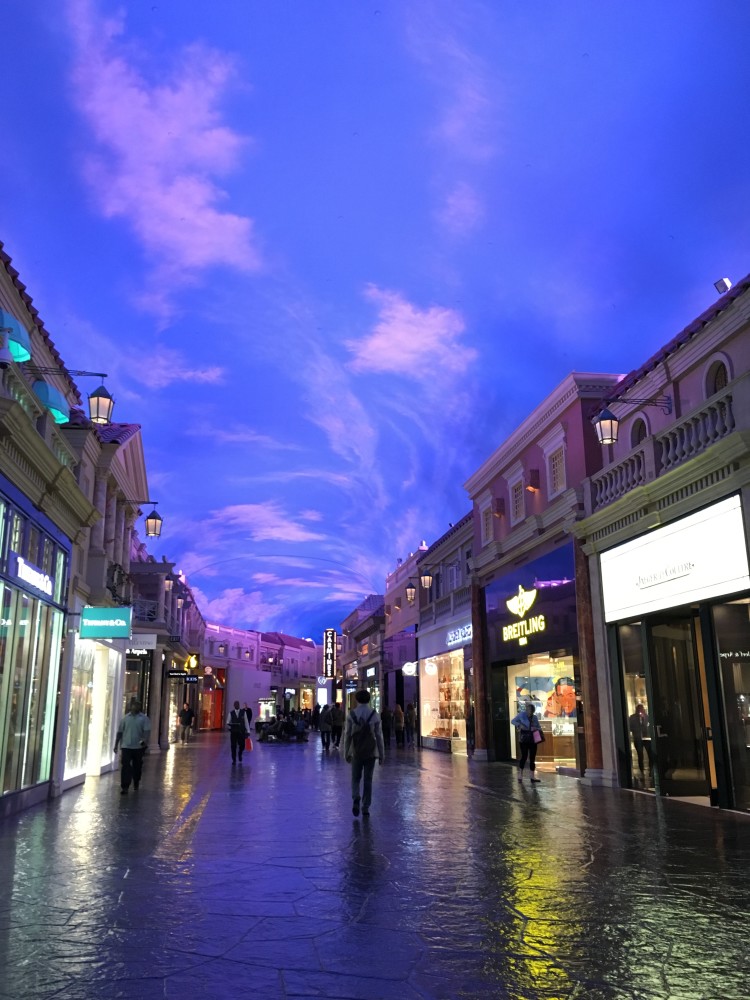 Like Egypt? Stay at The Luxor for an Egyptian experience. Their hotel is shaped as an Egyptian pyramid that has a strobe light that (supposedly) can be seen from space!
Like Venice? Stay at The Venetian for some of the best Italian food in the world, gelato shops, and a grand canal weaving through the casino (where you can actually take a gondola ride through the hotel!).
I can go on and on with the unique themes of each hotel, but whichever one tickles your fancy, just make sure you are staying on Las Vegas Blvd between Sunset and Sahara. Since you are only in Vegas for three days, you will want to make sure you are staying in the middle of the action!
IMPORTANT: Just because a hotel has a Las Vegas Blvd address does NOT mean it is on the Las Vegas Strip!
Best Time to Visit Las Vegas?
There is no way to sugar coat it, Vegas is HOT!
The summer is going to be expensive, crowded, and brutally hot. I would 10/10 NOT recommend coming in the summer months.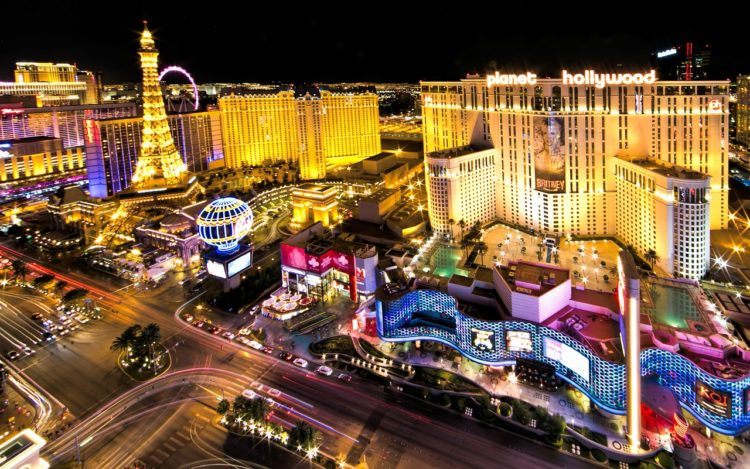 Plan your 3 days in Las Vegas during either Spring and Fall – you'll thank me later. The weather is gorgeous during these months (70-80 Degrees Fahrenheit), the crowds are not as bad (keyword here is "as" – Vegas always has A LOT of crowds), and the pricing is far better.
Psst: If you wanna take any day or over night trips to surrounding National Parks (Death Valley, Zion, and Bryce are popular from here), do not visit Vegas in the summer. It's sweltering.
LOCAL TIP: Day clubs are one of the best things to do in Las Vegas. They are open most of the year, but are closed end of Fall and early Spring. The exact dates change yearly, but you can just Google "Las Vegas day club opening/closing day," and you should be able to find the exact date. Make sure you don't travel on a date when these are closed!
How to Get Around Las Vegas?
Uber and Lyft are literally swarming every inch of Las Vegas, so you should never have trouble getting one. However, the hotels and airport make it very difficult to get to the pick-up location because for some reason they are still supporting the taxis…
Hotels will make you walk through the taxi pick-up area and into the parking garage to get to the rideshare area, which if you are drunk and tired this can be very annoying.
And if you aren't constantly drunk and tired on your vacation, you aren't doing your 3 day trip to Vegas right!
How Long to Stay in Las Vegas?
Yea, yea, yea, I know this is a guide for the best 3 day Vegas itinerary. And I certainly feel 3 days in Las Vegas is sufficient, especially if you think you'll be coming back! You'll see — any more than 3 days and nights in Vegas will surely kick your butt.
BUT, if you're traveling from far away, you should 100% spend more time here. While Vegas itself is super fun, the day trips around the city are what really make the area so varied!
Some of the best day trips from Las Vegas are:
And now, let's get this Las Vegas itinerary started!
Day 1
UPON-ARRIVAL: WELCOME TO LAS VEGAS
Whether you are driving or flying in to Vegas, you're first stop will obviously be the "Welcome to Las Vegas" sign. This is single-handingly the most touristy thing in Las Vegas, but you are a tourist AND YOU ARE PROUD!
This sign is located off of Sunset Rd & Las Vegas Blvd, the starting point of the "Las Vegas Strip." Make this the first thing you do during your 3 days in Las Vegas to just get it outta the way.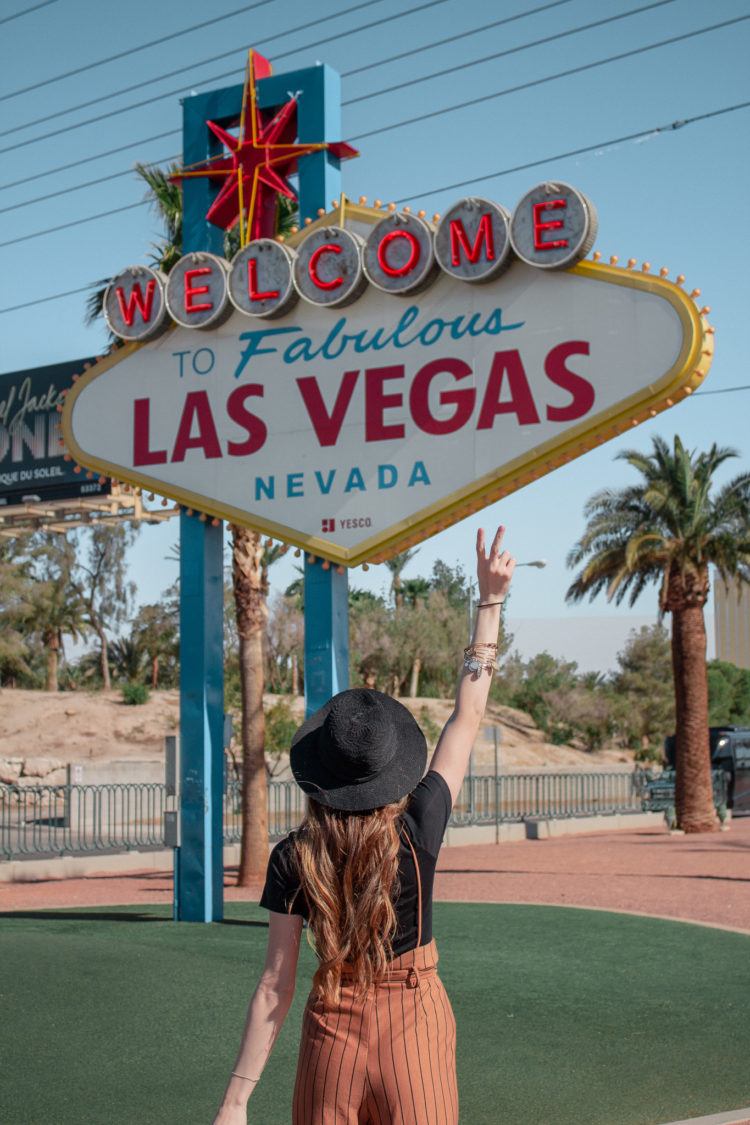 Plus, it's free and who doesn't love free stuff? 😉 If you want more FREE things to do in Las Vegas, don't forget to check out my guide on 40 Free Things to do in Las Vegas!
NIGHT: DINNER AND DANCING
After checking into your hotel, it's time for some grub! Regardless of what hotel you are staying at, head over to the Venetian to try out Celebrity Chef, Buddy V's restaurant and bakery. I am sure you have heard of the show cake boss and if not, are you living under a rock?!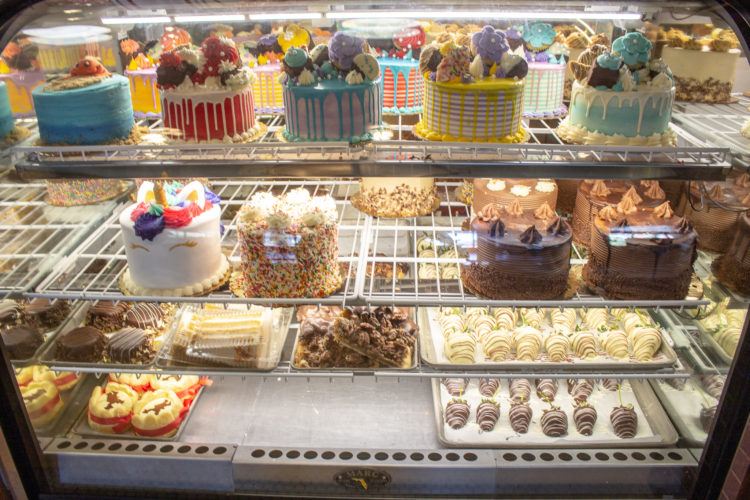 For those of you living under a rock…. Cake Boss is a ten-year, award winning tv show that ended in 2017 so that he could focus his energy on opening bakeries and restaurants around the world. Since 2017, he has already opened up bakeries in 10 different states!
LOCAL TIP: Get pastries to go because after a long night of drinking, these will actually taste like heaven. You can thank me later.
After you're done with dinner, head back up to your room to get ready for the night and to drop off those yummy midnight snacks!
To "pregame" for the night club, you can spend a few hours gambling at one of the hotels. When you gamble on the Las Vegas Strip, you drink for free! A cocktail server will be walking around asking you if you would like anything as long as you are actively playing.
Not really drinking for free I guess, ha!
Night clubs are not open every night, you will need to research which one you want to go to and make sure they are open the night you are traveling. My top five nightclubs choices are:
Hakkasan
Omnia
Kaos
XS
Marquee
Any of these are going to have good music and big crowds! Along with this, you will have to pay an arm and a leg for a drink once you get inside. I would recommend having a few drinks either gambling or at a bar before going in.
LOCAL TIP: Most nights, ladies get in for free. The day you choose to go to the club, look out for guys walking around in nice outfits asking you to come on their guest list. You will find them either in front of the club or wandering around the Las Vegas Strip.
Day 2
MORNING: SPA DAY
Day 2 of our Las Vegas itinerary begins at the spa, because what's better than getting rid of a hangover than by soaking in a tub of warm bubbly water? Every hotel will have a beautifully designed spa that matches the theme of the hotel.
Okay, I know what you're thinking… Why would I waste time going to a spa when I could do that in my hometown?! Because Las Vegas spas are nothing like spas around the U.S. because of the outrageous amount of amenities they offer!
Caesars Palace Spa for example: When you pay for something on their spa menu (massage, facial, etc), you will gain access to their hotel pool, spa hot tub, sauna, steam room, gym, and snow room. YES, you heard that right.. Snow room.
These packages can get pricey, but I think they are worth every penny! You could easily spend several hours here.
Extra option: If spa's aren't really your thang, now's your chance to either check out the Magic Mountains art installation and/or the Neon Museum (both quick uber rides away).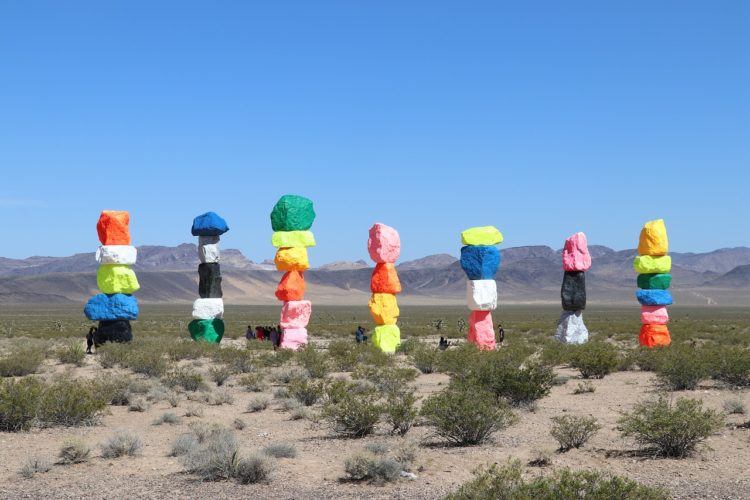 AFTERNOON: POOL PARTIES GALORE
If the spa didn't get rid of your hangover, hair of the dog sure will! Time for some day drinking at one of Las Vegas's day clubs. These clubs typically open around 11am and get packed very quick! My top five day clubs choices are:
Wet Republic
Encore Beach Club
Kaos
Drai's
Marquee
NIGHT: DINNER AND BELLAGIO FOUNTAINS
I don't know about you, but after a full day of day drinking, I need some comfort food and a nap! If you aren't from the west coast, In N Out will be on your itinerary for today. Actually, no matter where you are from, In N Out is always a good idea!
LOCAL TIP: Get the off-the-menu animal style fries, which is french fries with their sauce, grilled onions and cheese melted on top. Trust me on this one.
If you're still alive after the day club, you can head over to Hyde at the Bellagio to get the best view of the Bellagio fountains. If you go before 10pm, it is just a restaurant and bar. If you go after 10pm, it turns into a nightclub!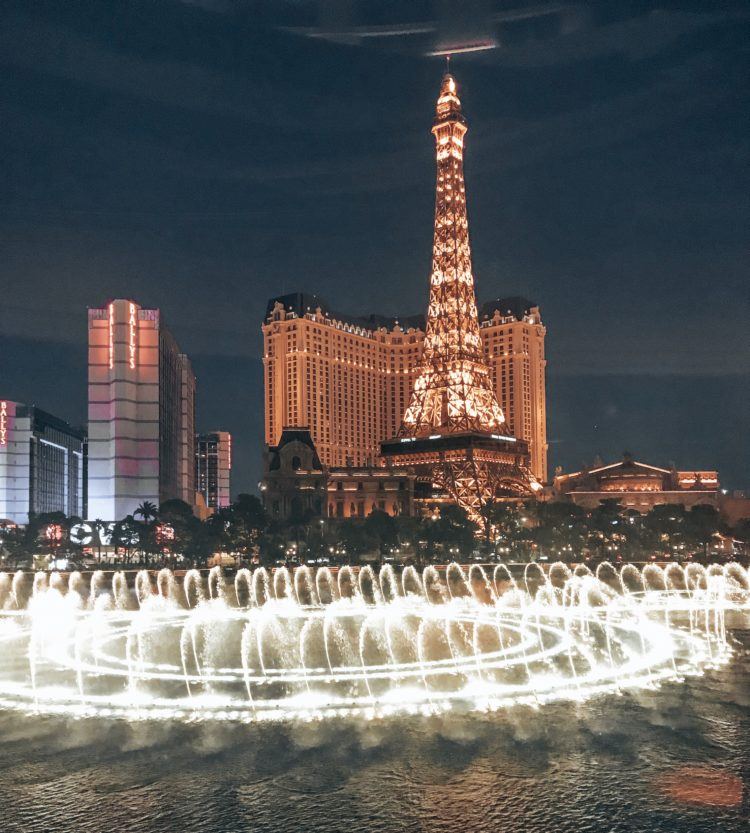 I recommend going before it turns into a club so you can sit outside at a table. Order some cocktails and appetizers to enjoy while watching the Bellagio Fountain Show that goes off every 15-30 minutes.
Being a local, I have seen this show millions of times and it still never ceases to amaze me!
After watching the Bellagio Fountains and enjoying your amazing cocktail, head inside the Bellagio to the conservatory & botanical garden to end your night. This should only take about 15 minutes to walk through, but you're jaw will drop! This conservatory changes with the seasons and is made completely of real flowers.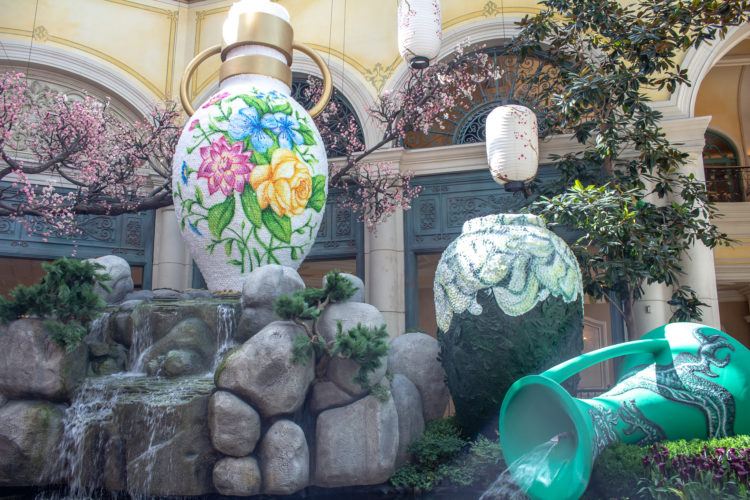 Day 3
MORNING: BRUNCH IT UP!
Sleep in and head out to Hexx Kitchen for a hearty brunch and bottomless mimosas! This is your last day in Sin City, so there's no better time than now to start drinking! The wait can be long on Sunday's, so make sure you make a reservation in advance.
LATE-MORNING/EARLY AFTERNOON: SIGHTSEEING
After your belly is full of yummy food and bottomless mimosa, time for some sightseeing. Dealing with crowds, picture-taking tourists, and the heat is A LOT more fun after bottomless mimosas! Not speaking from personal experience or anything…
Stop 1: Head next door to the Paris Hotel to snap a picture with a much smaller version of the Eiffel Tower! The view is spectacular from next to or underneath the Eiffel Tower, but if you want a picture of yourself with the full Eiffel Tower in the background, you can get a much better view from across the street by the Bellagio Valet.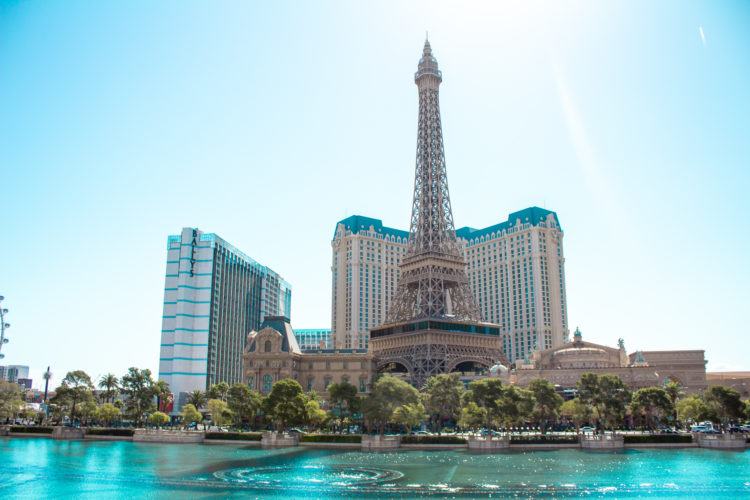 Stop 2: Walk one block along Las Vegas Blvd to The Flamingo hotel to see the FREE flamingo habitat! Located outside near the LINQ connection, you can see flamingos walking around in their gorgeous habitat with a winding coy pond and many waterfalls.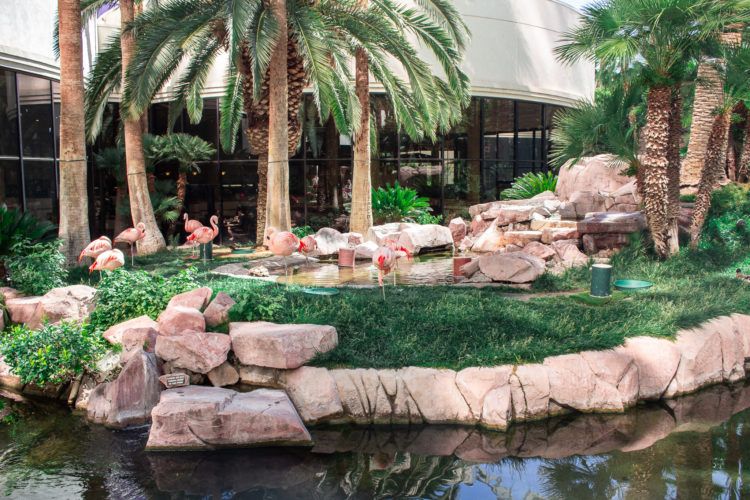 Stop 3: Continue walking along Las Vegas Blvd to the Linq Hotel and High Roller (the big ferris wheel). I would skip the Linq hotel and head right outside to their promenade where you can go shopping and get a delicious cupcake from Sprinkles! You don't even need to wait in line for Sprinkles, you can walk right up to their cupcake ATM.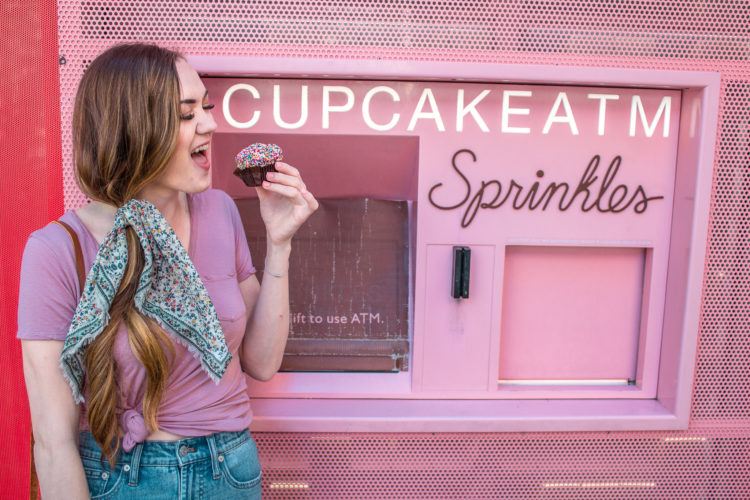 After walking around this adorable area, you can buy tickets for the High Roller. This ferris wheel is so unique because it fits 50+ people per pod! You can either buy tickets to just enjoy the view, or you can buy the VIP package that includes open bar during the duration of the ride. You can get pricing and more information here.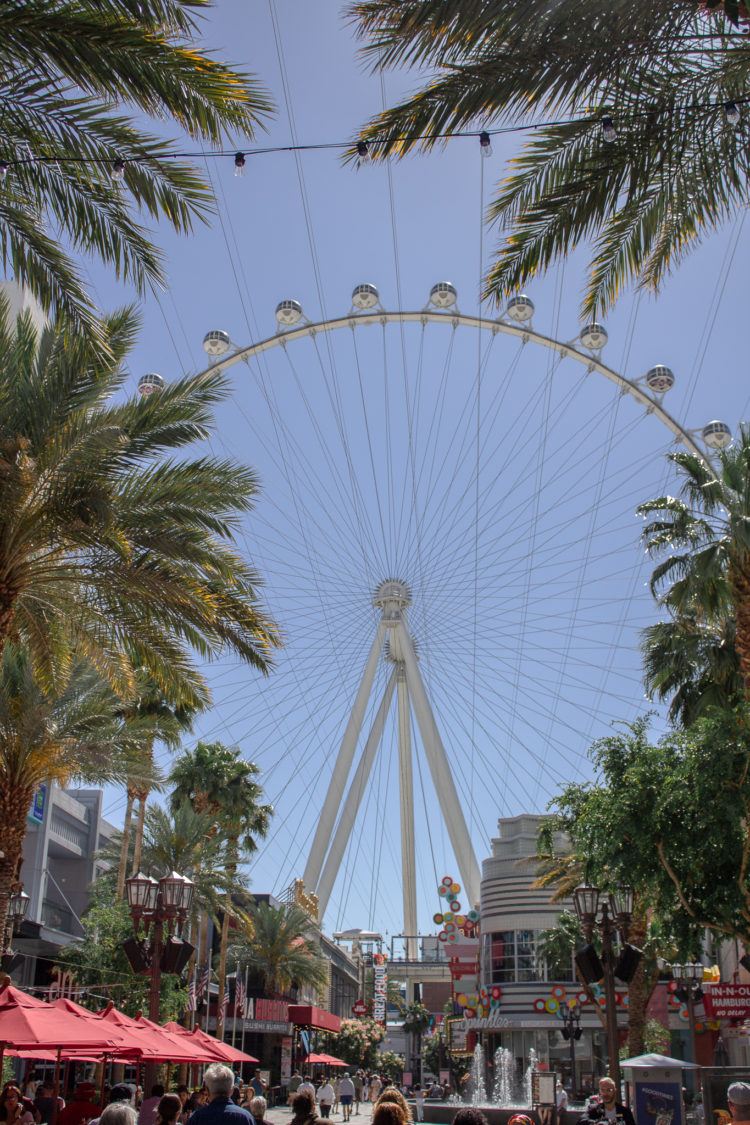 Stop 4: Time to take your touristy-self to the next level and head to the Venetian for a gondola ride (an absolute must on any cliche Las Vegas itinerary guide)! These can be pricey, but even if you don't feel like spending the money on the ride itself, you should still go see the lagoon either way.
Book your gondola ride here! Includes entry to Madame Tussauds as well!
Since calories don't count on vacation (that is a saying, right?), grab a milkshake at Black Tap and walk around the lagoon with these extravagant milkshakes!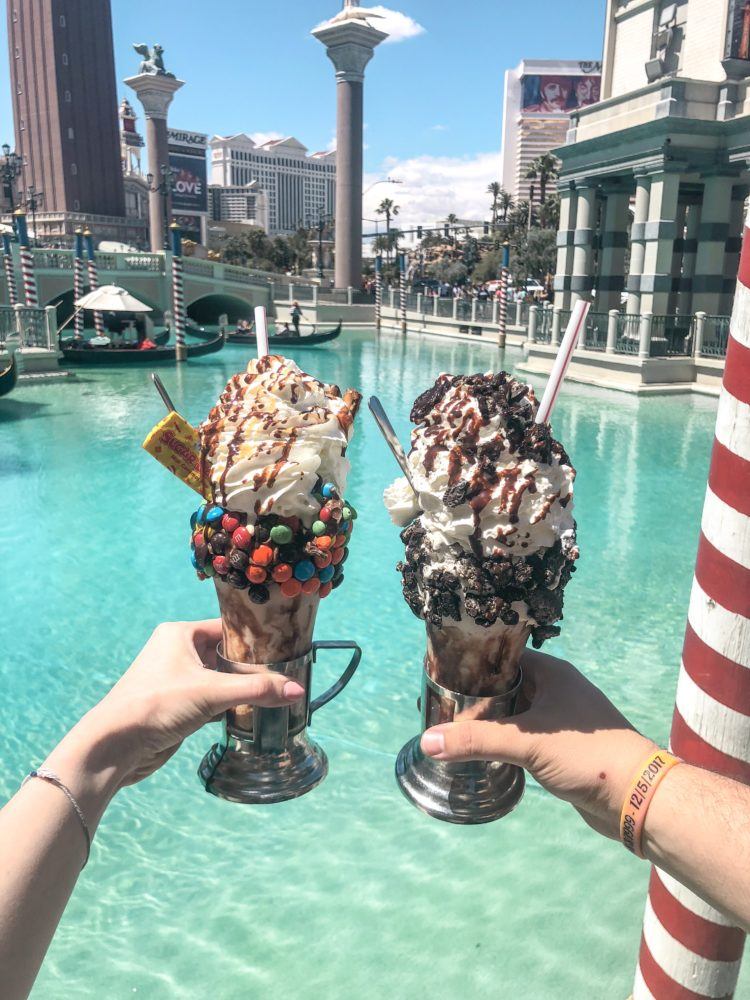 **All of these stops are so close together and easily doable – only 20 minutes to walk all four of these stops!**
LATE AFTERNOON/NIGHT: FREMONT STREET
To end your three days in Las Vegas, you will be heading to downtown Fremont Street. This area of Las Vegas is the polar opposite of what you've experienced so far. Be expecting art murals on every corner, old school hotels, "coyote ugly" style bars, and VERY naked street performers!
Did I not sell you?
If you don't have a car, I recommend booking yourself on a night tour of downtown Las Vegas! THIS TOUR got exceptional reviews — I kinda wanna take it myself next time! It also brings you to the "Welcome to Fabulous Las Vegas" sign, which looks completely different at night!
Locals and tourists alike flock to Fremont Street because of the fair pricing and lively bars. This area is tightly packed (like most downtown areas around the world), so it makes bar hopping extremely easy. Every bar in this area is very hip and trendy, so getting to check out as many bars as possible should be your game-plan!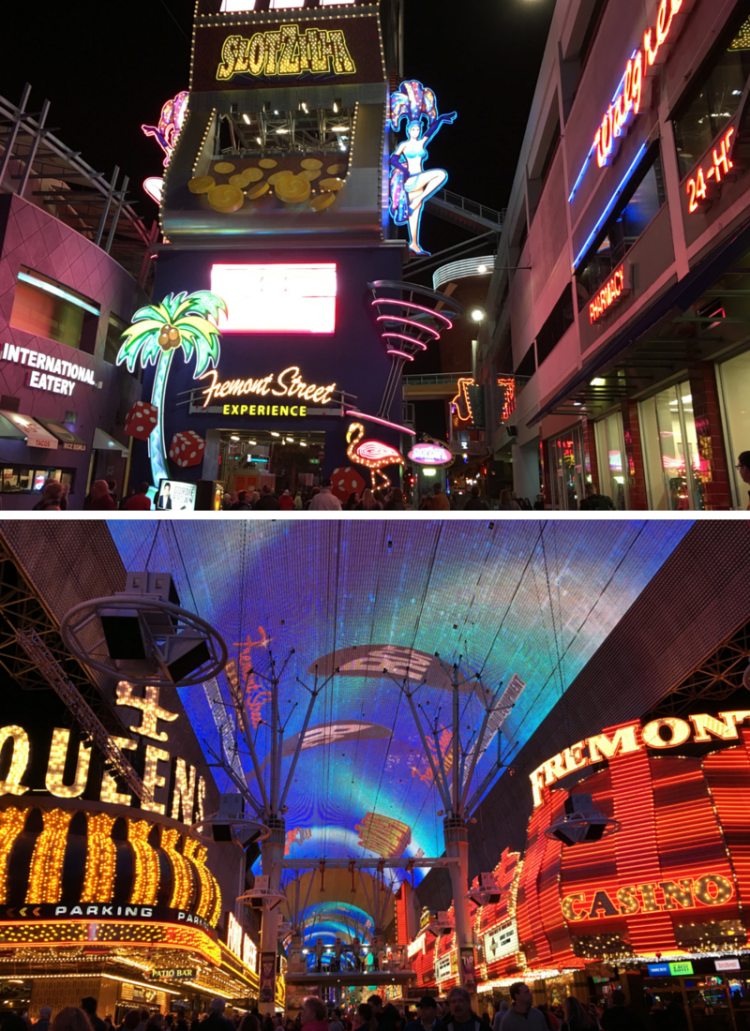 I would start on Fremont Street, which will be the very obvious lit up dome covering the entire street. You will see zip lines running across the top, live concerts playing, naked street performers lining the walkway, and bars selling fat Tuesday drinks (the frozen yard drinks).
After checking out Fremont Street, you can begin your bar hopping excursion! Ladies enter for free in all these bars, and most of them guys will need to pay a cover to get in:
Goldspike

Outside bar with oversized games like beer pong, chess, shuffleboard, corn hole, twister, jenga, and so much more!

Commonwealth

Double decker bar with a really fun rooftop bar/club.

Oddfellows

Older style disco bar with a huge dance area in the back.

Hogs & Heifers

This is a "Coyote Ugly" style bar with bras hanging from the ceiling and bartenders dancing on the bar.

Corduroy

They have a really fun photo booth in the back that sends pictures right to your phone for FREE!
LOCAL TIP: Everyone dresses cute/casual for downtown. No need to wear dresses and heels like The Strip nightlife. Most bars are fairly dead until about 10pm, so that is when you should plan to start your night.
BONUS: If you've got 4 days in Vegas, promise me (oh promise me) you'll spend at least one of your days outside of the city. There's soooo much beautiful nature around the casino-ridden area, it'd be a shame to stay within its boundaries the entire duration of your stay.
Some of the best day trips from Las Vegas are: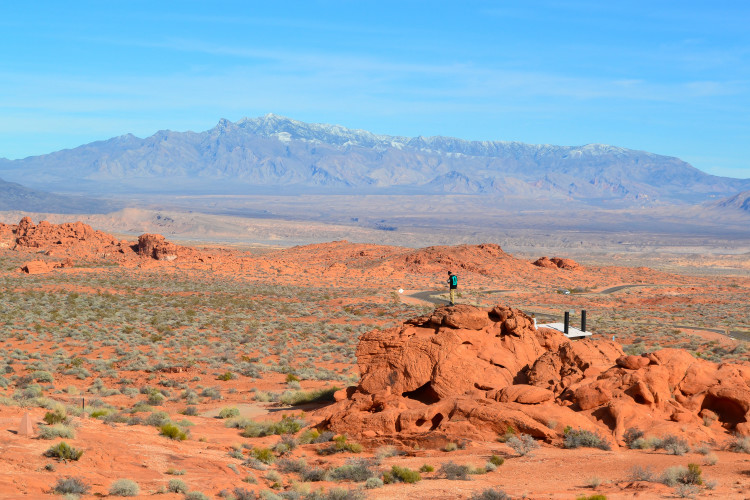 That's a wrap! There is so much to see in Las Vegas, and just when you feel like you've seen everything, this city just keeps on growing. And trust me, after partying/exploring for 3 days in Las Vegas, you'll be ready to head back home for some much-needed rest.
Hopefully you will love this city as much as I do, and crave to come back and see more. If you want to read more Las Vegas guides, you can read more here!
What on this Las Vegas itinerary will you be checking out?