Headed to Utah and looking for the best things to do in Park City besides ski? Keep on reading, my winter-loving, ski-hating friends, as this article will show you allll those Park City activities to add to your agenda without falling heading down the mountain.
When a quick escape to the mountains is calling your name, look no further than Park City. This bustling little city is an absolute haven for skiers and snowboarders alike, but what happens if you've never skied before and/or have no interest in learning?
Thankfully, Park City offers a variety of other options to fill up a winter weekend away sans mountain activities. Hands up if you like exquisite dining experiences, massage treatments, and a little thrill here and there.
Oh, and you can't forget the possibility of hot-tub relaxation in the snow. Trust me, your friends who spent money on lift tickets will be jealous of all the extra time you had to complete all of these things to do in Park City, Utah.
It's hard to describe that feeling when you wake up in your cozy King size bed to a winter wonderland happening right outside your window. The snow is falling, the air is cold and crisp – it's downright serene and just magical!
And besides the ever-so-popular Sundance Film Festival each February, there's no shortage of fun things to do in Park City besides ski in the chilly winter months.
Read Next: A Magical Weekend in Park City
Wondering what to do in Park City besides ski and snowboard? I've got you covered! Although Park City's a massive snow resort town, I can think of at least a dozen more reasons to visit this quaint little area besides ski and snowboard.
The Ultimate Park City Guide for Non-Skiers
Where to Stay in Park City
Luxury Accommodation: Stein Eriksen Lodge
Looking for a year round destination with stellar activities and amenities? Located in Deer Valley, The Stein Eriksen sports incredible views of the mountains, is minutes from Historic Main Street, and boasts one of the best brunches (and complimentary breakfast buffets) in the area.
What else can you ask for? It is the only 5-star 5-diamond resort in Park City after all!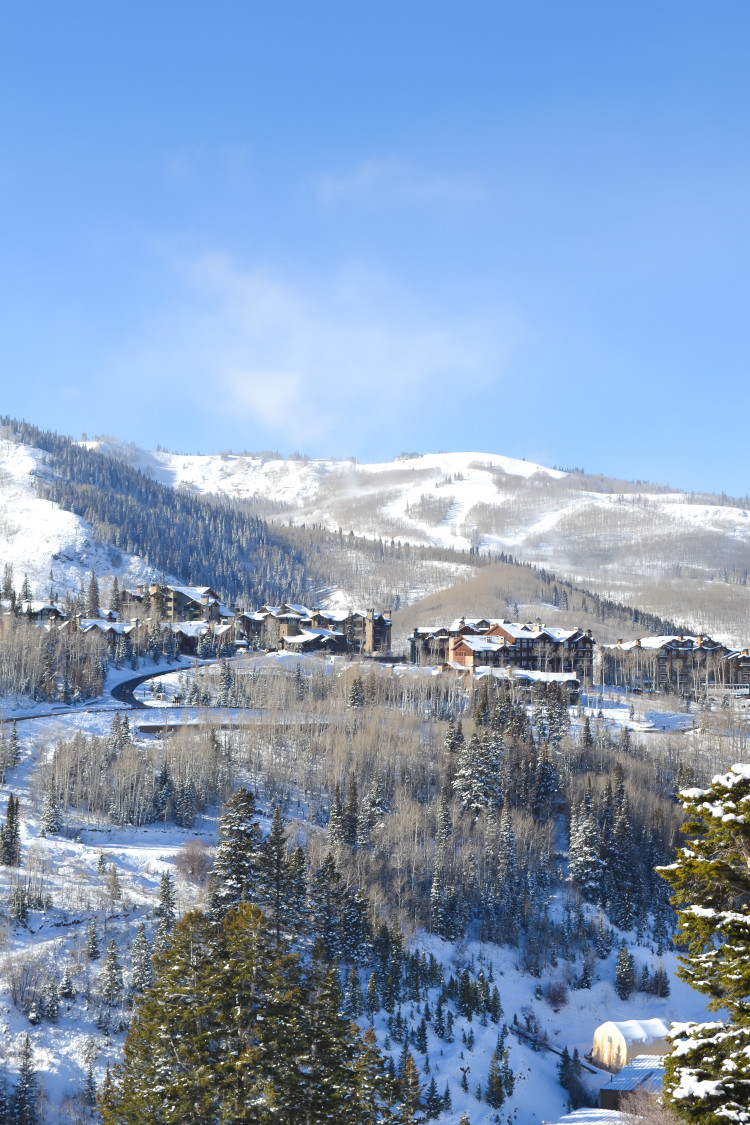 The Lodge was built and inspired by Stein Eriksen himself, who was an alpine race skier and Olympic gold medalist from Norway, hence the Norwegian style of the resort, rustic feel included. The arrival lobby and main lodge are beautiful decorated, and although the resort is comprised of multiple buildings, it feels small and intimate.
Our room included a private hot tub overlooking the snowy mountains of Deer Valley, which made for quite a few romantic moments. I could see this balcony being great for après-ski relaxing as well if you're heading down the mountain. Service was on-point and all staff were super accommodating.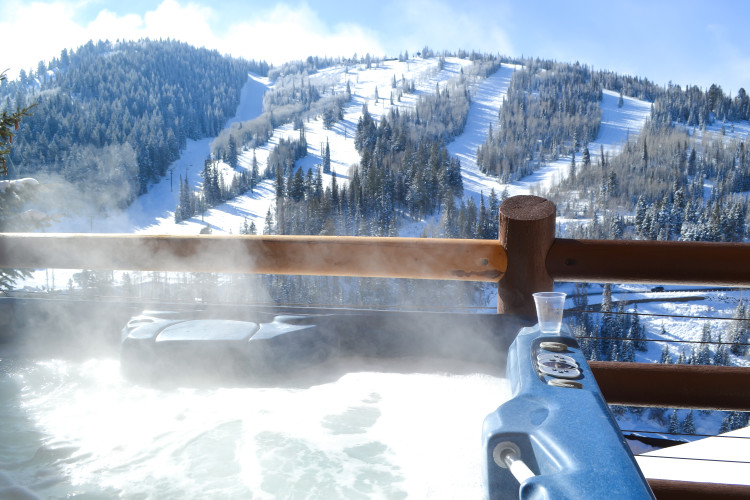 Make sure you check out the spa – open for all guests whether or not a treatment is received. The fitness room, outdoor pool/hot tub, relaxation rooms, and hot/cold baths were fantastic. Bring a book or read one of the complimentary magazines by the fire place – what a cozy place to read!
My husband and I dubbed this resort one of the best we've ever stayed at, right behind our over-water-bungalow in Bora Bora (that's how impressed we were).
Budget Alternative Accommodation:
If you're looking for a more budget friendly option in Park City, consider the Park City Marriott ($300+/night) and the Holiday Inn Express & Suites Park City ($150+/night).
HOW TO GET TO PARK CITY
What attracts so many visitors to Park City, besides its bustling (and beautiful) ski season, is the ease at which you can visit. With Park City being a quick 35 minute ride from Salt Lake International Airport, visiting can't get much easier or convenient.
There are a variety of shuttles busing people back and forth, but I highly recommend Park City Transportation for private transfers to and from the airport. A late night pickup was no problem for them, and they scheduled our return with a modest amount of time to be sure we didn't miss our flight.

HOW TO GET AROUND TOWN
Luckily, once you make it to Park City, there's absolutely no reason to rent a car. Who wants to worry about driving around in the snow? Not I, for sure! Many of the lodges and hotels have complimentary shuttle buses that will bring you from your accommodation to restaurants, activities, and other nearby areas.
In addition, Historic Main Street offers its visitors a free trolley all along the lengthy street. Yes, free, you heard read that right! Don't feel like walking uphill in the freezing cold? Don't fret – there's a trolley for that. 😉
And if you ever find yourself stuck somewhere, or are hoping to venture a little further off, there's always Uber!
What to Pack for Park City in the Winter
As expected, Park City in the winter gets pretty damn chilly. You'll wanna prepare for the cold temps and pack the necessary gear! Thankfully with the right stuff, you can stay warm and dry even when it's wet and chilly outside! No one likes wet feet – that's the absolute worst!
After going on quite a few snowy weather winter getaways, I've kinda perfected the ultimate packing list. But first, a few tips:
Piece of advice #1: Invest in warm and waterproof snow boots with a proper grip. When ordering, opt for a size slightly larger than normal, as you want to allow for thick socks and toe warmers. If your boots are too tight (and your toes are crammed together), your feet will never stay warm enough.
Piece of advice #2: HOT HANDS. Enough said. But in all honesty, hot hands saved our frosty fingers on more than one occasion. What are they, you ask? They're these magical dry packets filled with iron (among other scientific things) that intensify in heat once activated. Basically – super technological hand warmers that stay warm for up to 10 hours. And they are a godsend. You'll want at least 1 pair a day. Buy on amazon here.
Here's my winter weather recommendations for what to pack for Park City in the winter:
Warm Winter Coat: For those frigid winter days, you'll really wanna invest in an insulated parka. I've got my eye on this North Face parka (I currently wear one from 10+ years ago – it's about time for a new jacket). Looking for one a bit less expensive? This one's crazy popular on social media, and with the length and sherpa-lined hood, I can totally see why. However note that it's only water resistant, not waterproof, so not the best choice for those crazy snowy days.
Packable Puffer Jacket: I wear this one – it's lightweight and water resistant, plus comes in a bunch of fun colors and the pockets are super deep (perfect for storing your phone). It packs down to almost nothing in the little included pouch – perfect for travel! 
Fleece Zip-Up: On those absolutely frigid days when you need a little something between your sweater and warm winter coat, a fleece zip-up (like this Columbia full-zip) will come in handy. There's a reason it's got 45k positive reviews!
Base Layers: I've been wearing heat tech long sleeve tees ever since I went to Banff a few years back, and they've saved me from those frigid temps! They're super lightweight and perfect to wear under a sweater, and leave you feeling dry and warm without the bulk!
Fleece-lined leggings: I used to layer two pairs of regular leggings, but now that fleece-lined leggings are a thing, I only wear those! They're just as comfy as regular leggings, but keep your legs staying warm and toasty. I've worn these pairs a few times and they've been great, and come in a bunch of fun colors! If you're looking for something to wear under jeans or snow pants, these come highly recommended (although too thin to wear on their own; more like a base layer).
Chapstick: Cold and dry air make your lips susceptible to chapping super easily. Ugh, the worst! I'm low-key obsessed with this cocoa butter swivel stick – it makes your lips so super soft and it smells a tad like chocolate! My favorite! It also works wonders on dry, chapped skin. You'll wanna reapply multiple times throughout the day. Psst – not all chapsticks are created equal, and some will even make your chapped lips worse (true story). Avoid any containing ingredients like phenol, menthol, and/or salicylic acid; these actually make your lips drier. I always stick to Vaseline (these mini pots are small enough to throw in your purse) or a cocoa butter stick.
Power Bank: After relying on friends' spare batteries for far too long (thx friends), I finally invested in power banks of my own, haha. Batteries die out faster in the cold, so come prepared with a power bank to recharge your stuff on the go. This compact power bank gives up to 10 full charges (ok, maybe more like 8 in the cold)! I always throw this tiny one in my bag also, just in case, as a backup. My phone is my life-line (especially when traveling solo), so I like to be extra prepared!
Warm Gloves: I like to take a few pairs of gloves with me – loving these wool-blend mittens and this pair that's super lightweight and waterproof (good enough to go skiing in).
High Socks: Choose wool ones that wicker moisture and keep your feet dry all day long. Synthetics are a no-go, especially in winter. These merino wool socks are super warm and so incredibly soft (and nope, not itchy at all contrary to popular belief) and perfect under snow boots. You'll never wanna take them off… just buy a few pairs! I recommend layering your socks and actually wearing 2 pairs at all times (I typically do one shorter, ankle length merino wool sock underneath, and a longer, mid-calf merino wool pair on top).
What to do in Park City Besides Ski
Go snowshoeing on a tour
Ready for a bit of exercise? With fantastic views of course?! I snow-shoed for the first time on Mt. Rainier a few years ago, and let me tell you, showshoeing was even more of a workout here in Park City! A great way to work off the desserts I consumed the night before, right?
Worried that you don't know how to snow shoe? No prior experience needed! They say if you can walk, you can snow shoe… just get ready to bundle up and watch for any flying snowballs your guide or partner may throw at you (just a heads up…)
You may even see a few silver mining shafts from back in the day. We snowshoed with White Pine Touring and had a fantastic experience.
Get a Message at the Spa
Before we go any further, let me just say that a massage is absolute heaven on Earth immediately following a snowshoe tour. Yes the snowshoeing is good fun, but yes, your muscles will hurt like no other as well!
We scheduled massages at Montage at Deer Valley Spa, and I can 100% recommend this place to others. I wish we had given ourselves more time to enjoy the amenities, but we were too busy stuffing our faces with meat and cheese from the platter we ordered right before…
Hang at the (heated) pool and hot tub
Whatever you do, make sure you leave some time at your resort for the pool, hot tub, and relaxation rooms in the spa.
There is nothing more magical (as cliché as that sounds), as sliding into a hot Jacuzzi tub, cucumber water in hand, with fresh snow falling from the sky gently seeping into your warm skin.
I've detailed more magic in Park City here. We thankfully didn't over plan this trip (as I usually do…it's in my nature), and were able to relax for a few hours almost every morning after breakfast. Bonus points if it's snowing out – but you can't control that!
We stayed at Stein Eriksen Lodge, and they boast one of the best spa's I've ever seen…
Alpine Coaster and Eagle Zipline
You'll find Utah's longest Alpine Coaster here in Park City Mountain Resort, which is comprised of over a mile of loops, curves, and hair-pin bends at speeds up to 30 mph!
Being a die-hard fan of roller coasters myself, I can honestly say this was worth the few bucks, especially with the mountain scenery changing at every curve. But be sure to bundle up! My face (and hands) were freezing!
* Despite the thrill we had on the alpine coaster, I wouldn't make the trek to Park City Mountain for these attractions alone. The Eagle Zipline was unfortunately rather underwhelming, but I can see how it may spark the interest in young kids a bit more.
Go bobsledding at Utah Olympic Park
Yes, I just said Bobsled! Where else can you travel down a bobsled on an actual Olympic track used by premier athletes?! Sure, it costs a pretty penny, but it's definitely the thrill of a lifetime!
At Utah Olympic Park, you'll generate up to three times the force of gravity while you zip down almost a dozen windy curves on a track of ice that was home to the bobsled, skeleton, and luge events during the 2002 Salt Lake Winter Olympic Games.
Expect to reach speeds of up to 60 miles per hour in less than a minute — a major adrenaline rush right there and a highly physical and extreme experience definitely not for the faint of heart!
Want bragging rights for the rest of your life? You've got them, that's for sure! It should be noted that you can't take photos or videos inside the bobsled for obvious safety reasons, but you won't even be thinking about that once the sled is off.
Walk around Historic Main Street
The absolute epitome of quaint! Nestled between Park City Mountain and Deer Valley Resort, Historic Main Street is full of quirky shops and boutiques (carrying more than ski gear), bookstores, galleries, and cafes.
Remember- you've got the free trolley here! And absolutely delicious chocolate! Looking for some nightlife? Head to Main Street once the sun goes down and you'll find a wide array of clubs and wine bars! We were too pooped to experience any of these, but it's on our list for next time!
Because, why not?! We lucked out and were in the vicinity as soon as the s'mores cart was brought outside near the fire pit and downed a few before running to our scheduled massages at the spa.
Other Things to do in Park City besides ski:
Park City Museum: Located in the heart of Park City on Historic Main Street, you'll find artifacts and exhibits about the history of the city in this newly renovated museum. Modern, impressive, and interactive! A great place to warm up!
Snow Mobiling: This has been on my bucket list for years and I wish we could have fit this into our itinerary but there just wasn't enough time! Next trip, for sure!
Hot Chocolate and board games at The Stein: Looking for a relaxing afternoon to spend indoors? Order some hot chocolate (whipped cream included!), cozy up by the fire, and play a few board games on site. A great way to unwind and warm up after some time in the cold!
Dog-sled ride: Another experience I've longed to have for quite some time! I've read that many of the dogs are rescued from shelters, and I cannot support this enough. And who wouldn't want to play with the puppies?
I recently went dog sledding in Banff during the winter, and oh wow, it was more amazing than I could ever imagine!
High West Distillery & Saloon: Any whisky lovers out there?! The High West Distillery is calling your name! Head to the tasting room and/or go on a tour throughout the facility.
Recommended (Not-to-Miss) Restaurants in Park City
While Park City has an endless amounts of restaurants, and is actually rumored to have more restaurants per capita than any other city, there are a few that really stood out to us on our recent visit.
The Glitretind: Bacon ice cream. Enough said. All kidding aside, The Glitretind (located within Stein Eriksen Lodge), fulfilled all our breakfast cravings, coffee and fresh OJ included. All the dishes we sampled were downright delicious and were the perfect start to our busy day in Park City.
Favorite dishes included waffles and Stein's bacon ice cream, avocado toast and egg whites, and Wagyu short rib hash, but really, no choice could be wrong. We came for breakfast, but The Glitretind, awarded four stars by Forbes, is a popular spot for dinner, so reservations are highly recommended. And plus, the views can't be beat!
tupelo: Located on Historic Main Street, this upscale and stylish bar and restaurant provides diners with New American cuisine featuring ingredients from American producers around the states, think fresh Idaho trout, housemade ricotta, and heirloom Sea Island beans.
It's evident every part of each dish is carefully chosen and thought out in order to provide the absolute tastiest meals!
Into whisky? Make sure to try the cocktail featuring High West! Open all day, but especially popular for dinner. Seasonal menus provide an ever-changing assortment of items at their freshest! The buttermilk biscuits, pan roasted bass, and twice baked sweet potato were absolutely divine.
Silver Star Café: We ventured over here for lunch one day, and boy, were we spoiled. This chill Park City hangout has unparalleled views down below and cuisine like no other. They were definitely featured on the Food Network for good reason! All in all, a fine space.
On our menus for the day included BBQ pulled pork, Rory's burger (which I substituted the meat for a house-made quinoa and black bean patty with avocado and it was delightful), and a trio of mini desserts, my absolute favorite. I'd go back for that peanut butter pie any day!
Riverhorse on Main: We had one of the best meals here (not just in Park City, but in life so far…), and I can honestly say I'd be okay with eating here multiple times a week. The food, the service, the live music – everything exceeded our expectations and then some.
Makes sense since it's consistently rated the best restaurant on Main Street. A true Park City culinary gem! Give me more of that ahi tuna, please and thank you!
Come here if you're looking for eclectic American cuisine, and make sure to try the honey glazed pork belly, the macadamia nut crusted Alaskan halibut, and the huckleberry cheesecake (seasonal).
Please note that I partnered with Visit Park City to bring you the ultimate guide on a winter weekend away for you non-skiers (like myself) out there! All opinions, hot-tub loving, and bob sled freak-outs are my own.
Have you been to Park City before?! Non-skiers, would you consider spending a weekend there knowing there's a whole buncha things to do in Park City besides ski?