Need a vacation and looking for the best winter weekend getaways? Keep on reading, because this behemoth of a post will give you more ideas than you can possibly use – there's over 35 destination options!
And don't fret if you're dreaming about that snowy winter escape complete with snow angels and hot chocolate, or looking to rid the cold and head to a warmer climate; this post has both!
I love me a good weekend trip. Hitting the road (or plane for that matter, either one) and taking off always just feels right.
I never have trouble figuring out where to go in the spring and summer months, yet always fall short when it comes to discovering some winter weekend getaways that I can get excited about.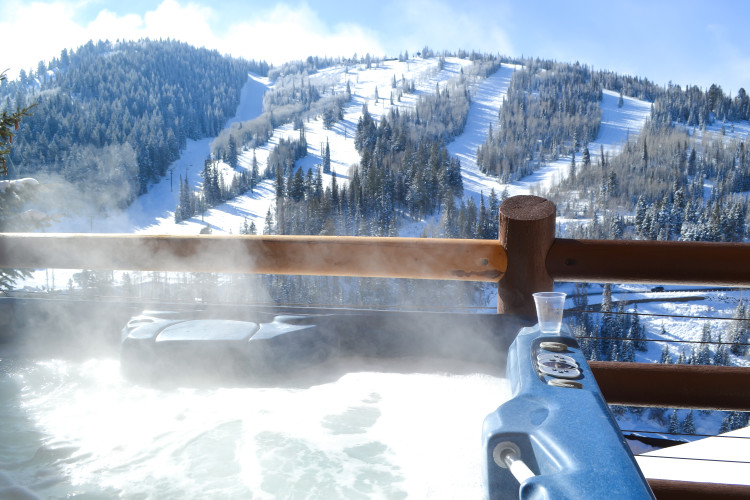 We always seem to head to the same few wintery spots (Yosemite and Lake Tahoe, I'm looking at you), and while I enjoy these two locales, I need to get out of my comfort zone.
I've also recently spent a few days in Banff during it's frigid winter months (which was OMG absol-freaking-lutely amazing), and have gone snowshoeing in Bend (oh so gorgeous), too, but still, I need more ideas!
Because of this, I vowed to uncover more options for winter trips in the USA this year, and who better to ask than some of my fellow travelers.
Best winter weekend getaways, both freeze-inducing and butt-warming, coming right up! Just make sure you pack appropriately. 😛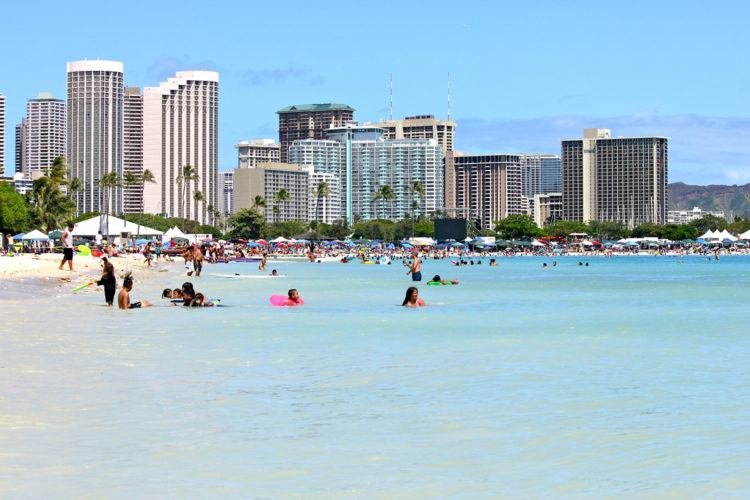 Snowy Winter Weekend Getaways in the USA
1. Lake Tahoe, California/Nevada
Lake Tahoe, which straddles the California/Nevada border in the Sierra Nevada mountains, is one of the United States' top ski destinations every winter, and an absolutely perfect winter weekend getaway.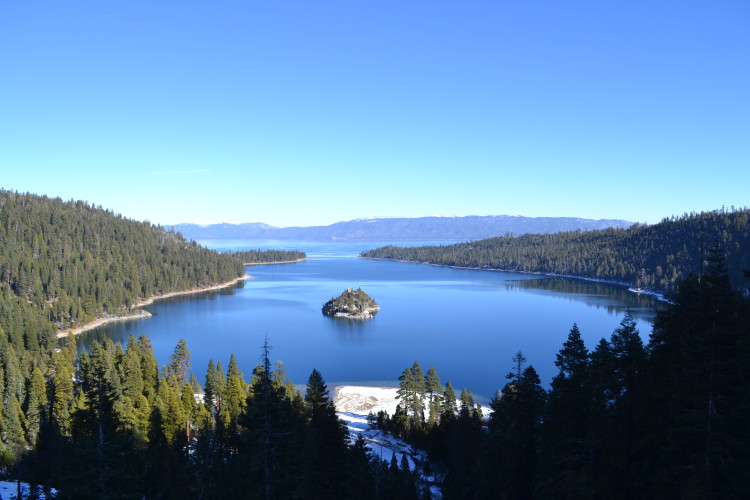 Several notable ski resorts circle the lake and feature world class skiing and snowboarding, and combined with views of the blue water of the lake, makes them downright magical. One of them – Squaw Valley – was even the site of an Olympics competition in 1960.
Visitors can ski some of the runs that competitions were held on and tour a small museum dedicated to the games (how cool is that?!). Ski season at Lake Tahoe runs from November-May, with some resorts even staying open until Memorial Day if they have enough snow.
Non-skiers will love the lively apres-ski atmosphere, with lots of restaurants and bars at the base of ski resorts like Squaw Valley and Heavenly Mountain.
Scenic drives along the lake are also popular, as the white blanket of snow makes the bright blue water of Lake Tahoe even more beautiful. Note that you'll need to bring snow chains as snow and ice often lead to mandatory usage of the such.
Sand Harbor State Park on the Nevada side is a particularly nice viewing spot, as the calm waters of its shores provide an almost mirror-like reflection of the mountains and boulders under the right conditions. Lake Tahoe's slopes and natural beauty truly make it a haven for winter travelers.
Weather: Temperatures average in the 30s and 40s during the winter months, and the ski resorts can get 300-500 inches of snow each winter – that can top 40 feet! Whoa x 32745.
Kris Morton | Nomad by Trade
2. Denver, Colorado
Denver makes a perfect destination for a winter getaway. In the middle of winter, Denver will have average highs in the mid-40s, with snow falling as soon as October.
Snow can (and frequently does) happen as late as May, giving you plenty of opportunities to enjoy Denver as a winter wonderland.
For ice-skating, head to Skyline Park. The outdoor ice skating is free, you only have to pay for renting skates. The Zoo is going to be less crowded in the winter and if you go in December you can see it filled with Christmas lights.
Known for its craft beer scene, there are plenty of breweries where you can enjoy a drink and warm up.
If you are there on a snowy day, go to one of the hilly parks like Ken Caryl Sledding Hill and go wild with a makeshift sled. You can also go to Ruby Hill Park, a free terrain park that gets covered in man-made snow (practice snowboarding here before heading to a ski resort).
If you are looking for winter sports, you unfortunately won't find big slopes in Denver; however, ski towns are only roughly an hour and a half drive away.
Dan Bagby | Honeymoon Always
3. Whitefish, Montana
Whitefish, Montana is a winter wonderland and one of the best places to spend a winter weekend in the USA. There's a bit of everything for everyone; skiers will love the various terrain at Whitefish Mountain Resort, while there's still plenty to do for the non-skier.
From snowshoe trekking in Glacier National Park to fat biking through the snowy forest, there's hardly an outdoor winter adventure that can't be found in Whitefish.
Couples can snuggle up together with some hot cocoa on a romantic sleigh ride and foodies will appreciate the cuisine of James Beard winning chefs. You can even follow the craft beer trail to more than 20 different craft breweries in Glacier County.
But no matter what you choose to do, Montana's scenery is sure to leave you awestruck and happy you bundled up for a getaway in snowy Glacier County.
Jennifer Dombrowski | Luxe Adventure Traveler
4. Bend, Oregon
Bend, Oregon is a wonderful winter destination. Located in central Oregon, just a few hours south from Portland, Bend has many options for those who enjoy outdoor winter sports.
You'll find, for example, excellent skiing and snowboarding at Mount Bachelor, cross-country skiing and snowshoeing at Tumalo Falls, snow camping at Paulina Creek, sledding at Drake Park (in Bend) or Dutchman Flat Sno-Park (in the Three Sisters Wilderness), ice skating at Pavillion Ice Skating (indoors) or Seventh Mountain Ice Skating Rink (outdoors), just to name a few.
Tour companies will happily guide you on moonlight snowshoe tours in the wilderness or beer tours in the city. Rather go for a hike? Check out the Oregon Desert Trail, as it's often snow free in the winter.
The High Desert Museum is just a short drive from Bend and is always a hit with visitors. And if you're up for a sled-dog ride, you can do that in Bend, too!
→ Read Next: Planning the Ultimate Bend Winter Getaway!
If you have access to a car, you can drive over to the much smaller town of Sisters (22 miles from Bend) and spend the day browsing the boutiques, galleries, and quilt stores -or- head out on one of the hiking trails nearby. Whatever your interests, you're sure to love Bend in the winter!
Cate Brubaker | Int'l Desserts Blog
5. Sedona, Arizona
Rated USA Weekend's Most Beautiful Place in America, Sedona is a perfect winter weekend getaway. Known for its incredible red rock formations, canyon vistas, and a friendly atmosphere. there are a whole slew of unique things to do in Sedona.
Sedona's ancient indigenous ruins, energy vortexes, and intriguing artistic heritage combine to set the stage for cultural exploration and spiritual centering.
Architectural treasures such as the Chapel of the Holy Cross and the Douglas Mansion in Jerome State Historic Park are don't miss stops, along with Montezuma Castle, Honanki and Palatki cliff dwelling ancient ruins.
Wine lovers will take advantage of opportunities to taste and buy from local vintners. The award-winning Oak Creek Brewery will interest beer lovers, and the restaurant scene is lively and innovative here.
Comfortable resorts, inns, and day spas provide peaceful places to retreat for romance or relaxation. Outdoor enthusiasts will revel in the many hiking trails and opportunities to explore the beautiful back country on two and four wheels. Special events celebrate the arts and athletics alike.
Just remember that you'll need to account for the effects of high altitude and desert temperature extremes – even comfortable day temps in the 60s will turn chilly at night.
Sedona is an easy drive from Flagstaff through spectacular scenery – make sure you do it during the day to take safe advantage of stunning switchbacks and outstanding views.
Betsy and Pete Wuebker | PassingThru
6. Grand Canyon, Arizona
When people think of the Grand Canyon, they rarely think of snow. After all, it is located in Arizona, which isn't a place often associated with winter and white fluffy snowflakes.
However, due to the altitude of the Grand Canyon, it can get quite the snowfall during the winter months and this makes for some truly magical landscapes.
While some attractions may not be available during the winter months, the views are equally impressive and the crowds have disappeared. Hotel rooms are a bargain and you'll have the canyon practically to yourself.
You'll definitely want a rental car to drive around the rim of the canyon, stopping at the many scenic points to look out at the world famous national park.
You'll want to dress warm and hike one of the popular rim trails as well, admiring how the snow creates a different dimension to the area. Wildlife can also be seen in the winter months, including deer, bald eagles, elk, and squirrels.
→ Read Next: Exploring the West Rim of the Grand Canyon
If you're really adventurous, you could do some overnight winter hiking, going from the South Rim to the North Rim, but you would want to be experienced at this sort of camping before even considering such an option.
Another option is simply spending the night at a nice hotel in Grand Canyon Village, sitting next to a log fire while watching the snow blanket the ground outside. You'll want to plan more than one day because winter storms can bring fog to the area, resulting in less than stellar views.
Weather: Mild winter weather with occasional storms. Expect an average high of 40 F and an average low of 20 F.
Matthew Bailey | Must Do Canada
7. Leavenworth, Washington
You don't have to travel all the way to Europe to get a perfect snow globe storybook village. One of the best winter weekend trips in the USA is Leavenworth, Washington. And even better, this gorgeous little Bavarian village is located in the mountains of Washington just over a two hour drive from Seattle.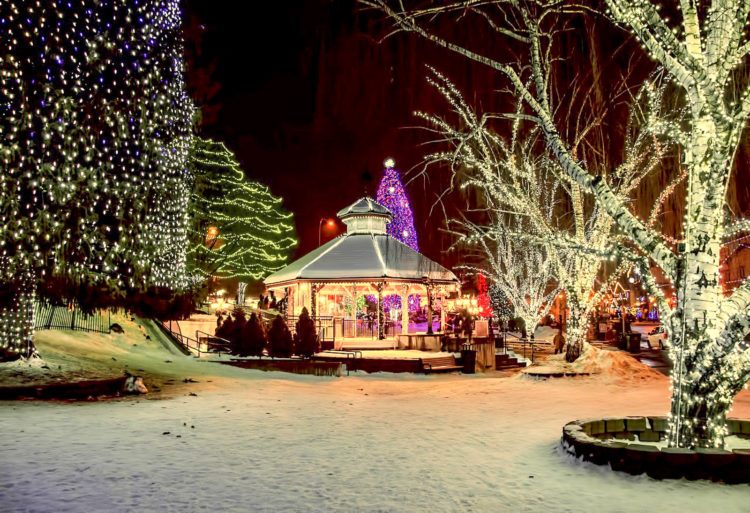 Sleep in a chalet right on the slopes where you need to take a giant snowmobile type vehicle to get to your resort or stay in town where you can shop, drink great beer, and snack on Bavarian pretzels and sausages.
And if your body's craving some adventure and a way to burn off all those calories, head out on a day hike to the lakes – they're something special. Just be sure to check on the trial conditions before heading out as they may in fact be covered with snow!
You might actually feel like you're living in a snow globe scene since it easily transforms into a perfect winter wonderland in the winter.
Megan Indoe | Bobo and Chichi
8. Winter Northern Lights in Alaska
If you're coming up to Alaska for the winter and plan to cross Portage Glacier than you should also plan to spend a few late nights looking for the northern lights.
Alaska is one of the best places in the world to see the aurora and there are countless viewpoints within an hour of Anchorage — meaning you can easily double up on winter adventures in Alaska!
The lights are a weather phenomena based off of solar activity and can unfortunately be incredibly hard to predict. Luckily, there are an abundance of Facebook groups and apps that can help you have a successful aurora hunt.
Although the aurora borealis can be seen from Anchorage its best to head to a viewpoint away from the city lights. Worthy options include Hatcher Pass, the Knik River, Flat Top, or driving a bit further up to Talkeetna or even Fairbanks for the best chances to see this cosmic display.
Mike Still | Live Travel Teach
9. Salt Lake City, Utah
Salt Lake City makes a great winter weekend trip. It's friendly, not too expensive, they have world class ski resorts, and quite possibly the greatest snow on earth. Once you see it, you'll understand the intense fascination.
Let's start with the snow. Salt Lake's steep canyons and desert climate means that the snow storms travel up the canyons and then sit there dumping dry powdery snow all day long.
This combination of terrain and weather has given Salt Lake a reputation for providing "steep and deep" ski experiences.
→ Read Next: Antelope Island Day Trip from Salt Lake City
And non-skiers don't fret just yet, as Salt Lake isn't just about the skiing. Hiking trails in City Creek and Millcreek canyons are right in the city, and thankfully, they stay open in the winter months.
Salt Lake has a surprisingly robust beer scene and breweries like A. Fischer and Proper are serving up interesting brews in a fun environment. And promise me oh promise me you'll spend a night stuffing your face at Red Iguana for the best Mexican food north of the border. EDITOR'S NOTE: Although is it really better than California's? Hmmm…
Salt Lake City's major ski resorts are all within forty minutes of the international airport, which makes it an easy destination to reach.You can fly into the area in the AM and be on the slopes by noon → how often can you do that?!
And because it's a major metro area, it also means that you have a lot of options for lodging– from resort stays to AirBnBs and modest downtown motels.
Carol Guttery | Wayfaring Views
10. Breckenridge, Colorado
Breckenridge is the kind of quiet, little snow town that makes you feel like you're on a holiday movie set. Really! Its quaint snowy sidewalks and hometown grocery stores are fit for anyone looking to have a relaxing, yet chilly getaway.
Tucked away about an hour and half drive from Denver, whether you are a foodie or an avid skier, Breck (yes, it even has a fun nickname) has got something for everyone to enjoy.
Breck is a great mountain that can accomodate all skill levels. From board parks and black diamonds, to ski schools and beginner runs, there is enough opportunity for everyone in your group to challenge themselves or practice a new skill comfortably.
Thankfully, unlike it's crowded neighboring mountain Vail, Breckenridge has got a great layout and efficient lift systems that keep you feeling like you've got the slopes to yourself! Yassss!
If you're looking for a quiet lodge with great ski-in, ski-out accommodations, Breck is certainly the place! You can easily find anything from luxury and lavish to budget friendly spots that are all within close proximity to the lifts so that you don't have to worry about carrying your gear everywhere!
Skiing just might not be your thing! Totally fine! Even if you've fit in a couple days of skiing and are just not feeling it the last day, or the kids are completely tired out, there are so many more opportunities for fun!
Dog sledding is a popular excursion while in Breckenridge.The dogs are extremely friendly and loving, and you'll learn a great deal about the dogs and how they manage the sled.
There is some great shopping where you can find awesome eclectic pieces and cozy clothes-which you will most certainly need if you're heading here from December to mid February! (Late February to mid March is much more mild.)
So be sure to bring your fuzzy hats and gloves or buy them in town because this is the perfect location to let your mountain fashion run wild.
Breckenridge is a special place and most certainly worth a visit if you're heading to Colorado or just looking for one of the best winter weekend getaways. If anything, do it for the cookies from Mary's Mountain Cookies my friends!
Kristen Arrow | Life is an Arrow
11. Yosemite National Park, California
Ahhh Yosemite. A place I keep going back to. It must be that fresh, fresh mountain air.
And don'tchu worry, the park is open all-year round. Yes, even when it snows! The fluffy white stuff just makes it all that much more magical, trust me! The crowds vanish, icicles dangle from tree branches, snowflakes coat the Valley, and the entire park is so calm and bright. A winter wonderland for sure!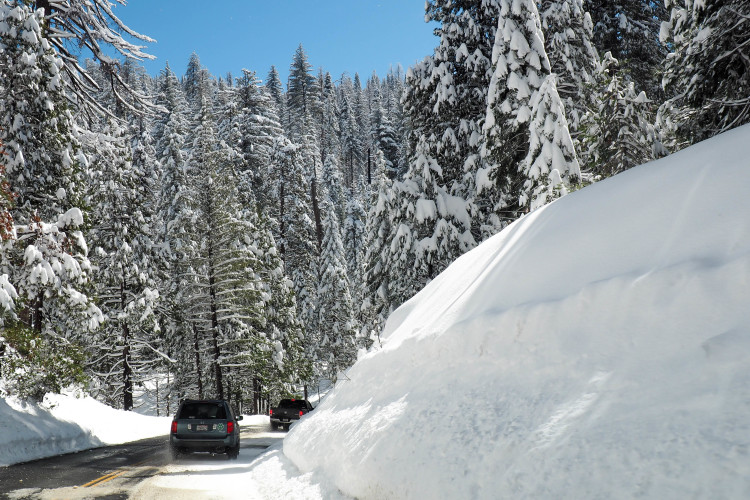 If you're looking for stunning beauty and some solitude during winter, consider making the drive to Yosemite National Park- only a 4 hour drive from San Francisco.
And whatever you do, opt to stay at Rush Creek Lodge. It blew all our expectations out of the water and there were free unlimited s'mores. ? And that beast of a brownie sundae was a highlight of my entire weekend. They really know how to make a girl happy.
→ Read Next: Yosemite in Winter [What to Do and Where to Stay]
Some of the best photo spots include the ever-so-popular Tunnel View, Valley View, Sentinel Bridge, and Yosemite Valley Chapel. You can also make the short trek out to see Bridal Veil Falls, being just under ½ mile to reach.
12. Vail, Colorado
Vail is one of the most well-known US Winter Destinations, and popular it is, with estimates of almost 700,000 people visiting during the winter! Whoa!
Vail has a typical temperature of about 30 degrees Fahrenheit, but most importantly Vail receives 184 inches of snow! This means a majority of winter activities in Vail focus around activities involving the snow.
The most popular option is skiing or snowboarding the famous resort. The best time to visit will be starting in January when there is a decent snow base, and before April, as the rising temperatures begin slowing melting the fluffy white stuff.
If you're a first-time skier or boarder, there are options of group lesson, or individual lessons through the Vail resort. However, the prices can be pretty expensive but this is common in most US ski or snowboarding activities.
If you are not interested in hitting the slopes then you can also go on sleigh rides and try your hand at snowshoeing. After a long day on the slopes, there is a lovely Bavarian style town known as the Vail Village.
Being the center of Vail you'll find popular winter sport clothing stores like Marmot and Patagonia. Furthermore, there are numerous delicious restaurants for that après-ski.
Ultimately, Vail is one of the perfect winter destinations to embrace what is similar to a European Ski culture (without the expensive and LONGGG plane ride) to have a snow filled getaway.
Amy Dodd | Oceans to Alpines
13. Midway, Utah
If your heart is longing for winter in the Swiss Alps, but your pocketbook is telling you to stay stateside, Midway, Utah is the perfect destination for a snowy winter getaway.
Located about 30 minutes from Park City and about 45 minutes from Salt Lake City, this small town will make you feel like you are in a mountain village in Switzerland. And when the weather turns cold the town of Midway turns absolutely magical!
Perhaps Midway's biggest claim to fame is it's winter ice castle attraction. The Ice Castles are a frozen experience like something straight out of a fairy tale, just wait until you see it in person. 🙂
With towers of cascading ice resembling frozen waterfalls that are illuminated at night, the Ice Castles look more like the storybook land of Narnia than it does Utah. But it isn't just an Instagram-worthy photo opportunity, Ice Castles is an interactive attraction with caves, tunnels, fountains, and slides, all carved entirely from ice.
Aside from the Ice Castles, Midway boosts a geothermal hot spring inside a limestone cave. Visitors can swim, snorkel, or even scuba dive at the Homestead Crater.
The hot spring and Ice Castles are both conveniently located at Homestead Resort, which makes for an easy place to stay within walking distance of the two biggest attractions.
Those seeking a true Swiss Alps feel may prefer to stay at the Zermatt Resort, directly across the street from the Homestead. The hotel resembles a Swiss lodge and has a European bakery and outdoor carousel for kids that is open even during winter when the weather is nice.
Melissa | Parenthood and Passports
14. Missoula, Montana
The Montana college town of Missoula is a haven for hippies, foodies, and outdoors enthusiasts. However, winters in Missoula aren't for the faint-hearted, with lows below freezing (and sometimes below zero) from November through March.
But the cold shouldn't stop visitors from getting outdoors and enjoying the wonderland this town becomes in the winter.
The nearby Snowbowl has terrain for all levels of skiers and snowboarders, and the Rattlesnake National Recreation Area, just five minutes from downtown, has 61,000 acres of opportunities to snowshoe and cross-country ski.
A dip in the Lolo Hot Springs or a sleigh ride at one of the lodges near town will make for fun and less strenuous outings. To get out of the cold, catch a movie at the Roxy or peruse the goodies and crafts at the Missoula Valley Winter Market.
For a warm beverage, head to Break Espresso, one of downtown's most popular coffee shops, or to its tea house, the Lake Missoula Tea Company.
The town also has a surprising number of craft breweries, with new ones popping up all the time, but a warm pretzel at Bayern Brewery is the perfect beer accompaniment in the winter.
The town's foodie scene won't disappoint either, with restaurants serving a range of cuisines most people wouldn't expect to find in Montana.
Jen Ambrose and Ryan Victor | Passions and Places
15. Portage Glacier, Alaska
Ready to go glacier hiking?! This next destination is surely an adventure, and better yet, it's in Alaska! This snowy state is sure to come to mind when thinking of winter wonderlands, am I right?!
And if you're visiting Anchorage, be sure not to miss the crossing off Portage Lake for a glimpse of Portage Glacier! I mean, it's not everyday you've got your heart set on a glacier!
Normally you have to take a boat across the lake or hike Portage Pass but when the winter months set in the lake usually freezes and is safe to cross. Be sure to bring plenty of layers and hand warmers on this excursion because you're crossing a frozen lake!
It takes about 45 minutes to drive from Anchorage to the Portage Glacier Visitor Center where you can just start walking on the frozen lake. How cool is that (yes, literally and figuratively). :-p
From there it's about a mile and a half of flat terrain, with stunning views all around. You'll see Byron Glacier to your right and snow capped peaks every direction you look. There are sure to be other locals skiing or biking across and I even saw a few couples with sleds pulling their little ones behind them.
→ Another Glacier Adventure: Snowshoeing on Mt. Rainier, Washington
After about a mile of mostly white landscapes, you'll round the bend and see a massive blue ice wall before you. It looks like it's pretty close but in fact you're still almost a half mile away!
Even though the glacier has been receding for many years it is still an incredible sight to behold and should definitely be on your winter bucket list!
Mike Still | Live Travel Teach
16. Park City, Utah
Park City, roughly 45 minutes away from Salt Lake City, is an absolute haven for winter sports enthusiasts and a snowy winter wonderland dream come true for everyone else.
It's best known for its downhill skiing and snowboarding offered at several spots throughout the area, and many of the resorts even offer ski-in/ski-out facilities.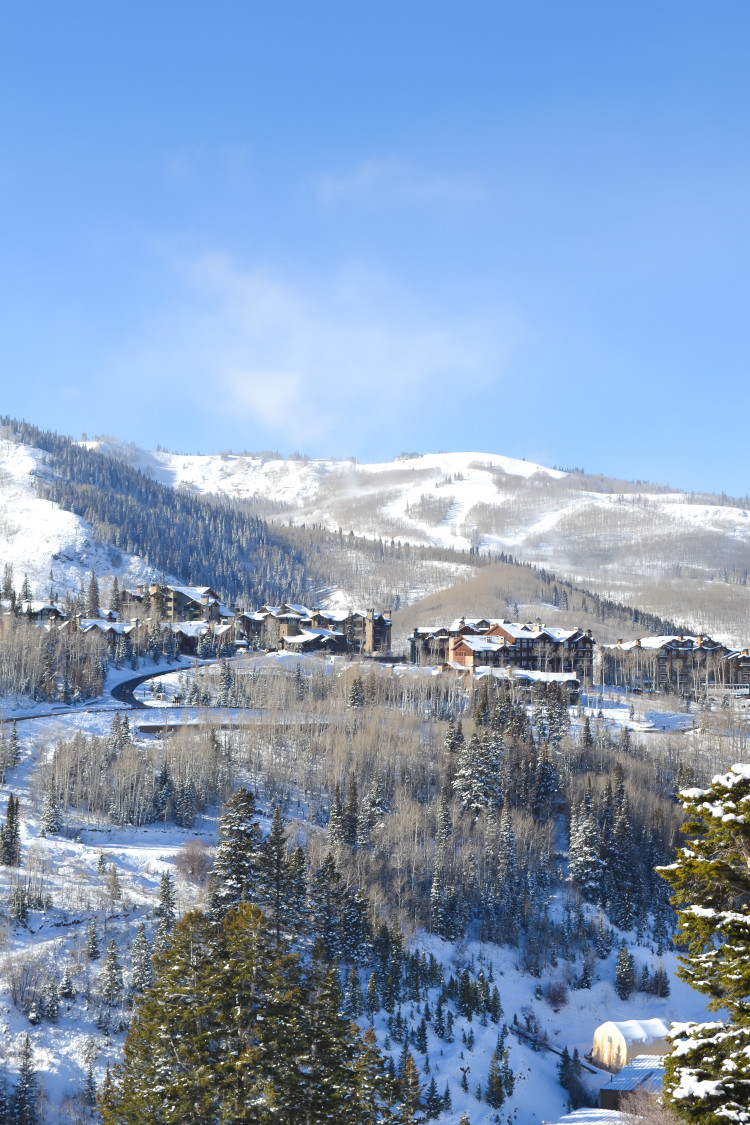 Among the most popular ski resorts are Deer Valley and Park City Mountain, but dig a little deeper and visitors will discover many other things to do in this charming mountain town.
Summer hiking trails become snowshoe trails that weave around the town and deep into the surrounding forests. For cross country skiers, there are both tracks and trails offered at multiple places. Adrenaline junkies will enjoy the winter bobsled experience at Utah Olympic Park.
For anyone not interested in winter sports, Park City also offers plenty of fun on its charming little Main Street. Here, there are dozens of excellent galleries, lovely boutiques, and highly-rated restaurants.
There is even a museum exploring the city's development and mining history. And don't miss the High West Distillery if you have a fascination with whiskey (or just need some of the good stuff in your veins to take the chill out of your bones).
→ Read Next: 3 Perfect Wintery Days in Park City for Non-Skiers
During peak winter season–December through March–this town is packed with visitors, so be sure to make hotel and restaurant reservations in advance.
It's important to know this is not a budget destination. Ski passes, accommodations (stay at The Stein, it's worth the pretty penny) and food is somewhat pricey.
Park City is also home to the famed Sundance Film Festival at the end of January. This is an ideal time to visit for film buffs, but a very expensive time for everyone else.
Anyone looking for an easily accessible, charming winter destination in the West, should definitely consider Park City, Utah. Especially if you like bacon ice cream (found at The Stein).
Wendy Lee | Empty Nesters Hit the Road
And two extra for good measure because they're just so damn beautiful and quite close (via plane) from San Francisco or NYC:
17. Banff National Park, Alberta, Canada
Banff is one of the most spectacular places ever, and that's no lie. And visiting Banff in the winter makes it even just much more magical! Banff, although not technically located in the USA, is just a short drive or plane ride away from the states.
The pristine colors and peaceful scenery is worth the short trek, I can promise you that.
You'll want to brave the snow, and take a hike up to peaks and look outs for some of the most spectacular views. But be sure to bundle up, as average temperatures tend to be in the low 20's during the day, and drop to horrific single digits at night. Brrrr….
Don't miss is ice skating on Lake Louise, as it's one of the most scenic ice skating rinks out there in all of the snowy winter wonderlands. Not an ice skater (worried you'll fall flat on your face?), try snowshoeing instead, or head out on a sleigh ride.
For those into adventure sports, skiing, snowmobiling and snow tubing is available. And be sure to take a stroll around downtown Banff, grab a bite to eat in one of their quaint restaurants, and relax at a coffee shop with some hot chocolate and dessert.
Promise me you won't leave the area without grabbing a beaver tail, an iconic sweet treat in the area. Want to see the whole town of Banff? Take the Banff Sulphur Mountain Gondola for the most beautiful views of the snowy city. You'll want to come back time and time again!
Sara Kaecker | Our Kind of Crazy
18. Montreal, Quebec, Canada
One of the best winter getaways if you want a snowy city break is Montreal (it is North America's version of Paris, afterall). A quick flight away or even a bus ride away from many East Coast cities, a weekend trip to Montreal is more doable than you think.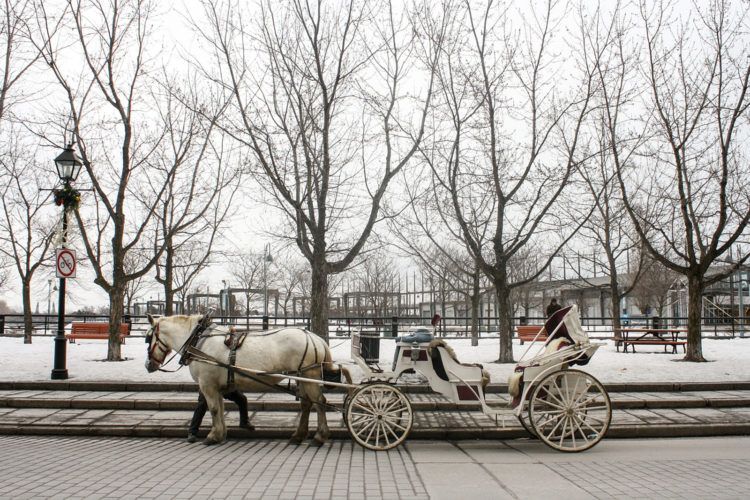 While Montreal is very cold in winter, there's plenty to do → imagine yourself ice skating on frozen-over rivers or lakes in the city, or renting snowshoes or cross-country skis to hike or ski around Mont-Royal, a beautiful mountain in a park in the city center.
The area of Vieux-Montreal by the harbor is also a beautiful area to walk around in the winter, especially when the old cobblestone streets get covered in a light dusting of snow.
If you need a break from the cold, you can check out some of Montreal's world-class museums. The Musée de Beaux Arts features a wide range of art, with an excellent collection of Impressionist artists in particular.
If you prefer more contemporary art, MAC (Musée d'Art Contemporain) has fantastic and often interactive rotating exhibits.
Finally, Montreal has so many cozy bars and restaurants where you can warm up from the cold temperatures outside. Montreal's most famous contribution to cuisine is poutine, a dish consisting of French fries covered in brown gravy and cheese curds.
Because it's so heavy, it's pretty much perfect for winter! Finally, there are countless excellent bars in the Plateau neighborhood of Montreal that are a wonderful cozy escape from the cold for a nightcap.
→ Read Next: Montreal Ideas to Put on Your Weekend Itinerary
Allison Greene | Eternal Arrival
Warm Winter Weekend Getaways in the USA
1. Florida Keys, Florida
The Florida Keys provide one of America's favorite warm winter getaways, and rightfully so. With temperatures throughout the Keys ranging from the high 60s to upper 70s (yes, even in winter), you'll want to bring along your summer dresses and even a bathing suit or two.
The top destination in the Florida Keys is Key West, located just 90 miles from Havana, Cuba. It's where Florida Highway 1, the southernmost road in the contiguous United States, ends. Key West is rich with attractions, history, entertainment, and everything in between.
Some of the more famous things to do in Key West include taking a selfie at the Southernmost Point Buoy and Historic Marker, strolling along Duval Street and Malloy Square, visiting the Ernest Hemingway House and Museum, and admiring the Key West Lighthouse.
Another favorite destination of many is The Key West Butterfly and Nature Conservatory, filled with, you guessed it, tons and tons of beautiful butterflies flying around.
If you are looking for a day trip during your few days in Key West, take a ferry or chartered plane to Dry Tortugas National Park, a series of beautiful islands about 70 miles west.
Being one of the most isolated US National Parks, Dry Tortugas is simply beautiful. It's a great place to snorkel, camp, and Scuba dive in the winter time!
Halef | The Round The World Guys
2. Savannah, Georgia
Summer in the South really means one thing: humidity – and a lot of it. With that one sentiment right there, it's best to avoid the hot summer months at all costs.
And because of that, it's wise to visit in the chillier months, with less crowds and cheaper room rates (yes!)
Just be sure to pack all types of clothing as the weather varies greatly in the winter months – one day you'll be sporting a short-sleeved tee while the next you'll be bundled up in your warmest winter jacket. You just never know!
Even so, Savannah is the most picturesque town which all visitors need to enjoy in decent weather to really appreciate its beauty. Whether it's being surrounded by endless trees or the Spanish moss which hangs delicately from them, Savannah is the prettiest Southern town on offer.
If you want to take romantic photos? Savannah has many options across all of its 24 different town squares.
Looking to re-create your favorite films? Many productions were shot right here from Forrest Gump to Magic Mike XXL (ha) and more.
Lover of history? With an abundance of historic homes to tour and a historic waterfront area, taking a step back in time is easy here.
And, if you want to hit the food scene? This town is a foodie's paradise – full of authentic Southern cuisines as well as mixes of other cultures, from British and beyond – even as far as Australia.
As a result, the café culture here is burgeoning with eateries from the Collins Quarter to Soho South Café remaining local and visitor favourites. Great coffee can easily be found in Savannah!

Savannah clearly has so much on offer for visitors. You cannot get bored here.
Toni Lee | Enchanted Serendipity
3. Miami, Florida
Because Miami boasts great weather year round, a winter visit to the area is definitely a smart move if you're looking to escape the freezing temps elsewhere in the country.
And many don't realize that the winter months are actually one of the better seasons to head to South Florida.
Since hurricane season lasts from June to October (bringing intense heat and potential stormy weather), snow birds flock to Miami in the beginning of December.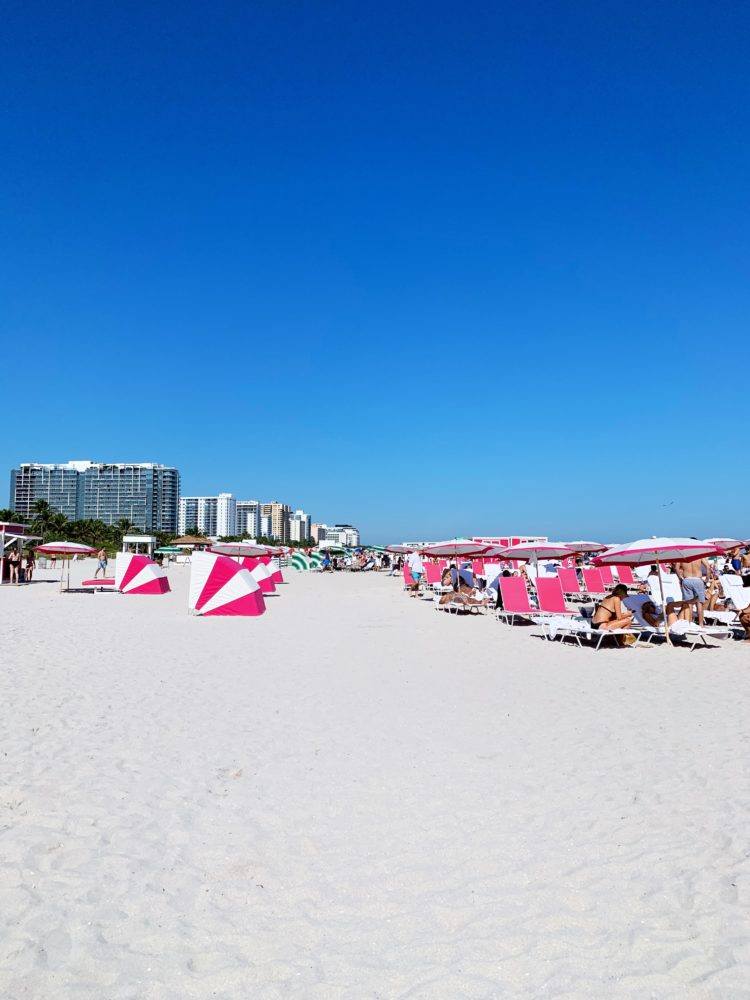 If you're in search of nearly perfect weather, white-sandy beaches, and the freshest stone crabs (which you'll find at Joe's Stone Crabs in South Beach), get your white butt on over to Miami.
Wander Lincoln Road Mall for some hip and trendy eats and shops, stroll Little Havana and eat all the Cuban food in sight, take a short day trip to the Everglades (just don't freak out when you see dozens of alligators), and get your camera ready at the Wynwood Walls, a huge outdoor art gallery of sorts.
→ Read Next: 15+ Things to Add to Your Miami Weekend Itinerary
And ohhh, the beach. You can't miss it, especially because you'll most likely be craving a tan. Many visitors to the city opt for the world famous beaches of South Beach, which will most likely be filled with beautiful beach goers.
4. Austin, Texas
With average highs in the 60s and lows in the 40s, Austin is a great place to visit in the winter to escape the frigid temperatures and you have the added bonus of enjoying the best of Austin without sweating to death. True story. That heat is intense come summertime.
First off, you can enjoy dining al fresco without melting. Head to Hotel San Jose for half off their famous frose on their patio before dinner. Walk to Guero's Tacos down the street or head to award-winning Launderette for gourmet small plates in a restored laundromat. Then check out all the street art and colorful murals around town!
Shopping in South Congress is a must but with temps in the 90s all summer, it can be unbearable. In the winter time, you can walk around for hours perusing boutiques, awesome antique stores, and boot shops.
→ Read Next: A Weekend in Austin [What To Do, See, and Eat]
Austin is known for its outdoor experiences within the city. Hike around the Barton Springs Greenbelt or find peace and quiet and killer views in nearby St. Edwards Park. You won't have to break a sweat unless you want to.
And whatever you do, don't leave without trying a few loaded donuts from Gordoughs. They're more than heavenly (but I wouldn't know)…. 😛
Emily Hines | Ems On The Road
5. Scottsdale, Arizona
Can't stand the cold? Head to Scottsdale, Arizona, which boasts 330 days of sunshine a year; what more could you want? Easily one of the best winter weekend getaways for those allergic to chilly temps, like myself!
If you like to hike, like to eat (ridiculously delicious) food, wander throughout the desert, and enjoy a hand-crafted cocktail or two, Scottsdale is your jam. You just never knew it before. ?
→ Read Next: A Long Weekend in the Desert in Scottsdale
Besides the buzzing resort culture (luxurious pools and cucumber water spa's included) and great mix of hip restaurants, Scottsdale is full of fun activities.
If you've never been in a hot air balloon before, Scottsdale is the place to do it. Glide over cacti and witness coyote running about down below. The balloon floats so effortlessly in the morning sun, and it's such a peaceful way to spend a few hours.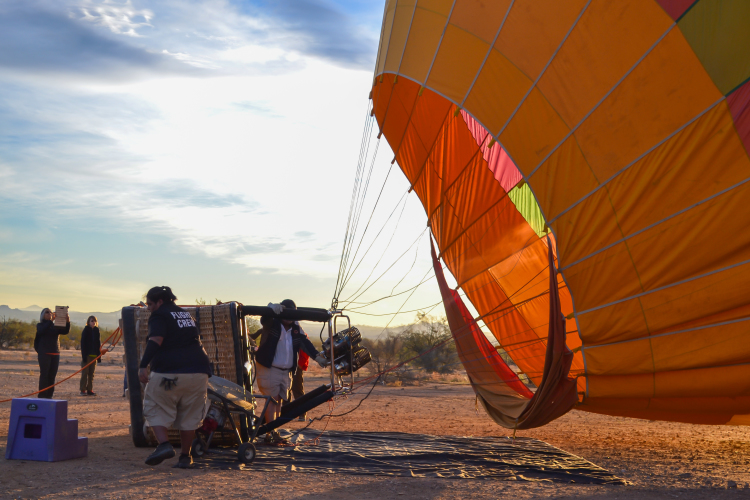 I also highly recommend a food tour of Downtown Scottsdale, the insights to Taliesin West tour, a stroll through the desert botanical garden, and a jeep tour of the Sonoran Desert. If all else fails, you can just relax at the pool, cocktail in hand.
6. Los Angeles, California
The Los Angeles area is one of the best places to visit during the winter, even though it isn't at it's warmest, LA winter weather is very mild with some rain (so bring along that umbrella).
However, one important thing to note is the Los Angeles area covers the coastal basin as well as the more inland areas and temperatures can differ as much as 20 degrees between the coast and inland spots.
Be sure to check the weather for the areas you're headed to and just like in San Francisco, bring layers!
Coastal areas of LA, such as Santa Monica and Venice offer beach boardwalks and piers to walk around.
Be sure to check out the Santa Monica Pier for cool rides like a waterside ferris wheel and even a small roller coaster. There is also an arcade here for game lovers. Third Street Promenade shopping center will also be decked out in holiday decorations.
At Venice, aside from Venice Beach, the Canals of Venice have amazing winter decorations set outside by the residents. There is even an annual contest for the best decorated house!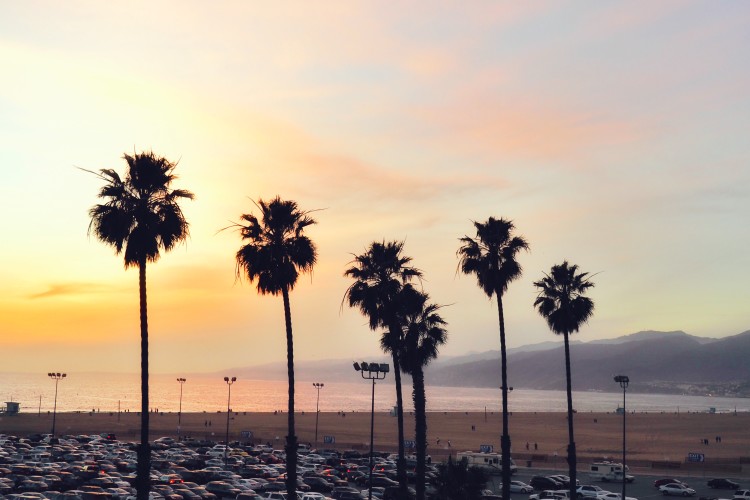 Closer to Los Angeles proper, visit the Los Angeles Zoo for the LA Zoo Lights, an event only occurring during the holidays and shows beautiful animal-themed displays in festive lights.
Further inland, check out the Descanso Gardens Enchanted Forest of Light. It's a botanical garden by day, but come nightfall in the winter season, you'll see colorful light displays in varying themes.
Although Los Angeles isn't the typical destination for the winter, there's a ton festive things to do, just don't expect that true winter weekend wonderland getaway you may be craving!
Constance Panda | The Adventures of Panda Bear
7. Death Valley National Park, California
While some visitors love to visit Death Valley National Park in the summer, the average high temperatures there average 115°F, while winter highs are a much more comfortable 70°F.
What rain the area gets it will get in winter but thankfully is not much (it is called Death Valley afterall!) Winter will be a bit early for seeing wildflowers, which will tend to peak in late March so the beauty you will see in winter will tend to be a stark beauty.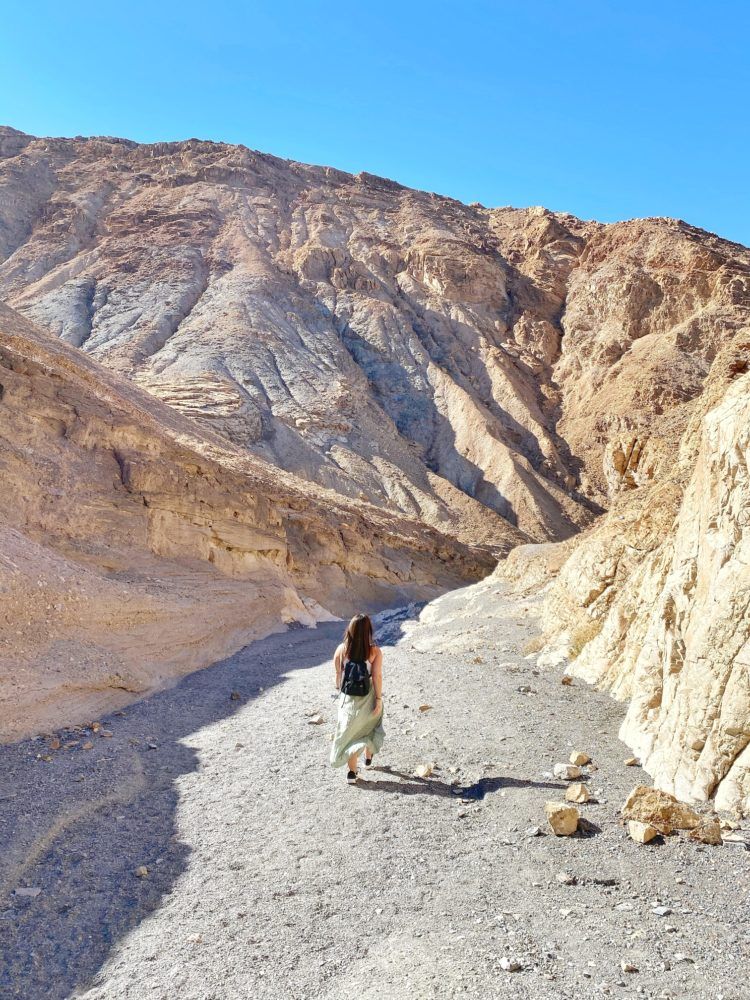 It may come as a surprise to you that Death Valley is the largest national park of the parks in the lower 48 states. Only a couple parks in Alaska are larger! That being said, there are a number of popular spots to see during your winter visit to Death Valley:
Badwater Basin – Badwater Basin is the lowest point in North America at 282 ft below sea level. There is a brackish spring adjacent to a large salt flat.
Artist's Palette – An area with a particularly wide array of colors in the rocks. Take the time here to explore some of the side canyons.
The Racetrack – A dry lakebed known for its moving rocks that leave a trail as they move across the surface.
Harmony Borax Works – Death Valley was used for borax mining in its history and was famous for the 20 mule teams that would bring out the ore.
A visit to one of the U.S. National Parks is always special, and winter is a great time to visit this one.
Chris Christensen | Amateur Traveler
8. San Diego, California
Mild winters with temperatures between 55 to 70 degrees makes San Diego one of the best winter weekend getaways in the US. And I can't stop visiting (I've been 3 times in the last year, whoops!).
If this is your first visit to San Diego, a trip to Balboa Park is a must if not for the obligatory photo of the Botanical Building and Lily Pond. With 16 museums, hiking trails, and the world famous San Diego Zoo, you could spend the entire day here.
It's free to enter the Park but most venues (except the Botanical Building and Timken Art Museum) charge an admission fee. If you have a Bank of America or Merrill Lynch credit or debit card you get free admission to the Museum of Photographic Arts (MOPA) and the San Diego Museum of Art on the first full weekend of each month.
After a day of culture at Balboa Park, it's time to live it up in the Gaslamp District. In the evening, bars and clubs open, music fills the air, and the area becomes alive. If you're intent on visiting during the day walk to Seaport Village and browse through the collection of shops while taking in the views of the bay.
Spend your last morning hiking to Potato Chip Rock. This thin potato chip looking rock jutting out from Mt. Woodson's summit is a popular hike all year. It's an adventurous but doable hike especially if you take the shortcut off Highway 67 in Ramona.
It gets crowded so expect to wait for photos. Remember to bring lots of water, snacks, and sunscreen. Note: There are no facilities so go to the bathroom before you start the hike.
→ Check out these day trips from San Diego if you've got more time! And this list of 125+ things to do in San Diego (the ultimate San Diego bucket list)!
After burning all those calories from hiking, you deserve a treat. Stop by Hammond's Gourmet Ice Cream for a flight of ice cream. With over 300 flavors to choose from, you might spend more time picking your ice cream than you did hiking! Vegan? No worries, they have a vegan Chocolate and four vegan sorbets.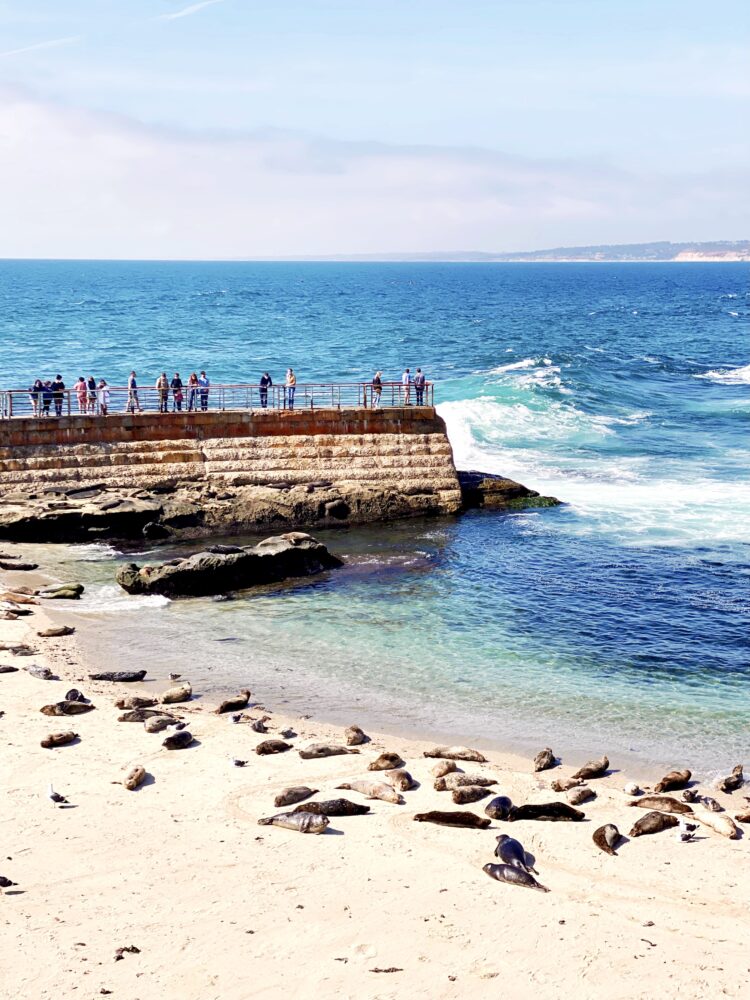 Note: winter is the rainy season in San Diego. Although, this primary desert climate stays dry with an average rainfall of 4 days each month during the winter, why chance it? Be safe and bring a handy travel umbrella.
Debra Schroeder | Traveling Well for Less
9. Santa Fe, New Mexico
If you are heading to New Mexico, Santa Fe is an absolute must, as it's a truly unique town amongst the other nearby cities. The hospitality and fantastic art is enough make you want to visit again and again.
Santa Fe is located only about forty minutes away from Albuquerque. Often travelers take an Uber from one city to the next because they are so close. The local train system also makes hourly trips to and from the city so you really can't pass up the chance to walk around here!
The art! The food! The food! The art! Too much? Well, it can't be helped because if you are someone who appreciates those very things, you are in such luck! The food experiences are incredible and the art scene is scattered throughout the entire city.
Walking around the downtown area is not only a shopping haven for all (yes all!), but a really fun place to pop in and out of stores because you really don't know what you will find from one to the next!
If you enjoy good food with some of the nuts and bolts to go along with it, head to the Coyote Cafe. Their food is to die for and the staff is amazing!
The recommendation to check out Meow Wolf was a game changer when visiting this city. On the rare chance you have a cold weather experience, this is where you must spend your day! This expansive indoor art installation is a mix of storytelling, mystery, and jaw dropping imagination come to life.
It is truly a place where anyone that enters is walking away with a favorite part with much of it sticking in your mind for a very long time. You won't be disappointed, I can promise you that!
The only true downfall is that because this place is so amazing, you might be fighting the crowds a bit! If you only have time on the weekend, make sure to buy your tickets ahead of time–you will be placed in a much shorter line to get inside.
If the exhibit isn't enough, they have an excellent bar that serves some super creative cocktails so that you can continue your experience in style and reflect on all of the amazingness you've just encountered!
Santa Fe is a must see city in the United States, especially in winter to escape the cold temps found elsewhere.
Kristen Arrow | Life is an Arrow
10. Big Bend National Park, Texas
Big Bend National Park is a superb winter destination. Since averages soar over 100F in the summer months, ultimately being extremely uncomfortable to hike or explore this national park, winter is the perfect time to visit.
The average temperatures during the winter are 60°F-66°F, so this is an ideal opportunity to do some hiking and camping without worrying about the scorching summertime heat.
With hiking being the number one thing to do within the National Park, there are countless trails scattered all over Big Bend.
Some of the more popular hikes include Santa Elena Canyon Trail, The Lost Mine Trail, The Window Trail, Boquillas Canyon Trail, The Grapevine Trail, and Emory Peak Trail. And thankfully, all of these trails can easily be done in the winter.
Be sure to bring plenty of water as it still does get a little toasty at times.
Looking for a true winter activity? Hit up and enjoy the steaming hot springs near the Rio Grande. After a long day of hiking or a fresh start to the morning, Boquillas Hot Springs is a perfect way to end or start the day.
There are even opportunities to spot horses lounging around this area. Just make sure to get there early, as it is known to get somewhat crowded later on in the day.
Big Bend National Park is a perfect winter national park destination. If you are trying to get away from the cold frigid temperatures up north, Big Bend is a temperate, sunny destination for any adventure seeker.
Michelle Stelly | The Wandering Queen
11. Charleston, South Carolina
Charleston is an old colonial city that was the heart of the South for many years. Dating back to the 1600's, the history, charm, and character of Charleston make something quite unique.
And thankfully, winter is a great time to visit Charleston as the weather is relatively mild as temperatures are usually in the 50's and 60's during January and February. Say goodbye to that scorching sun and disgusting humidity — winter weekend getaways in Charleston are where it's at!
During your weekend trip to Charleston, be sure to check out The Charleston City Market and King Street which are great for shoppers.
And history lovers rejoice, because due to its Southern roots, many the city is full of historical events just waiting to be learned about. The start of the Civil War actually happened right around here (just off the shore's of Charleston on a small island where Fort Sumter is located)!
It can even be seen while walking around The Battery waterfront area and visited by ferry. Patriot's Point is just outside of the city in Mount Pleasant. Here, tours of World War II aircraft carriers, submarines, artillery, and planes can be explored.
Ghost tours are also a popular nighttime attraction in Charleston. Walking tours are offered throughout the city and around nearby graveyards. And just outside the city, there's various southern plantations that offer tours, including Boone Hall and Magnolia, two properties within a ten-minute drive of the city.
Exploring those old Southern mansions, walking through the fields and slave quarters, and touring the main house allow visitors to take a step back in time and learn about the Southern culture/way of life in the 1700-1800's.
Another vital part of visiting Charleston is eating some Southern food, soooo bring along those stretchy pants. Charleston has become a foodie haven for upscale Southern cuisine and unique versions of the city's signature dish – shrimp and grits (um, yum!).
Margie DQ | DQ Family Travel
12. Santa Monica, California
Santa Monica is a fantastic warm winter weekend escape in the United States. It's a beachfront city with a hipster feel, in Southern California, and IMHO, the best place to stay in the county of Los Angeles.
With the average winter temperature of 64 degrees Fahrenheit, fun outdoor activities (such as renting bikes and riding for miles on the beachfront trail) are possible year round.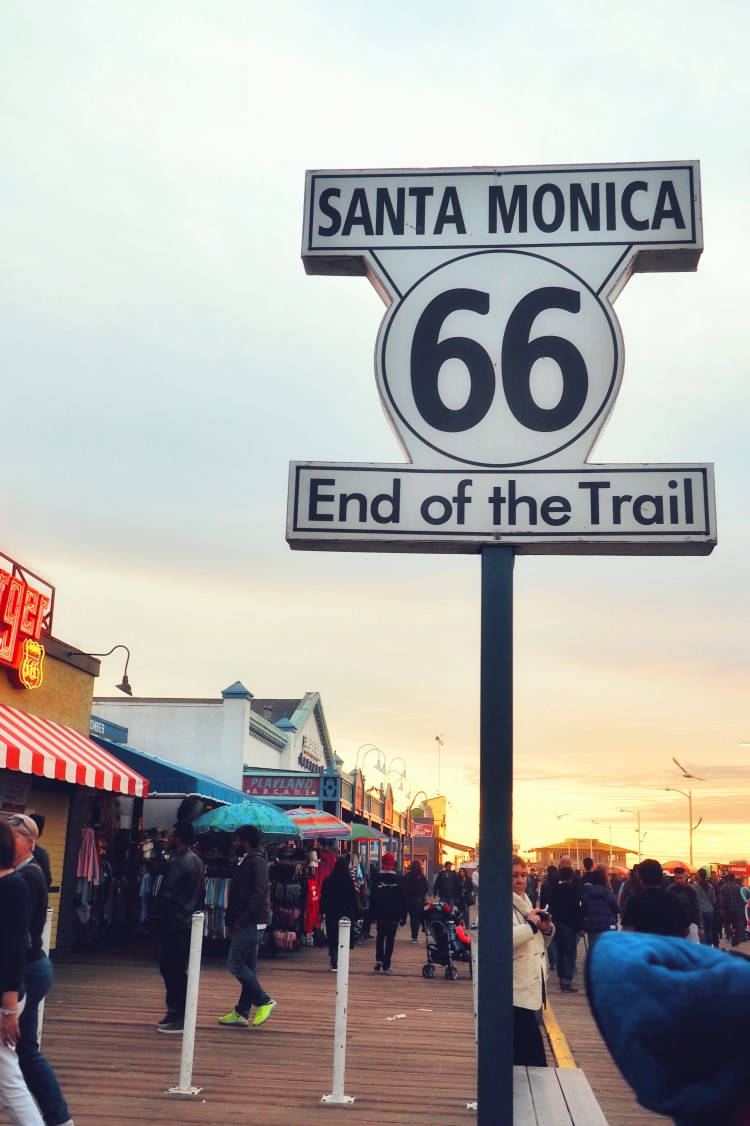 See the Santa Monica Pier and go on a ride (with awesome views of the white sandy beach I may add). Get entertained in neighboring Venice Beach, by all of the various activities including Muscle Beach and the skateboard park.
Sit and relax on the vast and beautiful Santa Monica State Beach. Stroll along the Third Street Promenade. You will find some of the best shopping and eating in this area, and there is a buzz in the evening.
→ Read Next: The Hipster Weekend Guide to LA + Santa Monica
Don't miss the free Getty Center. This museum hosts a phenomenal display of art and artifacts that the late Gordon Getty collected, and is located just outside of Santa Monica. The Getty Villa is also free and impressive. A winter weekend in Santa Monica is highly recommended.
Whitney | GoFam Travel
13. San Antonio, Texas
San Antonio is great winter weekend destination – as this underrated city in Texas always has something new to discover. Take a Friday off and leave early to tackle the Enchanted Rock and make your way to the quaint German town of Fredericksburg for a late lunch and some shopping. Then drive another 70 miles south for a relaxing weekend in San Antonio.
Start off your weekend with a breakfast at the one of the cafe's with river views. If you have enough energy you can tackle both SeaWorld and the San Antonio Zoo, but for a better experience pick one and save the other for the next trip. End the day with a big Margarita and TexMex dinner back at the River Walk.
Start the second day at The Pearl for brunch before heading to visit the Alamo and the San Fernando Cathedral. The 18th-century San Fernando Cathedral is the first church built in San Antonio, the oldest standing church in Texas, and one of the oldest cathedrals in the U.S.
You can't go to San Antonio without visiting the Alamo. This small mission building turned seemingly overnight into one of the most known monuments in American history, thanks to the legendary Battle of the Alamo in the Texas Revolution.
Here, a small band of Texans lost their lives defending the mission against an overwhelming number of Mexican soldiers. Make sure to do a boat tour before bidding farewell to the city.
Priya Vin | Outside Suburbia
14. Puerto Rico
Puerto Rico isn't usually the first place someone thinks about when looking for a Caribbean island destination, but with the diverse landscape, innovative cuisine and historic culture this United States territory shouldn't be overlooked.  And it's one of my favorite winter weekend getaways in the US!
And with many nonstop flights offered from across the United States, plus no passport required for US citizens, it's one of the few Caribbean destinations that can be easily accessed for a weekend getaway.
Stay right in the capital city of San Juan for its culture, or in the nearby Condado for the shopping and nightlife, or in Carolina for the beautiful beaches. All of which can be accessed within a short drive from the San Juan Luis Muñoz Marín International Airport.
Those wanting relaxation can soak up the sun at on one of the many beaches or enjoy the spa at one of several luxury hotels.
Foodies can indulge in anything from the local cuisine of mofongo, to freshly made arepas at the Luquillo food kiosks, eating fresh seafood under a beautifully decorated clam shell at La Perla or splurging on a multi-course wine pairing dinner at Marmalade.
Adventurers can hike through waterfalls of the El Yunque National Rainforest or kayak on one of 3 bioluminescent bays to see the glowing water at night, with Vieques known for being one of the brightest in the world.
History Buffs can climb El Morro fort at the San Juan National Historic Site or take a walking tour through the historic and brightly colored buildings in Old San Juan.
There's something for everyone and every budget in Puerto Rico, and with the average weather of 80°F all year-round, it's a warm weather escape from winter that shouldn't be missed.
Amanda Emmerling | Toddling Traveler
15. Hilton Head, South Carolina
Consistently named one of the top islands in the United States, Hilton Head, off the coast of South Carolina, is a quiet, picturesque beach town, popular with families, couples, and retirees since the 1960's. The average winter high of 63° F is perfect for strolling along the 12 miles of white hard-packed beaches, but also conducive to other outdoor activities.
The island has more than 60 miles of scenic bicycle trails that are easy to navigate. Paths lead to the beach, through the woods, to the marina, with lots of great spots to stop for a picnic lunch.
Nature lovers can enjoy kayaking in the eco-protected salt marshes and the sound, where spotting wildlife such as turtles, herons, and wild dolphins are commonplace.
The winter climate is also perfect for hiking. Sea Pines Forest Preserve is home to a number of nature trails and Jarvis Creek Park Nature has a 1-mile loop that's a great option for walking, jogging, or event alligator spotting.
As part of the U.S. Lowcountry region, dining on Hilton Head is wonderful. Don't miss the opportunity to indulge in fried green tomatoes, shrimp and grits, crab cakes, BBQ, and other southern specialties.
In spite of its relatively small size, just 42 square miles of semi-tropical landscape, Hilton Head is famous for the large number of championship golf courses, 24 at last count.
Don't miss the opportunity to climb the 114 steps of the candy cane-striped Harbour Town Lighthouse for a panoramic view of the marina, marshes, and Atlantic Ocean. The lighthouse also has a museum and sits in a small community of boutique shops and cafés.
By Patti Morrow | Luggage and Lipstick
16. Honolulu
Hawaii may not be the typical idea of a winter weekend destination, but for those who happen to get a long weekend in winter and live on the West Coast, Honolulu might be the perfect choice.  With average high temperatures in the low 80s, and lows in the mid-60s, the weather is perfect.
As Hawaii's capital city, with a population of 350,000, Honolulu has all of the cultural attractions of any major American city, including a civic orchestra, theaters and museums.
The best options for visitors are those which feature the island's rich heritage, such as the Bishop Museum, Iolani Palace, or Washington Place.
Shopping is another alternative, but for a more Hawaiian version, try the International Marketplace (but be warned, every stall has a special deal just for you!) or the streets of Chinatown.
But, making the trip in winter may mean heading straight to Waikiki Beach. Relaxing on the sand is always a good plan, but parasailing, surf lessons, snorkeling, and even scuba diving are all available.
End the day with a sunset dinner cruise, or the free Kuhio Beach Hula Show, which takes place on Tuesdays, Thursdays and Saturdays at 6:00 from November to January, and 6:30 starting in February.
For a bit more adventure, spend the day hiking at some of the unique options just outside of the city. Easy hikes in the Round Top Forest Preserve lead to lookout points with spectacular views over the city and the rainforest.
The Manoa Falls trail is a a bit more challenging, passing through the forest and arboretum, to the 150 foot Manoa Falls, one of the tallest waterfalls on Oahu. It is most powerful and beautiful in the winter months!
For the ultimate hiking challenge near Honolulu, try the Diamond Head Crater Hike, but be sure to do your research and prepare. There are steep and narrow stairways, and some are even completely dark. The view at the end makes it worth the hard work.

Roxanna Keyes | Gypsy With A Dayjob
17. Marco Island, Florida
If you are looking to get away from the cold during the winter months then head south to Marco Island, Florida. Marco Island is a barrier island in the Gulf of Mexico off Southwest Florida and is linked to the mainland by bridges south of the city of Naples.
Luckily, the island enjoys warm temperatures throughout the year, with daily high temperatures of around 74°F in the winter months. Definitely one of the warmest winter weekend getaways in the US on this list!
Marco Island features miles of sandy white beach on the Gulf of Mexico as well as mangrove estuaries and access points to Everglades National Park.
This spot is essentially the perfect place for relaxing as well as adventure activities, especially if you enjoy time on the water. Think fishing, boating, dolphin watching, kayaking, canoeing, shelling, and even more.
A few things that make Marco Island special: It's famous for its shelling, particularly on South Beach or at the north end of Tiger Tail Beach, which becomes a shell-covered spit. Marco Island and the surrounding area is also a golfers paradise.
If you are looking for some R & R be sure to pamper yourself at the JW Marriott Marco Island Spa. Don't forget the not to be missed nightly, live Fire Dancer show, which begins at sunset at Quinn's.
Marco Island has several different accommodation needs from high-end hotels such as the JW Marriott Marco Island as well as smaller hotels and AirBNB. There are also great restaurants to choose from on the island from great seafood restaurants such as CJ's on the Bay or DaVinci Restaurant for Italian and Michelbob's Championship Ribs & Steaks for the best ribs I have ever had.
Diana Becevello | Diana's Healthy Living
So there ya have it, a wholeeee slow of winter weekend getaways to choose from for your next 3-day adventure! Will you be picking someplace warm or chilly?!
Photos via: Portage Glacier / Missoula