Jetting off to Italy soon and spending three days in Rome or so? This post was written for YOU, my gelato-loving, history-obsessed, and sun-worshipping friend! Read on for a perfect Rome itinerary, which can all be done in a long weekend or so!
Ahh, Italy. A country everyone (and their mother) needs to visit at least once in their life. With the abundance of food, history, culture, and more tasty treats per square mile than any other place I've visited, you cannot go wrong with a trip to Italy. And while I've been to a decent portion of the country, I'd gladly re-visit Rome over and over again.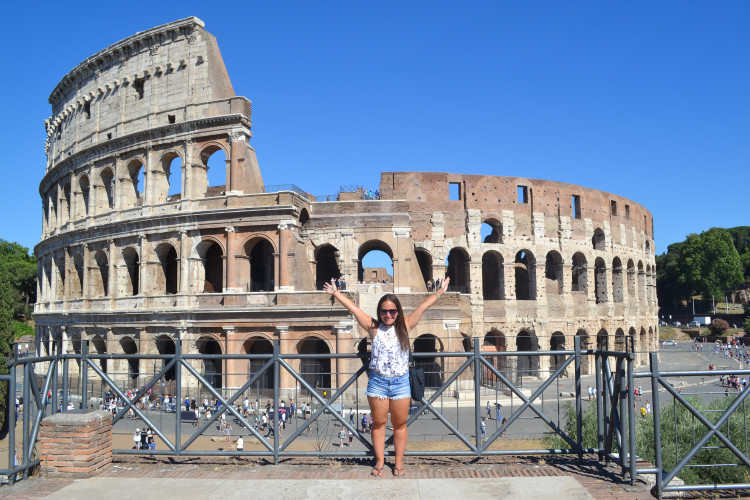 As they say, "Rome wasn't built in a day", and you definitely won't be able to see it all in a day or even three. However, with proper planning you can easily hit the top sites with just three days in Rome.
Tips for Visiting Rome
Rome is best enjoyed while strolling – so bring your walking shoes! We easily got in over 10 miles one day, so comfort is a definite must! And remember – there's a lot of cobblestone in Rome. If you'd prefer to let someone else do the navigating and "walking", opt for a Hop-On, Hop-Off Bus Ticket, which will take you to all the main sites and keep your feet sane.
While I felt relatively safe in Rome, as in any big city, keep an eye out and keep your belongings close to you. Be aware of scam artists – don't accept flowers or crafts as they will force you to pay.
There are many non-decorative fountains along the streets with free-flowing water. The water is perfectly safe to drink to bring your water bottles!
When visiting churches or St. Peter's Basilica, be sure to wear proper clothing – this means covered shoulders and pants/long skirts.
Italians don't drink cappuccinos after 11am. Order an espresso instead if you don't want any funny looks.
Restaurants near tourist sites will generally either be overpriced or have a prixe-fix tourist menu. Stroll a few blocks to find more authentic and higher quality meals at a more reasonable price.
Most museums and sites are closed on Mondays- plan ahead!
When ordering breakfast/coffee in a cafe in the morning, understand there will normally be two prices on the menu – one for standing at the bar/counter, and one for sitting down at a table. It's obviously cheaper to order while standing at the bar.
Public benches and free places to sit are rare. Plan to take breaks at cafes, restaurants, bars, and parks in order to recharge.
Italians like to enjoy a good meal – and this includes savoring each and every bite – meaning meals usually take longer than you may be used to. If you have any time constraints, be sure to let your waiter know!
Where to Stay in Rome
The main hub of the city isn't as large as many think it is, although there are a few specific spots I recommend spending the night. The square "Piazza Navona" is my top choice, as it's walking distance to practically everywhere in the city you'll want to go in Rome in three days, and is very lively and upbeat.
During our few nights in Rome, we walked everywhere, and loved not relying on public transport at all.
We opted for Navona Suites with it's wonderful view overlooking the square and closeness to oh so much, including the most orgasmic pizza we had all trip. Some prefer to stay near the transportation hub, Termini Station, which definitely helps if you plan on using public transport, but is farther from the main city center and attractions.
What to Do in Rome in Three Days
Vatican City
You didn't think you'd be visiting another country during your trip to Rome, now did you? Even better – you can walk there! Plan on spending at least a half day in this area. There's just so much to do, it would be foolish to skimp on time.
Don't miss the Vatican Museum, St. Peter's Basilica, the Sistene Chapel, and St. Peter's Square. You can even climb the dome for fantastic sky-high views of the city – something I missed this time around (due to my poor planning on my part) – buy skip the line tickets to the dome with this link here (separate ticket than the entrance ticket).
And every Wednesday, you can even pray with the Pope – yes, that's true! If you're really interested, you can even mail a postcard/letter from the Vatican post office. And remember the strict dress code here – no mini skirts, shorts, or bare shoulders.
HOT TIP: Buy your tickets in advance, which can be done exactly a full month ahead of time. Choose an early time (9am or so), and get there on time. You'll skip the super long lines (trust me, they are longer than long, depending on season of course… I think) and not waste half of your precious day waiting to buy a ticket.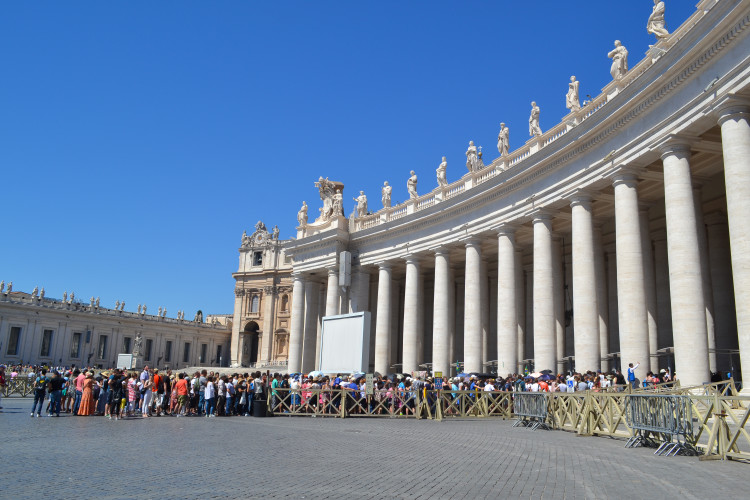 We chose to wander ourselves, but there are numerous guides and tours (like this one, including skip the line, or this one which uses an app for a few bucks) for slightly more than the cost of a ticket.
Trevi Fountain / Fontana di Trevi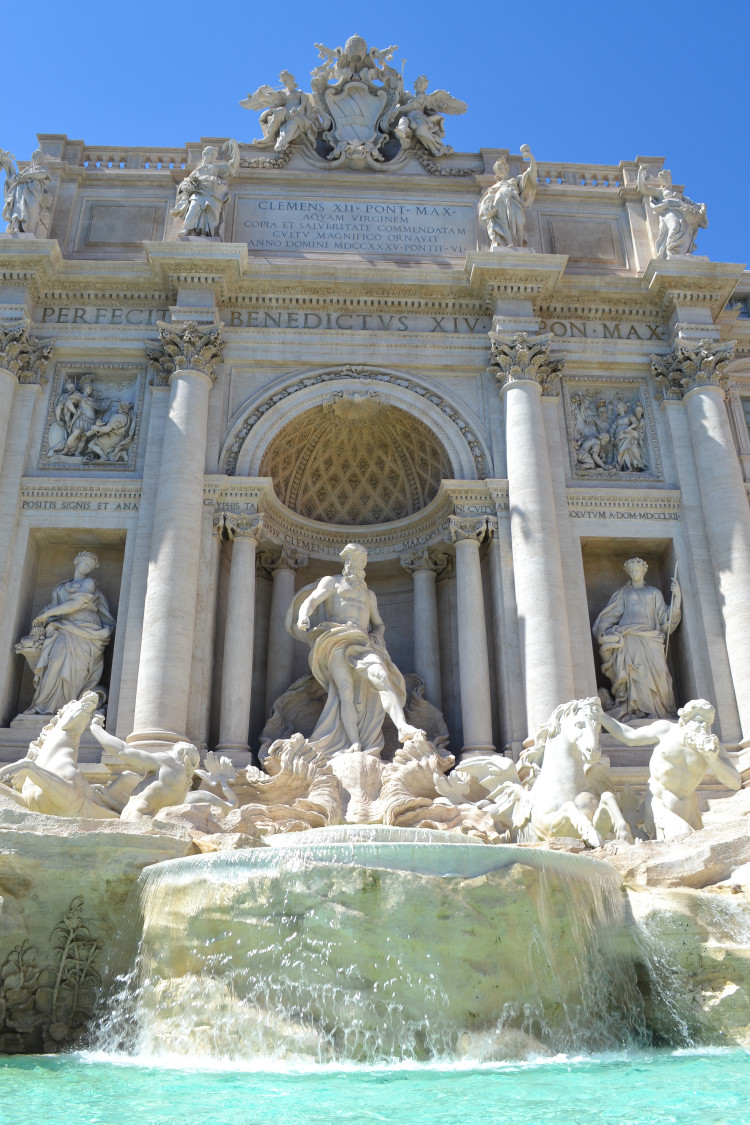 Yes, it's crowded. Yes, it's a tourist trap. But yes, it's beautiful and worth a few moments of your time as it is one of the most famous fountains in the world. The Fontana di Trevi represents the perfect combination of classicism and Baroque style, built mostly from the stunning travertine stone (same material as the Colosseum!!!) and is Italy's largest!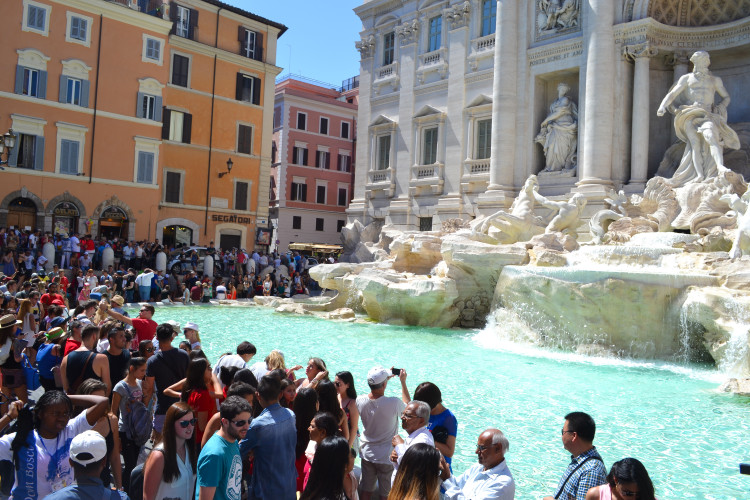 It's also one of the oldest water sources in Rome, dating back to ancient Roman times (19 BC to be exact) – pretty cool if you ask me! Make sure you toss a coin in as it ensures you'll be back to Rome!
Spanish Steps / Piazza di Spagna
The stairway itself is 138 steps, but there's really no need to venture all the way. I like to sit my butt on a step and just people watch for a while. You are no longer allowed to eat and drink on the steps in an effort to keep the area clean.
Way back when, I savored a gelato while sitting on the steps, and with this being a fond memory of my time in Rome, I have to say I'm not the happiest about this new rule.
At the foot of the Spanish Steps is the Fontana della Barcaccia (Fountain of the Old Boat), which is a beautiful vantage point to take photographs from. Wander a bit more and you'll find plenty of shops to peruse, some fancy-shmancy-out-of-the-budget high end shops, with many at normal and even budget prices.
NOTE: Unfortunately the Spanish Steps are under construction as of October 2015 and will not reopen until further notice.
Colosseum
The Colosseum is the first image in everyone's mind when thinking of Rome — and for good reason! Nothing will compare to witnessing the Colosseum in person, and after seeing it numerous times, I was still enamored with its grandiose beauty on my last visit. I mean, it is the largest amphitheater ever built with space for between 50-80,000 spectators…
While the outside is downright remarkable and pretty damn spectacular, I highly suggest opting for tickets to view the inside as well. History lover or not, you'll find the information presented rather fascinating. Get the audio – it's worth it (says the husband who listened while I gallivanted taking too many photos…).
If you're exceptionally pressed for time, you can even take a night tour of the Colosseum! I bet those photos will be great!
HOT TIP: Buy your colosseum ticket at the Roman Forum. The line will be substantially shorter, and you'll get to walk right into the colosseum. Plus, it'll ensure you actually spend a bit of time at the Roman Forum, another spot not to be missed. – or – Buy your ticket way in advance before you even step foot in Rome.
DO NOT VISIT ON THE FIRST SUNDAY OF THE MONTH. I repeat, the first Sunday is an absolute no-go. The Colosseum is free this day, and while that may be appealing at first, the huge masses of tourists will likely ruin the experience. Cough up the few bucks if you can.
Roman Forum
If you followed my recommendation above, you'd have gotten your ticket to the Colosseum at the Roman Forum or before your visit. This plaza, rectangular in shape, is surrounded by the ruins of some of the most important government buildings of ancient Rome.
While there are a few free vantage points to see some of the ruins from above, there's nothing like walking alongside them, standing within a few feet, staring up, and realizing just how ridiculously huge they are. And then realizing these guys had no current machinery to build these. Quite astonishing when you think about it…
Piazza Navona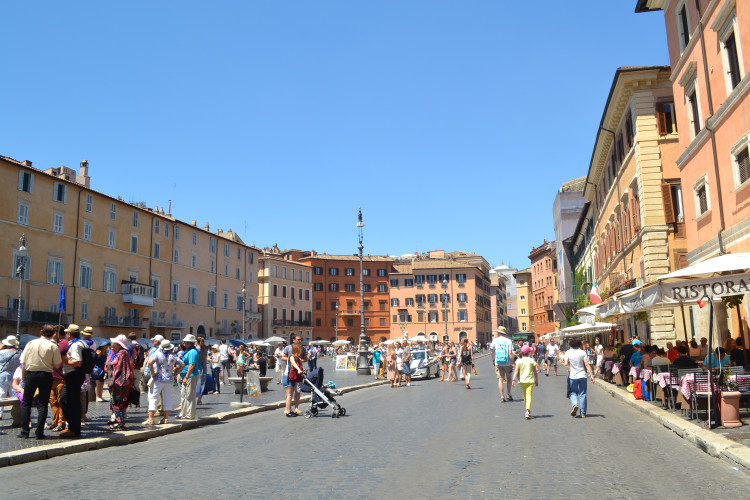 This is one of the most beautiful piazzas in all of Rome, in my humble opinion. Grab a pizza, claim a bench, and spend an hour or so people watching in this famous Roman square. Life here revolves around its open air restaurants and seasonal fairs, so it's easy to spend quite a bit of time hanging out.
You'll find a vivacious vibe here, full of music, happy sightseers, and famous fountains.
As mentioned above, we stayed at Navona Suites and was rewarded with a better-than-spectacular panoramic view of Piazza Navona.
HOT TIP: Visit the square during the day, then revisit at night. Piazza Navona really comes to life once the sun goes down, with street performers showcasing their talents as well as artists displaying their pieces. Plus, the lights on the fountains are just magical!
Pantheon
Another spot not to be missed in Rome! This former temple, now church, is an absolutely stunning example of Roman architecture built around 120 AD. The dome is the world's largest unreinforced concrete dome, and is one of the best-preserved of all the Ancient Roman buildings. Make sure you go inside to see the sunlight beaming down from the oculus.
Trastevere
Spend an hour or so strolling down the river into this charming little neighborhood of Rome. The suburb is full of bars and restaurants, and is best visited either day or night!
Campo de' Fiori
Another beautiful piazza not to be missed! Check out the morning market which sells everything from flowers and candy to cheese and spices. And pasta. Lots and lots of pasta. Every shape you can imagine. Lots of venders (including wine!) offer free samples, so don't come on a super-super full stomach. Come night time, the market is closed and offers a much more party-ish ambience.
If you're taking the food tour I'll be mentioning below, you'll find Campo de' Fiori as the meeting spot.
Food Walking Tour
Italy is known for it's food, and Rome in particular is no different. We spent a morning learning all about the abundance of Italian food we'd been eating and then made a homemade pizza, because that's the thing you do in the place to do it (Kristin Newman reference if you've read this hilariously delicious book). Did you read that correctly – yes, pizza making (and therefore, pizza eating…)!!!
Over the course of the morning, we savored a few of Rome's most mouthwatering delights after meeting at one of the cities most liveliest plazas, Campo de' Fiori (as mentioned above). Book a similar tour here and prepare to become deliciously full!
Or if you'd prefer to save those precious daylight hours exploring Rome, book a night food tour through the cities foodie neighborhoods!
Additional things to do in Rome if you've got more time!
What to Eat in Rome
I feel like this goes without saying, but eat everything. Everything. Don't come to Rome if you aren't willing to cheat a little on whatever diet you may be on, because the food is worth every single calorie. Plus, you'll need some fuel in order to keep up with all the walking everyday! A few must-eats during your three days in Rome:
Fresh homemade pasta with either amatriciana, carbonara, cacio e pepe, or gricia sauce. I love bucatini which is a favorite pasta here, but made-in-house bucatini is pretty hard to come by.
RAVIOLIS and lots of 'em! Make sure they're homemade!
Pizza Bianca (foccacia style bread and oh so good, you can find them in almost every bakery in the morning)
Cannolis and Cornettos and whatever other pastries look appealing (they're all good and you really can't go wrong…)
Roman Style Pizza: and yes, it's different than other pizza in Italy. It's much thinner than any of the others. We ate at Pizzeria Baffeto a few times we loved it so much.
Gelato: You'll find plenty (and plenty) of places selling gelato (basically on every street corner), but opt for those with lighter colors as this ensures the highest quality and no added food coloring. We tried both Il Gelato di San Crispino and Frigidarium, and loved both.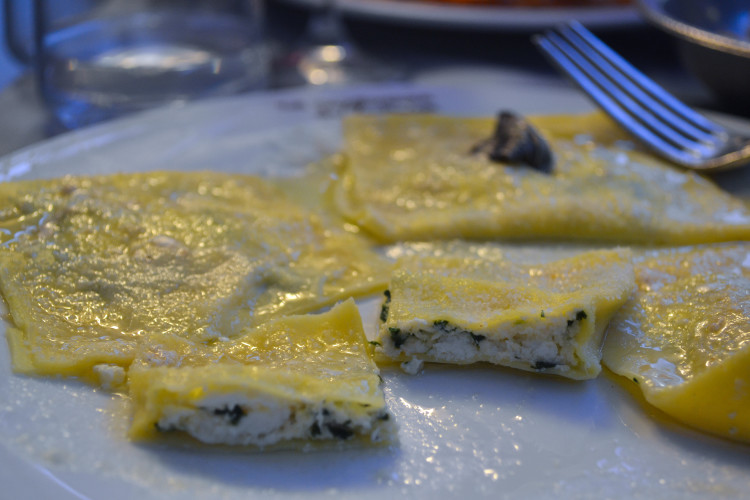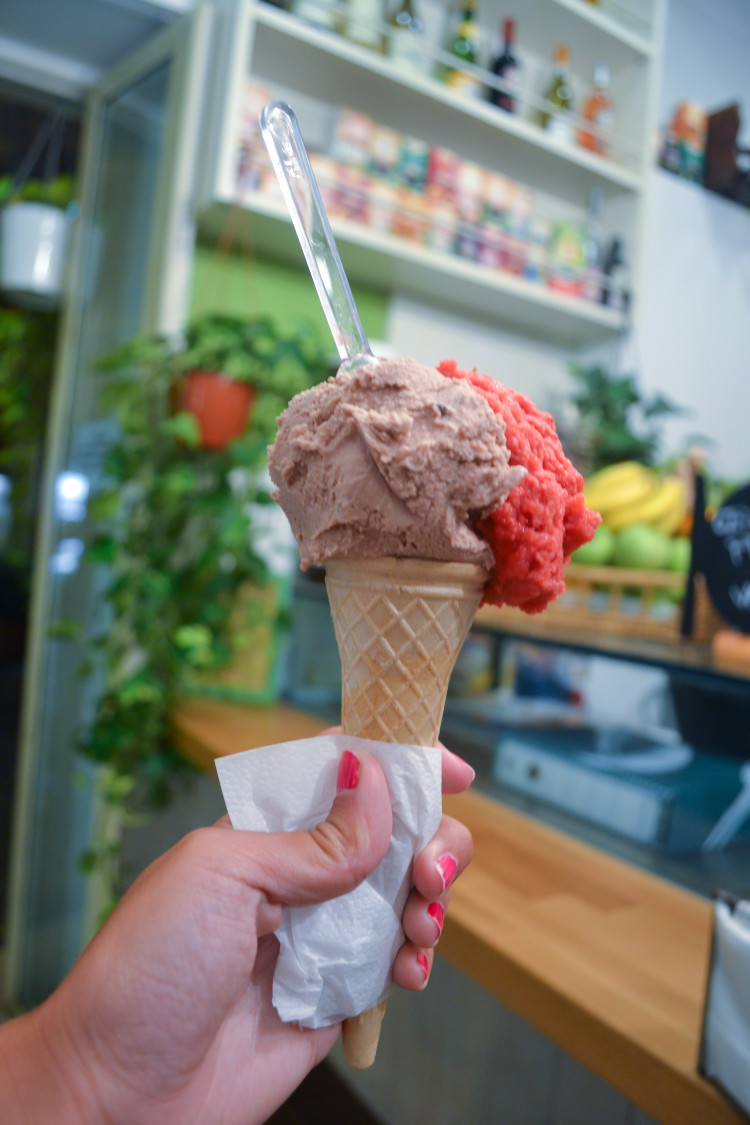 Note that the tip is generally included in the price of the meal. Feeling generous, or simply had top-notch service? Round the bill up to leave a bit extra.
Heading to Rome soon?! What are you most excited about seeing?
TRAVELING INTERNATIONALLY SOON? Don't forget travel insurance! I'm a big fan of SafetyWing when traveling abroad. Recently, I've been using SafetyWing since they cover pandemic-related claims (most travel insurance companies do not). Be sure to protect yourself from possible injury, lost baggage, travel delays, and theft before it happens. Learn more and Sign up here.