Thinking of spending two weeks in Spain and Portugal? You've come to the right place! Here you'll find the perfect Spain and Portugal itinerary, which you can either maximize to the fullest with a myriad of different cities or swap out a few days and head south to Morocco! Or both if you've got the time!
Any Spain vacation will be full of charming locals, fantastic beaches, lots of sunshine, tons of paella and tapas, and even more dancing. By adding in Portugal (and possibly even Morocco for a few days), you can guarantee your trip will be as varied as it could be!
Here's a quick summary of this two week Spain and Portugal (with optional Morocco) itinerary:
Barcelona: 2 days
Valencia: 1 day
Granada: 2 days
Asilah (optional): 1 day
Fez (optional): 2 days
Seville: 2 days
Lisbon: 3 days
Porto: 1 day
San Sebastian: 2 days
Madrid: 2 days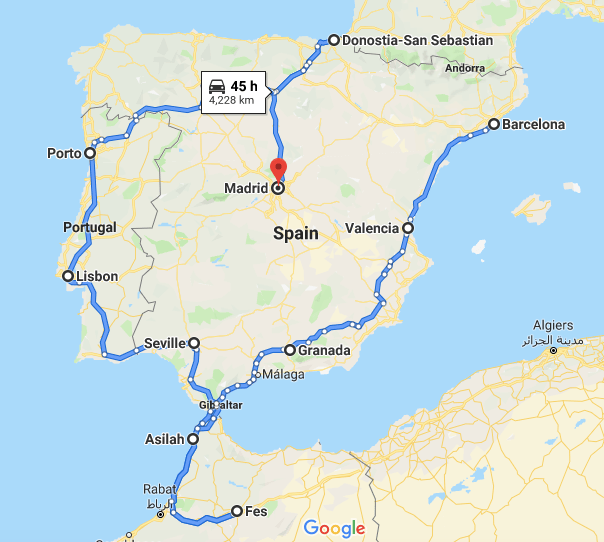 Note that this map is just to give you an idea of where the cities listed on this itinerary are – I don't suggest driving the whole way or hitting up all the stops unless you've got loads of time.
I'm a highly visual person, so when I'm traveling, I like to map out my route and it drastically helps me get my trip in order (aka more structured and not all over the place).
SIDE NOTE:
*If you'd rather not DIY like this Spain and Portugal itinerary suggests, you can easily find some pre-arranged Spain and Portugal tours ready for booking! There are a whole bunch to choose from, including those I've listed below.
Tours are sometimes known for their bad reputation, but in all honestly, if you don't feel like doing any research (besides what I've already done for you here!), then tours are your best bet. They make traveling so simple – all you have to do is follow your tour guide around and be bussed from city to city. And plus, you'll likely meet tons of other like-minded travelers on one of these Spain and Portugal tours.
These tours are for all different ages, with some catering to those on the younger side (18-30 somethings) and others for all ages (kids – late adulthood and everything in between). Don't ever let anyone determine your travel style – everyone has different expectations of travel and you do you!!!
Recommended Spain and Portugal Tours:
Pre-Travel Guide to Spain, Portugal, and Morocco
WHERE TO GET THE BEST FLIGHT DEALS TO SPAIN:
I swear by Skyscanner and Google Flights, and always always always use these two sites when looking for airfare. The option to watch prices and get email notifications are top notch and one of my favorite features of the two.
Always check budget airlines that may not be listed, especially if you are coming from other areas in Europe with much shorter flight times. A great list of budget airlines can be found here.
For reference, we flew regular economy directly to Barcelona for about $800 round trip from New York City in mid-July. You can find cheaper flights if you book even earlier, as I saw flights as low as $500 from NYC! If you're coming from the West Coast USA, flights will be a bit more expensive but shouldn't be more than $300 more or so than flights from the East Coast.
How to Get Around Spain and Portugal
I like to use the website rome2rio.com to help figure out how to get from place to place. There are numerous options available for every route with various price points, and depending on your budget and length of stay, you'll quickly figure out which option is best for you and your party.
This itinerary will have you taking flights, buses, trains, private cars, ferries, and possibly more! Lots of public transportation on this Spain vacation! Throughout this itinerary I've explained some of the easiest ways to get from place to place, but feel free to do your own research and find what works best depending on your dates!
HEALTH AND SAFETY:
If you're coming from the USA, you'll want to make sure your routine vaccinations are up to date before traveling to Spain and Portugal. No further vaccines are recommended. However, prior to traveling to Morocco, recommended shots from the CDC (Centers for Disease Control and Prevention) include typhoid and hepatitis A.
It's best to consult with your doctor before taking any advice from online sources, including this one!
You can drink the water in Spain and Portugal, but definitely not in Morocco. Don't fret as most hotels provide their guests drinking water free of charge and you can find bottled water at every restaurant/convenience store for only a few dirhams.
Also, when in Morocco, use caution when eating any suspicious looking fruits/veggies and meats on the street. During our two weeks in Spain, Portugal, and Morocco, neither of us thankfully experienced any major stomach issues, but it's always best to be careful. In addition, you may want to ask your doctor for a prescription of Ciprofloxacin in case of any disturbing stomach issues you may find yourself in.
I always recommend purchasing travel insurance before your trip. You never know what might happen (flight delays, lost baggage, illness), and this travel insurance definitely helps with all of those unfortunate unexpectancies. I highly recommend the company SafetyWing and always buy a short term plan (depending on how many weeks we'll be away) before we leave for any trip!
Even if you don't end up using it, peace of mind is 100% worth it in my opinion. Find plan options and pricing here (and at only a few bucks a day, there's no excuse not to!) I always say, if you can't afford travel insurance, you can't afford your trip. It's that easy.
VISAS:
No visa is required for U.S. citizens traveling to Spain, Portugal, or Morocco as long as a valid tourist passport and proof of onward travel is in possession, and you're traveling to the country for 30 days or less.
Currency in Spain, Portugal, and Morocco
Both Spain and Portugal use the Euro, with the exchange rate being approximately .92euro = $1USD (at time of this publication, April 2022). I recommend using a currency converter (such as XE Currency on your cell phone or a currency converter on the web) to get the most up to date currency exchanges for all forms of currency.
I highly advise you to NOT exchange your money at a currency exchange kiosk before or after you land as you won't get the best rates. Instead, take out local currency (Euros) at the airport via ATM machine.
If you travel quite frequently, consider applying for a Charles Schwab bank account. The company refunds any and all fees associated with foreign transaction ATM withdrawals. You'll pay no ATM fees anywhere in the world, including your home country. It's what I've been using for years and it's saved me 100's in unwanted pesky fees.
When it comes to cash in Morocco, things are a bit different. Morocco currently uses the Moroccan dirham (DH or MAD), with the exchange rate being approximately 10DH = $1USD (at time of this publication, April 2022).
Morocco is still very much a cash society, so be sure to have enough before heading out for the day. In addition, some debit cards may not work at ATMs, so I found it to be a good idea to take out as much as I thought I'd need for my time in Morocco once I found an ATM that worked (at the Ferry Terminal), and hid the money in different places in my luggage/backpack/wallet.
If all else fails, you may be able to use euros in Morocco as they are commonly accepted if you don't have any dirham on hand. Note that you are not able to obtain dirham anywhere outside of Morocco (with the exception being select places in Spain and Gibraltar), so you cannot get the currency beforehand in your home country due to strict exchange controls.
When to Visit Spain, Portugal, and Morocco
Since Spain, Portugal, and Morocco are located in southern Europe and northern Africa, the weather tends to get rather hot and sticky during the summer months (June-August). You'll find Mediterranean weather and temperatures in all three countries. Although many associate Morocco with desert-like weather patterns, Morocco's climate is actually more tropical rather than arid. Temperatures hover around 80 degrees F, with highs up to 95 degrees F in Fez, Morocco.
Most visitors tend to visit Spain and Portugal during the summer months, but late Spring is a wonderful time to plan a trip there as well.
Mid-March to May is the most pleasant time to visit Morocco; the days are getting longer and the temperatures are rising but are not stifling hot. Morocco is also absolutely lovely in the Fall, when temperatures begin to die down.
The heat in Morocco is notorious, so please be careful and plan your days accordingly if you'll be visiting when it's hot hot hot. Make sure to drinks LOTS of water, apply sunscreen (yes, even though you'll be covering yourself), and set aside time to cool off in the shade/indoors.
ELECTRICITY:
Spain and Portugal use both type C (two round pins) and type F (two round pins with two earth clips on the side) plug types, different than those electrical outlets as found in the USA. Morocco uses both type C and type E (two round pins with a hole for the socket's male earthing pin).
If you're coming from America you'll need to bring along an electrical adapter (this one works in all countries) in order to plug in any electrical devices.
In addition, it's also important to understand that the amount of voltage is different than in the USA and you'll need a converter (different than an electrical adapter) to change the amount of electricity pushed to each device if you plan on bringing anything which uses an excessive amount of power (including hair dryers, curling irons, and/or straightening irons).
If you don't want to worry about this, I suggest you invest in dual-voltage devices made especially for travel like this dual-voltage blow dryer, dual-voltage mini straightener, and this dual-voltage curling iron.
WiFi and Staying Connected
Although you will most likely have wifi at your accommodation, it's a good idea to bring along a pocket-sized personal WiFi hotspot, to keep you connected while in Spain, Portugal, and Morocco.
WiFi hotspots are a cost effective option to ensure you can use GPS apps like Google Maps, check your emails, and catch up with friends and family while away. With this portable device, you'll have WiFi wherever you go (even if your phone doesn't have service), unlimited internet (on up to five devices at a time!!!), and it's fast and reliable. At less than $9 a day, this device can't really be beat.
Note that some cell phone plans allow for international use, but many of these are costly. I accidentally turned on my phone service in Morocco for LESS THAN 2 MINUTES and got charged $150 by my phone carrier! I desperately wished I had a personal WiFi hotspot with me then!
Find more information and plan options here. HIGHLY RECOMMENDED especially when you don't speak the native language of the country you're going.
What to Bring to Spain, Portugal, and Morocco
Depending on when you visit, it may be exceptionally hot and sticky, so plan your clothing with this in mind. Loose tops and cotton bottoms (pack long pants/skirts for Morocco), comfortable walking sandals, and hats are definitely recommended. Pashminas and thin head scarves are recommended for Morocco as well. As noted above, a personal wireless device will come in handy so you can stay connected wherever you are.
Activities in Spain, Portugal, and Morocco
Before I leave for any trip, I like to have a whole slew of activities planned out. Some of these activities are best to do alone (so you can take your sweet time) and some are best with a tour group so you can get additional information.
Throughout the post I'll be recommending plenty of tours which I highly suggest, some which should 100% be booked ahead of time due to their popularity and ticket restraints. Look out for those, and once you decide on your dates, come back and book them!
I highly recommend you check out GetYourGuide, which is an activity web site which I use to book city tours, attractions, and day trips. And thankfully, they have wonderful cancellation policies so you can easily switch the dates if you decide to move something around in your trip.
And now what you've been waiting for, some mix and match DIY Spain and Portugal Tours! (You'll see what I mean…)
Two Week Spain and Portugal Itinerary (+Optional Morocco)
My itinerary below includes roughly 10 days in Spain, with additional days in Portugal and Morocco (if you wish to head a bit south and are looking for even more culture!) If you've got your eye on a top-notch Spain vacation, I've got you covered. Just send me some churros con chocolate as a thank you, pretty please! 🙂
DIY ITINERARY OPTIONS:
The Spain and Portugal Lover: Not interested in making the trek to Morocco? Exclude Asilah and Fez from the middle of this Spain itinerary, and add on San Sebastian and Madrid at the end of your trip!
Morocco Add-In, Please: Follow this itinerary as planned out below, but consider flying back to Barcelona from Porto and leaving out San Sebastian and Madrid.
Let's do it all! Both trips above will take roughly two weeks, but if you want to see it all (Morocco PLUS San Sebastian and Madrid), three weeks in Spain, Portugal, and Morocco will be more doable to see all these highlights.
Barcelona: 2 Days
Start your Spain and Portugal tour in Barcelona, a beautiful and cosmopolitan city, loved by tourists and locals alike. Since Barcelona is a huge city, you definitely won't be able to see everything in 2 days! Pick and choose from this list of recommended highlights, and make sure you add in some ample time for eating!
Did someone say tapas, sangria, and churros con chocolate!? You bet I did!
Find more things to do in Barcelona here. (NEW POST coming soon)
Things not to miss in Barcelona:
La Sagrada Familia: This architectural beauty is the world's largest unfinished Roman Catholic church, which was designed by famous Catalan architect Antoni Gaudí. You won't believe it, but construction started all the way back in the 1880's and is not planned to be finished for a few more years!
Words just can't describe how amazing this cathedral is – both the inside and the outside. When the sun streams through the colored stained glass windows you can get some amazing photographs! Being Barcelona's number one attraction, the Sagrada Familia will undoubtedly be very crowded.
My suggestion: definitely get ahead your tickets ahead of time (non-negotiable 100%). Lines are very very long, and you most likely won't even get in if you don't have a pre-purchased ticket. Buy your tickets here and save yourself the hassle of (fingers crossed) hoping to get in the day off (mostly unheard of).
Basically, as soon as you know your intended dates for Barcelona, book your tickets to see La Sagrada Familia. You can opt for the optional audio tour recording if you'd like in order to learn about the building and it's marvelous architecture. Ticket prices:
€15 for basic entry
23.80 euros for access to the towers and a guide.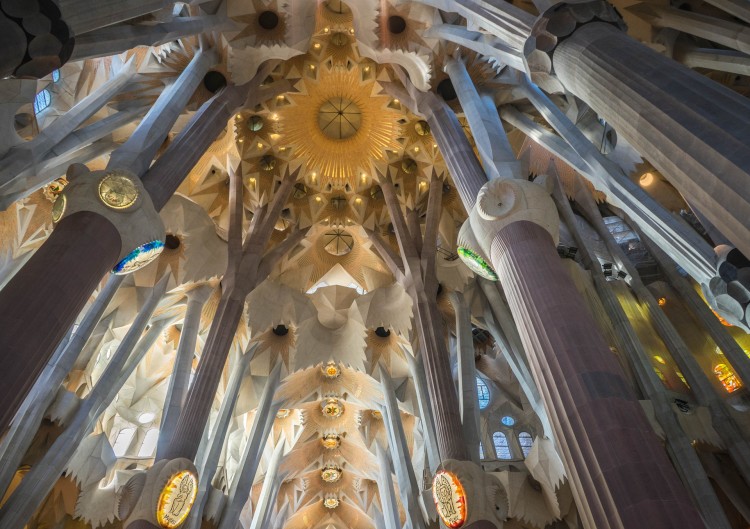 Casa Batlló: Another Gaudi UNESCO site that shouldn't be missed, even if you only make it to the outside! The vibrant exterior of the building displays colorful mosaics made from broken ceramic tiles, while bone-like adornments surround its windows, aka another must-see!
Casa Batllo seriously looks like a house from a fairy tale. Tickets are recommended to be bought well in-advance as well (which will also save you a few euros!), and includes an enhanced reality and virtual video tour of the entire house which is pretty cool! Buy tickets in advance here.
Or want to skips the crowds and have the place almost to yourself? Buy early morning tickets before the general public is allowed in!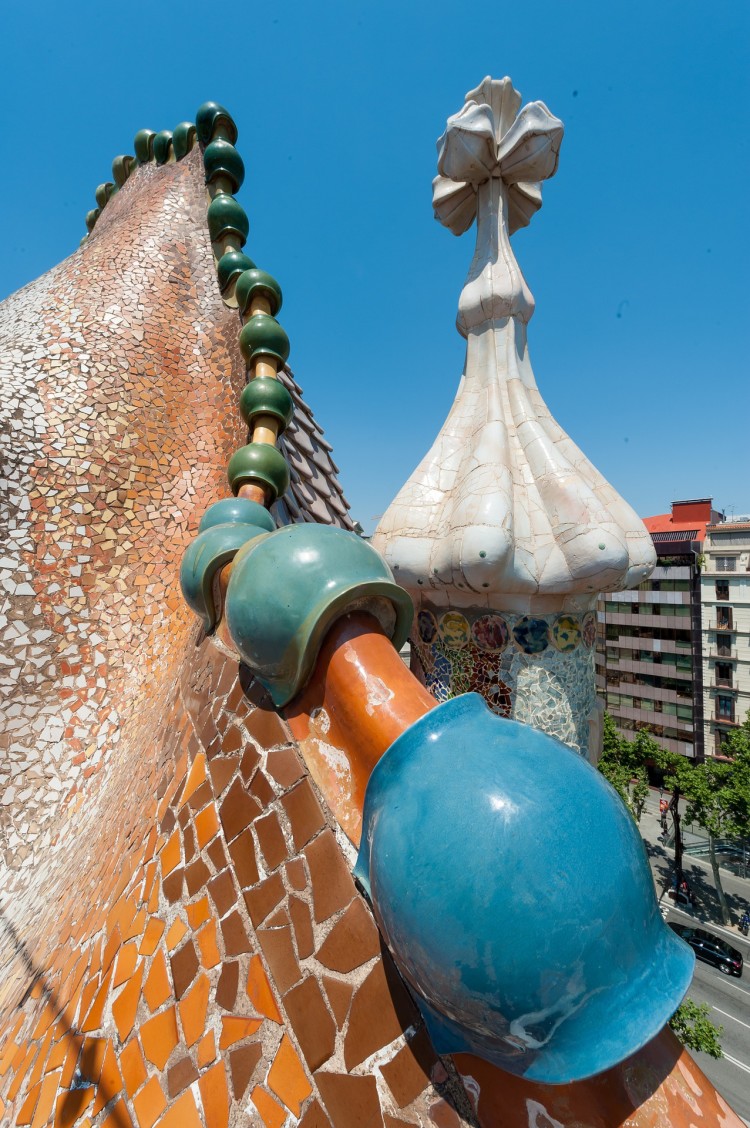 Park Güell: Probably my favorite of all of Gaudi's masterpieces in Barcelona! Although it's a little off the beaten track and can be a bit confusing if you can't read the signs within the park (no English), Park Guell is totally worth the effort.
It should be noted that there are two areas throughout the park: the Free Access Area, which is indeed free of charge and still absolutely spectacular, and the Monumental Zone, which requires a ticket bought in advance (they fill up quickly in the summer months).
Those colorful sculptures and mosaics you always see pictures of – within the ticketed Monumental Zone. And at only a few euro, it's definitely worth it to see. Buy tickets in advance here or hop on a walking tour of the marvelous park to ensure you see it in all it's glamour (it can be confusing for those who've never been – we actually got lost a few times!)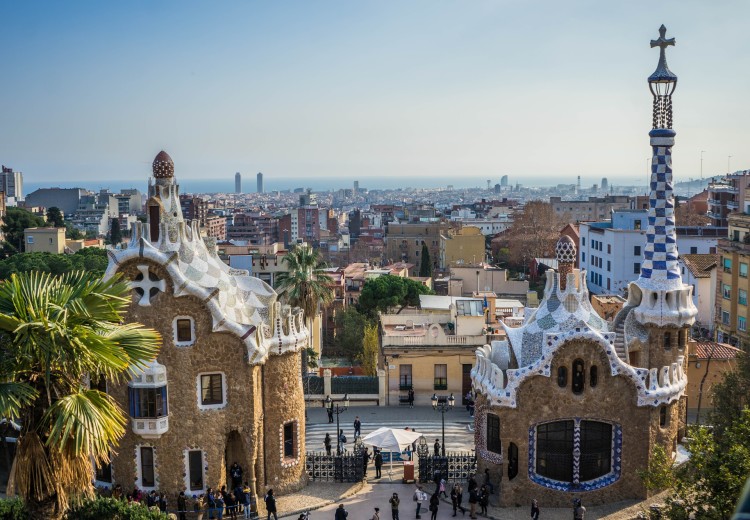 Casa Milà (aka La Pedrera): Another spectacular work of art by Guadi, and located just a few blocks from Casa Batlló. Also known as "The stone quarry" for its unconventional rough-looking appearance, it's one of the most famous buildings of the Catalan Art Nouveau period and one of Gaudí's most ambitious works.
Something else to add to your Barcelona bucket list. Buy skip the line tickets here.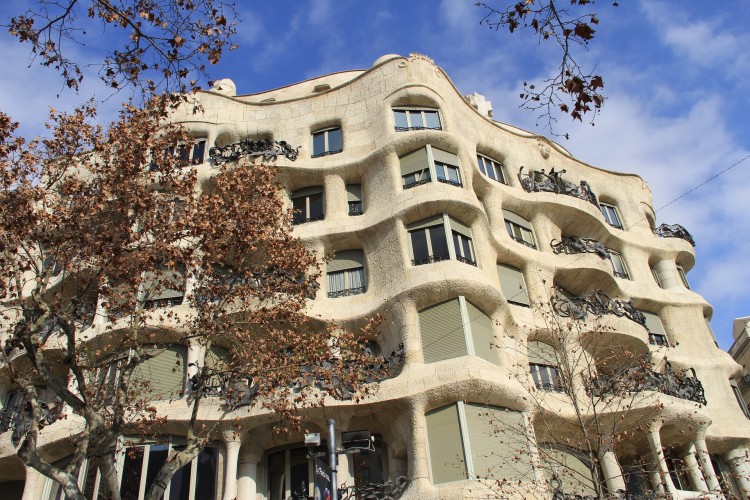 The Gothic Quarter: The center of the old city of Barcelona, stretching from Las Ramblas to Via Laietana. You should definitely give it a walk around, as you'll find many buildings dating back to the Medieval Times here.
And if you're into biking, check out this tour – you'll ride around Barcelona and hit up a bunch of cool spots all within three hours for about 20 bucks! Segway more your style? You've got that option too!
Be aware that pickpocketers are known to hang around this area, so be extra cautious, keep your bag/backpack in front of you, and keep your wallet in your front pocket. Check out Santa Maria Del Mar in this area, which is absolutely free of charge!
Las Ramblas: the absolute heartbeat if the city! It wouldn't be a proper visit to Barcelona without a stroll on Las Ramblas. There's loads to do here, with tons of stores, restaurants, and places for sangria pit stops. Watch out for pickpockets here as well, as Las Ramblas is a popular bustling city street.
And make sure you head to La Boqueria Market for loads of fresh fruit juice (1 euro or so), tasty empanadas, tons of candy and olives, and cured meats! Yummm.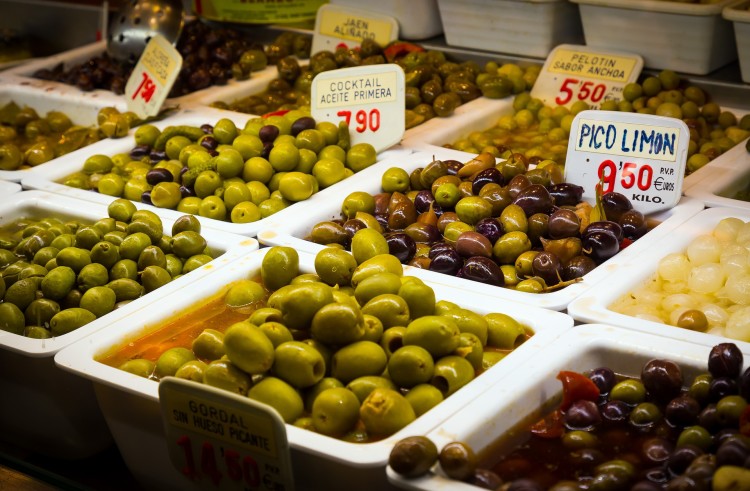 Barcelona Magic Fountains at night: Looking for something different to do at night in Barcelona? Head to the magic fountains! These fountains are not your average fountains – they're a spectacular display of color, light, motion, music and water acrobatics. Absolutely insane. Check out the schedule as the fountains perform on different nights during the year.
Hike to The Bunkers del Carmel for spectacular views of the entire city. They've been one of the Barcelona's best kept secrets, and offer the perfect viewing spot to admire the entire city below!
Barceloneta Beach and waterfront area: If you've had enough of Gaudi's masterpieces and wandering around Las Ramblas, head on over to the beach!
La Barceloneta is known for its sandy beach and many seafood restaurants and clubs along the boardwalk. Sun worshippers you've found your spot! Take an afternoon to relax with some sangria in your hand – doesn't get much better than that!
Tips for Barcelona:
Be sure to book your tickets online ahead of time. Planning on visiting some Gaudi sites, including La Sagrada Familia, Park Guell, or Casa Mila – book in advance (click on links to buy!). By doing so, you'll also get to skip the long lines and won't waste your precious, precious time!
Keep a watchful eye out on your belongings. Barcelona is a crowded city, and because of that, pick pocketing can occur without you even realizing. Always keep your possessions in front of you and never leave your bag open.
And if you have more time, consider one of the wonderful day trips from Barcelona, including Monserrat (for some dramatic landscapes), Sitges (a lively beach town south of the city), and Girona (on my itinerary for next time).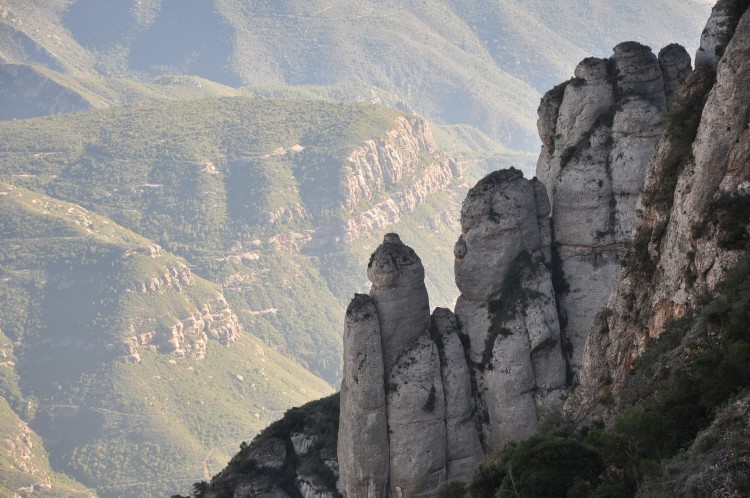 How to Get from Barcelona to Valencia: You can find nonstop hour-long flights from Barcelona to Valencia for about $75 or so, or take the train for about $45 which takes roughly 3 and a half hours.
For further details, check out Skyscanner for flight deals and the train timetable from the Official RENFE website. Your pick depending on how much you want to spend and how long you want your travel day to be!
Whatever method of travel you prefer, I recommend heading to Valencia at night after your second day in Barcelona to ensure the max amount of time in Valencia!
Valencia: 1 Day
Next up, Valencia, a charming old city and the third-largest in Spain, is well worth a visit. It's most commonly known for its City of Arts and Sciences (tons of futuristic structures just waiting to be photographed) and a bunch of beaches for all you sun lovers!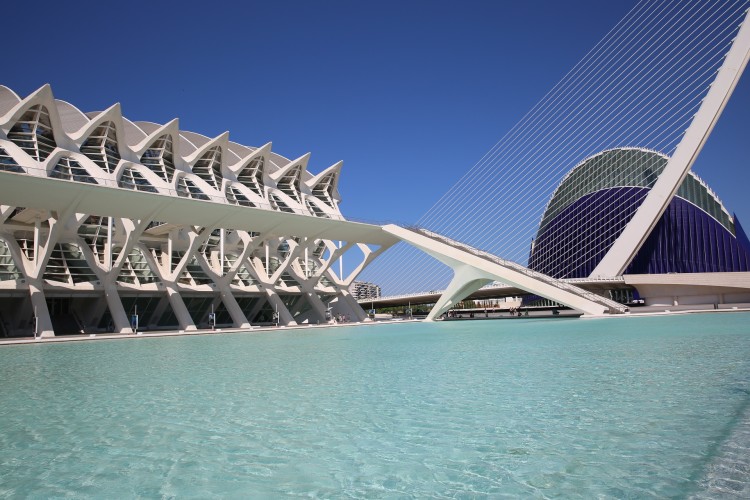 Make sure you try some paella, horchatas, and Aguas de Valencia (a fruity, delicious, and somewhat dangerous drink. It's made of Cava (Spanish sparkling wine), orange juice, vodka and gin, and you won't be able to taste the alcohol….)
Here's a few options of how to spend your one day in Valencia:
Plaza de la Virgen: A great way to begin your time in Valencia! This gorgeous square has so much atmosphere just waiting to be soaked up, filled with gardens of orange trees and buzz from visitors admiring the Gothic-style Valencia Cathedral (make sure to go in – its absolutely stupendous).
Also be sure to check out the Basilica of the Virgin and take a photo next to the Turia Fountain. Head back right before sunset to climb to the top of the bell tower for spectacular sunset views of the whole city (only a few euros and well worth it).
Beaches: You'll need to take a short bus trip from the Old Town in order to get to the beach area of La Malvarrosa, but if you're looking for a relaxing afternoon, this is your best bet. Here you'll find tons of seafood bars selling paella and other tapas. Look out for the magnificent sand castles in this area as well!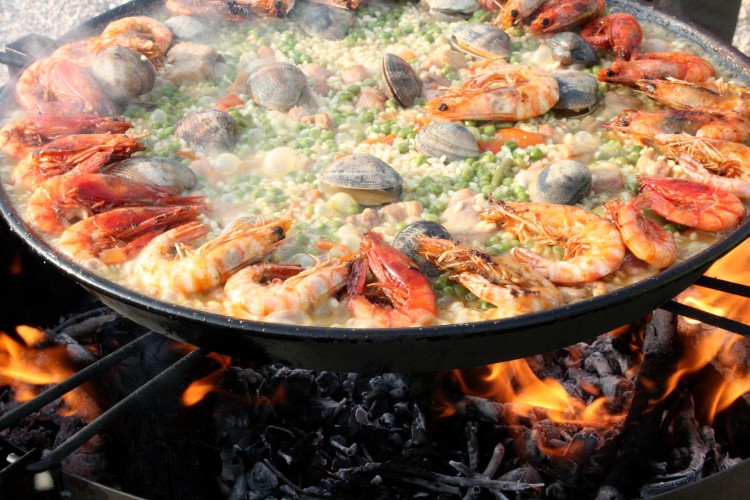 Mercado Central: Not to be missed in Valencia with it's 1000+ collection of diverse food stalls. Note the opening hours are Monday through Saturday, 8 am – 2/3pm. A great spot to find some takeaway lunch! You'll find anything and everything here in this colorful restored market when it comes to food! The fresh fruit is top notch and so cheap!
Turia Gardens and the City of Arts and Sciences: Being one of Spain's largest urban parks, running through the city with over 9km of green space, it's the perfect place to unwind! You'll find tons of foot paths, sporting areas, and lots of romantic spots for you and your significant other/bestie/sister.
Don't miss the City of Arts and Sciences – a bunch of cool futuristic looking buildings at the far end of the park.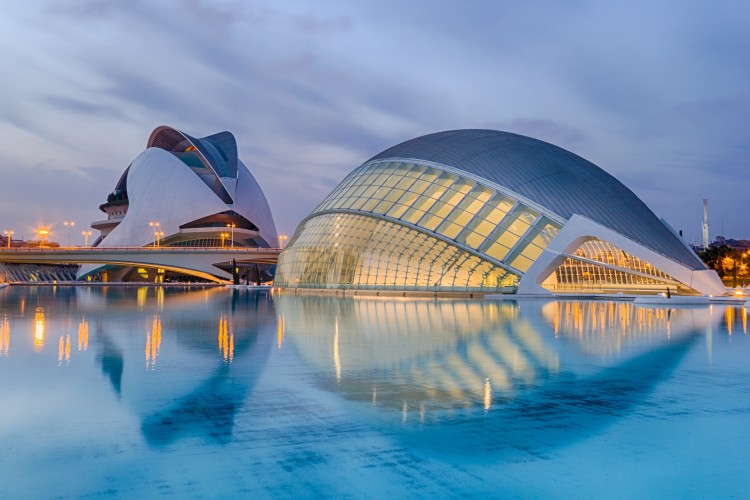 Wander around Cuitat Vella (Old Town): Such a charming area to walk around! One of the most amazing buildings to put on your Valenica Old Town bucket list is Palaces of the Marques de Dos Aguas, a super unusual building – you'll see what I mean when you visit!
Also, don't miss the Plaza Ayuntamiento (Town Hall) and Plaza de la Reina (Queens Place), which is opposite from Plaza de La Virgen and a bustling square.
How to Get from Valencia to Granada: Unfortunately traveling between the two cities can be a bit long and tiresome. I've listed many options for you to choose from here.
TRAIN: By train, the average journey from Valencia to Granada takes approximately 6 and a half hours. On a weekday, there are four trains per day traveling this route; Check ALSA and RENFE websites for train timetables.
BUS: The bus takes approximately 7 and a half hours and costs a bit less than the train.
PLANE: If you're trying to save time, consider a nonstop flight between the two cities, which only takes about an hour and a half and cost upwards of $150 or so.
MIXED: You can also fly to Malaga for rather cheap, then take a short rail journey, then a bus to Granada. Although cheap, quite complicated if you've never been.
Granada: 2 Days
Next up on your Spain and Portugal itinerary, Granada, an old Moorish city and the land of a thousand castles! Fill your brain with history from the Alhambra and fill your stomach with pionono cakes, a local speciality in the area.
Many people don't know what to expect before they visit Granada, but picture this scene: serene Islamic architecture and Arab-flavored street life (hence the spices you'll see all around) amongst go monumental churches, old-school tapas bars and counterculture graffiti art. Whatever you do, don't miss the Alhambra, the main attraction in the entire city of Granada.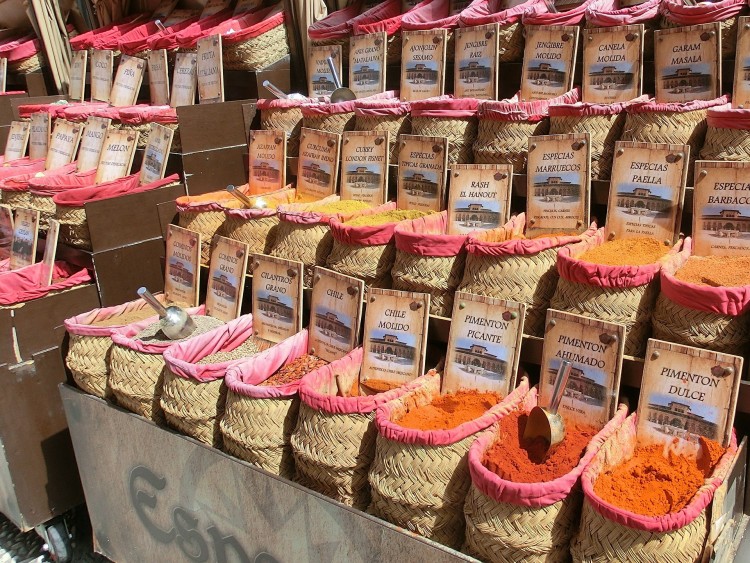 Day 1: The Alhambra, the main attraction in Granada
The Alhambra, a UNESCO World Heritage Site and former residence of Muslim royalty. The size of the fortress/palace/city is impressive to say the least, and I promise you'll leave feeling the history of invaders and conquerors, kings and poets.
If there's only one thing you do in Granada, make sure it's a visit to the Alhambra. An absolutely humbling and breathtaking experience, and the views from the different vantage spots of the palace and gardens will keep you impressed for hours on end.
If you want to see the entire complex, with all the buildings and gardens, plan to be at the Alhambra for most of the day. It's HIGHLY advised to buy your ticket online MONTHS in advance, as its very possible tickets will sell out a few months beforehand. Plan early and buy your ticket as soon as you know the dates you'll be visiting Granada. Buy skip the line tickets here.
Tips for visiting the Alhambra:
As noted above, purchase your tickets ahead of time. Tickets will be timed but you are free to enter the Alhambra at any time on the date of your ticket (regardless of what timed entry you selected). The time on the ticket is only to enter the Palacio Nazaries, the main attraction of the Alhambra.
You are free to wander around the rest of the Alhambra before or after your timed entry to the Palacio Nazaries.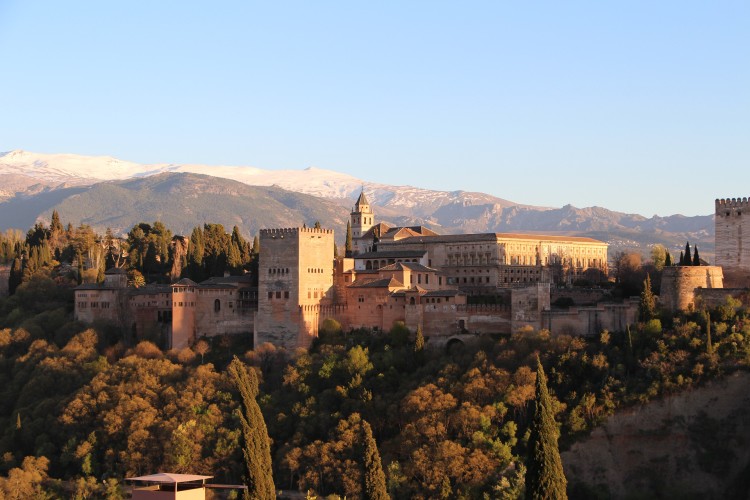 In regards to your timed entry to the Palacio Nazaries, you MUST enter this attraction within 30 minutes of your timed ticketed entry. If you get there before/after, they will not let you in. No ways around this. Note that you are not able to enter the palace earlier either, you'll have to wait until exactly the time your ticket says.
Know where the Palacio Nazaries is (far opposite end of the Entrance Gate), so plan your timing accordingly to ensure your entry.
Don't lose your ticket and be sure to carry it around with you. The barcode on the ticket will be scanned a bunch of times throughout your visit.
If you want to learn about the history of the castle, purchase an audio guide for a few euro at the front gate (and also outside the line to the Palacio Nazaries).
There are no bathrooms inside the palaces or castle. All bathrooms are located outside the exhibits in separate bathrooms. Just something to be aware of.
Bring along some of your own food/water and have a picnic in one of the gardens! Definitely wish we had done this since we got hungry during our visit and didn't have many options within the Alhambra to pick from.
Wear good walking shoes. Although the Alhambra is located uphill, there is a free shuttle that will take you from the bottom to the top and back if you don't feel like walking.
Day 2: EVERYTHING ELSE
On your second day in Granada, relax a bit after your intriguing and mind-blowing visit to the Alhambra the previous day. A few ideas for today in Granada:
Want the ultimate relaxation break? A retreat at the Arabian baths, or Hammam Al Andalus, is a wonderful choice! At the hamman you'll get to soak in pools of varying temperatures and use the steam room with optional massage add-ons.
The Hamman is beautifully designed to reflect the ancient Arabic bath houses and is lit by candles and soft back lighting. The tile floors are heated, even in the locker room, making walking around very comfortable. Guests are asked to speak softly so it's a relaxing atmosphere for everyone. Book spa package here.
Explore the traditional neighborhood of Sacromonte: home of the city's gypsy community, you'll find cave houses designed entirely on the terrain! Also, this is a great area to watch a true flamenco performance – purchase tickets here (tapas and drink included!).
In addition, head up to nearby Albayzin quarter for a wonderful viewpoint in front of the Hermitage of San Miguel – especially marvelous at sunset! My suggestion: walk the Albayzin district prior to heading up to the viewpoint an hour or so before viewpoint to check out the cafes and it's small bustling souk. Worried about getting lost around here (it's kinda confusing…)? Book a walking tour for only a few euro!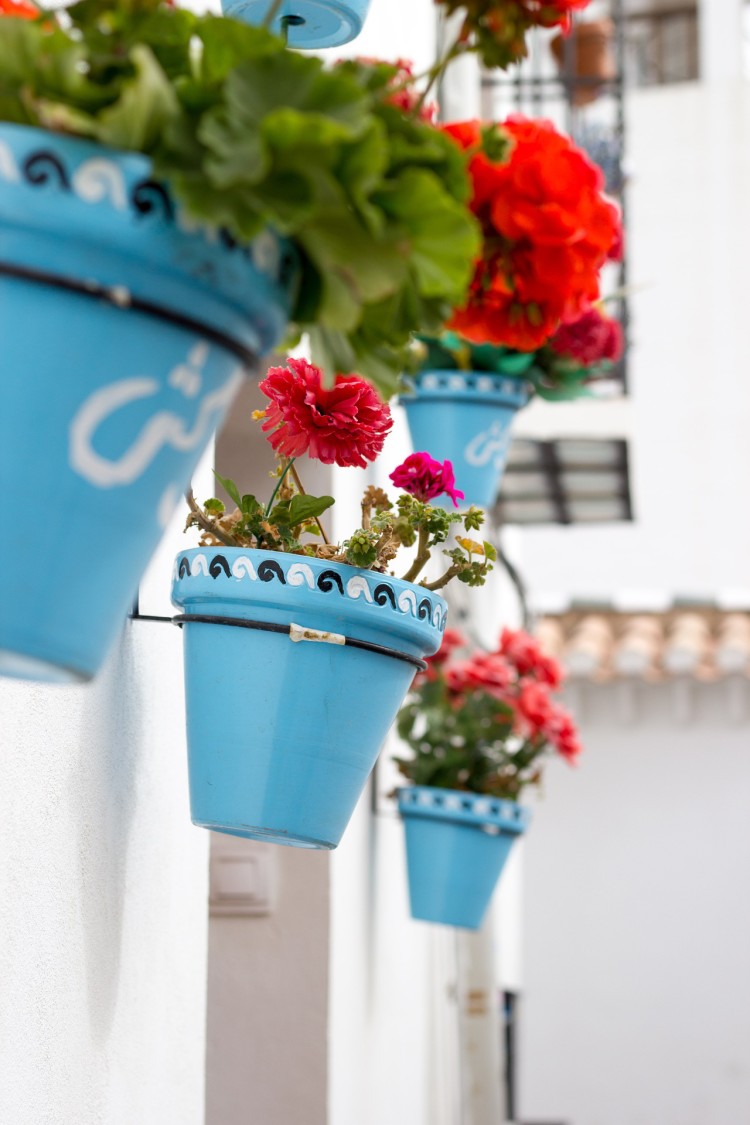 Granada Cathedral: This magnificent building is Spain's second-largest cathedral, dating all the way back to 1521! Be sure to explore this architectural marvel both inside and out. Fun fact – the Granada Cathedral is home to the tombs of Spain's notorious Catholic Monarchs. Head to the main chapel to see the stained glass windows, sculptures and paintings on the sides. An absolute must do!
Walk down Carrera del Darro: Are you a fan of quiet walks along scenic little rivers? Carrera del Darro will be right up your alley! This street is one of the city's most celebrated walks and a perfect spot to bring your loved one (super romantic at dusk!) You'll also find some of the best churros con chocolate along this scenic little street as well, perfect for a date!
Eat! In Granada you'll find the best local ice cream at Calle Gran Via de Colon to Los Italianos – family run for over 80 years and a must for those hot sweaty days! Looking for some bars and pubs? Head on over to Calle Elvira, and don't leave without getting your tapas fix at Babel World Fusion. Many don't realize that tapas are part of everyday life in Andalusia, where it actually originated!
A few examples of tapas include small panini sandwiches, olives, Jamon serrano, mini hamburgers, deep-fried calamari, and patatas bravas (my favorite!) Order a glass of wine or a beer (or local favorite Tinto De Verano) at any bar between roughly 1-4pm and anytime after 9 and you'll get a free tapa!
Just normal life over here! It's a good idea to sign up for a tapas tour to ensure you'll be devouring as many as you can during your time here!
The first leg of your Spain vacation is over, but don't worry, you'll be back after a few days in Morocco!
Next up, a few optional days in Morocco!
The thought of heading to Morocco scares away some people because of it's exceptionally different culture and traditions, so I suggest taking a quick multi-day tour for this purpose if you wish to see a bit of the country.
Not only will you have your transportation covered, but you'll have a local guide with you the entire time to answer any of your questions and advise you on best cultural practices so you don't stick out like a sore thumb.
A few important notes about Morocco:
Safety: Just to note, if you're a female, I wouldn't recommend traveling solo in Morocco. The cat-calling was something like I've never seen, and although I never felt truly sexually harassed or physically touched, I've heard many travelers report unwanted grabbing and feelings of unsafety.
In my experience (and many who I've spoken to), it's best to visit the country with a group of people (preferably with some male companions) and with a guide in some areas as well (like the Medina in Fez). Do your research before deciding to head to Morocco solo or with only female friends.
What to Wear: You'll want to dress modestly and respectfully while traveling in Morocco. Women should wear long skirts and dresses, or cotton, loose fitting pants (always covering the knee), and tee shirts that cover the shoulder area. Sandals and sneakers are generally worn, without many wearing heels.
It's also a good idea to bring a scarf to drape around your head and shoulders as well if you don't want to bring extra attention to yourself.
Alcohol Usage: Drinking alcohol is strictly forbidden by the Qur'an, so Muslims do not drink alcohol. However, because Morocco makes so much money through it's tourism industry, you'll find many young people having a drink at an outdoor cafe. Don't overdue it as drinking is not socially and culturally acceptable by many locals.
How to Get from Spain to Morocco
By Ferry: You'll most likely be taking the ferry from Spain to Morocco, which can sometimes be a daunting process. Because of this, you'll want to leave a few hours at border crossing. Aka, don't make any major plans for the day. You'll first need to get yourself to the ferry terminal at Algeciras (Spain), then wait for a while.
The drive from Granada to Algeciras takes almost 3 hours (with trains taking a bit over 4 hours), so you'll want to start your day bright and early. Taking the ferry from Spain to Morocco is the most popular way to cross into Africa, and therefore is highly guarded and can take quite a bit of time. Alas, it's worth it for the truly fascinating country of Morocco.
Many different ferry options from Spain to Morocco are possible, with ferries heading to Tangier being the most natural entry point for visitors from Europe.
You'll find over 32 ferry sailings a day from Algeciras (Spain) to Tangier-Med (Morocco), which is by far the most well traveled of the different ferry routes. Companies that operate this route include Balearia, Trasmediterranea, FRS, Intershipping, and AML. Price of the ferry from Spain to Morocco varies greatly depending on speed, with the fastest taking just 30 minutes through the Strait of Gibraltar.
Prices start at roughly €30 per person each way, with more costly options to bring along a vehicle if you're planning on taking a road trip through Morocco. Note that ferries are also available from Tarifa and Barcelona to Tangier, although are not as popular and therefore do not have has many sailing options.
By Plane: Ferry not your thing? Sounds too confusing? I hear ya! Don't fret. A flight from Spain to Morocco is most definitely possible. There are plenty of flights to this North African country from several cities in Spain, with carriers including Iberia, Royal Air Maroc, EasyJet, and Ryanair.
Shop around on Skyscanner to get the best possible price. And remember to bring along your passport!
How to Get from Tangier to Asilah: Thankfully once you make it into Morocco, your first official stop where you'll be spending the night is only 45 minutes away. You can either take a shared taxi from Tangier bus and taxi station for about 20DH per person (take a petit taxi [green] for 10DH to get to the taxi station), or there are also regular trains from Tangier to Asilah for 16-25DH depending on class.
4) Asilah: 1 night
It'd be downright impossible to get all the way to Fez today, especially since you never know how long it will take at the Spanish-Moroccan border. Plan to spend one night in Asilah, a cute little beachside town about 45 minute south of Tangier known for it's deserted, quiet beaches and booming artist town.
It's well preserved medina is a hub for artists, full of murals and colorfully painted walls everywhere you look. This makes the area especially fun to photograph, with it's Mediterranean-influenced buildings of whitewashed houses with blue accents on the walls and doors. A bit similar to Santorini-looking, actually!
Don't plan too much today, as your arrival time is heavily dependent on your luck at the Morocco border. If you start the day off early, you'll most likely have time for a stroll along the beach in Asilah (dotted with food shacks serving cold drinks and fresh fish dishes) and a quick visit to the pedestrian-only artist Medina. Have more time? You can take a camel ride right on the beach!
If you're looking to do a bit of relaxing, this tranquil and beautiful destination on the Atlantic Coast will be right up your alley. Head to the pier right before sunset – a wonderful place to see your first African sunset! 🙂
The town is small enough and be easily explored by walking, or you can hire a horse and donkey cart (always bargain before getting in)!
Top tip: Make sure to get the roasted street corn, it's absolutely superb.
Where to Stay in Asilah:
Patio de la Luna
How to Get from Asilah to Fez: You'll find many trains and buses from the Asilah Train Station to Fez, both taking about 4 hours. Find more information here: ONCF trains / CTM buses
5) Fes: 2 Full Days
Want some real-life culture shock? Head to Fez, the cultural and spiritual capital of Morocco. Full of medieval architecture with a vibrant medina with narrow lanes infused with smells of fresh peppermint, freshly squeezed orange juice, and animal droppings.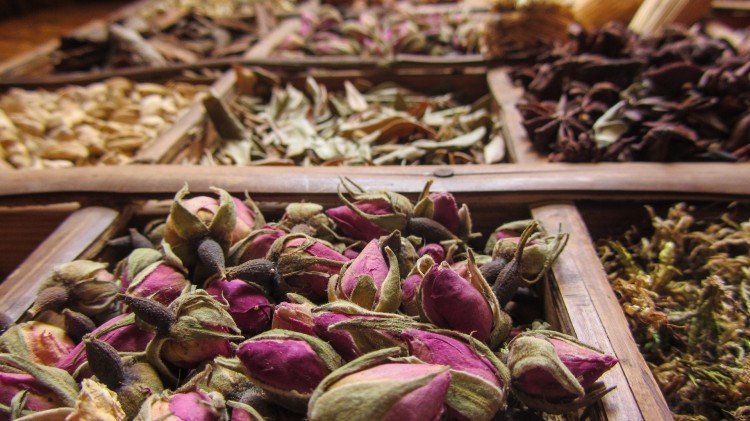 This bustling town will leave you scratching your head every few moments. Just standing in the medina is completely overwhelming and you'll see chickens running around and donkeys pulling carts like it's no big deal. This is just everyday life here in Fez.You won't get used to it no matter how many days you stay – I can promise you that!
** As noted above, in my opinion, it's best to hire a private guide for a full day to thoroughly explore this bustling city. That's exactly what we did, and found having our own personal tour guide was not only majorly convenient, but left us feeling much more safe and secure than we would have on our own.
What to do in Fez
Golden Gates of the Royal Palace: This iconic palace isn't open to the public, but the gates of the Royal Palace make for absolutely wonderful photographs!
Walk through the Fez Medina: Being the city's oldest neighborhood and a UNESCO World Heritage Site, a stroll (if you can call it that) through the medina should definitely be included on any Fez itinerary. The city's ancient quarter is an intricate maze of streets, and here you'll find open markets, shops, and mosques at every turn.
It's quite easy to get lost within the walls of the Medina, so I suggest you hop on a tour with an official guide to ensure you'll be able to get around with no problems. As they say, it's easy to get in but not so easy to get out.
In my opinion, nothing compares to this experience – the winding narrow lanes, the myriad of spice shops, the donkeys and handcarts making their way through. So colorful and so, so exotic. The medina is thriving and full of life. Explore the souks, see the snake charmers, watch the wonderful henna ladies, and grab some food at the magnificent open air market at night.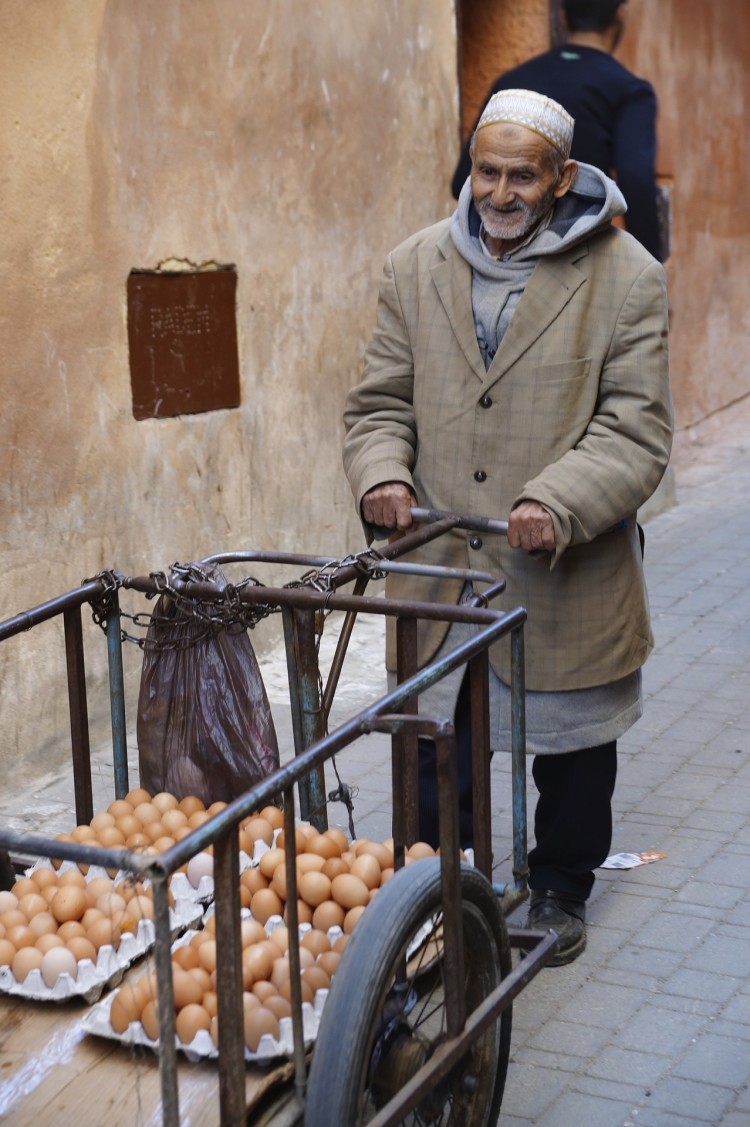 Top tip: If you hear the word 'Balak' within the medina, you should quickly move to the side. It means someone is coming through with a donkey or cart and needs the entire width of the passageway to get through. They have no mercy for tourists so be sure to understand what to do right away.
Get a guide. It'll be worth it, I promise.
Visit the Bab Boujeloud (Blue Gate): This iconic blue gate at the entrance to the old city makes for an amazing photo! Don't miss it before heading into the medina!
Take in the smells at the Chouara Tannery: Yes, it'll stink like there's no tomorrow, but any visit to Fez wouldn't be a proper visit without visiting a tannery. The smell is definitely a bit overwhelming (and not in a good way), but they'll offer you a sprig of mint to hold under your nose to help alleviate the pungent odor.
Inside the shops you'll find thousands and thousands of leather goods, from colorful Moroccan slippers, backpacks and purses, to jackets and shoes in any possible color you're looking for. I bought a camel-skin leather purse which is absolutely gorgeous and handmade, and bought it for MUCH less than I would be able to in the states. Definitely bargain.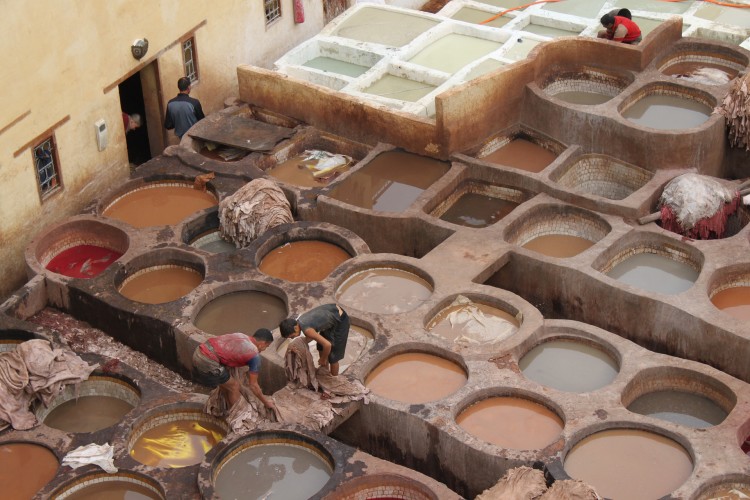 One of the biggest draws: the ability to overlook the big outdoor vats from the balcony of the tannery. You'll see men up to their knees working the leather, hides drying in the sun, and the "dead wool" piled high off to the sides. I've never seen anything like it, that's for sure! Don't miss out on observing this traditional dying of animal skins in Fez.
Visit a ceramics shop: If you opt for a private local guide, you'll most likely be taken to a ceramics shop in Fez. By taking a complete tour of the factory, you'll see the ceramists and potters at work.
The end of the tour will take you to the extensive company showroom, which houses thousands upon thousands of ceramic and metal goods for purchase. I bought a beautiful ceramic mug which now lives on my desk at home.
Take a Moroccan cooking class: The country's cuisine is considered to be one of the best in the world, which is why a cooking class is such a worthwhile idea! You'll learn tricks, secrets, cooking tips, choose ingredients, prepare beautiful dishes, and learn how to detect the more subtle flavors in dishes.
You'll learn from the pros how to expertly produce Tajin, couscous, Pastila, Harira, Malawi, Harcha, Djaj, Moroccan salad and more – all superrrr delicious! Mmmm I miss that food just thinking about it! Book class here!
Get scrubbed clean at a Hammam: Want a thrilling experience like no other? Get naked and get scrubbed at a local hammam in Fez. And with over 250 hammams sprinkled throughout the ancient city, you'll have no shortage of options to choose from. Because of this, Fez is one of the best places in Morocco to join the locals for a long hot bath, rigorous scrub-down included!
You'll be surrounded by a room full of naked women, but don't fret, as this is all part of the experience. I highly recommend you opt for the massage as well! To anyone who's feeling a bit nervous about it (I totally understand!), I have to say that it's 100% worth the plunge and you'll leave feeling squeaky clean afterwards!
Eats: mint tea, tagine clay pots, pastilla, olives, couscous, dates, all the salad dishes. Moroccan food absolutely divine, and be sure to try everything! However, do not drink the water and even use bottled water for teeth-brushing. Bottled water is all over the place and you'll have no problem find it throughout your days.
*** If you can add another day to your Spain, Portugal, and Morocco itinerary, I suggest you make a day trip to Meknes and Volubilis. Full of architectural ruins and tons of history, you'll really get a feel for what Moroccan life was like thousands of years ago. Super impressive if you haven't seen the ruins in Greece just yet. Buy tickets to Meknes and Volubilis here.
6) Chefchaouen
Have you seen those photos of cities' drenched in blue on Instagram recently? You were most likely swooning at the charming little town of Chefchaouen in Morocco, any photographer's ultimate dream. Many wonder if the entire town is colored in blue, or if it's just one or two streets.
I am here to confirm that the ENTIRE town is covered in every single shade of blue imaginable. From turquoise blue to sky blue to cobalt blue to sapphire blue to cornflower blue and every single shade of blue in between. Unlike many photoshopped insta-shots these days, the instagram pictures of Chefchaouen don't lie.
Chefchaouen can be visited in two ways:
On your way back up north to the Moroccan-Spanish border (by bus or private car)
On a guided day trip from Fez (good option if you'd prefer to sleep in the same place for a few nights and don't mind spending a good chunk of time in the car). We opted to go by guided tour as this made the most sense during our time in Morocco and LOVED it! We slept in the car and woke up just in time to explore the Blue City! Buy tour tickets to Chefchaouen here.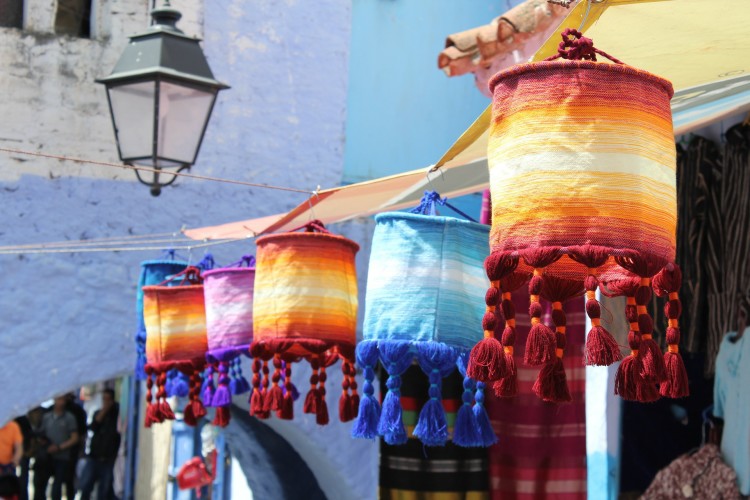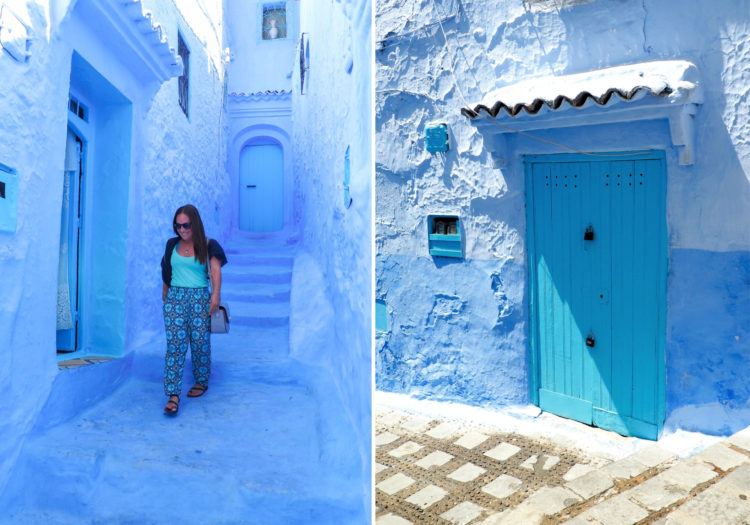 Whichever travel method you opt for, you can guarantee you'll get way more stunning photographs you'll ever know what to do with. I suggest just wandering around the city taking photographs of this beautiful and peaceful town tucked in the Rif Mountains.
Read Next: A Day Exploring Chefchaouen (with lots of pretty photos of course)
And back to Spain it is, for part two of your Spain vacation!
How to get From Chefchaouen to Seville: You'll need to make your way back to Tangier Med to take the ferry from Morocco back to Spain, the same process as when entering Morocco the first time. It takes approximately 2 hours to travel from Chefchaouen to Tangier Med by bus or private car, so I suggest getting as early of a start as possible to ensure this trip back to Spain doesn't take all day.
Once the ferry portion is over, you'll arrive back in Algeciras, Spain, and can take a direct bus from Algeciras to Seville (with a few company options including Linesur and TGComes) in about 3 hours, 45 minutes. Yes, it'll be a long travel day, but Morocco is worth it.
7) Seville: 2 Days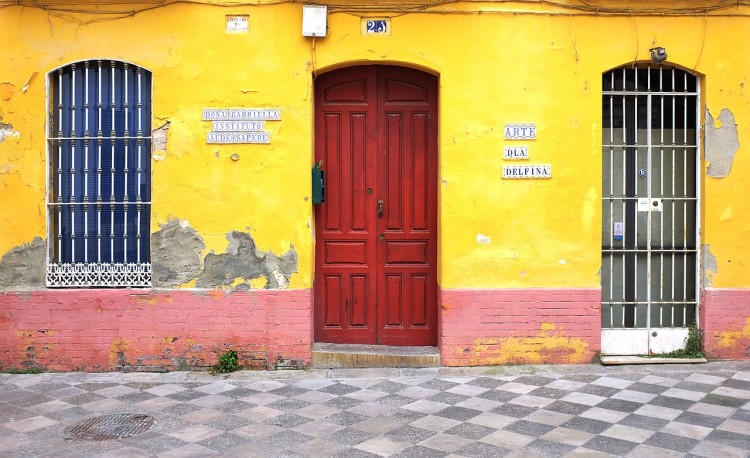 Back to the beautiful beauty of Spain, and now you'll be in Seville! A few things not to miss after your crazy few days in Morocco:
Alcázar of Seville: If there's only one thing you do in this city, make it the Alcazar of Seville. This royal palace, originally developed by Moorish Muslim kings is absolutely spectacular in each and every direction.
Paved with marble and decorative tile, rooms superbly decked out with mosaics, ridiculously stunning courtyards, and intricate gardens, it's no wonder the Alcazar is regarded as one of the most beautiful places in Spain. You could easily spend an entire day just wandering around the palace and all it's stupendous gardens.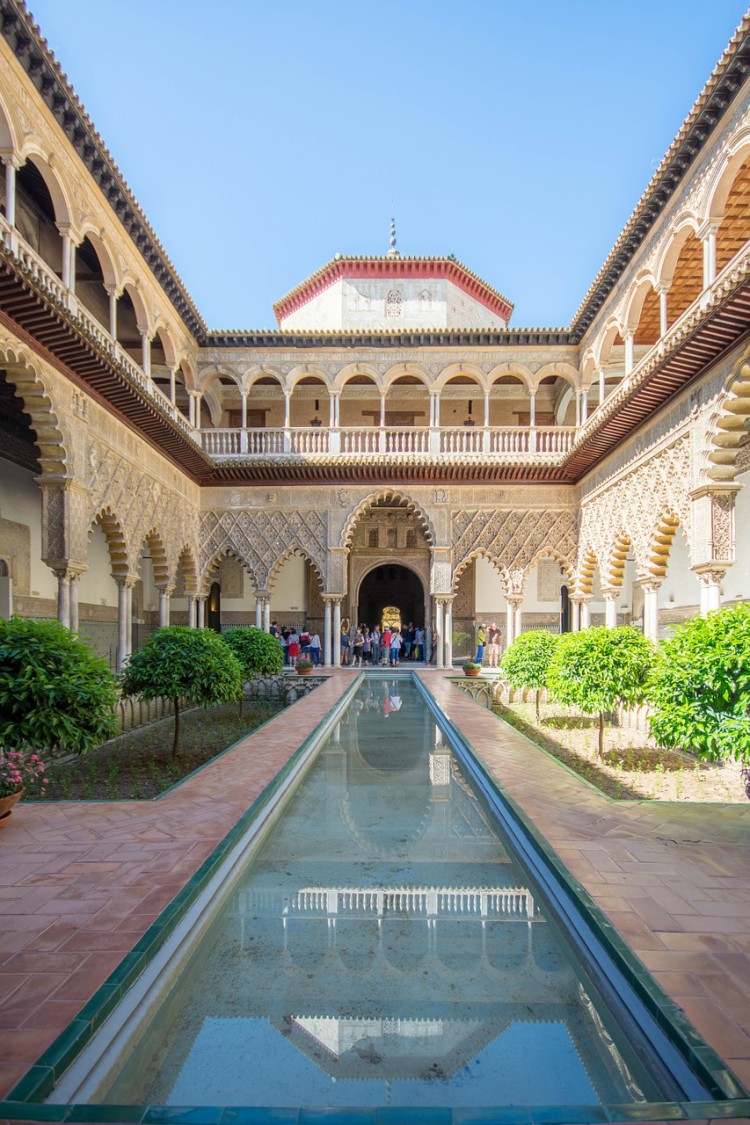 Seville Cathedral and Giralda Bell Tower: This impressive building is well worth the small ticket price of 8 euros. And since there's usually a long line to get tickets (hour+ wait), so I recommend getting tickets beforehand to not miss out on your time in Seville!
Being the largest Gothic cathedral in the world (yes, WORLD!), there's no sense in missing this huge, opulent, and architecturally beautiful structure. Be sure to walk up the bell tower as well (included in your ticket price) for wonderful views of Seville as well. And fun fact – Christopher Columbus' tomb in located within this church!
Read Next: 15+ Things to do in Seville
Plaza de Espana: This beautiful paved square is full of magnificently preserved buildings with a beautiful fountain in the center. And there's even a little moat to rent paddle boats! An absolutely wonderful place to wander and enjoy a sunny afternoon, and an absolute haven for photography!
Stroll around Barrio Santa Cruz: Looking to discover the local flavor of the city? Head to Barrio Santa Cruz! Here you'll find tightly packed streets with sudden squares, outdoor plazas, unexpected boutique shops and delicious tapas bars. And since it's a bit off the main tourist track, coffees will be a bit cheaper!
The area can be difficult to navigate (don't bring a car), so it's best to just wander around and get lost! With Turkish influenced buildings with color and tile, and tiny cobblestone streets, this is an area not to miss!
Metropol Parasol: Looking for more epic views of the city? Head to this high wooden weirdly-shaped structure in the middle of the city, also known as the Waffle! You can wander along the walkways high up and get spectacular views all over Seville. If you're a design or architecture lover, this should definitely be on your list! Come for sunset!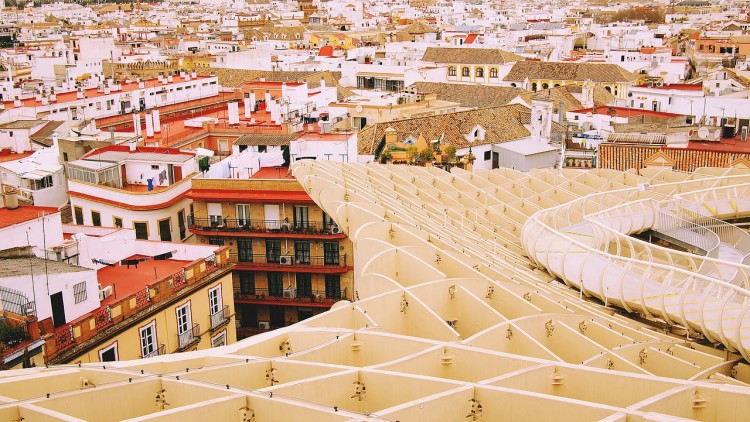 Watch some Fiery flamenco: Touristy? Sure! A fun and flirty evening? You bet! The colorful costumes are absolutely gorgeous and the women are downright beautiful!
Flamenco music became popular in the late 18th and early 19th centuries in western Andalucia, which infuses Spanish folklore with sounds from North Africa and India. Some recommended shows here:
Now we're off to Lisbon, to start the Portuguese part of our Spain, Portugal, and Morocco itinerary!
How to get from Seville to Lisbon: Looking for the cheapest option? Take the train, which takes approximately 5-6 hours with a stop in Faro (Algarve in the south of Portugal). Looking for the fastest, and most convenient way to get from Seville to Lisbon? There are cheap flights from Seville to Lisbon (with TAP Portugal), and the flight only takes one hour.
I really don't think a few days in Portugal is enough to give the country justice, but it's worth it to see a few highlights! For what it's worth, I recently spent 10 days in Portugal and could have spent at least 3 weeks. You may very well be planning a trip back to Portugal before you even leave the country!
8) Lisbon: 3 Days
Lisbon is Portugal's hilly, coastal capital city, and has got to be one of my favorite cities of all time. From the pasteis de natas (delicious Portuguese egg tarts), beautifully decorated tiled buildings, and various miradouro (viewpoints) all around the city, Lisbon is like no other. It doesn't hurt that it reminds me so much of my new home city of San Francisco. <3
I could easily spend a week in Lisbon and the surrounding areas, but on this 2 week Spain and Portugal itinerary, it's best to limit your stay for 3 days or so. Spend two days exploring the city of Lisbon itself, then your last day on a day trip (several options listed below).
But first, some of my favorite things to do in Lisbon:
Wander around the Alfama District: Being one of the oldest districts of Lisbon, the Alfama is an absolute maze of narrow cobblestone streets and ancient houses and best to explore via foot. It's very traditional and charming, yet is the "it" district of the city. Popular and colorful, you absolutely can't miss it.
Head to Belem: Located near the Tejo River, here you'll find the Belem Tower (Torre de Belem), Monument of the Discoveries (The Padrão dos Descobrimentos), and Pasteis de Belem, which sells the most delicious Portuguese egg tart pastry in the entire city.
Take photos at the Miradouros: Translating to "viewing spot", the Portuguese are mighty proud of their famous miradouros located area the city. Therefore, if you ever see a sign saying "Miradouro", make sure to follow it! A few favorites include: Miradouro das Portas, Miradouro de Santa Luzia, and Miradouro das Portas do Sol.
Overindulge at the Time Out Market: Hungry? Head on over to Lisbon's Time Out Market. This huge food hall houses the best restaurants of the city (all 24 of them) under one roof.
From curated burgers, steaks, nigiris, fresh seafood, tartare, rice dishes, traditional Portuguese food, pastries, and croquetes, you'll find anything your heart desires here. And a great place to stock up on some pasteis de nata before taking the train to Cascais!
Beach day at Cascais: Head to the most popular beachtown near the city, Cascais! At less than 20 miles away and an inexpensive train ride from Lisbon, it makes for a wonderful day trip if you're looking to spend a few hours on the sandy beaches and busy marina.
Have a fresh seafood lunch at Old Town, dip your toes in the bright turquoise water, and wander around the historic mansions. Worried about getting lost and would rather not use public transportation? There are numerous tours available! Recommendations here:
Climb Lisbon's Cristo Rei: Are you in Lisbon, Rio, or San Francisco?! You may get rather confused! Slightly off the typical tourist path, you can take the ferry from Cacilhas (from Cais de Sodre) which only takes ten minutes, to climb the Cristo Rei, Lisbon's version of Rio's Christ the Redeemer.
From this area, you'll find spectacular views of San Francisco's Golden Gate Bridge look-a-like.
Ride the Iconic Tram 28: Just like in San Francisco, you'll find plenty of trams in Lisbon as well. It may be crowded, and you may need to wait a little while to get on, but you really can't leave Lisbon without a quintessential tram ride! You'll zip around sharp corners and narrow streets, and get to witness the everyday Portuguese life passing you by.
How to Get from Lisbon to Porto: Traveling between these two iconic Portuguese cities is quick, easy and cheap. Most popular is via train (over 30 options a day) and takes roughly 2 hours, 45 minutes. I recommend taking a late train from Lisbon on your last day in the city in order to have the maximum amount of time in nearby Porto.
Sadly, these two weeks in Spain and Portugal are coming to an end – but not without first visiting the sweet little Portuguese town of Porto.
8) Porto: 1 Day
From Lisbon head to to Porto, a coastal city in northwest Portugal known for its stately bridges and port wine production! One day in Porto is surely not enough, but you can see a good chunk of the city in only a few hours due to it's small size.
The city's laid-back vibe will be a nice break from the hustle and bustle of the other spots on this Spain and Portugal itinerary. I loved exploring all the beautiful blue tiles in Porto, wandering around the riverfront, and watching the sunset from Gaia! All must-do's, even if all you've got is one day!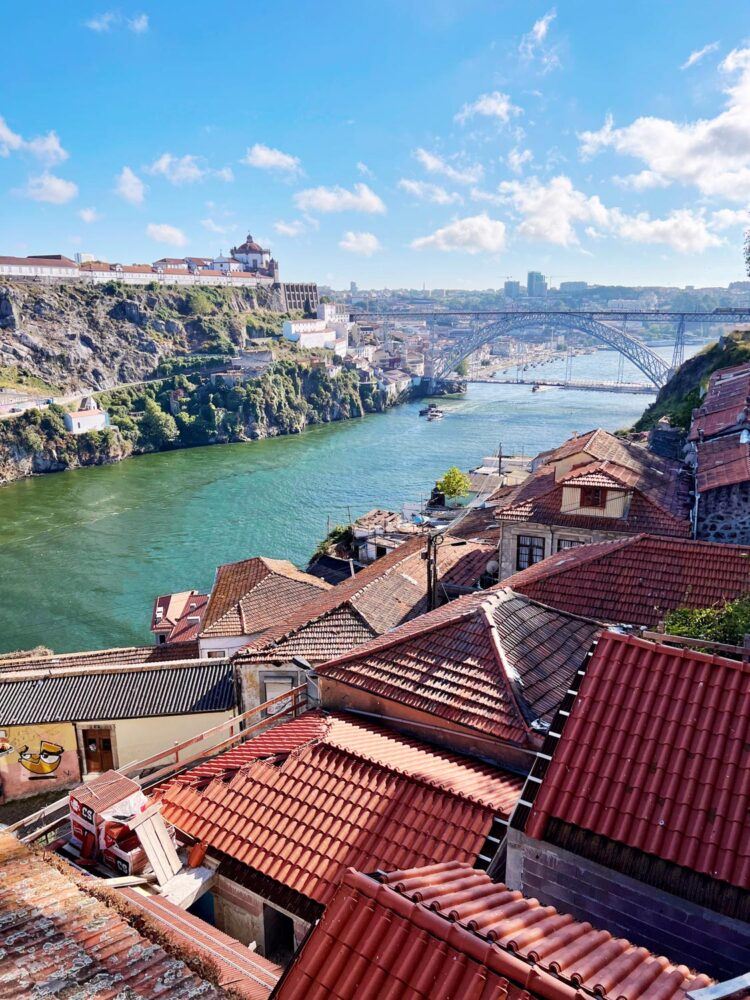 A few top things to do in Porto:
Dom Luis I Bridge: This double-decker metal arch bridge spanning the River Douro is an absolute icon of the city of Porto and cannot be missed! You're in luck, because the bridge's top deck is now reserved for pedestrians, as well as one of the city's metro lines while the lower deck sees regular vehicle traffic.
You can't miss the views of the river and Old Town as they're absolutely spectacular!
Porto Cathedral (Se Catedral): A visit to this Roman Catholic church, easily located in the historical center of the city, should be on any Porto itinerary. Being one of the city's oldest monuments, and with art and history in each and every corner, it'd be a shame to miss it. The the contrast between the cathedral's exterior and interior is remarkable.
Crystal Palace Gardens: Looking for a bit of nature located within the city? Crystal Palace Gardens are your answer! With fountains, footpaths, stunning Douro River views, and of course impeccably landscaped gardens, this green space is really the place to be! You'll even find free-Wifi spots and peacocks wandering around! Yes, peacocks!
Avenue of the Allies (Avenida dos Aliados): Referring to the treaty between Portugal and the United Kingdom in the 14th century, this avenue is Porto's busiest boulevard and main artery for shopping, social life and people-watching. Be sure to take a photo with the Porto sign!
Go Wine Tasting: You absolutely CANNOT leave Porto without tasting some of it's fine fine port wines! Port Wine is born in the Douro Valley (but aged and shipped from in Porto), so it's basically mandatory to taste a few during any visit to the city! There are so many cellars to choose from, with many you can tour as well!
I recommend taking a Porto cellar tour to ensure you'll get a few tastings in during one morning (yes, it's a-okay to drink wine before lunch in Porto) or afternoon!
Have more time?! Head to San Sebastian and then end your trip in Madrid!
Hope you have fun on your Spain vacation! Feel free to ask any questions in the comments below about this Spain and Portugal itinerary!