I absolutely LOVEEEE writing these yearly roundup posts (probably one of my most favorite posts of the entire year).  I thoroughly enjoy looking back at the past year and reveling in what I accomplished, what new activities I've tried, and what new destinations I've visited.  
As you most likely know, I have a full time job and am always trying to show you just how travel is possible with the little time off I/you do have.  I'm here to prove just that – took a quick look at my 2015!  Busy, busy, busy!  Take a look at my 2014 roundup of life and travel here.
2015 was a year of firsts – I went on my first solo trip, got invited on my first press trip, and started making a bit of money from this little slice of my life.
I try to incorporate short local trips from San Francisco (sometimes super spontaneous) with a few longer trips throughout the year. I'm definitely lucky in the fact that I have summers off since I work in a school (SLP power!), but as any "teacher" will say, it's most definitely needed.
January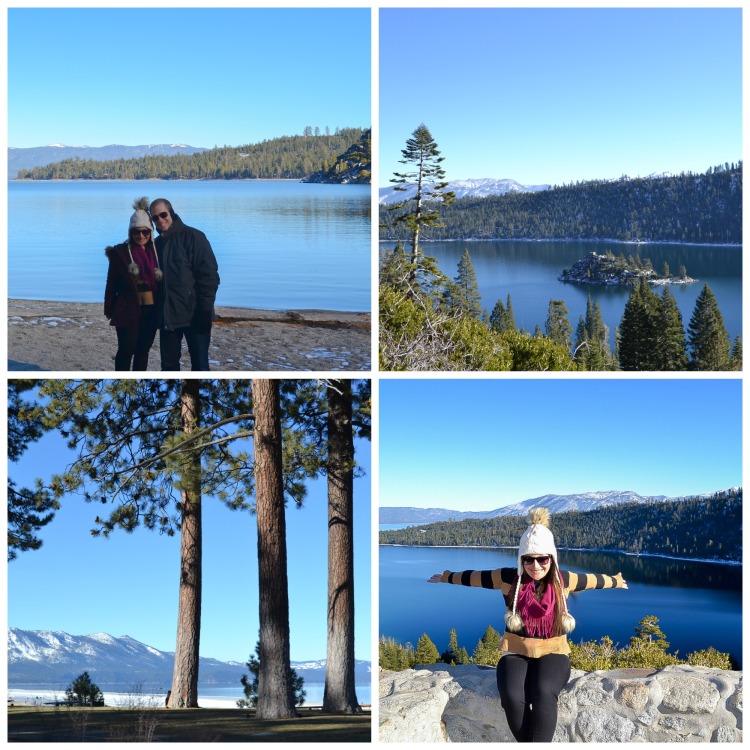 + We started off the year in Lake Tahoe, where we went on the most beautiful cold-weather hike and stepped foot on a frozen lake!  Emerald Bay was absolutely gorgeous, and I can't wait explore this area again (in the near future, I hope)!
+ The remaining weekends were spent exploring locally in San Francisco! We spent a day exploring the Marina District in the city and lazily watched the sailboats and walked along the cutest street lined with little shops and restaurants. Made it to the beach in January and had a delicious seafood lunch at Sam's Chowder House on the perfect 70-degree winter day.
+ Our second hike of the year, in the Perisma Creek Redwoods, was a doozy- 7.5 miles, and mostly uphill! The heights of the redwoods were astonishing, and thankfully they provided us with shade most of the way. I'm still surprised we made it out alive, and that we counted 67 banana slugs over the course of our 3-hour hike. #takemorehikesin2016?!
California definitely wins in January!
February
+ The month started out in the sunny LA area for my birthday (Jan 31), where we explored Santa Monica, Hollywood, and Beverly Hills with A Day in LA Tours.  Our stay at The Orlando Hotel, a boutique hotel in the heart of West Hollywood was just what we needed to relax and recharge after a full day of exploring.  We ended our trip down south by seeing friends in Orange County, and spent a day photographing the palm trees and crystal clear water in Laguna Beach.  We even saw a few seals swimming around!  The last morning was spent hiking with views of the Hollywood Sign and devouring pecan pie.
+ I spent a few nights in Napa with a friend at The Andaz, and we made it to 7 wineries in 2 days! A successful girls trip to Napa to say the least!  Bathtub party and all! Just click the link if you have no idea what I'm talking about.
Other highlights (I can't stand not to share):
+ attending the Travel and Adventure Show! The day was a success as I was then invited to Guatemala shortly after for a press trip later in the year! 🙂
+ celebrating Valentines Day at TOWN, a well-known steakhouse on the Peninsula (a few days prior), and then spent Valentine's night making fresh pasta with this contraption. It was our first time (!!!) The Italian sandwiches we got in North Beach (SF) were the best, and the views from the top of Coit Tower made for an unforgettable romantic day in sunny San Francisco.
March
+ We spent a day in Sausalito admiring the sailboats, and then I went horseback riding in Half Moon Bay with some friends. You have got to see the photos – absolutely hilarious. Just imagine me on a horse…
+ Locally, we discovered both Redwood Shores and the Foster City canals – great waterfront areas so close to our town!  We have got to get over here more often in 2016, even if its just to have lunch overlooking the water!
+ Noah (the infamous husband I speak of here on the blog) ran his first half marathon in San Francisco, where we thankfully spent a night at the Intercontinental San Francisco so he wouldn't have to wake up so early!  I vow to take more staycations in 2016!
+ I finished off the month with a day trip to Yosemite National Park with Incredible Adventures.  Despite the long bus ride there and back, the day was filled with phenomenal views and new friends (all girls traveling solo!)  Have a girls trip tentatively planned for more Yosemite fun this year!
April
+ I honestly still can't believe I hiked Mission Peak with some friends, which is notoriously difficult! Thankfully the trail provided fantastic views the entire way, or I would have turned around! We even managed to escape from a few wild cows!
+ Woo- I finally visited my beloved NYC in April, which was my first trip back since I moved to California! I made sure to eat lots of pizza, bagels, and Wafels and Dinges. It was a crazy week full of scrambling around the city seeing friends and family – it's tough to get it all in in such a limited amount of time! I love seeing my family and can't wait for more trips this year. Mom and Dad and Ali I miss you! xoxo
May
+ Oh boy was this month crazy busy!  Every weekend was jam packed! May included another successful staycation nearby at the Ritz-Carlton Half Moon Bay.  The hotel was beyond gorgeous and I'm still pinching myself that we had the opportunity to stay here!
+ I went on my first SOLO trip to Seattle in the middle of the month, and I'm happy to report that I loved every. single. second of it!  I'll definitely be making at least one solo trip in 2016.  I went to the top of the Space Needle, soared in a seaplane over the city, went snow shoeing on Mount Rainier, and ate a whole lot of everything.
+ My in-laws came for a visit for Mother's Day, and since they've been here numerous times, we finally had some time to relax and spend some time with them on the couch. But of course their visit included a trip to get some lobster!
+ And then there was the spontaneous long weekend trip to Austin!  It was my first time to Texas, and the city really surprised me!  I exceptionally loved the barbecue (how could you not), and all the funky art around the area.  If you haven't been to Austin yet, put it on your list for 2016, and stay at the Hyatt Regency Austin (we loved it)!
June
After the school year ended, it was beach time! (I first somehow got a new job and got all the paperwork/fingerprints done in only a few days). We spent a few days in Cabo San Lucas for Noah's 30th, and finally got a chance to really relax.  We spent our days lounging poolside with drinks in our hand and enough tacos and sushi for 10 (surprisingly good sushi at the resort).  We made our way off the grounds for a trip to the famous arch and more drinks (hey, when in Mexico, right?)
With literally less than 24 hours back in San Francisco, I was back at the airport in route to Guatemala!!!!  I spent the week hiking an active volcano, spending a marvelous afternoon relaxing in thermal baths, exploring the colorful city of Antigua, and shopping at the local market at Chichicastenago.  This country really is a hidden secret in Central America.  I'm itching to get back to Central America ASAP.
July
+ Months prior, I had spent hours and hours perfecting the perfect road trip up north to Idaho through a bunch of national parks, but we had to cancel at the last possible minute.  Unfortunately my grandma was very sick ( 😥 ) and I wasn't sure if I would be hopping on a plane back to NYC earlier than expected.
Thankfully she's ok now, (knock on wood!), but it sure was a scary time.  Looking back, I'm glad we cancelled – I would have been worried sick the entire time and not able to enjoy myself.
+ The week later, I flew back to NYC for my second trip home of the year. My family decided to spend a few days in Pennsylvania, so off we went to Hershey Park and Lancaster County! We finished off our family week with a beach day (always the best), a day wine tasting on the North Fork of Long Island, and hopping around Greenport, a super cute town nearby. We also managed to make it to the Highline and the Freedom Tower (9/11 Memorial) in the city.
August
I started off the month with a hike at Lands End, and it's something I suggest to everyone visiting San Francisco! Great views of the Golden Gate Bridge, and a surprisingly good workout!
A few days later, I started my new job at a school district about a half hour north the beginning of August, and I'm proud to say that I absolutely love working with the older kids. Was a bit worried about relating to middle and high school students, but oh my, they are my favorite. Working with elementary schoolers again is definitely not in the near future.
Some more (not-so-important) bits 🙂 :
– Went on a hike to Ano Nuevo to see the elephant seals
– Took a dreary day trip to Pescadero (it's sometimes foggy in SF!)
– Roller coasted it up at California Great America (family day with Noah, Neeraj, and Stacy)
– Lost my voice at two concerts: Kelly Clarkson with Pentatonix, and DMX and Incubus
September
+ Spent Labor Day Weekend road tripping from San Francisco to Mendocino, with plenty of stops along the way.  We spent two nights at the cutest little cottage in the woods, through the sweetest lady on AirBnB, with more stars in the sky than we've ever seen (possibly more than Hawaii)!  Her homemade blueberry muffins were absolutely perfect for breakfast (people rave about them on AirBnB, it's crazy how good they are).
The weekend was filled with a lot of nature and beautiful views.  If you live in Northern California, you have got to make it to Mendocino soon!
+ Weekend trip to Sacramento with the first girl I met in the Bay Area (who is now one of my bestest friends), and one of her besties as well.  We ate too much (midnight donuts and 10am ice cream at Fenton's anyone?), saw the California State Capital Building, and had a few too many dance parties.
Unfortunately, not all trips to New York are happy ones. I lost my sweet old Grandpa Leo (the cutest 92 year old I ever knew), and spent a few days with family after the funeral. I'll never forget this cutie. <3
Noah ran his second half marathon in San Jose, and we had two friends from New York visit for a long weekend.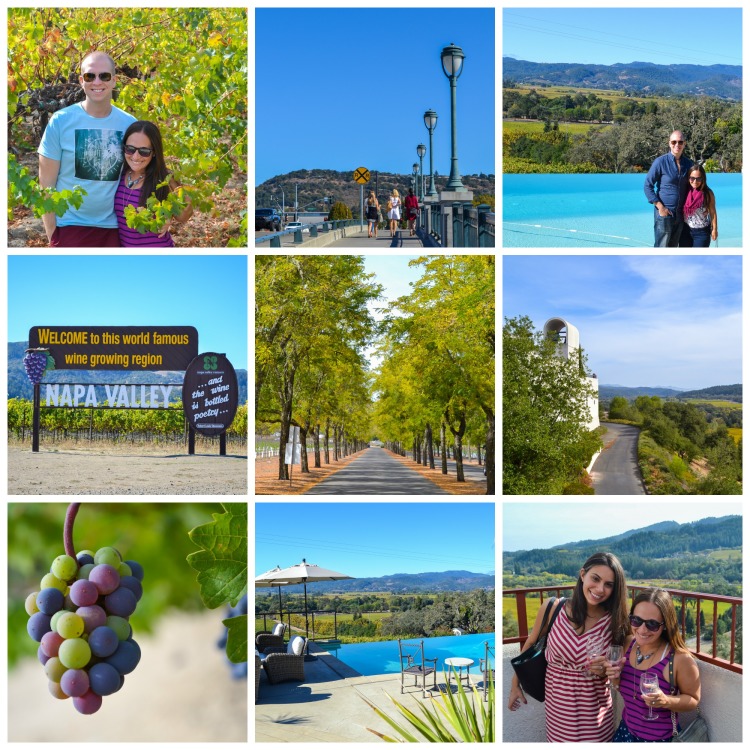 Another trip to New York, this time for my cute little cousin's Bat Mitzvah who looked just like a princess! Was great to see family again, and even made it to Pete's Clam Bar (if you're heading to NY, go look that up) for some fresh seafood. NYC is just the best in the fall.
We met two friends from NY in Napa Valley for the weekend, and not only went wine tasting and had a few fabulous meals, but took a hot air balloon ride above the vineyards as well!  Crossed that one off the bucket list!
Not too much to say about October, but I promise, it was a good one! 🙂
This month was spent pretty local for us! With back to back trips to the East Coast, it was nice to relax and unwind a bit without any plane travel for a few weeks!
We headed a few hours south to Big Sur (post coming eventually- I promise!), where Noah ran his third(!!!) half marathon.  Naturally, I planned a full day of activities for us the day before the race, and we made it to McWay Falls in Julia Pfeiffer State Park, Nepenthe for drinks with great views of the mountains, Big Sur Bakery, and the Bixby Bridge.
On what was probably the last nice day in the Bay Area, we headed an hour north to the Marin Headlands. We explored the lighthouse and I spent way too much time photographing the beautiful Golden Gate Bridge (every angle looks different – I swear!)
The last two weeks of December were jam-freakin' packed (in a good way).  I hopped on a flight to Phoenix, Arizona right as soon as my winter break started, and spent the next 5 days literally running around Scottsdale.  We took a pink jeep tour through the desert, drifted away in a hot air balloon, ate way too much on a food tour, marveled at Christmas at the Fairmont, visited some cool architecture museums, and ate everything in sight at numerous restaurants.  Lots more to come on Scottsdale sooner than later.
And then there was Playa del Carmen in Riviera Maya, Mexico, less than 24 hours after returning home from Scottsdale.  I like to take advantage of my days off, what can I say? 🙂  After a few flight cancellations and delays (ugh, I know!), we safely made it to Mexico on Christmas Day.  
We spent the last week of 2015 exploring Mayan Ruins, swimming in cenotes, learning how to cook in a Mexican cooking class, eating all the tacos and guacamole we could get our hands on, and snorkeling in Cozumel.  Post to come soon, hopefully! 😉
Make the pledge to travel more in 2016! As I continue saying, adventure is possible near your hometown! You just need to look for it!
What you'd get up to in 2015?
Any travel plans for the New Year yet?