Visiting Crater Lake in the near future for a much needed weekend escape? I've got your back! Keep reading for not only things to do in Crater Lake, but for when to go, where to stay, my favorite hikes (with the dreamiest views), and where to eat. Enjoy!
Crater Lake National Park has got to be one of the most mesmerizing places I've been to date. With its calm dazzling blue waters, scenic highways, and super starry night skies, you can be sure you'll never forget your visit to Crater Lake. And that's a promise! The park is just begging to be explored, and with all the things to do in Crater Lake, you'll never have enough of this captivating place.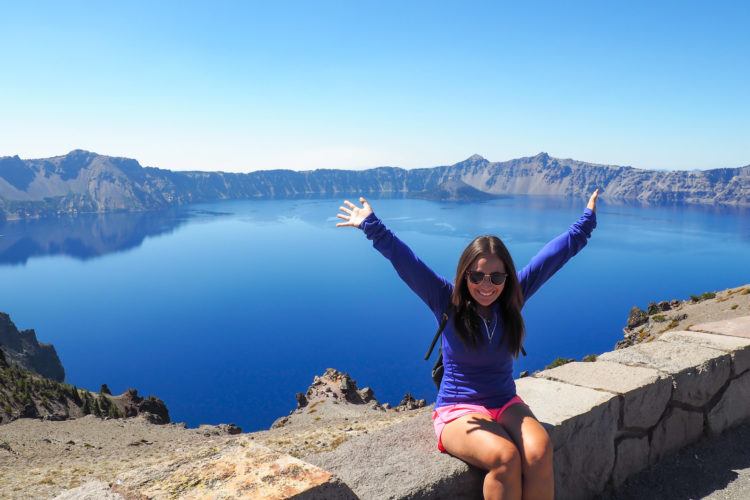 Located in southern Oregon, visiting Crater Lake can be done by flying into Portland (PDX) and driving the 4 hours south. Live on the west coast and don't feel like coughing up the money for a plane ticket? Make a road trip out of it! The lake is about 6.5 hours from San Francisco, 4 hours from Redding, and 4 hours from Sacramento, so have your pick as what's easiest for you! I recommend visiting Crater Lake when you have a long weekend break as 3 days (including driving to/from the park) will suffice!
Some fast facts and history before your visit
Crater Lake was formed by the collapse of the volcano known as Mount Mazama, after an enormous eruption about 7,700 years ago. This eruption drastically changed the landscape all around the volcano, forming a caldera (essentially a hole made by the collapse of a volcano) which is now filled by what we know as Crater Lake.
Yes, an eruption can occur someday in the future (even though it's been dormant for about 5-6,000 years), and Mount Mazama may in fact grow back.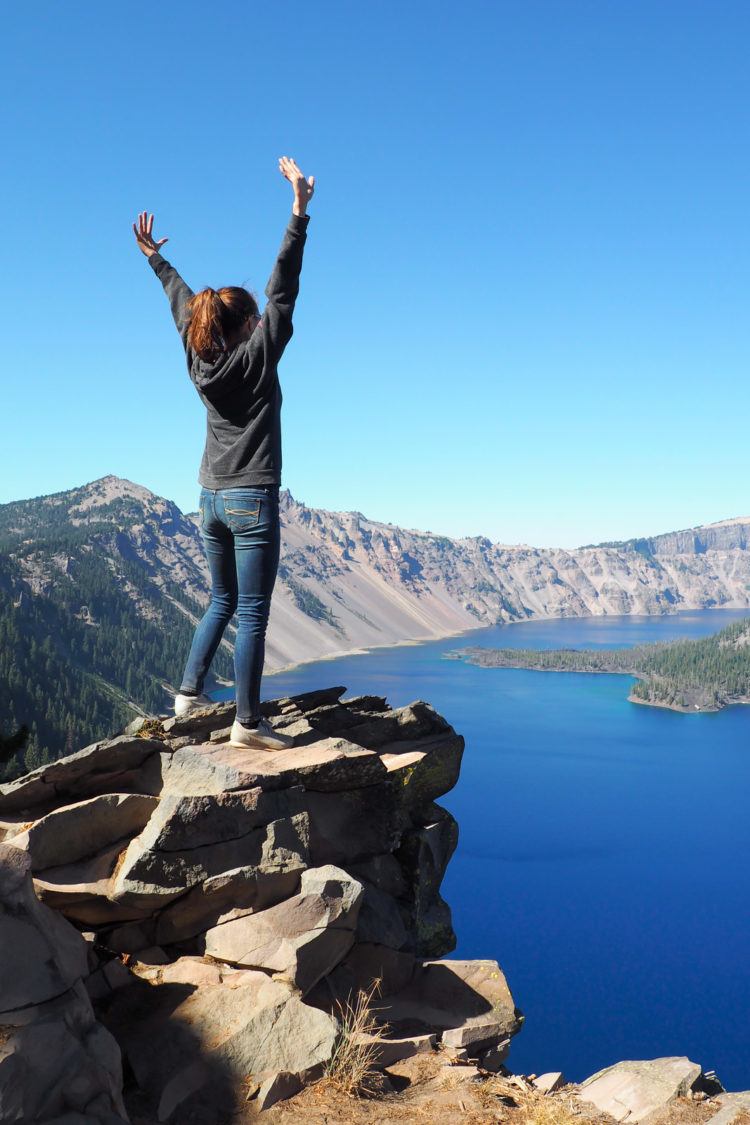 Crater Lake is currently the 10th-deepest lake in the world, with a maximum depth of almost 600 meters (1,949 feet). It's also the deepest lake in the USA!
The magnificent intense blue color of Crater Lake is primarily due to it's great, great depth, and remarkable clarity. The waters stay so clear since the lake has no other bodies of water flowing into it, meaning little-to-no pollution!
When to Visit Crater Lake:
Crater Lake weather can essentially be divided into two distinct seasons – summer and winter. The summers are short and winters are long, so plan ahead if you prefer visiting Crater Lake when it's not freezing out!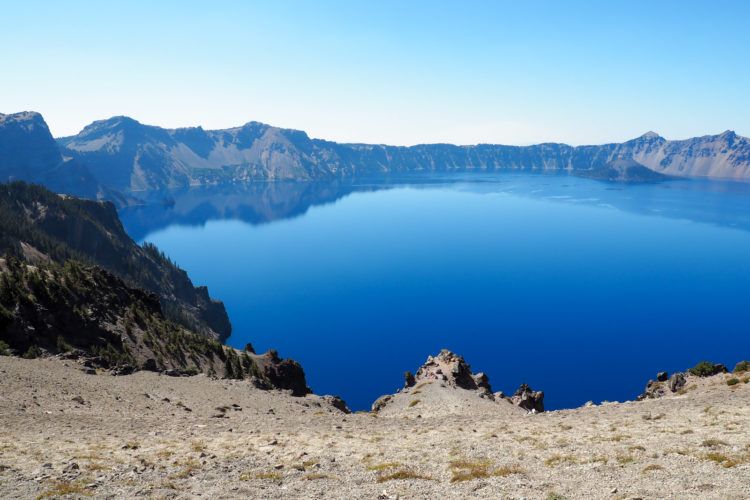 Summer: I recommend visiting Crater Lake during the months of July, August, and September. This will ensure that the park roads will remain open for the duration of your visit, and you most likely won't freeze to death (nights do get chilly though).
These also happen to be the most popular times to visit Crater Lake, but don't fret – the park is rather large so you'll still be able to find your own spots of peace and solitude.
We visited Crater Lake over Labor Day weekend, and totally expected the park to be crazy crowded the entire time. To our surprise, we found the park to be relatively quiet, and even had a bunch of trails all to ourselves at some points. Maybe the fear of smoke kept people at bay, or maybe I'm just used to masses of people in other parks nearby (ahem, Yosemite in summer, I'm looking at you).
I do need to point out that this area (Northern California and all of Oregon) have been experiencing some particularly horrifying wildfires in the recent years, which have only been getting worse and worse.
Before visiting Crater Lake between the months of August to October, it's wise to check on the smoke and therefore air quality conditions. Smoke and haze have the ability to drastically affect the view of the lake, and breathing in toxic air is obviously not favorable.
Winter: While Crater Lake National Park looks downright dreamy in it's winter wonderland phase, if you want to properly explore, I don't recommend visiting between October through April/May. It's actually the fifth snowiest place in America! Many roads within the park will be closed as soon as the snow starts sticking, which can be as early as mid-November. Rim Drive will open again to visitors as early as June, but you just never know when the snow will melt!
With that being said, winters are exceptionally long in the park, with May and June being months of transition. Roads, trails, and facilities begin to open depending on weather conditions.
A word of caution: Winter conditions can be somewhat hazardous within Crater Lake National Park. Forty four feet of snow are dropped on the park on average per year (yes 44!), so you can be sure to expect mounds of snow on any given day as early as early November. Snowstorms are quite common, so be careful when driving (even if the road is plowed) as ice and snow can impact road conditions.
Read Next: 3 Perfect Days in Portland (The Portland Itinerary You'll Want to Copy)
Where to Stay in/near Crater Lake:
Staying within the Park:
If you have your heart set on staying within the park itself, you'll need to make your reservations way in advance (recommended if you want to tackle alllll the things to do in Crater Lake – way less wasted driving time). Note that staying in either of these is not a possibility from November through April, as they close for the snowy winter season. Plan accordingly. 🙂
Crater Lake National Park boasts two hotels/motels within the park itself (which are only open in the summer; May – September). Crater Lake Lodge (the #1 place to stay) actually overlooks the lake, while The Cabins at Mazama Village (a no-frills resort in the middle of a pine forest) are located a few miles south.
Both book up super quick, so if you'd like to stay directly within park boundaries, it's a good idea to make your arrangements as soon as possible. Don't fret if all the rooms are sold out (but what a bummer), as there are numerous towns nearby with more accommodation options (info below).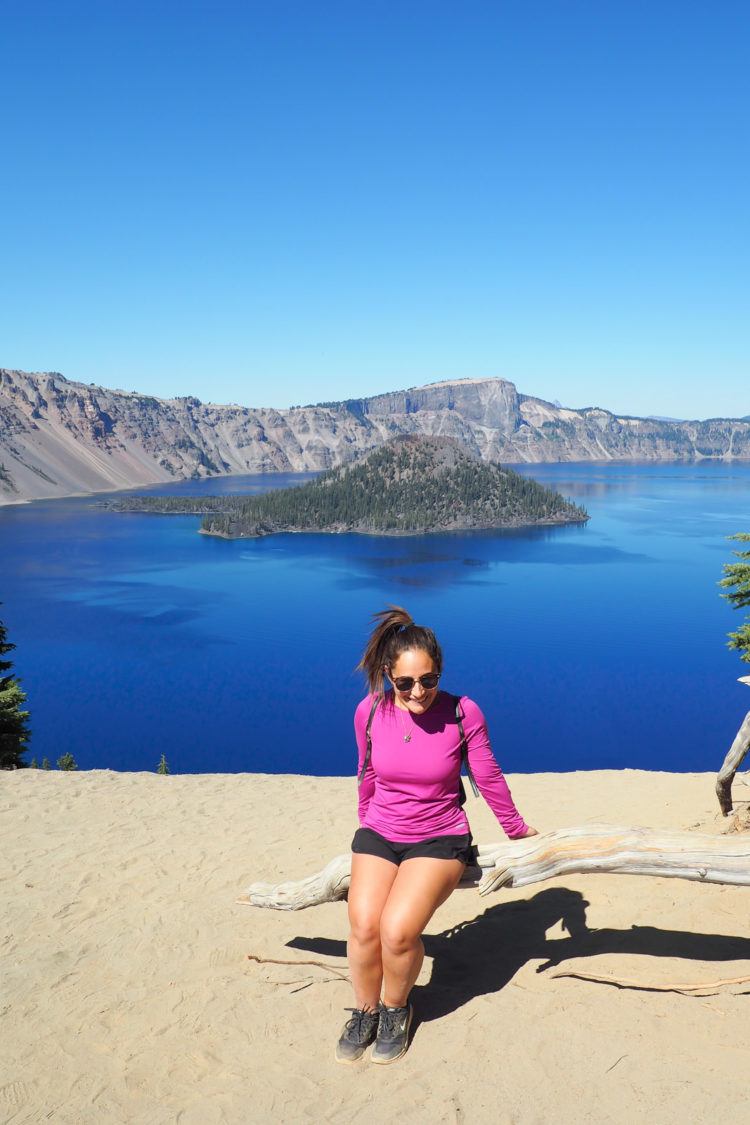 Staying Nearby/Outside the Park:
Since both options within the boundaries of the park were sold out (we booked waaaaay too late considering we were visiting Crater Lake over Labor Day weekend, whoops), we decided to spend our first night in a town nearby.
HOTEL
After a bit of research, we chose to stay at Melita's Motel and Cafe in Chiloquin, which was roughly 45 minutes away from the park's entrance.
If we were smart and had booked (even) earlier, I would have preferred to stay in Fort Klamath which is a bit closer to the park (about 30 minutes away) and offered more options (Aspen Inn, Crater Lake Bed and Breakfast, and Crater Lake Resort all looked rather decent).
So basically, book as soon as you know your dates, especially if you're visiting Crater Lake in the summer months or over a long holiday weekend, such as Labor Day. 🙂
Things to do in Crater Lake
With a weekend in Crater Lake, you can really do so much. Although we spent most of our time hiking, you can revel in the views from Rim Drive's multitude of lookout points, get some fancy drinks and/or a dessert at Crater Lake Lodge, and even go for a swim (if you dare to step foot in the chilly waters)!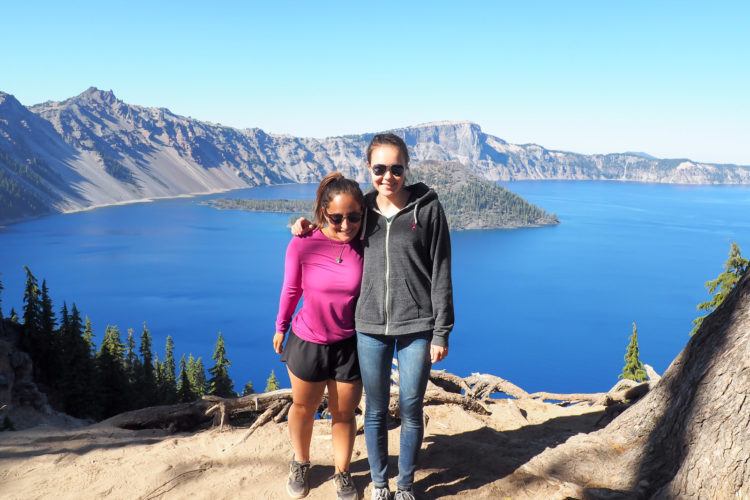 It's important to understand that Crater Lake is not a huge park like, say Yosemite or Grand Canyon, where it's easy to spend a week or more exploring. You can really get a true taste for the park and basically check off all the things to do in Crater Lake (including a bunch of hikes) with just 2 or 3 days visiting Crater Lake. We had almost two full days and felt this was sufficient to do most of what we wanted (we missed out on a boat ride and a short swim in the waters though).
Rim Drive
Have only a short period of time in the park? You'll get the absolute best views along Crater Lakes' Rim Drive. This 33 mile drive around the perimeter of the lake will provide over 30 lookout points, some designated and some just pull offs from the road.
The road is completely paved, easily driveable (in the summer months!), with tons of scenic overlooks of the expansive, deep blues to view and ooh and awe at! Be sure to check out Pumice Castle (narrow towers of reddish stone that resemble a castle), Cloudcap (for sunset!), Watchman Overlook, and Pinnacles Overlook – all absolutely stunning! But really, all views of the lake deserve a thumbs up (or 2 or 5).
Don't worry, the views aren't left only to the hikers, promise. 😉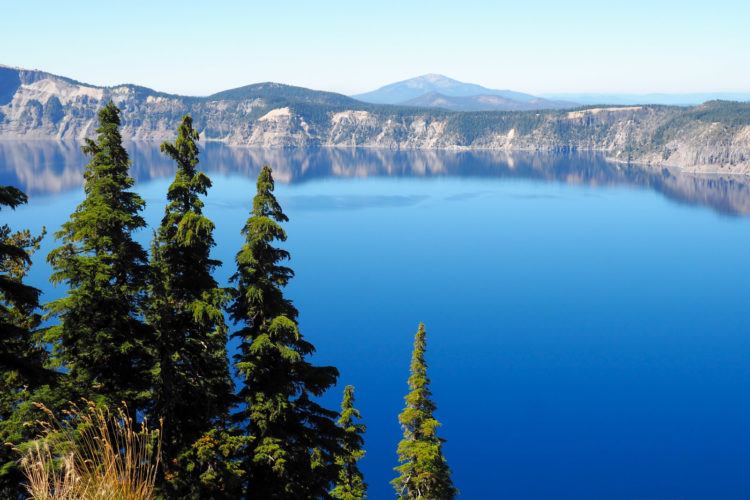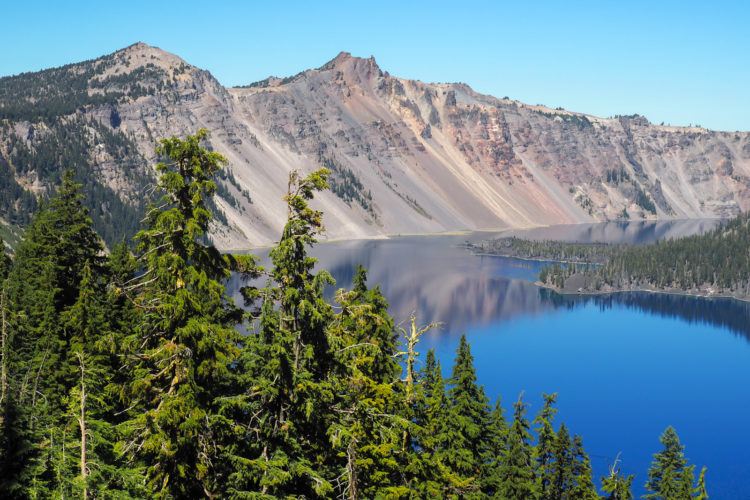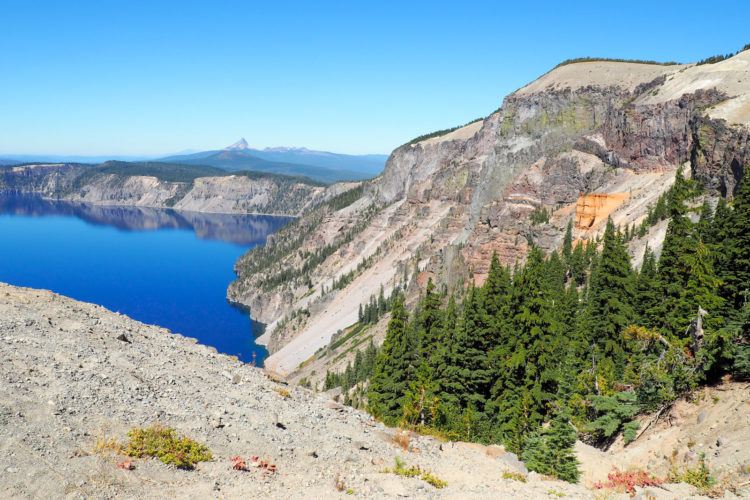 Boat cruise
If you'd like to take a boat tour around the lake and/or visit Wizard Island (only offered in summer), I HIGHLY recommend you make a reservation in advance (tickets are known to sell out months beforehand).
Unfortunately, we decided to wait until the morning of to attempt to book a tour, and of course they were sold out. Note that half of the tickets are sold well in advance (17/34), and the other half are sold within 24 hours of the start of the tour. Meaning you CAN book tickets once you get to Crater Lake.
It's best to be super flexible and understand you may not get your first choice of time and/or tour type. With only 34 tickets available per boat and honestly not that many tours offered per day, it can be difficult to score a ticket.
Don't get upset if you miss out, as there's numerous other things to do in Crater Lake. Psst – you'll need to hike down Cleetwood Cove Trail (1.1 miles and very steep) in order to hop on the boat.
Swimming at Crater Lake
Hoping to get down to those dazzling blue waters yourself? Hike the 1.1 mile (2.2 roundtrip) Cleetwood Cove Trail – a short, but very steep hike, which offers direct access to the shore.
Note that swimming is only permitted at Cleetwood Cove's edge of Crater Lake, and it's the only legal and safe access to the shoreline. The water is coooold, so don't expect a leisurely swim in comfy bath water.
You can also jump from a 20+ foot cliff into the crystal clear blue water of Crater Lake if you feel ever so inclined to do so.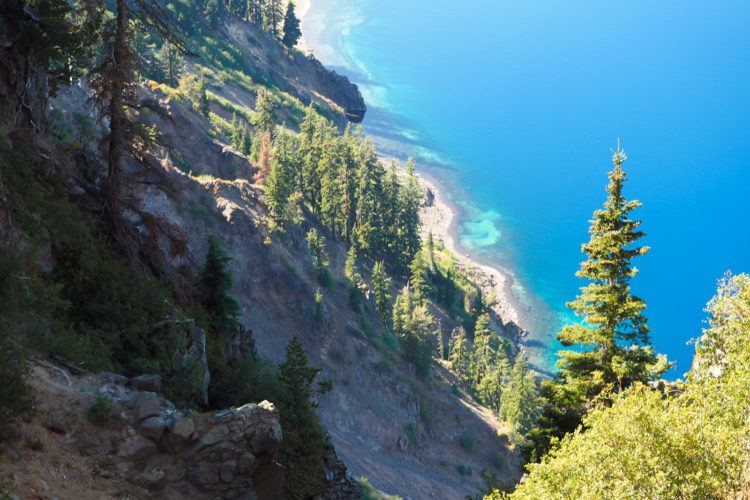 Go for a hike
Whip out your ol' dusty hiking boots during your visit to Craters Lake, because you won't find better views. Numerous trails are located around the perimeter of the park (more info below), and from easy one-milers (and flat!) to more strenuous ascents, everyone will find something they're interested in.
Our favorites were the Discovery Trail (easy peasy), Mount Scott for sky high views of the lake, and Watchmen Overlook for a breezy, yet beautiful sunset.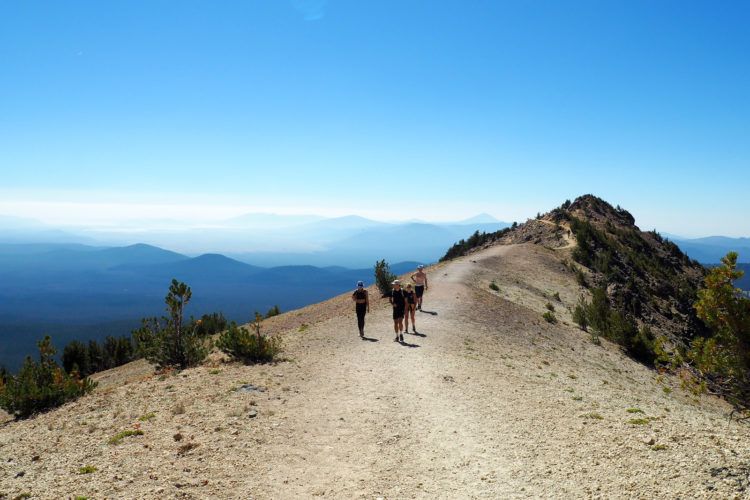 Hiking in Crater Lake:
Listed in order of difficulty (easy – moderate – strenuous):
Sun Notch: This super short, .8 mile relatively flat loop will grant you perfect views of Phantom Ship, which is definitely a sight to be seen! You'll hike through an open pumice meadow directly to the rim of Crater Lake, where you'll instantly get fantastic views of the lake!
Don't miss the two Phantom Ship viewpoints along the trail as they provide different angles of the unique formation. The Sun Notch trail also provides great views of the Chaski Slide and Dutton Cliff. Aka – don't miss it when visiting Crater Lake!
Pinnacles Overlook: Looking for something a bit different during your visit to the National Park? Check out the pinnacles, towering needle-like formations of rock which are actually volcanic ash spires. The trail is wide and basically flat, with many views of these strange structures.
You can really see what effects erosion and wind (and other natural elements) have on the environment. They slightly reminded me of the hoodoos in Bryce Canyon! Note that the Pinnacles overlook is located 6 miles off the main road from the lake (all paved – don't worry), so don't expect any lake views over here.
These kooky structures more than make up for the extra driving time though. 🙂 Psst – you don't need to go all the way to the end to see them.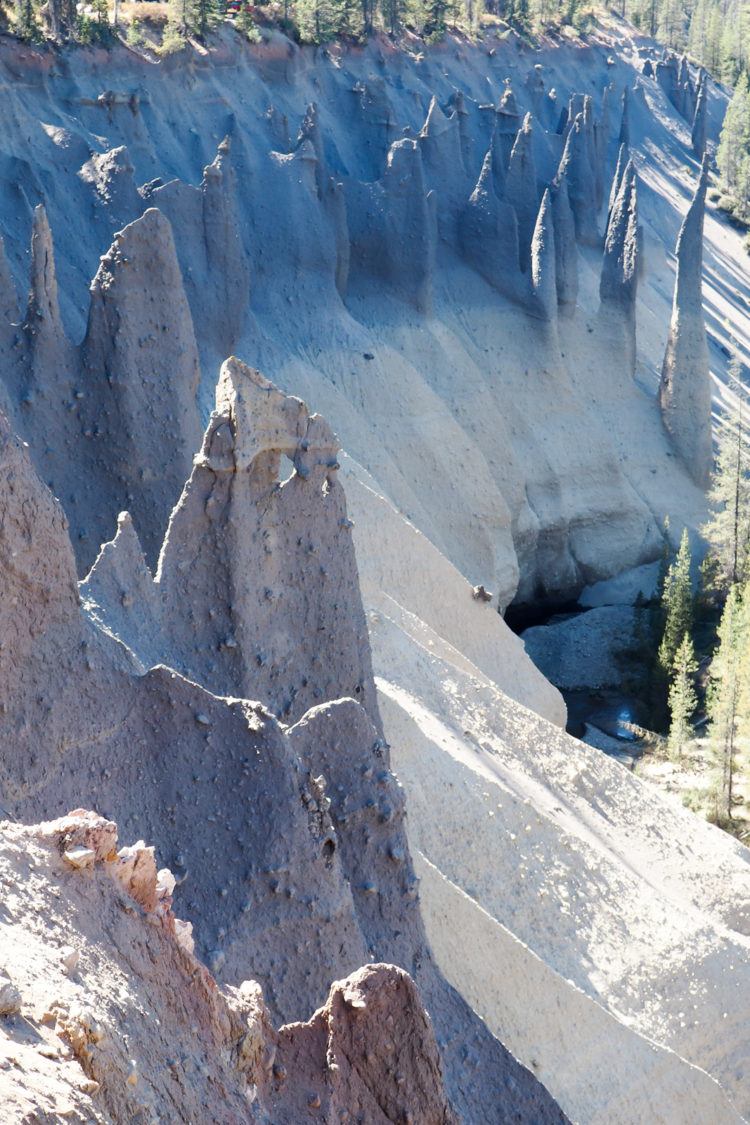 Discovery Trail: 2 miles roundtrip, small elevation gain. An easy trail with spectacular views of Crater Lake along the rim. Snaking right along Rim Drive, you'll want to be sure to stay on the hiking path in order to soak up the views (aka do not walk on the road). 🙂
Although you'll be meandering through the forest, there are several openings from which to view the lake, it's rim, and Wizard Island. Be careful of the steep edges – there are no railings over here! A great first mini-hike, relatively quiet, and one of our favorite things to do in Crater Lake.
Watchmen Trail: Absolutely spectacular for sunset, with all the pinks and oranges and reds oozing over the lake and surrounding mountain ranges. You'll end the short (.8 miles one way) but steep (elevation gain of 420 feet) hike at one of the park's two fire lookout towers, built in 1932, with fantastic views of Wizard Island and Crater Lake.
Note that it's quite windy (and therefore cold!) at the top — I highly recommend you wear not only long pants and a sweatshirt, but bring along a jacket as well if you get chilly easily. This was a great hike to prepare ourselves for Mount Scott, which is twice the distance and triple the elevation gain.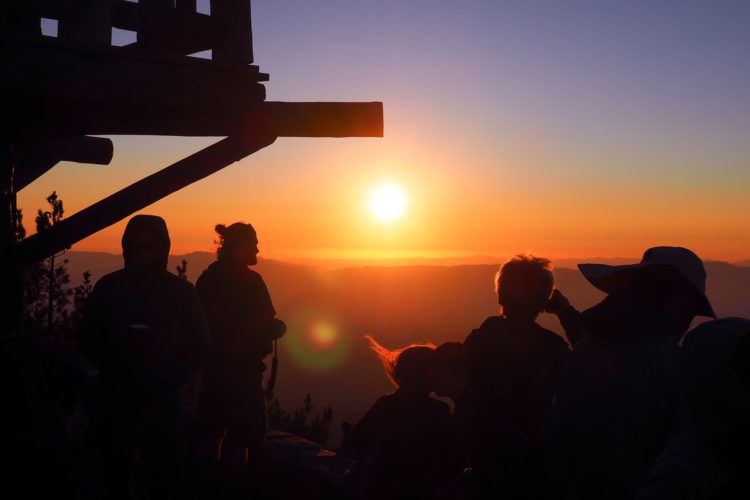 Cleetwood Cove Trail: Dying to go for a swim? Beware that the lake is cold! You'll first need to hike down Cleetwood Cove, Crater Lake's only access to the shore.
It's one mile down a very steep path, then one mile back up, making this hike somewhat strenuous. We didn't have time to hike Cleetwood Cove Trail and I'm kicking myself after seeing photos of the lake up close. 🙁 Those bright turquoise waters look absolutely unreal, kind of like the ones I saw on my Canadian Rockies Banff and Jasper road trip in British Columbia, Canada!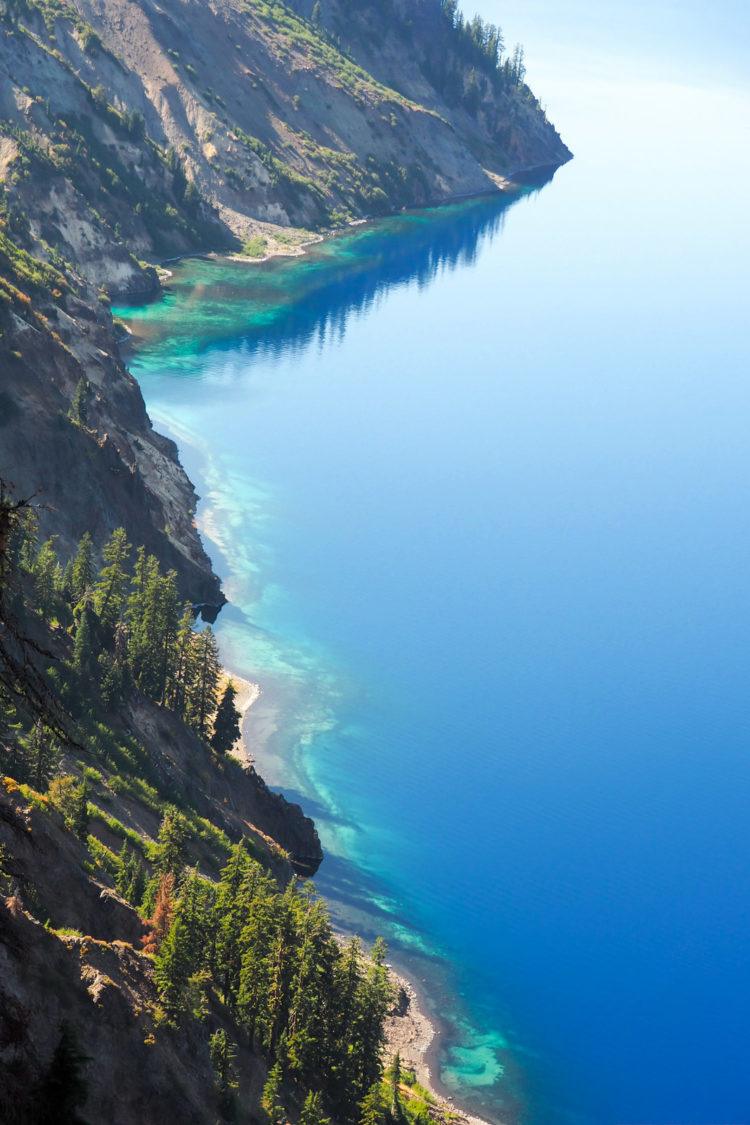 Mount Scott: Ready to trek to the highest point in Crater Lake National Park? Being 4.4 miles roundtrip with a moderate elevation gain of around 1200 feet, you can be sure you'll be rewarded with striking views.
You'll be able to see the entiiiire lake at once, which is something we weren't able to do on any overlooks from the scenic Rim Drive.
Be sure to bring along a wide-angle lens if you want to capture all the beauty in one shot, or just take a few panoramas on your phone if that's sufficient for ya!
Note that trails at higher elevations, like Mt. Scott, can be snowbound until mid-July, so be certain to check for closures before holding this hike firm in your itinerary. Have a Plan B juuuuust in case this moderate/strenuous hike isn't yet available to the public just yet.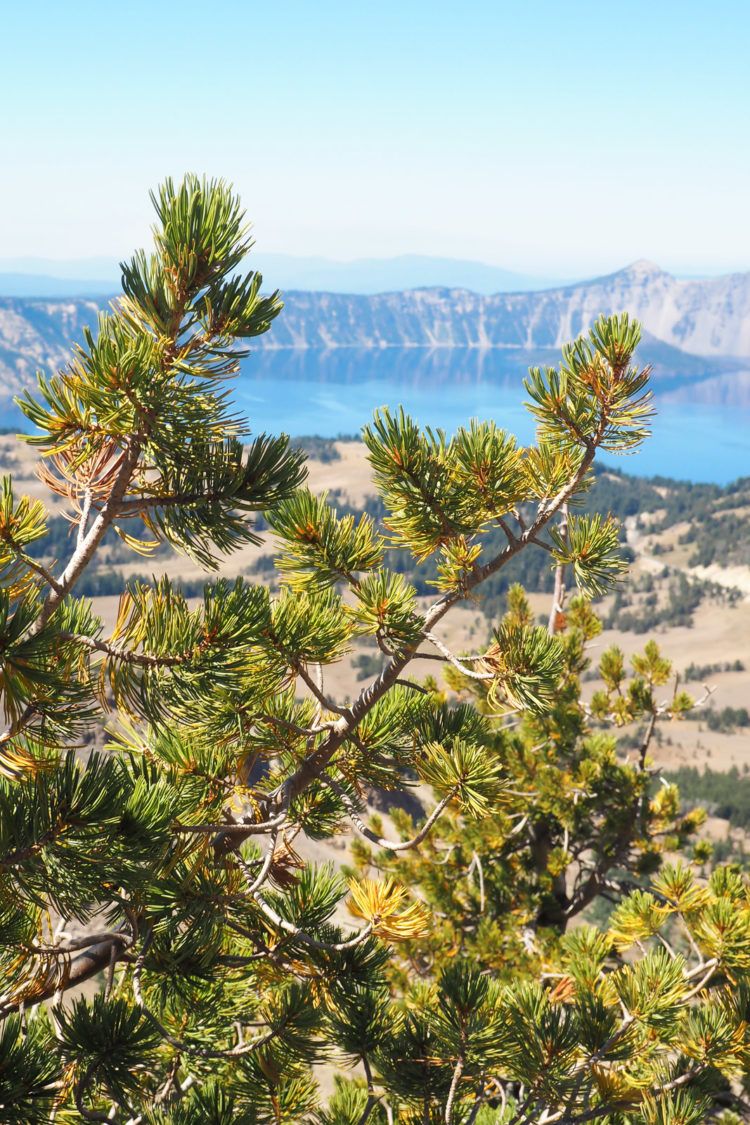 Food and Where to Eat in Crater Lake:
Food options within the park are very limited. You'll find a small cafe at the Rim Village and Gift Shop, as well as a few spots to eat at Crater Lake Lodge. It's a smart idea to pack a picnic lunch from a grocery store near your hotel before heading to Crater Lake for the day. Like I said, there's really not a whole lotta options once you get into the park.
However, the food within the park at Rim Village will suffice, with sandwiches, overpriced snacks, and a few hot meals, but don't expect a full smorgasboard of offerings. If you want a real "this-tastes-pretty-damn-fine" meal, you'll have to head to the popular Crater Lake Lodge. The menu looked more than decent, and while prices were definitely a bit overpriced, they weren't absolutely out-of-this-world crazy.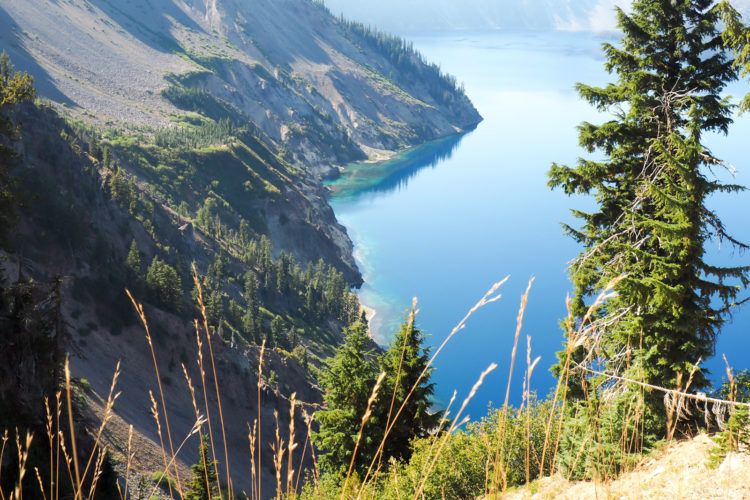 If all else fails, grab a pie at Beckie's, a few miles south of the park. Famous for its homemade pies — either filled with fresh fruit, or layered with chocolate, bananas, coconut, or peanut butter, you'll be glad you stopped by. Mmmm I'm salivating just thinking about them. Don't miss it! Doesn't everyone enjoy pie in lieu of lunch?
Although you won't find many food options in Crater Lake, you'll find more spots to grab a bite to eat near your hotel (if you're not staying at Crater Lake), most likely. We were able to find some tasty breakfast spots in Chiloquin near our motel that were more than decent. Salted caramel stuffed soft pretzels and breakfast burritos? Please and thank you!
A note on snacks: I highly suggest you buy "normal-priced" snacks at your local grocery store before driving into the park. There's not too too much as far as snack foods go in, around, or near the park, and whatever you do find will be waaaay over priced.
I seriously wished we had planned our snacks a bit better so we didn't have to shell out silly money for oreos (#noshame) and granola bars. Just bring some from home for hiking, driving around the park, and noshing on between meals. You'll be glad you did.
Our Road Trip from San Francisco to Crater Lake:
Friday after work: leave the Bay Area and drive/sleep in Redding
Saturday: finish the drive to Crater Lake, hike discovery trail, west rim viewpoints, hike watchman trail for sunset, sleep in Chiloquin
Sunday: Mount Scott hike, phantom ship hike, pinnacles hike, east rim viewpoints, drive and sleep in Ashland
Monday: drive back to the bay
What to Pack for Crater Lake:
Bring everything you need! Crater Lake is kiiiinda in the middle of nowhere, literally. But thankfully, what Crater Lake lacks in amenities, it makes up for in unrivaled beauty and history. That being said, be sure to take everything you need when visiting Crater Lake, as it'll be difficult to find items at or near the park. Including gas for the car. 🙂
Packable down jacket: it gets rather chilly at night.
Reusable water bottle (preferably two)
Hiking boots / trail runners
Hiking backpack
Head lamp (especially if you'll be doing the sunset/night hike I suggested above)
Multiple gallons of water (there's not much as far as water stations go in the park)
Picnic supplies and food
Snacks for the car and hikes
Bathing suit for jumping in the water
Camera with wide angle lens
Other Tips/Notes for Visiting Crater Lake:
Watch the 22 minute long film at the Visitor's Center, which is full of great information about the formation of the lake and the history of the park.
You probably won't have cell coverage, so if you're planning on using your phone GPS to help get you around, think again. There is a way around this though – you can download the map beforehand to use offline when your service is lacking (and it will lack).
Do not attempt to pet, feed, and/or chase squirrels or chipmunks you may see in the park. It's illegal, dangerous (to both you and the animals), and harmful.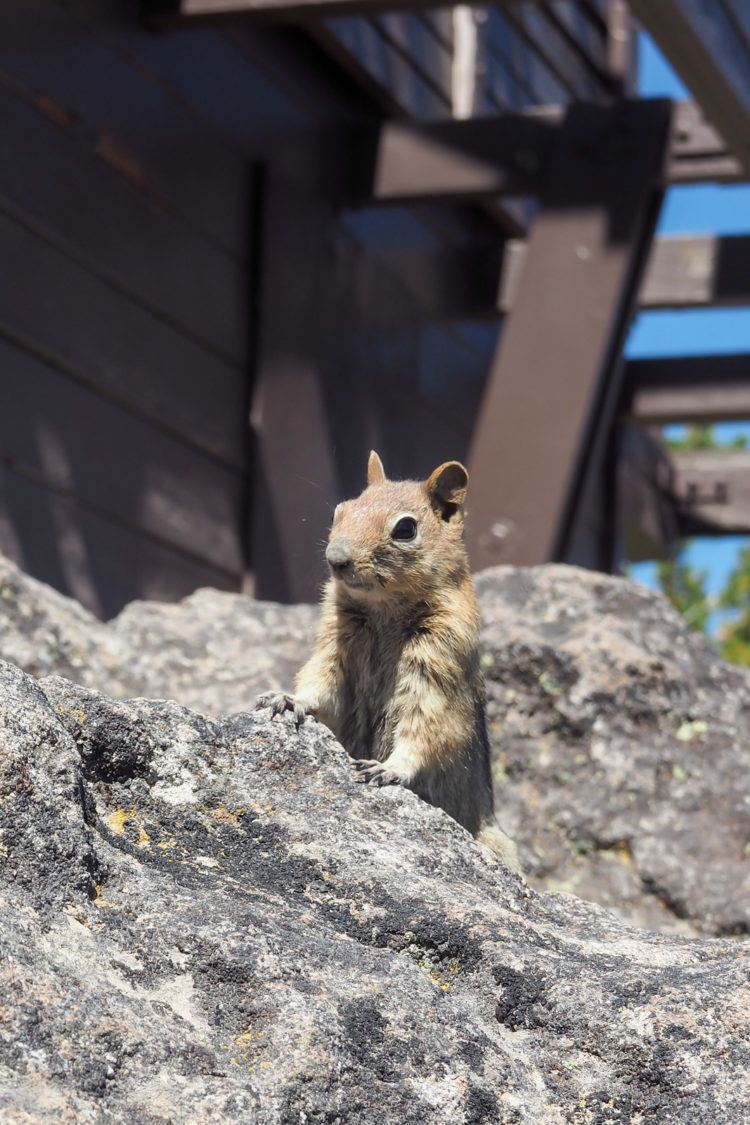 Keep your receipt after you pay the $25 entrance fee. The receipt is good for 7 days, and if you aren't staying within the park and visiting for multiple days, you'll want to store that receipt in a safe place.
Leave no trace: whatever you bring into the park, be sure to take back out with you. This goes for garbage, food, and anything else you can think of.
Fishing is actually encouraged at the lake! Since the fish are not native to the lake, there are no rules around the amount of fishing you can do! Bring your poles! Six species were originally introduced in the lake from 1888 to 1941, but you'll only find Rainbow Trout and Kokanee Salmon there today. You must use artificial bait.
Bring your camera! You don't want to miss capturing those intense blues from all the lookout points.
Since there are no gas stations for miles and miles from Crater Lake, you'll want to enter the park with a full tank of gas. The nearest gas stations are roughly 35 miles away, in the towns of Chiloquin (Crater Lake Junction Travel Center) and Prospect (Prospect Service Station).