Planning a Norway road trip and looking for the best possible way to spend 10 days in Norway?! You're in the right place! I've got loads of information for you in this personally handcrafted Norway itinerary – which I just experienced for myself a few months ago!
Norway is absolutely spectacular. With it's turquoise fjords, misty mountains, midnight sun, and stunning Scandinavian architecture, Norway is arguably one of the most beautiful countries on earth! And I've definitely seen my fair share – at ~45 countries to date!
I've detailed our exact Norway itinerary below (which took tons of planning), but no matter where you end up going in the country, you'll have the best time if you love nature and cool, chic cities! It definitely didn't hurt that we were blessed with almost perfect weather on our Norway road trip, as the country is known to be super finicky when it comes to precipitation year round (more on that below).
Our 10 days in Norway and the fjords in general have got to be the most difficult trip I've planned to date. And I'm no stranger to complex itineraries (I'm looking at you Japan and Thailand). When you've only got so much time (only 10 days or so to see alllll the beauty in Norway), you've got to make each and every day count. Hence, the difficulty of planning.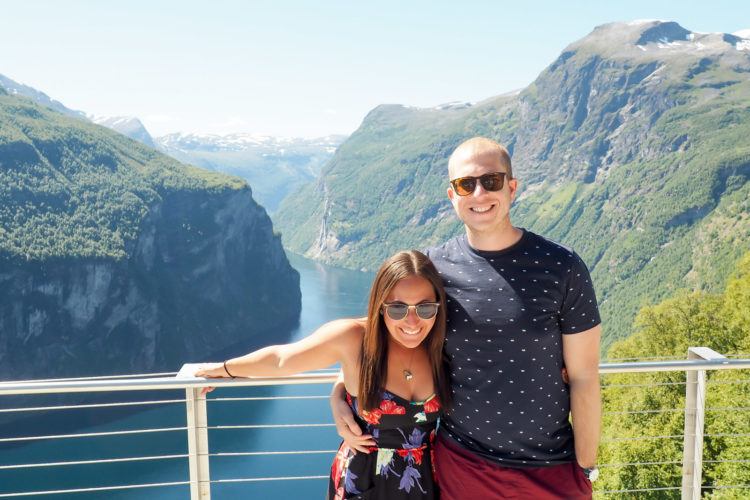 A few questions that crossed my mind 1000x each during the initial planning stages:
Should we fly/train/bus/drive from place to place?
Do a complex variation of the aforementioned transportation options?
Should we take an organized multi-day fjord tour and which one do we pick?
How do the ferries work in Norway?
Isn't everything crazzzy expensive?
Is 10 days in Norway actually ENOUGH for all we want to do?!
Yea, planning this Norway itinerary was quite the doozy. Sure, there are some decent Norwegian fjord itineraries out there, but after researching quite a bit, none had all the major stops I wanted to make (and I wanted to see what I wanted to see, damn it!).
We ultimately decided to craft our own itinerary (ok, let's face it, I did 98% of the planning), renting a car for most of the way, and getting in all my highlights.
Enjoy this Norway road trip itinerary, and let me know if you're planning your own trip to the Norwegian fjords any time soon! It really is such a spectacular place and the country now holds a firm spot in my top 10 (alongside Japan, Iceland, Canada (yup!), Colombia, Italy, Croatia, and Thailand). 🙂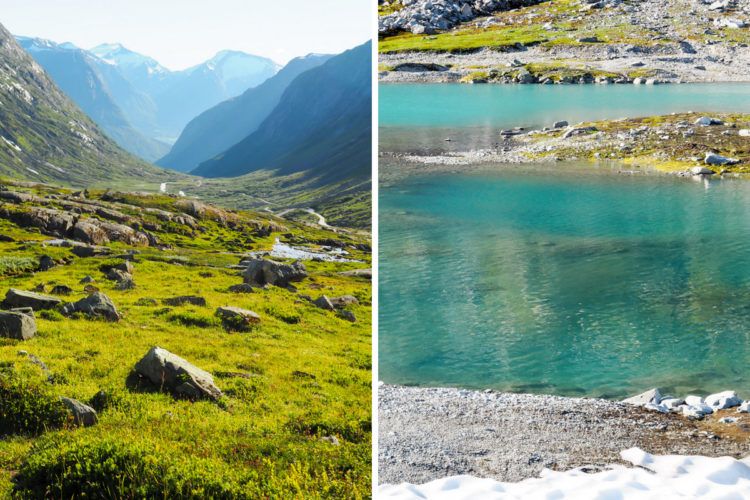 Norway Road Trip Itinerary Overview + Map
Day 0: Arrive into Oslo!
Day 1: Oslo
Day 2: Oslo
Day 3: Fly to Stavanger, Explore
Day 4: Pulpit Rock Hike
Day 5: Drive to Bergen
Day 6: Bergen
Day 7: Flam
Day 8: Drive to Hjelle
Day 9: Geiranger and Trollstigen
Day 10: Alesund
* Note that you can opt to conquer Oslo at the beginning or tail end of your trip. We like to get the busy stuff and big cities outta the way because we tend to lose momentum as the trip goes on, but it's totally up to you!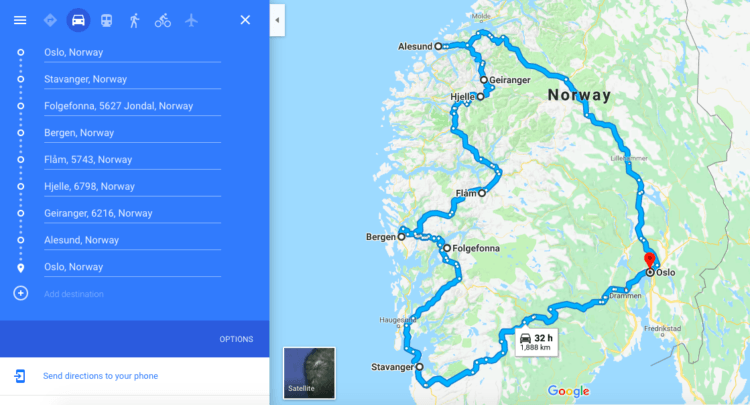 Lots more info below, but first, a pre-travel guide to Norway to learn a bit about the country and what to expect when you're there.
Pre-Travel Guide to Norway
Getting Around Norway
This was one of the most difficult parts when planning our Norway itinerary, as there are an abundance of public transportation options located all around the country, including trains, buses, flights, ferries, and more.
We opted to fly to Stavanger from Oslo, rent a car in Stavanger and drive it all the way to Ålesund, then fly back to Oslo from Alesund.
There are tons of other ways of getting around, but I found this to be the most time-efficient while letting us do our own thing at the same time. Note that if you're following this Norway road trip, you can take a train/bus to Bergen if you'd rather have one less day of driving (but I reallllly loved those stops and wouldn't recommend cutting that driving day out of your itinerary). 🙂
IN A NUTSHELL: fly to Oslo → fly to Stavanger → drive around country, end in Alesund → fly to Oslo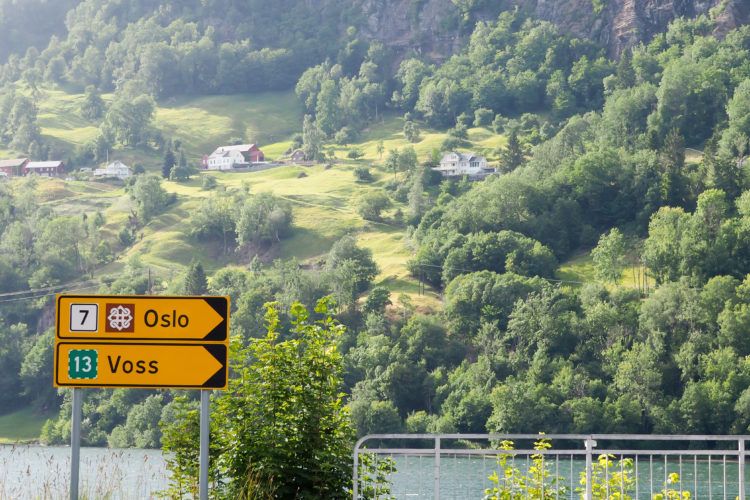 Renting a Car
As noted previously, we rented our car (a compact VW Polo) from the Stavanger Airport and drove it all the way to Ålesund over the course of this Norway road trip.
Many cars in Norway are manual transmission, so if you're not comfortable driving stick shift, you'll need to make sure to reserve an automatic car (a few extra dollars a day, but worth it for your safety).
Psst: I commonly use this booking site when searching for low-cost car rental options, and like Skyscanner (which I use to find low-cost flights), I frequently find great deals on there!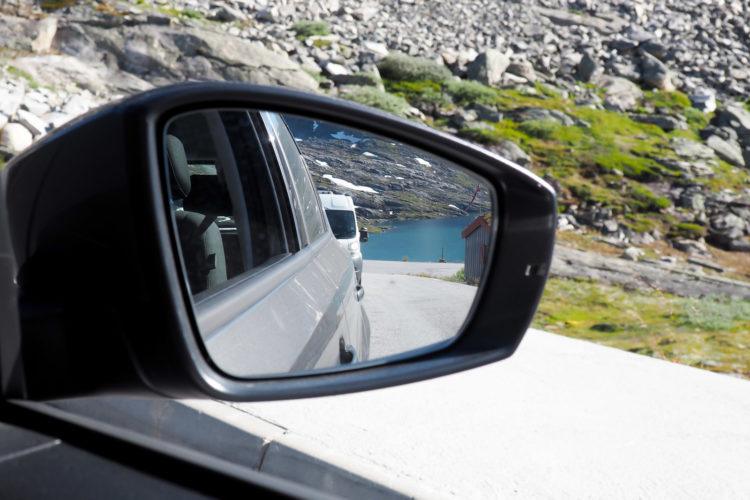 As with other most places in the world, you'll need to pay a one-way car rental fee if you in fact choose to copy this Norway road trip itinerary from start to finish. We booked a few months in advance and paid $813 for 8 days, excluding the optional GPS we decided to get. Pricey, but well-worth it!
One way fees are inevitable unless you want to drive all the way back to Stavanger or Oslo (not recommend if you only have 10 days in Norway like we did).
I like to search via this site in order to compare rental companies to see who has the best price.
Ferries
Get ready because you'll be using the ferries quite often on this Norway itinerary! I was kinda nervous because I couldn't find much information about them beforehand, but thankfully it all worked out!
Since there are tons (and tons) of bodies of water in the country, ferries are absolutely essential for getting around in Norway, and thankfully, the Norwegians have built a highly efficient ferry system. The ferries are super easy to use as well – you can get right on most ferries (walk or drive if you have a car) and buy your ticket directly before or once on board.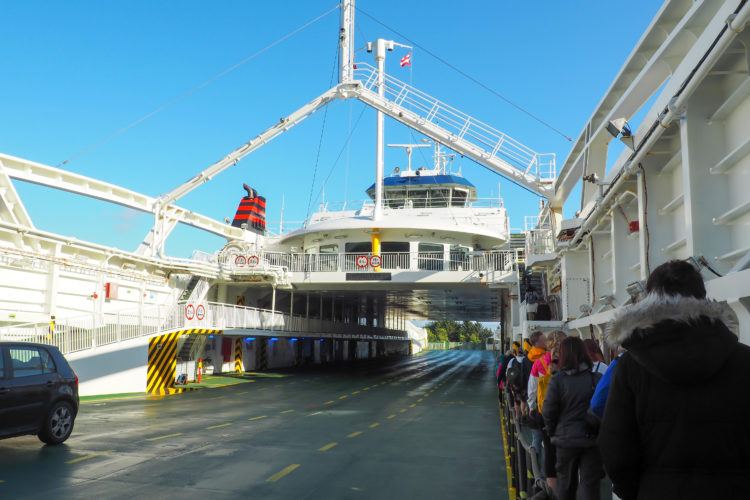 A reservation/buying a ticket in advance is not necessary for most ferry journeys, and if you follow this exact Norway itinerary, you won't need to reserve any beforehand.
However, if you're switching things around a bit and planning to do the Hellesylt – Geiranger tourist ferry (which we did not), plan to purchase a ticket beforehand. This specific ferry gets quite crowded and you don't want to have to wait until space is available, which could potentially be hours in tourist season (therefore wasting your precious Norway time).
Ferries are comfortable with cafes, bathrooms, and cushioned seats. Be sure to get out of your car and head to the top deck as many have spectacular views!
There are numerous companies that operate the ferries so if you'd like to take a look at the schedules, just type in the starting and ending spots in Google and you'll find it no problem!
*Note that not all ferries accommodate cars, so if you're doing your own thing and veering off from the course of this pre-planned trip I organized, you'll want to make sure the ferries you need will actually take your car as well.
Driving tips in Norway:
First things first, you'll be driving on the right hand side of the road in Norway (like in the USA, other parts of Europe, etc). It's always a good idea to know this beforehand in case you're coming from a left-handed driving part of the world!
Traffic is safe, speed is modest (relatively slow compared to what I'm used to on California highways) and most roads have little traffic. Always allow yourself plenty of time for driving, since you'll want to make sightseeing stops quite frequently (it's all soooo gorgeous)!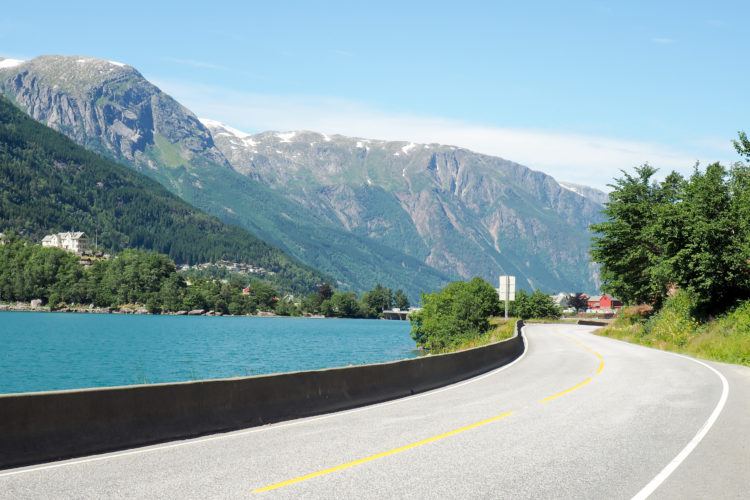 Gas is expensive. There's really no way around it. Fun and semi-depressing fact – Norway has the highest gas prices in the world (yuuup). If I remember correctly, we found stations from 14.50- 16.50 NOK/liter (roughly equivalent to $6.60USD per gallon), with roughly 500 NOK (~60) filling up our tank. For this Norway road trip we filled up around 2.5 times, for an equivalent of ~1300 NOK (~$160). All in all, I expected the cost of gas to be higher and was pleasantly surprised to keep our gas costs under $200 (unless I somehow did the math wrong…).
We opted to rent a GPS in order to get around easily as we weren't sure how well our phone carrier with international coverage (T-Mobile) would pick up service in the more remote spots on our road trip. Cost was NOK 125 per day (~$15USD). We were very happy we chose to invest in the GPS as it worked almost perfectly and got us from place to place with ease even when our phones couldn't find a signal.
You'll encounter a bunch of toll roads throughout your Norway road trip. If you rented a car, the car will be equipped with an AutoPass Device which will automatically track all the tolls you rack up while driving (a green plus sign will show on the road to indicate usage of device). You'll then pay the total when you finally return the car (or be billed in a few weeks – sometimes it takes a bit to register them all). We spent about 500NOK during our 10 days in Norway, which really wasn't as terrible as I expected. Note that a few tolls will be credit card only, including Dalsnibba and Sognefjellet, and you won't be able to use the included AutoPass device for these.
Sheep seem to roam freely around the streets of Norway, so always be extra alert and extra extra cautious for them (and other cars) while going around bends and curves. Plus, they're just so cute!
Other random tips for your Norway Road Trip:
We came across lots of free public bathrooms on our drive, so don't worry about having to hold it in for too long! Drink all the fresh Norwegian water you want!
Hotel and restaurant staff were very friendly and eager to help out; other workers (at tolls, airport, etc) were a bit direct and emotionless, but did their job well. Just something to take note of so you don't take their candidness to heart.
The days are long and the nights are short. If you're planning your 10 days in Norway during June, July, or August, expect the sun to set around 10pm or later, and rise shortly after 4am. The last daylight will be around midnight and the first will be around 2am, meaning there's only complete darkness for around 2 hours! This is fantastic for getting in lots of activities/driving in one day! It's wise to bring among an eye mask on your trip should your hotel not have blackout shades (all of ours did thankfully).
Food is expensive. Again, there's no way around it. We bought a bunch of non perishable snacks with us from home (honey wheat pretzels, peanuts, granola bars, dried mango, and turkey jerky are our road trip faves) and went to low cost supermarkets (Rema 1000 and Kiwi) to buy bread, peanut butter, Nutella, and bananas (setting us back about $13) for sandwich lunches throughout our Norway road trip.

We took a bit of food (when we could) from hotel breakfasts to eat later in the day. Dinners cost us roughly $50-$60 for 2 entrees (no drinks, no appetizers, no salads, no anything extra).
Tipping is not customary so whatever price is on the bill will be what you pay, which definitely helps by not adding an extra percentage!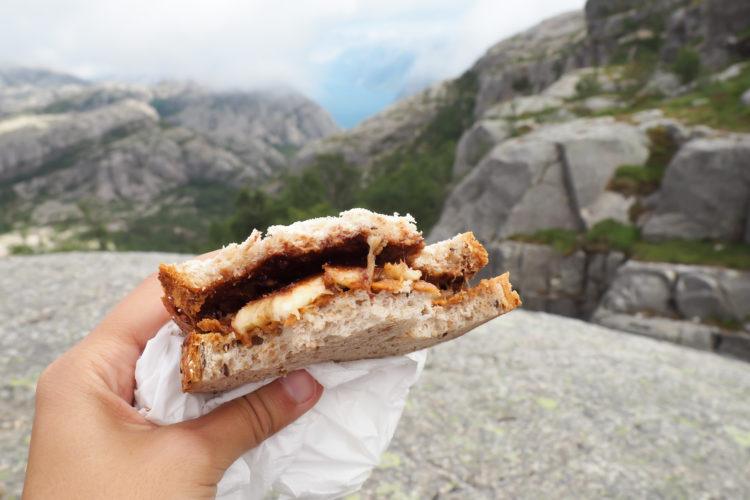 The water is delicious and super safe to drink in Norway, so bring along a reusable water bottle to fill up during the day!
There are 18 Scenic Routes in Norway (previously called National Tourist Routes), which are known to be the countries most astonishing drives. You won't be able to cover all 1,336 miles of them during these 10 days in Norway, but you'll definitely be driving a whole bunch! Whatever you do, don't miss Gamle Strynefjellsvegen towards the end of day 8; it was the most spectacular scenery I've ever seen IN MY LIFE (yup, more impressive than Iceland).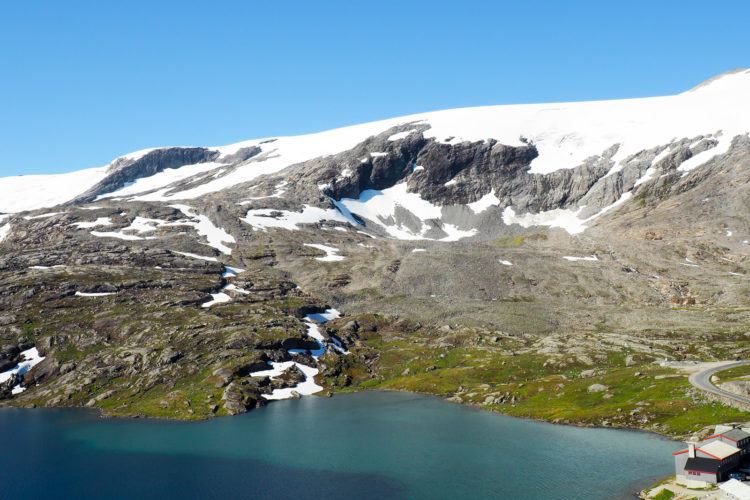 So where exactly is Norway you ask? The country is located in North Western Europe, in the region deemed Scandinavia (along with Denmark and Sweden), or more broadly, the Nordic countries (which also include Finland and Iceland). Norway shares a long eastern border with Sweden, and has over 25,000 km of coastline.
What to bring:
You'll want to bring all the essentials for your trip, but a few specific things to take along include:
eye mask
Snacks for road trip
Rain jacket
Water bottle
Sweater/cardigan and scarf
Car charger
Bug spray
Waterproof shoes / rain boots
Hiking boots (depending on hikes and time of year)
Money and Exchange Rates
Basically every place we went to took credit card (make sure to have Visa/MasterCard as not all accept American Express), but it's wise to take along a bit of cash on your Norway road trip as well. We had to use cold hard cash when getting gas since the station was having a difficult time reading our credit card.
When it comes to exchange rates, it's actually a pretty decent time to head to Norway right now (2018). At the time of this writing, 1 Norwegian Krone (NOK) = ~ $.12USD or 1 USD = ~8.4NOK. I found it easier to think in hundreds and kept these numbers in my head when figuring out the bill/shopping: 100NOK = ~$12USD.
I always suggest you take out cash at ATMS and never ever through an exchange desk. ATMs provide the best exchange rate.
When to Visit Norway
Norway experiences seriously different weather year round, and deciding which season to travel to Norway will greatly affect your experience there. Many say there's no bad time to visit the country, but if you're a big baby like me and get all pouty and upset when it's raining and/or cold, visit during the summer. 🙂
My top pick: If you're looking for the greatest chance of sunshine and decent weather, head over to the country in June, July, or August.
The temperatures will be between 20°C – 26°C+ (68°F – 80°F), and the midnight sun will be out and about (giving you extra long days for driving around and exploring all the chic seaside cities). Note that these warmer temps make this the most attractive time to visit Norway, so expect the most crowds during this time of year (it's sooo worth the few extra people, I promise).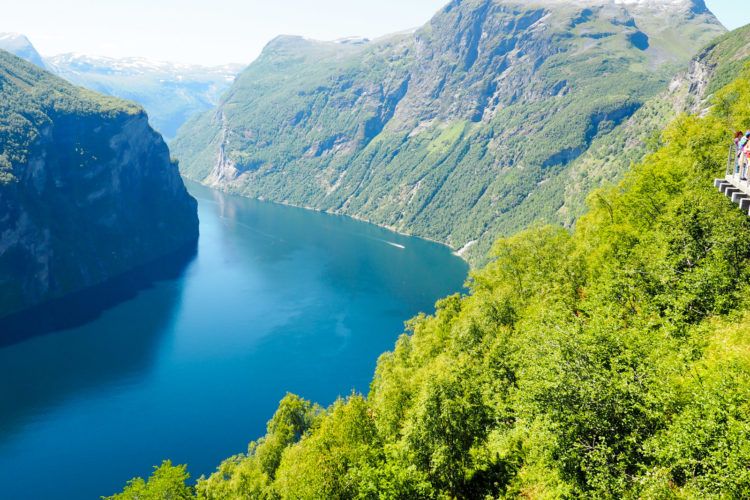 Looking to avoid the high tourist season? Opt to visit in shoulder season, May or September. Temperatures will be mild and hotel rates will be a bit less. And less crowds.
Visiting during the colder months: Norway can get coooold y'all, so if you're not looking to whip out your cold-weather gear (think boots, scarves, wool hats, down jackets, etc), don't book your Norway road trip before May or after September. Besides viewing the northern lights, activities will be greatly limited, and unless you're a snow bird and enjoy freezing cold temps, you may not find much to do.
However, if you're looking for the cheapest possible time to visit Norway, these are the months to do it, as flight prices and hotel rates will be significantly less (because not many want to visit then). It's also important to note that you won't find many daylight hours if you visit in December-February.
Health and Safety
Norway is known to be one of the safest countries in the world, with extremely minimal petty crime. As always, it's best to be aware of your surroundings, but know that you're in a super-safe area. The country is so safe that police don't even carry guns! Robberies are extremely rare, but note that pickpockets in crowded places (like public transport in major cities) can and do occur at times. Just use common sense, stay alert, and you'll be fine.
The water in Norway is top-notch, so drinking the tap is perfectly safe and encouraged! No need to buy bottled water over here! Food and water standards are similar to those in the USA, so you don't need to worry about contamination nor food sickness. Note that only routine vaccinations are required to visit the country, and you probably had those all when you were younger (check with your doctor).
Visas and Passports
No visa is required for U.S. citizens traveling to Norway as long as a valid tourist passport is in possession (and valid for at least six months beyond the period of stay). Since Norway is part of the Schengen Agreement, U.S. citizens may visit for up to 90 days for either tourist or business purposes.
How to Get to Norway
Most international flights arrive in Oslo, which is precisely why this Norway itinerary starts in the capital! I like using Skyscanner and Google Flights to check for prices, and almost alllways find the cheapest flights on one of those sites.
We chose to fly economy and paid around $750 per person round trip to/from Oslo from the West Coast USA during one of Norway's busiest times of year- mid-summer (July).
If you have extra time and are able to check airfare into nearby cities (Copenhagen, for example), you may be able to find even cheaper flights on low-cost airlines. For reference, my friend flew to Copenhagen around the same time we flew to Oslo for only $500 round trip!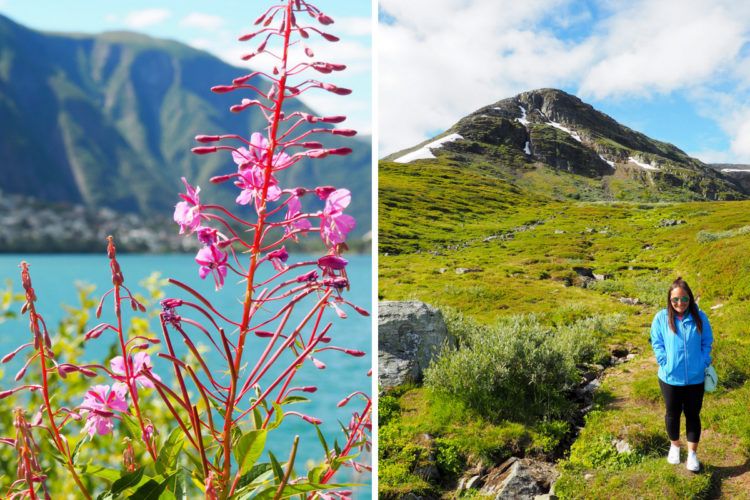 WHERE TO STAY IN NORWAY
more info on each one throughout Norway itinerary below
WIFI AND STAYING CONNECTED
Although you will most likely have wifi at your accommodation, it's a good idea to bring along a pocket-sized personal WiFi hotspot, to keep you connected during your time in Norway.
WiFi hotspots are a cost effective option to ensure you can use GPS apps like Google Maps, check your emails, and catch up with friends and family while away. With this portable device, you'll have WiFi wherever you go (even if your phone doesn't have service), unlimited internet (on up to five devices at a time!!!), and it's fast and reliable. At less than $9 a day, this device can't really be beat.
Note that some cell phone plans allow for international use, but many of these are costly. I once accidentally turned on my phone service for LESS THAN 2 MINUTES and got charged $150 by my phone carrier! I desperately wished I had a personal WiFi hotspot with me then!
Find more information and plan options here. HIGHLY RECOMMENDED especially when you don't speak the native language of the country you're visiting. A true lifesaver.
And now what you've been waiting for:
The Ultimate 10 Day Norway Road Trip Itinerary
This Norway itinerary will have you chasing trolls in Stavanger, trying reindeer meat in Bergen, hiking to glamorous fjord views, taking the most scenic train ride in the world, driving some spectacular Norwegian tourist routes, staring up at glacier, and oh so much more! Get ready for the ride, because this Norway road trip will have you begging to come back asap!
This itinerary starts in Oslo (which is where most international travelers arrive in the country), heads west to Stavanger, then makes its way up north to Alesund via Bergen, Flam, and Geiranger.
As noted earlier, we chose to fly from Oslo to Stavanger to save some driving time, drove all the way to Alesund, then flew back to Oslo. Since the country is quite large, you need to understand you won't be able to see eeeeverything, but if you follow this Norway road trip itinerary I can promise you that you'll see a good chunk of all things spectacular.
Day 0: Fly into Oslo!
You'll find most international flights to Norway will fly to Oslo, which is perfect as it's the first stop on our 10 day Norway itinerary! The flight can be relatively long depending on where you're coming from (~12 hours from West Coast USA, 7 hours from New York), but once you get there, I promise you that a trip to Norway is welllll worth it!
It'll cost about 101NOK in order to get into the city center (~12USD) on the local trains (NSB). Note that there is an airport express shuttle which takes slightly shorter but is almost double the price.
Where to Stay: Comfort Hotel Runway or Saga Poshtel Oslo Central
If you're just coming off a super long flight (say from the states), it's totally acceptable to stay in an airport hotel really close to the Oslo airport your first night. Make sure to make your way into central Oslo early the next morning to get your exploring on!
Days 1-2: Explore Oslo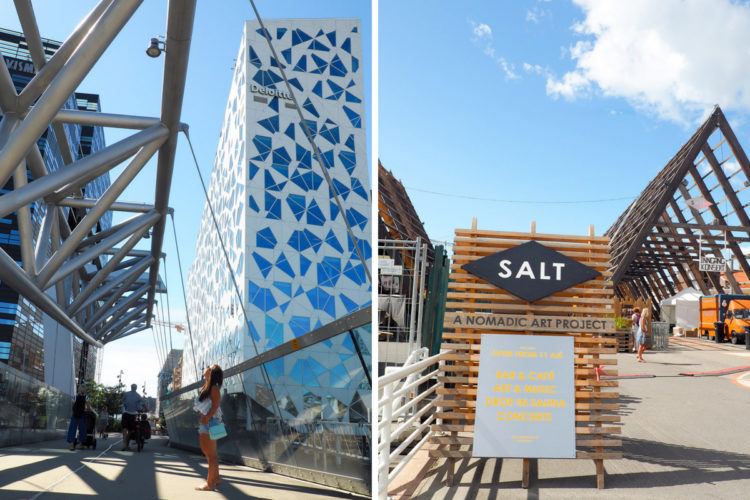 Welcome to Norway, home of the stunning turquoise fjords, towering mountains, and $8 hot dogs. Yes, it's pricey and your wallet may never adjust, but trust me, the expense is worth it. Norway is one of the most remarkable countries I've been to.
Oslo is absolutely gorgeous – and you'll find old colorful houses lining to streets with new, innovative buildings sprinkled throughout. And those fjord water views make any sunny day just that much better.
The city is rather large, but thankfully, getting around is super easy, as there are a myriad of buses and trams all throughout. Two days in Oslo is probably not enough, but you'll be able to get in these city highlights with only 48 hours or so:
Karl Johans Gate: Did someone say shopping? This main shopping street in Oslo is where you'll find all the action happening. From hip cafes and chic hotels to funky discos and nightclubs, you'll find it all on Karl Johans Gate. It's usually pretty crowded, so go for a stroll early in the morning or later in the evening. You'll probably be back a few times though.
A few museums to check out (you probably won't have time for all of them if you want to spent at least a bit of time outdoors):

Norwegian Museum of Cultural History (with an impressive stave church)
Fram Museum (so interesting to learn about the polar expeditions!)
Kon-Tiki Museet (with loads of info about the voyage to Easter Island)
Norwegian Folk Museum (one of the largest open-air museums in Europe),
Viking Ship Museum (those boats are huuuuge)
Norwegian Maritime Museum (learn more about the massive ship building industry)
Astrup Fearnley Museet
Munch Museum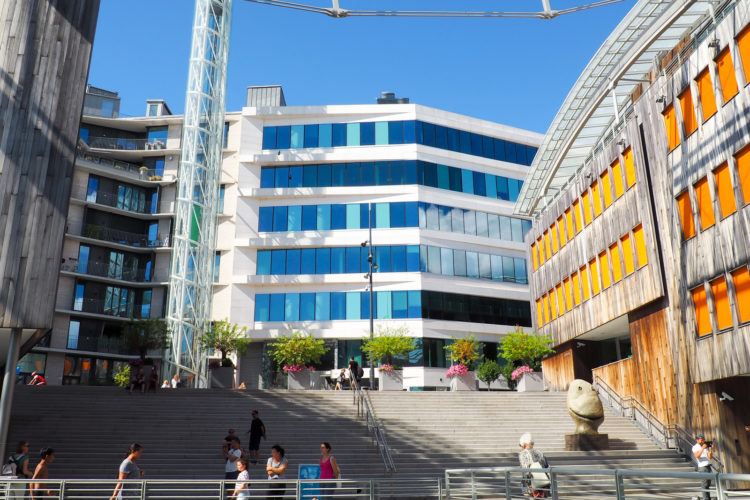 Opera House: By far the most impressive building in Oslo, modeled after flat iceberg shapes with inclines. I suggest you pass by during the day, but spend the majority of your time checking out the Opera House around dusk. It's absolutely beautiful once the city gets a tad darker, and everyone hangs out on the roof (which you can walk up to). I spent both my nights sitting up here listening to music and meeting cool people!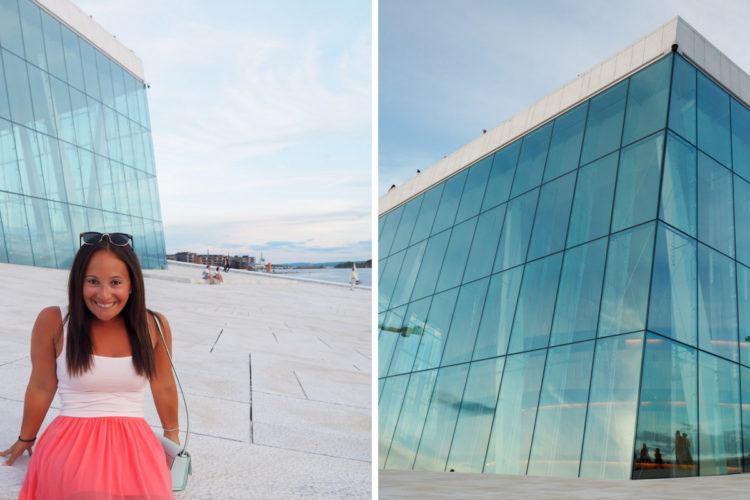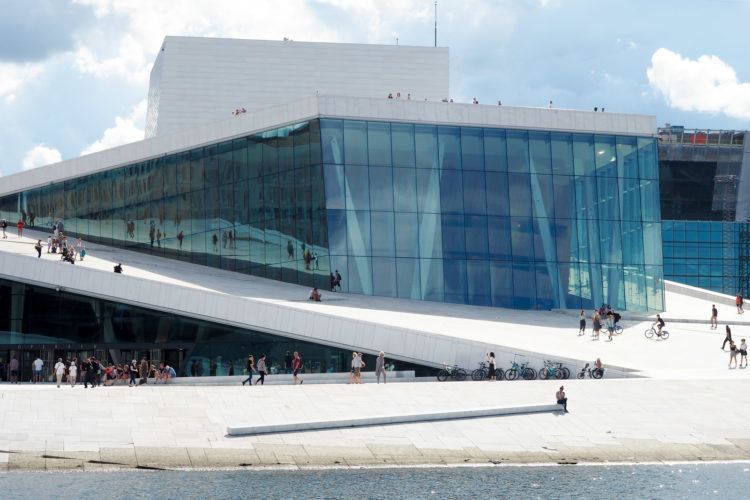 SALT: Located a few minutes from the Opera House, this cool harbor front spot boasts a nomadic art lounge with bars and coffee shops.
Sorenga outdoor beach deck (Sørenga Sjøbad): Found yourself a sunny day in Oslo? Head over to Sørenga Sjøbad and just chill out and relax in the warmth for a bit! Take along your bathing suit if you want to jump in for a swim!
Frogner Park: Super interesting park, with a collection of over 200 bizarre sculptures by Gustav Vigeland. Definitely a unique attraction in Oslo!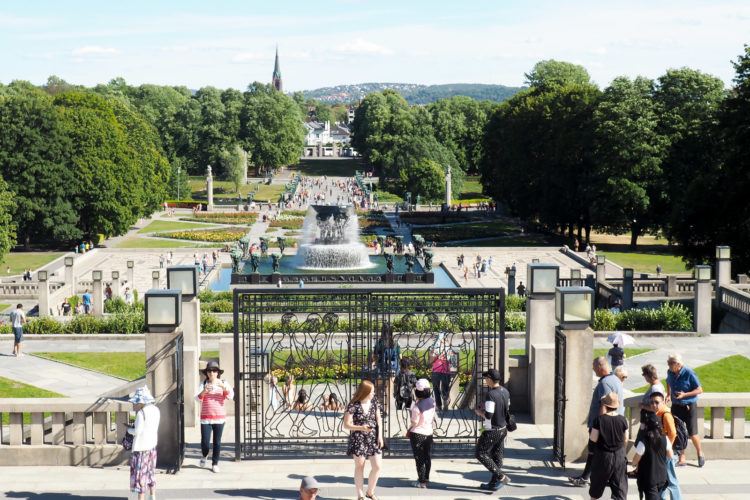 Aker Brygge: Upscale harbor front of Oslo with gorgeous views of Oslofjord. A great place to get your first famous Norwegian Pølse (hot dog)!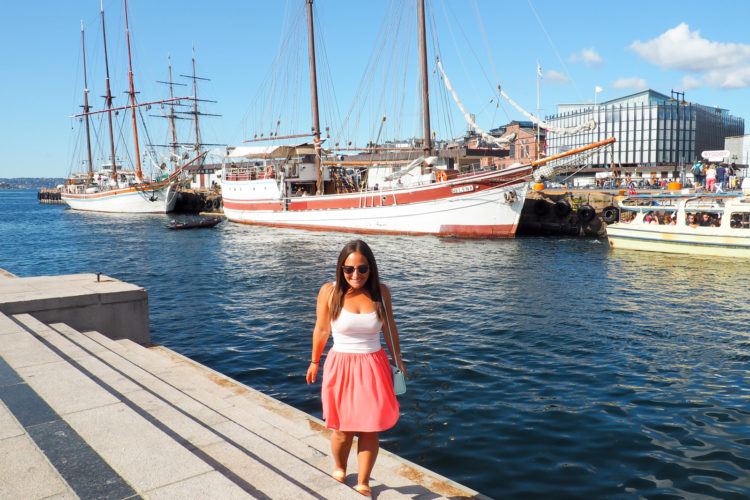 Akershus Fortress: Head up here for fantastic views of Oslo and watch massive cruise liners dock at the harbor front. A bit of a trek uphill, but worth it for the views and impressive old-school buildings
Oslo Radhus: Oslo's city counsel building, with super impressive murals on the walls. Note that you'll need to join a free tour in order to view the inside of the building.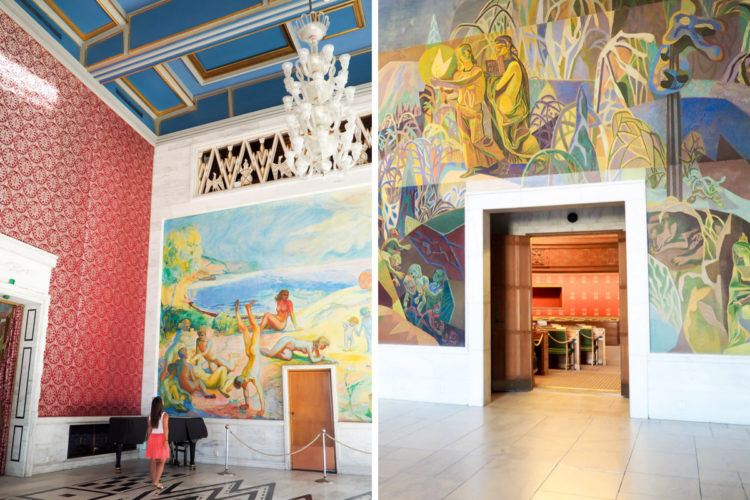 The Thief Rooftop: Super swanky rooftop lounge and a great place to catch a cocktail in one of the most prestigious hotels of Norway
Where to Stay in Oslo: Saga Poshtel Central Oslo
Day 3: Fly to Stavanger and Explore
Stavanger is the 4th largest city of Norway, although you probably wouldn't have guessed that after arriving to this coastal town! It's small town charm and beautiful harbor will have you absolutely swooning from the very beginning of your visit. It's a fascinating mix of old and new, with some of the best-preserved (and beautiful) wooden buildings anywhere in Norway, dating back to the Middle Ages.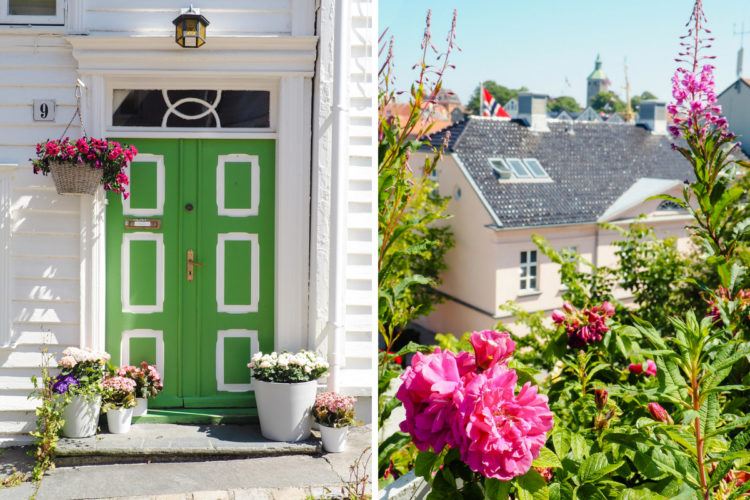 If you book an early morning flight to Stavanger (9 or 10am), you'll arrive with enough time to explore this charming little city. Stavanger is quite compact and can be explored via foot, so there's no need to pick up a rental car just yet (don't – parking is annoying and costly, and there's honestly no reason for your own wheels until a bit later in the trip).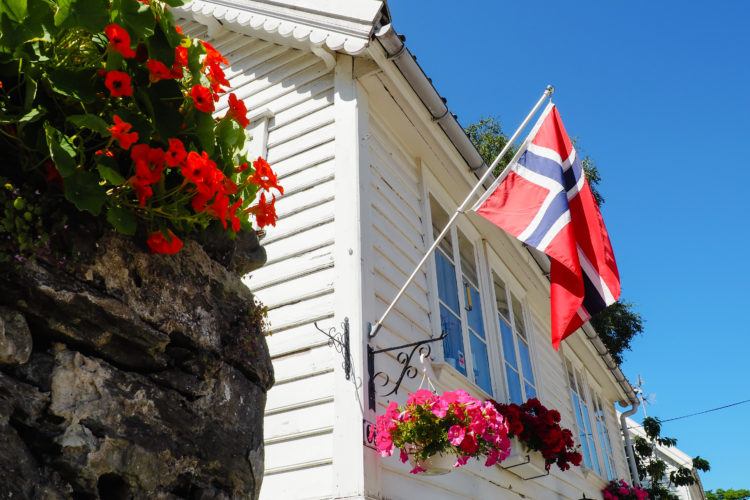 Once you arrive in Stavanger, take the bus to the city center and check into your hotel. Book in advance with Flybussen (website) in order to save a few pennies, but you can pay on the bus if need be.
Note that one person will need to head back to the airport to pick up the car rental, so it's wise for one person to book a round trip ticket (it's significantly cheaper than two one way tickets). Only one person needs to go back technically to pick up the car, so keep this in mind when buying tickets.
NOTE: If you're taking my hotel suggestion and staying at Clarion Hotel Stavanger, you'll need to book the shuttle to the Radisson Blu (a 2 minute walk away from the Clarion).
Don't miss these top things to do in Stavanger:
Gamle Stavanger, also known as Old Stavanger: This area is so super cute, with it's historic beautiful wooden white houses with beautiful planters and bright colored doors. The cobblestone streets just added to the quaintness, and I couldn't stop taking photos of the manicured grounds! It won't talk long to walk through the narrow streets and admire the architecture, so be sure to take a walk around here!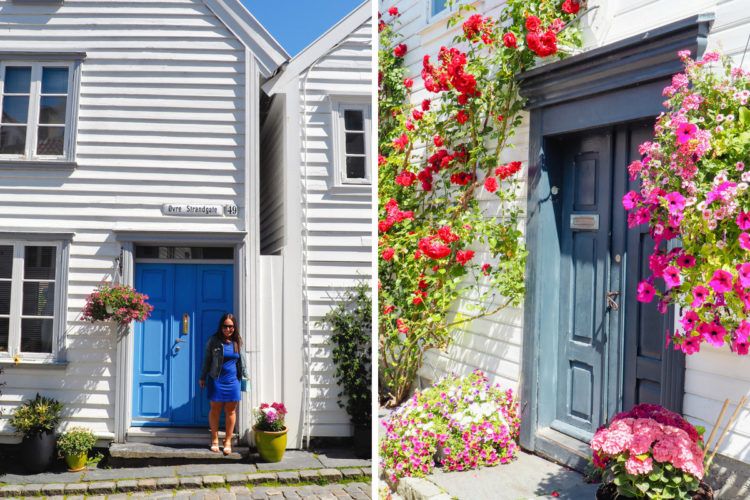 Ovre Holmegate: My absolute favorite street in all of Stavanger, mostly due to it's vivid colors and wild street art. Here you'll find lively cafes and bars, a bunch of popular pubs, and is definitely one of Stavangers more visited and photographed spots!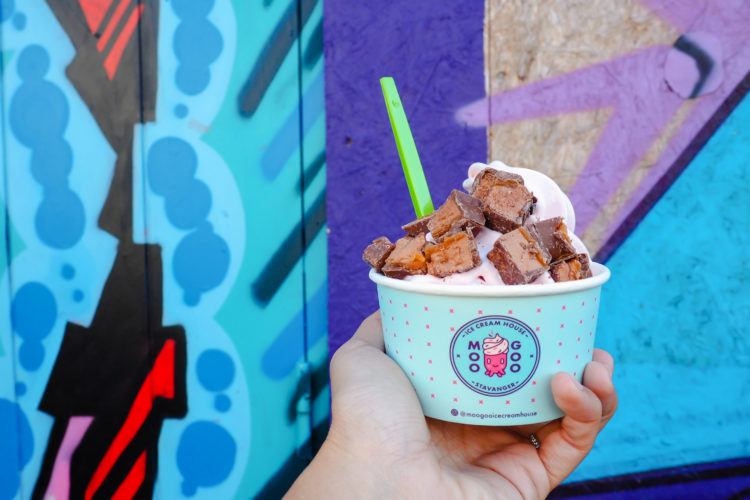 Stavanger Cathedral: Also known as Domkirken, it's the oldest Cathedral in Norway and not to be missed!
Norwegian Petroleum Museum (Norsk Oljemuseum): Interesting in learning how oil and gas is created, discovered and produced in the North Sea? Head on over to the Petroleum Museum! I admit that we decided to skip touring the inside, but saw the building from the outside and the architecture was pretty cool!
Take pictures with trolls and the street art around town!
Have lunch at the harbor front and admire the sea: There are numerous restaurants all along this stretch, and you'll easily find something to snack and sip on! The harbor really comes alive in the summertime, especially after working hours, as locals frequent this area to catch up with friends and grab a drink. A wonderful place to watch the sunset as well (if you're still awake at 11pm!)
Marvel at the street art: If you're visiting in August/September, you're in for a real treat. The city holds a 2-week festival with an international team of street artists working on new art all around the city. Be sure to sign up for the tour!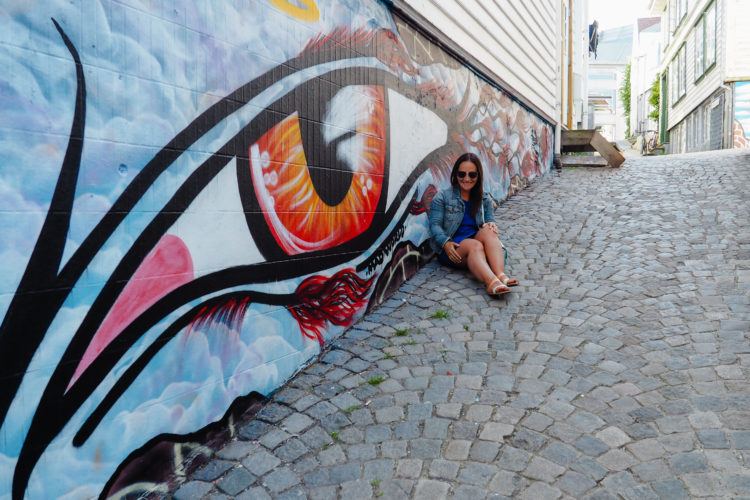 Where to Stay in Stavanger: Clarion Hotel Stavanger
We absolutely loved this hotel, with it's spacious rooms, large breakfast spread with basically everything imaginable (including my favorites strawberry smoothies, Nutella and raspberry pancakes, brie and crackers, prosciutto and melon), super convenient location, and friendly and helpful staff! Highly recommended!
Day 4: Pulpit Rock/Preikestolen Hike (from Stavanger)
Ready for a full day of awesome, sweaty, hiking? Yes, I promise the views are worth it and then some! I mean, Tom Cruise actually visited Preikestolen while filming his new movie, "Mission Impossible" in October 2017. And besides the lovely Tom, the hike draws over 300,000 visitors each year – and for good reason! Just look at those views!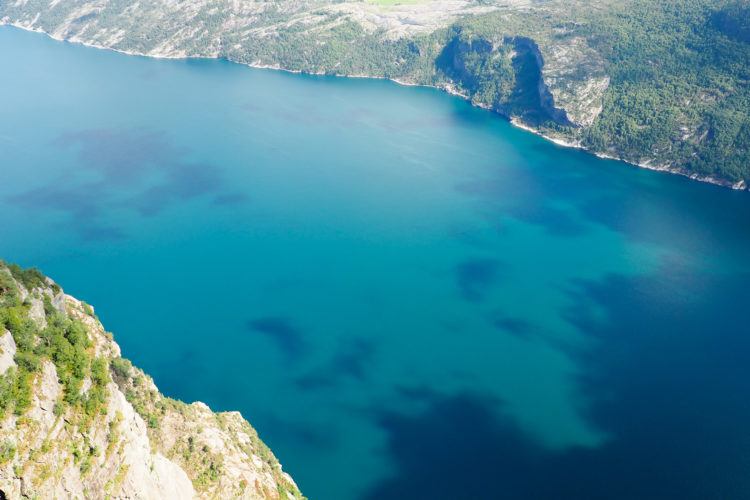 Pulpit Rock takes about 4-5 hours to hike round trip, so start your journey early. If I remember correctly, it took us about 2 hours to get to the starting point, and then another 5 hours of hiking (plus time spent getting back to Stavanger once we were all finished). Two and a half hours up, an hour+ or so at the top, and roughly an hour and a half down.
We had originally planned to squeeze in a fjord cruise on the Lysefjord, but are so glad we didn't because of the amount of time the hike took us. We also decided to spend a bit of time at the top admiring the views since we had no views on our way up because of the lousy early-morning weather.
Although the hike is only about 8k long, there are numerous difficult patches of terrain, many with impressively tough elevations, so mentally prepare yourself beforehand!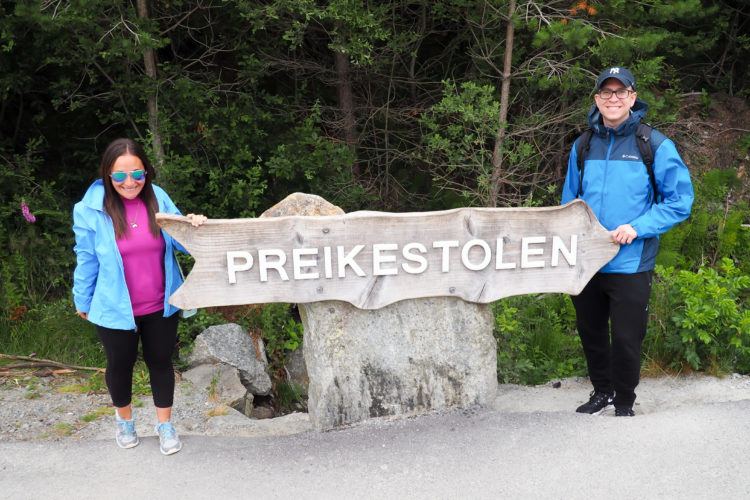 Read More: Conquering Norway's Pulpit Rock Hike: Everything You Need to Know
Be prepared for any and all types of weather during your hike. At the beginning of our hike we encountered lots of mist and light rain, which turned to heavy fog, which finally (and thankfully) burned off a bit after we reached the top.
You never know what you'll get weather-wise in Norway, so it's best to dress in layers and bring a backpack full of water, snacks, lunch, a rain jacket, and an extra sweater. Crossing my fingers that the weather gods are on your side for your hike – if not, all you might see are clouds and fog (which wouldn't make the hike worth it in my opinion).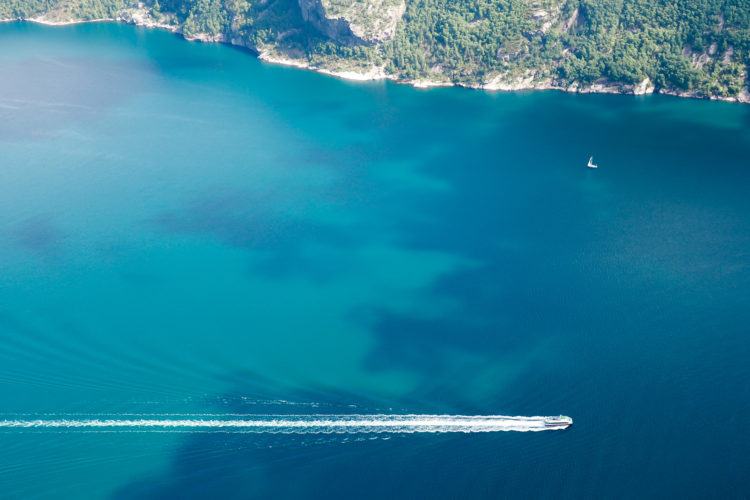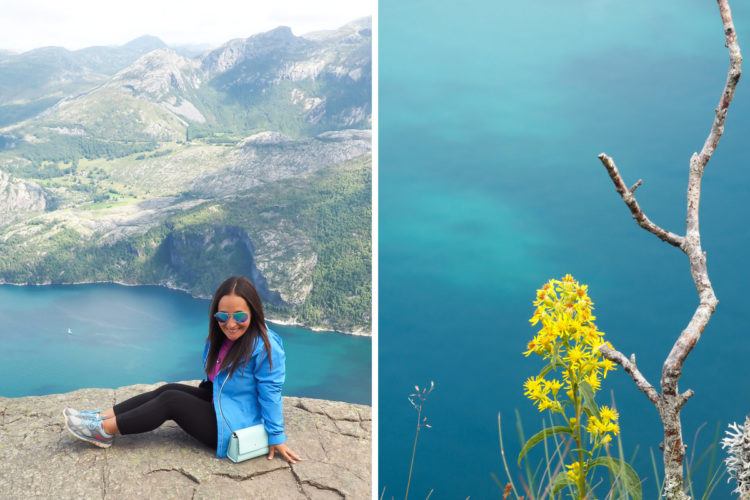 How to get to Pulpit Rock/Preikestolen from Stavanger:
Take the ferry from Stavanger to Tau (60 NOK / ~6 EUR per adult one way, buy it directly on the ferry)
Bus from Tau ferry station to Preikestolen Fjellstue (230 NOK / ~30 round trip per adult, buy it on the bus)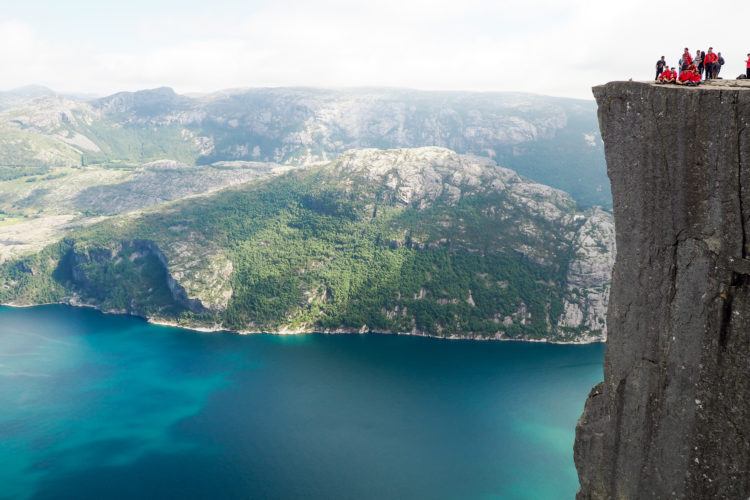 It's all very easy to figure out and an incredibly smooth journey. It can sound a bit complicated, but I promise you getting to the start of the hike is rather quite simple and reliable. You can also rent a car and drive to the trailhead, which is roughly a 90 minute drive from Stavanger, but I don't recommend this per say. The public transportation is all very reliable and there'll be a bus waiting for you after the ferry arrives in Tau. More information on getting to Pulpit Rock here.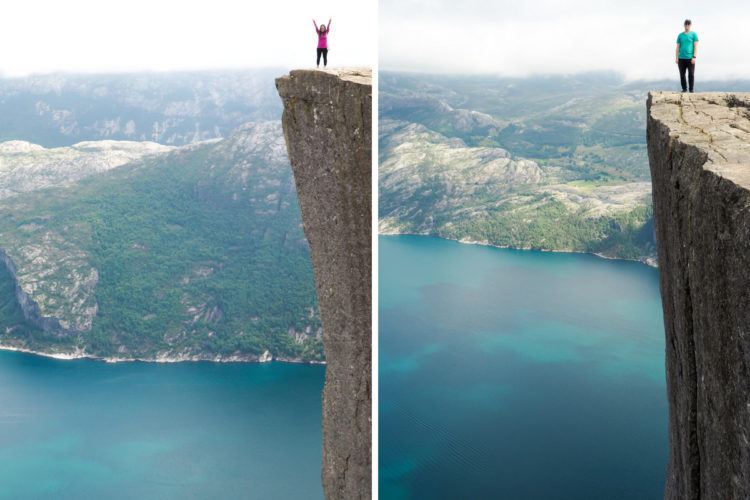 Be careful when taking pictures on the edge, as the platform rises about 2,000 feet (600 meters) above the fjord, with no guards or rails protecting you or your loved ones. At first I was extremely skeptical and needed my husbands hand when getting even the slightest bit towards the edge, but I quickly warmed up and was confident in my footing and abilities after a few minutes.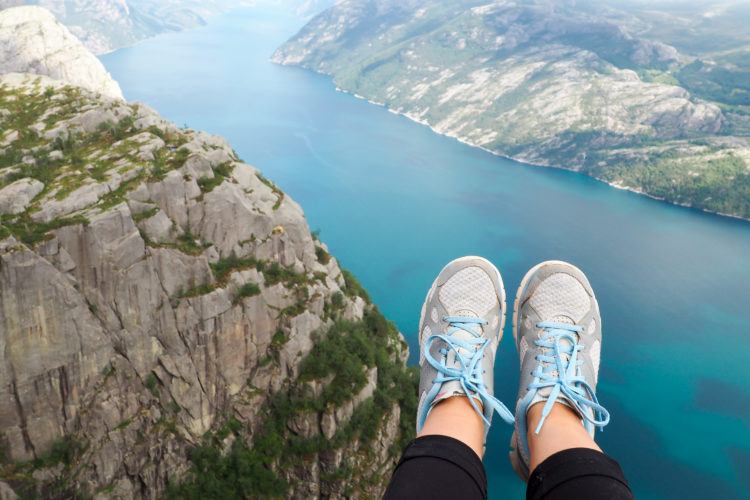 Note that there are no facilities (read: bathrooms) on the duration of the hike, so although you should keep yourself hydrated, limit your water levels if you don't want to head off into the wilderness to pee. 🙂
Where to Stay: Clarion Hotel Stavanger (No need to switch rooms, as it's highly recommended to hike Pulpit Rock as a day trip from Stavanger!)
Day 5: Road Trip Time + LOTS of Waterfalls!
Driving Hours: 8
Let's get this Norway road trip under way! It's finally time to pick up your rental car at Stavanger Airport (do this ASAP- we picked it up around 9am in order to start the long drive relatively early), and drive to Bergen!
Note that this will be a long day of driving (7+ hours), but I managed to find plenty of beautiful spots along the way to cure any boredom that was bound to arise!
If you're tight on time you can also drive directly to Bergen in about 4 hours, but what's the fun in that?! The Norwegian countryside is too beautiful to bypass. You'll want to pull over every few minutes – you'll see. A few of these stops were pre-planned for, while others we found while on the road!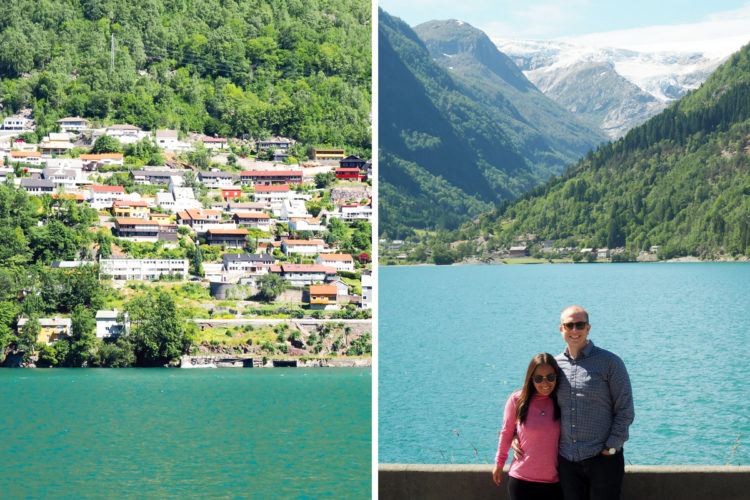 You'll be passing through the beautiful Norwegian countryside, over lots of bridges and through more tunnels you ever imagined. This is all part of the fun! Note that you'll also be making your way onto two car ferries today – just follow your GPS and the road will basically turn into the car ferry. 🙂 Easy peasy. Those Norwegians know what they're doing.
*NOTE: If you have your heart set on hiking Trolltunga/Trolls Tongue (that epic photo you've seen plastered all over instagram and pinterest), you'll want to end your day near Odda (close to Folgefanna National Park). Get up nice and early the next morning to start the 22 km hike. Pulpit Rock was enough for us so we didn't stop in Odda to attempt Trolltunga.
In addition, if you have an extra day and a super strenuous 22 km / 10-12 hour hike isn't your idea of fun on vacation, consider going on a glacier walk. We didn't have enough time to do so, but it looks insanely fun!
Recommended route and stops along the way:
1. Take the Mortavika-Arsvågen/E39 car ferry: You just drive right on and pay (240NOK for 2 adults and car). The ferry took approximately 25 minutes or so, and shaved off some driving time obviously!
2. Langfossen: A pleasant surprise as we had not originally planned to stop here. Epically beautiful, and right on the side of the road so difficult to miss. 😉 The water falls down a towering mountain, before pouring out into the Åkrafjorden (another fjord!) There's a small coffee shop in the parking lot if you need your caffeine fix!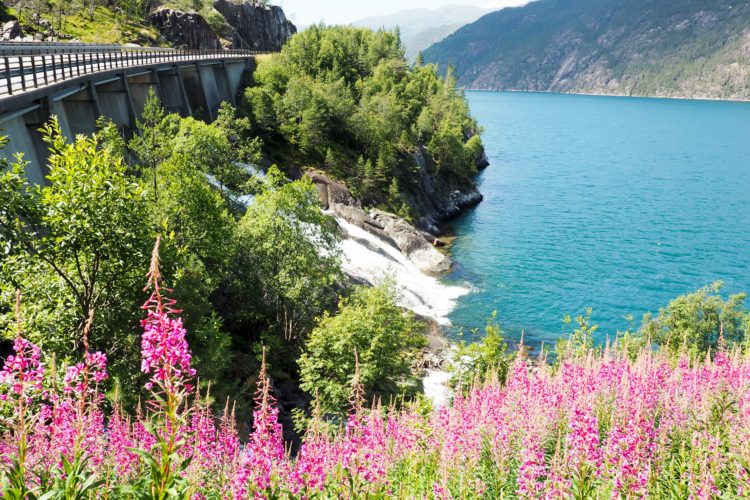 3. Fjaera: Super quick photo stop, only a few minutes from Langfossen.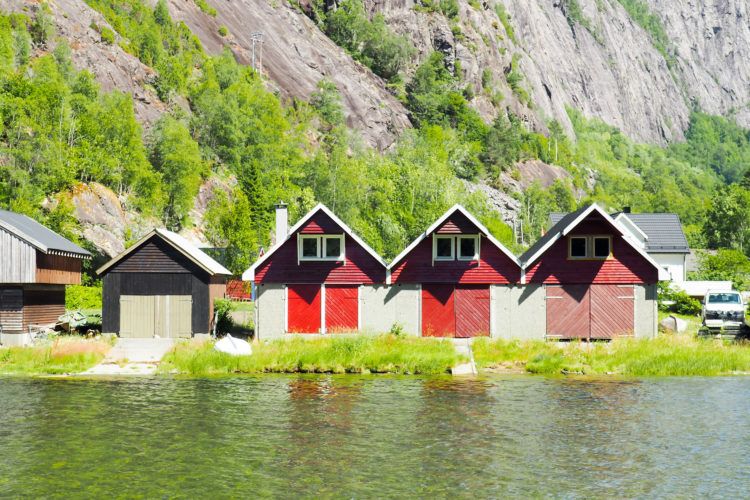 4. Glacier viewing on the side of the road: Be careful when pulling over and heading to the other side of the road for photos. Since we didn't have time to actually see any glaciers up close, this was the best we were gonna get so wanted to take full advantage! I'm honestly not sure exaaaactly what glacier this was, but enjoy!
5. Latefossen waterfall: Be sure not to miss this twin waterfall, as it's an internationally famous attraction (but really all the waterfalls in Norway are kinda spectacular). We chose to eat our homemade sandwiches here.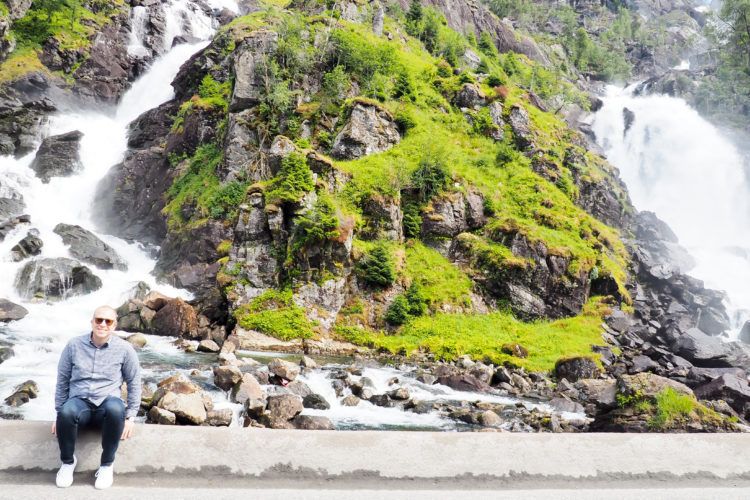 6. Folgefonna Bondhusvatnet: Time to stretch your legs on a short hike to an absolutely stunning lake located within Folgefonna National Park! The hike took us about ½ hour each way (gravel trail with very slight elevation gain), and was filled with beautiful scenery, tons and tons of wildflowers, and so many sheep with cow (sheep?) bells!
We spent 20-30 minutes at the lake exploring and taking photos of the ridiculously clear water and just taking a few moments to revel in Norway's beauty..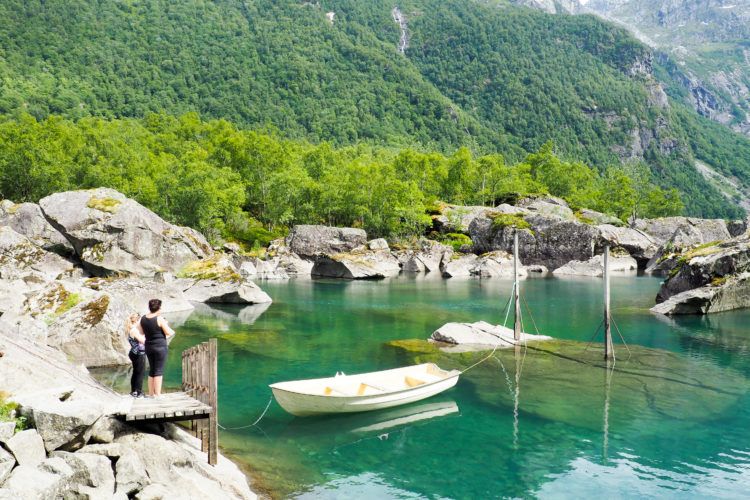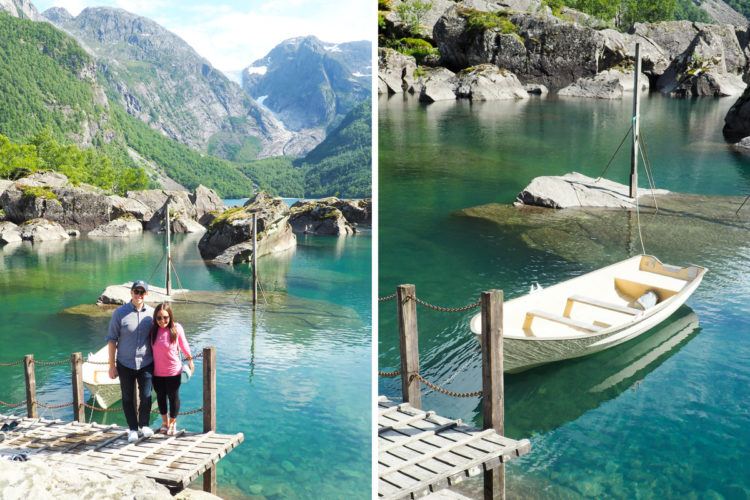 Note that there's a parking lot at the beginning of the trailhead, and no fee to enter to park (from this entrance at least). If you're feeling a bit thirsty, you can fill up your water bottle with glacial water at the beginning or end of the walk from the nearby streams – do it, the water is delicious!
***If you have ample extra time (completing the drive on your second day after doing Trolltunga perhaps), you can keep going on the trail after the lake in order to see the glacier. We didn't have enough time for this, so walked to the lake and back.
7. Second Car ferry of the day: Jondal to torvikbygd (120 NOK for car/driver and an additional person). You know the drill – get in line, wait your turn, pay, and get on!
8. Steinsdalsfossen: Last waterfall stop of the day! Even if you're semi-waterfall-ed out by now, do me a favor and don't miss this one! You can actually walk behind it!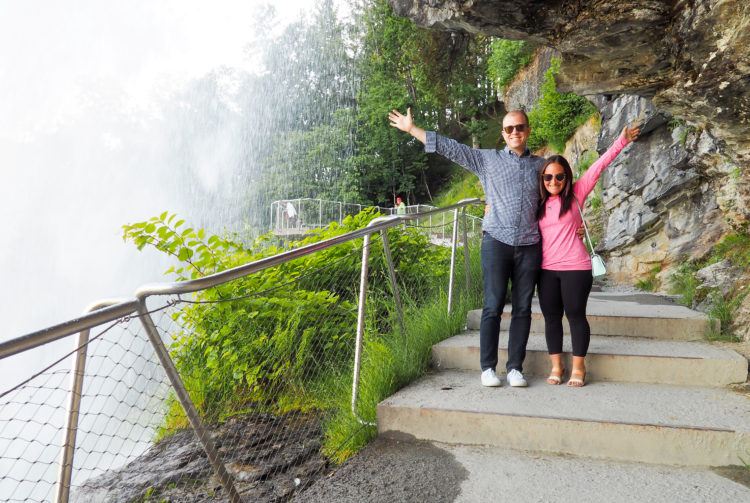 Finish the drive to Bergen, which will take about an hour and a half.
Where to Stay: Bergen Harbor Hotel
Although the rooms were somewhat tiny (common in Bergen), the bed was super comfy, location was extremely convenient, small balcony (depending on room type I'm presuming), and the hot breakfast with some typical Norwegian specialties among your typical breakfast options more than made up for the tightness.
Despite the inconvenient parking situation (which was easily figured out after doing some research – more on that below), we thoroughly enjoyed our time at this hotel and recommend it.
Where to Park: We originally had a difficult time figuring out where to park our rental car, and after talking to a few hotel receptionists (at our hotel and others), we ultimately decided that the ByGaragen (the biggest indoor garage in Bergen) was the best choice.
The price varies from 12 NOK per hour on Sundays to 24 NOK per hour daytime during weekdays, with a maximum price of 150NOK for 24 hours. Including these costs so you can add them to your budget. 🙂 If I remember correctly, I think we paid roughly $30USD for parking in Bergen.
Day 6: Bergen!
Driving Hours: 0
No driving today, yes! Since Bergen is such a walkable city, you can leave your rental car in the garage and set out on foot! The city is absolutely beautiful, and the fact that it's surrounded by mountains and fjords makes it even more appealing to visitors!
Although Bergen is Norway's second largest city (yes, really!), one day is enough to see all it's colorful highlights. It actually looks like a small coastal town, you'll see! And PS – Bergen is said to be one of the rainiest cities in all of Norway, so bring along your umbrella and/or rain jacket if the skies look a bit dark. 😉
Be sure to not miss:
Bryggen and the Wharf: You know those colorful wooden houses I'm sure you've seen all over? They're over here at Bryggen! A little interesting fact: since these houses are constructed entirely from wood, this means two things – 1) It's quick and easy to build, but 2) it's also quick and easy to burn down!
Bryggen has been burning down for centuries upon centuries (with a history of fires since the 14th century when it came into being), with its most recent fire in 1955. Make sure to wander the streets behind Bryggen as well (through the small alleyways between the buildings on the harbor) to see what the area would have been like during the Middle Ages.
This medieval wharf part of Bergen is actually a UNESCO Heritage Site! You can also check out the The Hanseatic Museum if you're interested in doing so.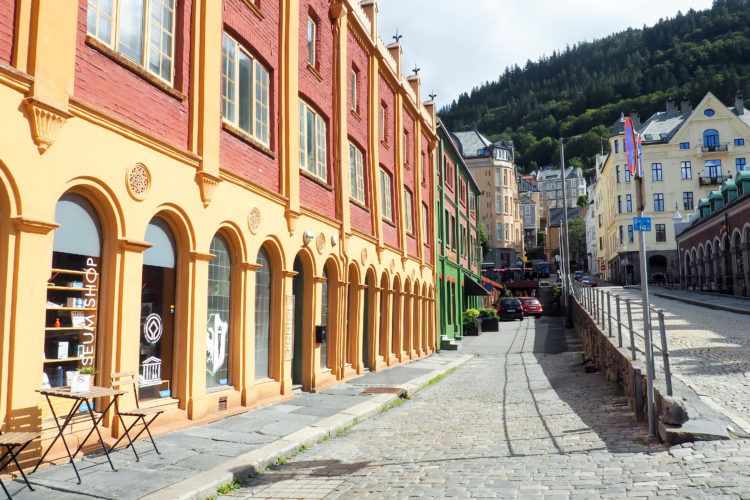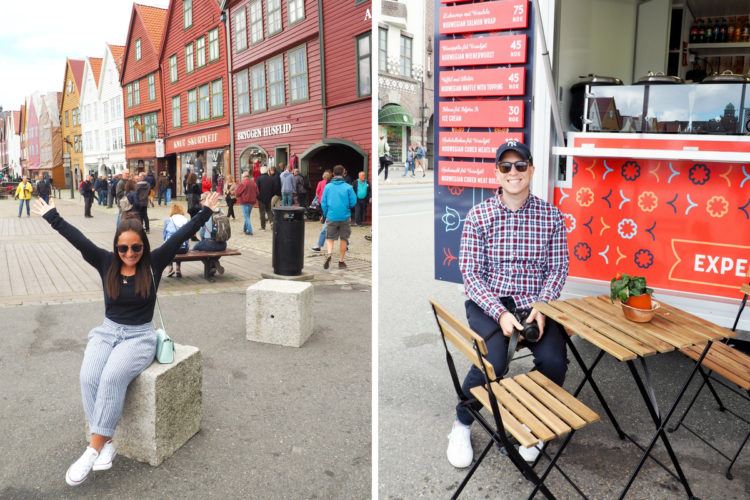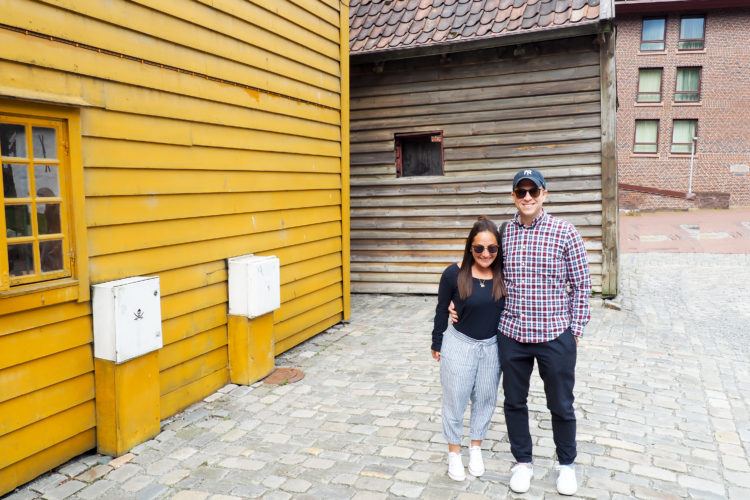 The Fish Market: Not in the mood for fish? Don't fret – there's way more than fish at the fish market! Whale sausage, anyone?! Those Norwegians sure do love their sausages! What about some seafood paella?! It actually looked really good! You'll be able to sample lots of Norwegian delicacies before buying, don't you worry! Psst – the whale and reindeer sausages were really good!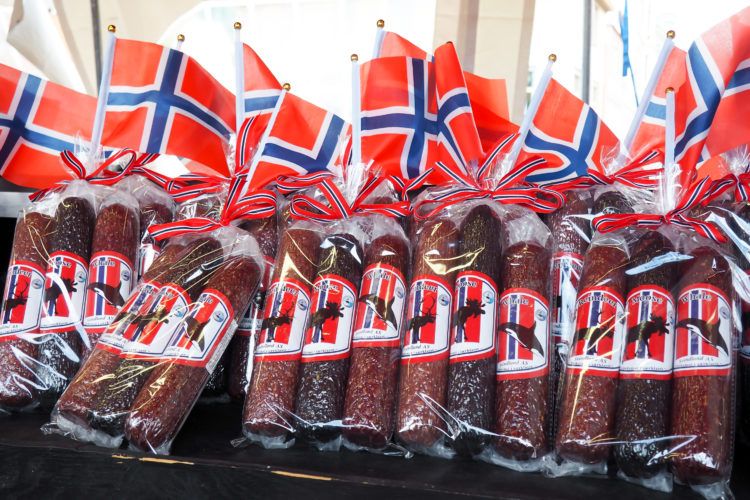 Funicular (or hike!) to Mt. Floyen: Nature fiend like I am? You'll absolutely love taking the Fløibanen Funicular up Fløyen Mountain for panoramic views of the whole town and the old harbor. If you're feeling a bit extra and want to work off that bacon-wrapped hot dog, you can hike up the mountain (but note that some parts are quite steep).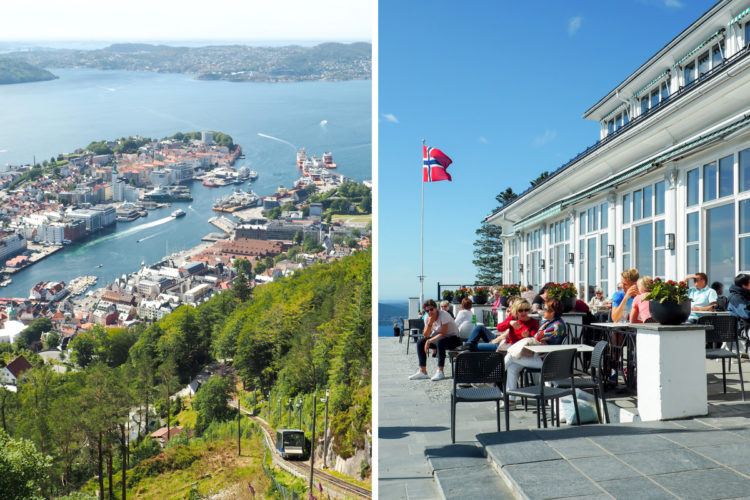 Try some reindeer meat: You can't visit Bergen and not indulge in (or at least try!) some reindeer meat – it's a specialty here (that and whale meat)! Go for lunch or an early dinner at Pingvinen, a cozy gastro bar cafe right near the center of Bergen with authentic Norwegian cuisine. Be sure to order a Norwegian beer as well!
Hot Dogs and Reindeer Dogs at Trekroneren: Another top spot for the foodies, as dogs at Trekroneren just can't be missed over here. And plus, hot dogs are the best cheap Norwegian food (at about ~$8), which we greatly appreciated after getting tired of paying $30 a meal per person.
While the options at Trekroneren are endless, we both opted for the reindeer dog with lingonberry sauce, crispy fried onions (sprøstekt løk), and mustard, and both agreed the odd flavor combinations were absolutely sensational. Note that there's no seating, so head here when you want a quick bite during your wanders! Also, the stand is open quite late so if you find yourself especially hungry late at night, you know where to go.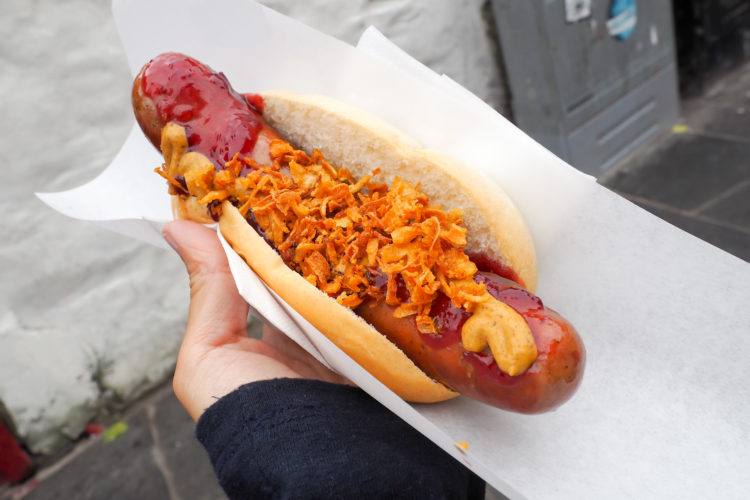 To be honest, it was kinda nice that there wasn't a whooole whole lot to do here in Bergen. There were enough activities to fill a leisurely day with extra random wanderings and relaxing at a cafe. We even headed back to the hotel for a midday snooze (which we never do!).
It doesn't hurt that the sun sets super late here in the summer (11pm-ish), so we didn't feel like we had to cram everything in ! Greatest feeling ever, especially for an overachiever like myself (I have FOMOOOO at its worst)!
Where to Stay: Bergen Harbor Hotel
Day 7: Nærøyfjord Fjord Cruise and Flam Railway
Most definitely the most touristy day of the trip, but the views were pretty spectacular, so oh well! Wake up early from Bergen, and make the 2 hour drive to Gudvangen. Note that you can start the Nærøyfjord Fjord Cruise in either Gudvangen or Flam, it just depends on the availability when you book.
On the way to Gudvangen/Flam, be on the lookout for Tvindefossen, another waterfall located right on the side of highway. We saw sooooo many waterfalls already we didn't feel the need to stop, but still worth looking out for on your drive to the Flåm area.
The next two stops/activities are probably the most touristy on this entire 10 day Norway itinerary (as noted above), but I wanted to see what all the fuss was about.
Note that this day on the Norway itinerary is basically a DIY Norway in a Nutshell (and if you've been researching things to do in Norway you've definitely come across this). You can either book the following as part of a tour package, or book the tickets yourself (which is what we did).
You save a decent amount of money booking everything yourself, and you get the same exact experience as those on the "tour". FYI, the "tour" isn't really a "tour" at all- all the Norway in a Nutshell company does is book your tickets, which is all public transportation anyways. Do yourself a favor, book everything yourself and save a few NOK (try some local beer or a reindeer burger instead).
Book the Nærøyfjord Fjord Cruise here.
Book the Flam Railway here (called the Flamsbana)
You're welcome. 😀
I suggest booking way in advance (a few months), especially if you're visiting during Norway's summer, June-August. We waited a bit and had limited availability, but thankfully I was able to figure it all out with tour timings and such.
Here was our itinerary for the day, and I suggest you book similar times for the fjord cruise and train ride (feel free to do the train ride first if that's all that's available). Just remember that you'll need to drive approximately 2-2 ½ hours from Bergen to the area, so don't book anything too early unless you want to wake up at the crack of dawn. 😉
11:30AM-1:30PM: 2 hour scenic boat cruise through Nærøyfjord.
FROM GUDVANGEN TO FLAM ONE WAY (or reverse). Since you'll be parking your car in Gudvangen (or Flam, depending on availability), you'll need to take the shuttle back to Gudvangen (Flam to Gudvangen) to pick up the car. Note that the drive back to Flam is about 20 minutes.
Tickets for roundtrip (fjord cruise + shuttle) are available, but we booked too late and had to buy seperate tickets (which was completely fine, just was a tad more confusing to us at first when figuring out the website).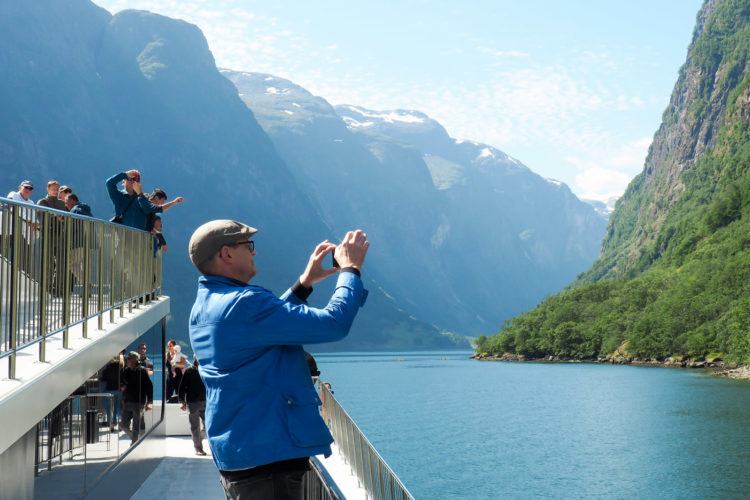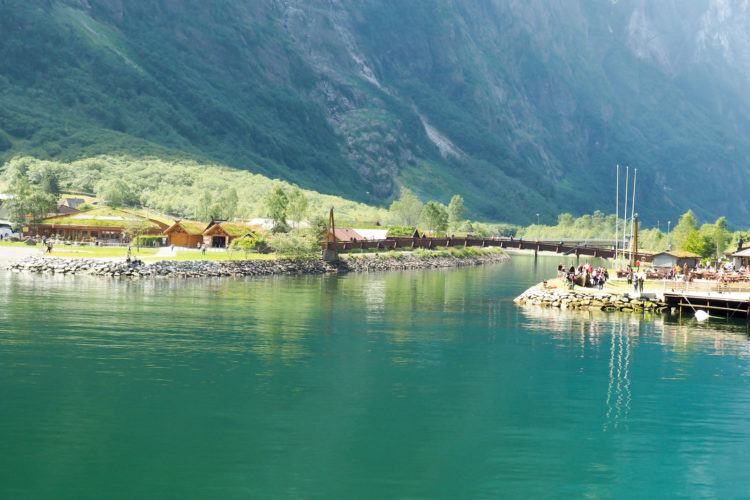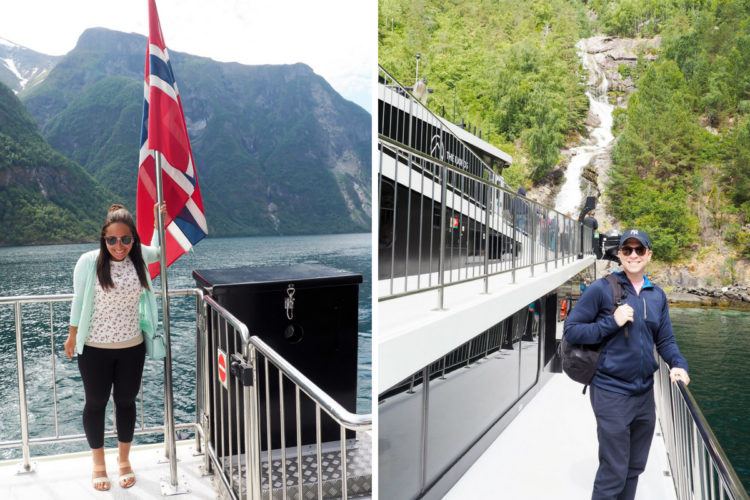 The fjord cruise was super windy at times, so be sure to take a jacket! Thankfully, there's inside seating if you wish to warm up for a bit (which we did throughout the ride).
4PM: Flam train ride in the afternoon 
Next up, the Flam Railway, which has been named one of the most beautiful train journeys in the world! Because of this, it's rightfully so one of the leading tourist attractions in Norway, hence it can get crowded (aka get there a bit early!)
You'll want to sit on the right side of the car departing from Flam for better views. Feeling a bit extra? The windows open at the first and last seat of every car – which makes it much better for photos. Sit here! 🙂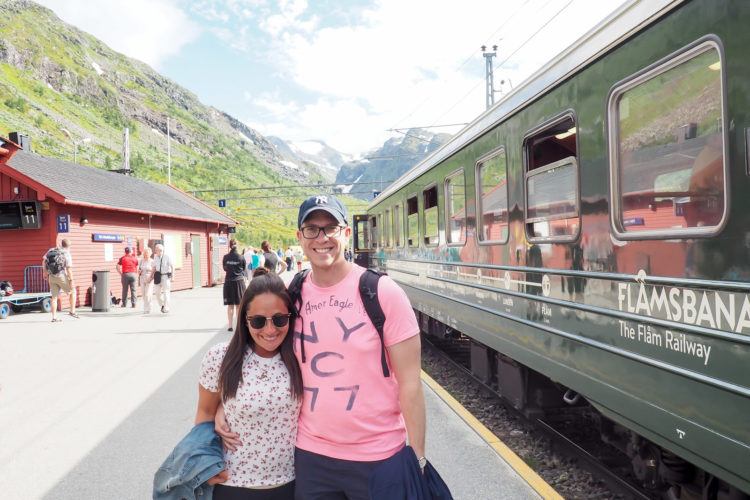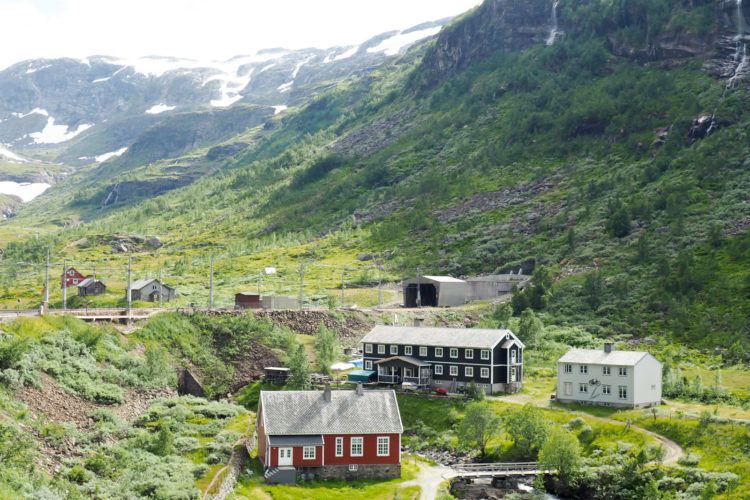 From the train, you'll see tons of waterfalls and mountain views all the way to Myrdal Station (the ending and where you'll get back on to return to Flam). I enjoyed it, but didn't think the scenery was any better than our own views we got while driving throughout other parts of the country. Just my honest opinion.
I'm glad we did it, but the round trip wasn't necessary (we both fell asleep on the way back to Flåm). PS- you actually DO need a round trip ticket in order to get back to Flåm to pick up your car, just saying seeing the same monotonous scenery twice wasn't necessary. 🙂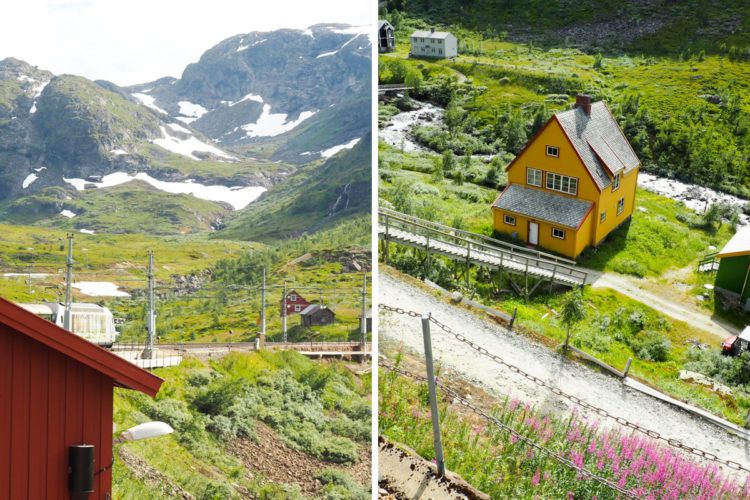 The train ride felt a tad overrated considering all the breathtaking scenery we had seen thus far on our Norway road trip, but I admit it was nice to just sit back, relax, and take in the views (and I'm sure the husband appreciated someone else doing the driving). The train cost $140 for both of us roundtrip, Flam → Myrdal → Flam, and took ~2 hours roundtrip.
Stalheimskleiva
Something else to squeeze in during the day – Stalheimskleiva, one of Northern Europe's steepest roads (which of course offers beautiful views). It's only a few minutes drive from either Flam or Gudvangen, and we chose to do this between the fjord cruise and train ride. Our time was a bit rushed so I'd say it's possibly better to do this before the cruise (depending on the time of your ticket) or after both activities.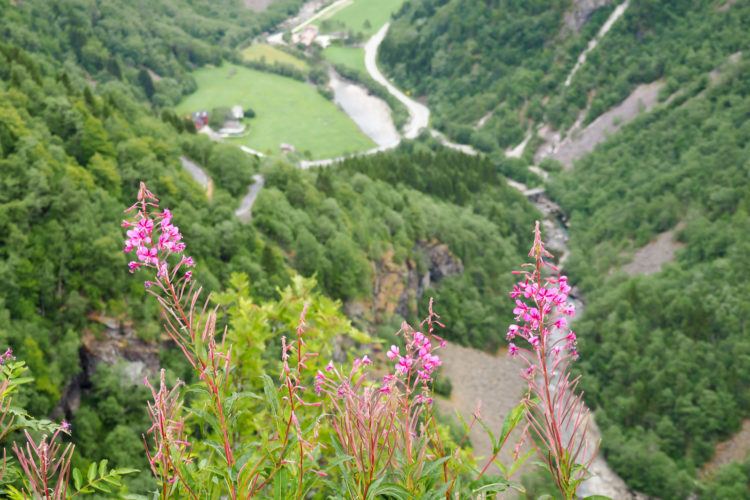 Stop at Stalheim Hotel viewing platform in order to see the spectacular views. Note that you don't need to stay here to admire the scenery below; just walk right through the lobby to the back viewing platform.
However, be careful when using a GPS to get here – the twisty road is one way (driving down only), and our GPS didn't pick this up! To say we got a nasty glare from a bus driver on his way down is an understatement. Our bad! You'll see why it's one way as you're driving down the 13 sharp hairpin bends – be careful!
Where to Stay: Since we booked last minute, we opted to rent an AirBnB for the night. And to say our accommodation was a surprise was an understatement. Although the house was located in a beautiful spot overlooking Aurlandsfjord, we had to make our own beds and sleep in separate twin beds (not huge deals but not what we were expecting).
I'd say look for something a bit less "unique", like Fretheim Hotel or Flåmsbrygga Hotel if you want to cuddle up. I recommend finding accommodation in Flam or one of the surrounding small villages (Aurland, Undredal, or Dyrdal).
Day 8: Drive the National Tourist Routes
Hours of Driving: 9
A verrrrry long driving day today, but well worth it! You'll be rewarded with more spectacular mountainous scenery than you ever thought possible, with a whole slew of glacial lakes towards the end (OMFG I can't contain my excitement).
Everyday on this Norway itinerary is undoubtedly scenic, with the views just getting better and better as the days go on. Today's long drive encompasses 3 National Tourist Routes: Aurlandsfjellet, Sognefjellet, and Gamle Strynefjellsvegen (my absolute favorite). Here's the itinerary we followed for the day:
1) Stegastein Lookout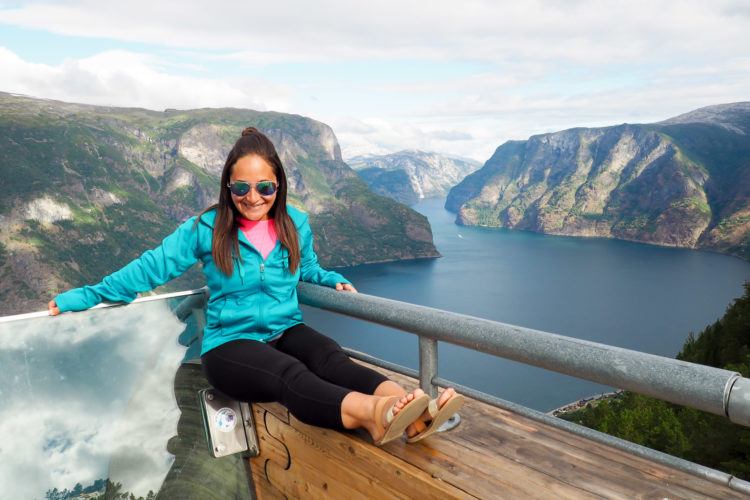 Start the day off at Stegastein Lookout, only 15-20 minutes drive from the Aurland area (where our wacky AirBnB was located). Stegastein is a popular sightseeing spot from Flam, being 650 metres above Aurlandsfjord and all! I'd recommend going early in the morning as the road and viewpoint can get especially crowded. We ate breakfast at the viewpoint and only saw one other couple during our time there.
Time to get away from the fjords for the day (we'll be back, don'tchu worry!) and head into the mountains!
2) Aurlandsfjellet National Tourist Route (Road 243)
Up next, Aurlandsfjellet National Tourist Route, which runs from Aurlandsvangen (near Stegastein) to Lærdalsøyri, covering a distance of 47km and taking roughly an hour and a half to drive without stops.
Be sure to NOT drive through the Lærdal Tunnel, the world's longest road tunnel with a length of 24.5 km, as you won't see any of the stops along the way on the actual scenic route itself. The tunnel can be used to bypass the National Tourist Route or if you'll be traveling roundtrip, which we won't be. Promise me you'll take scenic road 243 instead of the tunnel!
Stop at Flotane (viewing spot and bathrooms)
Stop at Vedahaugane (infinity bench with great views)
Pit stop to see Borgund Stave Church (25 minutes from Laerdalsoyri) – really cool and you must see at least one Stave Church on your Norway road trip!!
3) Take the Mannheller-Fodnes/Rv5 ferry (28 minutes)
4) Sognefjellet National Tourist Route (Road 55)
Sognefjellet Scenic Road runs from Gaupne to Lom, covering a total distance of 108 km. It will take you about 30 minutes to get to the start of the route, and then another 2 hours+ to drive the entire thing.
Sognefjellet is the highest and most impressive mountain pass in Northern Europe, so it's easy to see why this road made it as one of Norway's 18 National Tourist Routes (scenic roads).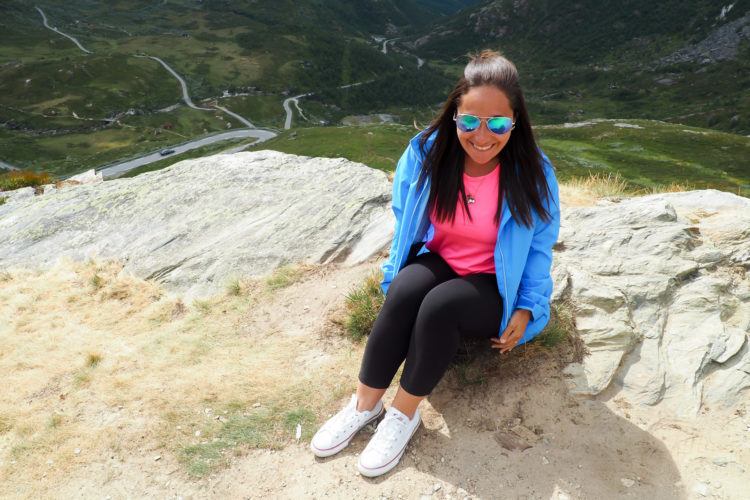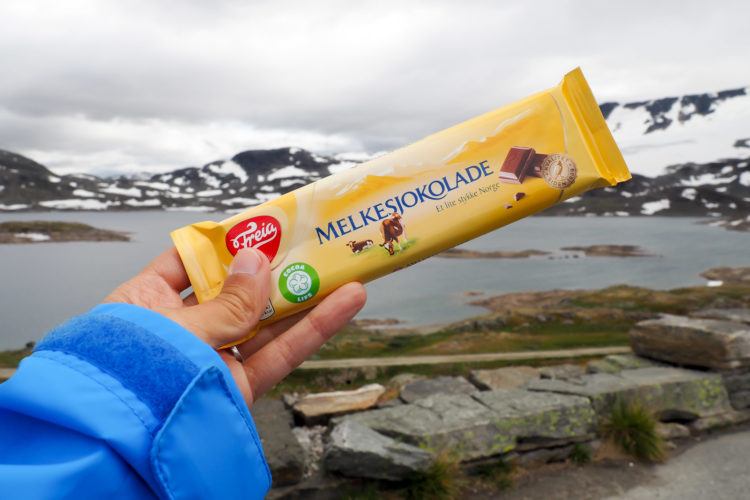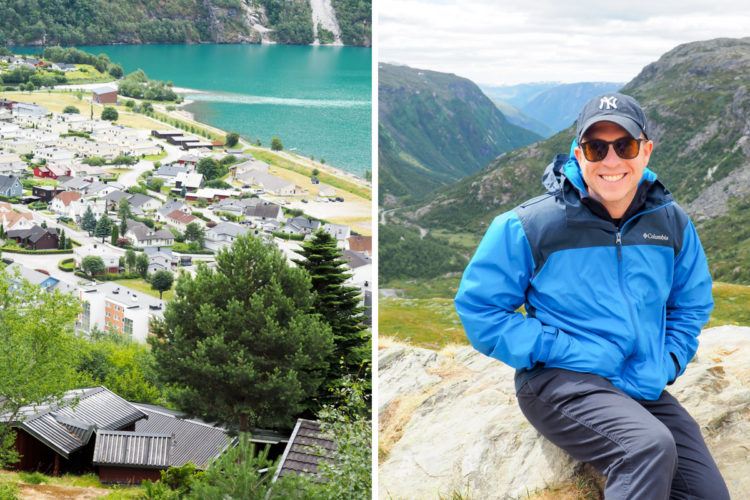 Stops on the road:

Feigefossen waterfall: look for it across the water from 55 (close to Guapne)
Turtagrø hotel: red-painted modernistic building, quick photo stop
Nedre Oscarshaug: provides one of the best vantage points along the road across the Sognefjellet mountains. A glass telescope with the names of the peaks gives an overview of the surrounding Hurrungane massif.
Mefjellet (rest area with cool stone structure/platform)
Sognefjellshytta (attractive training centre for national ski teams from all over the world) – cool wooden architecture
Vegaskjelet (viewing platform)
Lom Stave Church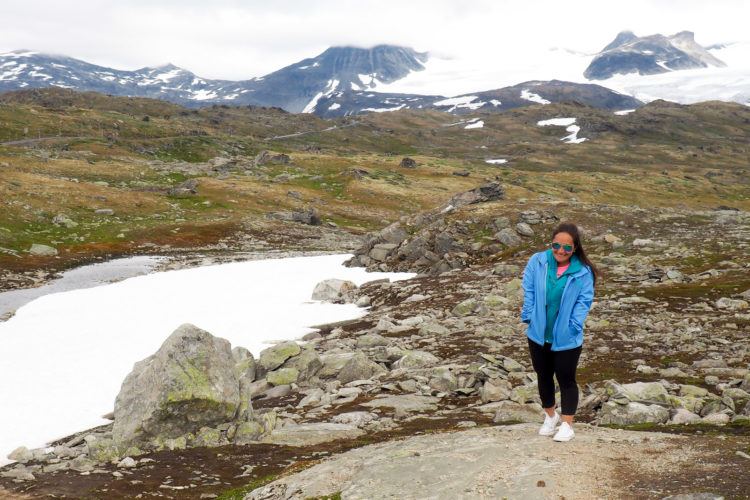 To be completely honest, after about ½ – ¾ of the drive through Sognefjellet we had had enough of the mountains. Sure, they were beautiful and all that, but it seemed like many of the stops had views of the same thing. I think next time we'd only stop at 2-3 and get on with the show.
Plus, it was cold and windy that day so that's proooobably why this drive seemed a bit monotonous and somewhat sad – we didn't have the energy to hang out in the cold for too cold!
5) Gamle Strynefjellsvegen National Tourist Route (Road 258)
You're allllllmost to your final destination of the day (Hjelle), I promise! But whatever you do, DO NOT SKIP THIS NEXT ROAD. Be sure to take Road 258 instead of 15. The drive is short, being only 27km, but it's an absolute stunner.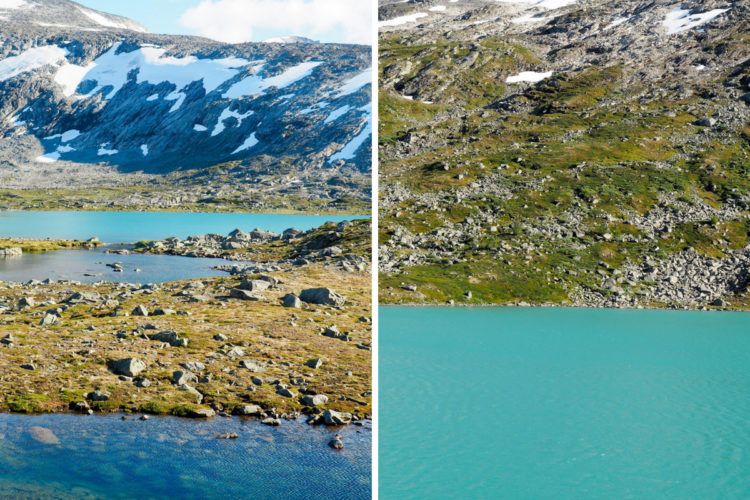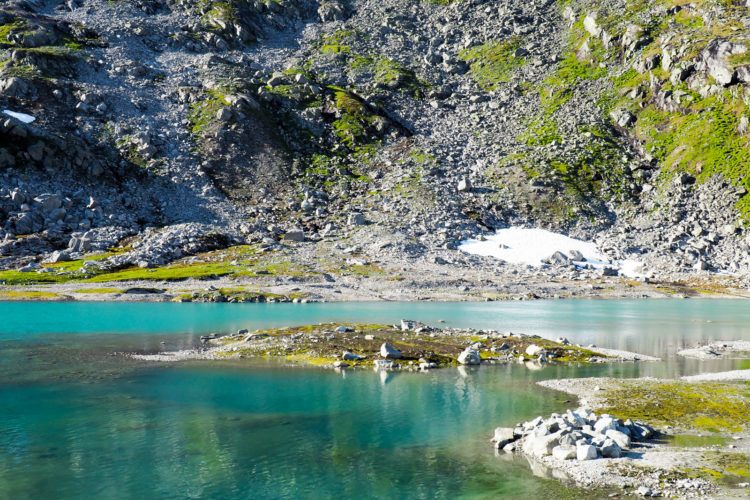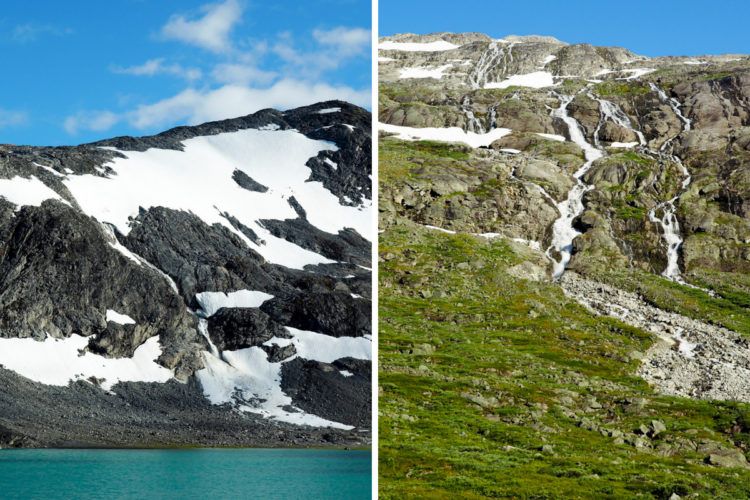 Boy oh boy, this short stretch was one of my absolute favorite hours or so of our entire trip, for the views alone. It's hard to put into words what seeing glistening glacial lakes, towering mountains, and remnants of snow from colder months will do to you. I'm not sure anything will beat those views I saw that day.
Where to Stay: Hjelle Hotel
Hjelle Hotel was a perfect place to rest our heads after the long day of driving – and I'd highly recommend it! Our "romantic room" was simple yet charming, with a clean, and spacious feeling with a four-poster king bed and chandelier.
Make sure to order the dinner (fixed-price 3 course) – it was absolutely delicious (and have the creme brûlée if you're lucky enough to see it on the menu which changes nightly).
Hjelle Hotel is situated right on another beauty of a lake (Oppstrynsvatnet) with great views of the mountains, which we loved for a nightly walk after dinner! In addition, the hotel staff was extra accommodating and the breakfast spread was more than decent! Stay here, they're doing something right having been run by the same family since 1896!
IMPORTANT NOTE: This wouldn't be a very thorough Norway travel blog if I didn't mention Hotel Utsikten.
Why? For one, it's one of the most popular hotels in the Geiranger area, and for good reason. The hotel sits right on the base of Geirangerfjord – meaning, if you ask for a room that faces the road, you'll have a panoramic view of the fjord right from your view!
Secondly, if you want to stay here (instead of Hjelle Hotel), book Hotel Utsikten as soon as you know your dates. It was unfortunately completely booked once I finally got around to making hotel reservations, so we opted for Hotel Hjelle (which ended up being a pleasant, positive surprise).
Note that if you decide to stay at Hotel Utsikten you'll need to back track about a half hour or so for Dalsnibba (more below) if you couldn't squeeze it in the previous day.
Day 9: Geirangerfjord and Trollstigen
Get ready for your last day of driving in Norway! You'll be going from Geirangerfjord → Trollstigen → Andalsnes → Alesund, which will prove to be yet another stunningly spectacular day full of epic scenery, fjords galore, and and curvy, bendy roads. Today's a tiring day but one for the books, and you'll be driving on another National Tourist Route!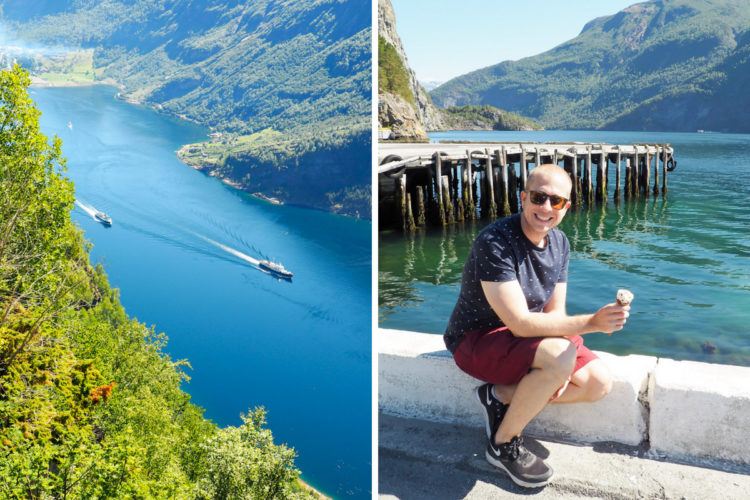 *Note that the Norwegians pronounce it "Gai-raan-Gyer" (I was butchering the entire language our whole trip and it was awful).
1. Dalsnibba
In one hour from the Hjelle Hotel, you'll reach Dalsnibba, which is a very popular mountain top viewing platform in Norway. It's brand spankin' new, opened just a few years ago in 2016, and it's actually Europe's highest fjord view by road at 1,500 meters! Whoa!
Be sure to go on the "skywalk" which has a steel and see-through floor which rails made of glass. It's definitely a bit nerve-racking to look down at your feet and beyond and see just how high you are with only a piece of glass between you and 1500 meters!
In order to get to the Dalsnibba viewing platform, you'll need to pay a toll. Prices are payable by vehicle and if you're coming by car or motorbike you'll have to pay 130 NOK via credit card (pretty sure the AutoPass Device didn't work here).
2. Flydalsjuvet Lookout Point
Another lookout point worthy of your time, this one 45 minutes from Dalsnibba (and completely on the way to where we're going, promise!) Flydalsjuvet is located higher above the town of Geiranger, providing phenomenal views of the Geirangerfjord, town below, and all the surrounding mountains. These impressive views sure make an excellent photo stop – be sure to have your cameras handy.
The area is well organized with informational signs, toilets, upper and lower viewing platforms, and railings and fences to protect everyone. Fingers crossed you get a clear day, as the fjord can be hidden by fog/mist. t's right off of the main road so can get quite busy, with tour buses as well, but wait for them to clear and you'll get absolutely perfect photos.
3. Geiranger
Time for yet another fjord cruise! You just saw the fjord from up above, now it's time to see it from another angle – right on it! It'll only take 10 minutes to reach the town of Geiranger from Flydalsjuvet, so go for a little wander and have a quick lunch.
We honestly couldn't find too much food besides a bakery and some ice cream, but maybe we didn't look hard enough. And plus, ice cream is a healthy, obvious meal in Geiranger when the weather is absurdly hot! ;p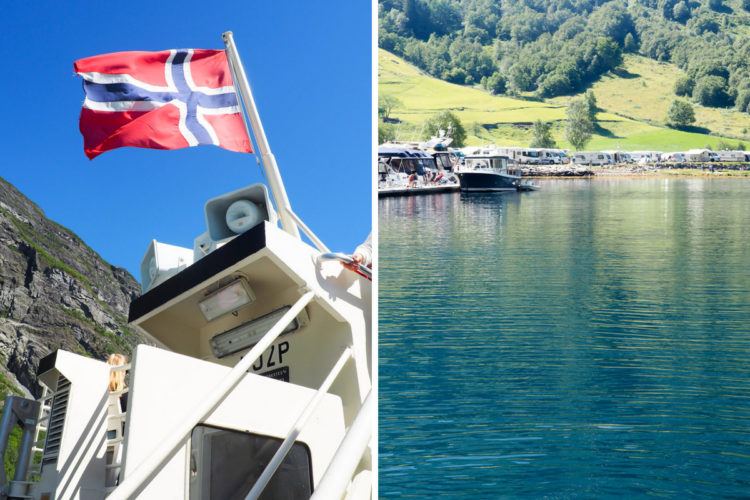 We decided to take a 60 minute fjord cruise around noon, but note that 90 minute boat tours are available as well if you feel so inclined or that's all that's available. You'll pass the famous "Seven Sisters" waterfall on either one. I highly recommend booking in advance as the boat was very crowded and it was completely sold out (in high season). Book here.
I feel like a broken record saying this, but yes, the fjord views were absolutely stunning right on the water!
4. Ørnesvingen and The Eagle Road
After gawking at all the views on the fjord cruise, drive the 10 minutes to yet another famous viewpoint, Ørnesvingen, the highest of the hairpin bends in Ørnevegen (also known as The Eagle Road). From here you'll enjoy more magnificent panoramas of the town and fjord, although be aware that weather plays a key role in how visible your views will actually be (like at Flydalsjuvet).
Hope for a clear day! Look out for the cruise ships passing through the fjord below, as they can only add to the uniqueness of your photos! To uncomplicate things, Ørnesvingen is the name of the viewpoint, while Ørnevegen is name of the actual road. 🙂 Things can get tricky around here, haha.
5. FERRY time: Eidsdal-Linge/Fv63 ferry
This one's a short one, only taking about 10 minutes and costing 79 NOK (~10) for a small sedan and 2 passengers. As all the other ferries on this Norway itinerary, don't worry about booking in advance because you can just show up on the port and fall in line with the other cars. I'm pretty sure the ferries leave every 30 minutes or so, but I think it depends on the season and how busy they are.
6. Trollstigen, The Trolls Road
After the ferry and a short drive, you'll arrive at Trollstigen (The Trolls Road), part of one of the most famous National Tourist Routes in all of Norway (Geiranger – Trollstigen)! And don't worry, if you've followed this itinerary, you've already driven on the other part of the scenic road. 😉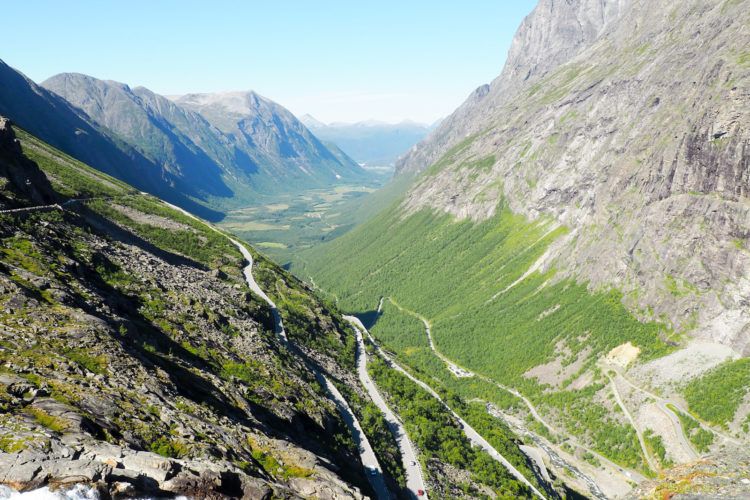 Be sure to stop at The Trolls Path Viewpoint at the Visitor Centre, which will give you unparalleled views of the road snaking below amongst the skyrocketing mountains. Breathe in the the fresh mountain air!
Make sure you venture to both the near and far viewing platforms, as the closer one will provide you with a close-up look at the waterfall, while the latter the actual twists and bends of Trollstigen. Once you make your way to the farther one, you'll be able to see all the way down the mountainside, being 200 meters above the snaking Trollstigen road.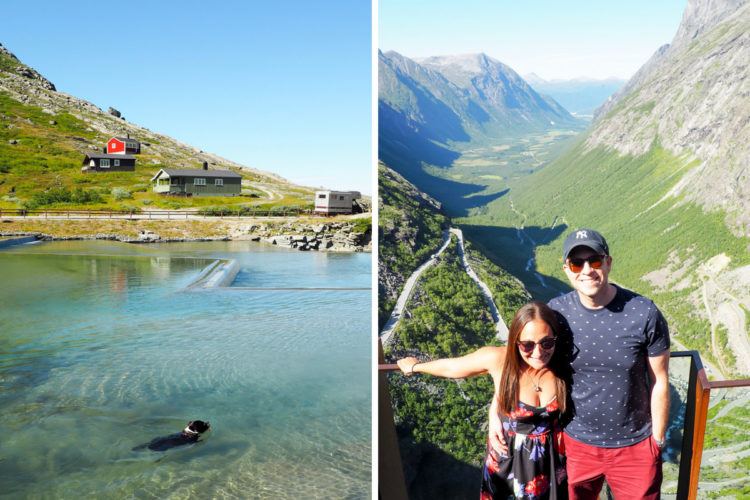 Once you're done gawking at the views (don't be shy – I think I took over 50 photos here), drive down the 11 hairpin bends of Trollstigen. It's important to note that each bend actually has its own name (usually named after the person who supervised the construction work on that particular section), but just follow it down and you'll eventually reach the bottom.
The rest of the day will have you driving to your final destination, Alesund, which is about 2 hours from Trollstigen. You'll first drive north to Åndalsnes, then cut west for Alesund!
Where to Stay in Alesund: Radisson Blu Hotel Ålesund
The hotel was in a great location, right on the water, which made looking out the window of our room super fun! We booked a "superior room" with large open windows with views of the water- I watched a huge cruise ship come into port around midnight one night (so cool and completely unexpected) and a pilot doing tricks in his private plane (also quite surprising but fun to watch).
Plus, the sound of the water is just oh so relaxing (keep your windows open). The breakfast was included and had all the breakfast staples and then some.
Where to Park in Alesund: mobile home parking (free from 4pm-8am, 20NOK per hour from 8am-4pm // 160NOK for full day). Ask the hotel and they'll give you easy directions. It's only about a 10 minute from the hotel and will save you boat loads of money. Street parking is pretty much non-existent over here. Note that you need to pre-pay for the number of hours you want.
Day 10: Alesund
Last full day on our Norway itinerary – Alesund! I admit that we were pretty tired at this point in our trip, and while we explored the small city a bit, we used this day to mostly relax and recoup from the crazy busy previous days.
Alesund is a port town, meaning it's right on the water, so expect some great views and lots of seafood! The city center has a very unique Art Nouveau style, which you'll soon notice once you get your bearings – so keep your camera handy! Keep your car parked in the lot, as Ålesund is an incredibly walkable small city with the the downtown being rather compact.
A few things to do below, which can all be easily done in less than a day:
Walk up Mount Aksla for a view over Ålesund: This viewpoint is the #1 thing to do in Ålesund by far, so be sure not to miss this impressive site! If you're up for a little wander (ok, so 418 steps up is kinda a lot), you'll be rewarded with panoramic views of Ålesund's architecture, the surrounding archipelago, the amazing Sunnmøre Alps, and fjords galore!

You'll find the stairs up to the viewpoint from the town park, Byparken, with no entrance fee. Note that you can also drive up or take the City Train to Fjellstua (small fee) to reach the peak. There's a small cafe at the top for water and ice creams.
Walk through downtown Ålesund's Art Nouveau district: Admire the colorful art-deco buildings, as this is what this part of Norway is famous for! After a fire destroyed the entire city in 1904, it was rebuilt in vibrant Art Nouveau fashion.
Stop in the Ålesund Church: Even if you're not religious, the Ålesund Church is worth a quick peek inside. Stare at the beautiful stained glass windows and just appreciate that it only costs about 3NOK to visit. 🙂
Walk around the harbour and eat some fish! Have lunch at Jafs, and sit outside with some fresh fish and chips while enjoying the beautiful views out over the harbor. Crispy batter on thick fleshy cod fish, decently priced, and harbor views?! What could possibly be better on a warm, summer day?!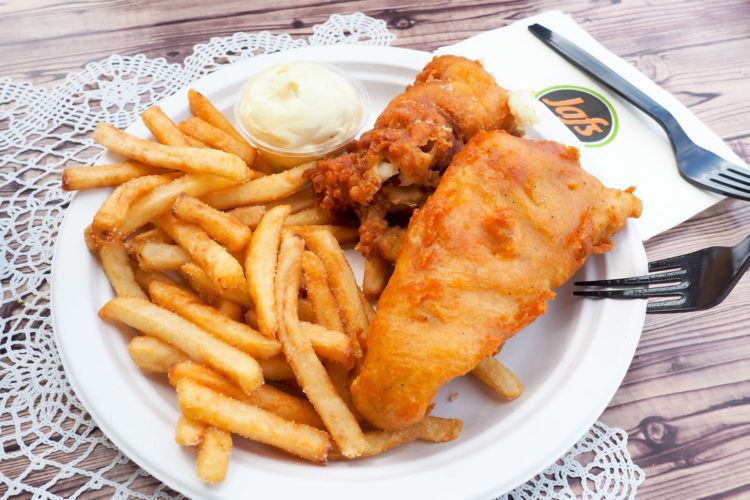 Sunnmore Museum: The Sunnmore museum is an open-air museum with a collection of 55 old picturesque houses and indoor exhibitions, giving you an insight into the cultural and architectural history of the area. A great spot for an afternoon stroll! *Take note of the opening and closing hours before heading over, as we completely missed the time slot.
Alnes Lighthouse: Located only 30 minutes away (by car), you'll come across a picturesque lighthouse on the island of Godøy. This relic of Norwegian coastal culture was built in 1876 and is protected as of today.

Full disclosure: We decided to take a rest at the hotel instead of heading to the lighthouse because 1) we were pooped and 2) we didn't feel like having to fight over a spot in the parking lot afterwards. Go if you're up for a small adventure (at the lighthouse and parking lot). 😉
In retrospect, we should have gone last thing the night before, before heading to our hotel in Alesund. Also, note that the lighthouse is halfway between the main town of Alesund and the airport, so depending on your flight time, you can always go the next day before your flight.
Where to Stay in Alesund: Radisson Blu Hotel Ålesund
Have a few more days in Norway? Consider heading to the Atlantic Road, another famous Scenic Route, which is about 2 and a half hours from Alesund. If we had more time I would have included this in the Norway itinerary.
TRAVELING TO NORWAY SOON? Don't forget travel insurance! I'm a big fan of SafetyWing when traveling abroad. Be sure to protect yourself from possible injury and theft before it happens. Learn more and Sign up here.
Feel free to share this 10 day Norway itinerary with a friend, and get started planning your trip!
IN THE PROCESS OF PLANNING YOUR OWN NORWAY ITINERARY RIGHT NOW?! WHAT THINGS ARE YOU MOST EXCITED ABOUT during your 10 days in Norway? HAVE ANY QUESTIONS?