Planning a trip to the Mediterranean and looking for the best 10 day Greece itinerary?! You're in luck, my Mediterranean-loving pal, I've got the perfect 10 days in Greece planned out for you below!
AND if you want to extend your trip even further (aka see even more stunning islands), follow my advice for a complete 2 weeks in Greece!
We chose Greece as our honeymoon destination (it was a close call against Bora Bora which we thankfully made it to the year after), and couldn't have picked a better country! Since then, we've visited Greece a few more times, and honestly can't wait to head back for more island hopping.
From the turquoise Mediterranean Sea to all the olives and feta you can eat (ooooh the feta), it's never a bad idea to visit this little slice of paradise.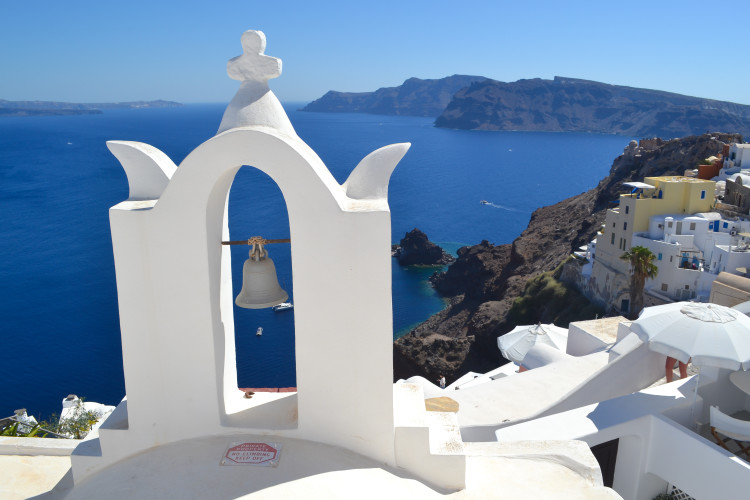 This 10 day Greece itinerary is broken up into different parts and will show you the best of both worlds; a few highlights on the mainland and then about a week or so of island hopping!
You'll see archeological sites in Athens and Delphi, ancient monasteries in Meteora, jaw-dropping caldera views in Santorini (plus those iconic blue domes in Oia), and those famous windmills and boisterous nightlife (should you choose to take part) in Mykonos. Planning a trip to Greece will never be easier!
Psst – many people head straight to the islands when visiting Greece, but I highly recommend venturing a bit north to Delphi and Meteora. Yes, while the islands are downright stunning, seeing other parts of the country are valuable as well. Variety is the spice of life, especially on a trip to Greece!
But first, a pre-travel guide to Greece to learn a bit about the country and what to expect when you're there.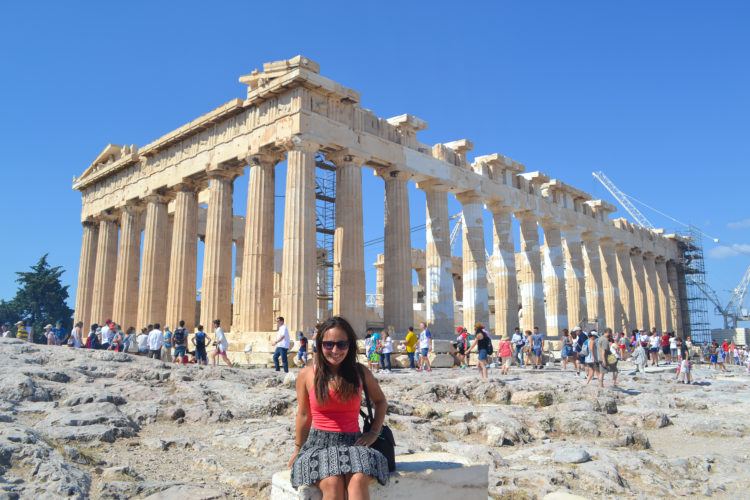 MAIN REGIONS VISITED ON THIS GREECE ITINERARY:
Athens
Delphi + Meteora
Cyclades Islands (Santorini and Mykonos)
Extra Islands: Crete, Ios, Milos, or Hydra
This itinerary starts in Athens (which is where most international travelers arrive in the country), heads up north to Delphi and Meteora, and then continues even further south to the stunning and ever-so-popular Greek Islands of Santorini and Mykonos (with possible additions of Crete, Ios, Milos, or Hydra to round out a complete 2 week Greece itinerary).
You'll find tons of options for getting around Greece – a mixture of buses, ferries, and flights, which I'll explain in more detail as this itinerary progresses.
Important Info for this Greece Itinerary
When to Spend 10 Days in Greece:
The short answer: The shoulder seasons of May and September. Everything is open (and the weather is pleasant) but the hordes of tourists have either not yet arrived (May) or have just all gone home (September).
The longer answer: While many visitors to the country choose to come in the summer months, know that it'll be ridiculously crowded, most likely scorching hot (heat waves of 100°F/40°C are not uncommon in July/August), and you'll pay much more for accommodation than during the off-season.
But if summer's the only time you can go, don't fret- the waters are at their warmest (so plan some time for swimming), nightlife really kicks off this time of year, and everything will be open and ready for business. Take tons of sunscreen and a hat, understand you'll be sweaty more than half the time, and you'll be good to go.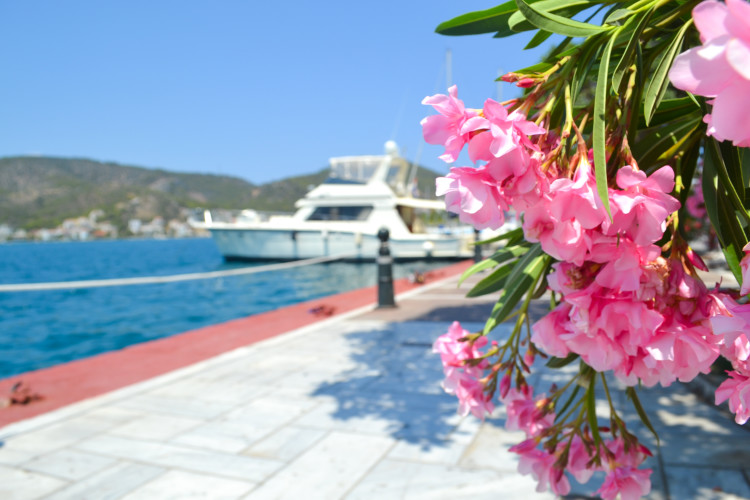 Visiting in the off-off season (November to early-April) is a whole other story, especially if you've got your heart set on visiting the islands. Hotels, many restaurants, and most shops are closed during these times, so you may find that there's really not tons to do on the islands in the winter months.
Your call, but I'd opt out of visiting Greece during this season. Stick to late-April to early-October and I'd say you're golden.
And thankfully, if that just makes you even more confused, I have a full article on when to visit Greece, including all the festivals, weathers, and crowds.
HOW TO GET TO GREECE:
I swear by Skyscanner and Google Flights and almost alllways find the cheapest possible flights on one of those sites. The option to watch prices and get email notifications are top notch and one of my favorite features of the two.
Always check budget airlines that may not be listed, especially if you are coming from other areas in Europe with much shorter flight times. A great list of budget airlines can be found here.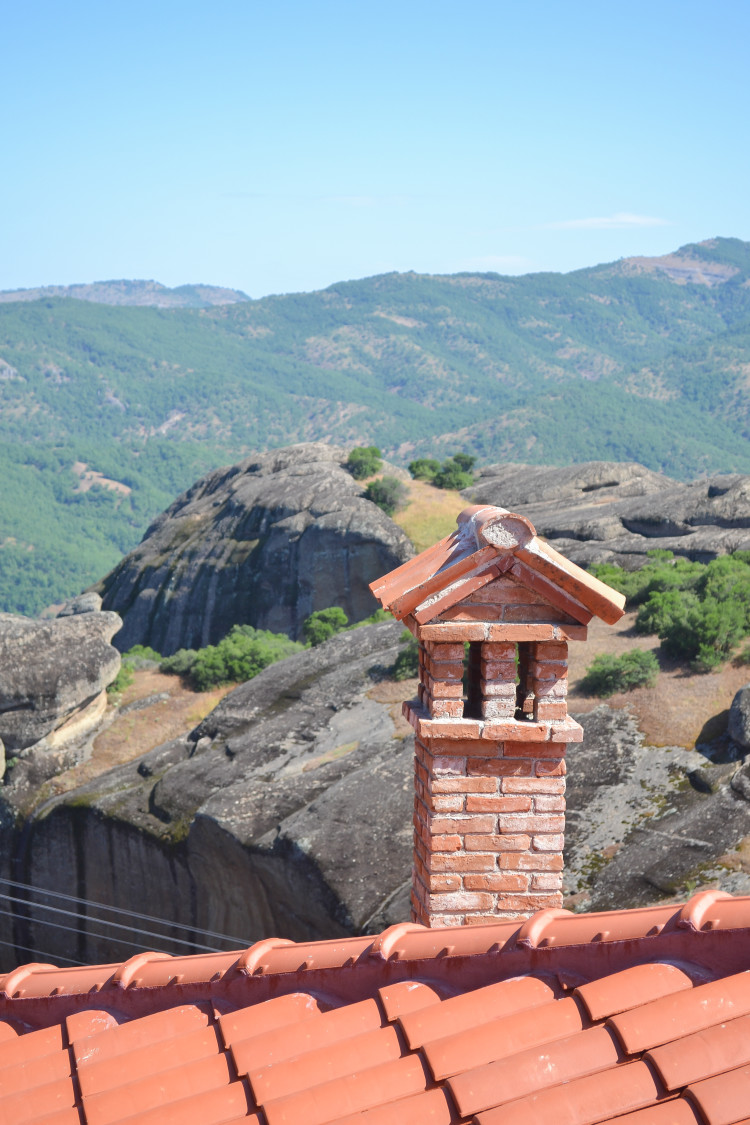 You can typically find airfare from New York to Athens for roughly $8-900, although costs will vary wildly depending on season and if you're traveling over a holiday period.
I've seen flights as low as $~650 in the off season months and during flight seat sales (just gotta get lucky!). Expect to pay $200ish more if you're coming from the West Coast.
Most international flights arrive in Athens, although you may have difficulty finding non-stop flights to Greece if you're coming from the States.
If you'd like, you can take advantage of this by extending your layover and checking out another country! Just depends on your preferences – but just know that once you get to Europe, it's fairly inexpensive (within reason) to get around to neighboring countries.
Once you're in Europe, check out low-cost airlines like Aegean and EasyJet in order to make it to Greece (but be sure to take into account those pesky bag fees before making your ultimate decision on a budget airline!)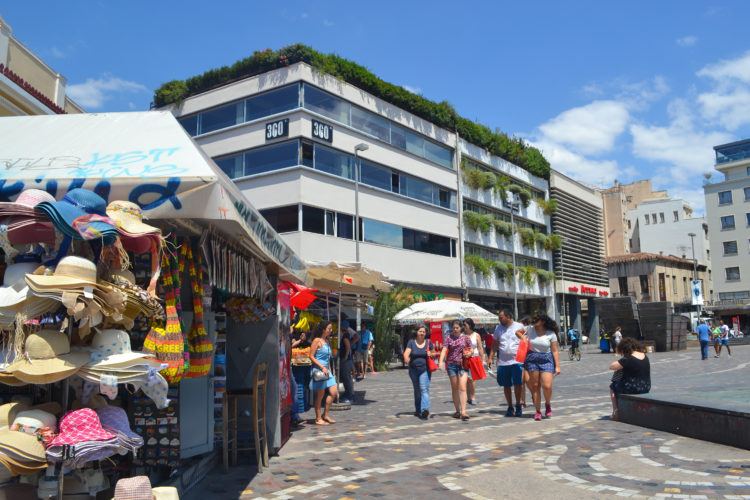 MONEY AND EXCHANGE RATES
Greece, like many other parts of Europe, uses the Euro, with the exchange rate being approximately 1euro = $1.05USD (at time of this publication, June 2022). I recommend using a currency converter (such as XE Currency on your cell phone or a currency converter on the web) to get the most up to date currency exchanges for all forms of currency.
Note that Visa and MasterCard are the most widely accepted cards in Greece, and your beloved American Express may in fact get rejected at most places. If you're planning to visit towns in the countryside (and not on the typical tourist track), you'll want to keep some cash on you at all times.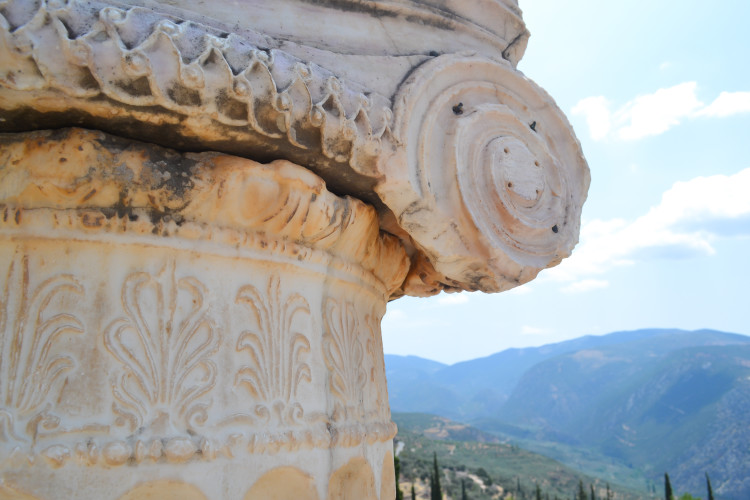 How to get the best exchange rate: I always suggest you take out local currency at ATMS upon arrival and never ever through an exchange desk or beforehand in your home country. ATMs provide the best exchange rate, always. I always take out cash at an ATM at the airport upon arrival in the new country I'm visiting.
Health and Safety:
You can drink the water in Athens (and other large towns), however you should stick to bottled water on the islands (including Mykonos and Santorini) and in smaller towns (should you be visiting any of those).
It's not to say that the water on the islands/small towns will 100% make you sick, but if you have a weaker stomach, bottled water is recommended. Feel free to ask locals for their advice, but I'd rather drink bottled and not ruin my trip over a few dollars.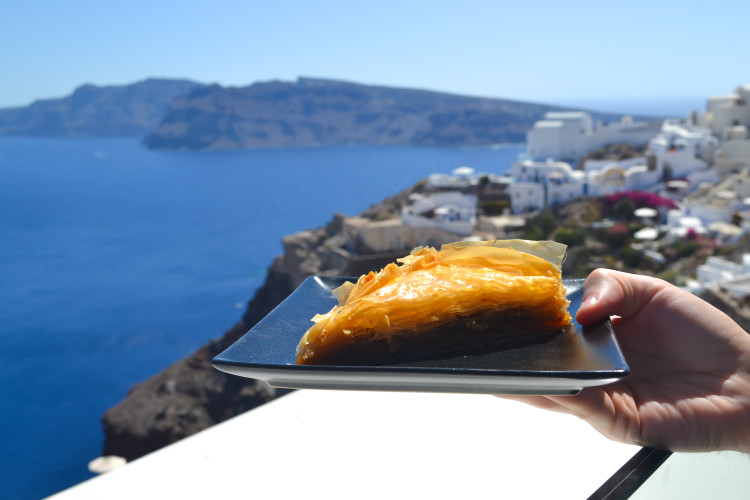 Also, while we're at it, do your best at not flushing toilet paper in Greece. The sewage system is very narrow in diameter, and the pipes tend to get clogged quite easily. So where should you dispose of your toilet paper? The garbage bin located next to the toilet. 🙂
Greece is a relatively safe country, but in more recent years, there's been more reports of cars broken into, pickpockets, purse snatchings, etc. Use normal precautions to keep yourself and your family/friends safe.
Always keep your valuables at your side, don't leave cameras, phones, or other expensive gear visible, and don't leave any precious belongings unattended at the beach.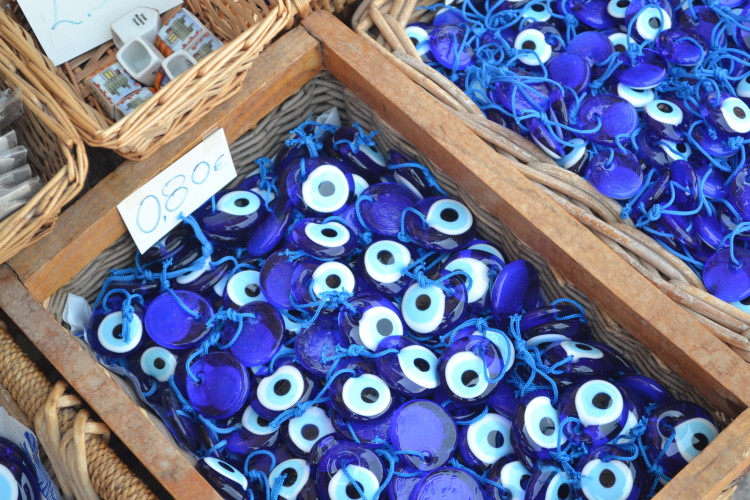 I always recommend purchasing travel insurance before your trip. You never know what might happen (flight delays, lost baggage, illness), and travel insurance definitely helps with all of those unfortunate unexpectancies.
I highly recommend the company SafetyWing (which even includes pandemic coverage — something most don't cover). We ALWAYS buy a short term plan (depending on how many weeks we'll be away) before we leave for any trip! Even if you don't end up using it, peace of mind is 100% worth it in my opinion. Find plan options and pricing here (and at only a few bucks a day, there's no excuse not to!) I always say, if you can't afford travel insurance, you can't afford your trip. It's that easy.
Not convinced you should be using travel insurance? Check THIS out, I explain it in much more detail over there.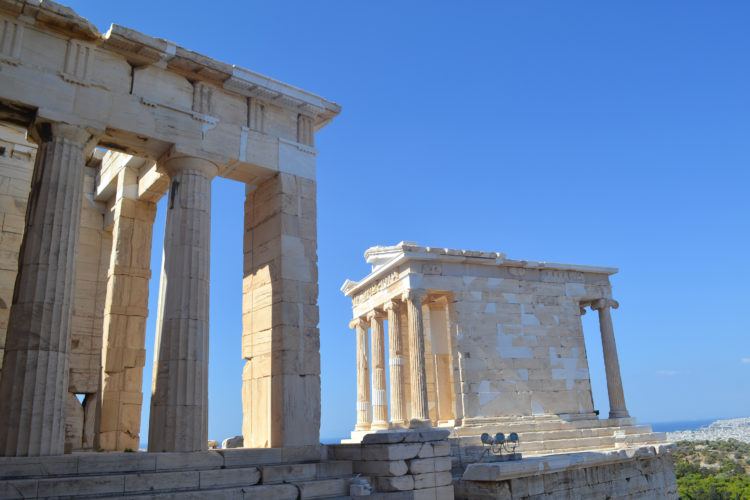 Visas:
No visa is required for U.S. citizens traveling to Greece as long as a valid tourist passport and proof of onward travel is in possession, and you're traveling to the country for up to 90 days in any 180-day period. Note that your passport needs to have at least six months of remaining validity in order enter Greece.
Where to Stay:
*More info on each one below in full Greece itinerary
Athens: Athens Gate Hotel (affordable luxury) or City Circus Athens (artsy hostel)
Santorini: Astra Suites
Mykonos: Belvedere Hotel or Cavo Tagoo
WIFI AND STAYING CONNECTED IN Greece
Although you will most likely have wifi at your accommodation, it's a good idea to bring along a pocket-sized personal WiFi hotspot, to keep you connected during your time in Greece.
WiFi hotspots are a cost effective option to ensure you can use GPS apps like Google Maps, check your emails, and catch up with friends and family while away. With this portable device, you'll have WiFi wherever you go (even if your phone doesn't have service), unlimited internet (on up to five devices at a time!!!), and it's fast and reliable. At less than $9 a day, this device can't really be beat.
Note that some cell phone plans allow for international use, but many of these are costly. I accidentally turned on my phone service for LESS THAN 2 MINUTES and got charged $150 by my phone carrier! I desperately wished I had a personal WiFi hotspot with me then!
Find more information and plan options here. HIGHLY RECOMMENDED especially when you don't speak the native language of the country you're visiting. A true life saver.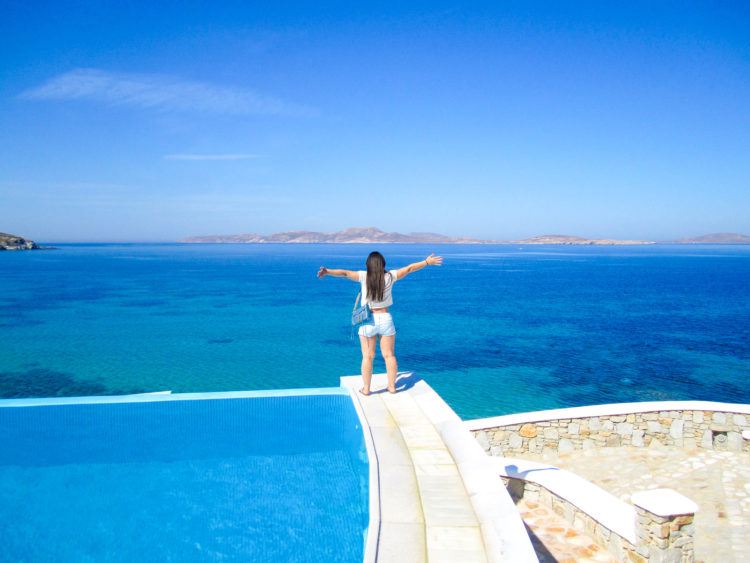 A (few) Notes on Ferries:
You'll undoubtedly need to take a few ferries if you're planning a trip to Greece which includes some island hopping (which yes, of course you should be).
The ferries can be a bit tricky to those who've never taken them before (those schedules and port names are all kinds of annoying), so I've made a list of things I wish I'd known before visiting Greece the first time. And you betcha I was as anxious as ever about missing my scheduled ferries (it was also 7 years ago before I started traveling like a mad woman).
→ We like to use Ferryhopper.com to search and book our ferry tickets in Greece. The site shows all the schedules (direct and those with connections), prices, timing, and more. Those Greek ferry websites can be so confusing and clunky (especially if you don't know Greek)! Thankfully, Ferry Hopper makes it super easy; it's what we use each and every time and we've never had an issue. Always opt for a direct ferry if at all possible (like I said, the ferries are super chaotic – a connection is the last thing you want).
It's not absolutely imperative that you book ferries in advance, but we chose to do so for a few different reasons.

1. I like to have our travel schedule all planned out before initial take off, which makes it much less stressful once we arrive in our destination.
2. We were traveling during peak season and didn't want to possibly have our preferred ferry of choice sell out.
3. We wanted to ensure that we could travel on the fast ferries, ultimately getting to the islands faster and spending more time on the beach.
There are a ton of different ferry companies, each with their own schedule, pricing, and ferry options, but Blue Star ferries and Hellenic Seaways are known to be the most popular. We bought high-speed ferry tickets prior to putting our Greece itinerary to work. (High-speed ferries will cost you the most, but will save you ample time and are the least likely to be choppy).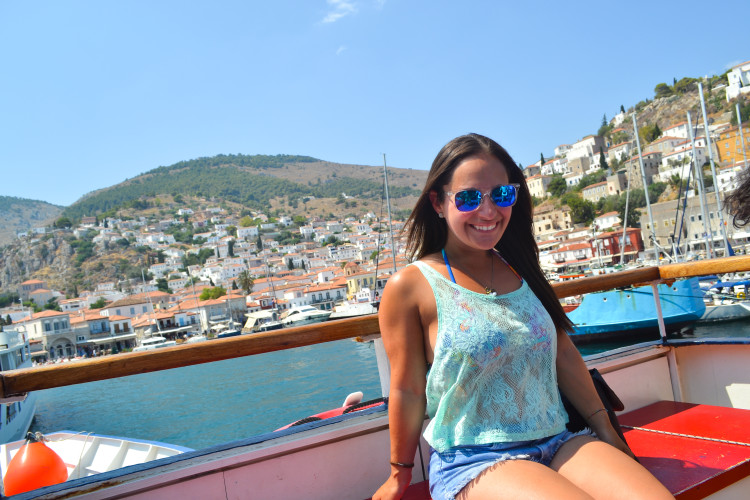 Many of the ports are not named what you'd initially think. For example, the port in Athens is not just named "Athens", but Piraeus, and the Santorini port is entitled Thira. If you're not following my itinerary and choosing to head to different islands, make sure you do research in advance so you know which ferry route to book. Therefore, don't be alarmed if you can't find Athens as a departure port on the ferry website when searching for it. Just use Ferry Hopper — they make it super easy for you.
Not all islands are interconnected via direct ferries, especially during the off season. Because of this, you may need to fly from Athens or between islands.
And now what you've been waiting for, a perfectly planned out 10 days in Greece (which you can easily extend for the ultimate 2 week Greece itinerary as well).
10 Days in Greece: The Ultimate Greece Itinerary Guide
In a nutshell: Athens (1 day) → Delphi (1 day) → Meteora (1 day) → Santorini (3 days) → Mykonos (3 days) → OPTIONAL additional island (3 days) → Athens (for departure)
Day 1: Athens
Everyone always says that Athens isn't worthy of much time when visiting Greece, but I beg to differ. I spent a full 3 days in the city a few summer's back, and never found myself bored (let's face it – I was the girl stuffing her face with loukoumades and blocks of feta like there was no tomorrow #noshamehere).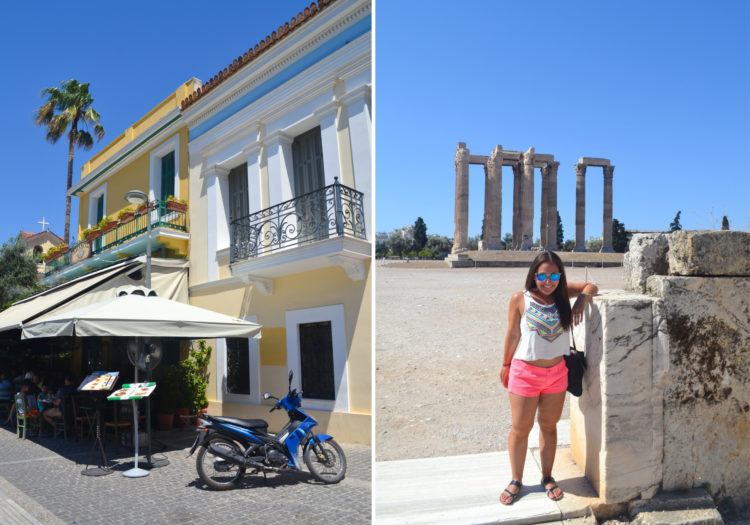 It's true, Athens is most definitely on the grittier side of Greece, but the history alone is staggering and the food is to die for. And plus, you'll appreciate those luxurious islands (later on in the itinerary) if you see how the country actually runs and operates.
HOWEVER, if you've only got 10 days allotted for your Greece travel itinerary, it's best to keep your time in Athens to a minimum. And don'tchu worry, you can fulfill all your ancient-marbled fantasies with just one (long and tiring) day in Athens. Luckily the sun sets quite late in the summer months (8:30ish or so), so you can really get a lot in with only one day.
Read Next: 2 days in Athens (a super complete itinerary!)
Choose from plenty of these popular highlights below:
MORNING:
Acropolis: don't miss the Parthenon (obviously), the Propylaea (gateway to the Acropolis), the Theatre of Herod Atticus, Temple of Athena Nike, and the Erechtheion. In order to save some time (and avoid waiting an hour+ in the hot sun for admission), I HIGHLY recommend getting a skip-the-line ticket to the Acropolis in advance before your trip. If you've only got a day (or two), why waste it on line? And if you wanna beat the crowds, consider getting there as early as 8:30am, when this tour (tickets excluded, just FYI) starts.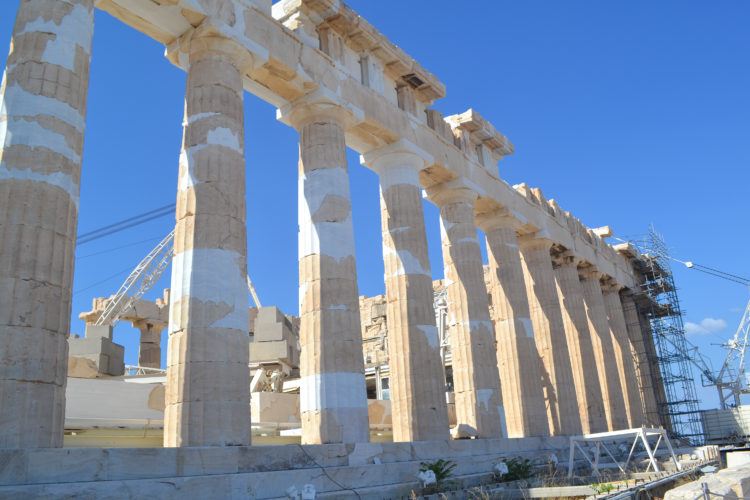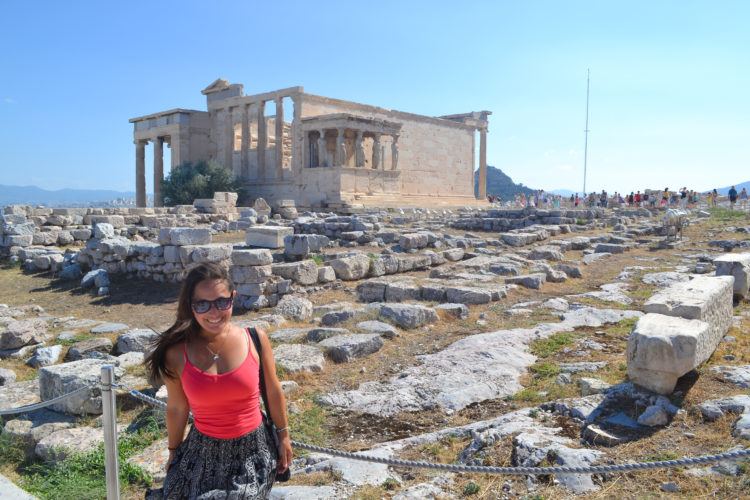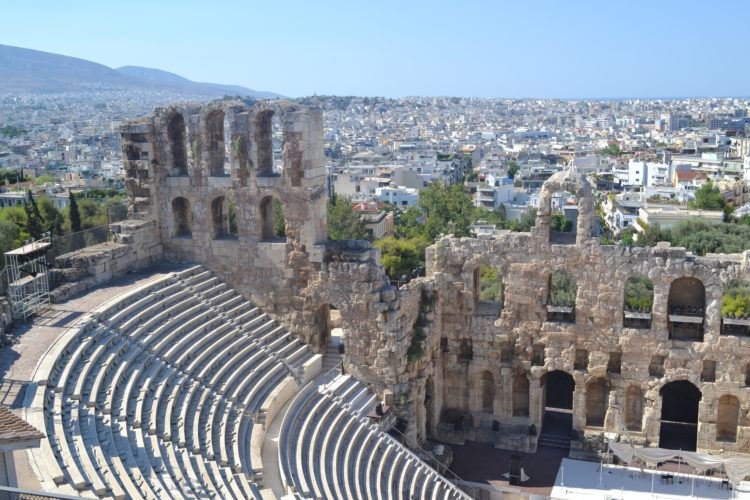 AFTERNOON:
The Plaka: Being the historic center of Athens, filled with winding alleys, steep staircases, and tons of cafes and restaurants, you'd be a fool to miss this picturesque neighborhood. And plus, it's a wonderful place for some lunch: grab some gyros, chocolate covered coconut sticks, loukoumades, and call it a day. Up for a bit of shopping? Stroll around the streets of Adrianou and Kydathineon, full of boutiques, art galleries, and color.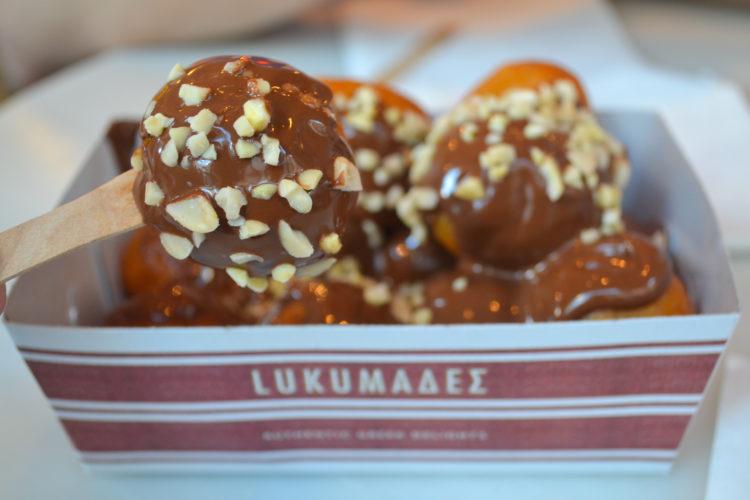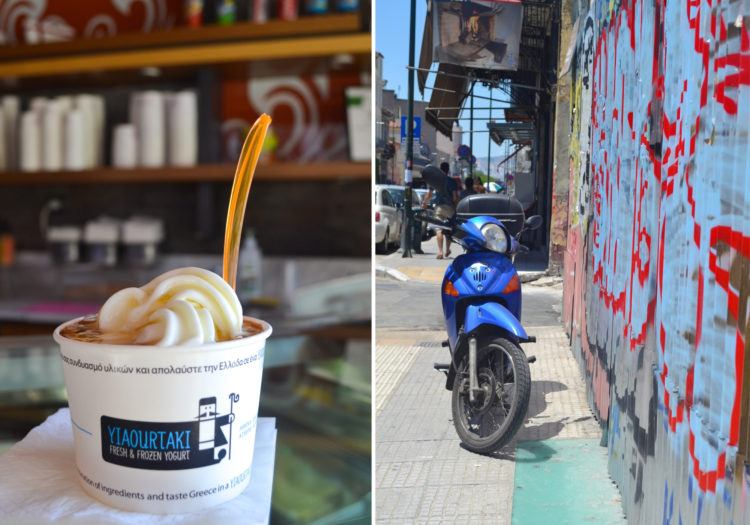 Syntagma Square: Being the epicenter of modern Athens, Syntagma Square is complete with the political center and transportation hub, and is an all around fantastic place to people watch (any time of day). Catch the changing of the guards at the top of every hour.
Monastiraki: strolling along the Ermou (a famous pedestrian shopping street) and wandering around Monastiraki market surely makes for a great afternoon.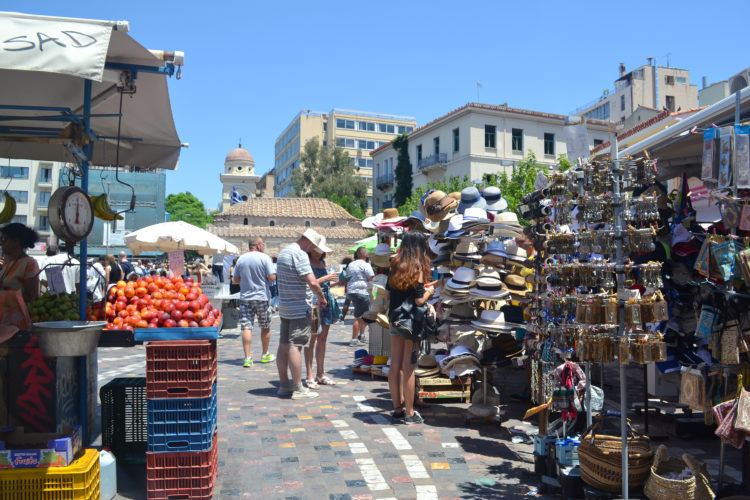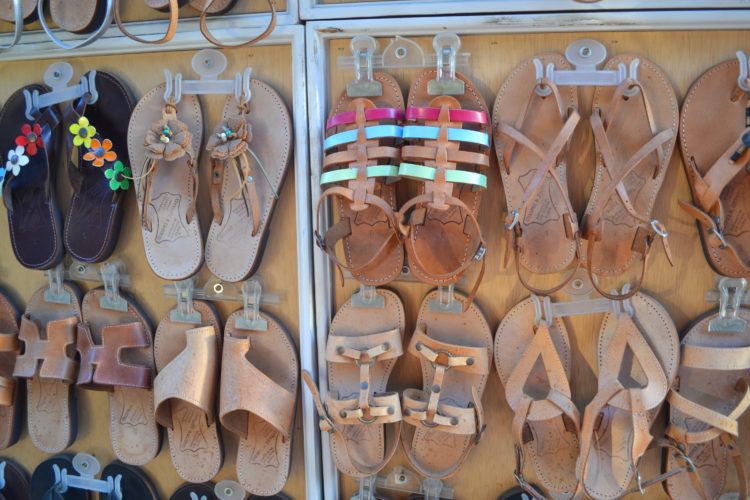 Search for Anafiotika: Craving the islands already? Well, this is as close as you'll feel until we actually get there! Anafiotika is a neighborhood hidden against the slopes of the Acropolis, and it's actually pretty easy if you know where to look. To find it, head up Erechtheos Street, (towards Pritania Street), make a right and across from Metochi Panagio Tafou (a church) start heading up hill. And all those little cul-de-sacs and private-property looking-esque twisty staircases – that's Anafiotika!

NIGHT
Watch the sunset from Mount Lycabettus: if you'd rather get your heart pumping and go on a little hike (for unparalleled views of the whole city), skip some afternoon wandering and head on up to Mount Lycabettus instead! Just depends on your interests!
Athens by Night via Segway: if you arrived into Athens this morning or just have a thing for segways, consider signing up for a segway tour of the city! In just a few hours you'll see ancient monuments and modern landmarks, illuminated after dark, and discover hip neighborhoods that are at the heart of Athens' nightlife. Sounds like a decent night out to me.
Wander Psirri neighborhood: bars and DJs, tavernas, meze and live music, you name it, it's one hell of a good time. Pittaki street, the areas famous alley, is decorated with lamps and artifacts donated by citizens to give new life and light to the neighborhood. It's really something special when you sit down and think about it.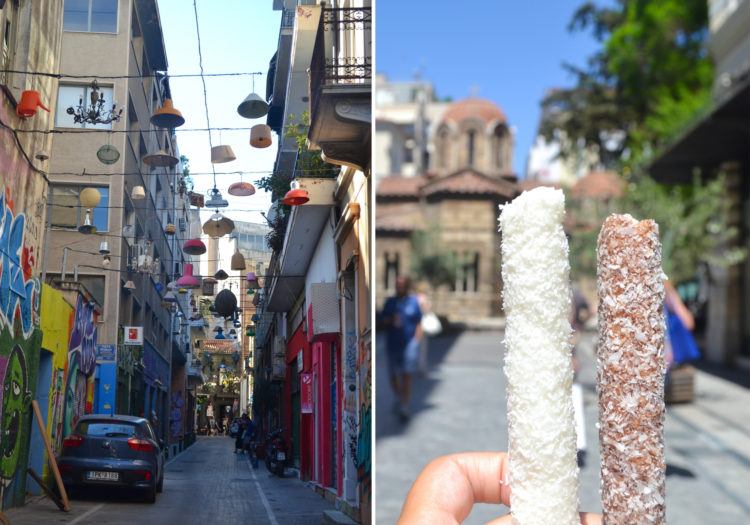 Night food tour (plus wine!): Looking for an expert foodie guide to help decide what's for dinner?! Sign up here → enjoy stunning views, visit hidden bars and family taverns, and learn the culinary traditions of Greece. Oh, and of course stuff your face with tons of mezes and wines.
E-bike Tour: Want even more sightseeing?! If all you've got is a day you may as well make the most of it! So hop on that bike (it's electric!) and experience the city sans crowds! On the tour you'll get dramatic views of the Acropolis from the Hill of Nymphs, cycle the picturesque streets of Plaka, and listen to the street musicians.
***Note that you'll most likely have a few hours in Athens on your last day in Greece (dependent on the timing of your flight home of course), so you can leave some of these activities until then.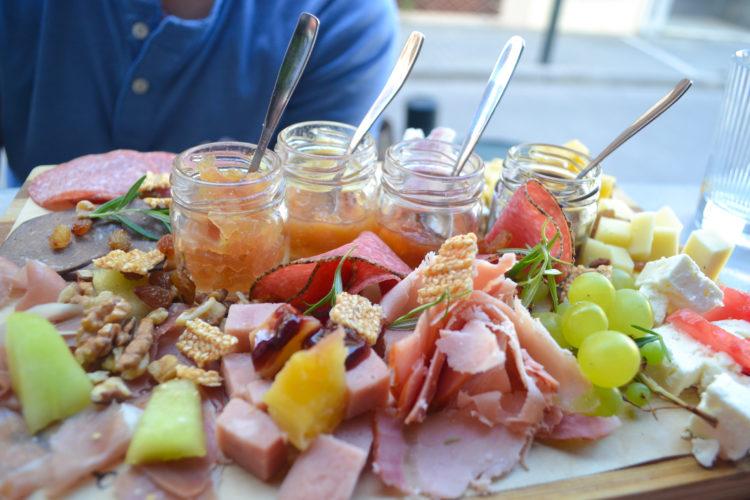 A few notes on Athens:
Athens is easily explored on foot, so be sure to wear extra comfy shoes today! If walking's not your jam (that intense heat in summer is no joke), there's a hop-on hop-off bus that will take you to the highlights within the city, including the nearby beaches as well.
You may want to consider purchasing the Athens City Pass ahead of time if you have at least 2 days in the city, as it will provide skip the line tickets to the Acropolis Museum, free admission to Athens' top museums and major sites, and numerous discounts on shopping, gastronomy, and entertainment.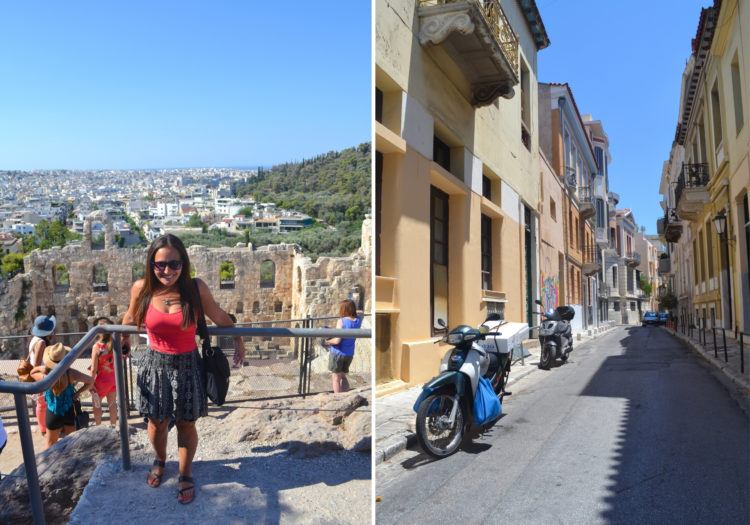 Get the skip-the-line ticket to the Acropolis in advance before your trip. What would you rather do? Sweat in the blazing sun waiting for a ticket or having a leisurely lunch later on at a cute cafe complete with gyros and feta? No brainer, right?
I'd also recommend taking a guided tour (this tour comes with a skip-the-line ticket as well) to really get a feel for ancient Greece. If you're not a major history buff and haven't spent hours reading your guidebooks, it'd be a shame to wander around the magnificence of the Acropolis with no general understanding of it's significance. Looking back, I really wish my husband and I partook in a tour- while the marble was pretty we honestly didn't really get exactly what we were staring at.
If you have an extra day or so, definitely consider checking out the three-island tour from Athens (link is my review and experience) which travels by boat to Hydra, Poros, and Aegina (all wildly beautiful). Might as well start that Greek island hopping right away (after you see the main highlights of Athens that is…)!
Where to Sleep: Athens Gate Hotel
We chose to stay at the Athens Gate Hotel which is located in the center of the city, opposite the Temple of Olympian Zeus, and offers panoramic views from it's rooftop restaurant. The breakfast spread overlooking the Acropolis in the distance was the perfect way to start each morning in Athens.
If you're looking for an upscale hotel with Acropolis views (that won't break the bank), Athens Gate is your place.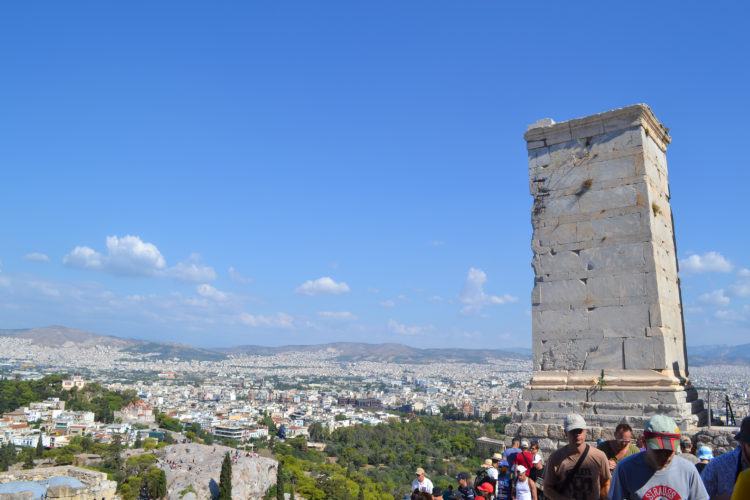 When I visited Athens solo for a few days on a different trip, I stayed at City Circus Athens, which was quite frankly one of the raddest hostels I've ever booked (and I've stayed at my fair share of hostels). Located in the artsy neighborhood of Psirri, there was wacky street art all around and I loved wandering down the alleyways in search of cool findings. Plus, the location was great, only steps from the Monastiraki Metro.
Day 2: Delphi
Next up on this 10 day Greece itinerary, the ancient ruins of Delphi!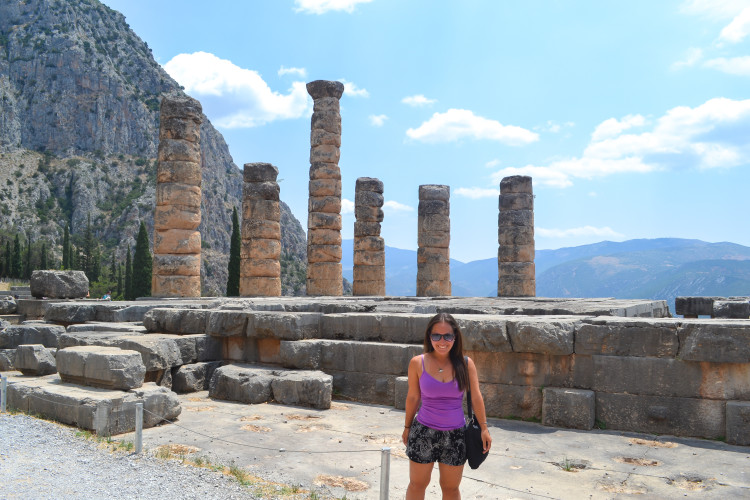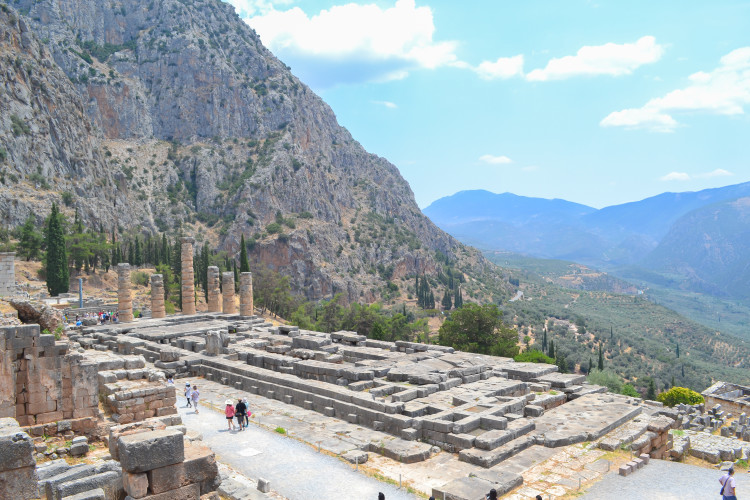 Delphi is the 3rd most visited archaeological site in all of Greece, and an especially popular day trip from Athens! I mean, it was regarded as the center of the Earth during ancient Greek times, so i guess it's kiiiiinda important. 😉
If you're a history buff (or just wanna see it all and do it all during your 10 days in Greece like me), you'll want to make sure you schedule a trip to Delphi into your itinerary. From the moment I got picked up for my tour to the minute I arrived back in Athens, I soaked in as much history as my (summer-crazed) brain could handle.
And thankfully, this place is just full of it – the history of Delphi is older than old, dating back to ancient Greece, 510-323 BC. Whoaaaa. Talk about crazy and a hell of a long time ago. Book tour to Delphi here.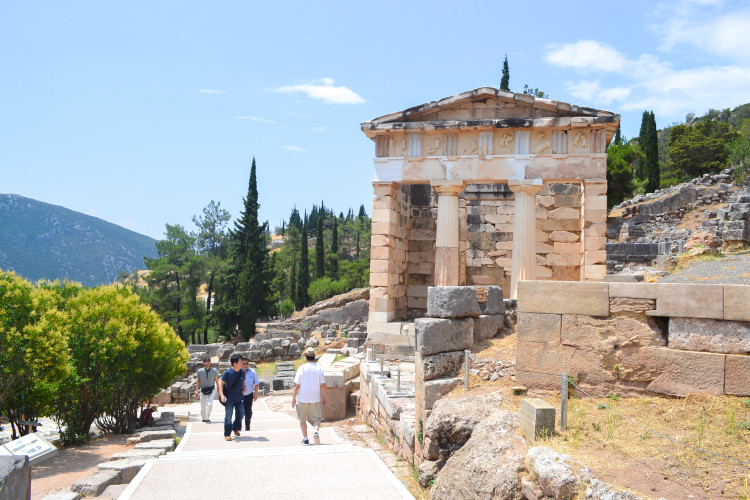 When visiting, make sure you don't miss the pillars of the Sacred Way, The Temple of Apollo (the most popular site in these parts), the Treasury of the Athenians (which still stands in its entirety today), and the impressive Delphi theatre.
Be sure to wear extra comfy shoes and take plenttyyyy of water (especially if you're visiting in summer – it's hotter than hot!), as you'll be walking uphill for most of the day while exploring.
How to get here: Note that it's possible to drive yourself, but considering it's a 2.5 hour drive into a fairly remote part of Greece (each way), you may want to consider hopping on a private or group tour.
This tour not only includes tickets to the main archeological site of Delphi, but includes entrance to the highly sought after Delphi Museum as well, complete with impressive artifacts and stunning scenery.
Additional tours to Delphi to look into:
Local buses from Athens also frequent Delphi, but note that if you're visiting in summer, book way ahead of time as they fill up quite quickly.
Wanna just take the easy way out (like I did – no shame)? Just book yourself on a tour; they're not super expensive, and you'll get your driving, navigating and narrating all things Greek history and mythology done for you in one swoop.
→ Read Next: Diving into the History of Delphi (Day Trip from Athens)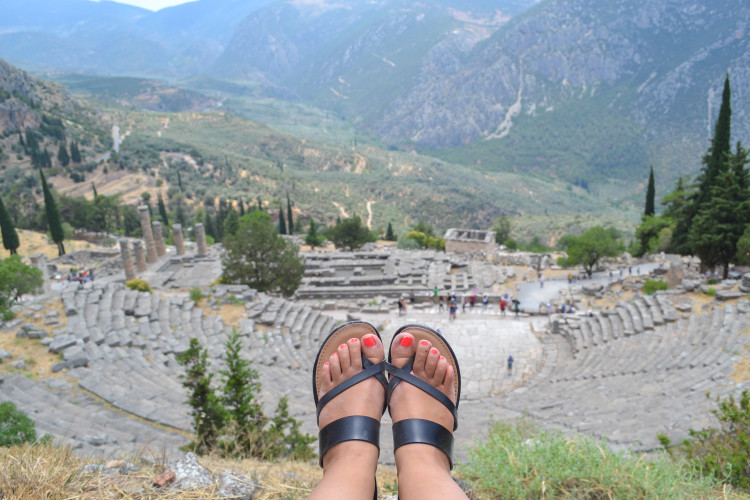 But wait, before you book just any old tour, decide if you want to travel even further north to Meteora (more details below), as Delphi is on the way. It'd be plain silly to come back to Athens just to head north again the following day (and day trips to Meteora aren't really a thing anyways). I took a 2-day tour extremelyyy similar to this one, and it saved me a ton of logistical headaches.
Where to Sleep: Kalampaka, the small city under the towering rocks of Meteora (or Athens if you've decided not to visit Meteora)
Note that accommodation is usualllyyyy included on tours from Athens to both Delphi and Meteora since an overnight is necessary. If you're booking yourself on this tour to both Delphi and Meteora, your hotel stay is part of your tour fee.
And don't worry, the tour isn't as pricey as you probably think (around $200), especially considering it includes transportation to both sites, hotel accommodations, and a few meals. You'll definitely pay more taking 2 separate day trips from Athens, in addition to an extra night in Athens. The 2-day tour is the way to go if you wanna see it all (like me).
Day 3: Meteora
Meteora. Wow. What can I say? Spiritual, inspiring, magical, breathtaking, mystical, immense, and impressive. There really are no words to truly capture the effect the Meteora monasteries have on its visitors. This majestic spot in Central Greece is surely unlike any area I've ever seen. And lucky you, it's up next on this Greece travel itinerary!
After spending the previous afternoon exploring the ancient ruins of Delphi, head off to the UNESCO World Heritage Site of Meteora. And if you've booked the combo tour I gushed about on Day 2, your comfy chariot bus will transport you right to the base of Meteora before you can even finish your feta and tomato salad.
Since getting from Delphi to the Meteora monasteries is known to be difficult on one's own (there is literally no public transportation between the two), I opted for an organized tour originating in Athens. It really couldn't have been more convenient, and I'm glad I made the most out of my limited time in Greece. #timesaver that's for sure, and our guide was such a fun character to hang with!
During your day in Meteora you'll gawk at unique rock formations (formed by numerous earthquakes and floods), visit a few monasteries, and possibly even witness some praying monks (pleaseeee be respectful and quiet if you do encounter any).
Back in the day there used to be 24 monasteries, but only six remain today, and all six are open to visitors throughout the year! Do note that each monastery is closed one day of the week to give the monks compete respect and privacy when praying.
Be sure to bring your camera – the landscapes were truly remarkable, and I had an exceptionally difficult time putting my camera down. Again, like in Delphi, be sure to wear comfortable footwear as you'll need to climb a whole lotta steps to visit certain monasteries (they're built on those towering rock formations, afterall).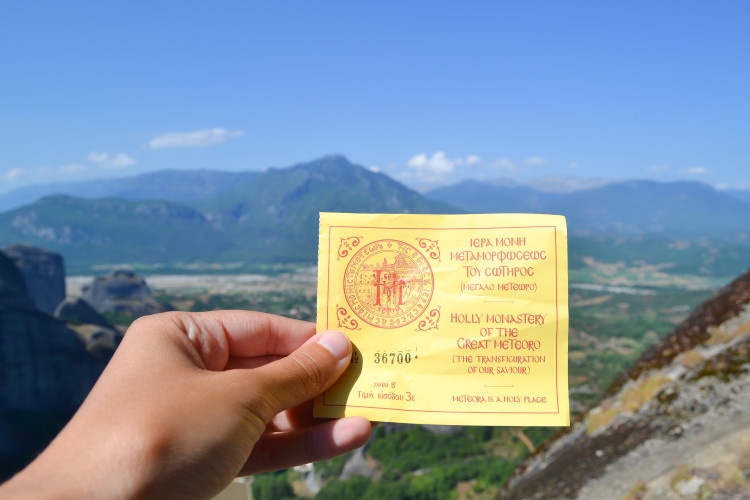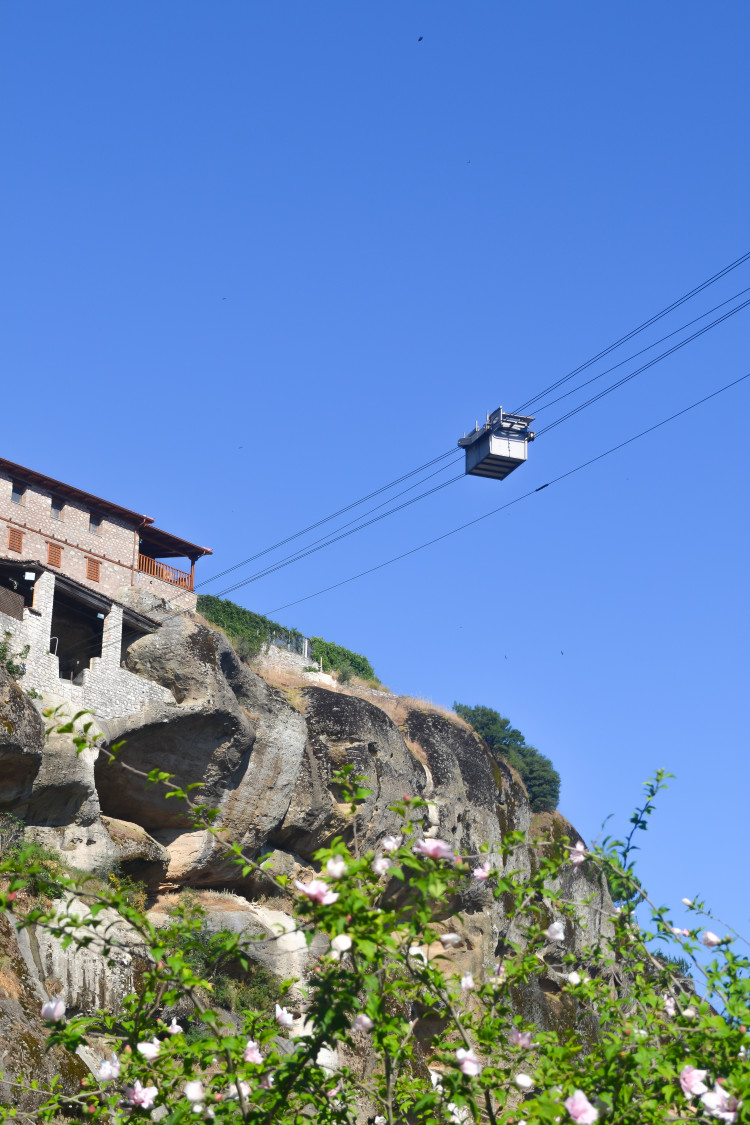 It's hard to remember that a visit to the Meteora monasteries is more than exquisite landscapes and overwhelming rock formations. The UNESCO World Heritage Site of Meteora is a holy place for all Christians around the world, and many make the far pilgrimage to the area to visit and pray.
However, visit the Meteora monasteries even if you are not deeply religious. You'll find yourself super inspired regardless of your religion or lack thereof. I was- that's a fact. And I was pleasantly surprised by how much we were able to see with just one day hanging around!
→ Read Next: Visiting the Monasteries of Meteora
Before you visit any of the monasteries, please understand the dress code. You will be required to cover your shoulders and knees out of respect when entering the monasteries. If you do not have proper coverings, you'll be provided with them at each entrance free of charge (which I appreciated and took advantage of).
Summer is hot hot hot in Meteora, so I was glad I wear appropriate summer attire and opted to use the provided coverings.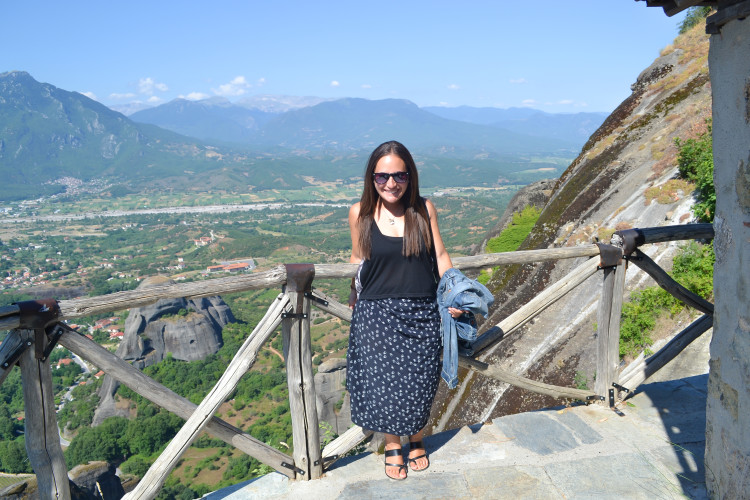 If you want to visit Meteora (like I did and highly recommend), THIS is the tour to book. First you'll do a deep dive into the history of Delphi and all it's impressiveness (day 2 of this itinerary I've planned out for us), then you'll head to the stunning rock formations and historic monasteries of Meteora.
Like mentioned earlier, there's no public transport between Delphi and Meteora, so if you want to visit both, an organized tour is the way to go.
IF your Greece itinerary only allows for either Delphi or Meteora (what a shame), and you're looking to head to Meteora, there's trains that run straight from Athens to Meteora. I suggest booking a tour to Meteora which will ensure the timing of the day runs smoothly and you don't have any logical hiccups.
The end of the day will be spent traveling back to Athens. Yes, it's a long drive, but those monasteries in Meteora are worth it, for sure.
Where to Sleep: Athens
Day 4: Arrival in Santorini
And just like that, off to Santorini we go!
No matter how you get there, Santorini is the definition of paradise. Easily. And even with these 3 short days in sunny Santorini, you can still fulfill all your idyllic whitewashed Greek Island fantasies in a short amount of time.
SPANAKOPITA. SAPPHIRE AEGEAN WATERS. CANDY COLORED HOUSES. GLEAMING WHITE BUILDINGS. THOSE ICONIC BLUE DOMES IN OIA. Oh, just a few things that make up the wonderful-ness that is Santorini. I've been back twice and it's still that place I find myself dreaming about time and time again (yes, it's that perfect).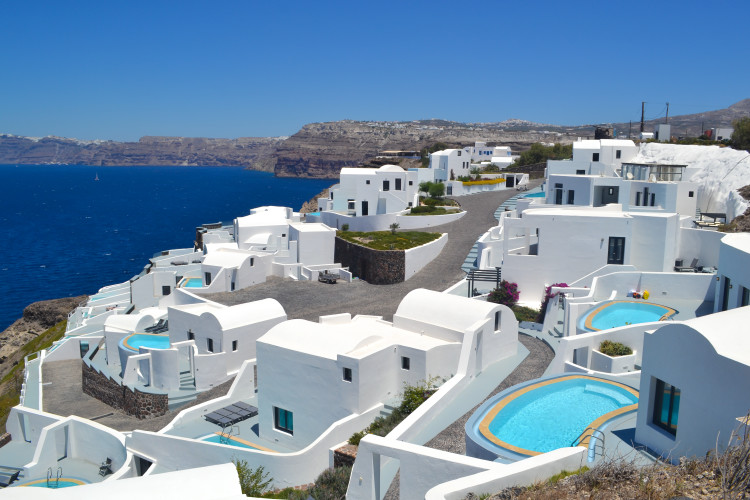 Santorini is an island that has it all – hypnotic sunsets, volcanoes rising out of the blue Aegean Sea, cave house accommodations, and of course those stereotypical (but equally as beautiful) blue-domed churches amidst whitewashed stone buildings.
Getting to Santorini from Athens
We opted for an early morning flight, but you've got a few different options when it comes to getting yourself from Athens to this stunning white-washed island.
Nonstop flights to Santorini (from Athens) take approximately 45 minutes, while ferries vary in duration between 4 and a half and 7 and a half hours (depending on the ferry type). It's really up to you, but I highly recommend flying.
You'll only need to purchase a one way flight from Athens to Santorini, which will most likely be under $50 if you book far enough in advance on a budget airline like Ryanair.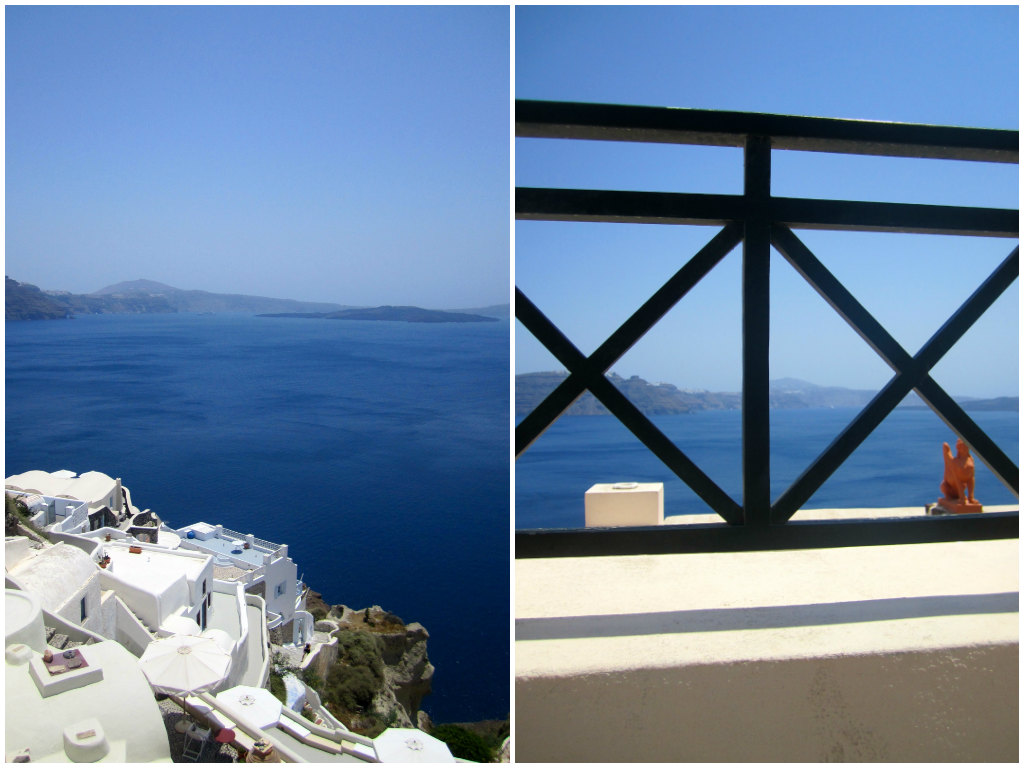 In addition, if you're worried about cost, just realize that if you do decide to take a ferry (whether it be fast or slow), you'll first need to get yourself to the port of Piraeus, which is on the opposite side of Athens from where you'll likely be staying. Ferry frequencies are dependent on the season, with the max number per day occurring in the popular summer months.
Psst – if you've had your heart set on ferrying throughout the Greek island (honestly, why though?), you'll get your chance in a few days.
FIRST DAY IN SANTORINI:
Your first day in Santorini realllly depends how much time you've got left in the day after you arrive and get settled into your hotel (or drop your bags off).
If you take an early morning flight, you can definitely squeeze in a wine tour around the island. And what better way to get introduced to Santorini then by personally taste-testing it's wine? Hint – not much.
Santorini wines are some of the best in Greece, and this half-day wine tour takes you to three of the best wineries on the island. Not only will you sample 12 different wine styles (yes, really 12!), but you'll be served cheese, salami, and Greek olives as well. Can you think of a better afternoon (for the record, I cannot).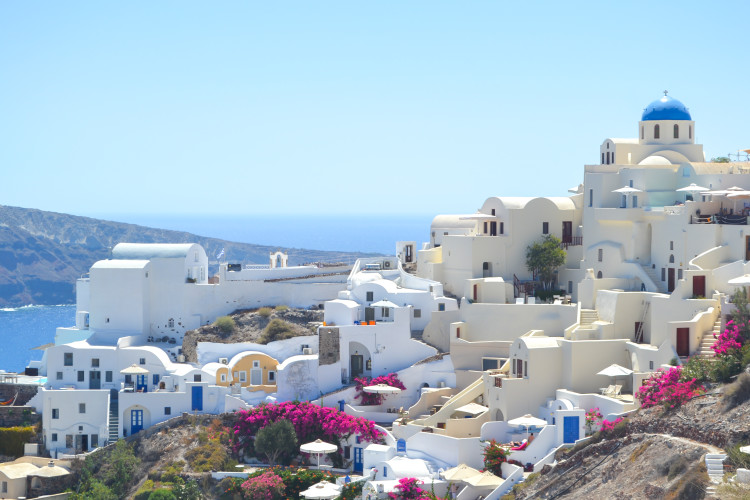 Wine's not your thang? Whaaaat?! Consider hiking the foot path from Fira to Oia, a surefire way to see some of the Santorini's epic views from the very beginning of your trip, while making room for some calories you'll undoubtedly be consuming during the rest of your time in Greece.
The walk takes about three hours, but the views are 100% worth it! Be sure to take a decent amount of water with you, as the stalls are few and far between.
And in all reality, if you choose to just hang at your hotel, that's totally fine too. Just make sure you've booked sweet accommodations with caldera views. That's an absolute must (no ifs, ands, or buts).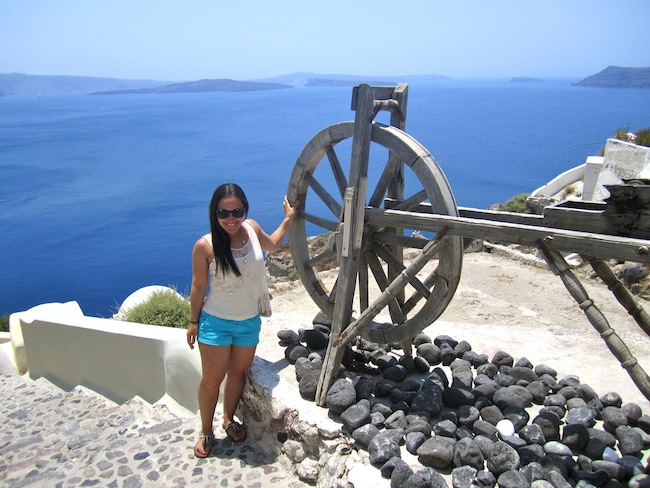 Night: Sunset Dinner Catamaran Cruise
If you really wanna plan out your 10 days in Greece to the absolute max, I guessss you could technically book yourself on a sunset dinner catamaran cruise for your first night. Just know that many companies start picking guests up at 3pm, so if you couldn't get yourself on an early morning flight or chose to ferry it over from Athens, be mindful of the timing.
Greek mezes and bbq right away? Fiiiiine by me. This sunset catamaran dinner cruise has rave reviews.
Note that many sunset cruises also include additional stops around the island, some including snorkeling and hiking, so make sure to read up on the one you choose to know what to bring along!
Be sure to watch the sunset tonight and every night of your visit (either via catamaran cruise or from the island itself). And if you don't wanna sit amongst the masses watching the sunset in Oia (trust me, although it's a pure magic, it's not romantical at all), head to Imerovigli. The sunset here is just as spectacular, but with way less crowds.
Where to Sleep: Astra Suites
Tourists choose to stay in four main villages of Santorini (Oia, Imerovigli, Fira, Perissa). However, wherever you do decide to stay, I highly encourage you to opt for a hotel with an infinity pool overlooking the caldera.
We based ourselves in Imerovigli at Astra Suites during our time in Santorini, and couldn't have been happier. Offering some of the best views of the caldera, private balconies with breakfast, and an absolutely stunning sunset each night, it was the perfect honeymoon hotel for us. Many luxury hotels boast private hot tubs, butler services, fine-dining, and other top-notch amenities.
If you're gonna splurge at some point during your trip to Greece, Santorini's the time to do it. Truuuuuust me. The luxury hotels ain't cheap, but boy are they impressive.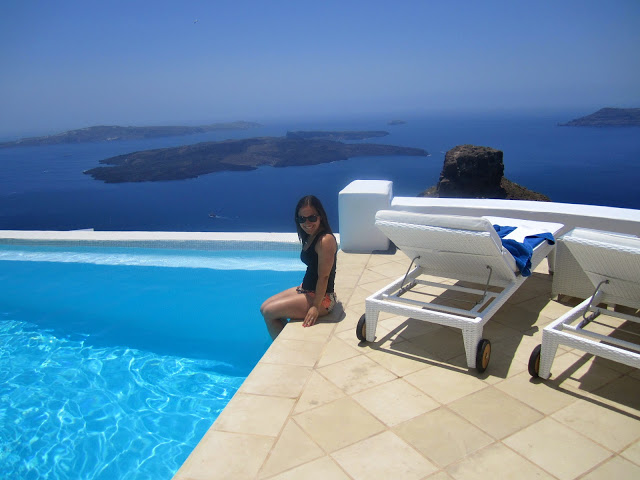 Next time we visit we want to check out Grace Santorini (just wow, look at it), Katikies Hotel (that rooftop terrace OMG), Canaves Oia Suites (traditional cave houses!), and/or Mystique (it's so hard to choose – they're are so many great hotels here).
Be sure to book waaaaaay ahead of time (6-10 months, yea, it's no joke) if you're visiting during high season, as hotels tend to book up super fast in this area of the world. Aka – if you're visiting during June, July, August, or September, get on it, fast.
Read Next: Where to Stay in Santorini
Day 5: The Highlights of Santorini
Next up: spend a full day in Santorini by renting an ATV (short for All Terrain Vehicle and also known as a quad bike) and navigate the island at your own pace.
And because Santorini's not too large in size, it'll only take about an hour or so to get from one side of the island to the other. But remember, there's a whole bunch of stops to make, so plan to spend the the entire day rolling around via ATV.
Note that you can also rent a dune buggy, scooter, or car (lame) and explore, but we absolutely loved the simplicity and ease of the ATV. Plus, we felt extremely safe on it, and LOVED having the fresh air on our faces when driving all over the island.
Tip #1: Don't rent your ATV in Oia – it'll likely be way overpriced (it is the most touristy area on Santorini afterall…). A typical price is roughly 35 euros per 24 hours – it shouldn't cost more than that (feel free to bargain as well). You will need to show proof of driver's license, and don'tchu worry, an international license is 100% accepted over here.
Tip #2: Not all ATV's are created equal. ATV's have a limited amount of power, especially when going uphill. You'll want to make sure you basically rev up your engine before attempting climbing a hill, as the ATV might not clear it without doing so.
We actually had to push our ATV up a mini mountain (I'm being a tad dramatic – it was probably a 2% radiant hill) the first time we rented one, which was both slightly terrifying and especially embarrassing at the time.
Tip #3: Always wear a helmet! Just do it. Oh, and be sure to slather on the sunscreen as there are no shady roads in Santorini and the sun is strong!
A few spots to visit during your self-guided ATV tour of Santorini:
Red Beach: One of Santorini's most unique spots, and not to be missed! Note that the sand is full of volcanic pebbles and you will need to take a 15 minute mini-hike to reach the beach down below. I suggest stopping for a few photos and then moving on. Those azure blue waters are just aching to be photographed. On our first trip to Santorini we opted to walk down to the beach, laid on the rocky (and therefore uncomfortable) sand for about 20 minutes than called it a day – there's much better beaches to relax on.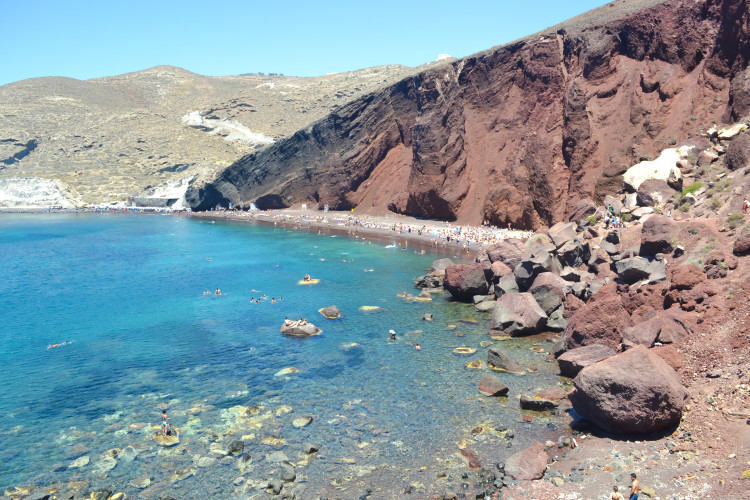 Perissa Beach: This is one of Santorini's black sand beaches, and a good place to pop down for a bit and savor the Greek sun. The black volcanic sand is extremely hot hot hot, so take your sandals with you if you go into the water (or run back miserably like I did…) This stretch of sand is lined with restaurants and bars, and be sure to grab a gyro and a cocktail here!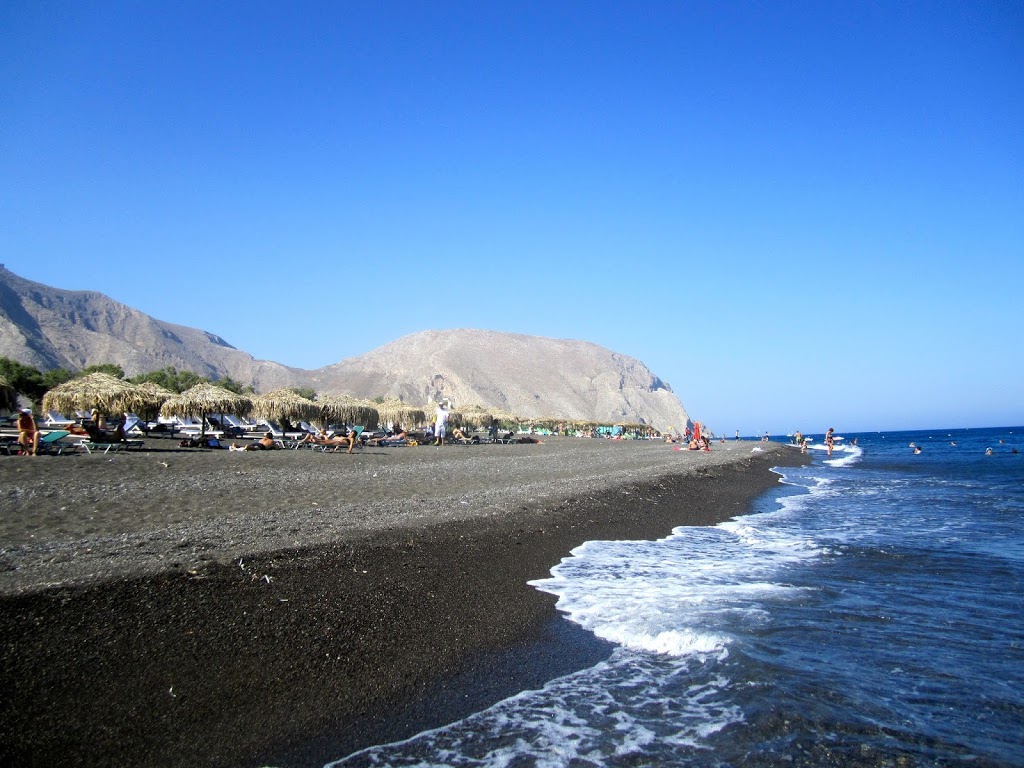 Kamari: This little(ish) seaside village, located on the east coast of Santorini, is known for its rugged volcanic landscapes and it's black sand beaches (yup, more black sand beaches, can you believe it?). And being only about 30-45 minutes away from Perissa via ATV, there's no excuse not to visit both. Stroll down the cafe-lined promenade and treat yourself to some souvlaki, a Mythos or two (local beer), and feta. Ancient Thira, with its Roman baths and Greek agora (main square) is not too far from here as well.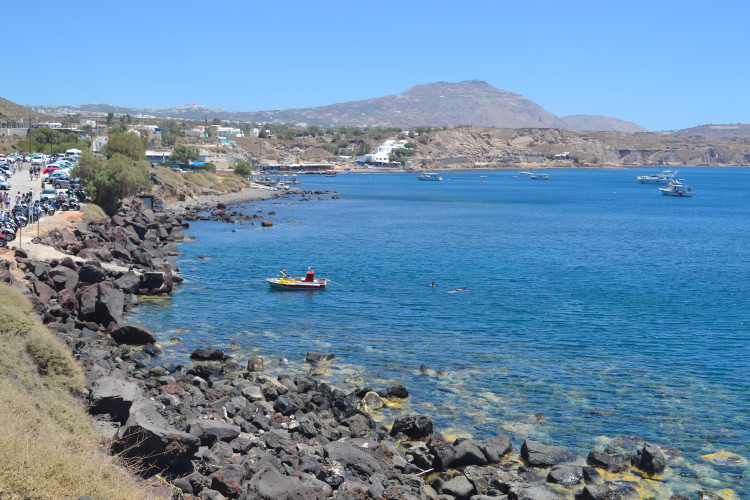 Oia: You cannot come all the way to Santorini (yes, it's kind of a pain getting here) and not witness the charm of Oia yourself. More details below, but Oia is a great last stop on an ATV tour of the island. However, beware: the area gets over-crowded and disgustingly hot during the summer months of July and August. But I promise you, even if you're visiting during these months, an afternoon in Oia is still one of the best things to do in Santorini.
Profitis Ilias Mountain Peak: Welcome to the highest spot on the island! And Profitis Ilias, translated to Prophet Elijah, is the name of the Monastery on its peak as well (yes, it's confusing). But once you reach the vantage point, you'll have a striking viewpoint of the entire island.
Santo Winery: If wine's reallllly your thang, you can also visit Santo Winery, which is quite popular and basically on the way to everything on this list. HOWEVER, please use caution and do not drive the ATV if you've had a few too many. It's probably wise to designate a few people in your group to be DDs (and maybe let them have a few extra beers later on).
If navigating the island via ATV scares your socks off, consider joining a bus tour to all the hot spots in Santorini. Not only will you visit Santorini's most popular sites and learn about its history, but you'll also visit traditional villages, volcanic beaches, and witness one of those spectacular Oia sunsets everyone raves about!
If you want to guarantee you see the island and have enough time for the beach (on another day), I highly recommend joining this tour in order to get it all in. Read reviews and book your full-day bus tour here.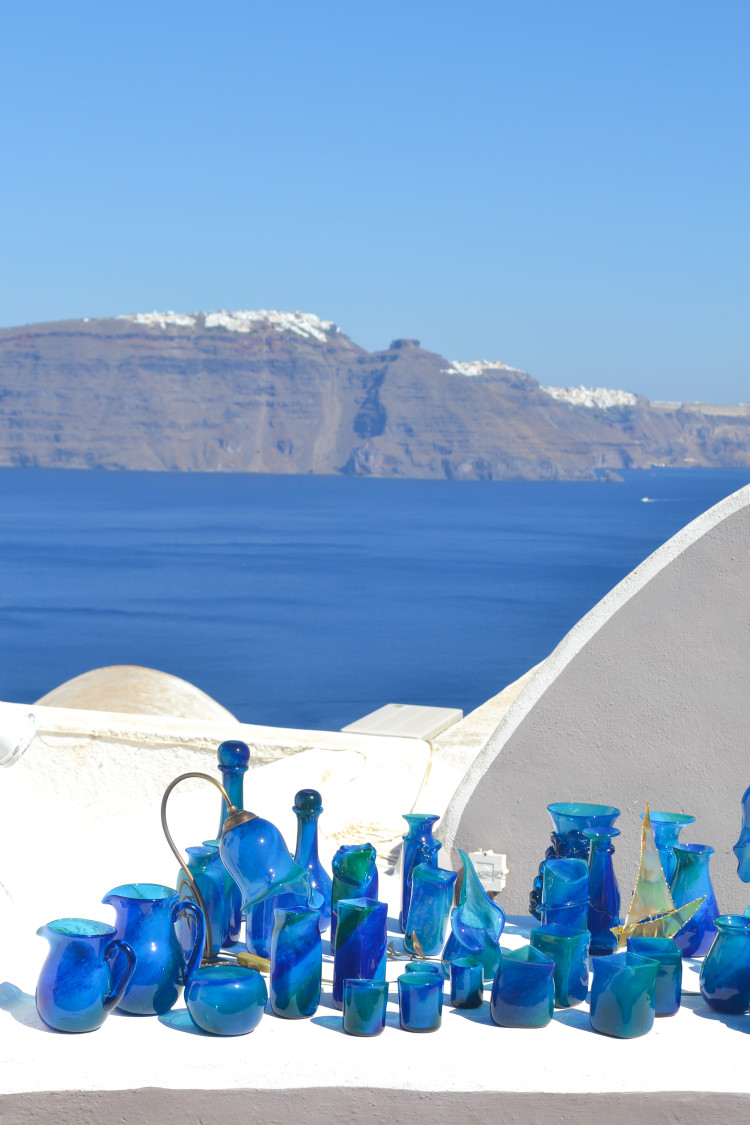 And if large bus tours ain't your thing (I completely understand), this private car tour with a local is a much better option. On this 5-hour private tour, you'll have the van and local guide all to yourself, while admiring architectural wonders, spectacular views, and learning all about the rich culture of the island.
I'm sure your local expert will even take some incredible photos for you as the tour visits Oia, the Akrotiri excavation site, the highest point of Santorini at Profitis Ilias mountain, and a black sand beach. And since this is in-fact a private tour, you can choose to customize the itinerary and go wherever you're little Greece-loving heart desires. Read reviews and book your private tour of Santorini here.
Where to Sleep: Astra Suites
Day 6: Choice Day in Santorini
You have a few options on this Greece itinerary as to how you'd like to spend your last full day on Santorini (cue the sad face). I've planned out what I feel is the best use of time and as Santorini-like as possible, but I've included other options if you're not feelin' what I suggest.
Morning/Afternoon:
Option 1: Volcanic Islands Cruise with Hot Springs
Why not spend the day aboard a catamaran visiting the volcanic island of Nea Kameni and then taking a dip in the nearby hot springs? Since Santorini was in fact formed by a volcano, it's a quite appropriate way to spend the day if I do say so myself!
You'll have the opportunity to walk up the ascending soil path, and approach the crater of the active volcano. Yes, it's active! Your guides will make sure no one gets too close to the steam!
Your second stop will bring you to the second lava island of Palea Kameni, where you can swim in the green sulphur waters of the hot springs. Make sure to wear your bathing suit! Read reviews and book your 4-hour boat cruise here.
If you'd like to visit the villages of Thirassia and Oia as part of the tour as well, be sure to check out this organized catamaran cruise, too. An extra few hours will allow you to properly explore.
And psst – if you'd like to witness an absolutely spectacular sunset in Oia, you can add that onto the catamaran cruise tour as well. For an extra few bucks (I think like $5), you'll be given a few extra hours aboard the boat and won't need to take the sunset dinner catamaran cruise suggested later on in the day's itinerary. What a great value for the money! Read reviews and book here.
Definitely one of more active things to do in Santorini, and a good option if you like being on the water and/or are exhausted from laying out at the pool (should that ever happen…).
Option 2: Go scuba diving
If you're keen on viewing the Greece underwater world, why not try out scuba diving? We opted for a morning dive on our honeymoon, and it was by far one of the most thrilling things we've done to date (besides bobsledding in Park City and skydiving in Hawaii).
Santorini boasts crystal clear ocean waters, so put on your gear and get below the water! Never been scuba diving before? Don't fret – there are numerous companies offering Discover Scuba lessons (ask your hotel), who will teach you all the necessary requirements before suiting up and getting into the waters.
You'll see plenty of colorful fish, a shipwreck or two, all while swimming in some of the most beautiful waters of the world.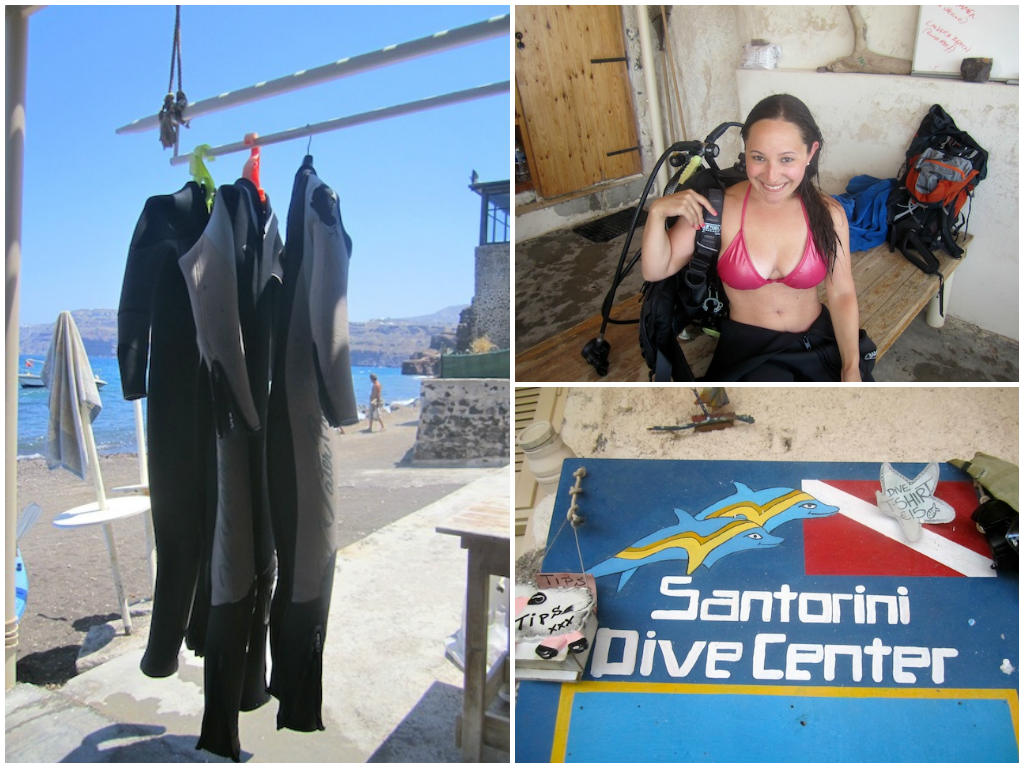 Option 3: Santorini Cooking Class and Wine-Tasting Tour (starts at 10am), goes for 6 hours
If you didn't have time to do a wine tour upon arrival in Santorini, now's your second chance! And since there's even more time today, consider taking a Santorini wine-tasting tour and cooking class, all-in-one! I love taking cooking classes to learn secrets of the local food, and it surely sounds like this one doesn't disappoint.
Alongside a local chef, you'll cook and prepare a 3-course meal of typical Santorini signature dishes → But not before visiting two traditional Santorini wineries to taste their crisp volcanic wines (don'tchu worry, you'll have enough time to sober up before putting things in the oven). Read reviews and book cooking class here.
Where to Sleep: Astra Suites
Day 7: Arrival to Mykonos + Old Town and Windmills
Say goodbye to stunning Santorini, because now it's off to Mykonos! Don't be too sad about leaving your first island – Mykonos is full of tiny white-washed alleyways complete with fuchsia bougainvillea, super-luxurious resorts, and even more delectable cuisine (Greek, of course).
Book yourself an early morning ferry from Santorini to Mykonos, which will take roughly 2.5 hours on the fast ferry.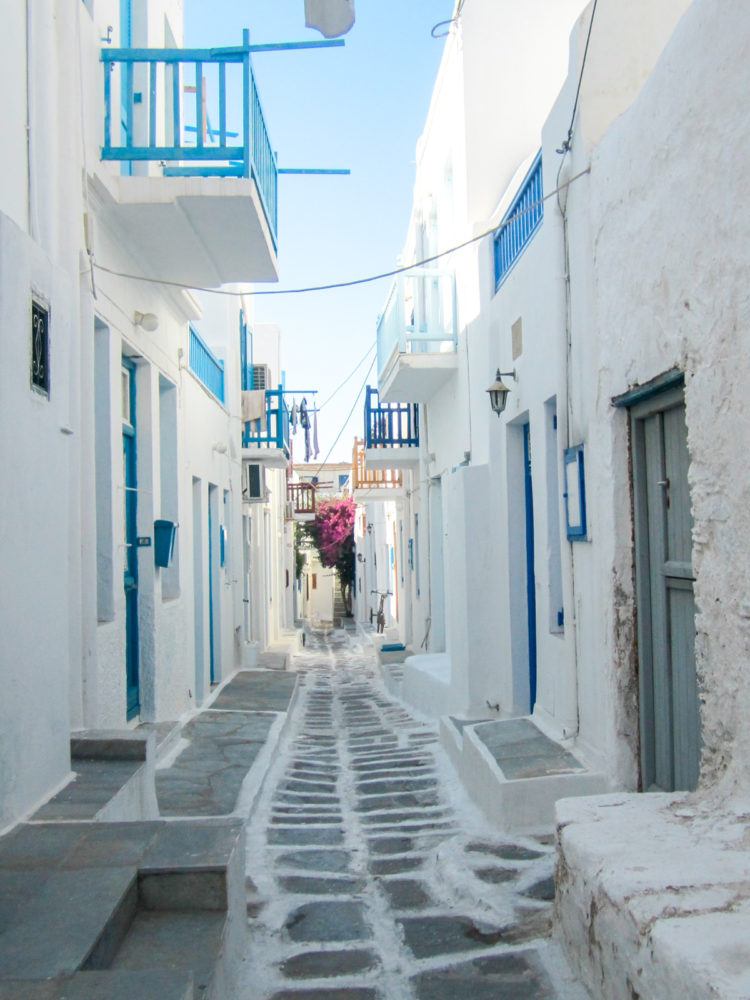 FIRST DAY IN MYKONOS
EARLY AFTERNOON: Get Lost in the Old Town (Chora)
Old Town is basically a giant labyrinth of narrow whitewashed buildings with bright blue and pink balconies, not only providing color to the otherwise blank space, but alluding to the character of Cycladic towns. Since many of the houses look identical, don't fret if you get confused! This is the place to get lost; stop at cute cafes and shops, admire churches, and just people watch amongst the cobblestone streets.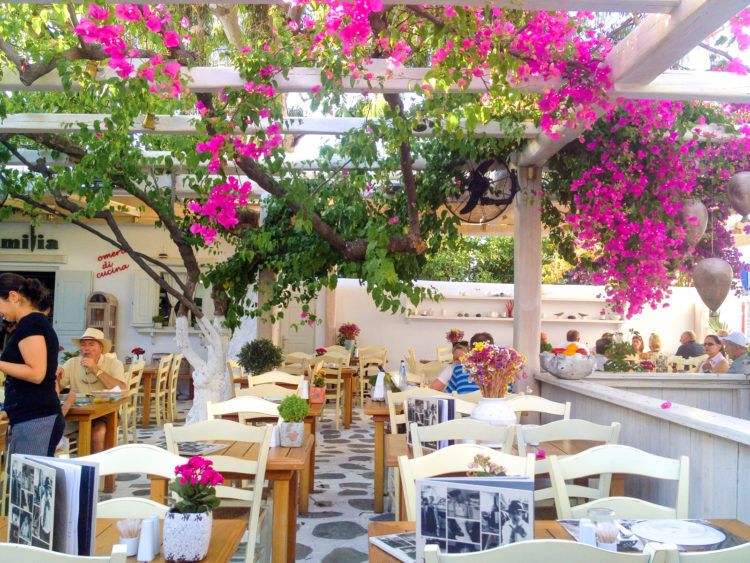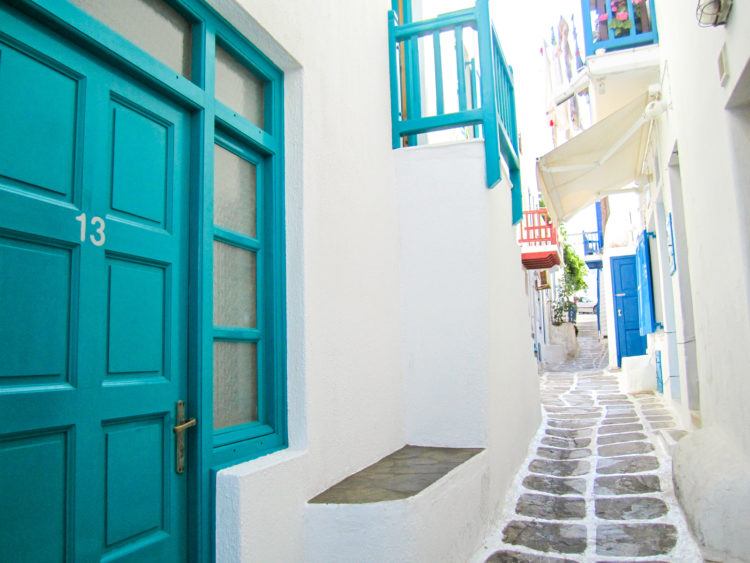 A few must-do's in Chora:
Eat at Kastro's restaurant: famous on Instagram for it's narrow alley leading to the sea)
Panagia Paraportiani Church: whitewashed church, photographed a lot because of it's unusual shape and architecture
Look out for Petros III: Yup, it's true island living – there's even a resident pelican over here! He's usually wandering around Little Venice/the windmills/Old Town. I didn't see him but hopefully you'll get luckier than us!
MID-AFTERNOON/SUNSET: Kato Mili Windmills at Little Venice and sunset drinks
Once you've had enough of the cosmopolitan life over in Chora, head on over to the windmills. Being an iconic feature of Mykonos (it's a windy island after all – always keep a sweater handy!), you just can't miss them.
There are 16 windmills in total around the island, with 5 being located on a hill near Chora (Mykonos Old Town). As with any landmark attraction, the windmills can get a little touristy so be prepared to wait patiently to get that perfect photo.
I suggest popping over to them quickly after wandering Old Town, grabbing a drink/snack/food, then heading back once the sun starts to set. We had cocktails at Veranda, and the view of the windmills was perfect. Those windmills against a pink cotton candy sky? Dreams do come true.
If you want to ensure you see and do it all over here, why not take a walking tour of Mykonos Old Town?! Although we loved just wandering and admittedly getting lost quite a bit, a walking tour with an experienced guide would have been ideal in order to learn the history and secrets of the island.
This 3 hour walking tour will take you basically everywhere – including the popular Mykonos Town, Manto Square, the district of Matogianni, traditional Gioras bakery, the 5 windmills, castle of the Chora, Little Venice, church of Panagia Paraportiani, Folklore Museum, and the famous church of Agios Nikolaos.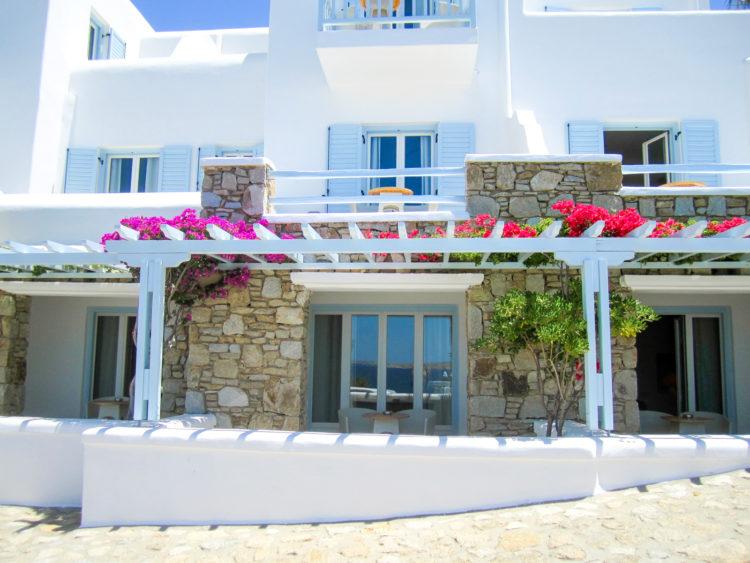 Phew, told you that was a lot. You won't even have to navigate! It's a great way to learn your way around the island on your first day. And just remember – if you get all this done with a guide in 3 hours, you can go back to all your favorite spots and/or just relax with some vino and Greek food for the remainder of the evening.
LATE NIGHT: Party?! Sunbathe all day, party all night!
If you're looking for that iconic nightlife of Mykonos, look no further than Cavo Paradiso, Skandinavian Bar and Club, Astra, Super Paradise Beach Club, Babylon, among many others. With dance floors and free-flowing cocktails, don't expect to make it back before the wee hours of the morning.
Just remember that the clubs don't get going until 11pm, so you may have to force yourself to stay awake if you wanna join in on all the fun. Plan to party until sunrise as that's when the parties tend to end.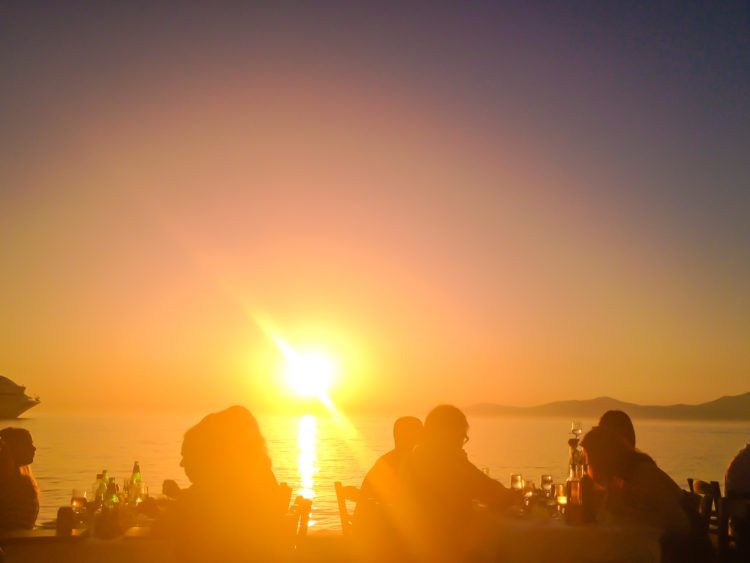 A note on Mykonos' Devilish Nightlife: Similar to Ibiza, Mykonos is known globally to throw some crazy parties. Around the island (from late June to mid-September), you'll find tourists flocking to hotels and hostels for crazy shenanigans that go into the wee hours of the morning.
Mykonos attracts some of the biggest DJs in the world during peak season, which in turn attracts the wildest tourists. Don't feel like you have to partake in the fun if it's not your thing. We chose to skip the wild nights and simply relaxed with some Greek wine instead. While experiencing the night life is fun, don't force yourself if that's not your idea of a good time.
Although Mykonos is known for its crazy beach parties, you'll also find a bunch of smaller pubs and bars scattered throughout the cobblestoned streets of Mykonos Town. They're way more low-key than the parties mentioned above, but still involve dancing, singing, and drinking (ouzo, anyone?!) This is where the locals go to hang out.
A note on the cats in Mykonos: They're everywhere. Everywhere. You'll see. Greece as a whole has a large population of stray cats, and Mykonos is no exception. There's stray cats scattered throughout the island, which at first seems cute, but in reality, is pretty upsetting as they're particularly hungry.
If you wanna help them out, grab some cat food at any corner store and feed the strays you see. Whatever you do though, don't pet or play with them as a lot of them don't have their shots (they are strays afterall) and can pass any illnesses they may have onto you.
Where to Sleep: Mykonos Town (Belvedere Hotel or Cavo Tagoo)
I recommend staying in Mykonos Town (Chora), but many chose to stay near the beaches of Ornos or Platis Gialos as well. Why is Mykonos Town so desirable → it has the most nightlife, restaurants, and shopping!
Although we stayed near the beach, next time we visit, I have my eye on Belvedere Hotel (super chic with sunset views), Cavo Tagoo (that infinity pool, whoa!), or Theoxenia Boutique Hotel (located right next to the windmills). Worried getting to the beaches will prove difficult if you're staying in Mykonos Town?
Don'tchu worry – there's loads of buses than run quite late (and frequently) ushering guests to the island between the two.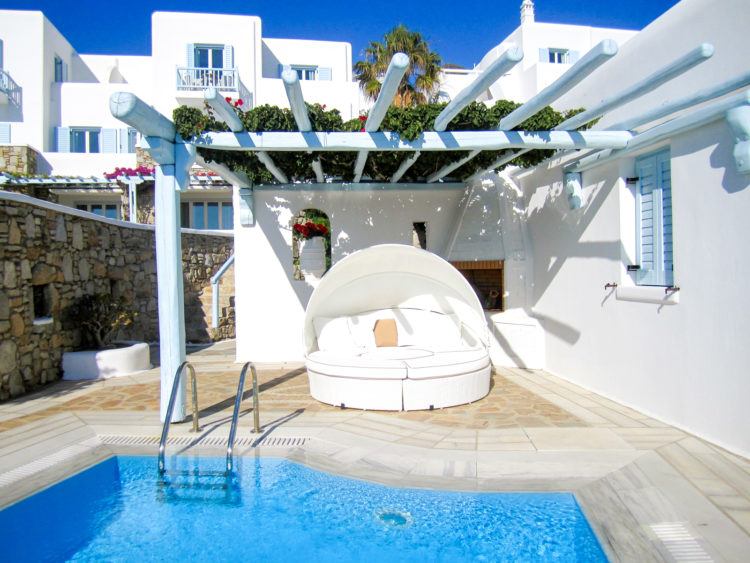 However, ff you want to stay in a luxury hotel right on the beach, Branco Mykonos (in Platis Gialos) comes highly suggested, and we chose to stay at Saint John Hotel Villas & Spa, and got upgraded to a sweet villa upon arrival (perks of being honeymooners).
Day 8: Mykonos
For your second day in Mykonos and day 8 of this Greece itinerary, you've got a few different choices here, depending on if you partied hard last night.
Option #1: Beach Day
Comfy sunbeds. Crystal clear turquoise waters. Delectable cocktails. Take your pick, because Mykonos is no stranger to those beautiful golden beaches you've dreamed about for oh so long. If you're looking to continue the party from the night before, or start your own fun in party-like atmosphere, head to either Paradise or Super Paradise, both located on the south side of the island. Want a more relaxed and unspoiled afternoon?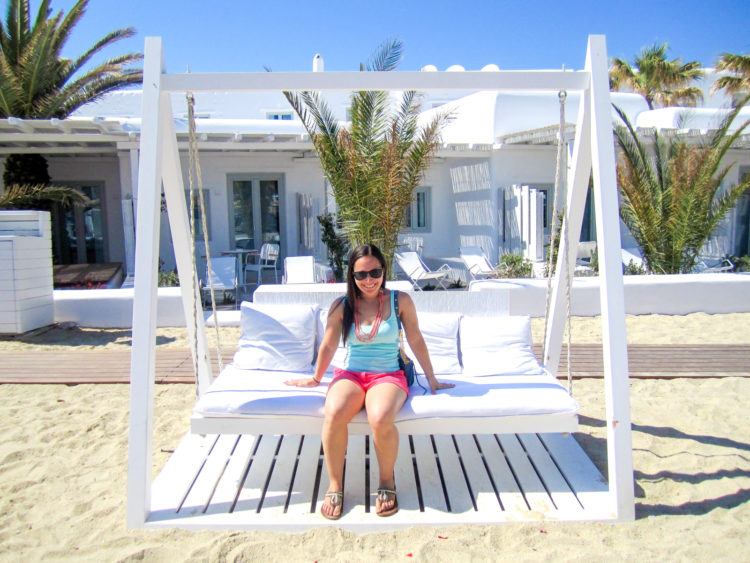 Choose to venture to Lia Beach or Ornos Beach (perfect for families and/or those looking for some peace and quiet with a good amount of amenities), or to Agios Sostis (breathtaking but note that there's usually some skinny dipping going on over here).
Fokos Beach is the most secluded beach on the island, with a restaurant but no chairs or umbrellas. Platys Yialos Beach is arguably the most popular beach not only in Mykonos or Greece, but in all of the Mediterrean Sea! Basically, you've got tons of choices.
Option 2: Mykonos Cooking Class
If you missed out on a cooking class in Santorini, now's your chance to prepare some favorite Greek dishes and enjoy the meal with the chef. And this cooking class in a traditional home looks like the place to do it.
Learn how to make tzatziki and spinach pie (my all-time favorite), stuffed peppers and tomatoes, beef with orzo, and more. And if that's not enough, you'll also be presented with some local snacks to try, including dakos with kopanisti cheese and tomato, louza (sun dried pork fillets), wine and Cretan raki.
The cooking class starts at either 10am (for lunch) or 4pm (for dinner), so you can choose to spend the morning at the beach and then get to cooking if you so please! Read reviews and book class here.
Option #3: Experience Authentic Mykonos on a Full day Jeep Safari
Up for a full day of fun exploring the hidden secrets of Mykonos? Want to explore the rugged landscapes, access parts of the island other vehicles can't reach, and laze in the sun? This full-day jeep safari is for you, mah friend.
Not only will you get breathtaking views as you drive to beautiful beaches and rural villages, but you'll also stop along the way for swims on quiet beaches, visit lighthouses, Venetian ruins, churches, and visit the remote corners of the island. And plus, you can even drive the jeep if you please! Sounds like a good day to me. Read reviews and book jeep safari here.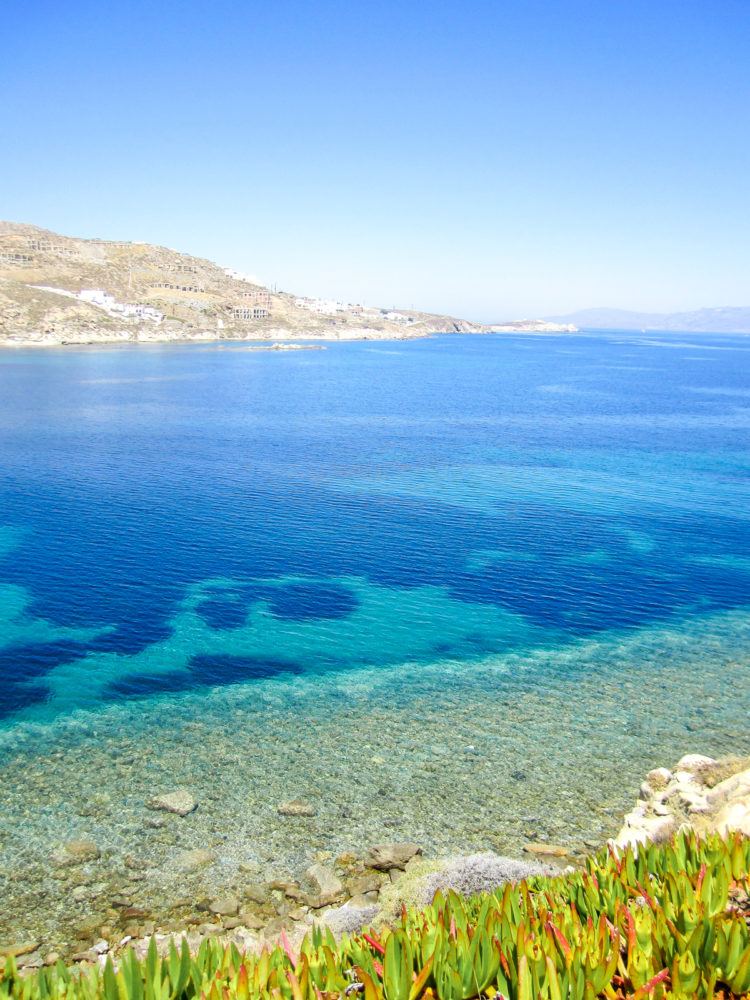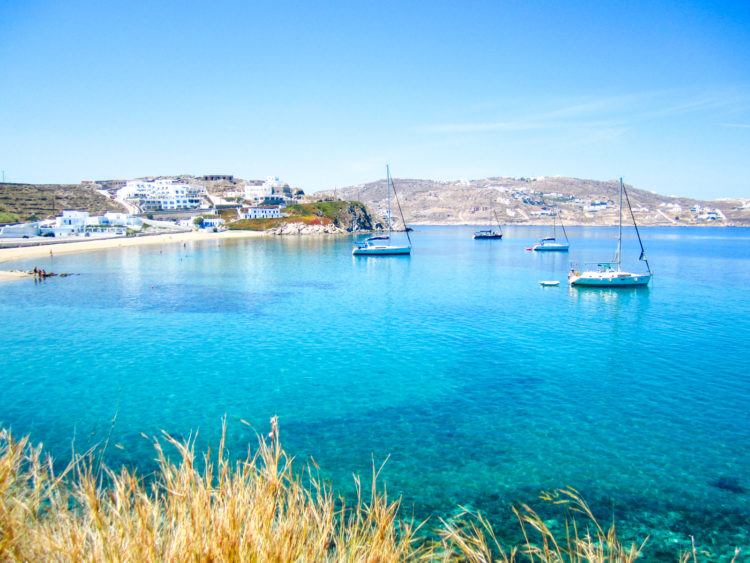 Note that this last activity lasts all day, and won't give you much time to visit the popular beaches. However, you can use your last morning in Mykonos (Day 9) as beach time if you've got yourself on a night flight.
Where to Sleep: Mykonos Town (Belvedere Hotel or Cavo Tagoo)
Day 9: Mykonos and fly back to Athens
EXPLORE MYKONOS IN MORNING/MID-AFTERNOON
You've got a few options for your last morning. You can choose to head back to the beach, take the morning cooking class as listed above, or simply wander around Old Mykonos if you're craving more cobblestone streets and charming little shops full of photo ops. We loved our villa and private pool overlooking the sea and took dips as often as we could.
Note that can you also visit Delos from Mykonos, but if you're like me and have had enough of ancient ruins after visiting both Athens and Delphi, skipping Delos is completely fine. Plus, more beach time!
However, if you're an archaeology buff and the idea of missing out on exceptionally well-preserved monuments kills you, there are guided tours in the morning that last about 4 hours or so. If you've got a flight later in the day, you can easily squeeze in a short trip to Delos. Read reviews and book morning tour to Delos here.
RETURN TO ATHENS
I guesssss you could technically wait until tomorrow morning to get back to Athens (as long as your flight back home is at night), but I always like to get back the night before – juuuust in case anything gets delayed or cancelled. Better be safe than sorry, especially when we're dealing with pricey international flights from Europe to the States.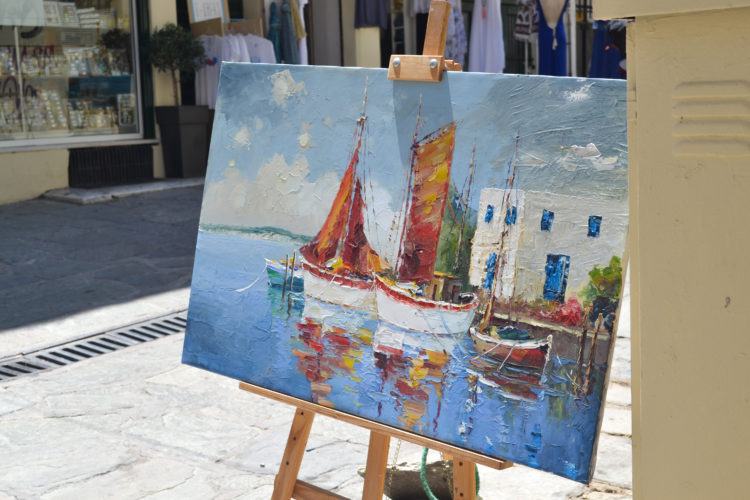 In order to make it back to Athens at a reasonable time, you'll want to book a flight from Mykonos (JMK) to the mainland, taking just over 30 minutes. Ferries just take oh so long, and why waste precious time on your 10 day Greece itinerary if that's all you've got?
My advice – book the latest flight possible in order to savor your last day on the Greek Islands. You'll find direct flights back to Athens on Aegean Airlines (Olympic Air), Ryanair, Volotea, and Sky Express. You'll want to book this one-way ticket far in advance in order to get your preferred date and time, as well the best deals of course.
Where to Sleep: Athens
Day 10: Athens and/or Depart
Wake up in Athens one last time, and tick off all those spots you missed on your first day! If you managed to get through everything already (you probably rushed!!!), consider a gourmet food tour of Athens, a trip to the Temple of Poseidon and Cape Sounion, or go sailing to a few islands off the coast (if you've got time for that of course).
Unfortunately this 10 day Greece itinerary has come to an end, and it's already time to say goodbye to this stunning country. Be sure to grab some coconut sticks and gyro on our way to the airport!
But wait! There's more → if you've got more time that is!
OPTIONAL Days 11-14: Additional Island Hopping!
Have a few extra days? Don't wanna leave after your 10 days in Greece is up? I feel ya; no amount of time is too much time in Greece. And with an abundance of other islands to explore, you could easily turn this into a 2 week Greece itinerary. After Mykonos, continue your greek island hopping extravaganza and head to either Ios, Crete, Milos (our new favorite) or Hydra (tough choice, but they're all beautiful).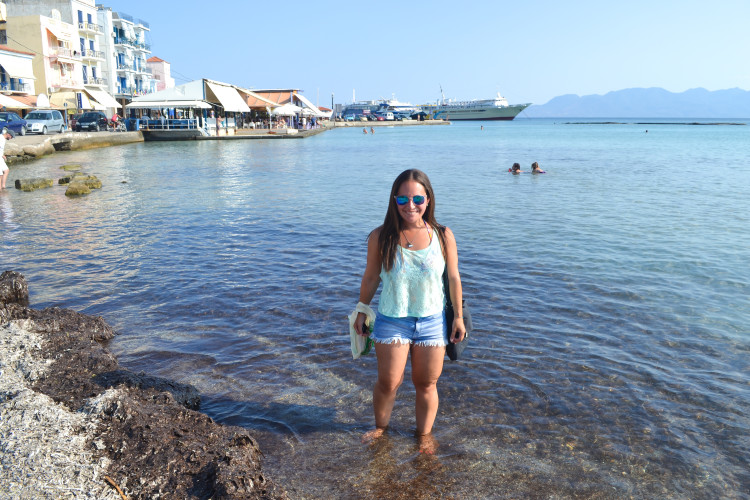 I always suggest returning back to Athens the night before your international flight back home, as ferries can unfortunately be delayed and unpredictable at times (weather and season dependent). Wouldn't wanna be late and possibly miss your flight!
My top picks to continue on with the Greek island hopping itinerary and complete your 2 weeks in Greece:
Milos
If you're looking for a few days at the beach, definitely choose Milos. All the beaches we visited in Milos were absolute stunners, and we honestly NEVER wanted to leave. And plus, Milos is much quieter than both Santorini and Mykonos, so you'll truly be able to relax here.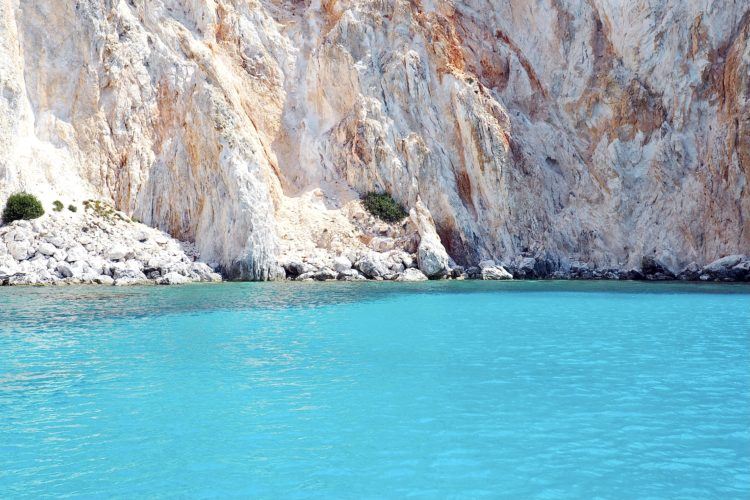 We did a lot in just two and a half days — we visited the lunar landscape of Sarakiniko (don't miss it!), swam in super-clear waters on our catamaran tour around the island (of course stopping at Kleftiko, an old pirate lookout!), and checking out a few traditional fishing villages. I honestly can't wait to go back, and we literally just got home!
Read Next: All the Best Beaches (and Swimming Spots!) in Milos!
Ios
Dreamy Ios, with its sparkling white hillside houses and blue domed rooftops, is undeniably one of the most beautiful and picturesque islands in Greece. Known for its vivacious nightlife, and an affordable destination for students on summer break, it's also a great place to kick back year-round, with sunshine and views around every turn.
Aside from joining the student parties (you do you), there's a ton to do on Ios island. Head out to the countryside to visit some historic Greek gems around the town of Chora, Skarkos archaeological site, and Homer's Tomb. Alternatively, kick back at the popular Mylopotas Beach and relax for a day by the glimmering sea.
Most people who visit Ios stay in Chora, the main town on Ios. Chora has a large variety of restaurants, shops, and a buzzing nightlife (if you're into that kind of thing). In Chora, the Liostasi Hotel and Suites has excellent reviews and a beautiful terrace pool. For a more boutique, local feel, the Yialos Ios Beach Hotel is a fabulous option with beautiful rooms in a traditional Ios house.
You can get from Mykonos to Ios on a ferry, which takes ~2 hours one way. There are a few different companies that operate trips every day.
Crete
Crete is the largest Greek island (at a length of 260 km!) and, by many sources, is one of the most beautiful. Here, you'll find idyllic villages, stark mountains, and of course, the beautiful deep blue seas that surround the Greek islands. A visit to Crete not only gives you the opportunity to experience its tourist attractions, but also its distinct local way of life.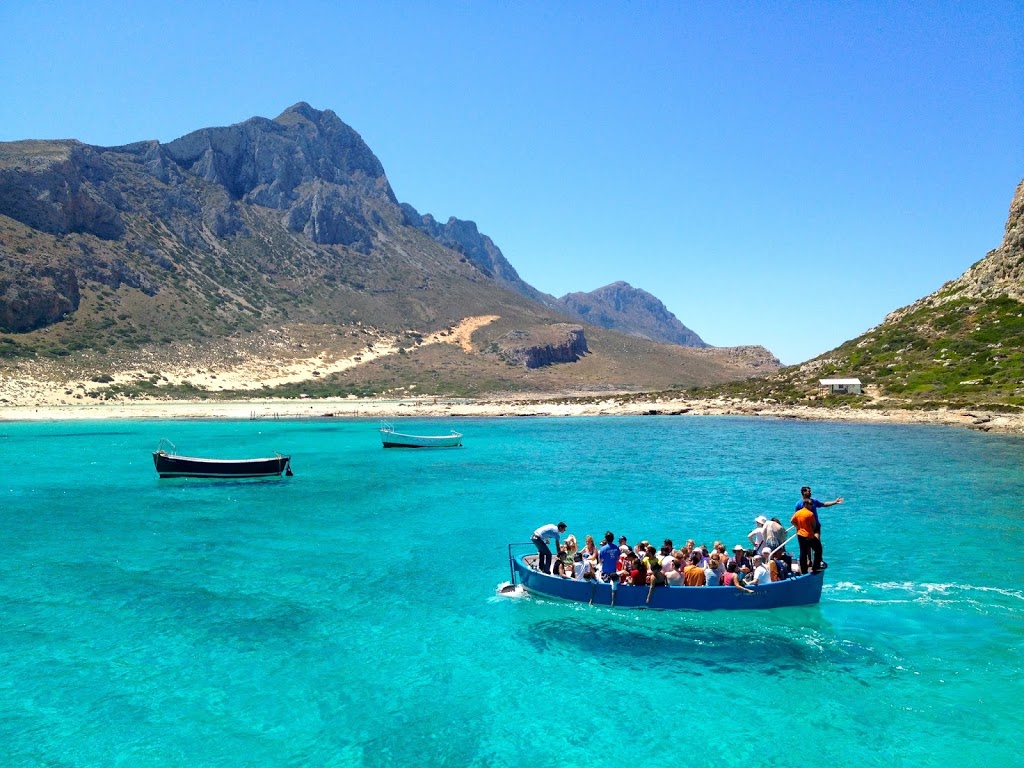 There are four prefectures in Crete and, because of its size, you'd need quite a bit of time to see everything. But the highlights are pretty obvious: learn about the fascinating history of Crete, explore some of the small villages, and of course, visit the incredibly beautiful and unique beaches on the island.
Don't miss the famed "Pink Sand Beach," Elafonisi Beach, where the pink tinted sand glows brightly against the beautiful turquoise water. It was actually one of my favorite beaches on our honeymoon to Greece.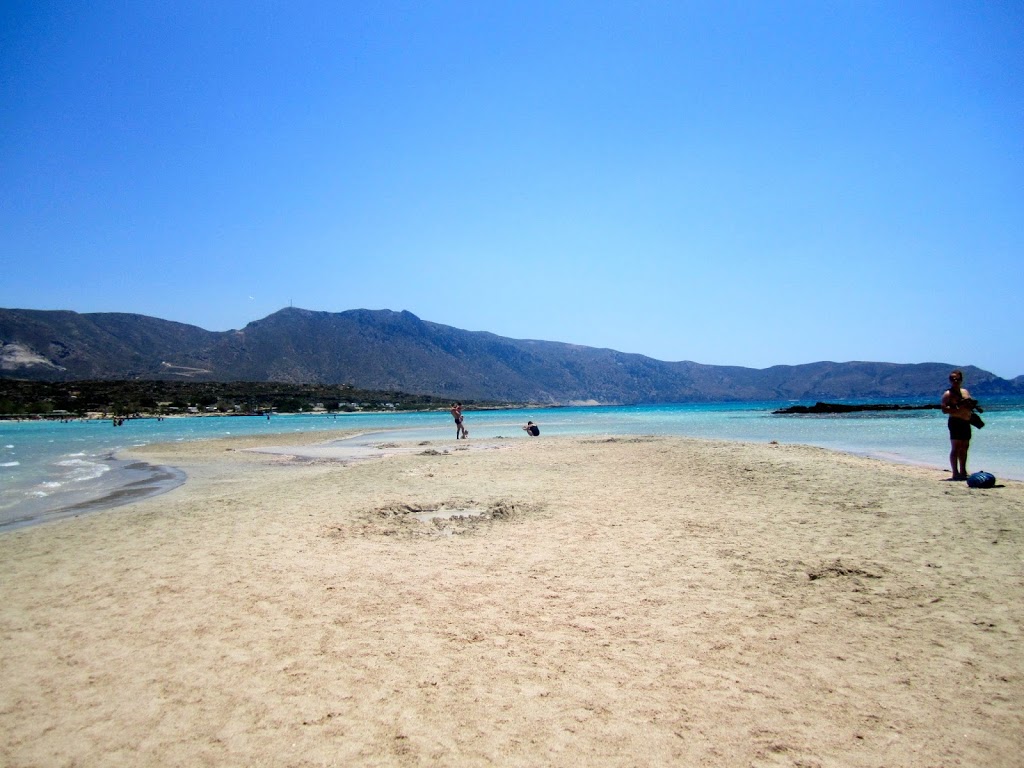 In Crete, Chania is the most popular and developed place to stay, with great access to some of the island's best beaches and lots of things to do in the city as well. TheJoy Hotel is a fantastic, boutique-style hotel option that's really centrally located. Alternatively, the Elia Kentron Hotel is a well-rated local hotel that has charming, traditional rooms.
You can get to Crete from Mykonos by ferry, which usually takes ~5 hours to arrive (yes, it's a long time, but well worth it)! There are daily departures for the Mykonos-Crete route. You'll want to fly back to Athens for sure, as the ferry back takes foreverrr and a day (it's the farthest island from the mainland).
Hydra
If you wanna get back to the mainland but stillll wanna feel like you're on island time, head to Hydra, right off the coast of Athens. Originally, the island was named Hydrea after the natural springs that dot the whole island.
Needless to say, Hydra is a fabulous destination for water-lovers and people who want the laid-back vibes of the Greek islands. You won't feel like you're anywhere near the city (even though you can get back to Athens in less than 2 hours).
When I visited, the crystal clear water, the traditional craft shops, and the cantaloupe gelato won me over (yes, cantaloupe!) And plus, with no vehicles allowed on the island, Hydra is the perfect place to go for a long stroll around the Port admiring the boats and watching the tourists and locals go by.
Be sure to climb up and up to get views for days, as well as wander the streets to admire the unique architecture of the old homes. Head to one of the local museums, or lay out at one of the island's beaches, like the secluded, tranquil Agios Nikolaos.
The best place to stay in Hydra is, well, Hydra Town. Being centrally located, you can get everywhere you'd want to go quite easily, and thankfully, there's a whole slew of hotels to choose from! Nereids Guesthouse and Piteoussa Guesthouse are two well-rated local guesthouses that travelers seem to love.
To get to Hydra from Athens, take a ~1 hour ferry from the port at Piraeus, which is a 20-minute metro or car ride from Athens. Ferries leave several times per day.
Hopefully this (ridiculously detailed) Greece itinerary made planning your trip a bit easier and actually somewhat enjoyable! Are you headed to the country soon? How are you spending your 10 days in Greece?
Did you know that …
When you purchase something through our links, we earn a small fee (but you still pay the same)! Win-win! If you found this article useful, consider using the links within the article or below. Thanks for your support!