Heading to Indonesia and looking for the best Bali itinerary out there? Well, my island-loving, sunset chasing friends, I've cooked up just the thing – the perfect 10 days in Bali to help plan your trip!
Don't miss this ridiculously-detailed Bali travel blog! You may wanna grab a notebook and pencil – this thing is jam packed with necessary information (just saying).
Bali is full of lush, green jungle. Palm trees swaying in the wind. All the tropical fruit you want and large, inexpensive coconuts (with the most delicious coconut water).
Trendy beach clubs and cafes. Idyllic sunsets. Impressive infinity pools. I could go on and on. Bali's a living postcard. That ultimate Indonesian fantasy-land you've been dreaming about for oh so long. And plus, you get a lot for your money, too!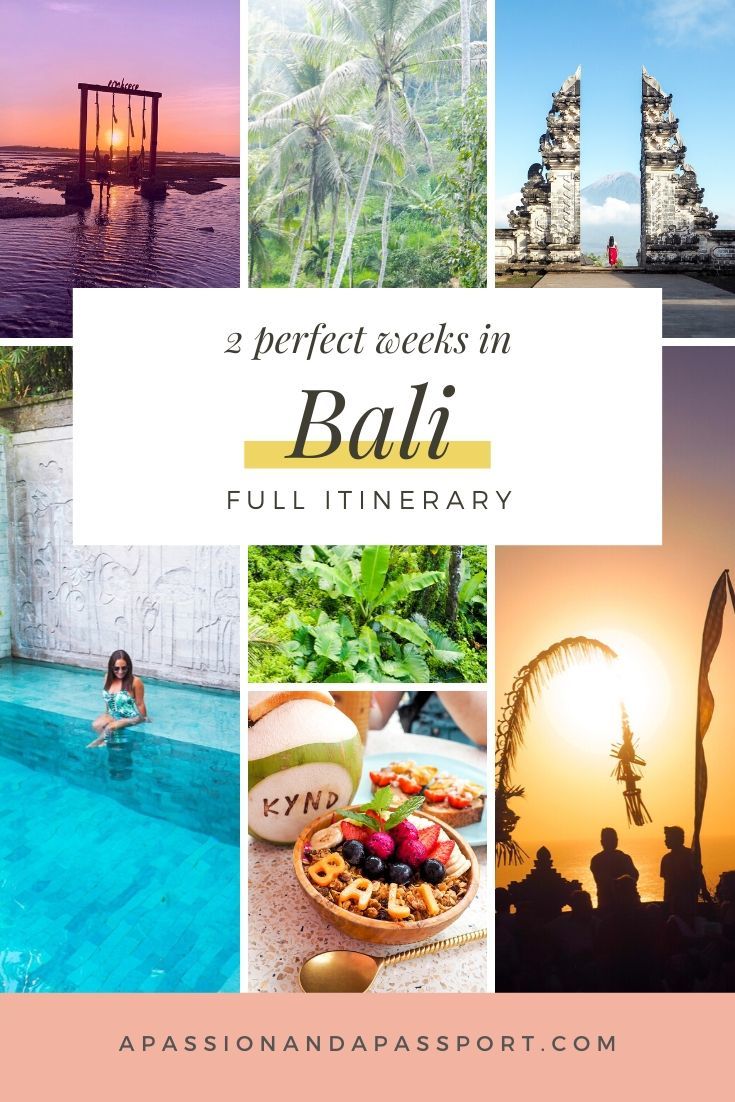 I knew Bali was special (hey, there's a reason why people go and never return). I just didn't realize how special it was until I visited the island (and it's surroundings) myself.
It seems as if every other travel blogger/instagrammer to walk the earth has already spent considerable time in the area, and I was determined to find out why everyone raves about it so dearly.
*I was also a tad worried the entire island would be overrun with "influencers" taking photo after photo of themselves for hours on end (it's got a bad rep for that), but I was pleasantly surprised.
Yes, I encountered a few groups of this, but thankfully there is just SO much to explore on the island it's easy to escape the intense mobs of photo takers.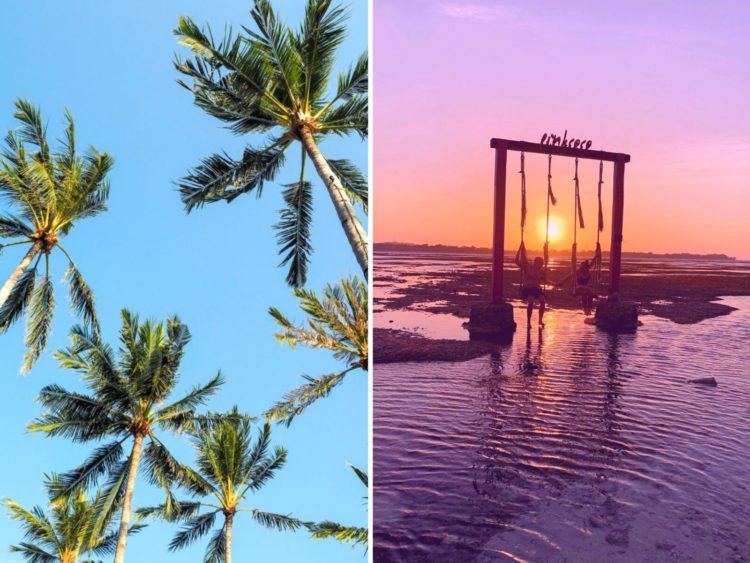 So with that being said, if you're planning your own trip to Bali, you're in for a real treat.
And if you don't wanna plan it yourself (truuuust me, there's TONS to do and a crazy amount of places to see it all gets overwhelming in approximately .23 seconds), feel free to use my (ridiculously-detailed) Bali itinerary below.
It's the exact one we followed this past July, and quite honestly, other than wishing we had a few more days, there's nothing I would change.
Got a bit less time? This 10 day Bali itinerary can easily be modified for a well-rounded 7 days in Bali if you've only got yourself a week. Sadly, take out the few days in the Gili islands and you've got yourself a 7 day Bali itinerary.
Have longer than 10 days in Bali? Well, lucky you! We had a little more than 2 weeks in Indonesia, so snuck in a few days over at Komodo National Park to see the dragons, bask on a pink sand beach, and snorkel with manta rays and sea turtles. I'll be writing allllll about that experience soon, so keep your eyes peeled! EDIT: Read for the most amazing trip to Komodo.
But first, a pre-travel guide to Bali to learn a bit about the island and what to expect when you're there.
MAIN REGIONS VISITED ON THIS ITINERARY:
Ubud (3 days)
Jimbaran/Uluwatu (2 days)
Gili Islands (3 days)
Seminyak/Canggu (2 days)
This Bali itinerary starts in Ubud (the farthest spot from the international airport – on purpose), heads south to Jimbaran/Uluwatu, a quick boat ride east to the Gili Islands (technically not part of Bali, but a wonderful addition to any Bali itinerary), and ends in Seminyak/Canggu.
There are so many different areas on the island to explore, but this 10 day Bali itinerary is a great mix of lush, jungly Ubud, trendy Canggu cafes, fire culture in Uluwatu, and a good amount of beach/pool time in Jimbaran and Gili.
Where in the world is Bali anyways, you ask?
Not to sound all textbook-ey, but Bali is an island located in the Indonesian archipelago, to the west of Lombok and east of Java. And nope, although many think it is, Bali is actually NOT a country – it's part of Indonesia!
Many visitors who visit Indonesia only make it to Bali, so the whole country/island thing is kiiiinda understandable. But geography is important, so just remember that Bali is in fact NOT a separate country! 🙂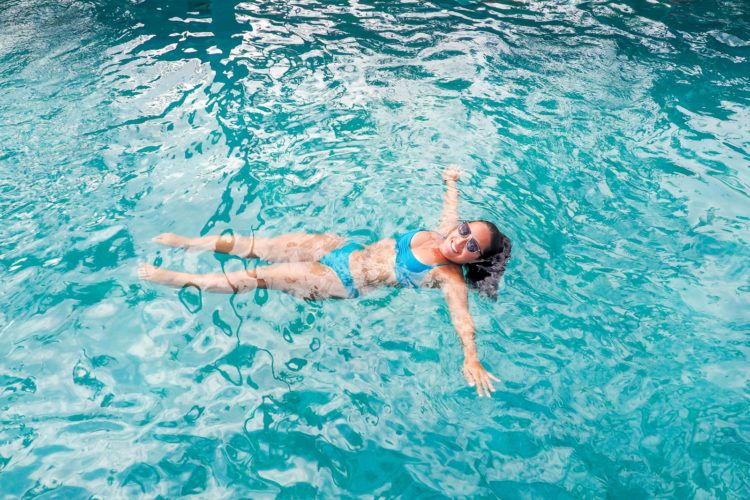 Currency and Exchange Rates in Bali and Indonesia in General
Bali (and Indonesia in general) uses the Indonesian Rupiah, with the exchange rate being approximately 14,000IDR = ~$1USD – or, which is even more confusing, 1IDR = ~$0.000072USD (at time of this publication, August 2019).
I recommend using a currency converter (such as XE Currency on your cell phone or a currency converter on the web) to get the most up to date currency exchanges for all forms of currency.
Converting prices in our head was confusing to say the least, but after a few days we got the hang of it quite quickly. I found it easy to think in 150,000s, since that's approximately equivalent to ~$10USD (so therefore, 75,000 rupiah = ~$5USD).
You will notice that many locals/shop owners/restaurant menus simply leave off the thousand, and speak in hundreds. For example, 100,000 rupiah would be spoken/written as 100 (so if you see a meal of mie goreng for 75 rupiah, you won't be paying 5cents, but $5.)
Note that you may find that many ATMs are broken/don't accept your bank card. Don't fret – there are rows of ATMs from different companies in order to compensate for this. You'll be able to find tons of ATMs in Bali's most populated areas, and I bet at least one of them will work!
I read online to use caution when using the ATMs as some can be untrustworthy, but we had no issues with our bank cards.
Some restaurants and higher-end stores/shops take credit cards, but it's wise to always have some cash available for market shopping, eating at local warungs, getting that spontaneous $7 massage on the street, etc.
How to get the best exchange rate: I always suggest you take out local currency at ATMs upon arrival and never ever through an exchange desk or beforehand in your home country. ATMs provide the best exchange rate, always.
I always take out cash at an ATM at the airport upon arrival in the new country I'm visiting. And if you want to avoid those pesky ATM fees every time you take out cash, simply look into a no-fee debit card, such as through Charles Schwab (which I have and love).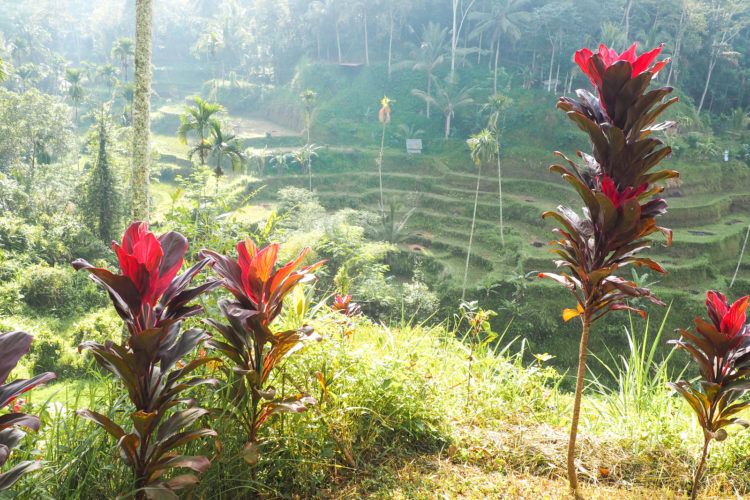 Language in Bali/Indonesia
First things first, English is widely spoken in Bali. We were surprised at just how many locals knew an impressive amount of English, and thus we didn't need to use any Indonesian/Balinese during our 10 days in Bali at all.
Of course, since tourism is so prevalent, it's understandable for Balinese to speak a level of English to communicate with tourists, but so many spoke rather advanced English as well. Coming from someone who only knows one language, I was quite impressed!
We met a few drivers who were keen on practicing their English, so you might run into some extra chatty ones!
Just so you're aware, the national language is Indonesian, with many locals living on Bali speaking Balinese (and yes, they're separately languages!).
WHEN TO VISIT BALI:
Before planning a trip to Bali, it's important to understand its weather patterns. Bali experiences two distinct seasons, the dry season (April to October) and the rainy season (November to March).
And since Bali is oh so close to the equator, you'll find day time temperatures relatively constant year round, between the mid-80s and low-90s, making for decent sightseeing temps no matter the season.
If you're looking for comfortable temperatures and little to no rain, I highly suggest you visit during the dry season, which is actually Bali's winter. Don't be put off by "winter", as the temperatures are still in the 80s (and clear and sunny) almost every day!
However, this picture-perfect weather is high season (for good reason), causing hotel prices to rise, especially during July and August. For slight discounts on accommodations, try visiting just before/after high season in May-June/September-October.
And just for the record, my research states that Bali encounters a tremendous amount of rain during its rainy season, bringing high humidity and unrelenting mosquitos. My advice – just visit during Bali's dry season and you're good to go. 🙂
Top Tip #1: Regardless of the month you're planning to embark on your 10 or 7 day Bali itinerary, the sun will set around 6-6:30pm. Since the island is so close to the equator, both sunrise and sunset times don't vary much.
Because of this, plan to wake up early to take full advantage of the daylight. One benefit to an early sunset – you've got no excuse not to watch it every single night (which is oh so different to visiting Norway in the summer with sunsets past 10pm)!
Top Tip #2: If you're planning on visiting other countries nearby, do keep in mind that the dry season is quite opposite from other Southeast Asian countries. Do your research ahead of time to avoid unpleasant wetness (with possible monsoons) in other areas.
Health and Safety in Bali
HEALTH:
Water: Do note that you absolutely cannot drink the water in Bali; you'll find that all hotels/restaurants provide fresh drinking water (either bottled or from large treated water jugs). Because of the unsafe water, Bali belly is quite common – which is just a fancy name for food poisoning.
I encountered some minor gastro issues during our trip (bloating, frequent bathroom visits – hey, just being real!), but it thankfully cleared up without any medication in 1-2 days.
You may want to ask your doctor for a prescription of Ciprofloxacin for serious travelers diarrhea in case you find yourself with any disturbing stomach issues. We always pack immodium as well, just in case.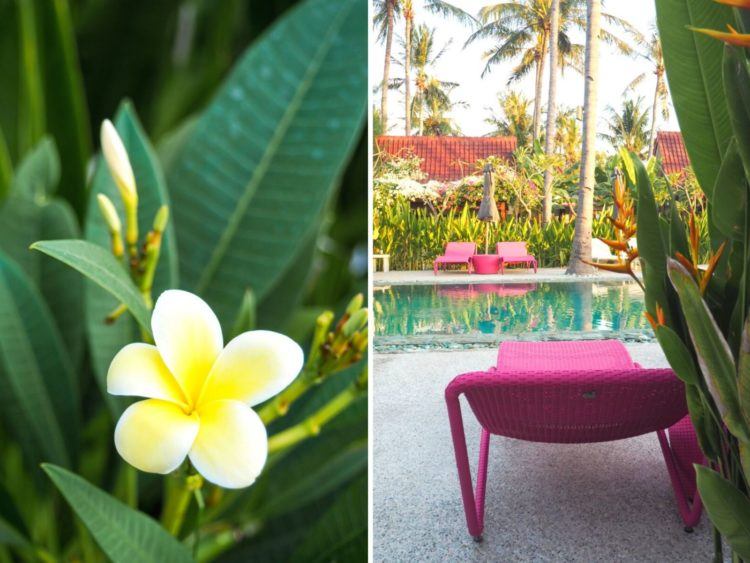 Vaccinations : The CDC states that all travelers to Indonesia should be up to date on routine vaccines (MMR, tetanus, chickenpox, pollo, flu shot). In addition, it's also wise to get the Hep A, Hep B, and typhoid vaccination as well (some of these are good for years, so if you plan to do a lot of traveling to other undeveloped countries, you'll probably need them there – might as well get them now and keep yourself protected always).
As always, talk to your doctor.
Malaria: Thankfully there's no worry for malaria in Bali, but if you're visiting Komodo National Park (like we did later on during our trip), you'll need to consider taking malaria pills. Talk to your doctor about this first of course.
Travel insurance: Yes, you need this. I always recommend purchasing travel insurance before your trip. You never know what might happen (flight delays, lost baggage, illness), and travel insurance definitely helps with all of those unfortunate unexpectancies.
I highly recommend the company SafetyWing (which thankfully includes pandemic coverage) and ALWAYS buy a short term plan (depending on how many days/weeks we'll be away) before we leave for any trip!
Even if you don't end up using it, peace of mind is 100% worth it in my opinion. Find plan options and pricing here (and at only a few bucks a day, there's no excuse not to!) I always say, if you can't afford travel insurance, you can't afford your trip. It's that easy.
Not convinced you should be using travel insurance? Check THIS out, I explain it in much more detail over there.
SAFETY:
We felt safe the entire duration of our stay in Bali, and used the typical precautions we normally do (no flashing expensive items/electronics, stayed together at night, knew about possible scams).
And while we're talking about staying safe, keep in mind that driving in Bali is kinda crazy to say the least, so don't plan on renting a scooter unless you're extra confident and can call yourself an expert bike driver.
VISAS:
No visa is required for U.S. citizens traveling to Bali (and Indonesia in general) as long as a valid tourist passport and proof of onward travel is in possession, and you're traveling to the country for 30 days or less.
How to Get to Bali
Most international flights arrive in southern Bali at Ngurah Rai International Airport (also known as Denpasar International Airport, airport code DPS), many with layovers in neighboring/nearby countries.
Our flight stopped in Taipei, Taiwan, which we would have decided to make into an extra long layover to explore the city if we hadn't already done that on our previous trip to Thailand. Why not get some time in another country if you're already there, am I right?
I like using Skyscanner and Google Flights to check for prices. For reference, we chose to fly premium economy (between regular economy and business class), and paid around $1,500 per person on China Airlines round trip from the West Coast USA during Bali's prime season of July.
If your dates are more flexible (and your husband will put up with standard economy class) you can surely find cheaper airfare, although we did not have this luxury. For reference, I commonly see roundtrip economy flights from San Francisco for around $800, with flights as cheap as $550 occasionally!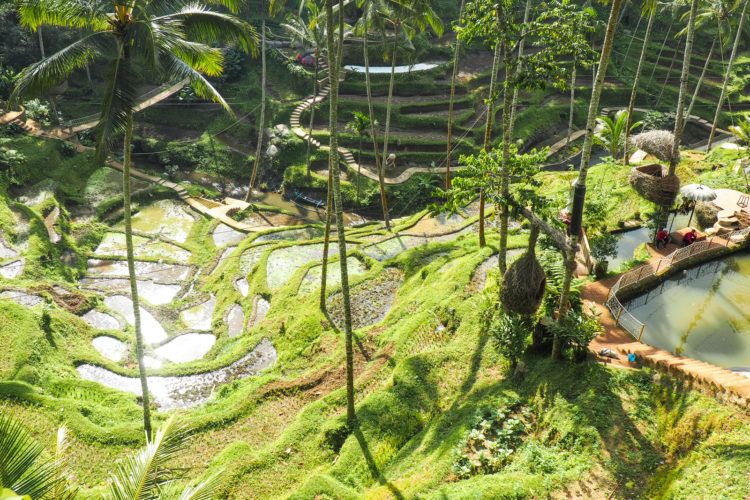 How to Get Around Bali
Although the island isn't toooo large, it'll still take a decent amount of time to get from place to place. What I initially didn't realize is that there aren't many roads from east to west on some parts of the island, so although two spots look relatively close on a map, you may need to first travel south in order to actually get north.
And boy oh boy is that Bali traffic a thing – a few miles will mostly take the good portion of a half hour (or hour!), so plan accordingly and leave extra time if you have reservations anywhere/need to get somewhere at a certain time.
I'll explain in more detail as I go day by day on our exact Bali itinerary below. However, if you're on a bike/scooter you can bypass some of this traffic.
We originally thought we'd be able to use Grab (similar to Uber), and downloaded it ahead of time planning to use it to get around (between areas and within towns as well).
HOWEVER, we ended up only using the Grab app ONCE our entire trip, from the airport to Ubud (for about $28) our first day. Since it didn't work in multiple areas (specifically within Ubud and Canggu), private drivers through WhatsApp were our saving grace.
We were able to use taxi stands on the street (bargain for a reasonable rate) when we didn't have any numbers and/or just wanted to go short-ish distances. Do not rely solely on Grab as you'll be thoroughly disappointed and frustrated.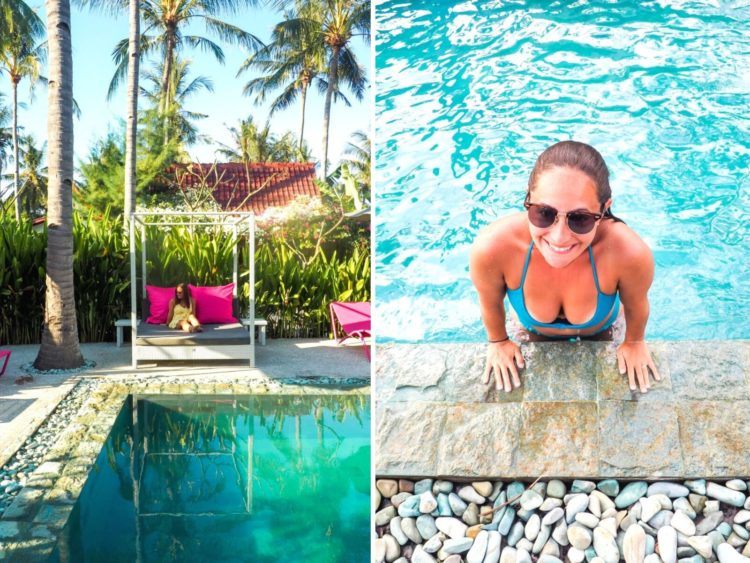 ELECTRICITY:
Bali uses a different type of electrical outlet as found in the USA – the round two-pin plug (type C/F), commonly found in parts of Europe. Get your worldwide travel plug adapter here (which you can use on other trips around the world as well).
It's also important to understand that the amount of voltage is different and you'll need a converter (different than an electrical adapter) to change the amount of electricity pushed to each device if you plan on bringing anything which uses an excessive amount of power (including hair dryers, curling irons, and/or straightening irons).
If you don't want to worry about this, I suggest you invest in dual-voltage devices made especially for travel like this dual-voltage blow dryer, dual-voltage mini straightener, and this dual-voltage curling iron.
WHERE TO STAY IN BALI: (MORE INFO ON EACH ONE THROUGHOUT ITINERARY BELOW)
Ubud: Komeneka at Tanggayuda and/or Maya Ubud Resort and Spa (we stayed at both)
Jimbaran: Ayana Resort and Spa Bali
Gili Air: PinkCoco Gili Air
Seminyak: The Elysian Boutique Villa Hotel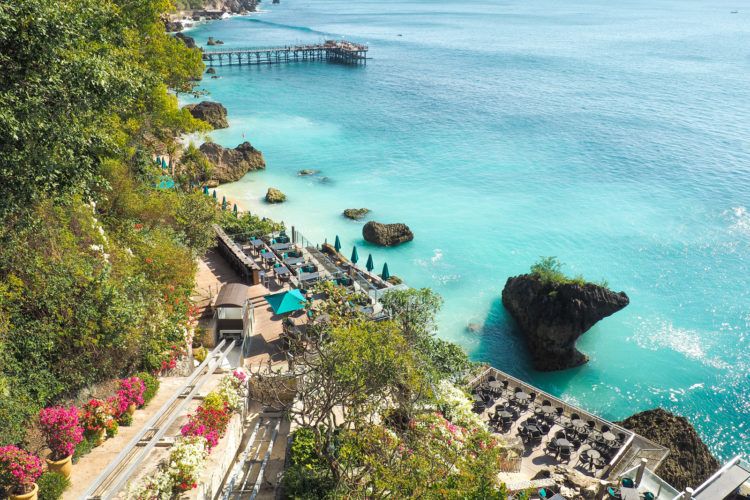 A note on Bali hotels, resorts, and hospitality in general: Bali is the place to go all out, because you can likely afford it here. While there's accommodation of all price points, we found 5-star hotels for ~$250-300 a night, which is the same price we paid for a 3-star hotel night in Boston just a few weeks prior.
Many of these luxurious resorts include a whole slew of extras, making the price more than worth it (free breakfast, infinity pools, complimentary afternoon tea time, shuttle service, private plunge pools, etc). And oh, the people! Never in all our travels have we experienced such wonderful hospitality anywhere else in the world.
The authenticity and graciousness of those in Bali was an unexpected surprise, as we found everyone we encountered to be extra helpful, overly polite, and always cheerful with a smile on their face.
WIFI AND STAYING CONNECTED
Although you will most likely have wifi at your accommodation, it's a good idea to bring along a pocket-sized personal WiFi hotspot, to keep you connected during your time in Bali. WiFi hotspots are a cost effective option to ensure you can use GPS apps like Google Maps, check your emails, and catch up with friends and family while away.
With this portable device, you'll have WiFi wherever you go (even if your phone doesn't have service), unlimited internet (on up to five devices at a time!!!), and it's fast and reliable. At less than $9 a day, this device can't really be beat.
Note that some cell phone plans allow for international use, but many of these are costly. I accidentally turned on my phone service for LESS THAN 2 MINUTES and got charged $150 by my phone carrier! I desperately wished I had a personal WiFi hotspot with me then!
Find more information and plan options here. HIGHLY RECOMMENDED especially when you don't speak the native language of the country you're visiting. A true life saver.
Foods to try in Bali: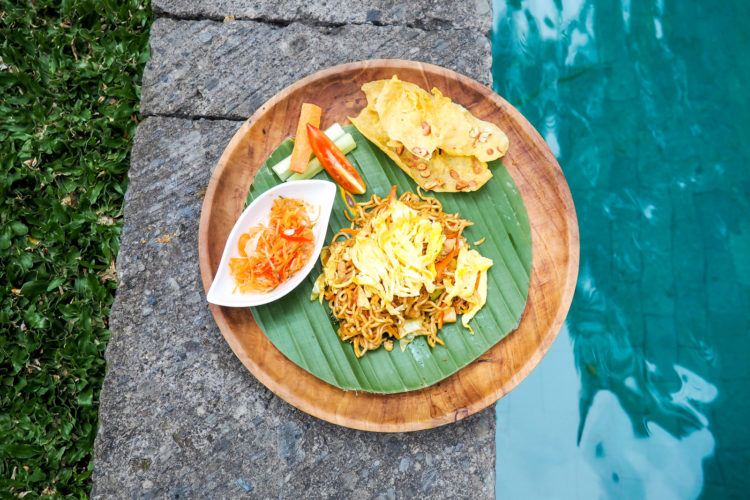 snake fruit: kinda like an appley-tasting fruit, quite good!
Balinese steamed cakes: made out of rice flour with a wide array of fillings, wrapped in a banana leaf
Mie Goreng: A classic Indonesian dish consisting of fried noodles, served with your choice of vegetables, chicken, shrimp or pork.
Nasi Goreng: very similar to Mie Goreng, but fried rice instead of noodles.
Sate: meat skewers, including chicken sate, fish, lamb. All with their famous peanut sauce (my favorite)
Nasi Campur: mixed rice dish that comes with a simple selection of steamed rice and side dishes including steamed Long beans, meats, vegetables, peanuts, eggs, and fried-shrimp krupuk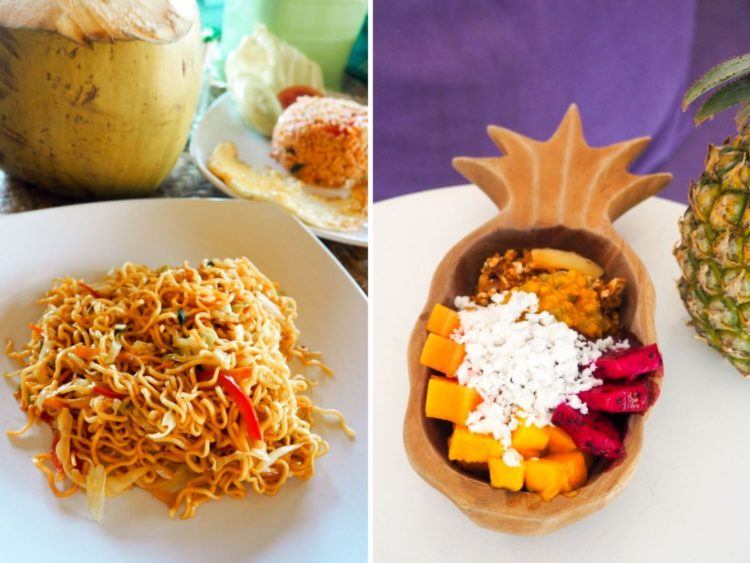 Balinese coffee: it's quite strong and usually drank black!
Babi Guling: suckling pig; a combination of crispy pork skin, pork blood sausage, pork roll, and fried pork meat and has a reputation for being Bali's national dish.
Bebek Bengil: crispy pig, literally translated to "dirty duck", deep fried to a crispy finish.
Prawn crackers: not my favorite, but they'll be served at every meal so you're bound to run into them on more than one occasion
Lemongrass and ginger drinks
Allll the fresh juices
Whole fresh coconuts: I had the best coconut water in Bali, in the largest coconuts I've ever seen, for the cheapest price (way larger than those I got in Panama, and for ⅓ the price!)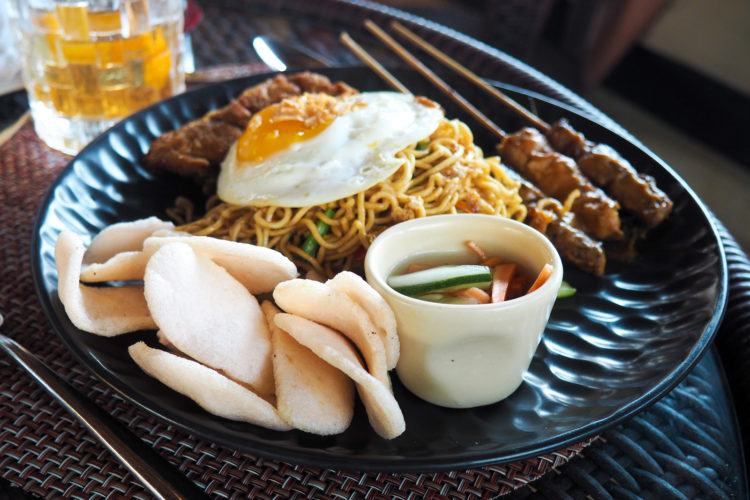 WHAT TO BRING TO BALI:
Because of its hot, sticky climate, you'll want light, airy clothing.
Appropriate clothing for temples: Long pants, shoulder covered shirts, shawls. Do note that sarongs/shawls are provided (either for rent or for free) at all the temples we visited. Feel free to bring your own if you wish, although FYI, you still may be required to use one from the site.
Comfy footwear- you'll be walking ALOT! We both got basic black canvas tevas before our trip, and although I didn't wear them much (husband wore them a lot), I can say when I did put them to use my feet were always well-protected and comfortable (I even went hiking in them in Komodo once on some pretty rough terrain [post coming soon]).
Sandals/bathing suits for the islands
10 Day Bali Itinerary
In a nutshell: Ubud (3 days) → Jimbaran/Uluwatu (2 days) → Gili Islands (3 days) → OPTIONAL: Komodo National Park (3 days) → Seminyak/Canggu (2 days) → departure from DPS
This itinerary will supply a full 10 days in Bali, meaning that it'll start on your first FULL day in Bali. Do note that for a full 10 days, you'll most likely need a good 12 days or so for your trip, as the flight is quite long and you'll be going over the international date line if you're coming from the states.
First off, FLY TO BALI (DPS)!
The airport you're looking for is Ngurah Rai International Airport (also known as Denpasar International Airport, airport code DPS). The flight is long from most parts of the world (a whopping 18 hours or so of flight time from the West Coast USA, and a bit less around 12-17 hours from Europe, depending where you're flying from) without many inexpensive direct flights, but I promise you, a trip to Bali is well worth it!
Psst – check out Skyscanner and set up price alerts to snag the best deal.
Do note that you'll be crossing the international date line if you're traveling west (USA to Bali), which means you'll lose a full day, besides travel time (we actually lost the Fourth of July on our flight!). But dontchu worry – this just means you'll arrive home the same day you depart when headed back home at the end of your trip, even with all those hours of travel.
Part I: 3 DAYS IN UBUD
*Where we stayed in Ubud: Komaneka at Tanggayuda and Maya Ubud Resort and Spa
There's a million and 5 places to stay in Ubud – and each one looks amazing. Talk about difficulty choosing just one (and I'm already an indecisive gal)! Because of this, we decided to split our time in Ubud (4 nights) at two different hotels (at different locations near/around Ubud) for 2 nights each. And this ended up being the perfect decision.
Plus, I kinda thought staying at the same hotel for 4 nights would get kinda monotonous when there were so many others to check out. We adored both for different reasons, which I'll share below:
Komaneka at Tanggayuda: To make things short and sweet, we loved absolutely EVERYTHING about this 5* boutique hotel. From breakfast overlooking the absolutely gorgeous infinity pool and complimentary afternoon tea, to the lush grounds of the resort and tropical fruit trees found just about everywhere, there's not much we would change.
Upon first glance the resort doesn't look to be all that, but trust me, as soon as you start wandering around you'll see what I mean.
We opted for the 1 bedroom villa with a private pool and valley view which cost us roughly $300 per night (an absolute bargain for the place – you'll see).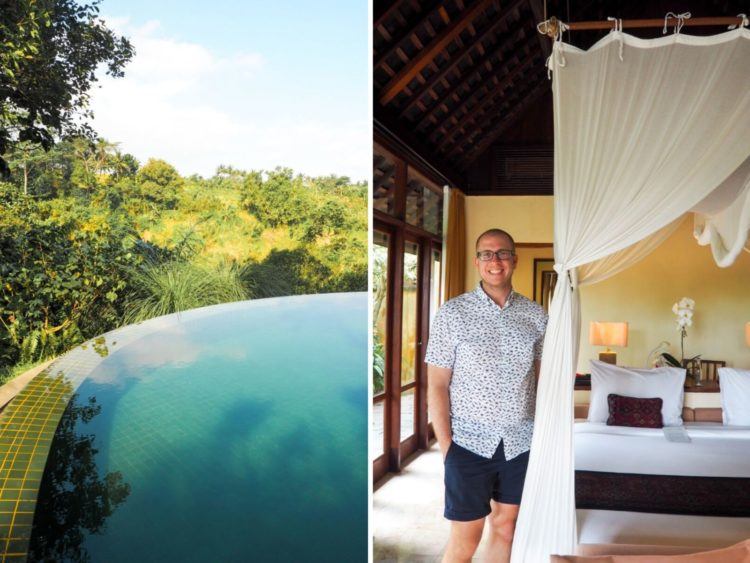 To be completely honest, we kind of wished we had stayed an extra night at the Komaneka as we didn't allow for enough time to fully enjoy the resort (as we were out and about each day).
Do note that this luxe resort is located roughly 25 minutes north of Ubud center, so you'll need to arrange for a driver/taxi if you want to head into town (which is why we chose to stay closer to town the next few nights, at Maya Ubud – more details below).
Also note that you'll find other hotels within the Komaneka brand in other places near Ubud, so be careful when booking if you want to stay exactly where I did. I cannot speak to the service or grounds of the others (as we did not stay elsewhere), but if they're on par with Tanggayuda, I bet they're top-notch as well. Read reviews and check prices here.
Maya Ubud Resort and Spa: The Maya Ubud had suuuuch a different vibe than the Komenaka (not a good or bad thing, it was just different). For starters, it was oh so much larger, but also (possibly because of this) a bit more standard-hotel feely, but still wonderful nonetheless.
The gardens were magnificent, the infinity pools impressive, and the service impeccable. We were generously upgraded to a private pool villa (not exactly sure how that happened, but thanks!), and to say I enjoyed our private outside space at Maya Ubud is an understatement.
Since the Maya Ubud is pretty close to Ubud Town (a tad east), there's a complementary shared shuttle running throughout the day to the center of town (taking roughly 10 minutes or so).
We used it quite a bunch and found the service very convenient. If you miss the shuttle or don't feel like waiting, the walk to Ubud Town is only about 20-25 minutes – but remember it'll be hot out!
Although we loved most aspects of the hotel, the spa (and flower bath in particular) really did it for me. Imagine soaking in a tub full of rose and frangipani flowers with calming river views… I was obsessed after 5 minutes.
I'll explain my experience in a bit more detail during the itinerary, but just know that I highly encourage any bath lover to give it a try! Read reviews and check prices here.
Day 0 | Arrival into Bali, and head to Ubud
Use this first day for arrival into Bali, as it's very possible that you'll arrive a bit later on in the day (depending on where you're coming from of course).
And if you decide to follow this Bali itinerary to a T (all heavily researched and 100% tested by us!), you'll be heading straight to Ubud from the airport!
Thankfully we were easily able to use the Grab app to hire a driver/car to drive us straight to the Komaneka at Tanggayuda (where we stayed first near Ubud), which cost us roughly $28 for the 2 hour drive.
Since we didn't land until 3pm-ish, and with a bit of that infamous Bali traffic, we arrived to our hotel near Ubud around 5:45pm or so. If you are lucky to have an earlier flight, I highly recommend hanging by the pool for a bit, watching your first Bali sunset, and enjoying dinner at the Komaneka.
I wouldn't suggest heading into Ubud Town your first night if you're staying where we did, as you'll most likely be especially tired (and the food at the Komaneka is quite tasty!).
Where we slept: Komaneka at Tanggayuda
Important Note on Day 1 and 2: The traffic in and around Ubud (and Bali in general) can be horrendous. As you'll notice on Day 2 of this Bali itinerary, we actually didn't make it to all of our intended spots due to crazy amounts of unforeseen traffic.
Don't be upset – it's all wonderful and no reason to ruin your entire day/trip over. Just understand that you may need to be a bit more go-with-the-flow than normal.
→ Read Next: The Perfect 3 Days in Ubud
Day 1 | Day Trip to East Bali
It's your first full day in Bali, so it's time to wake up and explore! Use the jetlag to your advantage and plan for an early morning wake-up call (5AM to be exact) to head out to the eastern parts of Bali.
We chose to hire a private driver to take us to Lempuyang Temple, Taman Tirta Gangga, Tibumana waterfall, and Pura Tita Empul (in that order).
Note that we chose to book through AirBnB experiences, and were able to choose exactly where we wanted to go. Our guide took great photos of us and we had the best time with him.
And psst – if you sign up for AirBnB through my link, you'll get $15 off any experience of at least $50 (so if two people go that discount will work!). If you choose the same spots as we did, just know that you'll need to pay all entrance fees as they are not included (roughly $10 per person).
If you don't feel like signing up for AirBnB (it's not that difficult I promise), this tour is very similar and takes you to the famous Lempuyang Temple, water palace, a waterfall, rice fields, and ends with the famous Bali swing.
We got picked up by our driver before the sun even rose, getting an early start of 5AM. And since we traveled to the furthest stop first (roughly 2 hours away), we were able to sleep/rest a bit in the car!
Perrrrfect! I have to admit, it was oh so nice having a local drive us around, especially considering the roads seemed a bit confusing. We didn't have to worry about a thing – and we loved it!
Oh right, breakfast! Since the Komaneka at Tanggayuda includes breakfast, they boxed up a to-go breakfast for us to enjoy on our tour to East Bali. We ate it during our time at Lempuyang Temple, while our guide waited on line for us (more info on that below).
Stop #1) Lempuyang Temple
First stop – Lempuyang Temple! I guarantee you've seen numerous photos of this Hindu temple, primarily due to it's famous gates, the Gates of Heaven, with perfectly framed views of the Agung Volcano. It's pretty iconic of Bali, and it's absolutely gorgeous (especially with that early morning light).
The Lempuyang complex is actually comprised of 7 different temples (with TONS of steps), so just plan on doing the first and most popular one if you don't plan on spending all day there.
Lempuyang Temple, also known as Pura Penataran Agung Lempuyang (yes, it's a mouthful), is one of Bali's oldest and most highly regarded temples in the entire country. Please be respectful and read below.
Once you arrive, you'll need to rent a sarong to wear (yes, no matter if you're already wearing a long skirt or pants). Since Pura Lempuyang is a sacred place, sarongs are custom, so just wear one willingly and be respectful. Covering your shoulders is also required, so plan on bringing along an extra shawl, cardigan, or simply, just wear a tee shirt like I did.
No kissing or close physical touch is allowed at the temple. My husband kept forgetting and I had to literally shoo him away!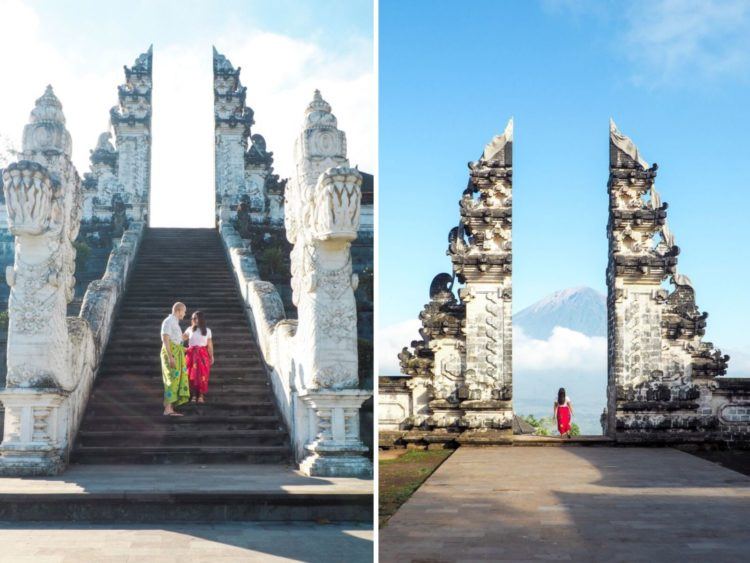 I'll let you in on a little secret – the reflection is fake. Yup, those photos you see (here and elsewhere)- one lie after another. But that doesn't mean we didn't get the obligatory photo for ourselves – of course we did.
We're just happy we didn't actually wait on the horrendously long line (our guide thankfully did while we were off exploring other parts of the temple/eating our breakfast boxes).
Just another reason to take a tour; I'm guessing most tour guides stand in line for their guests. If you need to wait for yourself and arrive at the temple around 7am or so like we did, just know the line will probably take at least an hour. Plan accordingly. 🙂
*Note: Pura means temple. 🙂
Stop #2) Taman Tirta Gangga (water palace)
Tiered fountains. Stone sculptures of mythical creatures. Giant lily pads. Girls in flowy dresses. And all the hungry koi fish you can think of. Yes, we're talking about Bali's water palace – Taman Tirta Gangga. This former royal palace is one of East Bali's most famous sights, and breathtaking it is.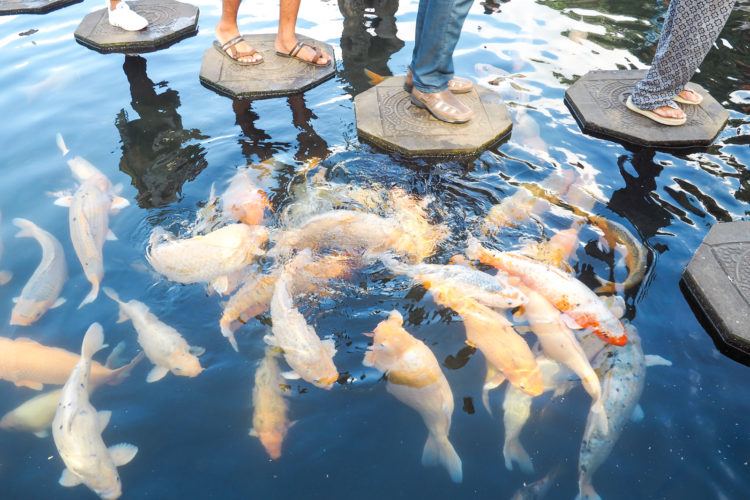 Make sure to buy some fish food at one of the little stalls before the ponds (5,000IDR).
Although we overall enjoyed this stop, it was pretty crowded already when we got there, and taking decent flattering photos without tons of other in the frame proved relatively difficult.
You'll see what I mean with the stepping stones and people going opposite directions when you visit. Lots of people here to get that instagram shot.
Stop #3) Tukad Cepung Waterfall – or – Tibumana Waterfall
Put on your bathing suit, because it's waterfall time! There are a whole slew of waterfalls in and around Ubud, so you've definitely got a few to choose from.
I had originally wanted to head to Tukad Cepung, which I heard is really cool with sunbeams shining through a cave, but our guide warned us that it'd be exceptionally crowded.
He instead suggested Tibumana, which was actually on my list as well (for another day), so we agreed and are so thankful for his honesty!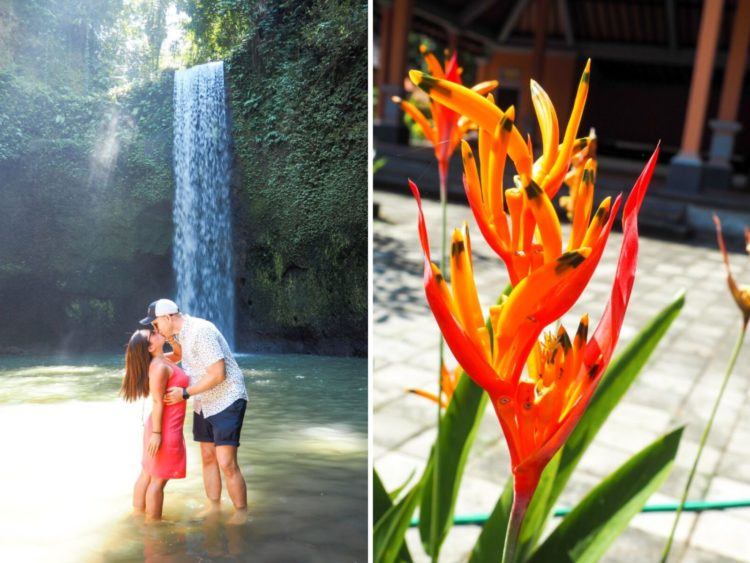 After an easy walk down on some bamboo bridges and stairs (took about 10-15 minutes or so), we were greeted with not only a beautiful swimming spot, but a crashing waterfall amongst so much lush greenery. And hardly any people, which makes sense considering it's deep in the jungle. I'll let the photos speak for themselves:
Stop #4) Pura Tita Empul (water temple)
Not to be confused with the Water Palace, Pura Tita Empul (also known as the Water Temple), is a completely different thing, so don't miss it during your 10 days in Bali! Being one of the largest and busiest water temples in all of Indonesia, you'll want to do your part in being respectful by wearing a provided sarong within the complex.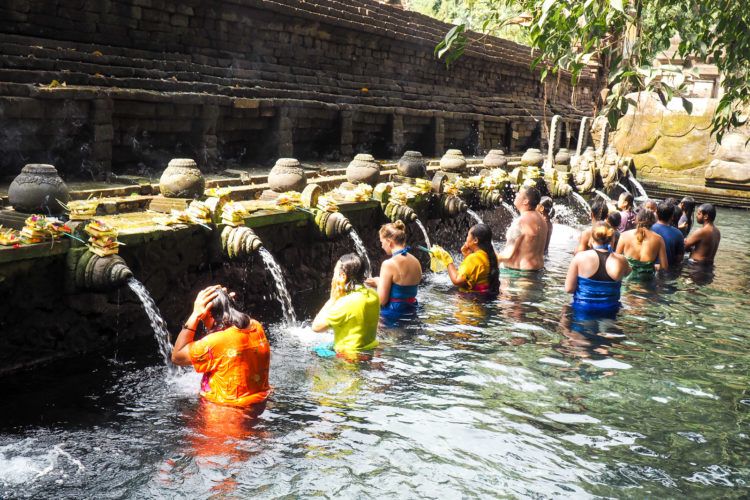 Forget about selfies here – take it all in, observe the rituals, and do yourself a favor and just watch. By visiting this Hindu Balinese water temple, you get to experience the culture firsthand by watching Hindu devotees purify themselves in a bathing ritual. And boy were the holy springs a sight to be seen.
Visitors can bathe as well (and we saw a few do so), but since we are not believers of Hinduism, we didn't feel right participating in the cleansing ritual. Note that there's an additional charge for this as well, and you'll need to be dressed from head to toe so bring an additional change of clothes if you plan to bathe in the holy waters.
Our guide showed us around the complex — it's actually quite large; the purification pools are just one part! We also saw a koi pond, the inner courtyard, and tons of Hindu shrines.
Back to the Komaneka (or your hotel of choice)
We got back to the Komaneka around 3ish or so, giving us a few hours of sunlight to enjoy the hotel's luxurious infinity pools, have a late lunch and complimentary tea and snacks, and just relax from our first day of activities.
Remember, the sun sets around 6pm (every night no matter the season), so if you want some pool time, be sure not to cram in toooo much on this first day. We had some dinner before heading to the spa for our first (of many) Balinese massages.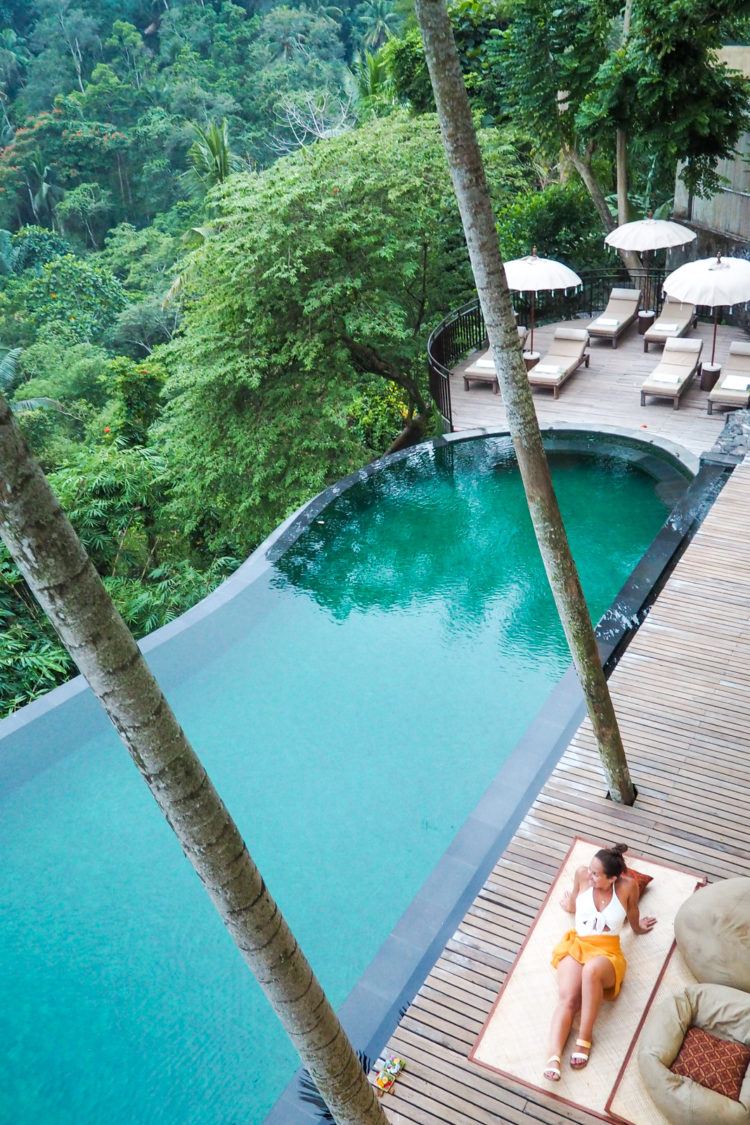 Where we slept: Komaneka at Tanggayuda
Day 2 | Day trip to North Bali
Psst (logistics tip): If you're following this itinerary exactly to a T (or switching hotels tonight like we did), be sure to put things in the trunk of your private car so you don't need to go back to hotel #1 just to move your bags to hotel #2. We kept everything we brought to Indonesia with us in the trunk for the entire day and felt completely safe doing so.
Today's another busy day, so wake up, grab some coffee and breakfast at the hotel, and hit the road! We decided to hire another private driver for the day to experience northern Bali (through the same AirBnB experience as the day before), and it was a great decision!
This Northern Bali private tour takes you to a bunch of the same spots if AirBnB's just not your thing.
→ Using AirBnB? Remember to sign up via this link to save $$$ off your first activity!
Although we didn't get to visit all our intended spots (that traffic I tell ya, it's the worst!), I'll list them all out for you below. Hopefully you have better luck than we did!
Stop #1) Tegalalang rice terraces and Bali swing, coffee/tea tasting
There's a reason everyone visits Ubud, and the rice terraces are it. Ridiculously scenic, this terraced hillside is covered in rice paddies among rice paddies, as far as the eye can see. Do not miss it. I repeat – do not miss it.
As soon as we arrived, we couldn't stop admiring all the greens – we were just wowed the entire time. Being surrounded by lush green rice terraces on all sides of you is just something you don't forget. Ever. Our guide took us wandering throughout the fields, while explaining a bit about the process of harvesting the rice as well.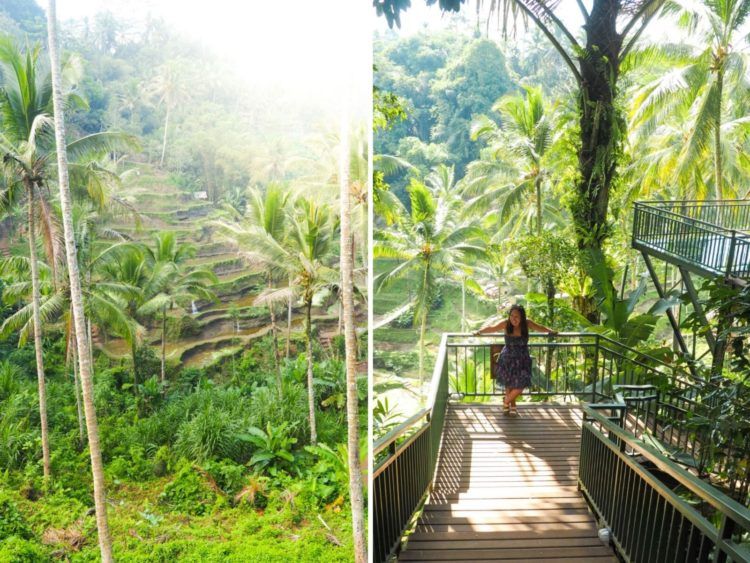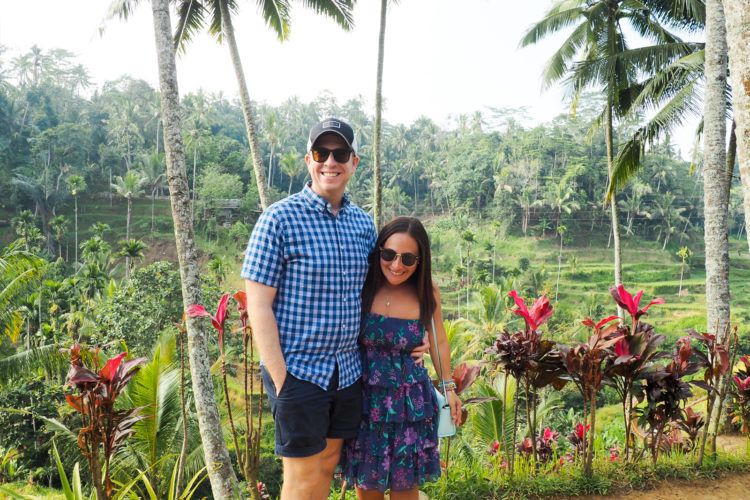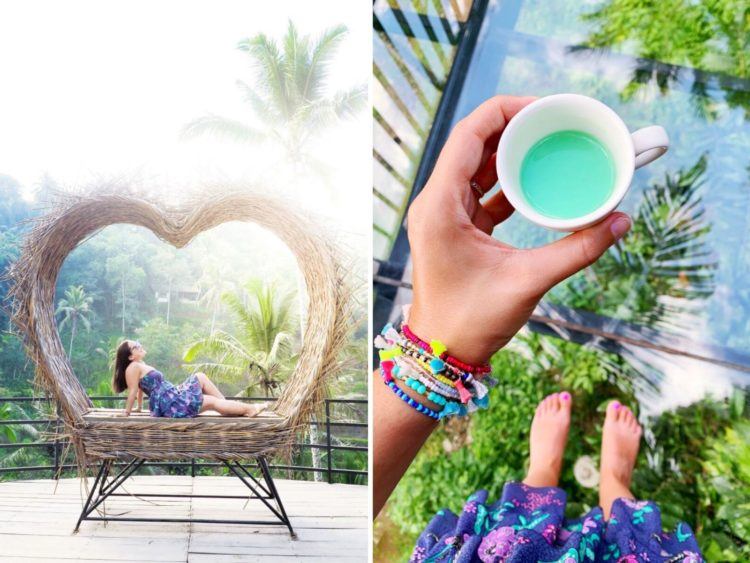 Choose to visit early in the morning, as not only will the lighting be better for photos, but you'll beat the crowds – there was hardly anyone else there when we visited around 8:30am! I honestly couldn't believe it!
We opted to do the famous Bali swing over here too, costly roughly $15 for fantastic views of the rice fields. There were other options to do the swings over near the area we stopped for coffee, which seemed much more crowded and I'm guessing costly.
We were unfortunately unable to visit the following due to Bali's mad traffic, but here's a bit of info I had researched ahead of time.
Stop #2) Lake Beratan Temple (Ulun Danu)
This temple is located on an island completely surrounded by water, which makes it quite picturesque, especially with it's manicured gardens nearby. And if you're up for it, you can even take a boat out and view the temple directly from the water (I'll be doing that next time I head to Bali).
However, do note that since the lake is considered holy, you cannot swim in it (although renting a boat is fine). Some people say it's kinda a tourist trap and filled with swarms of visitors, so research a bit more to decide for yourself if you wanna stop.
Stop #3) Handara Gate (Balour Balinese Gate of Handara)
It's a gate you guys – a gigantic, exotic looking traditional Balinese gate, with lush, smoky green hills as it's backdrop.
As such, it's one of the most iconic photos you'll see of Bali, with special thanks to instagram. Because of this, it gets rather crowded, so you'll most likely need to wait in line to get THE photo.
Not many people realize this, but this gate, dubbed the pathway to serenity, is actually the entrance to a golf course! Yes, a golf course – the Handara Golf & Resort Bali to be exact!
Stop #4) Banyumala Twin Waterfall
Like it's name suggests, this ain't just one stream of water – it's a whole slew of falls in one. Girls we had met later on during our trip said the short hike down to Banyumala (10-15 minutes) was most definitely worth it, so be sure to add it to your Bali itinerary.
And make sure to wear/bring a bathing suit as you'll most likely want to take a dip in the falls. We unfortunately missed out on this one!
Stop #5) Wanagiri Hidden Hills
Yes, this stop at Hidden Hills is primarilyyyy for the cheesy IG photos, BUT if you're following this day's itinerary you'll already be in the area – so might as well make a quick(ish) stop.
There are different sections within Wanagiri Hidden Hills, with each area having different set prices with different attractions. Most include a nest, a swing, and another type of bamboo lookout, with the bird cage and boat viewing post some of the more popular ones.
Once you've paid your entrance fee, you're free to hang around for as long as you want taking photo after photo. Kinda cheesy, but hey, you're in Bali – might as well take advantage and get some of those typical IG shots. And plus our tourism dollars help the locals make a living.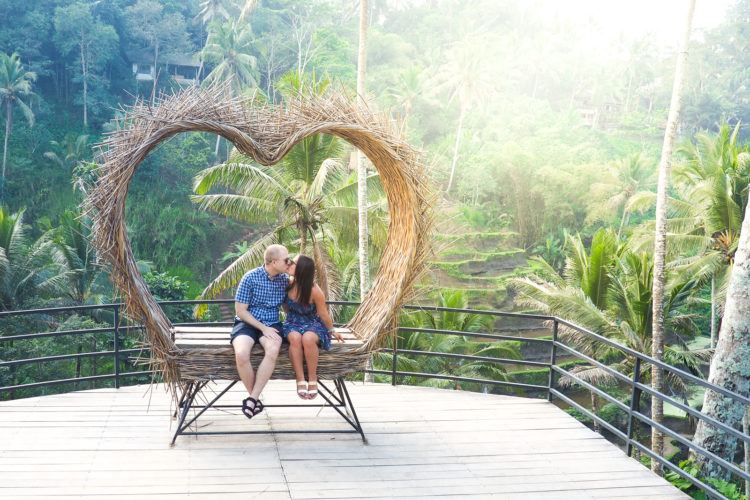 HOWEVER, you'll find some of these photo opps at other attractions near Ubud. We saw a bunch earlier in the day at the Tegalalang Rice Terraces (where the above photo was taken) and then again at Leke Leke Waterfall, so don't feel like you neeeed to stop at Hidden Hills if you're not especially into it.
Because the traffic was SO bad, we didn't make it to Lake Beratan, the Hadara Gate, Banyumala Twin Waterfall, and Hidden Hills. Yuuup, basically the rest on my itinerary.
We did however find a waterfall trek to do instead (Leke-Leke), which was a blessing since it got us outta the car for a while.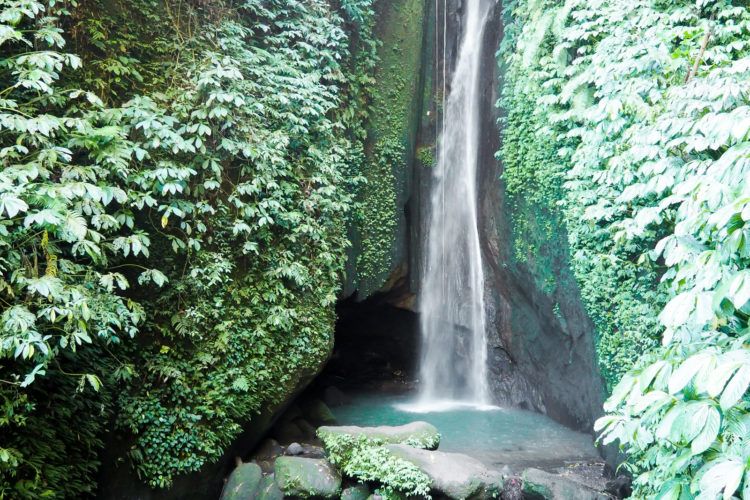 Since we missed out on so much of what the north has to offer, that's definitely an area I'll be visiting on my next trip to Bali (oh you better believe there'll be a next time).
And I'd absolutely love to stay at Munduk Moding Plantation Nature Resort, which looks absolutely insane and beautiful all at once. Note that you can visit for lunch as long as you purchase a day pass in advance, but guests are not allowed on property otherwise.
If you have more time in the north, the Aling-Aling waterfall and Jatiluwih Rice Terraces all look worthy of your time.
We spent the remainder of the day blissing out in our private pool at the Maya Ubud (after checking in of course) and stuffing our faces with fresh fruit juice and Balinese snacks.
Since we hadn't checked out the restaurant scene in Ubud just yet (we had only really feasted at the Komaneka), we took the free shuttle into town and somehow got a table quite quickly at Hujan Locale for some innovative, modern Indonesian food.
So good and highly recommended, although it's probably best to make a reservation in advance, as it was crowded and the restaurant is getting popular.
Where we slept: Maya Ubud
Day 3 | Wander around Ubud Town and Surroundings
Finally, a day to actually explore Ubud! After venturing east and then north, it's about time we plant our feet and stick to the actual town!
Here's how our day went – and I suggest you do the same as we hit up all the top places (IMO) in/near Ubud Town:
1) Sacred Monkey Forest Sanctuary
I have to admit, after walking ⅞ of the way there, I almost backed out of visiting the Monkey Forest. You see, we came across monkeys in town before even getting to the sanctuary. Who knew the monkeys were everywhere surrounding the area?!
They were climbing on power lines above us, running on the sidewalk next to shops/restaurants, and were just waaaay too close for comfort in my opinion. But I faced my fears, kept on going, and in we went.
The actual experience (after calming myself down and giving myself a short pep talk) was a positive one, as the monkeys were thankfully very interested in their food and each other, and not us humans. And the babies! Quite possibly the cutest thing I've seen to date.
Keep your eyes wandering, as you'll see monkeys above you in trees, running at your feet, jumping from here to there, etc. I was definitely on watch the entire time, constantly looking in all directions in order to keep myself aware of any nearby monkeys, as they just run around where they please.
Be sure to get past the beginning and into the actual forest – the grounds are so lush and beautiful, with a giant banyan tree over the river. Thankfully we didn't see any monkeys jumping on people like I had heard about, but people we had met later on during this 10 day Bali itinerary said they lost sunglasses and hats, so be extra careful.
A few precautions when entering the monkey forest, as yes, they are wild animals and yes, there are a few ground rules to be aware of to protect yourself and everyone around you (including the monkeys):
Leave your accessories behind; this includes sunglasses, hats, large earrings, etc. You never know – the monkey's may snatch them!
And on that note, if a monkey takes something of yours, its theirs to keep – aka, don't attempt in getting it back. Monkeys will bite if they feel threatened.
Forget feeding the monkeys, let alone bringing any food/water bottles into the park in general. The monkeys can smell food and will even open up bags/backpacks and go searching/stealing!
Never make eye contact with a monkey. They see this as a form of aggression, so never stare directly into a monkey's eyes.
Do not sit anywhere there are monkeys present. You'll most likely find yourself with a monkey climbing on your shoulders (which I most definitely wouldn't want).
The baby monkeys are exceptionally cute; but just remember, wherever you see a baby, there'll be a mama monkey nearby. Therefore, don't get too close to the babies, as mamas may attack to protect their young.
I was glad to learn that the Ubud Monkey Forest is more than just a tourist attraction. Apparently there's tons of research (and conservation efforts) going on within the forest, mostly regarding the monkeys behavior and social interactions.
However, I've also read that some of the staff use possibly inhumane techniques in order to stop the monkeys from any bad behavior. Do your research ahead of time.
After congratulating myself for not getting eaten by a monkey, we made a pit stop at Habitat Cafe (so cute and trendy) for some well-deserved fresh juices and relaxation time.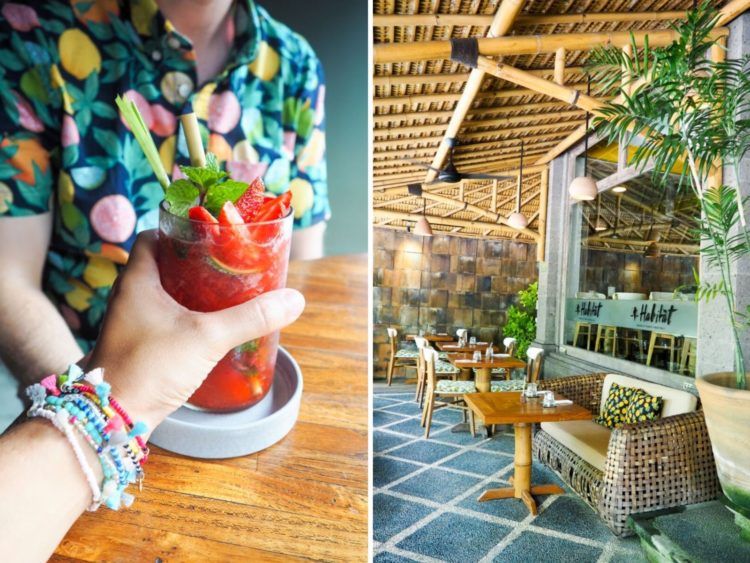 2) Ubud Traditional Art Market
Color, clatter, commotion, chaos. That's the market experience for ya! Anything you want to buy in Ubud, you'll find at the market, that's for sure.
The market specializes in traditional art and handicrafts, and I loved exploring the stalls tucked away in the little alleyways (get away from the main strip). Even if you don't plan on buying anything, just wander and browse for a bit – it's an experience (albeit rather crowded) in and of itself!
Although it's quite chaotic, the alleyways of the Ubud market make for a fun time. Just be sure to haggle/bargain before purchasing! Even though I'm sure we paid a bit too much on several occasions, we would typically be able to get the shop owner to agree to less than half of their original asking price.
If they don't agree to your price, just walk away, and they'll quickly quote you less! They want your business – trust me, as there's probably the same/similar items in the shop next door.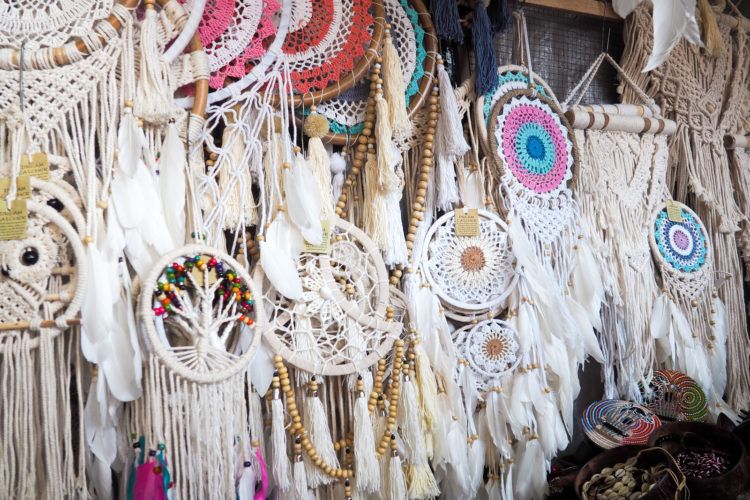 If you have an idea you'll be buying a few items, it's always cheaper to buy from the same stall – they'll typically give you a multi-item discount. I say, browse a bit before buying anything, decide what in fact you want to buy, and find a stall that has everything you want. You'll get the cheapest possible price that way.
I couldn't leave the market without buying one of those trendy straw/rattan Bali basket bags – you know, the round ones you see all the influencers promoting on instagram?
Yup, the online companies sell them for $75-$85, but I got mine in Bali for $8. Can't beat that. And another gorgeous handheld bamboo bag for $15ish (which I could have probably haggled down more).
But I always like to remember – the locals in the market make a living selling the products. An extra dollar or two (USD) doesn't mean much to me, but it could get their family an extra meal or two.
Things to buy: cotton sarongs, bamboo straws, the famous Bali bags, dream catchers, wood carvings, straw hats, crochet tops/bikinis, stackable storage boxes
LUNCH! We hit up Locavore To-Go for some meat sandwiches (a must!), Acai Queen for, you guessed it, acai bowls, and Frozen Yogi for a chilled dessert. We were on vacation – don't judge us!
3) Saraswati Lotus Temple, Ubud Centre
Next up, a quick stop at Saraswati Lotus Temple! We stopped by this temple for a few minutes, took a few pictures, and moved on with the show. It should be noted that tourists are not allowed to enter the temple, but it's the stunning grounds that are the biggest draw for the crowds.
The main walkway was filled with lily pads on either side, although there were unfortunately no lotus flowers in the pond (which I heard there typically are).
4) Campuhan Ridge Walk at Sunset
After spending all day in the busy centre of Ubud, get outta there and into some nature! The Campuhan Ridge Walk is arguably Ubud's best known trek, as it offers sweeping hilltop views and minimal crowds.
And plus, it's not difficult at all – it's more of a walk than a hike (I guess that's why it's called a ridge walk…). Anyone can do this lush, scenic trail, although there were a few steep steps at the very beginning and end.
If you aren't planning on eating at The Sayan House (which you 100% should), I recommend walking the ridge walk just before sunset, which I believe would be absolutely gorgeous. We visited around 4:30, so the sun was already low in the sky making for some beautiful photos. And plus, it'll be too hot to enjoy during the day.
Soooo we had a bit of trouble finding this place as we deliberately followed Google Maps like we always do – which got us to the general area, just a bit too far. We asked a worker in a nearby shop/hotel (I forgot) and they were able to direct us to the entrance – there's no signs and the entrance is quite inconspicuous, so I'm not sure how others found it without help.
Sorry I can't be of more assistance, 😉 But I promise, once you find it, it's worth the hassle. It was about a 20 minute walk or so from the center of Ubud Town.
5) Dinner at The Sayan House
This Japanese/Latin Fusion Restaurant is absolutely perfect for a date night (and ya gotta add in a few special nights to any Bali itinerary). :p
Yes, it's a little annoying to get to as it's located a few minutes outta town (and not very walkable), but 110% worth it in my opinion. You'll be rewarded with panoramic views of the lush valley below, along with innovative cocktails, fresh fruit juices, and unusual dishes with unique flavor combinations.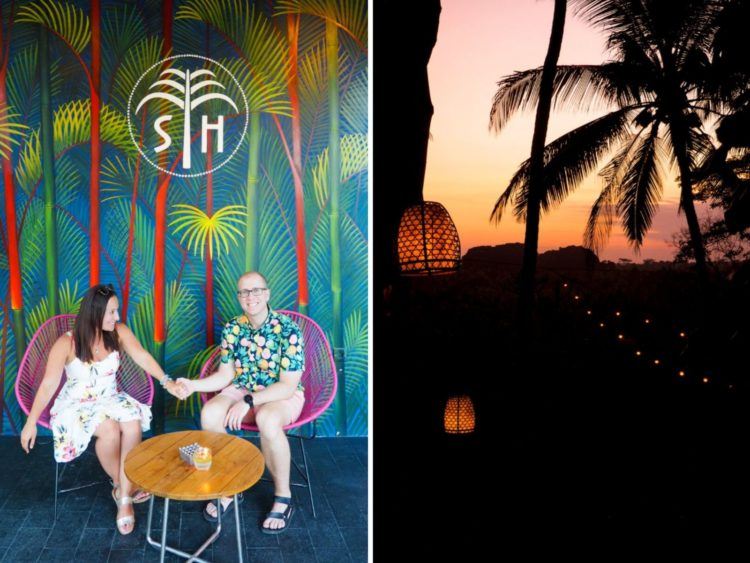 Make a reservation for this place ahead of time (and ask for a table facing the sunset) because boy, it's a showstopper. It's wise to remember that the sun sets on the earlier side in Bali, so if you actually want to catch the sunset, you'll need to arrive before/around 6pm.
We made a reservation for 6pm and ended up heading over early for sunset drinks at the bar area with breathtaking views of the rice terraces below as the sun was setting. Absolute perfection if you ask me.
6) Foot massages or Balinese Performance in town
After getting massages in Thailand every single damn day, we made it our mission to repeat that in Bali. And while we didn't meet the goal of alllll the days, we came pretty close. After dinner we ended up at Kristina Ubud Spa in town, and got foot massages for 80,000/ hr (which comes out to roughly $5.50USD). Can't beat that price!
Note that you can opt to watch a traditional Balinese performance at the Royal Palace (Puri Saren) in Ubud Town if massages aren't your thing (who are you?).
Since we were already planning on heading to Uluwatu Temple later on in the trip to see the Kecak Fire Dance, we skipped the performance in Ubud. (Starts at 7:30pm, costs 100,000IDR pp, length of 1 ½ hours).
Where we slept: Maya Ubud
Part II: 2 DAYS IN JIMBARAN/ULUWATU + (OPTIONAL) Day Trip to NUSA
*Where we stayed in Jimbaran: Ayana Resort and Spa Bali
I had originally wanted to spend our nights in Uluwatu (to take advantage of South Bali's trendy beach clubs), but after booking ourselves at the Ayana, I'm glad we did.
Located in Jimbaran, about a half hour north of Uluwatu, it's a bit more central to other spots in Bali and honestly, we didn't need to leave the resort if we really didn't want to.
The Ayana Bali has 4 pools (Ocean Beach Pool, River Pool, Upper Pool, and Lower Pool), numerous spots for sunset drinks, a whole slew of restaurants (albeit overpriced of course), a luxurious spa, and it's own private beach club – Kubu Beach (which you need to take a gondola down to reach!).
I'll explain in more detail below, since we happily spent a great deal of time at the resort. 🙂
Day 4 | Early Morning in Ubud, off to Jimbaran!
Teeeechnically you can head back into Ubud Town to finish exploring this morning if there's more you wanna see, but we chose to enjoy some activities at Maya Ubud.
Flower Bath at Maya Ubud
After a private breakfast by our pool, I headed to the spa for my flower bath. It seemed like the ultimate Bali thing to do, so I knew I couldn't miss it during my 10 days in Bali. Yup, 30 whole minutes of pure serenity and relaxation, all with rose and frangipani flowers floating around me.
The flower bath was everything and then some – I could have stayed in there all day (minus the fact that my fingers were turning into a prune of course!). I honestly thought girls just did flower baths for the 'gram, but I have to say, I left feeling super relaxed, hydrated, and tranquil. Didn't hurt that I got a few cute pics outta it too. 🙂
Note that you can also make reservations ahead of time at Karsa Spa located near the Campuhan Ridge Walk if you want a flower bath experience and aren't staying at Maya Ubud, which I definitely want to experience next time!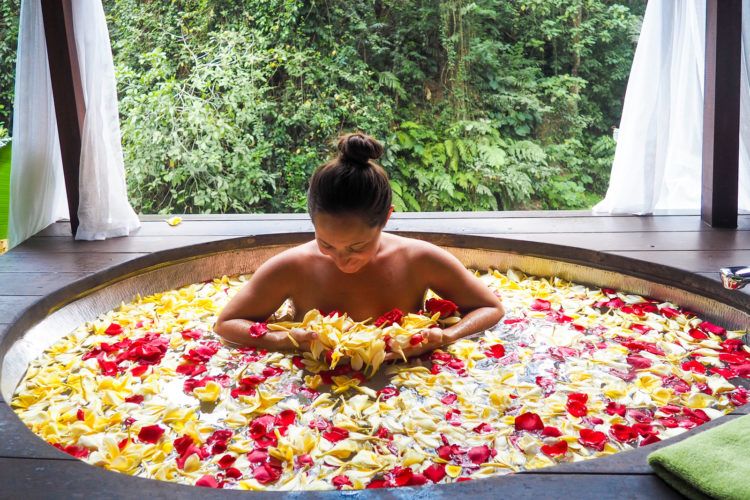 That morning, since my husband wasn't participating in the flower bath, he headed to an early morning yoga class and then relaxed by the pool. If you're staying closer to town, you can head to a class at the Yoga Barn which is apparently rather popular (although a bit overpriced I heard).
Head South to Jimbaran
After breakfast and activities at the resort (yoga, pool, spa), off to Jimbaran we went! Since we had taken a few taxi rides the previous day in Ubud, we managed to acquire a few WhatsApp #'s so scheduled for a pickup from Maya Ubud to take us to our next hotel – The Ayana Bali!
I don't think Grab will work (the app didn't work at all in Ubud at all), so definitely don't count on that like we originally did. The trip took roughly 2 hours or so if I remember correctly, so plan to rest a bit in the car.
We used J Wayan at #+62 812-4608-156 to get from Ubud to Jimbaran. Tell him Jessica and Noah sent you!
We had originally wanted to stop at Bambu Indah for some lunch after reading some rave reviews, but I wasn't feeling too hot (remnants of Bali belly, perhaps), so we went straight to The Ayana.
If you end up going, lemme know how it is! Bambu Indah is actually hotel known for its interesting architectural designs, completely made out of bamboo. Maybe next time we'll decide to stay there!
Hang at Hotel/Sunset Drinks at Rock Bar
After an easy check-in process, go explore for a bit then head on down to Rock Bar for sunset drinks (psst – you'll need to take the cliff-side gondola to get down)! Overlooking the Indian Ocean with the waves crashing onto the rocks, there's really no better view for sunset, and because of this, it does get quite busy!
People who are not staying at the hotel are allowed to visit Rock Bar (with advance reservations), but if you're a hotel guest of the Ayana, you're VIP baby (you should get in just fine – no reservations needed)!
We headed down around 5pm for a 6:15ish sunset, got a bunch of drinks and appetizers, and just watched the sun set into the rolling ocean waves. I can see it being the perfect place for a romantic night out, especially if you snag one of the large plush beds like we did.
If the Rock Bar doesn't excite you (and ohhh, it should), I heard that Single Fin in Uluwatu is also great for sunset cocktails and dinner (but it's 40 minutes away by car, so probably just easier to stay at the resort).
Where we slept: Ayana Resort and Spa Bali
Day 5 | Uluwatu/Jimbaran -or- Day Trip to Nusa Penida
Today's choice day! Depending how you anticipate to be feeling (and if you booked yourself at a resort like the Ayana with tons to do), you can either:
→ 1) spend ½ day at the resort (beach/pool time) with a ½ day trip to Uluwatu Temple -or-
→ 2) take a verrrry long day trip to Nusa Penida
If you think you'll want a more relaxing day (after a few nonstop days of go-go-go), then trust me, take advantage of the resort pools and beach club, and leave Nusa for another trip.
However, if you can't fathom coming all this way and not seeing Kelingking Beach, suck it up and head to Nusa Penida (I heard it's gorgeous, yet the climb down/up is excruciating, especially in the heat). We had originally planned for the long day trip to Nusa (and even signed up for a tour ahead of time), but with my stomach acting up a bit and already feeling utterly exhausted, we desperately craved a beach day.
Use your judgement and think about what would be best for you. And if you've got an extra day, you could easily do both!
Choice 1: Resort Pool Day and Uluwatu Temple + Kecak Fire Dance
Pool + Beach Time
As mentioned, if you're staying at a luxurious resort like the Ayana Bali, I can promise you'll never find yourself bored. We got an early morning start at the Ocean Beach Pool, had breakfast overlooking the ocean, and loveddd the fact that no kids are allowed (sorry, kiddos, there's other pools for you).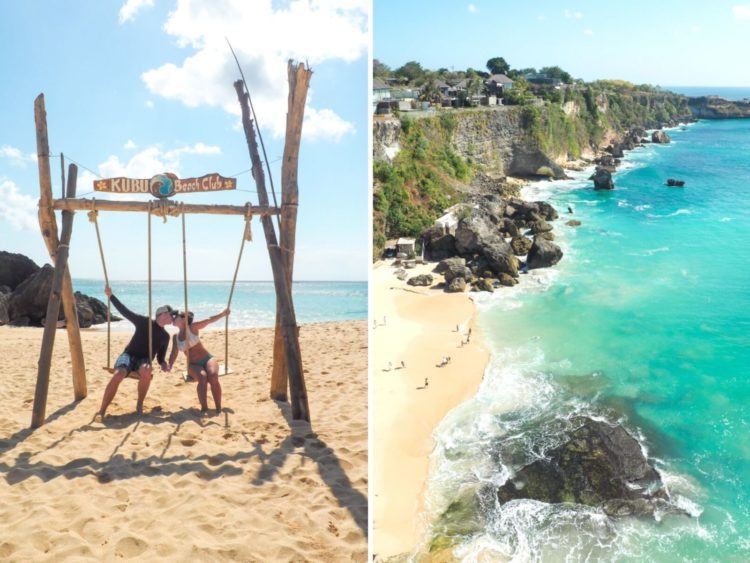 We then made our way to Kubu, Ayana's private beach club for some more loungin', before heading back to the room to get ready for our trip to Uluwatu Temple! You can also schedule some time at the spa for a treatment, play a bit of golf, or visit the ultra secluded (and hardly crowded during the day) River Pool, located near the private villas.
Trip to Uluwatu Temple
It's not the temple itself per say that makes this place absolutely remarkable, it's the magnificent location high up on a cliff overlooking the Indian Ocean. The dramatic coastline of the Bukit Peninsula sure is something else. We could have stared at those rolling waves all day long. But you're not just here for the views – you've got the Kecak Fire Dance awaiting you as well!
Since Uluwatu Temple is roughly 45 minutes away – without traffic, you'll want to get picked up via private driver around 3:30pm to get there in time to purchase tickets and look around. Tickets to the Kecak Fire Dance performance go on sale at 5pm, and it gets crazy busy around this time.
Our driver graciously waited on line for us in order to get us tickets to the show so we could walk around the temple and admire the ocean and all those crazy waves.
Do note that others have seen cheeky monkey's at the temple – so just like in Ubud, be careful with your things as they are known to steal loose items from unsuspecting guests! We were surprised that we didn't see a single monkey, especially considering how many people told us to watch out for them. But nevertheless, you've been warned!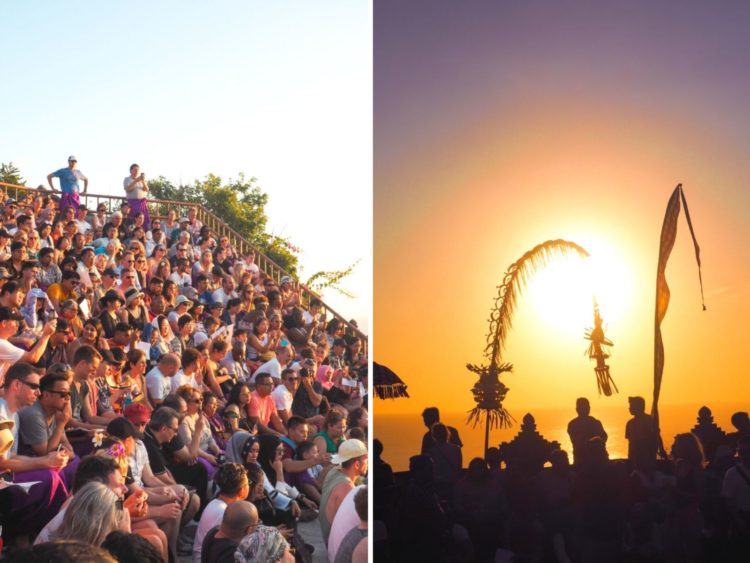 Now, what is the Kecak Fire Dance you ask? Oh, it's a whole lotta fun – with a huge cast of dancers and chanters interpreting the Hindu history in Bali, the show is quite funny (but I won't give away any spoilers). I hiiiighly recommend reading the informational paper they hand out, as you'll be wildly confused otherwise.
This traditional Balinese dance show is performed every night at Uluwatu Temple as the sun is setting (at 6pm), which makes for an absolutely breathtaking evening. Since the temple is on a cliff directly facing the sun setting into the ocean, you can only imagine what a sight it'll be.
And just FYI – the temple and performance area gets exceptionally crowded; don't be one of the last to get seated or you'll wind up sitting on the hard concrete floor (and trust me, they squeeze in as many people who buy tickets…).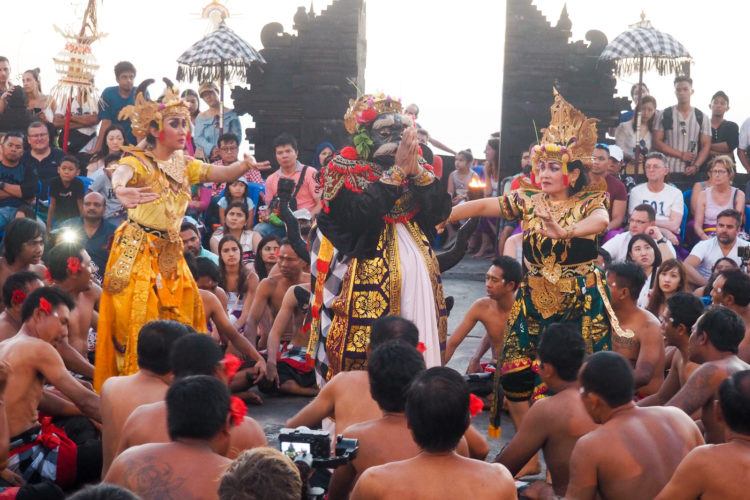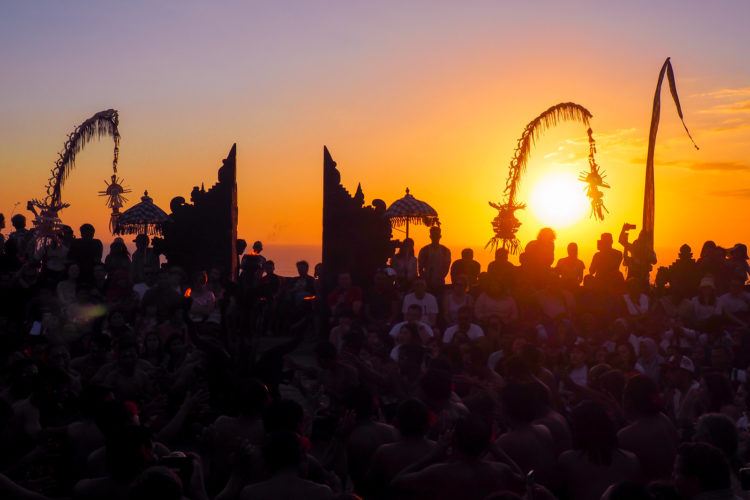 *Note that if you hire a driver, make sure they stay during the show to take you back to your accommodation afterwards (you'll have a hard time finding a ride otherwise). For reference, if I remember correctly, we paid 400,000 rupiah roundtrip for the two of us (excluding tickets to temple and show, which came out to be an additional 150,000 rupiah per person).
If you want to have it all planned out ahead of time, there's a bunch of organized tours you can book before you land in Bali. If you don't mind winging it a bit and leaving your luck up to chance, hire a private driver once you arrive (the day of or the day before).
Since we changed our plans last minute since I wasn't feeling so hot, we didn't have the option of booking in advance. Thankfully we had met a gal at lunch the day before who gave us her drivers WhatsApp number. If we didn't have this number we probably would have unfortunately had to take an overpriced taxi from the hotel, and I would have wished we had booked an organized tour ahead of time. Check out private tours to Uluwatu and the Fire Dance here.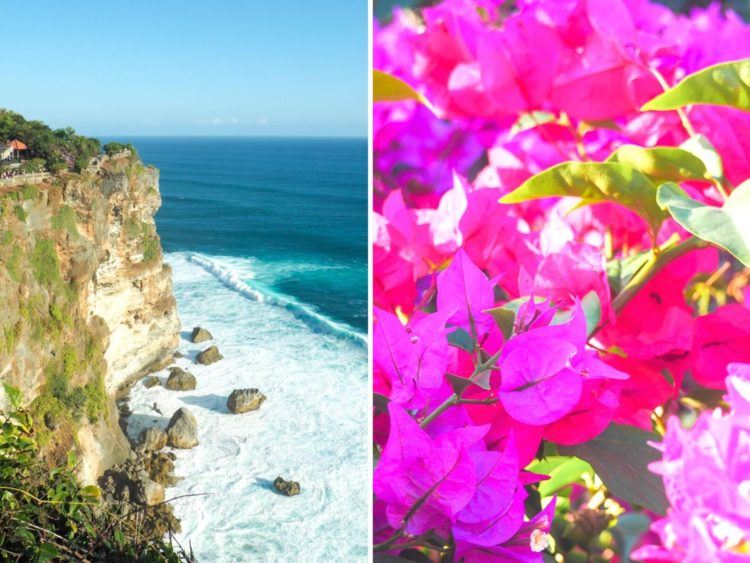 Choice 2: DAY TRIP TO NUSA
If you have your heart set on heading to Nusa Penida, today's the best day on this Bali itinerary to do it! Just know it'll be a verryyyyy long day regardless of who you book with, as you'll first need to make your way to Sanur and then take a fast boat to the island.
Get ready for some rocky, bumpy roads, and possibly a sore back, as the roads are exceptionally treacherous on the island of Nusa Penida.
But alas, the natural landscapes look breathtaking and I've heard the beaches are to die for (although you'll have to work aka hike down…and then back up, for some of them)! However, coconut trees, sandy beaches, and turquoise blue water awaits!
On a day trip to Nusa Penida from Bali, you'll visit the following spots: Kelingking Beach, Broken Beach, Angel's Billabong, Crystal Bay, and Sampalan Beach. All tours are very similar and visit the most popular spots. We booked a tour very similar to this one, although as mentioned, decided to cancel it. The tour does hotel pickup, brings you to the fast boat, then hooks you up with a private driver on Nusa Penida for the rest of the day.
Since we unfortunately missed this day trip, I'm thinking we'll spend a few days on the Nusa Islands (there's 3 in total!) to really get a feel for the islands next time we visit Bali (sooner than later, fingers crossed)!
Where we slept: Ayana Resort and Spa Bali
Part III: 3 DAYS ON THE GILI ISLANDS
The Gili islands are full of white sandy beaches, curious sea turtles, coconut palms, and more puka shells you've ever seen; it's absolute paradise and then some. And being so close to Bali, you'd be crazy to miss out on these little islands during your stay in Indonesia, which is why I included it on this 10 day Bali itinerary!
I promise you – after a few busy days in Bali, the Gili's will feel like a breath of fresh air since you don't have to do much to have a good ole time here. Think pool, beach, snorkeling, fresh fish, lots of cheap Bintangs, and 1 hour massages for $7.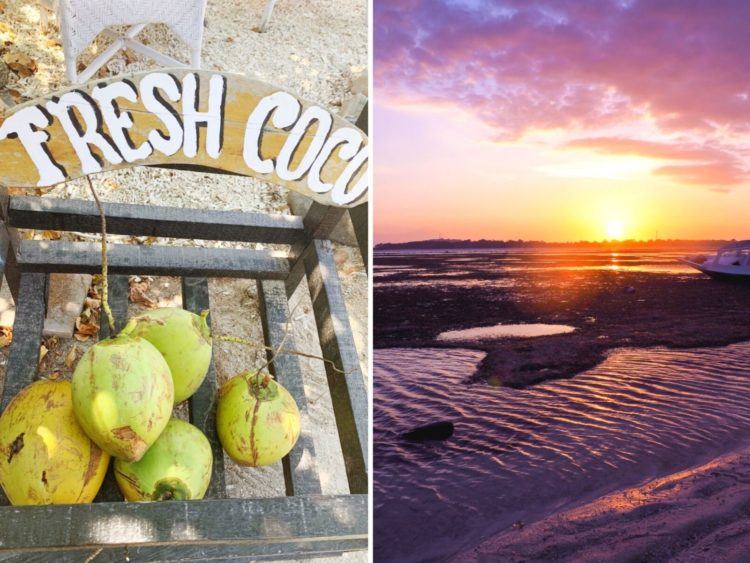 *You'll need to decide which island you want to base yourself on (outta 3 main ones). We chose Gili Air, and loved our decision. For reference, there's Gili Trawangan (commonly called Gili T), which is the largest, liveliest, and most developed island, with tons of late-night beachside parties and lots of drinking (apparently).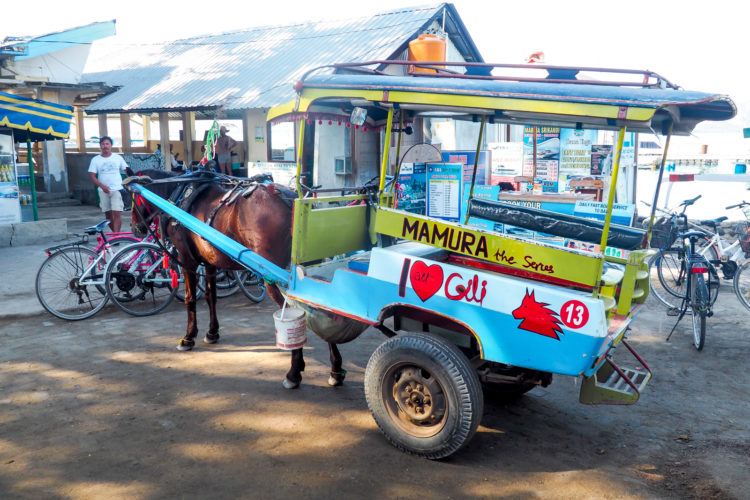 Gili Air, where we stayed, is a bit more low-key, but there's still a whole slew of restaurants, bars, and relaxed nightlife (think listening to live music on the beach in some bean bag chairs while sipping some Bintangs – the local beer).
And finally there's Gili Meno, the smallest of the islands, for those who just wanna get away from it all (it's by far the quietest of the bunch without much nightlife).
Read Next: The Complete Guide to Gili Air (everything you need to know before visiting)
Where we stayed: PinkCoco Gili Air
To say we fell in love with the Pink Coco is a huge understatement. There's just something about it that we found ourselves drawn to immediately. From all the pink accents to the breakfast overlooking the beach, it was the perfect place to rest our heads while on Gili Air.
And plus – all the staff were especially helpful and accommodating (when we had a mishap with our bags). It didn't hurt that our room was just steps from the scenic pool, which was covered in palm trees and where we spent the bulk of our time while on the islands.
Day 6 | Jimbaran in early morning, then off to the Gili Islands!
Hey, it's your last day at The Ayana Bali, so take fulllll advantage!
We decided to hit up the instagram famous River Pool, where electronics (yes, including phones, cameras, etc) are not allowed between the hours of 9am – 5pm (which they're surprisingly crazy strict about – there's even lockers for your phone at the entrance to the pool)…. Hence the need to go early to snap a few photos, of course!
I must admit that this was not my proudest moment, queueing up in the pool for a bunch of photos, but the water was warm and thankfully not tons of people were out when we arrived at 7:30am. By 8:30am, the place was swarming with instagrammers getting their perfect shot – and that was our cue to head on off to breakfast!
Transfer to Gili Air
Finish that hearty breakfast, because it's time to pack up — we're heading to the Gili Islands! Yeah, yeah, yeah, the Gili's are not techhhhnically part of Bali, but since they're so close (near the northwest coast of Lombok), it'd be an absolute shame to miss out on them.
There are a few different boat/ferry companies to take you to the Gili Islands, but I highly encourage you to book with Blue Water Express. They are a very reputable company, and after experiencing some pretty rough seas (I still can't believe we went out – those swells were insane), I'm sooo glad we didn't take the public boat.
Yes, Blue Water Express is obviously more expensive, but so worth it to me for the 2-3 hour boat ride (plus free pickup at your hotel if I recall).
Although there's usually an early morning option, I'd opt for the later one around 11am, so you don't need to rush for checkout (and plus, you'll have enough time on the Gili's if you follow this Bali itinerary, I promise).
Arrival in Gili (around 2pm-ish)
Our first few hours in Gili were spent relaxing by the pool, wandering the cute little town, and taking photos at the famous swings (located all over the island and also at the PinkCoco – where we stayed), which are just perfect for your instagram feed.
Remember that the sun sets around 6pm, so you don't have tonssss of daylight on this first day in Gili, but much of the appeal of Gili is to slow down and relax, so you're fine. Make sure to find some live music, order a few fresh juices and/or Bintangs, and plop yourself down on a beach-side bean bag chair and just chillax. That's the life right there.
Remember, I wrote a full detailed guide on all things Gili Air, so be sure to check that out!
Where we stayed: PinkCoco Gili Air
Day 7 | Snorkeling the Gili Islands
No trip to the Gili's would be complete without exploring its vast underwater world, so today we're off snorkeling! You can either pre-book or book once you get to the island (we were spontaneous and booked the day before while walking to our hotel).
Book ahead here if you'd like to ensure a spot and not get jammed in on a beat up boat like we were (with janky masks and snorkels as well).
Most snorkel tours visit Turtle Point (for you guessed it, turtle spotting), near Gili Meno to see the underwater statues, and another spot or two with coral gardens to see a wide array of tropical fish. I saw a few turtles (my favorite) as well as tons of colorful fish.
A quick note on turtles and underwater life in general: NEVER attempt to chase/touch/pet/feed turtles, as human contact can give them diseases and make them sick. Admire these beauties, (and get your photos), but NEVER at the expense of the animal. PLEASE keep wildlife WILD.
The area near the statues was unbelievably crowded, as there were quite a few boats there when we were. However, if you know how to free dive (dive below the water without your snorkel), you can easily escape some of the crowds on the water's surface.
Our boat left around 9:30am or so for snorkeling, stopped on Gili Meno for some lunch, and we returned back to Gili Air at our hotel around 3ish or so.
We spent the rest of the day at the Pink Coco pool, indulging in apps and drinks, and come night time, grabbed dinner on the beach and some lovely foot massages at a stand near our hotel (which we did every day while in Gili Air).
Where we stayed: PinkCoco Gili Air
Day 8 | Wednesday, July 17: Gili Islands, then transfer back to Bali!
Psst: Today's mostly a travel day. But the Gilis are worth the hassle, I promise you!
Morning in Gili Islands
It's your last (partial) day in Gili, so either take advantage of the island, or do absolutely nothing – your choice!
There are a few cooking classes in town, which usually happen before lunch, so you can definitely squeeze this in if that's up your alley, get a massage (either at Slow Spa which I heard is marvelous for a Balinese massage or a simple one from a beach-side stand), spend time at the beach and/or pool, and head into town for breakfast and/or lunch!
We especially loved the smoothie bowls at Gili Bliss Gili Air, and enjoyed a hearty breakfast with some specialty coffee at Coffee and Thyme.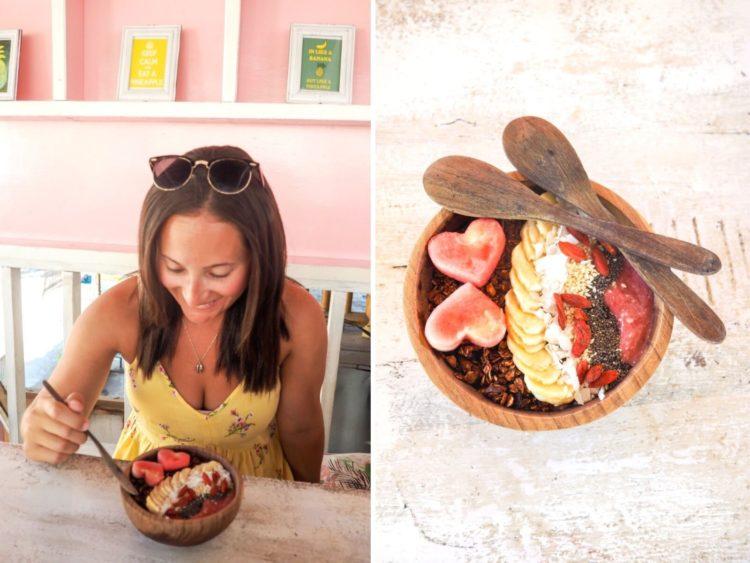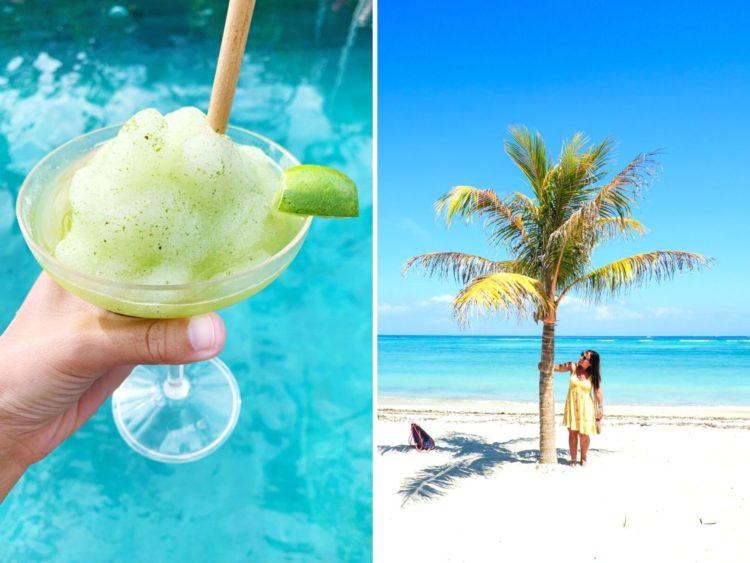 Back to Bali!
Time's up on Gili Air unfortunately, and it's time to head back to Bali! Again, like heading to Gili Air, I highly recommend you book with Blue Water Express! We chose the 2:30pm sailing to Serangan Marina (east coast of Bali and closest to our next stop of Seminyak), which came out to about 870k rupiah per person (or approximately $60).
The sailing took a few hours and because there was crazy traffic upon arrival in Bali (hotel transfer included in our booking), we didn't get to our hotel in Seminyak until roughly 7/8pm or so. It's safe to say we passed out riiiiiight after dinner that night. No shame!
Where we slept: The Elysian Boutique Villa Hotel
Part IV: 2 DAYS IN SEMINYAK/CANGGU + Go Home 🙁
Where we slept in Seminyak: The Elysian Boutique Villa Hotel
This boutique villa was the perfect spot to end our time in Bali, as we had our own private villa (bigger than our 3-bedroom condo I may add)! This stylish property is tucked away on a quiet street in busy, busy Seminyak, making you feel like you're away from it all, when in reality, you're only a few minutes walk to the hustle and bustle of town!
The first-class attention to detail was phenomenal, food outstanding, public and private pools utterly fantastic, and our massages at the full-service spa were much needed.
And because there are only 28 villas total at the resort (ALL with private pools), it never feels crowded in the common spaces, making for a very intimate, private experience. To say The Elysian is everything and then some is a complete understatement.
I partially chose this location for our last stop in Bali as the Elysian is pretty close to the airport, (20 minutes or so without traffic), so I knew we'd be able to enjoy the hotel up until the last possible minute!
Book a few months in advance if traveling during the high season as this place books up fast (especially due to the small number of rooms).
Day 9 | Spend the day in Canggu
Relaxed Morning by the Pool
Because, well, we were utterly tired at this point and you probably will be too! Not to mention, the pool was absolutely beautiful and hardly crowded (we were actually the only ones taking advantage of it while we were there…. possibly because everyone has their own private pools, but it was also 9am when most were still sleeping).
We had our breakfast overlooking the pool, then brought the rest (they give you a whoooole lot, trust me) to nosh on at the pool.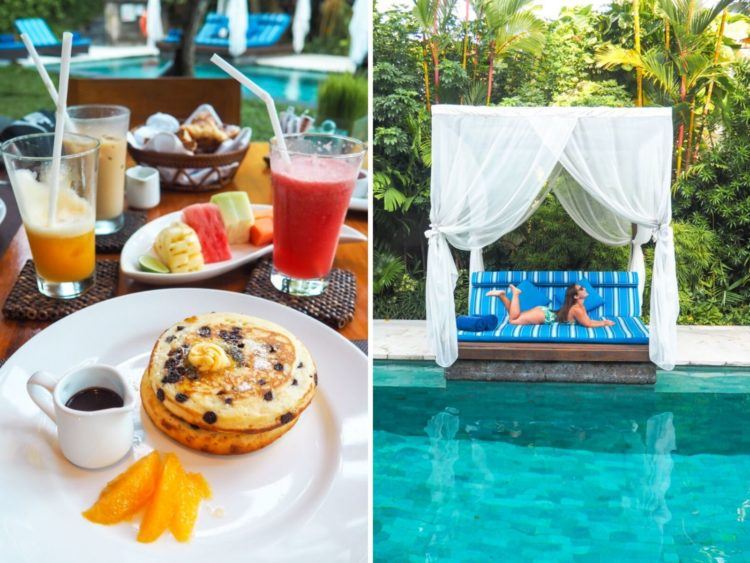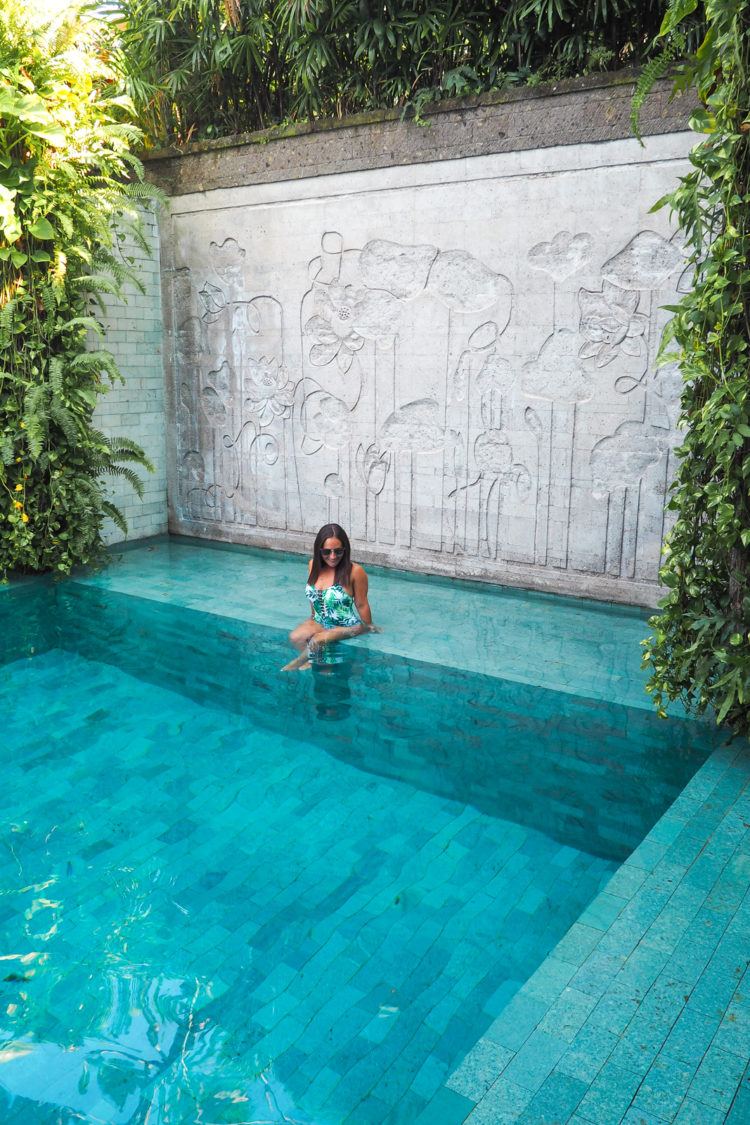 Shopping and Cafe Hopping
Although we chose to sleep in Seminyak (one photo of the Elysian and I fell in love), we decided to spend part of the day in Canggu, only 30 minutes or so away.
Canggu is a super hip, trendy surf town, with tons of cute boutiques and countless colorful cafes, making it the perfect day trip from Seminyak. And all those hipster smoothie bowls and instagram photos? Yeahhh, they're probably taken in Canggu.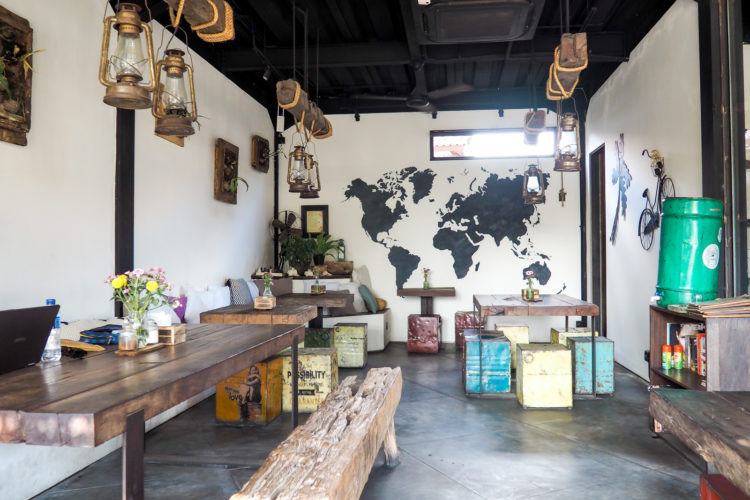 After finding a taxi on the side of the road (again, we couldn't get a Grab driver), we had him drop us off at Cafe Cinta on Pantai Batu Bolong Road. We used this as a drop-off spot so we could easily walk down this main road in Canggu to find local boutiques, well-known surf shops, and colorful hipster cafes.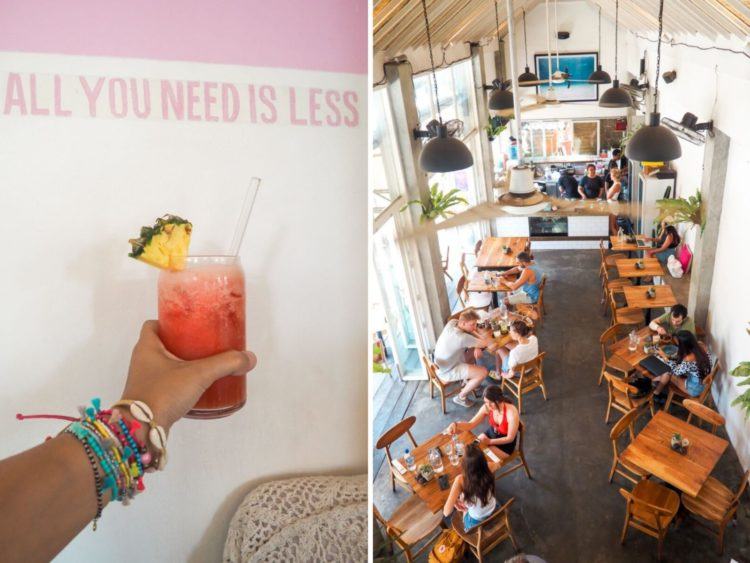 If I were you I'd plan on hanging out Batu Bolong Road, getting lunch at The Loft (the poke dish was oh so good), grabbing ice cream at Mad Pops, exploring Love Anchor Canggu (a flea market type area with tons of stalls), and going shopping in the local boutiques and surf shops.
And whenever we got hungry/thirsty, there was always a coconut ready for drinking!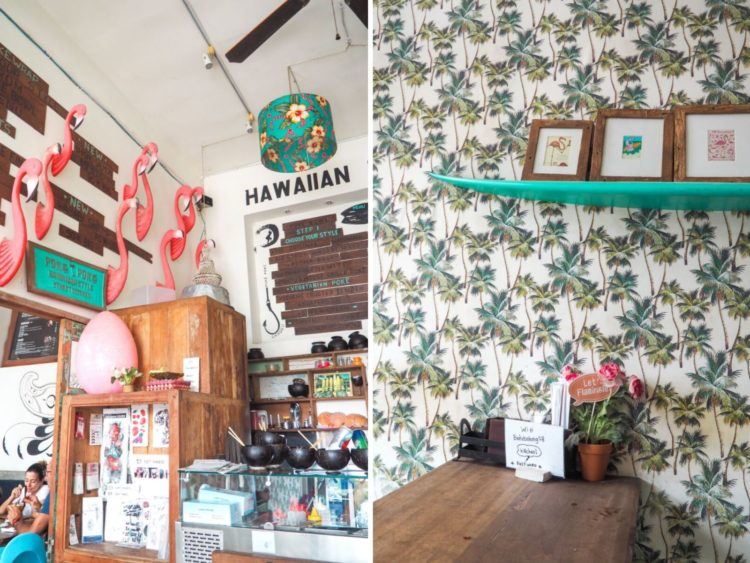 Sunset Drinks and Dinner
Once you've had your fair share of coconuts, fresh fruit juices, and smoothie bowls around town, head on over to The Lawn for some sunset drinks. Besides the fact that this beach lounge is located directly on and above the black sand beach of Canggu, there's a pool. A POOL! So if you plan on hanging here for a while, be sure to bring your suit to go for a swim.
Do note that there are different sections at The Lawn, with a beach area, upper deck spot, day bed area, and small table/umbrella area on the actual lawn. If you want a specific spot, you definitely need to either reserve in advance or put your name down.
We enjoyed the lawn area and our cocktails, as it had such a fun vibe and we could feel the breeze from the beach.
Hungry?! I highly recommend heading to Fishbone Local for dinner afterwards as it's right near The Lawn. We tried the beer-battered fish, fish tacos, and mini tuna tostadas, and loved them all! The garden in the back is so pretty – there's string lights that just add to the overall ambiance.
Oh, and once we arrived back at The Elysian, we treated ourselves to 1-hour Balinese massages (which were just heavenly and the best way to -almost- end our trip).
Where we slept: The Elysian Boutique Villa Hotel
Day 10 | Brunch in Seminyak; fly home!
Pink Walls and Chill Vibes at KYND Community
It probably definitely sounds extra millennial, but did you really go to Bali if you didn't have brunch at Kynd Community? You know all those photos of girls holding up their gold-encrusted pineapple spoons about to indulge in a perfectly crafted acai bowl with BALI spelled out in fruit?
Yea, that's the place. And I wasn't ashamed one teeny bit to have this last Bali meal for myself (even if the photos are a bit cringe-worthy as everyone and their 235423 best friends have the same insta-worthy shot). :p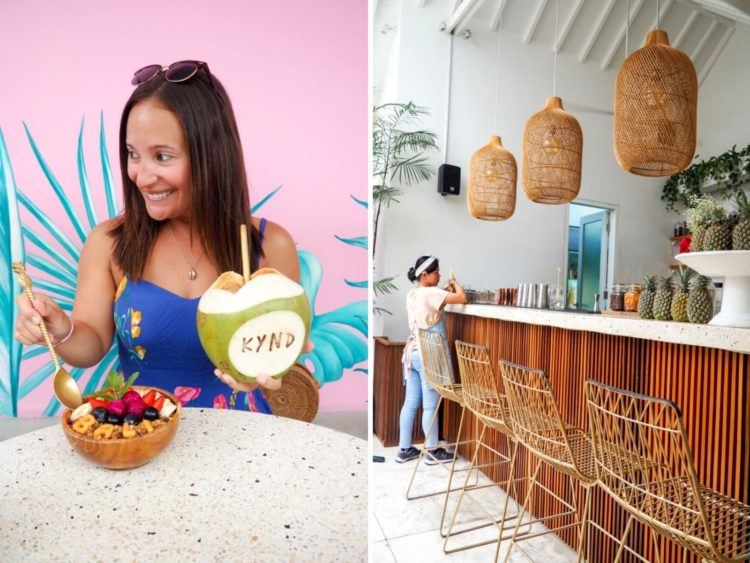 The food? It was pretty damn good, as was the cool, tropical pink decor (there's a reason why it's so popular with instagrammers and bloggers). Psst: the place is vegetarian, just FYI, so don't expect to find your regular bacon hamburgers on the menu.
We got there pretty early (around 8:30ish) and didn't have to wait at all, but expect a line if you get there later, especially if you want to sit by the instafamous pink wall.
Extra Time Before Your Flight?
We had to get ready for our flight, but if you've got more time in Seminyak, there's tons more to do. Other foodie spots to check out if your flight is a bit later: Sea Circus Bali, known to be the most colorful restaurant in all of Bali, and Motel Mexicola, which I've heard has absolutely scrumptious Mexican specialities and cocktails (not your average taqueria, that's for sure).
Itching for one last massage? Head on over to Jari Menari for a new massage technique that you've probably never had before. Some even claim it's the best massage you'll have! I'll have to be the judge of that next time I'm visiting Bali!
Did you know that …
When you purchase something through our links, we earn a small fee (but you still pay the same)! Win-win! If you found this article useful, consider using the links within the article or below. Thanks for your support! 
pin it for later!
Are you in the process of planning a 10 day Bali itinerary? If so, hope your 10 days in Bali is an absolute blast (can I come with you, pretty please?)