Heading to Greece soon and looking for the best things to do in Santorini? Only have a short amount of time? Don't fret – you can still fulfill all your idyllic whitewashed Greek Island fantasies with only 3 days in Santorini.
Spanakopita. Sapphire Aegean Waters. Candy colored houses. Gleaming white buildings.
Oh, just a few things that make up the wonderful-ness that is Santorini. If you're visiting Greece in the near future, make sure you include at least 3 days in Santorini.
And if you follow the advice in this Santorini travel blog and/or this Santorini itinerary, you're already ahead of the game! Wondering what to do in Santorini, Greece? Keep on reading, my Mediterranean, feta-loving friend!
Santorini is an island that has it all – hypnotic sunsets, volcanoes rising out of the blue Aegean Sea, cave house accommodations, and of course those stereotypical (but equally as beautiful) blue-domed churches amidst whitewashed stone buildings.  As with Rome, Santorini is just one of those places I'd gladly revisit time and time again.
And after visiting 30+ countries, I can easily say that Greece and its painstakingly breathtaking islands are by far one of my favorites. While three days in Santorini sure isn't enough, it's a wonderful introduction to Greek island life and will have you longing for return visits time and time again.
When to Visit Santorini
The best times to visit Santorini are April-May and September-October. During these times, the weather will be a bit milder (not as scorching hot during the day), and less crowded.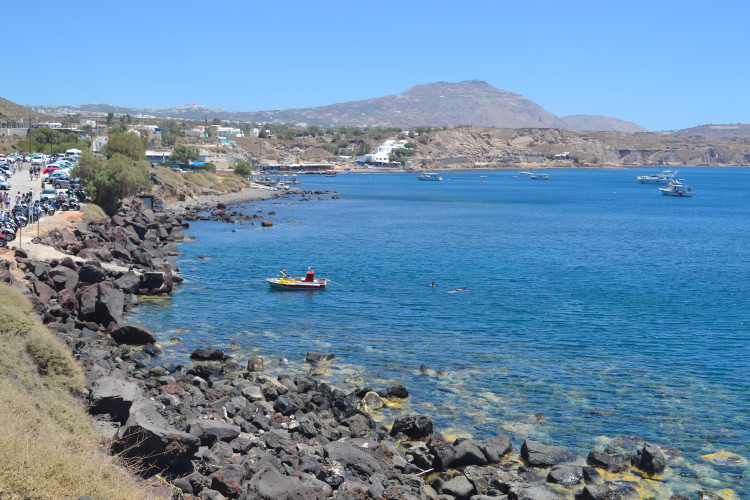 The weather in the winter months (November – March) is not ideal (definitely can't go in for a quick Mediterranean beach dip) and many businesses (tour operators, restaurants, and even some hotels/ accommodations) will be closed for the season, although this is beginning to change as more tourists are visiting during these months.
Note that prime time/high season is between late June to early September, and hotel prices will naturally reflect that.
Quick Reference Guide of when to visit Santorini:
Best beach and swimming weather: June to September
Best sightseeing weather: March to June and September to November
High Season: late June until early September
Low Season/Winter: late November to early March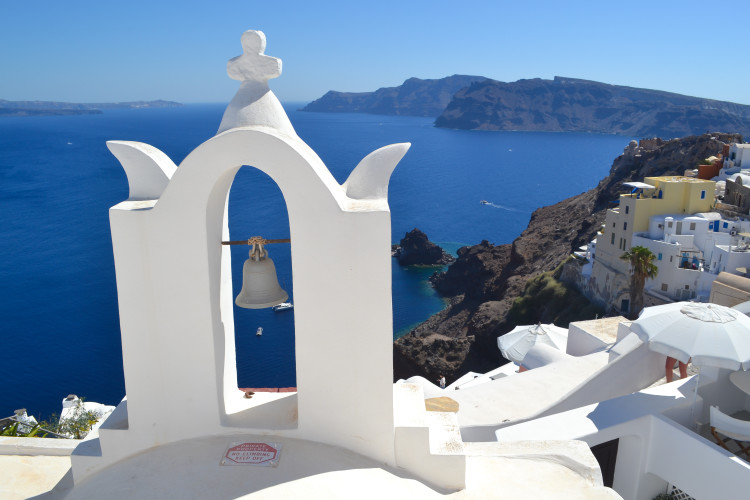 Where to Stay in Santorini
Tourists choose to stay in four main villages of Santorini, as listed below. However, wherever you do decide to stay, I highly encourage you to opt for a hotel with an infinity pool overlooking the caldera. We based ourselves in Imerovigli at Astra Suites during our time in Santorini, and couldn't have been happier. Many luxury hotels boast private hot tubs, butler services, fine-dining, and other top-notch amenities.
A few things to note when thinking about accommodation in Santorini:
There are no big chain hotels on the island. The best spots are small, privately owned boutique hotels.
If you're visiting other places on your Greek honeymoon or throughout Europe, Santorini is the place to splurge on accommodation. Once you see the views, you'll quickly understand why.
Decide which part of the island you want to stay before doing specific research on hotels. You essentially have two choices: along the caldera (in Oia, Fira/Firostefani, or Imerovigli) which boast spectacular sunset and Mediterranean Sea and volcano views, or on one of the beach towns on the other side of the island (Kamari or Perissa), which are a bit less expensive and right on the beach, but missing those epic views that Santorini is very well known for.
Note that prices range significantly between hotel accommodations depending on the season. A luxury hotel can cost upwards of $800+ a night during high season, while the same room may cost a few hundred less during low/off season. Just something to keep in mind while planning your three days in Santorini. 🙂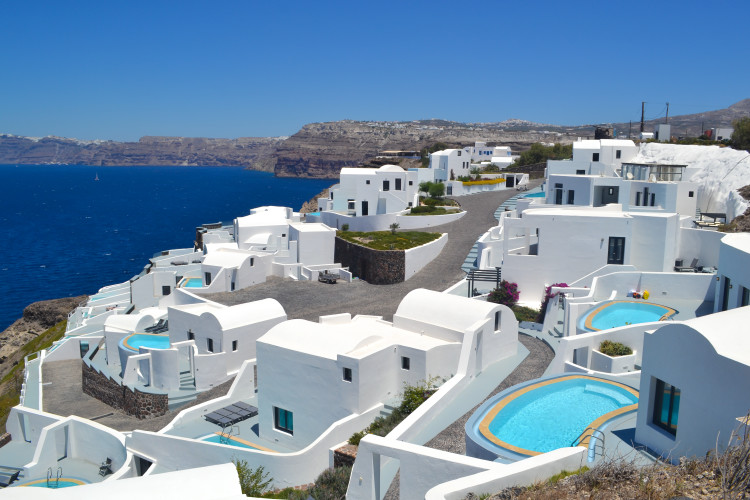 If you're planning on visiting Santorini during high season, it's best to book your accomodation at least 6-10 months in advance. No, I'm not kidding. Hotels book up super fast in this area of the world. Aka – if you're visiting during June, July, August, or September, get on it, fast.
Oia: If you want to be right in the middle of the action and don't mind paying a price for it, a stay in Oia is just for you. Top Recommended hotels in Oia:
Budget-ish: Fava Eco Residences, Aethrio, Fileria Suites
Imerovigli: If you want some peace and quiet and impeccable views, consider spending your nights in Imerovigli. Top Recommended hotels in Imerovigli:
Budget-ish: Remezzo Villas, Athiri Santorini, Pantheon Villas
Mid-Level: Astra Suites, Rocabella Santorini Hotel, Casa di Mare
Luxury: Dreams Luxury Suites, San Antonio, Sophia Luxury Suites, Grace Santorini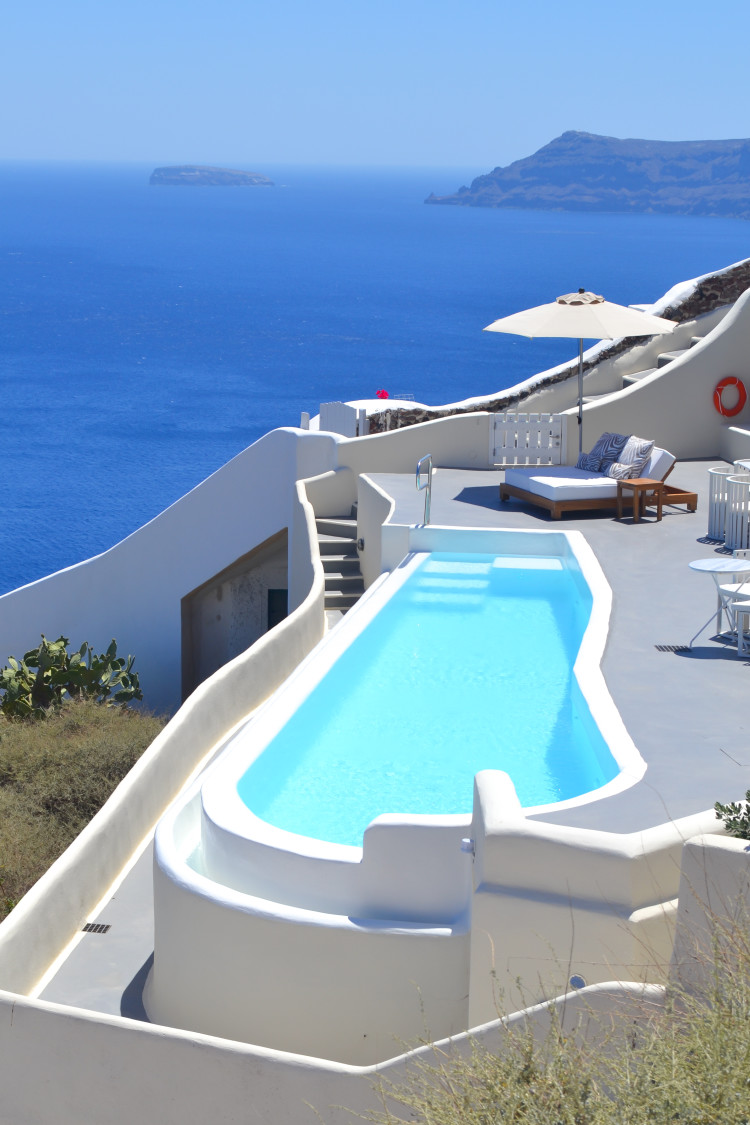 Fira: Santorini's capital, which has tons of wonderful restaurants and a decent amount of night life. Top Recommended hotels in Fira:
Budget-ish: Panorama Studios and Suites, Oasis Hotel, Sunset Hotel
Mid-Level: Belvedere Suites, Fanari Vista Suites, On the Cliff
Perissa: If you're looking for cheaper accommodation and would like to be right on the beach, consider staying at Perissa (Santorini's famed black beach). Top Recommended hotels in Perissa:

Budget: Margarenia Studios, Iliada Hotel, Perissa Bay
Mid-Level: Anastasia Princess Hotel, Villa the Birds
Luxury: Sea View Perivolos, Memories Beach
Top Things to do in Santorini
Whether you're spending 3 days in Santorini to relax with cocktails on the beach/infinity pool, or hoping to add a bit more adventure into the mix, this tiny island (and Santorini itinerary) won't leave you disappointed. If all else fails, just stuff your face with some feta and spanakopita and you'll leave happy as a clam.
Despite Santorini's diversity, the island is rather small so you can really see it all, even with limited time. My top recommendations on things to do in Santorini below, either experienced by me or by close friends!
ATV Tour around the Island
Spend a full day in Santorini by renting an ATV (quad), dune buggy, scooter, or car and explore the island. Try not to rent an ATV in Oia as you will pay a premium at this location. One of my most favorite things to do in Santorini, and I made sure to do this both times I visited the island.
A few spots to visit during your self-guided ATV tour of Santorini:
Red Beach: One of Santorini's most unique spots, and not to be missed! Note that the sand is full of volcanic pebbles and you will need to take a 15 minute mini-hike to reach the beach down below.
I suggest stopping for a few photos and then moving on. Those azure blue waters are just aching to be photographed.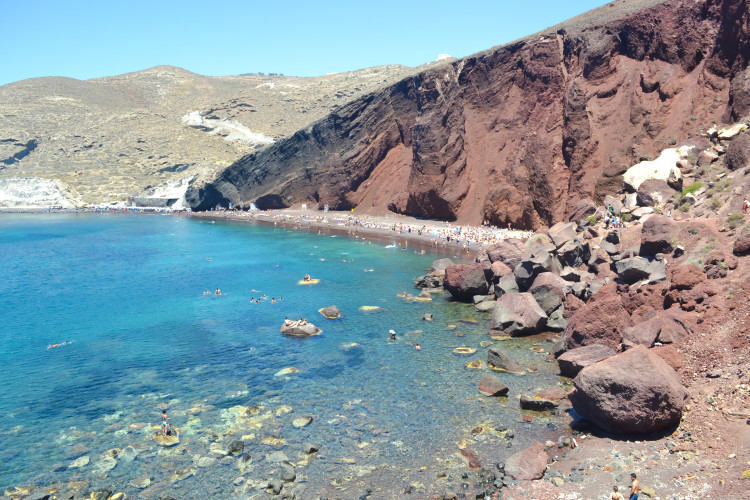 Perissa Beach: This is one of Santorini's black sand beaches, and a good place to pop down for a bit and savor the Greek sun. The black volcanic sand is extremely hot hot hot, so take your sandals with you if you go into the water (or run back miserably like I did…)
This stretch of sand is lined with restaurants and bars, and be sure to grab a gyro and a cocktail here!
Oia: You cannot come all the way to Santorini (yes, it's kind of a pain getting here) and not witness the charm of Oia yourself. More details below, but Oia is a great last stop on an ATV tour of the island.
However, beware: the area gets over-crowded and disgustingly hot during the summer months of July and August. But I promise you, even if you're visiting during these months, an afternoon in Oia is still one of the best things to do in Santorini.
If navigating the island via ATV scares your socks off, consider joining a bus tour to all the hot spots in Santorini. Not only will you visit Santorini's most popular sites and learn about its history, but you'll also visit traditional villages, volcanic beaches and witness one of those spectacular Oia sunsets everyone raves about!
If you want to guarantee you see the island and have enough time for the beach (on another day), I highly recommend joining this tour in order to get it all in. Read reviews and book your full-day bus tour here.
Santorini Wine Tour
Calling all wine-lovers. I repeat! Attention wine lovers! A half-day wine tour is a must on any three day Santorini itinerary. Santorini wines are some of the best in Greece, and this half-day wine tour takes you to three of the best wineries on the island.
Not only will you sample 12 different wine styles (yes, really 12!), but these wines will be served with cheese, salami, and Greek olives. #yesplease
And since you'll be probably a bit wobbly after all these tastings, thankfully the tour includes complimentary pickup and drop off service, from all hotels/apartments throughout Santorini (including Oia and Fira). One less thing to worry about. Read reviews and book your wine tour here. 
Wondering what to do in Santorini, Greece besides hit up the beach? WINE, my friend. Don't miss this.
Foot Path Hike from Fira to Oia
The views, the landscapes, the peacefulness – you'll be glad you took this stroll along the caldera. The walk takes about three hours, but the views are 100% worth it! Be sure to take a decent amount of water with you, as the stalls are few and far between. You may not find water for over an hour.
However, it's not a good choice for those with vertigo – take the bus or your ATV to Oia instead!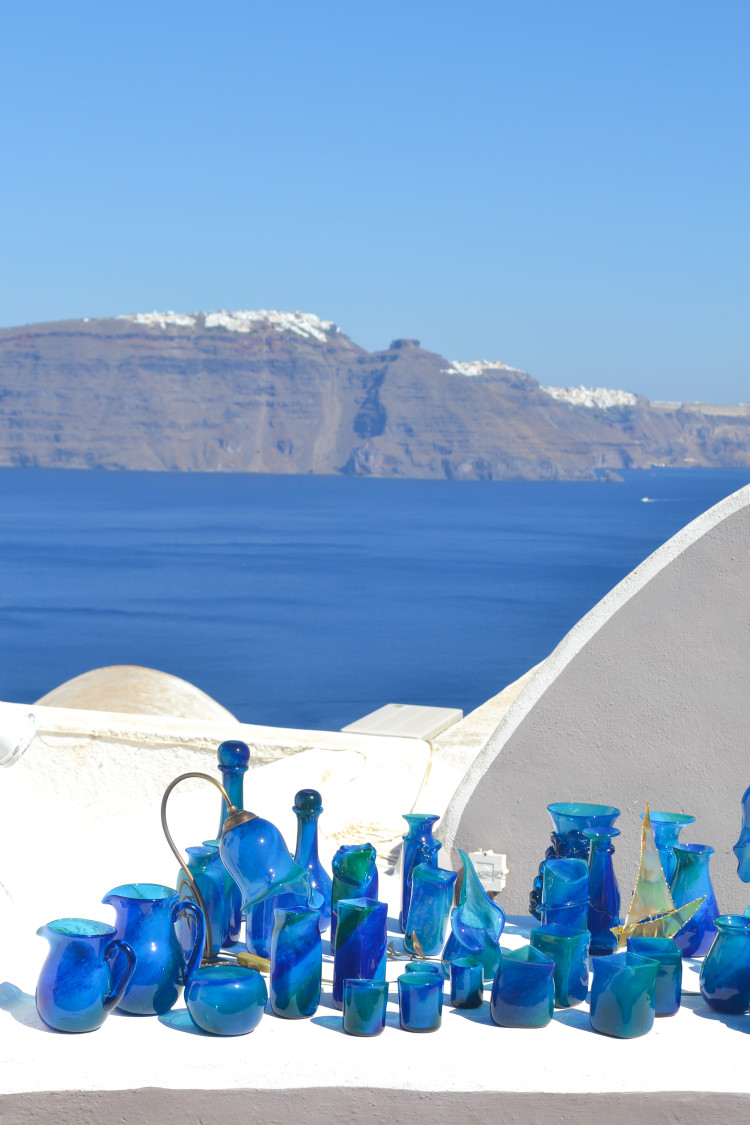 Boat Cruise to Nea Kameni and Hot Springs
Since the island was formed via volcano, it's quite appropriate to visit the volcanic island of Nea Kameni by no other than sailing to it! You'll have the opportunity to walk up the ascending soil path, and approach the crater of the active volcano.
Your second stop will bring you to the second lava island of Palea Kameni, where you can swim in the green sulphur waters of the hot springs. Make sure to wear your bathing suit! Read reviews and book your boat cruise here.
Definitely one of more active things to do in Santorini, and a good option if you like being on the water and/or are exhausted from laying out at the pool (should that ever happen…).
Santorini Cooking Class
With all those Mediterranean flavors you've hopefully been tasting during your meals, you may be wishing you can recreate these at home! You're in luck, because this tour will be right up your alley (especially if you enjoy a nice wine or two).
Not only will you learn how to cook with a professional chef, but you'll also visit premier wineries in the Greek countryside (with 9 wine tastings!), taste traditional Greek aperitifs such as Raki and Ouzo, and enjoy a complimentary lunch in a traditional restaurant. Read reviews and book your cooking class/wine tour here.
Watch the sunset
Yes, the sunset in Oia is pure magic, but the sunset from Imerovigli is just as spectacular, and with way less crowds. If you have your heart set on the famed Oia sunset, be sure to get there especially early in order to claim your spot.
When I say it gets crowded, it really gets ridiculously crowded, meaning you'll be sharing your romantic sunset spot with 100's of other people. If you booked a hotel in either Oia or Imerovigli, simply hang on your terrace/balcony and watch the sun dip below the sea alone, a glass of bubbly optional. 😉
Explore Oia
Oia is stunning. There's just no other words for it. There are postcard views at every corner you turn, but because of this, it's also the busiest town on all of the island. Don't let this deter you from visiting though – as Oia just cannot be missed. Wander around to the cliff side by walking down random steps you find, and you'll come across those spectacular views you came for.
After exploring the town of Oia, make your way down the many steps to Ammoudi Bay, the little fishing village below. You'll be greeted with a different view of Oia, including fishermen catching their fish of the day. Enjoy a fantastic seafood meal here, seaside!
Feeling adventurous? Head east along the path a bit, and you'll come across a tiny island located just off the shore. This spot is super popular for cliff jumping (ahhhh) and swimming.
Tired? You can hire a donkey to take you back up to Oia, but I don't condone it as I'm not sure how the animals are treated. Be sure to take a photo though – they are seriously cute adorned in all their fancy decorations!
Go scuba diving
Santorini boasts crystal clear ocean waters, so put on your gear and get below the water! You'll see plenty of colorful fish, a shipwreck or two, all while swimming in some of the most beautiful waters of the world.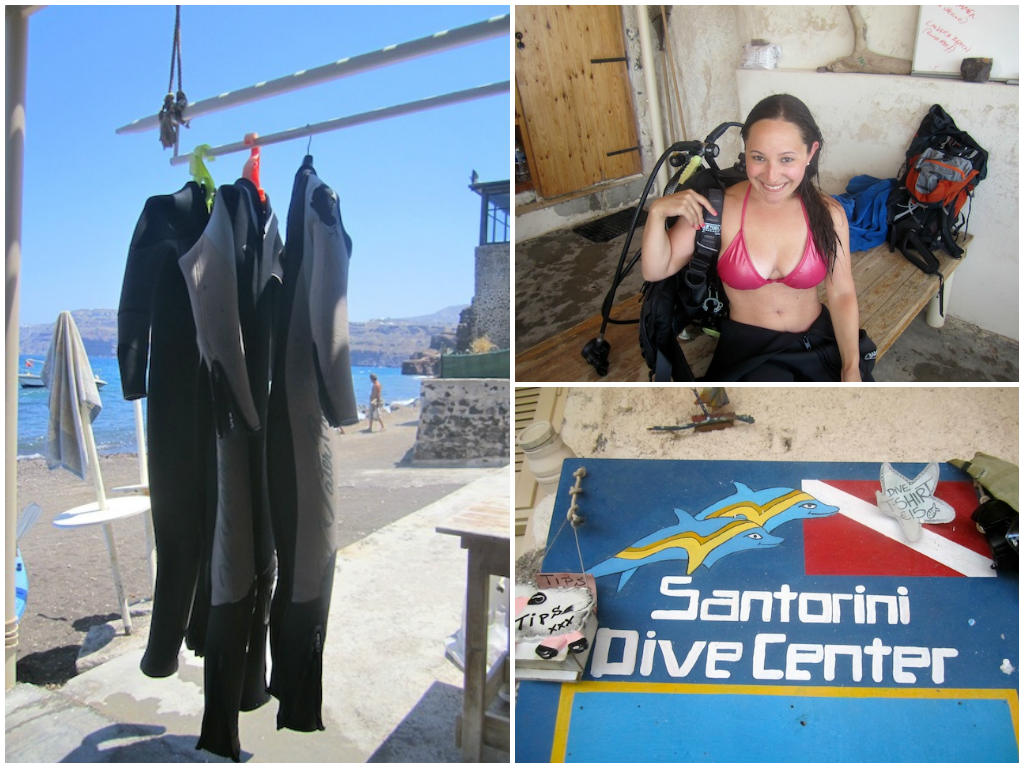 Never been scuba diving before? Don't fret – there are numerous companies offering Discover Scuba lessons, who will teach you all the necessary requirements before suiting up and getting into the waters.
Relax at your Hotel
Sure, you may have come to Santorini to see the sites, but nothing is better than spending a bit of time relaxing at your hotel, especially if you're on your honeymoon. In order to fully maximize this experience, I highly advise you to choose accommodation on the caldera with an infinity pool overlooking the scenic Mediterranean Sea.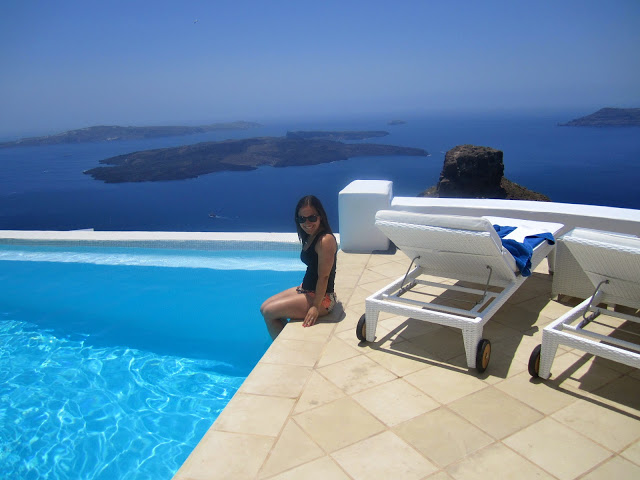 And plus, if you're visiting in the heat of the summer, any respite from the scorching temps will be an absolute haven. Plan to spend at least one half day during your 3 days in Santorini to just chill on a chaise lounge, some wine or cocktail in hand.
Where and What to Eat
If you've got heaps more time after you've completed all the things to do in Santorini, just spend the rest of your days eating. Santorini is a haven for Mediterranean food lovers, and there's enough variety to try different dishes at every meal.
My favorites: fava beans, saganaki, spanakopita, gyros, and Greek salad, but you can't go wrong with any on the list.
Recommended Restaurants:
Ammoudi Bay

Seafood dinner/meal at Dimitris
Ammoudi Fish Tavern

Fira

Naoussa
Nikolas Taverna
Lucky's Souvlaki

Gyros at Pito Gyros in Oia
Breakfast at Mylos Bar Restaurant in Firostefani
Best restaurants with caldera view: Mezzo, Athenian House, Argo, Naoussa, La Maison, and Ambrosia.
Best coffee in Santorini is at Passaggio (Oia) and Pure (Fira).
Things to eat during your 3 days in Santorini: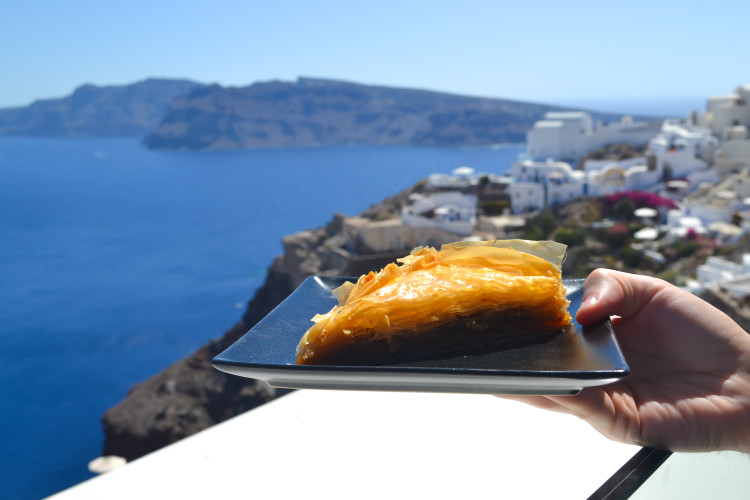 Tomato Gefthedes (tomato fritters)
Spanakopita (spinach pie)
Saganaki (fried cheese in filo pastry covered in honey)
Greek Salad – eat all the feta and then some.
Souvlaki and Gyros
Keftes/Kofta (ground meat, kind of like sausages)
Pomegranates
Roasted Greek lamb
Moussaka
Fava me Koukia (mashed up fava beans)
Mythos Beer
Greek Wine
Are you heading to Greece soon? What are you most looking forward to on your Santorini itinerary?!