After visiting Guatemala this summer, I'm yearning for a return trip – sooner than later. The colors, the nature, and surely the plantains and horchatas are all screaming my name. A week in Guatemala was the perfect amount of time to explore this vast country.
Guatemala truly is Central America's hidden secret.
If you have a week in Guatemala, here are my recommendations of areas to check out! Surely there are more, and you could spend months exploring this vast country, but you can really get a taste for the culture, food, and nature in a few short days. Have a few extra days? Get some inspiration from travel books, Lonely Planet and Rough Guides are my go to's!
Top Spots to Visit with a Week in Guatemala
Chichicastenago
If you're looking for some culture, this is the place to be. The area boasts one of the most colorful native markets in all of Central America. Located in the south western area of the country, this large indigenous town lays on the mountain tops at a whopping 6,500 feet.
Make sure to visit on famous market days – Thursdays and Sundays. Venders sell everything under the sun (figuratively and literally), including (but not limited to) candles, handicrafts, food, spices, masks, pottery, medicinal plants, machetes, pigs, chickens, and baby kittens. Yes, you read that right. Nothing will surprise you after walking through the market a few times.
It honestly doesn't get more authentic than this! For an even more authentic experience (if at all possible), head to Chichicastenago the night before and watch them begin to set up. Also visit the indoor produce market and view the interactions from above (definitely need your zoom lens <– I use this one).
Protect your belongings here, as pickpocketing can occur if you aren't careful. Either keep your passport locked up in your hotel, or consider buying one of these.
Don't Miss:
Market days on Thursdays and Sunday
snacks at the local comedores (found in the central part of the market)
Local Cemetery
Church of Santo Tomás
Plan to spend: 1 full day or hop on this tour of Chichicastenago and Lake Atitlan for 3 days total
It's possible to visit Chichicastenago as a day trip from Antigua, and much easier that way!
Antigua
Being just over an hour away from Guatemala City (and designated a UNESCO World Heritage Site), there's no reason not to visit Antigua! The small city is full of color and charm, and is just waiting to be explored. The cobblestone streets can be difficult to walk on (they just add to the charm!), so wear comfy shoes (I literally can walk miles in these sandals — lots of color and size options in the link, and they're pretty stylish, too!)
Antigua is known for it's well-preserved Spanish Baroque influenced architecture and a number of colonial church ruins. Be sure to look out for tuck-tuks and chicken buses as they are everywhere in Antigua.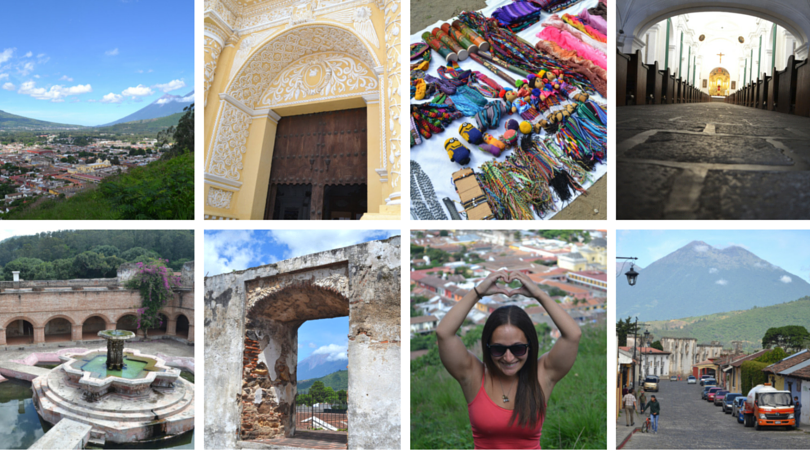 I recently learned the city has a bunch of Spanish immersion classes – oh, Guatemala, I'll be back.
For a panoramic view of Antigua from above, consider visiting Cerro de la Cruz on a hill to the north of the city. I promise you, the short excursion will be worth it.
Don't Miss:
The famous yellow Santa Catalina Arch
Antigua Guatemala Cathedral // La Merced Church // Church and Convent of Capuchins
Cerro de la Cruz
Mermaid Fountain in the heart of the city
Recommended Tours:
Plan to spend: 2 days
Pacaya Volcano
An easy day trip from Antigua, if you're in the area you must go! An early morning wake up call will have you up the volcano and roasting your marshmallows by noon, depending on your level of activity. If you're not up for the challenge, or would just prefer a different type of adventure, consider hiring a horse to get you to the top. Be sure to look out for the small shack with oranges and pumpkin seeds for a quick and cheap snack. Ridiculously delicious! Hey, you earned it!
Towards the end of the hike, the trail becomes extremely steep, so take extra precaution by using your walking stick (which I recommend you borrow from one of the little kids at the beginning of the hike). It's here you'll find the Lava Store, showcasing (and selling) beautiful jewelry and handicrafts, all made with volcanic ash, from you guessed it, Pacaya Volcano.
Definitely an experience not to be missed.
Don't Miss:
An orange and pumpkin seed snack
The opportunity for a walking stick at the base of the volcano
A quick way up via horse back
Roasting Marshmallows (!!!)
Recommended Tours and Activities:
Plan to spend: 1 full day
Stay at Hotel Kawilal and Spa
Normally I wouldn't include a specific hotel on a list of absolute must-do's, but this spot is too fabulous not to share. I only stayed here one night but I wish I could get my hiney back and stay a little lot longer. I don't want to spoil all the surprises, so we'll reminisce after you come back, k? Just plan to pack your bathing suit and prepare for a full day of relaxation and pampering. Will definitely be a highlight in your week in Guatemala!
Don't Miss:
Smoothies at the Spa
Lunch at Las Mengalas
Gawking at the entrance to your room 🙂
Plan to spend: 2 nights
Pacific Coast
Many forget about the Pacific Coast when planning a trip to Guatemala. Don't be one of them! Not only does the Pacific Coast offer the most gorgeous sunsets (see below!), but an easy laid back lifestyle full of sail fishing and beach frolicking. Charter out a boat from Pacific Fins and spend the day on the water reeling in fish literally bigger than yourself. Quite the adrenaline rush if you ask me. And what a workout!
Don't Miss:
Sail Fishing
Black sand beach Sunsets
Lunch at Pacific Fins
Plan to spend: 1 night
Guatemala City // Cayala District
Most people fly into Guatemala City, the capital of Guatemala, and then head straight out to Antigua. Spend an afternoon exploring the city, and definitely make your way to the Cayala District. Being the most populous city in Central America, Guatemala City is divided into 12 zones, each with their own distinct character.
The city is home to the best museums and galleries, transport hubs, and you'll find some of the most beautifully intricate churches here. A must-do in my book, despite what everyone says.
Don't Miss:
Modern Cayala District
Lunch at 5 elementos
Relief Map of Guatemala
Iglesia Yurrita Church
Recommended Tours:
Plan to spend: 1 full day
Lake Atitlan
Lake Atitlan is another one of those must-see places while in Guatemala. It's just too gorgeous to pass up! Located in the Western Highlands of Guatemala, there are numerous small towns along the coast, just waiting to be explored.
We visited Panajachel (or Pana for short), and wish there was more time in our itinerary to discover more. I heard San Pedro was a beauty! There's lots of water activities in the lake, including kayaking and scuba diving, and land activities as well, including hiking and horseback riding.
Don't Miss:
the market in Panajachel
breathtaking views from literally everywhere
lunch at Hotel Atitlan (complete with infinity pool)
relaxation! You deserve it!
You can visit the lake as a day trip from either Antigua or Guatemala City, and I highly recommend hopping on a guided tour to make the most of the day (suggestions listed below).
Recommended Activities and Tours:
Plan to spend: 2 full days
And one last thing, you guys:
The Food // all of it
If you're a lover of fried plantains and refried beans like me, the possibility of gaining a few pounds in Guatemala is obvious. Just be sure to hike a volcano or two and you'll be fine. Food in Guatemala is influenced by the country's Mayan and Spanish cultures, and the flavors will surely be tantalizing your tongue!
Note: Water in Guatemala is not safe to drink, so always have a few quetzales on hand for bottled water.
Don't Miss:
Horchata
Tortillas, plantains, and refried beans
Empanadas (#yum)
Coffee!
Tropical fruit, including papaya, mangoes, and avocado
Dessert: flan and tres leches cake
Enjoy your week in Guatemala!? What are you most excited to see and do?!