Visiting Thailand soon and planning to spend 2 days in Bangkok, the countries capital city?! Keep on reading, because I'm sharing not only the perfect 2 day Bangkok itinerary, but where to stay, when to go, how to get around, and oh so much more! Including all my personal recommendations and top tips!
You don't wanna miss this Bangkok travel blog!
Bangkok is not only the capital city of Thailand, but the country's biggest metropolitan city, built around the Chao Phraya river delta. It's been a popular weekend getaway destination for other nearby countries, but with so many international flights to Thailand arriving in the city, so many people opt to spend 2 days in Bangkok or so (before heading to Chiang Mai and then the islands).
And after you hop off that long flight, you can expect to experience an array of activities in Bangkok – from visiting beautiful temples, eating great Thai food (I still have dreams about the mango sticky rice), cultural activities, and yes, some incredible shopping!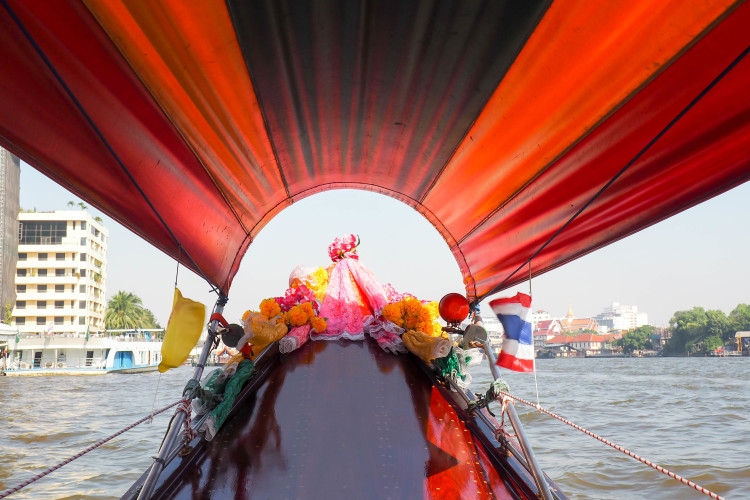 Psst – if you've got more time in the country, be sure to check out my extremely and ridiculously detailed 2 week Thailand itinerary.
Although I would normally advise to visit any major city for more than a few measly days, you can really fit in oh so much with only 2 days in Bangkok. That is if you follow my itinerary to a T! It's the exact one we used when visiting Thailand last December, and found it very doable, although I must say it was a tad difficult to keep up with due to our horrible jet lag!
But if you've only got 2 or 3 days in Bangkok and want to see all the main highlights (and then some), this itineraries for you – let me know if you end up following it and how it was down below in the comments!
When to Visit Bangkok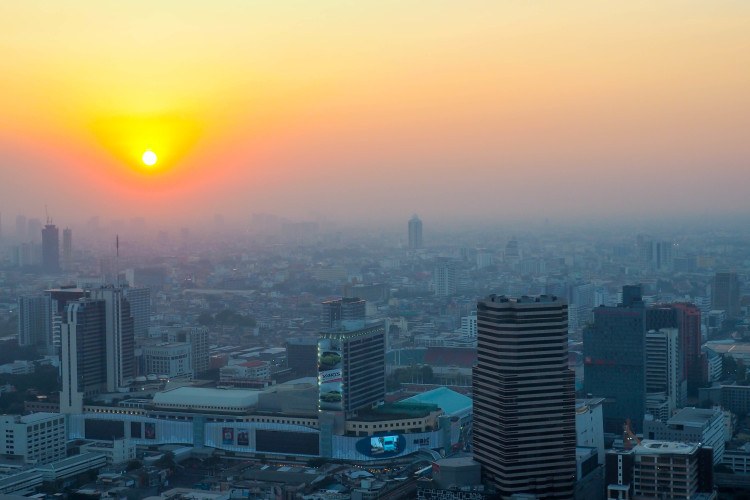 Bangkok, being a metropolitan city that never experiences frigid temps, means it's great to visit all year long. HOWEVER (yes, of course there's a however), I would highly advise avoiding the peak monsoon season as the amount of rainfall can be a bit unexpected.
And who wants rain your entire 2 or 3 days in Bangkok – not I, that's for sure.
The Monsoon season in Bangkok starts around July and ends in October, but might even stretch into the early weeks of November, so avoid these months.
The best time to visit Bangkok is December through February since temperatures are more bearable at that time and the rain will likely have stopped.
Getting into the city from the Airport
If you are landing in Bangkok between the hours of 6 AM to midnight, you might want to consider taking the Airport Rail Link to the city. The Public Train in Bangkok is fast, clean, reliable, and you get to avoid the dreaded Bangkok traffic especially if you are arriving at peak hours (morning or around dinner time).
There are two international airports in Bangkok – Suvarnabhumi Airport (where I flew into from San Francisco) and Don Mueang Airport. You can take the Airport Rail Link from either of these airports. From there, you can then resume your journey via the local MRT trains to whichever station is near your hotels.
The best thing about them? The train only cost 45 Baht per ride – that's only about US$1.40!
However, if you aren't keen on the train, then you can just get a taxi from the airport, or you can pre-book your airport transfer online for the ultimate convenience! Just make sure you know which airport you are landing in to, Suvarnabhumi Airport (SVB) or Don Mueang Airport (DMK), so you can book the correct transfer:
How to Get Around Bangkok
Metered Taxi – There are metered taxis available all over Bangkok, but just make sure they are indeed metered to avoid being ripped off just because you are a tourist. Double confirm with the driver that they will be using the meter before you get in the taxi.
Grab (Ride sharing) – I used Grab (same concept as Uber) a few times when I was in Bangkok. I found them to be quite reliable, though in the Bangkok traffic you might have to wait for them a bit longer than a taxi, 10-15 minutes.
Public Train (MRT) – As I said above, the Bangkok train system is great! They're easy to use and the machine caters to English speakers. My only gripe is that they're not nearly as extensive as I would like them to be. You can reach certain tourist destinations just fine, but you probably have to walk a little or continue your journey with a taxi to actually get where you want. That said, it's still a great option for daily use and it's extremely affordable.
Private Car Hire – If you can't be bothered dealing with getting a taxi or public transport, you can also hire a private car to take you around for the entire day. No shame in that, and if you aren't the best with public transportation (truuuust me, I wasted sooo much time figuring out the trains in Tokyo), a private car hire for the day maaaay just be the way to go (especially if you've only got two days in Bangkok to do alllll the things). Your call, you know yourself best. 🙂 Book them here.
Where to Stay in Bangkok
Most tourist will find it convenient to stay in the Sukhumvit Area. The MRT stops by the area and it's easy to get around from here. I would advise looking around the following stations on the green line: Nana, Asok, Phloen Chit and Chit Lom.
Personally, I've stayed at Citadines Serviced Apartments and found them to be an excellent place. Affordable and conveniently located! I recommend checking out Citadines Sukhumvit 8 or Citadines Sukhumvit 23.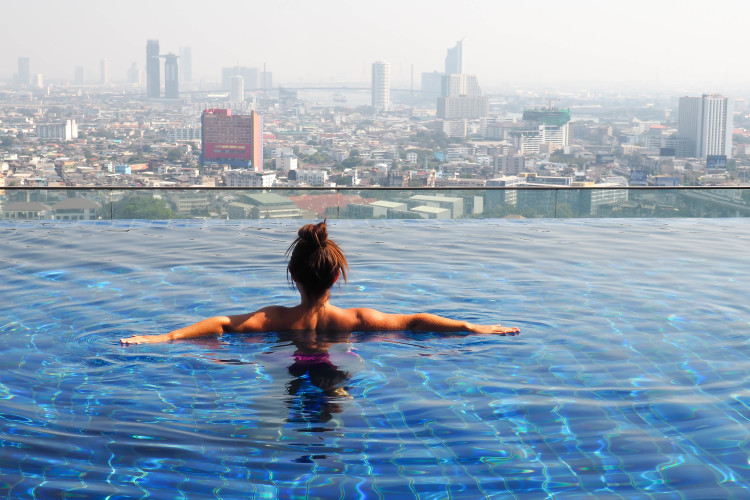 If you want something with a scenic view (complete with refreshing infinity pool), consider staying near the river. I HIGHLY recommend the Avani Riverside Bangkok Hotel as we loved absolutely EVERYTHING about this hotel.
The staff really made our 3 days in Bangkok so special, and were always willing to answer all our crazy tourist questions, make reservations for us if need be, and refill our glasses with mango smoothies. And oh, that infinity pool was absolutely to die for (which we went in every chance we got!)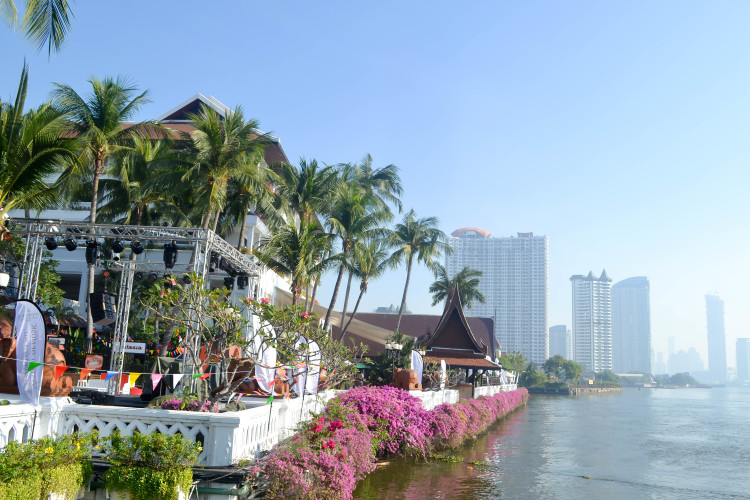 Note that the Avani Riverside Bangkok is on the "other side" of the Chao Phraya River, but a free shuttle boat is available every 20 minutes which goes straight to the metro.
We didn't find this location a nuisance at all like we had originally thought, and loved being away from all the hustle and bustle of downtown Bangkok. Check prices and reviews here.
Language and Currency in Bangkok
Most residents in Bangkok speak Thai and very basic English. Make sure you have your Google Translate app pre-loaded with the Thai translation pack for easy communication.
As for currency, Thailand uses Baht – at the time of writing trades at 100 Baht to US$3.15. An easy off the top of my head calculation estimate would be just to multiply each 100 Baht by 3, so 200 Baht is approximately US$6, 400 Baht is approximately US$12, etc.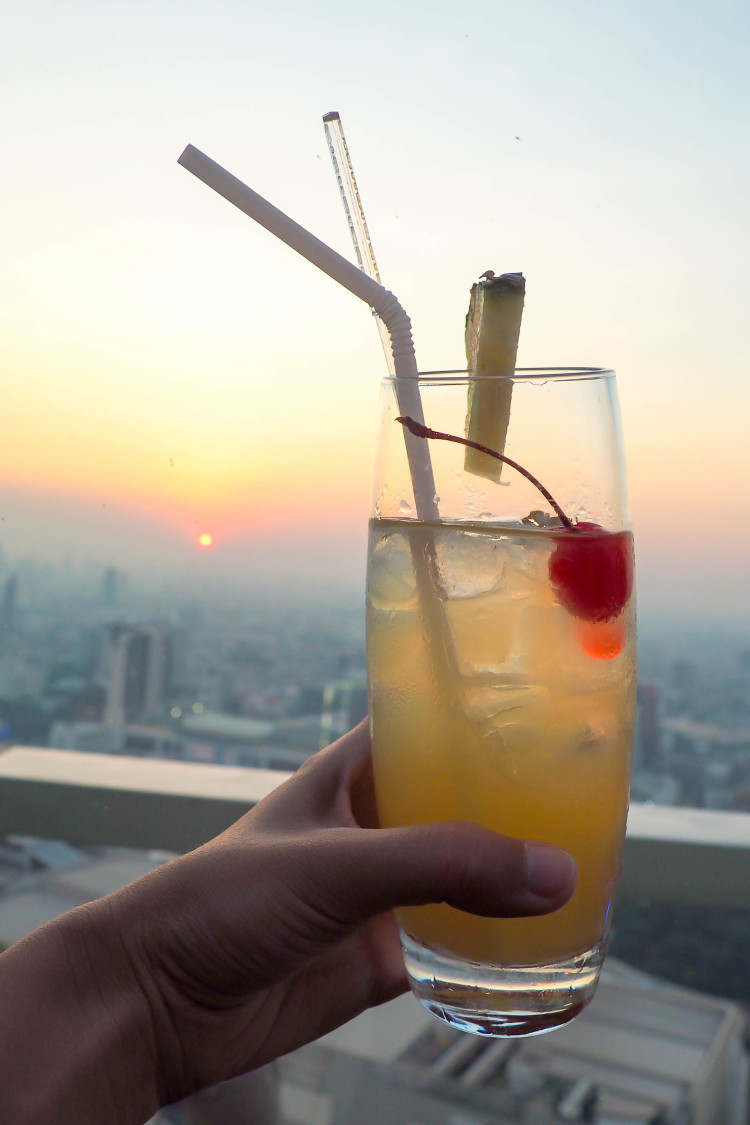 General Tips on Visiting Thailand
Thailand is generally a safe place. Of course you should still exercise common sense, tourist scams still exist in Thailand, but I never felt threatened while I was there.
Bring cash if you are planning to shop. Most of the night markets still operate on a cash basis.
Be mindful when discussing Thai politics. The late king Bhumibol Adulyadej, who passed away in 2016, is an extremely well loved and respected figure in Thailand – and for good reasons too! So keep your political opinion to yourself and be respectful when discussing Thai politics.
Please avoid riding elephants. Most elephants are abused in Thailand. They are tamed by exercising multiple psychological abuse on the elephant since they were young. Once tamed, the elephants are then made to carry weights above their physical limitation, such as carrying 3-4 tourists at a time. It's horrifying! The most humane way to interact with elephants is to visit an elephant sanctuary, which takes in abused elephants and nurse them back to health.
Similarly, most tiger temples are a form of animal abuse. Tigers are wild animals and they are not meant to be petted or caged around humans. It's best to avoid these altogether. Just don't do it – please and thank you.
HEALTH AND SAFETY:
If you're coming from the USA, you'll need to get a few vaccines prior to traveling to Thailand. Recommended shots from the CDC include typhoid, hepatitis A, and hepatitis B. In addition, some choose to take daily malaria pills to prevent this mosquito-borne disease, but consult with your doctor.
My doctor recommended I take malaria pills since I'm very prone to mosquito bites, but my husbands did not for him.
You cannot drink the water in Thailand, but don't fret as most hotels provide their guests drinking water free of charge. In addition, you can find bottled water at every restaurant/convenience store for 5-50 baht (10 cents-$1.50 approximately).
Also, use caution when eating any suspicious looking fruits/veggies and meats on the street. During our two weeks in Thailand neither of us thankfully experienced any major stomach issues, but it's always best to be careful.
In addition, you may want to ask your doctor for a prescription of Ciprofloxacin in case of any disturbing stomach issues you may find yourself in.
Finally, what you actually came here for, a super detailed, and everything-you-need-to-know 2 Day Bangkok itinerary:
2 Days in Bangkok Itinerary
Day 1: Temples Galore
Before we really get into it, it's important to understand and be mindful of etiquette when visiting the temples listed below (and in all reality, any temple in Thailand for that matter).
Travel Tips & Etiquette for visiting Temples in Thailand
There are a lot of temples to visit in Bangkok. If you can't be bothered to plan the logistics of visiting all the temples by yourself, don't worry! You can simply book this Walking Temple tour, which will get you a local English speaking guide to take you around to all the main highlights and ensure you don't miss anything important!
Trivia: "Wat" means temple in Thai, so whenever you see that word you know you are visiting a temple ground.
There is a strict dress code in most temples in Thailand. Basically, you'll need to be covered up. The most important part is to cover your shoulder and legs, so no sleeveless tops (short sleeved is fine) and shorts! This goes for both men and women so make sure you are well covered. You can still either rent/purchase a cover-up at the entrance of any of the temple, but it's better if you can wear your own – one less thing to worry about!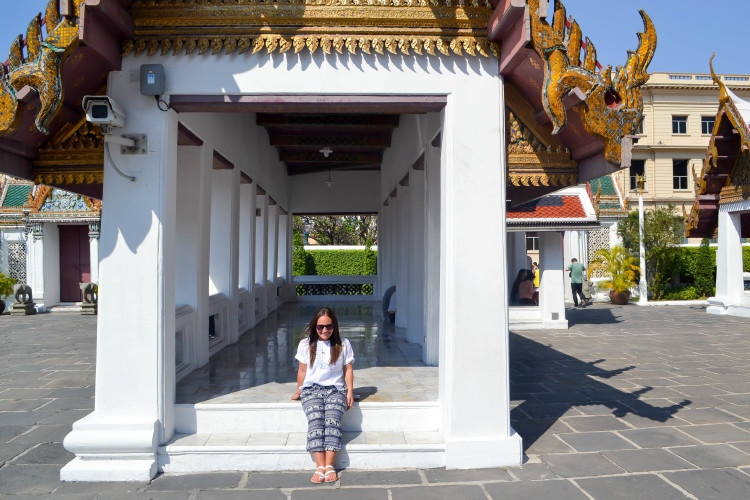 Be respectful. Temples are sacred grounds in Thailand. This means you should talk in a low volume voice, no fighting, and for couples – no PDA, please!
Beware of common tourist scams in Thailand, especially since a number of those target tourists who are at temples to visit. The most popular one is lying about the operating hour of a temple. As you approach the entrance, someone might interrupt and tell you the temple is closed and offer to bring you elsewhere. Just ignore these scammers (and make sure the temple you are visiting is indeed open that day!). If you follow them, they'll take you to a souvenir store and pressure you to buy overpriced clothing and jewelry.
Wear Sandals or footwear that are easy to take off and put back on. You might be required to take off your shoes at some of these temples, and who wants to constantly take troublesome sneakers off?
So let's get to it – back to Day 1 of the 2 day Bangkok itinerary!
1. Grand Palace and Wat Phra Kaew (Temple of the Emerald Buddha)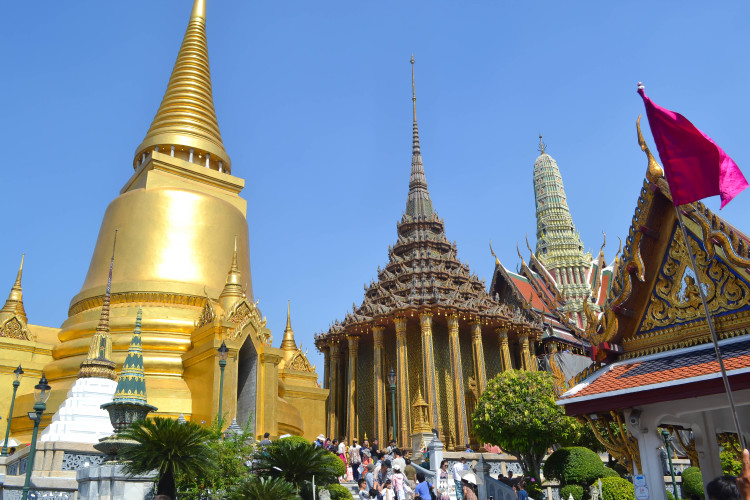 Two birds, one stone! Grand Palace and Wat Phra Kaew are within the same complex and they are both a MUST visit while you're in Bangkok. Out of all the temples you'll see in Thailand, the Grand Palace will be the most crowded by far.
Therefore, it's absolutely imperative you visit this sacred site first thing in the morning when they open, at 8:30am (close at 3:30pm).
Crowds aside, this place is downright spectacular, and you'll see more shiny golden structures than ever before. The Grand Palace is one of the most sacred grounds in Bangkok, so please take note of the temple visiting etiquette I've mentioned above!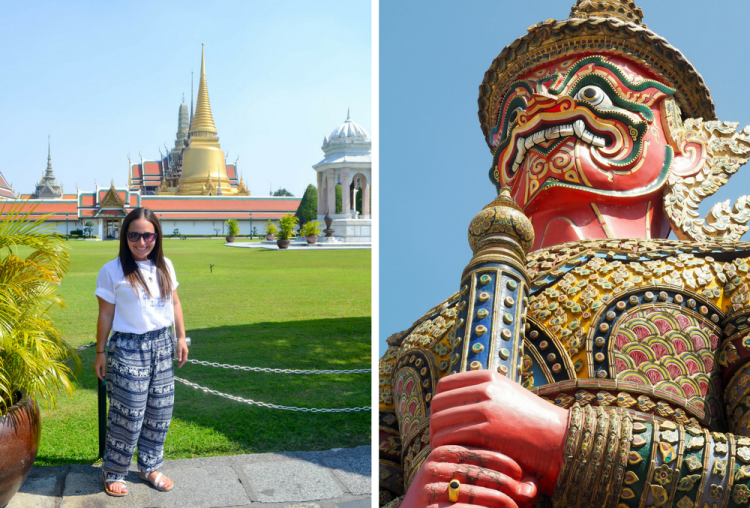 Once you're done with the Grand Palace, you can walk over to see the Emerald Buddha in Wat Phra Kaew. The Emerald Buddha, believed to have been crafted in the 14th century, is deeply respected in Thailand as the protector of the country.
The cost, 500 baht per person (roughly ~$15USD) is significantly higher than other temples, but well worth it in my opinion, just make sure you visit early.
Remember, if you'd rather wander around the temples with a guide who'll make sure you get to all the important places, consider booking this tour.
2. Wat Pho (Temple of Reclining Buddha)
After visiting the Grand Palace complex, the next temple to visit is Wat Pho, famed for its giant golden reclining Buddha. The great news is that this temple is only a 5 minute walk from the Grand Palace!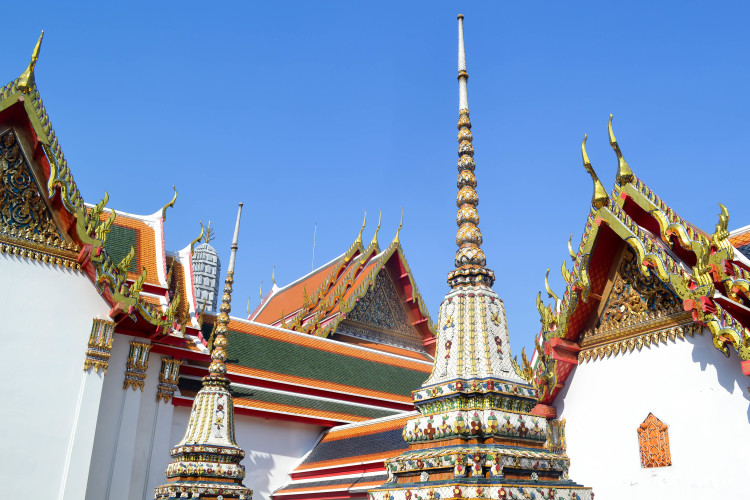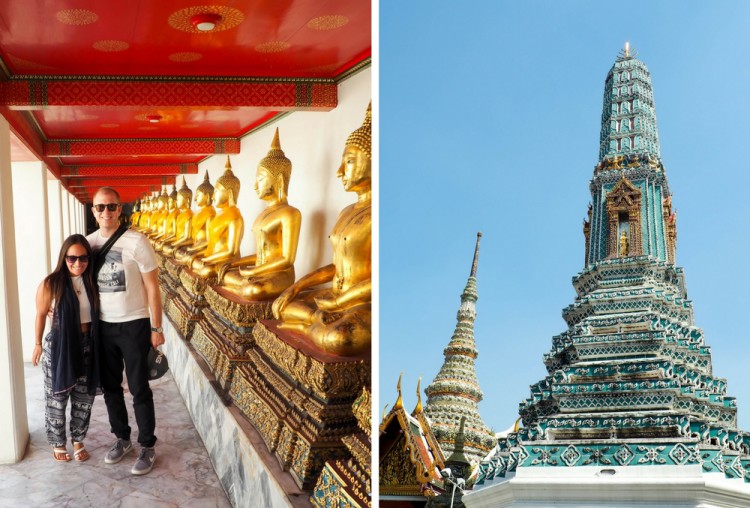 Wat Pho, as the English name might have suggested, is famous for the Gold Reclining Buddha statue, standing at a remarkable 50 feet tall and 150 feet long! This statue is massive, bigger than other Buddha statues you'll see in the city or elsewhere.
It also houses some of the most beautiful paintings along the walls of the temple. Just note, in order to enter the temple, you'll need to take off your shoes. Also important to note that the temple grounds are open 24 hours, but the temples close around 5:30pm, including the one housing the reclining Buddha.
3. Thai Massage at Wat Pho
Visiting three places in one go will tire you out, so it's time to try out the famed Thai Massage! Within the Wat Pho complex, there is Wat Pho Thai Traditional Massage School, a great place to get your massage. Check their price list here.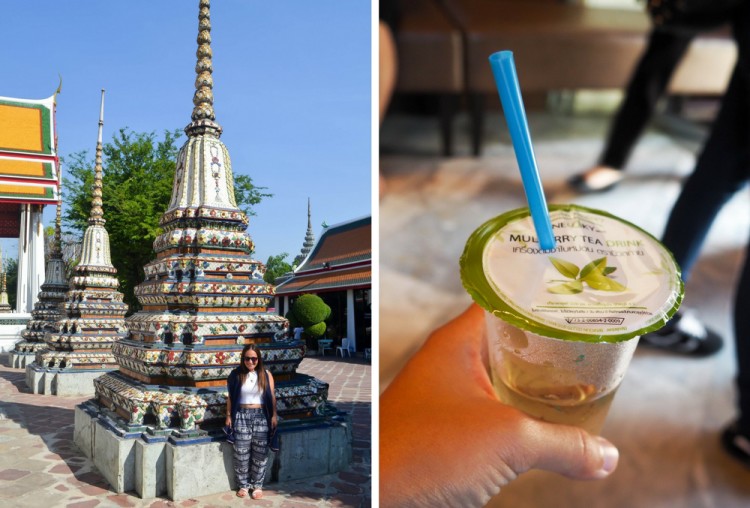 If you've never had a traditional Thai massage and/or don't know much about them, please understand in advance they're not your typical soothing, relaxing treatment. You'll get stretched and bent more than you ever thought possible and the masseuse will use various body parts to get all your knots out (including knees and elbows).
Definitely a different type of experience than the massages I'm used to!
I recommend going for the 60 minutes Thai massage to start. Try to get there before noon – otherwise, the slots for a massage might have been booked up if you are there during a popular season.
4. Wat Arun (Temple of Dawn)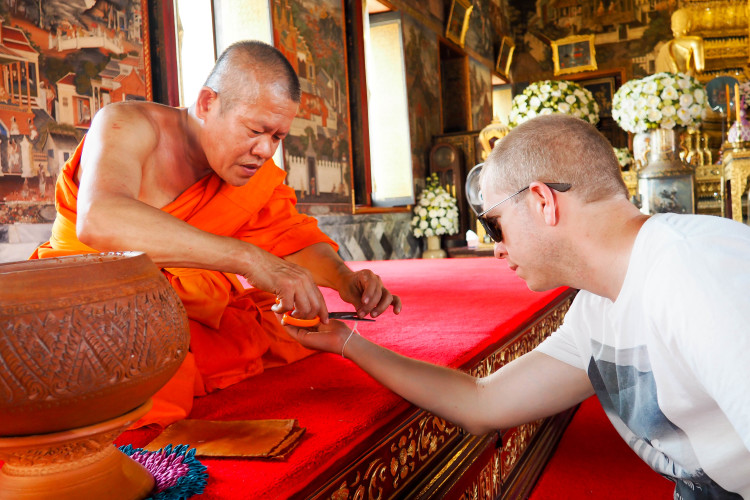 The next temple is right across Wat Pho, on the other side of the Praya Chao river. Fun fact – you'll most likely be taking a boat to cross the river! Simply make your way Tha Thien and catch the Chao Praya River Boat Express.
It will only cost you 15 Baht and runs frequently from 6 AM to 8 PM. Alternatively, you can grab a taxi for a 15 minutes ride but it would be silly since you'll have to go around the river and cross via a bridge. So please take the boat if you can!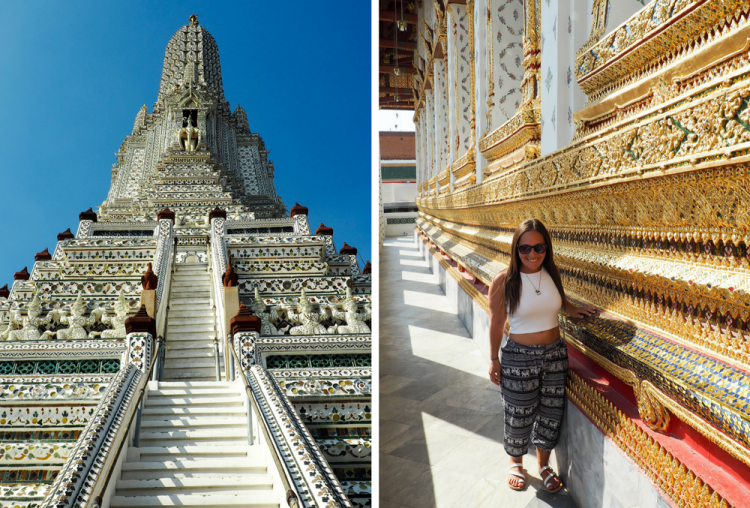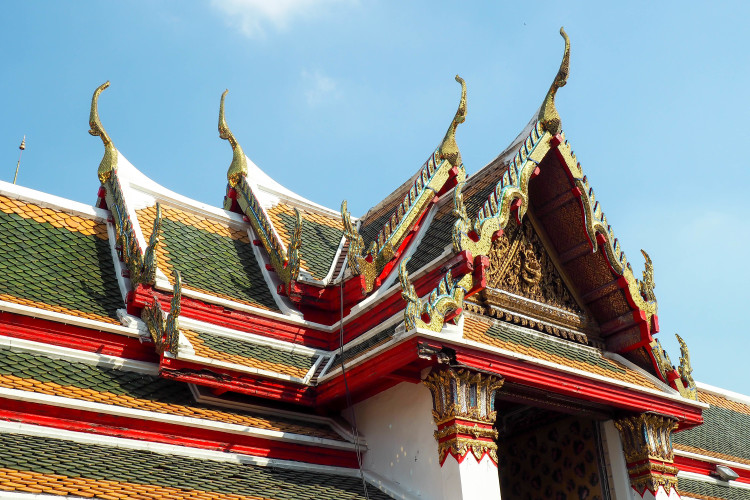 Wat Arun received its name from the Hindu god Aruna, which represents dawn or the rising sun. The temple can be recognized from its distinctive spires (also known as prang) and you can climb the stairs around one of Wat Arun's tall steepas to be rewarded with one of the best views in Bangkok.
5. Bangkok by Night Tuk Tuk Tour
During your time in Bangkok, you might have noticed the three-wheeled open-air motorized vehicle, which exterior is painted in multiple bright colors. Those vehicles are called Tuk Tuks, and are a popular method of transportation for both locals and tourists alike.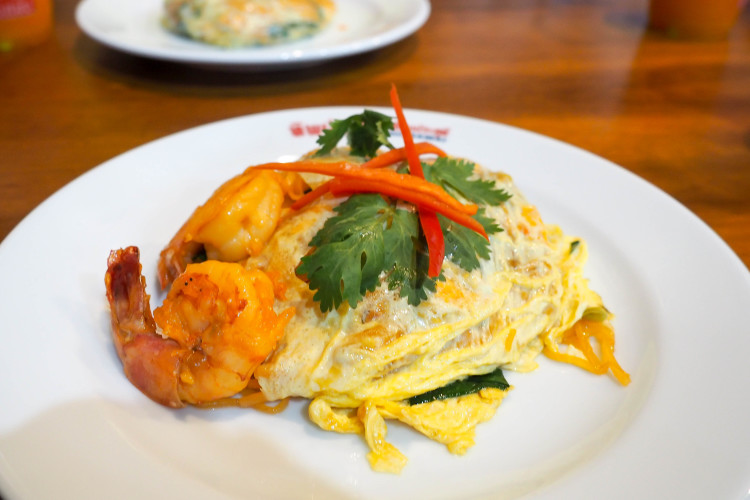 Bangkok by Night Tuk Tuk Tour is a great way to check out the city! The tour will take you through some of Bangkok's temples, some of which you might have seen during the day, but these temples are beautiful at night too, and looked completely different!
This tour also doubles as your dinner plan as they'll also take you to food markets to sample Thai delicacies and to the oh-so famous Pad Thai place. The Tuk Tuk tour will run until 10 or 11 pm depending on the start time you chose. Read reviews, check availability, and book tour here.
6. Bangkok's Chinatown
If you still have energy after all the day's activities, make your way to Bangkok's Chinatown. In the 1800s, there was an influx of immigration to Thailand from Southern China, who originally settled near the Chao Praya river. They were relocated to the current location due to the building of the Grand Palace.
Fast forward to the present day, Chinatown is one of the most vibrant locations in all of Bangkok, where you can do some shopping at Sampang Lane, eat more street food at Yaowarat, or chill with some Chang beer at the Grand China Princess Hotel rooftop bar.
Phew- that was an utterly exhausting day. But face it – if you've only got 2 days in Bangkok, you should really make the most of it! Save the relaxation for later!
Day 2: Floating Market and Muay Thai Fight
1. Floating Market Half-Day Trip (Damnoen Saduak)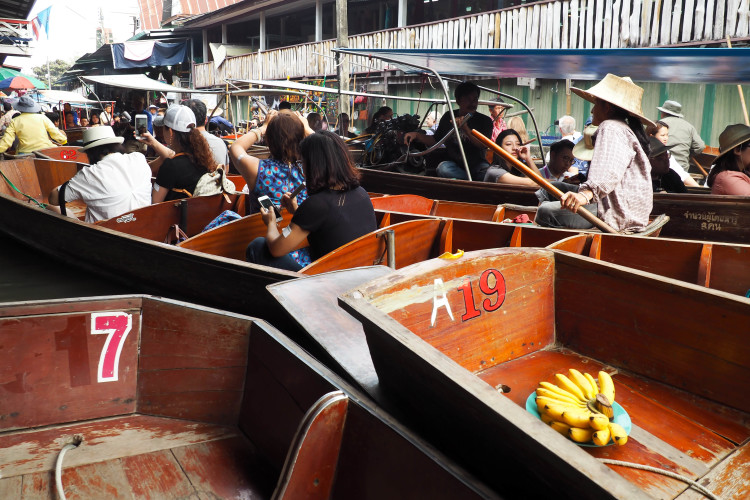 Didn't think you'd be leaving the city during your 2 days in Bangkok, now did you?! Any Bangkok itinerary should most definitely include the Floating Market, and although there are a few to choose from, I visited the Damnoen Saduak market and loved it!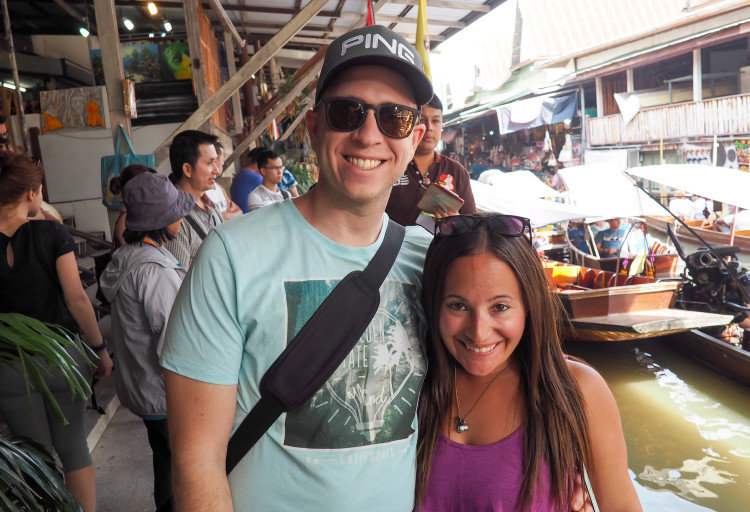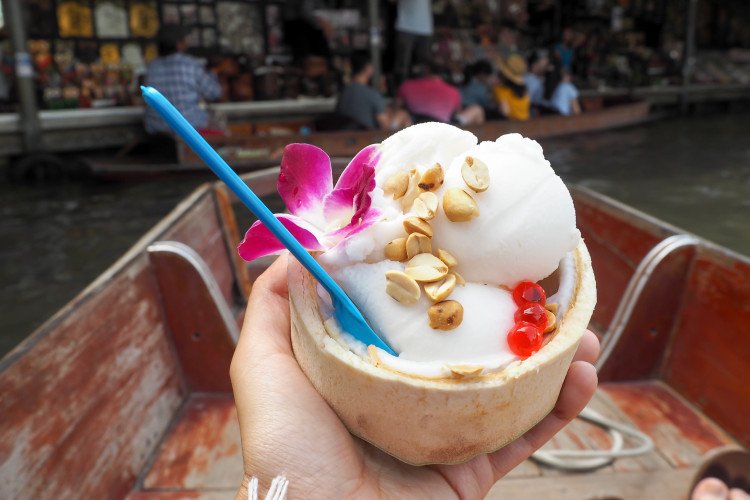 We found great photo opportunities around every corner, wonderful food (OMG the coconut ice cream), and an insight into a very different way of life.
We opted to take an organized group tour (as many do), and were picked up at 7am to ensure an early morning start in order to avoid the heat and catch the market at its liveliest (you'll be back by early afternoon). Make sure to barter when buying anything! // BOOK TOUR HERE
2. Jim Thompson House
Jim Thompson is an American architect who is mostly known for reviving the Thai silk industry in the 1950s-60s. He relocated to Bangkok in 1948 and aside of being a major player in the silk industry, he also became a prominent collector of the South East Asian art.
In 1958, he began the process of building what is now known as the Jim Thompson House, which he originally planned to live in as well as to house his big art collection. The house was built using various wood and recycled structures from all over Thailand, including Ayutthaya.
However, Jim Thompson mysteriously disappeared in 1967 during a vacation to Cameroon Highlands in Malaysia and was never heard from again. Nowadays, the Jim Thompson House has become a museum for his art collection as well as the stunning architecture.
Visitors can go inside the house, follow a tour, and learn about the silk industry in Thailand. You can also chill in the restaurant within the house complex afterwards! It's a great way to wind down from the hustle and bustle of Bangkok.
3. Wat Saket (Temple of the Golden Mountain)
Once you're back from the Floating Market and have reveled in all things Jim Thompson, if you still have energy, go check out Wat Saket in the late afternoon/early evening.
Being one of my favorite stops on our trip (yes, really), it'd be a crime to hide it from all of you, my lovely Bangkok travel blog readers (obviously I want you to have the best time possible, duh).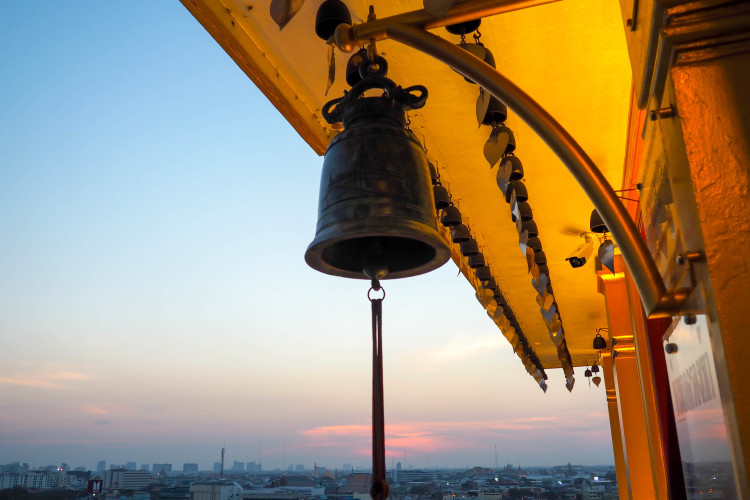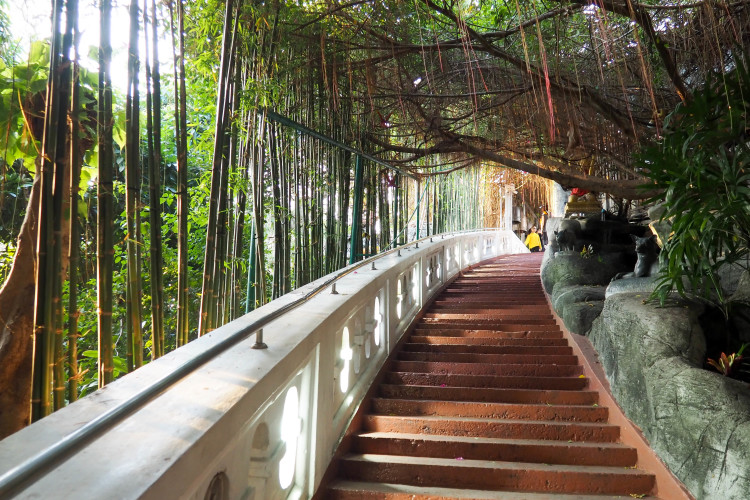 As noted, this temple was by far one of my favorites in Bangkok, as we visited during sunset and were blessed with the most gorgeous views of the city and temple itself. And at only 20 baht, it'd be an absolute shame to miss this spot.
Note that visiting DOES in fact involve a decent amount of uphill stairs, but you'll be greeted by a memorable panoramic view of Bangkok city from the top.
If you need to take a mini break from the stairs, there's a small cafe/coffee shop to rest your legs (but in all reality, it ain't really all that bad).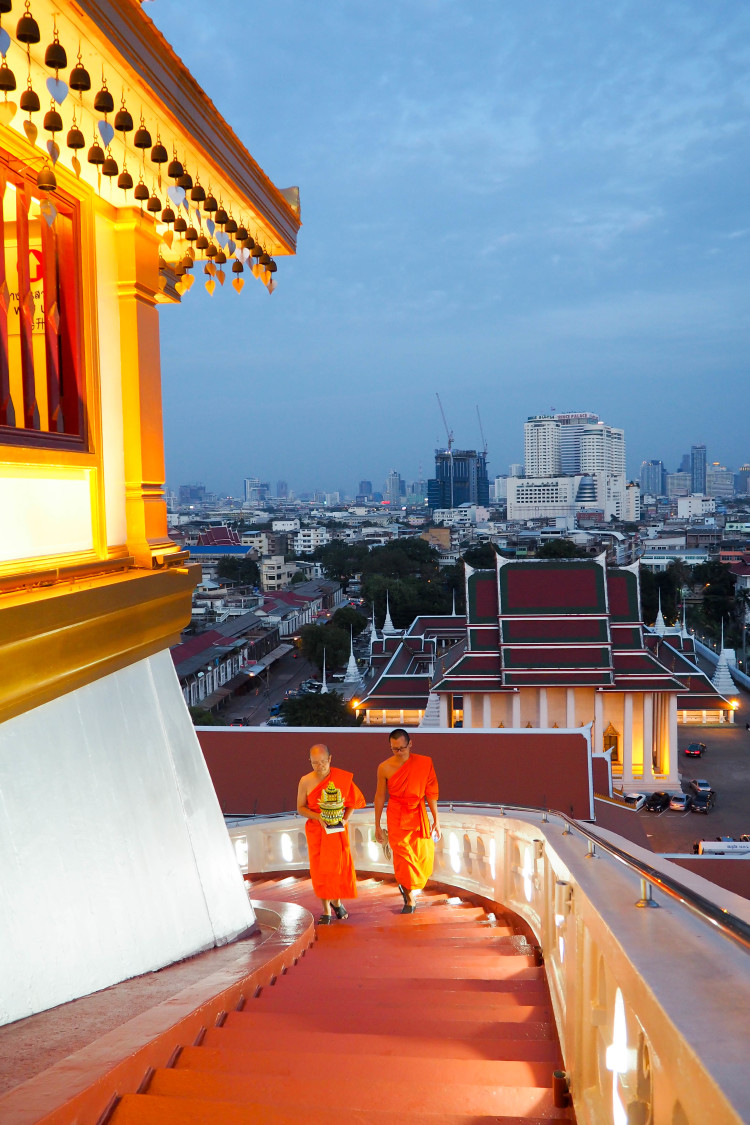 4. Muay Thai Fight
This wouldn't a complete Bangkok itinerary without mention of the traditional Muay Thai kickboxing fight! Muay Thai literally means "Thai Boxing", a combat sport that is popular as a form of exercise around the world.
Unlike the type of boxing we know in the US, Muay Thai does not only use fists, but it is known as the "art of eight limbs", characterized by the combined use of fists, elbows, knees, and shins. Ouch!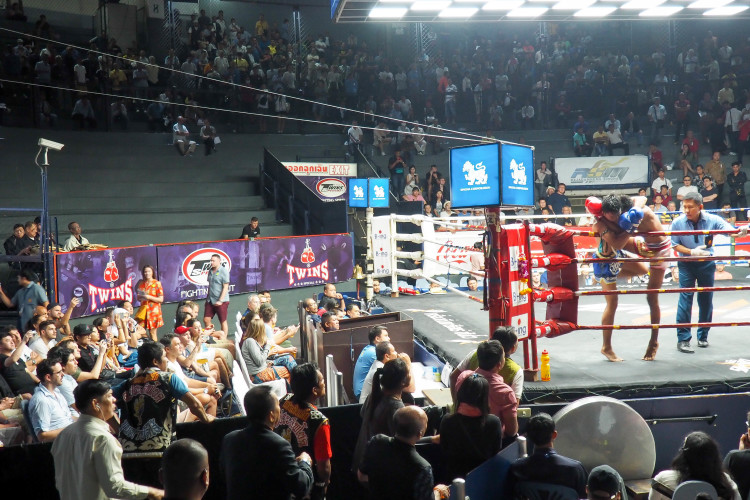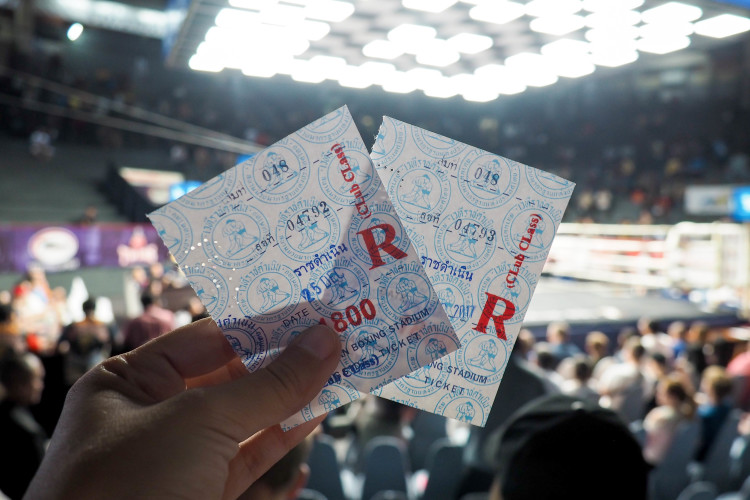 Fights occur at Rajadamnern Stadium on select nights, and last around 3 hours or so. We chose not to stay for the entire duration, as we were kinda done after an hour and a half or so.
Note that we bought our tickets online ahead of time to ensure availability but am pretty sure you can buy tickets at the door. // BUY ADVANCE TICKETS HERE
5. Khao San Road
After the fight, make your way to Khao San Road, known as a famous backpacker district in Bangkok. The 1-km long strip is lined up with budget hostels and mid-range accommodations, as well as street food and shopping. Make sure to pick up any last minute souvenirs at Thanon Khao San Market.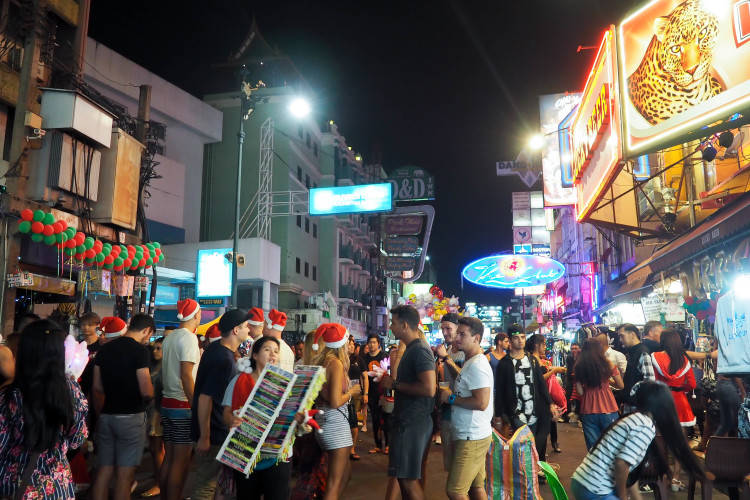 While the scene most definitely isn't for everyone, even just a short stroll will introduce you to all the riff raff of Khao San Road (think alcohol buckets, flickering neon signs, insects for sale, and more). Don't leave without getting a foot massage at Charlies; the absolute best after a long day of exploring Bangkok.
And just like that, your two days in Bangkok is already over. But wait, there's more if you've got an extra day or so! Keep on reading, friends!
EXTRA! Day 3: Take a Day Trip outside Bangkok
If you find yourself in Bangkok for more than two days, don't limit yourself to just the city! From ruins, learning about World War II history, 7 tiered waterfalls (yup, you read that right), and even a famous beach town, there's plenty to do right outside the bustling capital city.
Here are some of the most popular day trips you can take from Bangkok, complete with recommended tours to making living easy:
1. Ayutthaya – Ruins of an Ancient City
Ayutthaya holds a rich history of the Thai kingdom – it was the former capital of Siam (ancient name for Thailand) in the 14th century, before being destroyed by the Burmese in the 18th century. Nowadays, the ruins of the city are a popular destination for a day trip from Bangkok, and has even earned its place on the UNESCO World Heritage list in 1991.
You can expect to marvel at grand monasteries, prangs (spire towers), and the Buddha head in the root of a large tree, a famous visual across Thailand.
Distance from Bangkok: 81km North of Bangkok (1hr 10mins drive)
How to get there from Bangkok: Taxi, Train, Minivan Bus, or Public Bus
Recommended Ayutthaya Tour from Bangkok: Ayutthaya Day Tour by Bus & Boat
2. Kanchanaburi – River Bridge and Death Railway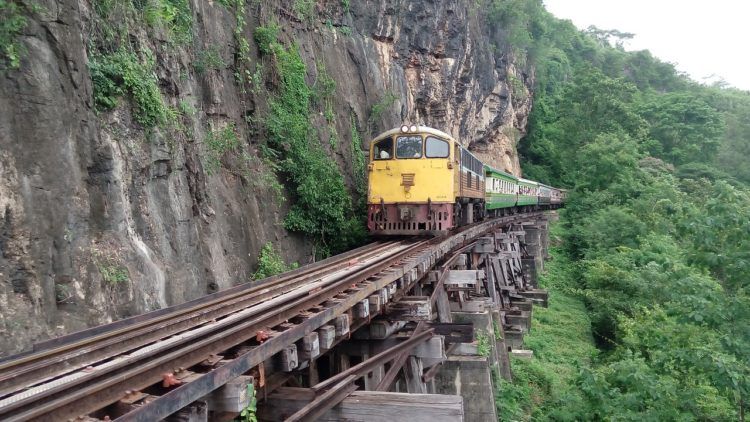 If you're a World War II junkie, or just love history in general, you'll be head over heels for Kanchanaburi. As you've probably figured out, Kanchanaburi is most famous for it's impressive World War II history, most notably from the building of Death Railway.
It's dark name was given due to being built under Japanese occupation using prisoners of war labor, and many of these prisoners died due to diseases or accidents associated with the railway.
But aside from the dark past, the city offers plenty of cultural activities, beautiful temples, and 7-tiered waterfalls you can visit. A perfect day trip from Bangkok, if you ask me!
Distance from Bangkok: 144km North West of Bangkok (2hr 30mins drive)
How to get there from Bangkok: Taxi, Train, Minivan Bus, or Public Bus
Recommended Kanchanaburi Tours from Bangkok:

River Kwai & Death Railway – For the history buff, it takes you through most of the World War II sites.
Kanchanaburi Tour, Railway & Floating Markets – If you didn't have time to visit the floating markets during your first two days in Bangkok, you can visit one on this day trip, combined with Kanchanaburi!
Erawan Waterfall & Kanchanaburi Highlights – For nature lovers, this tour will take you to Erawan Waterfall as well as highlights of the town. This is the one I'd pick if I were to choose between these 3 options (I'm an absolute sucker for waterfalls and all things nature).
3. Pattaya – Beach Town
Aren't planning to head to the Thai islands before/after your trip to Bangkok?! At least head out to Pattaya for a day to witness first hand Thailand's famous white sand beach. Pattaya is a small town located in the eastern gulf coast of Thailand, south of Bangkok, which used to be a quiet fishing village back in the 1960s. These days, Pattaya is lined with beach resorts and water sport activities – don't miss out on the fun!
So there you have it – the perfect 2 day Bangkok itinerary (in my opinion, anyways!) Will you be following these 2 days in Bangkok on your visit?!
Psst: This post was written in collaboration with Melissa from GirlEatWorld, who's been to Bangkok more times than I can count!