Heading to Iceland and looking for the best one week in Iceland itinerary? Continue on, my friend, to learn how I saw the highlights of Iceland in just seven days, without doing a road trip!
Most people visiting Iceland decide on a road trip around the Ring Road, and while it's definitely an option to consider, the fact that I was traveling solo and hence didn't want to drive the country alone made me find other ways to see Iceland in one week.
With that being said, it's more than possible to see OH SO MUCH of Iceland without renting a car/doing a long-distance road trip. And if you're just beginning to venture into the world of solo travel, Iceland is a WONDERFUL place to begin, being one of the safest countries in the world and all.
→ All my female solo travel tips over here (useful for you men as well, but it's catered towards women, just FYI). 🙂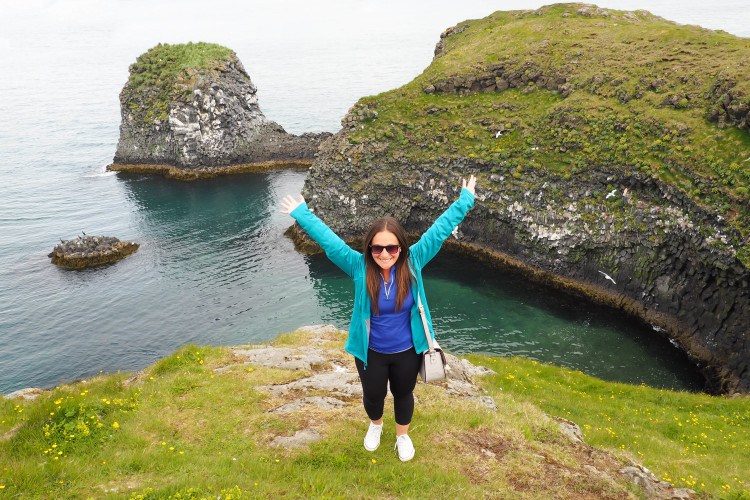 I recently returned home from my first trip to Iceland, and can honestly say the country took me by surprise. I had high high expectations to say the least – Iceland has become a trendy destination in the past few years – but would it live up to the hype? Why, yes. Yes it did. Easily.
Sure, I was expecting vivid landscapes and sweet-natured people, but wow. Never in a million years did I imagine what my eyes saw in those 7 days in Iceland. With the midnight sun glowing 22 hours of the day (I visited in June), I was definitely not short on daylight and made sure to take extra advantage of this.
Never in my life have I been more in awe of my surroundings. I experienced more 360 degree unparalleled views in just one week in Iceland than ever before – and you don't get many of those in a lifetime.
AND GOOD NEWS: This may in fact be the easiest trip you ever plan, since all you really need to do is book a few tours (links below), airfare, and hotels, and your one week Iceland itinerary is basically complete.
General Tips for Visiting Iceland:
1) Iceland is very credit card friendly. If you're going to exchange money, do as little as possible. We decided not to exchange any money at all and used our credit cards everywhere. Iceland is very credit card friendly. At the time of this publication (early 2018), the exchange rate is approximately 100 Icelandic Krona to 1USD. To make figuring out prices super easy, just move the decimal point two places to the left. For example, 780 krona = ~$7.80. Easy peasy.
2) Food is expensive. There's no way around it. There are, however, a few iconic foods and places to eat that won't cost you an arm and a leg. And while we're talking about food, I made sure to try a few of Iceland's famed eats, on the cheap of course. Check out what it really costs to travel throughout Iceland here.
3) Stock up on groceries at BONUS, an Icelandic budget grocery store. I bought a loaf of bread, some fillings (nutella, peanut butter, bananas) and a whole lot of snacks which kept me full for all of my lunches. I easily saved at least $20 a day by doing this.
4) Pack appropriately. Just because you're visiting Iceland during it's summer months, don't expect warm weather. The best thing is to dress in layers so you can easily adjust your clothing depending on the weather, which seems to change frequently everywhere in the country! When I visited in June, the temperature hovered between 55-65 degrees F, although it seemed a bit warmer some days in the sun, and a bit chillier in the wind and near the glaciers (obviously).
5) Book your tours in advance, especially if you'll be traveling in prime winter months (December-February) or prime summer months (June-August). Tours sell out frequently, and although there are numerous companies to take you around, each are a bit different and offer different things. Do your research ahead of time. I'll share exactly which tours I took below if you'd like to book the same ones I did (all highly recommended).
Golden Circle | Blue Lagoon with Transfers | Southern Iceland and Glacier Lagoon | Snaefellsness Peninsula
Iceland Planning Logistics
Where to Stay in Iceland
For the duration of my week in Iceland, I based myself out of Reykjavik, Iceland's capital city and most populated area. If you're hoping to take day trips to other areas of Iceland, staying in Reykjavik is your best option.
If you're traveling solo and are looking for hostel accommodations, I highly recommend both Reykjavik Loft HI Hostel (where I stayed and absolutely loved it) and Kex Hostel and Bus Hostel (where numerous people I met in Iceland stayed and raved about). Note that hostels are much more pricey than other areas of Europe and the world in general, and I spent roughly $70 a night for one bed in a 6-bed female dorm.
There are a bunch of cute hotels in the area (including 101 Hotel, Apotek Hotel, and Canopy Reykjavik), but they will cost you at least double. If you're traveling with others and are undecided between a hostel and hotel, be sure to figure out which is a lower cost per person, as hostels sell individual beds, and when booking a hotel room you can obviously share, lowering the cost of the room per person.
How to Get to Your Accommodation from the Airport
Everything in Reykjavik is walkable, so there's no need to worry about transportation once you arrive in the city. I highly advise you take FlyBus to get from Keflavik Airport (where you'll most likely be arriving in Iceland) to your hotel/hostel as private taxi's will be way over priced. It's possible to book this transfer at the airport, but I found it much easier to book my FlyBus ticket ahead of time.
Be sure to buy the ticket that takes you directly to your hotel (the other cheaper ticket will only take you to the Bus Terminal, which you'll then need to figure out your own transportation to your hotel). BUY FLYBUS TICKETS HERE. And remember, you'll need a ticket back to the airport after your week in Iceland is up. 😉
WiFi and Staying Connected
Although you will most likely have wifi at your accommodation, it's a good idea to bring along a pocket-sized personal WiFi hotspot, to keep you connected during your time in Iceland. WiFi hotspots are a cost effective option to ensure you can use GPS apps like Google Maps, check your emails, and catch up with friends and family while away.
With this portable device, you'll have WiFi wherever you go (even if your phone doesn't have service), unlimited internet (on up to five devices at a time!!!), and it's fast and reliable. At less than $9 a day, this device can't really be beat.
Note that some cell phone plans allow for international use, but many of these are costly. I once accidentally turned on my phone service for LESS THAN 2 MINUTES and got charged $150 by my phone carrier! I desperately wished I had a personal WiFi hotspot with me then!
Find more information and plan options here. HIGHLY RECOMMENDED especially when you don't speak the native language of the country you're going.
And now what you've been waiting for: a full one week Iceland itinerary!
A Complete Seven Days in Iceland: The Ultimate Week in Iceland Itinerary
Day 1: Explore Reykjavik, Iceland's Capital City
If you arrive in Iceland in the morning, or even mid-day (if it's summer), you can see so many of Reykjavik's highlights in only a few hours. My flight from Montreal arrived at 6am in the morning, so thankfully I had the WHOLE day to explore (despite ending up overly exhausted and falling asleep with my head on the table at Perlan → true story). A few things to check out and not miss in Reykjavik:
Hallgrimskirkja: This is Iceland's most famed cathedral, and you can climb to the top for fantastic 360degree views of the entire city.
Perlan: A bit removed from the city center, but if you're up for a half hour or so walk, it's more than worth it! Make sure to hang out on the viewing platform on the 4th floor and grab a coffee/pastry at the cafe. The architecture is so cool!
Explore the street art: Everywhere in the city you'll find colorful murals and pieces of art just waiting to be discovered. I absolutely LOVED this aspect of Reykjavik! Also – don't miss all the quirky doors! So much fun!
Take a toilet selfie at Babalu: If you're a star wars fan, head inside the bathroom. Yes, you read that right – the bathroom. The whole room is decorated with original star wars characters and big mirrors – you'll see what I mean once you go in! Get a cheesecake to go as well!
Harpa Concert Hall: If you only have time for 1-2 things during your time in Reykjavik, make the Harpa a top priority. This modern concert hall by the water is absolutely stunning, and if you don't mind shelling out a bit of cash, I heard the one hour performance of "How to Become Icelandic in 60 Minutes" is roll on the floor hysterical. But even if you don't want to book tickets to a show, you can walk around the Harpa free of charge.
The Sun Voyager: An iconic steel boat sculpture besides the sea in Reykjavik, and not to be missed as well, even if it's just for a quick photo.
If you have less than 7 days in Iceland, I highly urge you to choose this tour over some of the others. Why?! Because each and every stop is absolutely stunning. Not only will you visit 2 spectacular rushing waterfalls, but you'll also take a boat ride amongst glaciers – which happens to be one of the coolest things I've done in my life (along with a Jurassic Park helicopter ride in Hawaii and bobsledding on an Olympic track in Park City).
Note that many people opt for a tour of Southern Iceland without visiting the Jökulsárlón Glacier Lagoon, and while you'll still see the waterfalls and charming town of Vik, you'll miss out on the real attraction of today, being the glaciers themselves. Yes, it is a ridiculously long day, and can be a bit pricey, but thankfully if you book a tour you won't be driving and can use the ample bus time to relax and stare out the window at the stunning landscapes passing you by.
Get a cheapie hot dog at the lunch stop to save a few krona and book yourself on a tour that includes the Jökulsárlón Glacier Lagoon – you won't be disappointed.
Read more about my experience in southern Iceland and the Glacier Lagoon. | BOOK TOUR.
Day 3: Relax in Morning /Free walking tour – Blue Lagoon in afternoon/early evening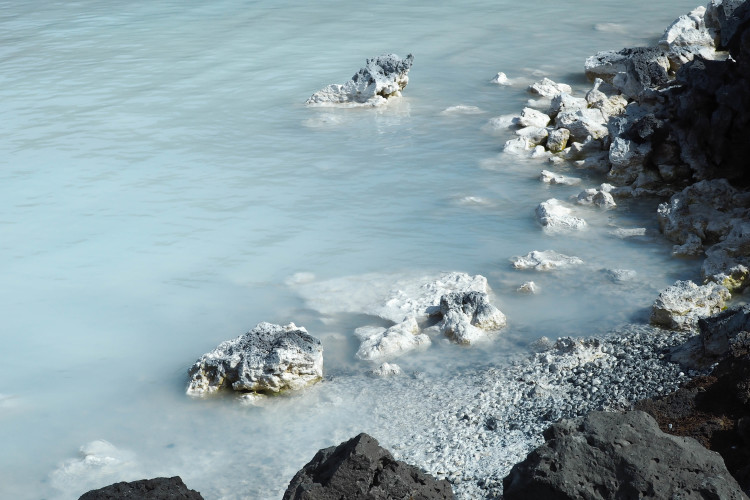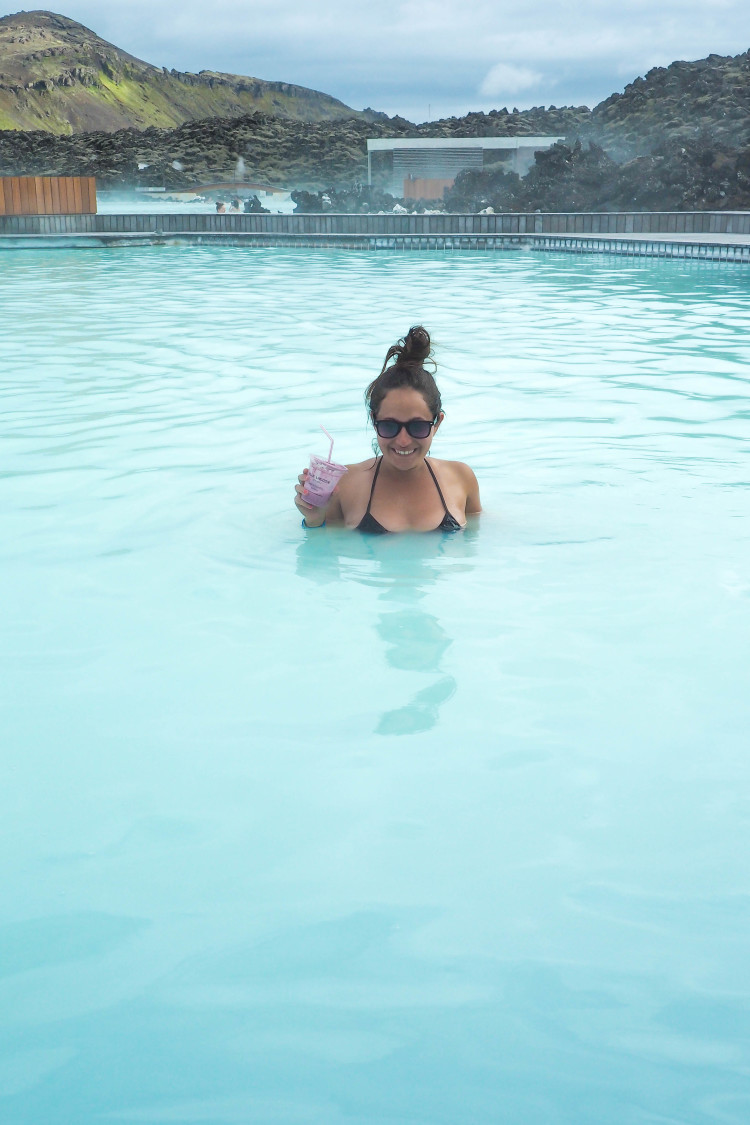 It wouldn't be a proper 7 day Iceland itinerary without the inclusion of the Blue Lagoon, now would it?! Your best bet is to visit the Blue Lagoon in the afternoon/early evening (depending on daylight hours) as it's not as crowded at this time. Most people visit the Blue Lagoon in the morning, but spend a few hours before the lagoon taking a free walking tour of Reykjavik and grabbing some lunch in Reykjavik. You'll learn all about the history of Iceland and it's general culture on this 2-hour comical tour.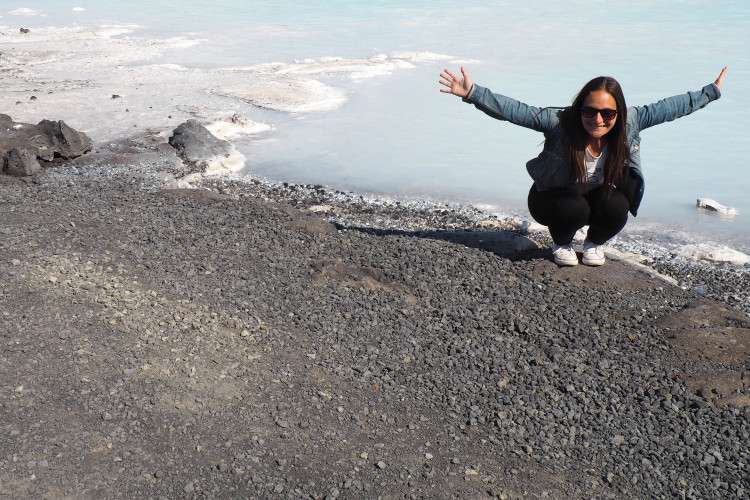 I had a friend meet up with me in Iceland for two days and I'm glad I decided to visit the Blue Lagoon with her instead of going alone. While the area surrounding the lagoon was beautiful (take a few photos before you head inside the entrance), I suspect I would have gotten a bit bored chilling in the lagoon by myself (although we did meet a few people quite quickly who we hung out with for a while). It's just always more fun to lather up and take silly silica selfies with a friend. Oh, and make sure you get a blueberry Skyr smoothie – the BEST!
A few things to keep in mind when booking entry tickets to the Blue Lagoon:
There are different packages to choose from. We opted for the least expensive package, and I advise doing so if you don't mind bringing your own towel and would rather save a few krona in lieu of robes and slippers.
If you aren't renting a car (which I did not do), you need to make sure you book shuttle tickets along with your entry tickets to the Blue Lagoon. These can be bought together here.
Read more about my experience at the Blue Lagoon. | BOOK TOUR and shuttle tickets.
As soon as I booked my flight to Iceland, I signed up for the "Premium Golden Circle Tour". Sure, it's a tad touristy, but yes, this route is popular for a reason! There's a reason everyone and their mother raves about the Golden Circle. However, if you want an even better experience, I highly suggest you book the "Premium" tour as I did. Not only does it visit all the typical stops on the Golden Circle, but you'll also get to see a bunch of others that most people don't even know exist (like the crater below).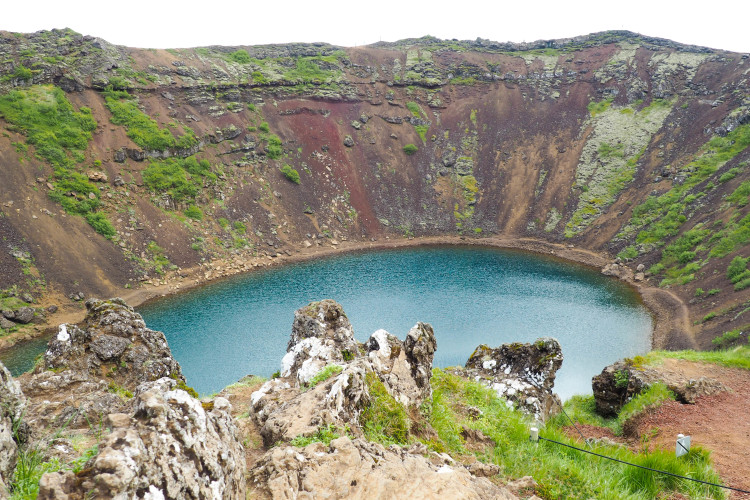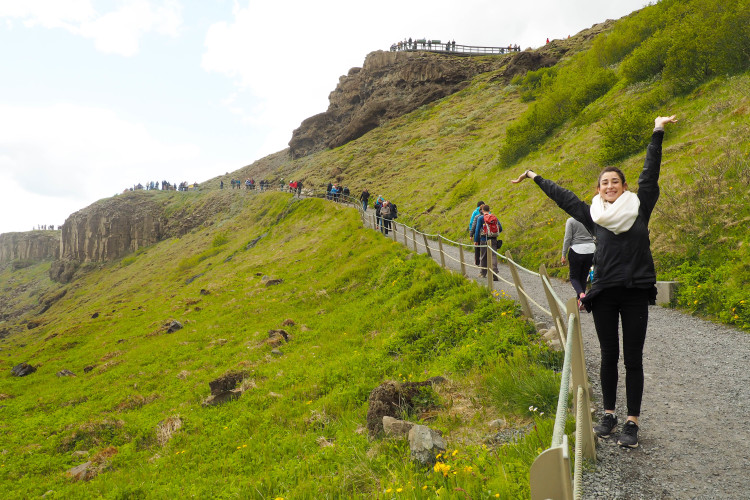 Rushing waterfalls, homemade ice cream (with accolades for the best ice cream in all of Iceland), shooting geysers, volcanic craters, and sweet, sweet Icelandic mini horses, what can be better?
I highly advise signing up for a tour to ensure you'll see everything the route has to offer without any worry of getting back to Reykjavik for dinner time. Plus, who wants to deal with the hassle of a car rental and drive anyways? Not I, that's for sure, especially since I was traveling solo.
Read more about my experience on the Golden Circle. | BOOK TOUR.
Today's day trip from Reykjavik was the one I had researched the least, and honestly wasn't really sure what to expect. But OMG, you guys – it ended up being one of my favorite days of the entire trip. Completely underrated, and the quietest and most picturesque.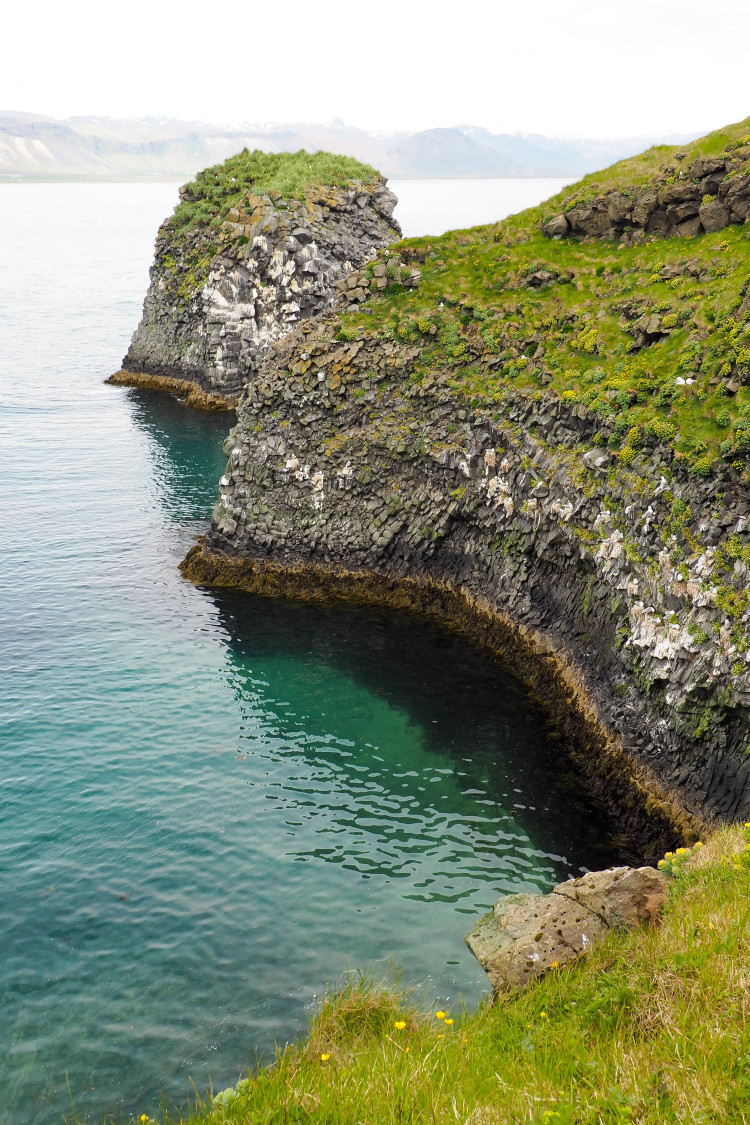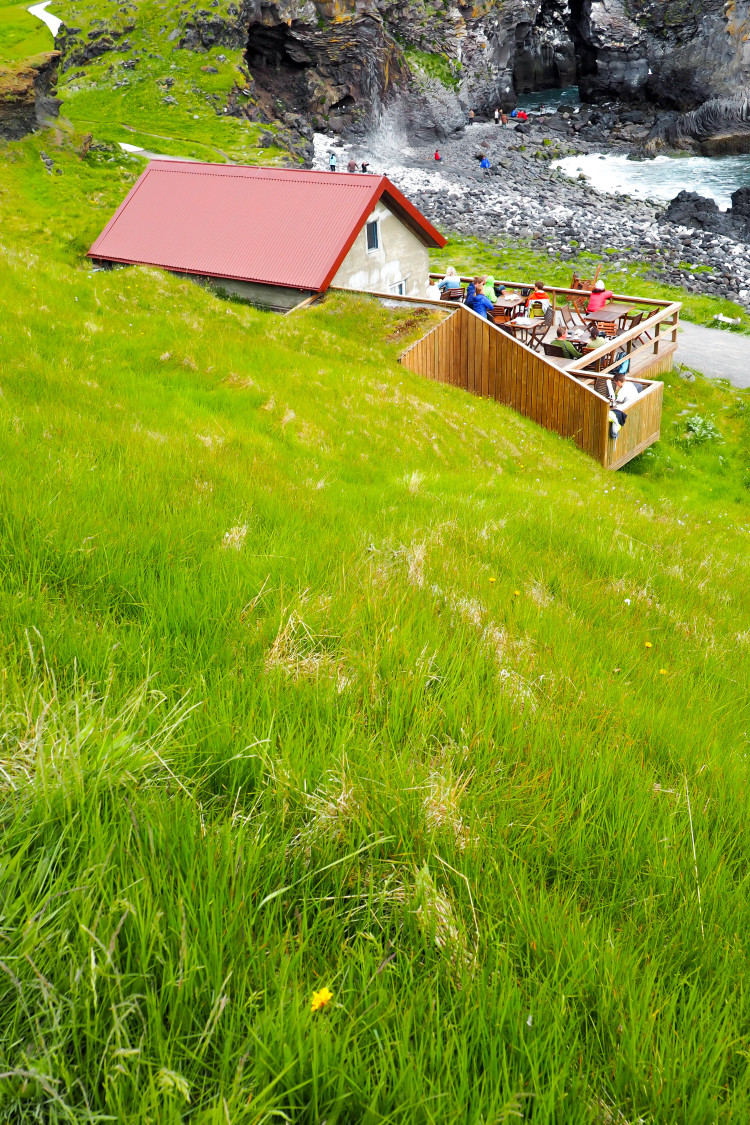 Commonly referred to as "Iceland in a Nutshell", it really comprises a whole world of diversity, from its wildlife, beautiful yet very unique landscapes, and charming seaside towns. It's almost a miniature version of the island!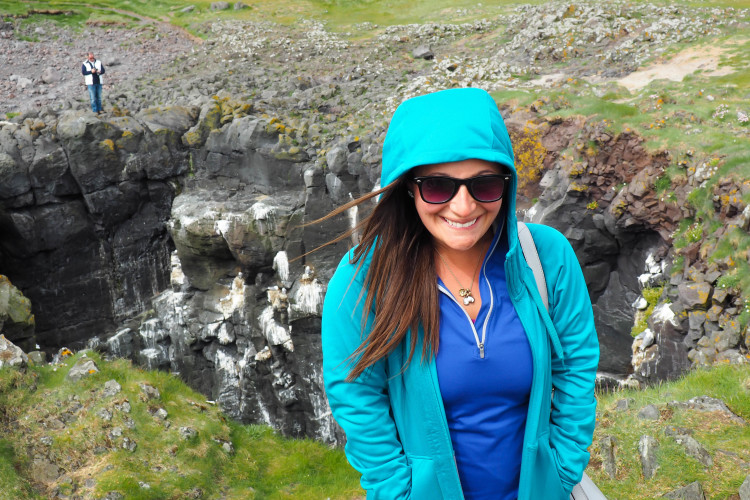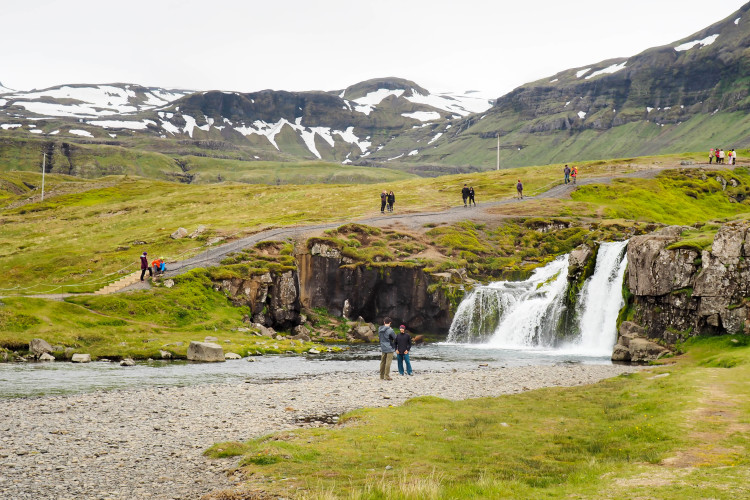 With black sand beaches, bird cliffs, waterfalls, spectacular mountains, and volcanic craters making up our stops for the day, I was completely in awe with all the nature I was witnessing. So many differing landscapes in such a small section of the country, each one more epic than the last. This is an exquisite, unspoilt area of natural beauty – let's keep it that way! Snæfellsnes Peninsula, you have clearly blown me away in the best way possible.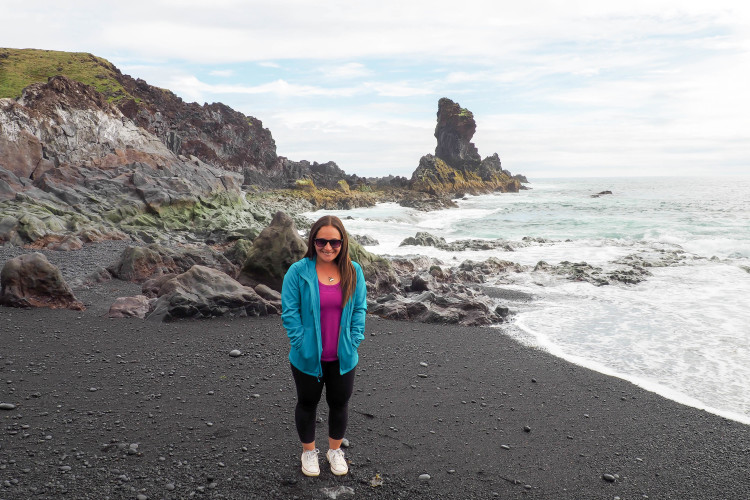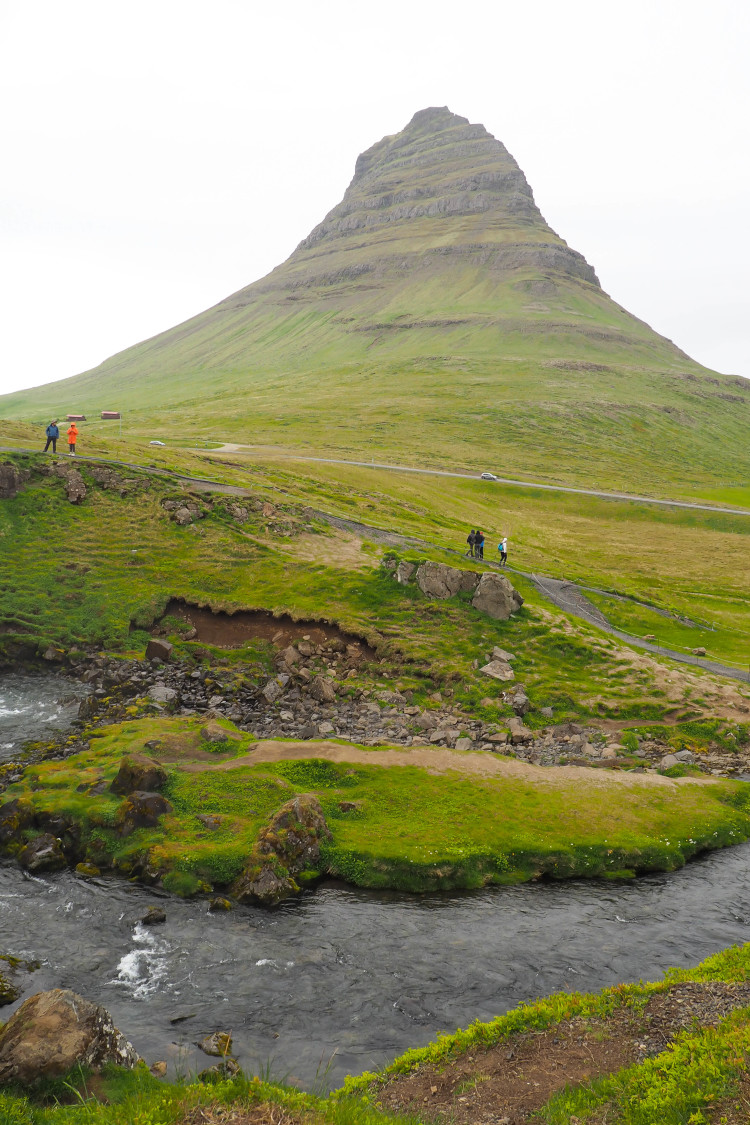 Read more about my experience on the Snaefellsness Peninsula. | BOOK TOUR.
Day 6: CHOICE DAY
On day 6 of your 7 days in Iceland, you're undoubtedly going to be quite drained and tired. It's hard work seeing so much natural beauty day after day, wink wink. Use this last full day on your Iceland itinerary to relax a bit or choose to plan another epic adventure day – my top recommendations of additional activities below.
Some ideas of how to spend your last day during your one week in Iceland:
Whale Watching Tour from Reykjavik: Leaving from Reykjavik's old harbor, you'll sail in style on the Andrea, the largest whale-watching ship in Iceland, complete with cafe and a panoramic deck offering 360-degree views of the ocean! In the summer, you can also join an express tour on a faster express whale watching boat. The waters off Reykjavik are rich with aquatic life. Most commonly spotted creatures are minke whales, white-beaked dolphins, harbor porpoises – and even humpback whales. BOOK TICKETS
Snorkeling in Silfra Fissure: Snorkeling in the Silfra fissure is a unique and exotic underwater experience. Frequently rated as one of the world's top 10 dive sites, Silfra offers up to 100 m (300 ft) of underwater visibility. Beware, the waters are absolutely freezing, but they'll provide you with the necessary clothing to bare the frigid glacier temperatures.
Although the chilly waters are too cold to support much in the way of marine life, Iceland's Silfra crack runs down between the American and European continental plates and offers amazing underwater views – the most dynamic and beautiful greens and blues you'll ever see. I'm so upset I missed out on this during my week in Iceland, and I'll be sure to put it on the Iceland itinerary for my next trip. BOOK TICKETS
Secret Lagoon Transfer and Entrance: Want another relaxing day on your 7 day Iceland itinerary? Head to the Secret Lagoon, one of Iceland's hidden treasures and frequented by locals and tourists alike. Enjoy the beautiful scenery of Iceland as you drive through the countryside to Flúðir.
The natural, crystal-clear lagoon is one of the oldest natural geothermal pools in Iceland. Marvel at the spectacle of one of the surrounding hot springs erupting every few minutes. Take a relaxing bath in the hot water of the "Secret Lagoon" and enjoy its comfortable temperature of between 36-40°C. BOOK TICKETS
Icelandic Horse Riding Tour in Lava Fields: Horse lover? After getting a glimpse of these beauties on our Golden Circle Tour, I so wish I had signed up for this 2-hour horse riding excursion. On this tour, you'll ride through lava fields and along beautiful green hillsides, while looking for different rock formations in the lava while experiencing the special gait of these horses.
The Íshestar Stables is unique in Iceland with facilities as good as they get. It's set in beautiful surroundings just outside the town of Hafnarfjörður, about 10 minutes drive from Reykjavík, with hotel pickups available and different time options. BOOK TICKETS
Day 7: Wander Reykjavik | Head to Airport
Your one week in Iceland has come to an end, so make one last stop at Braud & Co Bakery for a croissant and pack up! Depending on what time your flight home leaves, wander Reykjavik one last time and check off any bucket-list worthy things to do in the city that you may have missed on your first day.
And don't forget to buy tickets to the airport ahead of time to save yourself some last-minute hassle.
Feel free to share this 7 day Iceland itinerary with a friend, and get started planning your trip! Have you been to the country before?! What things on your Iceland itinerary were your favorite?!
TRAVELING INTERNATIONALLY SOON? Don't forget travel insurance! I'm a big fan of SafetyWing when traveling abroad. Recently, I've been using SafetyWing since they cover pandemic-related claims (most travel insurance companies do not). Be sure to protect yourself from possible injury, lost baggage, travel delays, and theft before it happens. Learn more and Sign up here.
Did you know that …
When you purchase something through our links, we earn a small fee (but you still pay the same)! Win-win! If you found this article useful, consider using the links within the article or below. Thanks for your support!