The average American is given a measly 10 vacation days a year. 10 days. That's it. Compared to other countries, those two weeks are absolutely nothing! NOTHING! Don't let this get you down though. There's plenty of ways on how to travel more with a full-time job. I can promise you that, my friend! Wondering how to travel more? You've come to the right place. 🙂
So 10 days, huh? This doesn't mean you cant "beat the system" and use these days to their full advantage! Its all about how you space them out throughout the year and plan. These past few months, I hung out in Raleigh, Boston, Philadelphia, and Washington DC, while only using one vacation day in total. How did I do it? I planned very carefully and wisely, and proved to my employer that a conference out of state was necessary.
You can have your travel cake and eat it to!
You just need to get your creative juices flowing and be smart about it! So let's get down to business! Hope you find the following suggestions useful!
How to Travel More with a Full Time Job (17 Real Ways)
1) Plan ahead:
When you have limited vacation days a year, you only have so much time you can work with. Look at your calendar and plan out trips in advance- you'll be able to ask for days off from work before anyone else, and therefore get approval. It'll ensure you are able to max out your personal time off and really take advantage of those well-deserved days off.
When I have a big trip in mind (a week or longer, like when I traveled to Hawaii and another time, Greece), I plan them as soon as possible. On most airlines, international flights open up for sale 335 days before take off, so I take this into consideration. However, the cheapest time to buy flights is another story.
2) Be spontaneous:
Yes, I know this totally contradicts the last point I just made. But sometimes, you just have to go with the flow and see where life takes you. Last minute decision to head to Atlantic City on a Friday night after work with some girlfriends? Go for it! I bet you totally deserve some fun after that long week you've just had!
The husband and I recently headed off to Lake Tahoe, Nevada the day after Thanksgiving simply because we had 3 days off together and nothing to do. We decided this at 9pm Thanksgiving night, booked a last-minute hotel, got a rental car, and left the following morning at 7:30am. Best. Decision. Ever. 🙂
3) Say yes:
We all get into the habit of eat, sleep, work, repeat (I do too, although I squeeze in some extra "eats"). And I totally understand its tough to break from routine.
A friend asks if you want to take a long weekend roadtrip to a nearby city? Say yes; the timing will never be perfect and I guarantee you'll have a splendid time.
I suggest keeping a few vacation days in the bank at work for when these unexpected trips arise. Saying yes can be difficult, especially when you have a house, family, and pets to look after. But remember, in order to give your all into these very important at-home parts of your life, you need to be truly happy. And if travel is what makes you happy, well, then you know what you have to do!
4) Roll over vacation days:
Like I said before, it's important to have extra days in your bank at work. Thinking of jetting off to Vietnam to volunteer with some local children and then relax in Bali? What about a journey throughout the Mediterranean? You'll need more than a week for that.  
If you know you're planning a more ambitious trip the following year, rolling over this year's days is usually an option with most places of work. Talk to your employer early on so there are no surprises on either end when you're ready to book that flight.
5) Attend work conferences in other cities:
If your job requires some travel, that's awesome- you're already ahead of the game. If not, (like most jobs in the corporate and education worlds), you have to be creative. There are tons of beneficial conferences across the country for just about every profession.
Sure, your employer may not pick up all expenses, but they're more than likely to cover the cost of hotel and ticket. Do some research on not only available classes/conferences, but also ways to keep the costs to a minimum.
Present the cheapest possible travel option AND an awesome case as to why and how this particular conference will benefit your work at the company. Doing both will ensure a pretty good chance of being on your way. With that being said, see if the option to extend your trip is possible (on either end – meaning either before the conference or after), and offer to pay the remaining nights at the hotel.
Even if prolonging the trip isn't in the cards this time, you can still explore on your lunch break and after the lectures/meetings are over.
My work experiences so far: Even though I didn't have tons of time to explore Chicago, I still visited Millennium Park (and took fun photos with "the Bean"), ate at some incredible restaurants (deep dish pizza, I'm looking at you), experienced some local nightlife, and shopped to my hearts content on Miracle Mile.  
That teaser sparked my interest in going back later in the year.  Ill never forget that night in Raleigh when we tried moonshine and stuffed our faces with barbecue and buttermilk biscuits.  I just got the ok for a work trip in the fall, where I'll either be going back to Boston or discovering San Jose, CA for the first time.
6) Tag along on work trips:
Going along with the above, does your spouse travel for work? Try to come along and stay in the company-paid-for hotel rooms for free! Yes, your significant other may have to work during the day, but you can explore yourself (or go on some group tours), and then meet up for dinner. It's better than staying home, right? And a way cheaper vacation at that too! If you have the vacation days at work it's a no brainer!
7) Take full advantage of national holidays:
Add on a personal day to make your trip even longer. Or go on a week long trip over a three-day weekend! You'll use 4 days off instead of 5! Anything to conserve a day when you've got limited days available, amiright?!
8) Set up your travel calendar early:
Preferably when your vacation time resets. Plot in all the days your office is closed, including National Holidays and any additional days you might be granted (possibly Bank Holidays). Doing so will show you all those long weekends you have available, and as mentioned before, if you request days off around the holiday/s early, your chances of them getting approved is greater. Sorry, co-workers!
9) Leave late and wake up extra early:
In order to fully maximize your vacation time, take a flight after work on Friday (or the dreaded red eye- hey, you'll more than likely sleep on the plane, potentially saving you a night at a hotel), then return home super early Monday morning and head straight to the office.
It can be done, and you'll have two FULL days in your destination by doing this. However, I don't suggest flying more than 1 time zone away, as you don't want to spend your weekend sitting on the plane. 🙂
10) Learn about your sick days:
If your company differentiates between paid vacation leave and sick days, see if you can use the latter for doctor visits and other personal appointments. Most are totally fine with this, and therefore, you'll be able to use your days for true vacations. Plus, make sure to only take off the time you actually need for your appointment.
Some companies unfortunately dock you for a whole day, while others work on the hourly system. It's always best to do your research and know exactly how your workplace handles such a thing. And if you've got to take the entire day, use it to your advantage and spend the rest of the day exploring your hometown!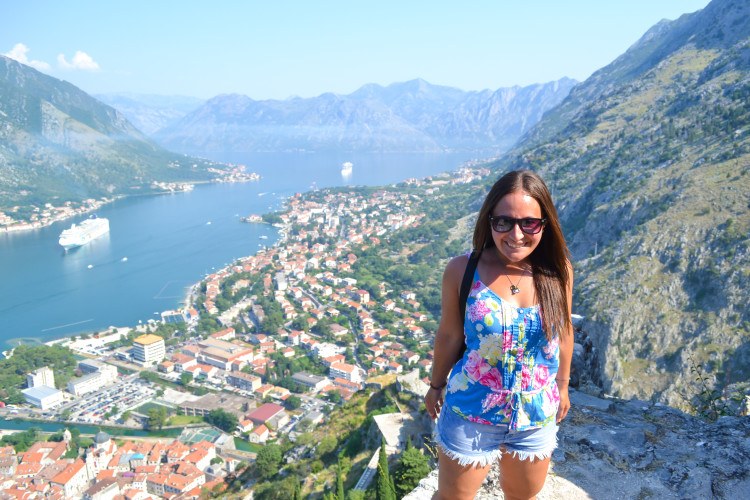 11) Take staycations (local vacations):
You'd be utterly amazed at what you can find close to your own hometown. Sometimes a night in a nice hotel will scratch that travel itch of yours- and don't be afraid to pamper yourself every once in a while!  You earned it, goddamnit! And if you can squeeze it in over a weekend- even better! Zero vacation days used!
Find great deals on websites such as Jetsetter and Groupon, so this Friday or Saturday night stay doesn't break the bank.  We recently stayed at a sweet hotel in Half Moon Bay, California and lived it up in the city for one night, and it did just the trick!
12) Ask for more vacation days:
Doing an awesome job at work and feel you deserve a raise?  Instead of monetary compensation, suggest another week of paid vacation. Most employers, especially those with a tight budget, will gladly accept this request. Its a win-win for everyone!
Yes, you wont be making any more money than you previously were, but whats the point of this strenuous/stressful, well-paying job if you have no time to use it and enjoy yourself?!
13) Ask your work for a leave of absence:
Fancy a month or two in Paris? Go for it! Many companies will agree if you prove to them how it will increase your work productivity once you return home.  A friend-of-a-friend of mine is taking 2 months off to travel throughout Southeast Asia, and will be returning to her job afterwards.  Her company values her enough to keep her job waiting for her.  
Make sure to get all necessary work done beforehand, and ask when you feel you have been a great contribution to your team.  Show your boss you deserve it. You will probably not be getting paid during this time, so plan accordingly. Sabbatical anyone?!
14) In between jobs?
This could be the perfect time to take a trip!  You won't use any vacation days (face it, you've technically got none, now!) and you'll have your head in the game when you first start your new job (since you'll be less likely to day dream about that destination you've been longing to get to).  Just make sure to account for a week (or two or three) of no pay while transitioning between jobs.
15) Inspire yourself!
Put the most beautiful photos you can find of areas around the world you wish to explore in your home. On the fridge, in a frame near your bed, stuck in your bathroom mirror. Anywhere.  
If you're constantly reminded of all thats out there (and trust me, you will with all these photos), you're more likely to finally plan that trip.  I've got a whole slew of beautiful travel coffee table books around my apartment that I flick through every so often.  You can bet I start looking for flights to a new destination that very night!
16) Make a list:
You know all those places you want to see?  Write them down. Even better yet, put it online for all to see. If you look on my fridge, you'll find a napkin (what? It was the closest thing to me at the time) with a list of destinations, which I check off after we come home from a trip.
This napkin has even road tripped with me during our recent move from from NY to San Francisco– it's that special. Dork status? You betcha.
17) Make a career/job switch:
Ok, I know, this is rather drastic.  But sometimes drastic times call for drastic measures.  🙂 I can't stress enough just how utterly fantastic more time off can be.  
I work in a high school as a speech-language pathologist (feel free to ask me any questions, it's a wonderful and rewarding career), and am lucky to have summers off plus a whole slew of other breaks during the school year.  
I was able to travel throughout Europe for 2 months this summer, spend a few weeks with my family in New York and the Caribbean, and a whole bunch of other exciting travels during the school year.
So, there you have it, my lovely wanderlusting friends!  🙂
How many days off of work do you get?  How do you use these days most efficiently?! Share your tips on how to travel more below! 🙂