Heading off to Hawaii and looking for the perfect Kauai itinerary? Good choice! Read on for the ultimate way to spend 3 days in Kauai!
Kauai is wet, wild, green, and rugged. It's filled with tons of natural beauty, and is actually the oldest inhabited Hawaiian island! A trip to Kauai should be on everyone's bucket list, regardless of how much time you have to spare.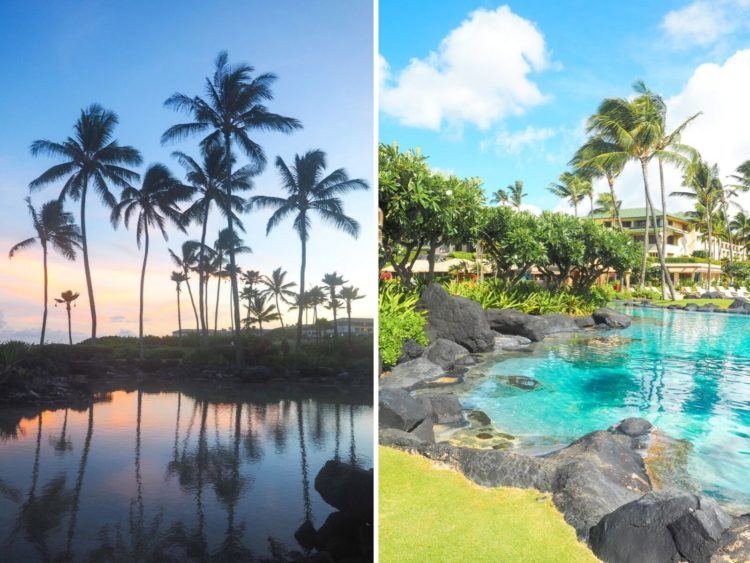 We just returned home from a long weekend in Kauai, and quite honestly, I could have stayed a few extra days. In all reality, it's never enough time on the island, and we've even visited before! However, 3 days in Kauai is most definitely better than nothing, especially when it's an easy (and quick) flight over from San Francisco.
Ever since moving to California (almost 5 years ago, damnnn), we've made it our priority to visit the Hawaiian Islands at least once per year. So yeah, we've spent a fair amount of time on the different islands. Alas, this Kauai blog post was (finally) born!
→ Read Next: The Ultimate Maui Itinerary (literally everything you need to know)
I suggest using this Kauai itinerary as an add-on to a longer trip to Hawaii, or as a long weekend escape from the big city.
In just three days, you can soar above the famous green peaks, snorkel/kayak along the Na Pali Coast, bask on yellow sandy beaches, chase a few waterfalls, and indulge in more mai tais, hula pie, and shave ice than you thought humanly possible.
Oh, and you can't forget about those fish tacos! Mmmm….
Island Hopping in Hawaii: Planning on doing some island hopping? Check out these additional resources:
Logistical Info To Plan Your Trip to Kauai
When to Visit Kauai 
Much like other spots in Hawaii, you'll want to visit Kauai during it's dry season, which coincides with the summer months (April to October-ish).
Do note that it does in fact rain somewhere on the island every single day, but don't fret – we found Kauai to have microclimates (just like SF), so you can always drive to another part of the island if you don't feel like waiting out the rains.
Skip November to March if you want the greatest chance of sunny days, as the rainy season can cause cloud cover and sadly, many gray days.
Kauai happens to be the wettest island of the Hawaiian chain, particularly because it's the most northern and is exposed to an abundance of front winds bringing rain in the winter. HOWEVER, with that being said, there's really no bad time to visit Kauai. It's Hawaii afterall! And plus, it doesn't rain all day when it does rain; precipitation happens in short bursts, and then the sun returns!
If you're hoping to score airfare and hotel deals, plan your trip between September – November and April to June. The weather is still pleasant but you'll save a few pennies (to spend on shave ice, of course).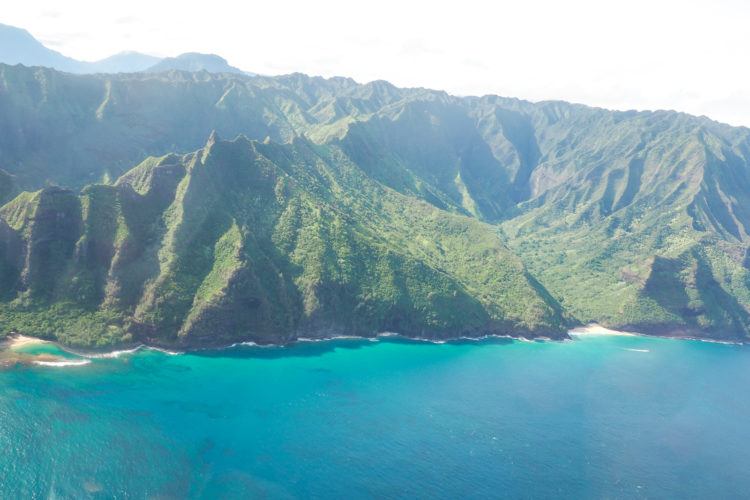 Where to Stay in Kauai:
Most visitors to the island choose to either stay on the north shore (Princeville) or the south shore (Poipu). If you have more than 3 days in Kauai, you may wanna split your time between these two spots.
P.S. The two locations are about 1.5 hours away from each other, so not toooo long of a drive, but not one you'll want to do everyday if you can avoid it.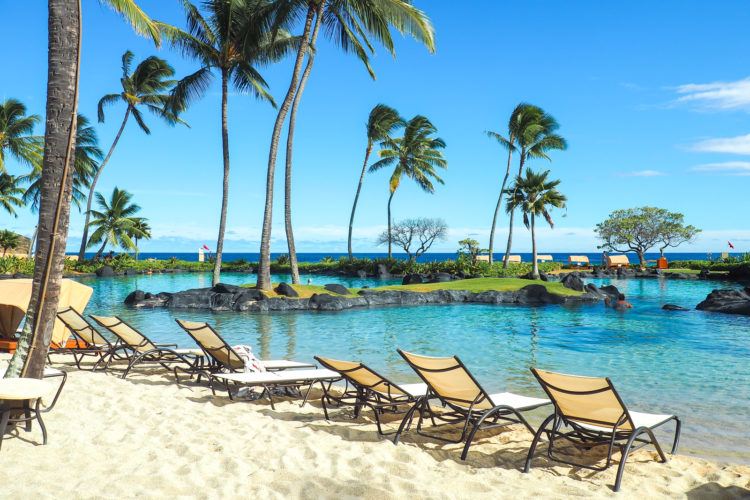 South Shore (Poipu)
We stayed at the Grand Hyatt Kauai Resort and Spa in Poipu both times we visited the island, and absolutely love the resort. I mean, what can beat a lazy river, movies under the stars, saltwater lagoon, spectacular dining views, multiple pools (some overlooking the ocean), and complementary s'mores? All along the beautiful Shipwreck's beach.
The service is top notch, there's fruit-infused water for everyone to enjoy 24/7, and my husbands personal favorite – resident black swans of the property. Check out amenities and prices here.
Other notable hotels/resorts on the South Shore include Sheraton Kauai Resort, Ko'a Kea Hotel & Resort, and Koloa Landing Resort at Poipu (part of the Autograph Collection!).
North Shore (Princeville)
We were lucky enough to check out the Princeville Resort as well (formerly the St. Regis), and I have to say, I think we may be choosing that resort next time. After staying on the South Shore a few times, next time we wanna stay north!
The Princeville seemed more intimate, although still appears as grandiose and inviting. One look at the pool and you'll wanna stay there as well!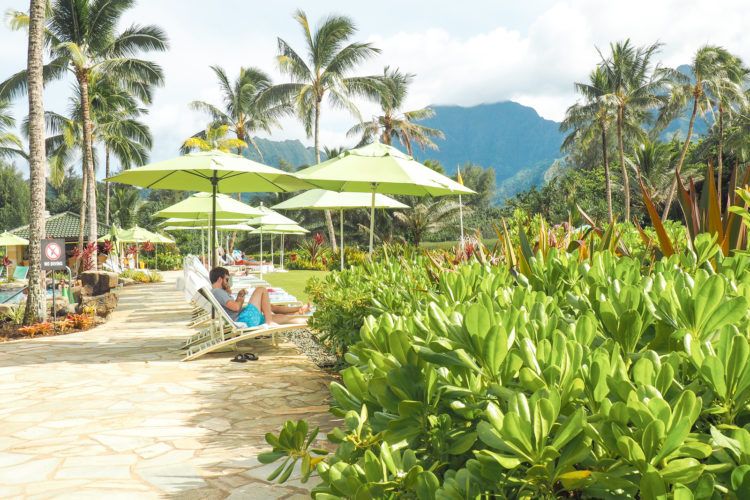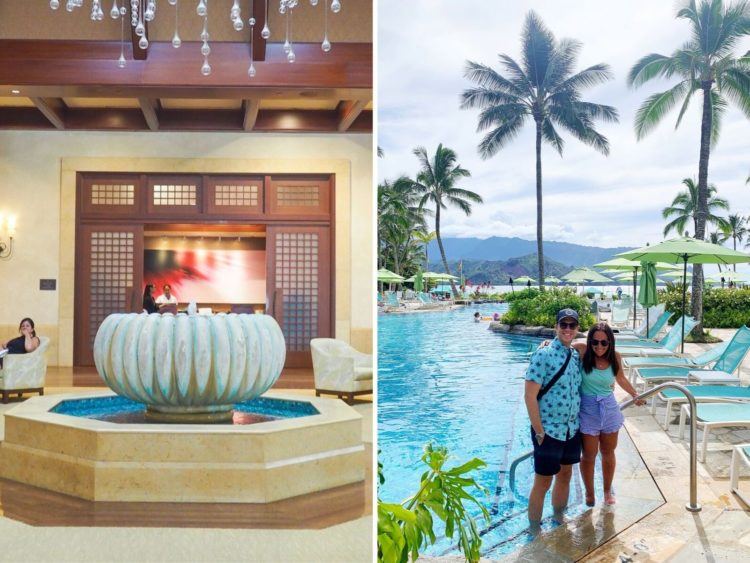 Other spots to check out on the North Shore include The Westin Princeville, Courtyard by Marriott Kauai, and Hanalei Bay Resort.
Kauai Packing List
When packing for your trip, you wanna make sure you've got all the right clothing and gear for everything you've planned for your Kauai itinerary. Think about the activities you'll be doing, and prepare for those!
Everyone will need their typical everyday clothing (shorts, t-shirts, tank tops, etc). A few pairs of shoes is a good idea — I recommend bringing a pair of flip flops, sandals, dressy shoes (for a nice dinner out), and sneakers/hiking boots if you're planning on doing some hiking.
Women's Packing List: You'll obviously need all your favorite beach attire, including bathing suits (buy a few new ones!), beach cover-ups, loose cotton dresses, a cute sun hat, casual and dressy sandals,
Psst: Women — If you're planning on taking a surf lesson, be sure to pack a bathing suit that stays put and has good support. You don't wanna fall out if you accidentally wipe out! :p
Men's Packing List: Be cool and casual during the day (my husband loves short sleeve button downs for a more polished look), but be sure to check the dress code for any restaurants you really wanna go to. Men might need pants and dress shoes to enter.
Other Miscellaneous Items to Pack for Kauai
Additional Tips (and musings) for your trip to Kauai:
There are chickens everywhere. Everywhere! Just let them be (it's their island afterall- you're the visitor), and please oh please don't feed them. You'll see a few cats as well – just leave them alone.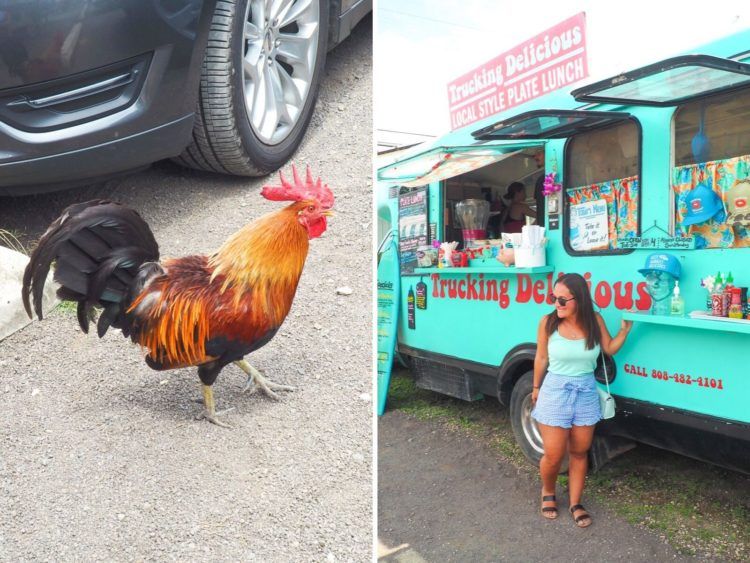 Think twice before renting that convertible. With spontaneous rains, you don't wanna get stuck with the top-down mid-drive. A Jeep is just as fun and much more practical. Save the convertible for Maui or Oahu. Find the cheapest car rentals over here (what we use 95% of the time).
Kauai is known for its rain and ever-changing weather. The island actually holds the wettest spot on Earth "Wai'ale'ale" (no, not the whole island, don't worry – just this one spot, although it rains all over every so often).
We last visited in August and experienced sun, light drizzles, clouds, and crazy storms all within the same day. Don't let the weather ruin your plans, and just know if it is in fact raining, it'll likely just last a little while (15-20 minutes or so). Throw an umbrella in the car.
Don't miss the Na Pali coast. It's absolutely stunning. And hula pie. Ohhhh the hula pie.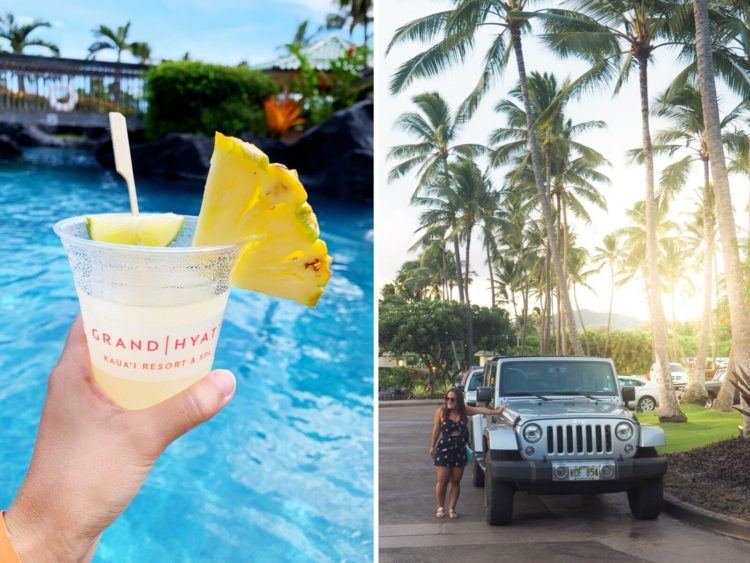 You may wanna order a personal WiFi device, even if you'll technically have service from your cell carrier. We hardly had any service on the island (our carrier is T-mobile which even works internationally), which made it annoyingly difficult to get around (we rely on GPS way too much, no matter where we go).
Next time we go to Kauai (it's a bit more remote than the other islands), we'll be picking up a WiFi device for sure.
The dark sky is like no other. I thought I had seen a lot of stars in Panama (particularly San Blas), Thailand, and Crater Lake, but it was out on the furthest island in Hawaii where I definitely saw the most.
I have a slight suspicion that we even witnessed the Milky Way – boy oh boy did I wish I knew star photography! With that being said, you'll definitely wanna take along your tripod if you wanna get a few shots of the starry night sky!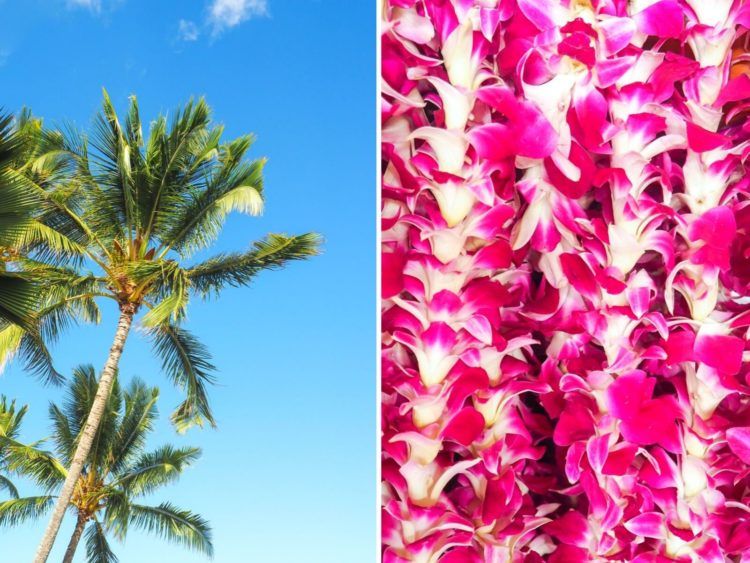 You'll frequently see signs and menus in both English and Hawaiian (yes, they have their own language over there despite being part of the US!). Don't fret – English is spoken by everyone you'll encounter.
Try pronouncing some of the Hawaiian words; they're quite difficult with tons of vowels!
Where to Eat in Kauai:
*since we stayed in the Poipu area, many of my restaurant recommendations are located roughly within 25 minutes or so of the southeast portion of the island. We haven't spent significant time in the north (have only done day trips), so unfortunately don't have many suggestions as far as food goes if you're staying in Princeville.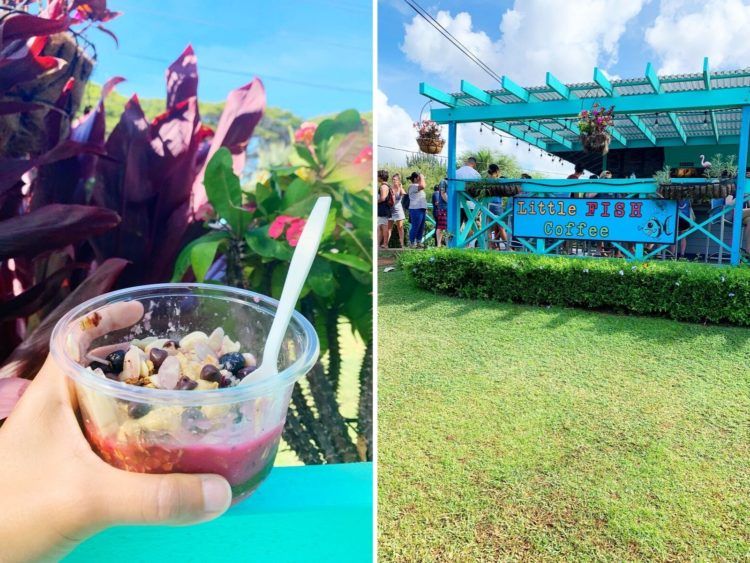 Breakfast:
Java Kai (Kaapa): With so many delicious-sounding breakfast options, I kinda wish we had another morning to pig out. Not only will you find fresh-fruit-filled acai bowls, but there's breakfast bowls/burritos (kalua pork, anyone?!), egg sandwiches, and my all-time basic favorite – avocado toast, to choose from.
Lots of smoothies and blended coffees available as well. Psst: we stopped by after our helicopter tour.
Little Fish Coffee (Poipu): Probably one of the most popular breakfast joints in Poipu (for good reason). What to order: split a pakala acai bowl and a breakfast bagel with your friend/partner, and wash it all down with a few cold brews.
And yes, this place is crowded and then some. Be prepared to wait (trust me, it's more than worth it). I loved this little spot so much I visited two mornings in a row, lines and all!
Ha Coffee Bar (Lihue): We stopped in for a quick coffee before our heli flight, but wish we could have stayed longer as it was super cute and the pastries looked delish!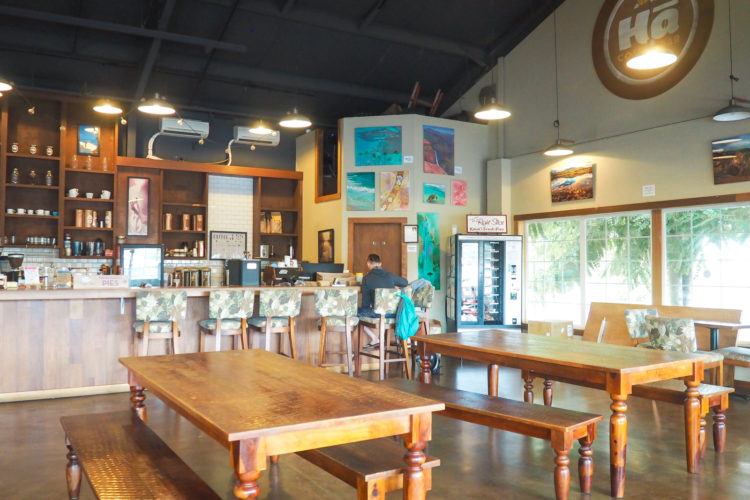 Lunch:
Da Crack (Poipu): If you're craving some local Mexican takeout food, head on over to Da Crack. The line is long, but it moves fast and the portions are HUGE. Also great for breakfast burritos in the AM. 
Trucking Delicious (Hanalei): A Food truck in Hanalei serving local style plate lunches (a thing here in Hawaii). A few popular menu items include the garlic shrimp and the mango chili chicken.
My poke bowl was unfortunately not the greatest, so maybe order something different. I kinda wish I ordered something from Fresh Bite next door. But oh, try the dragon fruit lemonade, it's perfectly sweet for a hot day.
There's other food trucks to indulge in nearby, so you can actually split a few things with those in your party. The beach is only a few minutes away so get your food to go and head on over!
Koloa Fish Market (Koloa): In full disclosure we never actually made it here (too much food, too little time), but this seafood market comes highly recommended. No frills but awesome poke and bread pudding.
Dinner:
The Beach House (Koloa): Although the fish of the day is exceptionally fresh, we thought it was kinda expensive for what it is (we had the same quality fish at The Lanai for about $20 cheaper per plate).
What really stands out about The Beach House is it's location, ambience, and sunset beach views. Be sure to go early for a few drinks on the back patio before your reservation (highly recommended as this place is rather popular).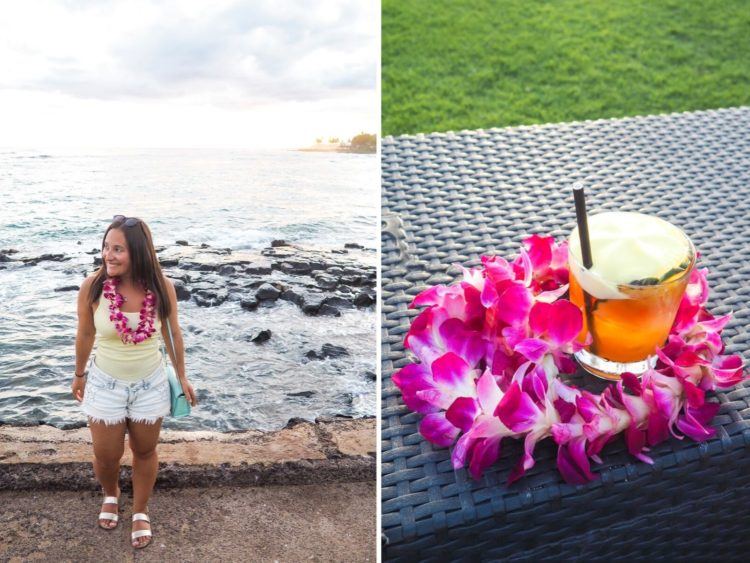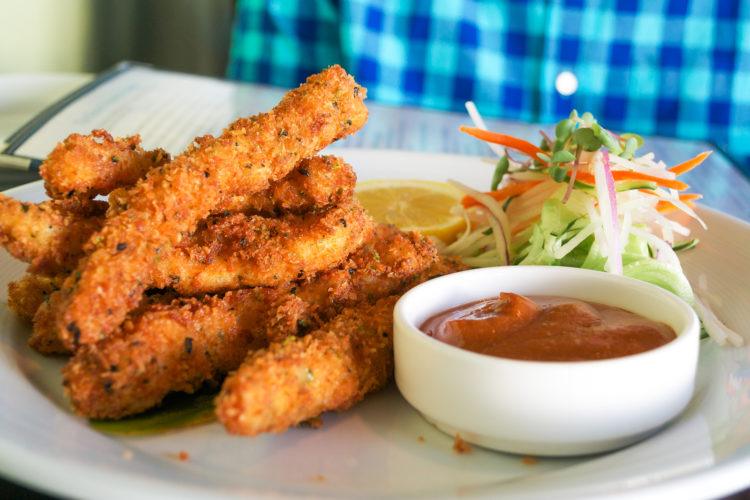 Pietros (Poipu): if you're craving some Italiano, Pietros is the place to be. The owner is super friendly; I had a particular dish in mind that I was craving (which wasn't on the menu), and they gladly made a few substitutions to make my gluttonous dreams come true. Al dente rigatoni with pesto, olive oil, and sausage if you were wondering. :p
Dukes (Lihue): The Mac-nut fish was a-okay, but the real star of the show is their infamous hula pie. Just picture a huge plate filled with Oreo cookie crust, hot fudge, macadamia nut vanilla ice cream, whipped cream, a chocolate ganache topping, with extra Mac nuts on top. Yup, it's kinda a thing over here, and we make sure to dedicate a night to get some of the good stuff.
It gets pretty busy, so put your name down and take a walk on the beach located literally in the restaurant's backyard: Kalapaki beach. They also have locations on the other Hawaiin islands and southern California as well, FYI.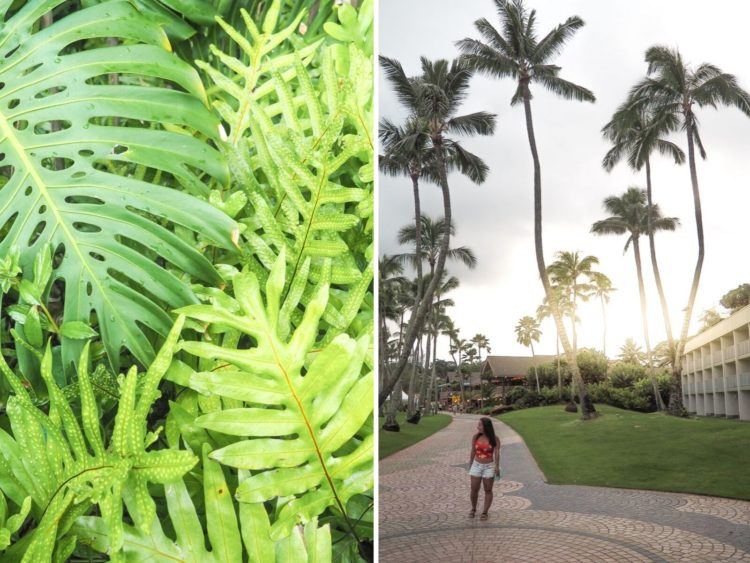 Lanai (Poipu): This place was oh so good. I even dubbed it one of the best meals I've ever eaten (yup). AVOCADO CROQUETTES. Enough said. And that purple sweet potato puree (cue the heart eyes). But in all seriousness – the fish was oh so fresh, and I could have eaten here every night and been happy.
Don't let it's shopping center location fool you (super fancy shopping center I might add)- this is easily a very memorable spot and will be the first spot I hit up next time we're on the island.
Shave Ice: It'd be silly to visit Kauai and not indulge in some of the sweet stuff: shave ice of course. Hot tip: make sure not to call it shaved ice or snow ice, as those are very different things! There are numerous spots around the island to try some, including Wishing Well Shave Ice and Jo Jo's Shave Ice in Hanalei.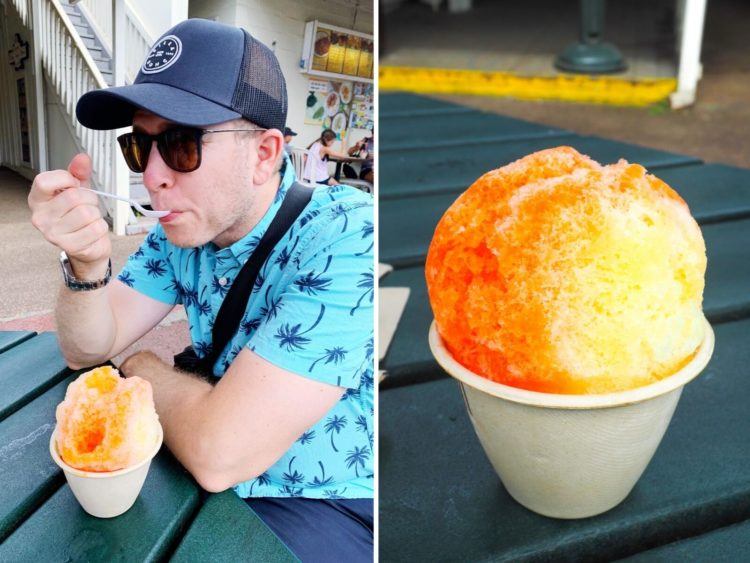 3 Day Kauai Itinerary
And now, what you've come here for – the perfect 3 day Kauai itinerary! Yeah, yeah, yeah, I'll stop rambling and get right to it!
Psst: This Kauai itinerary is rather fast paced, so if you'd like a little more time to relax (hellloooo beach time), plan to spend either 4 or 5 days in Kauai instead.
I've included all the iconic must-do's in Kauai on the 3-day plan below, as well as additional activities beyond that if you've got more time (you lucky duck you!).
A lot of these recommended activities center around the Na Pali coastline, Kauai's most famed possession. Feel free to pick and choose (you've got plenty of options via land, air, and sea), but definitely don't leave it out of your Kauai itinerary (you'll be royally upset you did).
And hey, did you know that over 65% of Kauai is unable to be reached sans boat, helicopter, or on foot? Crazy, right? This just means I'll be planning a bunch of adventures for us on this Kauai itinerary – nothing too strenuous, I promise! It is your vacation after all!
Day 1: North Shore Explorin'
Hit the day running on your first day; if you've only got 3 days in Kauai you don't wanna waste any precious Hawaiian time! I suggest getting an early start – not only will you beat some crowds, but if you're staying in Poipu, today will be a bit of a drive (roughly 2 hours with stops each way).
Don't fret – the drive goes fast as the views are like no other. You may not have time for all of these stops (especially if you don't get out early, early, early or want some extra beach time), so pick and choose a few of your faves from the list below.
Stop #1: Wailua Falls and/or Opaeka'a Falls
May as well start this mini road trip by stopping at a 173 foot waterfall, am I right? I mean, this IS Hawaii afterall! And best of all, the Wailua Falls lookout spot requires no hiking, so you can keep your boots at home!
Do note that if you're taking a helicopter ride, you can save this for that day (to save time) since it's not too far from the helipad!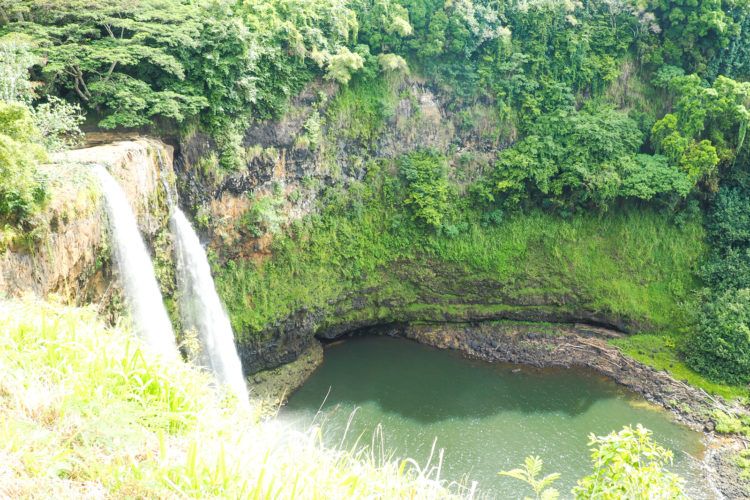 Opaeka'a Falls is another popular waterfall that not too far from Wailua Falls, and worthy of a quick stop as well. Thankfully it's easily accessible, with a lookout spot as well, so you can be wowed at the water cascading down into a hidden pool without exerting any energy (my kinda morning).
Stop #2: Kapaa Town
Time to fuel up! After a quick stop or two admiring the falls, head north a bit to Kapaa, a historic beachside town on Eastern Kauai known for its colorful, eclectic storefronts.
Don't miss the Art Cafe Hemingway (yes, named after the author), Kiko (for handmade gifts), Wailua Shave Ice (for some early morning treats), and Java Kai (for some tasty breakfast). And don't forget to snap a few pics in front of the pineapple mural; I fell in love the second I saw it. Worth an hour stroll or so.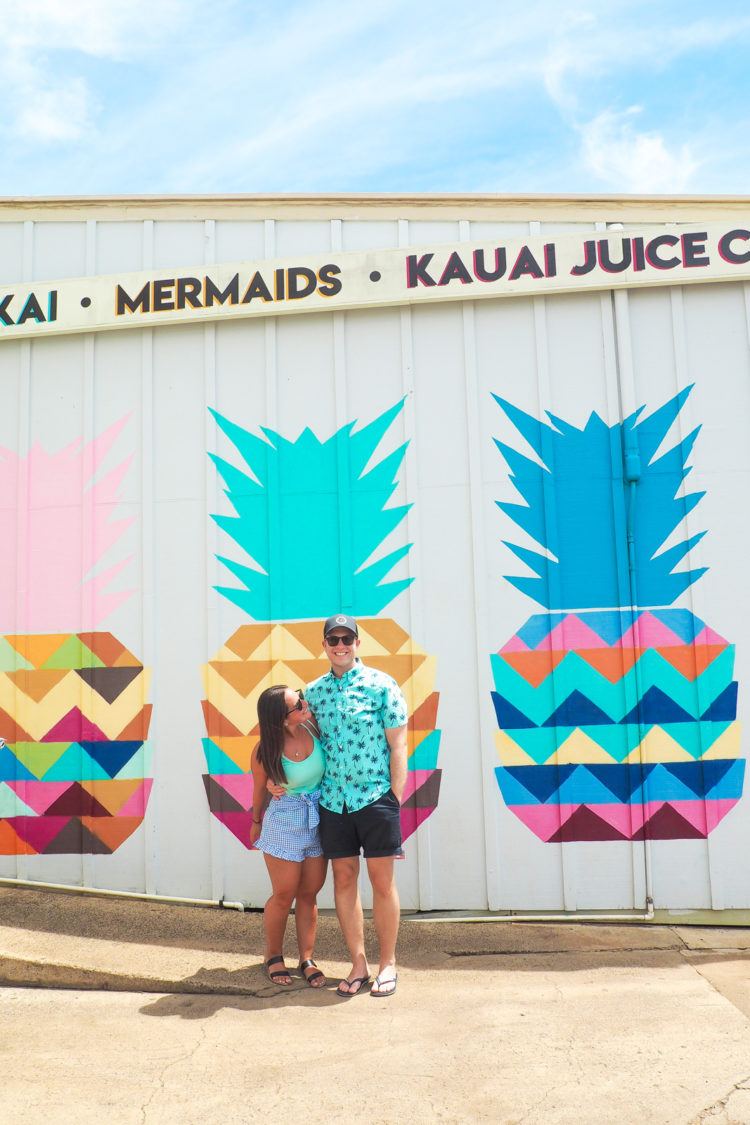 Stop #3: Kilauea Lighthouse and Wildlife Refuge (Kilauea Point)
Next stop – Kilauea Point, for the lighthouse and wildlife refuge on the Northernmost tip of Kauai. And if you're an avid bird watcher, you'll have a whale of a good time here (and yes, you may even see whales here too).
They'll be birds flying over the scenic hills, birds in nesting (including Nene, the Hawaiian goose), and tons of birds in the nature reserve cliff area.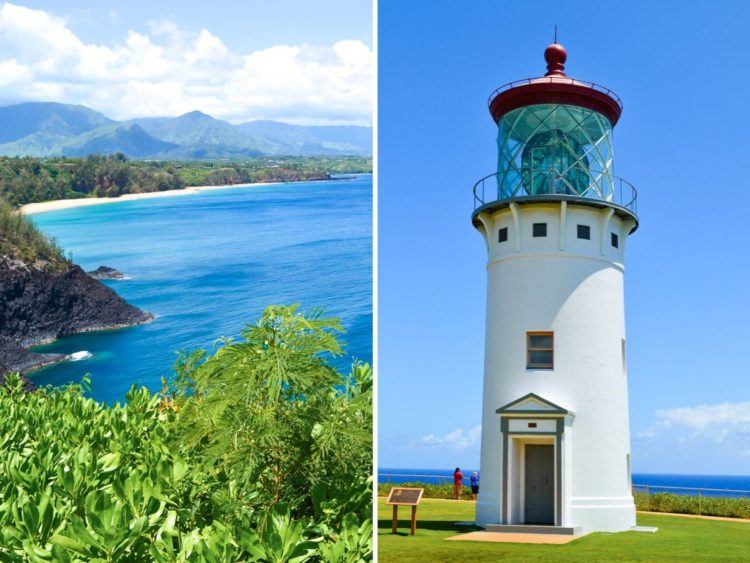 Red footed boobies, laysan albatross, great frigate birds, and even whales await (if you're visiting in the winter months).
Find a ranger and borrow their binoculars to see the nesting birds – you can't get too close to them. What better way to learn about a unique biodiversity of seabirds and native coastal plants than by actually observing them, right?!
And plus, the views overlooking the Pacific are quite outstanding over here from the vantage point! Don't miss it!
Psst – the lighthouse is closed on Sundays and Mondays, so if you can plan your trip on a different day, do it! And if you want to get a tour of the lighthouse, visit on either a Wednesday or Saturday, as those are the only days tours are given. Do note that there is a $10 entry fee for adults, but the area is free if you've got the National Parks pass (don't forget to bring it from home!).
Stop #4: Queens Bath
Up for a mini adventure? Why not stretch your legs at a natural tidal pool carved into a lava shelf? Sounds ridiculously Hawaiian, right?! Yes, you'll need to hike/walk on lava rocks and down a rooted path, but it's definitely a good time once you reach the water!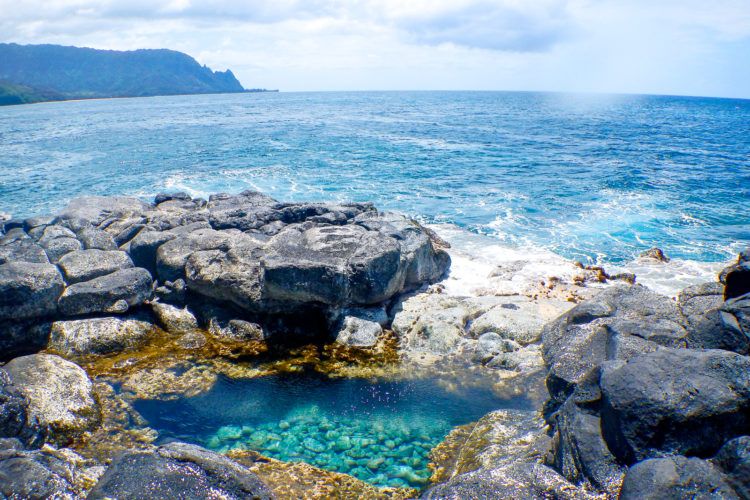 Be aware that Queens Bath can be extremely, extremely dangerous and note the tide level as it's not always safe for a dip. Be cautious to the max! People have been swept out to sea by unexpected large waves, so if it doesn't look 99.99999% safe, don't risk your life.
Normally, Queens Bath is relatively safe during the summer months (swells are on the smaller side), but during the winter it can get quite treacherous.
Plan for the hike to take approximately 15-30 minutes each way (highly dependent on your fitness levels). It definitely felt like a long-ish time to us! If it rained the day before, don't even attempt it, as the rock trail will prove to be quite dangerous and slippery.
We hiked Queens Bath in flip flops, which, while we saw others adequately hike in, wasn't the proper choice of footwear. If I was gonna do it again I'd MUCH prefer something a bit sturdier, like sneakers or even Tevas.
Psst – parking can be especially difficult since you're not allowed to park in the community anymore. There's only a handful of spots in the small lot, so you may need to wait a bit to properly park.
Stop #5: Hanalei
Ohhh, Hanalei Town, reminiscent of old Hawaii, is well deserving of at least an hour or two. Or at least a quick stop for some more shave ice (from either Wishing Well or Jojo's!).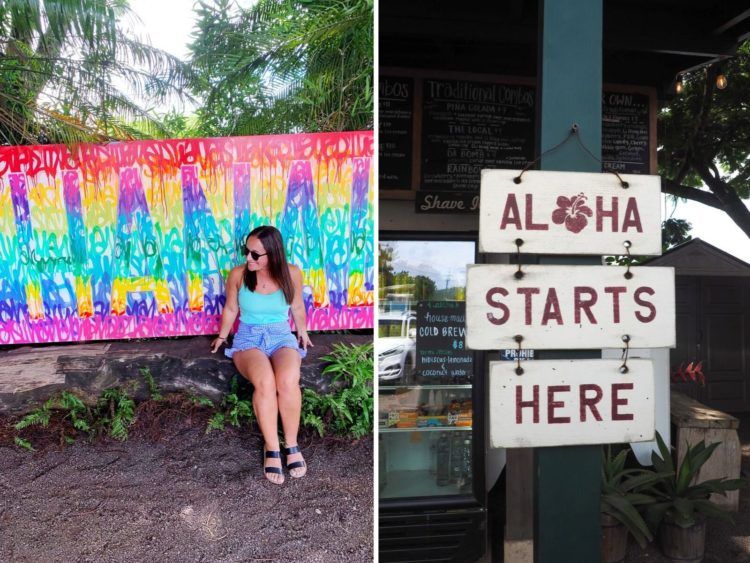 Don't miss the Hanalei Valley Lookout, lunch at a food truck (try Fresh Bite for a Kauai-grown menu or Trucking Delicious for a plate lunch), and a stroll around the hip shops.
And if you make it here by noon on a Saturday, the Hanalei Farmers Market will be open and ready for your business – with all the island's exotic ingredients up for sampling (think longans, rambutans, dragon fruit, and apple bananas).
Stop #6: Hanalei Bay and/or North Shore Beaches (Tunnels Beach, Haena Beach)
FINALLLLYYYYY, it's beach time! I mean, you could have spent all day at the beach, but then you would have missed all the other spots on this list! And thankfully, the North Shore isn't lacking in miles of soft sand.
First you've got Hanalei Bay, with it's two-mile crescent-shaped stretch of soft sand, equipped with three beach parks. The bay feels like a giant swimming pool in summer (great for kayaking or SUPing), while winter brings all the serious surfers due to its oh so large swells.
The beaches of Tunnels and Haena are found next, with Tunnels being especially note-worthy for its huge reef just off-shore for snorkeling!
Swimming with sea turtles anyone?! There are frequently snorkeling boats nearby so you know it's a good spot!
Do note that in order to get to Tunnels you'll most likely need to park at Haena and walk on over (roughly 10-15 minutes or so through the sand). You can take a shuttle if you don't feel like walking, but you'll most likely need to book in advance. Getting to Tunnels can be a bit of a nightmare, but it's worth it!
Thankfully Tunnels is now reopened after the massive flooding in 2018.
Stop #7: Princeville Resort for some sunset drinks
Whoa, what a day. End at the stunning Princeville Resort for some sunsets drinks overlooking the green mountains. The hotel is jaw-droppingly beautiful, overlooking Hanalei Bay; you'll be glad you have your island-inspired cocktail in hand.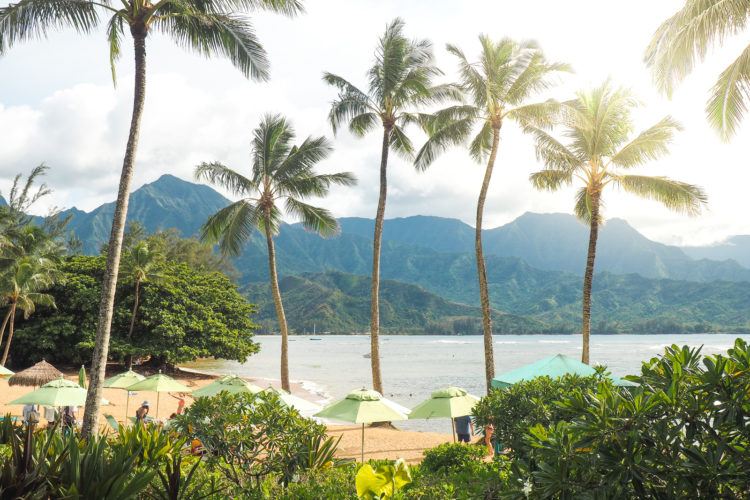 We chose to head back to Poipu for dinner, but I've heard the Kauai Grill at Princeville Resort, Happy Talk Lounge Restaurant, and The Dolphin Restaurant in Princeville/Hanalei are great options if you're stomachs already growling!
Day 2: Na Pali Coast Snorkel/Kayak Tour and Waimea Canyon
Snorkeling/Kayaking Along the Na Pali Coast
Everyone heads to Kauai for the Na Pali coast, and I totally get it. Dramatic sea caves. Regal mountains. Green peaks. Turquoise waters. The stretch of coastline from Ke'e Beach to Polihale State Park is absolutely jaw-droppingly wild, and there's no denying it.
It's even agreed upon as one of the most beautiful places on Earth, and rightfully so. And the sea life under its waters are just as magical.
So of course, you've gotta go snorkeling along the Na Pali coast! What kinda Kauai itinerary would this be if it didn't include one of the best things to do on the whole island?!
Kauai boasts the oldest and most protected reef ecosystem of all the major Hawaiian islands (yes, even more pristine than in Maui!). And with that being said, you'll find super diverse sea life with 100's of species of fish, with ⅓ being found in only the Hawaiian islands!
Imagine swimming in crystal clear water besides schools of vibrant tropical fish and ancient Honus (Hawaiian green sea turtles), and admiring the colorful corals down below. My kinda morning glory for sure.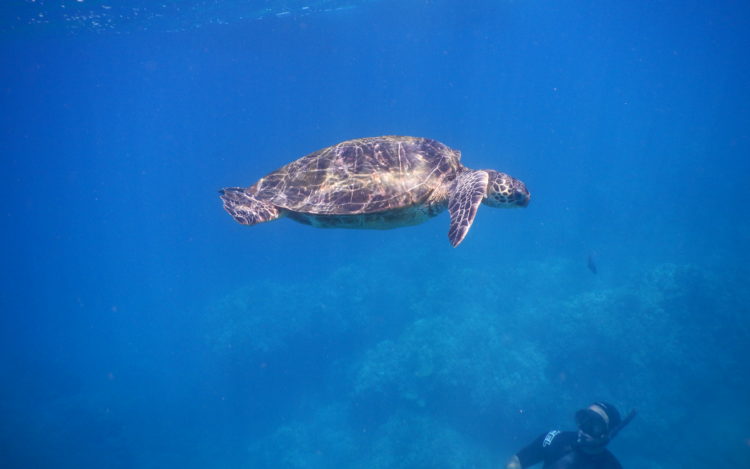 A few things to note:
Since the best snorkeling in Kauai is along these shores of the remote Na Pali coast, you'll need to take a boat to get there!
This is Hawaii! The Na Pali coastline offers its visitors warm water so you don't even need a wetsuit (thankfully, as those are a pain to put on/off).
Please only use reef-safe sunscreen, as chemicals found in your regular ole SPF can cause great harm to the marine life
NEVER touch a sea turtle (they're actually protected in Hawaii and you can rightfully be fined for doing so).
Only snorkel with a licensed boat tour operator.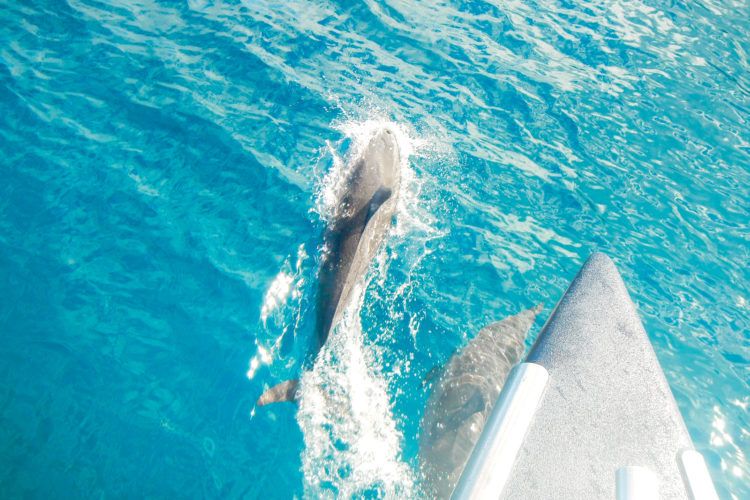 Book your snorkel catamaran tour here. You may even witness dolphins cruising alongside your boat – with the chance of seeing whales as well (in season)! I mean, there's even a waterslide on the boat, which you can use to slip into the warm, turquoise waters of the Pacific Ocean. Infinitely more fun than sliding in off the side of the vessel!
If a challenging paddle is more your thang, you can also kayak alongside the Na Pali coastline instead of snorkeling. I guarantee you'll feel especially small along the vertical cliffs, which rise as much as 4,000 feet above the shoreline/Pacific Ocean.
Do note that a proper kayak along the Na Pali coast is for the true adventurer, as it's quite difficult and takes hours and hours to reach land (meaning it's something I'd never attempt). If this is your first time in a kayak, this is probably not the place to learn how to do so.
Waimea Canyon
*Since you'll most likely need to get yourself to Port Allen for your Na Pali Coast tour, you're already halfway to Waimea Canyon! May as well squeeze in two Kauai must-do's in one day!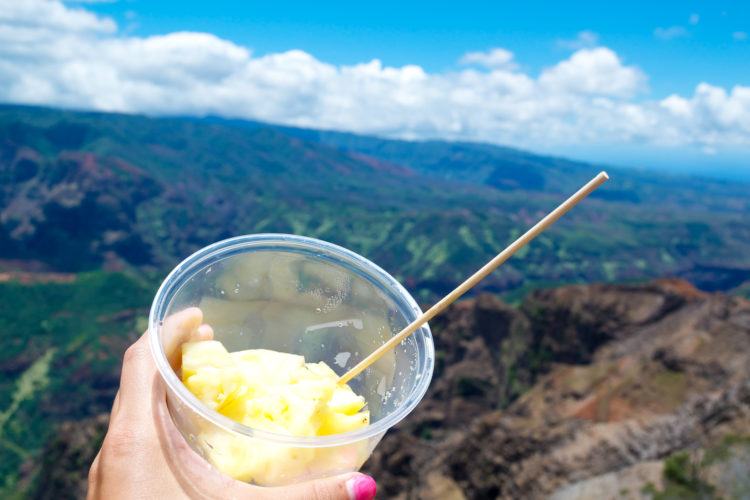 Once you're done with your Na Pali coast snorkel tour, head on over to Waimea Canyon State Park, dubbed the Grand Canyon of the Pacific. I found it just as impressive as the Grand Canyon in Arizona, if not even moreso, since the one in Kauai is extra lush!
With scenic views of the colorful canyon, a bunch of trickling waterfalls, and frequent rainbow sightings, it's a spot not to be missed on any Kauai itinerary!
Since the canyon is approximately 10 miles long and up to 3,000 feet deep (whoaaaaa), you'll want to plan a few hours for your visit. This place is massive, ya'll.
There's a bunch of different hiking trails if you wanna get your move on, but feel free to just stop at the lookout points if you're feeling a bit more relaxed. The drive up the mountain is indeed quite long, but so worth it so see the canyon's red soil and other multi-colored layers.
Psst: "Waimea" is Hawaiian for "reddish water" (referencing the erosion of the canyon's red soil).
Do note that there is a $5 parking fee, well worth it for all the natural beauty you get from this vast canyon.
If you just so happen to be skipping the snorkel tour and don't feel like driving yourself, there's half-day tours to Waimea Canyon to choose from. I bet they'll even make a few special stops. Check out a great option to the canyon here!
Day 3: Helicopter Ride/Na Pali coast Hike and relax at resort/sunset dinner cruise
I've got two choices for you this AM: ether a helicopter ride around Kauai -or- a hike along the Na Pali coast. My preference? A helicopter ride with Blue Hawaiian of course, as long as you can swing it.
WHY TAKE A HELICOPTER RIDE IN KAUAI?
Um, why not?!?! Silly question! Since approximately 65% of Kauai cannot be seen by foot (or automobile), taking a helicopter tour was an absolute must if we wanted to see the island right.
And plus, helicopters can fly as low as 500ft (opposed to airplanes which are restricted to fly no lower than 1000-1500ft), which just means you'll be that much closer to the waterfalls and canyons! There's really no other way to get a bird's eye perspective of this mostly inaccessible region.
What's better than a helicopter ride over the infamous Na Pali coastline of Kauai? I'll answer that for you – not much (besides a shave ice and some fresh, fresh poke – not together, obviously, ew).
If you've only got time and money for one big bucket list item during your trip to Kauai, I highly encourage you to save your pennies for a fly around the island. Zipping in and out throughout the mountains with beach and coastline in view is surely something you will never forget.
It's a surreal experience. No words can truly describe it. This is Jurassic Park in real life, my dinosaur-loving friends (especially with the theme song softly playing in your ears mid-flight), minus the dinos of course.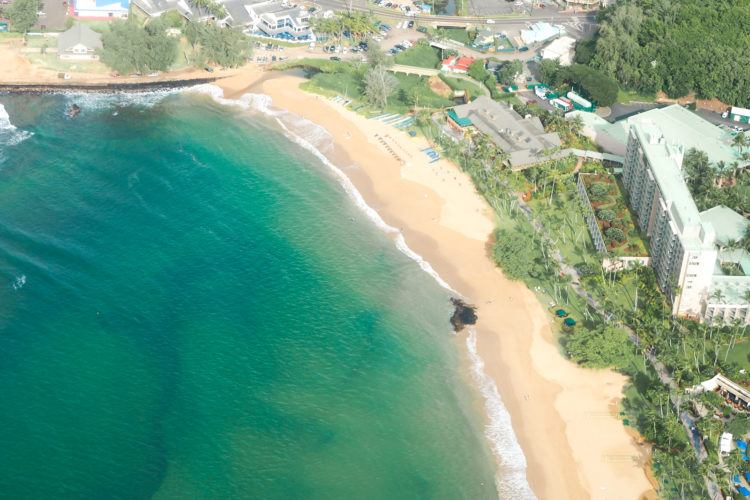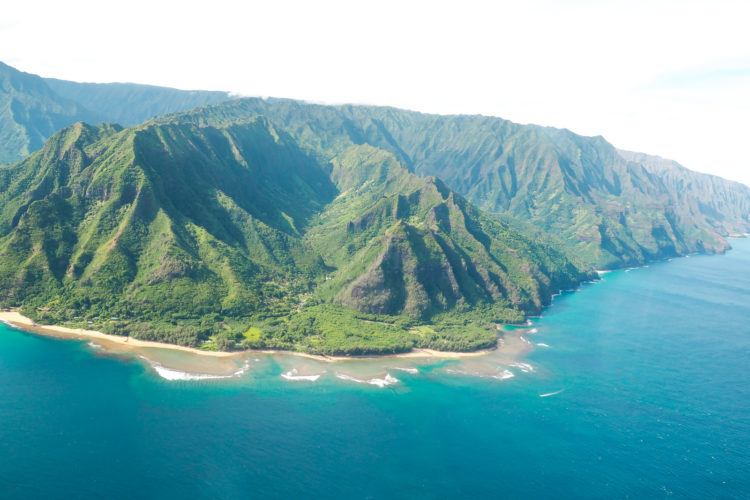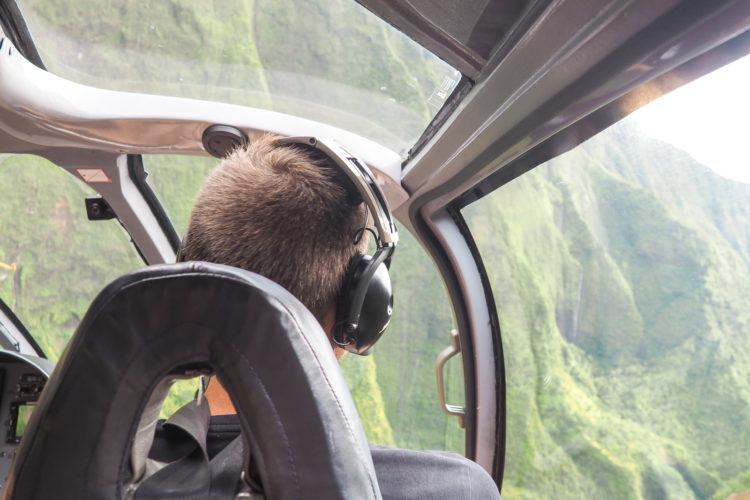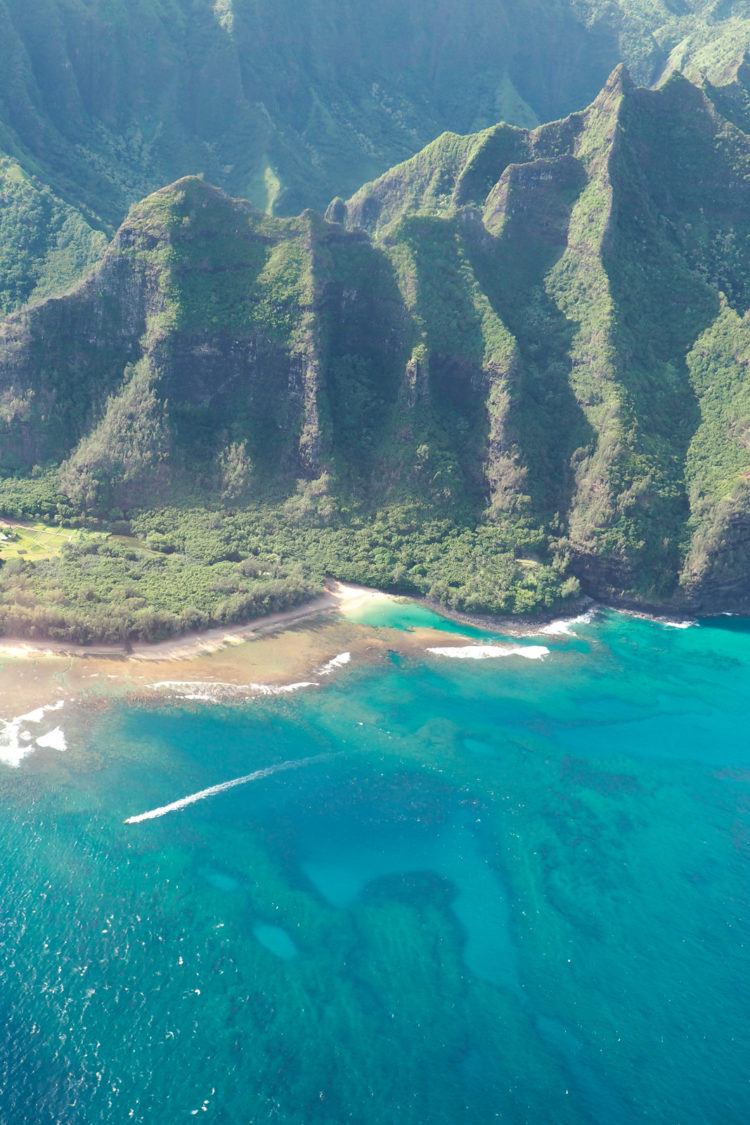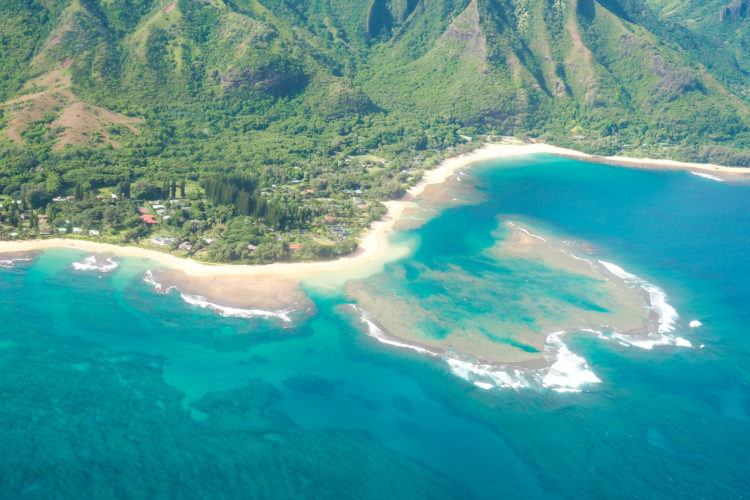 The mountains drip with waterfalls, the cliffs jet out from the coastline, the reefs sparkle from above, and the peaks are smothered in lushness. It feels and looks like heaven on Earth. We circled the entire island, flying into the valleys and getting up close and personal to the abundance of waterfalls nearby.
We chose to ride with Blue Hawaiian Helicopters (the same company we flew with in Maui), and couldn't think of a better way to spend a morning. This ain't our first rodeo, so we pretty much knew what to expect.
A few tips: wear dark clothing (no one wants any nasty glares against the windows), take videos (not just photos), and get ready for the flight of your life.
Worried about safety? I hear you – but that's just why you need to do your research before you book just any old helicopter ride. I highly recommend booking with Blue Hawaiian (it's who we flew with not only on this trip to Kauai, but over on Maui as well!).
After our first experience with them last year, I wouldn't even think about flying with another company. First of all, Blue Hawaiian utilizes the latest safety systems, and secondly, all of their pilots are State of Hawaii Certified Tour Guides, and super knowledgeable about the island (meaning you'll get an A+++ tour of the island below).
Read Next: Soaring Above Majestic Maui with Blue Hawaiian and 5 Perfect Days in Maui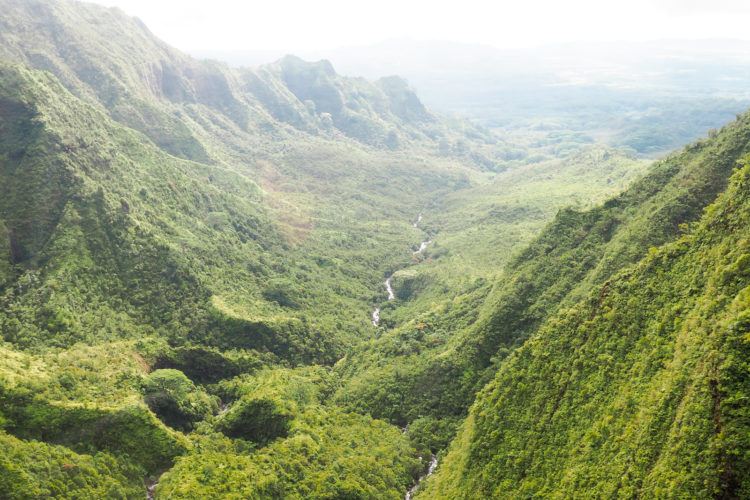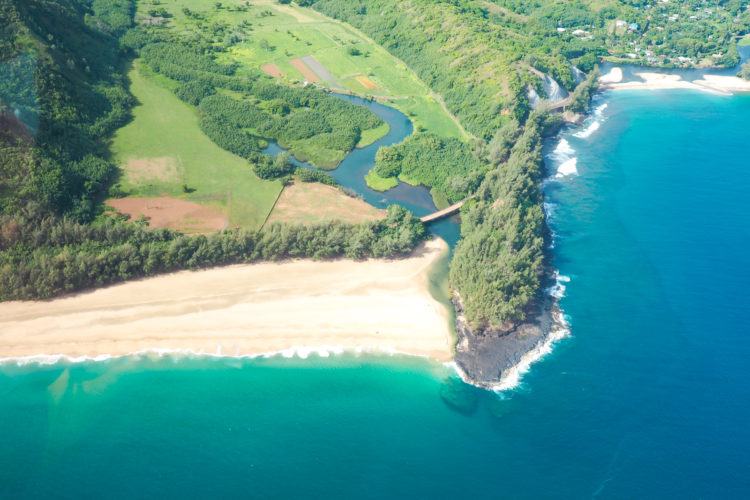 You can also take a prop plane, but why do that when you can fly around the island via helicopter (which is infinity cooler)?
If you're taking a heli ride (highhhhhly recommended), you'll still have quite a bit of time to kill today before heading back to relax. Check out Wailua Falls (if you haven't done so already on our mini road trip to the North Shore), roughly 20 minutes from Lihue (where most heli tours depart from).
The falls are easy to see from a look-out point, and you can actually hike down on a muddy trail if you please (although do note it's technically an illegal hike on private property, so I'm letting you decide your fate for yourself).
HIKING THE NA PALI COAST
If you've been longing to cross this bucket-list worthy hike off your to-do's, now's the time to do it (as long as you're visiting Kauai during the summer months).
Thankfully, after closing for a bunch of months, the Kalalau Trail has finally reopened in 2018, which is downright awesome, but just means it's busier than ever. You'll need to secure a parking pass no matter how far you're planning to hike (more on that later), and a hiking permit if you want to hike past the 2 mile marker on the trail (you'll need to reserve both in advance).
And why is this hike so crazy popular? The infamous Kalalau Trail is a strenuous 22-mile hike from Kee Beach to Kalalau Beach (roundtrip), where most spend a day or two camping along the way. Brave enough to do the whole thing? You'll be greeted with enormous green cliffs, tiny footpaths, deserted sandy beaches, and solitude.
This 11-mile grueling trek (one-way) along nonstop rocky ledges will take you to Kalalau Beach, free of electricity, running water, and no plumbing. Definitely no shops or cars here! But be sure to train and prep for this bad boy – this 22-miler is not for the first-time overnight hiker.
But don't fret – you don't need to trek all 11 miles to get great views. Most people opt to hike the first 2 miles to Hanakapi'ai Beach, then turn around, making for a perfect semi-short, semi-difficult day hike.
And if you're still going strong, you can even hike an additional 2 miles to the 300-foot Hanakapi'ai waterfall for a quick dip (no hiking permit required). We opted for the heli ride as noted above, so didn't have time for any portion of this hike → on our Kauai itinerary for next time!
SUNSET DINNER CRUISE
Can't leave Kauai without heading out into open waters searching for that striking Hawaiian sunset, now can you? End your trip with a sunset dinner cruise, with a glass of champagne and buffet dinner on the boat. Many dinner cruises sail past the cliffs Na Pali, which will look even more spectacular in that dim light as the sun sets. Find out more info about sunset cruise here!
Extra things to do if you've got more than 3 days in Kauai:
Golf at Poipu Bay Golf Course
A muddy Atv tour
See a luau (the ultimate Hawaiian experience)
Which of these activities will you be including on your 3-day (or longer) Kauai itinerary? No judgements if all you wanna do is relax on the beach (just promise to take that helicopter ride so you can easily see a chunk of the island!)