Happy New Year, everyone! Hope you had an enjoyable start to 2014!
As I look back on my year, it's hard not to feel thankful for all the experiences I've been lucky enough to have. 2013 was a particularly adventurous year for me, trying out new activities and foods I would have never imagined eating.
In addition to my travels, I met up with some college friends I hadn't seen in over 4 years, went to my first professional football game (in the freezing cold), and hung out in Atlantic City for a weekend and didn't lose all my money. My nephew was born (!!!!), saw some friends get married, and watched the not-so-little-anymore girl I used to babysit get bat mitzvah'ed.
On the blog and photography front: I finally splurged and bought that DSLR I've been wanting for oh so long. Expect photos to be crisp and clean from here on out! (Minus those taken on my iPhone and underwater camera…)
There have been a lot of changes to this site in the past year; more specifically, I bought my own domain name!
I've met some great friends in the travel blogging community, who are not only full of extremely helpful information, but extremely supportive as well. THANK YOU THANK YOU THANK YOU!
Being Culture-Shocked on New Orleans' Bourbon Street
NOLA was never a destination I had been longing to go to, but after experiencing the true party of Bourbon Street, it's now something everyone must see for themselves at least once! I had always knew that New Orleans was beyond crazy-crazy for Mardi Gras, but it surely felt like that to me when we went. Three-for-one beers, grown men wearing ladies' bikini's, and overflowing Hurricanes are only acceptable on Bourbon Street.
Plus, standing on the balconies throwing beads at people just because is always fun!
I tried fried alligator and alligator gumbo for the first time, which I surprisingly enjoyed quite much.  The sugary beignets didn't disappoint either.  We went on a swamp tour where we saw those alligators before we ate them…
Discovering some Favorite new Restaurants in NYC
I sometimes forget just how much of a melting pot my city is, and with that comes lots of awesome food from all around the world.
Some of my new favorites include: The Meatball Shop, Ippudos, El Malecon, Doughnut Planet, Serafina at Time Hotel, Rolf's, and Isle of Capri.
Next time you're in NY, go check them out!  For even more suggestions, check out my 10 favorites for pizza and 11 restaurants no matter your cravings.
Devouring Deep-Dish Pizza in Chicago (twice)
I was lucky enough to travel to the Windy City twice this year, once on leisure visiting some friends, and once professionally for a few short days. I ate at both Giordano's and Lou Malnati's, and just for the record, Giordano's kicked Lou's deep dish in the butt! The views of Chicago from Willis Tower (103 flights up!!!) were like no other.
Falling in Love with Carmel
The dog-friendly beaches, charming little shops and cafe's in town, and starry skies took me by surprise.  Spending our 4th of July on the beach with some beers and making s'mores fireside was the perfect way to relax after a busy busy school year (I'm a teacher FYI).  Watching the otters playing in the water wasn't too bad either 😉
However, meeting my rediculously-adorable nephew for the first time instantly blows everything else out of the water. <3
Discovering Stand Up Paddling in Maui
It was either learning how to surf or learning how to Stand Up Paddle on the beautiful sunshine-drenched island of Maui. I opted for the latter, stand up paddle boarding, since I figured it was much easier than surfing.
But boy was I wrong. So, so, so very wrong.
Kneeling on the board, and even standing up weren't issues, I had such a difficult time staying vertical on the board. Meaning I couldn't stay up! I fell into the water quite a few times, and on one instance, I even knocked my nose onto the board. It wasn't until later that my instructor noticed that my nose was bleeding, and I had to get out of the water to tend to it. Plus, it hurt like a b**ch later on! Maybe I'll give SUP another try in a lake next time!
*More detailed post coming soon!
Taking a Helicopter Ride in Kauai

We had a few things on our list we wanted to do when we got to Kauai, and taking a helicopter ride around the island was at the top! One of the most memorable experiences of our lives- worth every penny (and we sure spent a whole lotta pennies on this one)! It was truly magical. Approximately 65% of Kauai cannot be seen by foot, so taking a helicopter tour was an absolute must. It was an experience to remember- and I even got to sit right next to the pilot!
Descending to the Jurassic Park waterfall was super rainy, but that was to be expected! Thankfully our guide had some umbrellas stashed in our ride!
Winding in and out of the valleys and through the mountains towards waterfalls and secret beaches was surely something I will never ever forget.
Cave-tubing and Swimming with Sharks in Belize
I ended off the year with a girl's trip to Belize. It was filled with food (lots of it), fun, and adventure. We went cave-tubing in the Belizean jungle, zip-lined through the trees, and explored some Mayan Ruins.
There was some relaxation thrown in there as well. Although you probably know by now, I'm not one to sit still for too long…
Although we unfortunately didn't encounter any manatees on our watch, the fact that I snorkeled with sea turtles, sting rays, and sharks (albeit harmless), was definitely rather thrilling.
It's confirmed. I want to move to an island and become a professional snorkeler. But I'll need to remember the bug spray- I got over 70 mosquito bites on this trip!

As far as 2014 goes, I only have one trip planned (so far). But it's a big one I tell ya. A MAJOR one.
Here's a clue: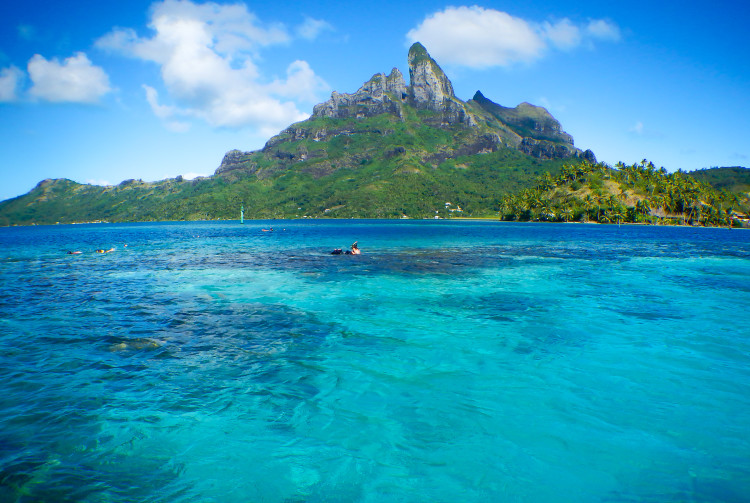 Any guesses on where I'm headed?!