It's true. You caught me.  I am in madly, deeply, head over heels in love… (with the beach)- shh, don't tell my husband!  I just love the sand beneath my toes, exploring sea animals above and below water, and hunting for shells.  Oh, and a suntan doesn't hurt either.  
While I have been lucky enough to experience numerous Caribbean beaches, (which were all gorgeous), and quite a few in the Mediterranean, I was curious as to what others' favorite beaches were.  I asked some of my travel blogging friends, and the response I received was overwhelming.
I guess others have the same feelings towards the beach that I do.  I received submissions from all over the world, from Thailand to Barbados, and the Galapagos to Spain.
Best Beaches in the World
It's remarkable how different beaches can be. Take a look for yourself.
1. Cockleshell Beach, St. Kitts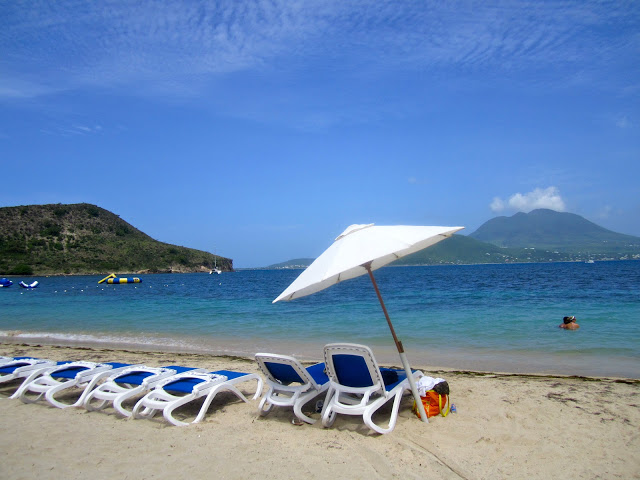 If the peaceful area, silky white sand, and turquoise waters, (oh, and some serene views of nearby Nevis), don't get you, the calm and inviting waters will.  Go visit St. Kitts, you're body and mind will thank you.
2. Playa Conchal, Costa Rica
Playa Conchal in located in the Guanacaste region in Costa Rica and I love this beach because the sand is made up of tiny pieces of seashells.
3. Beach at the Dead Sea, Israel
Why not take a dip in the Dead Sea and have an experience you will never forget.  I can promise you that- floating in the Dead Sea is like nothing you have ever experienced before.  It is such a different feeling, something you cannot experience anywhere else.
4. Hupuna Beach, Big Island, Hawaii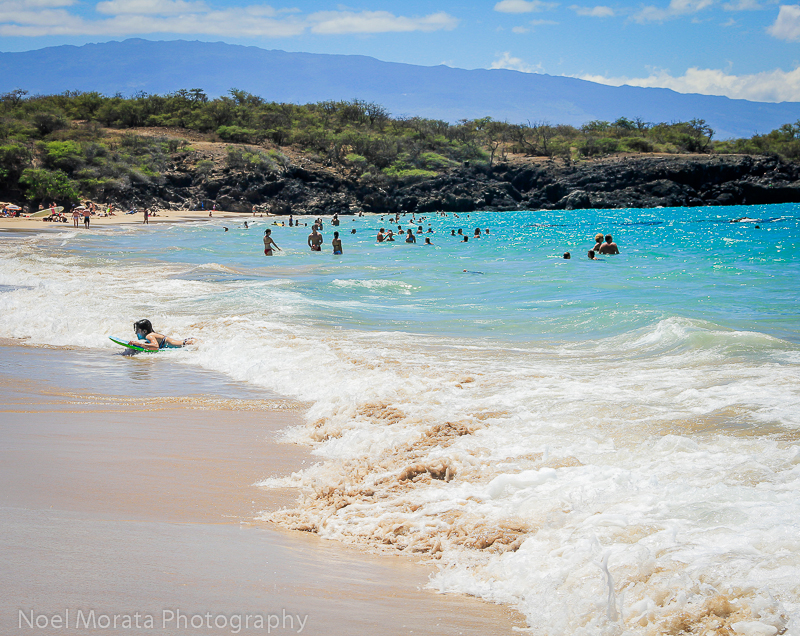 Here's one of my favorite beaches I love visiting on the Big Island, it's called Hapuna beach on the west side of the island. With powdery sand, gorgeous views and warm water, what's not to like?
5. Perivulous (Black Sand Beach), Santorini, Greece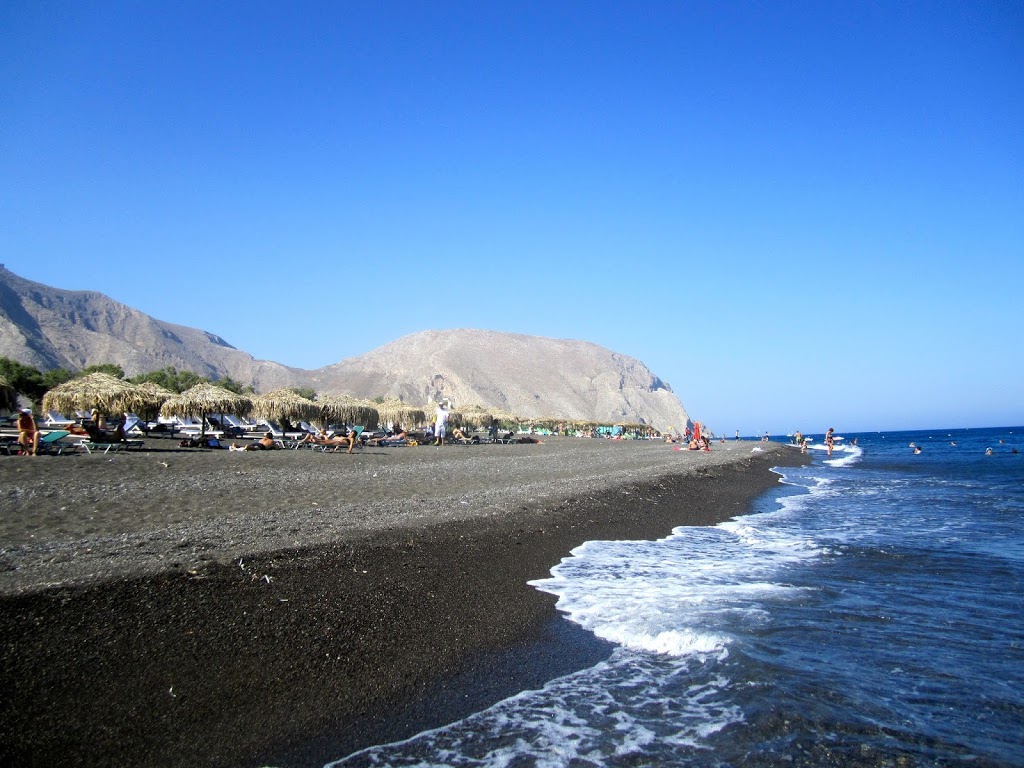 Although the sand is a bit rocky and extremely hot (wear sandals at all times), it is one of the most remarkable beaches I have ever laid eyes on.
6. Horseshoe Bay Beach, Bermuda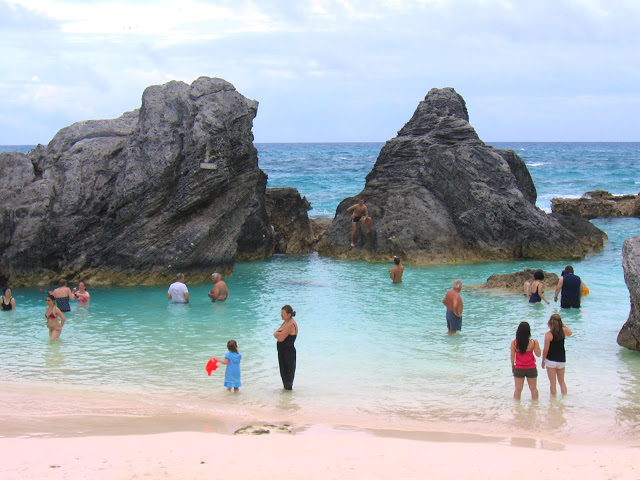 That's me in the pink shirt in the bottom right hand corner! The large boulders make for a dramatic landscape, which is quite possibly why it has been rated the #8 beach in the world by TripAdvisor. It is the most famous beach in Bermuda, and therefore, a very popular tourist spot.
7. La Barceloneta, Barcelona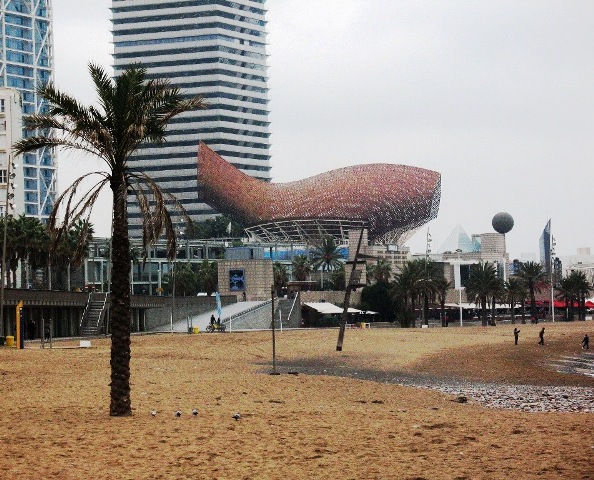 Zof is not a big beach bum, so she wants to share an image of a beach every city slicker must visit! She mentions that this beach is a perfect spot for all the art lovers out there.
8. Prince Edward Island Beach, Canada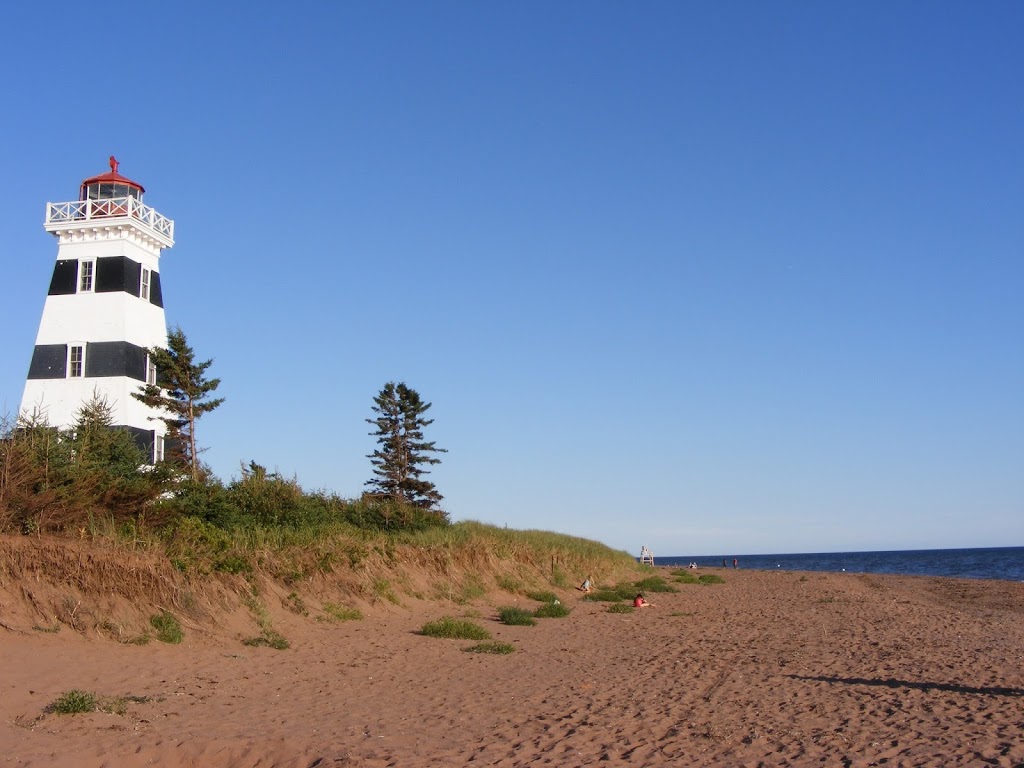 This is the WestPoint Lighthouse along the south-west shore of Prince Edward Island. The beaches of Prince Edward Island are best known for their rich, red sand (a result of rust oxidization and the salt water) and are great for collecting shells, beach glass, and driftwood.
In addition to the pretty scenery, PEI is perfect for history buffs (it's known as Canada's "Cradle of Confederation") as well as literature lovers (it's the setting for Anne of Green Gables!)
9. Gramvousa, Crete, Greece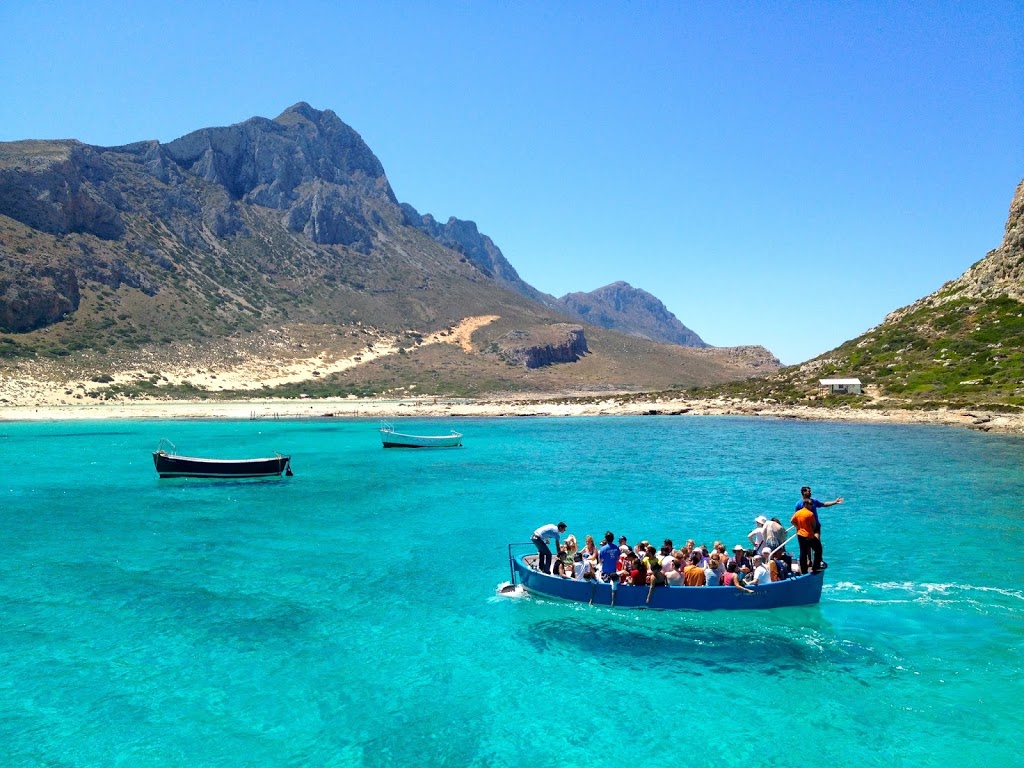 Quite possibly the most serene place I have ever been.  Only accessible by boat, the beach and surrounding area is like one out of the movies.  Greece continues to be one of my favorite places in the world…
10. Maya Bay, Thailand
Our favorite beach to date is Maya Bay in Thailand. We went here in March 2012 on our honeymoon and loved everything about. The scenery is out of this world, the sheer cliffs are such a backdrop to the gorgeous water and under water life is amazing here! We can't wait to go back in December for Christmas with my parents!
11. Gardner Bay, Española, Galapagos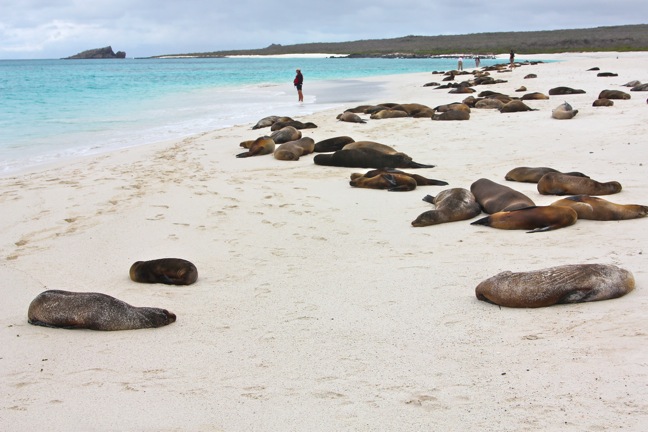 The most gorgeous beach we've visited was at Gardner Bay on the island of Española, in the Galapagos. There were literally hundreds of sea lions in this colony– males battling for dominance, females nursing their pups, and several frolicking in the sea. Add some spectacular scenery, and it was an incredible way to end our Galapagos adventure.
12. Jalousie Beach, St. Lucia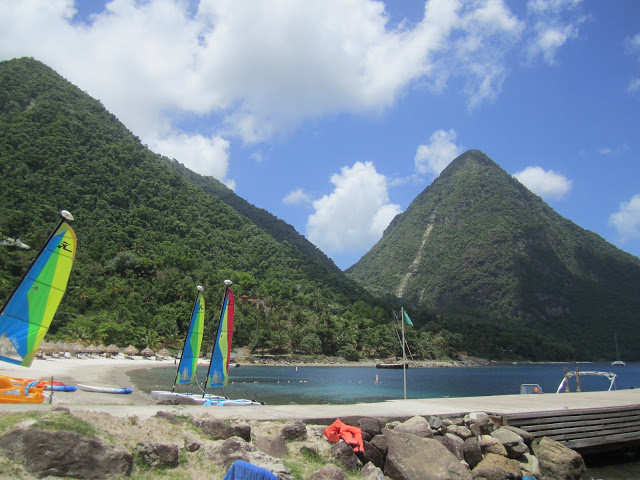 St. Lucia is gorgeous – there's no doubt about that. With views of the Pitons, this beach is perfect for those who want kick back and relax for the day.  And it hardly gets crowded, due to the difficulty in getting there.
13. Cockle Bay Beach, New Zealand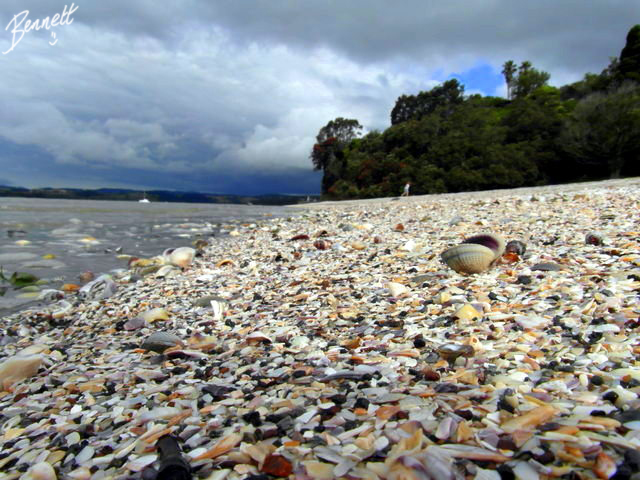 Cockle Bay Beach, New Zealand. The first beach I swam at on my first ever visit to New Zealand and a short walk from my uncle's house – perfect!
14. Trunk Bay, St. John's, USVI
Photo provided by www.calculatedtraveller.com
When in the
Virgin Islands
, I love visiting Trunk Bay. This white sand beach is gorgeous, there is shade from the palm trees, the water is crystal clear, and there is an underwater snorkeling trail that you can follow with sunken statues etc. Another plus it that it is part of the US National Park Service, so the area is protected.
15. Elafonisi, Crete, Greece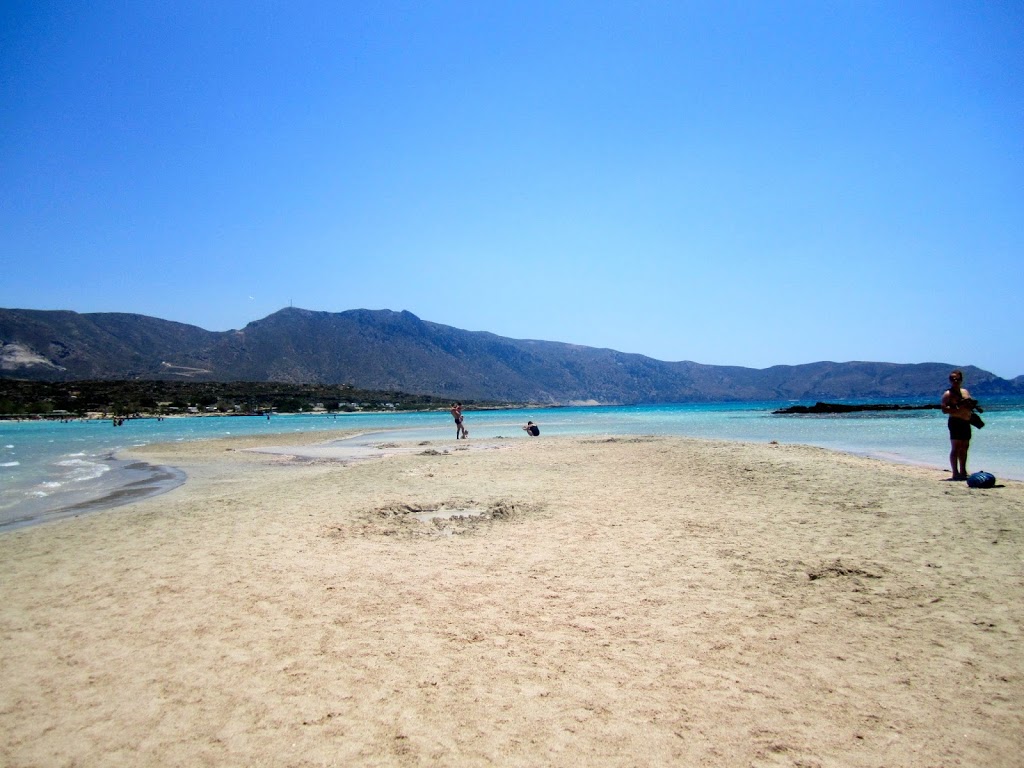 I can't imagine
Greece
without Elafonisi.  With it's white sandbars and virtually untouched clear, blue waters, it's a must-go to on your next trip to Crete.  In the right light, the sand even looks pinkish!
16. Heron Island, Great Barrier Reef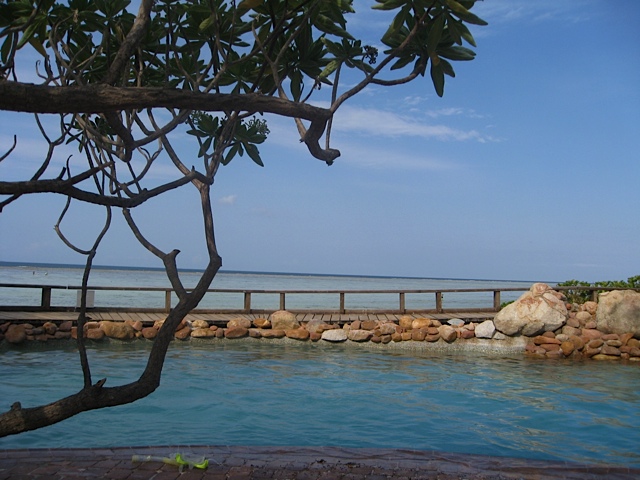 Photo provided by Tumbling Weeds
It's an exclusive island for guests only. So that means, no day-trippers to crowd the beaches. It's situated on the Great Barrier Reef, so you it is a natural coral cay and you can snorkel right off the island. In June you can see whales passing by on their annual migration. Both the Green Turtle and the Loggerhead Turtle nest on the island.
17. Deserted Beach, Oahu, Hawaii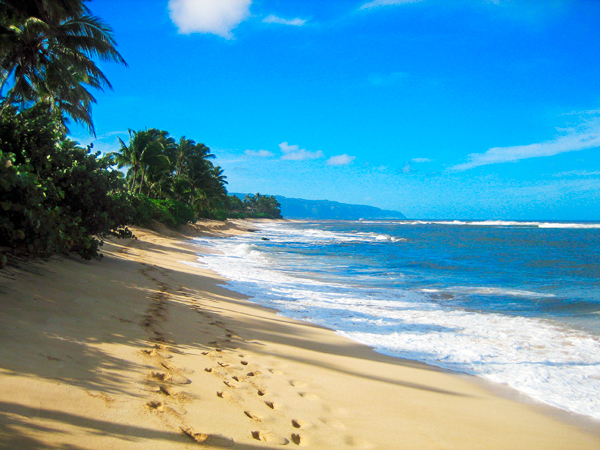 We stumbled upon this deserted little beach near the North Shore of
Hawaii
on Oahu–it looked as though it would completely disappear during high tide!
18. St. Martin Beach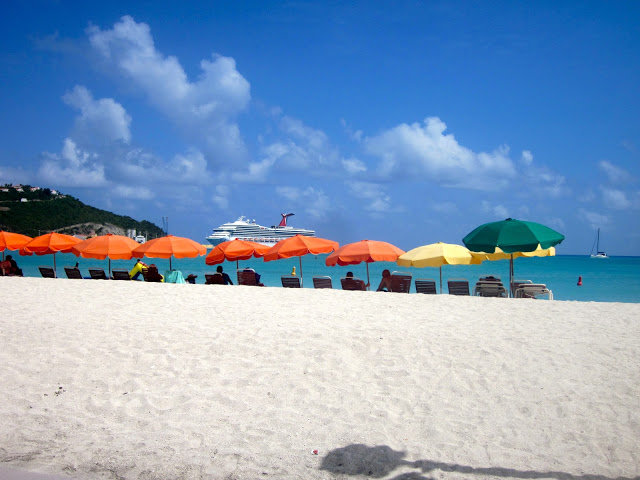 Unfortunately do not remember the actual name of this beach, silly me. I do know that it was super close to the cruise port and very easy to get to. Why not relax on St. Martin and grab a beer?
19. Kaihalulu Red Sand Beach, Hawaii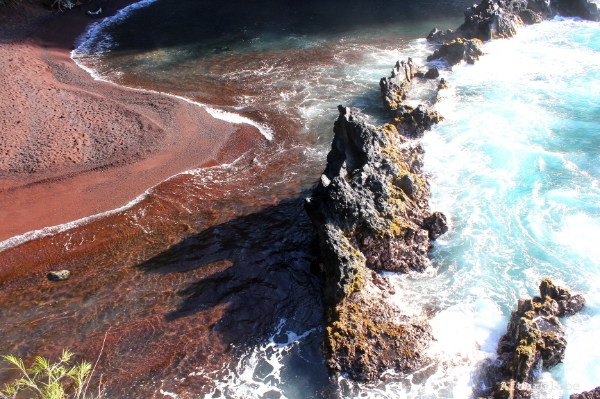 Photo provided by AfterGlobe
Kaihalulu Red Sand Beach is a dramatic and beautiful cove unlike any I've ever seen. It's dangerous to get to and feels unsafe while you are there, but the beauty of it sucks you in and holds you there.
20. Negril, Jamaica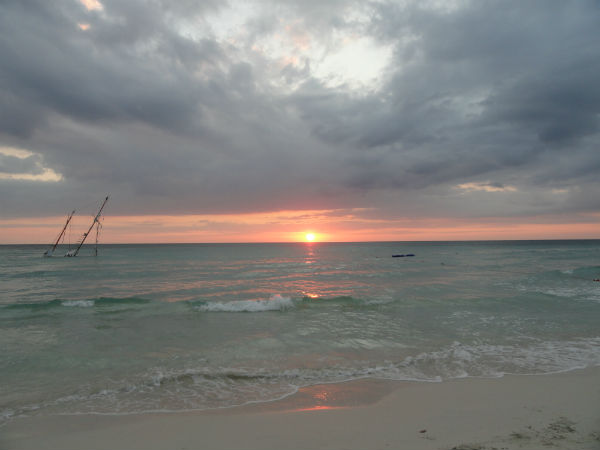 This was taken in Negril Jamaica. It is a great beach because it has clear calm water and amazing sunsets.
21. Secluded beach in Antigua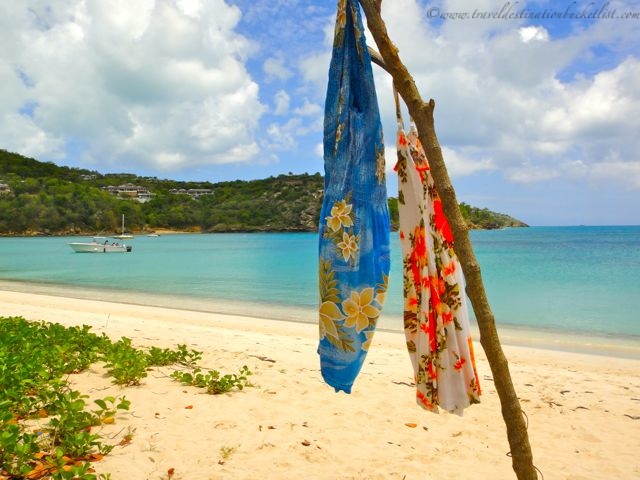 Photo provided by www.traveldestinationbucketlist.com
Luxuriating on a secluded beach in Antigua – the only way to access this part of the beach was with a car and a hike, or by boat. It was cut off for all but those in the know. For my last day of an exquisite 10 days in Antigua, my friend and I were driven over to the most perfect stretch of beach. Not a person in sight. We packed everything in – towels, coolers and food. Peter, our local guide, brought us there and set us up under some palm trees recommending that we tie our dresses to a stick to mark our secluded spot. We spent the day walking on the beach, reading our books and dozing by the shade of the palm….it was the perfect end to our time in paradise!
22. Komodo Beach, Coral Island, Thailand
Photo provided by Karis Abroad
The most gorgeous beach I've ever been to was Komodo Beach on Coral Island, Thailand. The island is a quick long tail boat ride from Phuket and is a popular destination for snorkeling, swimming and for spotting the giant lizards after which the island is named. I spent a relaxing day here with my family–we loved that we had the beach mostly to ourselves!
23. Red Sand Beach, Santorini, Greece
The short hike up (and then down) to this beach is totally worth it for the views alone.  Although I had to drag my husband, I loved seeing the deep red sand on
our honeymoon
for the first time.
24. Whitehaven Beach, The Whitsundays, Australia
Photo provided by A Cruising Couple
The Whitsundays, Australia, consist of 74 gorgeous and pristine islands; Whitehaven Beach is located on the largest. The beach encompasses you in beauty, evoking the feeling that you are miles away from any care in the world because–quite literally– you are.
25. Falassarna, Crete, Greece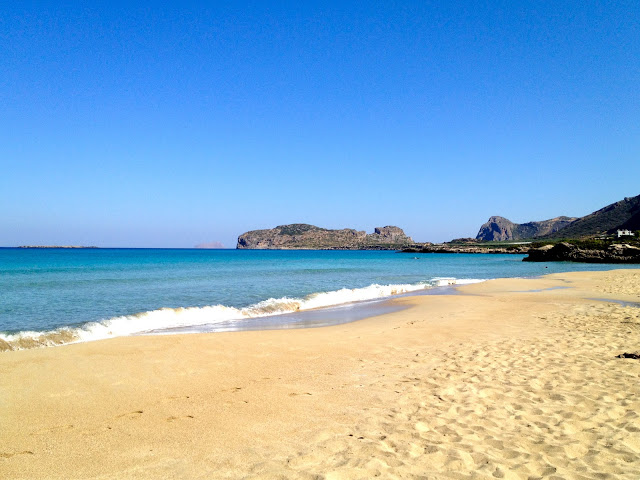 Falassarna was our favorite beach
in all of Greece.  Situated on the island of Crete, the soft powdery white sand with gorgeous views of rugged rocks, and some peace and quiet in the early mornings, make this beach not to miss.
26. Siesta Key Beach, Sarasota, Florida
Photo provided by The Adventures of Elatlboy
When I think of beaches, Siesta Key Beach in Sarasota, Florida is at the forefront. Walk and hang out amongst the colorful umbrellas on the powdery white sand that's cool to the touch. Go into the warm, turquoise waters of the Gulf of Mexico. Grab some seafood and souvenirs in the scenic village alongside.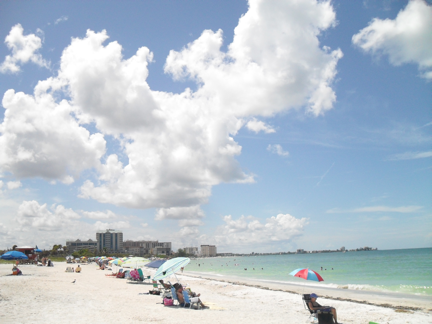 Photo provided by Staircase to Life
a super cool new blog about living life to your fullest 🙂
A trip to paradise shouldn't have to take you out the country! In fact, it's time you travel to America's Number One beach, Siesta Key Beach! Once your feet step onto Siesta's fine white sands you will feel the warm sensation that you feel during a foot massage. The sand on Siesta is unlike any other! It is composed of 99 percent pure quartz, which stays cool even on the hottest days. Ditch the flip-flops, feel it for yourself. Thought the sand sounded interesting? Dive or should I say, surf into the warm, blue/light green water of Siesta. You might even find a school of fish swimming around you. Paradise can always be found in your backyard. Therefore, take a trip to Sarasota, Florida to visit America's Number One beach, Siesta Key Beach!
27. Private Beach near Xcalak, Mexico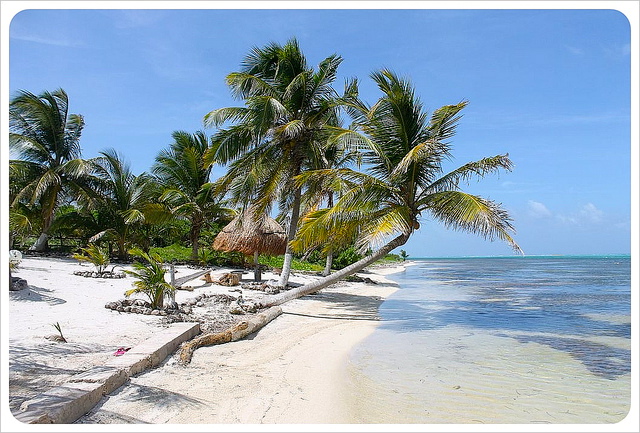 Our favorite beach in the world is near the small fishing village of Xcalak in Southern Mexico. The beach is actually a private beach and belongs to a a little beach house which we took care of for two months last summer. Seeing the sun rise over the turquoise Caribbean water every morning was heavenly. The meso-american reef, the second largest reef in the world, was about 50 meters from the shore and we could swim there right from our very own beach – this was truly paradise!
28. Matemo Island, Mozambique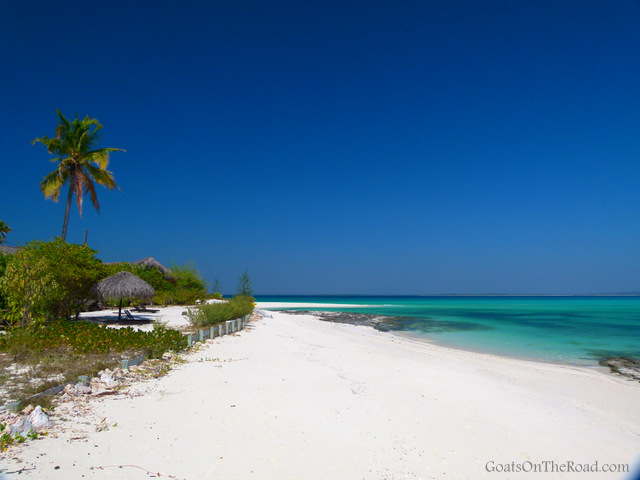 This beach is definitely one of the most stunning we've ever seen. We spent about a week using local transport and hitch-hiking to get all the way up to the rarely visited Quirimbas Archipelago…and it was worth every minute of travel! We hired a boat for us, 2 friends and 3 boatmen and sailed through the crystal clear waters to find the perfect island. On one end there is a very exclusive fly-in resort and on the other end there is a village. We chose to set up camp (which consisted of sleeping under mosquito nets on the beach) right in the middle of the island. We'll never forget the powdery white sand, serenity of the island and the warm waters…it was like a dream!
29. Taormina, Sicily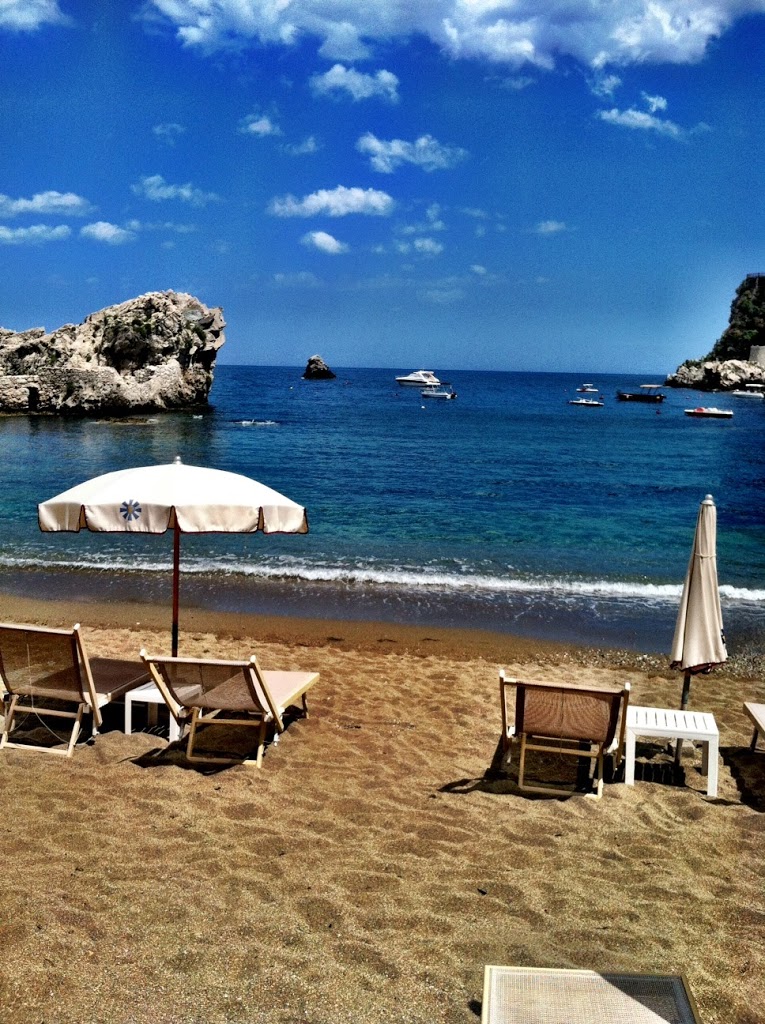 Photo provided by Traveling Ashley
This beach below the hillside town of Taormina on the island of Sicily is one of my favorite beaches. First, it is a little off the beaten path so it was very peaceful even with a flood of tourists around. Secondly, I was able to get a great massage for cheap and who doesn't love that! Lastly, this beach was made mainly of pebbles and not sand so as someone who doesn't enjoy sand this is a perfect beach.
Thanks to all who have contributed!  What a phenomenal collection of gorgeous beaches from all around the world!
What would make up your ideal beach?
Any favorites you care to share?