Wondering where to get the best desserts in San Francisco? Continue reading, and grab some napkins to clean up all the drool that's about to start dripping… and trust me, no there's no shame in salivating… From ice cream and donuts to artisan chocolates and macarons, there's no shortage of sweet treats in SF.
Sweets and treats your thang? Well lucky you, my sugar-obsessed lick-smacking friend. I'm an absolute fiend when it comes to the sugary stuff, and do everything in my power to get my hands on cinnamon encrusted donuts and ice cream cones dripping with caramel and hot sauce. And thankfully, I decided to move to a city with no shortage of desserts — San Francisco!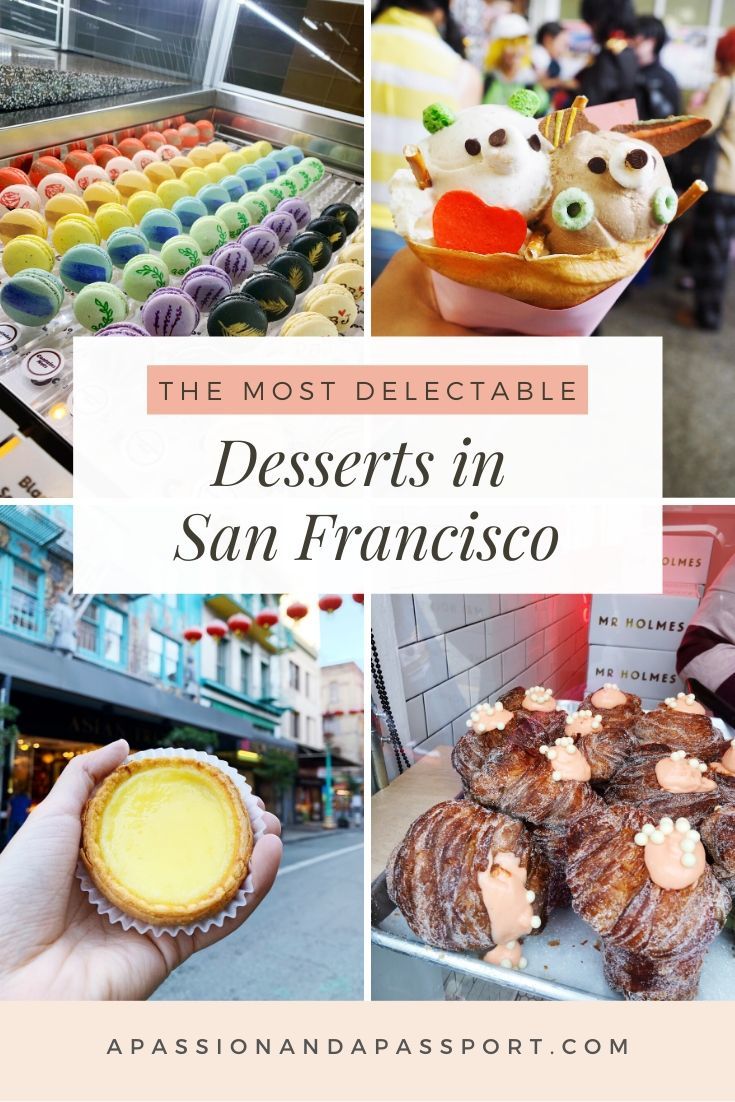 Get ready to dig through this list of the best desserts in San Francisco, any chocolate/sprinkles/coconut/ cinnamon/caramel-lover's dream. Feel free to save this page and start ticking off these cones, scones, puffs, and donuts. One's I've already taste tested are marked with a ✓.
Looking for some real food between gorging on all these desserts in SF? Check out all my favorite restaurants in San Francisco here!
Donuts in San Francisco
1. Twisted Donuts & Coffee: From the outside, this popular donut shop doesn't appear to be anything special, but their affordable and gourmet toppings are what make them really stand out. I never realized how much I needed a fruit loops donut in my life until I bought one here, or how good a Bavarian cream can do on any old day…
Twisted is literally right across the street from Home Cafe if you're in the mood for a rainbow latte 🙂 (Sunset District)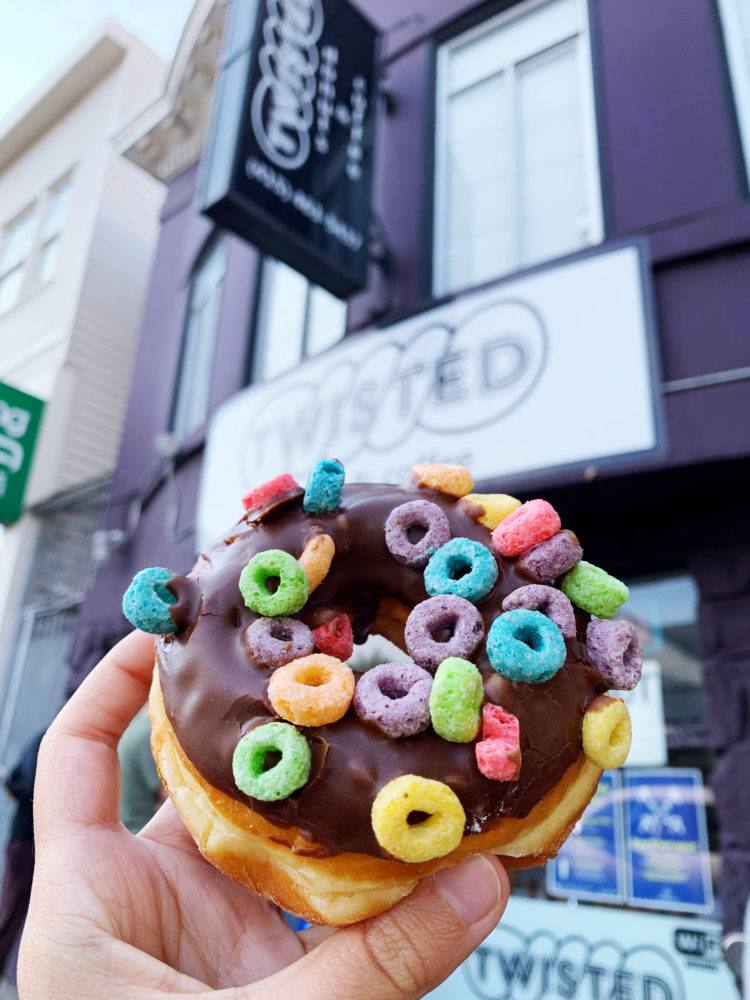 2. Dynamo Donut and Coffee: A local artisan store that serves up some of the fluffiest and tastiest donuts in the entirety of San Francisco, where there are a few permanent staples and an ever-changing seasonal menu.
The classic vanilla and chocolate donuts are done so well (if it ain't broke, don't fix it), but Dynamo is best known for its unique and delectable Maple Bacon Apple donut. I dare you to try the passion fruit milk chocolate too. (Presidio + Mission)
3. Bob's Donut and Pastry Shop: Have you ever seen those absolutely gigantic donuts on IG? Yup, those beauties are here. This popular independent donut store knows that the desire for donuts never truly rests, opening its doors 24 hours a day and serving up pretty basic – but reliably yummy – treats… meaning you can show up at 2am and still indulge.
I'd really recommend their classic glazed variety and the scrumptious apple fritters, and if you have room for more than try out their appropriately named Big Donut' (hint: it's huge). (Nob Hill)
4. Mister Bomboloni: Get a little taste of Italy at this authentic Italian bakery, serving up warm and fresh Bomboloni (they kinda remind me of malasadas in Hawaii), Cannoli, and Frati right beside the bay. The treats are offered in 'bite-size' portions so you can get a taste of all the different wonderful flavors, with their Nutella, lemon custard, and raspberry varieties being the most popular. (Ferry Building)
5. Trish's Mini Donuts: The concept here is pretty simple and pretty darn great: instead of having one big donut, enjoy a bucket full of fried-to-order mini sugar-sprinkled ones. And oh, they're so pillowy and fluffy (I could just pop them into my mouth no problem).
Trish comes from a carnival background where this dish is wildly popular, and she has done us all a huge favor by bringing the idea to the streets of San Francisco. If you're with friends (or just wanna snack on a whole lotta donuts for lunch), order the bucket – 36 mini donuts! (Pier 39, 1st floor) ✓
6. Johnny Doughnuts: Light, fluffy, and scrumptiously delicious. You can't really go wrong with a good ole' donut shop, and Johnny really proves how true this is. Here you'll find an abundance of artisan donuts served up fresh from modern food vans, offering a variety of hard-to-resist and unique flavors. If you want something a bit unusual, try the 100% vegan roasted sweet potato donut. (Hayes Valley)
7. Mochill Mochidonut: I thought Mochi donuts only existed in Japan. Boy am I glad I found this place. This tiny sweets window with mochi donuts is riiiiight up my alley – and apparently many others. If there's a massive line, don't be surprised; these popular treats are so yummy that people can't seem to stay away. The wait is worth it though, I promise!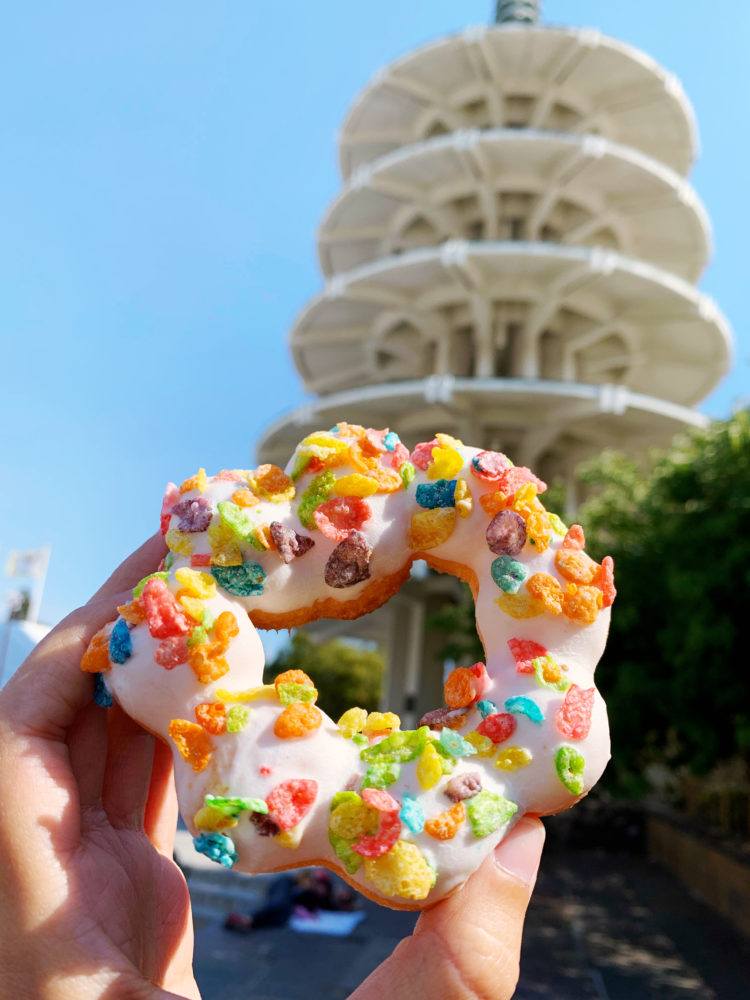 Once you've got your hands on one of their playful-flavored mochi donuts, you'll be ready and eager to wait in line all over again to get another one. (Japan Center)
Ice Cream in San Francisco
8. Mitchell's Ice Cream: If you're looking for something a bit different, then Mitchell's is the one for you; this quaint, family-run ice cream parlor has a range of unique flavors, challenging your perception of exactly what can become a scoop ice cream. I have the hardest time choosing a flavor whenever I treat myself to Mitchell's.
From avocado and cantaloupe to mango and Irish coffee, you're bound to be surprised at how tasty these odd concoctions really are. And plus, they make all their ice cream in small batches on the premises. (Bernal Heights) ✓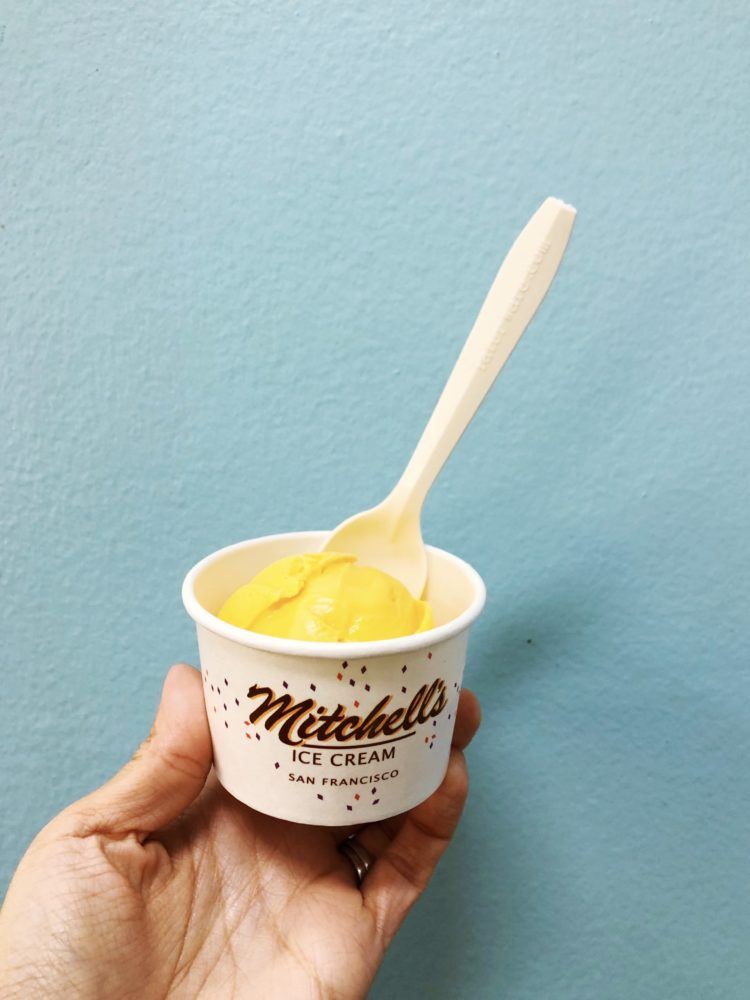 9. The First Swensen's Ice Cream Store: Open since 1948, Swensen's is a San Francisco classic that serves up some simple and quirky ice cream flavors. Pop in for a scoop of lemon custard ice cream, or perhaps swiss chocolate orange, or maybe peanut butter – there are so many irresistible choices that it's hard to pick just one… (Russian Hill) ✓
10. Matcha Cafe Maiko: Along for the current matcha craze? Already obsessed or trying out green tea desserts for the first time? Head on over to Matcha Cafe Maiko. Like other spots in Japantown, this place is super popular and there's already a cult of fans (meaning you'll probably have to wait a bit). And yes – the menu's pretty huge. There's floats, frappes, lattes, parfaits, and soft serve.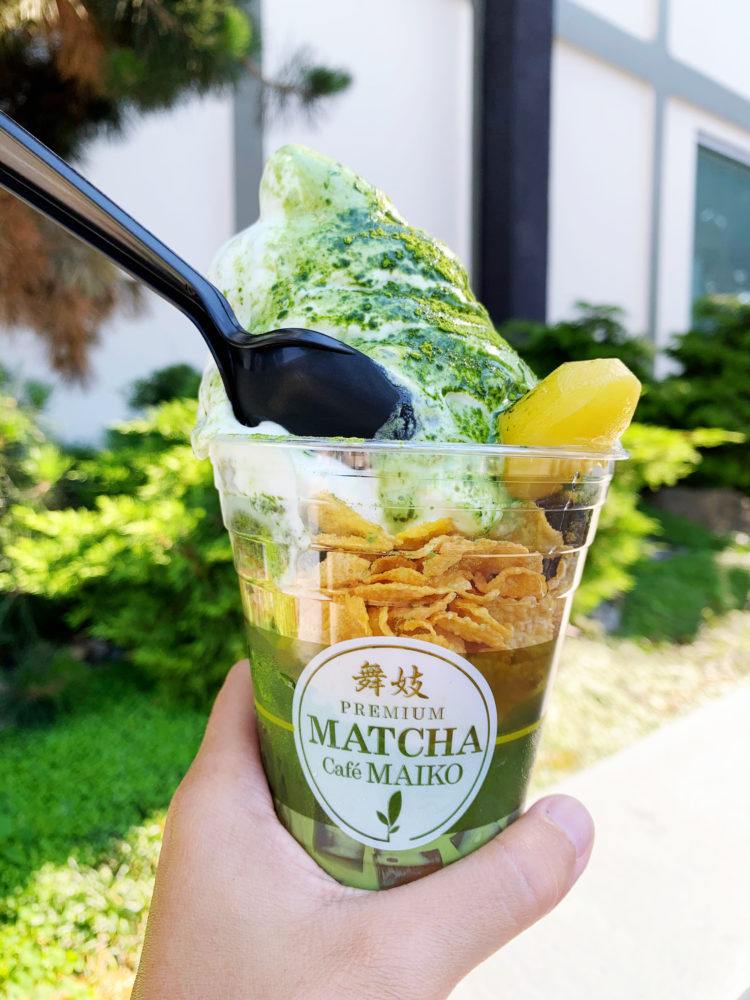 But what do I always order? The Maiko Special Parfait with a swirl of matcha and vanilla soft serve. This signature item is filled with matcha chiffon cake, chewy shiratama mochi balls (the best), crunchy corn flakes, red bean paste, and more.
Looking to wow your friends? Order the "Golden Shogun", a matcha ice cream with an actual 23.75karat gold leaf on top! (Japan Center) ✓
11. It's It Ice Cream Sandwich: I couldn't possibly write a list about the best desserts in San Francisco and not include this iconic city staple; I would be letting the entire city down. It's Its are basically a legend in this part of California, created about 100 years ago.
It's its can be found scattered all over the city and bay area serving up their signature dish: a scoop of soft vanilla ice cream, sandwiched between two crumbly oatmeal cookies and dipped in rich chocolate. Nowadays, there's additional flavors – including vanilla, mint chip, chocolate, strawberry, and cappuccino.
Psst – you can even visit the factory store to pick up cases of the good stuff, located a bit south of the airport in Burlingame. ✓
12. Twirl & Dip Soft Serve Truck Found in the heart of Golden Gate Park, this beloved ice cream truck serves us some of the tastiest frozen treats in San Francisco. The folks at Twirl and Dip like to stick to classics, with a seasonal menu and only three permanent flavors: vanilla, dark chocolate, and vanilla-chocolate swirl.
There's lots of homemade toppings to choose from – from butterscotch sauce and a dark-chocolate dipping, to toffee pieces and blueberry syrup. They also offer frozen popsicles, chocolate dipped frozen bananas, and root beer floats. A great spot to hit up on a rare sunny SF day. (Golden Gate Park) ✓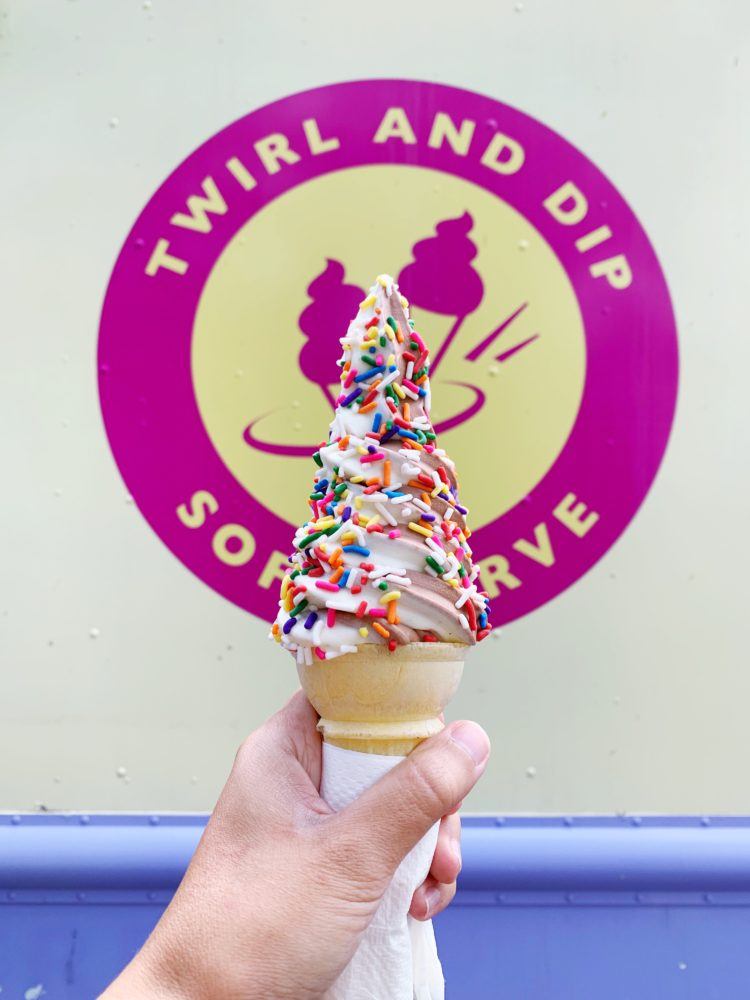 13. Bi-Rite Creamery: The place I take all visitors to SF. A darling ice cream parlor serving up homemade organic ice cream and delectable cakes, all crafted and served by the wonderful Sam and Anne: ice cream extraordinaires and past pastry chefs.
And yes, the line's usually out the door, but it moves fast(ish), I promise. Get your waffle cone to go and bring it to the nearby Dolores Park for some of the best people watching of the city.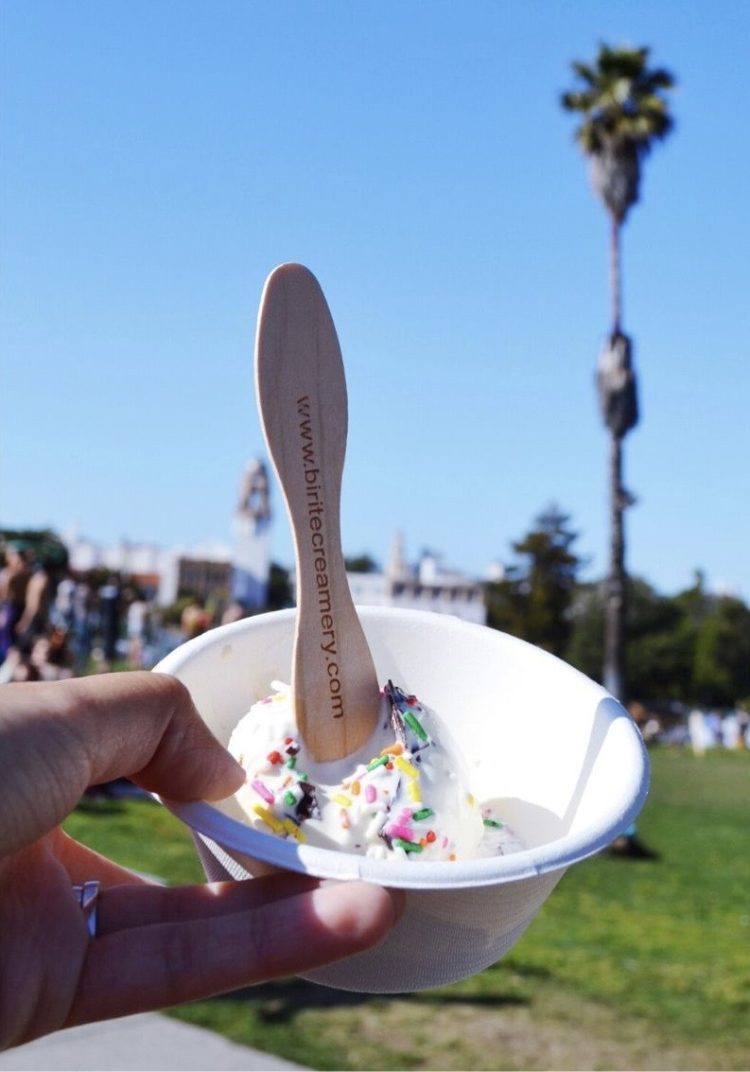 I tend to sample a few flavors, but always leave with a salted caramel cone. Look out for the witty and unique flavors- including favorites black sesame, honey lavender (although it tastes a bit like soap to me…), and peach cobbler. New to Bi-Rite: their exclusive Soft Serve Stuffed Donut; I can't wait to get my hands on that. (Mission) ✓
14. Smitten Ice Cream: On the outside, Smitten looks like any other normal ice cream shop in San Francisco. Though, on the inside, the shop has its very own liquid nitrogen machine ripped straight out of a science fiction movie.
Liquid nitrogen has an extremely low temperature that creates some of the creamiest ice creams you'll ever experience, and the futuristic machine even lets each customer individually craft their own original flavors. (multiple locations) ✓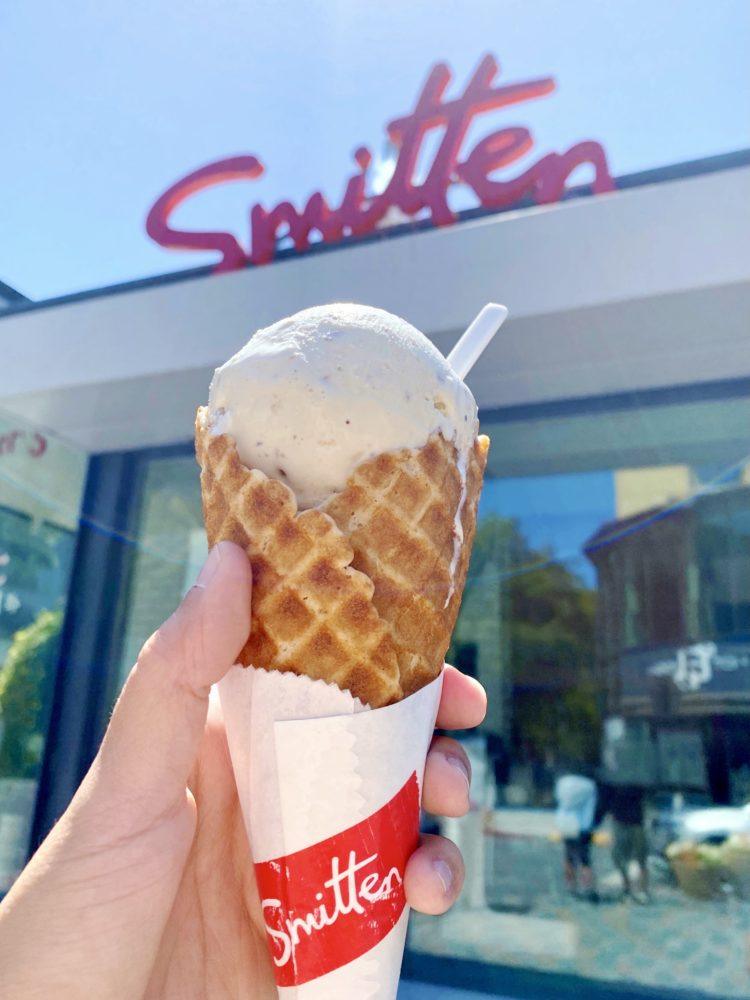 15. Humphrey Slocombe: Inspired by the dry style of British comedy, Humphrey Slocombe offers some pretty wild and unusual ice cream flavors. The shop has a constantly rotating menu of ice cream that comes with a serving of attitude, with past flavors such as 'Elvis: The Fat Years', 'Here's Your Damn Strawberry', and 'XXX Triple Chocolate'.
I came here on my first ever visit to San Francisco in 2010-ish, and still never say no to a scoop here. (Mission) ✓
16. Garden Creamery: Petite, pastel, and ever-so-popular. This dainty dessert parlor quickly became infamous within the city for their unique and highly instagramable 'chimney cones', a waffle cone where the waffle is actually a cinnamon donut (yes, you read that right, it's incredible).
Aside from the cones, Garden Creamy offers up some of the best desserts in San Francisco, including one of my favorite flavors — s'mores! There's massive globs of burnt marshmallow, homemade fudge, and bits of grahm cracker.
Garden Creamery's only a few minutes away from Urban Putt, so come before or after you play! And if you don't know what I'm talking about, be sure to head over to my favorite hidden gems in San Francisco post! (Mission) ✓
17. Honey Creme: This petite little parlor serves honeycomb-sweetened ice cream and a large array of unique toppings. Finish off your scoop with some cotton candy, or mixed grains, or honey, or affogato, or even a handful of popcorn – it may seem a tad strange, but I can guarantee you that the flavor combinations are revolutionary. (Inner Sunset) ✓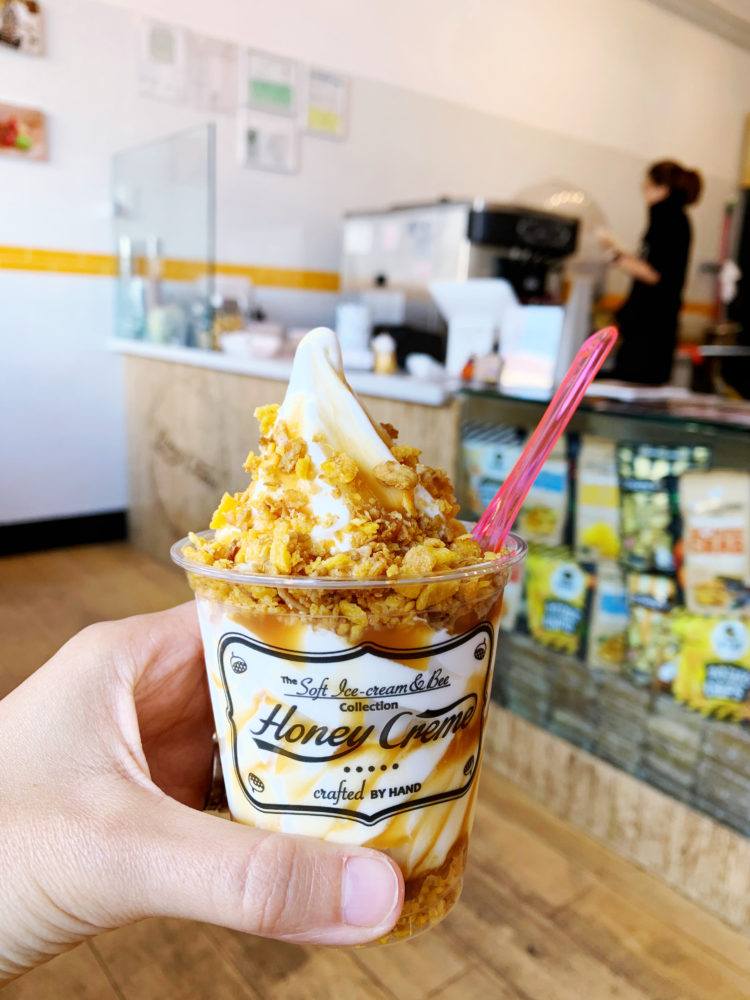 18. CREAM: I mean, Cookies DO Rule Everything Around Me (the names acronym)… which is probably why I'm still so obsessed with CREAM. A highly popular dessert shop offering ice cream sandwiches in a variety of flavors and with a huge selection of delectable toppings.
Build your own unique and truly tasty sandwich, or give something different a try and nibble on an ice cream taco – they really give a new meaning to Taco Tuesday. (multiple locations) ✓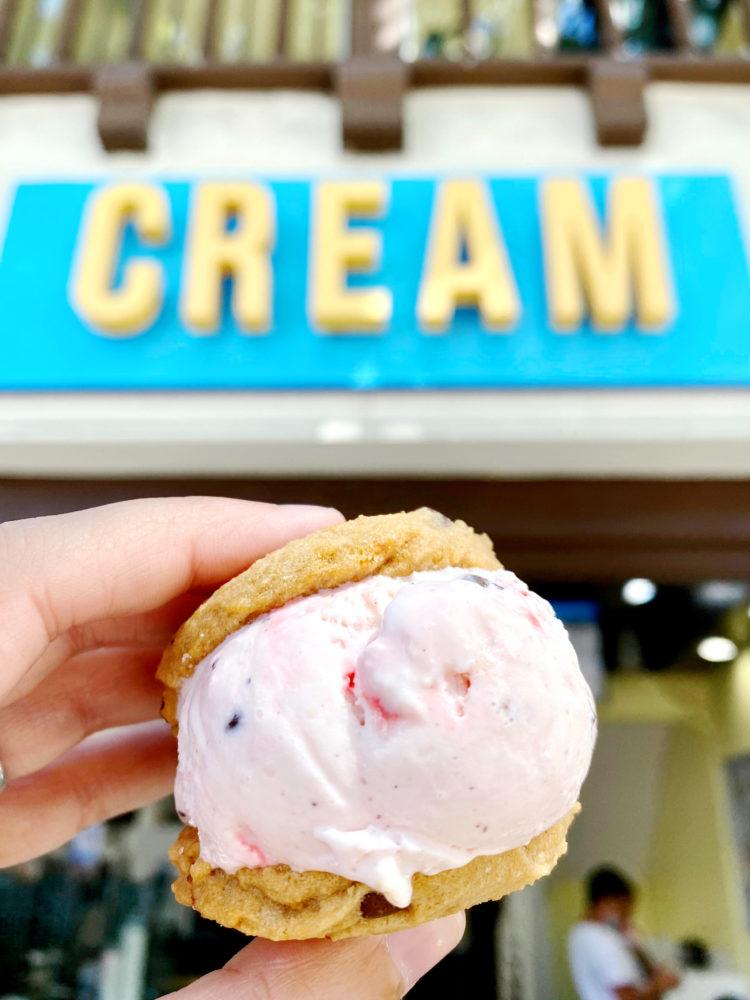 19. Salt and Straw: Originating from Portland, this modern ice cream parlor has made a name for itself in San Francisco, and I personally couldn't be more thankful (you should be too). The flavors change depending on the season and new variations are debuted each month, meaning each and every time you walk through the door there's a new flavor ready and waiting to blow your mind.
And plus, they're usually extra generous with their samples… which you know I take full advantage of. (2 locations – Pacific Heights + Hayes Valley)
20. Uji Time Dessert: Found in San Francisco's iconic Japantown, Uji is THE place to go for Japanese fusion desserts (and one of the best desserts in San Francisco in my opinion). And yes, I tend to find myself here too often….
Treat yourself to one of the many Japanese-inspired flavors (my favorites include black sesame, matcha, and purple yam), pile the deliciousness up in a taiyaki cone (I love the warm red bean filling), and top it all off with scrumptious toppings (I recommend the poki and mochi, they're absolutely to die for). (Japan Town) ✓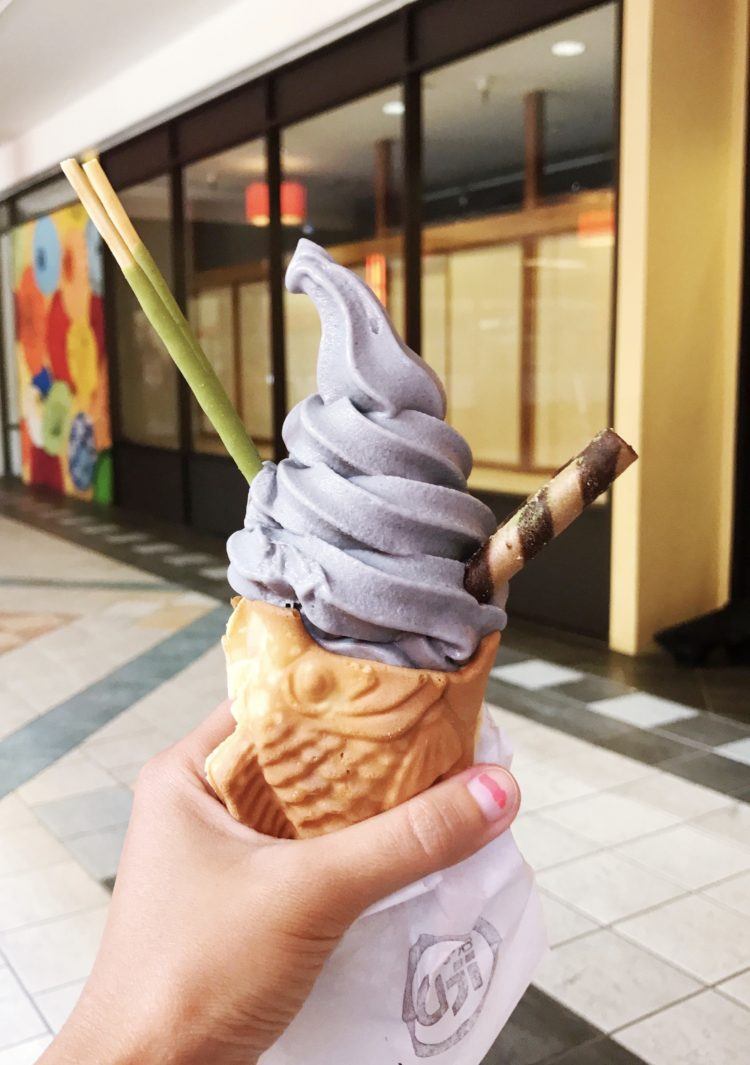 21. Milkbomb Ice Cream: Okay, imagine this: you take something as incredible as ice cream, and put it inside something as marvelous as a donut. Sounds spectacular? You're right, it's the best thing ever. Life-changing, out of this world, revolutionary – think I'm being dramatic? Try it yourself and get back to me. With tons of inventive flavor combos, you could visit every day of the week and never get bored. (Potrero Hill)
22. Powder Shaved Snow: Have you ever had Taiwainese shaved ice? After indulging in a HUGE serving during my time in Taipei, I was so glad to find a shop here in San Francisco. Powder puts a unique spin on classic ice cream, where you are served up delicious concoctions shaved from flavor-packed ice blocks.
The texture is beautifully light and fluffy, the flavor is plain irresistible, and the array of yummy topping really just tops it all off. Build your own snow – there's mango, black sesame, vietnamese coffee, and horchata flavors, complete with mochi, sliced almonds, red bean, fruity pebbles, and a sweet milk glaze among the many, many options. (Lower Haight)
23. The Baked Bear: A truly unique 'build-your-own' style ice cream sandwich bar, where YOU are in control of the layers, flavors, and toppings. If it's too chilly for ice cream you can even get it pressed, just be sure to eat it quickly while it's still mouth-wateringly warm and wonderful. Kinda like CREAM, but on steroids. (outdoor window in North Beach, cafe in Russian Hill) ✓
24. The Original Ghirardelli Ice Cream & Chocolate Shop: I couldn't have a whole list of ice cream treats in this massive guide to desserts and not include Ghirardelli. Yes, it's wildly touristy and typically over-crowded (and over-priced), but it's iconic SF. And damn yummy at that.
Share a sundae or two with some friends (my favorites being the Treasure Island Warm Brownie sundae and Painted Ladies Mint Bliss); they're extra sweet and extra filling. Too cold for ice cream? Order some world famous hot chocolate instead. (Fisherman's Wharf) ✓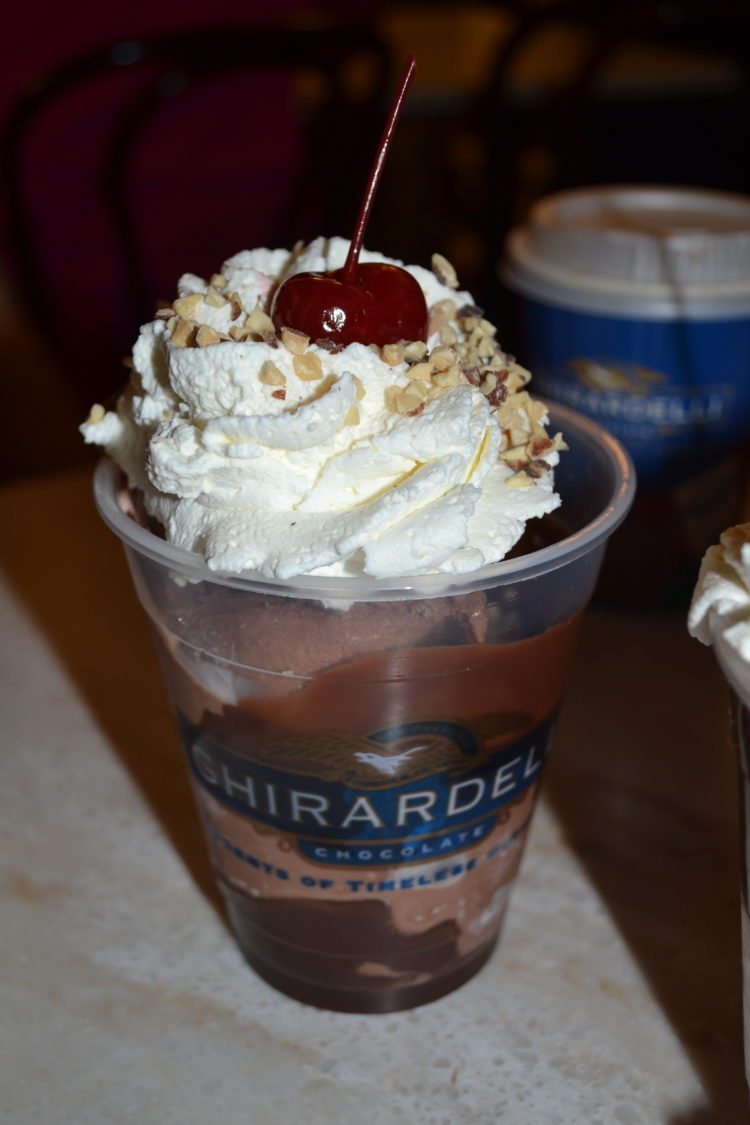 25. Little Giant Ice Cream: Cocktails? Absolutely love them. Ice cream? One of my favorite things in the entire world. Cocktail-flavored ice cream? Sign. Me. Up. Little Giant offers an intoxicating selection of cocktail-inspired flavors, from rich hot buttered rum to fruity whiskey mixes.
They even have pup cups – ice cream for dogs! Ok, so this ice cream trailer is actualllyyyy across the bridge in Oakland, but I couldn't leave it off the list. Unfortunately the location in SF closed a few years ago…. (Oakland)26. Souvla: Okay, so this isn't technically a dessert place in San Francisco. BUT they've got absolute best frozen greek yogurt I couldn't leave it off the list. If you wanna feel like you're taking a break from wandering around the Acropolis in Athens, order some Greek froyo with baklava crumbles and honey.
Literally the best, and I'm hooked on it. There's other toppings if baklava isn't your thing — like sour cherry syrup, Greek olive oil & flaky sea salt, and Cretan wildflower honey. Ugh just typing this makes me miss our Greek island honeymoon!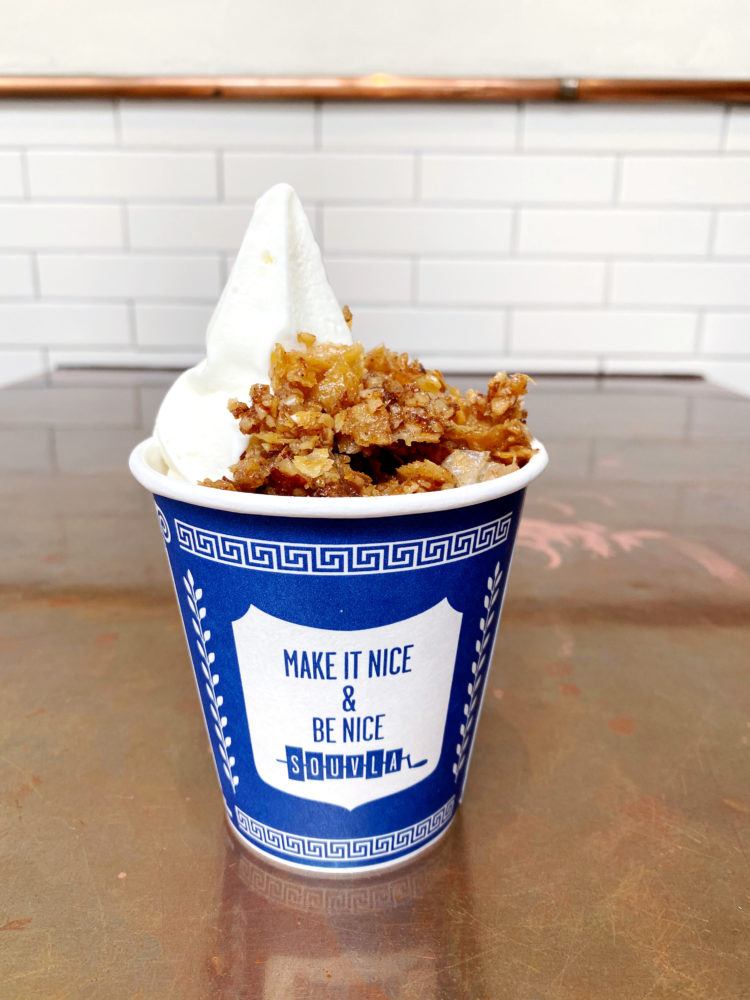 Bakeries in San Francisco
26. Mr. Holmes Bakehouse: Believe the hype, this place is gooood. If you're prepared to tackle a queue for the sake of delicious baked treats, then nibbling on one of this bakehouse's notorious cruffins is an absolute must. These pastries are so popular that you need to wait in line at 9am to even stand a chance of tasting one, but once you get a mouthful of that sugary dough it's just so worth it.
Psst – they open at 8am, but the cruffin's aren't done until 9. I've made that mistake a few times. Even if the cruffins are sold out, try some of the other sweet treats – my favorites are the strawberry dipped croissant, dragon fruit blossom curd, and the cornflake cookie. (Lower Nob Hill) ✓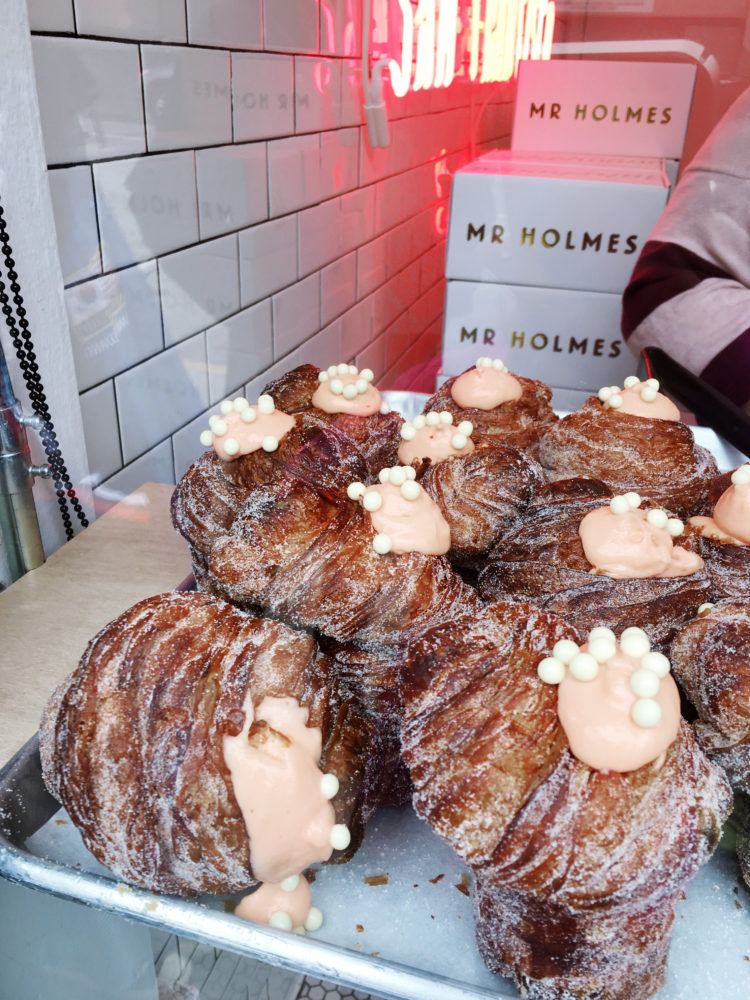 27. Fortune Cookie Factory: Visiting Chinatown? You absolutely should — it's one of my favorite neighborhoods in San Francisco! Don't leave SF without your own bag of the finest fortune cookies in the city. You can even watch the assembly line of ladies and men who fold and fill the cookies (yes, thousands per day, each by hand), and if you're nice, they may even throw you a warm sample. There's not much room inside, but still worth a quick stop.
28. Golden Gate Bakery: Try your luck at this iconic San Francisco bakery, which perhaps has the oddest opening hours out of everything on this list, if not the entire city.
There are no specified days or times where the bakery opens, and they are known for taking extended vacations, but if you do happen to find it open be sure to get some of their scrumptious egg tarts (allllmost as good as the ones I've had in Lisbon and Hong Kong)! (Chinatown) ✓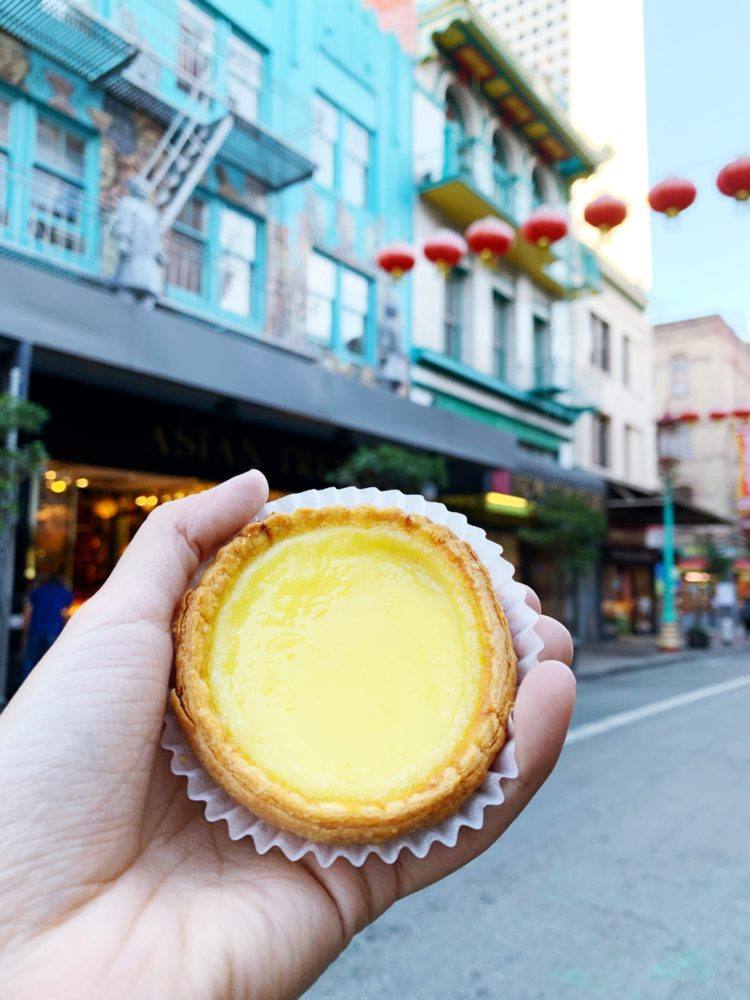 29. Tartine Bakery: I'm sorry, you haven't properly explored SF if you haven't stepped foot into Tartine just yet. Bread is the star here, so bring your stretchy pants. Here you'll find the best morning buns in the entirety of San Francisco, all crafted fresh each day with organic ingredients with super cute interiors.
If you miss the morning rush, grab one of their popular banana cream tarts, and then head back for another one once you realize just how ridiculously good they are… (Mission)
30. Stella Pastry & Cafe: Can you say holy cannoli?! Open and thriving since 1942, this charming bakery serves up fresh and authentic Italian pastries in the Italian heart of San Francisco, North Beach.
People flock from all over the city to get a taste of their iconic cannolis (me included), but if you're wanting the full experience you should definitely try out the Pasticiotti as well. We typically stop by after grabbing a slice from Golden Boy Pizza. (North Beach) ✓
31. Miette Patisserie: An adorable pastel haven filled to the brim with tasty Fresh pastries, offering gourmet baked goods and candy in one of the cutest cafes I've ever stepped foot in. The entire bakery is decorated in welcoming pastel shades, giving you the perfect backdrop to nibble on their delicious shortbread or perfectly crafted macarons.
Pro Tip: Visit between 6-7pm on weekdays for macaron happy hour at their Hayes Valley location (yes, it's a thing), when they're sold for only $1 a piece. (Hayes Valley + Ferry Building)
32. Le Marais Bakery: A fan favorite, with pastries to match. A delightful family-owned bakery that serves up tantalizing French treats and artisan pastries, all made with local and organic ingredients.
The handmade croissants are some of the fluffiest and buttery-ist ones I've ever tasted, and Le Marais offers baking classes to teach you exactly how to perfect this iconic French dish. One of the best desserts in San Francisco if you're looking for some delectable Parisian-inspired treats. (multiple locations, but my favorite is in the Marina). ✓
33. b. Patisserie: A modern bakery with an open kitchen that specializes in Parisian and Viennese-style pastries, they also have an impressive array of local American-style flavors and baked treats. I couldn't recommend the tartines enough, they're hands down one of my favorite desserts in San Francisco! (Pac Heights)
34. Sheng Kee Bakery: A quaint Chinese-inspired bakery offering a large selection of traditional pastries, cakes, breads, and warm drinks. You can load your tray up with as many pastries as you want before paying at the counter, but if you only have room for one it would have to be their delicious custard rolls. (Sunset)
Artisan Chocolates
35. Sixth Course: Offering a whole assortment of truffles and beautiful chocolates (made from scratch in the back), you won't be able to choose just one (or two). I've had the chai caramel, and am itching to head back for the passion fruit caramel and peppermint melt away.
They also have quite the selection of macarons and cakes, as well as a frozen case with hand-dipped gelatos pops, sorbettos, and semifreddos (they even sound fancy – haha) . I've had the "It Takes Two to Mango" and can say first hand it's well worth the hefty price tag of $14. (Mission) ✓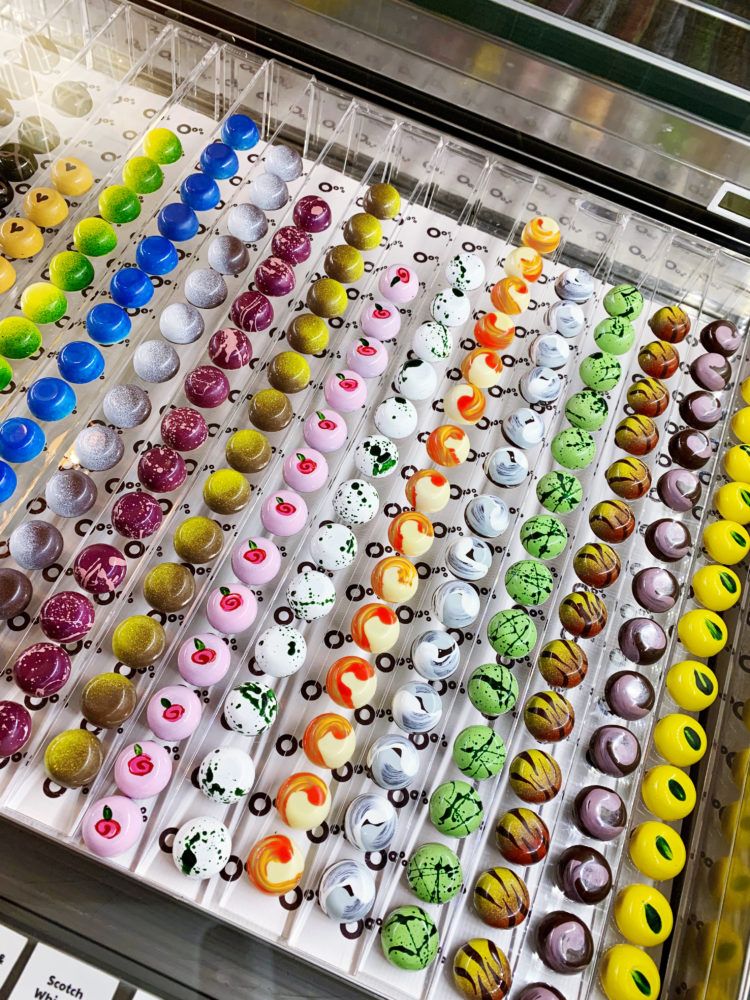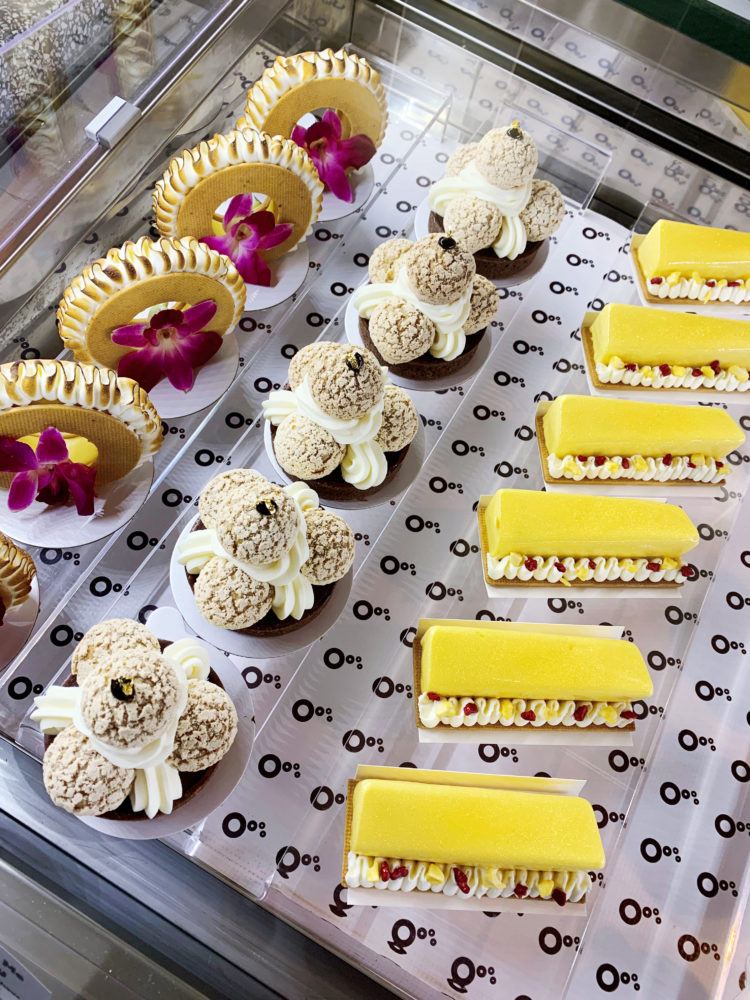 36. Dandelion Chocolate: A bean-to-bar chocolate factory and cafe in the Mission District that offers an interesting insight into the world of chocolate creation. The shop features an entire wall dedicated to (free!) tasting chocolates, which you knowwww I take full advantage of.
If you're looking for something absolutely delectable – get the drinking chocolate, and be sure to top it off with absolutely insane toasted marshmallows (I swear, they're huge!). (Mission) ✓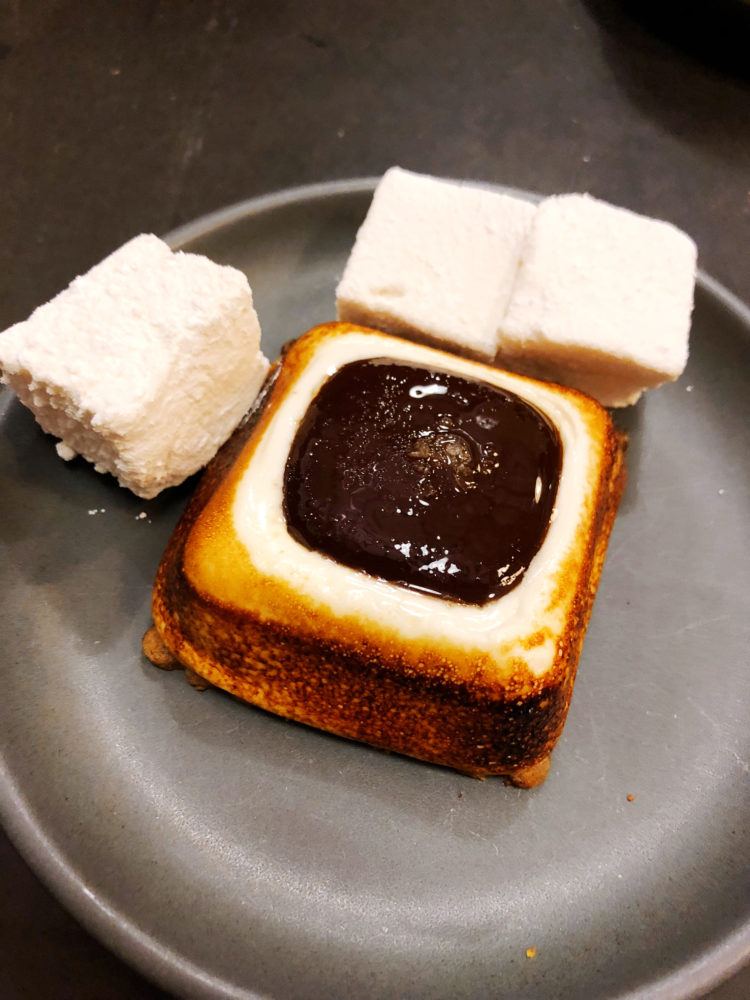 37. Christopher Elbow Chocolates: An array of artisan chocolates in a range of fun and inventive flavors, from creamy creme brûlée to dark coffee cardamom. I mean, just look at them — how perfect and pretty are they?! So hard to bite into because they're so cute! And plus, the signature chocolate bars make the perfect gift for just about anyone (or just as a lovely treat for yourself of course!). (Hayes Valley) ✓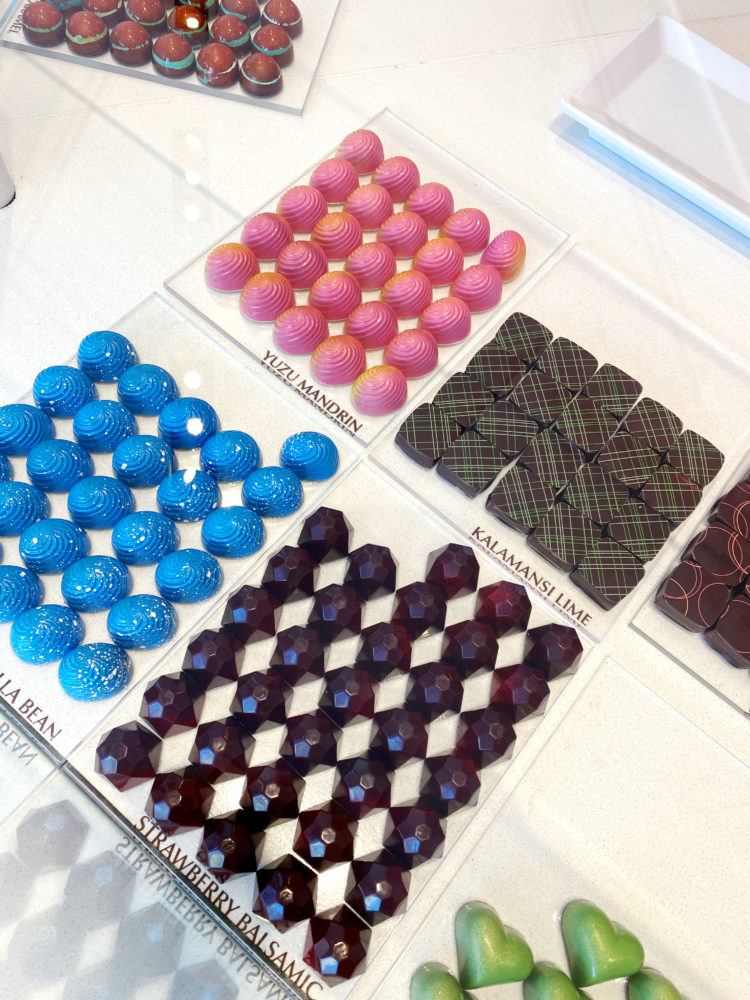 38. See's Candies: Chocolate gifts and candy treats that are bound to leave your mouth watering. Head down to the candy counter and craft your own custom mixed box, where you can choose from an array signature chocolates, truffles, nuts, lollipops, and a whole heap of candies. Not sold? They hand out full-size samples. Enough said. (multiple locations) ✓
Miscellaneous Treats
39. Zanze's Cheesecakes: A quaint bakery with a small menu of traditional cheesecakes, there are only a few flavor options but Zanze's make each of them ever so well. With such a small menu the bakery can really focus on making their sugary treats extra scrumptious, and there's just something so wonderful about the plain ole' classic and original cheesecake. (Balboa Terrace)
40. Original Joes: Two words – BUTTER CAKE. Okay, so this spot is actually an Italian restaurant in North Beach (ohhh the ravioli). BUT the butter cake is by far one of the best desserts in San Francisco, so I couldn't leave it off this list. My friends have been gushing about it for ages, and once I tried it, I finally understood the ridiculous obsession.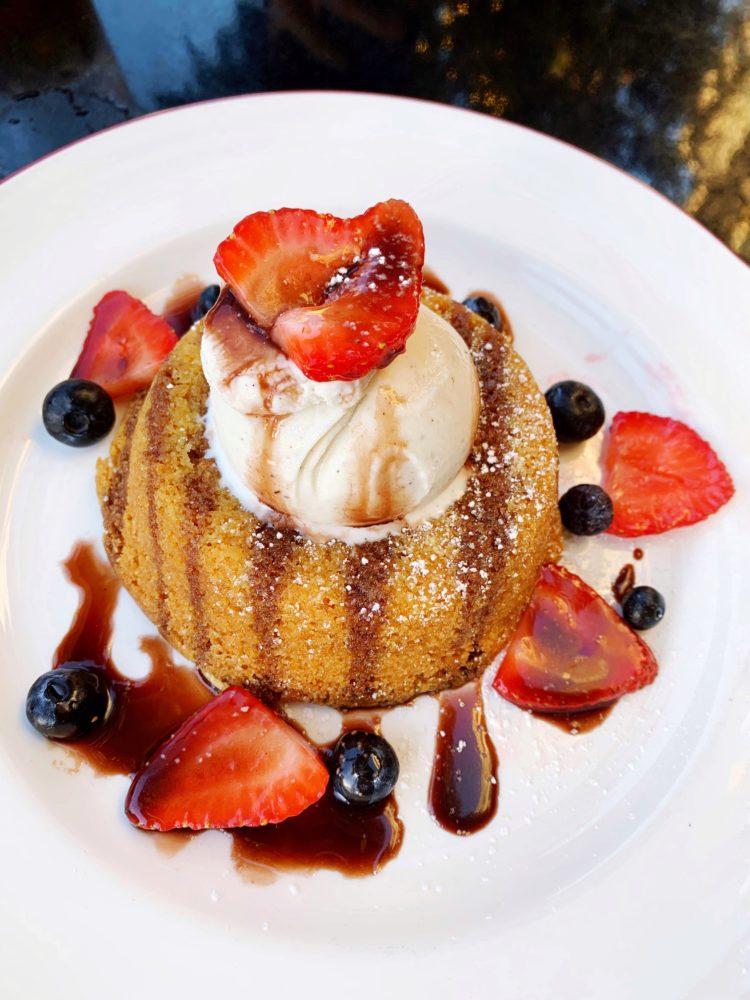 Imagine warm butter cake with a scoop of vanilla gelato on top, fresh berries, and chocolate sauce – mmmm. And one of the main ingredients – butter, of course. An absolute must-have. It's definitely for sharing, as it's super rich and a bit heavy. Psst – there's a location in Daly City if you find yourself on the peninsula. (North Beach)
41. Beard Papa: Chain of cream puff stores found around San Francisco that sell some of the tastiest treats in the entire city (arguably even the entire country), where in store you have the option to custom build your cream puffs with different shells and fillings. Somehow not tempted by the puffs? Then have a sip on a signature custard cream drink instead. (Yerba Buena) ✓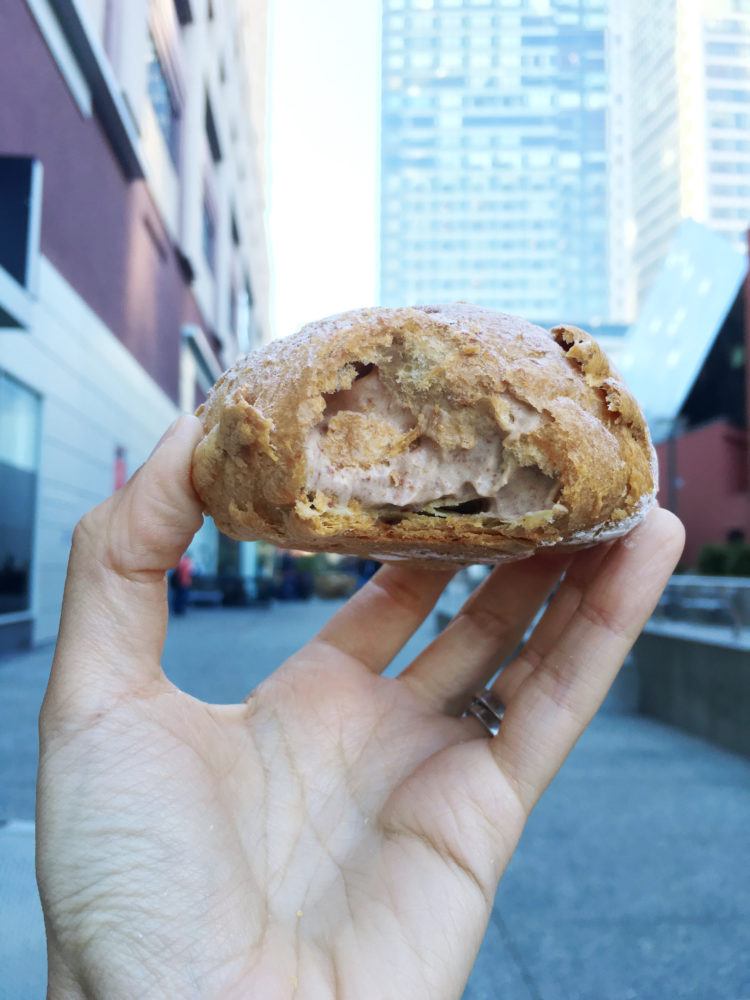 42. Anthony's Cookies: The go-to spot for reliably scrummy cookies in San Francisco, where inside you'll find a wide selection of irresistible flavors from classic chocolate chip to gooey peanut butter. Not in the mood for cookies? Anthony's also offers to-die-for candied pecans and walnuts. (Mission)
43. Hot Cookie: Now this is a bit of a cheeky one! Hot Cookie is notorious for selling raunchy and erotic shaped baked treats, their main attraction being a large phallic-shaped cookie. If you can manage to stop giggling, underneath the suggestive exterior the cookie is actually quite yummy! (Castro) ✓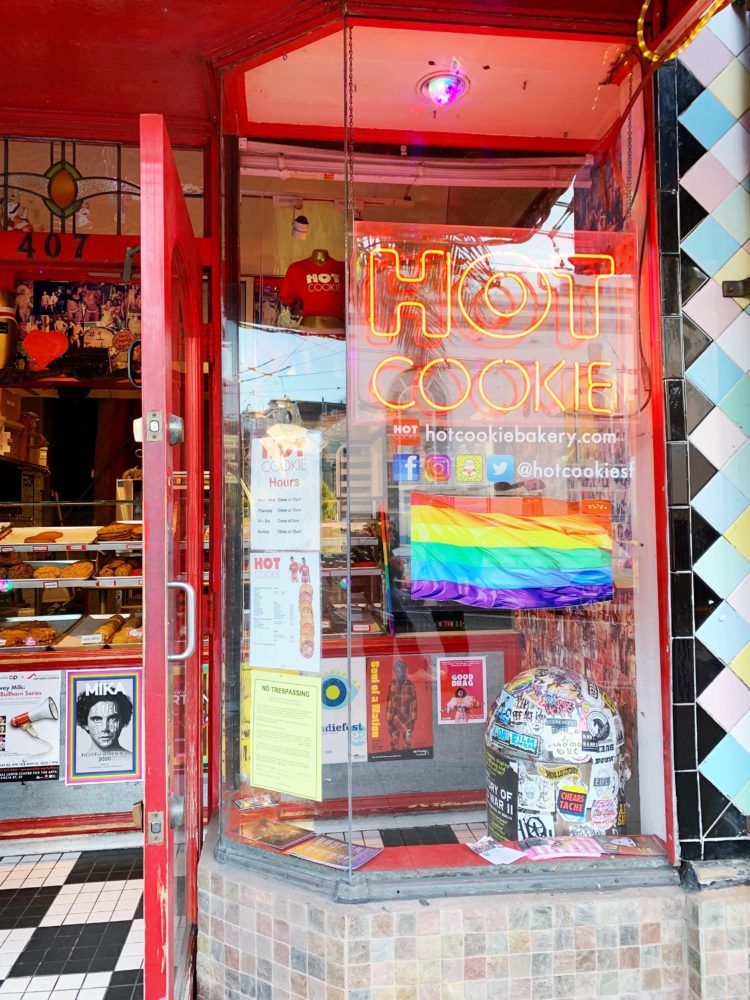 44. Minamoto Kitchen: Authentic Japanese confectionary shop that is centered around mochi. The prices are a tad steep, but after you've had a bite of the flavorsome and high-quality mochi it'll all seem worth it. Aside from mochi, Minamoto Kitchen also does a mean oribenishiki (a traditional bean cake). (Union Square)
45. U-Dessert Story: Over-the-counter desserts influenced by Korean, Japanese, and Thai cuisine. These Asian desserts are bound to have you coming back for more, with specialties such as gooey chocolate matcha lava cake, delectable bingsu, and sticky mango rice toast. (Mission and Marina)
46. Belly Good Cafe & Crepes: Crepes are one of my favorite desserts in the entire world, and this charming cafe somehow makes a dessert already so perfect even better; each crepe is sculpted to look like an adorable animal, with tiny chocolate eyes and floppy ears. The only issue with this place is that the crepes are sometimes just too cute to eat, and they do get quite messy if you take too many photos like I do (haha)! (Japan Town) ✓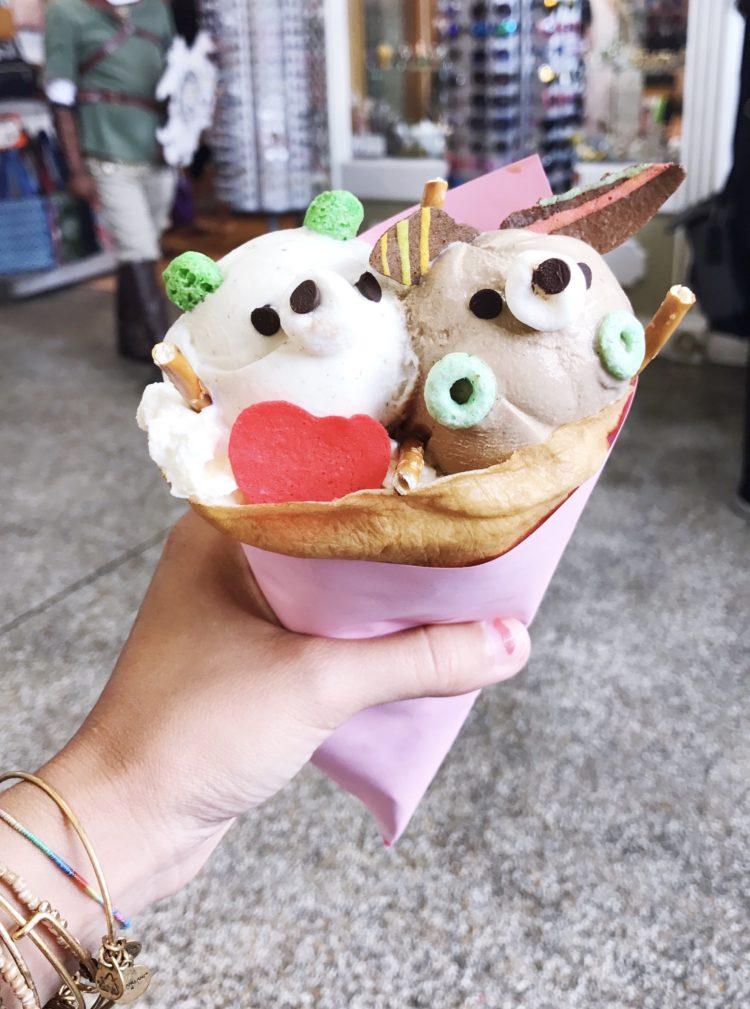 47. Sift Dessert Bar: A modern dessert bar offering a beautiful selection of cupcakes, macaroons, cookies, cakes, ice cream, and cruffles. Basically, if you're craving something sweet but you don't know exactly what, then you're bound to find something that tickles your fancy here (try a whoopie cookie!). And the branding is just oh so cute! (Pac Heights)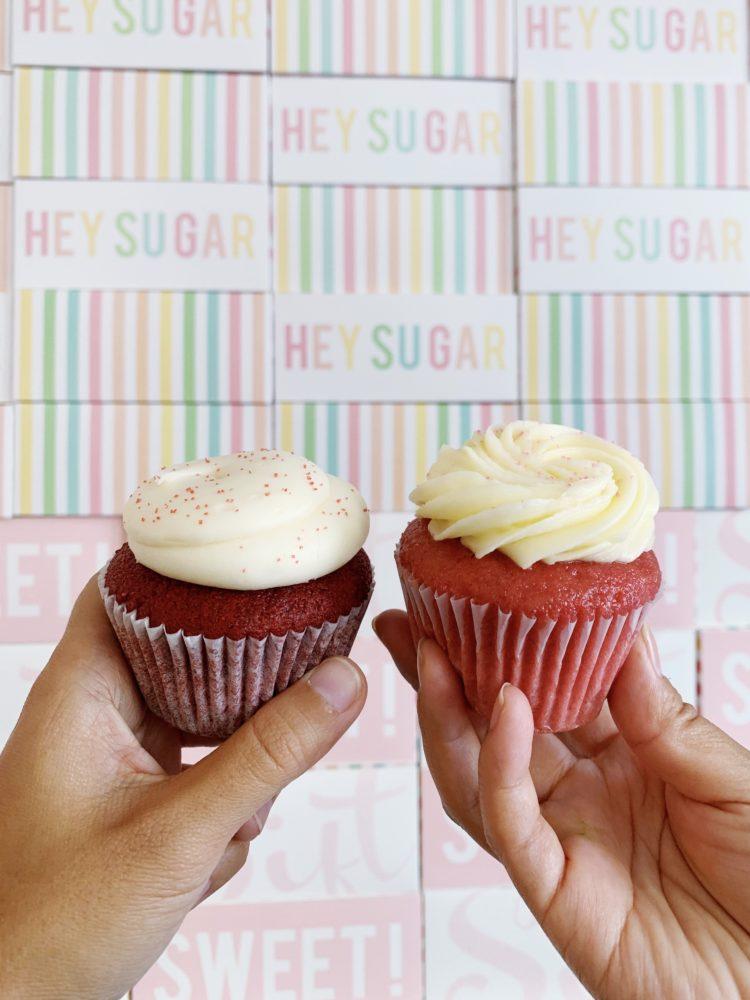 48. Loving Cup: Rice pudding has never tasted so damn good! And plus, it's a super fun change from ice cream! Choose a few toppings – including cinnamon, oreos, bittersweet chocolate, and toasted coconut raisins. Loving Cup makes their rice pudding with only 6 ingredients, and bonus- they're all-natural. Helllooo comfort food.
If the rice pudding somehow doesn't intrigue you, the shop also has some absolutely irresistible frozen yogurt (but you can get that anywhere). My suggestion – come here for the rice pudding. (multiple locations)
49. Chantal Guillon Macarons: Some of the best macaroons in the entirety of San Francisco, made fresh each and every day with a huge range of flavors. You can put together your own assortment box of different flavors, from juicy passion fruit and raspberry to rich red velvet and dark chocolate. (Hayes Valley) ✓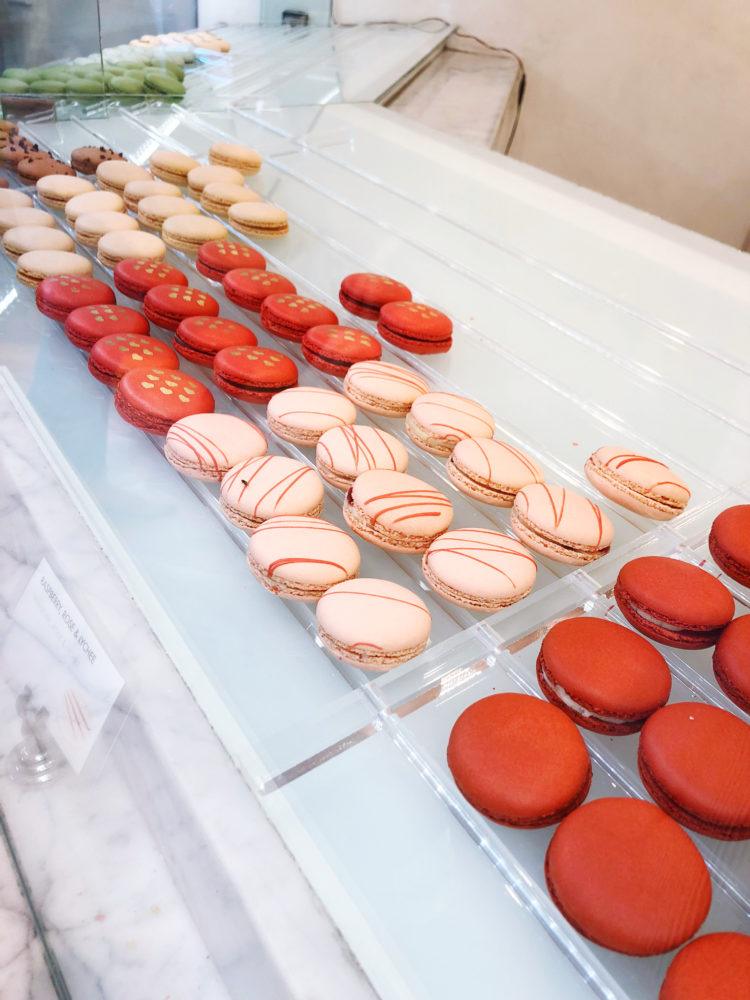 50. Kowloon Tong Dessert Cafe: This small cafe brings a taste of Hong Kong to the streets of San Francisco, serving up delightful sweet and savory snacks. Satisfy your sweet tooth with sago ice cream and egg puffs, or fill yourself up on spicy popcorn chicken and fried noodles. (Richmond)
51. Bambu Desserts & Drinks: A whole bunch of dessert drinks that are bound to satisfy your sweet tooth, all prepared in store with fresh and organic ingredients. You can choose from the expansive set menu of chè, coffee, and tea, or create your own unique drink just the way you like it. (outer Richmond)
52. Boba Guys: Boba is a Taiwanese tea-drink that contains flavored tapioca pearls, and if you know me at least a little bit, you know just how obsessed with the stuff. I typically stick with my regular – black milk tea with boba, 25% sweetness – however, I sometimes try their fruity options, which typically change depending on the season. Build your own individual beverage, or choose one of the divine options on the set menu. (multiple locations) ✓
53. Bitchin' Baklava: Baklava is a middle eastern dessert crafted with a unique blend of dough, nuts, sugar, and spices, and at Bitchin' Baklava they make sure their desserts are made with the finest ingredients possible. You can really taste the mouth-watering pistachio, honey, and cinnamon inside their bakes, which they sell by the pieces on Sundays (or every day at the Simple Pleasures Cafe down the street!). (Richmond)
54. Chalos: In this cozy cafe the desserts and atmosphere are always warm and welcoming, making the mood inside perfect for chowing down on one of Chalos' specialized churros or empanadas. There are plenty of varieties available, from the classic 'carne' to the cheesy 'tres quesos'. And whatever you do, get the dulce de leche dipping sauce. It's one of the best things I've ever put in my mouth. (Sunset)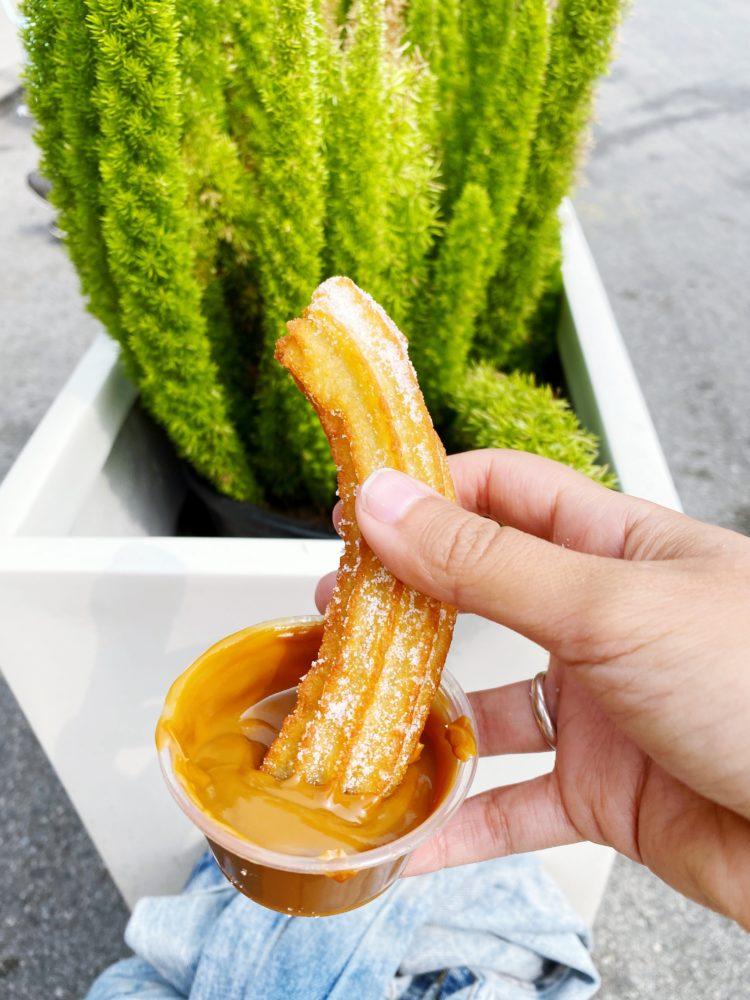 Have you visited the city before?! What are some of the best desserts in San Francisco that you've tried?!
pin it for later!