Headed to Hawaii and looking for a Maui itinerary that'll show you the best of the best of the island? Keep reading for the perfect 5 days in Maui, which will cover everything you need to know and then some!
Imagine sunrise at Maui's famous volcano, snorkeling with sea turtles, a drive down the famed (and for good reason) Road to Hana, and more shave ice than you ever thought possible.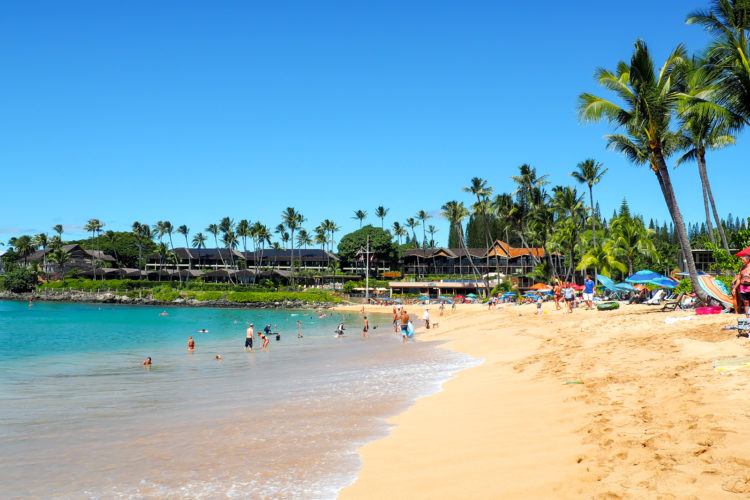 Maui (and Hawaii in general) is a place I could revisit time and time again. And lucky you, I've not only compiled all of my best island tips, but I've perfected the most varied Maui itinerary you can imagine.
The island is full of white (and black) sandy beaches, dolphins and sea turtles playing in the water, mouth-watering food (fresh fish, anyone?), and you can't forget about that cool cool island breeze. I'd go back tomorrow in a heartbeat if I could.
There's just something about island life that really calls to me. Maybe it's the fact that I can literally wear sundresses, bikinis, and sandals everyday, or the fact that the sea turtles and tropical fish are just steps away (once you get into the ocean of course).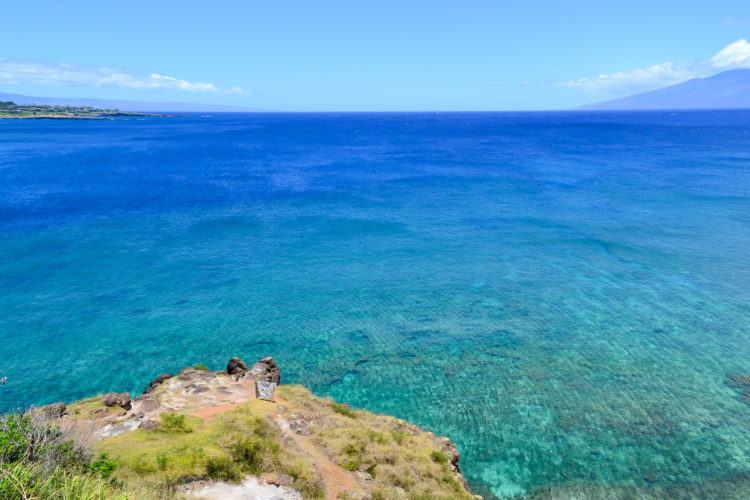 And with over 275 sunny days a year, Maui's weather is truly hard to beat (okay, maybe it rivals that of Orange County or San Diego, but who's counting)?
And thankfully, now that we live on the West Coast, Hawaii is like our new Caribbean, and we aim to visit at least once a year. Fiiiiine by me. 🙂 We've recently spent a few days in Kauai, and I'm still telling everyone how I celebrated my 30th birthday by jumping out of a plane and eating everything in sight in Oahu.
Island Hopping in Hawaii: Planning on doing some island hopping? Check out these additional resources:
So pack up your swim and snorkel gear, start looking at flights to Hawaii, and use this Maui guide to craft your perfect 5 day Maui itinerary! But first, a whole lotta logistics:
Logistics for your 5 days in Maui
When to Visit Maui
Thankfully, there's not really a bad time to visit Maui, as the weather is pretty much fantastic no matter the month. The warm tropical climate is consistent year round, and you'll find daytime highs in the mid-80s in the summer, and daytime highs in the mid-70s during the "winter" months.
If you're looking for dry weather, avoid visiting between November through March, as this is when Maui receives the majority of it's rain. Thinking of visiting then? Don't fret – rain showers are short, usually only lasting for a few minutes, and then bringing back the clear skies and sunshine. And plus – that's prime time for rainbow spotting!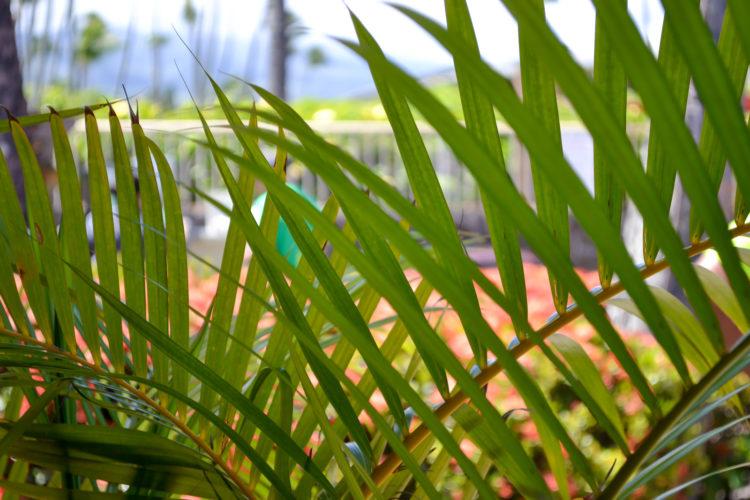 Looking to save a bit of money (aren't we all)?! Visit Maui in either the spring (late March – May) or fall (September – early November). You'll likely be able to find deals on accommodation, as well as experience less crowds.
Hoping to catch a glimpse of those majestic humpback whales migrating down the Pacific from Alaska? From January – March, Maui is the best spot in the states to observe this migration.
How to Get to Maui
So here's the thing: getting to Maui can be pretty expensive. Unless you're coming straight from the West Coast, most flights will have a layover in Honolulu (on Oahu), but don't let that deter you. Maui's by far our favorite island, just trust me on that!
When you fly into Maui, you'll be heading into Kahululi Airport (code OGG). Make sure to look out the window upon descent — the turquoise waters will blow you away before you even touch land.
Flights from SFO (San Francisco) to Maui are roughly 5 hours, 20 minutes, with the flight from LAX (Los Angeles) being slightly longer at 5 hours, 40 minutes. I normally find flights from the West Coast to Hawaii for approximately $450, although I've seen them offered as low as in the $300's roundtrip.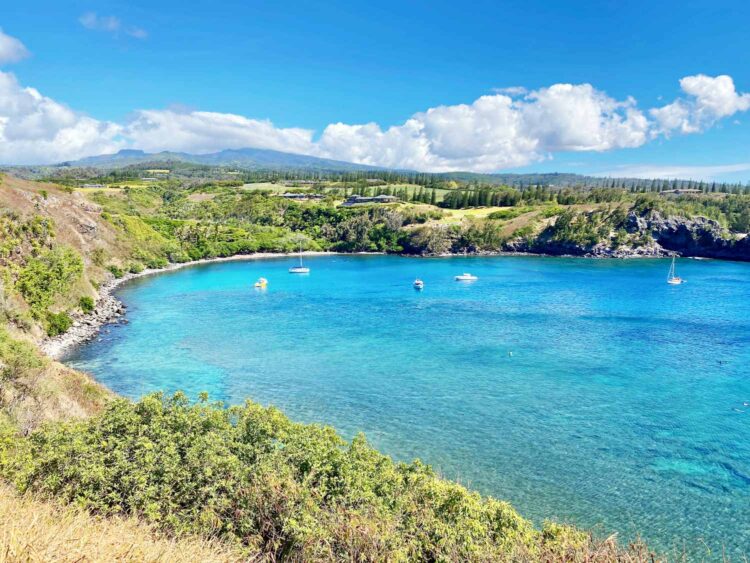 A few tips for saving on airfare:
I swear by Skyscanner and Google Flights, and always always always use these two sites when looking for airfare. The option to watch prices and get email notifications are top notch and one of my favorite features of the two.
Always check budget airlines that may not be listed, especially if you are coming from other areas in the states with short flight times (think LAX and SFO). A great list of budget airlines can be found here.

And now that Southwest has routes from California to Hawaii, flight prices have gotten even more competitive. Look out for those $200 round trip tickets from the west coast (they go fast so snag them up as soon as you see them)!
Do some flight comparisons. You may want to first check prices from your home airport directly to Maui, and then compare those with the flight prices to SFO/LAX and then onto Maui from there. Sometimes it may be worth it to fly into California first.
Not only will you possibly save a few pennies on the flights, but you can spend a few days in California (while adjusting to West Coast time zone, ultimately helping with jet lag in Hawaii) and get two trips outta one!
Where to Stay on Maui
On Maui, you'll find a wide range of accommodations, including high-end fancy schmancy resorts (with multiple pools and restaurants on site), trendy, boutique hotels, the cutest bed and breakfasts you've ever seen, and lots of vacation rentals.
There are accommodation options all over the island, including Kapalua, Kaanapali, Lahaina, Kihei, Makena and Wailea. Note that if you're hoping to break up the Road to Hana into two days, there's only one resort in Hana in East Maui, the Travaasa Hana (best to book this ASAP).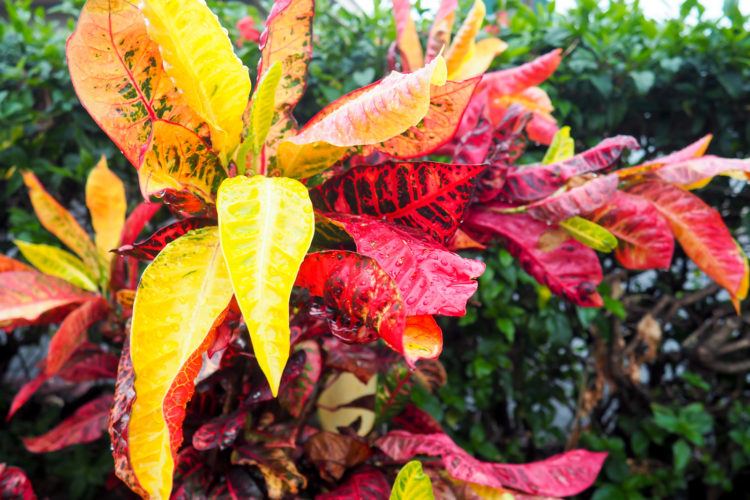 The bulk of the visitors to Maui stay in either Kaanapali, Lahaina, or South Maui (Kihei or Wailea), which is where the majority of the high-end resorts and rentals are.
West Maui: Kaanapali and Lahaina
Kaanapali and Lahaina are resort communities in west Maui, roughly 10 minutes apart. You can get a place there and essentially never have to leave the area. And plus, this side of the island boasts some of the most beautiful beaches on the island, in my opinion (check out the photos of Napili Bay below).
However, there's not much nightlife as things close early, so our dinners were our primarily "activity" come night time. We found this totally fine because by the end of the day we were downright pooped! In addition, because of it's high popularity, the streets, beaches, and restaurants are usually fairly crowded, especially in high season.
We've stayed at both the Aston Kaanapali Shores (absolutely loved the pool and garden area) and the Kaanapali Beach Hotel (fantastic budget option super close to famous Black Rock beach). We've also stayed in vacation rentals Maui a few times when we knew we'd be out exploring (and not taking advantage of resort amenities) each day.
Recommended Hotels in Kaanapali: Aston Kaanapali Shores | The Westin Maui Resort + Spa | Hyatt Regency Maui | Sheraton Maui Resort + Spa
South Maui: Kihei and Wailea
In Kihei you'll find plenty of laid-back condo rentals and hotel options for those more on a budget (~$100-200ish). Like West Maui, Kihei has tons of restaurants, stores, and supermarkets that are all within a few blocks of each other and easily accessible by foot.
Kihei in general is more of a local's beach town, so you'll find less tourists and more peace and quiet for the most part. Do note that you'll most likely have to drive 5-10 minutes to find beaches suitable for swimming and snorkeling. But because of its central location between Lahaina and Wailea, breathtaking beaches aren't too far!
Recommended Hotels in Kihei: Maui Coast Hotel | Nona Lani Cottages | Maui Beach Vacation Club (condo rentals)
Wailea is known for its massive five star resort destinations, which often come with a hefty price tag. However, like Kihei, the area is much more laid-back than lively Lahaina and Kaanapali, and thus there's not as many activities nearby. If you're looking for a more quiet and luxurious upscale place to stay, choose Wailea.
Recommended Hotels in Wailea: Hotel Wailea (Adults Only) | Four Seasons Resort | Andaz Maui | Grand Wailea
How to Get Around Maui
Maui is a larger island than you may think. If you plan to drive the Road to Hana, head to Paia, and/or catch the sunrise at Haleakala sans tour, public transport just won't cut it. Planning on following this Maui itinerary? You'll undoubtedly need to rent a car.
I like to search via this site in order to compare rental companies to see who has the best price. Feeling a bit extra? Splurge on a convertible or an open-air jeep – this is Hawaii afterall! Treat yo-self!
Search for the cheapest car rentals over here!
Realllllly don't wanna rent a car? Thankfully, Maui had a pretty decent bus system, but unfortunately, it's pretty time consuming and doesn't go everrryyyywhere. Rates are $2 per ride and $4 for a day pass. See this site for bus maps and rules: co.maui.hi.us.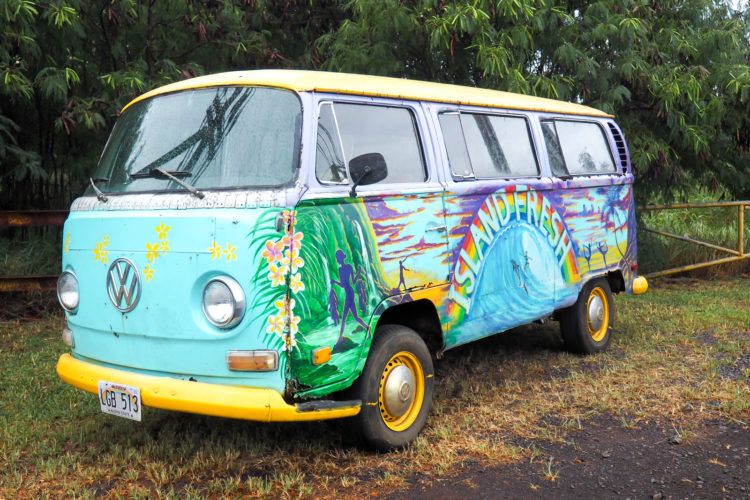 Note that the bus does not go up to Haleakala Volcano (you could take this tour though), and it doesn't drive out to Hana (opt for a tour similar to this one), which are both imperative on any Maui itinerary in my opinion.
If you're strongly against renting a car (which I'm not really sure why not…), please oh please sign up for tours as you'd REALLY be missing out on two absolutely necessary Maui must-do adventures.
Although the public bus system does in fact make the trek out to the airport, you'd be better off getting an airport shuttle at the beginning and tail end of your trip when flying out since the regular bus doesn't allow any luggage (unless you can hold it on your lap!).
Also, there are transfer companies to get you from the airport ot your hotel/condo/vacation rental, but by the time you pay that twice, you could pay for a rental car for the duration of your 5 days in Maui.
Maui Packing List
When packing for your trip, you wanna make sure you've got all the right clothing and gear for everything you've planned for your Maui itinerary. Think about the activities you'll be doing, and prepare for those!
Everyone will need their typical everyday clothing (shorts, t-shirts, tank tops, etc). A few pairs of shoes is a good idea — I recommend bringing a pair of flip flops, sandals, dressy shoes (for a nice dinner out), and sneakers/hiking boots if you're planning on doing some hiking.
Women's Packing List: You'll obviously need all your favorite beach attire, including bathing suits (buy a few new ones!), beach cover-ups, loose cotton dresses, a cute sun hat, casual and dressy sandals,
Psst: Women — If you're planning on taking a surf lesson, be sure to pack a bathing suit that stays put and has good support. You don't wanna fall out if you accidentally wipe out! :p
Men's Packing List: Be cool and casual during the day (my husband loves short sleeve button downs for a more polished look), but be sure to check the dress code for any restaurants you really wanna go to. Men might need pants and dress shoes to enter.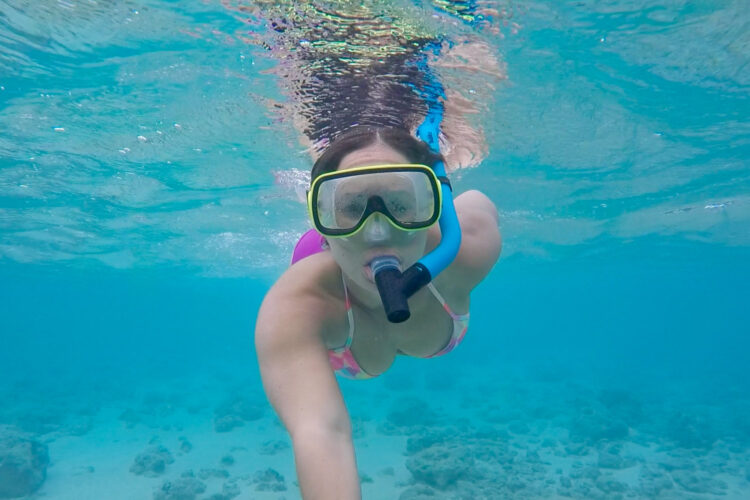 Other Miscellaneous Items to Pack for Maui
An Important Note on Hawaiian Wildlife
One of the big draws of any trip to Maui (and Hawaii in general) is the possibility to see wildlife. Think plenty of tropical fish (including Hawaii's state fish, the humuhumunukunukuapua'a – and yes, that's how it spelled), sea turtles (both in water and resting on land), dolphins and humpback whales jumping in and out of water, and wild boar (be careful when driving on remote roads).
PLEASE keep wildlife WILD. NEVER attempt to chase/touch/pet/feed ANY wild animal. This can potentially do harm to these beloved creatures, and possibly cause unnecessary distress.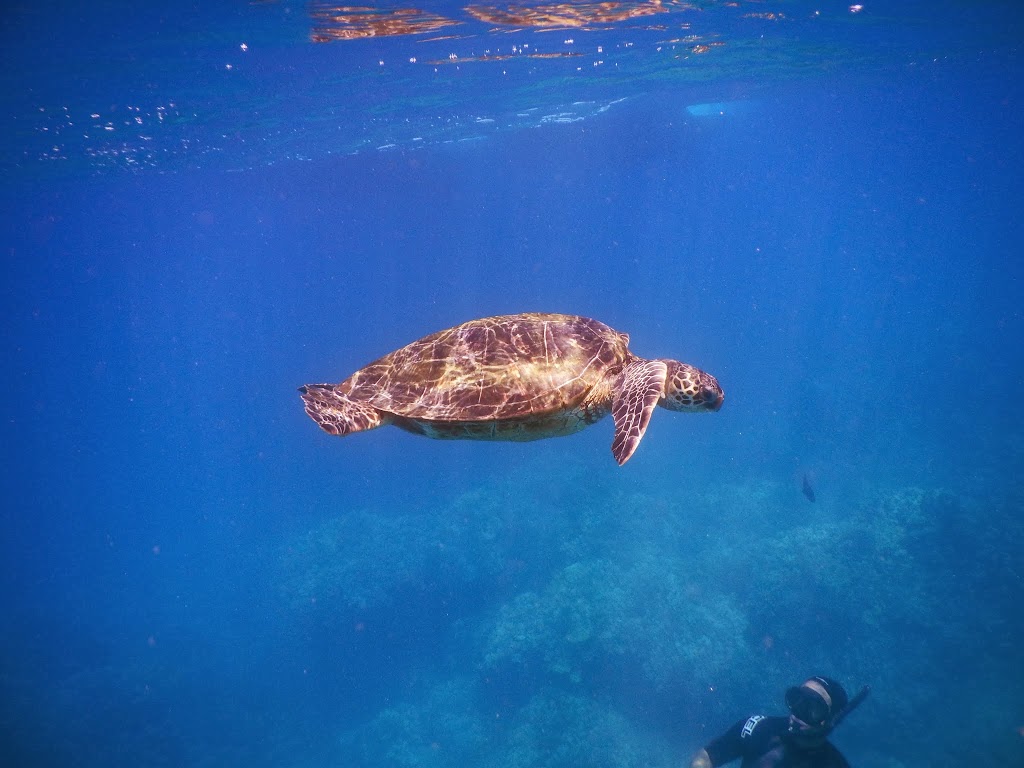 Always stay at least 100 feet from any animal you encounter, and when snorkeling, NEVER touch/chase sea turtles (it's actually a crime, and you can get a hefty fine) or any other fish/dolphin you may come across. Get your photos, but NEVER do it at the expense of the animals.
And while we're on that note – shy away from plastic straws and other unnecessary plastic when on the island (it'll most likely end up in the ocean). If you buy a pack of drinks (whether it be POG juice, beers, etc), always make sure to cut up that silly plastic holding all the drinks together. Thank you. 🙂
And now what you've been waiting for, a complete 5 day Maui itinerary!
Maui Itinerary: The Perfect 5 Days in Maui
Day 0: Fly into Hawaii!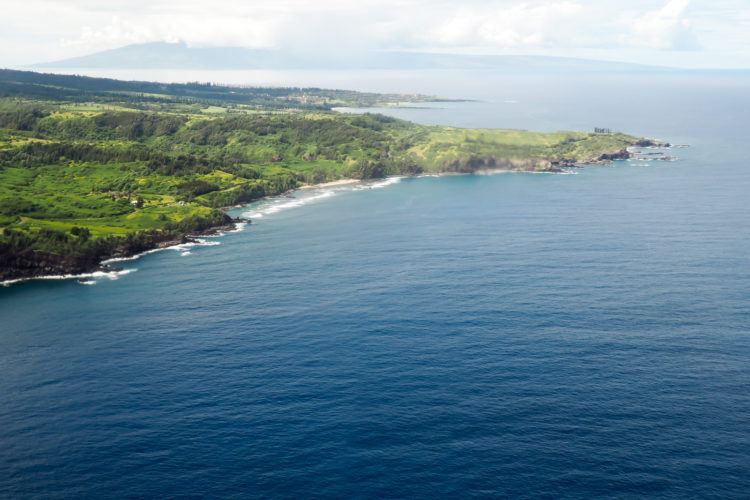 As noted above, I 98% have the best luck scoring "cheap" flights to Hawaii using either Skyscanner or Google Flights. "Cheap" is in quotes because I can never seem to find any flights below $400 for our travel dates, but that's probably because we either go during a holiday weekend and/or don't have the option to travel mid-week.
I've seen offers for as low as $300ish from LAX or SFO, so if you've got more flexibility, you may just get lucky! I also heard that Southwest has a new flight route from SFO to the Hawaiian Islands, so be sure to check that out as well!
Important Note: Many of the mornings on this Maui itinerary start in the early AM. While I highly suggest you experience the restaurant nightlife, I also recommend getting a good night's sleep each and every night. And with the Hawaiian sun beaming down on you all day, I have a feeling that falling asleep each night won't be a problem.
Day 1: Sunrise at Haleakala Crater, then Beach Time
On our first official full day in Maui, we're waking up at 2am! Yup, you read that right – 2 o'clock in the morning, my friends. Sure, the super early morning wake up call won't be much fun, but trust me, sunrise at Haleakala is worth it. And then some.
Imagine watching the sunrise above clouds from an active volcano. Mystical. Intoxifying. Other-wordly. Exactly my point. Haleakala does in fact mean "house of the sun", so you can be positive that view will be worth waking your butt up for.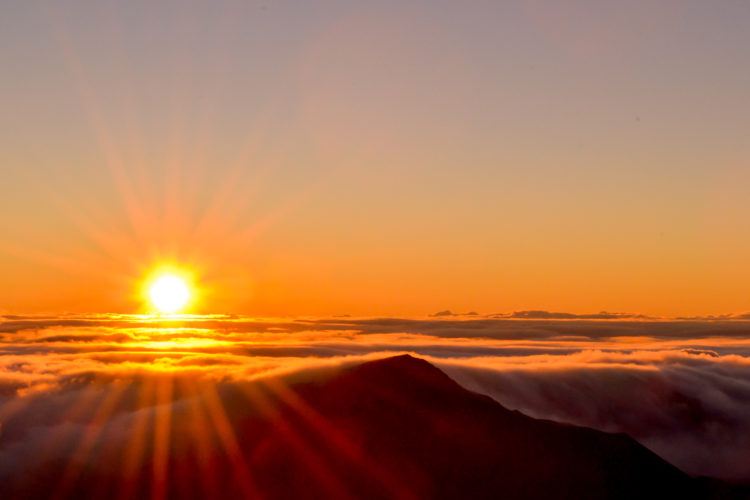 Why sunrise on the first day? Depending on where you're coming from, you'll most likely have a case of major jet lag. Use this to your advantage! If you're flying in from the East Coast USA, 2am will actually feel more like 8am. Not so terrible now, am I right?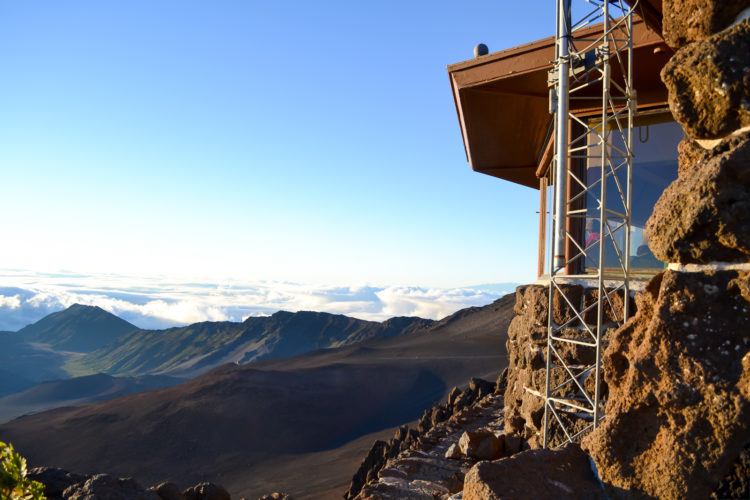 Sunrise at the Haleakala summit is super popular, so arrive at least 30 minutes before sunrise. (Check exact sunrise times here – bottom of page, but know that the sun rises between 5:30am – 7am depending on the time of year.) You'll have to drive the winding 38 mile Crater Road in the dark, so plan to leave even earlier than you think.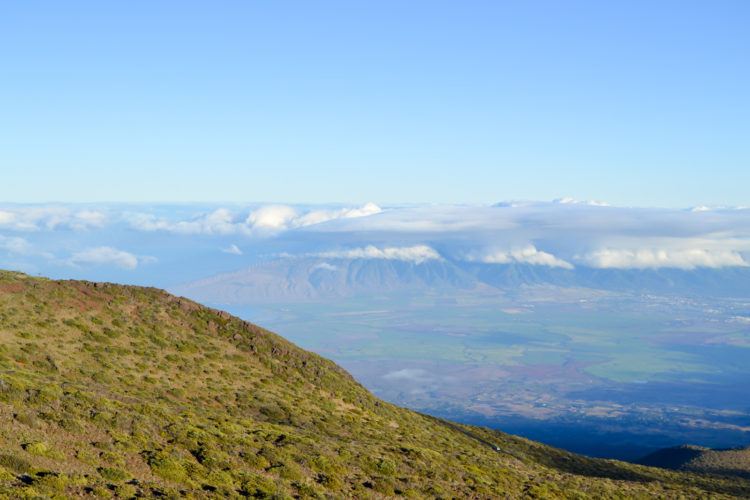 Note that since sunrise at Haleakala has become so incredibly popular, you now need to make reservations in advance. Individual spots can fill up quickly since there are only 150 parking spaces available. Make reservations here or take the easy way out and book with a certified tour operator (who takes care of your transportation to and from the summit as well as any documentation/advanced reservation requirements).
Read Next: How to Score Sunrise Tickets to Haleakala!
And once sunrise hits, don't leave right away! You'll want to hang around the summit and Haleakala Visitors Center in order to get some great photos – the colors of the valley become more vibrant about 15-20 minutes afterwards. If you decided to make the grueling long drive yourself, grab some hot cocoa from Kula Lodge before you leave the area.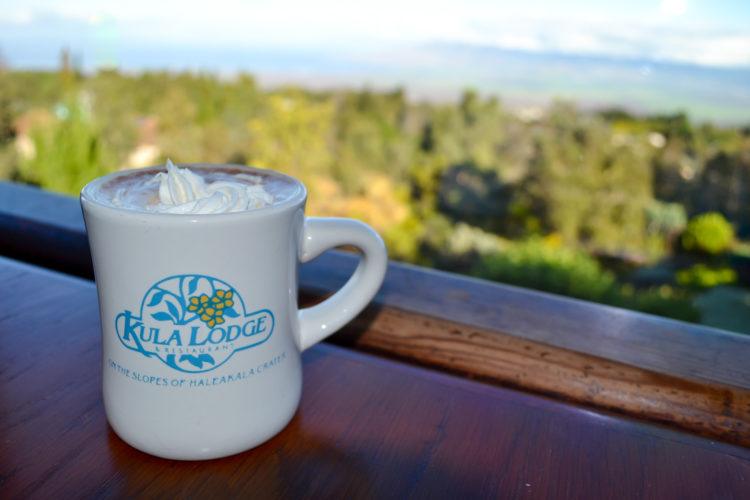 Word of advice: Bring Warm Clothes. Yes, it's Maui, but the temperature drops about 3º for every 1000 feet of elevation, meaning it'll be about 30º colder than at sea level from where most people watch the sunrise. I didn't bundle up enough and I was freezing my butt off.
Take a scarf, alllll the sweatshirts you brought with you, your hotel blanket if you're feeling a bit extra, and layer, layer, layer. You'll thank me later when you're standing there comfortably watching the sunrise at 9,740 feet.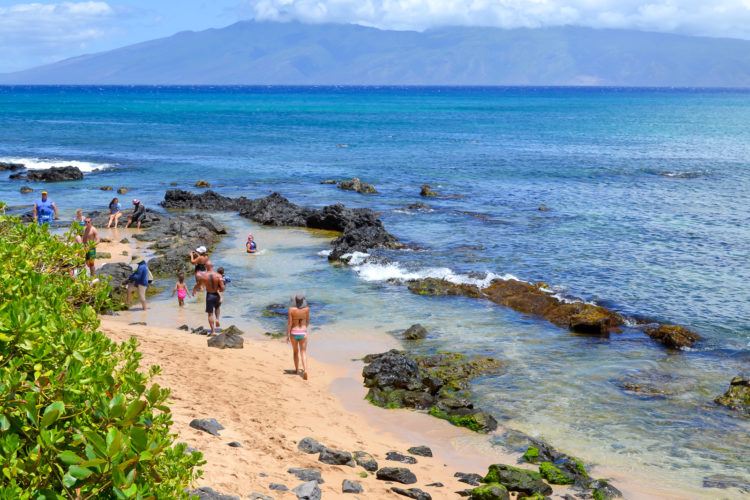 Spend the rest of the afternoon taking it easy and relaxing at the beach, be it Kihei, Kaanapali, Wailea, etc. No matter where you're staying on the island you'll find sandy spots and ocean waves nearby.
If you want something low-key to do at night, book yourself on a sunset catamaran dinner cruise. Truuuust me, that Maui sunset is like no else, especially from the water. And how cool would it be to see the sunrise and the sunset in the same day?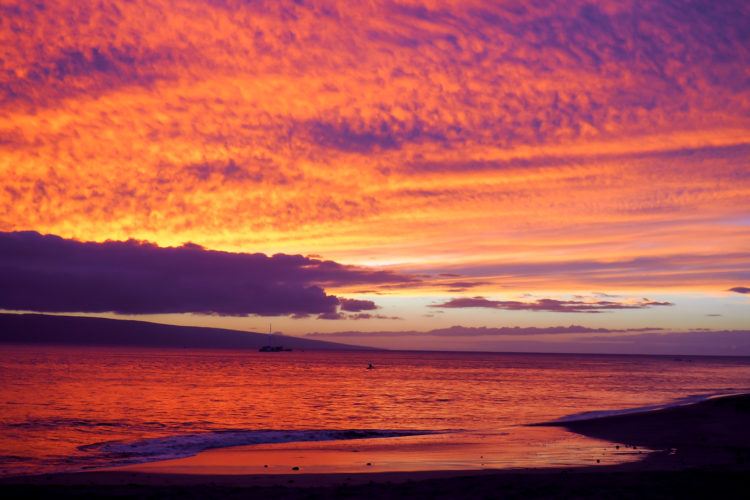 Day 2: Lahaina and North Maui
Since you're probably utterly exhausted from yesterday's early morning wake up call, take the morning to sleep in (only a little bit) and plan to spend the day around Lahaina and the areas nearbyi. If you're staying in Kaanapali or Lahaina you won't have very far to go today for all of the activities listed below: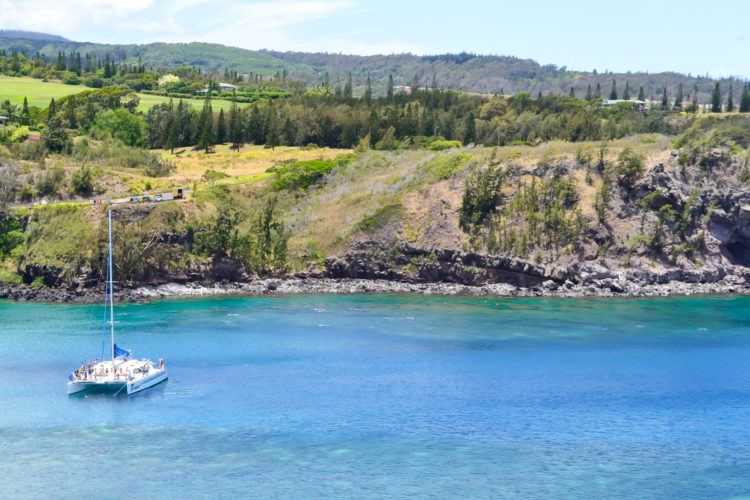 1. Short Road Trip Up North: If you're tired of the beach (say what?!) and up for a mini roadie, jump in the car and head to Napili Bay, Nakalele Blowhole, and Makaluapuna Point. Napili Bay is a super popular spot for snorkeling with the Green Hawaiian Sea Turtles, and you won't want to miss breakfast at the open-aired Gazebo Restaurant (get the fried rice and white chocolate macadamia nut pancakes – just do it).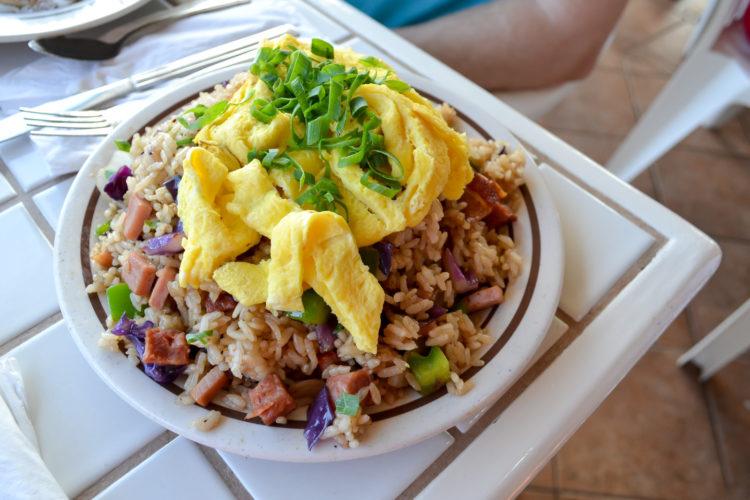 2. Get Your Snorkel On: The snorkeling at Black Rock in Kaanapali (right in front of the Sheraton and Kaanapali Beach Hotel) is A++, so you don't need to go super far to swim around with the fish and turtles! Mornings tend to be easier since the waves and trades aren't as high yet.
Read Next: All My Favorite Places to Go Snorkeling in Maui
Note that the beach can be somewhat crowded and you'll be sharing the waters with lots of other beach goers, so the water can appear a bit dark and dirty (from everyone kicked the sand on the ocean floor below).
If you want that crystal clear water you're probably dreaming about, head north to Kapalua and/or Honolua Bay, which both feature tide-less swimming holes perfect for splashing around (and snorkeling) during the summer, and great surf watch if the waves are too rough (usually in winter).
And if you want to ensure some top-notch snorkeling today, take a day trip from Lahaina to Lanai or, as mentioned before, crystal clear Honolua Bay.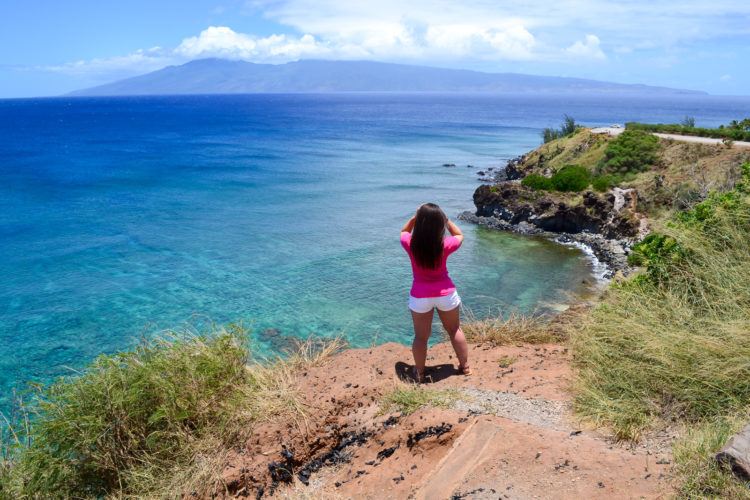 3. Hang in Lahaina: Promise me you won't miss Ululani's Hawaiian Shave Ice (kinda an institution around these parts with some of the best shave ice on the island), shopping at Whalers Village, the huuuuge banyan tree, Hula pie and fish tacos at Dukes (go on an empty stomach — it's all absolutely to-die for), and some fresh acai at Baya Bowls.
We also enjoyed some fresh fruit juice at Olowalu Juice Stand a few minutes south.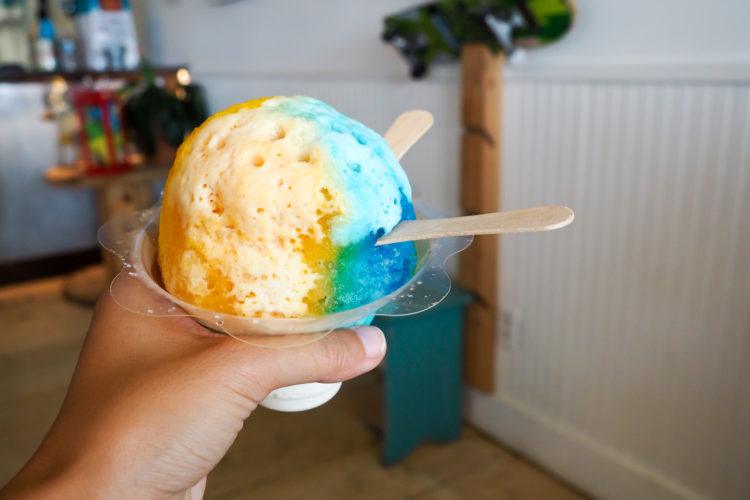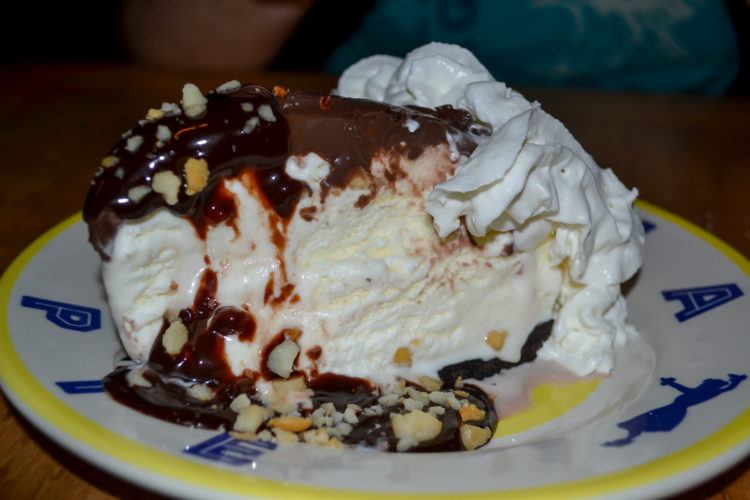 4. Luau in Lahaina: It's impossible to travel all the way to Hawaii without experiencing a traditional luau first hand. With all the music, exotic dancing, and delicious FOOD, this is surely a night not to be missed.
And thankfully, there's two fantastic options right in the heart of Lahaina: 1. The Feast at Lele and 2. The Old Lahaina Luau.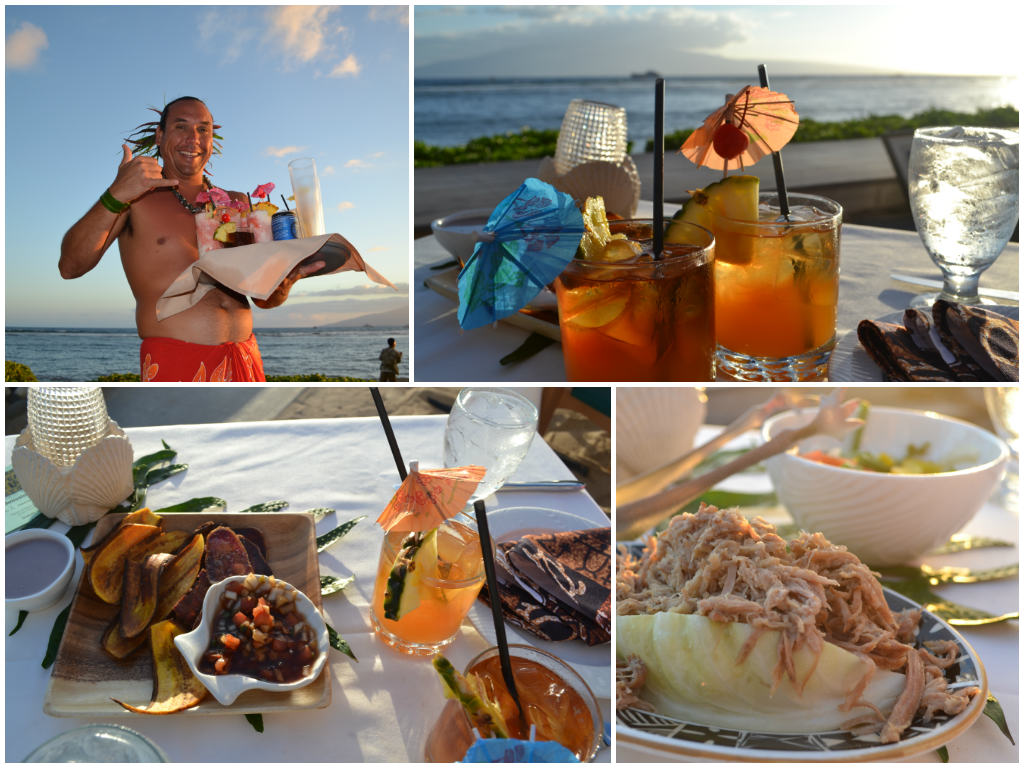 We ultimately chose the Feast at Lele for a few reasons: the food is brought out individually (meaning no buffet), private comfy tables vs. benched seating with those you don't know, and there's a fire knife dance. Yup, it was just as energetic and vigorous at it sounds.
But no matter which luau you choose, be sure to make reservations super early on when planning. They both book up quite fast, and the earlier you book a spot, the better a table you'll get (closer to the performances). Book Feast at Lele here, and Old Lahaina Luau here.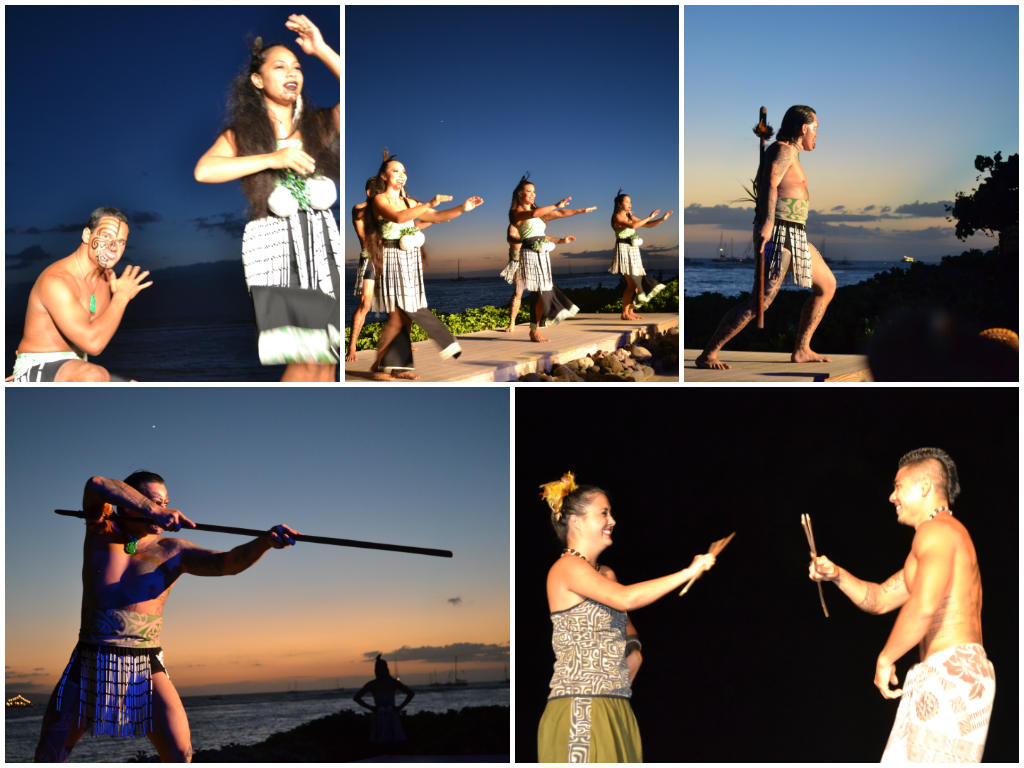 Read Next: The Feast at Lele vs. The Old Lahaina Luau
Day 3: Snorkel at Molokini and Turtle Town
Early morning wake-up #2 – but don't worry, today's another epic day. If you thought the snorkeling at Black Rock was top notch, just waaaaait until you get in the waters at Molokini and Turtle Town. Psst – they don't call it Turtle Town for 'nothin!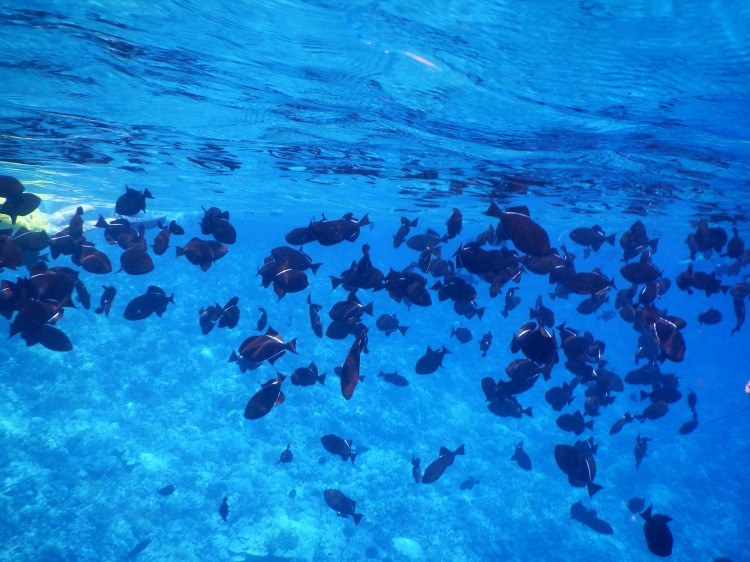 Today you'll need to book a snorkeling tour since there's no possible way to hit up these snorkel spots yourself, well, unless you can afford to charter your own boat ($$$$$).
Choose a tour like this one that includes both breakfast and lunch (BBQ on a boat, anyone?), gets you to the snorkel spots before the masses of other tourists arrive, and includes top-notch snorkeling equipment. Yup, that's why we're getting our butts up at 6am! Book tour to Molokini and Turtle Town here
Molokini: Ever thought you'd be snorkeling inside of a sunken Hawaiian volcano? Yup, that was my first thought when I learned more about Molokini. Known for its fabulous underwater life and visibility of up to 150 feet, this crescent-shaped partially submerged volcanic crater (from 230,000 years ago!!!) is one of Maui's prime snorkeling hot spots.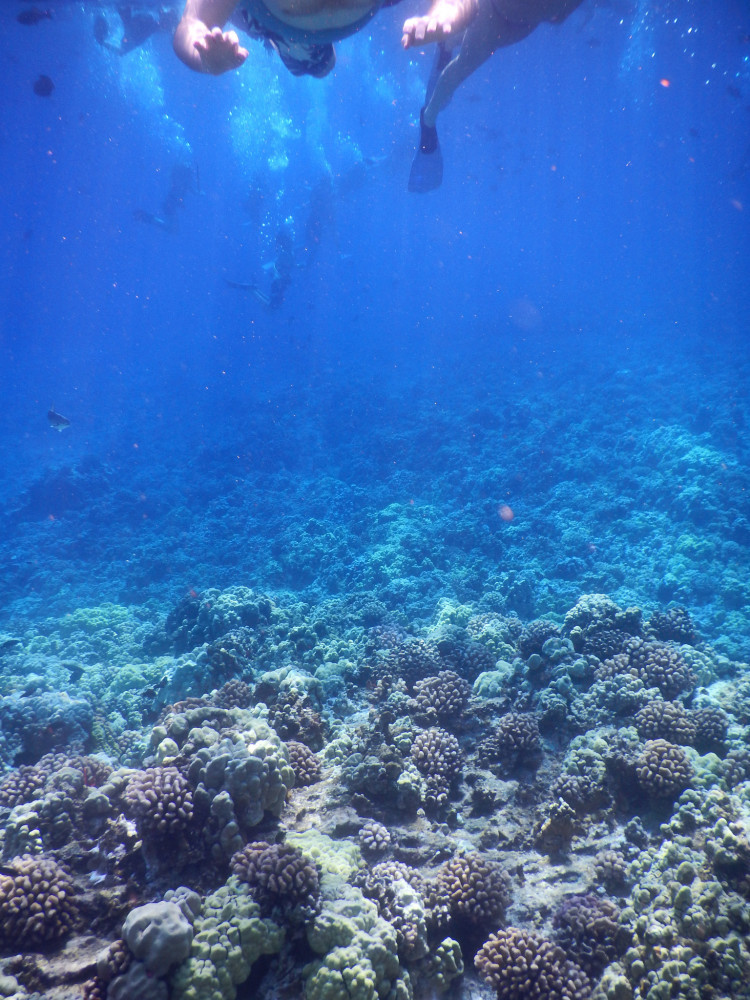 And that it was. Once I eased into the water, I had a super hard time focusing; there was just SO much to see. On our particular tour we encountered pinktail durgons, black triggerfish, ornate butterfly fish, red pencil urchins, yellow tangs, trumpetfish, coronet fish, a kaleidoscope of coral along the ocean's bottom, and more unidentifiable (by me) sea creatures.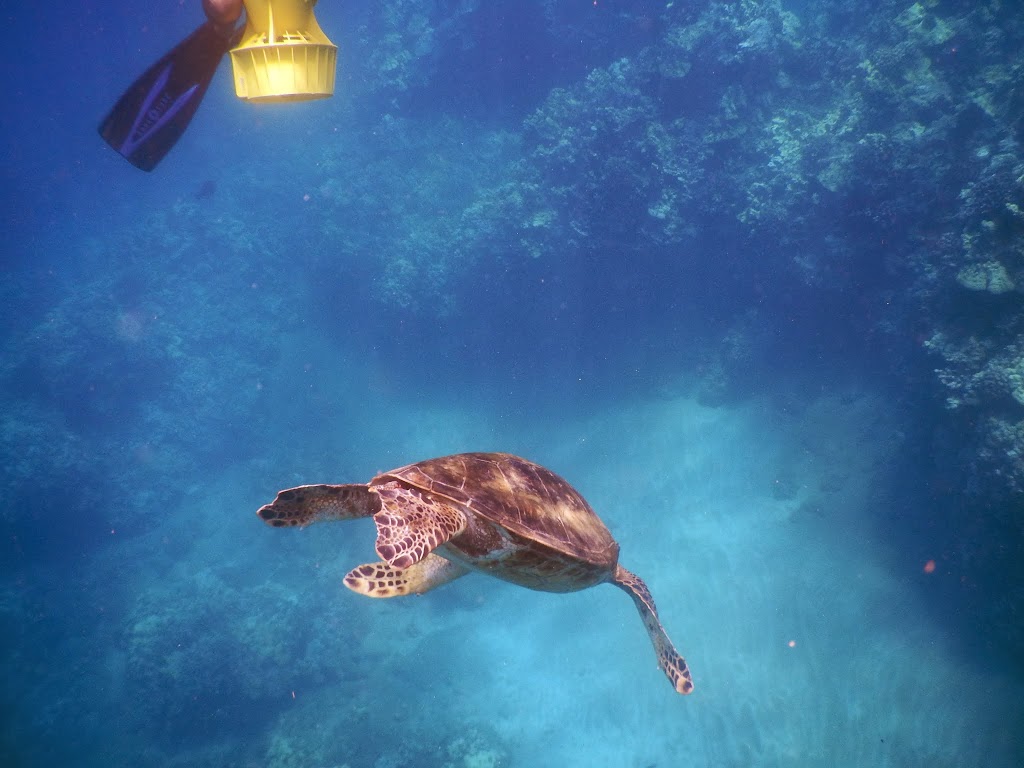 Told you I didn't want to return back to the boat. And with over 250 species of endemic fish and marine life, I can guarantee you'll see a whole bunch.
If you're lucky, you'll also see picasso triggerfish (also known as the humuhumunukunukuāpuaʻa in Hawaiian – try saying that name correctly), which is Hawaii's state fish, manta rays, and moray eels.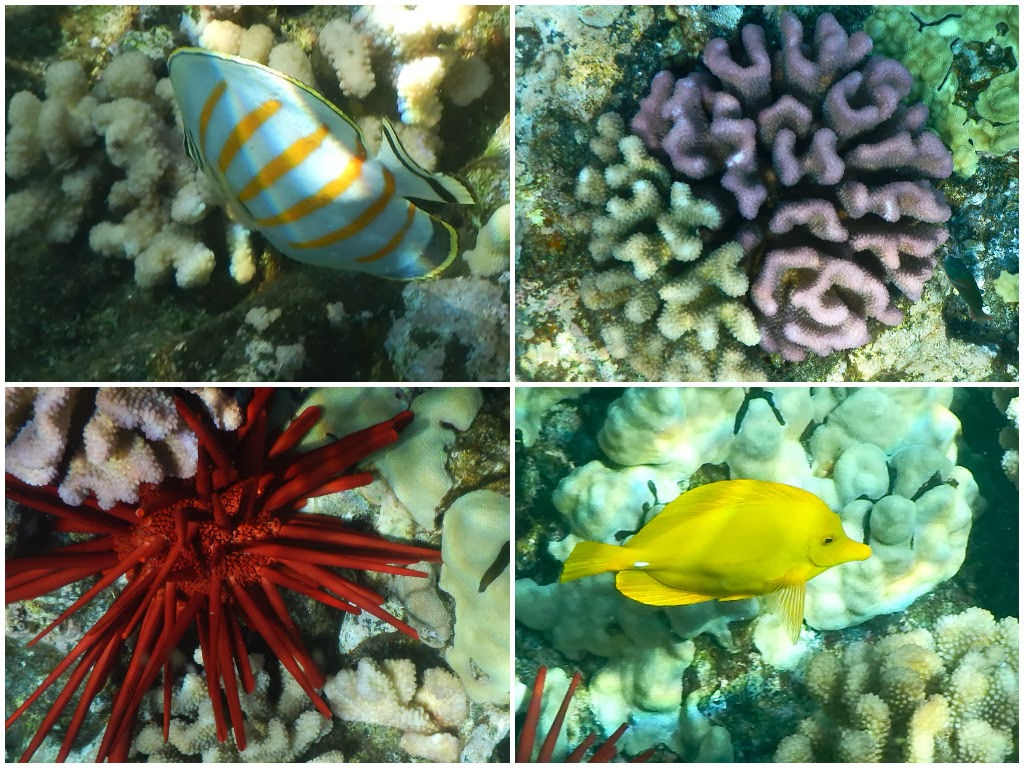 Turtle Town: Ahhhhh – sorry, I have a hard time containing my excitement when I even think about swimming with the turtles (known as honus in Hawaii). There's just something so majestic about these (larger-than-you-realize but) graceful creatures swimming below the surface.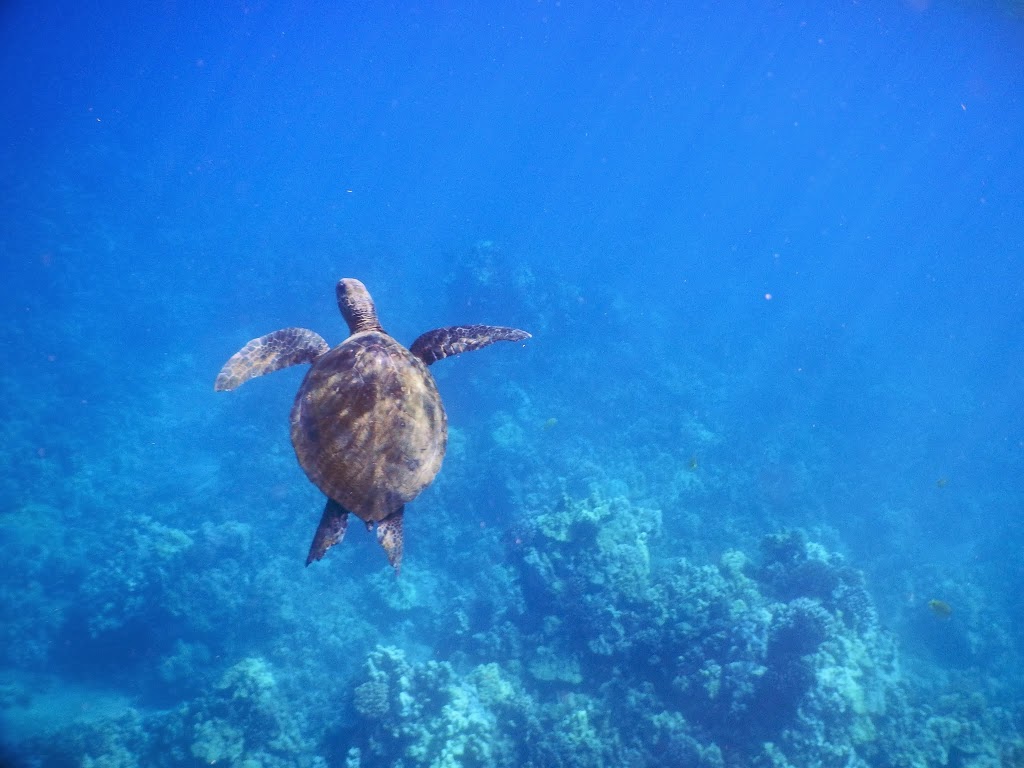 And when I visited, I found it absolutely crazy how incredibly close the sea turtles came near me. In more instances than one, I had to swim away in fear that I would accidentally touch it's fin or shell (a huge no-no in Hawaii).
Note that it's ILLEGAL to touch a honu; these Hawaiian green sea turtles are federally protected and it's harmful (and ILLEGAL) to touch, feed, or harass them. Just don't do it. For the sake of the sea turtles. Keep your distance as much as possible.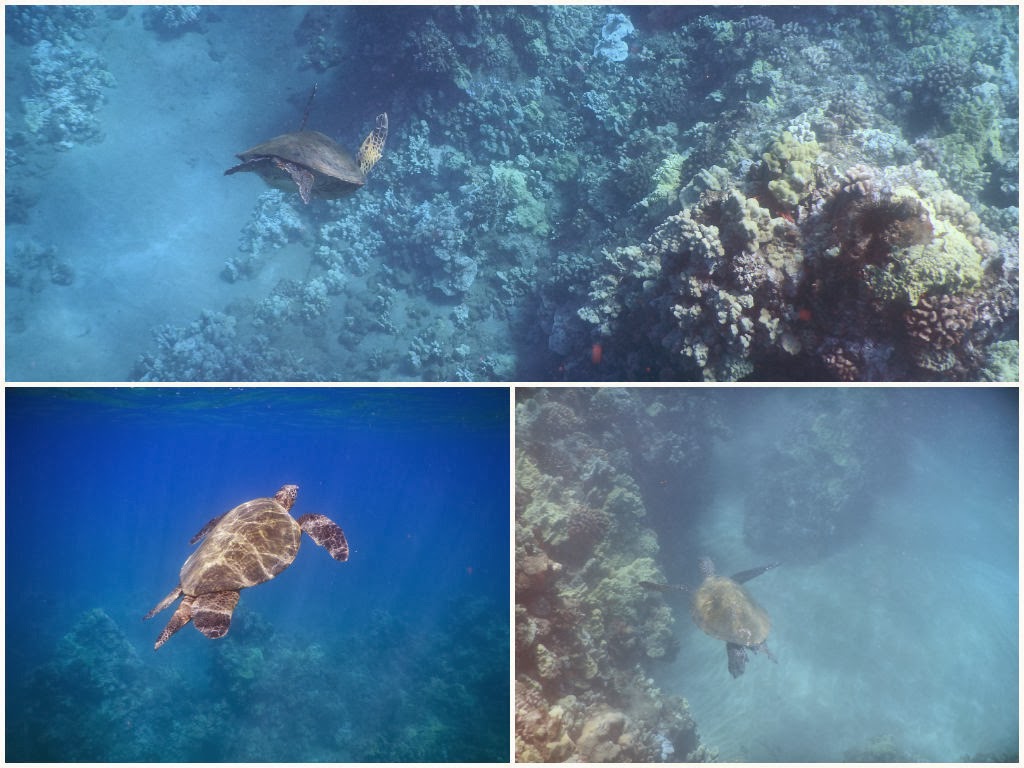 Don't get discouraged if you don't see a turtle right away. Sea turtles hide in caves or under big rocks, and sometimes just sit in the sand on the bottom for periods of time. Basically, they are not always visible at first, and you must patiently wait for them to come up for air (which they need to do since they don't breathe underwater).
Look all around you: below, in front, behind, etc… you never know when they will come up and surprise you. Feast your eyes on the seafloor too much, and you may see a shark (which may be a good or bad thing depending on your anxiety levels…)
Book tour to Molokini and Turtle Town here
It's a good idea to note that the waters (at both snorkel sites) are at their calmest during early morning hours, so if a tour doesn't start until 9am or later, that's a bad sign. You should essentially get picked up between 6-7am-ish to ensure prime snorkeling conditions.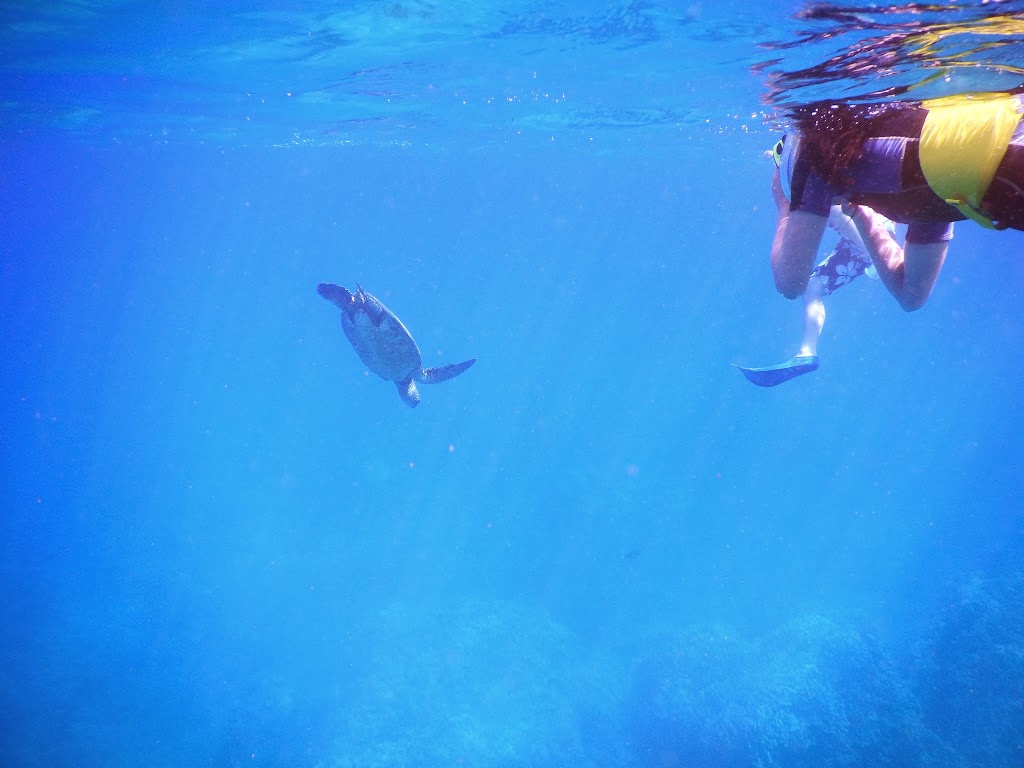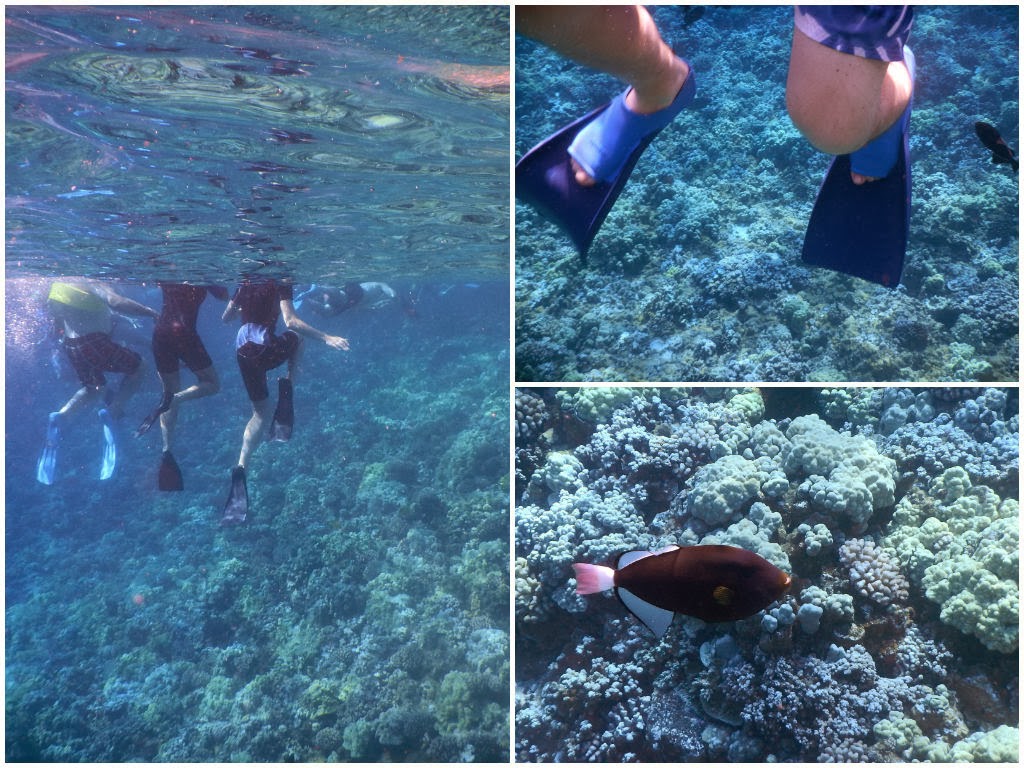 If you're wondering what equipment I used to take these underwater photos, all that info can be found right here (along with some tips on underwater photography). It's not as easy as it looks, trust me!
And sometimes it's better to just relax and enjoy the experience. Yes, I say take a whole bunch of photos, but remember to put the camera down and be one with the fish as well. 🙂
Since the tour starts early, you'll have the rest of the day to either continue exploring Lahaina or rest up at the beach. Consider eating at Monkey Pod Kitchen for a fantastic view, Ono Tacos for a food truck lunch or dinner, or Sale Pepe for some intoxifying Italian food.
Day 4: Maui from Above and Paia Town
Morning: Helicopter tour
What's better than a helicopter ride over Maui? Start your morning wanderings by booking yourself the West Maui and Molokai tour with Blue Hawaiian Helicopters. Not only will you be utterly amazed at all the wowness below you from 1000's of feet, but you'll actually learn a lot about the island too!
When soothing helicopter-esque music wasn't playing out of our headphones, our pilot was answering all our crazy island questions and teaching us all-things Maui. On the helicopter tour you'll see misty mountains, towering waterfalls, coral reefs from above (an absolutely spectacular thing), and even have the chance to spot whales and manta ray from afar.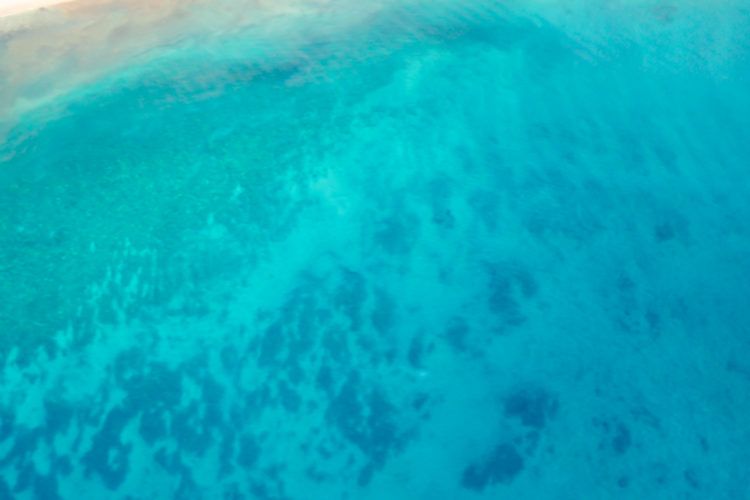 Read Next: Soaring Above Majestic Maui: A Maui Helicopter Tour
Worried about nausea and possible sickness? No need to fret – the entire ride was super smooth and pleasant. Thankfully all of the pilots are super A++++ and the company utilizes the latest safety techniques and procedures.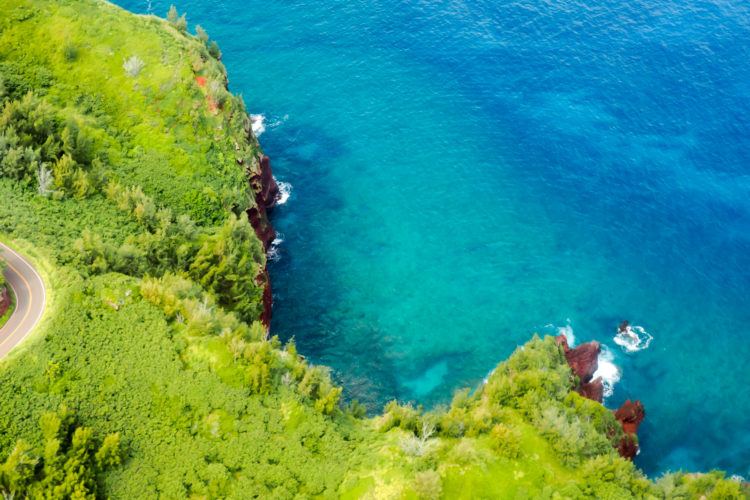 Soaring over Maui in a helicopter is one of my favorite Hawaii experiences to date! I mean, just look at these photos.
Visiting a few islands and not sure which to plan your heli adventure on? Check out our heli experience in Kauai (loads of pretty pictures) to help make up your mind! Both are worthy, but there's nothing like soaring over the Na Pali coastline.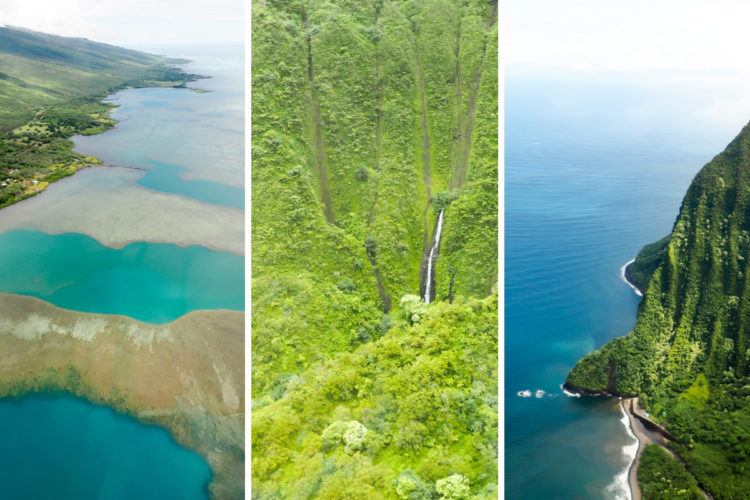 Top Tips: Be sure to wear dark colors during the duration of your helicopter tour, as black will have the least reflection on the glass windows. Wear light colors and you're risking horrible glares and reflections, making excellent photography downright impossible.
Be courteous to those on your helicopter tour and just wear all black (at least on top), and you'll keep the nasty glares (from people and the helicopter window) at bay.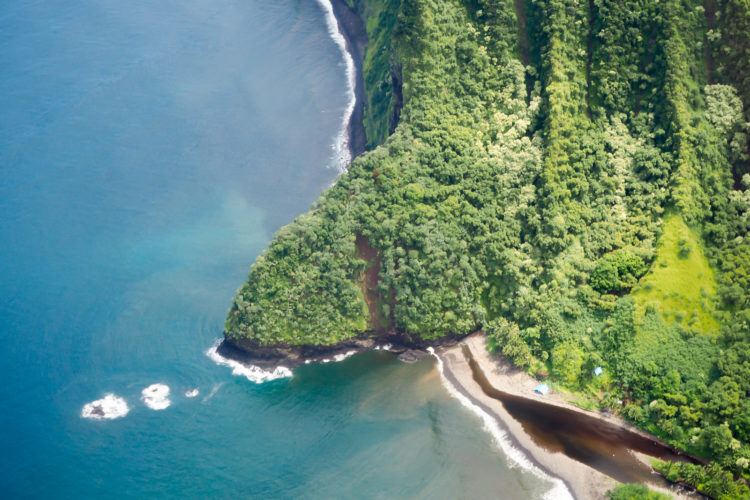 If you're like me and can't envision yourself wearing black the rest of the day, keep a change of clothes in your rental car and plan to swap into your true summer attire afterwards.
Afternoon: Wander around Paia and Hit Up the Beach Once More
The helicopter tour starts at the airport, so why not stick around the area and explore Paia, a super laid back, surfer hippie town roughly 15 minutes away.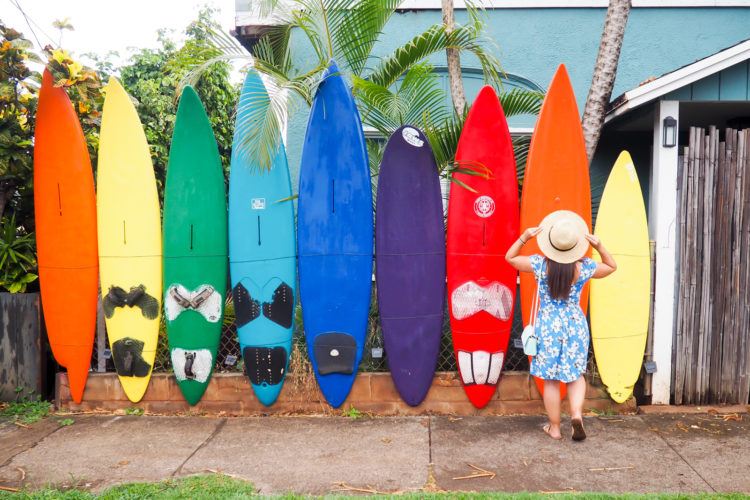 Here you'll find colorful murals and a not-to-miss surfboard fence (located on Baldwin Ave), a bunch of cute boutique shops (my favorites being To the Moon and Back for jewelry, and Alice in Hulaland for random , and plenty of hip acai and smoothie spots.
Need some coffee? Pick up a to-go cup at the absolute cutest greenery-filled shop in the area, Paia Bay Coffee Company.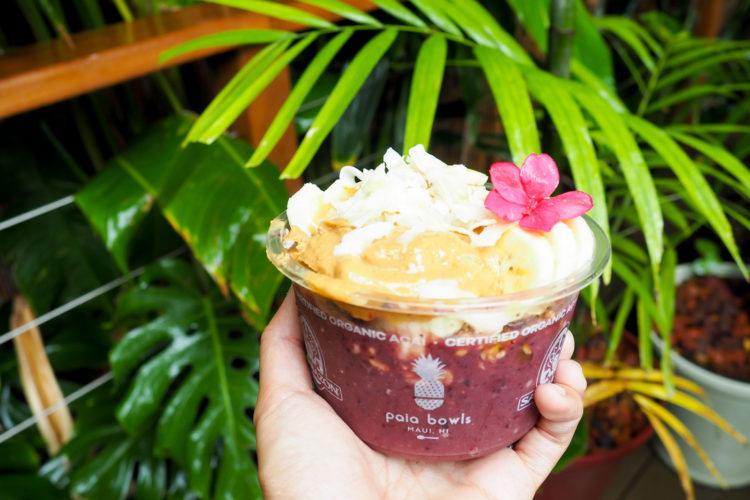 Looking for a relaxing outdoor spot for lunch after the helicopter tour? Head to Paia Inn Cafe and get some avocado toast, cold-pressed juices, and the cardamom french toast and eat on the patio. Open from 8:00am-1:00pm daily.
You may want to make a reservation – seating is limited and this place is popular (you'll see)! And if you can't score a reservation or the place just happens to be closed for a private event (which it was when we were there), hop across the street to the Paia Fish Market Restaurant for some fresh fish tacos.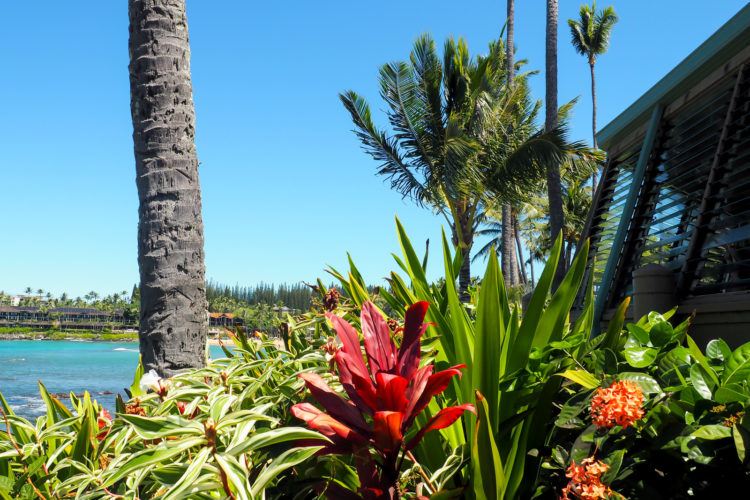 If you're sick of wandering around town (but really, it's just soooo cute and artsy), head back to the beach! Luckily this area has quite a few of them! Don't miss Ho'okipa Beach Park (there's Hawaiian sea turtles over here!), Baldwin Beach, and Lha Bab Peace Stupa!
Don't mind making a short detour? Drive 20 minutes south of the airport to Wow Wow Lemonade for you guessed it – lemonade!
Read Next: My HUGE Guide to Paia (with all my favorite beaches and eats!)
Night: Dinner at Mama's Fish House
Make your first official fresh fish dinner in Maui a great one, at no other than the famous Mama's Fish House. You'll want to make a reservation in advance, as this place is exceptionally popular (and for good reason).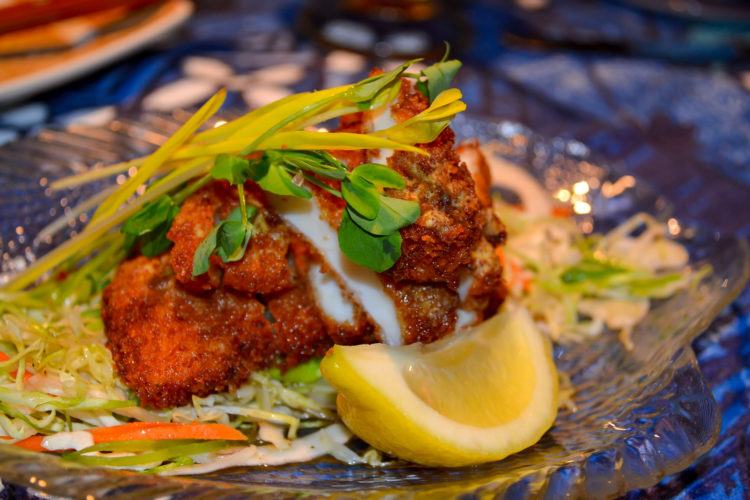 And while the food's absolutely mouthwatering and will surely cost a pretty penny, the setting is even more memorable and you'll leave having eaten one of your best meals on Maui.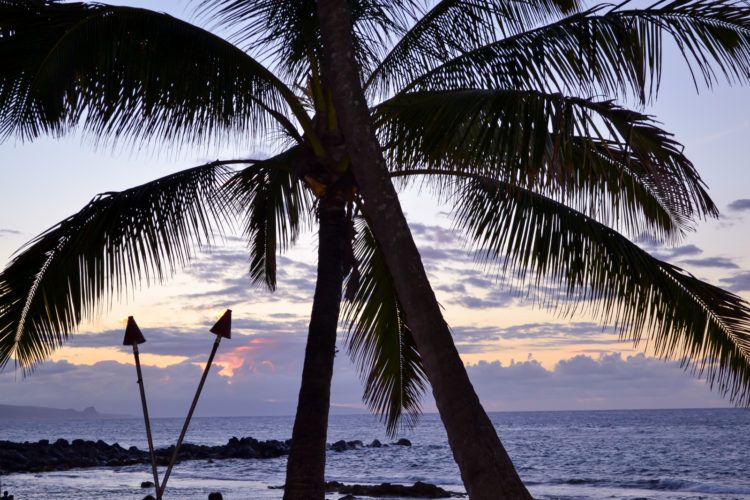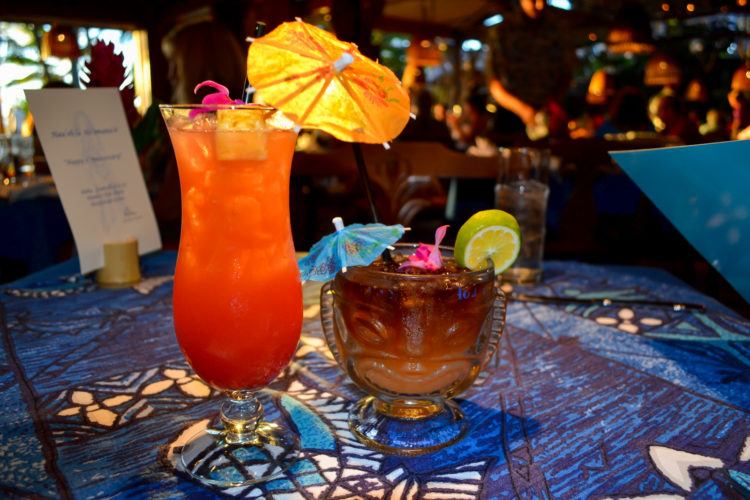 Sleep:  Pain Inn in Paia
If you want to get a short head start on the next day's activities (the infamous but tiring Road to Hana), you may want to consider sleeping in Paia the night before. You'll save about an hour's worth of driving which may help you stay ahead of the crowds on the drive. Up to you!
Check out some hotels in Paia here.
Bed early because tomorrow's a long and exhausting day!
Day 5: The Road to Hana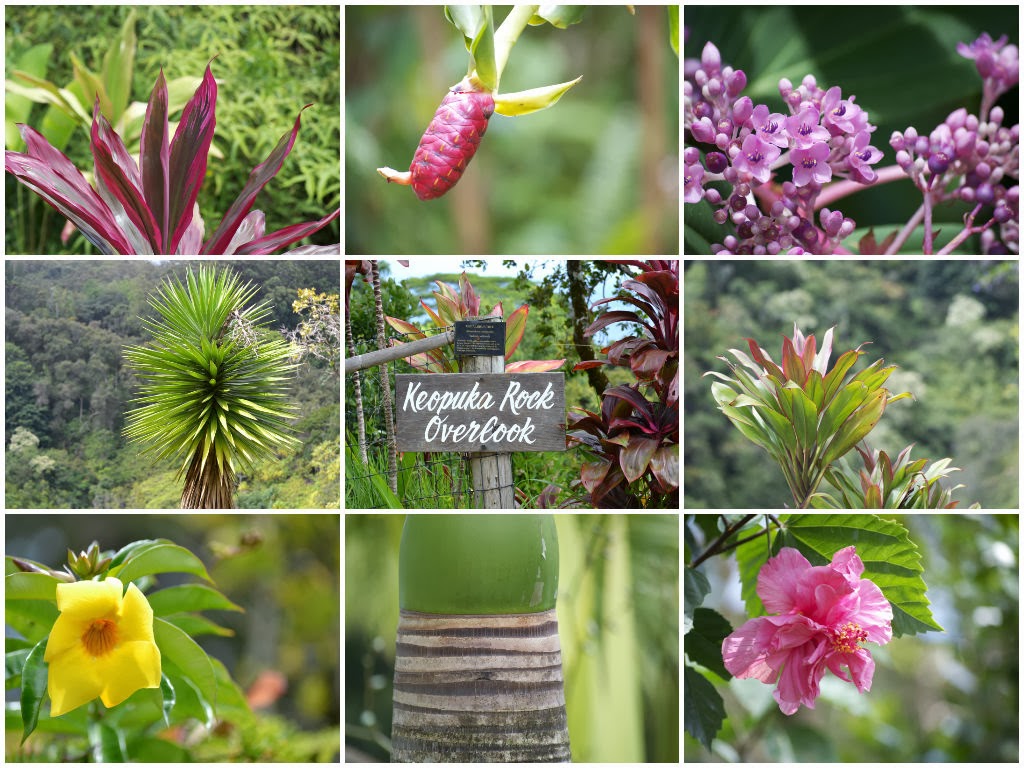 The Road to Hana is one you will never forget and an absolute highlight on any Maui itinerary. The drive is not for the fearful though- with 52 miles of winding roads (complete with plenty of one lane bridges, hairpin turns, and rocky cliffs), you'll want to make sure you get plenty of rest the night before!
Highway 36 (known as the Road to Hana) is one of the most famous highways in the entire country and takes about 3 hours, but you'll want to carve out an entire day on your Maui itinerary to linger around. And trust me, there are lots of stops on the road you just won't want to miss! Black sand beach, anyone?!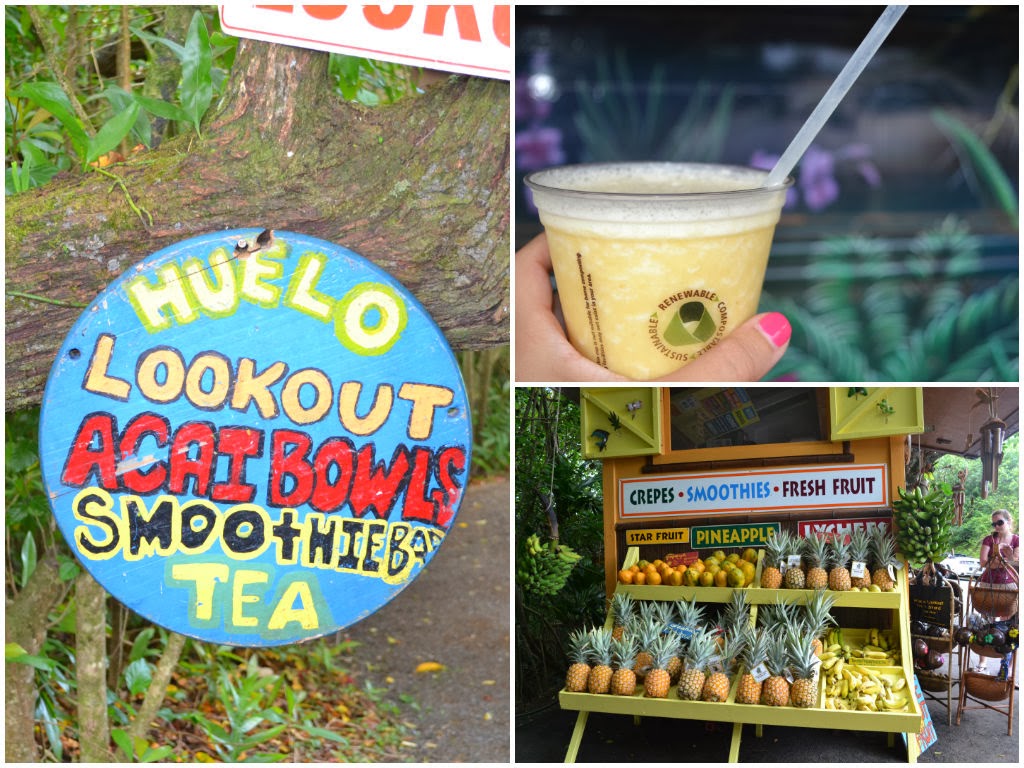 Remember, if you're staying in Lahaina or Paia or anywhere else other than where you end up on your drive, you'll need to make your way back to where you came from. And that means even more driving time. Be sure to back some road trip snacks, read my Road to Hana guide in advance (sure to help while on the road).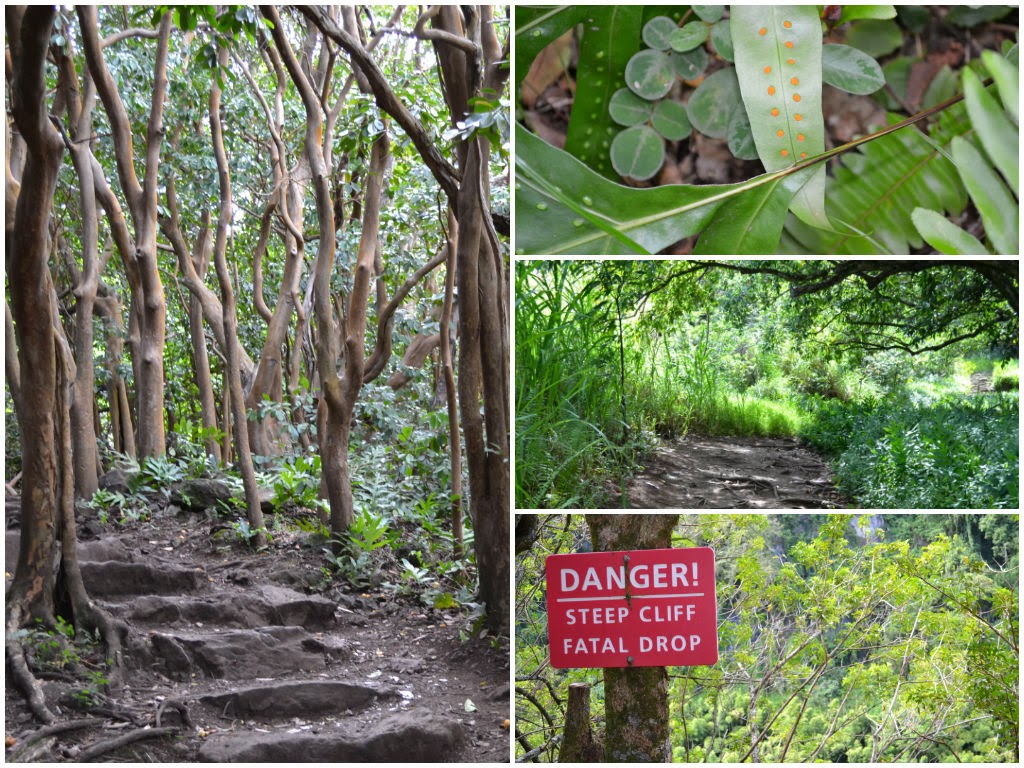 If you don't feel comfortable driving back in the dark or would rather let someone else do the driving (letting you take in all the sights care-free), book yourself on a Road to Hana tour.
Did you know that …
When you purchase something through our links, we earn a small fee (but you still pay the same)! Win-win! If you found this article useful, consider using the links within the article or below. Thanks for your support! 
Any questions about this Maui itinerary?! When are you visiting?