Looking for pristine wilderness, snow-capped mountains, and frozen waterfalls?! Banff in winter is all that, and way more. Keep reading for my favorite Banff winter activities, including dog sledding, hot chocolate sipping, snow-angel making, and gondola riding!
You'll want to save this guide of the best things to do in Banff in winter for your next trip to the snow!
I was lucky enough to experience Banff National Park on a whirlwind of a trip up north a few summers ago, and have been longing to go back ever since. The pristine glacier fed lakes, snowy mountains in the distance, and allllll the beaver tails (don't even get me started).
So when the opportunity to visit Banff in winter arose, it wasn't even a question. We packed all our winter gear, planned out a whole bunch of fun Banff winter activities, and got ready for an adventurous (yet chilly) few days in one of the most gorgeous national parks we've laid eyes on.
However, after visiting Banff in the summer I was sure I'd be missing the glimmering turquoise lakes and brilliant hiking opportunities. BUT Banff in winter completely blew all my expectations out of the water. To be completely honest, I'm having a hard time coming up with adequate adjectives to describe the place.
Pristine, rugged, sparkling, icy, wild; all that and more. Can you tell I'm now low-key obsessed with the place?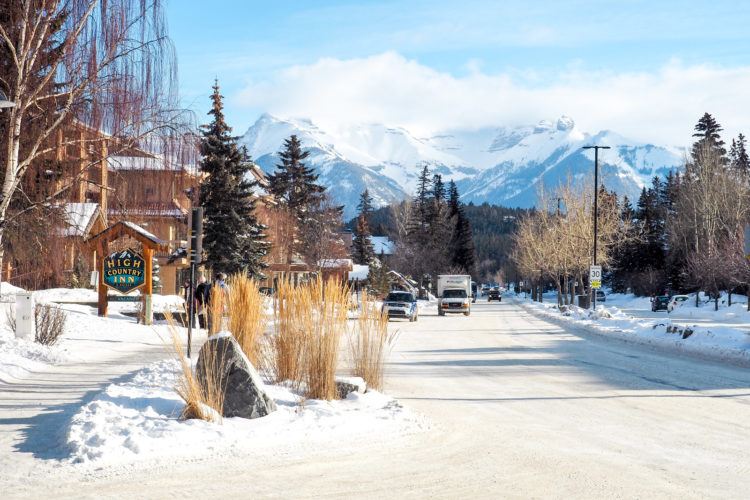 I'm now officially a winter person. Banff transformed me. I don't dread the freezing temps and I'm proud to say the thought of driving in snowy/icy conditions doesn't terrify me anymore. I never truly appreciated the chilly winter months until my long weekend exploring Banff National Park.
So, you're planning your own frozen trip to Banff, Alberta? I'm 100% absolutely thrilled with that idea (can you stow me in your suitcase, pretty please?). This dreamy part of the world has it all: think dog sledding rides, hot tubbing in the snow, fancy hot chocolates, castles for hotels (yup, you read that right), snowy mountains, glistening frozen lakes, and much, much more.
If you're ready for all your wild winter fantasies to come true, head on over to this Canadian winter wonderland ASAP!
So without further ado, here are the best things to do in Banff in winter (in my humble opinion), all included on this Banff winter itinerary. Feel free to mix and match activities, but we found our timing and varied daily activities were pretty much perfect.
Quick Travel Guide to Banff in Winter
Best Time to Go: December through March (however, go during January if you want to be around for SnowDays, the Banff winter festival which is a highlight of the entire season).
Visit For: 5 to 7 Days
Getting Around: Rental Car
Where to Stay: Fairmont Banff Springs Hotel, Fairmont Lake Louise, Banff Centre
What to Do: Dog sledding, helicopter tour, Johnston's Canyon, Upper Banff Hot Springs, Banff Gondola, towns of Banff and Canmore, spa day at Willow Stream Spa
Eat/drink: Poutine, beavertails, fondue, hot chocolate
Before we get into all the fun things to do in Banff in winter, I'm sharing some additional information to help make your trip planning as easy as possible!
Pre-Travel Guide to Banff in Winter
First off, where is Banff exactly?
Banff National Park, Canada's first and actually most visited, is about 120 km west of Calgary in the Rocky Mountains. It's located on Alberta's western border with British Columbia. If you've never been to Canada before, just know that it's on the left side of the country, although not on the coast.
It's opposite sides from Toronto, Montreal, and Quebec City, in case you're thinking of jamming a bunch of Canadian cities together. I'd plan to see Banff, the stunning Icefields Parkway, Jasper, Calgary, and Edmonton together if you've got more time and want to explore additional areas in Canada.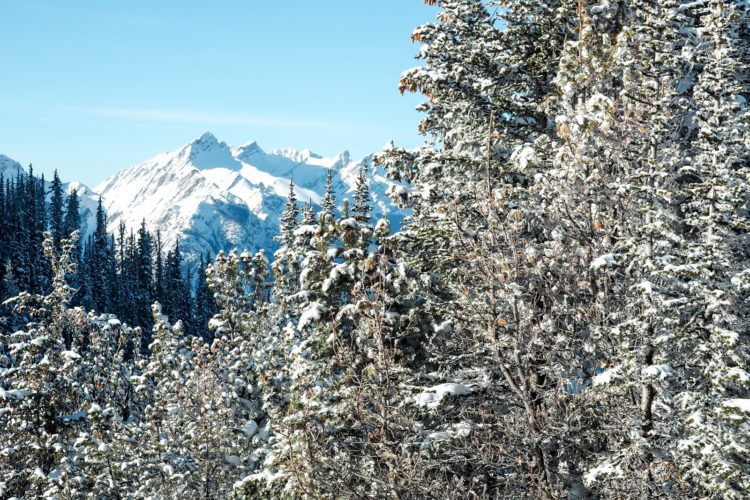 How to Get to Banff:
If you're coming from the states, you can easily hop on a flight to Calgary, Alberta (YYC). For reference, it's approximately 3 hours in the air from San Francisco (SFO), where we were departing from, 5 ½ hours from New York City (JFK), and 8 ½ hours from Miami (MIA).
Upon arrival, you'll need to drive approximately 1½ hours to Banff National Park. Sure, it kinda sounds like a hassle, but I PROMISE you the travel is so worth it.
If the potentially hazardous roads are of concern, just know that the cities do such a good job of clearing any remaining snow and ice off the highways. We had no problems making the short drive from Calgary to Banff, and that's coming from two California girls who hardly ever see (let alone drive in) snow!
How to Get Around Banff in the winter and the Surrounding Areas:
Walk: If you're just planning on roaming around Banff Town, you can get by on foot (just be cautious when walking on ice!). HOWEVER, it'd be such a shame to limit your explorations to the town center, hence the need to get around on wheels.
Drive: For max flexibility, you'll most definitely want to rent a car with snow tires and AWD, and follow precautions for driving in less than favorable conditions. This means keeping extra water/food in the car (juuuuust in case), having an ice pick/snow brush handy, and reading up on safe driving tips ahead of time.
Don't let driving in Banff during the winter scare you, just be prepared to go extra slow and leave spare time when getting to nearby attractions and destinations.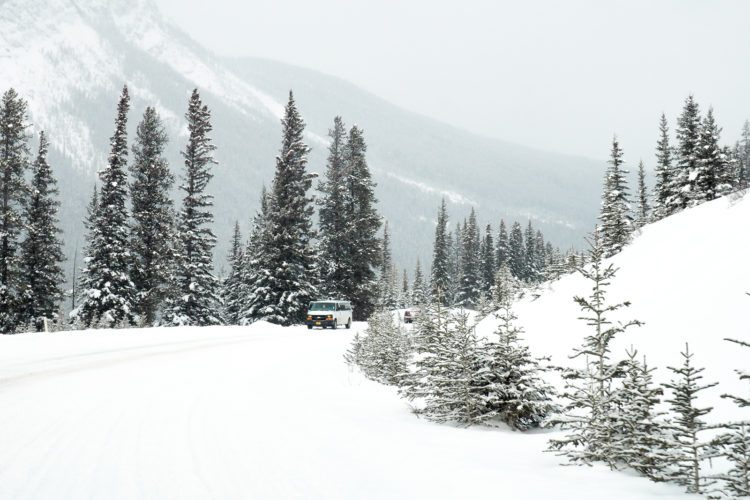 A quick note on rental cars: You may have to wait a few hours in Calgary for a car. Yes, I just said hours. We were shocked when the receptionist informed us it'd be at least an hour to receive our SUV (which actually ended up being more like 2 hours).
Because most renters are driving to the same location (the Banff area), if there's a winter storm, almost everyone gets stuck and ends up returning their car in Calgary later than anticipated.
Because of this, it's a good idea to keep your first day in Banff free of any scheduled activities, as it's hard to say exactly when you'll end up making it to town. There is a Tim Hortons where you can stock up on tim bits and/or coffee if you find yourself exceptionally hungry while waiting for your car rental.
And if you wanna fork over some cash for an Uber/taxi to the city of Calgary, lemme know how Deane House, Buttermilk Fine Waffles, and Jinya Ramen Bar are (I heard those are all amazing spots).
Planning to spend a few days in Calgary before heading to the winter wonderland that is Banff in winter? CHECK THIS OUT.
Shuttles: Luckily, if driving realllllly ain't your thang, there are numerous shuttles that can zip you around by catching the "Roam" hybrid buses. These buses visit popular attractions like Sulphur Mountain (for the Banff Gondola and Upper Hot Springs), the nearby town of Canmore, Tunnel Mountain, The Banff Centre, Lake Louise, and much more.
Note that you'll be limited by the shuttle schedules, although they do run quite frequently. Check out the Banff winter shuttle schedule here.
During the winter, many hotels provide guests complimentary shuttle services to the three ski hills: Lake Louise Ski Resort, Mt Norquay, and Sunshine Village. Might as well take advantage if you're not renting a car!
Note that the hop-on hop-off bus does not run in the winter months (it's only available May through October), so don't plan on using that to get around.
Where to Stay:
There are a whole slew of Banff hotels to choose from, and luckily, winter isn't as crowded than during the warm, summer months.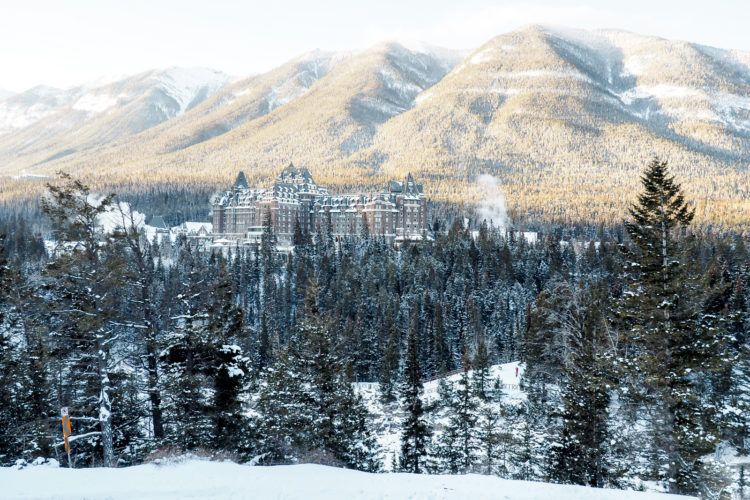 Fairmont Banff Springs Hotel: Everyone raves and raves about the Fairmont Banff Springs Hotel, and in all reality, what's not to love? It's a castle, after all. Despite being a pretty penny, the hotel is most definitely on my Canada bucket list — it was built over a century ago and holds so much history. And plus, it looks absolutely amazing; expect to get pampered. Perfect for your trip to Banff in winter. Check prices here (less expensive in the winter, and just as magical (if not more!).
Moose Hotel & Suites: Looking for something a bit more rustic and less fancy? And less expensive? Check out the Moose Hotel in downtown Banff (located right on the main avenue!). There's outdoor hot pools, a spa and gym, and even an Italian restaurant if you don't wanna brave the cold one night! Check prices here.
The Rimrock Resort Hotel: Another great option for a winter trip to Banff — you'll even be able to see the winter wonderland straight from your hotel window! With upscale rooms & suites, two cocktail lounges (!!!), and a spa, this spot really has it all. Check prices here.
Banff Centre for the Arts: However, if you're looking for a fun and artsy place to stay in Banff at a much more affordable price point, I highly recommend the Banff Centre.
I don't know if it was the fact that you could literally sit up and see the snow-covered mountains, or that we were just way over tired from all our day-time Banff activities, but getting outta bed was so hard! However, I woke up each morning well rested and ready to set out for the day (after finally dragging myself out of bed that is).
Even if you're not staying at The Banff Centre, I highly encourage you to check out one of their nightly performances and/or eat at MacLab Bistro (the view is just wow). Their selection of tea is top-notch and allll the desserts are pretty much fantastic (we taste-tested a whole bunch… for research purposes, I promise)! 😉
Weather in Banff in Winter
I hate to break it to ya, but Banff winter temperatures are a bit harsh. However, if you've stumbled upon this Banff blog post, there's a good chance you already realize that Banff in winter is drastically different than during the summer season.
And yes, this means that those glistening turquoise lakes will likely be frozen over once the temps reach below freezing (not the best time to visit Banff if you've got lakes on your mind — you'll need to visit in summer for that). But fear not. The snow just makes the entire landscape even that much more stunning.
Winter in Banff (December to March) experiences freezing cold temperatures, with buckets of snowfall falling every few days or so (although snow can begin as early as mid-September and last until late-May). November in Banff is a transition month from fall to winter, but you can expect a good coating of snow in mid-late November.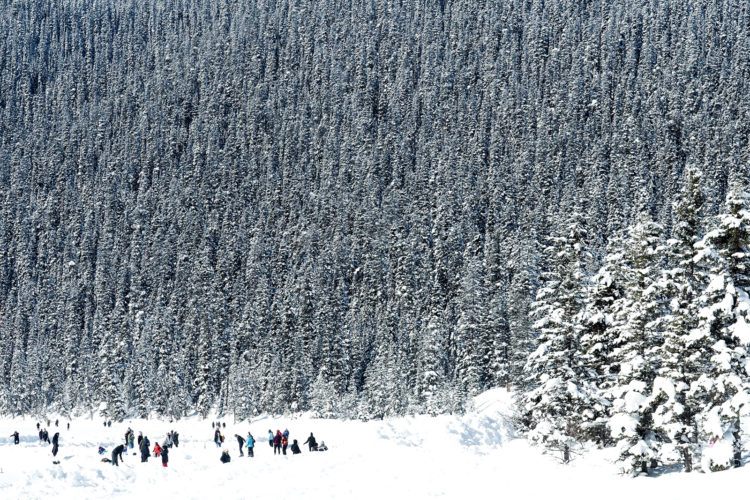 January is the coldest month of the year (with average temps being -15°C/5°F), although wind chill can make the air feel even colder. And just remember, as you climb higher and higher, the temperature will fall (about 1°C for every 200m of elevation gain).
We visited in mid-February and experienced -21°C/-5°F to -6°C/20°F, with a mixture of beautiful snowy days and equally stunning bluebird days. A fresh coat of powder fell on our first night which made the entire area just that much more beautiful.
We found it even chillier at Lake Louise, and later learned that the mercury drops even lower here, as well receiving tons more snowfall despite being only 55 km away from the town of Banff!
TL;DR: Banff in winter is cold, ya'll. Take all your winter-weather gear and stock up on hot hands (more on that below). It was frigid, frosty, windy, chilly, and absolutely perfect all at once. I guess I can say Banff took my breath away, both literally and figuratively.
What to Pack + How to Dress
With daily highs of -5°C in Banff during the winter months, you'll need to pack appropriately if you don't want to turn into an icicle. Living in NY for the better portion of my life (I just moved to California about 4 years ago), I already had a ton of winter weather items.
With that being said, most of it was old and from the 90s, so I chose to get a few new pieces, including this ultra-warm beanie (here's a fleece lined one that I'm eyeing for my next winter trip), snow boots (similar here because mine are out of stock and honestly not as good as Shem's), and cozy white plaid scarf.
In addition, I think I'll be buying Shem's super cute earmuffs next time I'm off to the tundra- they kept my ears all snuggled up and out of the frigid cold on more than one occasion (we shared winter accessories this trip, ya know, for photos)!
Piece of advice #1: invest in warm and waterproof snow boots with a proper grip. When ordering, opt for a size slightly larger than normal, as you want to allow for thick socks and toe warmers. If your boots are too tight (and your toes are crammed together), your feet will never stay warm enough.
Piece of advice #2: HOT HANDS. Enough said. But in all honesty, hot hands saved our frosty fingers on more than one occasion. What are they, you ask? They're these magical dry packets filled with iron (among other scientific things) that intensify in heat once activated.
Basically – super technological hand warmers that stay warm for up to 10 hours. And they are a godsend. You'll want at least 1 pair a day. Buy on amazon here.
How to dress: wear multiple layers on both top and bottom. HOWEVER, not all layers are created equal. You'll want to layer up on breathable fabrics and waterproof bottoms. I learned on the trip that it's actually the space between the layers that adds warmth (I don't actually understand all that, but science shmiance, amIright?).
Here was my uniform of sorts that I wore basically everyday:
Bottom: ankle socks, high woolen socks, snow boots, leggings, jeans or yoga pants, snow pants (for dog sledding)
Top: heat-tech tank top, long sleeve tee or bodysuit, sweater, packable jacket, parka
Winter Accessories: snow gloves, hot hands (a must!), beanie or earmuffs, oversized scarf (to use as face protection as well during bouts of wind), hood of parka
Tips for Traveling to Banff in winter
Hydration is key. Due to Banff's chilly temps and resulting dry air, you'll need to make sure to drink lots of water. We kept a few bottles in the trunk, and graciously sipped them when they weren't frozen.
Re-apply Chapstick multiple times throughout the day. My lips got majorly chapped, and I almost guarantee yours will too. Do yourself a favor and bring along a few chapsticks (just in case one gets lost).
Bring along a thick moisturizing lotion. Along with chapped lips, you'll find that your skin will get rather dry. I put on some thick hydrating lotion every morning and night and my skin was perfectly fine. My favorite here and what saved my skin each day. If you're looking for a low-cost option, this one got raving reviews.
I can't urge you enough to bring along a few packs of hot hands before you arrive. While they're found all over the area in basically every store imaginable, we kept forgetting to grab some. Unless you're planning to hit up the shops/stores as soon as you get into town, just bring a few along, and you can buy a few more as needed.
Since Banff is a technically a National Park, you'll need a parks pass to enter the area. You can either purchase a pass online or upon entering the park. If you think you'll be visiting multiple national parks over the course of a year, it's a good idea to snag the Discovery Pass from Parks Canada as this will waive daily admission fees to over 80 Parks Canada places throughout the country.
Days will be relatively short, with approximately 8-10 hours or so of daylight during the winter. In mid-February when we visited, the sun rose at around 8am and set just before 6pm, giving us about 10 hours to fill up our days with all the Banff winter activities we could handle.
General Tips for traveling to Banff and Canada
English and French are the main languages spoken in Banff, and you'll see most signs and informational tourists pamphlets in both. Canadian English, very similar to British English, with tons of unique expressions, is widely spoken around town. But who am I kidding? You'll probably hear more Australian accents than Canadian. I wasn't surprised to hear that young Aussies flock to Banff for a few months at a time, who just add to the overall vibrancy of the small mountain town.
Currently, the Canadian dollar is CA$1 to $0.79USD, or $1USD to CA$1.27. If you're coming from the states, you'll be pleased to know that the US dollar is quite strong, meaning everything will cost approximately 25% less than it seems!
Things To Do in Banff in Winter: A Complete 5-Day Itinerary
Note about any Banff winter itinerary: you'll NEED to keep your days flexible due to weather.
We had originally planned for a helicopter ride on our first full morning, but had to cancel twice until Mother Nature blessed us with clear skies. Don't let it ruin your trip, just be mindful that weather can and will change from day to day. Therefore, you may need to rearrange a few items on this Banff winter itinerary below, but it shouldn't drastically make a huge difference.
The suggested itinerary below is what I've come up with after spending a few days in the area and taking into account proximity and location of activities.
Day 1: Fly into Calgary, drive to Banff (1 ½ hours away)
As noted above, you'll need to fly into Calgary International Airport (YYC) then make the 1 ½ hour drive to Banff National Park. Remember that it may take a while to get your rental car, so hit up some airport shops for lunch.
Once on the road, we found them to be exceptionally clear of snow and ice, and driving to Banff was a great introduction to adjusting to our SUV rental car, which we were both quite nervous to drive. You'll pass more mountain peaks than you'll know what to do with, and you can stop in Canmore along the way if you're feeling extra hungry.
Once you reach the town of Banff, it's time to explore town and eat some dinner! There are tons of cute shops and restaurants to choose from, and lucky you – I listed out our favorites at the bottom of this Banff winter itinerary!
If you're not tired from all that traveling, why not catch a show at the Banff Centre (depending on the schedule and your interest). Numerous performances and other entertainment occur on a weekly basis, and it's a for-sure way to get outta the cold (especially on the first night as your body adjusts to the freezing temps).
Day 2: Helicopter Views and Dog Sledding in the Forest
I mean, what's better than a heli ride above some natural stunning scenery, and then learning how to mush with the cutest dogs around in Canmore (roughly 30 minutes southeast of Banff)? If this doesn't sound like the absolute best day ever, than I don't know what it is.
But first, grab some coffee or tea in Canmore or Banff, as there are tons of super cute bakeries and breakfast eateries in both spots (listed below).
Morning: View Banff from Above via Helicopter (Canmore)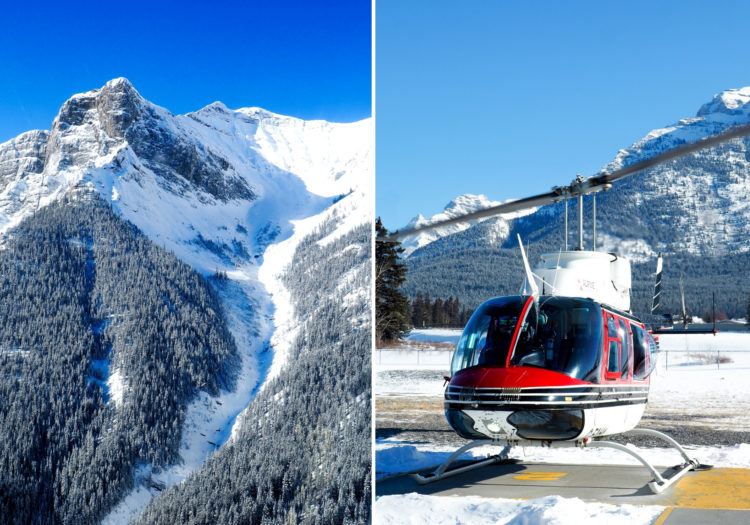 Bucket list check #1! They'll be a lot of these during your time in Banff, so get used to it.
If this is your first ride in a helicopter, there's no better place to do it. With snow-covered mountains jutting out amongst Alberta's bright blue skies, our heli ride was an absolute dream come true. We witnessed so much extraordinary snowy scenery from above, which would otherwise have been completely unreachable any other way!
Floating through the crisp winter morning air weaving between mountains and over the town provided tons of fantastic photo opps – I couldn't put my camera down! It's from up here that you realize just how massive, awe-inspiring, and unbelievable the Rocky Mountains actually are.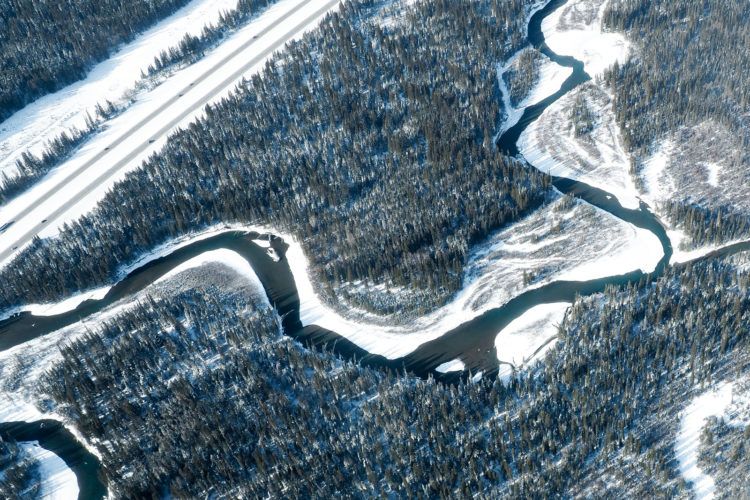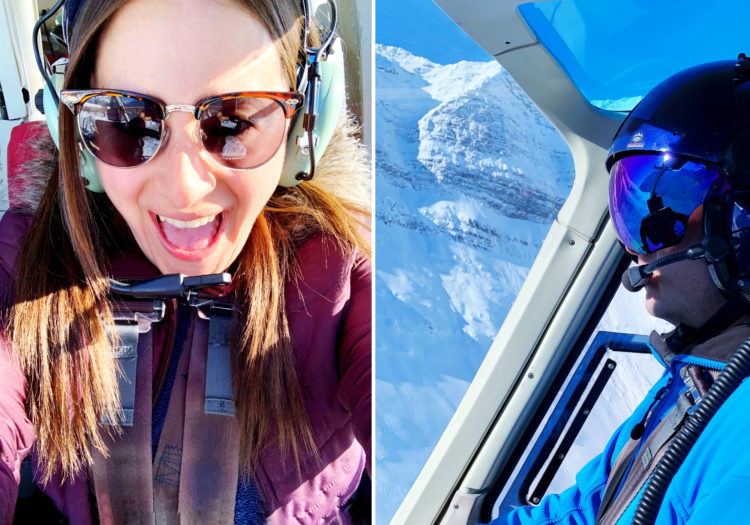 I'm no stranger to heli rides, as we've taken a bunch in Hawaii (Maui and Kauai), and actually in Canada a few years ago, and they're always my favorite part of our trips! So when we had the opportunity to jump on board in Banff, I just couldn't say no.
The company we flew with, Alpine Helicopters, offers a few different heli tours differing in length of time and therefore epic scenic views. We took the 12-minute Three Sisters Peaks Tour, and the only thing I would have changed was the length (I would have gladly stared at those mountains all day long).
Here's what to expect (besides all those sensational views I've been nonchalantly gushing about nonstop):
After a quick and easy sign in (complete with complimentary coffee and tea), we met our pilot from Alpine Helicopters who calmed all our fears and explained how our flight would go.
We then watched a 5-minute safety instruction video, and had the opportunity to ask the staff any questions/concerns we may have had.
Our group then stood on a 4-person scale and we received our boarding numbers (where we would sit on the flight).
This was one of the Banff winter activities I was most looking forward to by far, so I was absolutely enthralled when I learned I would be sitting next to the pilot! And, just like that, it was go time!
Snow-laden trees glistening down below us, more mountainous peaks than I could ever have imagined (right in front of our faces), and the frosty Spray Lakes made for a ridiculous amount of beauty.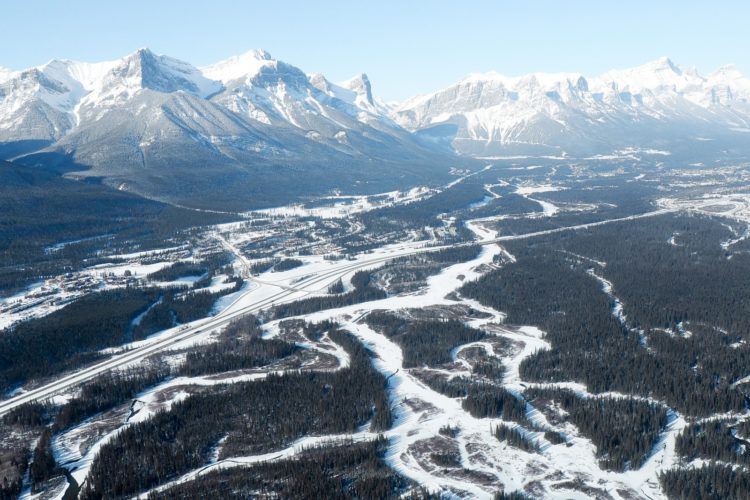 I'm prettyyyy sure I flew with Alpine a few summers ago when I visited Banff in mid-June, and lemme tell ya, the views in winter were just as stunning, if not more so. With snow-capped mountains in all directions, perfect visibility, and the sun shining down on us, our flight in the Canadian Rocky Mountains couldn't be more marvelous.
It was an absolutely wonderful way to see the Rockies close up, and most definitely one of the most action packed 12 minutes of my life. Super scenic, undeniably smooth, and somewhat thrilling. Note that you can leave some of your tundra gear in the car as you'll be all toasty and warm inside the chopper – we wore jackets and left the rest of our winter accessories behind and were just fine.
Something to keep in mind: heli tours often get cancelled due to poor weather conditions, so don't be alarmed if you need to reschedule for another day. The other activities on this Banff itinerary can easily be swapped around, so don't fret if you need to do a bit of rearranging. Better safe than sorry, am I right?
Our original flight got cancelled, but I urge you to book a spot on your first official day juuust in case it needs to get rescheduled for later in your trip.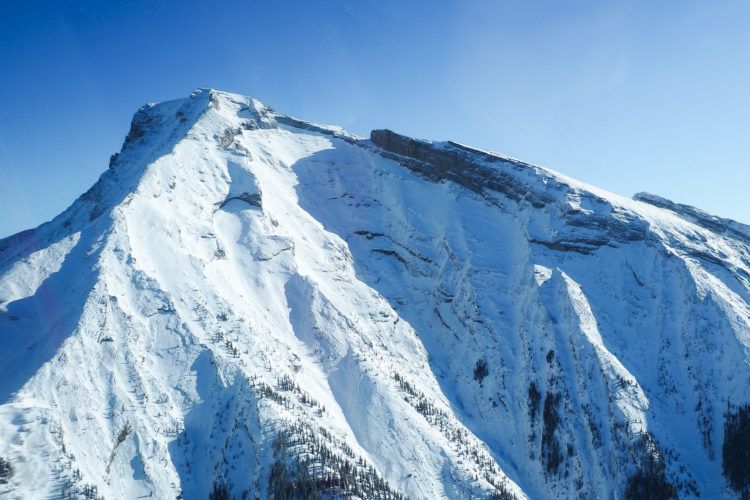 Before your next Banff winter activity, you may have some time to walk around the cute town of Canmore and have some lunch at Communitea (our favorite place in Canmore). Psst – not sure what to order? Get any of the buddha bowls or the pad thai – allll phenomenal choices.
Afternoon: Go dog sledding in the snowy forest (Canmore)
Learning how to mush with Snowy Owl Sled Dog Tours was an absolute dream come true. I was thrilled when I learned we'd not only be pulled around along the pristine mountain trails, but would actually learn how to guide the dogs as well!
If this has been on your bucket list for quite some time, it's time to check it off once and for all – head on over to the website to read more about their tours and options.
The pups were oh so playful, and they were so excited to run and take us around through the stunning vistas of Spray Lakes! I worried a bit before participating if the dogs were well-treated and if they actually enjoyed all the running, but my worries quickly vanished the moment I saw the huskies.
Not only are they ridiculously cute and fluffy, but they love a good run as well! It was apparent the dogs knew exactly what was coming, and would jump and bark in anticipation!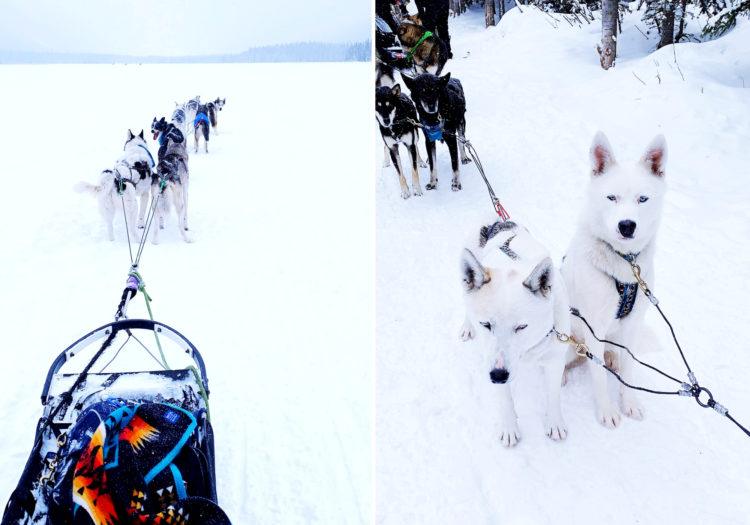 We learned how to control the dogs with commands (hike, ahhh, etc). We also learned that the dogs only have an on and off switch, so understanding how to use the brake pedal was absolutely necessary. One step off the brake and off the dogs would go!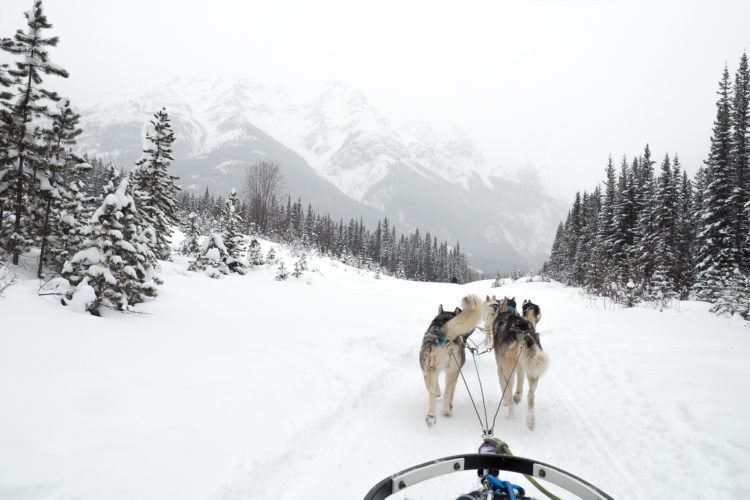 Being all snuggled up in the sled with the only sounds being the soft thuds of their little husky paws, the jingles of their collars, and our commands was so incredibly peaceful. The huskies whisked us around the beautiful surroundings, gliding through frozen landscapes and into an icy fairytale.
Snow-laden trees, white glittery landscapes, the most adorable pups around, and steaming hot apple cider. This snow-accented forest-scape right outside of Banff is beyond what I initially thought it would be, in the best way possible.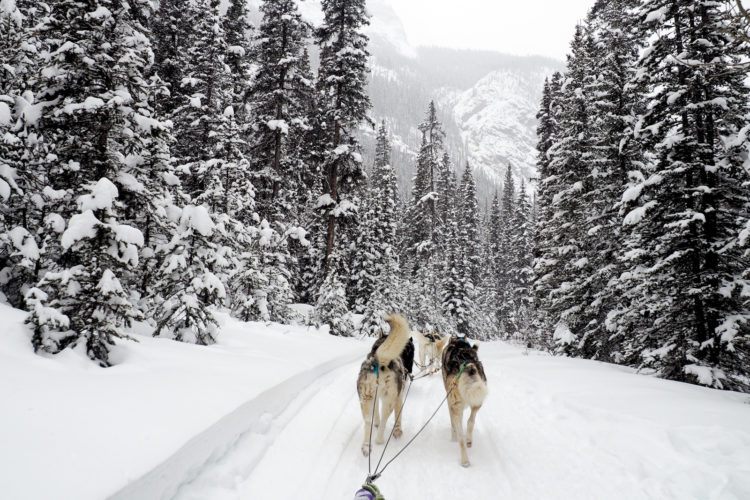 Note that you'll need to get allll bundled up while dog sledding, as the extreme cold and wind chill will feel even more tundric when you're sitting still in the sled. Snowy Owl Sled Dog Tours does provide snow pants for a nominal fee, which we gladly accepted. Thankfully once the furry four-legged team is done for the afternoon, you'll get to warm up by the fire with a bit of hot apple cider.
Vermillion Lakes
If you're still up for another quick jaunt, head on over to Vermillion Lakes for sunset. We chose to wander around on the frozen lake and take a whole slew of photos, with the sun changing colors every few minutes before we ultimately had to leave in the dark. One of my only gripes with Banff in the winter – it gets dark way too early!
Day 3: Lake Louise
Ohhhh Lake Louise. How can you visit Banff National Park and not make the short trek up north to this famous body of frozen glistening water? You'll want to plan at least a few hours here, if not a whole day, as you'll find yourself in awe at every corner and enough activities to last a while.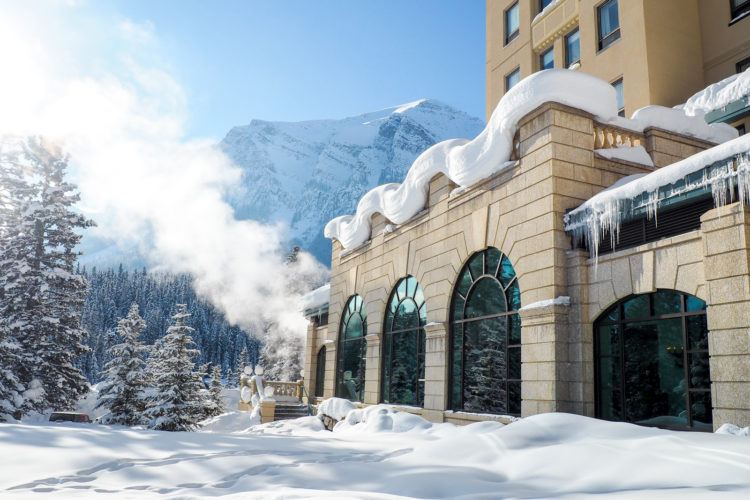 A quick word on Lake Louise in the winter: It's frozen. If you're hoping to see Louise in all its glory, be aware that the lake usually begins to freeze in November and is transformed into a completely different spectacle come December. Gone is the turquoise water, but this doesn't mean it's any less beautiful.
The thawing cycle begins in late spring, so don't plan to visit until mid-May (or even later depending on the year) to view that popular greenish-blue color everyone (and myself) raves about. HOWEVER, after visiting in both seasons, I can honestly say that I found Lake Louise to be even more stunning in the winter, without the crowds! Didn't see that coming, now did you?!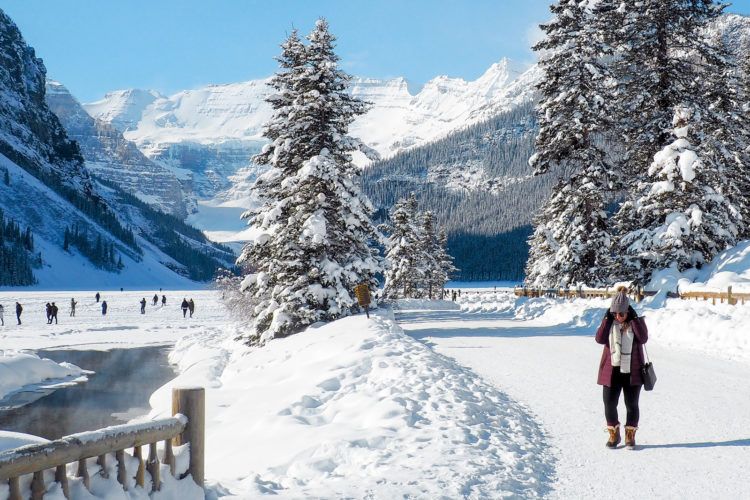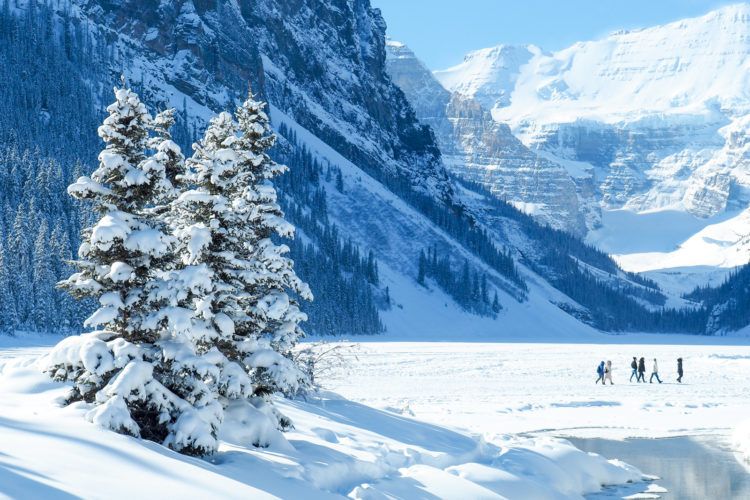 And thankfully, even though the lake is frozen over and therefore those famous red canoes are unavailable for rent, there's tons of other Banff winter activities in the area.
Find the Famous Boat House
Okay, so maybe it was just us, but we were slightly obsessed with the thing. And dontchu worry, you can't miss it – while looking at the frozen lake it's right off to the left hand side. Be prepared to walk in some deep deep snow to reach it, or walk around instead. With the mountains and glistening snow-covered trees right behind it, and glacier in the background, it's straight outta a winter fairytale.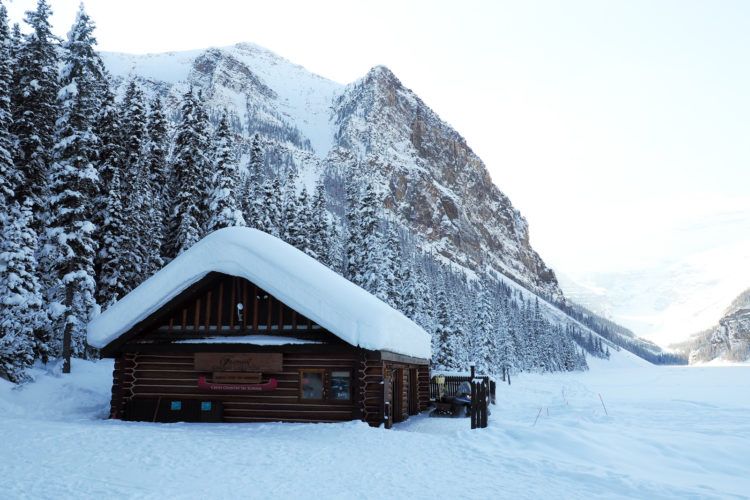 Go Ice Skating on Lake Louise
As noted above, come winter time, the silver blue lake freezes over and allows for a whole slew of different things to do in Banff. So lace up your skates, and get over the fact that you'll be skating on (literal) thin ice. Haha but really, the ice is thick enough and only a few people fall in each year (I'm kidding, obviously, no one falls in, ever).
I have to admit I was a wee bit skeptical of the thought of skating on a frozen lake, but after watching others glide peacefully over the ice, my nerves were slightly calmed. Yolo, am I right? We actually decided not to partake in all the fun because it was rather windy and we were already frozen to the bones, but at least I know I won't wimp out next time (fingers crossed).
It's important to realize that despite the chilly temps, the lake isn't solid enough for skating until early December. So if ice-skating on Lake Louise with a magnificent backdrop of Victoria Glacier is on your Banff bucket list, better to wait until mid-late December for a visit, juuuust in case. Be sure to check out/watch the hockey rink that sits adjacent to the skating area, as this is Canada afterall!
All the practical information:
Skates are available for rental inside the Fairmont Chateau Lake Louise for a bargain of 15CAD for 2 hours.
You're welcome to use the rink at no charge if you have your own skates.
Hockey sticks and pucks are also available for rent as well.
When we were there it looked like the skating was going on all day until 10pm, but numerous websites claim that the rental office closes for a time being during the day.
Sip Mulled Wine at the Ice Bar
In the winter, something unusual happens at the Fairmont Lake Louise. Instead of ordering a drink at your average hotel bar, you can do something much "cooler" (literally) – grabbing a drink at the Ice Bar! On weekends in the winter, you can head to the hotel's amazing Ice Bar, which is made out of over 6,000 pounds of ice!
The Fairmont commissioned some Calgary-based ice carvers to design the structure, which is an impressive feat in itself. Their signature drink, the delicious warm mulled wine, looked divine, but they've got an extensive menu of cocktails and hot drinks that you can enjoy amidst this amazing ice structure.
Marvel at the Ice castles and Sculptures
Every year in the winter, Lake Louise hosts the international Ice Magic Festival in mid-January, an event where professional ice carvers from around the world come together to build ice castles, sculptures, and decorations all around the famous Lake Louise.
It's an absolutely magical sight to see, if you happen to be in Banff during the festival or a few weeks afterwards (it takes a while for the ice to melt thankfully).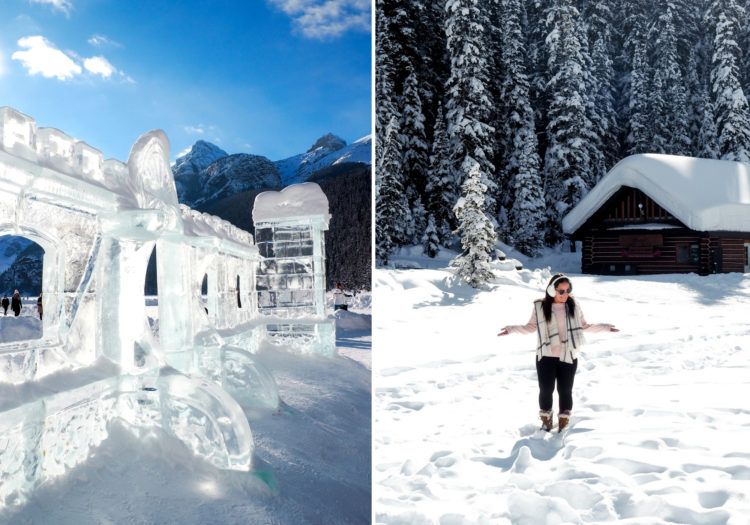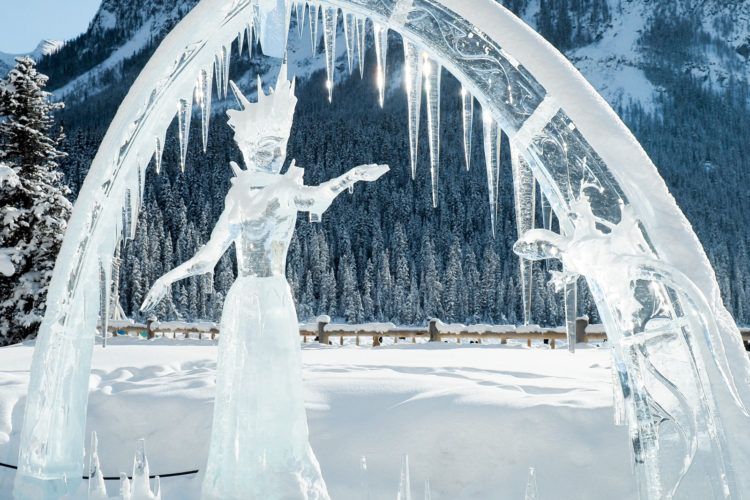 If you do end up crossing paths with the festival timeline, be sure to head to Lake Louise to experience this amazing winter wonderland. You'll get to walk through what seems like a small city of ice sculptures, from actual houses and castles to human-sized sculptures.
It's amazing to see the work these artists do with the ice, and to be able to walk through it is even more magical.
Horse Drawn Sleigh Rides at Fairmont
At the Fairmont Lake Louise, you can literally go dashing through the snow in a one-horse open sleigh. Yes, just like the song! A horse-drawn sleigh ride is the perfect way to bring out the giddy kid in you on a cold winter day.
Your driver will wrap you up in cozy blankets and take you for a spin around Lake Louise, where you'll marvel at the snowy mountaintops as the flurries melt on your nose. This is one of those must-do things to do in Banff in winter – it's like the winter dream you always had as a kid is finally coming true!
Indulge in Afternoon Tea at Fairmont Chateau Lake Louise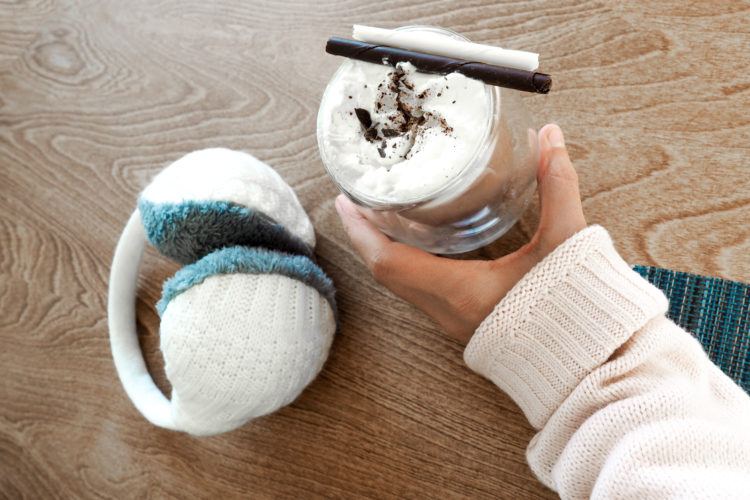 What could be more perfect than indulging in a huge assortment of cute little finger sandwiches, buttermilk scones, and mini desserts, all while staring out the window at the beautiful Lake Louise and Victoria Glacier?
We decided to warm up with some fancy hot chocolates as we didn't want to spoil our appetite for our early dinner. Next time, next time. Gimme allll the reasons to return to Banff in winter, please! Be sure to make a reservation because this place gets crowded, no matter the season!
Lake Minnewanka
If you have some time after your morning and afternoon at Lake Louise, why not check out another frozen lake? Lake Minnewanka is one of the most famous landmarks in Banff – it's a lake surrounded by stunning rocky peaks. In the winter, it's all the more beautiful, with the mountains covered in snow and seemingly no one else around.
We visited when visibility was quite low, so fingers crossed you get clearer skies! In addition, if the lake isn't covered in snow (it was when we were there), you may be able to see the ice bubbles! Send me photos if you get to witness this!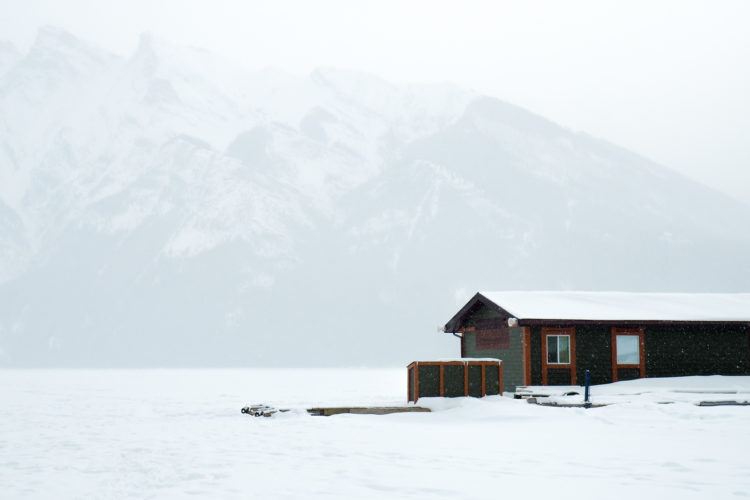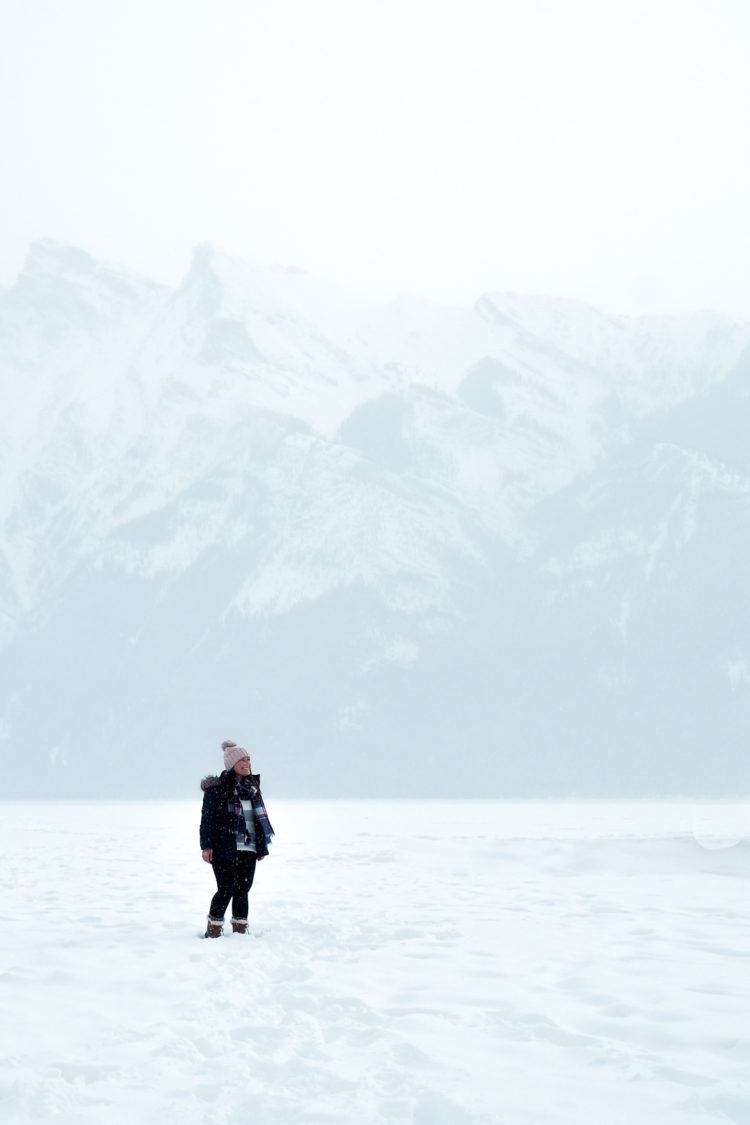 Although the lake sometimes closes when the weather has been bad, it's still worth going and seeing this incredibly beautiful place, especially at sunrise or sunset. There are lots of rocks along the lakeside and there's also a loop trail that you can wander around (if it's not too icy!). And, if you get a clear night, stargazing at Lake Minnewanka is one of the best Banff winter activities anyone could ask for.
Day 4: Hiking, Views, and Hot Springs
Morning: Ice Hiking to Frozen Waterfalls at Johnston Canyon
Get ready to bundle up, because we're going on an ice walk to marvel at frozen waterfalls! Johnston Canyon is one of Banff's most popular hikes year-round, and it's also one of the best things to do in Banff in winter. I'm so glad we made time for this, as we almost cut it out of our itinerary completely (would have been a major mistake!)
With frozen waterfalls lining the canyon walls and a thick layer of ice topping the typically metal pathways, our short hike was most definitely a memorable one. Personally, I thought it looked like a scene straight out of Frozen, minus the singing and the ice castles (which you'll hopefully check out in Lake Louise).
The entire way, you'll crunch through the ice and snow to get to some of Johnston Canyon's magical landmarks, like the Lower and Upper Falls and the Ink Pots, as well as the canyon itself. We only allocated enough time to trek to the Lower Falls, which are only 1.1 km away, and took us roughly an hour round trip (with stops for photos of course), which was downright stunning and out of another world.
However, if you've got time to spare, head to the Upper Falls and the Ink Pots which are 2.6km away (we desperately wanted to do this but time was not on our side unfortunately).
While the hike itself is relatively easy, it's more difficult in the winter because of the thick ice and frigid weather, and therefore should be treated like a serious adventure that requires some preparation (more on that below). One of the better Banff winter hikes out there, so dedicate more than a quick morning if you wanna get your steps in.
To hike in Johnston Canyon in the winter, you'll need some special gear. First off, you'll want to bring lots of thick, warm clothing because it gets extremely cold (but you already knew that, right?) We're talking wool base layers, thick sweaters, a parka, and of course, gloves and a hat. Banff in winter is no joke, and it's definitely better to come over prepared than underprepared.
Then, there's the shoes. Besides some serious waterproof hiking boots and a couple layers of wool socks, you'll also need crampons and/or spikes to help you stay upright in the ice. You cannot hike in Banff in winter without these.
If you don't own a pair of crampons, you can rent them at one of the outdoor outfitters in Banff's city center. I will admit that I didn't wear/use any spikes when hiking Johnston Canyon, and therefore felt the need to hang on to the ledges in fear of falling. We saw a few people slip and fall, so I say, better be safe than sorry.
Another option for hiking in Johnston Canyon in the winter is by taking a guided tour. This is the safest and most comfortable option, especially if you're traveling solo or if you've never gone on an ice walk before. There are several tour operators that offer winter ice hikes in Johnston Canyon – I recommend this one if you're planning on booking a tour. It's one of the best Banff winter tours by far.
Wildlife Note: We saw a whole family of bighorn sheep on Bow Valley Parkway en route to Johnston Canyon, so be prepared to stop along the way should you see any movement on the street. Although they're kinda cute, be sure to keep your distance as yes, they're wild animals and can become skittish/afraid if you get too close!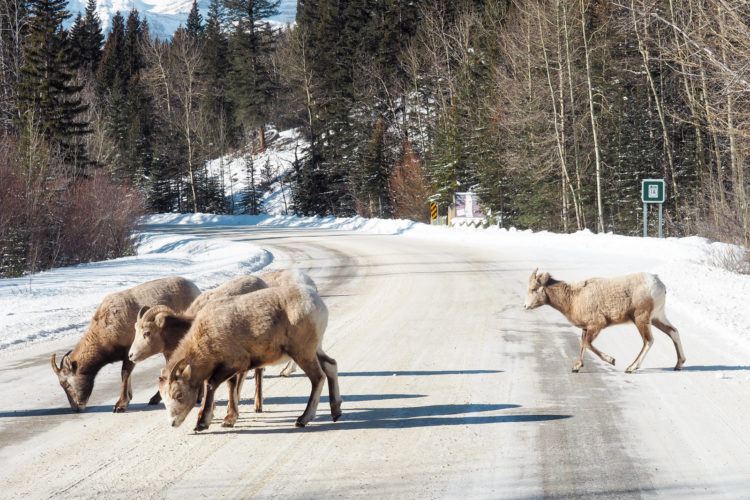 Afternoon: Ride the Banff Gondola
For non-hikers, the Banff Gondola is an amazing place to snag some of the most stunning snowy views of Banff in winter time. In just a few minutes, you'll go from the foothills near Banff's town center all the way up to the top of Sulphur Mountain (which is downright stunning, even from below). Don't forget to turn on your camera in the gondola on the way up to the top – the views from the cable car itself are just as phenomenal.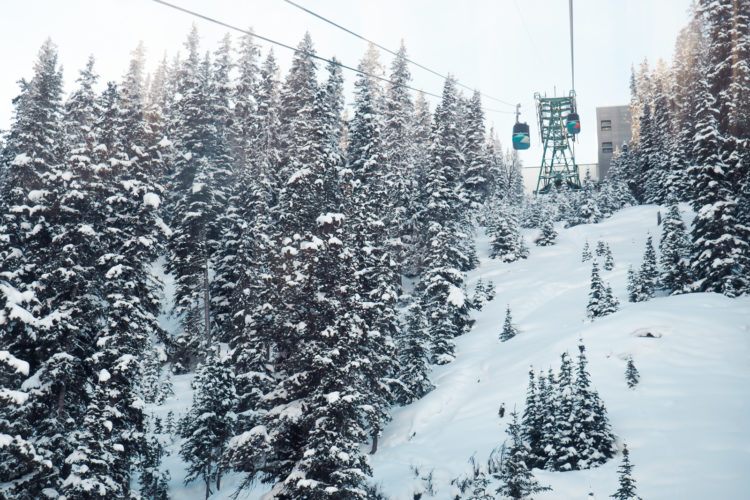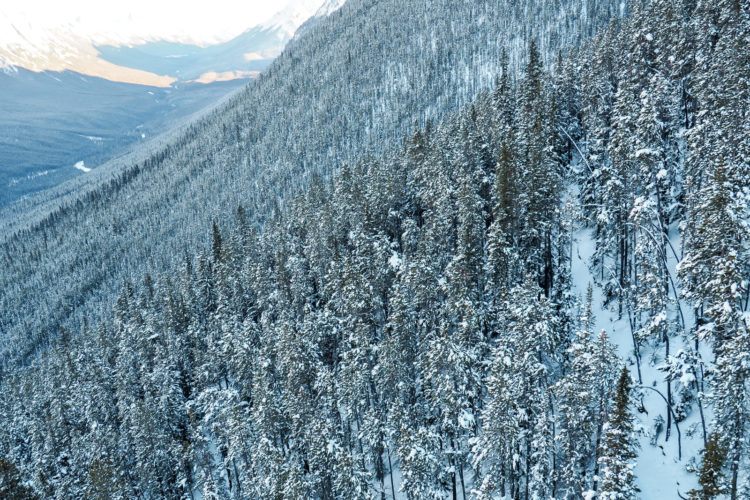 Once you reach the top after your ~10 minute ride, there's an open air observation deck and an eating zone where you can grab a variety of refreshments ranging from snacks and soda to wine/hot chocolate and dinner. There are actually several packages you can get at the Banff Gondola that include tickets and a meal or drink, which is especially useful for special occasions or surprising your loved ones.
We were oh so lucky to be visiting on a clear day, as we were able to see the entire valley near Banff Town, including the surrounding mountains and snow-covered evergreen forests.There's a boardwalk connecting two different viewpoints, giving you a lot of different perspectives to see the views below, but since we found ourselves in a windstorm at the top, we didn't venture too far.
Looking for something a bit different? On Wednesday through Sunday evenings, stargazing is available at the top of the Banff Gondola viewpoint. Make sure the night is clear and cloudless before you go up, and if the weather does cooperate, you may be rewarded with tons of stars, constellations, and if you're lucky, maybe even the northern lights (say, what?!).
You can go up to the top of the Banff Gondola starting at 10 AM, and it runs all day. The last gondola of the day goes up at 4 PM on Monday and Tuesday, and around 8 PM on Wednesday through Sunday, but even if you do take the last one, you'll have about half an hour to wander around the observation deck and take a few photos before heading back down on the last gondola at 4:30 PM and 8:30 PM respectively.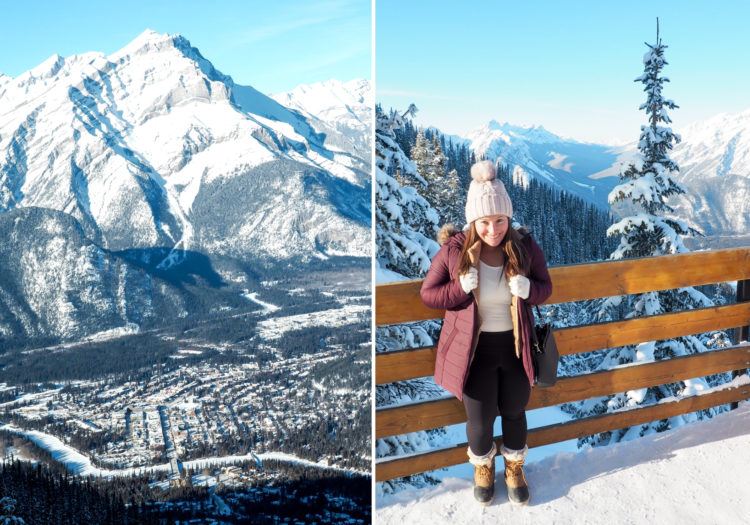 Don't miss the Banff Gondola if you're on the hunt for snowy views for days- it's arguably one of the most beautiful things to do in Banff National Park in winter.
Sunset/Night: Banff Upper Hot Springs at Sunset
Looking to warm up your body with undeniable views of those Rocky Mountains you've been eyeing all week? Insert the Banff Upper Hot Springs, one of my absolute favorite Banff winter activities, and something you just can't miss.
To be completely honest, I wasn't sure exactly what to expect. I had visited the Miette Hot Springs in Jasper National Park a few summers ago, and it was more like a glorified pool (i.e. not that impressive).
I'm not sure if it was the fact that we were visiting Banff in winter, but the Upper Hot Springs in Banff were an absolute dream come true. I was worried that the frigid temps would be a problem, but lemme tell ya – the hot 100 degree F waters feel that much sweeter against your skin when the air outside is subzero.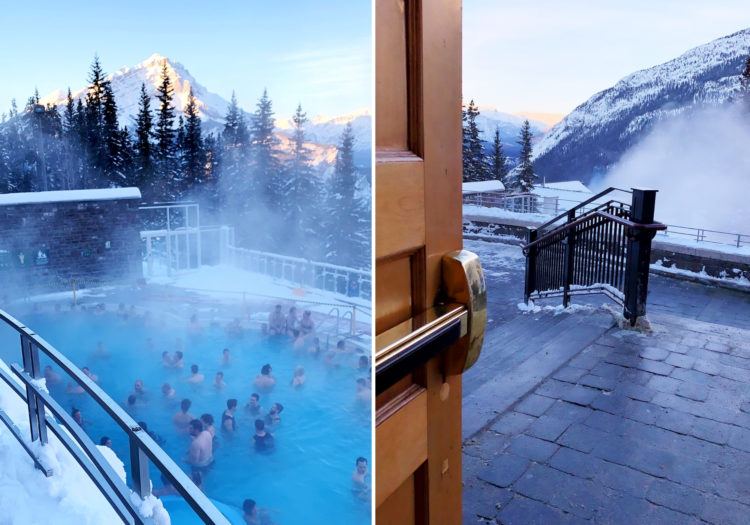 We ended up going right around sunset, which not only provided us with mountain views during the last few moments of daylight, but we got to experience the hot springs in the brisk night air as well.
For a mere 7 bucks (CAD), you can spend as much time as you want bathing in the hot springs, and even rent a traditional swimsuit for $1.90 CAD if you're visiting on a more spontaneous note. I recommend keeping a towel and suit in your trunk so you're always prepared (because nothings better than the Upper Hot Springs after a day out in the snow).
And don't worry – if your hair freezes and turns white, that's completely normal (yup). It happened to both of us and our hair returned to its original state once out of the hot springs and back in the car.
Day 5: Spa Morning, Beaver Tails, depart for Calgary Airport
Morning: Spa Day at Willow Stream
If you're tired of the frigid weather and are wondering what to do in Banff, get ready to soothe your body at the Willow Stream Spa at the Fairmont Banff Springs! This spa is absolutely incredible – it's no wonder it was voted in the Top 25 Spas in Canada.
I loved practicing some self-care by treating myself to a spa morning here (which is super important when you've been outside hiking and adventuring in the winter cold for a few days!). Even if you're not staying at the Fairmont Banff Springs, you can hop over for the day to enjoy the spa and its many amenities.
The Willow Stream Spa is like a dreamy paradise in the middle of a winter wonderland. You can request a variety of services, from facials to body wraps to massages and manicures and more. I loved the fact that their services are all glacier-themed, with names like "Glacial Reflections Facial" and "Majestic Blue."
I mean, what's more incredible than putting on a luxurious bathrobe while being pampered in an award-winning spa in one of the most beautiful mountain areas of the entire world? Spoiler alert – not much.
Not only does Willow Stream offer a wide variety of spa services, but there's also gorgeous heated mineral pools of varying temps with LITERAL WATERFALLS (not the frozen kind, luckily). Ahhh, I could have stayed in that 100 degree pool all day, and surprisingly, our bodies got used to the cold pool.
There's also a sauna, fitness center, and whirlpool you can enjoy. And yup, access to all of the spa's amazing amenities is included in the price of any service, so you can dive right in when you're done with your spa treatment.
I know it's tempting to want to take all kinds of photos of yourself in this world-class luxury spa, but to respect the privacy of the guests, cameras and photos are prohibited. Think of it as a good thing: you'll be completely disconnected from the 'gram so you can fully relax and rejuvenate instead.
We found a relaxing morning at the spa was the perfect goodbye to Banff, and I highly suggest you do the same! On our way to the airport we made a pitstop in Canmore for some Beaver Tails (an absolute must) and hot tea. Remember, the airport is approximately an hour and a half away from Banff, so you'll want to leave about 4 hours or so before your flight.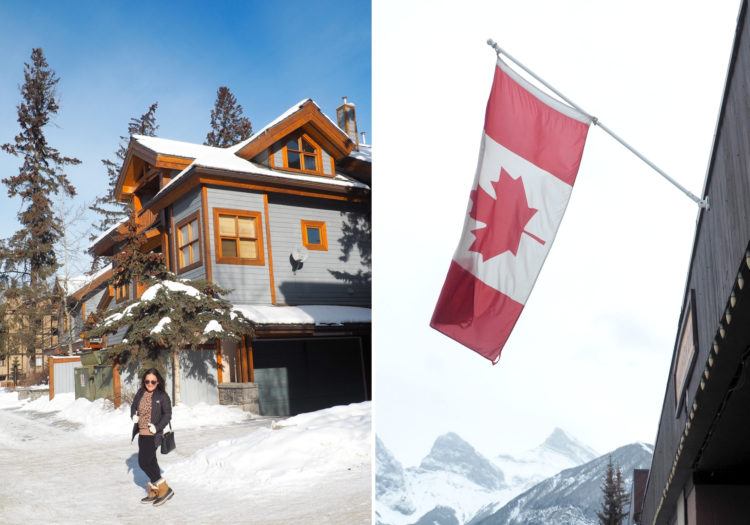 Additional things to do in Banff in the winter if you've got more time:
Skiing/snowboarding in Banff at Big 3
Skiing the "Big 3" is one of the most adrenaline-inducing things to do in Banff National Park in winter. For people who love to ski (or people who want to learn) there's no more beautiful or picturesque place to do it than in Banff.
We aren't skiers so therefore didn't take advantage of the fresh powder, but if you're a hot shot on the slopes, go show off your skills! Renting equipment couldn't be easier with Wilson Mountain Sports right off Highway 1 near Lake Louise. And lucky you, there's 3 major ski resorts in the Banff area:
Lake Louise: The Lake Louise ski area is the largest of the three, and is home to a wide range of slopes from beginner to expert-level. If you're hoping to learn how to ski or snowboard, this is a great place to do it.
Mt. Norquay: The Mt. Norquay resort is best for intermediate to advanced skiers, although about ⅕ of the slopes are approved for beginners. This is the only place in Banff where you can go night skiing.
Banff Sunshine: Largely for intermediate skiers, Banff Sunshine is a wonderful place to level up your skills as a skier. With 137 trails to try out, you definitely won't run out of terrain to explore!
Peyto Lake:
This gorgeous alpine lake located north of Banff is quickly growing in popularity due to its photogenic beauty. You'll need to drive to get here, but once you arrive, you'll be greeted with stunning snowy views of the turquoise lake below and the surrounding mountains capped with snow. Do note that there's a verryyyy good chance the lake will be frozen by mid-December, so just keep that in mind. (~100 km from Banff)
Abraham Lake:
In the winter, a strange phenomenon occurs at Abraham Lake – the ice bubbles. As the water is freezing, bubbles form under the surface and freeze in place along with the ice. If you get the chance to go, it's an otherworldly experience to see the bubbles. However, make sure that there wasn't any snowfall recently, or they may be covered! (~185 km from Banff)
Marble Canyon:
If snowshoeing is something you're interested in, strap them on and head to Marble Canyon, which is located in another National Park called Kootenay. Here, you can see amazing rock formations, evergreen forests, and turquoise pools frozen over with a fresh layer of snow. (~50 km from Banff)
Sunshine Village Gondola
Imagine soaring over gorgeous, snow-covered valleys amidst rocky mountaintops. Yep – there's nothing like the feeling of flying, and the Sunshine Village Gondola will definitely give you that feeling amongst some of the most stunning landscapes in Banff.
Bundle up and head to Sunshine Village, where you can catch this sightseeing cable car to ride around and explore even more of Banff in winter.
Tubing
Many of the ski resorts in the area offer tubing for people who want to enjoy the snow but don't want to hit the slopes on skis or a snowboard. If you've never done tubing, it's basically sliding down a mountain on an inflatable inner tube. (And it's hilariously awesome!)
Both Mt. Norquay and Lake Louise have slopes dedicated to tubing – you can try it once or head down a few different ones for some variety.
Where to Eat in Banff (and surrounding areas)
Coffee and Breakfast: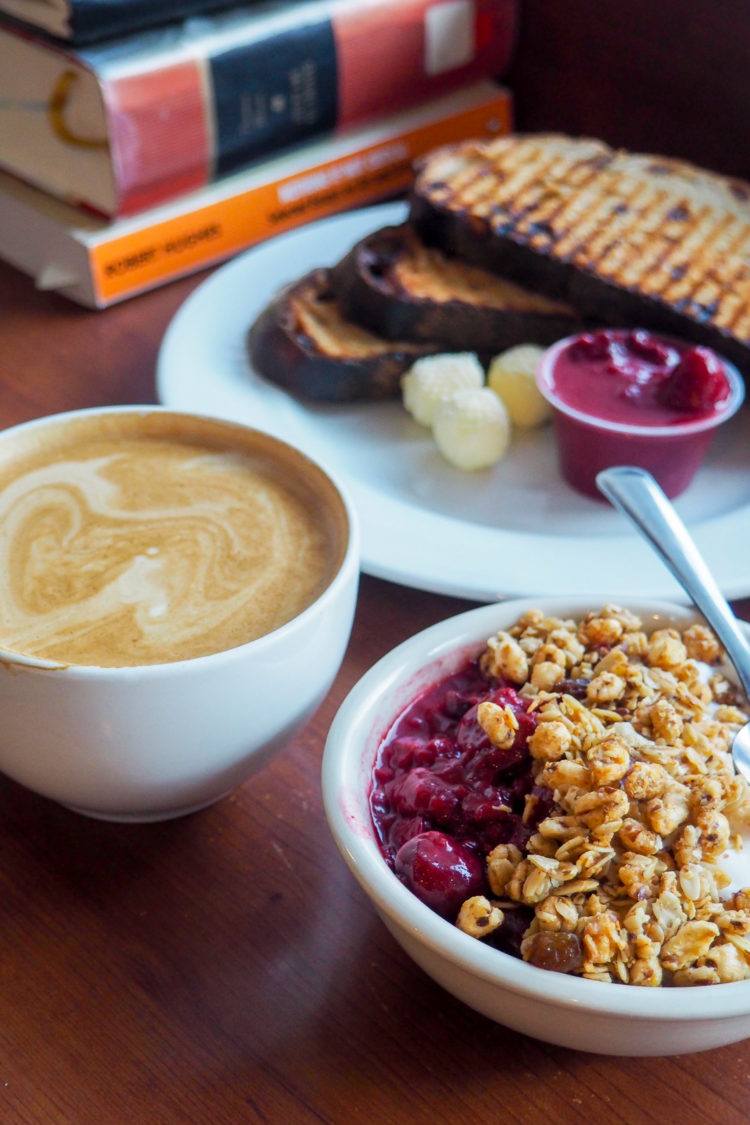 Good Earth Coffeehouse: Looking for a cozy spot to grab some brekkie (Aussie lingo courtesy of all the Australians on the trip :-p), head to this fantastic little coffee house located within the Elk and Avenue Hotel. It gets pretty crowded during the morning rush, so don't plan to get out quick. Great selection of cold and hot items though!
Whitebark Cafe: Another super cute breakfast spot located right in Banff Town. We both ordered the yogurt with homemade granola, and loved it so much we bought small bags to bring home to our husbands (and ourselves, of course). Shem was mildly obsessed with the flat white; we went back on our last day to indulge once more.
Wild Flour: While known for their perfect sourdough loaves, the other breakfast items are brilliant as well. We ended up coming here twice for breakfast it was that good. Psst: if they're offering the cinnamon raisin toast, order it ASAP and add a side of berry compote. The loaded grilled cheese (complete with apples and brie) was rather tasty as well.
Lunch and Dinner:
The Bear Street Tavern: Did someone say pizza? To my tasty surprise, all the pies come with a side of honey and chili oil for your dipping pleasure. With so many fun pizza combos (!!!) and $10 beer steins every Sunday, you've got to make some time to visit. Because they're quite popular, you'll undoubtedly need to wait a bit, so put your name down and walk around town until the frosty air gets to you.
Waldhaus at the Fairmont: You can't come all the way to this snowy mountain town and not indulge in some cheese fondue. We opted for the truffle cheese and chocolate fondue for 2, and it was one of our best decisions all week. FYI you can park on Spray Avenue and get shuttled to the restaurant since it's not located in the main building.
Communitea (Canmore): The second we stepped inside Communitea I totally understood all the hype – this place has a huuuge variety of hot teas (perfect for a chilly winter's day) and a great selection of health-related eats. Shem ordered a beautiful looking buddha bowl, and I had their pad thai inspired noodles, and we decided that both were top notch. Note that they close around 6/7ish, so plan to eat an early dinner if you're coming in on the later side of the day.
Nourish Bistro: We got this recommendation a few times on our trip, but didn't have time to go! If you're a vegetarian you'll love this place as it's listed as a "quirky eatery featuring inventive vegan and vegetarian dishes, plus cocktails"! On my list for next time!
Not to Miss Snacks: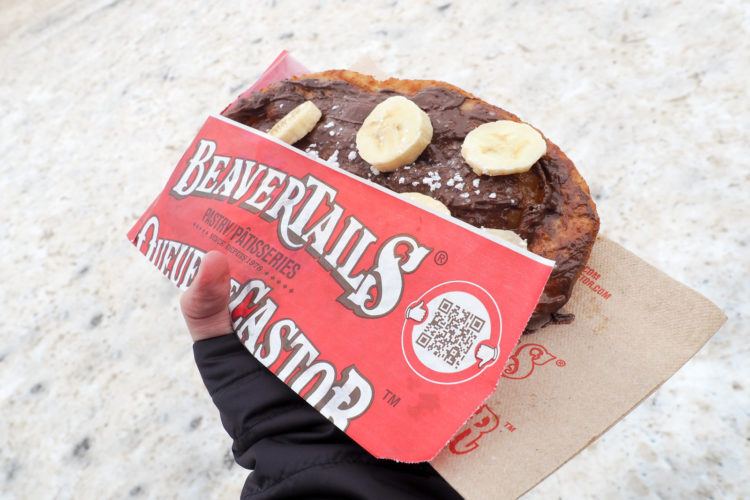 Poutine: Fries with cheese curds and gravy. Enough said.
BeaverTails: These greasy goodnesses are kinda like a Canadian institution around these parts, and you have to PROMISE me that you'll feast on at least one during your time in Banff (no matter the season). And what are they exactly? A fresh and crispy fried dough treat cooked right in front of you loaded with sugar and calories (but calories don't count out of country, right?) Basically, all the unhealthy stuff you can imagine heaven to be. A sugary madness complete with whatever toppings you prefer (I picked Nutella and bananas). And you guessed it, they're as messy as they are mouthwatering.
Are you planning a winter trip to Banff this season or next? Take me with you, pretty please?
I can't wait to experience another Banff winter and be wowed again and again (hopefully next year)! It really was all that magical, for lack of a better word.
Special thanks to Travel Alberta, Banff Lake Louise, Tourism, Banff Centre, Snowy Owl Sled Dog Tours, Alpine Helicopters, Willow Stream Spa, and Hecktic Media for making this winter trip to Banff one for the books. All dog sledding freak outs and hot chocolate guzzling my own.