Headed to Greece and looking to spend 2 days in Athens? Welcome, my souvlaki-and- spanakopita-loving friends, as this Athens itinerary will surely help you plan your trip to the land of ancient marble columns, frozen greek yogurt, and gyros. I like to eat, can you tell?
Athens is gritty, authentic, surprising, and always a true adventure. However, whenever someone books a trip to Greece, they head straight to the islands, skipping out on Athens altogether. At least that's the majority of visitors (and everyone I seem to talk to).
Athens hardly gets any love (cue the sad face), and it's such a shame because this inspiring city actually has tons to offer! From the architectural magnificence of the Acropolis to the electric street art of the Psyrri neighborhood, there's just no reason to skip it. And get this – it's actually one of the oldest cities in the world, with civilization dating back 3,000 years (yup, it's that old).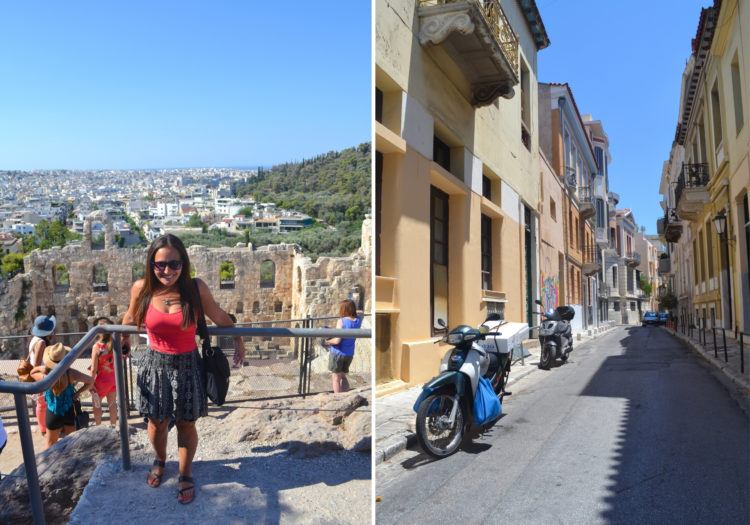 People say it's gritty, dirty, and all around unappealing. And while, yes, some of that is undoubtedly true, Athens has a good amount of quirky neighborhoods to properly explore, besides the typical archeological sites. The Parthenon! The Ancient Agora! Hadrian's Library!
I could go on and on about all the things to do in Athens, but let's just get on with it, shall we? I'm here to prove to you just how fascinating and worthwhile this Greek capital city really is. It is considered the historical capital of Europe, with a current population of over 3.5 million people…
I recently had a few days to explore this sprawling city before taking off on a Mediterranean cruise (visiting Santorini, Kotor, Taormina, and the Amalfi Coast), and I'm SO glad I added a few extra days to explore Athens.
→ Read Next: 10 Days in Greece (The Perfect Itinerary)
Logistical Info For Your 2 Days in Athens
Where to Stay in Athens
Many visitors opt to stay at hotels which offer great views of the Acropolis. I highly recommend this. Breakfast with Acropolis views? I think yes.
We chose to stay at the Athens Gate Hotel for our 2 days in Athens; it's located in the center of the city, opposite the Temple of Olympian Zeus, and offered panoramic views from it's rooftop restaurant. The breakfast spread overlooking the Acropolis in the distance was the perfect way to start each morning in Athens.
If you're looking for an upscale hotel with Acropolis views (that won't break the bank), Athens Gate is your place. Additional hotels which offer those stunning views you're probably after: Zillers Boutique Hotel, 360 Degrees, and Acropolis View Hotel (budget).
When I visited Athens solo for a few days on a different trip, I stayed at City Circus Athens, which was quite frankly one of the raddest hostels I've ever booked (and I've stayed at my fair share of them).
Located in the artsy neighborhood of Psirri, there was wacky street art all around and I loved wandering down the alleyways in search of cool findings. Plus, the location was great, only steps from the Monastiraki Metro. Other highly rated hostels include: Zorbas Hostel, Athens Backpackers, and Bedbox Hostel.
When to Visit Athens
The short answer: between late March – early June and then again from late September – early November.
The spring and fall months provide not only lots of sunshine, temps that aren't too drastic (no intense heat spells), and thinner crowds. You'll also probably find better airfare and hotel deals during these months, at least compared to summer! If I had to pick for myself, I'd visit late September/early October.
The longer answer:
Shoulder Season: April through early-June, Mid-September through October
Best time to visit in my opinion, as the crowds have slowly dissipated and the high temperatures range in the low 70s, making it pretty comfortable for sightseeing. No one wants to sweat through their clothes when out and about all day.
HOWEVER, you'll probably be heading down to the islands at least for a few days (highly suggested), and it'd be just plain silly to visit when the water's too chilly for swimming (April/May). Get a good combination of warm water and less(er) crowds in late September and early October.
This way, the water has had time to warm up quite a bit over summer, the crazy hordes of tourists from July and August have left, and you'll get a bit of a respite from the intense summer heat.
High Season: Mid-June through early-September
Most expensive and craziest crowds. Try to visit as early on in June as you possibly can, or wait until September. With that being said, if you don't have a choice, just make the most of it and understand you'll need to take breaks throughout the day to cool off, and be sure to stay hydrated. If you want to get the best photos sans crowds, you better be willing to wake up quite early!
Athens in July and August is just brutal – for one it's blazing hot with high temps of 40 C/100F (we were sweating through our clothes, and no, it wasn't pleasant), and you'll find a ridiculous amount of tourists around the city. But the nightlife is booming and the city is at its most entertaining and lively, so your pick!
Also keep in mind that during August, many shops/restaurants will be closed as the owners go on vacation themselves during that time (to cooler places).
Winter/Low Season: November through early-March
I don't recommend visiting Athens during its wintertime, as you'll find many more unpleasant days, with some rain and cloudy grey skies. Although the temps don't reach freezing, it's significantly chillier than during other parts of the year (with a high temp of 55F), with unpredictable weather (although thankfully, sun isn't uncommon!).
This could be a good thing in some perspectives — less crowds brings less time waiting on line for attractions, and you'll likely be able to find discounts on both hotels and airfare. It'll get significantly colder at night, around 40F or so, so be sure to take a warm jacket.
Do note that if you're planning on using the Greek Ferry systems, they won't be running on a full schedule (but then again, I don't really recommend visiting the islands during the winter time anyways).
→ Read Next: The Best Time to Visit Greece
How to get to Greece (and Athens in particular)
FLYING: Most visitors to Greece arrive via air, and thankfully, most international flights arrive in Athens (Athens International Airport, airport code ATH)! Just note that you may have difficulty finding non-stop flights to Greece if you're coming from the States.
If you'd like, you can take advantage of this by extending your layover and checking out another country! Just depends on your preferences – but just know that once you get to Europe, it's fairly inexpensive (within reason) to get around to neighboring countries.
Once you're in Europe, check out low-cost airlines like Aegean and EasyJet in order to make it to Greece (but be sure to take into account those pesky bag fees before making your ultimate decision on a budget airline!)
I swear by Skyscanner and Google Flights and almost alllways find the cheapest possible flights on one of those sites. The option to watch prices and get email notifications are top notch and one of my favorite features of the two.
Always check budget airlines that may not be listed, especially if you are coming from other areas in Europe with much shorter flight times. A great list of budget airlines can be found here.
CRUISE SHIP: If you're taking a Mediterranean cruise, you may in fact find that the cruise starts (or ends) in Athens! Piraeus, which is about 10 km southwest of the city centre of Athens, is the Mediterranean's largest port, and most likely where your cruise will leave from.
Do note that if you're visiting Athens via cruise ship, you'll likely only have one day to explore. I recommend extending your stay at least for a day or so before your scheduled cruise to get a proper feel for the place (and I always suggest arriving into the city of departure early anyways, to ensure you don't miss the boat!)
Top Tip: No visa is required for U.S. citizens traveling to Greece as long as a valid tourist passport and proof of onward travel is in possession, and you're traveling to the country for up to 90 days in any 180-day period. Note that your passport needs to have at least six months of remaining validity in order enter Greece.
How to get around during your 2 days in Athens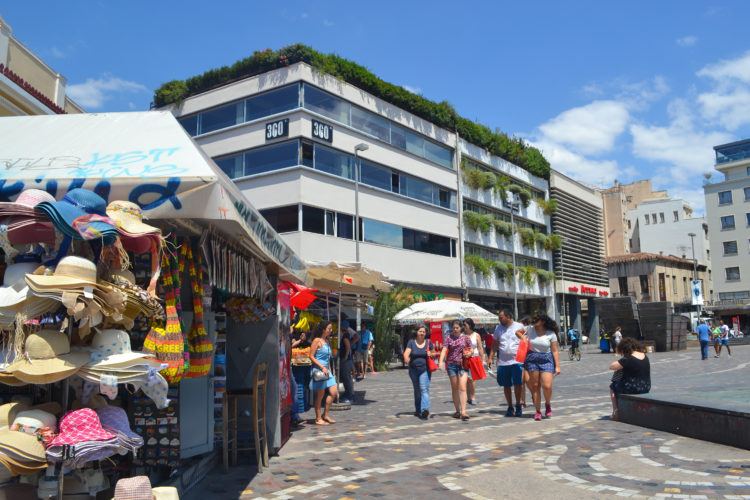 First things first, you'll need to get yourself from the airport to the city center.
Take Metro Line 3 to the Syntagma Station (Athens Center) from the Athens airport. Trains run every 30 minutes, 7 days a week from 6:30 a.m. to 11:30 p.m. The trip from/to the Airport to Syntagma station (Athens center) lasts roughly 40 minutes.
Many visitors choose to stay near the Acropolis, which you'll need to make one change from the blue line at Syntagma to the red line in order to reach the Acropolis Station. Cost should be €10 from the Athens airport.
Transport around the city:
The Metro: It's so super easy (and quick); there's no reason not to use it!. And with only 3 lines it's much easier to navigate than say, NYC which has a muuuuuch more intricate subway system.You can also take the bus/trolley or tram, but these usually take much longer than the metro.
Uber/taxi: Do note that as of April 2018, UberX service is suspended in Athens, whereas the UberTAXI service remains in place. So basically, you can call (and pay for) a ride on the App, but you'll be getting a typical city taxi instead. The taxi drivers over here use the Uber app like all the other Uber drivers you're probably more familiar with. There is no option for the typical UberX at this time.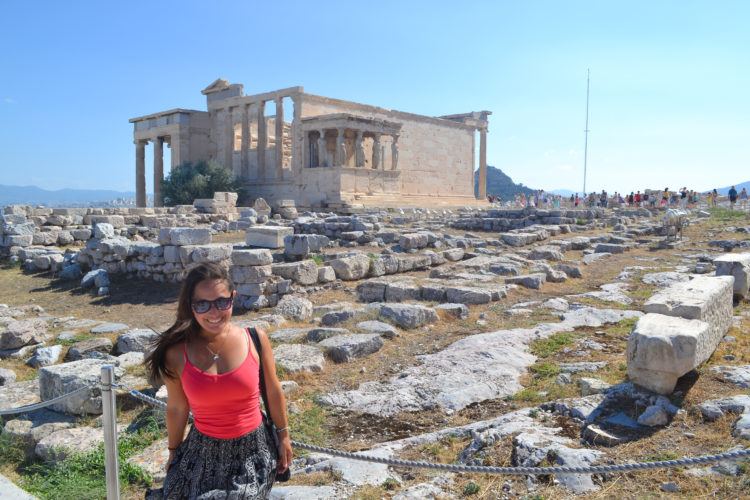 Insider Tips when Visiting Athens
The archeological sites are closed on Sunday, so be sure to plan accordingly. In addition, all the sites open at 8am and close at 3pm, with the exception of the Acropolis which closes at 7pm. Since we're talking opening hours, it'd be wise to know that the Acropolis Museum (€5 for entry) is closed on Mondays. Again, plan out your Athens itinerary with this in mind and make adjustments if need be.
Pickpocketing is unfortunately quite common. Athens is known to have a bunch of child gypsies who work together in pairs in order to pickpocket. One child is usually distracting you by asking for money or playing an instrument, while the other steals. Just something to be aware of and stay away from them.
Keep small change handy (in your pocket) if you intend to tip street performers, as it's not wise to take out your wallet or open your purse in crowded areas.
The city is easily explored on foot, so be sure to wear extra comfy shoes during your 2 days in Athens! If walking's not your jam (that intense heat in summer is no joke), there's a hop-on hop-off bus that will take you to the highlights within the city, including the nearby beaches as well.
You may want to consider purchasing the Athens City Pass ahead of time if you have at least 2 days in the city, as it will provide skip the line tickets to the Acropolis Museum, free admission to Athens' top museums and major sites, and numerous discounts on shopping, gastronomy, and entertainment. Plan to buy the pass, which gives you access to all the sites and is good for 4 days (still worth it even if you've only got two days in Athens).
What and Where To Eat in Athens
Classic Food:
Souvlaki: seasoned meat skewers, usually flavored with tzatziki sauce
Tzatziki: a classic Greek sauce of thick strained yogurt, garlic, and olive oil
Spanakopita: it's commonly referred to as spinach pie, and is just that – feta cheese, butter, and olive oil and layers upon layers of phyllo dough
Moussaka: a traditional dish comprised of minced beef, tomato sauce, and eggplant
Gyros: pita filled with roasted meat, onions, lettuce, tomatoes, and even fries and/or potato chips, and they're economical to boot (perfect for when your wallet is feeling a little light)!
Greek salad: a salad consisting of tomatoes, olives, cucumbers, and allll the crumbly blocks of feta cheese you can imagine
Keftedes: fried crispy meatballs
Dolmadakia: grape leaves stuffed with meat (either ground lamb or beef) and rice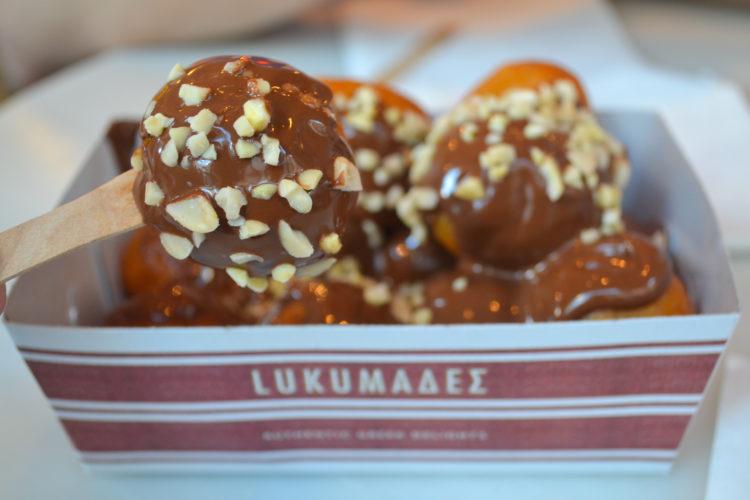 Sweets:
Loukoumades: bite-sized balls of fried dough, usually drizzled with honey, sugar, cinnamon, and other toppings of your choice
Kataifi: pastry with a deletable nutty center all rolled into pastry and soaked in sweet syrup (can you say, yum!)
Baklava: a sweet treat consisting of mostly nuts, butter, and sugar, all absorbed by delicious layers of phyllo dough (my favorite)
We didn't do much research on restaurants when we visited, but we found and loved the following on our explorations:
Cinque Wine and Deli Bar (came here twice for the cheese platter- it was that good)
Lukumades for some loukoumades (yes, they're spelled differently)
Yiaourtaki for some frozen greek yogurt with honey
Aiolou 68
I promise you, even with just 2 days in Athens, you can really experience the culinary expertise that you'll find in the city. It's all just so damn good!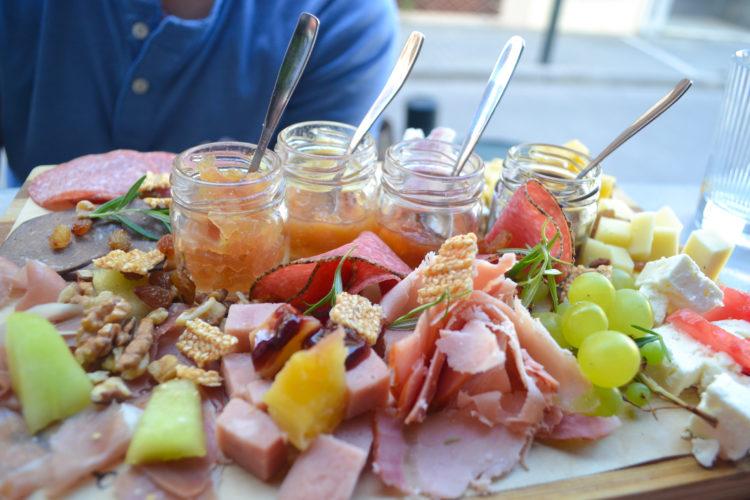 And now, let's get to it, a fully comprehensive 2-day Athens itinerary to follow on your next trip to the ancient Greek city!
Day 1: Ancient Ruins of Athens // Archaeological Sites
First up on this Athens itinerary: the ancient ruins! Might as well get all the typical Athens-y stuff outta the way first thing! And since the sites get rather crowded the longer you wait in the day (despite the intense heat), it's best to visit early morning.
Early Morning: Acropolis
The Acropolis is to Athens as the Golden Gate Bridge is to San Francisco and the Panama Canal is to Panama City. It's utterly fascinating and something you just can't leave the area without doing, and is understandably the city's most iconic attraction.
There's a reason this place is a UNESCO World Heritage Site → ancient ruins amongst a dramatic landscape of Athens, yes please!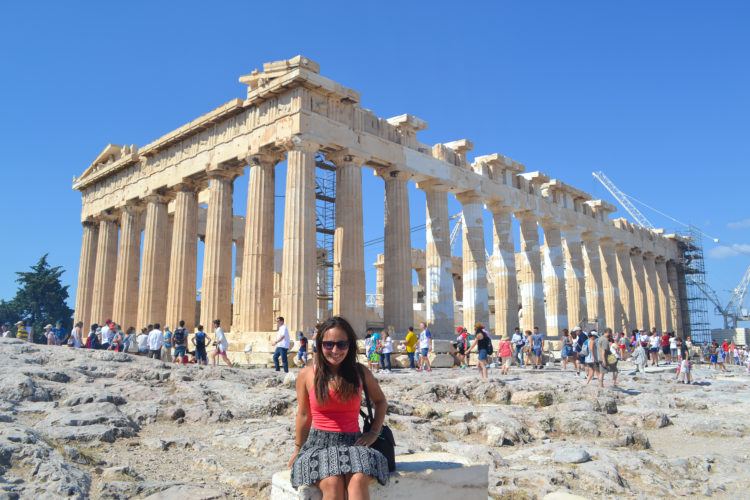 Start as early as humanly possible (opens at 8am), as it gets crowwwdeddd and it's disgustingly hot in the summer months. Plus, this is your only chance to get a few pictures without hoards of tourists in the background. Be sure to grab at map at the entry gate – the area is larger than I initially realized!
It's wise to purchase a skip-the-line ticket and/or booking an early morning guided tour. Although we fully enjoyed our time at the Acropolis, it was difficult to appreciate it without much background information.
We're not major history buffs so unfortunately didn't know much about the significance of the place so a guide would have been super helpful (in order to learn a thing or two → next time).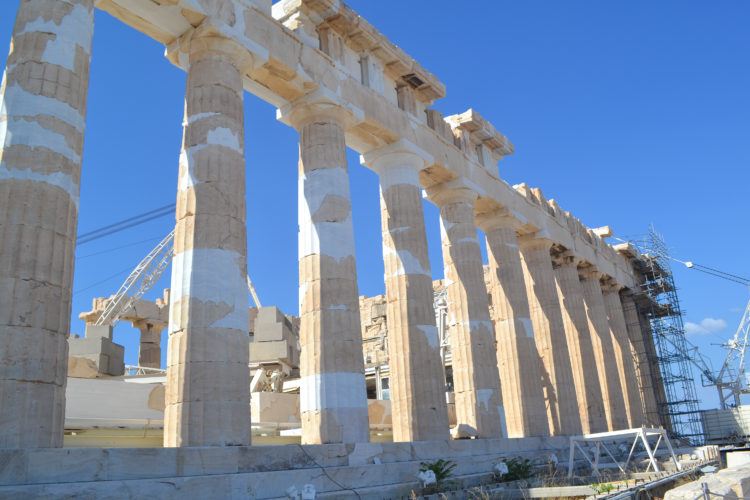 Be sure to feast your eyes on the Temple of Parthenon (the most famous of the sites), the Theatre of Dionysus, and Erechtheion, which are all relatively close. Plan to spend 1-2 hours here depending how many photos you take and how much you can deal with the heat and/or possible crowds.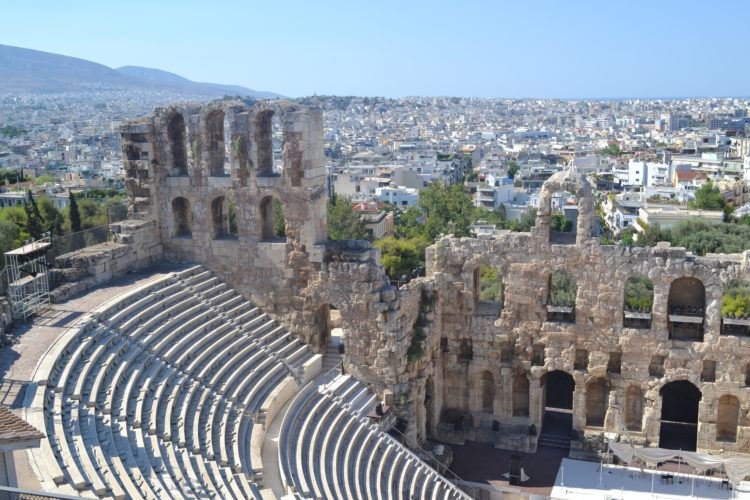 Top Tip: The Parthenon is actually the building (what everyone instantly recognizes), while the Acropolis is the name of the hill it's situated on! Who knew?!
Mid/Late Morning: Acropolis Museum + Temple of Olympian Zeus
Ancient treasures in an ultramodern glass and steel museum? Don't mind if we do! The Acropolis Museum holds the findings of the archaeological site of the Acropolis of Athens, and is a great stop on any Athens itinerary if you have a thing for history.
Located at the foot of the Acropolis, you can't miss this architectural wonder! Visiting the museum really expands your understanding of the Acropolis, and I'm kicking myself that we didn't make this stop a priority on our 2 days in Athens.
Artifacts dating to prehistoric times, walking on transparent floors over excavated sites, marveling at the highlights like the Propylaea ceiling, fragments of the Parthenon frieze, and more → what's not to love. I mean, it's actually the #1 thing to do in Athens on TripAdvisor (true story). And since it's oh-so-popular, it's highly advised to buy a skip-the-line ticket to the Acropolis Museum ahead of time.
Grab a snack or lunch here if you're already feeling pretty famished (the views from the museum restaurant are stunning).
Psst: you can also book a combo Acropolis and Acropolis Museum guided tour if you want to keep it all easy-peasy and ensure you don't miss any of the super important stuff.
And thankfully the Temple of Olympian Zeus is a mere 5 minute walk away, so you may as well marvel at this historical wonder as well since you're riiiiight here anyways. Check out the unusually tall columns and ambitious layout, which actually made it one of the largest ever built in the ancient world! Whoa.
Early Afternoon: Plaka + Anafiotika
Once you've got the especially busy stuff done for the day, go for a wander through the charming historic neighborhood of Plaka and go on the search for Anafiotika.
The Plaka: Being the historic center of Athens, filled with winding alleys, steep staircases, and tons of cafes and restaurants, you'd be a fool to miss this picturesque neighborhood. And plus, it's a wonderful place for some lunch: grab some gyros, chocolate covered coconut sticks, loukoumades, and call it a day.
Up for a bit of shopping? Stroll around the streets of Adrianou and Kydathineon, full of boutiques, art galleries, and color. Look for the famous Plaka steps, nestled into the side of the mountain, and be sure to watch the cats sneaking in and out of the cafe tables!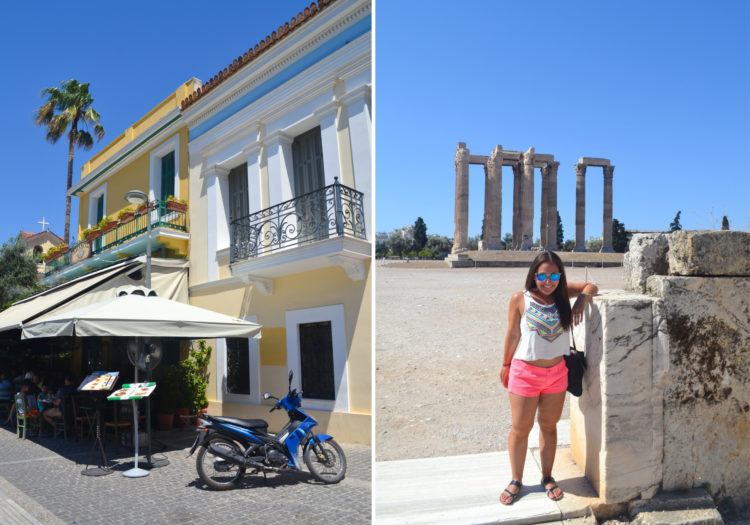 Anafiotika: Craving the islands already? Well, this is as close as you'll feel until we actually get there! Anafiotika is a neighborhood hidden against the slopes of the Acropolis, and it's actually pretty easy if you know where to look.
To find it, head up Erechtheos Street, (towards Pritania Street), make a right and across from Metochi Panagio Tafou (a church) start heading up hill. And all those little cul-de-sacs and private-property looking-esque twisty staircases – that's Anafiotika!
And thankfully, with 2 days in Athens (instead of just one), you can take some time to find this white-washed little area.
Late Afternoon: Syntagma Square
Syntagma Square is always buzzing, no matter the day or time. Being the epicenter of modern Athens, the square is complete with the political center and transportation hub, and is an all around fantastic place to people watch (any time of day).
It's the central square of Athens, and it's constantly crowded with both locals and tourists. Catch the changing of the guards at the top of every hour at the Greek Parliament Building, a neo classical building with a very long and complex history. But be sure to come early – this is a popular activity for those visiting.
Night in Athens
You could just wander around the Psirri neighborhood (full of bars and DJs, tavernas, meze and live music), but if you're not into chilling out (although it's one hell of a good time), consider seeing some of the sites by night.
And one of the best ways to do this → via a segway tour of the city. Yes, a tad cheesy, but once you get the hang of it, it's really a whole lotta fun. In just a few hours you'll see ancient monuments and modern landmarks, illuminated after dark, and discover hip neighborhoods that are at the heart of Athens' nightlife. Sounds like a decent night out to me.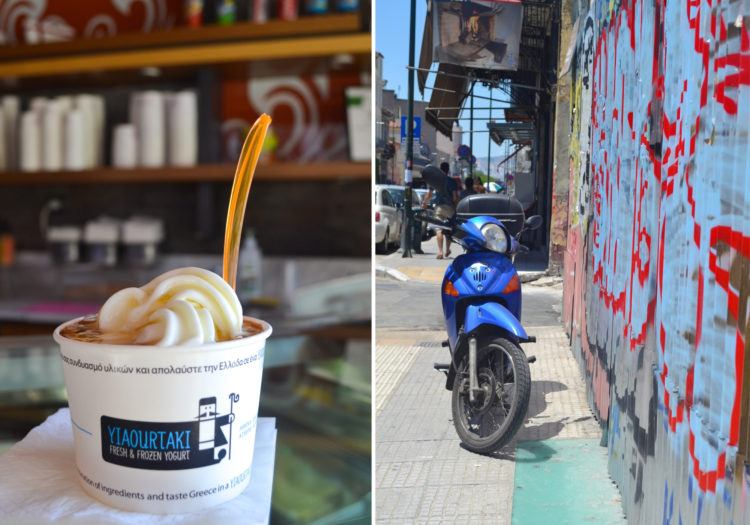 -or-
Take an E-bike Tour! Want even more sightseeing?! If all you've got is two days in Athens you may as well make the most of it! So hop on that bike (it's electric!) and experience the city sans crowds!
On the tour you'll get dramatic views of the Acropolis from the Hill of Nymphs, cycle the picturesque streets of Plaka, and listen to the street musicians.
Day 2: The Eclectic Neighborhoods of Athens
Since we rushed allll around yesterday, day 2 of this Athens itinerary will be a bit less fast-paced. Take the morning to sleep in (just a tiny bit), have a relaxing breakfast on your hotel rooftop overlooking the Acropolis, and just take a few moments to take it all in. You're in Athens afterall- one of the most historically significant cities in the world!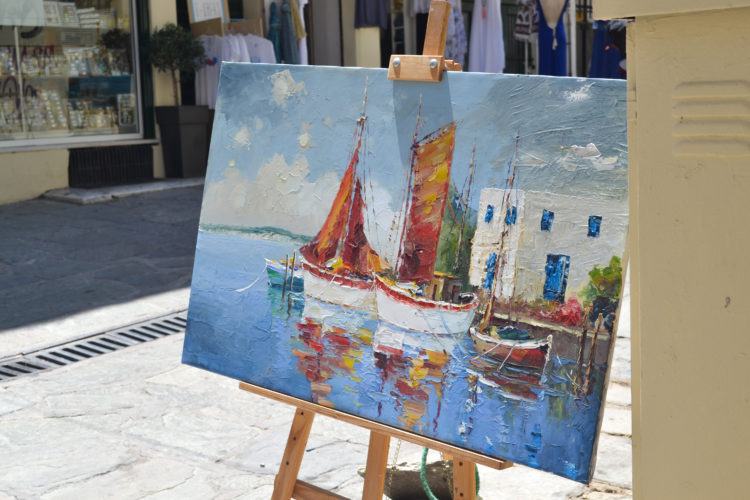 MORNING:
Additional Archaeological Sites
History buff? Archeology nerd? You've gotta check out the Ancient Agora and it's a adjacent museum on your 2 days in Athens. This historical landmark in Athens is actually the best-known example of an ancient Greek agora. And if you're wondering WTF an agora even is (I wondered the same thing), it's essentially the gathering place of an assembly of people.
It's where the Greeks made political decisions, exchanged news/information, went shopping, and relaxed. In modern Greek terms, it simply means "marketplace". Although minimal restoration has been done, there are two buildings standing – the Temple of Hephaestus and the impressive Stoa of Attalos, from the Classical era and Hellenistic periods, respectively. And thankfully, there's lots of shade and plenty of benches to rest on!
Hadrian's Library should be on your agenda for this morning as well! And nope – you can't check out any books here, although the library used to hold 16,000 books in the time of the Emperor of Hadrian! Although it's quite small, it's worth a quick look around for ½ hour or so.
-or-
Athens Food tour
And if you've had enough of ancient archaeological sites (I totally get it), why not spend the morning on a food tour around Athens instead? No one's judging, I promise. Immerse yourself in the fragrances and colors of the local spices early on in the morning, which is the secret behind those renowned Greek dishes we all know and love.
Athens has a pretty impressive food scene, and a food tour will not only let you taste test a whole array of grub, but will take you to where the Athenians actually eat.
From the best souvlaki in town and that sweet, sweet baklava to Greek coffee in a hidden cafe and the finest olive oil, cheese, and honey available, you won't leave hungry, that's for sure. Oh, and don't miss trying to the local delicacy of pastourma, a popular cured meat.
The food tour will take you to bustling open-air food markets and unique speciality food shops, as well as the oldest bakery of Athens while teaching the secrets of the Mediterranean diet. And if a morning tour doesn't fit in to your schedule (if you're switching things around from the Athens itinerary I've created), luckily there's food tours in the afternoon as well.
A few food tours to check out:
Early/Mid Afternoon: Explore the Neighborhoods of Athens
Once you're all nice and full of souvlaki (and mezes and wine and spanakopita), it's time to get moving!
Monastiraki
First up, the Monastiraki flea market neighborhood in the old town of Athens, which is, you guessed it, one of the primary shopping districts of the city. Here you'll find a whole jumble of shops selling everything you can think of, including artisanal shops, homemade sandals (I wanted to buy them allllll), and souvenir shirts.
If you're feeling hungry or just want a little afternoon pick-me-up, be sure to lookout for the traditional tavernas and restaurants nearby, many with unparalleled views of the Acropolis.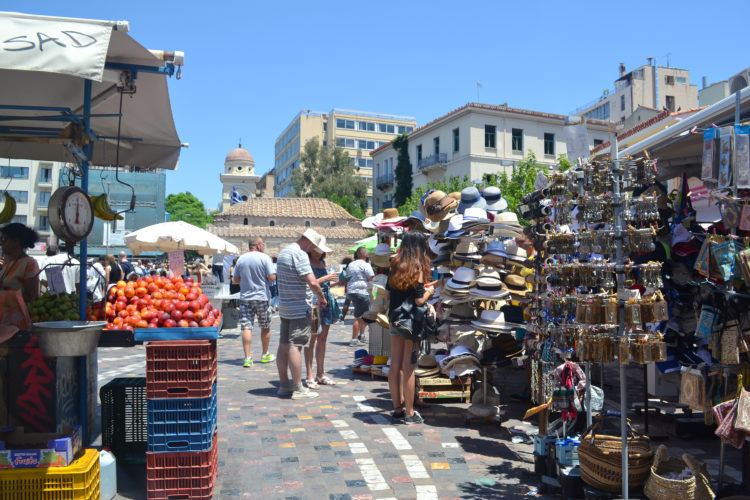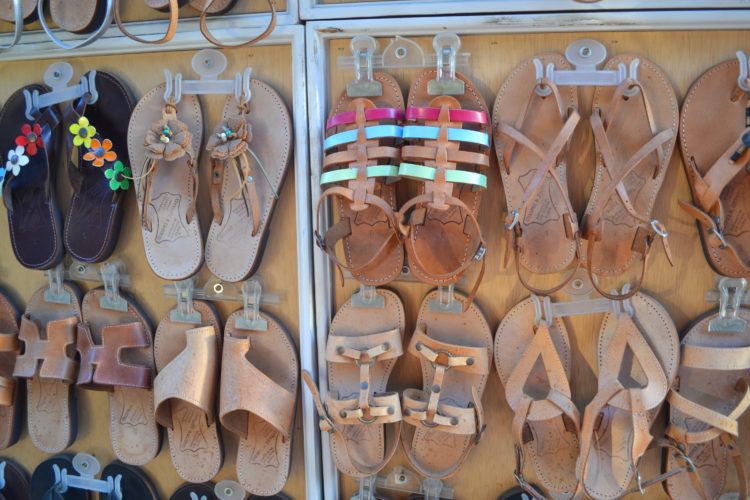 And if you visited the Ancient Agora and ruins of Hadrian Library earlier in the day, you've already seem some of Monastiraki's iconic landmarks (again – no judgements if you wanna skip them).
HOWEVER, be suspicious of the kids who beg or appear too friendly to visitors. As noted above, the kids work in teams and pray on unsuspected visitors by playing out their well-rehearsed schemes. Pickpockets and scams are unfortunately rather common in this area. Stay alert, keep your valuables in sight, and be extra extra cautious in the metro station and in crowded areas.
Psyrri
After you've shopped (and ate) your heart out, head on over to the eclectic Psyrri neighborhood, full of street art and interesting art installations. Albeit a bit gritty, it's a great place for a wander.
This downtown district, right near Monastiraki Square, is now known for its magical lantern-lit alley on Pittaki Street. With Chinese paper lanterns, fringed and floral shades, stained glass lamps, mirrored lampshades, and mid century metal lamps, look up, you'll see them all.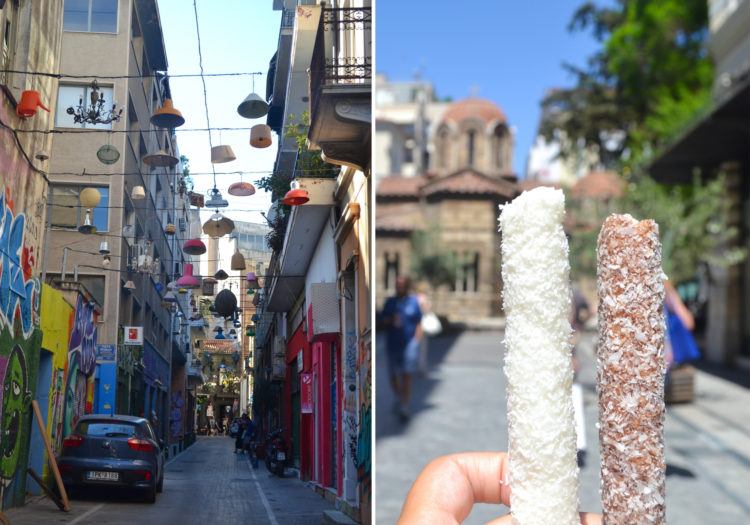 It wasn't always this multi-faceted. Before 2012, Psyrri was an area frequented by drug addicts and petty criminals. Locals even called Pittaki Street a "public toilet." Interestingly enough, this area used to be an underground district → citizens donated the lamps and artifacts, giving new life and light to the neighborhood. It's really something special when you sit down and think about it.
Because of this, Psyrri recently turned into a dynamic night-life hub, filled with vintages shops, tons of colorful street art, and alternative bars and cafes. The neighborhood underwent a drastic transformation, and should most definitely be on anyone's 2-day Athens itinerary.
Late Afternoon: Sunset at Mount Lycabettus
If you'd rather get your heart pumping and go on a little hike (for unparalleled views of the whole city), make sure your wandering is quick and head on up to Mount Lycabettus!
This limestone hill stands about 277 meters above sea level, which makes it the highest point in all of Athens! And you'll see Mount Lycabettus from almost anywhere, as it rises abruptly and is kinda hard to miss! The uphill hike takes roughly 20 minutes or so, and you'll be greeted with one of the best vantage points of all of Athens.
Yes, it's an absolutely beautiful walk (from what people say), but if you visit in summer, remember it'll most likely be scorching hot, which may present a challenge. I highly suggest taking the funicular up, then walking down the hill via either the steps or road. Make sure to wear proper footwear as it can get slippery on the sand paths!
I reallllly wanted to make it here for sunset, but we missed it. Next time!
Night
If you missed out on a food tour this morning, don't fret, there's options for those at night, too! Looking for an expert foodie guide to help decide what's for dinner?! Sign up here → enjoy stunning views, visit hidden bars and family taverns, and learn the culinary traditions of Greece. Oh, and of course stuff your face with tons of mezes and wines.
Or why not end your 2 days in Athens with a night out on the town. You may choose to wander the Psyrri neighborhood come nightfall, as it's full of bars and DJs, tavernas, meze and live music, you name it, it's one hell of a good time.
Day 3: For those with Extra Time (Lucky You!)
If you end up with 3 days in Athens, don't fret! There's tons of day trips you can take from the bustling city! I've been to all three below, and can honestly say are all worthy of an extra day allotted to your Athens itinerary.
If you wanna see more ruins, head to Delphi, if you wanna get a taste of island life, check out the 3 island cruise, and if you just want something a bit different and outta this world, venture north to Meteora.
Delphi
Delphi is the 3rd most visited archaeological site in all of Greece, and an especially popular day trip from Athens! I had the opportunity to spend a day in Delphi on my last trip to the country, and boy was I super impressed. I mean, it was regarded as the center of the Earth during ancient Greek times, so i guess it's kiiiiinda important.
Check out my experience in Delphi here and read reviews/book tour here.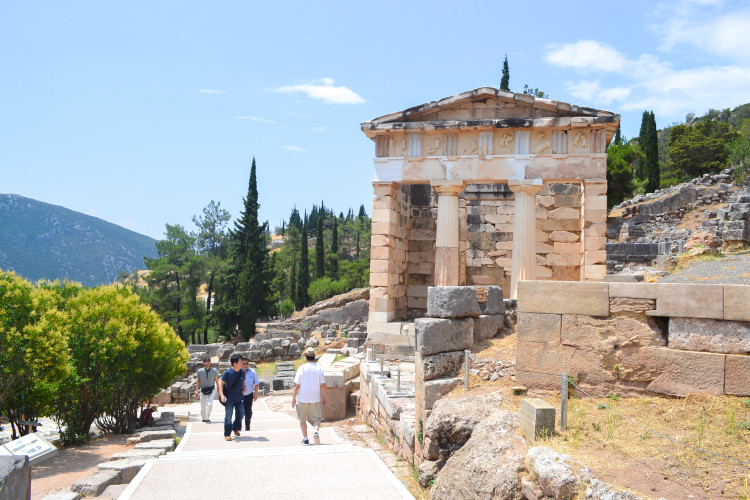 3 Island Cruise to Saronic Islands
If you have an extra day or so, definitely consider checking out the three-island tour from Athens (link is my review and experience) which travels by boat to Hydra, Poros, and Aegina (all wildly beautiful). Might as well start that Greek island hopping right away (after you see the main highlights of Athens that is…)! Check out my experience on the island cruise here and read reviews/book tour here.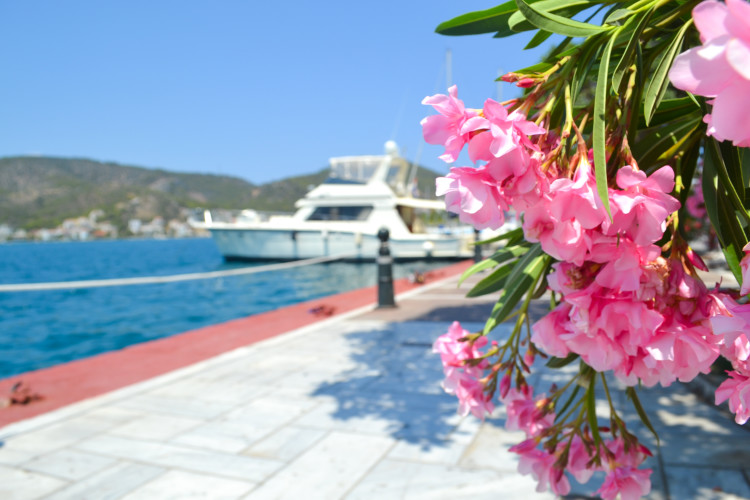 Meteora
It sure is long (and downright tiring) day, but well worth it in my opinion. Wow. What can I say? Spiritual, inspiring, magical, breathtaking, mystical, immense, and impressive. There really are no words to truly capture the effect the Meteora monasteries have on its visitors.
This majestic spot in Central Greece is surely unlike any area I've ever seen. Check out my experience in Meteora here and read reviews/book tour here.
→ Read Next: Top Day Trips from Athens
Are you visiting Greece's most historically significant city anytime soon? What on this 2 day Athens itinerary will you be checking out?!