Headed to Wine Country and looking for unique wineries in Napa? Here in the valley you'll find ornate statues, gushing waterfalls, and even a castle. All at the wineries! Check out my favorites below!
Napa is world renowned for it's wine selection, and for good reason.  The Valley and surrounding areas boast more than 600 wineries, each with their own tasting room.  (And even more that are not accounted for.)  It would take a lifetime to take a few sips at each, let alone in a long weekend.
Therefore, I've decided to compile my favorite wineries, each with their own distinctive flair and personality.  If you're not a wine connoisseur, the tastings will all begin to blend together, especially after your first few flights. I choose my vineyards and wineries not only by wine selection, but by views, experiences, and overall distinctness.
And can I tell you, unique wineries in Napa are hard to find! There are just so many!  Here's my personal collection of wineries in Napa with the best views and landscapes!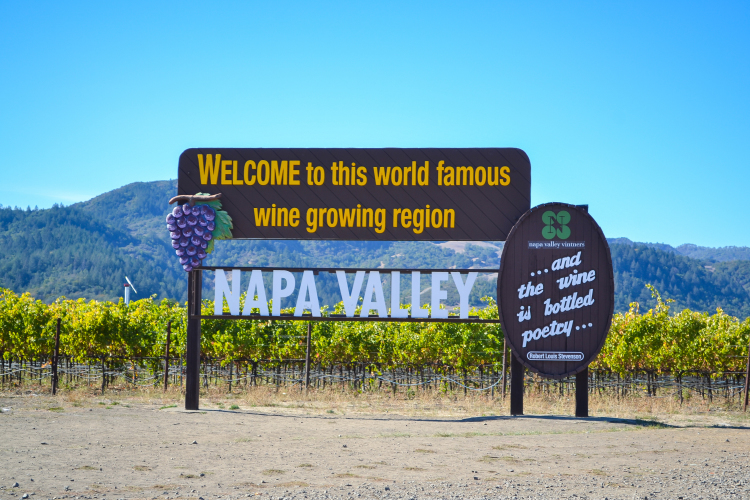 Read more about Napa here ↓
Reaching New Heights in Napa: Hot Air Ballooning over the Valley
Napa Valley Hotel Spotlight: Andaz Napa
1| Sterling Vineyard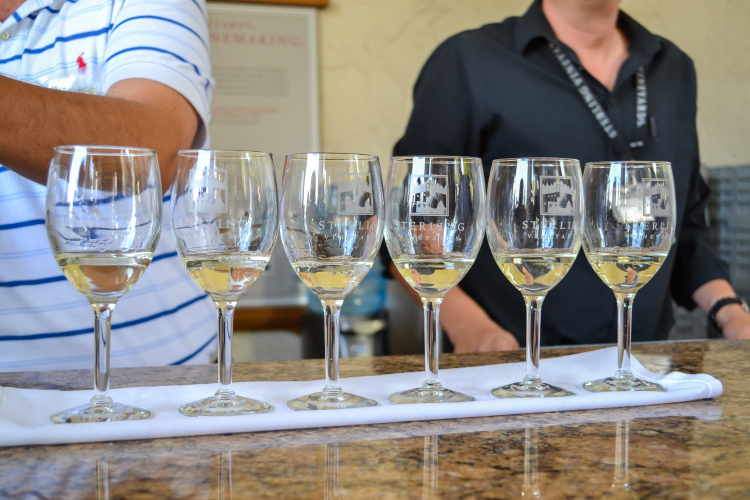 Boy am I glad we stopped here.  In order to get to the tastings, you need to purchase a ticket for the aerial tram.  The views from the 5 minute ride are remarkable, especially in the fall when the colors are changing.
–
You can even stomp grapes in a wine barrel at Sterling as well.  A one-of-a-kind experience for sure.  Definitely one of the most unique wineries in Napa, and well worth the price ticket if you ask me.
2| Castello di Amorosa
Dubbed the "Castle Winery" by some, this unique place was inspired by a castle in Tuscany.  The views are nice and the wines are even nicer.
Get the full experience by purchasing a ticket to tour the grounds and entire castle, where you'll see not only rooms full of barrels, but a torture chamber as well. (AH!) If that's not your thing, choose a standard tasting and run loose on the castle grounds – cute animals included! I took a few too many
baby goat selfies
when I was there. #shameless
3| Domaine Carneros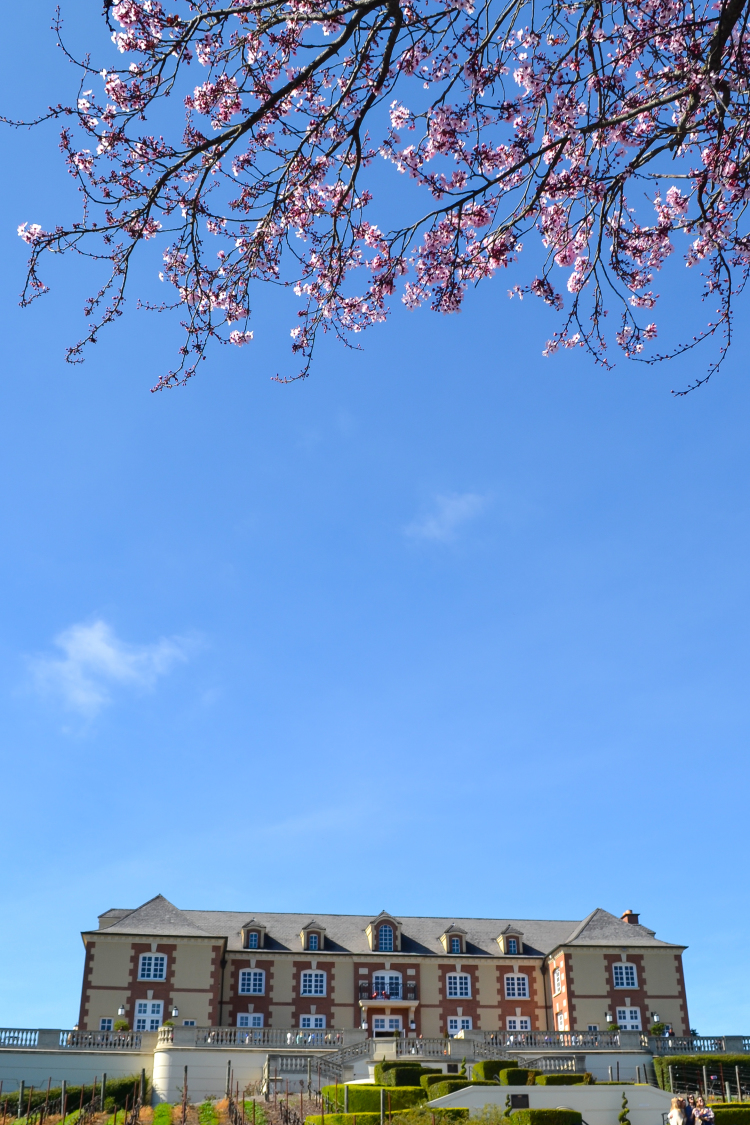 A chateau in the middle of Napa Valley?! You've got to be kidding me! The grounds are immaculately kept and the building is pristine and grand in every way. I could have photographed this place for hours! And- endless panoramic views. What more could you want?!
–
Next time I come, I'm trying the Sparking Wine Sampler with Charcuterie. Sounds amazing, doesn't it?
4| Artesa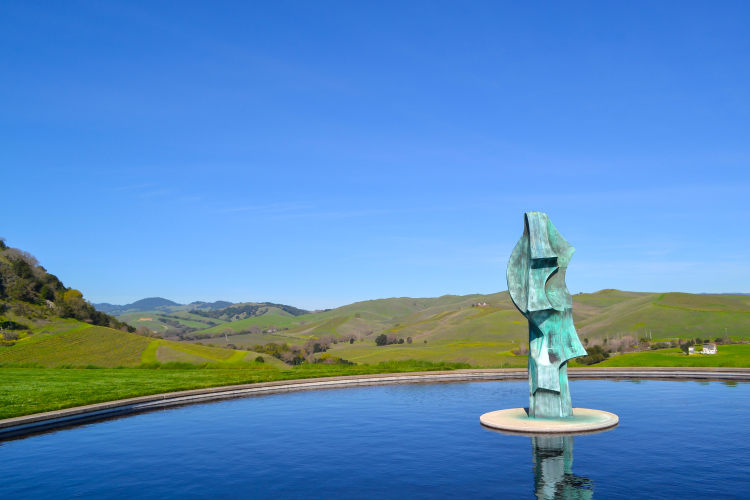 Once you reach the top of the staircase (its not strenuous at all), you'll be rewarded with water fountains with an amazing view of the rolling hills of Napa. The grounds are adorned with beautifully modern statues, as you can see in the photo above.
–
Oh so modern, and oh so sophisticated. I loved every second of it. Plus, those views (oh, I said it again?!)
5| Signorello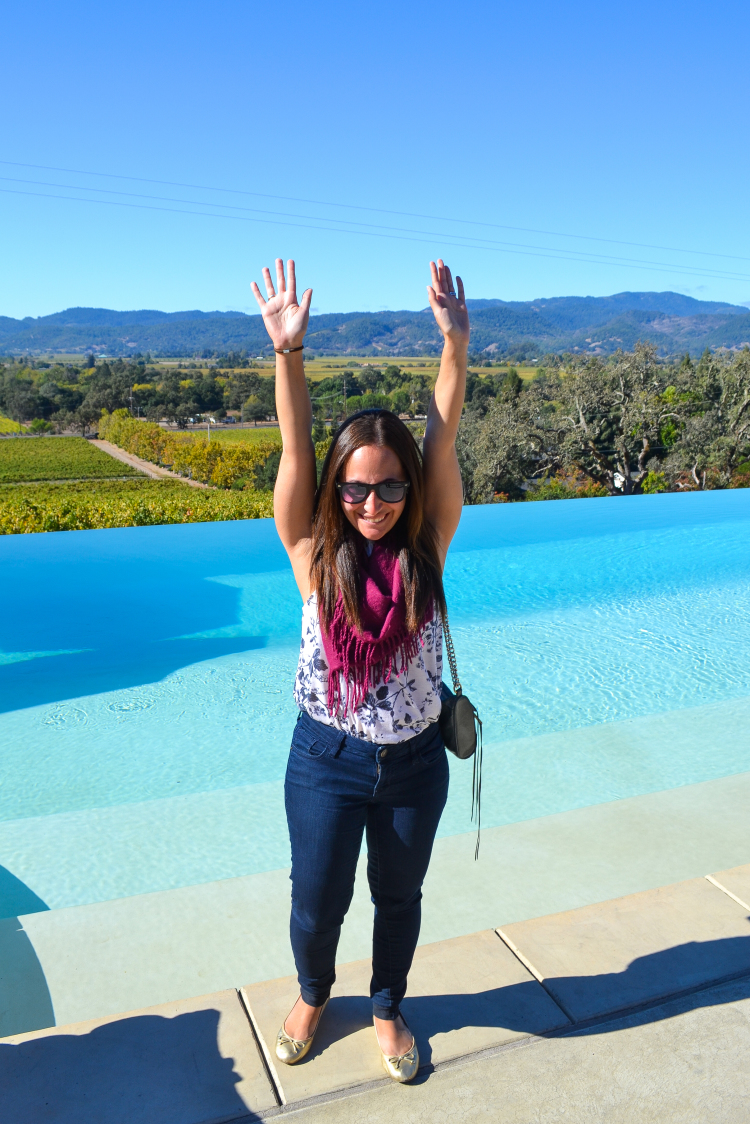 This list of unique wineries in Napa wouldn't be complete without an infinity pool. Because who doesn't love sipping wine a few feet away from a pool overlooking those lush, green vineyards?
–
The winery is reservation only, so don't be alarmed if you're not allowed through the closed gates on any given day.
6| Robert Mondavi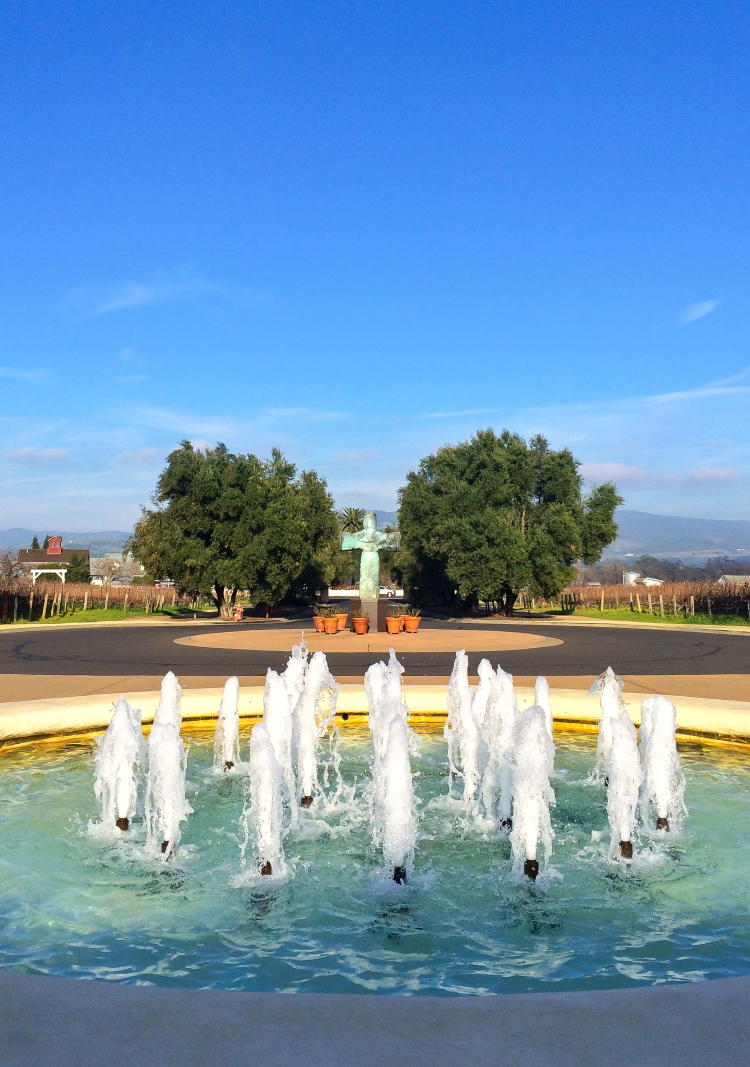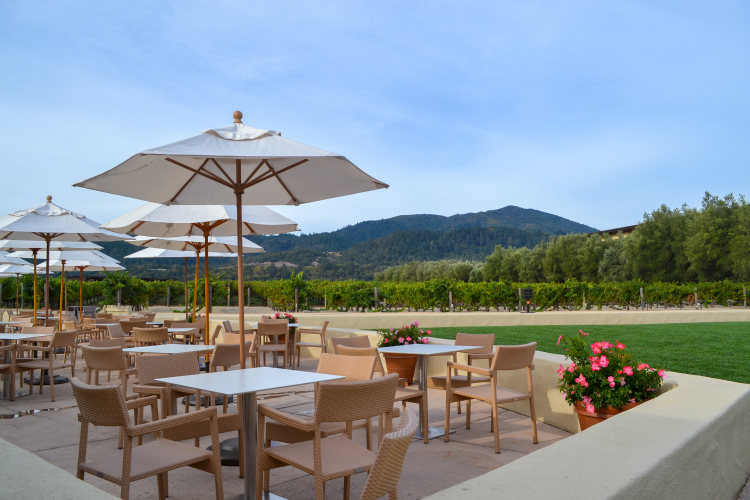 We opted to take a wine class at Robert Mondavi, which I recommend to all beginners interested in learning how to properly taste wine. Plus, you get a bunch of samples, so it's basically like a tasting and class all in one at an impeccably set grand dining room table.
–
The grounds aren't half bad, either. 😉
7| V. Sattui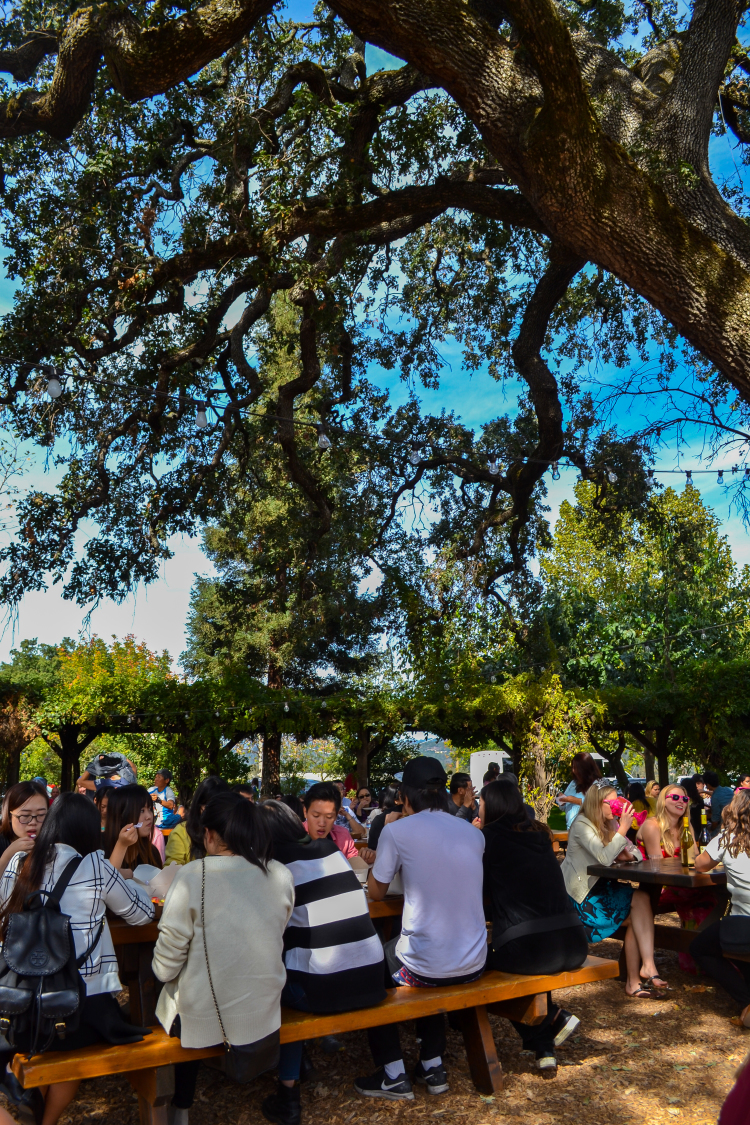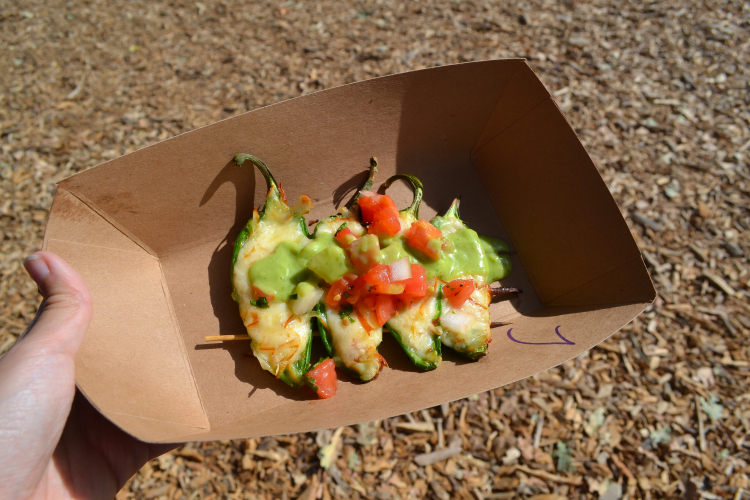 This is the place for lunch when checking out the vineyards! If you're visiting in the spring, summer, or fall, keep an eye out for their Barbeque, Wood-Fired Pizzas & Mozzarella Bar. An order of the jalapeños shouldn't be missed. If bbq food doesn't tickle your fancy, head to the Marketplace (on V. Sattui grounds), where you'll find a large array of meats, cheeses, and other deli items. Bring your bottle of wine to the picnic tables and you're good to go!
8| Peju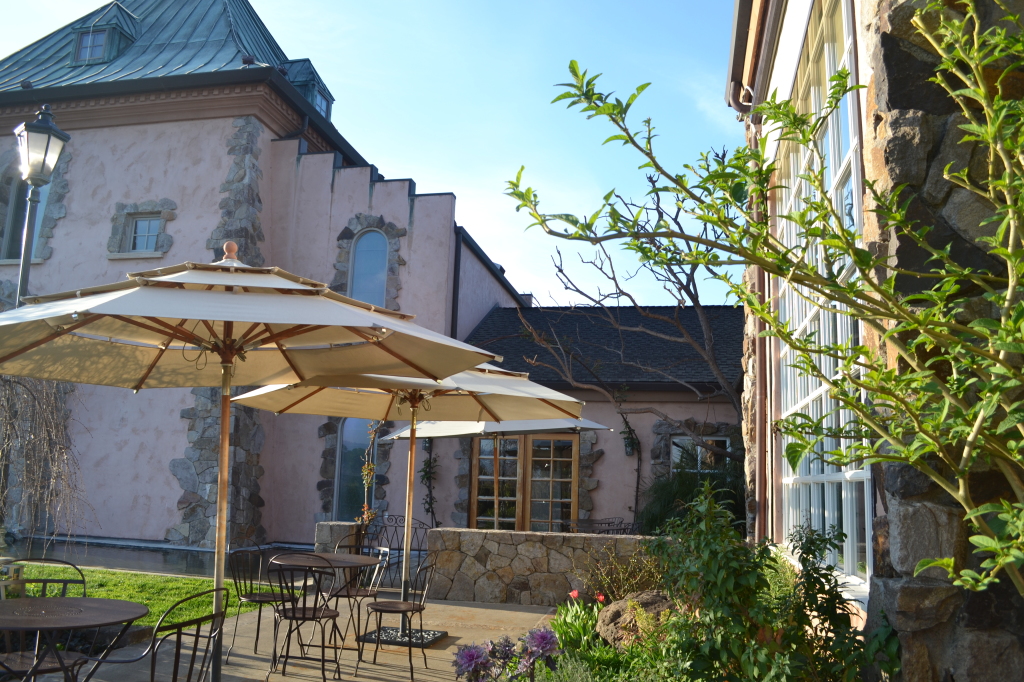 With it's pinkish building and perfectly polished landscapes, I don't think Peju could be any more cute and sophisticated all at once.  You'll want to make a reservation at multiple tasting rooms, which are both unique and gorgeous (some even with stained glass), especially if bigger, bolder reds are your preferred choice of wine (they have excellent ones here).    We just came for the ambiance and scenery (and koi pond!), but I've heard fantastic things about their wine selections.
A few other wineries worth noting: Cakebread Cellars, Schramsberg, Beringer.
Suggestions on what to pack for Napa Valley:
Who'd like to join me for a bottle next time?!