Headed to Taiwan in the near future and looking for the perfect 3 day Taipei itinerary?! Consider yourself lucky, because I've got the most perfect 3 days in Taipei all planned out for you!
Taipei is one of those cities that has it all: food, shopping, nature, and tons of historic temples. It's a glamorous metropolis that's steeped in culture and surrounded by gorgeous mountain terrain.
In fact, Taiwan's capital is filled with so many awesome things to do that it's hard to know where to begin. Fortunately for you, you lucky thing, this 3 day Taipei itinerary is here to help you have the best possible 3 days in Taipei. I'm not just talking inside the city either. This Taiwan travel blog also contains some amazing day trip options so that you can make the most of the country's natural beauty.
Don't worry about your time limit: follow this guide and you'll see everything and more that the city has to offer in 2 days in Taipei and enjoy a wonderful day trip. Sound good? Thought so!
When to Visit Taipei
The best time to spend 3 days in Taipei is during October and November. These months mark the latter half of fall and the end of cyclone season (and getting stuck in a cyclone is no fun, trust me).
Humidity drops and temperatures hover around the 68°F/20°C mark, meaning you don't melt into a sweaty, frizzy-haired mess during your 3 days in Taipei. Winters here are mild, so December and January are also great times to visit. It's unlikely to get colder than 10°C/50°F and these months experience the least rainfall.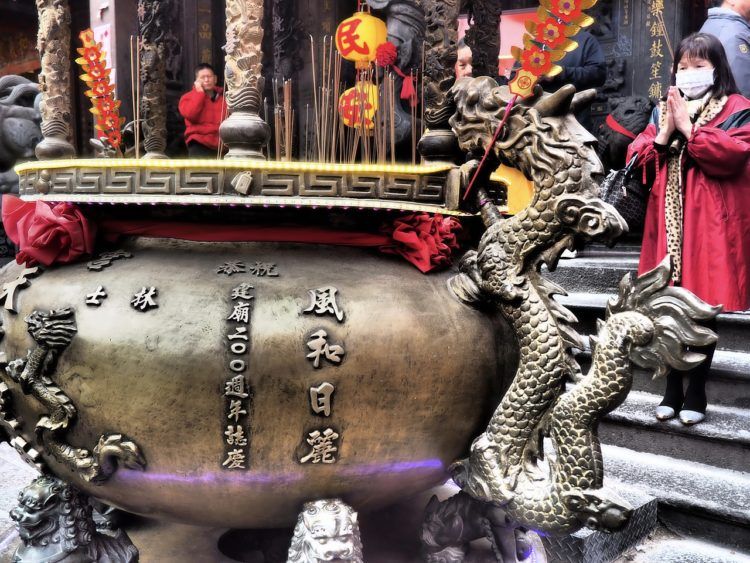 February is best avoided if possible as the Lunar New Year usually falls during this month – though be sure to double check as dates vary year to year. During this holiday, many businesses will be closed and transport and accommodation will be busy and expensive.
Visiting Taipei during spring (March-May) is a risky business as the weather can be very unpredictable. Summer, meanwhile, is off-season so prices are cheaper, but temperatures soar and storms abound.
Despite this, remember that if you do experience bad weather during your trip, it won't necessarily be ruined – a metropolis like Taipei definitely has enough indoor entertainment to keep you amused while the storm passes.
How to Get Around Taipei
As you might expect, this city has a slick transport system. The MRT (subway) system is clean, efficient and cost-effective, with trains running every few minutes. A single ticket costs between $0.60-$2.00 and for extra ease you can get one, two or three day tickets which can also be used on buses. Win!
For this trip, it's best to buy a ticket that will cover 2 days in Taipei, as we'll be venturing out of the city on day 3.
For a greener and healthier transport option, you can hire a You-bike for around $2.50 for four hours and cycle around the city. You'll be able to find these bikes all over the metro area are there are tons of routes around town. Cycling is a great way to make the most out of this city and get a little exercise while you're doing it!
Taxis are also a good option for getting around. They add a splash of sunshine to the city with their cheerful shade of yellow and unlike in many other cities, you're unlikely to get ripped off here. Hailing a cab is easy, fares are cheap and drivers are almost always polite and friendly.
Where to stay in Taipei
Thanks to Taipei's amazing transport system the whole city is easily accessible wherever you stay. Make sure that your hotel is close to an MRT station as for the ultimate convenience. For the most glamorous Taipei experience, head to the Xinyi district. It's a fashionable, futuristic area teeming with luxury stores and swanky hotels.
The Ximending neighborhood is a great choice for budget travellers. It's a buzzing, youthful area with plenty of nightlife and cheaper accommodation options. There are lots of hostels here, so it's a good option for those going solo, too.
Xinyi Hotels:
The W Hotel. Stay here for style, city views and stunning sunsets from the WOOBar.
Eslite Hotel
Tango Hotel
Ximending Hotels & Hostels:
Hotel Papa Whale
Cho Hotel
Next Taipei Hostel
Language and currency in Taipiei
Language is a complex issue in Taiwan. Many different dialects exist throughout the country but Mandarin is the lingua franca, and this goes for the capital, too. English can often be found on signage also. The New Taiwan Dollar (NT$) is the currency and money exists in both note and coin form, with five denominations of each. $1 USD is roughly 30NT$, so it's easy enough to convert.
And now what you came here for, the perfect 3 days in Taipei!
The Perfect 3 Day Taipei Itinerary
Day 1: Temples, Memorial Halls, and Snacks
Stop 1: Longshan Temple and Herb Lane
First up on our Taipei itinerary is Longshan Temple, one of Taiwan's best-known sites of worship. Built in 1738 by settlers from Fujian, it's one of the country's oldest temples. Inside there are hundreds of Buddhist, Taoist and Confucian statues, reflecting the country's varied religious heritage.
Just around the corner lies Herb Lane, aka Lane 224. It's tucked just off of Xichang Street and as the name implies, it's packed with herb stores selling soups, teas, soap and more. Try the bitter tea for a truly memorable taste sensation!
Stop 2: Light Lunch or a wander at Ximen (Ximending), the "Harajuku of Taipei"
Taiwan was occupied by the Japanese between 1895-1945 and this influence can still be felt today. Ximending is known as the "Harajuku of Taipei" because much like its Tokyoite twin, it's a place where young people flock to showcase the latest extravagant fashions that they're rocking.
Wandering around the area and exploring its eccentric boutiques is a super fun Taipei experience.
After a morning of exploring you might be feeling a little peckish. Luckily, Ximen is full of street food and trendy restaurants – try Lao Wang Ji Beef Noodles for some classic, no-frills deliciousness.
Stop 3: National Chiang Kai-shek Memorial Hall
You can't go to Taipei without visiting the Chiang Kai-shek Memorial Hall in Liberty Square. You just can't. No Taipei itinerary is complete without it! Erected in memory of – yep, you guessed it, Chiang Kai-shek – the hall is open from 9-6 every day and the changing of the guard ceremony happens on the hour every hour from 9-5. Trust me, you don't want to miss it!
Located in the Liberty Square plaza, the hall is flanked by the National Theatre and National Concert Hall. The square was often the site of choice for mass demonstrations and rallies during the '80s and '90s and consequently played an important role in the democratization of Taiwan. Pretty cool, right?
Stop 4: Snacks on Dongman Street/Yongkan Street
Hungry again? This Taiwan travel blog has got your back. Yongkan Street is considered one of the best foodie destinations in the world! To try one of Taiwan's most beloved eats, head to Tian Jin Onion Pancake for a flaky, chewy scallion pancake that will blow your mind.
If you're in the mood for noodles, look no further than Yongkang Beef Noodles for tender, Sichuan-braised Australian beef. Yum! World-renowned Din Tai Fung is another great spot for filling your belly. They serve delicious soup dumplings that are so good there are now branches all over the globe.
For a sweet treat, enjoy mango shaved ice, sorbets, and smoothies at the Smoothie House. This venue replaced the iconic Ice Monster which closed after some soap-opera style drama that has become the stuff of urban legend.
Stop 5: National Dr. Sun-Yat Sen Memorial Hall (國父紀念館)
The second memorial hall on this Taipei itinerary is dedicated to Dr Sun-Yat Sen, the founder of modern China. The hall contains many exhibitions about his life and revolutionary accomplishments. It's also a cultural hotspot, serving as the meeting site for a variety of social and educational activities. The hall also often hosts performances and lectures, as well as housing a library with hundreds of thousands of books. The building is in Chung Shan park which comprises an exhibition area, the lovely Emerald Pond and and beautiful gardens.
Stop 6: Bird's eye view of the city at dusk
Watching the sunset behind the skyscrapers is always one of the best parts of a city break. In Taipei, you're truly spoilt because there are two amazing spots to get a bird's eye view of the city as it lights up in the evening. The sun goes down at around 5:30pm during the winter months and 6:30pm in the summer.
Elephant Mountain: Start hiking during the late afternoon to catch daytime and stunning sunset views from the top of the mountain. The hike only takes 15-20 minutes and there are lots of stairs involved! Go during the week if you can as it gets pretty crowded at weekends.
Taipei 101: Head to this iconic tower for a swanky sunset viewpoint. There are indoor observation decks on the 88th and 89th floor, with an outdoor deck on the 91st which opens when the weather is good.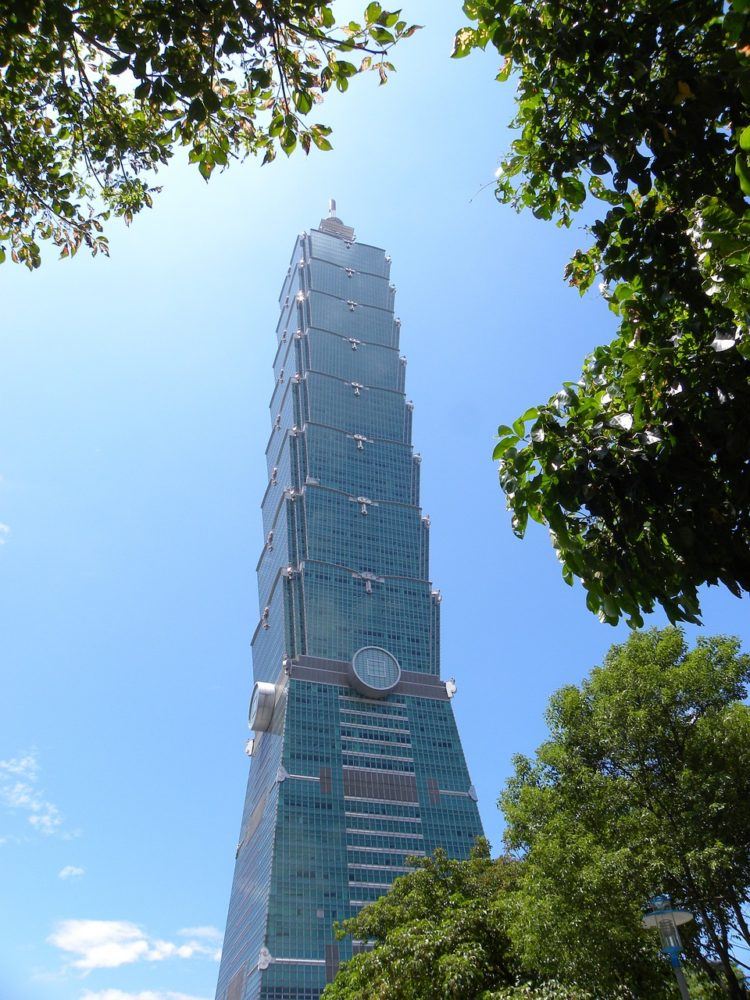 Stop 7: Tonghua (Linjiang Street) Night Market for dinner
End your first day in this incredible city with one of Taipei's most authentic market experiences. Tonghua Night market is favored by locals rather than tourists and is a mecca of delicious street food – it would take you years to get bored of eating here.
It's also less manic and cramped than some of the city's other markets, which is always a bonus. There are tons of yummy treats on offer here, from fermented tofu (it tastes better than it smells, trust me) to steamed buns and bubble tea. You may never want to leave!
Day 2: Gondola, Thermal Baths, and More Temples
Stop 1: Maokong Gondola and Zhinan Temple
Rise and shine, it's time for day two! Make your way to Taipei Zoo but rather than saying hello to the cute animals, jump on the Maokong Gondola. It's views for days on board this baby! The third stop is Zhinan Temple Station, which is where we're getting off to explore. This intricately decorated, brightly colored-temple holds great significance for Taiwan's Taoist population but it wasn't easily accessible until the gondola opened, so feel super fortunate that you get to go!
The mountainside views are awe-inspiring and the wow-factor continues as you climb back on the gondola and head to the fourth and final stop: Maokong. This is an important tea-growing area and there are loads of plantations and shops, so you've just got to stop for a cuppa! Order baozhong oolong tea to taste a delectable local specialty.
Stop 2: Taipei Confucius Temple and Dalongdong Ba-On Temple
Hope you're not tired of temples because here are another two must-see sites on this Taipei itinerary. The Taipei Confucius Temple is one of Taiwan's most important places of worship and also functions as a Chinese cultural centre. If you have a little extra time, you can even take Chinese calligraphy lessons here – how cool is that?
The UNESCO-listed Dalongdong Ba-On Temple sits adjacent to the Confucius Temple and is another awesome site to explore.
Stop 3: National Palace Museum
From the temples, you can either take the MRT to Shillin Station and board the R30 bus to the National Palace Museum, or take a 15-minute taxi if that sounds like too much hassle.
Fun fact – this museum is the source of some international beef, since it was originally established in Beijing but later evacuated to Taipei, causing ownership disputes between Taiwan and China. It's home to over 700,000 ancient Chinese artifacts, many of which were collected by China's emperors, making it one of the largest collections in the world.
Stop 4: Beitou Thermal Area
For a spot of relaxation (which will probably be needed by now) take a taxi on over to Beitou Thermal Valley and enjoy the therapeutic warm water of the volcanic hot springs. It's especially nice coming here during the winter! To learn more about the springs, head to the Hot Spring Museum.
This is far from a stuffy museum experience: there's a balcony where you can gaze down at the beautiful Beitou Creek, a relaxation room and an ancient Roman style-bath housed in an elegant arcade room.
Stop 5: Guandu Temple
The final temple in this 3 day Taipei itinerary is the Guandu Temple, a Buddhist temple dedicated to Mazu, the goddess of the sea. Again, the best way to get here is by taxi – it takes just seven minutes and should only set you back around $10.
Filled with intricate Buddhist sculptures and carvings, it might just be one of the most breathtaking sites of worship you ever see. Be sure to venture down into the 80-metre deep Buddha cave, which is filled with 28 representations of heavenly emperors.
Stop 6: Shillin Night Market
After all of that exploring, you're bound to be hungry. Take the MRT back into town from Guandu to Jiantan Station and walk for five minutes to get to Shillin Night Market. This is another excellent street food spot and it's probably the most famous market in Taipei.
No decent Taiwan travel blog could fail to mention it! While you're there you've simply got to try an oyster omelet – it's a Shillin specialty! If that's not your thing, try a peppered pork bun or refresh with some lemon aiyu jelly juice – it's divine on a hot day! Once you've filled your tum, check out the cheap, trendy clothes on offer if you've got some energy left for shopping.
Day 3: Take a Day Trip
After 2 days in Taipei, it's time to head out of the city. A day trip should definitely be a part of your Taipei itinerary. It would seriously be such a shame not to explore outside of the city borders a little during your 3 days in Taipei when there's so much natural beauty close by.
Option #1: Jifuen Village & The Northeast Coast
How to get there: Jifuen is 35 km from Taipei, so it's not too far afield. By far the easiest way to explore Jifuen and the rest of the Northeast Coast is to book onto an organized tour. The following options are all great choices and will save a ton of time and hassle. You can thank me later!
What to do: After you arrive in Jifuen, head to quaint Old Street and refresh with a cup of tea at one of the many tea houses the town has to offer. Once your thirst is quenched, you'll definitely want to take some time to explore the rest of the street and its old-timey shops that sell lots of traditional, hard-to-come-by Chinese goods.
Be sure to check out the Shengping Theatre, too. It was one of the first cinemas constructed in Taiwan and now functions as a museum.
Travel 40 minutes inland to see the equally charming town of Shifen and its beautiful waterfall, which often creates rainbows on sunny days.
Once you're ready to head up the coast, make sure you catch a glimpse of the Bay of Two Colors, or Ying Yang Sea. The high concentration of Fool's Gold in the water has created contrasting yellow and blue patches of water in the shape of – you guessed it – Ying and Yang. Finally, don't miss out on marveling at the crazy rock formations in Yehliu Geopark which lies 45 minutes up the road.
Option #2: Thousand Island Lake and Pinglin Tea Plantation
How to get there: Both attractions are roughly 25 km away from the city centre. To get to Thousand Island Lake the MRT to Xindian MRT station and then catch the Green 12 bus to Shiding. Once there, get off the bus and walk down the hill to the lake.
Honestly though, the easiest thing to do is book a private tour. Getting from the lake to the tea plantation requires a driver, so being escorted in a coach or car makes life so much easier.
What to do: Marvel at the beauty of Thousand Island Lake. Lush green islands are dotted throughout the bright blue water and gazing down at them from the mountainside is a jaw-dropping experience.
The ideal time to go is between February and June when it's unlikely that there will be fog obscuring your view. Next, it's onto Pinglin. A visit to Pinglin Tea Museum is an absolute must (but bear in mind it's closed the first Monday of every month). You'll learn about the growth and cultivation of tea, as well as its role in Chinese history.
Make sure you stop in the museum's tearoom to enjoy a cup of local honey bao zhong tea. After that, head to Jingualiao Street and rent a bicycle to explore the Jingualiao River bike route, which runs along the water through tea plantation mountains. It's a sublime experience and the route is super-short at only 2 km long, so there's no excuse not to start pedaling!
Option #3: Taroko Gorge
How to get there: Taroko is roughly 150 km away from Taipei. If you want to take public transport, the fastest option is to take the train from Taipei Main Station to Xincheng and then take the #302 bus to Taroko Gorge. It should take between 2-3 hours on the Puyama train service.
Organised tours also tend to use trains and buses and also include hotel pick up, so you won't need to worry about getting to the station at the crack of dawn!
What to do: Once you reach Taroko National Park, you've obviously got to visit the eponymous gorge. Head to the bell tower above the Eternal Spring Shine for a killer viewpoint. This is one of the lesser-known spots for gazing at the gorge, so you're unlikely to be accompanied by crowds.
ChingShui Cliff, on the other hand, is one of the park's most popular spots, and with good reason. It offers stunning views of the 'patterned' ocean, which is colored various shades of blue thanks to the various currents at work beneath the surface.
It's one of Taiwan's natural wonders and is well-worth the 8km hike – trust me! During the late afternoon, take a walk underneath Swallow Grotto to see the eponymous birds hovering around the beautiful rock formations – it's a pretty magical sight.
The best times to visit the park are between the shoulder seasons of April-June and September-November for clement weather and fewer fellow tourists.
Will you be following this 3 day Taipei itinerary?! What are you most excited about on your trip?!
Photos via // gondola | tea | National Palace Museum | Thermal Area