Ready to get outta town and looking for the perfect Washington DC itinerary? Keep on reading, because these perfectly planned out 3 days in Washington DC will have you wishing you allotted more time for the capital city. Yup, you'll see!
Growing up in New York, I've visited Washington DC a handful of times. However, most of these visits were on school field trips when I was about 8 years old, and I only managed to visit the city as an adult once before moving to San Francisco (yup, kinda like Philadelphia – whoops). Alas, I think it's time to go back for a weekend in Washington DC.
Thankfully I've begged enlisted destination expert Kay from Jetfarer.com to share with us her perfect Washington DC itinerary for anyone visiting in the near future. I mean, she currently lives in the city at hand, so she's more than qualified to plan out anyone's 3 days in Washington DC. And I'll gladly be taking her advice the next time I make my way back there (sooner than later, hopefully).
Enjoy, and let us know down in the comments if you have anything to add to this carefully planned out long weekend in Washington DC itinerary!
Simply talking about spending a long weekend in Washington DC might provoke a wide array of reactions. Some people gaze off into the distance dreamily and remark about how much they love the city. A few people shudder and blush as they remember embarrassing middle school field trips. Others might sport a confused look and ask something to the effect of, "Isn't it just a bunch of government buildings and museums there?"
As a young professional who has spent the last two years in Washington DC, I'd have to disagree.
But I'll be honest – I actually had some of these exact same reactions when I was debating whether to move there. Will it be cheesy and touristy like my 8th grade field trip? Will I get bored of the tourist attractions? With its many government officials, will the city feel stuffy?
I'm happy to report that DC actually turned out to be a fabulous place to visit and live as a millennial, and I couldn't be happier that I can call this place home.
If you've stumbled upon this post, it's probably because you're thinking of spending 3 days in Washington DC at some point in the near future. Well, you're in for a real treat, because in this guide, I'll lay out all of the tourist and local approved attractions you should visit during any 3-day Washington DC itinerary (since I've come here as both!).
It doesn't take long to see what this vibrant city is all about, and by the end of this post, you'll have the insider scoop on exactly how to make the most of your visit!
How to Get Around Washington, DC
Washington DC must be one of the easiest places to get around by public transportation or by foot. In fact, it is one of the handful of places in the United States where I'd actually actively discourage you from renting a car. Why? Because parking is expensive AF and DC traffic is a monster that you really don't want to have to conquer.
Washington DC has 3 airports that service pretty much every airline that operates in the United States: Ronald Reagan National (DCA), Baltimore-Washington International (BWI), and Dulles International (IAD).
If you want to save yourself a LOT of hassle, try and get a flight into DCA, as it's a short and sweet single metro ride into the heart of downtown.
However, if you need to fly into BWI or Dulles, you can get into the city via public transportation as well – it will just take you a little bit longer and you'll have to change stops.
To get from place to place in DC by public transportation, you'll need to get your hands on a SmarTrip card. These are sold at any Metro station around the city for $2, and you can reload them at the large, blue machines in the stations.
These enable you to get on any public bus or metro line in the city, you simply scan it on the meter when you enter. Most rides cost from $1-4, depending on how far you are traveling and how many different lines you're using.
If you're out late at night or prefer to take a private ride somewhere, you can simply hail a taxi on the street or request one of the many ride sharing options in the city: Uber, Lyft, and Via are the three most popular ones.
Where to Stay in Washington, DC
If you look on any popular hotel website, you'll see that there are literally HUNDREDS of places to stay in Washington DC. Can you say decision paralysis?! There are a few neighborhoods I'd recommend more than others for tourists visiting for a weekend in Washington DC.
The neighborhoods below are all walkable from main attractions, have great hotel options, and will give you a sense of the local way of life.
Downtown: "Quintessential DC" is how I'd describe the downtown area. While there aren't many residential areas in this place, it is the most central area for tourists and the neighborhood that's closest to the city's main attractions. With that said, it's also the most expensive area to stay, so if you're on a budget, I'd continue reading. However, if you'd like to stay in the downtown area, I recommend the Hamilton Hotel.
Chinatown: Located within walking distance of downtown is Chinatown. While this area isn't actually as full of Asian influence as other Chinatowns around the United States, it is a super central and walkable area that's full of restaurants and perfect for tourists to the city. There's a great budget hotel in Chinatown called the POD DC Hotel that I'd recommend for those looking for a fantastic, central budget accommodation option.
Dupont Circle/Adams Morgan: This is one of my favorite neighborhoods in the city and is the perfect place to stay for young people or solo travelers looking for a more local vibe. My favorite hotel in the city, The LINE DC, is located in a beautiful building in the heart of Adams Morgan. I love it so much I literally hang out in the lobby to do work. And I live in DC. If you're looking for a hostel option in the city, the High Road Hostel & Suites is a budget traveler favorite.
Georgetown: This is easily one of the most beautiful neighborhoods in Washington DC. There's a beautiful main street lined with shops and cafes, it's right on the riverfront, and there are ADORABLE houses everywhere in sight. If you'd like to stay in Georgetown (and don't want to spring for an upscale hotel like the Ritz-Carlton or the Four Seasons), I recommend searching on Airbnb for places to stay.
When to Visit Washington DC
Washington DC is truly a year-round destination. With its 4 seasons (3 lovely ones and one sweltering hot and kind of miserable one), Washington DC turns into a different city depending on what time of year you go.
With that said, I'd highly recommend spring (March-May) or fall (September-November) for first-time visitors spending a weekend in Washington DC. The weather in the city is mildest during these times of year and it's a bit of a shoulder season with fewer visitors.
Additionally, if you come in March or April, you can catch the city's gorgeous cherry blossoms in full bloom. The blossoms alone are a great reason to visit the city! For estimated blooming schedules and festival dates, you can visit this website.
3-Day Washington DC Itinerary
Day 1: Museums and Monuments
I'll be honest: this first day is full of the typical "touristy" things to do in Washington DC. Although you could spend your entire three days exploring the various museums and monuments around the city, I've condensed my recommendations into just one day below:
Caffeinate At Compass Coffee: My favorite coffee shop is actually a local DC chain called Compass Coffee. While they have the usual (delicious) coffee staples like cappuccinos and espresso, they also have a mint cold brew coffee that's to die for. Don't take my word for it though; try it yourself!
Get Some Fresh Air at the Tidal Basin: The Tidal Basin is home to the Jefferson Memorial and the rows of gorgeous cherry trees, all surrounding a small waterfront that's an offshoot of the Potomac River. It's the perfect place for a morning stroll, especially in the springtime, when you can still catch some cherry blossoms.
Walk Down the National Mall: The National Mall is the heart of Washington DC, and despite the hordes of tourist buses, it's actually quite a nice place to hang out. It's lined with museums and bookended by the Capitol and the Washington Monument. All of the main attractions of the city are within walking distance of the National Mall, so it's a great place to start.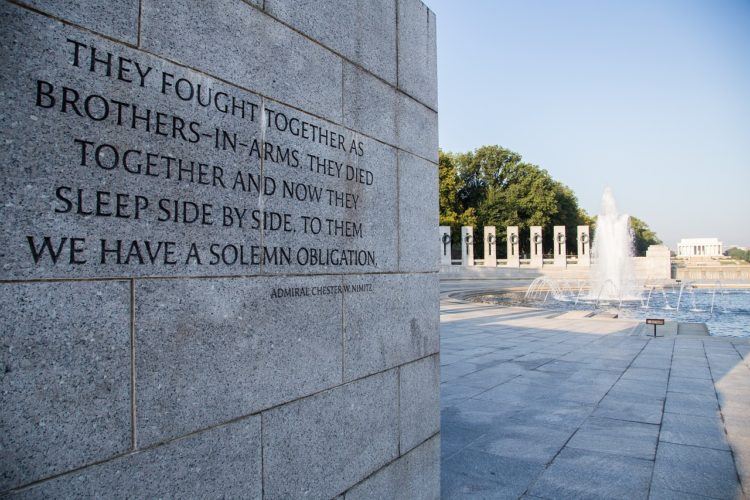 Visit the Museums: I could literally write a 3-day Washington DC itinerary with ONLY museums – that's how incredible these institutions are. In my opinion, no long weekend visit to Washington DC would be complete without visiting at least one museum.
There's so much to see and learn in the museums for visitors of all ages! Washington DC is home to some of the United States' best and biggest museums, so pick one (or a few) and stop in for a few hours (or days).
Newseum: This is a museum about current events and journalism across the history of the United States, and is my #1 favorite museum in the city!
Smithsonian Museum of Natural History: If you love dinosaurs and animals, this is the museum for you. With its thousands of skeletons, replicas, and fossils, you can learn all about the history of living things on earth.
Smithsonian Air & Space Museum: The space nerd in you will love a trip to the Air & Space Museum, where you can tour through rockets, explore extreme weather patterns, and eat freeze-dried ice cream. A must on any Washington DC itinerary.
National Museum of African American History and Culture: One of DC's newest museums, this important museum details the history of African Americans in the United States and the incredible contributions they've made to our society.
Hirshhorn Museum: Admittedly one of DC's wackiest museums, this donut-shaped museum is full of (usually politically charged) modern art.
National Gallery of Art: This is DC's largest art museum and home to many great works. In the summer, you can also enjoy a free jazz concert every Friday in their sculpture garden.
Spend Sunset at the Lincoln Memorial: Enjoying sunset at the Lincoln Memorial is a real treat. You'll get spectacular views of the Washington Monument and the WWII Memorial, and there are usually fewer people around in the later hours of the day. The Lincoln Memorial is a short walk from the National Mall that passes through tree-lined streets and the Washington Monument.
Day 2: Explore the Neighborhoods
Now that you've got the touristy things out of the way, you can enjoy some of the more off-beat, local gems in Washington DC. I recommend spending day 2 outside of the touristy areas of DC so you can get a feel for the real vibes of Washington DC and its locals. It will be a lot of walking, a lot of eating, and a lot of locally-inspired fun that you can't experience anywhere else in the country.
Stuff Your Face at Brunch: If you didn't eat brunch in DC, did you even visit? I can't answer that question, but I can say that enjoying brunch at a local DC joint is one of the best locally-approved ways to spend a morning. Here are a couple of my favorite places around the city – pick one that's near your hotel or use brunch as an excuse to explore a new neighborhood!
Purple Patch | Filipino fusion with a side of ube ice cream | Address: 3155 Mt Pleasant St NW, Washington, DC 20010
The Coupe | Delicious, healthy American treats and cocktails | Address: 3415 11th St NW, Washington, DC 20010
Farmers Fishers Bakers | Be sure to come hungry for this giant buffet-style brunch sourced from local farmers | Address: 3000 K St NW, Washington, DC 20007
Compass Rose | No specific brunch menu, but one of the best and most popular international restaurants in DC that's least crowded during weekend brunch | Address: 1346 T St NW, Washington, DC 20009
Check Out Local Art: While you wouldn't expect a city of art and culture to blossom from the hordes of suit-clad government officials that strut the streets each day, DC's art scene might pleasantly surprise you. There are tons of locally-owned galleries and collectives that support local artists if you know where to look! These are two of my favorites:
Blind Whino | Formerly abandoned church turned art workshop and gallery. Open on weekends from 12 to 5 PM | Address: 700 Delaware Ave SW, Washington, DC 20024
Dupont Underground | Industrial underground space repurposed as an art gallery and performance venue. | Address: 19 Dupont Cir NW, Washington, DC 20036
Take a Stroll On 14th Street: 14th Street is one of the main areas where the locals hang out. The whole street is lined with boutique shops, cozy cafes, and delicious restaurants. Pick up a coffee and an everything bagel at Slipstream and then head towards U Street, stopping in at some of the eclectic shops along the way.
Lunch at Union Market: Union Market is one of my favorite places to grab a bite and watch the world go by. Located in the NoMa neighborhood in a repurposed warehouse, you can peruse the stalls and find many different foods ranging from Burmese street eats to fresh oysters. | Address: 1309 5th St NE, Washington, DC 20002
Explore Dupont Circle and Adams Morgan: Stop in at Kramerbooks for an afternoon treat or to peruse their huge stacks of books. Or, if you're in town on a warm Sunday, enjoy alllll the free samples from local artisans and farmers at the Dupont Circle Farmer's Market.
Finish Your Day at Martin's Tavern: There's no better way to stuff your face with delicious food and appreciate DC's rich history than in a historic restaurant. Located in Georgetown, Martin's Tavern is one of the historic diners in DC, and it's the place where many a president went to conduct important business.
When you walk in, you'll see why – it's a cozy, wood-lined restaurant with a lot of character. You can even sit in the table where JFK proposed to Jackie Kennedy! After dinner, you can enjoy a stroll through Georgetown or on the waterfront before heading in for the night.
Day 3: Take a Day Trip
There are so many lovely places to visit that are not far from DC's city center. With 3 days in Washington DC, you can definitely spend a day exploring one or more of the surrounding areas to the city. Here are some of my favorite day trips from Washington DC:
Mount Vernon: The birthplace of George Washington, Mount Vernon, is now a beautiful historic site and estate that you can visit on an easy day trip from Washington DC! Not only can you tour the home itself, but you can also walk through the gardens and grounds.
Old Town Alexandria: Gorgeous architecture, charming walking streets, and historic landmarks cross paths in Old Town Alexandria. Located just across the river from Washington DC, it's an easy day trip to get outside and get walking. It was also voted one of the best small cities in the USA by Conde Nast Traveler in 2018, so you know it's going to be good.
Great Falls National Park: Outdoor lovers will enjoy the beautiful waterfalls, rocky cliffs, and fresh air of Great Falls. This stunning cascade of small waterfalls separates Virginia and Maryland, and is located just 30 minutes outside of DC. You can visit the park from the Maryland side (C&O Canal National Historic Park) or the Virginia side (Great Falls National Park).
More Things to Do in Washington DC
If you've got even more than 3 days in Washington DC, here are some more of my favorite things to do:
Wander through Meridian Hill Park in the summertime. It's a local favorite picnic spot that often boasts a public drum circle on Sunday afternoons!
Sip on cocktails at a local speakeasy. Yep, this is exactly what it sounds like: a secret, hidden bar! There are several speakeasies in DC, but my favorite is The Gibson. You can enjoy cocktails and finger foods like bacon wrapped dates at this local gem…if you can manage to find it first!
Enjoy a show at the Kennedy Center. DC is home to incredible musical groups and performances, and you can enjoy them at the world-renowned Kennedy Center. Whether you enjoy classical music, opera, ballet, or musicals, there is bound to be a show playing there that you'll enjoy. There are even discounted tickets for visitors under 30 through the MyTix program!
Will you be following this weekend Washington DC itinerary on your next trip? What are you most excited about?!
Kay Rodriguez is the blogger behind Jetfarer.com, a travel blog focused on helping full-time professionals maximize their vacation days. When she's not blogging, you can find her running around a new city with a camera in hand, searching for the best chai latte.