Heading off to Bali and looking for the perfect Ubud itinerary? Good choice my friend; Ubud is full of lush rainforest, posh and upcoming restaurants, and allllll the fresh fruit juice you could ever imagine. It's basically one big chilled out jungle paradise. And with just 3 days in Ubud, you can really cram in oh so much!
Ubud is the place that most envision when they've got Bali on their mind – can't you just imagine traipsing through the rice paddies, taking instagram photos amongst the nearby waterfalls, market shopping (for hours), and visiting those iconic temples and shrines?
We had suuuch a fantastic time during our few days in the area that I'd feel horrible for not sharing our exact Ubud 3 day itinerary with anyone planning an upcoming trip!
However, since Ubud is kiiinda up there in the middle of the jungle, it's not really the easiest place to visit if you've only got time for a super short trip to the country (the areas of Canggu/Seminyak are your best bets for a long layover or such). Aka – you'll definitely wanna tack on other spots in Bali and Indonesia if you've got your heart set on Ubud.
And thankfully, I've got just the thing for you: my complete 10 day Bali itinerary, which is the same exact itinerary and guide we used on our recent trip (we're already scheming how we can go back sooner than later; it really was such a fantastic time).
→ Read Next: COMPLETE 10 Day Bali Itinerary (absolutely perfect to first-timers to the island)
Thankfully, you can really pack a lot in with only 3 days in Ubud, including taking some day trips and exploring the town's main highlights. Buckle up for this detailed itinerary which will explain what to do in Ubud in 3 days, with all the nitty gritty deets you need to know to plan your trip there.
When to Visit Ubud
Since Bali is oh so close to the equator, you'll find day time temperatures relatively constant year round, between the mid-80s and low-90s, making for decent sightseeing temps no matter the season.
Tropical Ubud experiences two distinct seasons: dry season (between May to September) and wet season (between October and April). However if you're only able to visit during the wet season, don't fret – it doesn't rain all day, and you'll likely still get lots of sunshine (if I had a choice I'd obviously choose the dry season, though)!
We visited in July and experienced warm, sunny days and cool, clear nights. Do note that peak season (which just so happens to be the best time to visit Ubud) is between June and September, causing hotel prices to increase.
Top Tip #1: The sun sets relatively early year-round, around 6-6:30pm, so wake up early and get your exploring started!
Top Tip #2: If you're planning on visiting other countries nearby, do keep in mind that the dry season is quite opposite from other Southeast Asian countries. Do your research ahead of time to avoid unpleasant wetness (with possible monsoons) in other areas.
How to Get to Ubud
First things first, you'll need to get yourself on over to Bali, by flying into Denpasar International Airport (DPS). From here, it's roughly a 1.5 to 2 hour drive north to Ubud, highly dependent on traffic (we've heard it taking 3+ hours at times). Call a Grab or Go-Jek (easily) who will take you straight to your hotel in Ubud for about $25 or so.
How to Get Around Ubud
Let me make one thing clear – Grab and Go-Jek (rideshare apps similar to Uber) do not work well in Ubud, or it's surroundings. It's essentially banned in the area, with tons of signs discouraging riders from using Uber, Grab, Go-Jek, etc.
The locals argue that these rideshare apps are taking money away from the drivers themselves and throwing it at large companies instead. Many don't realize they could get more rides per day using an app, but this post isn't about the controversy of the driving world, so we'll just move on.
However, feel free to try both Grab and Go-Jek and see if any drivers pick up your request, but from someone who attempted multiple times on different days at different hours of the day in July 2019, it never worked for us.
Just know that if you don't feel like walking (or waiting around endlessly for a Grab which may never come), you'll mostly be relying on the local taxi stands to get yourself around.
For getting around the town/village, well, to be honest, it's quite walkable! In the case that you wanna go somewhere a bit further (say, dinner at The Sayan House – highly recommended), you won't find much public transportation besides taxis and private drivers.
For taking day trips, it's highly recommended that you hire a private driver. Not only are they quite economical ($40-$60 per day, depending on the location and number of hours), but it's just oh so easy!
You'll never have a hard time finding a private driver – Ubud literally has hundreds of them looking for daily work, which you'll find in town, outside of restaurants, near top tourist attractions, etc. You can always ask your accommodation, but it'll most likely be more costly this way.
You can also easily rent motorbikes/scooters in town for a fraction of the price, but let's just say I wouldn't wanna ride that thing in Bali's intense traffic. Plus, if you can't navigate the area without a map, riding a scooter may be a tad difficult if you wanna get to a bunch of different spots with ease.We saw a motorbike accident first hand, and definitely can't imagine trusting myself on a bike!
In addition, I don't recommend renting a car in Ubud – there's not many places to park and it'll just end up being a nuisance.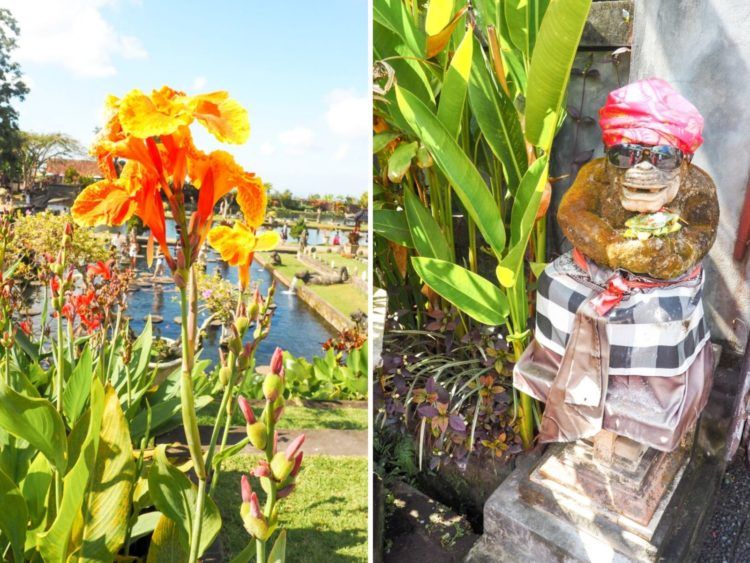 And because I'm exceptionally wordy (and have a hard time shutting up), here's a few additional tips before you head off on your Ubud adventure:
You cannot drink the tap water in Ubud, or anywhere in Bali/Indonesia for that matter. Thankfully, potable water will be provided by the bulk of hotels and restaurants, and if not, always available for purchase.
If you're not staying at a resort/hotel that supplies unlimited drinking water, stop by a convenience store to buy in bulk and keep in your hotel fridge so you're never thirsty. Or, better yet, just drink fruit juices, Bintangs (the local beer), and or coconut water.
A note on traffic: Bali traffic is a real thing you guys, especially around the Ubud area. That being said, plans may need to change if you find yourself stuck in a jam (which happens more often than you think). Most (if not all) are narrow roads with one lane per direction, so if there's a ceremony going on (quite often, you'll see), traffic will come to a standstill.
If you've rented a scooter you can typically scoot right past the traffic, but please don't plan on riding them if you don't consider yourself a pro (it's intense over in these parts!).
The currency in Ubud (and Indonesia in general) is the Indonesian Rupiah (IDR), with the exchange rate being approximately 14,000IDR = ~$1USD – or, which is even more confusing, 1IDR = ~$0.000072USD (at time of this publication, August 2019).
Converting prices in our head was confusing to say the least, but after a few days we got the hang of it quite quickly. I found it easy to think in 150,000s, since that's approximately equivalent to ~$10USD (so therefore, 75,000 rupiah = ~$5USD). You will notice that many locals/shop owners/restaurant menus simply leave off the thousand, and speak in hundreds.
For example, 100,000 rupiah would be spoken/written as 100 (so if you see a meal of mie goreng for 75 rupiah, you won't be paying 5cents, but $5.)
Where to Eat in Ubud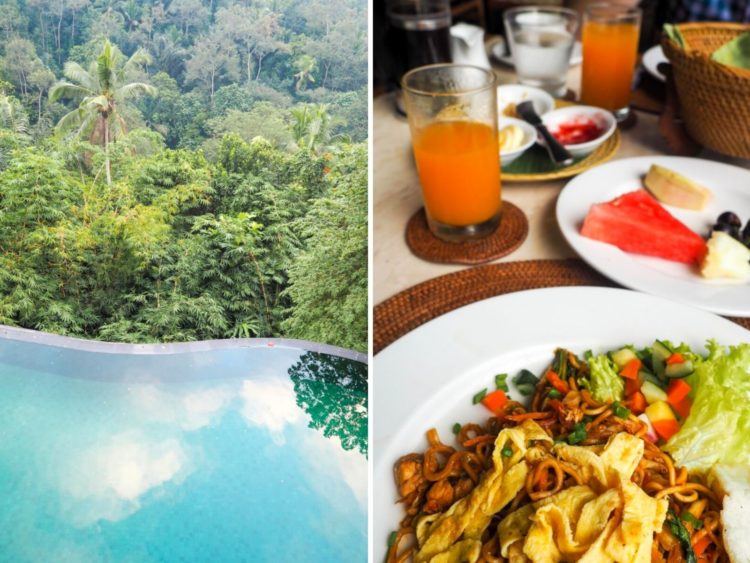 Ohhhh, the food. While we wouldn't necessarily call Ubud (Bali in general) a foodie destination, say like Mexico City or Tokyo, let's just say we never went hungry.There's tons of amazing food options, from local, inexpensive warungs to fancy, fine dining and everything in between.
A few of our favorites included: Hujan Locale, Locavore-to-Go, Acai Queen, The Sayan House, and Habitat, and next time I really want to try Locavore (need a reservation in advance), Mads Lange, La Pacha Mama, Milk & Madu, Puspa's Warung, and Alchemy.
I'm sure there's tons more spots worth mentioning but since we only had 3 days in Ubud (and took day trips outta the village as well), we didn't eat soooo many meals in the actual town.
Where to Stay in Ubud
When crafting any Ubud itinerary you'll need to think long and hard about where exactly you wanna stay. There's a million and 5 places to stay in Ubud – and each one looks amazing. Talk about difficulty choosing just one (and I'm already an indecisive gal)!
Because of this, we decided to split our time in Ubud (4 nights) at two different hotels (at different locations near/around Ubud) for 2 nights each. And this ended up being the perfect decision. Plus, I kinda thought staying at the same hotel for 4 nights would get kinda monotonous when there were so many others to check out.
We adored both for different reasons, which I'll share below.
Ubud Town: However, if you wanna be closer to all the main attractions in Ubud itself, plan to stay within the town, not on the outskirts like we did. During my research I came across the following hotels in Ubud Town which looked pretty rad: Komaneka at Monkey Forest, Alaya Resort Ubud, and Bisma Eight Hotel.
If you're looking to really splurge, spend some time gawking at photos of The Hanging Gardens of Bali (whoaaa those pools – check it out for yourself here), Mandapa (a Ritz Carlton Hotel), and the Padma Resort (brand spankin' new!).
Slightly North of Ubud: Komaneka at Tanggayuda
To make things short and sweet, we loved absolutely EVERYTHING about this 5* boutique hotel. From breakfast overlooking the absolutely gorgeous infinity pool and complimentary afternoon tea, to the lush grounds of the resort and tropical fruit trees found just about everywhere, there's not much we would change.
Upon first glance the resort doesn't look to be all that, but trust me, as soon as you start wandering around you'll see what I mean.
We opted for the 1 bedroom villa with a private pool and valley view which cost us roughly $300 per night (an absolute bargain for the place – you'll see).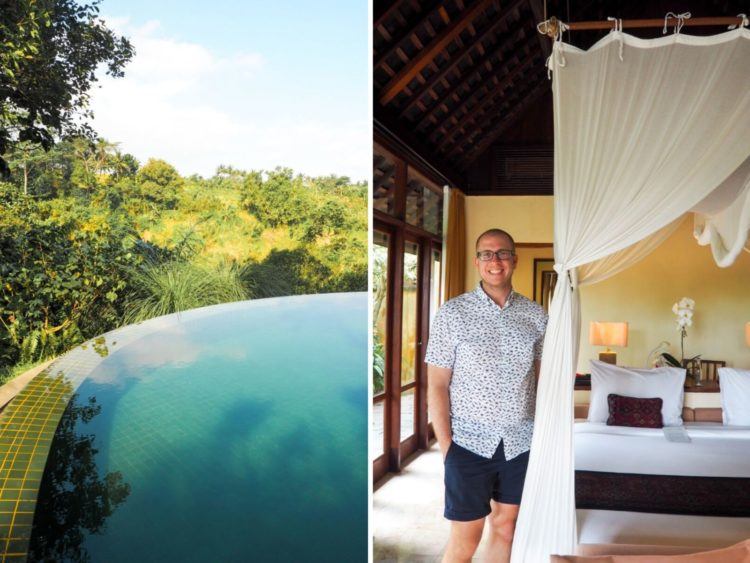 To be completely honest, we kind of wished we had stayed an extra night at the Komaneka as we didn't allow for enough time to fully enjoy the resort (as we were out and about each day).
Do note that this luxe resort is located roughly 25 minutes north of Ubud center, so you'll need to arrange for a driver/taxi if you want to head into town (which is why we chose to stay closer to town the next few nights, at Maya Ubud – more details below). Read reviews and check prices for the Komaneka here.
TL;DR: Our stay at the Komaneka was absolutely perfect.
Slightly East of Ubud: Maya Ubud
The Maya Ubud had such a different vibe than the Komenaka (not a good or bad thing, it was just different). For starters, it was oh so much larger, but also (possibly because of this) a bit more standard-hotel feely, but still wonderful nonetheless.
The gardens were magnificent, the infinity pools impressive, and the service impeccable. We were generously upgraded to a private pool villa (not exactly sure how that happened, but thanks!), and to say I enjoyed our private outside space at Maya Ubud is an understatement.
Since the Maya Ubud is pretty close to Ubud Town (a tad east), there's a complementary shared shuttle running throughout the day to the center of town (taking roughly 10 minutes or so). We used it quite a bunch and found the service very convenient. If you miss the shuttle or don't feel like waiting, the walk to Ubud Town is only about 20-25 minutes – but remember it'll be hot out!
Although we loved most aspects of the hotel, the spa (and flower bath in particular) really did it for me. Imagine soaking in a tub full of rose and frangipani flowers with calming river views… I was obsessed after 5 minutes. I'll explain my experience in a bit more detail during the itinerary, but just know that I highly encourage any bath lover to give it a try! Read reviews and check prices for Maya Ubud here.
And one last thing! If you want an especially different accommodation experience, check out Bambu Indah. This eco-lifestyle boutique hotel is full of – you guessed it – bamboo buildings, and you'll feel like you're full on living out in the jungle (with lots of luxury to boot).
Imagine sleeping in a luxurious tent in the middle of the palms; yeah, that's the type of unique oasis you'll get over at Bambu Indah. On my wish-list for next time (I told you there's too many good spots to pick from!).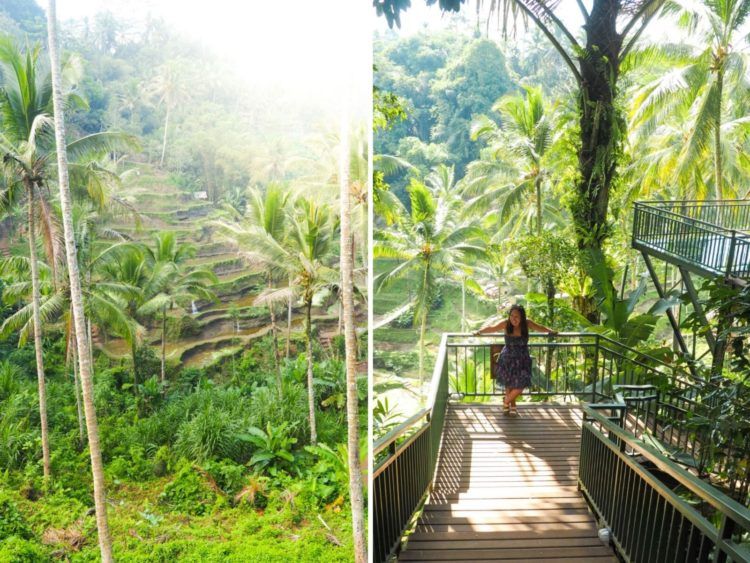 WIFI AND STAYING CONNECTED
Although you will most likely have wifi at your accommodation, it's a good idea to bring along a pocket-sized personal WiFi hotspot, to keep you connected during your time in Bali. WiFi hotspots are a cost effective option to ensure you can use GPS apps like Google Maps, check your emails, and catch up with friends and family while away. With this portable device, you'll have WiFi wherever you go (even if your phone doesn't have service), unlimited internet (on up to five devices at a time!!!), and it's fast and reliable. At less than $9 a day, this device can't really be beat.
Note that some cell phone plans allow for international use, but many of these are costly. I accidentally turned on my phone service for LESS THAN 2 MINUTES and got charged $150 by my phone carrier! I desperately wished I had a personal WiFi hotspot with me then!
Find more information and plan options here. HIGHLY RECOMMENDED especially when you don't speak the native language of the country you're visiting. A true life saver.
3 Days in Ubud
Okay, so this Ubud itinerary actually takes us to places other than the village of Ubud itself… BUT – since Ubud makes for such a perfect base to explore other spots on the island, please forgive me! You'll see – you'll be able to properly explore all that Ubud has to offer as well as visiting some spots in the North and East as well (swoooon).
However, do note that this Ubud itinerary is pretty jam packed (that's just how I roll). So if you're looking for a more relaxed trip (aka want more pool time and/or are traveling with kids), you may want to either cut out a few things (if you've only got 3 days in Ubud or so) or extend the activities I've listed here over 4 days.
Techniiiicallllly you can swap the days around and it won't make any difference, but we like to take our day trips first (to get the most tiresome stuff outta the way), and have a bit more relaxing towards the end.
And finally, what you originally came here for, a super detailed 3 day Ubud itinerary! Get planning, my friends!
Day 1: East Bali
It's your first full day in Ubud, so it's time to wake up and explore! If you've just arrived in Bali the day before, use the likely jetlag to your advantage and plan for an early morning wake-up call (5AM to be exact) to head out to the eastern parts of Bali. We chose to hire a private driver to take us to Lempuyang Temple, Taman Tirta Gangga, Tibumana waterfall, and Pura Tita Empul (in that order).
Note that we chose to book through AirBnB experiences, and were able to choose exactly where we wanted to go. Our guide took great photos of us and we had the best time with him. And psst – if you sign up for AirBnB through my link, you'll get $15 off any experience of at least $50 (so if two people go that discount will work!). If you choose the same spots as we did, just know that you'll need to pay all entrance fees as they are not included (roughly $10 per person).
If you don't feel like signing up for AirBnB (it's not that difficult I promise), this tour is very similar and takes you to the famous Lempuyang Temple, water palace, a waterfall, rice fields, and ends with the famous Bali swing.
We got picked up by our driver before the sun even rose, getting an early start of 5AM. And since we traveled to the furthest stop first (roughly 2 hours away), we were able to sleep/rest a bit in the car! Perrrrfect! I have to admit, it was oh so nice having a local drive us around, especially considering the roads seemed a bit confusing. We didn't have to worry about a thing – and we loved it!
Stop #1) Lempuyang Temple
First stop – Lempuyang Temple! I guarantee you've seen numerous photos of this Hindu temple, primarily due to it's famous gates, the Gates of Heaven, with perfectly framed views of the Agung Volcano. It's pretty iconic of Bali, and it's absolutely gorgeous (especially with that early morning light).
The Lempuyang complex is actually comprised of 7 different temples (with TONS of steps), so just plan on doing the first and most popular one if you don't plan on spending all day there.
Lempuyang Temple, also known as Pura Penataran Agung Lempuyang (yes, it's a mouthful), is one of Bali's oldest and most highly regarded temples in the entire country. Please be respectful and read below.
Once you arrive, you'll need to rent a sarong to wear (yes, no matter if you're already wearing a long skirt or pants). Since Pura Lempuyang is a sacred place, sarongs are custom, so just wear one willingly and be respectful. Covering your shoulders is also required, so plan on bringing along an extra shawl, cardigan, or simply, just wear a tee shirt like I did.
No kissing or close physical touch is allowed at the temple. My husband kept forgetting and I had to literally shoo him away!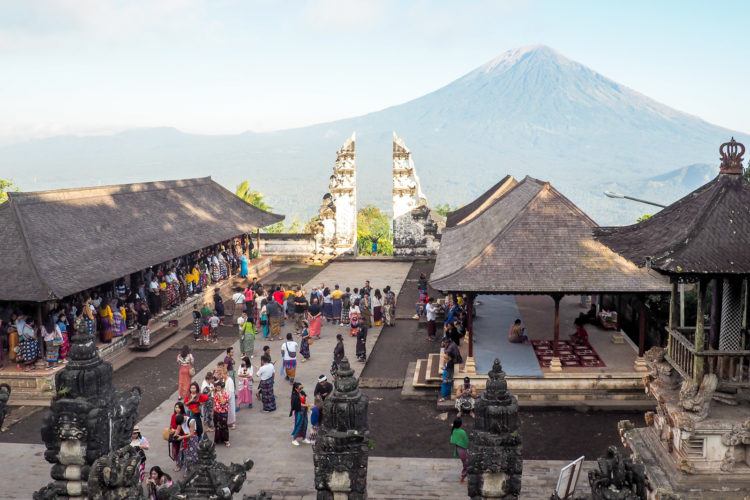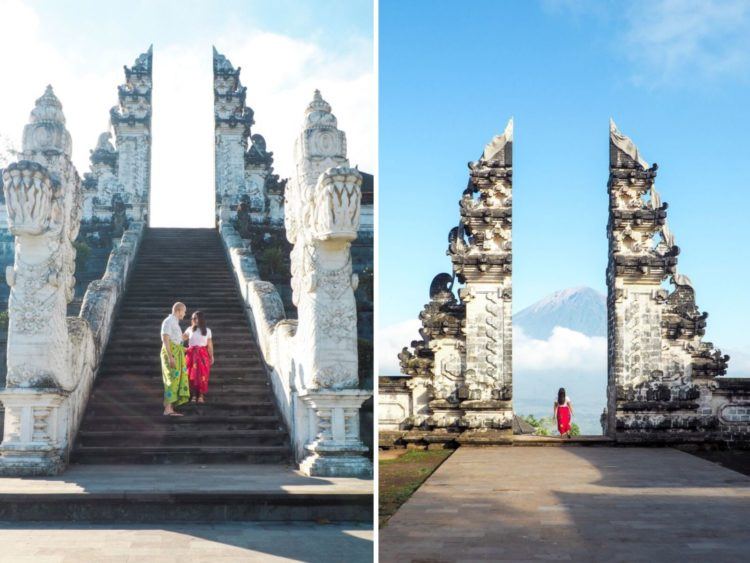 I'll let you in on a little secret – the reflection is fake. Yup, those photos you see (here and elsewhere)- one lie after another. But that doesn't mean we didn't get the obligatory photo for ourselves – of course we did. We're just happy we didn't actually wait on the horrendously long line (our guide thankfully did while we were off exploring other parts of the temple/eating our breakfast boxes).
Just another reason to take a tour; I'm guessing most tour guides stand in line for their guests. If you need to wait for yourself and arrive at the temple around 7am or so like we did, just know the line will probably take at least an hour. Plan accordingly. 🙂
Stop #2) Taman Tirta Gangga (water palace)
Tiered fountains. Stone sculptures of mythical creatures. Giant lily pads. Girls in flowy dresses. And all the hungry koi fish you can think of. Yes, we're talking about Bali's water palace – Taman Tirta Gangga. This former royal palace is one of East Bali's most famous sights, and breathtaking it is.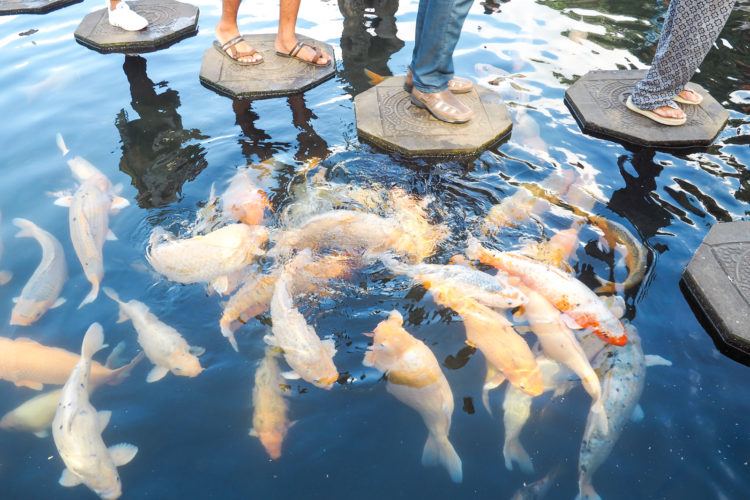 Make sure to buy some fish food at one of the little stalls before the ponds (5,000IDR).
Although we overall enjoyed this stop, it was pretty crowded already when we got there, and taking decent flattering photos without tons of other in the frame proved relatively difficult. You'll see what I mean with the stepping stones and people going opposite directions when you visit. Lots of people here to get that instagram shot.
Stop #3) Tukad Cepung Waterfall – or – Tibumana Waterfall
Put on your bathing suit, because it's waterfall time! There are a whole slew of waterfalls in and around Ubud, so you've definitely got a few to choose from. I had originally wanted to head to Tukad Cepung, which I heard is really cool with sunbeams shining through a cave, but our guide warned us that it'd be exceptionally crowded.
He instead suggested Tibumana, which was actually on my list as well (for another day), so we agreed and are so thankful for his honesty!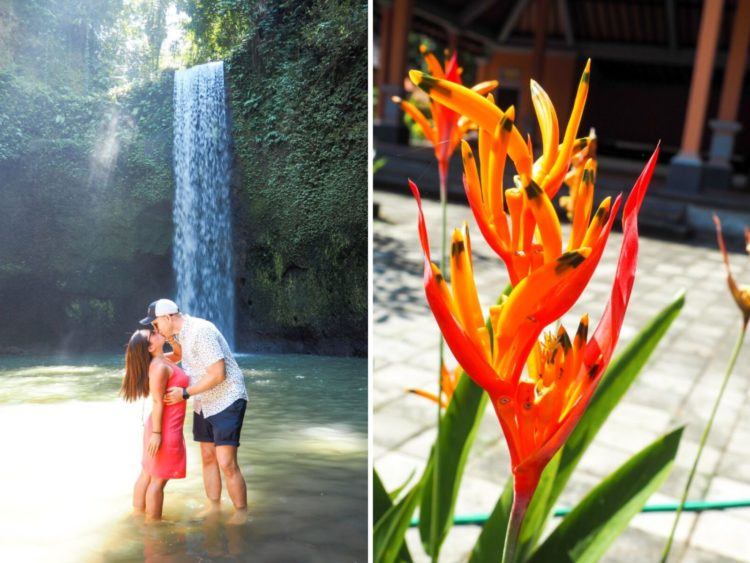 After an easy walk down on some bamboo bridges and stairs (took about 10-15 minutes or so), we were greeted with not only a beautiful swimming spot, but a crashing waterfall amongst so much lush greenery. And hardly any people, which makes sense considering it's deep in the jungle. I'll let the photos speak for themselves:
Stop #4) Pura Tita Empul (water temple)
Not to be confused with the Water Palace, Pura Tita Empul (also known as the Water Temple), is a completely different thing, so don't miss it during your 3 days in Ubud! Being one of the largest and busiest water temples in all of Indonesia, you'll want to do your part in being respectful by wearing a provided sarong within the complex.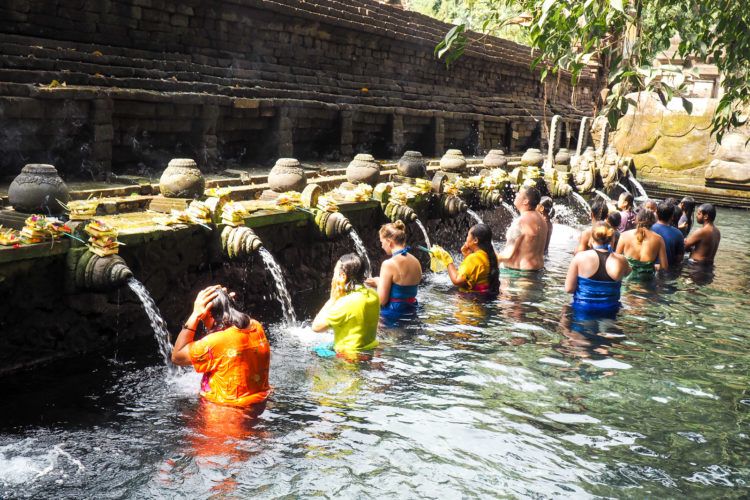 Forget about selfies here – take it all in, observe the rituals, and do yourself a favor and just watch. By visiting this Hindu Balinese water temple, you get to experience the culture firsthand by watching Hindu devotees purify themselves in a bathing ritual. And boy were the holy springs a sight to be seen.
Visitors can bathe as well (and we saw a few do so), but since we are not believers of Hinduism, we didn't feel right participating in the cleansing ritual. Note that there's an additional charge for this as well, and you'll need to be dressed from head to toe so bring an additional change of clothes if you plan to bathe in the holy waters.
Our guide showed us around the complex — it's actually quite large; the purification pools are just one part! We also saw a koi pond, the inner courtyard, and tons of Hindu shrines.
Back to the Komaneka (or your hotel of choice)
We got back to the Komaneka around 3ish or so, giving us a few hours of sunlight to enjoy the hotel's luxurious infinity pools, have a late lunch and complimentary tea and snacks, and just relax from our first day of activities.
Remember, the sun sets around 6pm (every night no matter the season), so if you want some pool time, be sure not to cram in toooo much on this first day. We had some dinner before heading to the spa for our first (of many) Balinese massages.
Where we slept: Komaneka at Tanggayuda
Day 2: North Bali
Today's another busy day, so wake up, grab some coffee and breakfast at the hotel, and hit the road! We decided to hire another private driver for the day to experience northern Bali (through the same AirBnB experience as the day before), and it was a great decision! This Northern Bali private tour takes you to a bunch of the same spots if AirBnB's just not your thing.
→ Using AirBnB? Remember to sign up via this link to save $$$ off your first activity!
Although we didn't get to visit all our intended spots (that traffic I tell ya, it's the worst!), I'll list them all out for you below. Hopefully you have better luck than we did!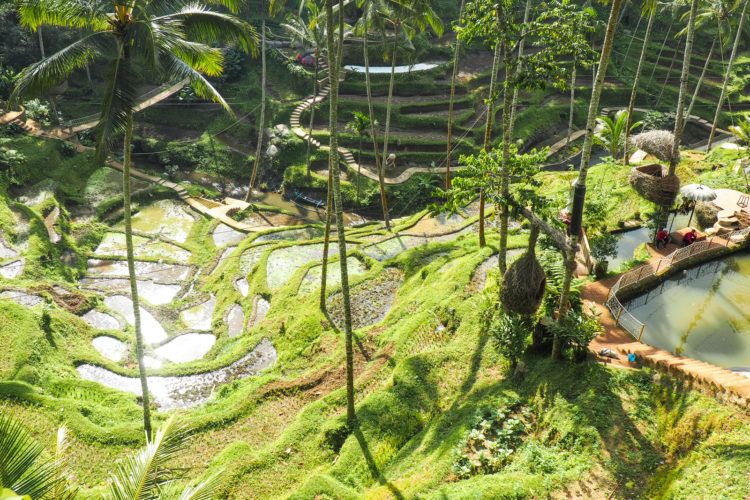 Stop #1) Tegalalang rice terraces and Bali swing, coffee/tea tasting
There's a reason everyone visits Ubud, and the rice terraces are it. Ridiculously scenic, this terraced hillside is covered in rice paddies among rice paddies, as far as the eye can see. Do not miss it. I repeat – do not miss it.
As soon as we arrived, we couldn't stop admiring all the greens – we were just wowed the entire time. Being surrounded by lush green rice terraces on all sides of you is just something you don't forget. Ever. Our guide took us wandering throughout the fields, while explaining a bit about the process of harvesting the rice as well.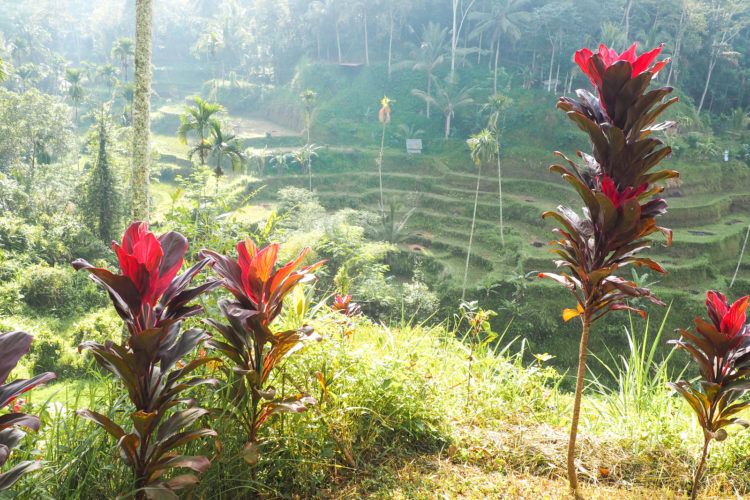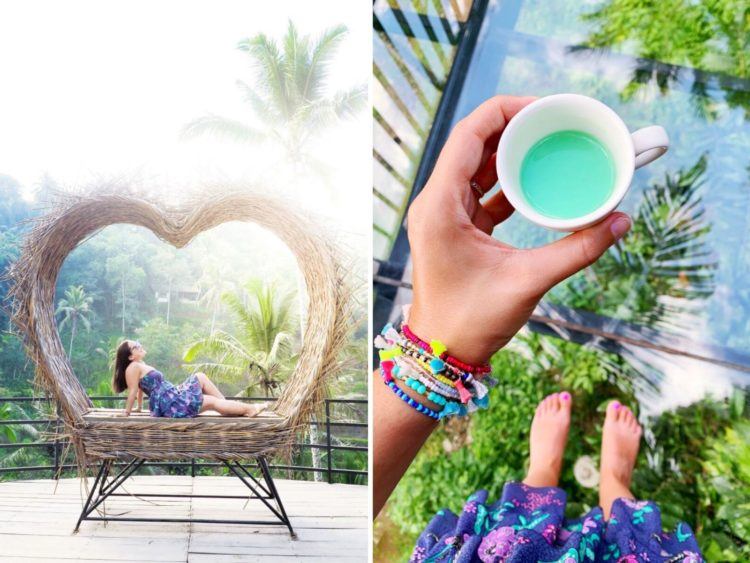 Choose to visit early in the morning, as not only will the lighting be better for photos, but you'll beat the crowds – there was hardly anyone else there when we visited around 8:30am! I honestly couldn't believe it!
We opted to do the famous Bali swing over here too, costly roughly $15 for fantastic views of the rice fields. There were other options to do the swings over near the area we stopped for coffee, which seemed much more crowded and I'm guessing costly.
We were unfortunately unable to visit the following due to Bali's mad traffic, but here's a bit of info I had researched ahead of time.
Stop #2) Lake Beratan Temple (Ulun Danu)
This temple is located on an island completely surrounded by water, which makes it quite picturesque, especially with it's manicured gardens nearby. And if you're up for it, you can even take a boat out and view the temple directly from the water (I'll be doing that next time I head to Bali).
However, do note that since the lake is considered holy, you cannot swim in it (although renting a boat is fine). Some people say it's kinda a tourist trap and filled with swarms of visitors, so research a bit more to decide for yourself if you wanna stop.
Stop #3) Handara Gate (Balour Balinese Gate of Handara)
It's a gate you guys – a gigantic, exotic looking traditional Balinese gate, with lush, smoky green hills as it's backdrop.
As such, it's one of the most iconic photos you'll see of Bali, with special thanks to instagram. Because of this, it gets rather crowded, so you'll most likely need to wait in line to get THE photo.
Not many people realize this, but this gate, dubbed the pathway to serenity, is actually the entrance to a golf course! Yes, a golf course – the Handara Golf & Resort Bali to be exact!
Stop #4) Banyumala Twin Waterfall
Like it's name suggests, this ain't just one stream of water – it's a whole slew of falls in one. Girls we had met later on during our trip said the short hike down to Banyumala (10-15 minutes) was most definitely worth it, so be sure to add it to your Ubud itinerary.
And make sure to wear/bring a bathing suit as you'll most likely want to take a dip in the falls. We unfortunately missed out on this one!
Stop #5) Wanagiri Hidden Hills
Yes, this stop at Hidden Hills is primarilyyyy for the cheesy IG photos, BUT if you're following this day's itinerary you'll already be in the area – so might as well make a quick(ish) stop. There are different sections within Wanagiri Hidden Hills, with each area having different set prices with different attractions.
Most include a nest, a swing, and another type of bamboo lookout, with the bird cage and boat viewing post some of the more popular ones. Once you've paid your entrance fee, you're free to hang around for as long as you want taking photo after photo. Kinda cheesy, but hey, you're in Bali – might as well take advantage and get some of those typical IG shots. And plus our tourism dollars help the locals make a living.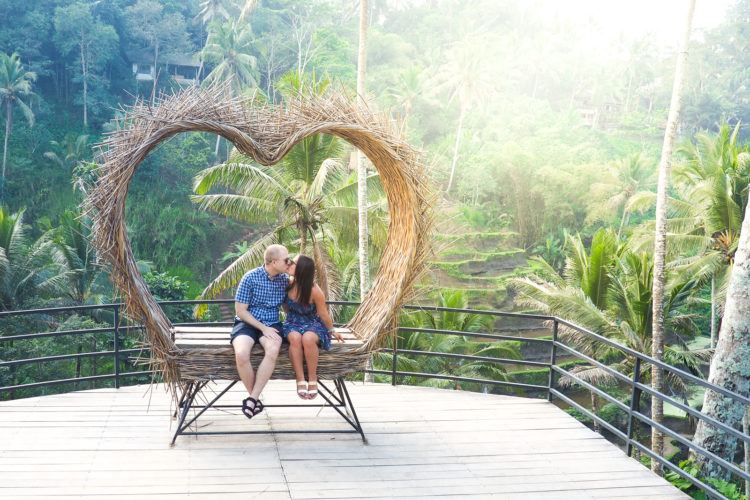 HOWEVER, you'll find some of these photo opps at other attractions near Ubud. We saw a bunch earlier in the day at the Tegalalang Rice Terraces and then again at Leke Leke Waterfall, so don't feel like you neeeed to stop at Hidden Hills if you're not especially all the photo taking opportunities (it's not for everyone, including my husband).
Because the traffic was SO bad, we didn't make it to Lake Beratan, the Hadara Gate, Banyumala Twin Waterfall, and Hidden Hills. Yuuup, basically the rest on my itinerary. We did however find a waterfall trek to do instead (Leke-Leke), which was a blessing since it got us outta the car for a while.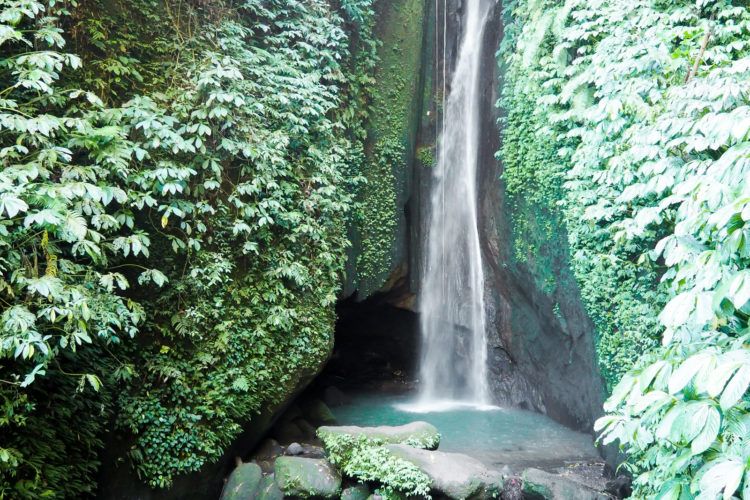 Since we missed out on so much of what the north has to offer, that's definitely an area I'll be visiting on my next trip to Bali (oh you better believe there'll be a next time). And I'd absolutely love to stay at Munduk Moding Plantation Nature Resort, which looks absolutely insane and beautiful all at once. Note that you can visit for lunch as long as you purchase a day pass in advance, but guests are not allowed on property otherwise.
If you have more time in the north, the Aling-Aling waterfall and Jatiluwih Rice Terraces all look worthy of your time.
We spent the remainder of the day blissing out in our private pool at the Maya Ubud (after checking in of course) and stuffing our faces with fresh fruit juice and Balinese snacks.
Since we hadn't checked out the restaurant scene in Ubud just yet (we had only really feasted at the Komaneka), we took the free shuttle into town and somehow got a table quite quickly at Hujan Locale for some innovative, modern Indonesian food. So good and highly recommended, although it's probably best to make a reservation in advance, as it was crowded and the restaurant is getting popular.
Where we slept: Maya Ubud
Day 3: Around Ubud
Finally, a day to actually explore Ubud! After venturing east and then north, it's about time we plant our feet and stick to the actual town!
Here's how our day went – and I suggest you do the same as we hit up all the top places (IMO) in/near Ubud Town:
1) Sacred Monkey Forest Sanctuary
I have to admit, after walking ⅞ of the way there, I almost backed out of visiting the Monkey Forest. You see, we came across monkeys in town before even getting to the sanctuary. Who knew the monkeys were everywhere surrounding the area?!
They were climbing on power lines above us, running on the sidewalk next to shops/restaurants, and were just waaaay too close for comfort in my opinion. But I faced my fears, kept on going, and in we went.
The actual experience (after calming myself down and giving myself a short pep talk) was a positive one, as the monkeys were thankfully very interested in their food and each other, and not us humans. And the babies! Quite possibly the cutest thing I've seen to date.
Keep your eyes wandering, as you'll see monkeys above you in trees, running at your feet, jumping from here to there, etc. I was definitely on watch the entire time, constantly looking in all directions in order to keep myself aware of any nearby monkeys, as they just run around where they please.
Be sure to get past the beginning and into the actual forest – the grounds are so lush and beautiful, with a giant banyan tree over the river. Thankfully we didn't see any monkeys jumping on people like I had heard about, but people we had met later on during our 10 day Bali itinerary said they lost sunglasses and hats, so be extra careful.
A few precautions when entering the monkey forest, as yes, they are wild animals and yes, there are a few ground rules to be aware of to protect yourself and everyone around you (including the monkeys):
Leave your accessories behind; this includes sunglasses, hats, large earrings, etc. You never know – the monkey's may snatch them!
And on that note, if a monkey takes something of yours, its theirs to keep – aka, don't attempt in getting it back. Monkeys will bite if they feel threatened.
Forget feeding the monkeys, let alone bringing any food/water bottles into the park in general. The monkeys can smell food and will even open up bags/backpacks and go searching/stealing!
Never make eye contact with a monkey. They see this as a form of aggression, so never stare directly into a monkey's eyes.
Do not sit anywhere there are monkeys present. You'll most likely find yourself with a monkey climbing on your shoulders (which I most definitely wouldn't want).
The baby monkeys are exceptionally cute; but just remember, wherever you see a baby, there'll be a mama monkey nearby. Therefore, don't get too close to the babies, as mamas may attack to protect their young.
I was glad to learn that the Ubud Monkey Forest is more than just a tourist attraction. Apparently there's tons of research (and conservation efforts) going on within the forest, mostly regarding the monkeys behavior and social interactions.
However, I've also read that some of the staff use possibly inhumane techniques in order to stop the monkeys from any bad behavior. Do your research ahead of time.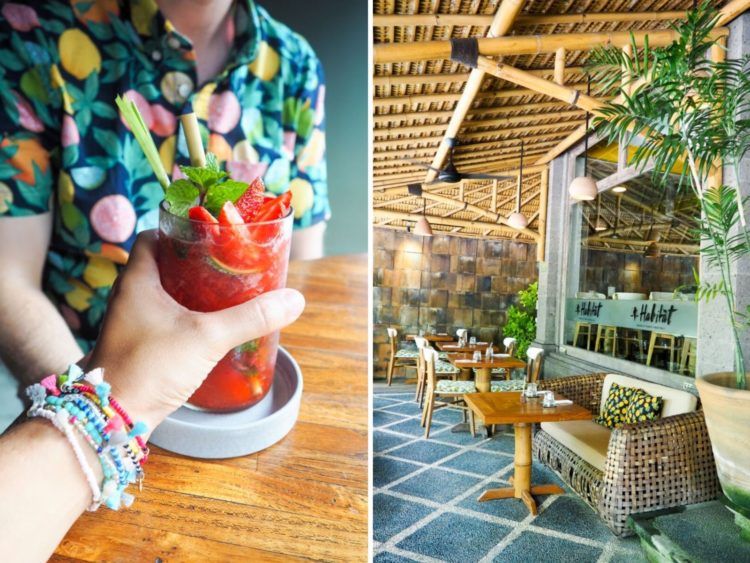 After congratulating myself for not getting eaten by a monkey, we made a pit stop at Habitat Cafe (so cute and trendy) for some well-deserved fresh juices and relaxation time.
2) Ubud Traditional Art Market
Color, clatter, commotion, chaos. That's the market experience for ya! Anything you want to buy in Ubud, you'll find at the market, that's for sure. The market specializes in traditional art and handicrafts, and I loved exploring the stalls tucked away in the little alleyways (get away from the main strip). Even if you don't plan on buying anything, just wander and browse for a bit – it's an experience (albeit rather crowded) in and of itself!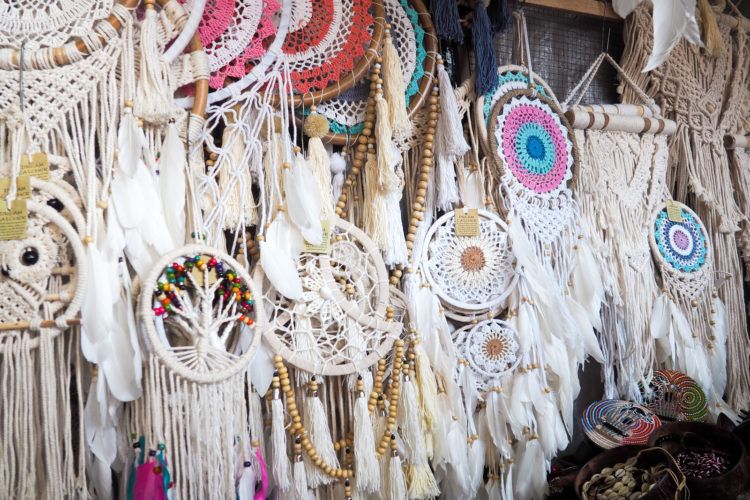 Although it's quite chaotic, the alleyways of the Ubud market make for a fun time. Just be sure to haggle/bargain before purchasing! Even though I'm sure we paid a bit too much on several occasions, we would typically be able to get the shop owner to agree to less than half of their original asking price.
If they don't agree to your price, just walk away, and they'll quickly quote you less! They want your business – trust me, as there's probably the same/similar items in the shop next door.
If you have an idea you'll be buying a few items, it's always cheaper to buy from the same stall – they'll typically give you a multi-item discount. I say, browse a bit before buying anything, decide what in fact you want to buy, and find a stall that has everything you want. You'll get the cheapest possible price that way.
I couldn't leave the market without buying one of those trendy straw/rattan Bali basket bags – you know, the round ones you see all the influencers promoting on instagram? Yup, the online companies sell them for $75-$85, but I got mine in Bali for $8. Can't beat that. And another gorgeous handheld bamboo bag for $15ish (which I could have probably haggled down more).
But I always like to remember – the locals in the market make a living selling the products. An extra dollar or two (USD) doesn't mean much to me, but it could get their family an extra meal or two.
Things to buy: cotton sarongs, bamboo straws, the famous Bali bags, dream catchers, wood carvings, straw hats, crochet tops/bikinis, stackable storage boxes
LUNCH! We hit up Locavore To-Go for some meat sandwiches (a must!), Acai Queen for, you guessed it, acai bowls, and Frozen Yogi for a chilled dessert. We were on vacation – don't judge us!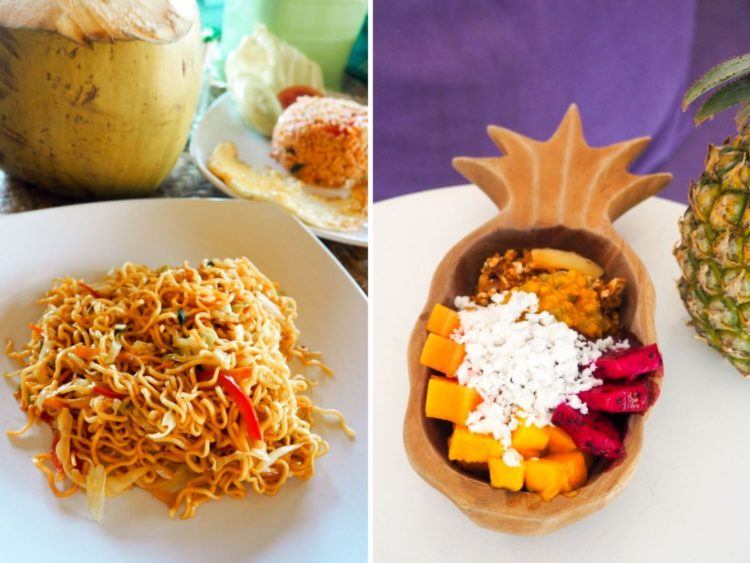 3) Saraswati Lotus Temple, Ubud Centre
Next up, a quick stop at Saraswati Lotus Temple! We stopped by this temple for a few minutes, took a few pictures, and moved on with the show. It should be noted that tourists are not allowed to enter the temple, but it's the stunning grounds that are the biggest draw for the crowds. The main walkway was filled with lily pads on either side, although there were unfortunately no lotus flowers in the pond (which I heard there typically are).
4) Campuhan Ridge Walk at Sunset
After spending all day in the busy centre of Ubud, get outta there and into some nature! The Campuhan Ridge Walk is arguably Ubud's best known trek, as it offers sweeping hilltop views and minimal crowds. And plus, it's not difficult at all – it's more of a walk than a hike (I guess that's why it's called a ridge walk…). Anyone can do this lush, scenic trail, although there were a few steep steps at the very beginning and end.
If you aren't planning on eating at The Sayan House (which you 100% should), I recommend walking the ridge walk just before sunset, which I believe would be absolutely gorgeous. We visited around 4:30, so the sun was already low in the sky making for some beautiful photos. And plus, it'll be too hot to enjoy during the day.

** If you're planning on extending this 3 day Ubud itinerary into 4 days or so, consider making a reservation at Karsa Spa for an incredibly relaxing flower bath. I did this on our last morning at Maya Ubud, but have my heart set on a bath at Karsa next time we're in Ubud.
Soooo we had a bit of trouble finding this place as we deliberately followed Google Maps like we always do – which got us to the general area, just a bit too far. We asked a worker in a nearby shop/hotel (I forgot) and they were able to direct us to the entrance – there's no signs and the entrance is quite inconspicuous, so I'm not sure how others found it without help. Sorry I can't be of more assistance, 😉
But I promise, once you find it, it's worth the hassle. It was about a 20 minute walk or so from the center of Ubud Town.
5) Dinner at The Sayan House
This Japanese Latin Fusion Restaurant is absolutely perfect for a date night (and ya gotta add in a few special nights to any Ubud itinerary). :p
Yes, it's a little annoying to get to as it's located a few minutes outta town (and not very walkable), but 110% worth it in my opinion. You'll be rewarded with panoramic views of the lush valley below, along with innovative cocktails, fresh fruit juices, and unusual dishes with unique flavor combinations.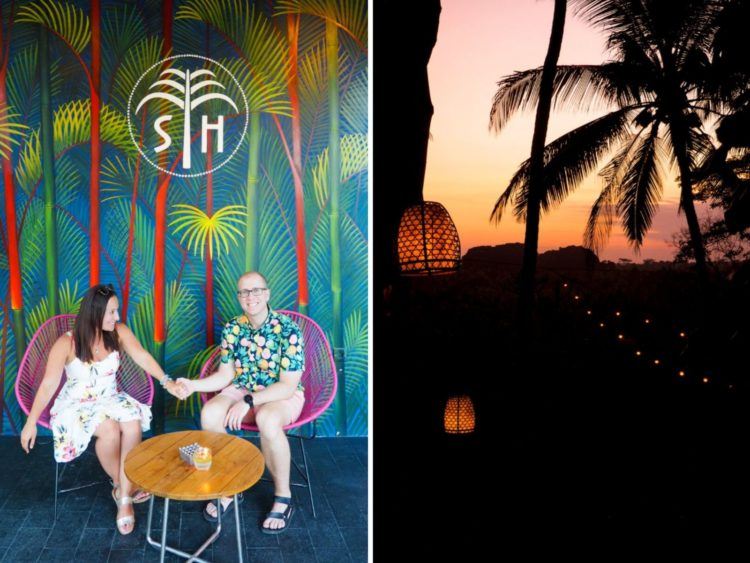 Make a reservation for this place ahead of time (and ask for a table facing the sunset) because boy, it's a showstopper. It's wise to remember that the sun sets on the earlier side in Bali, so if you actually want to catch the sunset, you'll need to arrive before/around 6pm.
We made a reservation for 6pm and ended up heading over early for sunset drinks at the bar area with breathtaking views of the rice terraces below as the sun was setting. Absolute perfection if you ask me.
6) Foot massages or Balinese Performance in town
After getting massages in Thailand every single damn day, we made it our mission to repeat that in Bali. And while we didn't meet the goal of alllll the days, we came pretty close. After dinner we ended up at Kristina Ubud Spa in town, and got foot massages for 80,000/ hr (which comes out to roughly $5.50USD). Can't beat that price!
Note that you can opt to watch a traditional Balinese performance at the Royal Palace (Puri Saren) in Ubud Town if massages aren't your thing (who are you?). Since we were already planning on heading to Uluwatu Temple later on in the trip to see the Kecak Fire Dance, we skipped the performance in Ubud. (Starts at 7:30pm, costs 100,000IDR pp, length of 1 ½ hours).
Where we slept: Maya Ubud
EXTRA! EXTRA! Morning of Day 4!
You're more than likely heading off to another spot in Bali after spending 3 days in Ubud or so, so make the most of it! I made a reservation at the spa at our second hotel in Ubud (Maya Ubud) for a flower bath.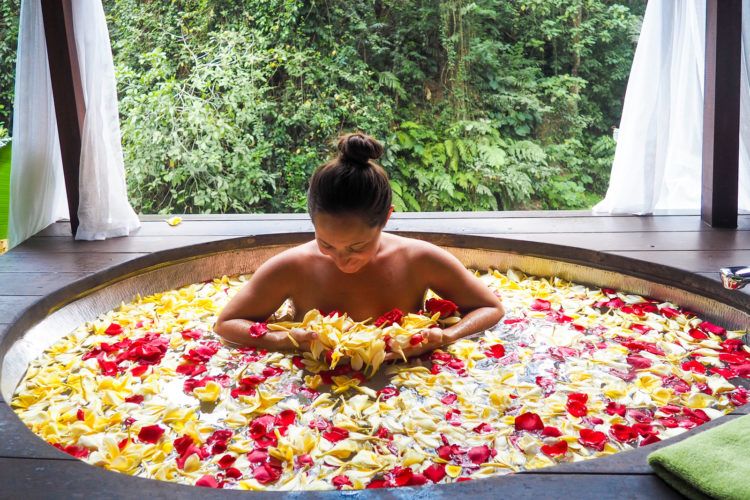 It seemed like the ultimate Bali thing to do, so I knew I couldn't miss it during my 10 days in Bali. Yup, 30 whole minutes of pure serenity and relaxation, all with rose and frangipani flowers floating around me. The flower bath was everything and then some – I could have stayed in there all day (minus the fact that my fingers were turning into a prune of course!).
I honestly thought girls just did flower baths for the 'gram, but I have to say, I left feeling super relaxed, hydrated, and tranquil. Didn't hurt that I got a few cute pics outta it too. 🙂
So there ya have it, the perfectly crafted 3 day Ubud itinerary. Are you visiting Bali soon?! Send me some watermelon juice – please and thank you!