Looking for the best way to spend 10 days in Japan? You're in the right place!
Continue reading for tons of first-hand tips, recommendations, and a complete 10 day Japan itinerary, which can easily be turned into two weeks in Japan if you've got a few more days. I absolutely LOVED my time in the country, and with some proper planning, I can guarantee you will too.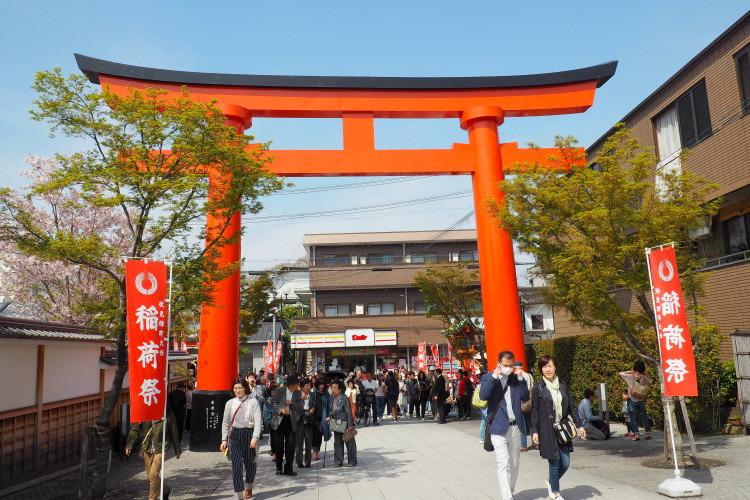 Japan is over-stimulating and over-whelming in the best way possible. An absolute thrill to the senses.
From the shiny bright lights of Tokyo's Akihabara District to the serene temples and zen gardens in Kyoto, Japan is a country where the past and the future collide more than you initially realize.
I can promise you that every bite of food will be better than the last, and you'll be saying oishi ("delicious" in Japanese) during every meal.
If you can visit during cherry blossom season, you're in for a real treat – the streets will be lined with the most beautiful bunches of white and pale pink flowers you've ever imagined, which in turn makes the country smell absolutely phenomenal.
Japan is quite literally the most fascinating country I've explored to date. (And I just hit my goal of 30 countries by my 30th birthday a few months ago!) #killingit
I'd love to spend more time in Japan, and am highly encouraging everyone I know to discover this little piece of Asia sooner than later. So today, I am sharing with you my 10 day Japan itinerary, all heavily researched (for hours!) before my trip and followed pretty much to a T.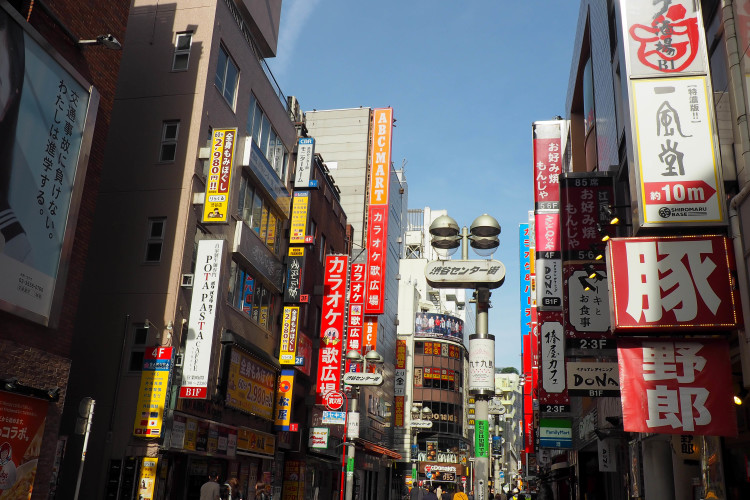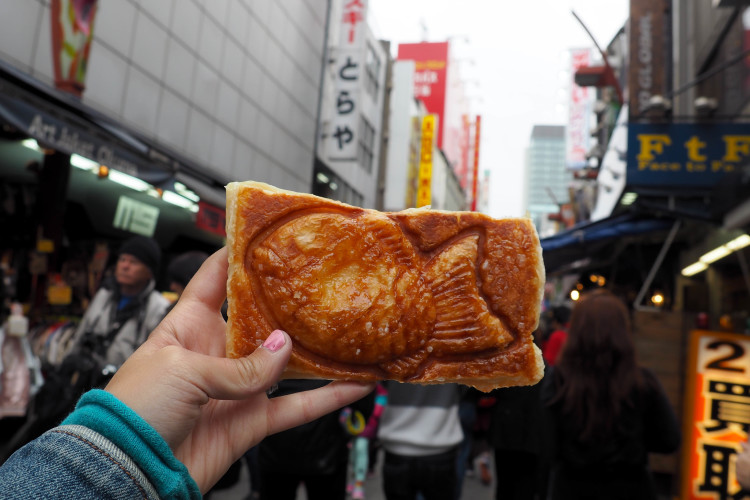 Overview of this 10 Day Japan Itinerary
When I initially started planning my trip, I was worried that 10 days in Japan wouldn't be enough. Thankfully, I proved myself wrong and was able to see and do oh so much, as well as stuff myself silly with all those Japanese snacks I had heard so much about. [Spoiler alert: bring stretchy pants.]
The country is filled with so many fascinating areas, but 10 days in Japan will give you enough time to see the highlights. To be completely honest, this Japan itinerary is rather jam packed, yet highly efficient (I promise!), although I suggest slightly modifying it if you'd like a more relaxed trip or are traveling with kids.
While we're at it, check out all my travel planning tips right over here!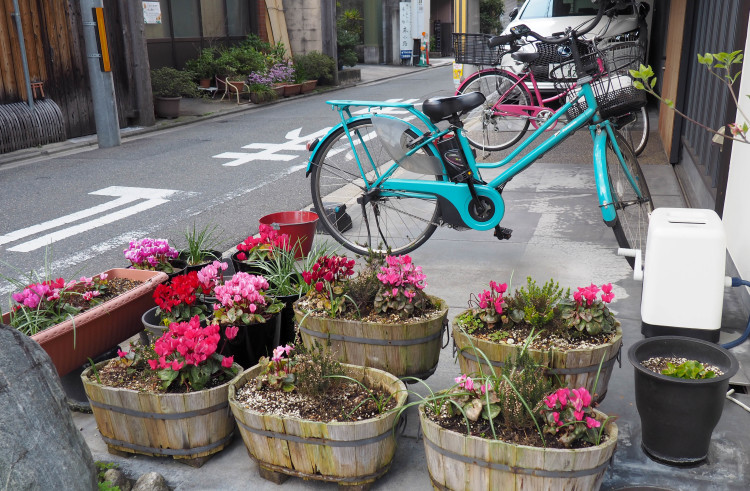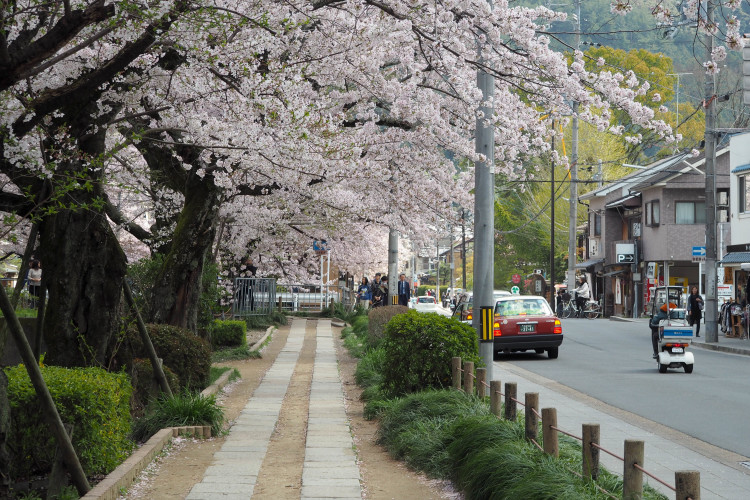 This Japan itinerary starts in Tokyo, makes a day trip to either Kamakura, Nikko, or Hakone, then ventures south to Kyoto, with day trips to Nara, Osaka, Hiroshima, and Miyajima Island. Distances really depend on the mode of transport you use, with bullet trains being the fastest.
Days 1-3: Tokyo
Day 4: day trip from Tokyo
Days 5-6: Kyoto
Day 7: Nara and Osaka
Day 8: Miyajima and Hiroshima
Day 9: morning in Kyoto → Tokyo
Day 10: Tokyo in morning/afternoon → airport
Japan is a decently large-sized island country located in Eastern Asia, being slightly smaller than California. Rest assured, the entire country is connected via trains. In my experience, Japan may have the most efficient and well-connected public transportation system in the world (and that's coming from someone who spent their childhood riding the extensive New York City subway).
Despite holding the title for the 10th most populated country in the world (aka: it's crowded), you can still find some peace and solitude in the many gardens and temples located just about everywhere.
Pre-Travel Guide to Japan
Where to get the best flight deals to Japan:
I swear by Skyscanner and Google Flights, and always always always use these two sites when looking for airfare. The option to watch prices and get email notifications are top notch and one of my favorite features of the two.
Always check budget airlines that may not be listed, especially if you are coming from other areas in Asia with shorter flight times. A great list of budget airlines can be found here.
For reference, we flew premium economy on China Airlines with a short layover in Taipei for about $1200 round trip from San Francisco – during Easter and cherry blossom season – but I saw deals for under $800 in coach. [I'm not complaining about the upgrade that my husband insisted on buying, but know that cheaper flights are out there.]
If you're coming from the East Coast USA, flights will be a bit more expensive but shouldn't be more than $500 more or so.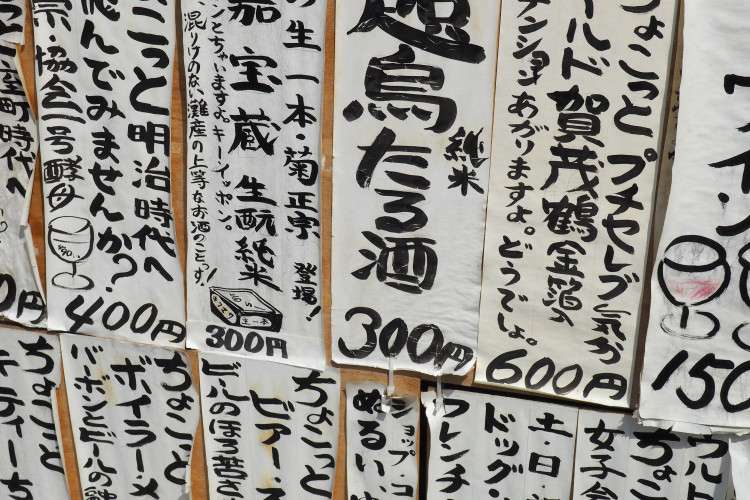 Where to stay:
In an effort to keep things simple (and avoid changing accommodation every night or two – what a pain!), this itinerary will have you staying in 2 main areas (Tokyo and Kyoto).
I highly advise booking accommodations near centrally located train stations in each as it'll be easiest for the day trips mentioned in the 10 day Japan Itinerary below.
I opted to stay near Shibuya Station in Tokyo, as it's centrally located and easy to reach other districts. In Kyoto we stayed near Kyoto Station as we were taking a bunch of day trips and wanted to be able to walk to our accommodation easily after a long, busy day on the road bullet train.

Recommended hotels in Tokyo near Shibuya Train Station:
Recommended Hotels in Kyoto Near Kyoto Train Station:
Consider staying in a traditional ryokan for a few nights for the absolute Japanese experience (something I missed out on due to poor planning on my part- I tried to book too late, in cherry blossom season no less.) I did manage to get a few worthy ryoken recommendations for my next trip which I have listed below:
Airbnb is also a great option and a good way to save some money if you're spending a few nights in one spot (always check the cleaning and booking fees, as these can greatly increase the price should you only need a 1-night stay).
New rules regarding Airbnb rentals were implemented in June 2018, and now listings must be registered and display a license number on their booking page. Thankfully all current listings on Airbnb are compliant (the company removed any which failed to register in 2018), so you can be sure your booking is absolutely legit.
While I'd love to recommend the Airbnbs we stayed in during our trip to Japan, they are no longer available. However, there's tons more to choose from – just check out the Airbnb website.
First time using AirBnB? Sign up with THIS LINK to get $30 off your first stay!
When to visit:
There's never a horrible time to spend 10 days in Japan, but each season has their pros and cons.
Spring: If you're hoping to see the ever-so-beautiful cherry blossoms, April is your best bet. That being said, it's also the month most people visit Japan for that very reason. I visited in early to mid-April, and while yes it was crowded, the beauty of the cherry blossoms found throughout the country was well worth it.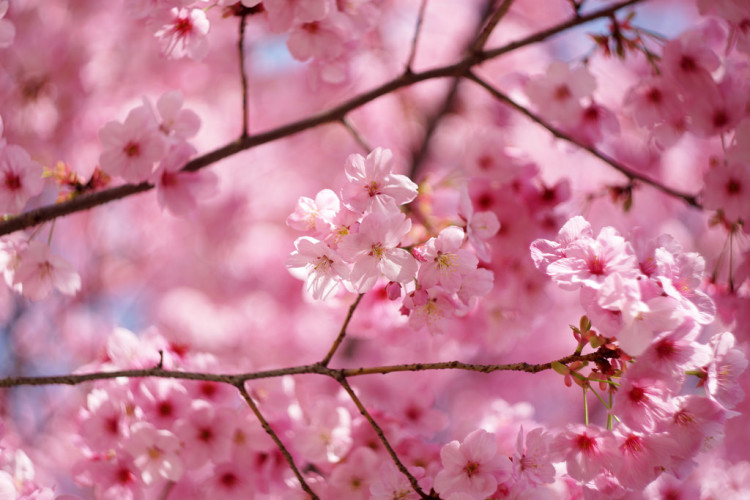 Fall: Autumn is another wonderful time to visit Japan, as you'll get to experience the vibrant fall colors (bright red leaves) from September to November.
Summer (June to August) is hot, humid, and rainy (although the rain tends to dissipate in early July), while winter (Dec-Feb) is generally cool, sunny, dry and great for snow-sports in the mountains.
Note that weather varies dramatically throughout the country, so be sure to plan accordingly especially if you visit higher altitudes.
Read Next: When to Visit Japan (Weather, Seasons, Festivals, and Crowds)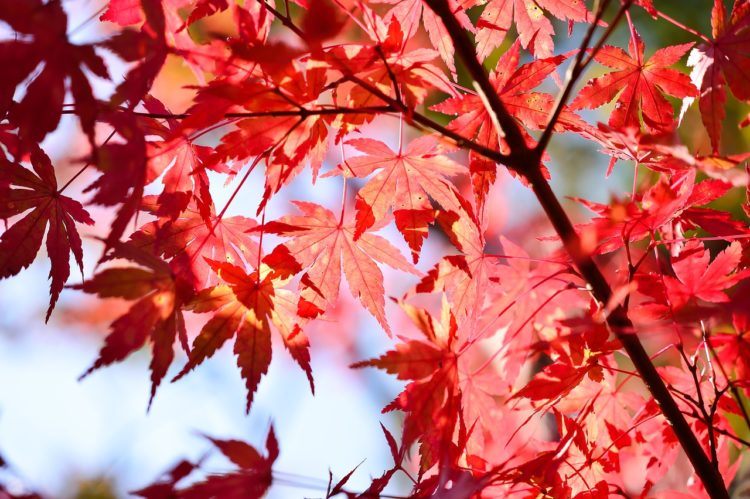 How to get Japanese Yen:
I highly advise you to NOT exchange your money at a currency exchange kiosk before or after you land as you won't get the best rates. Instead, take out local currency (Japanese Yen) at the airport via ATM machine.
If you travel quite frequently, consider applying for a Charles Schwab bank account. The company refunds any and all fees associated with foreign transaction ATM withdrawals. You'll pay no ATM fees anywhere in the world, including your home country. It's what I've been using for years and it's saved me 100's in unwanted pesky fees.
Surprisingly, considering it's crazy-advanced technology and all, Japan is mostly a cash society; yes, we were exceptionally wowed by that! Expect your credit card to get rejected at most places (especially small eateries and of course street-food stands) and be sure to carry enough Yen with you.
If you're coming from the US, an easy way to figure out USD to JY is to move the decimal point two spots to the right >> 100Y = approximately $1USD. Just for quick reference, 10,000Y = approximately 100USD.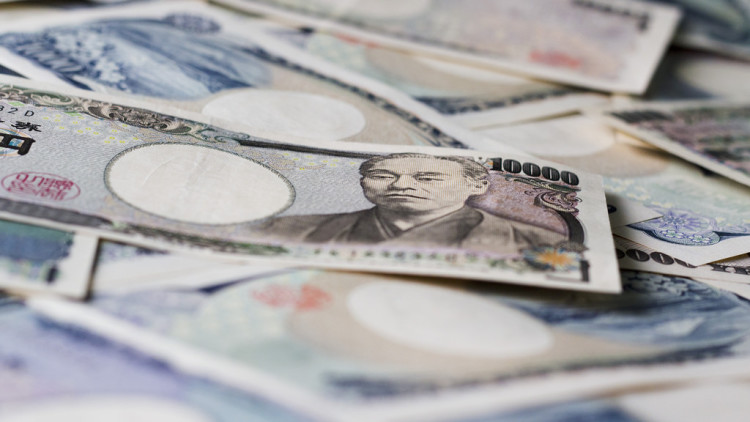 How to Get Around Japan:
If you're visiting Japan from elsewhere in the world (i.e. you are not a resident of Japan), you are able to purchase a JR train pass for varying amounts of time. The JR pass gives you access to all of the trains, most Shinkansen lines (bullet trains), the ferry to Miyajima, and a few other transportation lines. Options include 7-day, 14-day, and 21-day.
I used a 7-day JR pass during my trip, and I highly advise you to do the same if you'll be following this 10 day Japan itinerary. The Green Car option, while a bit more expensive, is JR's version of "first-class" and most definitely worth it in my opinion. Note that it does not cover all bus routes/lines and some local trains, but these only cost about 100-300Y ($1-3USD), so no biggie.
If you plan on using a JR pass, you NEED to purchase it before you enter the country. Once you arrive in Japan, there is no option to buy it. And when I say no option, absolutely NO option at all.
Once you purchase the pass (which must be done outside of Japan) you will receive a voucher in the mail (within a few days) which you will then exchange upon your arrival in Japan at a designated JR ticket booth in major train stations.
Buy your Japan Rail Pass here (it's the company I used and our voucher arrived promptly in the mail). There was free delivery straight to our home which I greatly appreciated, and once in Japan we saved a ton of money on the Shinkansen (high-speed bullet train), and breezed through the JR rail stations like a boss.
I can't imagine doing Japan any other way than with a JR Pass. Check out the options (standard and green pass) here.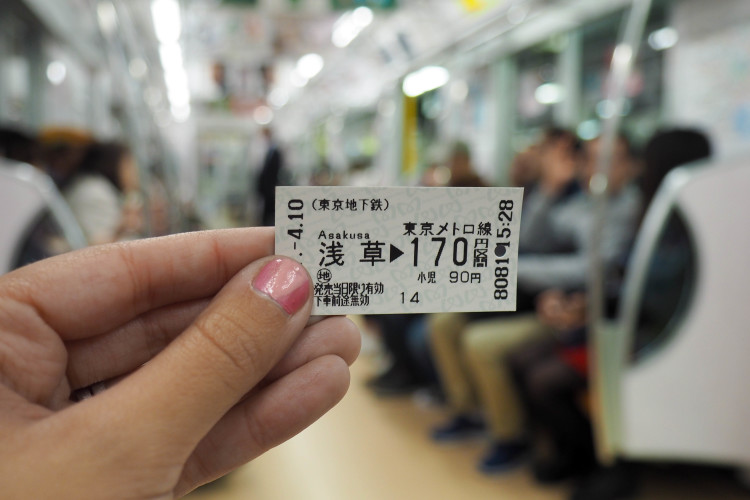 UPDATE — Buying a JR Pass in Japan: The Japan Rail Pass be will sold at a higher price point and on a trial basis in Japan through March 31, 2014 at major stations and airports. However, if you know you'll be using one, miiiight as well save a bit of money and purchase it beforehand from a trusted company. There's really no reason not to.
The public transportation system in Japan is top-notch, and although extremely overwhelming (at first, trust me), it's by far the best (and most cost effective) option for getting around throughout the country.
Electricity and Power in Japan:
Japan uses the same 2-pronged electrical outlets as found in the USA. If you're coming from America, note that some electrical devices use a three-pronged plug.
It's also important to understand that the amount of voltage is different and you'll need a converter (different than an electrical adapter) to change the amount of electricity pushed to each device if you plan on bringing anything which uses an excessive amount of power (including hair dryers, curling irons, and/or straightening irons).
If you don't want to worry about this, I suggest you invest in dual-voltage devices made especially for travel like this dual-voltage blow dryer, dual-voltage mini straightener, and this dual-voltage curling iron.
Using a Pocket Wifi Router in Japan:
If you've done any research on Japan, you probably came across something called Pocket Wifi. What is it exactly and why should you consider getting it for your trip to Japan?
Pocket Wifi is exactly as it sounds — a small portable device that you can keep in your pocket (or purse/backpack/day bag) that provides wifi to all your devices (cell phone, iPad, computers, etc). And the best part? One Pocket Wifi will power up to 10 devices, so you can share the same Pocket Wifi with your family and friends.
Since wifi is less common in Japan than in other countries (surprising, right?!), this handy little device does wonders! You will be able to find free wifi in your hotel/ryoken, Starbuck locations around the city, and some other restaurants, but I always recommend having your own, especially if you're visiting any smaller cities. Do note that some ryokans and older hotels might only have LAN cable internet access, instead of wifi, so you'll definitely want a Pocket Wifi there!
You'll use wifi on your phone for just about everything in Japan — train schedules, getting around, translating important phrases, making FaceTime calls to family, etc. You don't wanna be without it when you need it!
And they make it so super easy — the Pocket Wifi will be delivered straight to your hotel in Japan! Once you're done with your trip, use the convenient prepaid envelop to return your router from any address in Japan. Couldn't be simpler than that!
Check out the benefits and purchase your Pocket Wifi here. Honestly, a life saver!
Useful Japanese Phrases:
Hello/Good Afternoon: konnichiwa
Good bye: sayonara
Delicious: oishi
Thank you: arigatō
Please: kudasai
Where's the toilet: benjo wa doko desu ka?
Does anyone speak English? Eigo no hanaseru hito wa imasen ka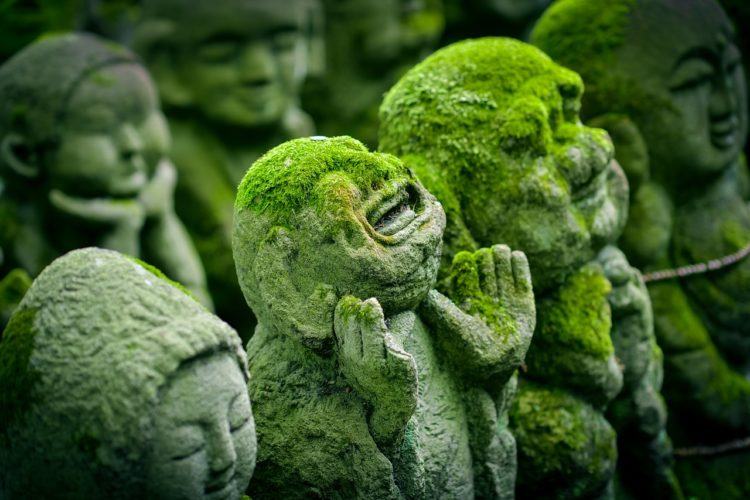 Packing tips for Japan:
Clothing: Seasons are kind of temperamental in Japan, and you may be wishing you brought different clothing. Therefore, I highly suggest you pack layers for your trip to Japan. An umbrella (cute ones here, here, and here) and light raincoat (like this or this one) are recommended as well.
We encountered much more rain during our 10 days in Japan than we had originally planned for, and I'm glad I brought along a raincoat. If you don't want to stuff a coat in your luggage, consider bringing along a poncho just in case.
Electricity and Power: As noted above, most of Japan's electrical outlets are the 2-pronged "Type A" type (100 Volt, 50-60 Hz).
If you have a device with a 3-pronged or European/UK-style plug, you may need a travel adapter (for all devices) and power converter (for high powered devices like a hair straightener or blow dryer).
Pack comfy shoes that are easy to take off. You'll need to slip off your shoes at various temples, at the airport, at ryokans, and some restaurants. My favorite ones here (on sale), here, and here.
I also suggest bringing along socks if you don't want to go barefoot… These sushi socks are quite cute and perfect for the occasion… 🙂
Small throwaway bags for garbage. You won't find many garbage cans around Japan in general, and it's expected that you keep your trash on you until you can throw them away. Keep a small bag in your purse/backpack for this purpose. A small foldable tote is perfect for this, and can be used for spontaneous shopping trips.
Pack light. Navigating Japan is much easier when you have a small suitcase, especially since Japanese trains (and train stations) do not cater to travelers with a lot of luggage. In addition, there's not as many elevators or escalators as you might wish, so remember, you may be carrying your luggage up and down a few flights of stairs.
I recommend traveling with a small rolling suitcase (one that fits in the overhead bin on an airplane like this one or this one) and a backpack (I have this one and love it).
Stay organized with packing cubes, which also help you fit more into smaller suitcases (I'm able to fit about a months worth of summer clothing using packing cubes and packing strategically).
Language: If you're up for it, you can also consider taking along a small Japanese Phrase Book. The language is quite difficult, and Google Translate (which won't work without wifi or a cell plan) saved our butts far too many times.
Japanese written language uses characters, which you'll see all over the place. Thankfully, most signs are written in phonetics using the alphabet we use.
We were also surprised by the low number of people who speak any English. Save yourself some frustration and pack a lightweight phrase book in your bag. Interested in learning some Japanese before your trip?
This book looks like loads of fun, and I'm actually thinking of buying it before my next trip back to the country. (The Japanese language is difficult you guys, just trust me.)
Travel Insurance for Japan
Yes, you need this. I always recommend purchasing travel insurance before your trip. You never know what might happen (flight delays, lost baggage, illness), and travel insurance definitely helps with all of those unfortunate unexpectancies.
I highly recommend the companies World Nomads and SafetyWing. I've recently been buying coverage with SafetyWing since they cover pandemic-related costs (which most travel insurance companies do not do).
Whenever we travel, we always buy a short term plan (depending on how many days/weeks we'll be away) before leaving for any trip! Even if you don't end up using it, peace of mind is 100% worth it in my opinion.
Find plan options and pricing here (and at only a few bucks a day, there's no excuse not to!) I always say, if you can't afford travel insurance, you can't afford your trip. It's that easy.
Buy your travel insurance now — don't wait until it's too late!
10 Days in Japan: A Complete Japan Itinerary
And now, the fun part! The 10 day itinerary in Japan!
Day 1: Arrive in Tokyo!
You'll most likely be flying into Narita Airport and will need a little over an hour to get into the city center via the Narita Express. After such a long flight (with lots of time difference), it's best not to plan much on this first day – hello, jetlag!
I suggest exploring the area you're staying in (my suggestions: Shibuya or Akihabara) and devouring your first Japanese dinner of either ramen or pork Katsu.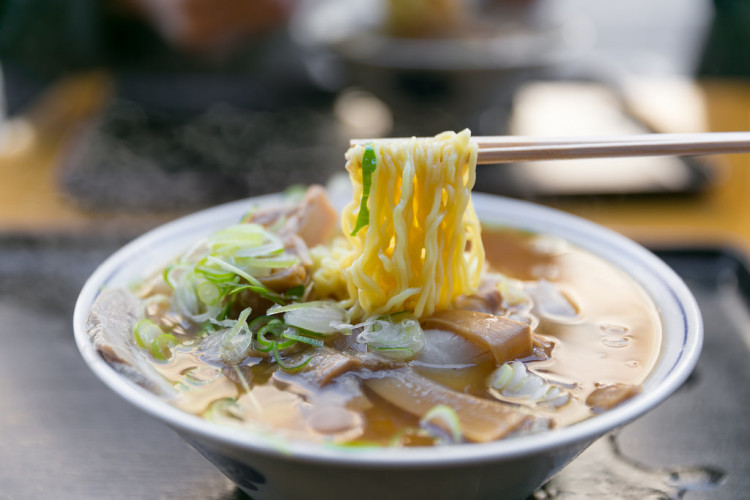 During my stay, I opted for an AirBnB in Shibuya, which has an epic nightlife with tons of stuff going on, restaurants included (even if "partying" isn't your thing- it sure ain't mine!). Use this first afternoon/night to relax and rest up, as the rest of this itinerary will be go-go-go!
Day 2: FULL DAY IN TOKYO (West Side)
Today's all about modern Tokyo! You'll be exploring the western districts of the city, including Shibuya, Harajuku, and Shinjuku – just saying these names are fun! You can either walk from district to district as they are fairly close together, or buy single use train tickets to hop between each.
DO NOT USE YOUR JR PASS YET as it will expire before you finish needing it later on during the trip. Train tickets within Tokyo are not very expensive, and you won't be needing many today anyways!
Stop 1: Shibuya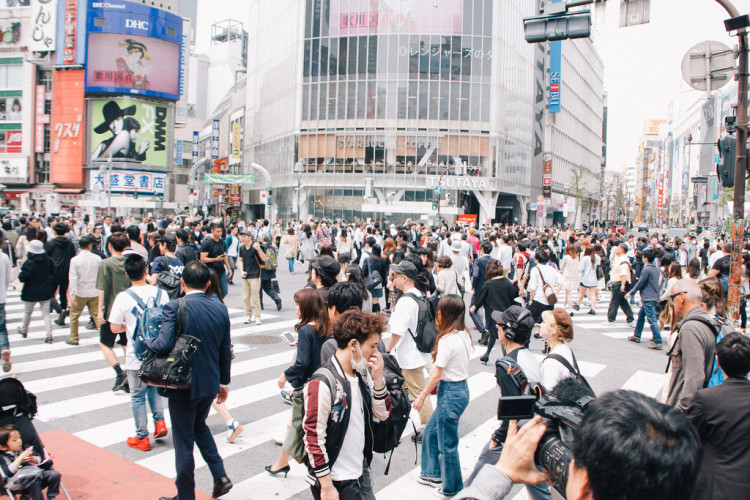 If you opted to stay in Shibuya, you won't need to take a train here! Shibuya is Tokyo's version of Times Square, and with all the bright lights and massive amounts of people, it's easy to see why. Be sure to check out the world-famous Shibuya Crossing, where 100's of people scramble across the street at once.
For the best view above, head to Starbucks (you'll need to order something before going upstairs), or find the Keio Inokashira Line at Shibuya Station for another perfect view.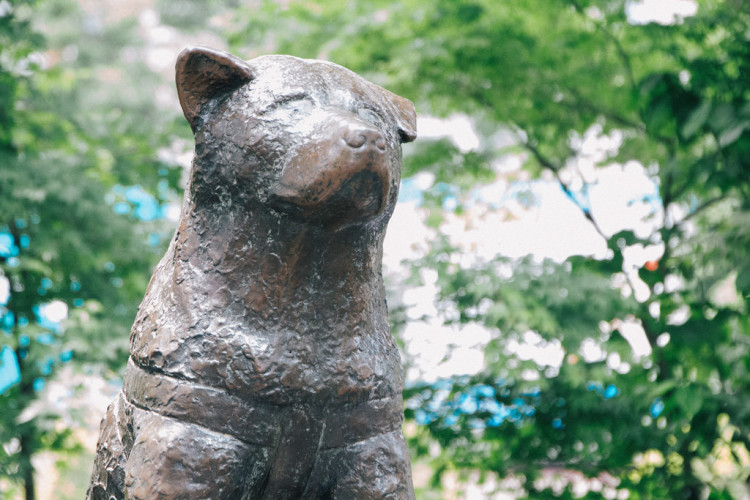 Also say "Hello" – or Konichiwa — to Hachiko (the most loyal dog in the world statue) at Shibuya Crossing and do some shopping at Tokyu Hands.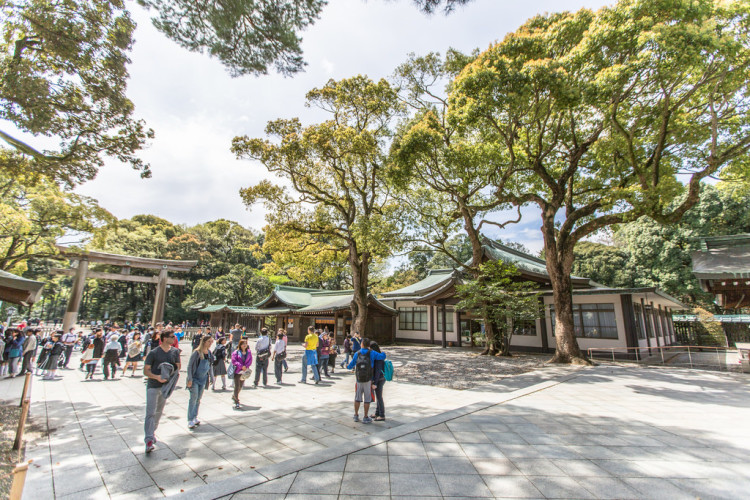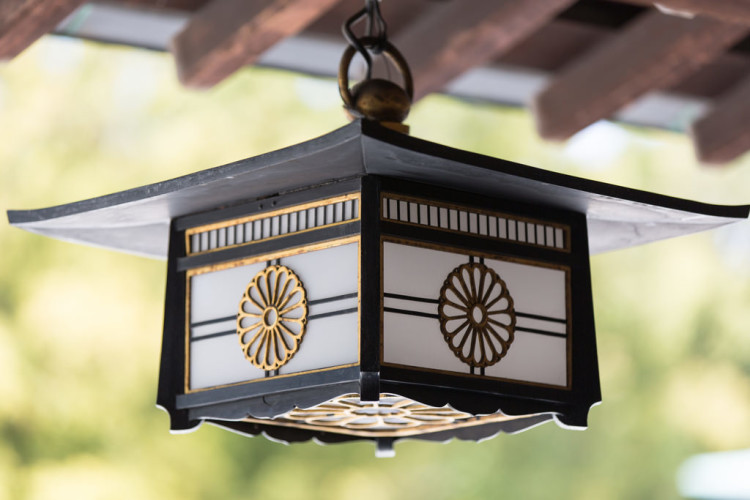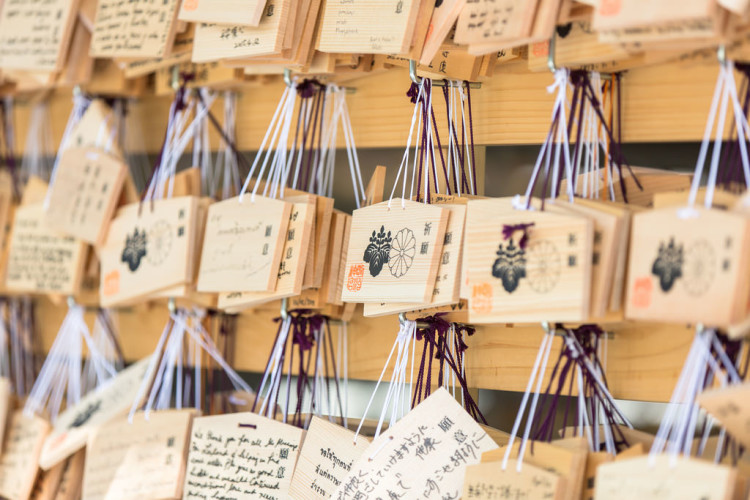 Meiji Shrine shouldn't be missed as well, which is the Shinto shrine that is dedicated to the deified spirits of Emperor Meiji and his wife, Empress Shōken. You'll be seeing lots of shrines and temples during your time in Japan, and Meiji is a great one to start with!
If you're lucky, you may even witness a traditional Japanese wedding ceremony! I, however, was not so lucky.
Stop 2: Harajuku
If you want to get a taste for Japanese street style, visit Harajuku. On Sundays, you can see traditional Harajuku Girls dressed in elaborate costumes and anime – so fun! Try and spot the girl in the photo below all decked out in costume. If you can't make it on a Sunday, you can get a feel for Japanese street style any day of the week.
You can reach Harajuku by taking the Yamanote line to Harajuku Station, although it's not a far walk from Meiji Shrine.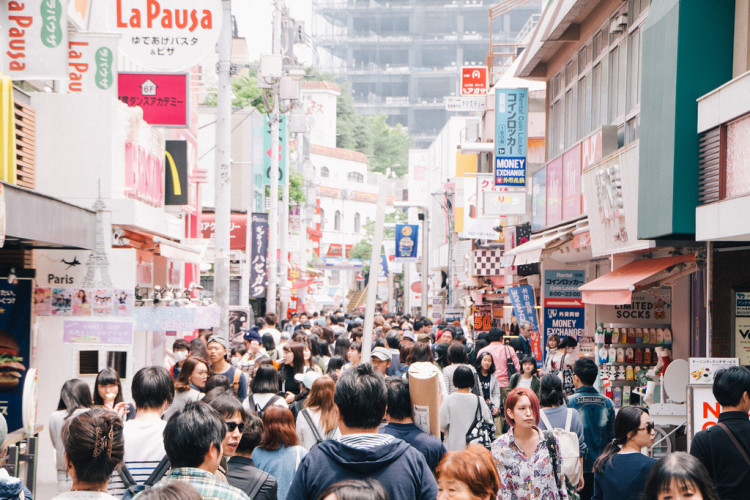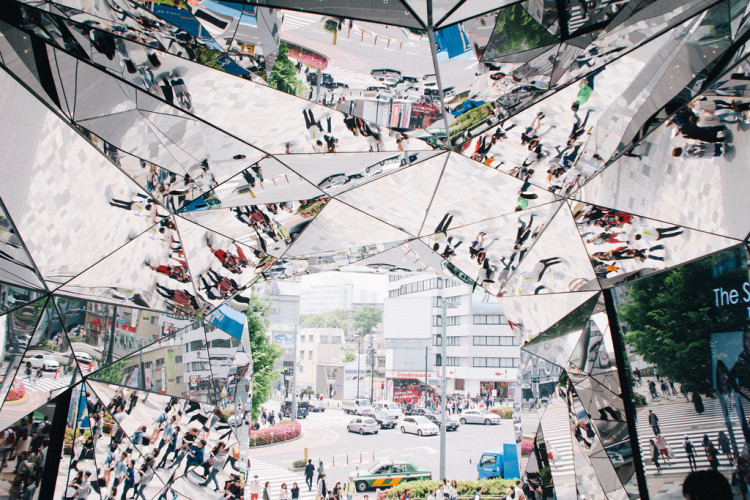 Walk down the famous shopping street of Takeshita Dori, where you'll find a whole mess of fun stores and fun cafes. Note that most shops don't open until 11am, but if you're following this itinerary, you'll probably arrive here around 1pmish or so.
Be sure to try a crepe – the unofficial street food of Harajuku, which you'll find all over Takeshita Dori! We also visited a hedgehog café and played with them for about 45 minutes or so. A super quirky and super weird area, definitely not meant to be missed!
Read Next: Top Things to do in Harajuku
Stop 3: Shinjuku
Shinjuku is the largest neighborhood in Tokyo (dubbed the crazy entertainment district), and you'll find thousands of restaurants, shops, entertainment, and other attractions that you could easily spend all day here.
With limited time, we spent a decent portion of the afternoon and night here and felt that was sufficient enough to see the highlights.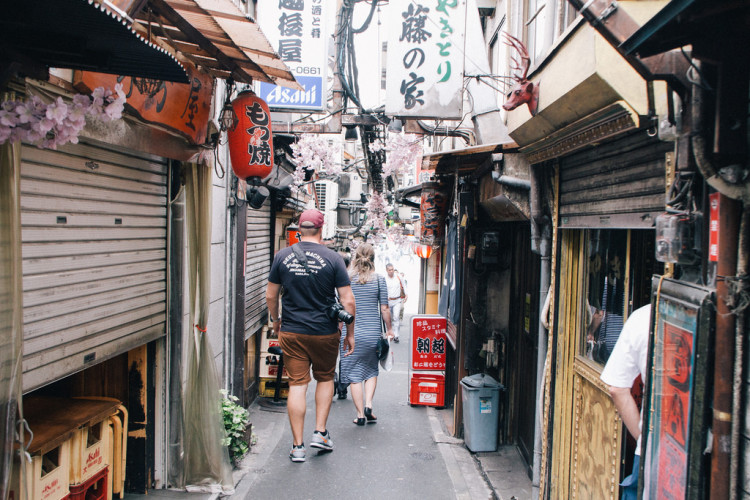 Many people opt to see the ever-so-popular Robot Restaurant, which I've heard is an other-worldly experience, but after reading reviews, we decided against it. Do your own research and decide for yourself whether this show is worthy of your time and money.
Whether you decide to spend part of the evening at the Robot Restaurant, I highly encourage you to make a visit to Omoide Yokocho, commonly known as Piss Alley.
Piss Alley is a small network of alleyways along the tracks northwest of Shinjuku Station filled with dozens of tiny eateries serving ramen, soba, sushi and yakitori. Just pick one with open seats and go in – they're all worthy of some stomach real-estate.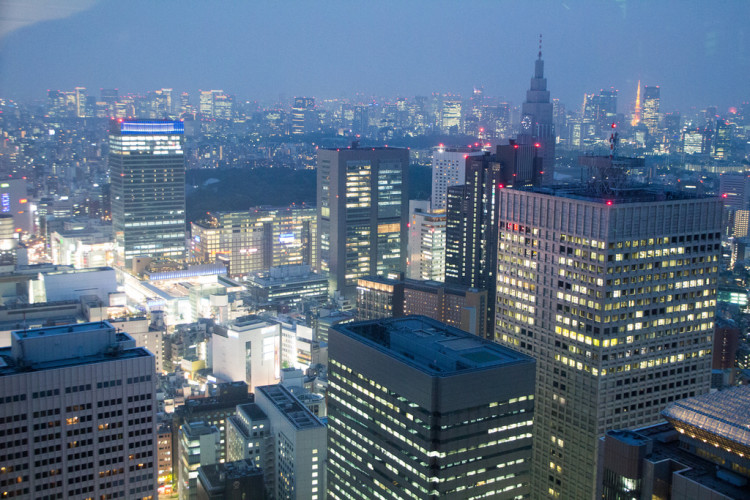 Consider the free observation deck on the 45th floor of the Tokyo Metropolitan Government Building, visit Shinjuku Gyoen (a large public park near Shinjuku Station being a perfect cherry blossom spot – check on hours, we missed the entrance by about 20 minutes 🙁 ), and find an epic view of the area from the pedestrian overpass near the northwest corner of the Shinjuku station.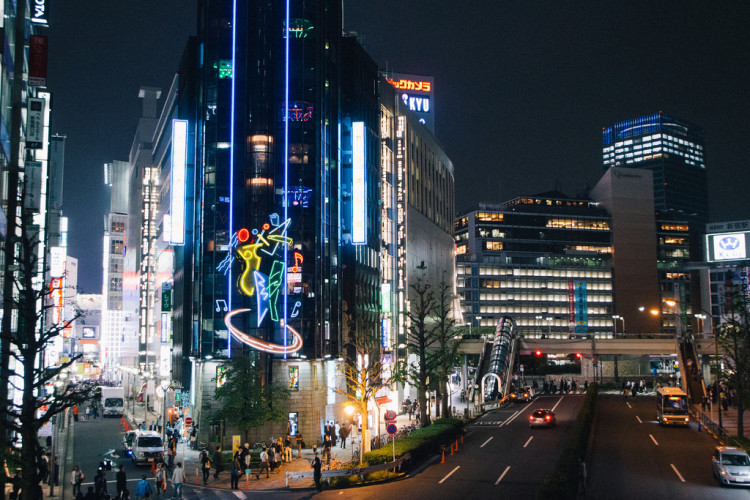 Day 3: FULL DAY IN TOKYO (East Side)
Now it's time to experience the more traditional side of Tokyo, including Sensoji Temple and Ueno Gardens. Another bird's eye view can be seen today, at nearby Tokyo Skytree.
If you're staying in Shibuya like I did, you'll need to take the train from Shibuya Station to Asakusa Station (35-45 min on train) via the JR Yamanote Line to Ginza or Asakusa Line. Make sure to purchase single tickets – do NOT activate your JR pass yet!
Asakusa and Sensoji Temple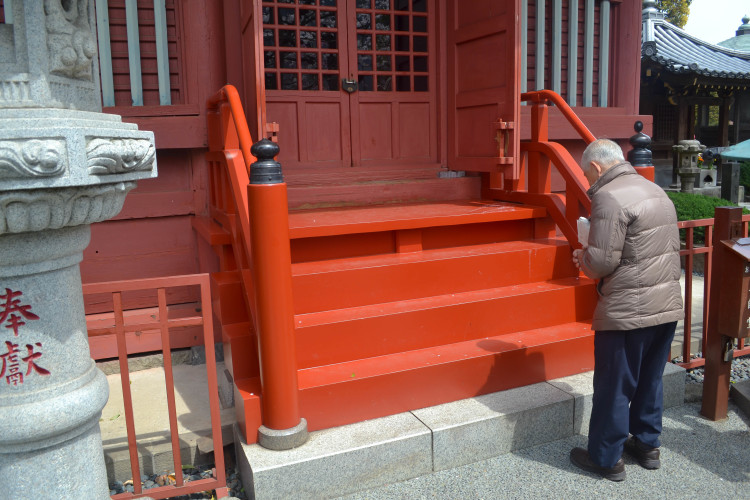 Asakusa is the spiritual heart of Tokyo and a good place to start your day! Sensoji Temple is the main attraction here, and you'll start your morning journey at the Kaminarimon Gate.
As you walk toward the temple buildings, check out the historic Nakamise Dori shopping street, pick out some souvenirs and grab a Japanese snack (or two!) before exploring Sensoji Temple.
Consider drawing Omikuji (written fortunes) while here. If you're up for it and are interested, check out the surrounding old-fashioned neighborhoods around Asakusa.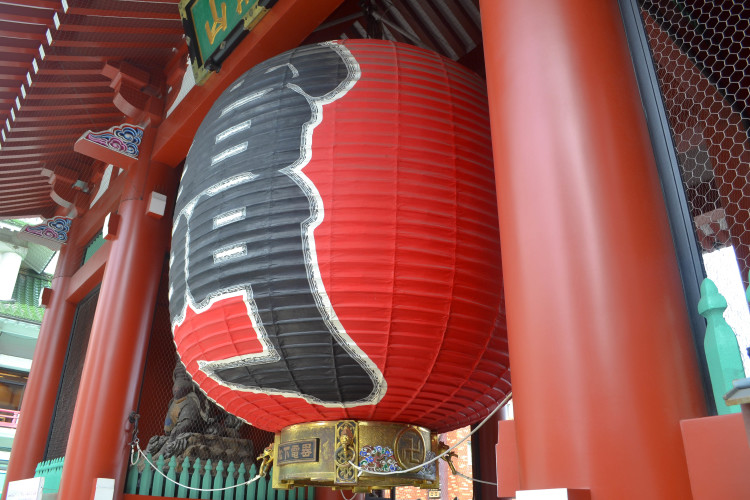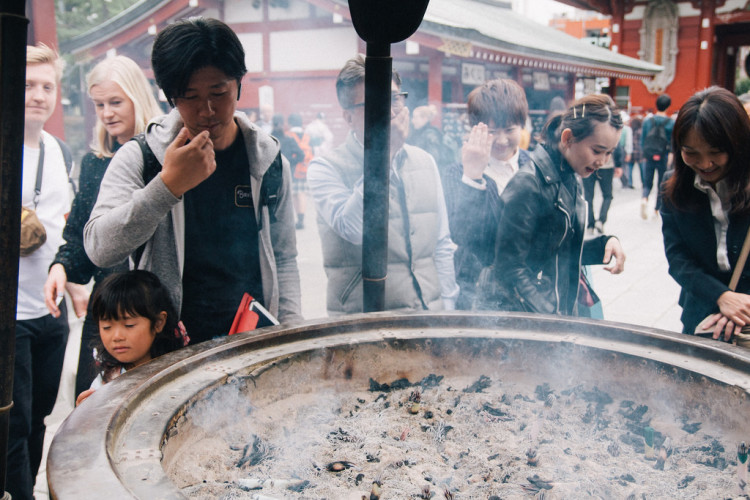 Sumida Park and Tokyo SkyTree
If you're visiting during cherry blossom season, I highly advise you to visit Sumida Park, which is an absolutely wonderful spot to see the flowers in bloom! It was one of the least crowded public parks we went to and FULL of cherry blossoms!
I cannot recommend this spot enough! Bring a snack or two and sit on a blanket for the ultimate experience. We got sakura donuts from Mister Donut (located all around), and ate our flower-themed treats amongst the cherry blossoms.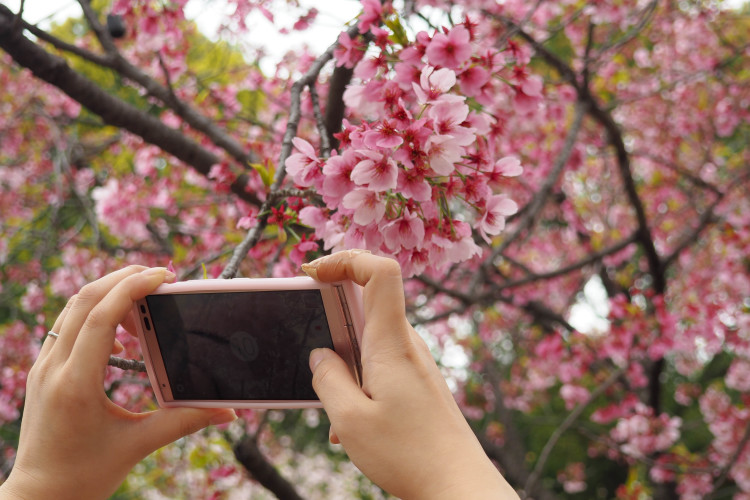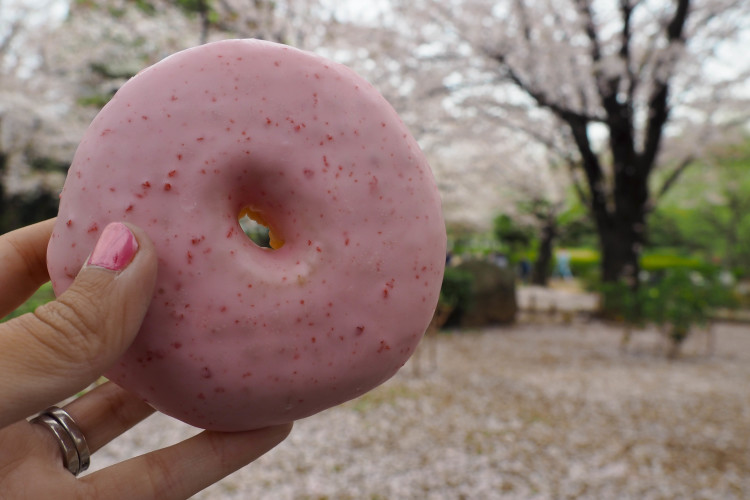 Next up – Tokyo SkyTree, the tallest tower in not only Japan, but the entire world! At 634m (2,080 feet), the complex has two observation decks with great views over the city. There's even a glass floor for any of you brave souls! Expect a cue, so plan on spending a bit of time here. The Tokyo Skytree is about a 20 minute walk or a 5 minute train ride from Asakusa.
If you don't wanna wait in line, I highly encourage you to book your skip-the-line Tokyo SkyTree ticket in advance. You can even upgrade to include the Tembo Galleria.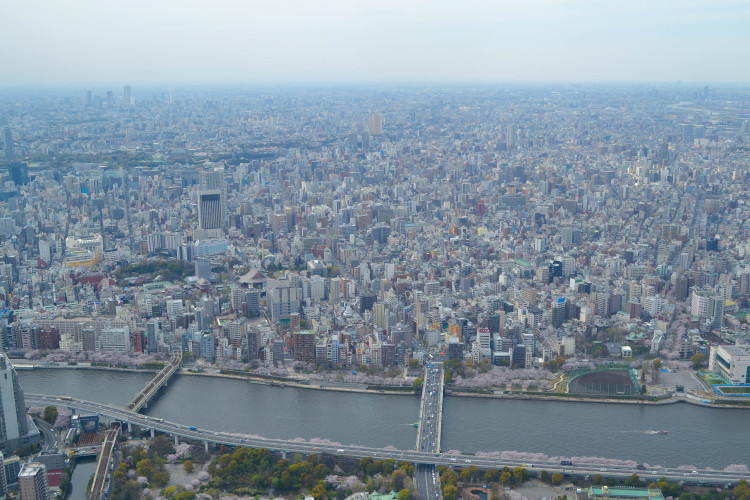 Ueno Park
End the afternoon at Ueno Park, another large public space located in central Tokyo and another lively cherry blossom spot. There are more than 1000 cherry trees of multiple varieties lining its central pathway and lots of temples and shrines here to check out, as well as museums and a zoo if those are of interest to you.
You'll most likely want to take the JR train from Tokyo SkyTree to Ueno Park.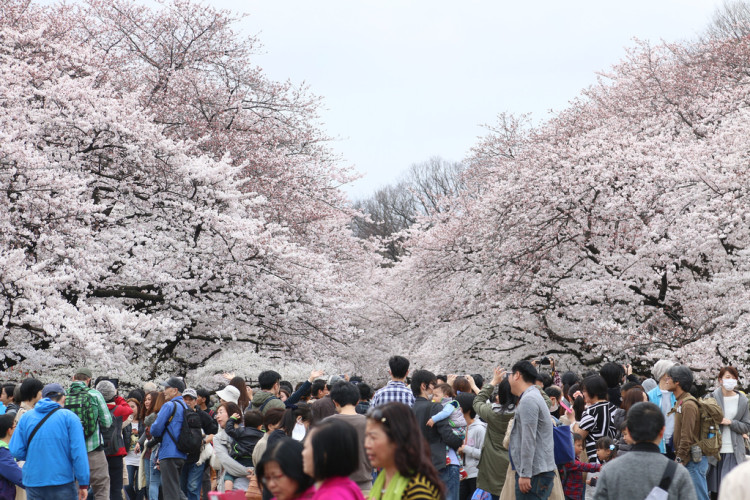 Akihabara District
Wake up because we're off to Tokyo's crazy Akihabara District! Spend the evening perusing the many electronic shops, including Yodobashi Akiba – the world's largest with nine stories stuffed with hi tech equipment – for geeks with money.
You'll also find Japan's diehard fan anime culture here, with stores devoted to anime and manga; just be sure to keep kids away from the adult-only sections (I wondered at first why all the anime was butt naked)!
You could easily fill up a whole afternoon and night in Akihabara, from its maid and Gundam cafes, gaming centers (check out Super Potato Retro Shop if you want to be transported into the 90's), and just gazing at the bright lights.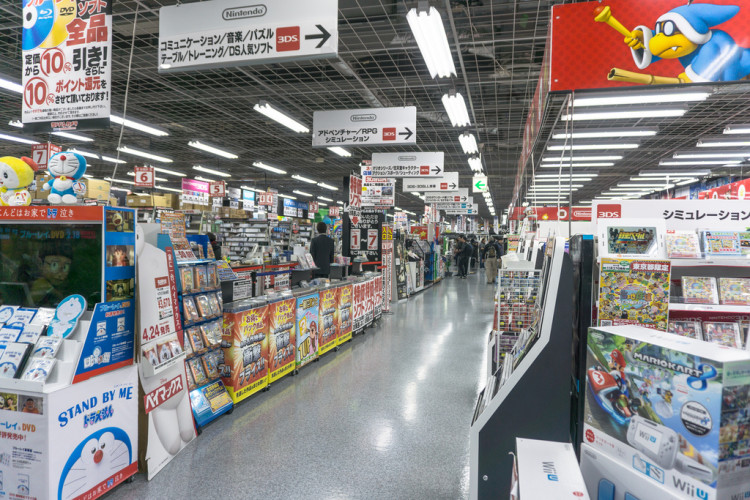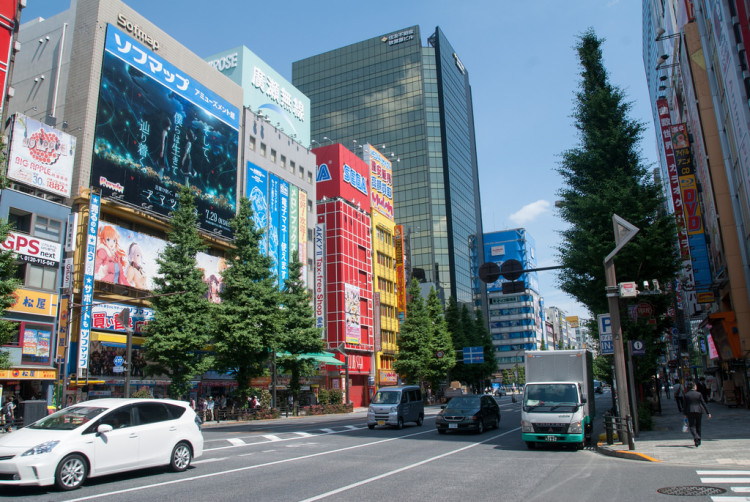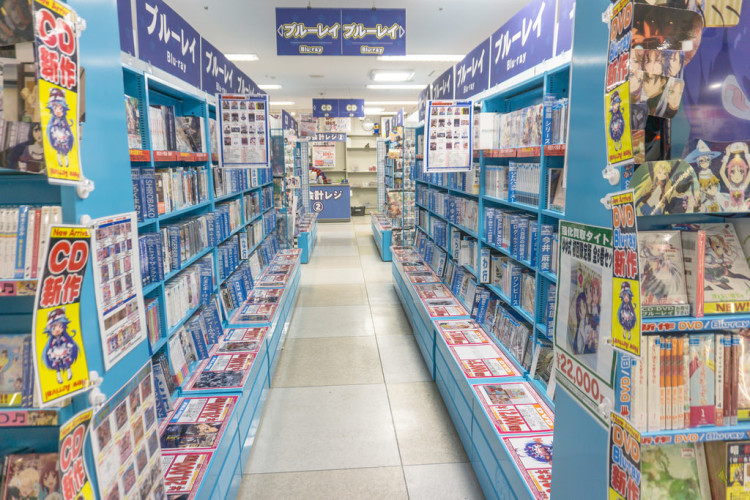 Day 4: DAY TRIP from Tokyo — 3 Options
Today you'll activate your JR pass and start putting it to use! Now that you've explored Tokyo, get out of the busy city center and explore another nearby area. There are numerous day trips you can take from Tokyo, and depending on your interests, you may want to visit more than one!
Unfortunately this ten day Japan itinerary only allows for one, but if you have another day or two to spare, you could easily do all three.
I opted for Kamakura because of the rainy and cold weather, but I would have loved Nikko or Hakone had the weather been more cooperative that day. With two weeks in Japan, you can most definitely do all three if you'd like.
Here are my three recommended day trips from Tokyo:
1) Kamakura
Kamakura is where we spent our day away from the city, and despite the (super) rainy weather, we most definitely made the most of it. [I'm showing you a photo on a clear day to show you what it'll look like in optimal weather.]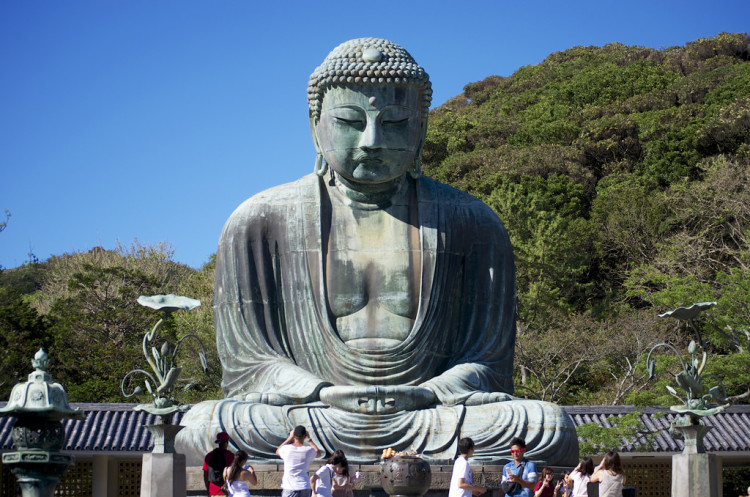 Don't miss the Great Buddha of Kamakura (at Kotokuin Temple), easily the most popular attraction in the area, and literally hard to miss at 44 feet. Here you'll find the second largest Buddha in all of Japan.
Another site not to miss, and only a few minute walk from the Great Buddha – the Hase Dera Temple, which is a beautiful temple located on a hillside overlooking the ocean.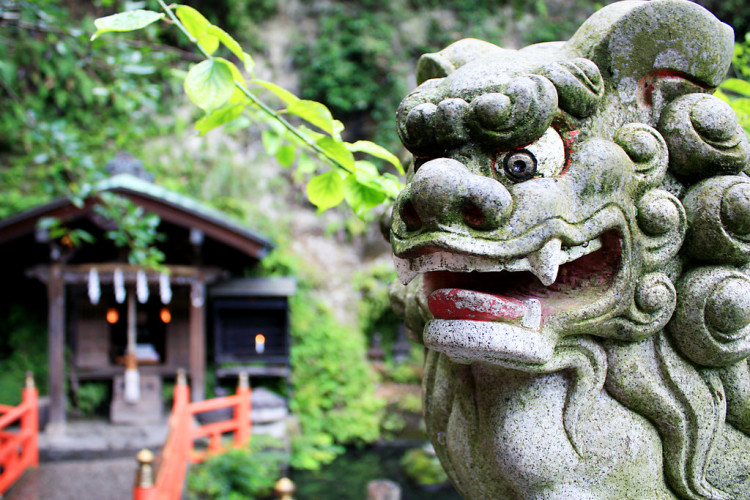 There's also a bamboo forest at Hokokuji Temple, similar to that in Kyoto, and it's possible to see Mt. Fuji on a clear day from Kenchoji Temple.
Once you've had your fair share of temples, or are just hungry for some lunch, head on over to Komachi-dori, the busiest commercial street in Kamakura. Try the local specialty of Shirasu-don, (a Whitebait rice bowl), which you'll easily find in numerous restaurants on the busy street.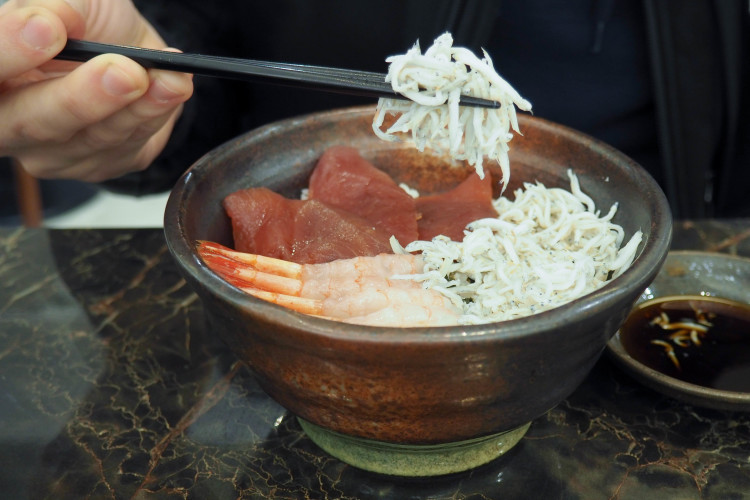 Not interested in venturing to Kamakura alone and prefer a group tour? Looking back, I wished I booked a tour. Although it wasn't too far away, we got a bit confused on the train and wasted a bunch of time trying to navigate our way to Kamakura, and then even more time once we arrived.
Many of the tours include other highlights like a tea ceremony and a view of the Bay, which we missed by going alone. I recommend these (from Tokyo) which cover all the top attractions:
Full Day Trip to Kamakura, Yokohama, and Tokyo Bay (from Tokyo): Not only does this day tour from Tokyo take you to all the highlights of Kamakura, but you'll also get to have lunch in Yokohama's bustling Chinatown, visit the traditional Japanese-style sunken garden of Sankei-en (including tea rooms!), and admire the modern cable-stay Yokohama Bay Bridge.
5 Hour Nature and History Walking Tour: This walking tour follows a hiking route from Kita-Kamakura to Hase-dera Temple, passing many historic temples and shrines. You'll be able to enjoy some wonderful panoramas from a hiking trail that offers views in all directions. Note that transportation is not included.
2) Nikko
Literally sick of the city and need to get some nature into your life? Nikko may just be your answer. Full of ancient moss, stone lanterns, vermillion gates, and towering cedars, there's a reason why this area is one of Japan's most visited areas.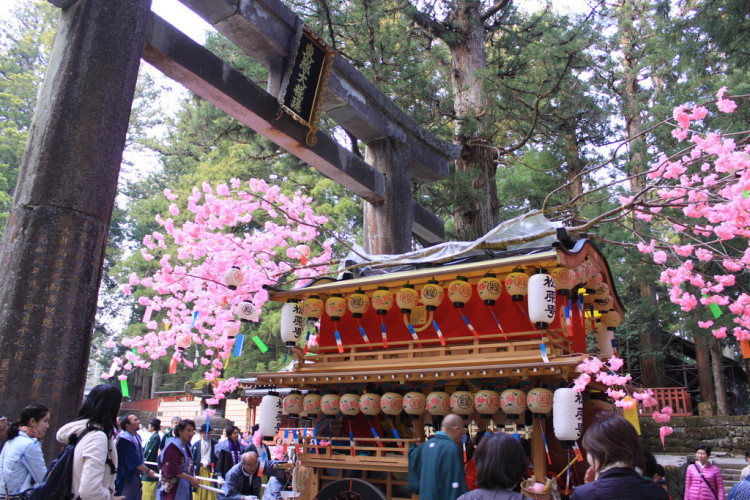 Located about two hours north of Tokyo, Nikko is the site of the famous Toshogu Shrine, the mausoleum of Tokugawa Ieyasu (VIP in Japan), and numerous other temples and shrines. Don't miss the famous Shinkyo bridge, the beautiful Nikko National Park (on a sunny day), Kanman-ga-Fuchi Abyss, and Kegon Falls.
I'm quite bummed we didn't make it here as all the photos look absolutely spectacular, but now I've got another reason to return to Japan!
Trying to fit in a lot during your one day in Nikko? Consider a group tour which gets you around easily to all of the highlights.
Day Trip Options here:
From Tokyo: Nikko World Heritage Full-Day Tour: Explore the beautiful mountain landscape of Nikko, Japan, experience the majesty of the Tamozawa Imperial Villa, bow to the three golden Buddah's at the Rinnoji Temple, explore the surrounding landscape with a trip to Kirifuri Falls, and have a relaxed Japanese lunch at a local restaurant.
Nikko: Autumn Leaves and World Heritage Full–Day Tour: Discover the beautiful autumn leaves and world heritage of Nikko. During your full-day tour by air-conditioned coach, visit Nikko's natural sights, Senjo-gahara and Kegon waterfalls, and Nikko Toshogu Shrine. Perfect during those autumn months!
If you have more than 10 days in Japan, check out these additional day trips from Tokyo.
3) Hakone
If seeing Mt. Fuji is on your bucket list, then I definitely recommend making the day trip to Hakone.
Once arriving, you have a whole slew of options to fill your day, including the Hakone Tozan Cable Car for stunning views, the Hakone Ropeway for even more epic views, Owakudani with views of Mt. Fuji on a clear day, and a small Buddhist alter.
You can also take a Hakone Sightseeing Cruise and spend time at the Hakone Open Air Museum (art gallery). Brave? Try a black egg!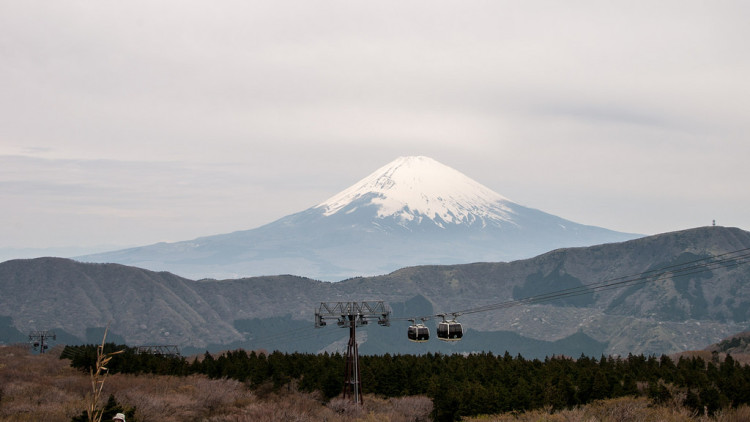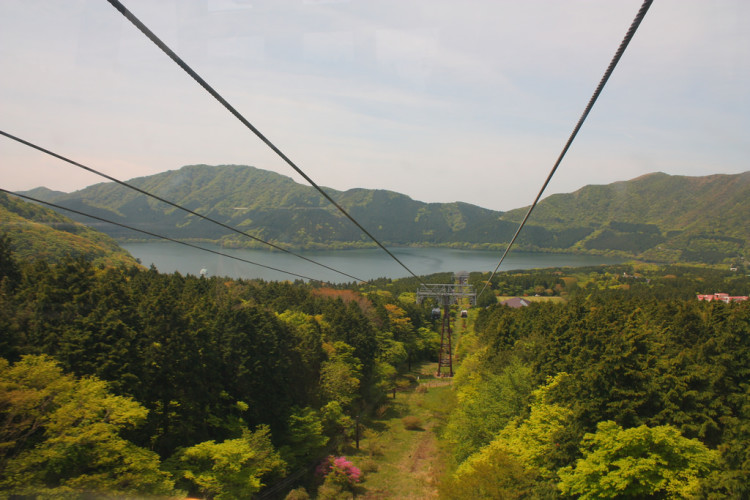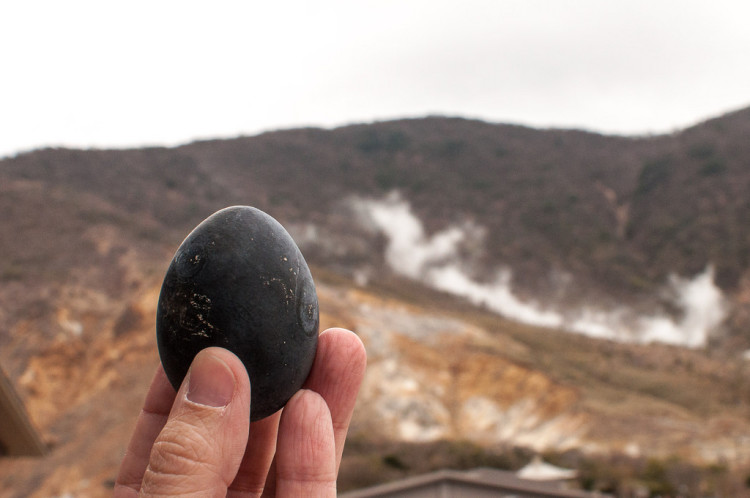 If you're not up for heading to Hakone alone, there are numerous day trips from Tokyo that leave the transportation and planning up to someone else. You're on holiday – treat yourself and save yourself the hassle! I recommend the followings tours:
From Tokyo: Mt. Fuji and Hakone Day Trip by Shinkansen: Spend a day trip traveling to Mt. Fuji, Japan's most famous symbol and highest mountain. Enjoy the view from the 5th Station before visiting the nearby resort town of Hakone, known for its onsen hot springs. Return to Tokyo by bullet train!
From Tokyo: Mt. Fuji and Hakone Tour with Bullet Train: Get spectacular views of Mt. Fuji and its surrounding mountains on a day trip from Tokyo. Cruise across Lake Ashi by boat and take the ropeway up Mt. Komagatake. Relax in the hot springs resort of Hakone, and then catch the bullet train back to Tokyo.
However, note that seeing the mountain is never guaranteed and it's possible you may make the trip only to be disappointed. Some months out of the year have higher chances of visibility, including the winter months. If it looks like a questionable morning with lots of clouds, I highly suggest you alter your plans and opt for either Nikko or Kamakura instead.
Day 5: MORNING BULLET TRAIN TO KYOTO then EXPLORING
First Bullet Train Ride!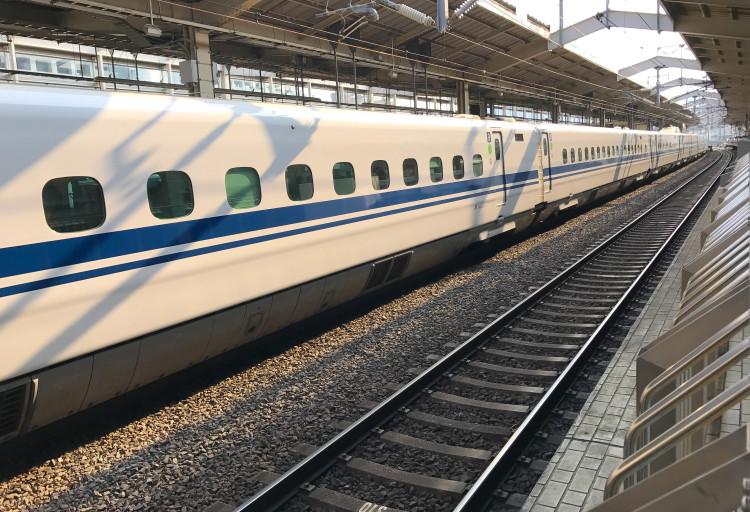 *Note that you'll be required to make a seat reservation if you have opted for the Green JR Pass. Make this reservation when you first exchange your JR voucher for a ticket, or the night before leaving for Kyoto. Don't wait until the morning of because it's possible the reservation desk will not be open yet.
Get up nice and early, grab some breakfast in the station/on the way to the station, and take a 7:00/7:30am bullet train from Tokyo Station (you may need to transfer at Shinagawa Station) in route for Kyoto!
If you take this early morning train ride, you'll arrive in Kyoto around 10:30am or so, which is necessary if you want to see a bunch of Kyoto sites today. Once you arrive in Kyoto, put your luggage/bags into a coin locker (roughly 500-900 Yen for two suitcases for the entire day) and get exploring!
A note about Kyoto's public transportation: Unlike Tokyo, Kyoto relies on large public buses. We were unaware of this and unfortunately caught off guard when we couldn't take fast trains to get around. Give yourself some extra time as it'll take longer to get around. Embrace it – look outside the window on the bus and take in some local Kyoto life.
Arashiyama Area
Catch the bus to the Saga-Arashiyama Station, where you'll be hanging out for a few hours. First up, Tenyru-Ji Shrine and its accompanying zen garden. So many beautiful plants and flowers (nicely labeled in both English and Japanese) here, such as the Japanese wisteria, which you'll never see outside of Japan.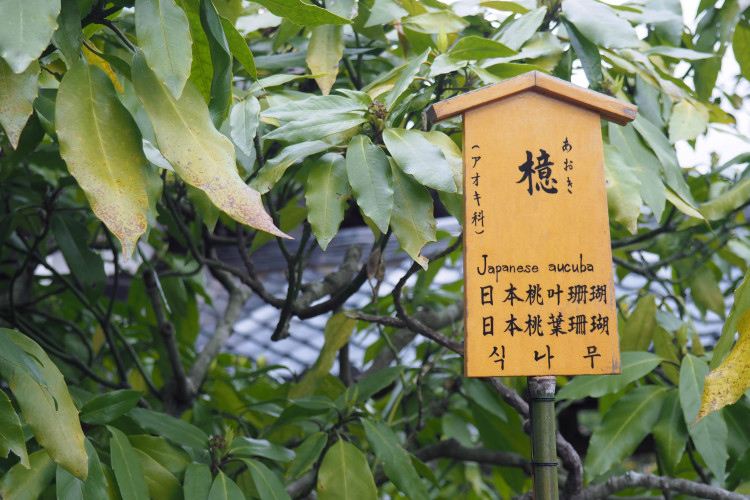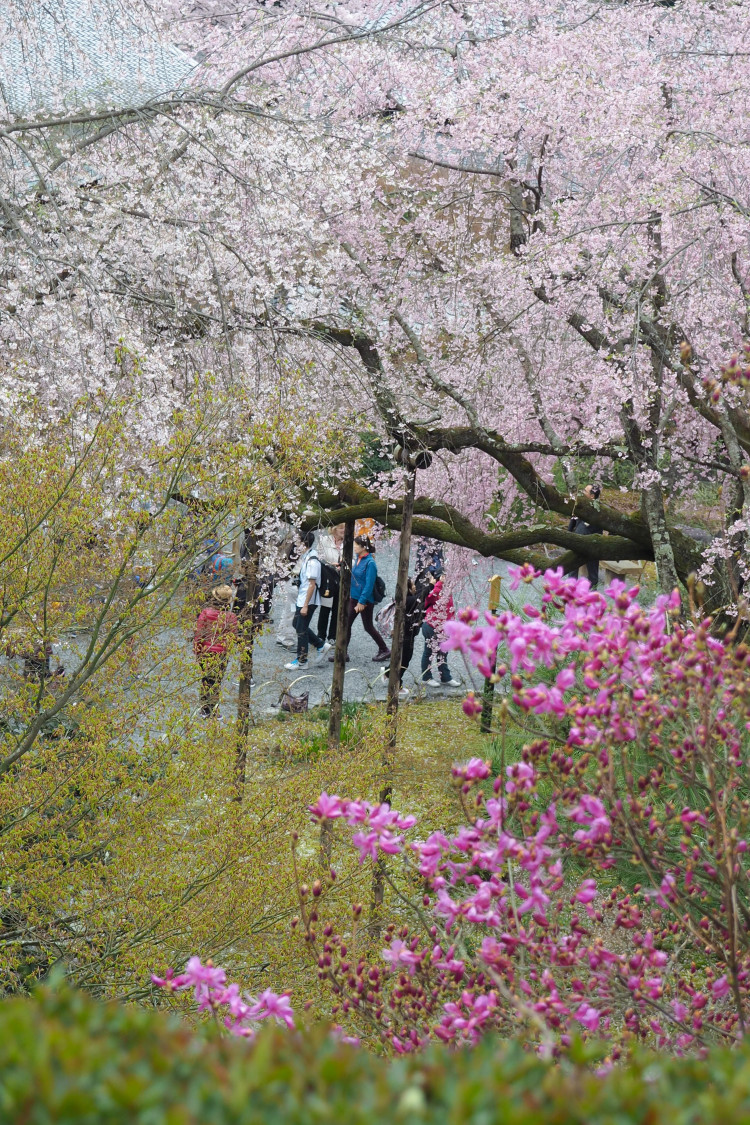 Once you exit the garden, you'll come across the Arashiyama Bamboo Grove/Forest. Walking through the Bamboo Grove is definitely one of the essential experiences to have in Kyoto so don't pass it up!
The grove is much smaller than I thought, taking roughly 15 minutes to walk through, but is absolutely excellent for photography.
Walk through slowly to take it all in, and don't forget to look up at the towering bamboo! Bring a wide-angle lens and if possible, a go pro, in order to include as much of the bamboo in your photos!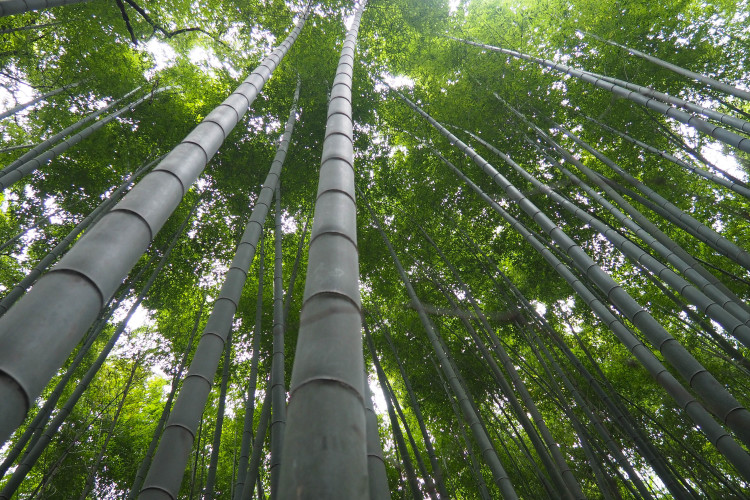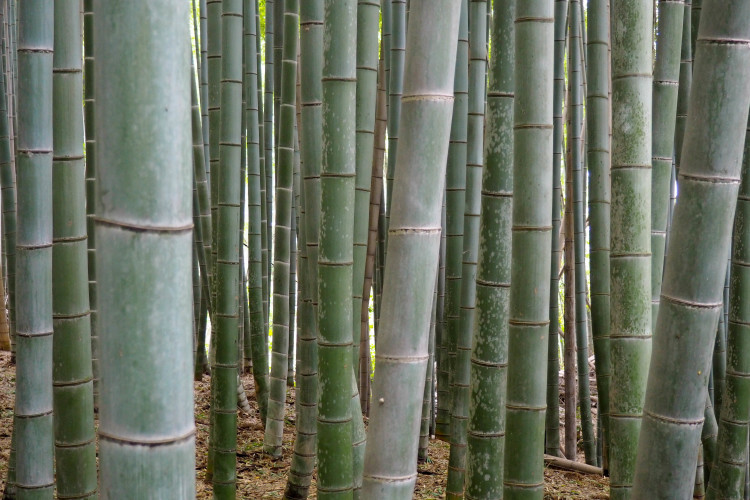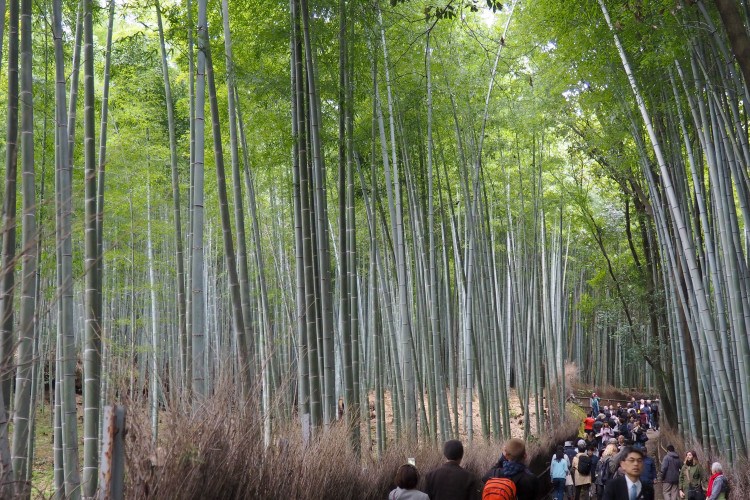 Before you head to the Monkey Park (coming up next!), you'll most likely come across a lovely area with small eateries and a beautiful, green emerald lake. A good spot for some photos in my opinion! 🙂 We enjoyed a few vending machine coffees and teas here (you'll be doing that everywhere in Japan too, you'll see!).
Read Next: Top Things to do in Kyoto and Attractions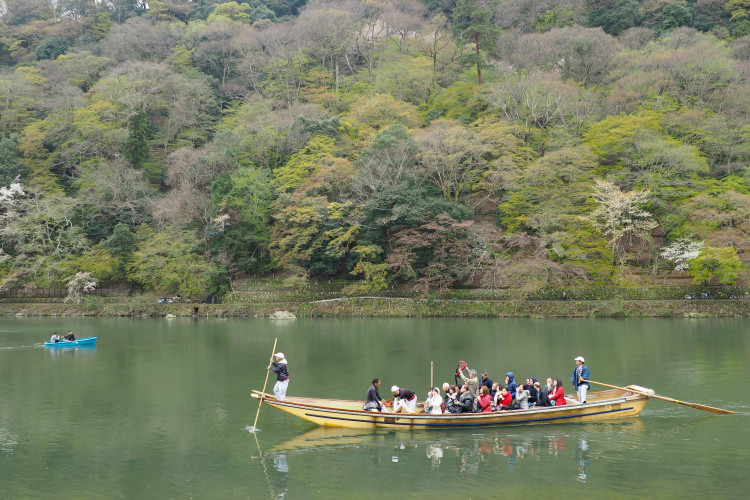 Next up, walk to the Iwatayama Monkey Park! Yes, it's about a 15-20 minute walk completely uphill to reach the park, but definitely worth it! Just be aware, the Google Maps directions to this attraction are wrong.
The entrance to the park is simply near the orange shrine gate at the south side of the Togetsu-kyo bridge. Look for a cartoon picture of a monkey and you're golden!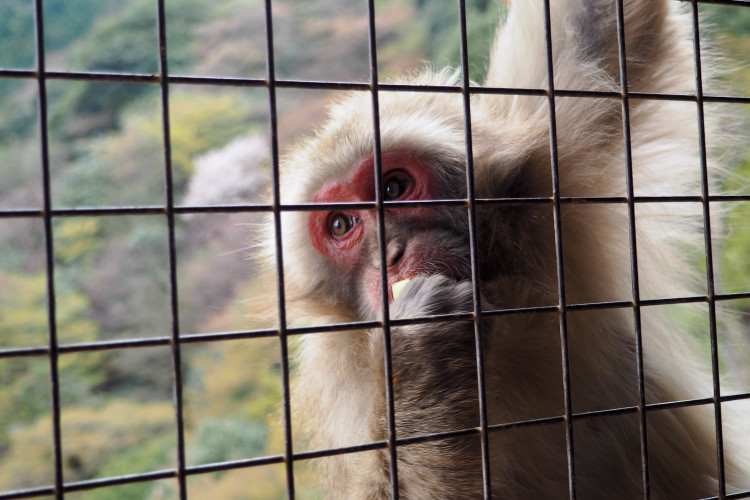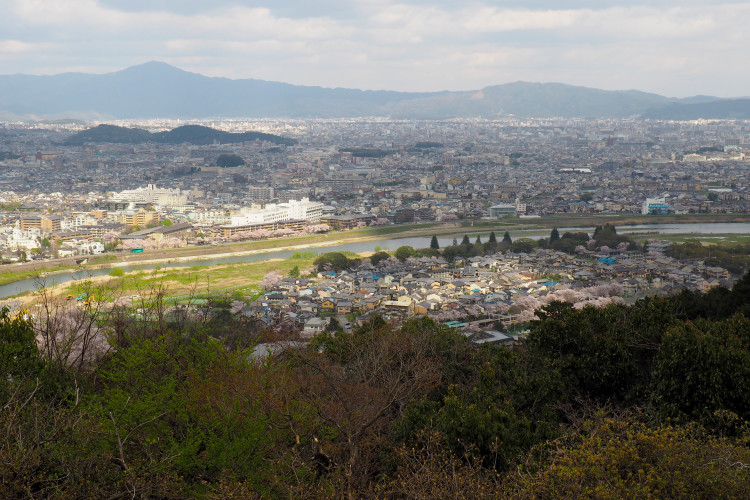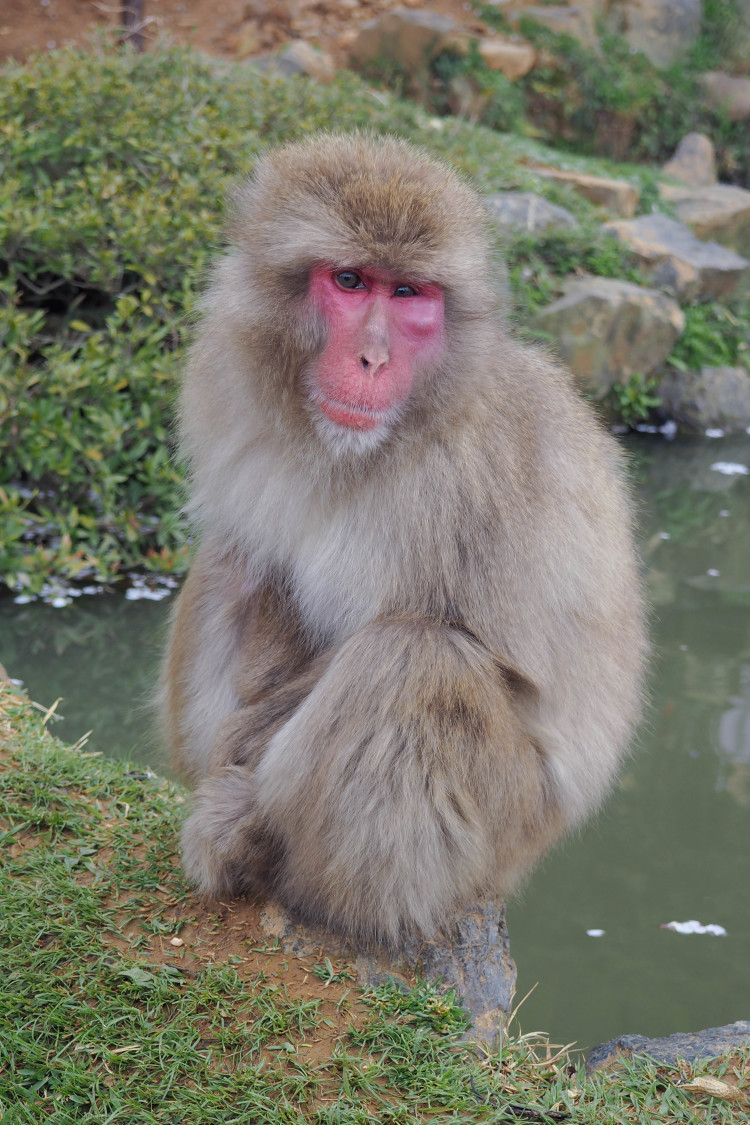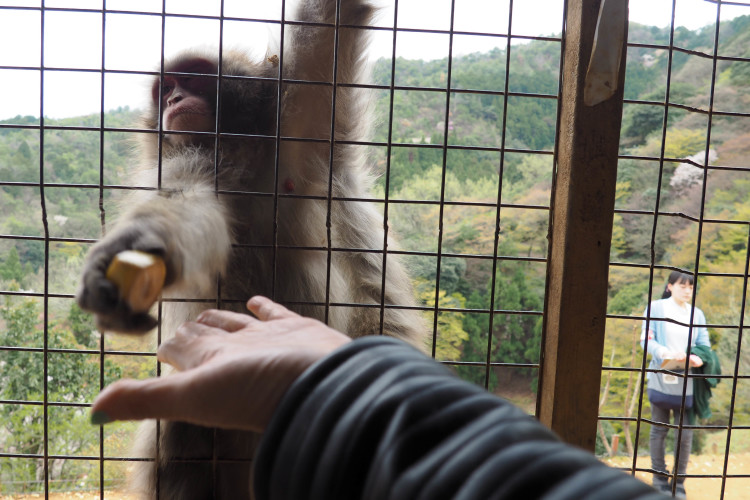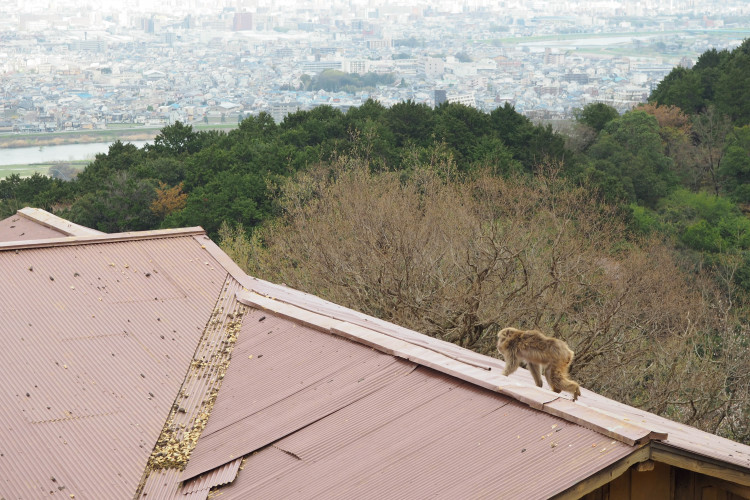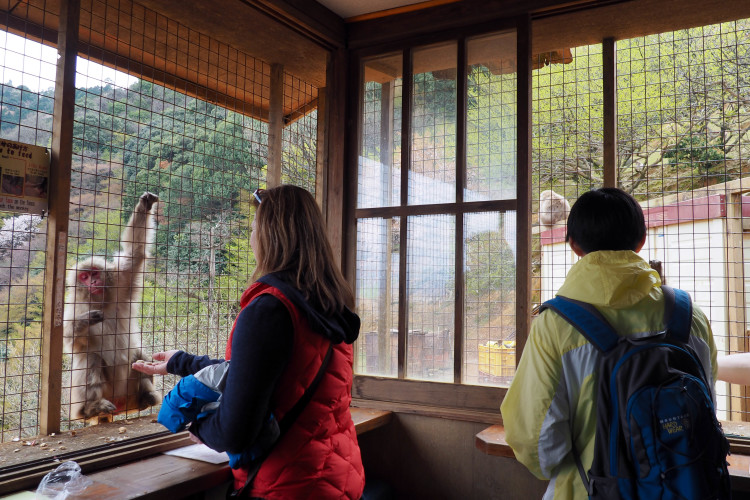 The park is a nice change from the temples and shrines you'll be seeing a lot of in Kyoto, and it's so much fun to feed the monkeys for only 100Y. There's also a wonderful view of Kyoto from up here.
Before anyone gets mad at those pictures of the monkeys "behind bars", please know they are free to roam wherever they'd like throughout the park, and us humans are actually put in an enclosed area when feeding them. This is to protect both the animals and us.
We could have easily spent hours watching the monkeys and admiring the view, but off to the Golden Pavilion it was!
Golden Pavilion (Kinkaku-ji)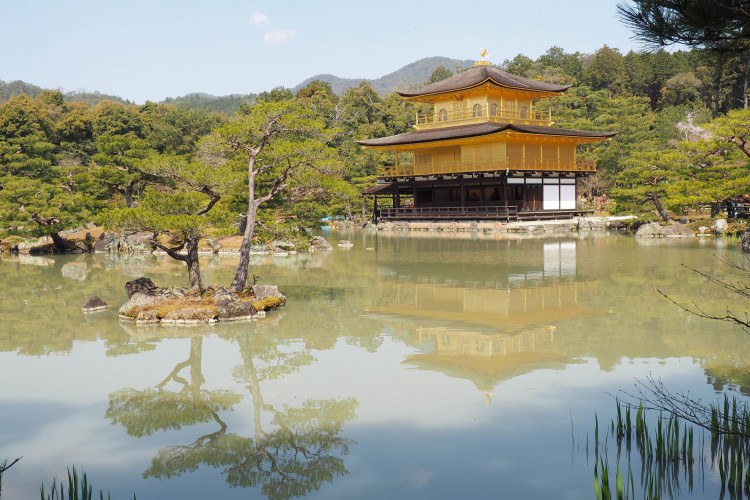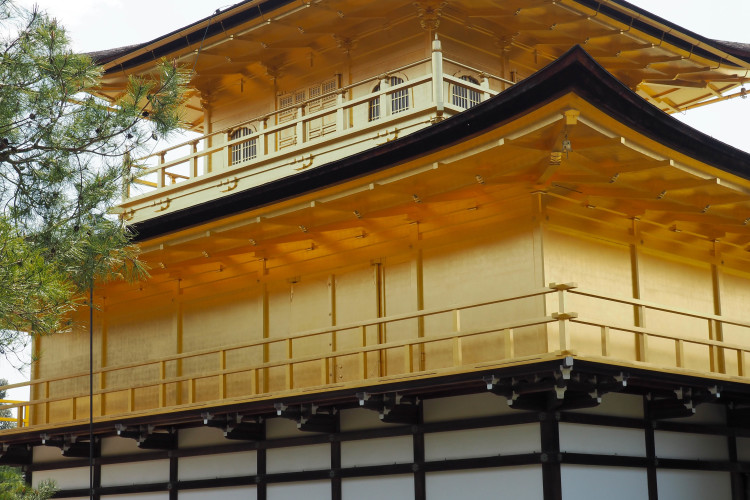 If you've got more time today, take the bus to the Golden Pavilion, which is super impressive and made entirely of gold! Reflected in the lake, it's no wonder this is one of the top things to do in Kyoto.
Make sure to try some Japanese flavored ice cream here, such as green matcha and/or black sesame, my new favorite! It's guaranteed to be crowded, but very, very worth it in my opinion.
*Don't forget to head back to Kyoto Station to collect your bags before heading to your hotel or AirBnb for the night!
Day 6: FULL DAY IN KYOTO
Nishiki Market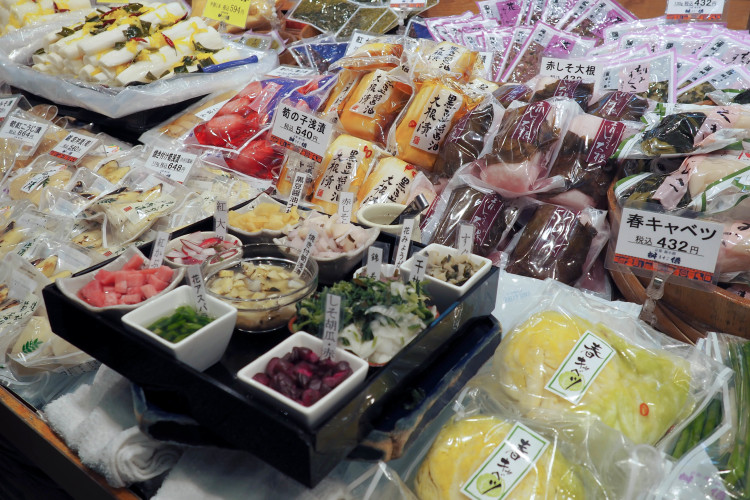 Start the day at the Nishiki Market– known for its different food stalls where you can try all kinds of Japanese cuisine and treats.
Stroll for an hour or so up and down the streets of the market, stopping whenever something tickles your fancy. The market is a great place to dive into some of the more unusual dishes – don't be a chicken, try them!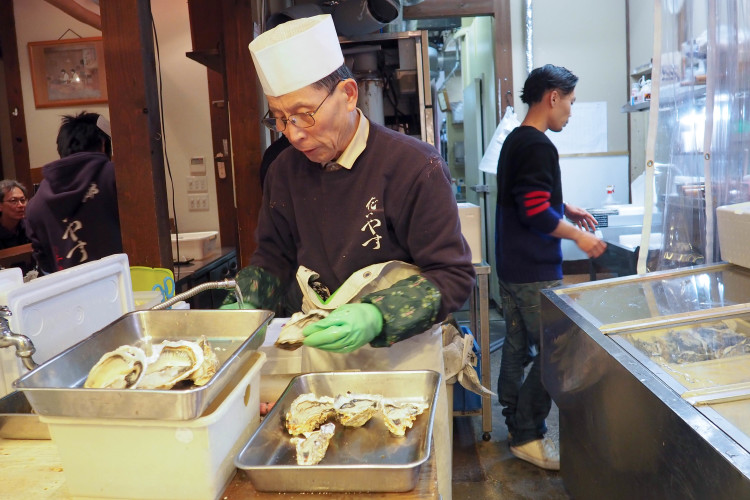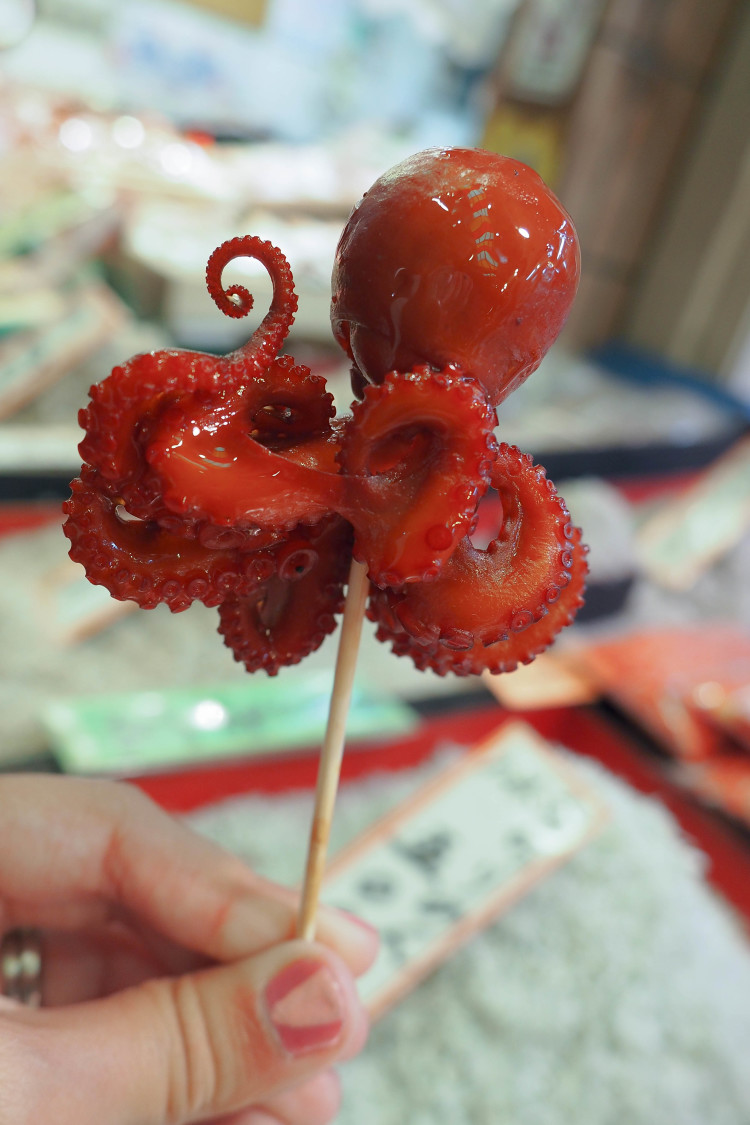 However, absolutely don't leave the market without trying tako tamago – the infamous candied baby octopus stuffed with a quail egg. It tastes way better than it sounds – I could have eaten three!
Want a taste of those cutesy animal donuts you've possibly seen all over the internet? You can try them here – at Floresta Donuts. I had a hard time eating mine as it was just too cute to bite into! Quite possibly my favorite thing I ate during our 10 days in Japan! SO cute!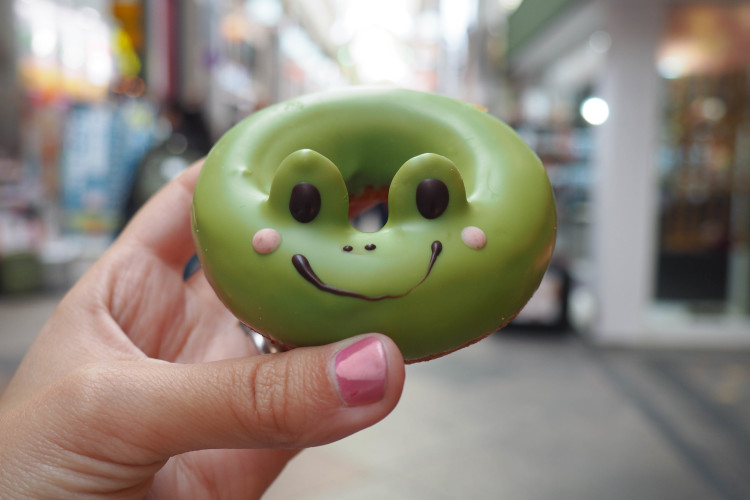 Gion
After your fix of Japanese delicacies and donuts, walk on over to Gion, Kyotos famous geisha district. If you're lucky you may spot a real true-life geisha, although they tend to walk fast to their destination and don't like to show their face.
However, if you do spot one, but courteous and don't obviously follow them or point your camera directly to their face. Show respect for their culture. I wasn't so lucky and didn't spot any on my trip.
Higashiyama District
End the day at the Higashiyama District, the world famous hub of Kyoto's best-known shrines and temples. And let me tell me, this place is worth checking out. It's one of my favorite areas in all of Kyoto.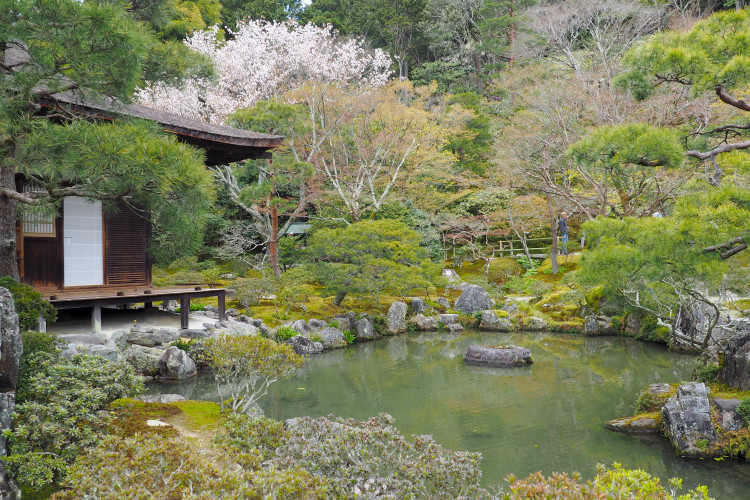 Make sure to walk down Sannenzaka and Ninensaka – the two most beautiful streets in the district, with numerous souvenir shops and eateries. It can get rather crowded during the day (for good reason!), so we chose to come a bit before dusk had encountered a less cramped experience.
Still cramped, but less cramped than I imagine mid-day would be. You'll find some eats on the walk – make sure to try a sakura cream puff!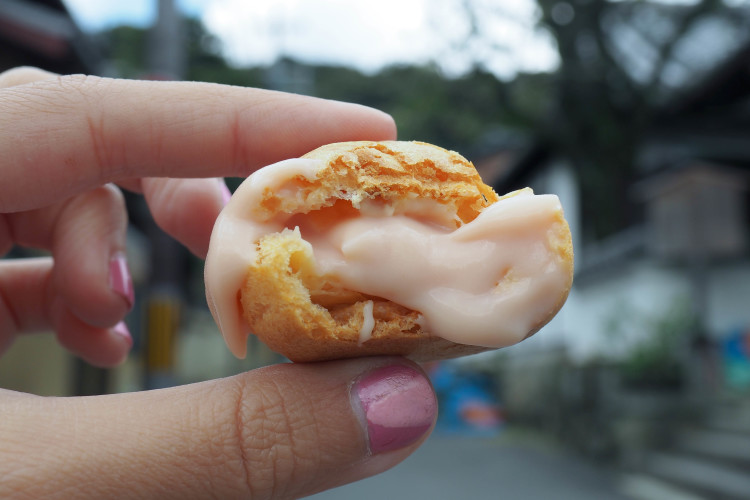 Kyomizu-dera Temple, a listed UNESCO site, should be next on your list. Again, it's quite busy, but the view out over a sea of trees is hard to beat – just imagine this during cherry blossom season (absolutely to die for!) And yea, try an onigiri maki – an emoji in the wild!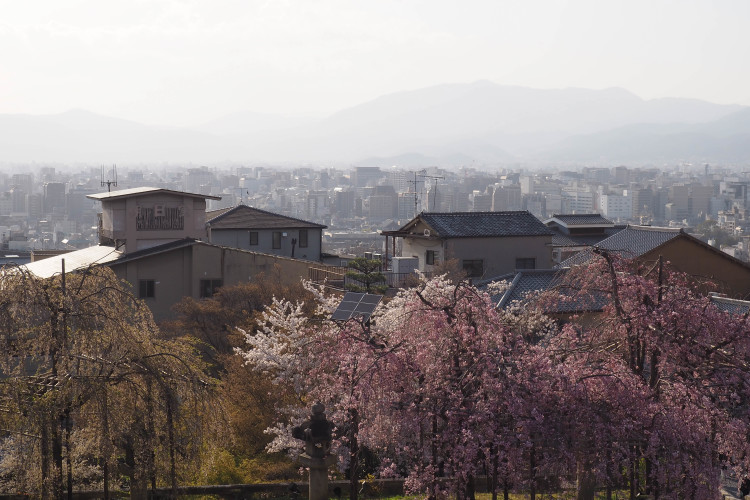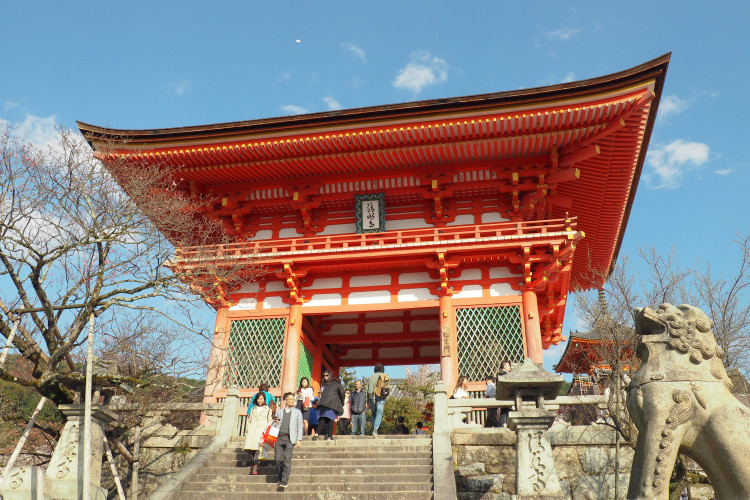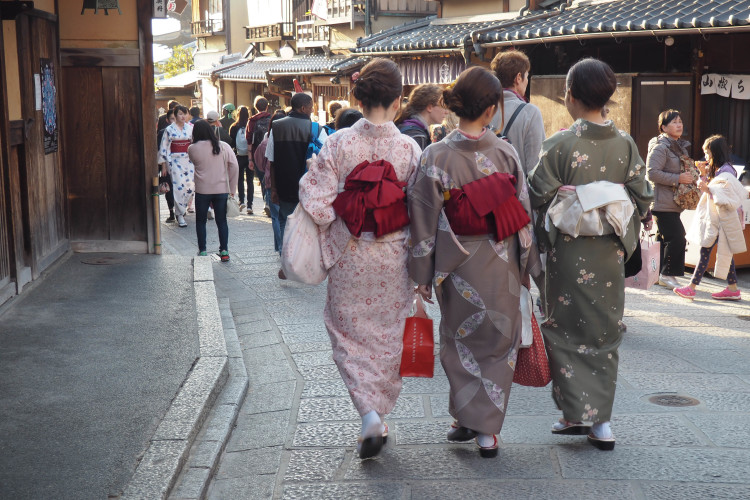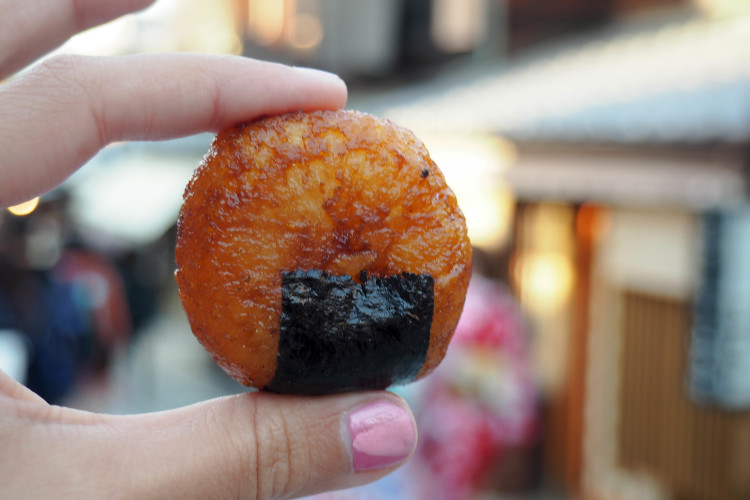 Finish off this (long and tiring) day by walking part of the Philosopher's Path (found on Google Maps as Tetsugaku-no-michi), a path that runs along a narrow river and is lined with more cherry blossom trees than you can ever imagine!
You'll end at the Silver Pavilion, although not as fancy and intricate as the Golden Pavilion, and not even lined in silver, but still impressive nonetheless.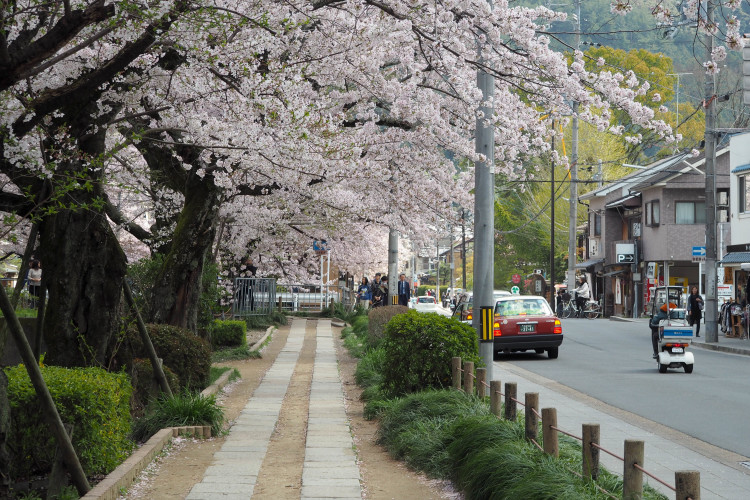 Day 7: DAY TRIP TO NARA AND OSAKA
It's time for some day trips today, and we'll be crossing off two in one day's time! Head to Nara from Kyoto Station (via JR Nara Line – roughly 1 hour on the express train), then after seeing some of the top temples, head on over to Osaka and eat everything!
Nara
Get ready to interact with some deer in Nara Park, which can be found all throughout the area and are literally impossible to miss! And oh yea, those crackers you see being sold on the street? Those are for the deer, not us hungry humans!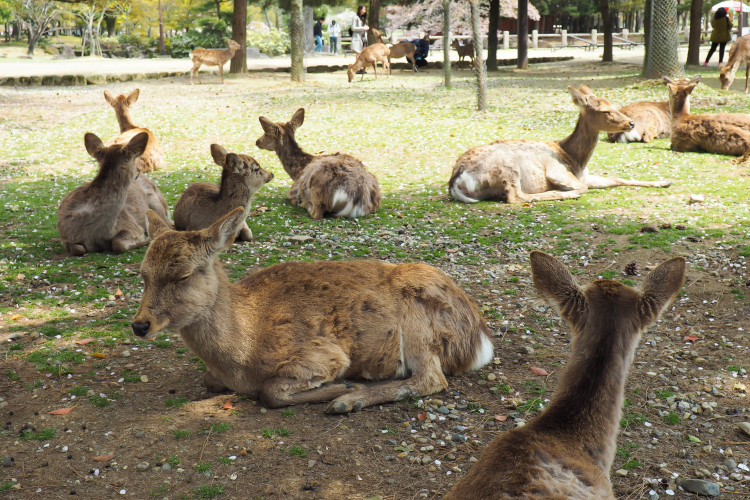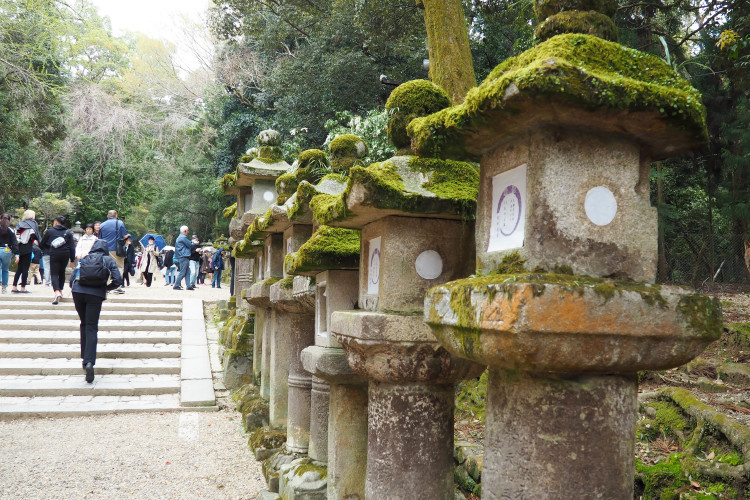 A few temples to see: Todaiji (must visit Unesco World Heritage Site with super tall Buddha), Kasaguga Taisha Shrine (the most important shrine in Nara), Kofukuiji Temple, and Gangou-ji Temple. If you've had enough of temples by this time, head over to Osaka and skip a temple or two.
Tip: Get the Nara Kotsu one day pass (it's more of a wooden plague you can wear around your neck if you please) for 500 Yen. This sightseeing bus brings you around to the top attractions in Central Nara, and is good for most of the buses you see throughout the city.
Osaka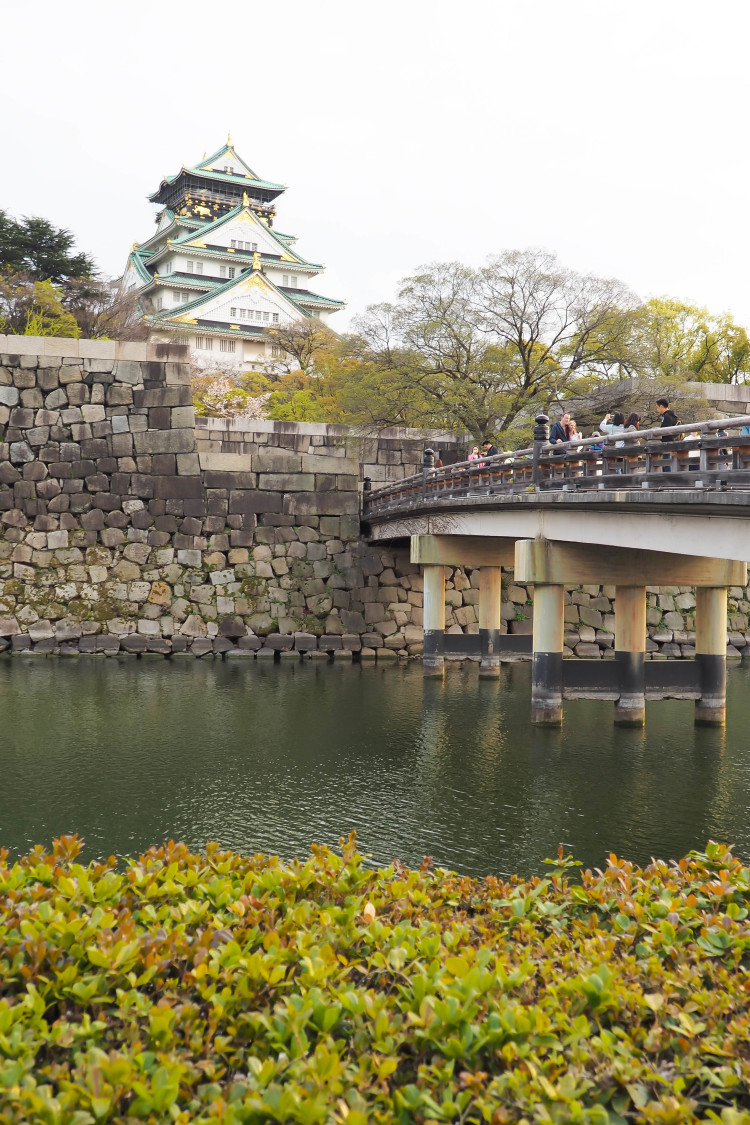 Off to Osaka for the rest of the day! Many people skip Osaka as they think it's just another large city like that of Tokyo, but we absolutely loved our few hours here! Don't skip it!

First up, the ever-so-beautiful Osaka Castle, one of Japan's most famous landmarks! Get off at Osakajokoen Station.
Note that the castle may very well be closed by the time you reach it depending on how long you spend in Nara (last admission is 4:30pm in April, a bit later in the summer months), but the outside alone is worth the train and short 20 minute walk!
Next up, Dotonbori Street! It's an absolute madhouse full of people, shops, and eateries, and an absolute must-do while in Osaka. Be sure to look up and admire the moving animal billboards found on the buildings.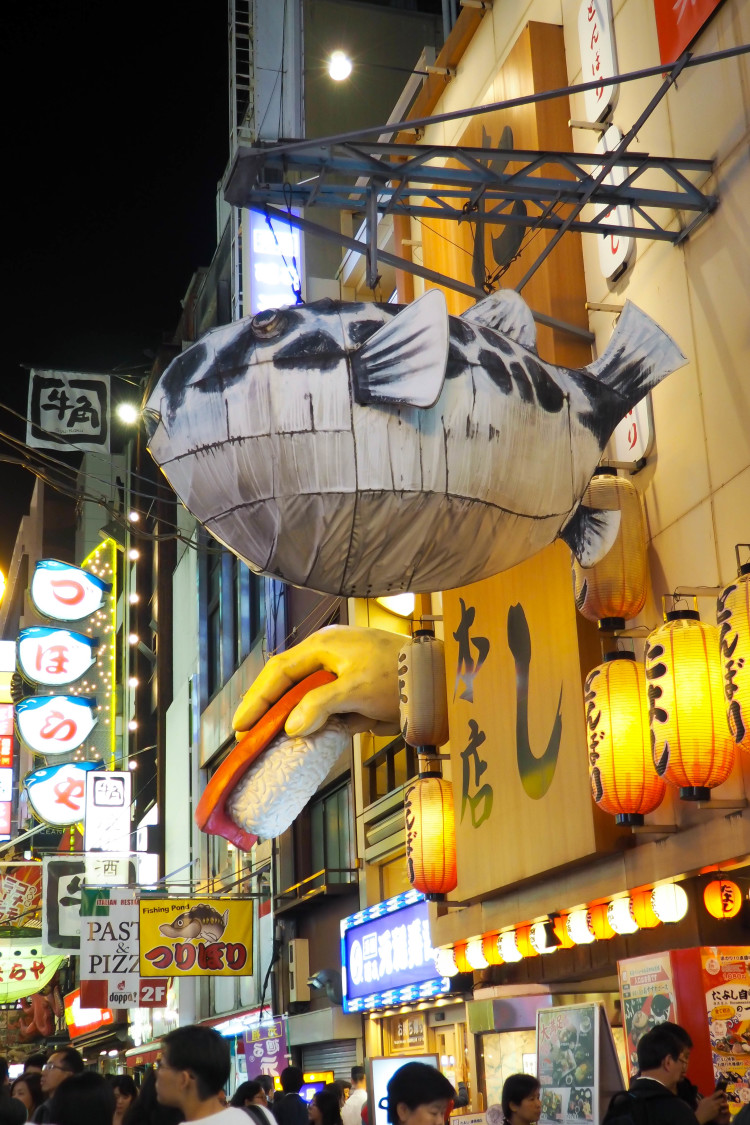 Osaka is the food capitol not just of Japan, but of the entire world. Hence, you'll want to eat everything in sight (just leave some room for a Kobe beef dinner). Try beloved regional dishes like okonomiyaki, takoyaki (fried octopus balls – tastes way better than it sounds), udon, and hiyashi ame ginger drink.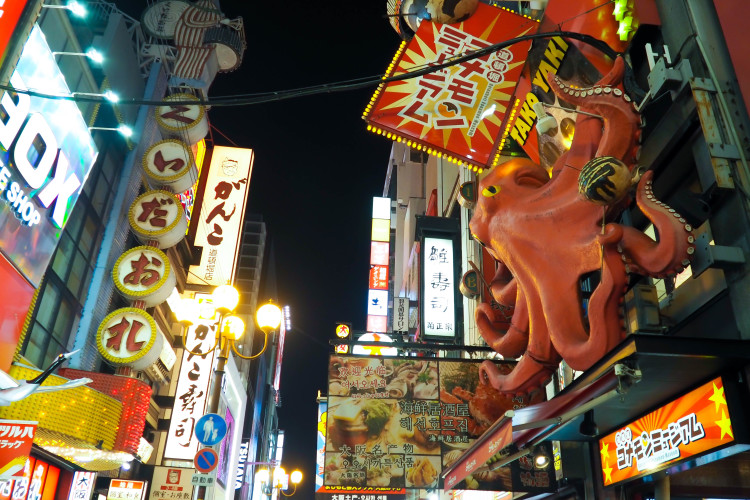 Rule of thumb: if there's a long line, the food is out of this world. Wait and you'll be rewarded.
If you want to get some shopping on, head on over to nearby Shinsaibashi, the city's premier shopping district. We chose to skip the shopping and focused on stuffing our faces 😉
Great dinner suggestion: Tsurugyu. This place is all about Kobe beef, and is super fresh and decently priced. Expect to pay around 5,000Y per person, drink included. Reservations are highly recommended, although we somehow got extremely lucky and were able to sit at the bar – but don't count on this!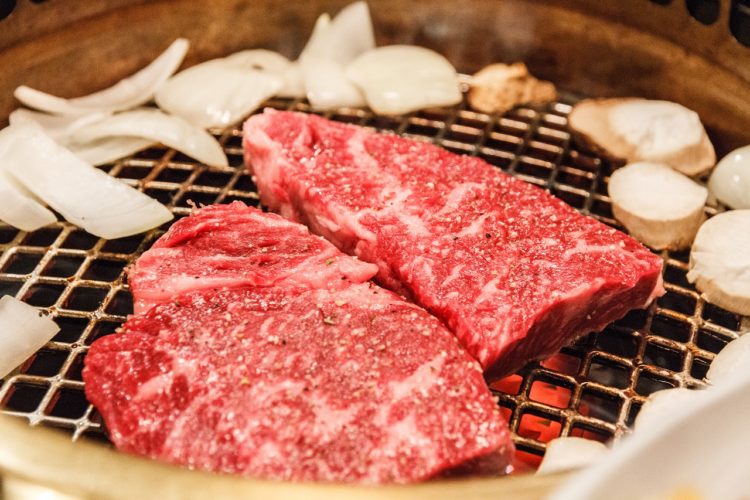 Day 8: DAY TRIP TO MIYAJIMA AND HIROSHIMA
Get ready for another jam-packed day. Yes, it'll take a while to get here, but trust me, on a clear, sunny day, it's 100% worth it and absolutely beautiful.
Take an early morning bullet train to Hiroshima, which takes roughly 2 hours from Kyoto Station, then a local JR train to Miyajimaguchi Station, then finally the JR ferry to Miyajima. All included in your JR Pass.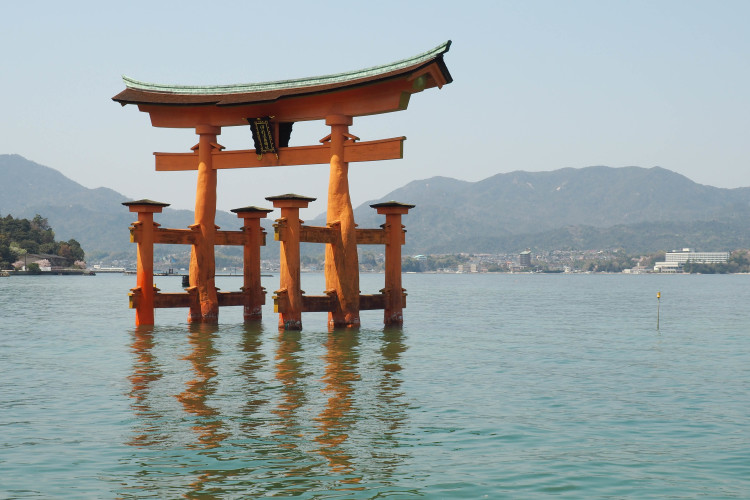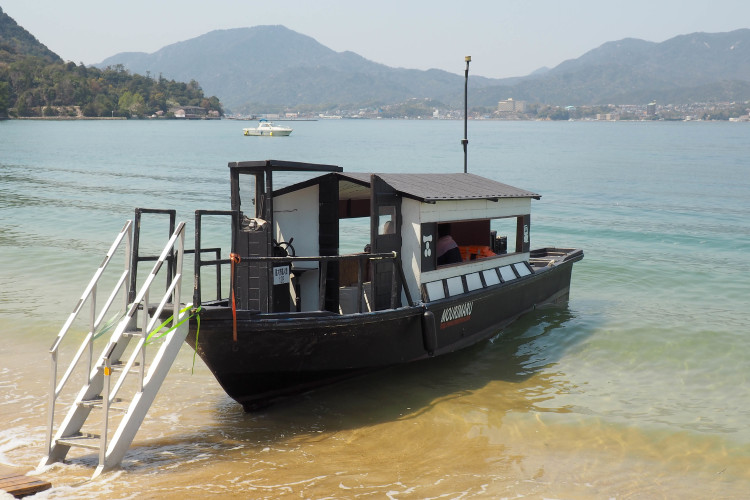 You can choose to visit either Miyajima or Hiroshima first, but I highly recommend visiting Miyajima during high tide to see the gate "floating" in the water. Check tide schedules online.
Miyajima
If you opt for Miyajima first (again, tide dependent), and take an 8am bullet train out of Kyoto Station, you'll reach Miyajima by approximately 11am.
Head straight to the tori gate (after some deer interaction of course, yes there's deer here and they're SUPER friendly, just watch your food).
You'll want to snap a million photos because this place is just so damn beautiful it's hard not to! You can also check out the floating shrine as well, which we loved and was unlike any other shrine/temple we saw in Japan!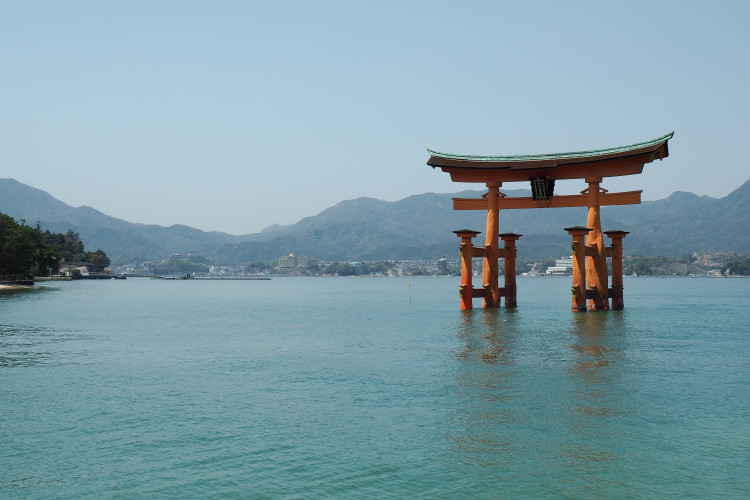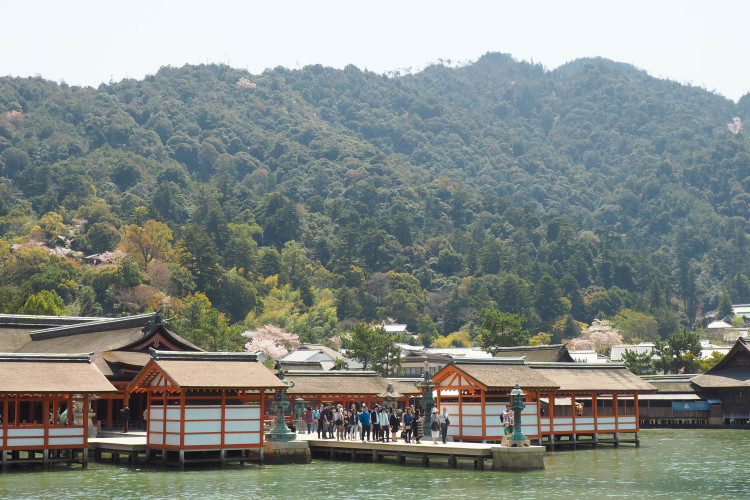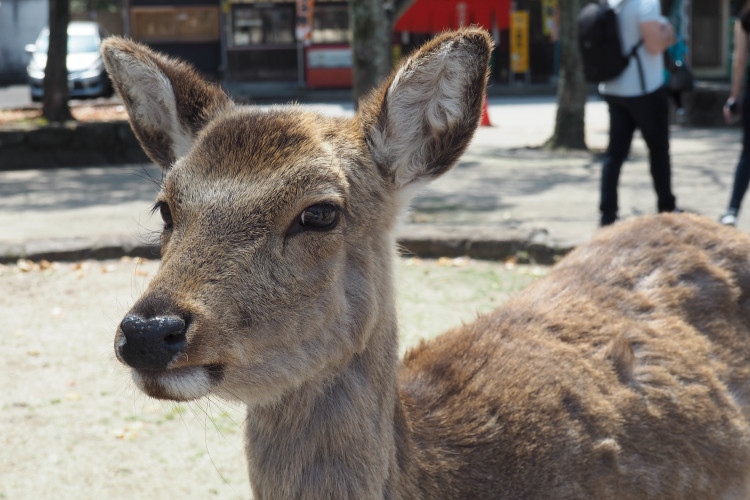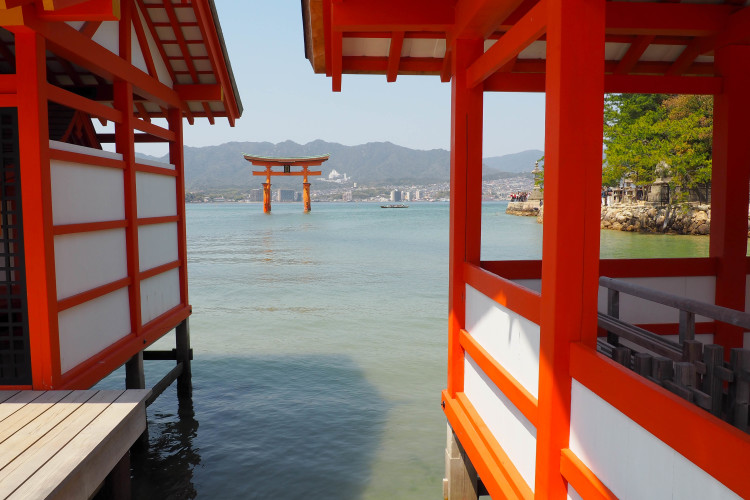 Spectacular views your thing? Take the Miyajima Ropeway (~15 minutes, $17 roundtrip) for better-then-great views of the whole area from the top of Mt. Misen. There's a bus at the base of Miyajima Island which will take you to the ropeway station fo' free as well if you're already feeling super tired from your journey.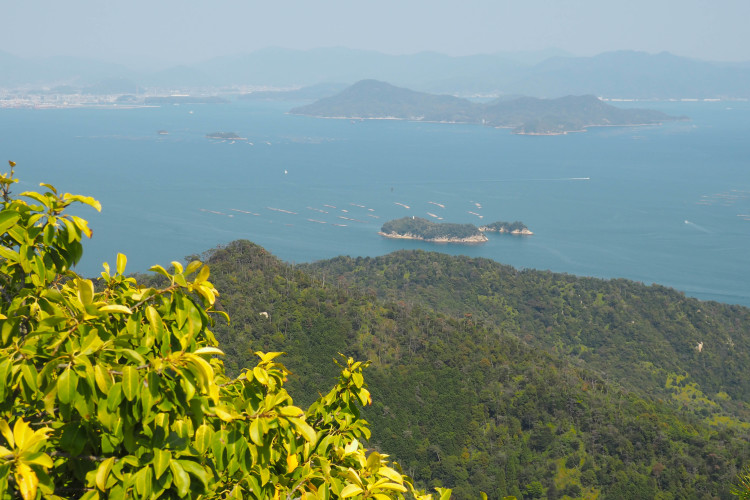 Before heading back to the ferry, pick up some ice cream (green tea or black sesame, you are in Japan!) – perfect on a hot, sunny day.
Hiroshima
Take the ferry back to Miyajimaguchi Station, then the JR train to Hiroshima. Note that you'll need to either take a tram or buy a Hiroshima Sightseeing Hop-On, Hop-Off Loop Bus "Meipuru-pu" to get around in Hiroshima super easily – which is free of cost for JR pass users.
We took the sightseeing bus to Hiroshima Castle, and then to the area with the A-Bomb Dome, Children's Peace Monument, and Peace Memorial Museum and Park. The museum was closed by the time we arrived, but we were still able to wander around at the memorials and pay our respects.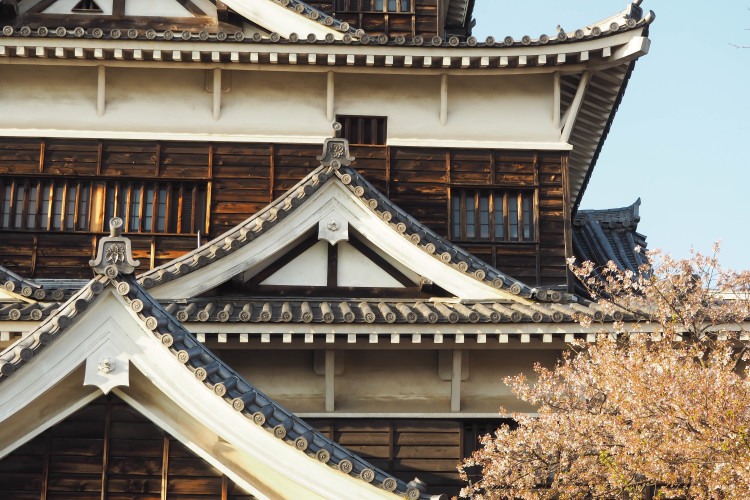 End this super long day eating okonomiyaki at Okonomimura, a humungous multi-level eatery with tiny stalls of different shops making varieties of the famous pancake. Just for reference, we made it back on a bullet train around 8:30/9pm, getting back to Kyoto around 11pm. Told you it was a long day. 😉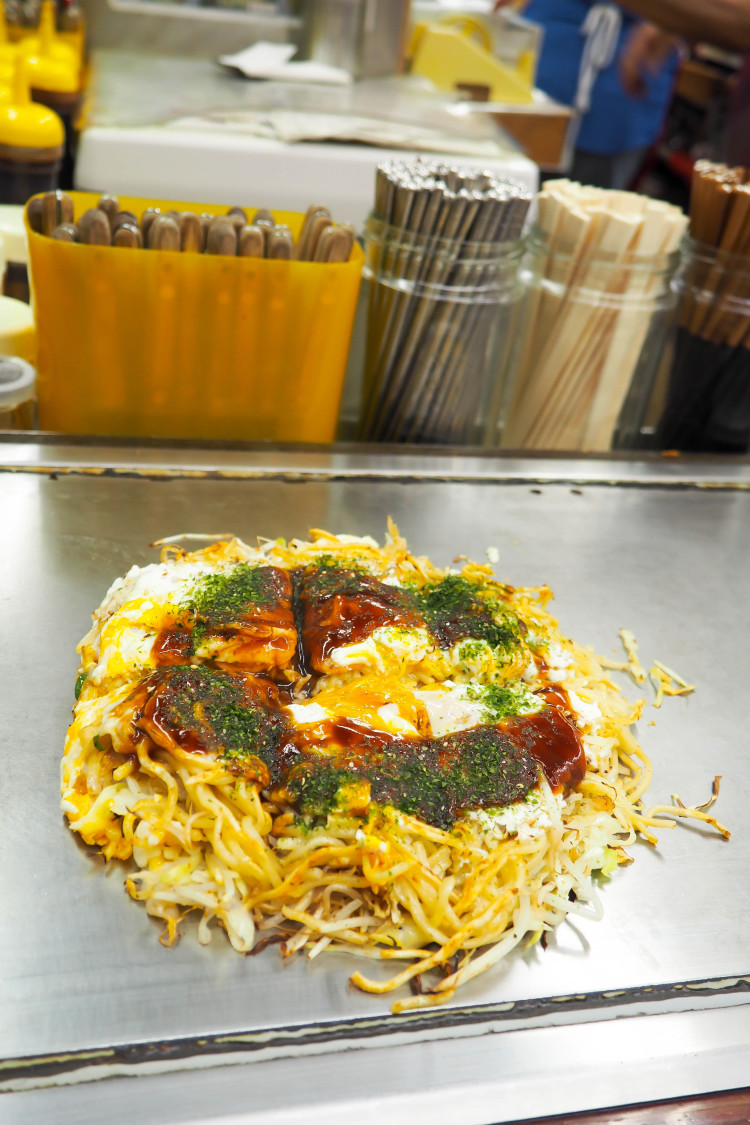 Day 9: KYOTO THEN BULLET TRAIN BACK TO TOKYO
Today's your last day in Kyoto, so it's time to do those last-minute things you missed, including the Fushimi Inari Shrine. Put your bags in coin lockers at Kyoto Station before heading out for the day (just don't forget to pick up before the bullet train heading back to Tokyo!)
Morning/Afternoon in Kyoto
1. Fushimi Inari Shrine (Taisha): COME EARLY BEFORE THE MASSES! No matter how tired you are, do not skip Fushimi Inari Shrine! To get here, you'll need to take the JR Line (Nara or Keihan Main) from Kyoto to Inari Station.
The shrine is comprised of over 10,000 beautiful orange-y red tori gates arching over a scenic, possible 2-hour-long walking trail. You don't need to do the entire circuit, but definitely make it past the initial arch as this is the most populated one due to its close proximity to the start.
Make sure to notice the numerous fox statues along the shrine grounds, as they are thought to be Inari's messengers and hold much importance to this area. And get some inari sushi if you're a bit hungry – look how cute they are! Definitely one of my favorite things we did during our 10 days in Japan.
Read Next: Alllll the best things to do in Kyoto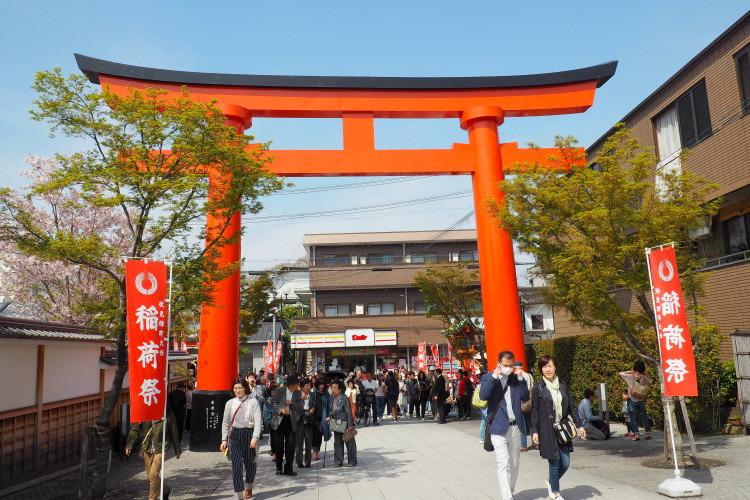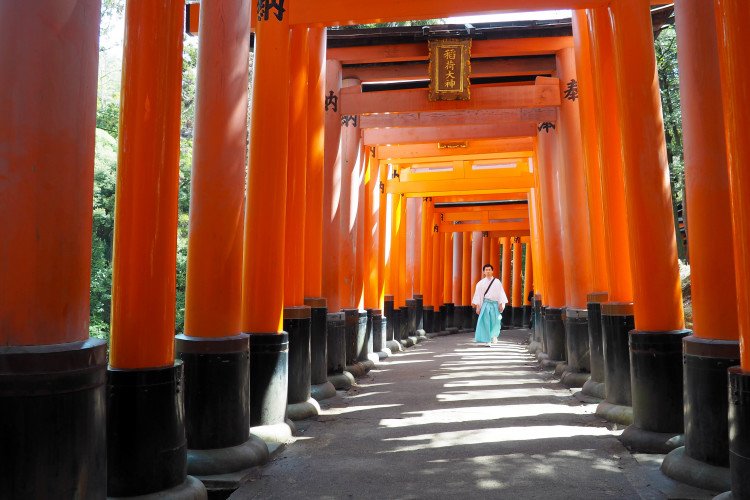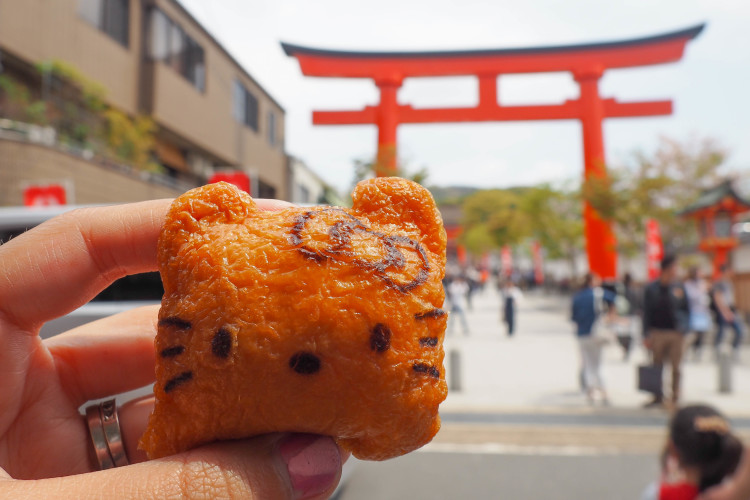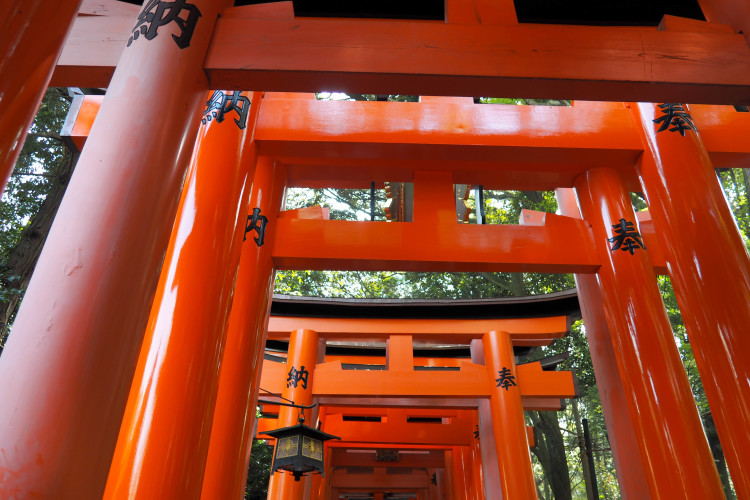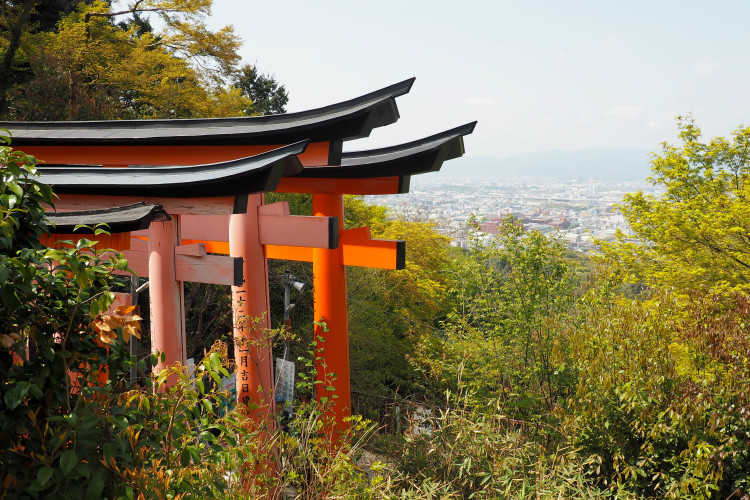 2. Nijo Castle: One of Kyoto's most popular and impressive sights, and a wonderful place to walk around on your last official morning in the city. The grounds are large with numerous fortifications, a lovely castle, beautiful moat, and gardens.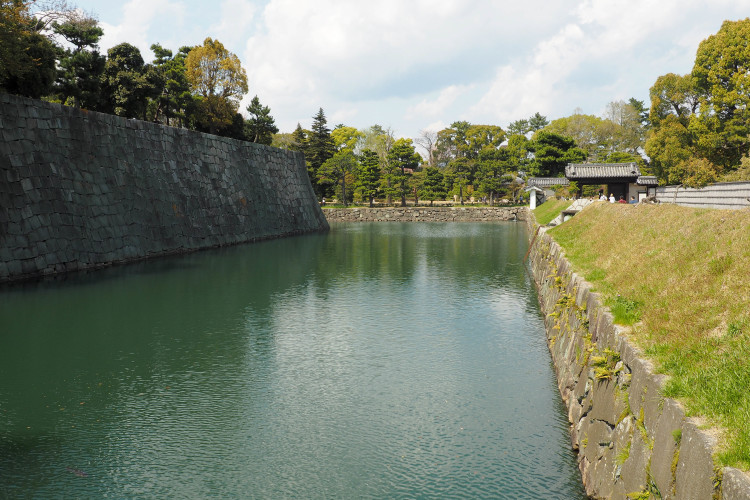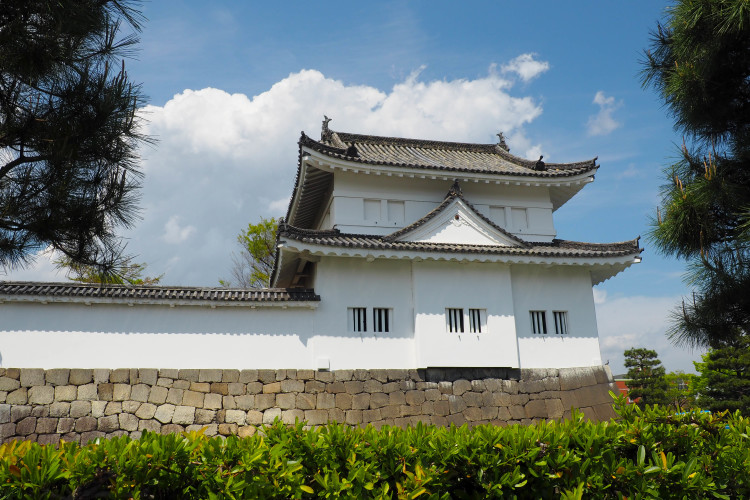 Inari Shrine to Nijo Castle: Head back to Kyoto Station, then take the JR Sagano train to Nijo stop
3. To-Ji Garden and Temple: Depending on your groups level of tired-ness, you may choose to skip these gardens (which are a 15 minute walk from Kyoto station). We were too pooped from the week's festivities to even think about wandering around here, and let's face it – I saved myself an hour or so of complaints from my husband.
We both get a little grumpy when the tiredness kicks in. If you do decide to go, you'll find the tallest wooden pagoda in Japan, a lovely garden with a koi fish pond, and some beautiful cherry blossoms. Next time for me!
Bullet Train to Tokyo
Once you're done with your activities in Kyoto, back on the Shinkansen (bullet train) to Tokyo it is!
The bullet train from Kyoto to Tokyo takes around 3 hours or so, and with our stomachs grumbling already, we opted for a dinner of bento boxes to take on the train with us. You'll find a handful of stalls in the train station selling a wide variety of food options, with bento boxes being absolutely perfect for the long train ride!
Since you'll only be in Tokyo for one additional night and will need to take the train from Tokyo station to Narita International Airport the next day, I suggest staying in the Ginza area, 1 or 2 stops on the train depending on which line you take.
It also lets you explore a new area the next morning before heading off to the airport.
Recommended hotels in Ginza:
Day 10: SUSHI BREAKFAST AND OFF TO THE AIRPORT
Before heading out for the day, it's a good idea to check out of your hotel to avoid rushing back for the mid-morning check-out time, and be sure to ask your hotel to store your bags (which you'll pick up later before heading off to the airport).
Sushi Breakfast at Tsukiji Market
On your last official morning after 10 days in Japan (cue the sad face), there's nothing better than an authentic sushi breakfast! And no better place to get fresh sushi than at the Tsukiji Fish Market – the world's largest, busiest fish market!
Note that the Tsukiji Fish Market is comprised of two parts – the inner market (the Uogashi wholesaler market) and the outer market. The inner market is where you'll find the early-morning wholesale tuna auction (think 4am, yes, really that early), while the outer market is for all of us foodies hoping to satisfy our taste buds with some seafood goodness.
While Daiwa Sushi and Sushi Dai are two of the most common sushi shops in Tsukiji Market, the lines are astronomically long. We picked a place at random and had a wonderful experience – the fish was fresh, service was adequate, and prices were competitive.
You won't find mediocre sushi anywhere in this area, so decide for yourself (and your hungry belly) if waiting in those long lines is worth it.
If you have a little extra time and wanna learn about Japanese food culture and the market in general, consider signing up for a Tsukiji Outer Market Food and Drink Walking Tour. You'll sample bonito, katsuobushi, dashi stock, sushi, sake, fresh tuna, local omelets (my all-time fave) and so much more. I so wish we did this as we didn't learn much about the market and honestly didn't even know where to begin on our own — there's so many stalls and we didn't know half of the foods!
Next time we're in Japan I REALLY wanna take this combined tour of the Tsukiji Outer Fish Market and sushi-making class! I love taking cooking classes when I travel (I've made macarons in Paris, egg tarts in Lisbon, and tamales in Mexico so far), so I think sushi in Japan is next for me!
Shopping in Ginza
After filling up on some sushi (and ice cream, because, why not?!), head back to Ginza for some upscale window shopping. This district is home to the most expensive shopping and real estate in Tokyo – kind of like New York's Fifth Avenue, but with more lights!
Off to the Airport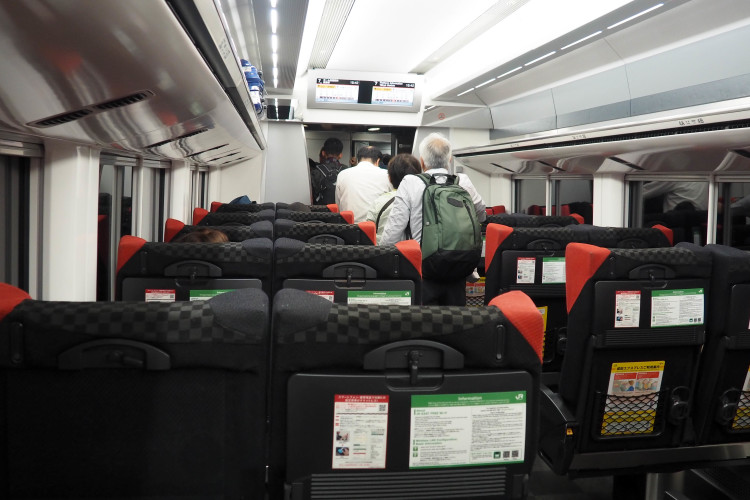 Depending on your flight time, you may have a bit more time, but it's always wise to get to the airport extra early for international flights.
Head back to your hotel, collect your bags, head to Tokyo Station, then to Narita Airport (takes approximately 1 hour via Narita Express), have one more Japanese meal at the airport, and say goodbye to this eclectic yet charming country.
If you have any questions on this 10 day Japan itinerary, please ask below in the comments! If you follow this itinerary (exactly what we did), I can promise you not only will you see so much in such a short period of time, but you won't be stressed out planning either! 🙂
TRAVELING TO JAPAN SOON? Don't forget travel insurance! I'm a big fan of World Nomads and SafetyWing when traveling abroad.
Recently, I've been mostly using SafetyWing since they cover pandemic-related claims (most travel insurance companies do not). Be sure to protect yourself from possible injury, lost baggage, travel delays, and theft before it happens. Learn more and Sign up here.
Did you know that …
When you purchase something through our links, we earn a small fee (but you still pay the same)! Win-win! If you found this article useful, consider using the links within the article or below. Thanks for your support! 
Feel free to share this 10 day Japan itinerary with a friend (just copy and paste the link!), and get started planning your trip! Have you been to the country before? What were your favorite things to do in Japan?
Photos via Day 1a | Day 2 and Steam Fire at Asakusa | cherry blossoms | Akihabara | Hakone 1 and 3| Hakone 2 |