Booked a trip to CDMX and wondering where to eat in Mexico City?! With thousands (upon thousands) of restaurants and eateries in the city, I feel your pain. It's ridiculously difficult to narrow down your choices if you have, lets say, only 3 days or so in the city. Lucky you, I did tons of research before my trip and I'm sharing all my gastronomic pleasures of Mexico City here!
I recently came back from a 2 week trip to Mexico (CDMX, Oaxaca, and San Miguel de Allende), and can honestly say that the food was a major highlight. I'd gladly return again and again to Mexico City just to stuff my face with as many bowls of chilaquiles and churros con chocolate as humanly possible.
Ohhh and those tuna tostadas and that 9-course tasting meal – I die just dreaming about my gluttonous self.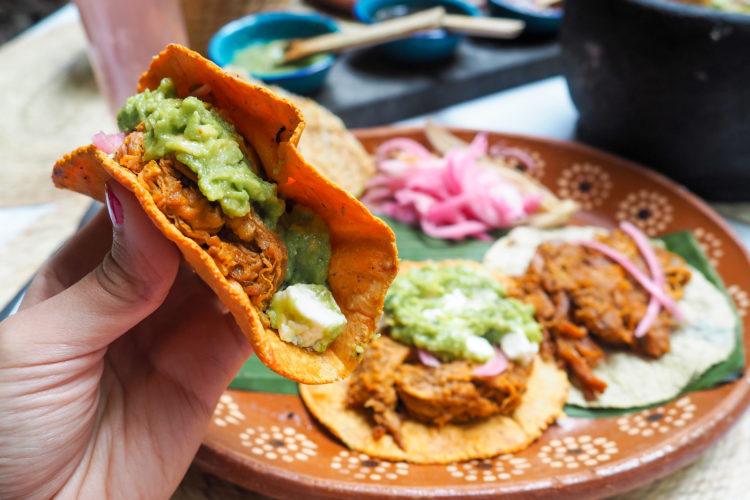 Read Next: 3 Days in Mexico City (aka what to do besides eating your heart out)
One piece of advice: Eat everything in sight. Just do it, and worry about your waistline later. Paletas (mexican popsicles). Aguacate ice cream. Tacos al pastor. It's all worth the calories. You'll thank me in between bites – just remember to bring your stretchy pants (or wear flowy dresses like I did). So without further ado, here are the best restaurants in Mexico City, in my humble opinion.
Where to Eat in Mexico City: All My Favorites
Breakfast/Brunch in Mexico City
Eno: When in Mexico city, you HAVE to try the chilaquiles for breakfast. Delicious, crunchy tortilla chips topped with succulent salsa and cheese? When I first tried chilaquiles, I fell in love with their delicious flavors and crunchy consistency.
So, of course, I was over the moon when I found Eno. Eno is a cute little place in Roma Norte that just so happens to be one of the best restaurants in Mexico City for chilaquiles. You can order them with red sauce or green sauce, and choose between chicken or eggs. Top it off with a hot coffee or an orange juice and, well, you can imagine how amazing that is…
Panaderia Rosetta: What's better for breakfast than a homemade pastry? Answer: nothing. We found the most amazing homemade pastries in Roma Norte (or maybe the whole city) at Panaderia Rosetta. We tried their guava roll, cardamom bun, fig/orange pastry, and their beetroot juice (which is "betelbeb" in spanish…it's just so fun to say!). There's usually a long line here, but it moves fast and is definitely worth the wait.
Ojo de Agua: If you're wondering where to eat in Mexico City for healthy/vegetarian options, Ojo de Agua is a little breakfast spot (which has many locations around the city) that's a perfect choice. The food is so delicious, both vegetarians and non vegetarians will love it!
Personally, I went with the avocado toast (yes, #basic, I know), and it was totally delicious. High up there in the top 5 avo toasts I've ever consumed – so yes, that good. Be sure to come early as the place gets busy and there are sometimes long waits for a table.
Chilpa: You can never have too many chilaquiles, in my opinion, and Chilpa is yet another awesome breakfast spot that serves up a mean chilaquiles dish for breakfast. The best part is that they serve chilaquiles all. day. long. Yup, you can even come here at the end of the day and order some crispy goodness!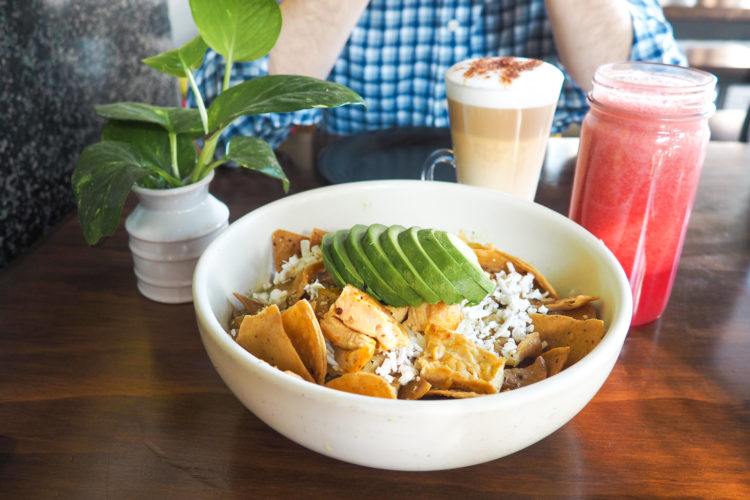 My husband left Mexico City a tad obsessed with Chilpa, and I'm sure it'll be the first place we go on our next trip to CDMX. And don't worry, if you've had your fair share of chilaquiles already (what, how is that even possible?!), there's other items on the menu as well, don'tchu worry.
Cafe Nin: Cafe Nin is the kind of place you go on a lazy weekend morning for a coffee and a pastry. The vibes here are super laid-back, and they have a wide variety of coffee drinks, fresh juices, and teas you can enjoy. They also have a ridiculous selection of pastries, sweets, sandwiches, and hot breakfast items that you can order.
We popped in quickly to grad a pastry after the spot was recommended to us on more than one occasion.
Lunch/Dinner in CDMX
El Cardenal: El Cardenal is a Mexico City institution, and is easily one of the best places to eat in Mexico City. Serving up traditional dishes like escamoles con espazote (seasoned ant larvae) and mole, it's an amazing introduction to Mexico City food and gastronomy. We went to the one nearest downtown, put our name down, then walked around the Zocalo until our table was ready.
Pujol: I cannot stress this enough, head to Polanco's premier restaurant, Pujol, for dinner. Pujol is one of the most famous restaurants in all of Mexico (and the world) for good reason, led by acclaimed chef Enrique Olvera. It's consistently rated as one of the world's top restaurants (yes, I said the WORLD), and is a foodie heaven worth the splurge in Mexico City.
Splurge is all relative though, and this meal would have easily (easily!) costed double if not triple in either NYC or SF. We're still talking about our meal and it's been welllll over 3 months since we ate it (guilty).
Every single dish was beyond perfection, and I honestly would book a plane ticket just to go back to Pujol. Yes, it was that good. Are we crazy? Maybe.
Here at Pujol you'll find modern traditional Mexican food at its finest, with a few different multi-course dinner tasting menu options served to you within the restaurant's sleek, minimalistic interior. And don't miss one of their classic local mezcal drinks, as there's a whole slew of them to choose from.
If you're planning on eating at Pujol (and you most definitely should), you'll NEED to make your reservations as soon as you know your dates. We booked too late (a month before our trip!!!), and couldn't get in for dinner. Thankfully there were a few late lunch reservations available, so we snagged that up as soon as possible.
Quintonil: Quintonil is another restaurant on the higher end of the budget spectrum, but it's another amazing place to sample high-end contemporary Mexican food in the Polanco district. It's known as another one of the best restaurants in Mexico City. We didn't get to go on our last trip, but definitely plan on trying it when we return!
If you're wondering where to eat in Mexico City if you can't get a reservation at Pujol, definitely try Quintonil! Like Pujol, Quintonil also offers tasting menu options at a fixed price, and you'll need a reservation to enter. To help save your wallet, I'd recommend choosing either Pujol or Quintonil during your trip to Mexico City, and then head to the other on your second trip to CDMX (I promise you there'll be a return trip).
Lalo!: Only open for breakfast and lunch (and most commonly eaten for brunch), Lalo serves amazing local cuisine and delicious drinks. Think huevos rancheros, huevos con chile chilaca, cappuccinos, and chilaquiles (yes, more chilaquiles!).
With its trendy decor and a rather young vibe, Lalo is one of the most relaxed and fun places to eat in Mexico City – they don't have that exclamation point at their end of their name for nothing! It can get really crowded on the weekends, so I recommend avoiding peak times for a better experience.
Contramar: One of the best Mexico City food options for seafood is Contramar, easily. Located in Roma Norte, it's a beautiful open-air restaurant that serves some of the freshest seafood around. I highly recommend the ahi tuna tostadas – so perfectly constructed and so perfectly crunchy! You can get a half order if you just want a taste, or share with someone else if you're just coming here for a snack.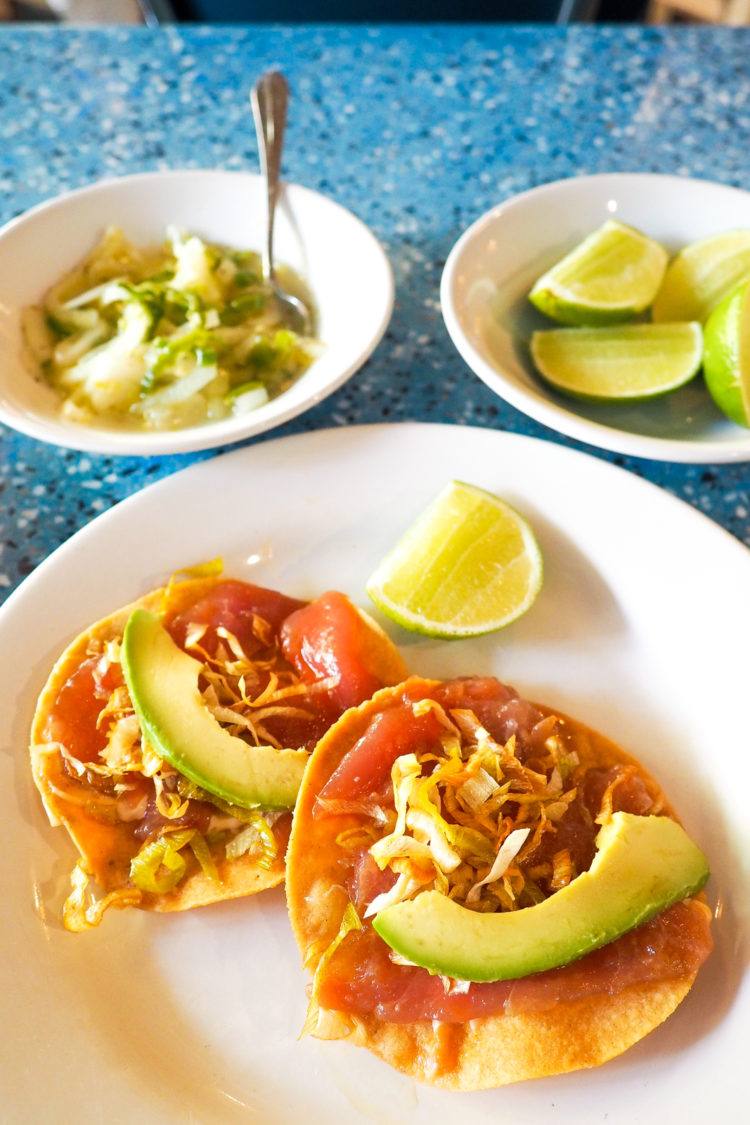 Next time I'm definitely leaving room for dessert – the Nutella flan and fig tart looked absolutely incredible. Get everything and try everything. It's best to come right when they open as lines down the block are not unheard of. And plus, I guarantee you won't find better service elsewhere – those guys are running around getting exactly what you need for your perfect meal.
El Pescadito: Wondering where to eat in Mexico City for amazing fish tacos? It's here, at El Pescadito. They have, hands down, the best fish and shrimp tacos in the city (maybe in the entire planet), and they're served in a chill, relaxed environment. Line up, order, and pay after you eat. I especially love how they're conserving water by using plastic around each plate (although that's quite a bit of plastic waste as well…)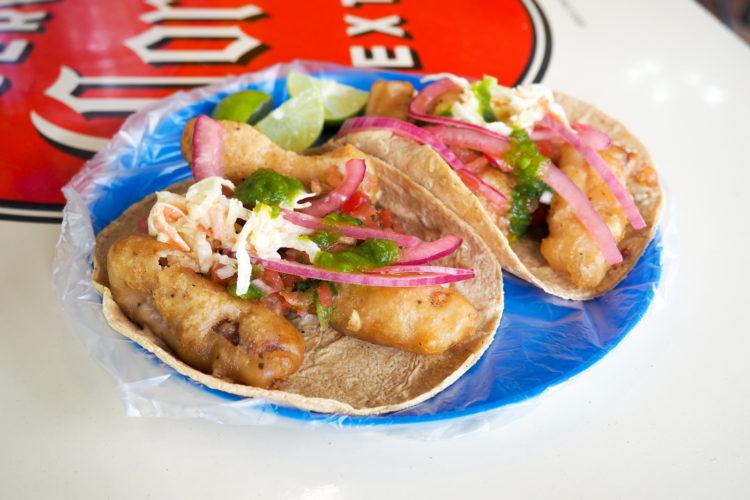 El Farolito: Hands down, El Farolito ended up being one of our favorite places to eat in Mexico City. We only ate here because it was one of the only spots open on New Year's Day, but ended up absolutely loving it! The ambience here is very unpretentious, but their menu items are absolutely delicious. There are a few different locations around the city that you can try during your trip.
Mercado Roma: If you're looking for a relaxed vibe, head to Mercado Roma, which is a local public market in Roma Norte filled with over a dozen food and dessert stalls. It's basically a gourmet food hall. You can easily identify the entrance of the market by the huge, retro signs at the front. It's a common local recommendation for where to eat in Mexico City on a budget!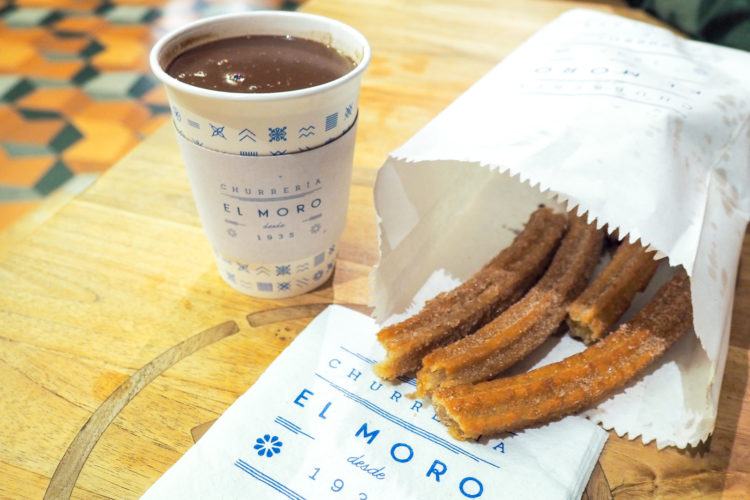 At Mercado Roma, the vibe is more "hipster" than traditional Mexican, so you can expect to find some indie-type vendors and international fusion stalls. It's a super Instagrammable location, with charming little food stands in front of old, exposed brick walls. My all-time favorite spot was Churreria El Moro (duh). We ended up here almost every day as there was something else we wanted to try and it was within walking distance (20 minutes or so) to our hotel (Casa Decu).
Inside of the market, there's an adorable hanging garden and long, communal picnic tables in the back to sit and hang out in. If you'd prefer to sip on a cold beer, there's a craft beer garden on the third floor of the building where you can sample as many as you'd like (just please take an uber home).
La Gruta: While this restaurant isn't *technically* in Mexico City, it's right next to Teotihuacan, which will most likely end up on your itinerary anyway. And if you DO find yourself at Teotihuacan and craving a delicious traditional Mexican meal, you 100% have to stop in at La Gruta.
La Gruta is unique because it's literally built into a cave! Yup, a cave! The rocky walls are adorned with pretty string lights and adorable traditional decor. Once you sit down, you'll have your choice between delicious tacos, refreshing drinks, and traditional Mexican dishes.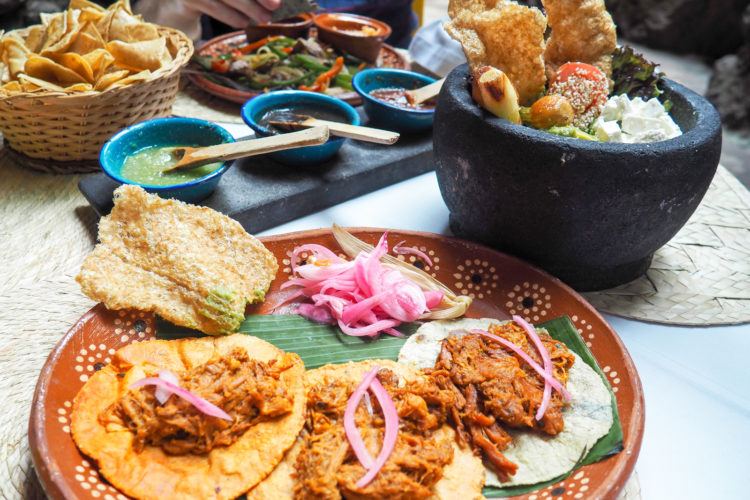 When we were there, we chose the giant mortar to start – basically a giant pot full of all the Mexican appetizers you could ever dream of: guacamole, grilled spring onions, crisp pork rinds, fresh farmer's cheese, and more. Oh, and the prickly pear drink was incredible.
Dessert/Drinks/Pit Stop
Churreria El Moro: You cannot leave Mexico City without trying a delicious homemade churro! And the best place to get them is at the famous Churreria El Moro, which has multiple locations around the city.
While there, get the churros with dipping chocolate and share them with a friend (or devour them yourself…we don't judge!). Spanish chocolate was my favorite – it had the perfect consistency for dipping, not too thick, not too thin.
You also have to try the mini consuelos, which are Mexican ice cream sandwiches with churros instead of cookies. They're absolutely orgasmic, and I'd buy a ticket to CDMX just for those.
Nieves El Kiosco de Coyoacán: Nieves El Kiosko de Coyoacan is definitely one of the most unique ice cream stands in the entire city. Here, you can sample unique flavors of ice cream like tequila, red hibiscus, and zapote (a local Mexican flavor).
And that's not even all the crazy flavors they have – there are tons more you can try. I was obsessed with the aguacate (avocado) ice cream. You can even ask for samples before you buy anything! If you're a big ice cream aficionado, you may need to come here twice to try them all!
Cafe don Porfirio at Sears Centro: With the best view of the iconic Palacio de Bellas Artes from its terrace, you can't miss Cafe Don Porfirio at the Sears Centro (across the street from the gorgeous Palacio). I recommend getting a drink here to snag a seat on the terrace and see the view, away from all of the crazy tourist crowds on the sidewalks below.
Note that there is not much food here, so if you're looking for more than a pastry, plan to head elsewhere afterwards.
Cafebreria El Pendulo: Who doesn't love books…and coffee?! Cafebreria El Pendulo is BOTH a bookstore and an attached cafe. It's sooo cute! The whole building is literally a giant, two-story room full of books with a balcony, a winding staircase, and a SKYLIGHT! It's a bookworm's heaven.
Helado Obscuro: If you like ice cream with an extra boozy kick, Helado Obscura is for you! This little Roma Norte ice cream shop has a bunch of flavors of alcoholic ice cream, including innovative spins on rum drinks and pina coladas. For non-drinkers, don't worry – they have a few creative and delicious non-alcoholic flavors too!
If you're a serious foodie who is interested in learning more about the history, context, and ingredients of Mexican food, a food tour is an excellent choice. Not only do you get to learn about the local food from well, the locals, but you can also discover new places and ingredients and learn about their recommendations for where to eat in Mexico City. We highly recommend taking a food tour to get insider access to the culinary secrets of this amazing city!
Food Tours and Cooking Classes
Taco Tours:
Perfect for the taco-obsessed foodie, taco tours are a great way to try the various types of tacos and mezcal that Mexico City is famous for. This late-night taco tour is a 4-hour tour that brings you to several taquerias across the neighborhoods of Narvarte, Roma, and Cuauhtemoc, as well as sampling local mezcal varieties. The tour ends at a 24-hour flower shop with thousands of varieties of plants (which, like, why wouldn't you want to end your taco and mezcal night with flowers?!). // BOOK TOUR HERE
Another great taco tour option is this one, which lasts three hours and offers an in-depth tasting of several varieties of tacos. You'll also get access to a mezcal expert, who will guide you through a few different varieties of mezcal that each have different flavors. // BOOK TOUR HERE
Walking Food Tours:
Walking food tours are some of the best ways to sample a variety of traditional Mexican dishes at some of the best restaurants in Mexico City (that are locally owned!).
This tour is a guided walk through one of the city's best foodie neighborhoods, Polanco. During the 3-hour walking tour, you'll go with a local guide around the area to some of the best hidden food gems to try tons of traditional foods like tacos, tlayudas, and Mexican chocolate (mmm chocolate). // BOOK TOUR HERE
For a food tour in a different neighborhood, this tour offers a foodie's glimpse at Colonia Roma, known as the "bohemian" neighborhood. Throughout this 3.5-hour walking tour, you'll head to 6 different food stops, including restaurants, delis, and specialty stores to sample local delicacies. // BOOK TOUR HERE
Of all of the food tours we recommend here, this one is the longest and most comprehensive tour throughout Mexico City's Historic Center. You'll try pre-Hispanic food, traditional sweets, seafood, and more in various locations throughout the city center. The tour even includes a few alcoholic beverages in some of your stops! // BOOK TOUR HERE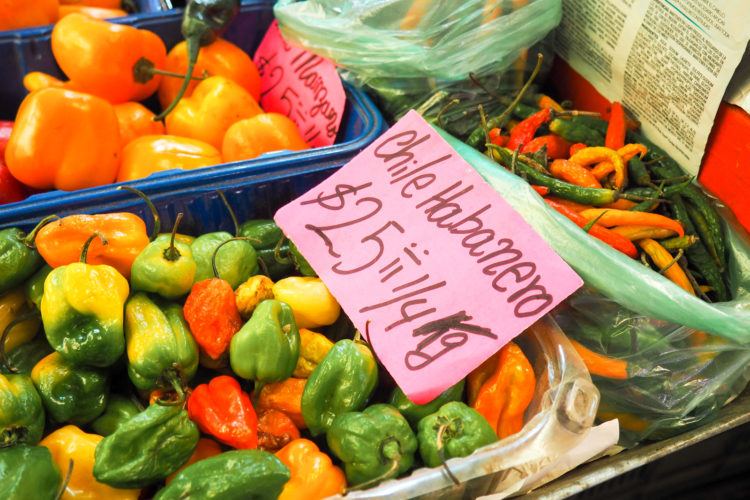 Mexican Cooking Class:
In my opinion, the best way to learn about Mexico City food is to cook it yourself! In this Mexican cooking class, you'll learn how to make a variety of dishes from a local expert chef inside a cozy, home-like environment. You'll even leave the tour with some recipes to take home with you and try in your own kitchen! // BOOK CLASS HERE
So what are you waiting for? Book a ticket to CDMX and start crossing off this list of places to eat in Mexico City. You'll never wonder where to eat in Mexico City again!