Headed to Japan and looking to fill your time with 3 days in Tokyo?! You're in luck, my matcha-loving, sushi-searching friend. This Tokyo itinerary has got exactly what you need to help plan your trip!
Tokyo is a sprawling city that connects modernity with deep Japanese tradition, which shines through in its rich history, fascinating attractions, and cosmopolitan neighborhoods. From its mouth-watering food to its beautiful architecture and parks, the Japanese capital city truly has something for any kind of traveler.
I spent a perfect 10 days in Japan last cherry blossom season (full itinerary here), and we're hoping to head back to Tokyo for an extended long weekend this year! Basically to eat everything and then some, but we don't need to talk about my indulgent, over-the-top food habits (like traveling 15 hours via air for some vending machine ramen).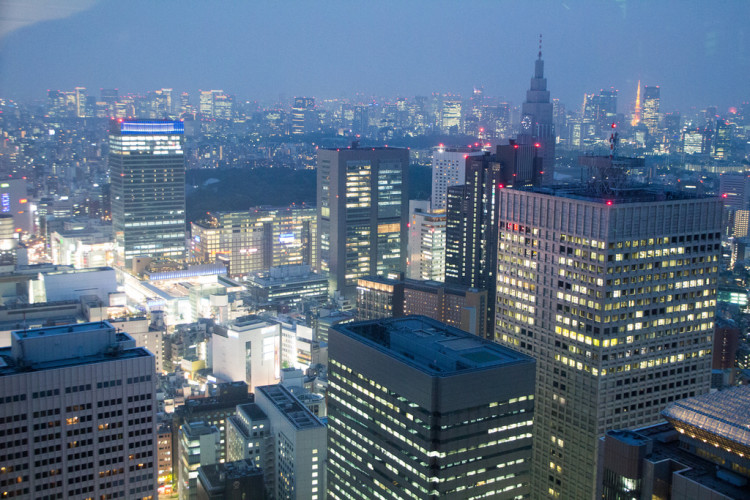 As an international flight hub for several airlines, Tokyo is the perfect place to visit en route to another destination, or simply on its own! If you've got 3 days in Tokyo to explore, you can see most of the city's highlights. Buckle up for this detailed itinerary which will explain what to do in Tokyo in 3 days, with all the details you need to know to plan your trip there.
Note: This Tokyo itinerary is jam-packed with activities for the ultra-adventurous traveler. However, if you're looking for a more laid-back schedule (no judgment here!), don't feel like you need to do everything I've listed. Use this detailed Tokyo travel blog as a foundation, then prioritize the activities that sound most interesting to you!
Read Next: COMPLETE 10 Day Japan Itinerary (Perfect for first-timers to the country)
Pre-Travel Guide to Tokyo
When to Visit Tokyo
Tokyo is truly a year-round destination – each season boasts something different and exciting for visitors to the city. However, not all seasons are created equal. Winters in Tokyo can be dark and cold, while summers are sweltering hot and humid. Spring and autumn are often very mild and temperate, with the best weather occurring between March and May, and then again from October to December.
Personally, I'd recommend traveling to Tokyo during these months for the mild weather, perfect for wandering around on foot and experiencing the city's open-air attractions.
If you're flexible on dates, one of the most beautiful times of year to visit Tokyo is during the annual blooming of the cherry blossoms. During the early spring, the cherry trees light up many areas of the city in white and pink blooms, and it's truly a spectacle! While the city is often more crowded with tourists during this time of year, the cherry blossoms are certainly a once-in-a-lifetime thing to see. You can check predictions for the peak cherry blossom seasons this year here.
If you'd prefer to visit in the end of the year, you can opt to time your visit with the fall foliage, during which the city's trees turn bright red, orange, and yellow.
Read Next: When to Visit Japan (Month by Month)
How to Get Around Tokyo
One thing to know about traveling in Tokyo is that taxis can be extremely expensive. We're talking about potentially hundreds of dollars to get across the city. Uber operates in Tokyo as well, but it's often just as expensive (if not more) as the taxis. Taxis are typically a safe transportation option for tourists, but the costs can add up super quickly and you usually need to pay in cash.
Luckily for budget travelers, Tokyo has a world-renowned public transportation system that's easy to use even as a tourist. On the metro, you can pay by the ride (typically 170 to 310 JPY each way) or buy an unlimited multi-day pass (600 yen per day – recommended if you'll be using the metro to get around).
In general, the metro maps have English translations and each stop is announced on the metro's speakers in both Japanese and English. From both Narita (NRT) and Haneda (HND) airports, you can take a direct airport train into the city center for a much more reasonable price than the taxis.
Where to Stay in Tokyo
Finding accommodation in Tokyo can be a little challenging. The good news? Accommodation is easy to find, as there are tons of choices. The bad news? Hotels are typically small, sometimes cramped, and relatively expensive, especially if you wait until the last minute to book.
Tokyo is a massive city, so it's important to choose your location carefully. No matter where you choose to stay, be sure to book a place that's within walking distance to a central train station so you can easily and affordably get around from place to place.
There are three centrally-located neighborhoods I'd recommend staying in: Shibuya, Shinjuku, and Ginza.
Where to Stay in Shibuya:
Shibuya is a metropolitan area home to the always-crowded "Times Square" of Tokyo, Shibuya Crossing (more on this later). Here, you'll find suit-clad businesspeople, selfie-taking tourists, and hurried locals in a hodgepodge of energy, lights, and modern buildings.
Where to Stay in Shinjuku:
Shinjuku is another lively neighborhood, home to incredible green spaces and hole-in-the-wall eats and nightlife. You can find alleys full of lanterns and tiny bars, or wander through the giant Gyoen Garden.
Where to Stay in Ginza:
And, for the shoppers out there, Ginza boasts some of the city's best boutiques and shopping malls. On weekends, Ginza's streets are closed to cars for the perfect walking wonderland.
Language and Currency in Tokyo
While Japanese people are generally very polite and helpful, few people speak English fluently. It's much easier to find assistance via English speakers in more frequently touristed areas or in your hotel. However, as with any foreign country, I recommend learning a few words in Japanese before you arrive.
USEFUL JAPANESE PHRASES:
Hello/Good Afternoon: konnichiwa
Good bye: sayonara
Delicious: oishi
Thank you: arigatō
Please: kudasai
Where's the toilet: benjo wa doko desu ka?
Does anyone speak English? Eigo no hanaseru hito wa imasen ka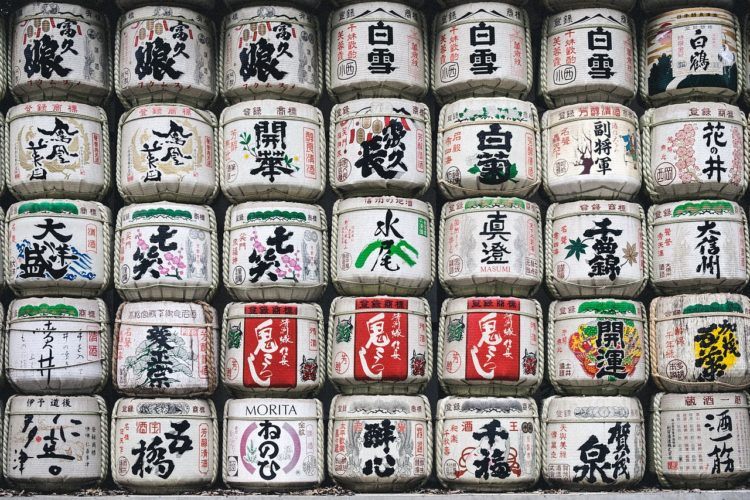 The currency in Tokyo is the Japanese Yen (JPY). You can either exchange money at designated exchange kiosks around the city, or take money directly from a bank ATM (there are several scattered around most Tokyo neighborhoods). I prefer to use an ATM whenever possible as they typically provide better exchange rates.
I was super surprised, but I found Japan to be mostly a cash society, so expect your credit card to get rejected at some places and be sure to carry enough Yen with you. If you're coming from the US, an easy way to figure out USD to JPY is to move the decimal point two spots to the right >> 100Y = approximately $1USD. Just for quick reference, 10,000Y = approx 100USD.
And finally, what you originally came here for, a super detailed 3 day Japan itinerary! Get planning, my friends!
3 Days in Tokyo Itinerary
Day 1: West Side (Modern Tokyo)
Between shiny buildings and busy streets, the first day of your Tokyo itinerary will take you to some of the more modern, cosmopolitan areas of the city: Shibuya, Harajuku, and Shinjuku. If you're planning on spending more than 3 days in Tokyo, you can split this up into a couple of days for a more relaxed schedule!
Morning: Shibuya
Start the morning off in Shibuya, which you can easily access by metro. With its tall, shiny buildings, Shibuya is a major business hub in Tokyo, home to some of the city's major corporations. It's also a fantastic place to get a feel for the modern, rapidly expanding cosmopolitan side of the city, whether at the bustling Shibuya Station or overlooking the crowds in Shibuya Crossing.
Shibuya Crossing: Head to Shibuya Crossing (especially during rush hour), which is known as the "Times Square" of Tokyo, to watch the city's busiest intersection come to life. Amidst flashing LED signs and huge billboard ads, you can see several pedestrian lanes of people crossing at the exact same time. Join in on the fun on the streets, or head to Starbucks for your morning cup of joe and a bird's eye view of the chaotic pedestrian crossing.
Hachiko Statue: Shibuya's Hachiko Statue might melt your heart, especially if you're an animal lover. This statue was built to remember the incredibly faithful Akita dog who waited every day at the Shibuya train station for his owner. Even after the owner's death, Hachiko continued to show up every day for years without fail at the station! Now, at the Shibuya Station, you can see a statue of Hachiko that was built as a tribute to his unconditional loyalty.
Tokyu Hands: If you're looking for a place to stop and shop for some souvenirs, Tokyu Hands is a giant department store in Shibuya where you can find some of Japan's best and most unique items. They focus on handmade items and crafts, and you can find a lot of things here in that same creative vein.
Afternoon: Harajuku
When I think of Harajuku, there's really only one word that comes to mind: stylish. Here, you can spot some of the city's most unique and colorful fashions, amidst a sea of boutique shops and cute cafes. Harajuku is also located right next to the Meiji Shrine and surrounding park, which is a beautiful area to disconnect from the noise and haste of the city (you'll need it after spending the morning in Shibuya!).
Meiji Shrine: Located next to Harajuku's metro station, the Meiji Shrine and surrounding Yoyogi Park are a peaceful respite from the otherwise lively areas of Tokyo you'll visit today. The shrine was dedicated to Emperor Meiji in 1920, and was rebuilt after being destroyed during WWII. Today, visitors can enter the shrine area and learn about its traditions and history, including the hand washing station and the wishing tablets, also known as ema.
View this post on Instagram
Omotesando and Takeshita Dori shopping streets: Harajuku's fashions and designs aren't exclusively for locals; you can actually buy a lot of these colorful, crazy items you see in this neighborhood to take home with you. Head to Omotesando and Takeshita Dori shopping streets to window-shop and browse some of the local boutiques…or simply people-watch the ultra-chic, colorfully-dressed locals that seem to frequent the area.
View this post on Instagram
Try some street food: Despite being home to some beautiful (and expensive) boutiques, there's actually plenty of great street food in the Harajuku area to try. One of my favorites was the crepes, which you can find in street kiosks lining the main walking street. However, if you'd fancy something else, there are several other kiosks selling both savory and sweet treats.
View this post on Instagram
Harry's Hedgehog Café: Yes, you read that right: this is a real cafe where you can actually play with tiny hedgehogs. The cute animal lover in me is grinning just writing this (*cue squeal*). For a small fee, you can put on a pair of thick gloves and hold/play with these miniature hedgehogs. The cafe staff stands by at each table to ensure the well-being and safety of the hedgehogs during your visit.
View this post on Instagram
Kawaii Monster Cafe: In Japanese, the word kawaii means "cute" or "adorable" and that's definitely the gist of this trippy, colorful Harajuku-based cafe. Filled with psychedelic decorations and some out-of-this world color schemes, the Kawaii Monster Cafe is a super Instagrammable place that's full of visual stimulation. There's definitely no shortage of wackiness (or strangeness) here! To enter, there's a 500 JPY entrance fee and each person is required to order at least one entree and a drink, but it's generally reasonably priced.
View this post on Instagram
Observe the costumes: While wandering around Harajuku, keep an eye out for traditional Harajuku Girls dressed in their elaborate costumes and anime, especially if one of your 3 days in Tokyo happens to be a Sunday.
Evening: Shinjuku
After leaving colorful Harajuku, you might find Shinjuku to be a welcome change to your Tokyo itinerary for the evening. This nearby neighborhood is equally modern and traditional. One minute, you're surrounded by tall buildings and the next, you're ducking through tiny food stalls in a narrow, lantern-laden alleyway or breathing in fresh air at a traditional Japanese garden.
Shinjuku Gyoen Garden: As one of the largest green spaces in the city of Tokyo, you can't miss Gyoen Garden, especially if you love the outdoors. This massive park is home to several different kinds of Japanese gardens, with trails that connect different areas of the park. Additionally, it's a gorgeous place to see Tokyo's cherry blossoms in the springtime, or fall foliage towards the end of the year.
Tokyo Metropolitan Government Building: Around sunset or at night, you can head to the observation deck of the Tokyo Metropolitan Government Building to see some of the most spectacular panoramic views of Tokyo. I loved going when the sun went down to see the sparkling city lights below. The best part is it's totally free to go up there!
Robot Restaurant: One of the most popular Shinjuku hotspots is the Robot Restaurant. Although it's a wildly popular hyper-tacky tourist attraction, we chose not to go after reading tons of mixed reviews, but it's up to you! Note that the food is something left to be desired, so you'll wanna plan to eat before or after (and Piss Alley is a great choice).
View this post on Instagram
Piss Alley (Omoide Yokocho): Despite its off-putting name, Piss Alley is one of the coolest places to visit in Shinjuku. A tiny, narrow alley lined with lanterns and full of people, Piss Alley is home to tiny bars, food stalls, and restaurants that serve up some of the best food in the area. Historically, it was a hidden street for drinking and other illicit activities, and is still a symbol of some of the older traditions of the city.
View this post on Instagram
Day 2: East Side (Traditional Tokyo)
On the second day of your 3 days in Tokyo, you'll head to some of the city's historic areas, exploring traditional shrines and temples, wandering through some of the city's older neighborhoods, and ending the day in one of the strangest and coolest parts of town.
Morning: Asakusa
As one of Tokyo's most well-preserved old neighborhoods, Asakusa is a place to see the charms of "old Tokyo" and experience a very different vibe than the urban shuffle in Shibuya and Shinjuku. There are several old temples and streets with market stalls in the Asakusa area, waiting to be explored by the adventurous tourist.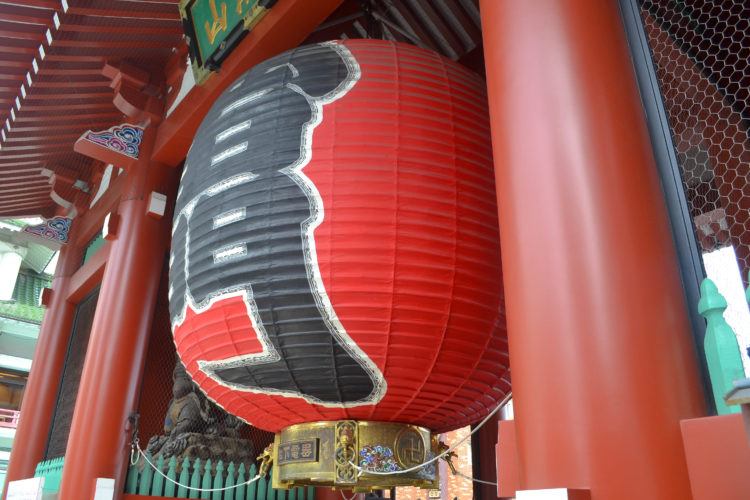 Sensoji Temple: The Sensoji Temple is Tokyo's oldest temple and one of the most iconic. Its entryway is marked by a signature large red lantern. With its beautiful red frame and green rooftops, it's worth taking some time in the morning to explore the grounds and the temple itself. Get up early and head to Asakusa to avoid the large crowds that gather here during the day.
Nakamise Dori Street: Just outside of the Sensoji Temple lies one of Tokyo's most historically significant shopping streets. Here, you can find all kinds of Japanese goods and homewares, as well as many souvenir shops. Take some time to walk through this street during your visit to Asakusa to people-watch and see some of the beautiful handicrafts from Tokyo locals.
During Cherry Blossom Season: Sumida Park
Like I've mentioned earlier in this Tokyo travel blog post, spring is the most amazing time to come to Tokyo. Located near the Asakusa train station is Sumida Park, one of the best and most beautiful parks in Tokyo to see the cherry blossoms in the springtime. There are over 700 cherry trees in this riverside park! If you're lucky enough to be in Tokyo during the full bloom, head to Sumida Park while you're in the Asakusa area.
Afternoon: Ueno
Another traditional Tokyo neighborhood, Ueno is most well-known for its shrines, gardens, and museums. You can spend the afternoon in this part of the city, strolling through the streets or trails and learning more about Tokyo's fascinating history.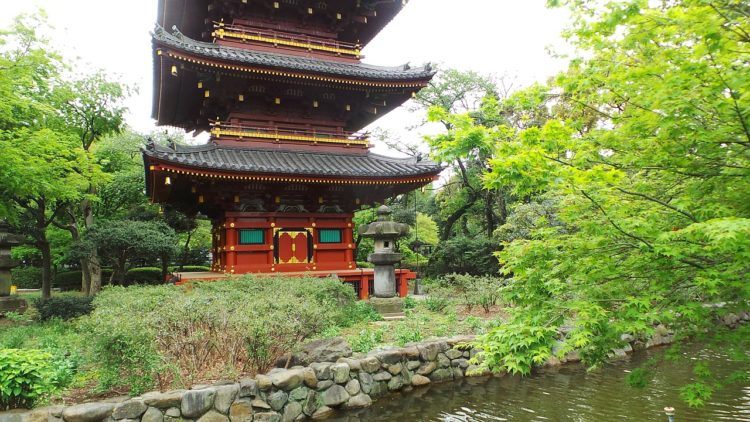 Ueno Park/Gardens: Ueno Park is a large metropolitan park in the Ueno area, which is home to lovely walking trails and over 1,000 cherry blossom trees that bloom in the springtime. It's also a popular place for locals to hang out. There are also a handful of shrines and temples in the park that you can check out while you're there.
Tokyo National Museum: Within Ueno Park, there are several museums and a zoo. You could spend an entire day exploring them all, but if I had to pick just one, I'd recommend going to the Tokyo National Museum. Packed full of interesting information, the Tokyo National Museum is a collection of important historical and traditional Japanese items that span the country's history. Entrance is 620 JPY.
Evening: Akihabara District
In the late afternoon, head to the Akihabara District, which became famous in Tokyo for its focus on anime and manga culture and its several electronics/gaming shops. There are literally streets and streets of electronics shops in this part of town, which provides a fascinating backdrop for this very unique corner of Tokyo.
Electric Town: Like I mentioned earlier, Akihabara District started off as a center for electronics sales. Dozens and dozens of tiny electronics shops sprang up in groups, many of which are still in business today. In addition to the tiny electronics stores, you can also visit Yodobashi Akiba, a gigantic electronics department store in the neighborhood that sells everything from cameras to computers to sound equipment and more.
Game Centers: There's literally an entire pocket of the Akihabara District that's completely dedicated to game centers, or arcades. There are dozens you can visit and play games in, but my favorite is Super Potato Retro Shop, which has a bunch of throwback retro games you can play in a cozy environment on the 5th floor.
Maid and Gundam Cafes: One of the strangest things you can experience in Akihabara is the Maid and/or Gundam Cafes. Exactly as they sound, these are small restaurants where the waiters/waitresses dress up as maids and butlers and cater to your every wish, including but not limited to playing games, taking Instagram selfies, and serving too-cute drinks and desserts.
Day 3: Sushi Breakfast and Shopping
You really can't have a 3 day Tokyo itinerary without a day of food and shopping, right?! Well, this is that day. I've included a bunch of different options for you on this third day of your Tokyo itinerary, so you can choose what you want to do based on what you want to buy, eat, or see!
Early Morning: Toyosu Fish Market
I'm sure you've heard about the ever-so-popular and quite famous Tsukiji Market. However, in late 2018, the famous Tokyo establishment, the Tsukiji Fish Market, shut its doors for the last and final time. The market itself moved to a different location, now titled the Toyosu Fish Market, but don't you worry – it's open for visitors!
View this post on Instagram
At this new location, you can still find some of the freshest sushi around, and a daily 4:30 AM tuna auction (if you're willing to get up that early). I recommend heading over in the early morning (around 4 for the tuna auction, or later if you just want to walk around and explore/eat). Grab some sushi at the Toyosu Fish Market for breakfast, as that's the time of day when it's the freshest.
Morning: teamLab Borderless Art Museum and Ginza
teamLab Borderless Art Museum: Of all the places on this Tokyo itinerary, I think this art museum might be one of the most fascinating. A digital art museum, the teamLab Borderless Art Museum is an interactive and immersive art experience that has the visitor moving through different rooms of color, light, psychedelic patterns, and moving projected images. It's a really unique art experience, and I'd recommend it even if you're the type of person who won't go near an art museum.
View this post on Instagram
Shopping in Ginza: After the teamLab experience, head to Ginza for some shopping (or window-shopping, if you're on a budget). Two of the must-see shopping streets in the Ginza area include Chuo-dori Street and Harumi-Dori. If you're in Ginza, you can't miss these streets; they are lined with shops and cafes and eventually intersect. While in Ginza, don't forget to check out the Kabukiza Theatre, which has regular Japanese fine arts performances and is just a really beautiful building in general.
Afternoon: Imperial Palace and East Garden
The Imperial Palace and its surrounding greenery are an important part of Tokyo's history and culture, and are definitely worth a visit during your 3 days in Tokyo. The castle on the grounds was originally the Edo Castle, but after changing hands many times, was ultimately destroyed. In its place lies part of the original foundation in the East Garden.
Late Afternoon/Evening: Roppongi
An ultra-modern area for shopping nightlife, the upscale neighborhood of Roppongi is home to several buildings and attractions that are best visited in the late afternoon or evening, so you can appreciate the modern, well-lit complexes and designs of this dazzling place.
Roppongi Hills: This is a sizeable and famous high rise development complex situated in the middle of the neighborhood. It's like a miniature city within a city, with its own skyline, eating areas, and more.
Mori Art Museum: Housed in a modern glass building, the Mori Art Museum is home to lots of contemporary art in a variety of genres and mediums. In my opinion, it's worth it to visit the museum for the building alone!
Tokyo Midtown Complex: The Tokyo Midtown Complex is a huge, high-end shopping and dining complex with tons of areas to walk around, shop, and grab dinner.
Mori Tower: If you didn't get a chance to go to the Tokyo Metropolitan Government Building on day 1 (or you just love city views!), you can see another fabulous bird's eye view of Tokyo from the 52nd floor or the rooftop Sky Deck of the Mori Tower. The views from up here are best at night, when the city begins to light up.
EXTRA! Day 4: Take a Day Trip
Okay, okay, I know this was supposed to be a 3 day Tokyo itinerary, but the reality is that it would be a total shame if you didn't take the time to explore the surrounding areas of Tokyo if you have a bit more time in the city.
While this guide tells you what to do in Tokyo in 3 days, I felt that it was important to add an option for those of you wanting to see a little bit more of Japan during your time here. So, if you do find yourself with 4 days in Tokyo (or a little bit of extra time in your schedule) you can take one (or more!) of these nearby day trips.
Read Next: Top Day Trips from Tokyo
Kamakura
Distance from Tokyo: 42.6 miles/68.5 km
Main things to do: Temples (Hokokuji, Hasedera, others), Great Buddha, Hachimangu Shrine, hiking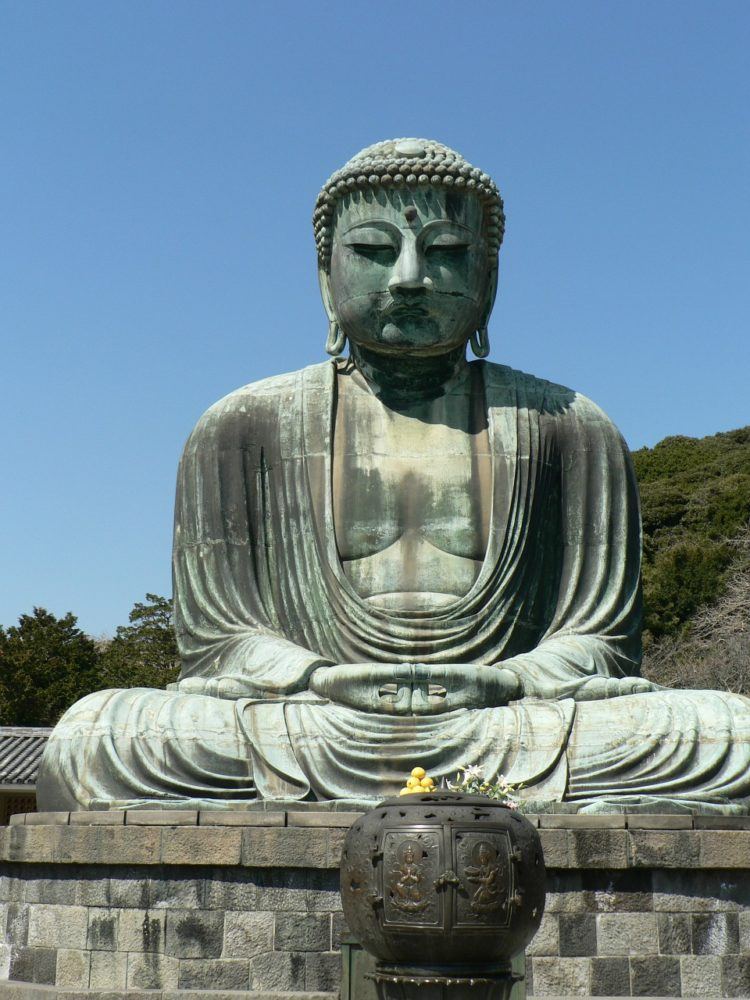 Kamakura is a Japanese town that boasts stunning examples of traditional architecture in its religious sites, including several temples and shrines. Historically, it was the origin of Japan's samurai government and an important cultural hub for the country's development.
In addition to well-maintained historic sites, it's also home to stunning nature areas that you can visit and enjoy, even if you're only visiting Kamakura for the day.
By far, the most hassle-free way to take a day trip to Kamakura is by organized tour, especially if you only have 4 days in Tokyo and don't want to be stuck in your hotel trip planning. You can book a day-long trip to Kamakura like this one that includes transportation and a local guide (which is awesome given the town's incredible historical sites).
However, if you want to DIY your day trip, the easiest way to get to Kamakura from Tokyo is by train. The easy-to-use JR trains connect both the Tokyo Station and the Shinjuku Station to Kamakura directly. If you're going by train, the trip takes about 1.5-2 hours one way and costs 920 JPY.
Once in town, head to the Giant Buddha (or Kamakura Daibutsu (Kōtoku-in)), one of Kamakura's most famous landmarks. Then, explore a few of the city's temples, like the Hokokuji or Hasedera temples, which are beautiful examples of traditional Japanese temples. You can also visit the Hachimangu Shrine, which is the most culturally and historically important Shinto shrine in all of Kamakura. If you're interested in getting some fresh air, hit some of the nearby hiking/walking trails into the outskirts of the town.
It's best to visit Kamakura during the spring and fall, as the weather will be mildest during these months and you'll be spending a lot of time outside.
Nikko
Distance from Tokyo: 92.5 miles/148.9 km
Main things to do: Shinkyo Bridge, Three Buddha Hall, Five-Story Pagoda, shrines, landscapes & scenery
Located in the mountains about 2.5 hours from Tokyo by train, Nikko is an 8th century Japanese town with several picturesque, forested shrines and temples. With its perfect location right near Lake Chuzenji, you can get a taste of history and culture as well as beautiful landscapes and outdoor exposure.
Again, as Nikko is a decent distance (almost 100 miles) from Tokyo, it's easiest to book a guided day tour to minimize the hassle of figuring out the transportation and activities for the day. Day tours like this one offer a really great value, and they organize everything for you. However, if you'd rather plan your own independent day trip, you can get to Nikko by train from Tokyo.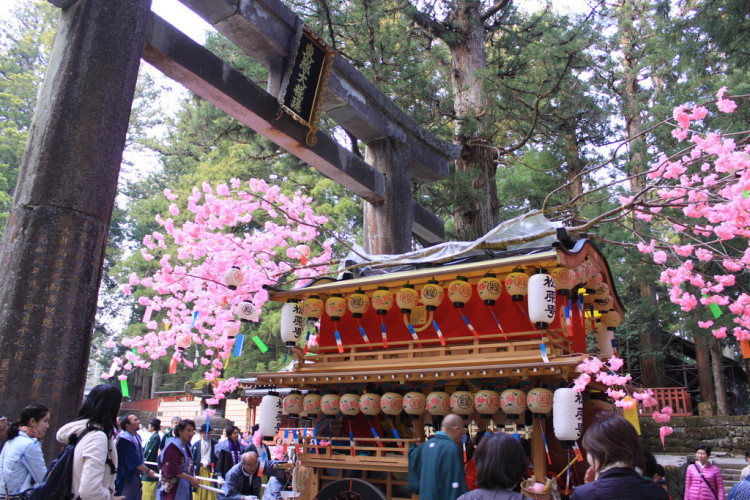 While in Nikko, you have to visit some of the many shrines and temples in the area. Three Buddha Hall and the Five-Story Pagoda are two especially photogenic ones, but there are several shrines dotted throughout the city – many of which are surrounded by wooded areas – that you can visit. Additionally, don't miss the incredibly beautiful Shinkyo Bridge.
When you finally feel like you've seen enough of the local shrines and temples, you can also explore the nearby Lake Chuzenji or Kanmangafuchi, where the 70 mysterious Jizo statues are located. There's a legend that the number of statues changes every time you count them…but you'll just have to visit for yourself to find out if it's true.
It's best to visit Nikko during the fall, where the foliage colors consume the greenery of the forest and turn the entire town and surrounding area bring yellow, orange, and red.
Hakone
Distance from Tokyo: 57.2 miles/92.1 km
Main things to do: Views of Mount Fuji over Lake Ashinoko, Hakone Onsen, Hakone Shrine, Owakudani Crater
Located just over an hour from Tokyo, Hakone is one of the most visually beautiful day trips from Tokyo, boasting stunning views of Mount Fuji amidst forested shrines and landmarks. A short train ride from Tokyo's city center, Hakone is a perfect day trip you can go on to get a bit more peace and quiet; I'd recommend this one if you love the outdoors and you only have 4 days in Tokyo.
There are several day tours from Tokyo that you can book (like this one or this one) which will organize your transportation and logistics for a day trip to Hakone. With limited time in Tokyo, it's easiest just to book a tour. However, you can also hop on a train from Tokyo and explore Hakone on your own (but since I found the trains to be somewhat confusing with local and direct trains and had difficulty figuring out which was which, I'd just take a tour if I were you.)
In Hakone, you'll have the chance to visit a lot of quiet, secluded shrines and even a relaxing traditional Japanese bath! First, on clear days, you can head to Lake Ashinoko to see amazing views of the conical Mount Fuji, which in the colder months is capped with snow. You can take a boat ride around the lake or just take in the sights from the shore.
After that, visit the Hakone Shrine, a forested shrine with bold red structures. Afterward, you can take a cable car over Owakudani Crater, a crater formed by the last volcanic eruption in the area where they make miracle eggs that are said to add 7 years to your life! You can end your day at the Hakone Onsen, a traditional Japanese bath house with warm water to relax your body and round out your trip with a uniquely Japanese onsen experience.
So there you have it, a complete and packed 3 day Tokyo itinerary! As I mentioned earlier, if you want a more relaxing experience, pick and choose a few activities for each day instead of cramming it all in and rushing from place to place (like me).
Other Japan articles you may like:
Japan Bucket List: Where to Visit
Complete 10 Day Japan Itinerary
Tokyo Bucket List and Itinerary Inspiration
When are you planning to visit Japan and how will you be spending your 3 days in Tokyo?!