Want to escape the city en lieu for a weekend in Lassen Volcanic National Park? This post is exactly what you're looking for!
Read on for a full long weekend itinerary to Lassen, as well as suggestions of not-to-be-missed waterfalls, inexpensive places to stay in area, where to eat, and the best time of year to go to Lassen Volcanic National Park.
If you're looking for less crowds and more nature, a road trip from San Francisco to Lassen Volcanic National Park may be just the answer! Sure, there are tons of weekend and day trips from San Francisco!
But if you're looking for something a little less discovered (at least to those living in the Bay Area), welcome to Lassen, a mere 4 hours north of the famous (and wildly over popular and hence over crowded) San Francisco. A weekend trip to Lassen is also very doable from other nearby cities including Reno, Nevada (2.5 hours), Vacaville/Sacramento, CA (3 hours), and Concord, CA (3.5 hours).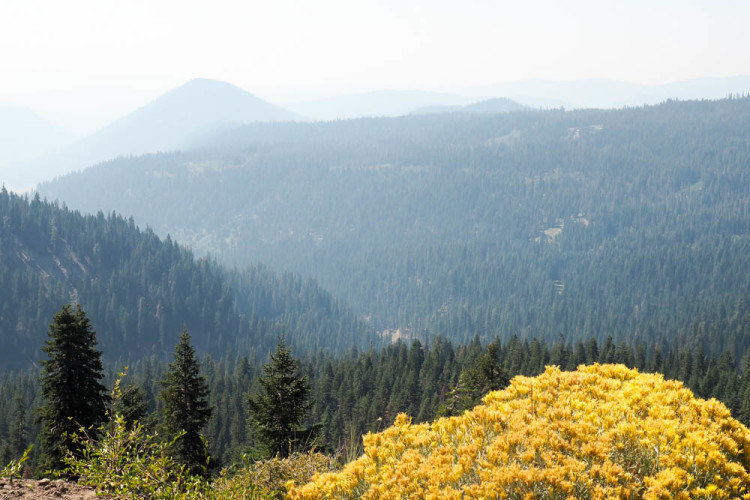 Lassen received only ~500,000 visits in 2016, which is exceptionally low in number compared to the ~4,200,000 (yes, more than 4 MILLION!) visits to Yellowstone National Park (which boasts similar natural phenomena). Lassen is actually said to be called a mini Yellowstone, so you can witness similar natural phenomena without fighting your way through the crowds.
I have to admit it was a bit more crowded at Lassen than I had expected, although we did go over a holiday weekend (Labor Day), so that's most likely why.
READ NEXT: More Road Trips from San Francisco (all my favorite spots!)
Planning Your Long Weekend in Lassen Volcanic National Park
1) Where to Stay:
HOTEL STAYS
While it's not impossible to find hotel accommodation located directly in the park, your best bet is to stay in Redding, California, located roughly 45 miles west or about an hour drive away.
Like with Yosemite National Park, you'll find significantly cheaper options a bit outside the park (like here in Redding or close-by Anderson), but you'll spend a bit more time in the car – so it's up to you!
We decided to stay at The Best Western Anderson Inn – and at less than $100 a night (inclusive of free breakfast!), we couldn't have been more pleased. You'll find plenty of options in Redding, I can promise you that.
We looked at other spots as well, but we booked too late and most were sold out:
You can also opt to stay in the town of Chester, the gateway to the south entrance of Lassen Volcanic National Park if you prefer to be a tad closer, which is located on the eastern side of the park, but more expensive.
2) When to Go to Lassen National Park:
With heavy snowfall late into the spring months, it's best to wait until late Summer or early Fall to visit Lassen. If you decide to go earlier, you may find many trails and roads closed due to piles of massive snow that haven't been cleared just yet.
Just FYI: The parks most popular trail, Bumpass Hell, sometimes doesn't open until late August, which happened the year we visited! However, the trail has been cleared around July 4 (or a tad earlier) in previous years, so you never really know! All depends on the snow levels!
3) What and Where to Eat in the Area:
*Note that there is a serious lack of food options in the national park (to be expected) and between the waterfalls. We opted to bring our own picnic lunches, and bought sandwiches at Safeway located near our hotel. Next time we spend a weekend in Lassen, we'll definitely be bringing along a bunch of snacks in the car.
In and Around Redding and Anderson:
Anthony's Mediterranean Grill
The Parlor Ice Cream for ice cream donut puffs
Dutch Brothers Coffee
Deja Vu for breakfast/brunch
Jack's Donuts
Airport Cafe (if you're driving up from SF and are looking for some food and/or pie along the way) 🙂
And finally, what I consider the best weekend in Lassen Volcanic National Park itinerary, after doing tons and tons of research! 😉
3-Day Lassen National Park and Burney Falls Itinerary
Day 0: Drive to Anderson/Redding
We chose to drive from San Francisco to Anderson (where we based ourselves for the weekend at The Best Western Anderson Inn) on Friday night right after work. Thankfully, to my surprise, the drive wasn't as brutal as I was expecting (being Labor Day Weekend and all), and took us roughly 4 hours with minimal traffic.
Looking for a place to stop along the way for dinner? Check out Nancy's Airport Cafe – tons of airplane paraphernalia and the most mouth-watering pies I've had in so long (that or my hunger was talking big time).
Day 1: The Best of Lassen Volcanic National Park
Start your first full day exploring the best of what Lassen Volcanic National Park has to offer.
I recommend taking a car-full of snacks with you as there are NO places in the park to get a proper meal. We binged on granola bars, cookies, chips, and some fruit because we didn't realize there wouldn't be much food available within the park. Do you research ahead of time. We didn't unfortunately.
Recommended Stops for One Day in Lassen Volcanic National Park
1. Stop by the Kohm Ya-mah-nee Visitor Center to fill up your water bottles and make a bathroom pit stop as the facilities are pretty lacking in the park (don't worry, there are numerous restrooms around, but they aren't as abundant as you'll probably hope for).
2. After refueling at the visitor center, make your way down the Main Park Road to several of the park's attractions. A one-way journey will take about an hour in good weather, but you'll be stopping along the way a lot.
3. Your first stop along the Main Park Road should be Sulphur Works – an active hydrothermal area. And when I say active, you have no idea how active! Walk over to the bubbling mudpot and steaming vents, and you'll see what I mean! Sure, the smells aren't too pretty (absolutely disgusting if I may add), but seeing this impressive mudpot is not to be missed!
4. Next up, the beautiful Emerald Lake! We were surprised to be one of the only visitors here, as the water is just so lovely for photography! A short stop, but definitely worth it, and right off the side of the road.
5. Ready for the park's main attraction and why most visit Lassen National Park? Bumpass Hell Trail, a three mile round-trip hike leads to a boardwalk full of all kinds of crazy things. Here you can listen to bubbling mudpots, watch the steam escape from a fumarole (named Big Boiler), marvel at the unusual multi-colored soil, and watch the boiling pools of water. WHOA!
Do note that the Bumpass Hell Trail was closed from early 2018 through September 2019 for updates, but it's good to go now!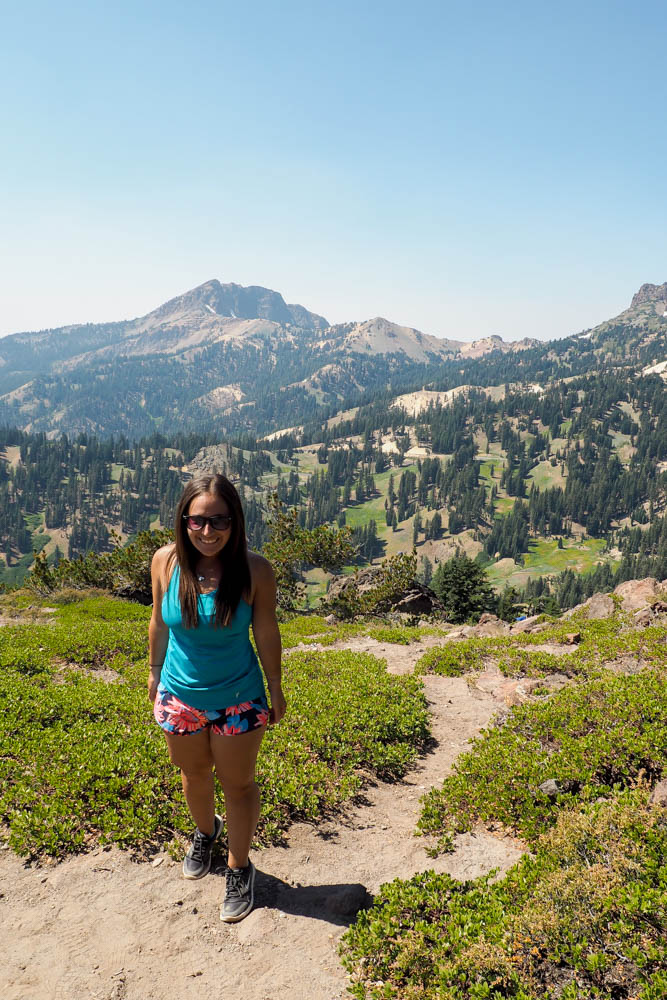 Being the park's largest hydrothermal area, it's not to be missed. We found the trail to be easy-moderate, and took us approximately an hour or so to get down to the boardwalk. Once you reach the boardwalk area, be sure to keep a watchful eye on any young children as the ground can reach astonishing levels of heat. You'll know when you're getting close – you'll smell the sulphur!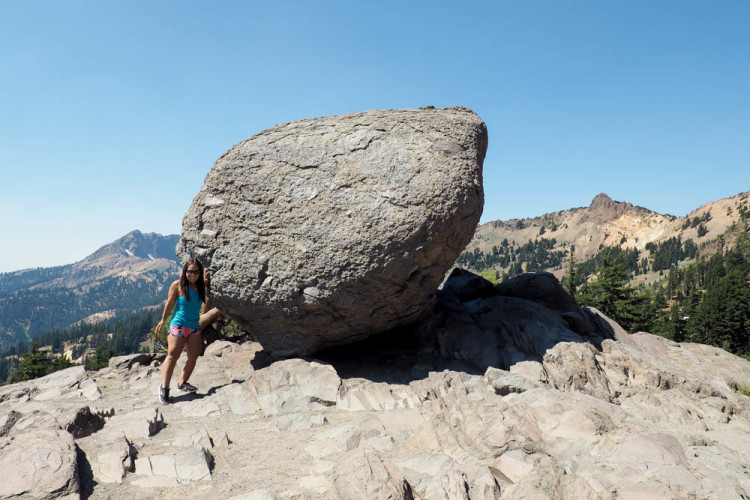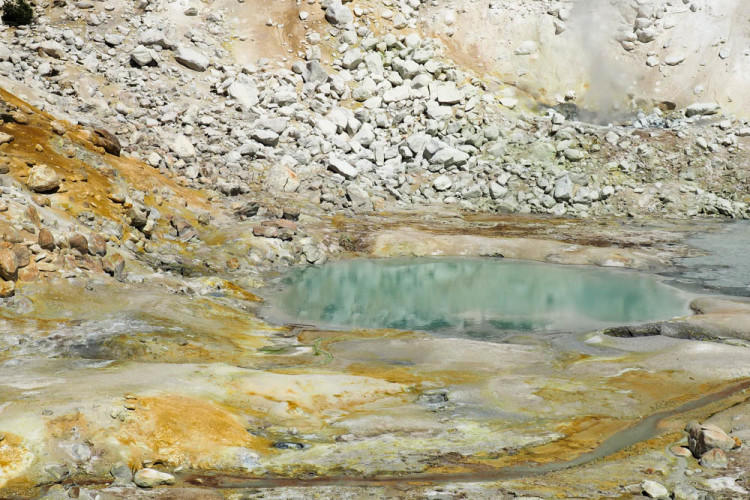 6. Once you've had your fair share of fumaroles, sulphur, and nasty rotten-egg smells, reward yourself with a lay down at Lake Helen. Should we have planned in advance, we would have eaten sandwiches by the lake, but all we had were cookies and other snacks, so we scarfed those down.
Lake Helen is located at the base of Lassen Peak, and since it's in a high elevation, you can expect to see snow and ice into mid-summer! Snowball fight anyone?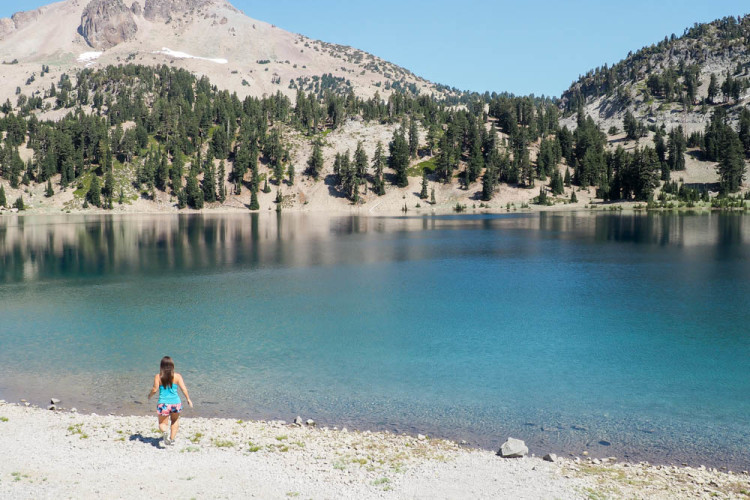 7. Interested in the history of Lassen National Park? The Devastated Area Interpretive Trail explains the 1914-1917 Lassen Peak eruptions on signs throughout, as well as show some amazing views of the destruction as well. The "trail" (if you want to call it that) is only a half mile, and can be done in 30 minutes or less, depending on how much you read.
8. End the long first day of your weekend in Lassen at Manzanita Lake, where you could easily spend hours! If you're just spending one day in Lassen Volcanic National Park like we did, you may not have time for the activities, but relaxing around the lake is beautiful as well!
Have more time? Go hiking, swimming, kayaking, and more! If your party isn't too tired, follow the 1.5 mile trail around the lake for picturesque views of the Lassen Volcano reflected in the lake!
The north end of the trail offers wonderful views of a multitude of peaks, including Lassen Peak, Chaos Crags, and Eagle Peak. Sadly, the husband had had enough and developed a terrible headache (due to poor planning of not enough food and water throughout the day), so we missed out on the north end views.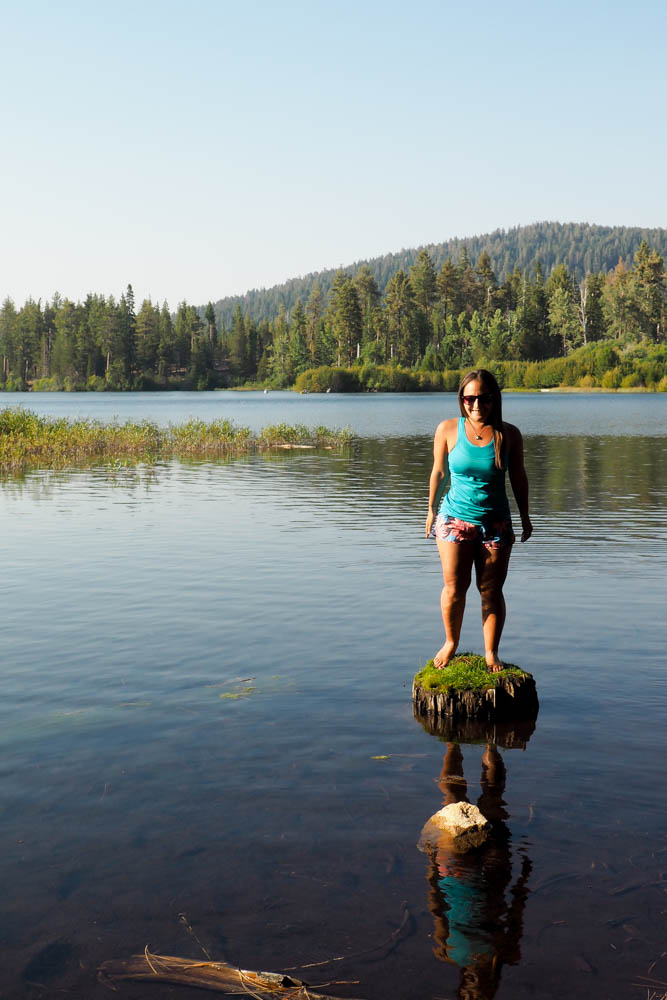 Day 2: Waterfalls Galore
Did you think this weekend in Lassen National Park itinerary would include an abundance of waterfalls? It'd be a crime to come all this way (ok, so it's not thaaaat far), and miss out on the following beauties. Spend the next day hoping from waterfall to waterfall, as there are lots to pick from today!
Wear or pack your bathing suit, but beware, the falls are chilly year-round, even in the 100 degree F scorching heat!
1. First stop of the day: Burney Falls! North of Lassen Volcanic National Park you'll find McArthur-Burney Falls Memorial State Park, which is a little over an hour (60 miles or so) from Redding/Anderson (where we based ourselves for the weekend). And if you've never heard of Burney Falls, you're in for a real treat (it's one of the most beautiful places in California in my opinion and one of California's biggest surprises) >> aka you need to get there ASAP.
Psst – don't miss Burney Falls! It's absolutely spectacular!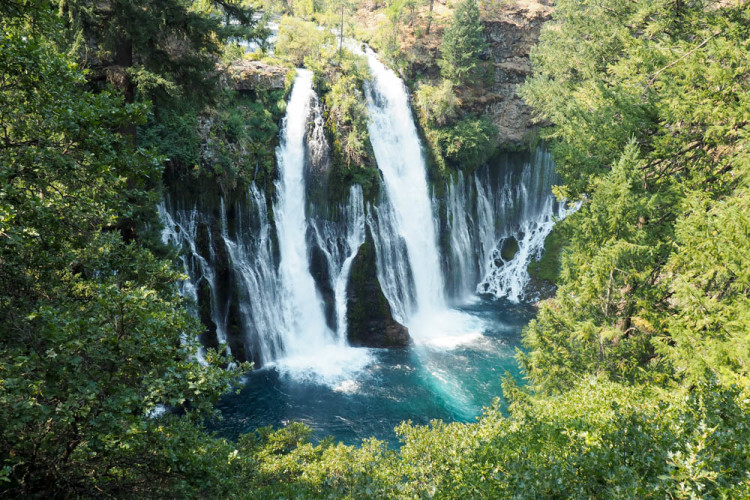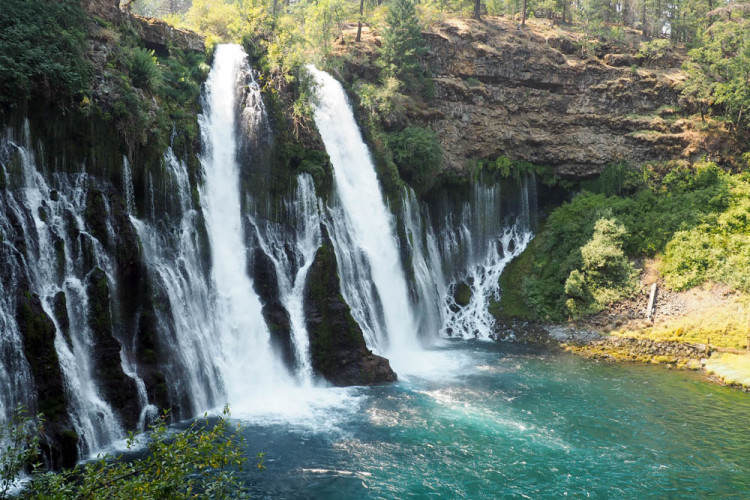 Once you visit you'll wonder why it's so undiscovered to most in the Bay Area and southern California. President Teddy Roosevelt even dubbed it "the eighth wonder of the world." – yes, it's that gorgeous at 129 feet high. I even dubbed it as one of the most beautiful places in California. I recommend doing the short loop hike that takes you down past the falls.
Bring a snack or two, sit on a rock overlooking the waterfall, marvel at one of the most spectacular cascades in the state (if not the whole country!), and enjoy the silence. Burney Falls was my favorite part of our weekend in Lassen National Park.
2. If you're feeling a bit sluggish from the intense heat/short hike, you just hit the jackpot. The next area, McCloud Falls, is a series of three waterfalls which you can either hike between on one long path OR by a short drive to each. This trio of waterfalls is for the lazy ones, and an absolute must-do when in the area.
Although all three waterfalls are worth the short treks from the parking lots, Middle Falls are the real head turner. And yes, each are easily accessible from the parking lot if you chose to drive between them like we did.
We just dipped our toes in the water at Lower Falls (the most crowded of the trio of waterfalls), but if you're brave enough there are cliffs you can jump off into the pool of the waterfall.
Middle Falls offers those spectacular views I was speaking of earlier, while Upper Falls travels down a small rock canyon, making the waterfall seem a lot stronger than the other two.
3. Haven't had enough of waterfalls yet? You're in luck because there's one more for today – Mossbrae Falls >> another gorgeous, not widely well-known waterfall in the middle of nowhere. I admit after seeing pictures of the falls online, I wish I dragged my lazy butt on the three mile round trip hike. The husband had a nasty headache, so I'll use that as my excuse. However, if you're not too tired, go!, as it's literally on the way back to Redding (where you'll most likely be staying).
With dozens of water trickles against a bright green mossy rock backdrop, I highly encourage this short trek if you haven't had your waterfall fix yet. It's important to note that the hike takes place on the Union Pacific Railroad, and technically, hiking to the falls via the rail track is considered trespassing and illegal. Go at your own risk, and be sure to listen out for the loud train hooter. But here's a picture for extra encouragement anyways ;):
4. If you aren't up for possibly getting fined, drive 20 minutes or so over to Castle Lake Road to get fantastic views of Mount Shasta with the city beneath it instead. That's what we were planning on doing. Unfortunately we visited during wildfire outbreaks, and the mountain was completely covered in haze and smoke, making the entire mountain invisible. But I've heard these views are some of the best.
Day 3: All Around Redding then Back to the Bay
Before you leave the area to head back to San Francisco, make sure you check out a few iconic spots in the town of Redding. We started the day bright and early in order to make it back to SF before dinner, and didn't feel rushed at all.
1. The Shasta Dam, across the Sacramento River is not to be missed! If you're especially interested and want to hop on a (FREE!) tour, make sure to head to the dam first thing in the morning, most definitely if it's a holiday weekend. It gets quite busy since it is in fact free, and free always equals swarms of people.
The architecture is pretty grand, and the Shasta Dam is the second largest in the states after the Hoover Dam in Nevada. Note that you should be able to get much clearer photos than we did, as the fires were heavily impacting the views that weekend.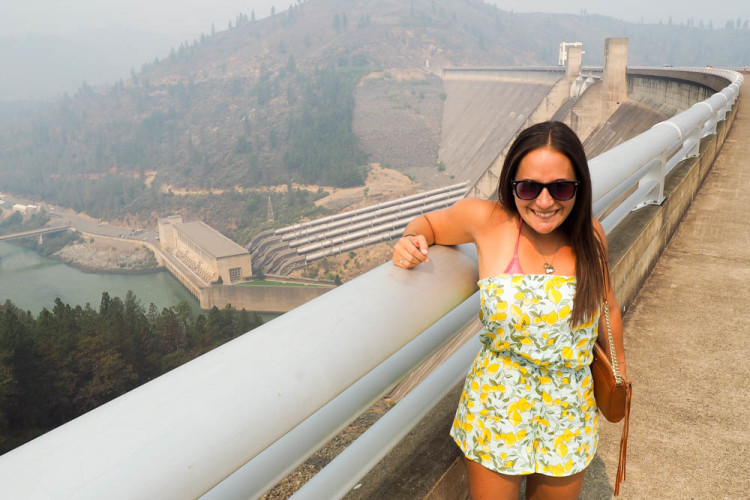 2. Sundial Bridge in Turtle Bay Exploration Park. Trust me, this ain't your average bridge. Designed by Spanish architect Santiago Calatrava, this functional work of art is pretty remarkable! Walk across the bridge over Sacramento River (yes, it's only open to pedestrians and is a whopping 700-feet) and take a bunch of photos on the glass block walkway and soaring white tower and suspension cables.
And yes, these two architectural components form a fully-functioning sundial and at certain times of the day, you can see the shadows which tell the time!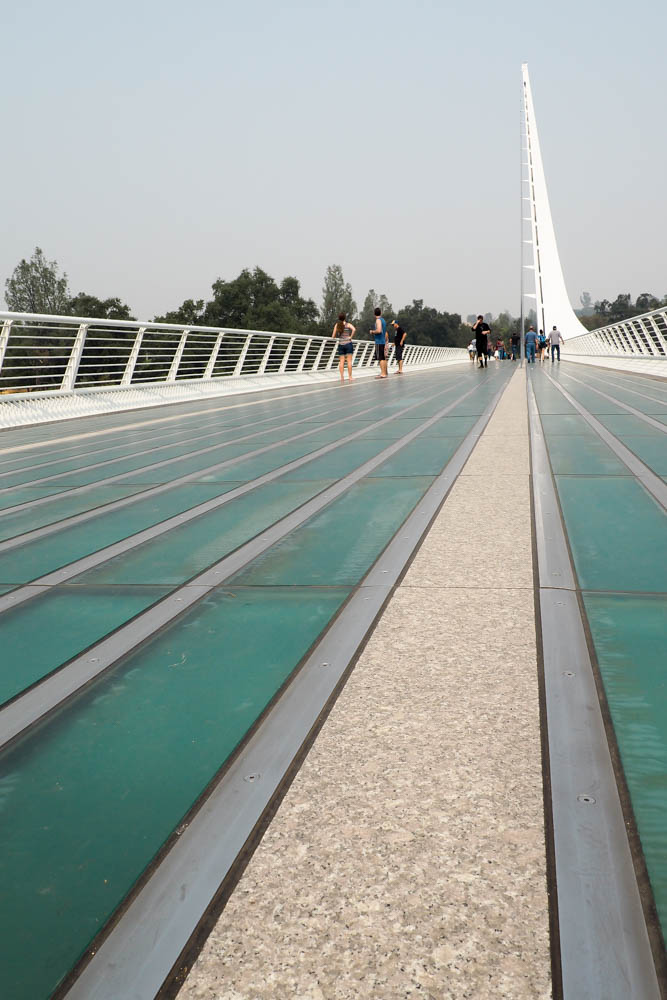 3. If time permits and you want to do some lounging before heading home, check out Shasta Lake. Lots of boating options, places to chill out, and just a beautiful coastline to enjoy for a bit to end your weekend in Lassen National Park.
So there you have it >> a waterfall-filled weekend, with patches of rotten-egg sulphur smells. 🙂
Have you been to this area north of San Francisco? What was your favorite thing during your weekend in Lassen National Park?
Photos via mossbrae falls sign | mossbrae falls | castle lake road