Headed to the Balkans and looking for the perfect Croatia itinerary (full of gushing waterfalls, tons of history, stunning Mediterranean islands, and fresh, fresh seafood?) I just returned home from an absolutely wonderful 2 weeks in Croatia, and can't wait to share more about this beautiful, yet diverse country in this Croatia travel blog! Enjoy!
Croatia is the country that I finally learned to relax and slow down a bit. Sure, I still did (almost) allll the things I had originally planned on doing, but those hot sticky days forced me to kick back, throw on my bathing suit, and just lay on my beach towel and float in that sweet, sweet refreshing Adriatic Sea.
I lived my best life in Croatia, and I'm longing to go back already. You'll fall in love with the country too, you'll see. Psst – it's kinda hard not to.
But before we get into the nitty gritty of each of the 14 days in Croatia, it's a good idea to gather some information about visiting first, which I supplied for you below!
Overview of this 2-Week Croatia Itinerary
Day 1: Zagreb
Days 2-3: Plitvice Lakes National Park
Day 4: Zadar
Day 5: Krka National Park
Days 6-7: Split + Day Trip
Day 8: Omis
Days 9-10: Mostar (Bosnia)
Extra Days: Kotor, Montenegro (!!!)
Croatia Travel Tips
WHEN TO VISIT CROATIA:
Thankfully, there's really no terrrrrible time to visit Croatia. You'll find a Mediterranean-like climate on the coast (with warm summers and mild winters), yet more temperamental weather as you go inland (hot hot hot summers and potential for freezing temps in January and December).
But less desirable weather just means a fewer chance of crowds and significant accommodation savings. All depends on what you're looking for during your trip!
Summer/Peak Season: Peak season on the Adriatic Coast is between July and August, and with school out, you can expect to visit Croatia with tons of other tourists. However, if you're looking for the best possible beach weather, this is definitely the best time to visit Croatia. Just know you'll be sharing the sand with eeeeeveryone else.
Something else to keep in mind: July and August are notorious for it's sweltering heat, so make sure to drink lots and lots of water, and dress appropriately (light, cotton clothing with bathing suits underneath for quick dips in the water).
As the summer months are the most popular to visit, it's also the priciest. Plan accordingly and understand that you'll have a hard time finding good deals on accommodation.
Winter/Low Season: Winter (the months from October to April) bring along way less tourists compared to the jam-packed summer. Want the country all to yourself? Visit during December or January – you won't find many tourists. However, note that temperatures are definitely too chilly for swimming, so you may want to deter from this Croatia itinerary and spend more time inland instead of on the coast.
Shoulder Season: In my opinion, the best time to visit Croatia is during the months of May/June and September/October, which are in fact shoulder-season. The weather is still clear and sunny, and warm enough for swimming and sunbathing comfortably.
Tourist facilities will be in full swing, but you won't find the masses of tourists during these months. Basically, it's the best of both worlds.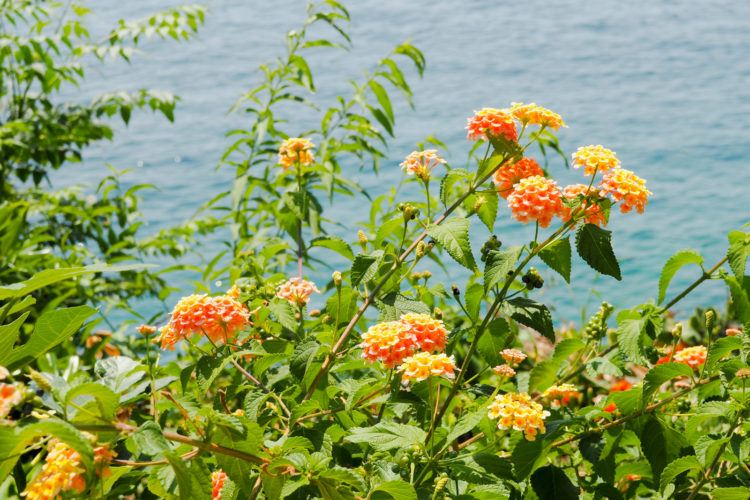 MONEY AND EXCHANGE RATES
Many visitors to Croatia are confused about the country's currency. Let's set this straight from the get-go: Croatia currently uses the Euro, just like much else of Europe.
The currency of Croatia was the Croatian Kuna (HRK) from May 1994 to December 2022, but it was recently replaced by the Euro in 2023. Croatia is now part of the EU, and the Euro is now the official currency of Croatia.
When traveling around Croatia, it's wise to take along some cash (euro) as credit cards are not accepted everywhere, especially in local family restaurants and smaller shops.
How to get the best exchange rate: I always suggest you take out cash at ATMS and never ever through an exchange desk or beforehand in your home country. ATMs provide the best exchange rate, always. I always take out cash at an ATM at the airport upon arrival in the new country I'm visiting.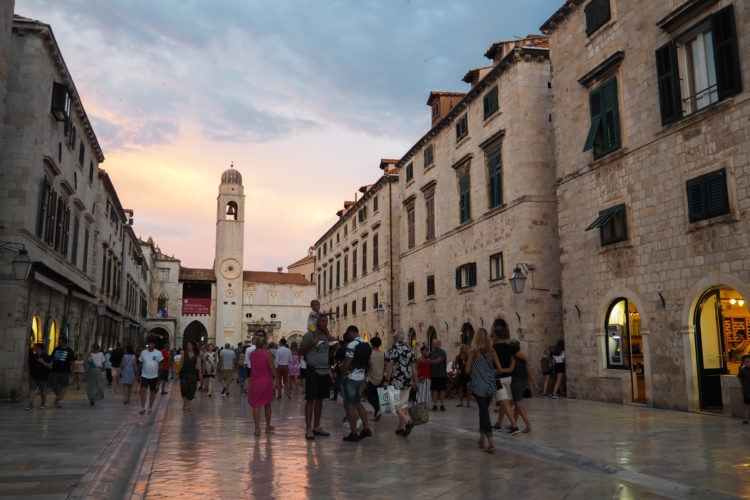 HEALTH AND SAFETY:
Not many visitors know this, and many actually stick to bottled water, but Croatian tap water is completely safe to drink. Believe it or not, it's one of the cleanest in the world, being the third largest source of drinking water in Europe (per capita).
No vaccinations are required to enter Croatia.
Safety wise, Croatia is at a level 1 according to the U.S. Department of State, and visitors should "exercise normal precautions in Croatia." Check this website out for further information regarding safety in Croatia.
As in all major cities around the world, never flash expensive electronics (keep them stored away and out of sight) and be aware of your surroundings at night.
VISAS:
Now that Croatia is part of the EU, requirements for entering the country have aligned with the rest of the union.
No visa is required for U.S. citizens traveling to Croatia as long as a valid tourist passport and proof of onward travel is in possession. Visitors can spend up to 90 days in Croatia in any 180 day period. Be sure that your passport is valid for at least three months after your planned date of departure from Croatia.
Information on the Schengen Zone: As of January 1, 2023, Croatia is now part of the Schengen area. This means that if you're planning a long trip to Europe, you'll now need to count your time in Croatia as part of your 90 days.
As of January 1, 2023, Croatia is now part of the Schengen area. What does this mean? If you received a Schengen visa (ability to visit the 26 countries in the "Schengen States" for up to 90 days within a consecutive 180 days), you will now need to use your days in Croatia as part of these 90 days. You can travel to countries in the Schengen area for up to 90 days in any 180-day period without a visa.
HOW TO GET TO CROATIA:
Luckily for all of us, there are a variety of popular international flight routes from the US to Croatia. Major international airports and where most visitors to the country arrive are in either: Zagreb, Dubrovnik, or Split. If you find a good flight deal to any of these cities from your home airport, book it – and then figure out the rest of your transportation in Croatia.
I swear by Skyscanner and Google Flights and almost alllways find the cheapest possible flights on one of those sites. Since I was visiting Croatia after my 10-day Norway road trip and Baltics Cruise, I ended up flying from Copenhagen for about $170 (one-way).
Expect flights from New York City to Croatia to be roughly $700-$1000, and even cheaper if your dates are flexible (aka avoiding holidays // not visiting in the prime summer months).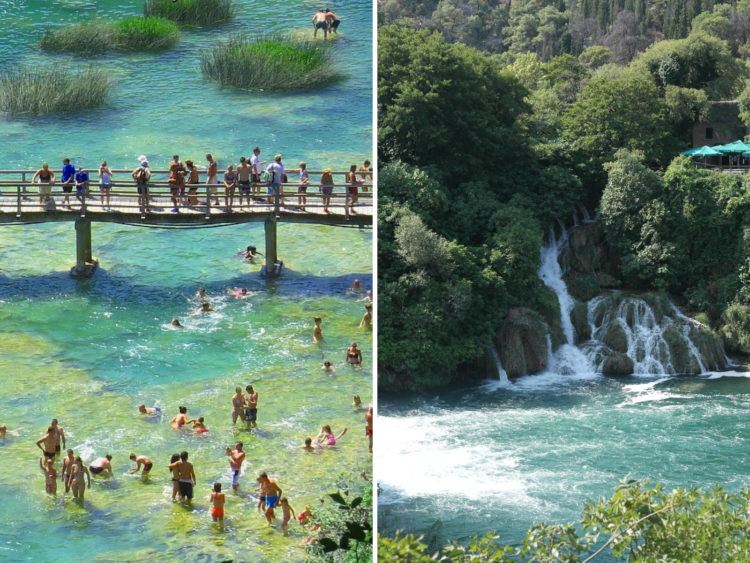 Note that many flights will require a layover, as there are not as many non-stop flights to Croatia as there are to other places in Europe, say London, Oslo, or Reykjavik. It's always wise to check these (possibly cheaper) non-stop flights, stay a night or two in the city, and then book a cheap ticket to Croatia. It really just depends where you're coming from.
But just know that once you're in Europe, traveling around the continent is super easy and relatively inexpensive. If you don't want to spend as much time here, you can always spend one week in Croatia, then head off to another European city!
Depending on the exact Croatia itinerary you decide upon, you may want to get two one-way flights (flight to Zagreb, flight returning home from Dubrovnik) so you don't need to backtrack at the end of your trip.
However, it's always wise to check flight prices, as round trip flights are known to be less expensive than one-ways. But still check – booking two one-way flights comes out cheaper for me plenty of times.
WHERE TO STAY IN CROATIA:
You'll want to make sure you stay in areas that are located close to the main draws of the city, as you don't want to rely on your car since roads can be tiny and difficult in the tourist-ridden towns. In addition, this is a fast-paced itinerary, so staying within (or really close to) the city center will help with reducing travel times to the hot spots each day.
Also note that this trip to Croatia is a great time to stay in some higher-end hotels that you may not normally! In some spots, you'll find that accommodation is less expensive than other areas in Europe, although this is starting to change as Croatia grows in popularity year after year. Go now, there's no reason to wait!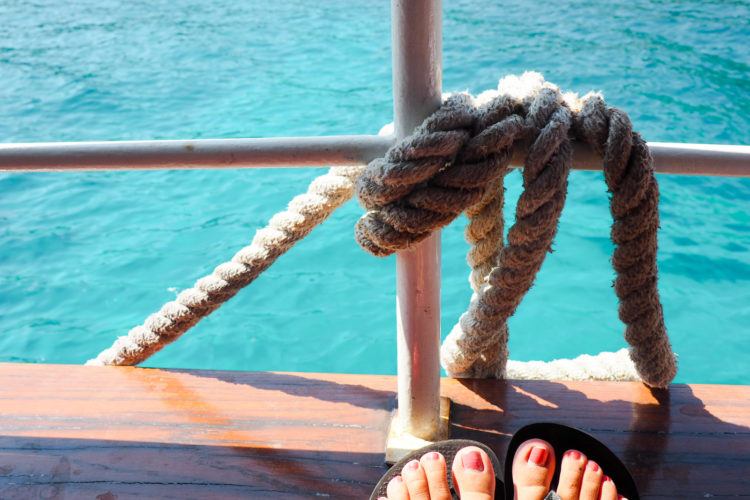 WHAT TO BRING TO CROATIA:
Because of its hot, sticky climate, you'll want light, airy clothing.
Comfy footwear- you'll be walking ALOT!
Sandals/bathing suits for the islands
Quick dry towel
And now, what you've been waiting for, a complete 2 week Croatia itinerary, with some customizable ideas below depending on your travel style.
Croatia Itinerary Options
There are actually three different ways you can do this itinerary:
by renting a car and driving around the country yourself
taking public transportation (primarily the bus) from north to south (or reverse if you prefer)
basing yourself out of a few key cities and doing day trips to other spots
I chose to do the latter (#3) for a few reasons:
I was traveling solo, didn't want to rent a car myself, and hate the hassle of switching accommodation almost every night. I'd rather stay in a few less hostels/hotels if it means less times I need to pack up all my belongings and go.
Plus, I like to really get the feeling of a place if at all possible, and one/two night/s makes it difficult to do so.
If my husband had done the trip with me (he had to go back to work after our Norway road trip and Baltic Cruise), I have a feeling we would have spent the two weeks in Croatia by driving from place to place ourselves.
Psst: → All my female solo travel tips over here (useful for you men as well, but it's catered towards women, just FYI). 🙂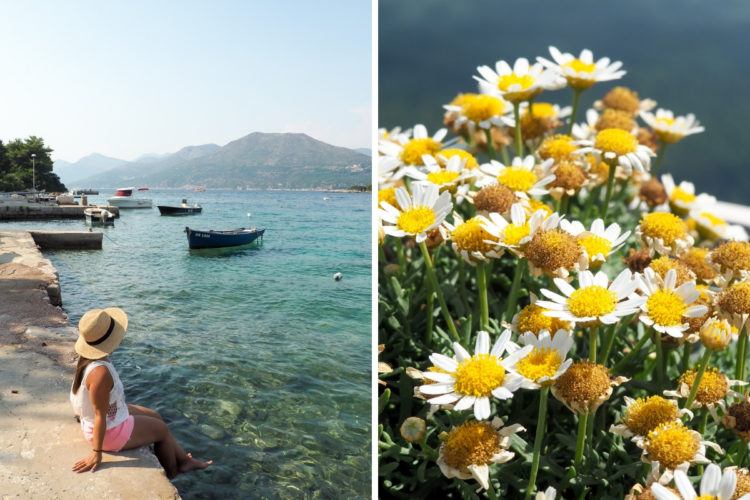 Throughout this Croatia itinerary I'll share tips on how to go about these three different suggested options. The plan below will travel from North to South by renting a car, as I feel that's the best possible way to cover the most ground without spending an exuberant amount of unnecessary hours on a bus. The options below will still travel to the same destinations, but possibly in a different order.
2 Weeks in Croatia By Bus / Public Transportation
Travel times via bus will notoriously take longer than driving the roads yourself. However, if renting a car is not an option (or you just realllllly don't wanna drive on your vacation), the buses in Croatia are a decent alternative.
I took buses from Split to Mostar, and then from Mostar to Dubrovnik, and found them relatively comfortable with USB ports, air conditioning, and padded seats. Check bus times and buy tickets here. I bought my bus tickets a few days in advance and found no problems with availability.
You may even be able to buy tickets at the bus station right before boarding, but I like to know for a fact that I can take the exact bus I want. If possible, buying tickets in advance alleviates some stress (at least for me!)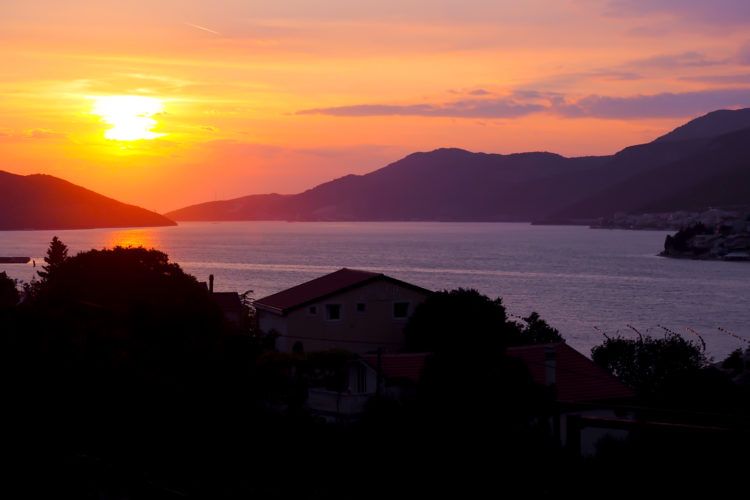 How to Do This Exact Croatia Itinerary By Basing Yourself In a Few Spots (What I Did)
As noted earlier, I chose to stay in a handful of locations (5 to be exact), instead of bouncing around every night.
First things first, and for maximum transparency (because that's what I'm allll about), I visited Zagreb, Pag Island, and Zadar on my first trip to Croatia a few years back, then completed this itinerary in July 2018 when I finally had more time to head back to this ravishing country.
Do I think this Croatia itinerary is possible in one long 2-week trip – yes, very much so! In order to minimize your different hotel stays, plan to sleep in Zagreb, Zadar, Split, Mostar, and Dubrovnik. Sure, still a little moving around, but way less than spending 1 night in each location below.
Instead of going directly from North to South, you'll be bouncing around a bit taking day tours (which you can either drive to yourself if you've rented a car or opt for organized bus tours to minimize your driving time/haven't chosen to rent a car). The following modifications are fantastic if you plan on exploring southern Croatia, and are skipping Zagreb and Zadar.
How to Modify This Itinerary to Eliminate Hotel Switches
Begin your 2 weeks in Croatia by heading straight to Split (or fly/bus from Zadar). From Split you'll take day trips to Krka National Park and Plitvice National Park. Note if you are coming from up north, these day trips will have you backtracking quite a bit (meaning some extra bus time).
OPTIONAL ADDITION TO CROATIA ITINERARY: Head to Mostar from Split for two nights. Don't fret it you only have about 10 days in Croatia and don't have enough time to stay overnight here. Dedicate a day in either Split or Dubrovnik in order to take a day trip to Mostar (relatively same distance between the two cities).
Head to Dubrovnik (from either Mostar or Split, depending on your preferences). From Dubrovnik, you'll have options to take day trips to Lokrum Island, the Elafiti Islands, Mljet National Park, and Kotor (Montenegro).
Note that while two weeks in Croatia is a good amount of time, the country is somewhat large and has a looooot to offer, including a whole multitude of green mountainous islands and aquamarine seas.
You'll be able to see a lot if you follow this Croatia itinerary, but understand that sacrifices will have to be made. This Croatia itinerary is perfect for the first-time visitor to the country, as it covers the major cities, popular National Parks, and a few spectacular side trips (please oh please don't miss Mostar – it's my favorite).
And if you only have 10 days in Croatia, plan to probably skip Mostar, and choose your day trips extra wisely.
DAILY 2 WEEK CROATIA ITINERARY
Day 0: Fly into Zagreb
As mentioned earlier, I rely on Skyscanner and Google Flights when checking for flights to get the best possible prices. And if you're coming from the states (JFK to Zagreb or Dubrovnik), expect flight times of roughly 11 hours. However, understand that getting there will take even longer with layovers and such. Check out this post for helpful tips on how to keep yourself entertained during your long flight.
Where to Sleep on Day 0: Zagreb
Recommended accommodation options: Esplanade Zagreb Hotel // Hilton Doubletree // Hotel Dubrovnik
Day 1: Explore Zagreb
Spend your first official day exploring Croatia's vibrant capital city, Zagreb. And being the largest city in Croatia, you can bet there's enough to do here to fill an entire day!
I promise the city's charm will get you right away with it's enchanting medieval old city, unique mix of Austro-Hungarian and Socialist architecture, and plentiful cobblestone streets. No matter what time of year you visit, Zagreb will always be lively since it doesn't rely on the coastal beaches to attract visitors.
Just note that the rest of this itinerary is best traveled in the summertime when the sea is warm and the entire country is open for business.
Although only one day is dedicated to Croatia's capital city, make the most of it and check out these top sights:
Main city square (Trg bana Josipa Jelacica): Placed just below the Old City, the main city square is a great place to start your day in Zagreb. Here you'll find the Ban Josip Jelačić statue and waterfall. Don't miss climbing up the 'Zagreb Eye' for fantastic panoramic views of the entire city – be sure to bring your camera!
Museum of Illusions: If you're looking for something funky to do in Zagreb, be sure to check out the Museum of Illusions. Around every corner there's a spatial illusion that will easily trick your brain! Again, like I said before, bring your camera!
Upper Town: But whatever you decide to do today, don't miss a ride on the 1-minute funicular railway from Tomićeva ulica all the way up to the Upper Town. Yes, the ride is short, but it saves you an unnecessary uphill climb.
Here you'll be blessed with narrow streets and famous sights, including the Lotrscak Tower (come here at noon to see the cannon being fired), the twin-spired Zagreb Cathedral, and 13th century St. Mark's Church (you can't miss it with its colorfully tiled roof). If you're lucky, you may even catch traditional folk dancers performing outside of the cathedral.
Tkalciceva Street: And when hunger strikes, head to this pedestrian friendly street to find tons of outdoor cafes, bars and restaurants. Take your pick – it's all good.
— Hot Tip: Uber offers super cheap prices in Zagreb, so take advantage!
Once you've had enough of the capital, head over to Plitvice National Park, where we'll be staying for the next two nights. It'll be about a 2 hour drive or so.
Where to Sleep on Day 1: Plitvice Lakes
Recommended accommodation options: Hotel Jezero // Hotel Bellevue // Hotel Plitvice
Day 2: Plitvice Lakes
Whatever you officially decide upon when planning your Croatia itinerary, promise me you'll include a visit to Plitvice Lakes. Being one of the oldest and largest national parks in Croatia, it's not to be missed, and it's even been added to the UNESCO World Heritage list.
Prepare to be amazed, as the park is world-famous for it's 16 terraced lakes, all joined by spectacular waterfalls, that extend into a limestone canyon (yes, really). You'll come across walkways and hiking trails, a series of cascading lakes of crystal clear turquoise water, tons of waterfalls (both large and small), and options to rent a boat and spend some time on the water.
And don't miss the most famous and most impressive waterfall of them all: Veliki Slap, at 78m high it sure is a beauty.
Plitvice Lakes National Park can be a bit confusing for first-time visitors. The park is comprised of 12 upper lakes and 4 lower lakes, which are linked together by an electric boat ride (free of charge). There will be plenty of trails to follow, including long stretches of boardwalk, rocky steps, and gravel/dirt roads, which weave between and around the lakes.
Visitors can also take a land train near the lower lakes to reach the upper lakes (and back again), which is again, included in the entry fee.
Let's talk about the water for a hot second. Yes, it's really that blue and clear and sparkly. There's really not much like it. And combine lush greenery and the unique teal color of the water, and you've got yourself more photo opportunities than you can count.
Top Tips for Visiting Plitvice Falls:
Note that the park gets exceptionally crowded in the popular summer months (like, insanely crowded), so prepare yourself mentally beforehand. If you join a tour, they'll be able to steer you away from the most crowded spots in the park (changes daily), as they are known to communicate with the park rangers themselves. If you're headed to the park yourself, you may choose to sleep in the area the night before to beat the crowds.
Be sure to carry around some snacks with you as there aren't a ton of food options within the park itself (a few restaurants and food stands, but nothing remarkable). And trust me, whatever you do find will surely be on the pricey side.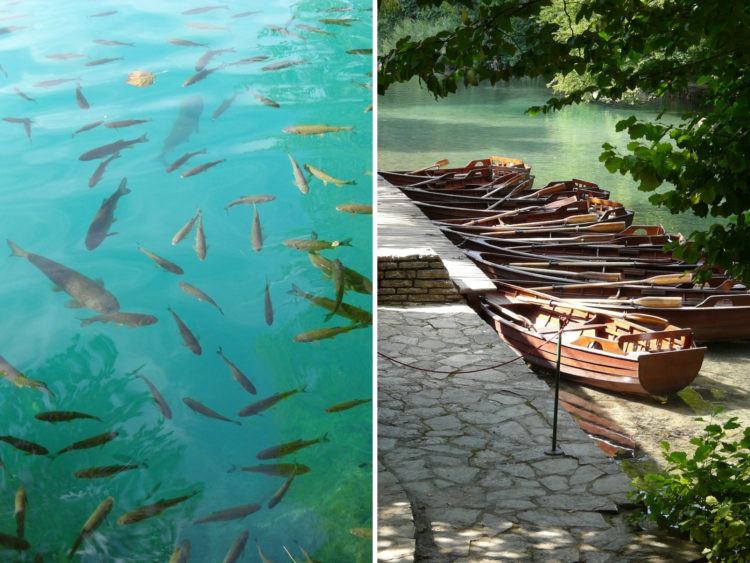 Wear proper shoes, preferably skid-proof. I was the only silly one in my group who thought sandals would be completely fine. While I thankfully didn't trip and fall, I was a bit hesitant walking on some of the dirt hiking trails (there's lots of rocks) and the wooden bridges on the walking path (they get rather slippery). Also, you'll most likely do quite a bit of walking, so wear something comfortable as well (we walked around 7-8 km in that one day).
Where else can you find turquoise lakes, picturesque landscapes complete with waterfalls, With all that being said, just go. This place, despite all the crowds, really is pretty spectacular.
Alternative Options: Do a day trip from Split or Zadar to Plitvice
Recommended Tours below:
Where to Sleep on Day 2: Plitvice Lakes
Recommended accommodation options: Hotel Jezero // Hotel Bellevue // Hotel Plitvice
Day 3: Morning in Plitvice // Afternoon + Night in Zadar
If you're navigating around Croatia yourself (either by bus or private car), take advantage of the quiet early morning in Plitvice, and head back to the park! I promise you'll be able to get even better photos today.
Once you've had your fix of turquoise blue waters and gushing waterfalls, start making your way towards Zadar, about an hour and a half drive from Plitvice.
How to Get to Zadar (from Plitvice)
Driving: ~1 hour, 30 minutes
Plan to spend the rest of the afternoon and night in Zadar. Find ideas of things to do on Day 4 of this 2 week Croatia itinerary.
EXTRA PIT STOP: PAG ISLAND and ZRCE BEACH for some EPIC PARTYING and/or extra exploring.
If you're looking for some epic nightlife, and boy do I mean epic, make the trek over to Pag Island (roughly an hour from Zadar). You'll have all day tomorrow to explore the charming little town of Zadar, so don't worry about missing out on the town if you'd like to spend the rest of the day exploring Pag and partying on the pebbly beach of Zrce.
Pag Island is the ultimate party haven, and you'll find night club after raving night club of expensive drinks, loud music, and parties on Zrce Beach. It's absolutely crazy and an absolute must if you're looking for an epic night out. Those Croatians sure know how to party, that's for sure, and their club and beach parties don't end until the wee hours of the morning.
Just make sure you figure out accommodation on Pag Island ahead of time if you're looking to get some rest. If not (you crazy thing you!), take the bus back to Zadar the following morning and catch up on sleep before exploring the city.
Where to Sleep on Day 3: Zadar
Recommended accommodation options: Art Hotel Kalelarga // Hotel Bastion // Hotel Vanera
Day 4: Explore Zadar
The first city on Croatia's Dalmatian coast we'll be properly exploring is Zadar, the oldest inhabited city in the country, known for its absolutely spectacular sunsets to the soothing sounds of the sea and fine dining consisting of fresh fish. And with it's old town walls being situated on the Adriatic Sea, you can bet there's a whole slew of activities for the day, including some interesting art installations seen nowhere else.
But don't fret; you can certainly get all this done and more in only a day's time. We kinda liked how there wasn't a tooooon of stuff we wanted to do here, as the previous days had been rather hectic and we wanted to save our energy for the rest of the trip. You won't need your car today, nor will need to reply on public transportation, as the most popular sites and attractions are all within walking distance.
Some Zadar highlights:
Zadar Cathedral: Also known as The Cathedral of St. Anastasia, this Roman Catholic church is not to be missed as it's the largest of its kind in all of Dalmatia! But whatever you do, don't miss the climb of 180 steps up St Anastasia's Bell Tower for an absolutely incredible view of the entire city and surrounding waters.
That tight climb will be worth it and then some, and it only costs 15 kuna to head all the way up (and there's no time limit once you reach the top either!) A great place to start your day.
Zadar Old Town: Spend the majority of the day wandering around the Old Town, soaking up the culture and stunning architectural pieces (including Roman, Byzantine, and Venetian) of the city. Be sure to wear non-slip shoes as the ground is covered in gleaming white stone. There are tons of restaurant and cafe options here, so you can be sure you won't go hungry.
Sea Organ (Morske Orgulje): End your day here. This is essentially a HUGE harmonica of sorts that relies on the sea waves to produce its own music! So yes, it's kinda like an experimental instrument of the sea (complete with hidden tubes underneath the large marble steps).
You'll commonly find plenty of visitors and locals sitting on the steps at sunset just listening to the beautiful sounds. Join them! You won't want to leave → you'll see!
Be there half an hour before the sunset and you'll be pleasantly surprised. Do note that the more active the ocean, the louder the sound the organ makes. And make sure to wait around until after dark as well – that's when the colorful lights of the Greeting to the Sun Come come on making the experience even that more astonishing!
The Greeting To The Sun: This art installation is basically a giant, solar-powered public dancefloor, with dancing lights appearing as soon as the sky is dark enough! To celebrate the magnificent sunsets I briefly spoke to previously, artist Nikola Basic built this spectacular light-filled disc on the edge of the Zadar waterfront for all of us to enjoy.
And visitors are actually encouraged to interact with the installation → Run, dance, jump, play around on it. The lights are absolutely mesmerizing, full of color and dazzling patterns. You'll find plenty of venders on the boardwalk to grab something to eat and drink.
Just make sure to wait until night to visit to see it in all it's glory, as there's no point seeing it during the day (it won't look like much at all). Note that the installation is currently under construction (the solar panels are being repaired), and is not scheduled to reopen until Summer 2019.
Head to Skradin or Sibenik (for Krka National Park) at Night (it'll take about an hour)
Where to Sleep on Day 4: Accommodation near Krka National Park. You can either choose to stay in Skradin (closer to the park) or Sibenik (where there is more to see and do). Just know you'll need to take a bus to Krka National Park from Sibenik, which won't be a problem as this is a very popular route.
Recommended accommodation options: Villa Marija (Skradin) // D-Resort Sibenik // Amadria Park Ivan (Sibenik)
Day 5: Krka National Park
A bit disappointed that you couldn't swim in Plitvice Lakes impeccably clear and blue waters? Well, my waterfall loving friends, you can at Krka National Park! Located between Split and Zadar, Krka is the perfect midway stop between the two on your Croatia road trip.
In order to make it to Krka, you'll need to either take shuttle type boat from Skradin, or a public bus from Sibenik. Both will be crowded, but I heard that the lines for the boat are usually faster.
If you're visiting during the busy, busy summer months, you'll want to go early in the day to avoid the crowds. Just like Plitvice, Krka National Park gets exceptionally busy, but everyone has the same aim: to cool down.
Although the park is known for its series of 7 waterfalls, visitors are only allowed to swim in one: Skradinski Buk. Yes, the waterfall will be absolutely packed, but just know this going into the park and you won't be surprised.
Thankfully the park has devised a system where the trail is "one way", which definitely helps a lot when it is crowded. This walk through the trail is downright stunning, and you feel like you are in a peaceful Croatian jungle (amongst thousands of your best friends). 😛
Spend the day basking in the sun, playing around in the waterfall (be careful as the rocks are slippery), and walking along the boardwalks admiring the other waterfalls. You can walk as fast or as slow as you want, and with the wooden boardwalks not being too long, there's no need to rush.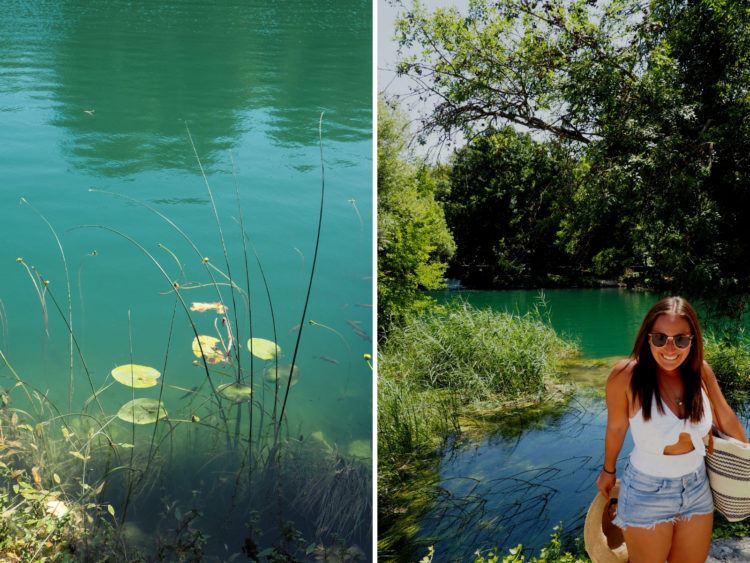 Note that the water isn't easily accessed, and you'll need to climb over some rocks and streams in order to get to the base of the waterfall where the lake is situated. People with mobility problems may have difficulty getting into the water. If all else fails, just find a place to sit and relax and watch the scenery. Life could be worse.
Psst: If you join a group join, the ticket price will be significantly cheaper. I think I only paid about 40 kuna instead of 150kuna (~20 euro/$25USD).
How to Get to Split (from Krka NP): Driving: ~1 hour, 30 minutes
Where to Sleep on Day 5: Split
Recommended accommodation options: Cornaro Hotel Split // Dioklecijan Hotel // Jupiter Luxury Hotel
Day 6: Split
With a backdrop of the rugged Dalmatian mountains and the stunning cerulean Adriatic Sea, any Croatia itinerary isn't complete without a stay in Split. And although it's emerging as one of the must-sees in the country (meaning more tourists and higher accommodation prices), it's still worth a quick look around.
Yesssss, you made it to Split, one of the most popular towns on Croatia's Dalmatian Coast, known for its stunning beaches and fortresslike complex at its center, Diocletian's Palace.
And although it's wise to base yourself in Split in order to take advantage of the numerous day trip possibilities if you aren't renting a car (Plitvice, Krka, Hvar, etc), you can really fit so much into just one full-day in the city itself. And if you are renting a car, be sure to park it for the duration of your stay, as you'll be able to visit all the top sights on foot.
Here are my top recommendations on how to spend your one full day in Split:
Diocletian's Palace: Any visit to Split wouldn't be complete without a morning spent at this ancient palace, as it's easily the main attraction of the whole city. Composed of lustrous white stone and more impressive columns than you can count, it really is a beauty.
By looking at the grand cathedral, you'd never think it was built at the turn of the fourth century AD!
However, it's actually one of the best preserved monuments of Roman architecture in the world! And yes, you guessed it, this fortress-like structure was built for the Roman Emperor Diocletian, but who could have known that?! 😉 In the middle of the palace you'll find the center courtyard, known as Peristil Square.
Wander the Old Town: This maze of streets and cobblestoned lanes that surround Diocletian's Palace is full of cafes, restaurants, and the impressive Old Town clock. Make sure to look up! Don't miss People's Square (Narodni Trg), which is the heart of the Old Town. And if you're visiting the palace, you literally can't miss the Old Town, as it's right there.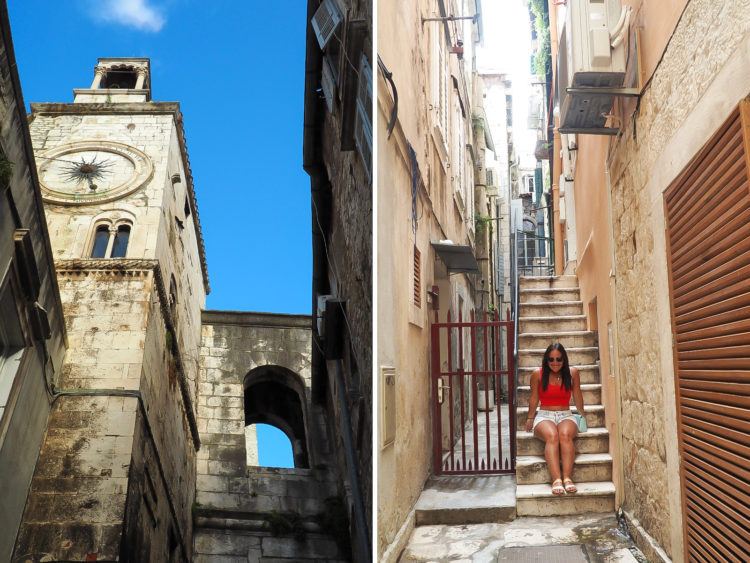 Wander the markets: Green Market and the Fish Market are the two you should aim to see today. Green market is piled high with allll the fresh produce you could want (as well as flowers, clothes, and some souvenirs), while the fish market is loaded up with fresh fish caught that morning from local fisherman (but I'm sure you could have guessed that much). Picnic anyone?!
Stroll along the Riva: Split's seaside promenade (known as the Riva) is covered with colorful buildings, palm trees, and outstandings Adriatic Sea views. It's a popular place for a stroll so it does get busy, but grab some gelato, plop yourself on a nearby bench, and take in all the people-watching opportunities.
Hike Marjan Hill or Climb the Bell Tower of St. Domnius Cathedral: Ready to get a bird's eye view of the city? You're in luck, because you've got two fantastic and relatively easy options. Marjan Hill is accessed via a whole boatload of stairs, but don't worry, the panoramic views of the city, harbor, and surrounding mountains are worth it and then some.
After the slightly strenuous climb, you can order a local beer at the top and forget alllll about that horrific climb (it's not really thaaat bad, just don't go in the scorching heat like I did, choose to go a bit later in the day – I will just being silly; it's not advised).
The Bell Tower is equally as difficult but just as rewarding, with a steep and narrow staircase leading visitors to the top. I decided to hike Marjan Hill in order to do so at my own pace and grab something to drink at the top, but your choice!
Nights in Split: And while you're in Croatia's second most populated city, promise me you'll spend your nights wandering around the tiny cobblestoned streets, stuffing your face with fresh seafood dinners. Do it for me. 😉
One of my best meals was spent drinking freshly squeezed fruit juices (the chef literally scoured the kitchen for fruit because they were running low and he could tell how badly I wanted some) and some branzino. Mmm I'd go back just for that.
Where to Sleep on Day 6: Split
Recommended accommodation options: Cornaro Hotel Split // Dioklecijan Hotel // Jupiter Luxury Hotel
Day 7: 5 Island Tour (including Hvar) from Split
Well, you don't really have many transportation options today, since we're doing a bit of island hopping!
Today you can either choose to spend the whole day on Hvar, or take a 3 or 5 island day tour, including the Blue Cave and Green Cave (which I highly recommend). Hvar, Biševo (location of the Blue Cave), Vis, Ravnik and Budikovac will be options of where you'll stop, and the tours will keep you busy, busy, busy!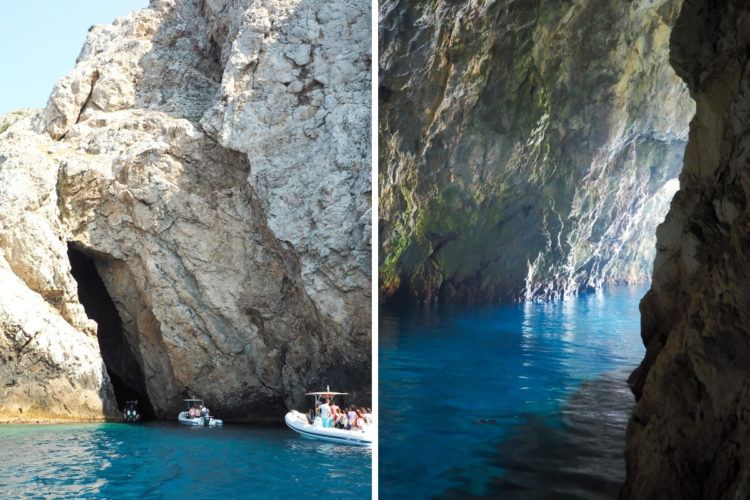 The Blue Cave is absolutely extraordinary, a natural phenomenon which you won't believe exists until you're there soaking it all in yourself. Your skipper will buy tickets to the Blue Cave, and once it's your groups turn, you'll be transferred to a separate, tiny vessel in order to make it through the narrow crevice opening of the cave!
Note that it's particularly difficult to take photos inside, and I found that my video turned out better than the still photos.
Also included in the tour is snorkeling in a turquoise lagoon, which we did in order to wait out our time for the Blue Cave. The water is so crystal clear, it's absolutely insane.
The tour also docks at Hvar, where you'll have time to wander the narrow streets of the tiny town at leisure and walk up to the castle for impeccable views of the island below. If you want to see a lot during this one day on your 2 week Croatia itinerary, book the 5 Island Tour. It's a busy, busy day for sure, but you're able to squeeze in a lot.
Recommended tours to the 5 islands here:
Where to Sleep on Day 7: Split
Recommended accommodation options: Cornaro Hotel Split // Dioklecijan Hotel // Jupiter Luxury Hotel
Day 8: Ziplining in Omis (Croatia), bus to Mostar (Bosnia)
How to Get to Omis (from Split): ~40 minutes to Omis, additional 2 hours to Mostar
With Omis being the country's adventure capital, there's no better place to test your adrenaline rush. Start your day off with this adrenaline filled activity, just forget the huge breakfast if you're mildly scared of hanging from a wire above a canyon and river.
Scared of heights? Just do it anyways; you'll thank me later, it's thrilling yet absolutely intoxifying at the same time. And don't worry, you'll be secured with a harness and belt the entire time, with trained instructors with you the duration of your tour.
And if you've never been ziplining before, Omis is the place to do it. (I've ziplined in both Belize and Whistler as well, and Omis wins by a landslide). Being just under an hour's drive south of Split, you'll soar and descend through the canyon down a steel wire rope over the Cetina River.
From every zip line you'll be offered absolutely dramatic views, each one more scenic than the last. And trust me, seeing the river and canyons from above sure is a sight to behold. The zipline trek consists of eight wires for a total length of 2100m!
Tours will take roughly 3 hours, not including transportation to and/or from Split. If you need round trip transportation, tack on an extra hour or so each way. Note that while tours take place all day throughout the summer, you'll need to make an appointment / book a tour in advance during the remainder of the year.
Book in advance here:
Note that you also have the option of canyoning or river rafting in Omis! It really is Croatia's adventure capital!
Drive/bus to Mostar after Zip Lining
If you're driving yourself, you'll probably arrive to Mostar with some time in the evening for a short wander and some dinner. If you've decided on taking the bus, note that delays are common and you'll probably reach Mostar quite late, around 10pm or so. But don't you worry – you'll have time to explore the cobblestoned streets and old stone buildings of Mostar over the next two days.
Where to Sleep on Day 8: Mostar
Recommended accommodation options: Hotel Mepas // Boutique Hotel Old Town Mostar // B&B Villa Meydan
Day 9: Tour of Bosnia + Herzegovina
Bosnia in general moved me as a whole. I wasn't expecting to fall so hard for this city oh so fast, but it happened- and now I want to get myself back to the country as soon as humanly possible (ok, I'll settle for the next time I'm Europe-bound).
Read Next: Dubrovnik to Mostar Day Trip (all my favorite things)
There's such a sweet balance of past and present, and joy and sorrow which is easily felt as you wander around the city and discover more parts of Bosnia and Herzegovina.
If you have the time during your 2 weeks in Croatia, definitely make a pit stop in Bosnia, Mostar to be exact. The cities rich culture and moving history will surely be a highlight of your entire trip.
On this first day in Bosnia, sign up for a day tour of Bosnia + Herzegovina, which will take you to nearby spots around Mostar and even have you swimming in waterfalls! The main highlights were:
A traditional Bosnian breakfast of Bosnian ustipci, which are basically little bites of fluffy-carb donut heaven, and traditional Turkish coffee, complete with Turkish delight and those sweet sweet sugar cubes
Kravice Falls: Anyone up for more waterfall swimming? You can do so at the beautiful clear waters of Kravice Falls on the Trebižat River. If you visit in the spring, the falls are at their most dramatic, with pounding rushes of water and forming a mini-Niagara if you will. In the summertime, Kravice Falls are less impressive but the surrounding pools more than make up for it.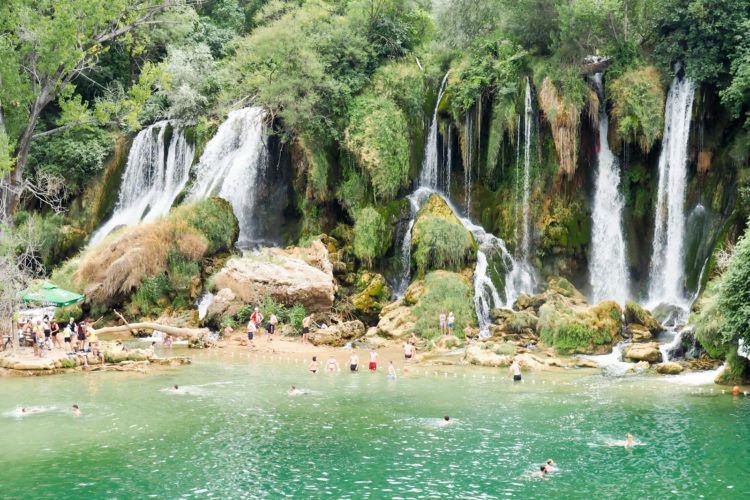 Blagaj: Considered to be one of Bosnia and Herzegovina's most holy and ancient sites, Blagaj Village is a must on any tour of the area, with the most recognizable site being the Blagaj Tekija. Be sure to step inside and view the dervish house built against the cliff.
Do note that if you're visiting Mostar (and Bosnia) as a day trip from either Split or Dubrovnik, you most likely will not be able to visit Blagaj unless you hire a private driver. I couldn't find any group tours that visited Blagaj which is a small reason why I decided to stay overnight.
And no, I still have no clue how to properly pronounce Blagaj. 😛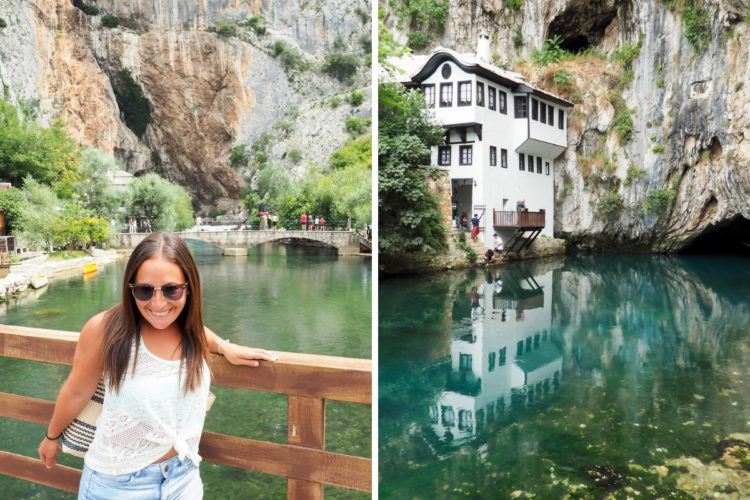 Pocitelj: Check out this old Turkish town and Explore the fortress and family mosque. The Oriental architecture of this fortified town will blow you away. For truly impressive panoramic views, make sure to climb to the top of the citadel (but be careful as the steps are narrow and there's not much room).
Make sure to try one of the fresh fruit juices sold from the ladies in the town (I had raspberry juice and it was so so fresh and absolutely delicious – perfect for a hot day).
The end of the tour will conclude with some history of the Bosnian war and the countries treacherous past. Make sure to listen to every word; it's still so raw and real and oh so fresh (taking place in the 1990's).
Our guide showed us some remaining artifacts from the war, including clearly visible bullet holes and crumbling buildings (so many it was impressive). It's evident that the toll the war's taken on it's people continues to thrive until even today. Talk about an impactful and meaningful experience.
After the tour of Bosnia and Herzegovina, plan to explore the city of Mostar at night. It's magical. And yes, I know that sounds like the ultimate travel-blogging cliche, but Mostar at sunset and after dark were so, so impressive. I wish I had stayed in the city longer.
Where to Sleep on Day 9: Mostar
Recommended accommodation options: Hotel Mepas // Boutique Hotel Old Town Mostar // B&B Villa Meydan
Day 10: Explore Mostar, bus/drive to Dubrovnik at night
10 days in Croatia already, wow (well, including a bit of Bosnia too)! After a sobering, yet insightful day yesterday, it's time to wander throughout the stunning natural beauty that is the town of Mostar.
And this culturally and ethnically diverse city is just begging to be explored! Famous for its historic UNESCO-protected Old Bridge (Stari Most) over the Neretva River, you'll be crossing the bridge more times than you can count!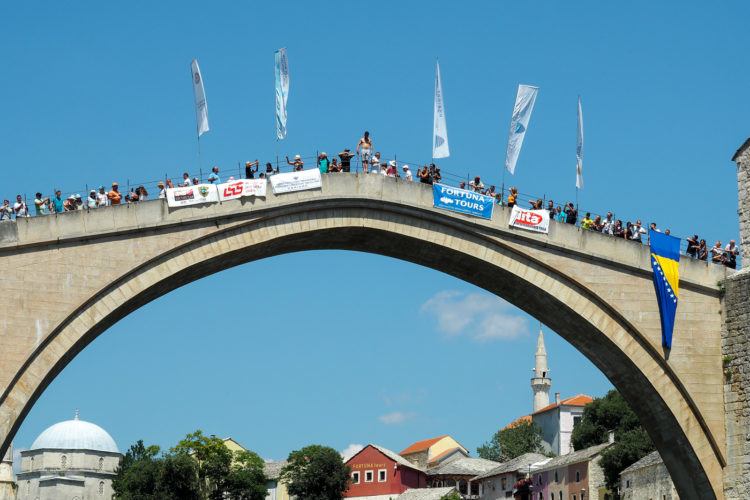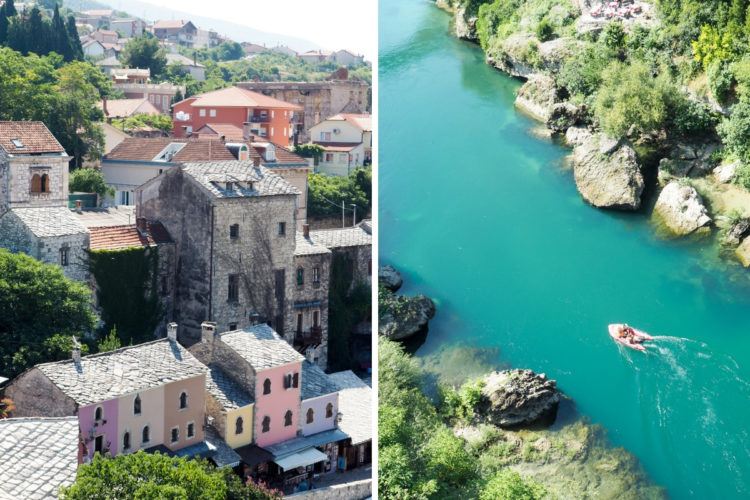 One mostly-full day in Mostar is more than enough time for these highlights (my bus to Dubrovnik left at 4pm):
Old Town of Mostar: Full of color, cobblestoned streets, old stone buildings, and that beautiful and iconic bridge you've seen all over IG, the old town of Mostar is as close you'll come to a Bosnian fairytale. Once you forget about all that unfortunate history of course.
Within the stone-smothered old town you'll find tons of restaurants and souvenir shops, selling everything and anything imaginable. You can easily cover the Old Town in a short amount of time as it's quite small, being only a few streets long on either side of the bridge.
Don't miss the The Old Bazaar Kujundziluk as well since it's located within the Old Town.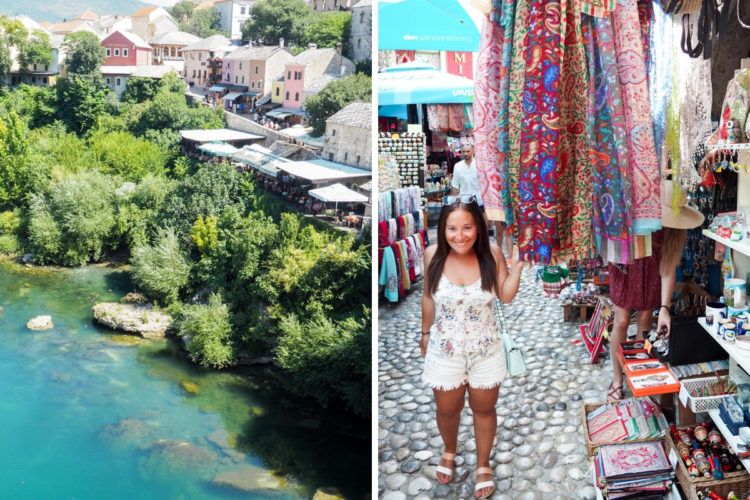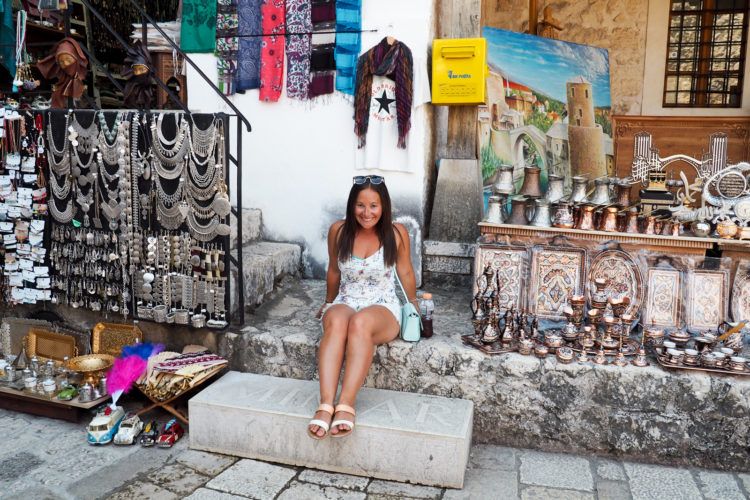 Stari Most: This iconic old bridge and one of the country's most recognizable landmarks is what lures most visitors to Mostar in the first place.
Many don't know that this is not even the original bridge – after the collapse during the Croat-Bosniak conflict, it had to be entirely reconstructed and rebuilt, but they made sure to keep the charm!
Be careful when walking across the bridge as it's quite slippery, but don't let this stop you – the views from the bridge are worth it!
You'll undoubtedly see some bridge jumpers collecting money and then flinging themselves over the Stari Most, somewhat of a tradition over here. Tourists can dive off the bridge as well after getting a brief training from the professionals, but it's way more dangerous than it looks and not something I suggest attempting.
Koski Mehmed-Pasa Mosque: Looking for one of the best views of Stari Most and the surrounding city? For a small fee, you can climb the minaret at the Koski Mehmed-Pasa Mosque.
Plan to come early in the day as the minaret is only wide enough for one body to fit through, and up-and-down traffic make this nearly impossible to pass easily.
Note that those who suffer from claustrophobia may have some difficulties due to the tight spaces here.
War Photo Expedition: Want even more information about the war? Head to the War Photo Expedition for a real look into Mostar during the infamous war by perusing photographs taken by New Zealand photographer Wade Goddard.
Note that it's all still quite raw and real, and the captions are exceptionally moving (I almost cried more than once).
You'll also want time to chill out, relax, and just wander around. Mostar is less about the sights and more about taking it all in.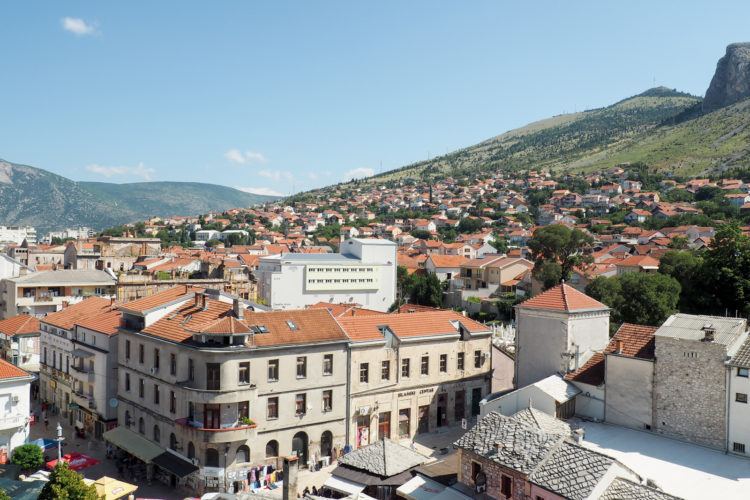 And don't miss out on trying some traditional Bosnian foods, including:
Cevapi (also known as cevapcici) which is essentially a Balkan minced meat kebab served with onion in a small flat bread
Pljescavice, which are minced meat patties.
Dolme, capsicum stuffed with mince meat and rice
traditional Turkish coffee, complete with Turkish delights (soooo good)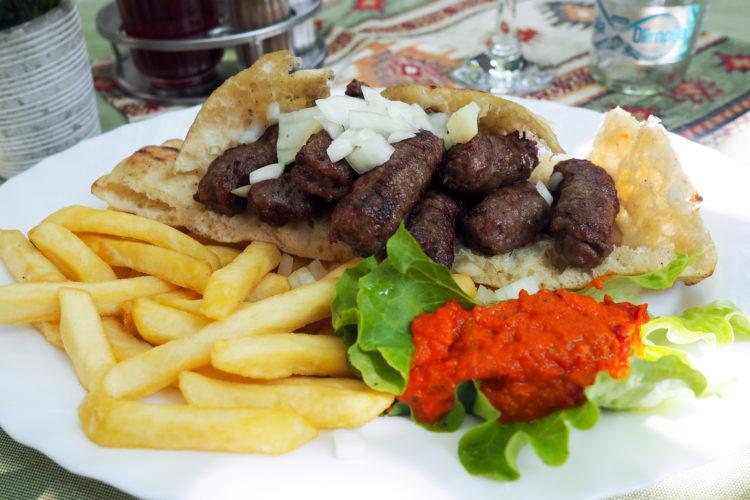 Also be sure to try some Bosnian pastries, which can be found in numerous pekaras (bakeries) all around town. I ate them almost every morning and whenever I got hungry, as they sell for only like 1 Mark each. My favorites were burek (minced meat) and zeljanica (spinach and cheese).
Visitors Tip: If you're looking for an exhilarating cultural experience, plan your trip around the annual Stari Most bridge jumping competition. I got EXTREMELY lucky and was somehow planned to be in Mostar for the 451st competition (yup, it's been going on for a while…).
The entire city hung out together below the bridge, watched the divers jump, and – oh, and I somehow started a mini dance party with a super sweet Ukrainian girl I had just met that day. If I haven't already convinced you – Bosnians are awesome, you guys, they really are. Just go to Mostar – you'll thank me later.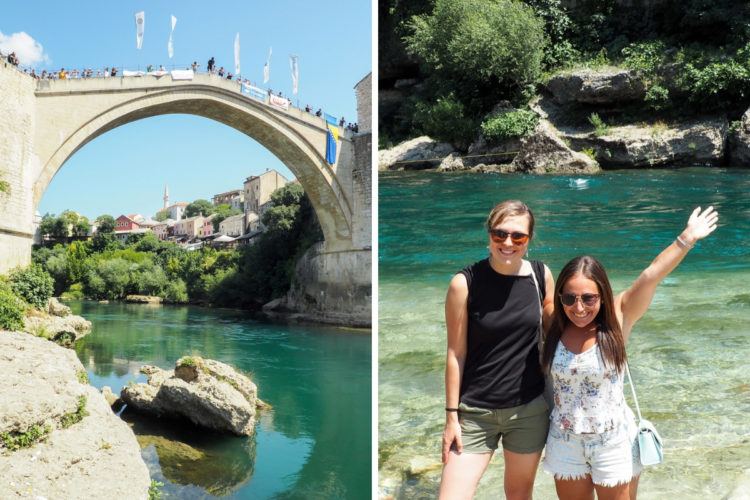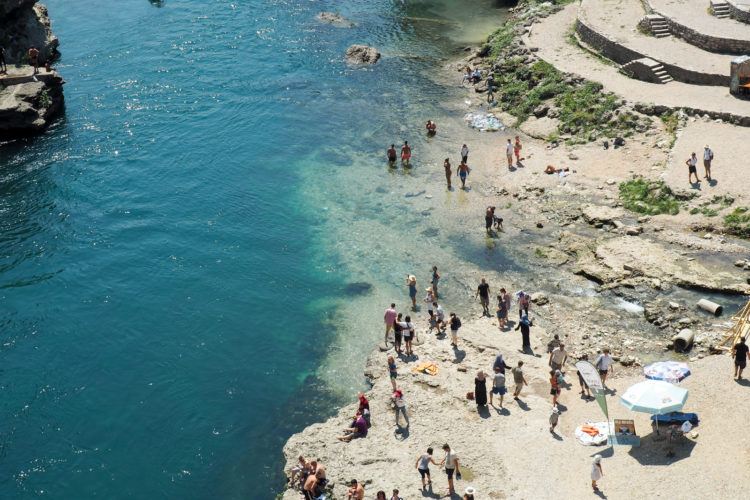 Head to Dubrovnik in late afternoon
How to Get to Dubrovnik (from Mostar)
Driving: ~2 hours, 30 minutes
*If you're renting a car to get from place to place throughout the country, consider dropping your car off in Dubrovnik. You won't need it for the remainder of this Croatia itinerary, as we'll be staying in the city itself and taking day trips via boat.
However, if you'd like to visit Kotor, Montenegro yourself (instead of with a tour company), do this on your first full day in Dubrovnik and choose to drop the car off afterwards.
Where to Sleep on Day 10: Dubrovnik
Recommended accommodation options: Boutique Hotel Stari Grad // Prijeko Palace // Hotel Pucic Palace
Day 11: Dubrovnik – City Walls / Old Town / Kayak Tour
For your first official day in Dubrovnik, head to the city's most popular attraction: The City Walls.
If you're a Game of Thrones fan you'll definitely recognize many filming locations along the way. You'll want to wake up bright and early for this in order to beat the aggravating crowds and sweltering heat. Buy your ticket in advance here if you want to bypass the queue.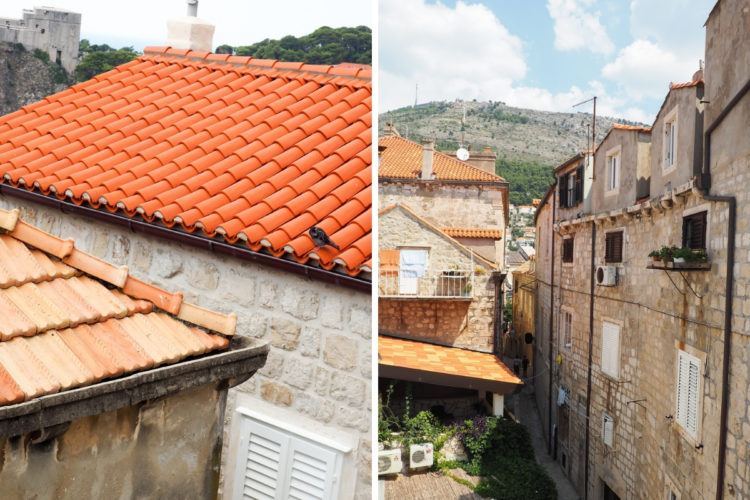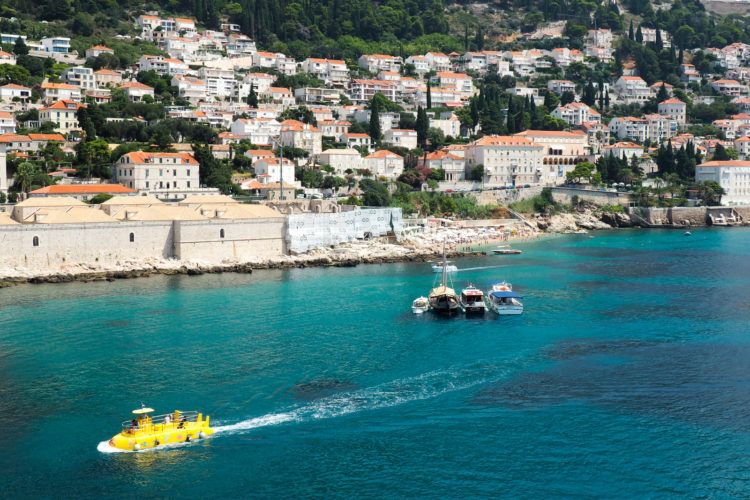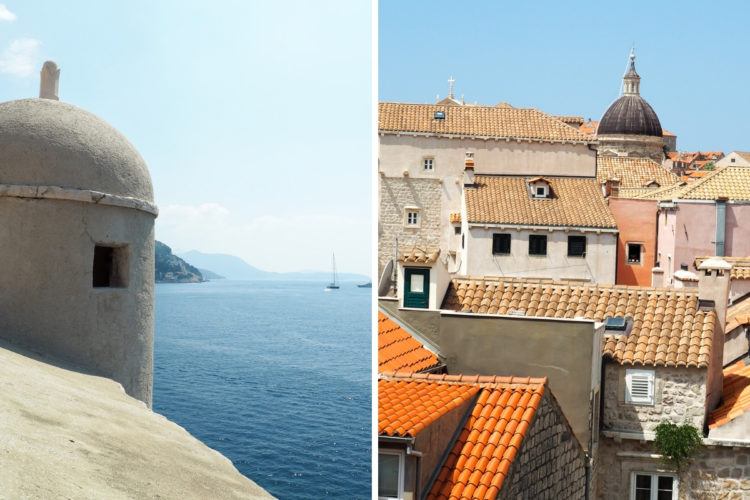 By walking the Ancient City Walls you'll essentially get a bird's eye view of Old Dubrovnik and a fantastic sea view as well! Pick up a coffee, orange juice, Croatian beer, or ice cream at the top and just take it all in.
If you do the entire circuit around all of Old Town, it takes about 2-3 hours, but go slow and enjoy – there's no rush as long as you've started early on in the day. Be aware that there are lots and lots of steps, so come prepared with comfortable walking shoes and plenty of water if it's a hot day.
The ticket to the City Walls also gives admission the opposite castle, St. Lawrence Fortress, which you should definitely head to as well, which is good for the next 2 days as well.
Next up, wander throughout Old Town! Pass the Pile Gate, and voila, you're inside the walled city! The main street (known as the Stradun) is quite short, but there are tons of side alleyways to explore, each one more charming than the last. The area is filled with cafes and restaurants and tons of tourist shopping. And while there's not really too much to actually do, spend an hour or so taking in and appreciating all its history.
It's wise to hire a guide, even for a short time, who can walk you through some of the major sites of the Old Town and provide some of the history and context for what you're seeing. You can even fill up your water bottles from the main fountain! Check out Buza Bar for a drink in a cave overlooking the sea (yes, really).
If you're looking for something a bit more adventurous and activity-ridden, work out your arms on a sea kayak tour! There are several tours and companies that venture to different places, including around the city walls and coastline, off to Lokrum Island, and some with swimming and snorkeling. Some tours will even you have you paddling to a small beach in a cave.
Check out a few recommended tours here:
Go for a wander through Old Town at night, and be sure to look up as thousands of sparrows commonly make their way around at dusk (a sight to see for sure).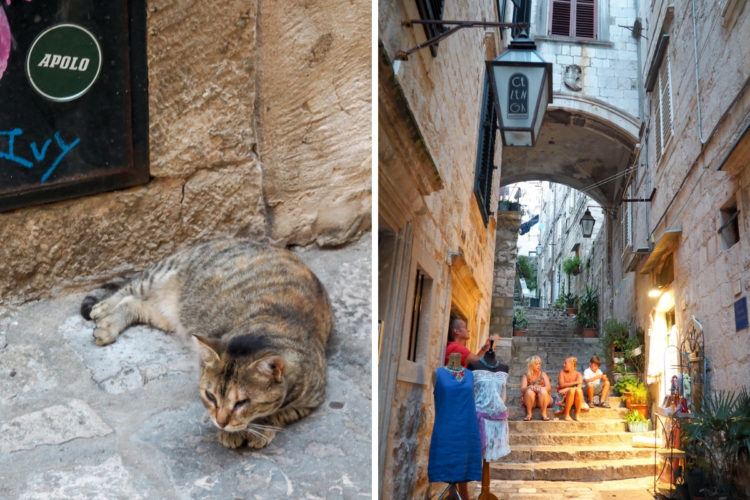 Where to Sleep on Day 11: Dubrovnik
Recommended accommodation options: Boutique Hotel Stari Grad // Prijeko Palace // Hotel Pucic Palace
Day 12: Dubrovnik – Lokrum Island / Cable Car
Morning/early afternoon: Lokrum Island
We're headed off on our first day trip from Dubrovnik today! After a super short ferry ride, prepare to spend the day exploring, as Lokrum Island is full of all things Games of Thrones, an absolutely gorgeous botanical garden, and tons of natural swimming spots.
If you're cool wandering the island yourself, there's no need to book a tour, but if you want to guarantee you'll see the iron throne and all things Game of Throne, learn a bit about the monastery, and guarantee your spot on a boat, you'll want to book a guided tour of Lokrum.
I kind of wish I signed up for a tour because although the buildings were gorgeous, I had no clue what I was looking at nor their significance.
Don't miss the peacocks and bunnies roaming around the island (usually in/near the botanical garden) and don't miss out on a swim in the super salty "Dead Sea". You can also just casually jump in that glistening Adriatic Sea basically anywhere on the coast of Lokrum – a dip is the ultimate way to refresh yourself in the super sweaty Croatian heat. Bring (or wear) your bathing suit!
Late Afternoon/Early Evening: Dubrovnik Cable Car
If you thought the views of Dubrovnik from the city walls were impressive, just wait until you see the area from the top of the cable car. Prepare to wait on a short (and sometimes long, depending on the season) queue, but you can buy your ticket in advance to bypass some of the line.
There are only two cable cars that bring passengers back and forth, each holding about 25 people and taking 5 minutes each way. If you'd rather not wait at all, you can take the hiking trail up and then back down which takes about 45 minutes or so each way. I was stuffed to the brim with gelato lazy and waited for the cable car, which I didn't mind at all.
Aim to reach the top a bit before sunset, in order to watch the fiery colors in the sky come to life. Plan to have a drink and/or appetizers at Panorama Cafe, and although a bit pricey, provides unparalleled views down below.
Once you've admired the views for far too long, check out the small museum that tells the story of the conflict that took place here in 1991. It's quite interesting.
Where to Sleep on Day 12: Dubrovnik
Recommended accommodation options: Boutique Hotel Stari Grad // Prijeko Palace // Hotel Pucic Palace
Day 13: Elafiti Islands
If you want to spend some time on the Elafiti Islands (which I'm dubbing as one of my favorite day trips from Dubrovnik – they were downright STUNNING), I recommend booking yourself on an organized tour (which I did!).
Note that you can go to just one island if you're traveling sans tour, but you'll need to first get yourself to Port Gruz (on the other side of town) which can be a hefty cab ride.
Sailing trips to the Elafiti Islands will visit 3 of the 13 islands of this extraordinary archipelago. And if you choose to take a full day trip from Dubrovnik to these islands, you'll be able to visit all three – Kolocep, Lopud, and Sipan, drinks included!
Feast on grilled fish, visit some of the most stunning islands in the archipelago, and say goodbye to the crowds!
Come for the beaches, stay for the picturesque villages, citrus gardens, old churches, and pine and olive forests. Basically, the Elafiti Islands are an absolute dream. Don't miss this as a visit to these islands were one of the best day trips from Dubrovnik by far – it was one of my favorite days in my 2 weeks in Croatia.
w
Where to Sleep on Day 13: Dubrovnik
Recommended accommodation options: Boutique Hotel Stari Grad // Prijeko Palace // Hotel Pucic Palace
Day 14: Dubrovnik (Babin Kuk) -or- Mljet National Park -or- Kotor, Montenegro
Hopefully you're not flying out today, because there's heaps of day trips to take from Dubrovnik. With only one more day remaining on this 2 week Croatia itinerary, you'll have to pick your favorite, and luckily, I've listed my favorites below:
OPTION 1: Take it Easy on Babin Kuk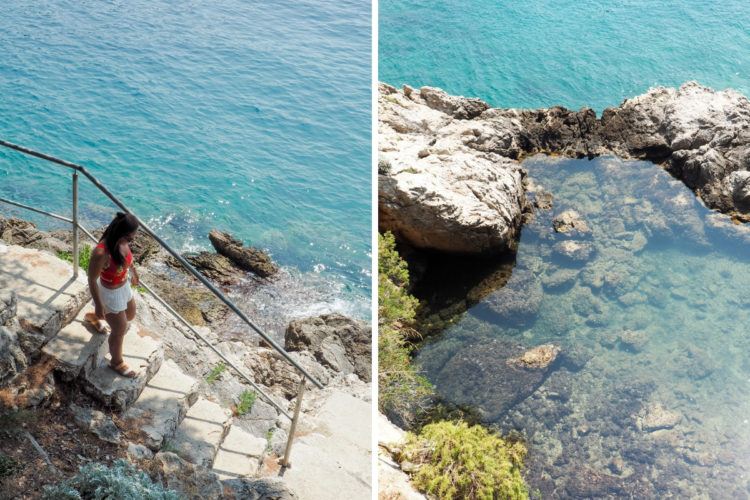 I don't blame you if you need a relaxing day. With all that running around the past 2 weeks in Croatia, you deserve a beach day full of drinks and lounging. And even better, if your flight leaves tonight, you can still spend a bit of time on Babin Kuk beforehand, since it's not terribly far from Old Town.
And better yet – it's absolutely beautiful, and oh so different than Old Town. The entirety of Babin Kuk reminded me more of a chic Santa Barbara resort, as opposed to the old stone buildings you're used to seeing in Old Town.
Make sure to walk along the paved coastal trail with it's fine, fine seaside views, and stop at a cafe on the way for a macchiato and/or margarita (or an ice cream if you're me and consider the sweet stuff a meal) overlooking the ocean.
Once lunch is over, it's time to hit up a beach club! Copacabana Beach and/or Coral Beach Club are both great options, with chairs for rent and food to order. And whatever you do, don't miss out on the Cave Bar at Hotel More. It's awesome, but I won't spoil it for you here. Check it out yourself!
Thankfully, Babin Kuk couldn't be easier to reach! Located just a bit away from Dubrovnik's Old Town (4km), at the northern end of the Lapad peninsula, you can take a short and super-cheap bus ride.
Because of it's short distance from Old Town, this trip isn't really a trueeee Dubrovnik excursion, but hanging out in Babin Kuk was one of my favorite afternoons so I couldn't bare to leave it off this list. So many tourists don't even think of venturing past Old Town, so a little nudge won't hurt anyone. ?
OPTION 2: Lakes of Mljet National Park
Get back to nature and experience the true Croatia without all the thousands of people. Being Croatia's greenest island, you can't take this day trip from Dubrovnik and not visit the lakes.
And while you're here in Mljet, you have to make it to aptly named Big Lake and Small Lake – both are downright spectacular and not to be missed! You'll even find a tiny island with an old Benedictine monastery on one of them.
Book a boat tour to get the best views of this! I missed out on this day trip from Dubrovnik on my last trip to Croatia, but I'm definitely making sure I plan a visit to Mljet National Park, one of the most beautiful and forested pearls of the Mediterranean.
In my opinion, the best way to reach Mljet National Park is by booking yourself on an organized tour (especially if you've only got one day to experience all that the park has to offer).
While a full independent round trip from Dubrovnik to Mljet is possible in just one day, things can get a bit complicated (with ferries, bus rides, bikes, etc), so I highly suggest an organized tour.
Note that if you are in fact attempting the ferries yourself, there is only one ferry to Mljet and one ferry back, only giving you about 3 hours on the island once you reach the lakes. Seems like a lot of hassle for such a short period of time.
My advice – Book a tour. Vacation shouldn't be stressful.
OPTION 3: Impressive Views in Kotor, Montenegro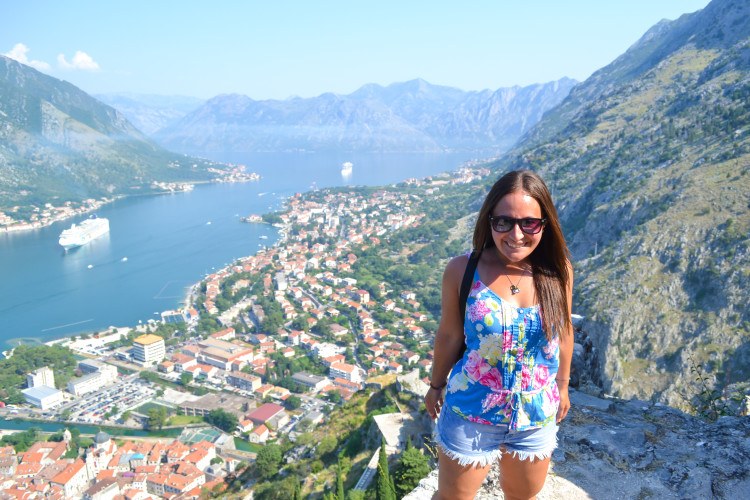 You didn't think you'd be day tripping from Dubrovnik to another country, now did you?! I spent an absolutely fantastic day in Kotor, Montenegro, and didn't expect to fall for the country as hard as I did, as fast as I did. I mean, what's better than spending a day out on the water?!
While in Kotor, make sure you make the climb up to St. John's Fortress (Sveti Ivan) to get unparalleled views of the entire town below (you'll be swooning over the Bay of Kotor – a UNESCO World Heritage site – in no time), and then go on a short boat ride to Perast!
Again, unless you've rented a car or want to spend all day on the public bus, an organized tour would be my honest recommendation on how to spend the bulk of your day in these small towns in Montenegro.
And since Kotor, Budva, and Perast are all located in yes, another country, expect border crossings once again (like in Mostar). And plus, the organized tours aren't really all that pricey anyways, so it's worth your sanity and then some.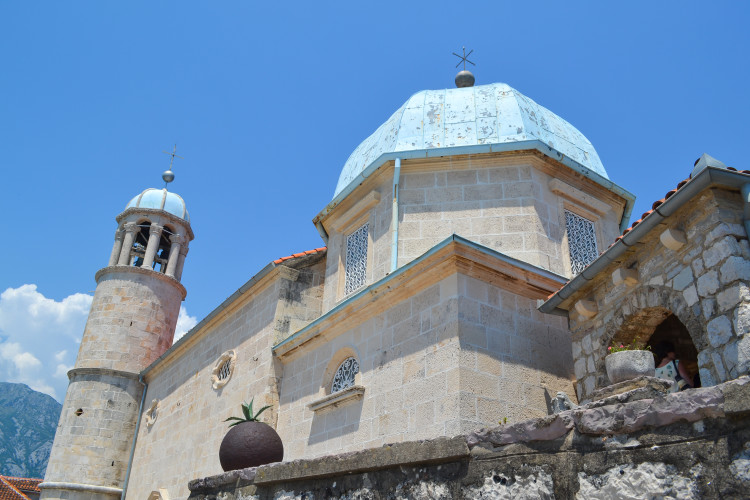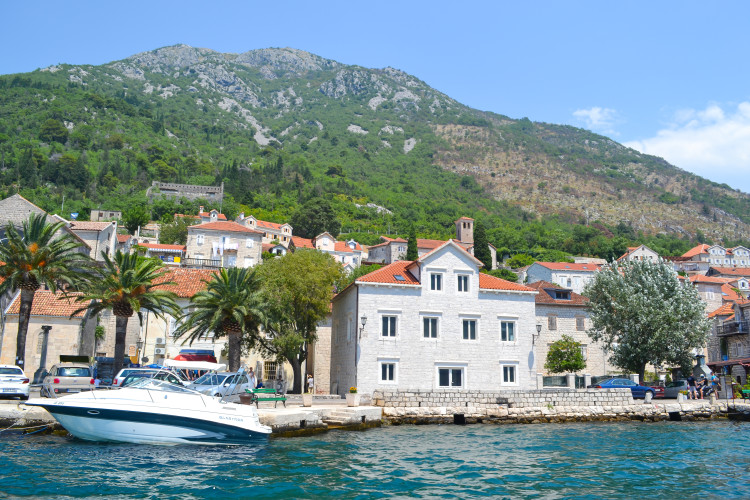 Read more about these day trips from Dubrovnik here, plus a few additional suggestions to swap out or if you've got a few extra days to explore the surrounding area/s:
→ Read Next: Top Day Trips from Dubrovnik
Where to Sleep on Day 14: Dubrovnik
Recommended accommodation options: Boutique Hotel Stari Grad // Prijeko Palace // Hotel Pucic Palace
WOW, well that was a lot!
Have any questions about my Croatia itinerary? What are you most excited about during your 2 weeks in Croatia?! Fingers crossed this Croatia travel blog has been extra helpful!
Photos via omis | omis rafting