Headed to Croatia and considering booking yourself on a Dubrovnik to Mostar day trip? Read on for information about what to expect, what you'll be able to see in just one day (hint – a lot), and extra tips and details! This Mostar travel blog will help you plan your trip, that's for sure!
Making the trip from Dubrovnik to Mostar is super simple, you don't even need a tour. However, if you're especially pressed on time and want to see what this city is all about, I highly recommend joining one. Not only will you learn more about the city's treacherous past, but those border crossings will be an absolute breeze!
So book yourself on a day trip to Mostar from Dubrovnik, and get ready to be amazed at all the beauty and teachings this country has to offer.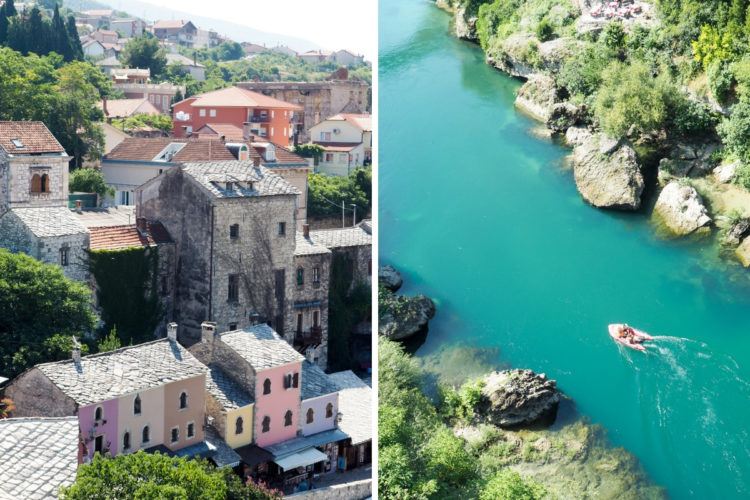 I'll preface this entire post by saying that one day in Bosnia & Herzegovina is just not enough. While it's possible to see some of the city's highlights in just a few short hours, the charm of the city really comes alive at night, after most of the Dubrovnik to Mostar day trippers have left. In addition, there are some marvelous places surrounding the city of Mostar that are too good to leave out (you'll learn more about those below).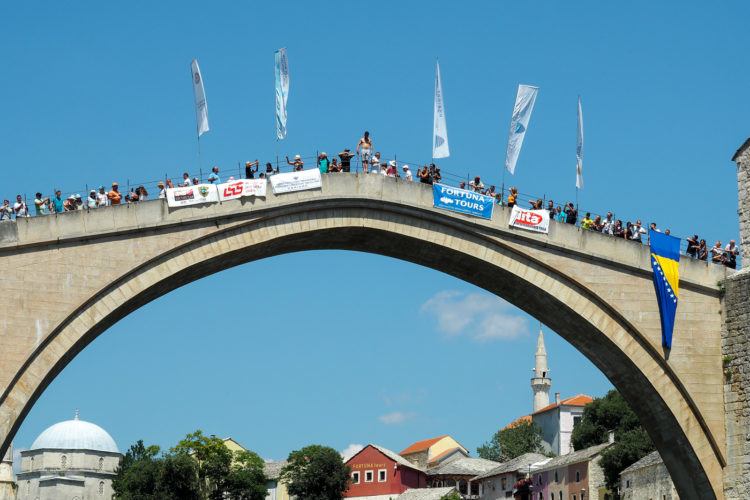 Mostar, in southern Bosnia and Herzegovina, took me by absolute surprise. I wasn't expecting to fall deeply for this tiny blip on the map, but there it was. And I can't even believe I'm saying this, but my few days in Mostar turned out to be one of my richest travel experiences of my entire year.
→ Read Next: 2 Weeks in Croatia [The Perfect Itinerary for First Time Visitors]
How to get from Dubrovnik to Mostar:
On a day tour: As previously mentioned, if you're short on time yet still want to experience some of the thrill that is Mostar, a day tour from Dubrovnik (or Split too, actually) is the way to go. On a Dubrovnik to Mostar day trip you can expect to have a few hours to explore the intriguing city of Mostar itself, take a quick plunge in the Kravice waterfalls, visit the old Turkish town of Pocitelj, and learn a bit about the war.
Tours will pick you up from your accommodation in Dubrovnik, whisk you around Bosnia & Herzegovina, and have you back to your hotel around dinner time. Like I said before, if you're short on time, a guided bus tour is the way to go. And thankfully, all this will only set you back around $50-$60USD, which is quite a bargain considering what's included.
Whatever you do, don't be naive and think taking the bus will be a decent option for a day trip from Dubrovnik to Mostar – if you read about the bus info below you'll see it takes about 5 ½ hours each way. Yup, not entirely conducive to a day trip, unless you want to spend 11 hours on a bus in a single day (um, no thank you).
Check out some recommended Dubrovnik to Mostar day trips below:
You can check the reviews here, but all the tours are pretty much the same thing. All the Dubrovnik tour companies visit Mostar, Kravice Falls, and Pocitelj at a minimum.
On the public bus: If you have at least a night to spare, I recommend taking the bus from Dubrovnik to Mostar and staying overnight. You'll get to see the town come alive at night (I'll use the biggest cliche in the book and say that yes, it's downright magical) and also have the chance to visit Blagaj (more information below).
Expect the Dubrovnik to Mostar bus ticket to be about $20 (16 euro) or so. You'll also most likely need to pay a euro or mark or two (or 5-10 kuna) in order to have your luggage (per piece) board the bottom of the bus. Be prepared and have a bit of cash on hand.
Mostar is actually located about equidistant from Dubrovnik and Split, so if you're making your way up or down the coast, you can make a short pit stop in Mostar either direction. Do note that although the bus is scheduled to arrive to Mostar in about 3 hours, the actual driving time will be waaaaay longer than this.
I think I was on the bus for about 5 ½ hours, because all buses have to go through customs (i.e. border crossings) three times. Yup, threeee times. Because of that, you really need at least a night in Mostar if you're planning on taking the bus.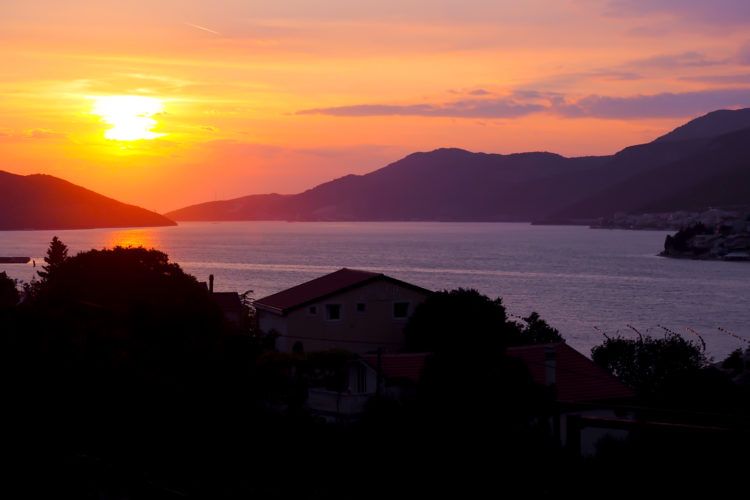 Find more information on bus schedules and routes here.
Thankfully, once you arrive in Mostar, the bus station is right on the edge of the city, about a 15 minute walk from the Old Bridge (Stari Most). You can easily get to your hotel/accommodation by walking or taking a short taxi ride.
→ Read Next: 9 Equally Stunning Day Trips from Dubrovnik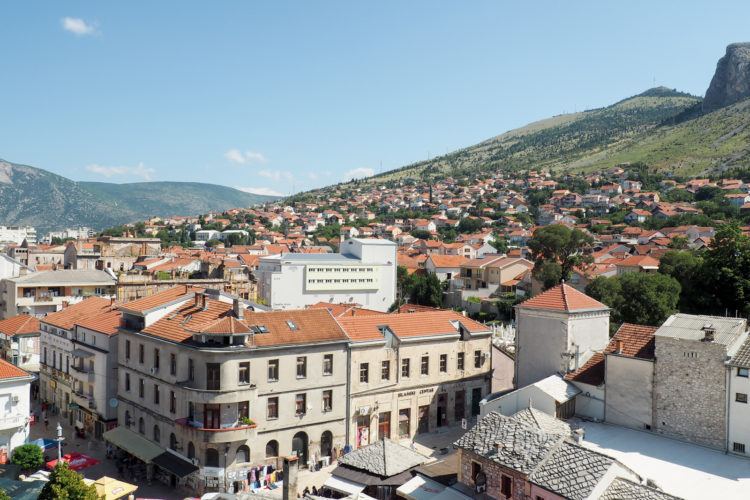 It'd be a bit foolish and silly to venture into Bosnia and Herzegovina without understanding a bit about the cities past. I regretfully didn't know too much about the conflict before stepping foot in the country, but thankfully learned a great deal during my time there.
A Bit of War History on Mostar:
I'm normally not a huge history fan, but after only a few hours in Bosnia I was hooked. Hooked on learning everything and anything I could about their fascinating and intensely intriguing war days. Hooked on the city's' ability to move on from their tragically violent past. Hooked on their deep connections to both remembering and forgetting.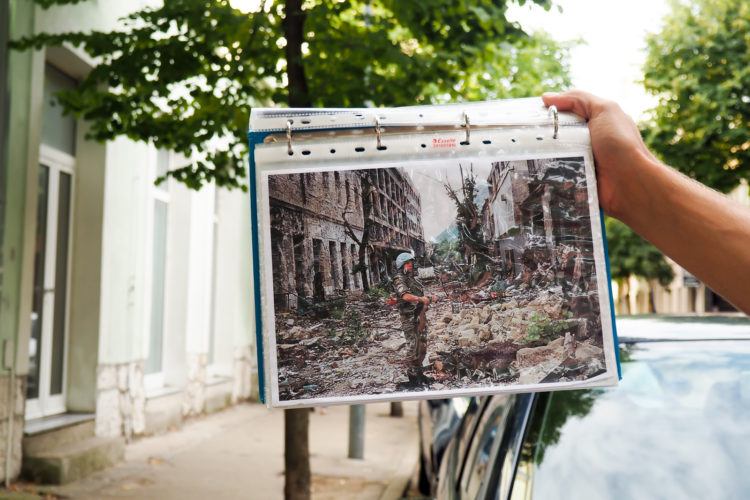 A bit of information so you can easily digest the following information:
Bosnia and Herzegovina used to be a part of the former Yugoslavia
The area consisted of a multiethnic population including Bosniaks (Bosnian Muslims), Serbs (those from Serbia), and Croats (those from Croatia).
War sucks. Plain and simple.
Here's what I learned from our local guide (with an attempt to piece it all together in a somewhat cohesive and logical way) and what resonated with me most:
First things first, the Bosnian war was an international armed conflict that took place in Bosnia and Herzegovina between the years of early 1992 and late 1995. The war started and was fought because Serbs and Croats (living in Bosnia) wanted to seize Bosnian territory for their home countries.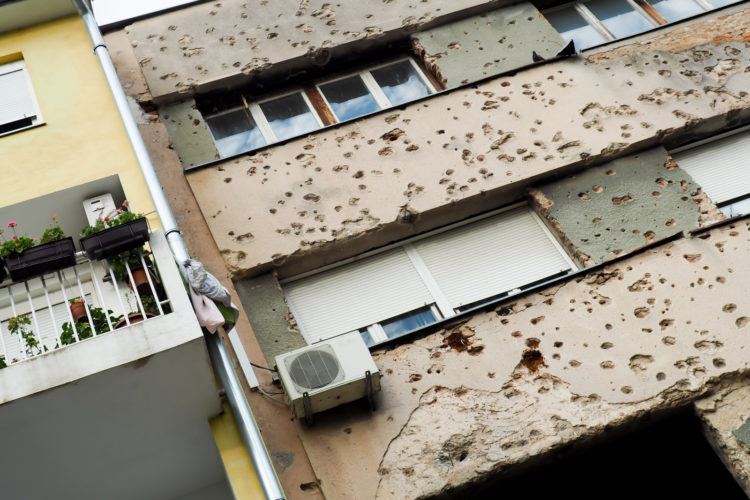 In order to do so, Serbia's mission was to "ethnically cleanse" Bosnian territory by removing all Bosnian Muslims (known as Bosniaks). And because of its sheer size and power, Serbia, along with Bosnian Serbs, were able to attack Bosniaks with former Yugoslavian military equipment.
All in all, an estimated 100,000 people were killed, 80% of whom were Bosniaks. In July of 1995, Bosnian Serb forces killed as many as 8,000 Bosniak men and boys, making it the largest massacre in Europe since the Holocaust. Let that sink in a for a while. In 1995. Largest massacre since the Holocaust. 1995.
Enough was enough, and other parties needed to step in to end this ridiculousness of a mess. Finally, the war came to an end in 1995 after a treaty, the Dayton Agreement, was established, granting Bosnia and Herzegovina their independence.
With allll that being said, I honestly cannot believe they don't teach the war in schools. It all happened not so long ago (in the mid 90's!), and is nowhere to be found within textbooks in the states. What a shame. A real shame.
Things to do on a day trip from Dubrovnik to Mostar:
If you're coming to Mostar from Dubrovnik, you'll probably stop at Kravice Falls and Pocitelj before the last stop of the day – Mostar. Both are extraordinary, and these extra pit stops, while somewhat short, will have you begging for more.
Pocitelj
One of the stops on your Dubrovnik to Mostar day trip will be Počitelj, a charming medieval and Ottoman-Mediterranean walled village, full of nature and interesting (yet deteriorating) architecture. Lying on the banks of the Neretva river (which is emerald green I might add), it's absolutely not to be missed.
The unique mix of architecture (medieval Hungarian and 18th century Turkish) has even placed it on the UNESCO tentative list (talk about visiting before it even makes proper status!).
And whatever you do, make sure you (carefully) climb the citadel for the best panorama you'll find in the entire town, including that jeweled Neretva River. As noted, steps are not the safest, so use extra caution and watch your footings. It's best to climb up with a friend, but since I found myself solo in Mostar, I crept up the citadel inch by inch. Wander through the crumbling walls and you'll be rewarded at the top.
Psst → All my female solo travel tips over here (useful for you men as well, but it's catered towards women, just FYI). 🙂
You'll find lots of stairs all over the village, all leading down to the parking lot, but beware – it's verrrrry easy to get lost here. I made sure to head down extra early juuuust in case I found myself unsure of where to turn next.
Believe it or not, but apparently people still live here (about 800!), although you probably won't see too many locals. Tourists, that's a whole other story. While it definitely wasn't as crowded as Mostar, you can tell it's a tourist hot spot.
Get some fresh fruit juice, and with raspberry, strawberry, and other interesting flavors available, you can't say no. Plus, they're only about a mark or so and so ultra refreshing on a hot hot Bosnian day.
Kravice Waterfalls
Next up on many Dubrovnik to Mostar bus trips will be Kravice Falls, an absolutely mesmerizing cascade of waterfalls situated on the Trebižat River. Plan to wear your bathing suit because you can swim/wallow in these waters!
But beware, even on the hottest of days (like 35 degrees C/100+ degrees F), the water will most likely still be pretty cold. Either jump right in or casually slide in (body part by body part) and let yourself adjust. It'll feel good in a few moments, but don't say I didn't warn you about the chilly water temps! Refreshing yes, but it gets a tad uncomfortable when you've been in for too long.
And PLEASE oh please be extra cautious and careful when walking under the waterfalls and jumping off the ledges into the water (if you dare). The rocks are extremely slippery, making the whole situation a disaster waiting to happen.
Don't do anything you're not comfortable with, and ask locals for advice/help if you're not sure about a particular jumping/climbing spot. I chose not to test my luck and was satisfied with a short swim and wander.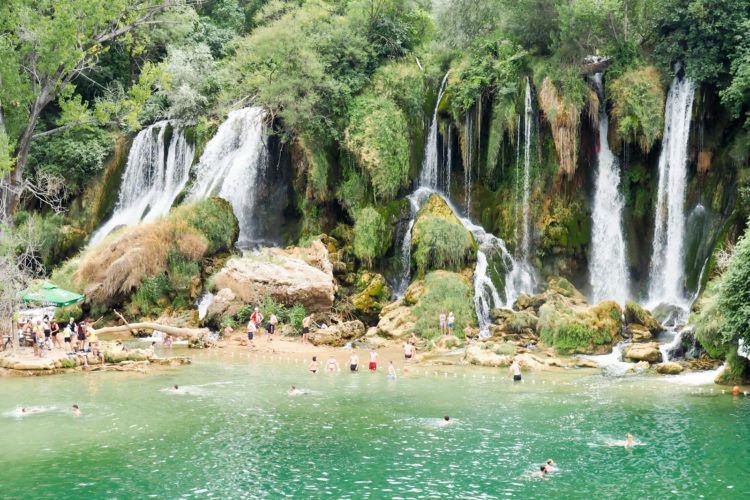 Also, the water gets quite deep once you swim away from the coast (until you reach the rocks of the waterfall), so be careful and keep your friends/family nearby. You'll need to be a decent swimmer to make it to the base of the waterfalls.
Note that while visiting Kravice Falls used to be completely free, there is a small charge (a few marks or so) to visit nowadays, probably due to its increasing popularity.
In Mostar itself:
Old Town of Mostar: The Old Town, or 'Old Bridge' (see below!) of Mostar is a UNESCO world heritage site that boasts picture-perfect examples of Ottoman and Mediterranean architecture. You'll feel like you're inside a painting as you wander the cobbled streets! Within the stone-smothered old town you'll find tons of restaurants and souvenir shops, selling everything and anything imaginable.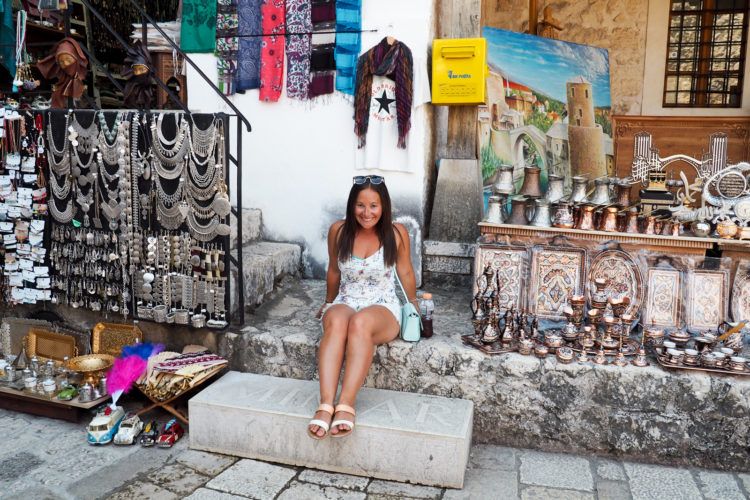 You can easily cover the Old Town in a short amount of time as it's quite small, being only a few streets long on either side of the Mostar bridge. Don't miss the The Old Bazaar Kujundziluk as well since it's located within the Old Town. Mostar's buzzing Bazaar is a great place to observe history and day-to-day local life.
Winding along an old cobbled street, the bazaar is the place to find colorful crafts, copper workshops, and tiny Turkish restaurants and cafes where you can sample local specialities and other cultural foods. The Ottoman influence is particularly evident in these parts near the bridge; with smells of shisha, tons of metalwork, and lots of clothes and jewelry for sale.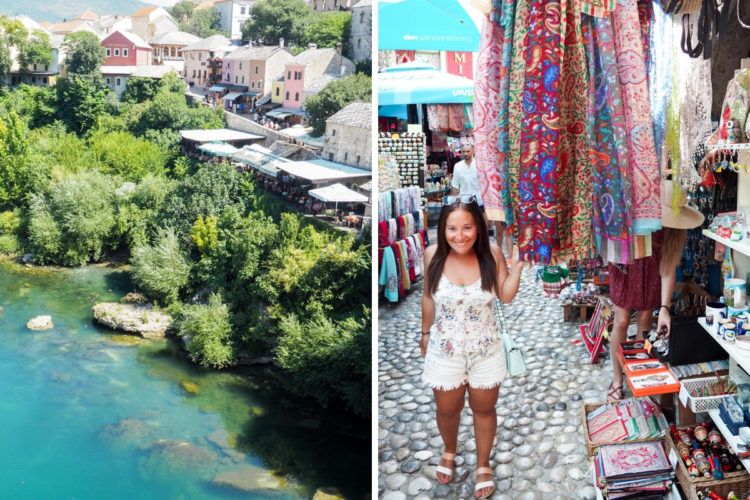 It's important to note that much of the Old Town was destroyed by war in the 1990s but has since been meticulously restored.
Stari Most: Mostar's historic old town centers around the Stari Most Ottoman bridge, after which the city was named. All throughout the year, you'll notice some locals collecting money from tourists, and once they collect enough, they jump off the bridge!
A bridge jumping competition has been held here at the end of July for hundreds of years, and coincidentally, I was actually there for the 451st competition (yup, told you it's been going on for a while…). It's fun to watch, but the water below is freezing, so leave it to the professionals, folks.
Many don't know that this is not even the original bridge – after the collapse during the Croat-Bosniak conflict, it had to be entirely reconstructed and rebuilt, but they made sure to keep the charm! Be careful when walking across the bridge as it's quite slippery, but don't let this stop you – the views from the bridge are worth it!
Head Down to the Neretva River Bank: While you won't be able to go for a full swim here (the current is undoubtedly quite fast and the water is chilly no matter the time of year), it's a great spot to cool off and put your feet in. And on those scorching hot summer days, you'll be thankful this is an option.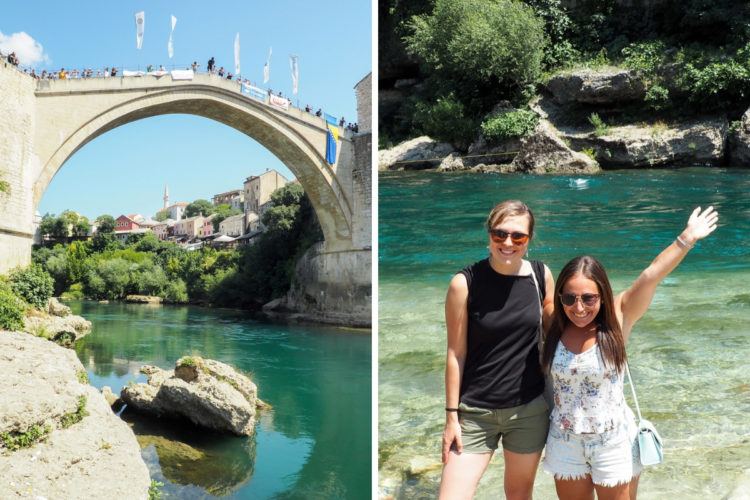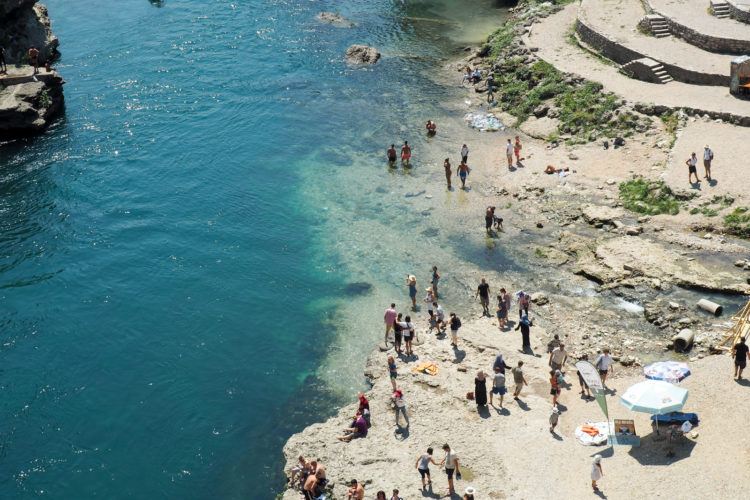 Eat Cevapici: This parcel of deliciousness is a national dish of Bosnia and Herzegovina, so you've just got to try it. Cevapici is a type of kebab made from minced beef and pork and served inside a flatbread with yummy extras such as sour cream, feta cheese and red pepper. Enjoy one at the lovely Babilon restaurant as you gaze up at the nearby Stari Most.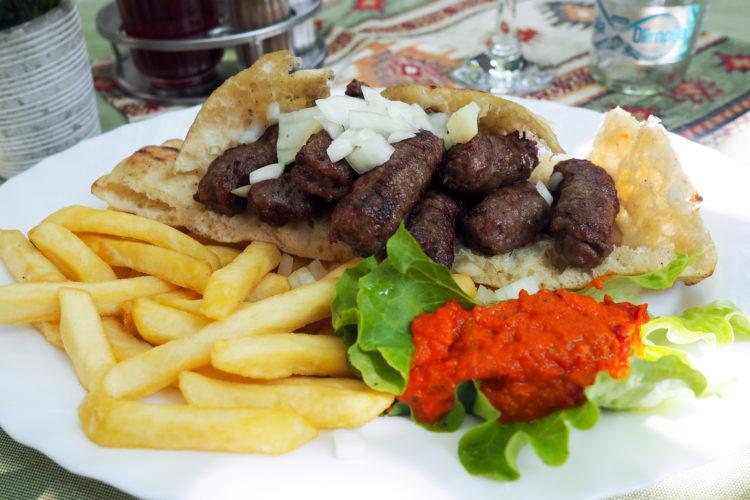 Also be sure to try some Bosnian pastries, which can be found in numerous pekaras (bakeries) all around town. I ate them almost every morning and whenever I got hungry, as they sell for only like 1 Mark each. My favorites were burek (minced meat) and zeljanica (spinach and cheese).
Climb the minaret at the Koski Mehmed Pasa Mosque: Climbing the minaret at this mosque is 100% worth the legwork for the incredible views of Mostar. It's by far one of the best places in the city to view the Old Bridge and the beautiful surrounding area, and thankfully, it's only a few mark to go up!
Start early as there's only one way up and one way down – meaning that if you and another find yourselves going opposite directions, it can get quite squishy. Visit first thing in the morning (if you're spending a night or two in the city) to avoid all the people.
I was lucky and was the first one up for the day (I even had to open the door to the minaret myself!). You'll be asked to cover up: they supply shawls near the entrance. You can keep your shoes on.
Note that those who suffer from claustrophobia may have some difficulties due to the tight spaces here.
Enjoy traditional Turkish coffee: Coffee is a hugely important part of the Bosnian social scene. It's prepared using very finely ground arabica or robusta coffee beans and boiled with sugar in a special pot called a cezve or ibrik to create the perfect amount of froth. Cafe de Alma, just 20 metres from the Old Bridge, is a great spot to sit and relax with a fresh cup!
War Photo Expedition: Want even more information about the war? Head to the War Photo Expedition for a real look into Mostar during the infamous war by perusing photographs taken by New Zealand photographer Wade Goddard. Note that it's all still quite raw and real, and the captions are exceptionally moving (I almost cried more than once).
Learning about the Bosnian War:
You have to remember that as soon as you step foot into Bosnia, you're entering a former war zone.
And thankfully, many day trips to Mostar teach some information about the Bosnian War. Many even take you around the city pointing out crumbling buildings covered in bullet holes. Trust me, once you see those derelict buildings it all becomes so real.
Prepare yourself – it's a visually impactful experience. It hasn't even been 25 years since the war ended, so no wonder the evidence of the war is still seen today. When you think about it, 25 years is not so long ago at all! I appreciated walking about the town with a former survivor, and just couldn't get enough of his stories.
If you decide to stay for at least a night and are able to break up Mostar and its surroundings into two separate days, you'll also be able to visit Blagaj, one of Bosnia and Herzegovina's most holy and ancient sites.
Blagaj Tekke:
As mentioned above, if you're able to stay overnight in Mostar, you'll be able to visit Blagaj as well (there just isn't enough time on tours coming from Dubrovnik or Split).
Although Blagaj is a small village-town not too far from Mostar, most tours visit one particular spot – the Dervish Monastery, which is nearly 600 years old! There are a few restaurants in town that line the bank of the river Buna, as well as a few tourist shops, but the real showstopper is the Monastery (it's basically the heart of Blagaj).
You'll want to take your camera because c'monnnnnn isn't she a beauty? The reflections in the water are absolutely outstanding.
Besides admiring this unique wonder of nature and distinct piece of Ottoman architecture (it's nestled into the base of a cliff, tell me that's not impressive), you can go inside as well for a small fee. Just know that you'll need to take your shoes off and cover up a bit depending on what you're wearing.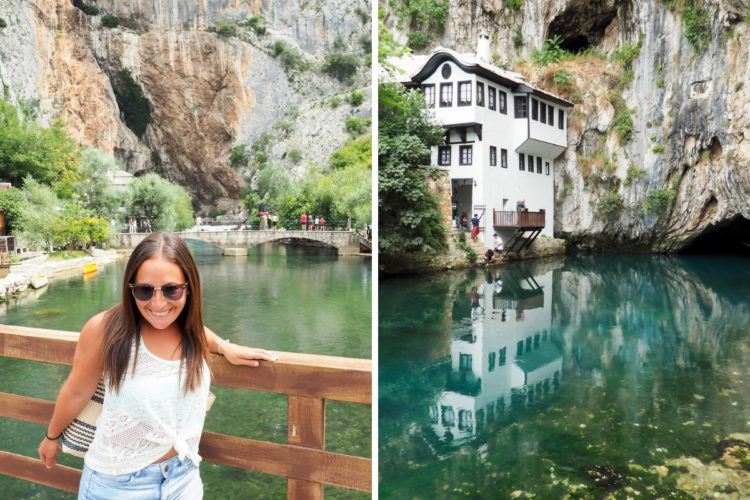 Thirsty? Take a sip from the river below, as the water's pure enough to drink from directly (yup, go for it). And if you decided to head to Blagaj independent from a tour, you can even take a brief boat ride into the cave at the start of the river Buna.
We didn't have enough time because we were off to Pocitelj and Kravice Falls, but it looked like fun! Plus, that green-blue water is something special.
Do you think you'll be taking a Dubrovnik to Bosnia day trip when visiting Croatia? It's a long day, but surely worth it! And it's definitely one of the most popular day trips from Dubrovnik!