Visiting the city soon and looking for the best things to do in Seattle? Read on my friend, you're in the right place! I present you with a perfect weekend in Seattle!
After recently visiting Seattle in May, I quickly discovered what a bright and vibrant city it is.  You always hear about the gloominess and rain, never the sunshine and green space. From sculpture parks and waterfront activities, to bacon brie Belgian waffles and homemade mac and cheese, Seattle has a lot to offer. And then some. Seattleites, your secrets out!
The first thing that pops in everyone's mind (after rain, of course), is the Space Needle and Pike Place.  And while those are Seattle staples, there's a whole other world to discover.
When to Go:
Yes, it's true.  Seattle does get some rain.  A lot of rain – but only in certain months.  Seattle sparkles from April through October, with days bursting with sunshine, getting into the high 70's/low 80's during prime summer months.  It's wise to pack a light jacket (waterproof is best), as the weather tends to be rather unpredictable.  Layers work really well.  I visited in May and the weather was at it's best: warm and sunny!
Things to do in Seattle:
1) Seattle Great Wheel
Many think the best views of Seattle can be found from the observation deck of the Space Needle, but I disagree! While you won't get the best views of the entire city from the Great Wheel, nothing is more relaxing than being in the sky above the water.
Feeling a little fancy?  Consider the VIP gondola – an extra special luxury gondola with four leather seats, a stereo system, and a glass floor.  Can't go wrong with one of the largest ferris wheels in all of the United States.
2) Space Needle (observation deck)
I'm sorry, but there's absolutely no way you can have a proper visit to Seattle without heading to the observation deck of the space needle.  Make sure your ticket includes two different viewing times: day and night.  Or go the easy way out and invest in the Seattle CityPASS.  I'm all about convenience.
And if you learn how to take a proper selfie with the Space Needle, please inform me.  You have no idea how many attempts there are on my phone, but failed miserably each and every time.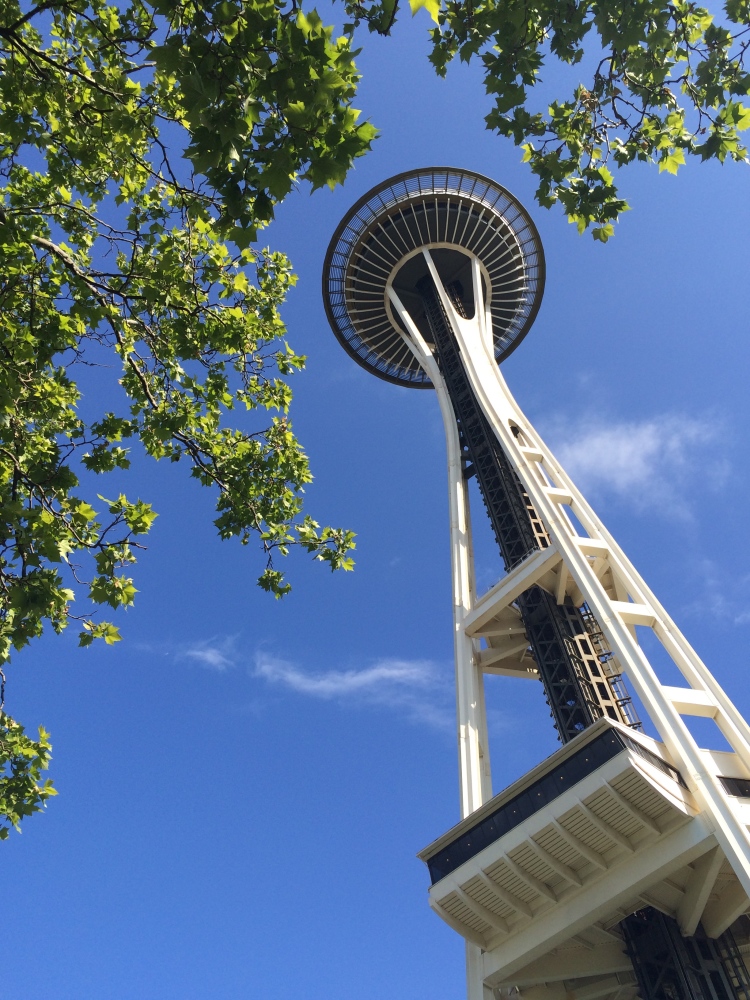 3) Chihuly Garden and Glass
I'm far from the world's hugest art fan, but this museum really blew me away.  The pieces in each room are nothing short of remarkable, and Dale Chihuly (who has pieces featured in more then 200 museum collections worldwide) is now my new best friend.
Make sure to head outside and watch the glass be put into action!  Photos cannot do this exhibit justice – come for yourself and see.  All in all, a great way to spend a few hours in Seattle.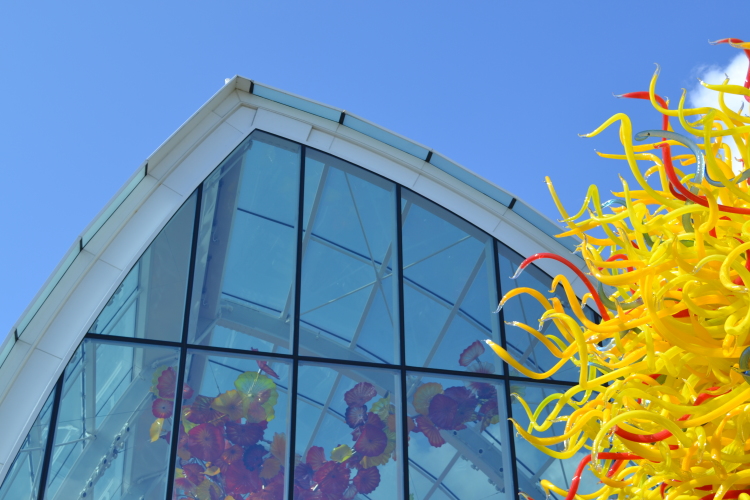 4) Pike Brewing Company
Who doesn't love a free tour around the facility to learn how beer is made? Unfortunately no samples are given out, but feel free to come beforehand or stay late to order a few brewskis from the bar.  You'll learn all about hops, sugar levels, and all that good stuff (it goes in beer, it must be good  :-P).  More than you ever wanted to know about beer!
5) EMP Museum
SO fun, I didn't want to leave.  And aptly named – EMP stands for "Experience Music Project"; you'll definitely get your fair share of experiences here.
Watch music videos on the largest indoor LED screen in the world.  Learn how to play some rock n' roll instruments. Witness the guitar sculpture (which consists of more than 500 guitars).   Spend some time in the game room – yes, you can sit on comfy seats and play video games.
Pop culture at it's finest.
And if you don't have time, I highly suggest you at least visit the outside.  I could have stared at the shimmering building for hours on end.
6) Seattle Public Library
HUGE. Modern. Beautiful.
If you think the outside is stunning, just wait until you see the library on the inside.  I unfortunately didn't think walking through the doors was necessary, but after I saw some photos (once I returned home, of course!), I ultimately regretted my decision.
Located across the street from Hotel Vintage, where I stayed for a few nights.

7) Pike Place Market
I could write a whole post on the market itself (and maybe I will, someday…). Pike Place overlooks the Elliott Bay Waterfront, and you can honestly find ANYTHING you're looking for here.  Donuts, fresh crab, clam chowder.  Ice cream, handmade mac n' cheese, locally grown fruits and veggies.  My favorite were the freshly cut peonies, all for modest prices.  If I was staying for longer I would have bought some for my hotel room.
Be sure to venture around, as the market extends further than many realize.
Find a map here.  It can get quite confusing.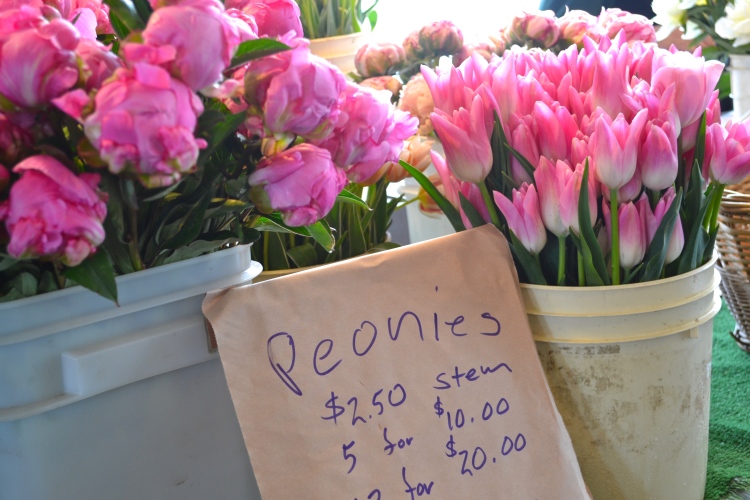 8) Original Starbucks
My honest advice? Take a picture with the sign, and move on.  There are numerous other starbucks around the city (all with the same menu).  And it's actually not the original location- it was moved a few years after opening.  But it's still a Seattle must do!
Also, be sure to notice the logo- it's the only Starbucks in the nation that features the mermaid!
9) Seattle Aquarium
The most fabulous place to spend a rainy morning.  I actually planned it that way – why do the outdoor activities in the rain when there are just as good ones to be seen indoors?  Located on the waterfront, the aquarium has quite a few exhibits to check out, including Window on Washington Waters, which is is a 120,000 gallon tank with dive shows every few hours.
See moon jellies, giant octopus, and seahorse, along with a wide array of other ocean animals.
10) Argosy Harbor Cruise
As I'm writing this post, I'm realizing just how many different views of the Space Needle you can get!  And taking a harbor cruise with Argosy lets you view this Seattle icon from faraway on the water.
On a super clear day, you'll even see the Cascade and Olympic mountain ranges off in the distance.
If it's warm, make sure to apply your sunblock – the sun beat down on me the entire time!  It was hot!
11) Gum Wall
Seattle's dirtiest, grimiest, and stickiest avenue in all of the city.  It's a bit difficult to find, but considering it's such a hot tourist spot in the area, just ask (anyone!) and you'll be ushered towards the gum.  Make sure you chew your own, blow a big bubble, then add your contribution to the wall.  And if you forgot some, there's a lot to choose from. 😉  Would you dare touch the gum wall?!
12) Seaplane Tour
And yet here's another way to see the city – from above, on a seaplane city tour!  I'm always a sucker for a good view! The plane sits about 5, plus the pilot, and you may even have the option to sit up front and be copilot (as I did, of course).  The headphones play a combination of music and commentary, and the views are like no other.  Even on a cloudy day.
13) Kerry Park
Easily some of the best views of the city can be found here in Kerry Park.  On a super clear day, Mount Rainier will be standing tall in the background.  A great place to take a few photos!  Be sure to walk a few blocks to indulge in Molly Moon's Homemade Ice Cream (one of the best treats I had all week)!
14) Olympic Sculpture Park
Spend an hour or an entire afternoon here.  You'll find works of art along numerous walking paths, with a few hidden in there as well!  Pack a picnic and bring a book!  Wonderful place to people watch!
Plus, there are numerous views of the space needle here, which made it super fun to photograph!
15) Day trip to Mount Rainier
My day trip to Mount Rainier was possibly one of my favorite days in Seattle!  The drive is a little over two hours away, but well-worth it!  I mean, just LOOK at that mountain!  Be sure to go on a clear day – if it's super cloudy the mountain may be hidden beneath lots of fog and cloud cover!
Hiking, snow shoeing, and picnicing are all good options! Fun fact: Mount Rainier is actually a volcano! Not too many people know that!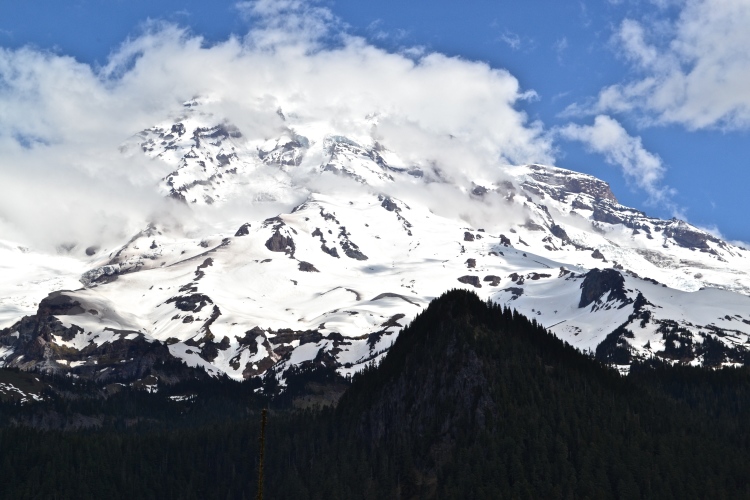 Recommended Activities:
Sleep:
Hotel Vintage Seattle: One word.  WINE.  If a few glasses upon check-in and before bed is your thing, then you can be sure you'll thoroughly enjoy yourself at Hotel Vintage.  With each room sponsored by different Washington Wineries, nightly wine hour, and cork art decorations, there's no reason to shop around.  Located next to the spectacular Seattle Public Library, and within walking distance to Top Pot and Sweet Iron Waffles.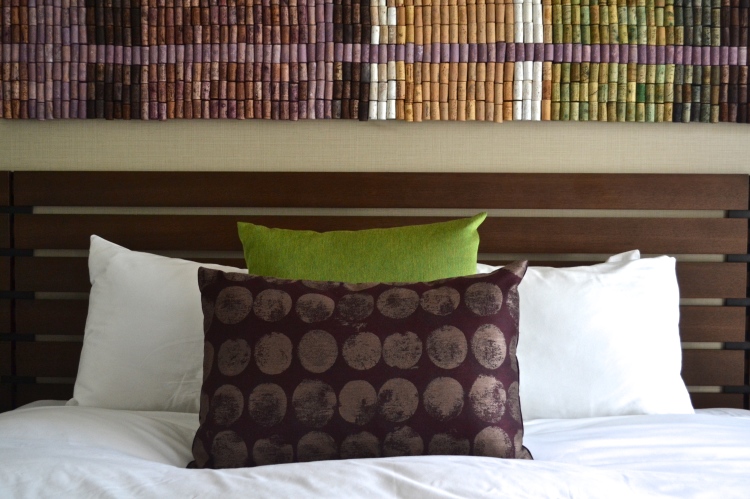 Green Tortoise Hostel: If you're looking for a low-cost option for a few nights in Seattle, look no further than the Green Tortoise Hostel! Highly recommended! The staff were very helpful,.  With Pike Place a mere three steps away, the location can't be beat!
---
Have you been to Seattle?  What's your favorite thing to do there?!