Headed to Hawaii soon and hoping to take a Maui helicopter tour?! I just returned home and cannot stop gushing about our Blue Hawaiian helicopter tour! Seriously, it was absolutely fantastic! Read on for my full review of the company, top tips, and why you need to take a helicopter ride in Maui.
Hawaii is our happy place. Since moving to the West Coast just over 4 years ago, we've already made the short trek out to the islands numerous times. Once for a birthday trip to Oahu, another for my husband to run the Honolulu Marathon, and our latest to run the Maui Marathon (yes, he's a beast and set a new PR at 4 hours, 38 minutes).
We visited the islands a few years back as well when we were still living in snowy New York, that time relaxing on the beaches of Kauai and driving the infamous Road to Hana in Maui.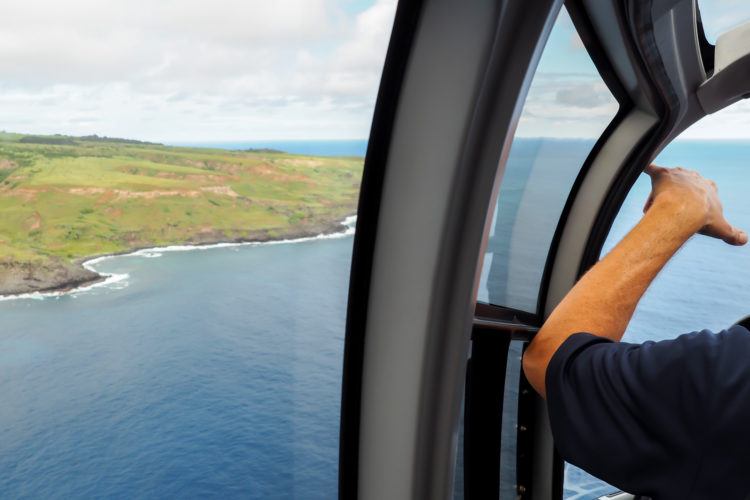 Our helicopter ride in Kauai has been one of our greatest experiences to date (and we've seen our fair share of awesomeness). So when planning our latest trip to Maui, we thought what better than to take a Maui helicopter tour?! So when Blue Hawaiian Helicopters offered us seats on their West Maui and Molokai flight, we were more than enthused.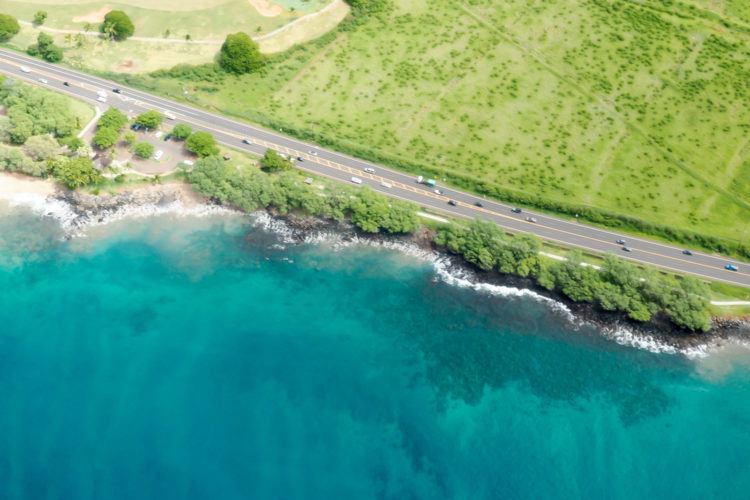 General Info about Blue Hawaiian:
They've been rated as one of the best Maui helicopter tours over and over, have won numerous awards by top travel publications, and utilizes the latest safety systems; we knew our top choice was Blue Hawaiian, easily. I mean, National Geographic even dubbed Blue Hawaiian Helicopters as "Hawaii's premiere helicopter tour company."
As a HUGE lover all things National Geographic, I was delighted to hear this. All pilots are State of Hawaii Certified Tour Guides, and super knowledgeable about the island!
The Maui Helicopter Tour options:
While the company offers helicopter tours on all the Hawaiian islands, there are four to choose from on the island of Maui.
West Maui and Molokai: If exploring deep valleys in the rainforest, spectacular sea cliffs, and misty mountainous peaks are your thing, this tour is for you. You'll also have the chance to see plenty of waterfalls cascading down the cliffs, the famous Iao Valley, and fly across the Pailolo channel to Molokai, the "Friendly Isle". This is the Maui helicopter tour we took, which met all of our excessive expectations and then some.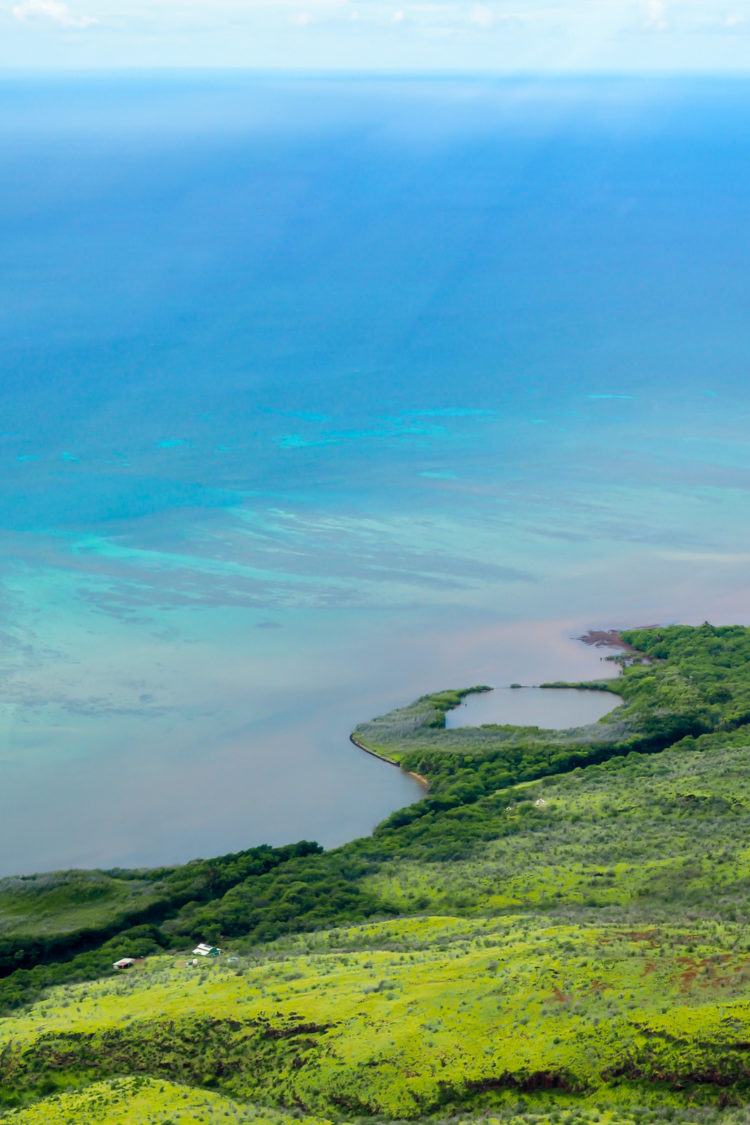 Hana and Haleakala: Being two of the most popular points of interest on Maui, this tour includes all that and then some. Soar over the moon-like vistas of Haleakala National Park (on my bucket list for next time), the town of Hana and it's rainforest, Keanae Valley, and the Seven Pools (Oheo Gulch). Hundreds of waterfalls included as well!
Complete Island Tour of Maui: Having a hard time choosing between the above sights? Want to see it all?! Book the complete island tour and you'll witness the highlights of both East and West Maui, all from the comfort of your helicopter seat (and yes, they really are quite comfy). Included on the complete island tour: West Maui mountains, tons and tons of waterfalls, Hana town and it's rainforest, Haleakala Crater, Oheo Gulch, and more. It's definitely one of the best best Maui helicopter tours you'll find available, that's for sure.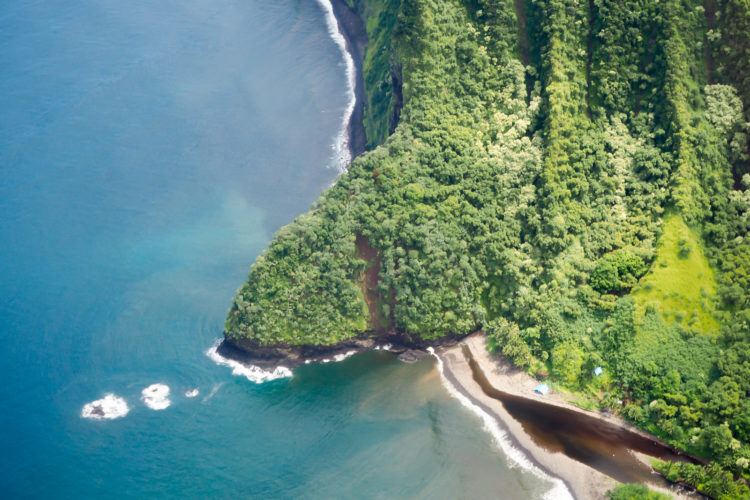 Maui Spectacular: Want an extra special bonus pit stop? After exploring West Maui, you'll land at an exclusive remote landing site (on the slopes of Haleakala!!!!) for some special refreshments (champagne, anyone?). Get on your way and go explore Hana and Haleakala Crater.
The Blue Hawaiian Fleet of Helicopters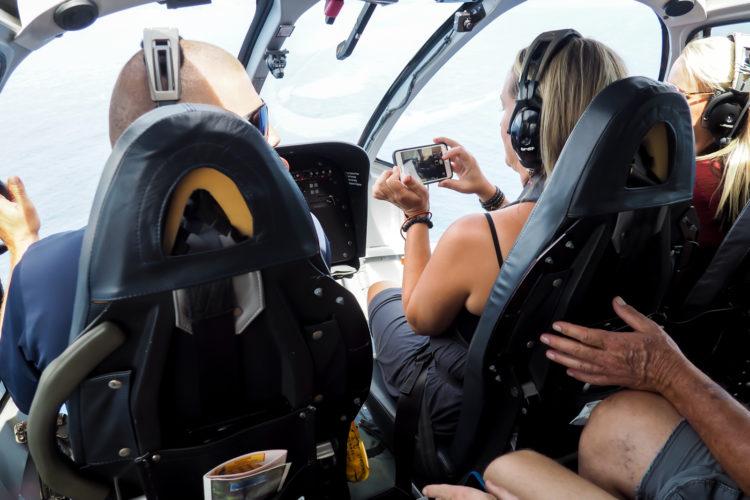 When booking your Blue Hawaiian Helicopter tours, you'll notice that there are two helicopter options available: the Eco-Star, the companies shiny new baby, and the A-Star, the tour helicopter of choice for professional tour operations worldwide since the 1980s.
While both offer fantastic panoramic views (the helicopter is roomy and the windows are large, so there's no bad seat in the house), the Eco-Star is known for it's "quiet-technology". And with our headphones on, we hardly even heard the buzzing of the helicopter.
Our Blue Hawaiian Helicopter Tour in Maui
Pre-flight:
Signing in was easy-peasy, and after scarfing down a breakfast burrito while waiting for a few more guests to arrive, we were shown a safety video and instructed on the procedures for the day.
Thankfully the Blue Hawaiian's private facility at the Kahului heliport offers free storage lockers to guests since no bags are allowed on board the aircraft. We were able to take along our sunglasses and camera equipment, although note that you'll have to leave any selfie sticks in the locker (for safety purposes I'm guessing).
The Flight:
Maui is commonly dubbed as "The Magic Isle", and while it sounds cheesy, this flight definitely held true to its name!
As noted above, we were booked on the West Maui and Molokai helicopter tour. We soared through the pristine West Maui mountains, keeping our eyes peeled for hidden waterfalls (which our pilot graciously pointed out for us time and time again). He informed us that oh so much of Maui and it's magnificent secrets are inaccessible, and the only way to actually see them is by helicopter.
And let me tell you, viewing Maui from above gave us a new and wonderful perspective of the picturesque tropical island scenery. I could have stared out that helicopter window allllll day long.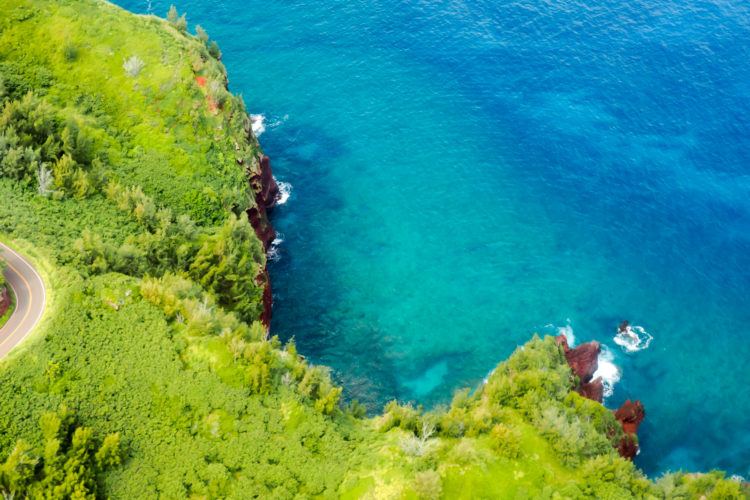 Maui's beautiful coast lines are surely like no other (well, besides Kauai maybe). :p I honestly couldn't believe just how similar it looked to the rugged Na Pali coast on Kauai…. but then again, it is Hawaii, so yeah, unsurpassed beauty all around.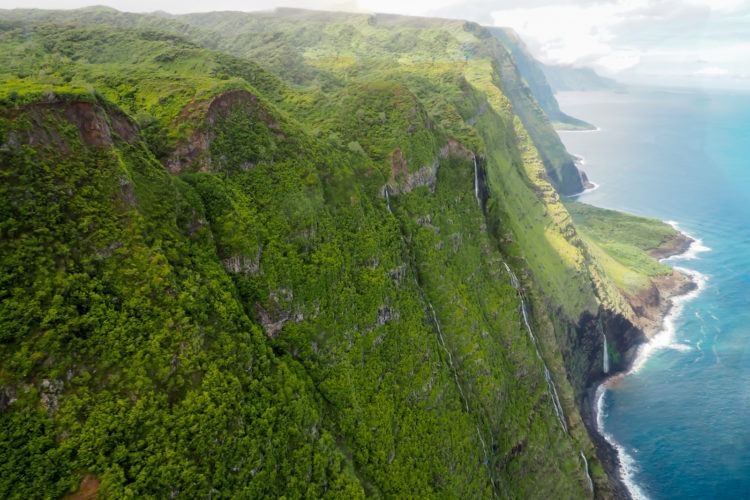 Then we were off to Molokai, Maui's sister island, and home to the world's tallest sea cliffs. Our pilot whizzed us throughout the peaks and valleys of the mountains, showed us an intricate reef from above (which was all kinds of WOW and I even saw a manta ray!), with the visibility of the water being absolutely astounding!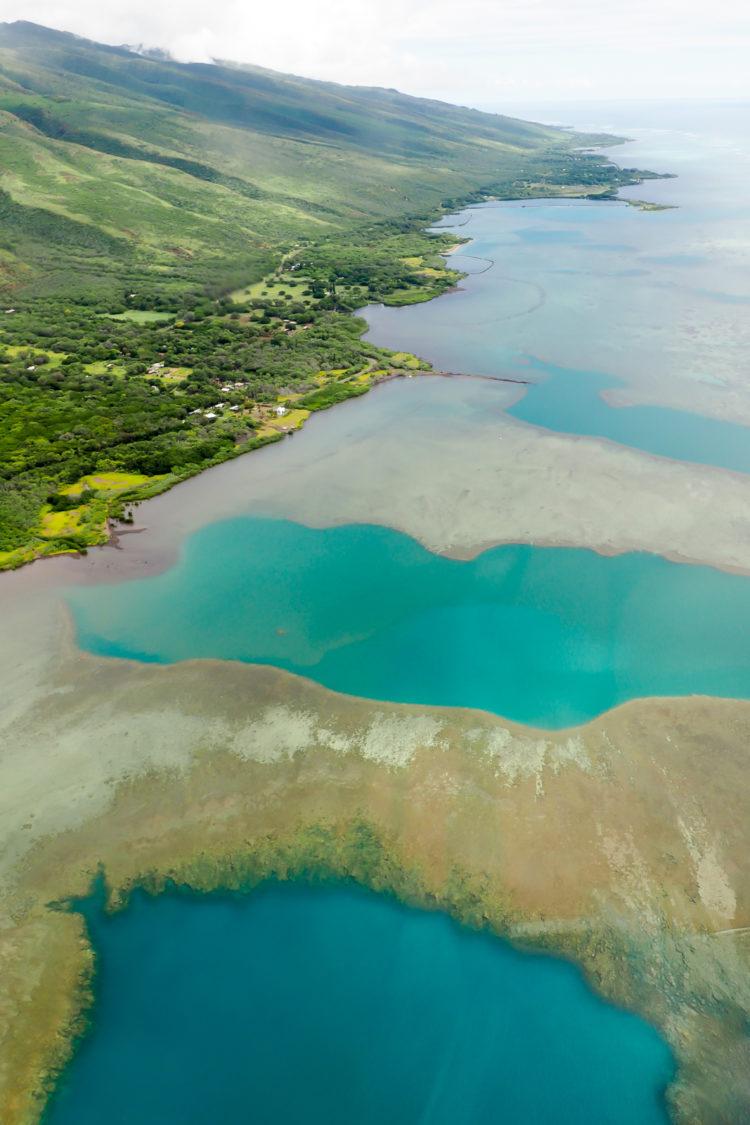 Not only was the scenery downright spectacular, but we were given Bose® aviation grade noise-canceling headsets which we were able to use for two-way communication with our pilot during the flight. He was exceptionally knowledgeable, answering all our silly questions about Maui and providing us insider knowledge about the island's vegetation, history, and all that jazz.
And when he wasn't providing us information about what we were seeing below, soft music played in our headphones. I absolutely loved this, as it made the whole experience feel so surreal and peaceful.
The end of the flight provided us with great views of Kaanapali and Lahaina, where we were staying with all the hotel hi-rises and yachts making their way out to sea. We even got to take note as to where our races would be starting the following day from above.
We found the flight to be extremely comfortable and exceptionally smooth. The seats were large and the seat belt strap felt secure but not too tight. "Courtesy bags" for nausea were provided, but no one on our flight even reached for them once.
This flight provided the best of both worlds: waterfalls, mountains, ocean views, and more. A camera can't do justice to the scenery. Mahalo Blue Hawaiian, we'll never forget our time in the sky with you!
Tips for taking your own Maui helicopter tour:
Be sure to wear dark colored clothing for better pictures. Light colored clothing shows in the reflection as a glare on the glass doors. Actually, light colored anyyything (bare legs, camera straps – mine's white, safety papers in the helicopter) reflects on the glass.
This makes it somewhat difficult to take decent pictures from the helicopter. And trust me, boy are they exceptionally difficult to edit out in photos. 😐 If you're a photo fanatic like I am, you may want to bring along a black blanket/scarf/sweatshirt to keep on your legs to help minimize the glare.
I wish I did this, but unfortunately I only thought of this right now.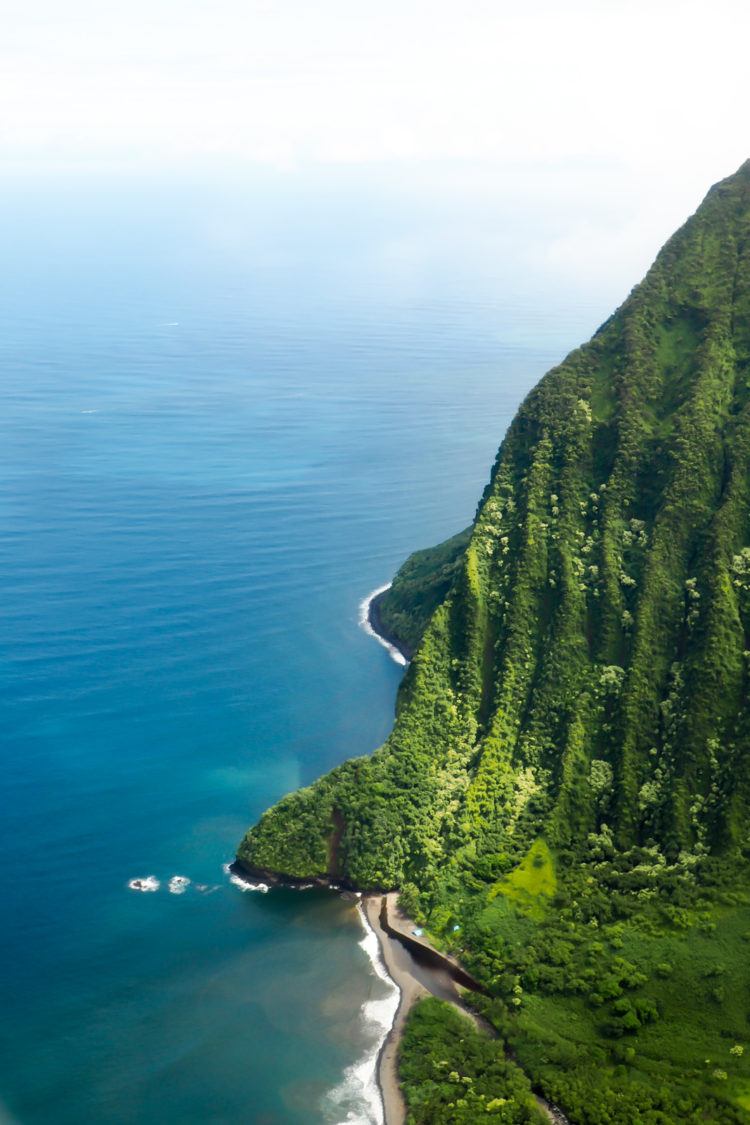 Bring along a device to take not only photos, but videos as well. I highly recommend taking something other than your cell phone. While cell phone cameras have greatly improved in quality over the years, the quality diminishes tons when you zoom in. Because of that, I suggest investing in either a mirrorless or DSLR camera if you don't already have one. My personal choice and what I use on all my trips here.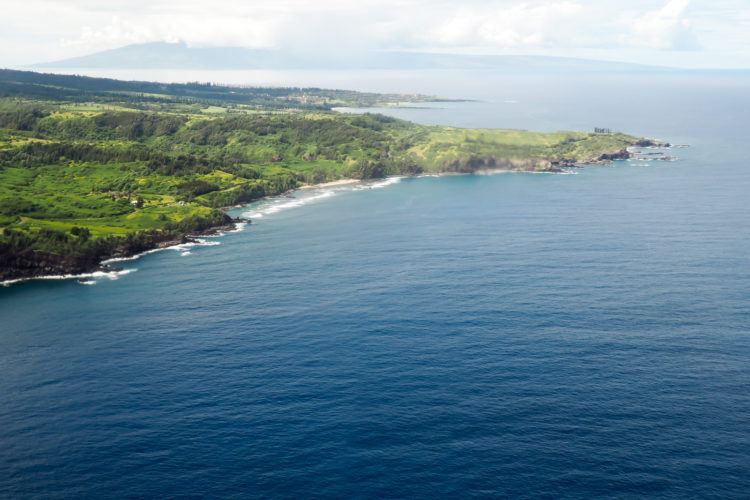 Helicopter tours in Maui are popular for good reason – they're downright spectacular. If double rainbows, the opportunity to spot whales from above, and gushing waterfalls are your thing, book yourself a seat on a Blue Hawaiian helicopter. You won't regret it.
Disclaimer: This post was written in collaboration with Blue Hawaiian Helicopters, but all opinions and helicopter freak outs are my own.