Heading to California and can't wait to check off all the stops on this Big Sur road trip itinerary? Read on for my favorite Big Sur activities, where to stay, what to do in Big Sur, and (most importantly), what and where to eat! This Big Sur road trip will have you booking flights to California ASAP, promise!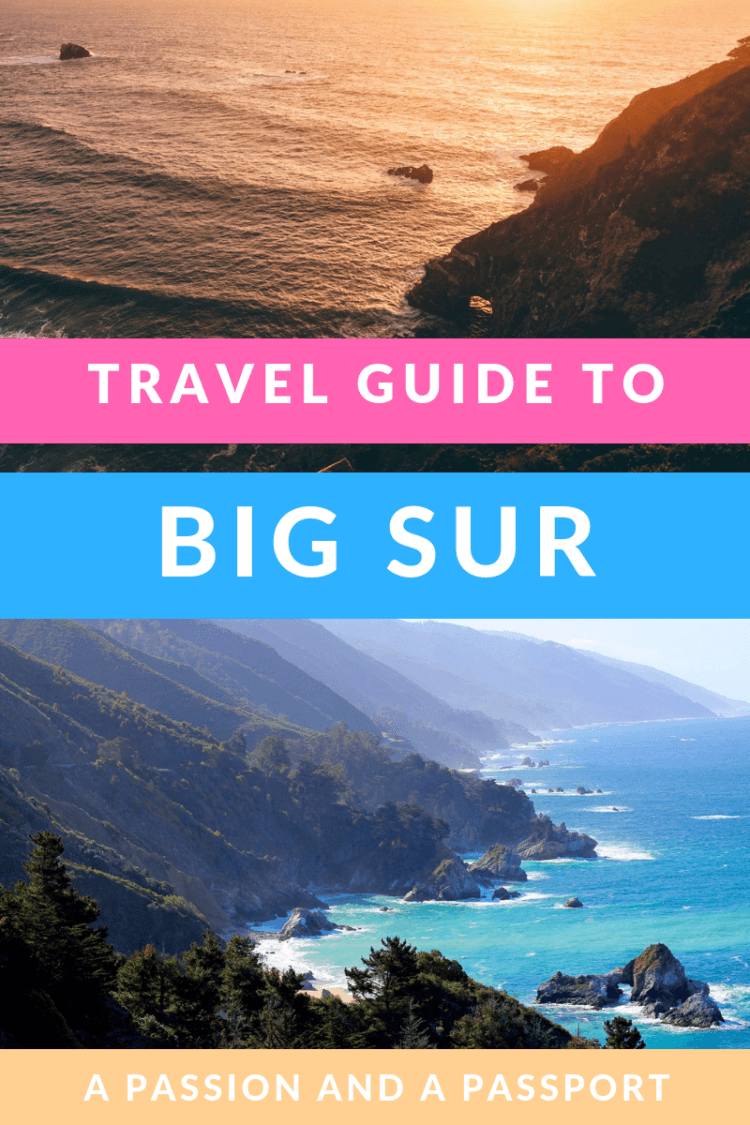 Seaside cliffs. Winding turns. Miles of misty coastline. Purple sand (yup!). Just a few of the things Big Sur is well-known for. And just one reason it's on every list of the most beautiful places in California.
Big Sur is one of my favorite places IN THE WORLD (hands down) and one of my favorite road trips from San Francisco. I mean, it's absolutely GORGEOUS. I feel oh so lucky to only live a few hours north, which means we typically make it to Big Sur at least once a year!
Whether you're driving down the entirety of the California coast or just making the short drive from SF, you're in luck. And I'm jealous of you already. With more ocean views than you ever thought possible, eco-friendly and luxurious hotel stays, wooded hiking trails and nature for days, I can never get enough of this stretch of the coastline.
This rugged and mountainous section of the Central Coast of California is just begging to be explored. And trust me, there's enough things to do in Big Sur to fill an entire weekend and then some. Read on for the most perfect Big Sur road trip itinerary!
If you're looking to take a much longer trip down the PCH, check out all my favorite stops on the Pacific Coast Highway – yes, all 75 of them!
BUT FIRST, THE BASICS
Nearest City: Carmel (to the north, ~45 min drive) and San Simeon (to the south ~1.5 hour drive)
Closest International Airport: San Francisco (SFO), ~2.5 hour drive
Most Well-Known for: McWay Falls and the Bixby Bridge
When to Visit: April through October, although my favorite time of year is early Fall
How to Get Around: You'll need (and want) your own car, 110%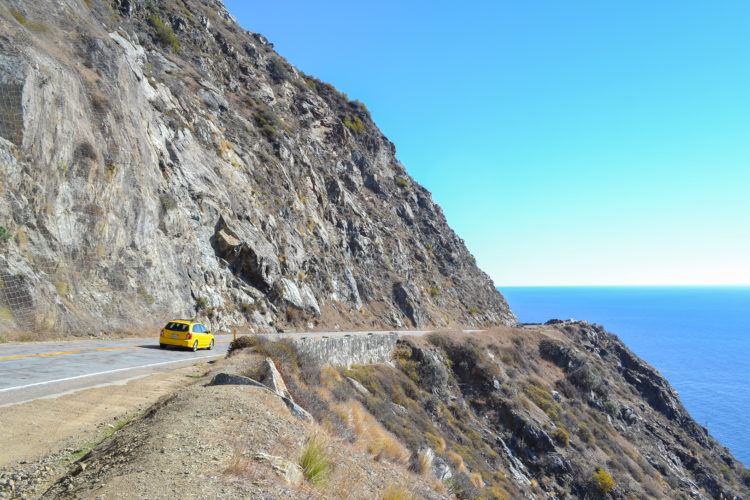 Since the road to Big Sur is finally open again (after months of closure due to horrific mudslides), now's the time to visit! Definitely don't miss one of the most unforgettable stretches of majestic coastline in the world. It makes an excellent weekend trip from San Francisco, that's for sure!
READ NEXT: 25+ Best Road Trips from San Francisco
How to Get to Big Sur:
Thankfully, getting to Big Sur is pretty easy, as long as you have a car. If you're from outta town, and by that not within driving distance, you'll need to get yourself to SFO (San Francisco) first. From SF, Big Sur is about 2.5 hours south. You'll most definitely wanna make a few stops along the way (Half Moon Bay, Pescadero, Santa Cruz, and Carmel/Monterey are my favorites), so plan accordingly!
Renting a Car: Note that you'll undoubtedly need a car for this Big Sur road trip (it is a mini road trip after all!) So if you're visiting the area (or live in the city and don't have access to a car), a car rental will be a necessity! I like to search via this site in order to compare rental companies to see who has the best price. They check out all the major websites, and you can customize what you need as well! You'll most likely be coming from the airport if you're visiting, so aim to pick up your car rental from SFO.
Search for the cheapest car rentals over here!
When to Visit Big Sur:
Big Sur is most popular between April and October, when the weather is at it's nicest. You'll find plenty of sunny days over here! Of courseeee this is when it's most crowded, so if you hoping to have McWay Falls all to yourself, think again. Not happening.
However, if you wait until the summer rush is over and visit during either September or October, you'll experience less crowds and actually better weather! Not many out-of-towners know this, but coastal fog is another downside of a Big sur road trip during summertime; it can hang around as late as midday! The fog is usually gone by early Fall, and you can even witness whales and butterflies this time of year (yes, really, if you know where to look!)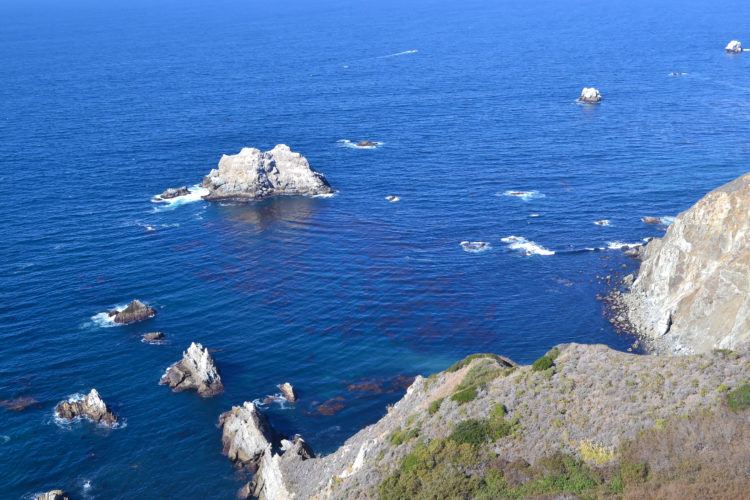 Visiting between the months of November to March? It's important to note that many businesses have shorter opening hours during the off-peak season.
Read Next: 25+ Long Weekend Trips from San Francisco
Temps are mild year round, ranging from a cool 60 degrees to a balmy 75 degrees F. It's always wise to bring along a jacket no matter what month you'll be frolicking around Big Sur, as it never gets particularly hot hot hot, and temperatures are always cooler on the coast than in the mountains nearby.
Where is Big Sur Exactly?
Many people don't actually realize this, but Big Sur is not an actual city/town for that matter. It's more of a state of mind rather than a specific point on a map, encompassing about 90 sunny Californian miles down the Pacific Coast Highway.
This mesmerizing stretch of coastline is located between Carmel (about ~45 min drive north) and San Simeon (roughly 1.5 hours drive south).
Most people are surprised at how little "civilization" is around here – no traffic lights, strip malls, or banks. It's so nice to just be surrounded by nature and kinda forget about the rest of the world for a little while!
How Long to Stay in Big Sur:
With that being said, you can easily see oh so much in even as little as one day. If this is your first time to the area — don't rush it! I recommend anywhere from 1-3 days in Big Sur, kinda depending if you wanna go on a few hikes or just see the typical tourist Big Sur road trip stops.
EXTRA BIG SUR ROAD TRIP TIPS
Plan ahead. As you saw above, there's lots to do within the 90 mile drive encompassing Big Sur. Sure, you can be spontaneous, but you'll probably miss some of the best spots. I highly suggest to map out your Big Sur road trip in advance to ensure you're seeing the best of the best of the area.
A full day drive through can be enough time, but I don't recommend it. You can definitely see a great deal of what the area has to offer, but to truly understand it's captivating magic, you'll want to stay the night. The area too expensive for ya? Try camping or make the short drive back to Carmel for less expensive accommodation options.
Note that mudslides happen quite frequently in Big Sur and nearby. Check this site for current highway conditions before your drive.
Bring binoculars to see the wildlife, especially in Point Lobos!
Things book up fast, especially in the summer and fall. It's best to make hotel and restaurant recommendations in advance.
There is absolutely no cell phone service in Big Sur. At all. Don't expect to be connected and/or be able to use Google Maps to get you from place to place. Download the map to your phone beforehand when you still have wifi/service, and may be able to use it for GPS purposes. You'll find wifi at most popular restaurants, bars, and hotels — but, don't keep your nose in your phone all day!
Grab a free map of the area. With that being said, Big Sur's free tourist newspaper has a fantastic detailed map. Pick up a copy of the newspaper at almost any establishment in the area.
Keep a sweater or two in the car. One minute it'll be warm and sunny, the next the fog will roll in dropping the temperature 15 degrees. Always better to be prepared! It's also a good idea to keep some hiking and/or beach clothing accessible in the car as well. It may not be beach weather when you set out for the day, but later in day who knows!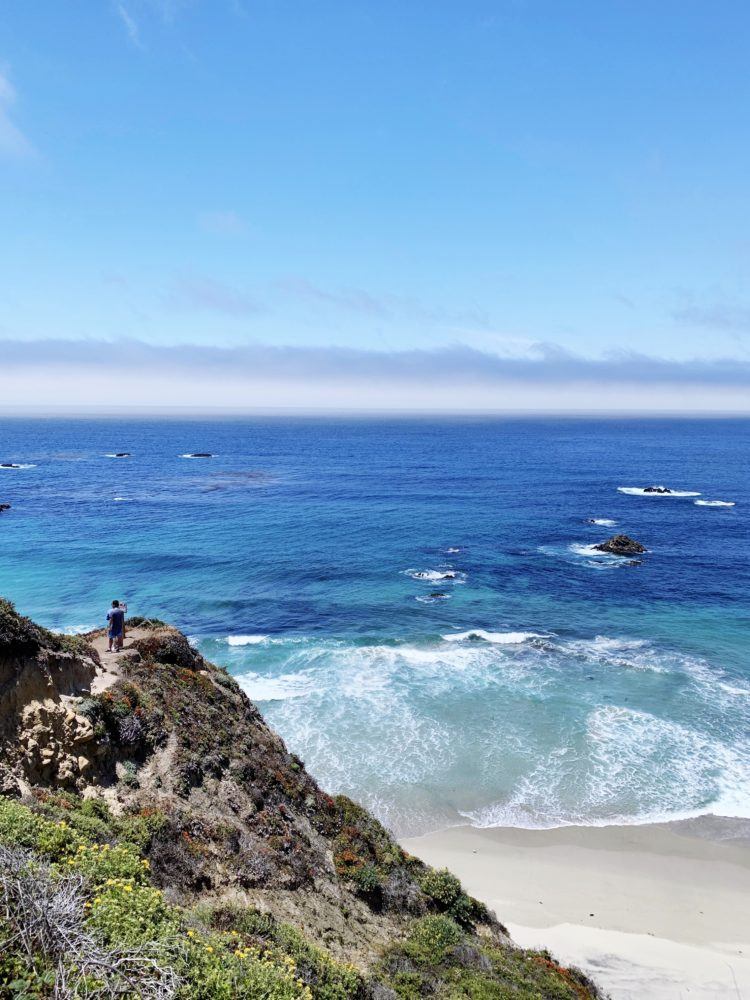 A FEW COMMON QUESTIONS
Is driving to Big Sur dangerous? Yes and No. There are twists and turns along the cliff, with most parts of the highway being only one lane in either direction. The road is narrow, so be extra careful when pulling over for the views (my advice – only pull off in designated spots, there's plenty of them). Just take the drive slow, stay alert, and you'll be ok.
How long does it take to drive the Big Sur coastline? It could take as little as 2 hours (if you don't stop at all), or 2 days if you make all the stops for the views, foods, and hikes. Pace yourself – it's all beautiful. There's typically some traffic, so if you're just driving through, expect it to take at least 3 hours.
Where does the Big Sur drive start? There's no real "starting point". Since Big Sur is located between Carmel-by-the-Sea and San Simeon, it's best to start from either of these (and finish in the other) if you wanna experience the entire coastline of Big Sur.
Why is Big Sur famous? Have you seen the photos?! It's known for it's pristine scenery, full of turquoise water, beautifully-designed bridges, rustic hiking trails, and more.
Can you swim in Big Sur? Yes and No. Despite all ocean views and beaches, there's not many safe spots for swimming. The waves are unpredictable and pretty rough. And plus, the water is chilly over here! Head to Carmel, Monterey, or further south (Cambria, Cayucos, Morro Bay) if you wanna swim.
What to See and Do on Your Big Sur Road Trip:
Woooo – it's finally time to get this Big Sur road trip itinerary under way!
You can drive all of these Big Sur road trip stops from either north to south (starting in Carmel) or south to north (starting in San Simeon) of course, but I prefer driving from NORTH to SOUTH. The scenic pull-offs are along the coast, and driving north to south provides the easiest access to these. And plus, I'm from San Francisco so I'm typically driving down the coast, not up. 🙂
With that being said, I'm planning out this Big Sur road trip itinerary from north to south. You can easily follow along the road trip stops, doing every single one (my recommendation) or picking and choosing a few if you only have part of a day.
From North to South:
First things first, if you've never been to Carmel or Monterey, I highly recommend spending at least a day discovering both. My favorites in that area include: Carmel Beach, Lover's Point Park, Pavel's Bakerei, the 17 mile drive, and whale watching! The Monterey Bay Aquarium is a popular favorite as well!
1. Point Lobos State Natural Reserve
As you start your Big Sur road trip down from San Francisco (after exploring Monterey and Carmel-by-the-Sea prior), you're first official stop should be Point Lobos! There are a ton of walks and trails to choose from, with all difficulty levels. And thankfully, everything is laid out quite well with proper signage, so there's no risk of getting lost.
While the entire reserve is beautiful, don't miss China Cove and Bird Island Lookout (on the southern part of the park). They're my two favorite spots in Point Lobos, and you won't find clearer waters.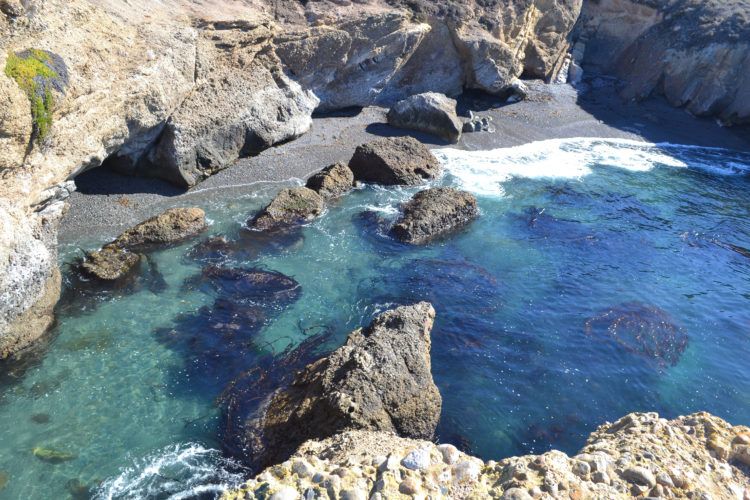 If you're visiting in winter, don't miss the chance to go whale-watching, as this area is a haven for them! You'll also be able to witness sea lions and harbor seals frolicking around on nearby rocks any time of year — listen and you'll hear them no problem!
Go hiking, walking, bird watching (pelicans frequent the area), scuba diving (yes, really!), all while taking in the magnificent views! Bring your binoculars for wildlife viewing! You may even see an orca and/or dolphin off the coast!
Note that parking costs $10 to enter the park, but you can easily park on the side of the road (if you don't mind walking a far distance to get in).
2. Garrapata State Park Bluff Trail
Okay, so we just discovered this spot off the side of the highway on our last visit to Big Sur, and I cannot believe I never noticed it before! It's pretty secluded and kinda secret (aka not on all the typical "things to do in Big Sur" posts), so I hope you enjoy it as much as we did!
A short 15 minute walk along the cliffs with beautiful views of the coast and even a waterfall! I wanna go for sunset next time!
Psst: If you're visiting in early spring, don't miss Calla Lily Valley right near Garrapata Beach (different location than the Bluff Trail).
BONUS STOP! CALLA LILY VALLEY!
If you happen to be visiting Big Sur between February and early April, you NEED to make a short pit stop at Calla Lily Valley! It's such a unique spot on the coastline, and it's only a .25 mile hike to get there!
Read Next: Everything You Need to Know About Visiting Calla Lily Valley in Big Sur!
3. Rocky Creek Bridge
THIS is the bridge that everyone thinks is the iconic Bixby, but it's not! Although I can definitely see why – it's just as beautiful and even the same style! If you're not in a rush on your Big Sur road trip, why not make the extra stop? The water was soooo extra beautiful when we were there – we actually felt like we were in Hawaii for a hot second!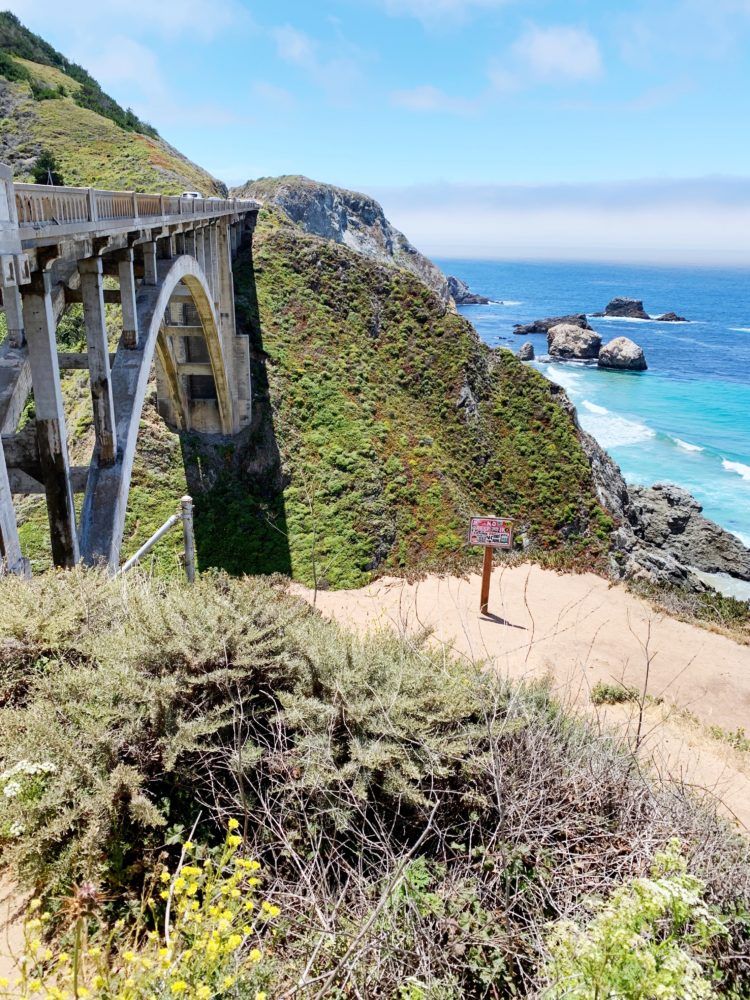 4. Bixby Bridge
Any Big Sur road trip ain't complete without a stop at iconic Bixby Bridge, one of the most photographed spots in Big Sur (which I'm sure you've seen alllll over instagram and pinterest).
You won't miss it, promise, as it's just a short 15 miles south of Carmel-by-the-Sea. Bixby Bridge is the epitome of Big Sur and it's everything you'd expect and more (but really, it's the surrounding scenery that really steals the show).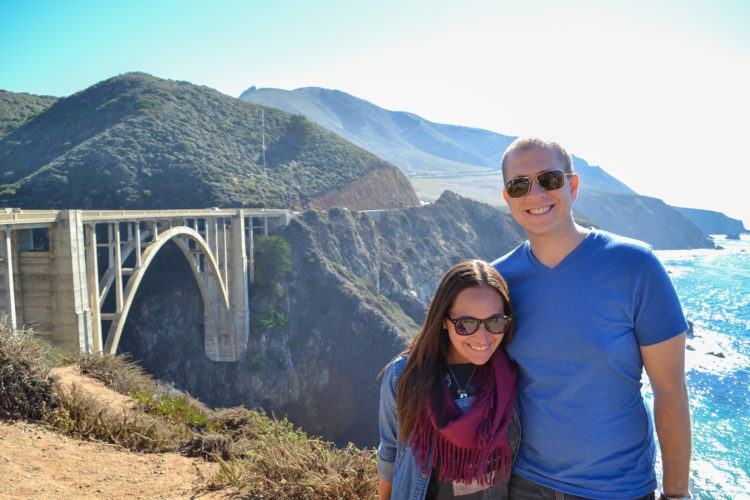 Top tip: pull off at a turnout from the bridge's south end at sunset. Absolutely spectacular and downright mesmerizing. The view from the entrance to Old Coast Road isn't half bad either. 🙂
Be warned, traffic can slow along this stretch (especially south bound) during the summer, so it's best to visit Bixby in the early AM!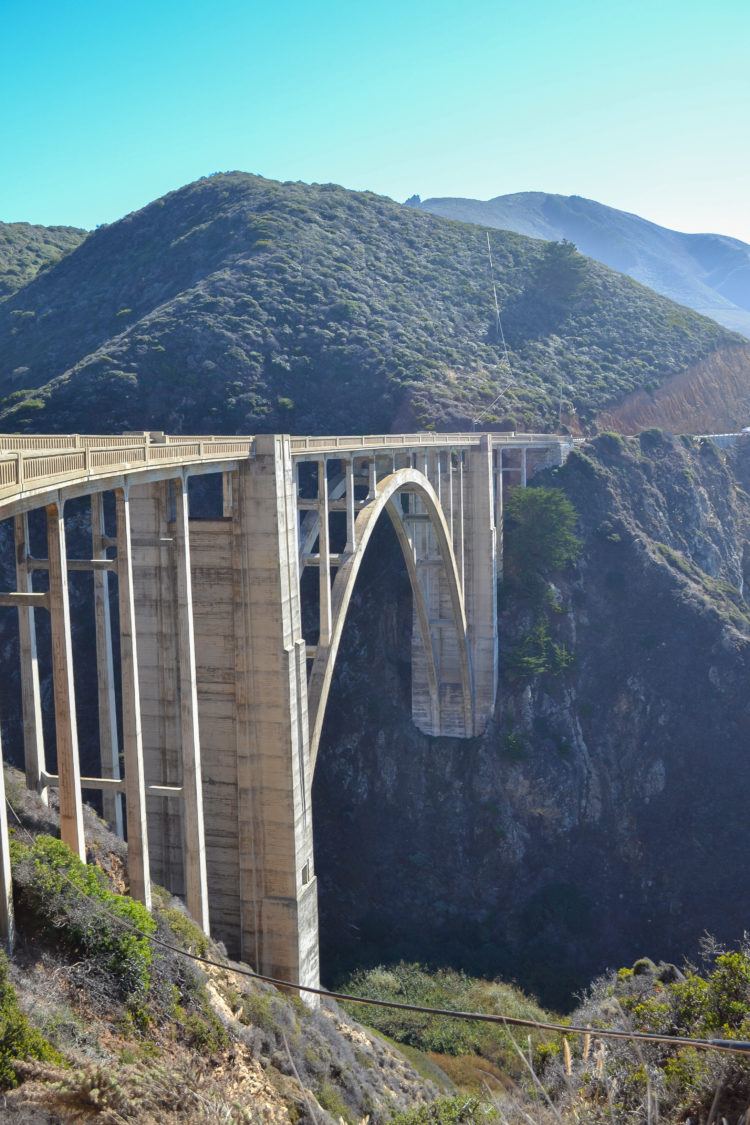 5. Old Coast Road
This 11 mile road is what those back in the day had to use before the famed Highway One was complete! — and not many tourists know about it just yet! You'll be driving on private land, so you can't stop to take tooo many photos, but since it's usually not crowded, feel free to stop in the middle of the road if you must for some shots. Just be careful to watch out for other vehicles coming and livestock roaming around! The entire road is comprised of redwood groves, babbling brooks, rolling hills, and lot's of no trespassing signs. Basically, nature at it's finest. 🙂
Tip: Driving it can be challenging, but well worth it. You'll want an all-wheel drive for best mobility, but if all you've got is a regular sedan, go slow and you should be a-okay! The road is not paved. Don't go during the rain or after it's just rained as the road is all dirt and can get quite muddy at times.
6. Hurricane and Sea Otter Refuge Viewpoints
All the views all gorgeous on the coast, but these two have ample parking and suuuuuch great views of the coast all around!
7. Point Sur State Park and Lighthouse
Next up on this Big Sur road trip itinerary – the Point Sur Lighthouse! While the tours are quite long at three hours, the history and information is so interesting you won't even notice the hours passing by. Be sure to check the website as tours are not offered every day. And get there early — the tours only accommodate 40 people! Take along some warmer clothes as it gets quite chilly up at the top of the lighthouse! Thankfully there's hot chocolate, tea, and/or coffee waiting for you. Tours cost $15 per person.
There's also some hiking in the state park, with sea lions and starfish in the tide pools nearby.
8. Big Sur River Inn
Hungry? This place is absolutely perfect for lunch! The menu's pretty large, and you can even eat while dipping your toes in the river! They've got a manicured grassy lawn which is perfect for picnics, and a whole set-up on their outdoor patio with tables and umbrellas.
Sure, the food is on the pricey side (like the rest of Big Sur), but it's such a great place to stop and relax for a bit.
There's a retro school bus selling ice cream right off the parking lot, which is perfect on a hot day. And plus, what's cooler than a cone from a bus? :p
9. Pfeiffer Beach
Have you ever seen a beach with purple sand?! Yea, neither had I until I visited Preiffer Beach in Big Sur. After you finally find it (the road to get to Pfeiffer Beach is a bit hidden and narrow with no signs), you'll be pleasantly surprised that the sand is actually truly purple in some spots on the beach. Note that the color of the sand realllly comes alive right after it rains.
You could easily spend a few hours admiring the keyhole and rock formations on the beach. You don't really need your bathing suit here as the water is waaaay too cold. You can always put your feet in if you'd like!
How to get here: When you're heading southbound (recommended), take the 2nd right after you see the Big Sur Station. You'll see a big yellow sign that says "NARROW ROAD: NO RV's OR TRAILERS." Go down that road! It costs $10 once you make your way a bit, but it's well worth it once you get to the beach. Use caution while driving as the road is rather windy and narrow!
10. Big Sur Bakery
Small and cozy and rustic and delicious. Big Sur Bakery is typically pretty crowded, but it's worth the wait.
Our favorite thing to get: almond croissant. I repeat, the almond croissant is orgasmic. Sure, it's the most expensive pastry I've ever bought (at a whopping $8.50), but my husband and I both felt it was worth the hefty price tag. And it's large enough to split, for sure.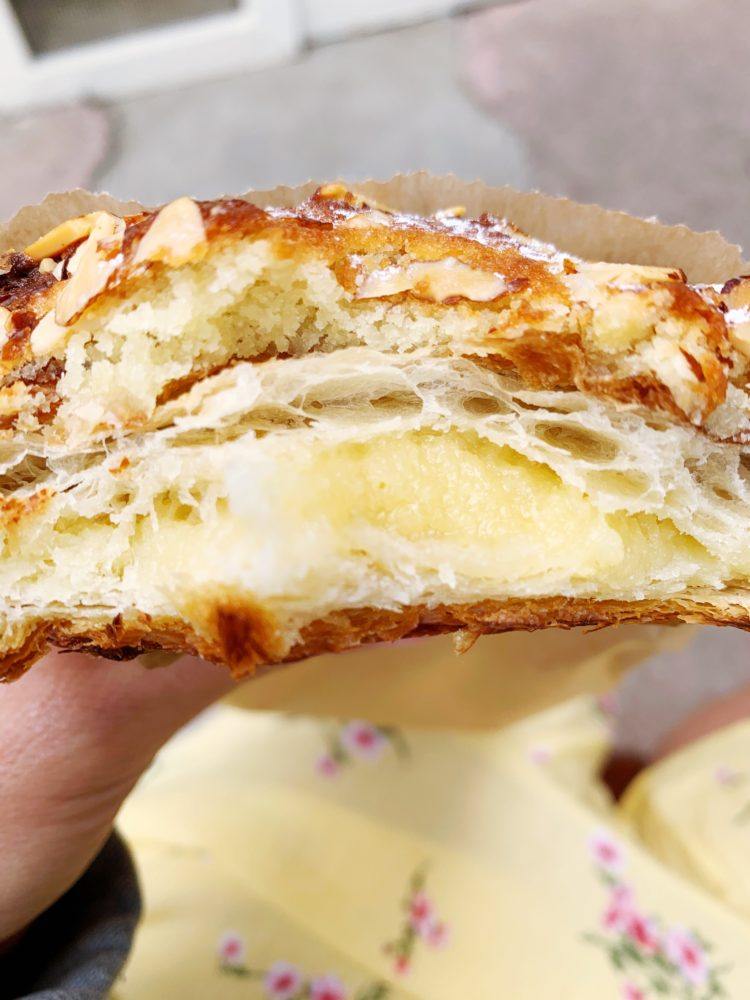 The banana bread is great too, but now that we've had the almond croissant, I don't think we'll ever be getting anything else.
They've also got some wood-fired pizzas, burgers, and avocado toast if you're still hungry after Big Sur River Inn. As well as (chive and cheddar) scones and strudels and coffees and cream-filled donuts.
Oh, and the bakery has public restrooms available, which is always good to know on a road trip without much service!
11. Nepenthe
Cocktails with a view? Yes please! We love to break up our Big Sur road trip with some cocktails and appetizers from Nepenthe.

I feel the need to say this since you'll be getting back in the car to continue on the 1: if you're the driver, please be responsible and limit yourself to one drink at most.
If the weather's lousy (as in thick fog drastically impeding the views), I honestly wouldn't bother with Nepenthe. While the food and drinks are good, you're paying for the view.
12. Henry Miller Memorial Library
Book lover? Head to Henry Miller Memorial Library, and you'll be nothing less than impressed. From free coffee available and interesting and unusual titles for purchase, it's worth spending a while here to soak up the Big Sur atmosphere.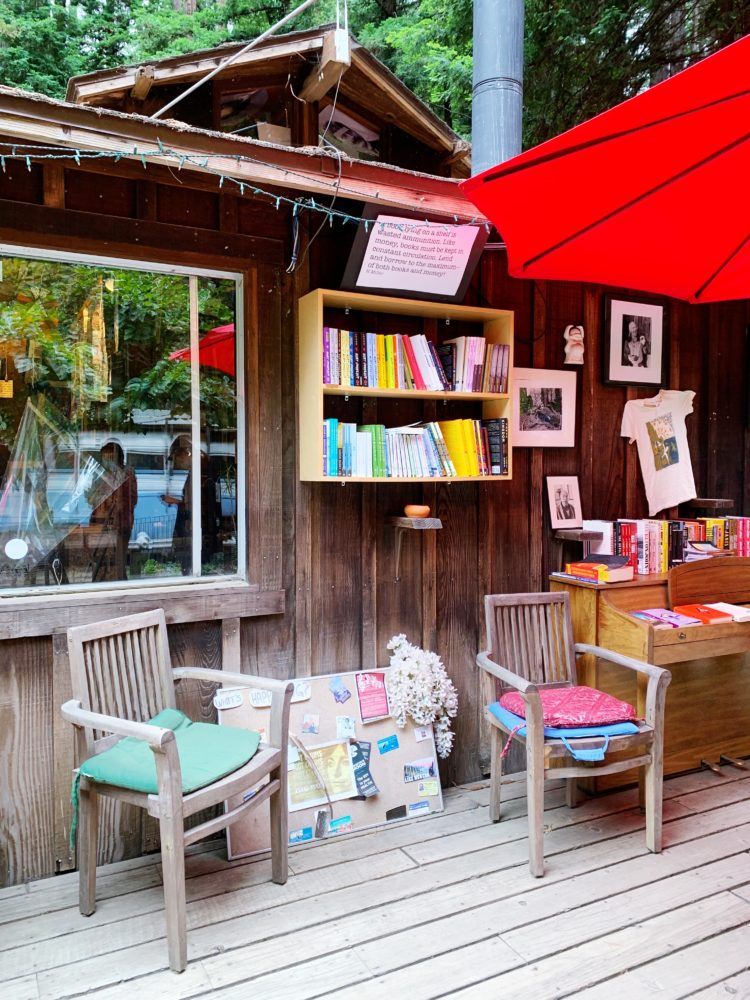 Tranquil. Cozy. Quiet. Don't miss it – it's even surrounded by giant redwoods! They sometimes even host concerts, cultural events, and film nights as well.
13. Julia Pfeiffer Burns State Park – McWay Falls
After Bixby Bridge, this is on everyone's must see list during any Big Sur road trip. And there's a reason for it — the 80-foot waterfall is absolutely stunning. In every way, shape, and form.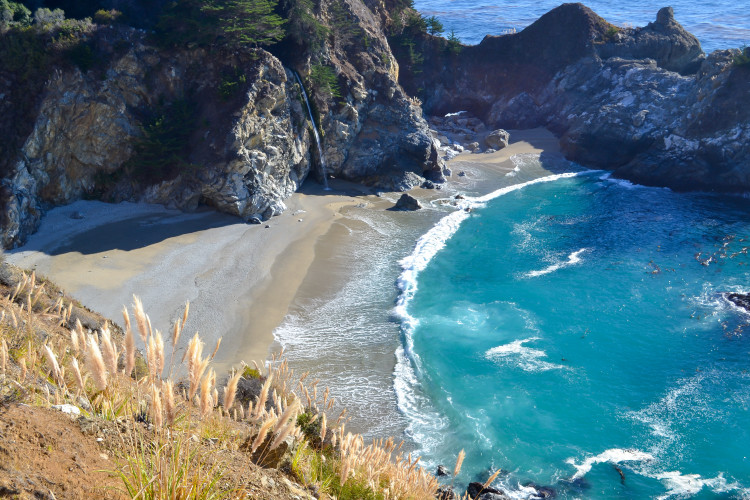 A short 10 minute walk from the parking lot will get you to a beautiful waterfall crashing directly into the Pacific Ocean's emerald water. Psst: When people say they're "hiking" to McWay Falls, they're really just casually strolling down a paved path.
And if there's still orchids and wildflowers out, you'll think you're in Hawaii. Absolute paradise, albeit rather crowded at times.
LOCAL TIP: Visit Julia Pfeiffer Burns in the afternoon when the sun is shining directly on the waterfall – it will be cast in shadows and difficult to see at other times of the day.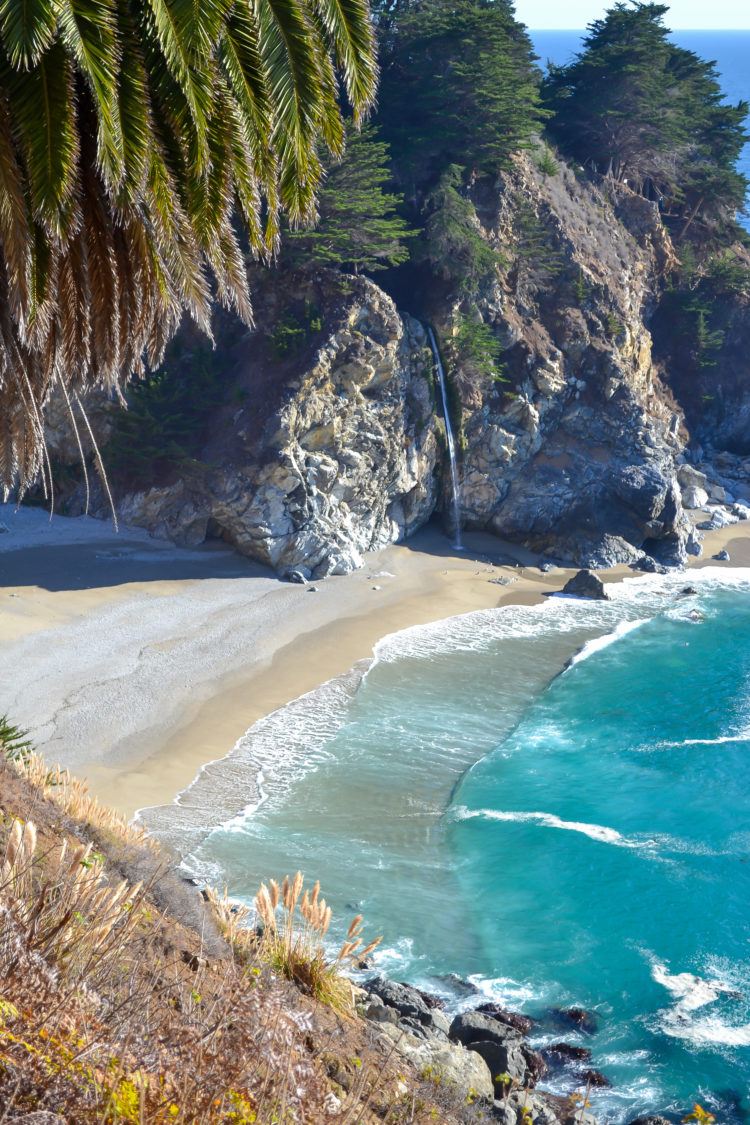 There is a $10 honor system daily charge, so bring some cash. You can easily park on the side of the road and forgo the paid parking, which is what most people do (I'm not saying it's a-okay… just letting you know that's an option if the parking lot is full). And thankfully, the parking lot has bathrooms! Yes!
Be aware that the trail is sometimes blocked off due to erosion, and you may not be able to get that picture perfect view. In addition, since California is still somewhat in a drought, the falls may be quite dry during the summer months.
Do note there is no beach or ocean access, and it's actually forbidden to go down there. There are plenty of other beaches to hang around, so do your part and just stay where you're supposed to be.
14. Limekiln State Park
Haven't had enough of the great outdoors on your Big Sur road trip just yet? Limekiln State Park may be juuust what you're looking for. The park offers a few short hikes, each offering their own thing, to waterfalls in redwood forests and access to the beach.
And thankfully, neither are too strenuous or long (perfect if you don't have all day). Be sure to take along a sweater as the trails are shaded and can be very cool the entire time, which makes for a spectacular break on a super hot day!
Note that parking is rather limited and costs $10, with restrooms available.
15. Sand Dollar Beach
Being Big Sur's largest beach, as long as the tide is low, you'll find plenty of space to lay your towel down and relax. Do take note of the tide schedule though – high tide can essentially make the sandy beach disappear, making it difficult to find a place to sit.
Looking for sand dollars might result in a disappointment, but you'll easily find muscles, crabs, sea anemone, and kelp beds while exploring the nearby rocks during low tide. Stay for sunset as the rock formations on the beach make for some epic scenery!
Note that you'll have to walk/hike about 100 steps or so to access the beach. Which means you'll ultimately need to climb back up! Just letting you know so there are no surprises! The parking lot is large and yes, you'll need to pay $10 (a common theme to use the beaches/parks in/near Big Sur). Again, there's a toilet here!
Animal Observations in Big Sur
DIY Whale Watching
No matter what time of year you're visiting Big Sur, you'll always want to be on the lookout for whales off the California coast. Patience is the only requirement, but binoculars are nice to have as well. Three types of whales frequent the Big Sur coastline:
Gray Whales: December to February (migrating south to Mexico), and February to April (returning north; easier to spot as they are closer to the shore)
Blue Whales: June to October
Humpback Whales: late April to early December
Monarch Butterflies
If you're visiting Big Sur in the winter months between October and December, you're in for a real treat – tons of monarch butterflies! These little beauties return to Big Sur in October, and migrate north in January. Look out for them clustered in trees in the early morning, and flying around during the day. While you'll see monarchs all around Big Sur, Andrew Molera State Park is the place to be to spot the most!
Where to Eat (and Drink!) on your Big Sur Road Trip
There are numerous places to eat and drink in Big Sur, although some are definitely better than others. I've already put my favorites up above throughout the Big Sur road trip itinerary, but here are some more! A girl's gotta eat, am I right?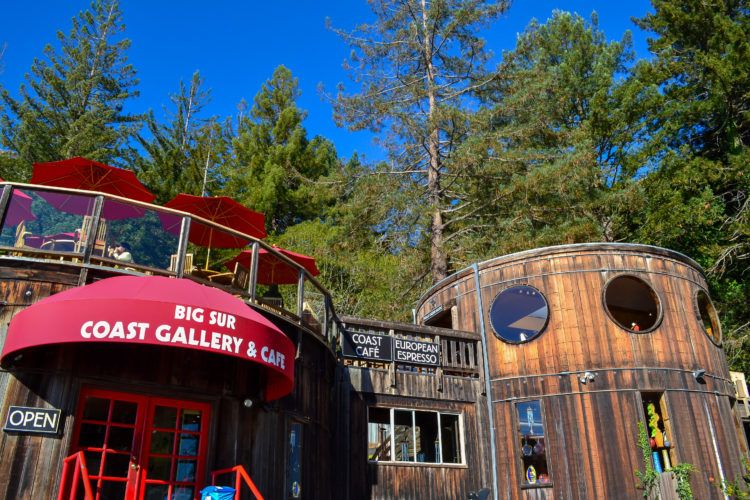 Here are my picks and notes, either personally tested by me, or recommended by fellow travelers:
Nepenthe: drinks/appetizers right before sunset, stay for golden hour to get the best photos! An absolute must with the best ocean views!
Big Sur Lodge Ice Cream: the perfect spot when it's even a tad warm out!
Big Sur Bakery: get an almond croissant and some banana walnut bread to share – it's huge and heavenly. Pizza is great too if you want some "real" food!
Cafe Kevah: serving brunch & light lunch in an outdoor setting. Located on a terrace just below Nepenthe with absolutely fantastic views
Deetjens: cozy breakfast; delicious, homely food and great local wines. Be sure to make a reservation — the cozy dining room gets busy.
Big Sur Roadhouse: stop here for a coffee and donut
Sierra Mar Restaurant: Located in Post Ranch Inn serving a fine dining experience of inquisitive food creations. Pricey, but sounds worth it (I've never been).
The Restaurant at Ventana: inventive coastal cuisine inspired by the sustainable ingredients of California's Central Coast. The most beautiful views as well.
Be prepared to spend some big money for dining out in Big Sur. The entire area is pricey, so expect to pay big city prices (~$15ish for a cocktail, ~$20-30ish for an entree). Pick up snacks beforehand to have in the car during the drive so you don't need to shell out an astronomical amount of cash at the Big Sur convenience stores every time you feel like noshing.
Where to Stay in Big Sur:
Accommodation in Big Sur is pricey. There's really no way around it. If you can settle for not actually staying in Big Sur itself, consider heading up north to Carmel or Monterey for less-than-astronomical prices.
Recommended accommodation options in Monterey and Carmel that won't break the bank:
Briarwood Inn: Quaint B&B with bright rooms & suites, plus continental breakfast & free port/sherry receptions)
Carmel Lodge: Cozy, casual rooms in a relaxed hotel offering free Wi-Fi & breakfast, plus parking)
Hofsas House: Traditionally decorated rooms in a Bavarian-style hotel with ocean views, sundecks & a heated pool)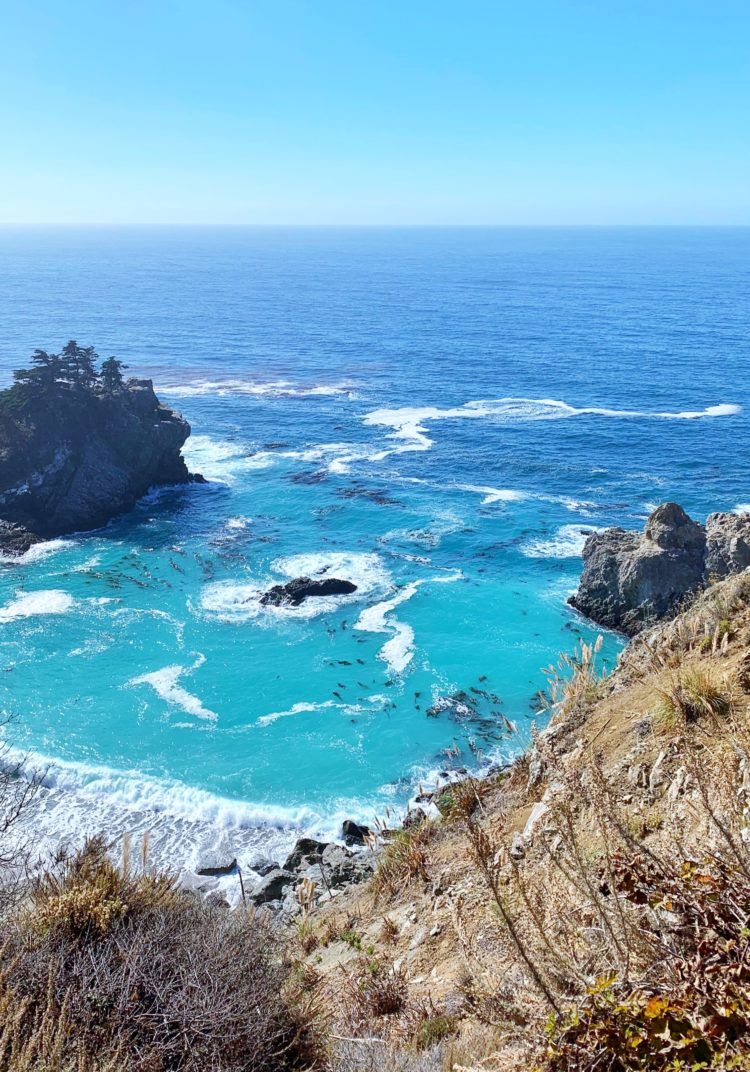 With that being said, the hotels in Big Sur really are quite special, and if you can splurge for one night on your California Coast road trip, these are the best places to do it:
Post Ranch Inn: Offering 3 pools, one being an infinity hot tub, you can spend the bulk of your time here overlooking the stunning California coastline. You betcha your night will be an unforgettable escape. Each room also boasts a private deck with those magicnicant coastline views, a wood-burning fireplace to get cozy during the chilly nights, and an indoor spa tub.
Ventana Inn & Spa: You'll swoon the second you see this adults-only, rustically luxurious resort. Yes, it's that impressive. And if the two resort pools with panoramic coastal views didn't do it for you, I bet the spa treatments in outdoor cabanas overlooking the redwood forest will. 🙂 You can also opt to stay in a luxury glamping site with safari-style canvas tents under the redwoods if you feel so inclined.
Treebones Resort: Looking for something a bit different? Treebones Resort features seven ocean view tent campsites, along with 16 yurts with great views of the Pacific at Cape San Martin! Not as expensive as the other two, so check out Treebones if you'd like to give your wallet a bit of a break!
AirBnB: Due to the higher-than-normal cost of accommodation in Big Sur, you may want to check out AirBnB for a less expensive option, many even with those ocean views we're all swooning over (without the super hefty price tag). Sign up for AirBnB with my link and get up to $40 off your first stay!
Are you planning a Big Sur road trip anytime soon? What are you most excited about?!
Looking for more California content? Explore my other California guides here!
Did you know that …
When you purchase something through our links, we earn a small fee (but you still pay the same)! Win-win! If you found this article useful, consider using the links within the article or below. Thanks for your support!