Looking for the most beautiful places in California? You're in luck, my friend, this post is just screaming your name! Read on for the ultimate list of the best places to visit in California, and make sure to add them to your very own California bucket list!
Ever since moving to California from NYC, I'm still pinching myself that I get to call this absolutely stunning state my home. #Westcoastbestcoast, am I right? And the more I learn about this fascinating state, my list of places to visit in California just keeps getting longer and longer.
California never fails to amaze me, and I become more enamored and downright floored by the beauty of this left-coast state every time I visit a new spot. From the gushing waterfalls, to the glistening lakes and sparkly, rocky beaches, to the snow-capped mountains, to the colorful wildflower fields, to the towering redwood forests, California really has it all and then some. Any nature lovers delight.
And if you're stumped on places in California to visit, just refer back to this post (miiiight be good idea to bookmark it or use that handy dandy pin-it button up there). 😉
Sorry New York, CA is my new home now. Tacos, palm trees, and sun? Yes, yes, and yes please!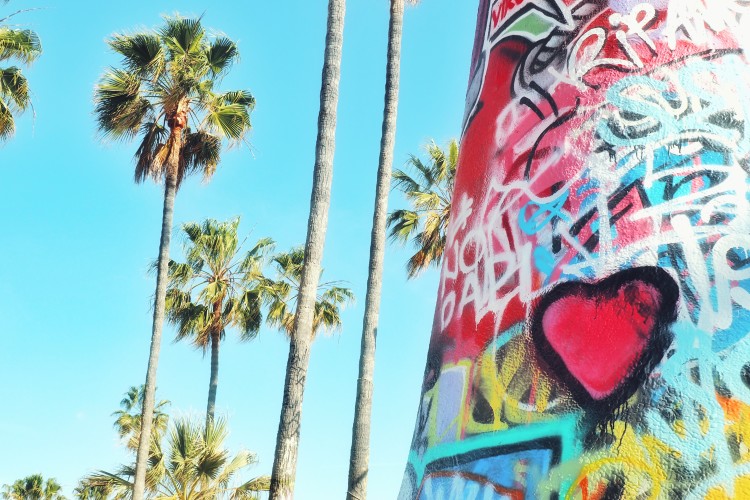 You could easily spend weeks (and weeks!) exploring California and hardly see any of it. Thankfully, with the help of other west-coast lovers as well, I've compiled a (long) list of some of the most beautiful places in California to add to your California bucket list. Use this guide as help when planning your next California road trip, or just as itinerary inspiration for your next California adventure.
Or do as I do from time to time, and just gawk at the photos. I mean, c'mon, any list of the best places to visit in California will be some sort of eye candy, am I right?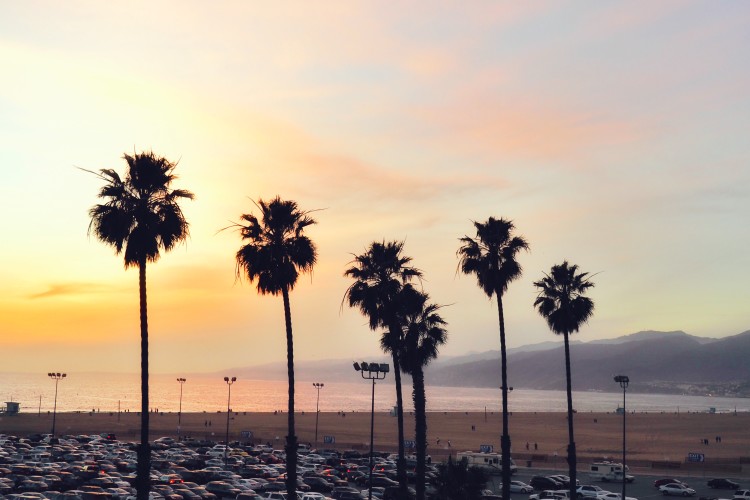 So without further ado, and in no particular order (it's more fun that way), let's get to it > the most beautiful places to visit in California! Did I miss any must-see spots in California?
Let me know down below in the comments! I'm always looking for more places in this swoon-worthy state to visit!
45 Most Beautiful Places in California
01 | Burney Falls, Shasta County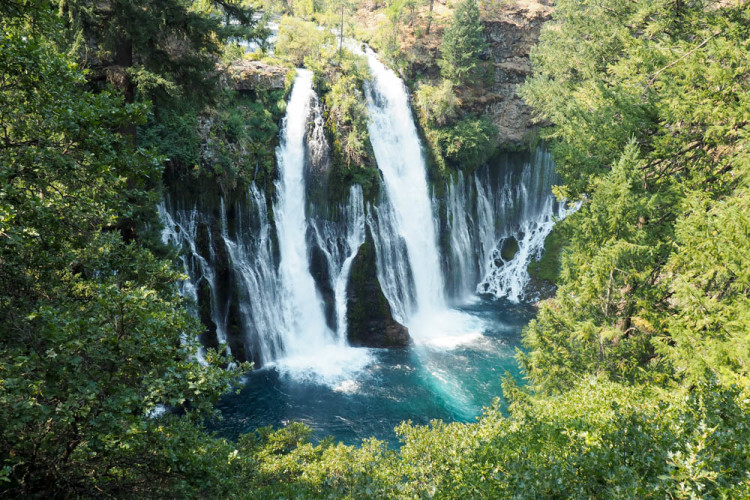 First up of the most beautiful places to visit in California – the absolutely stunning Burney Falls!
Located a short hour and a half away from Redding in Northern California within McArthur–Burney Falls Memorial State Park, Burney Falls are a sight not to be missed! Every angle is just as stunning as the last, and it's basically impossible to take an ugly photo here.
You can hike the trail to the bottom of the falls (more like a walk) and relax on a rock for as long as you'd life – though it does get super misty as you descend down the path! A cool respite from the usual heat in this area. And even better – you can swim here (albeit pretty chilly anytime of year), as long as you stay close to the rock outskirts.
Bring water shoes as the ground is rather rocky and downright slippery.
Read Next: A Weekend at Lassen Volcanic National Park + Burney Falls
02 | Emerald Bay, Lake Tahoe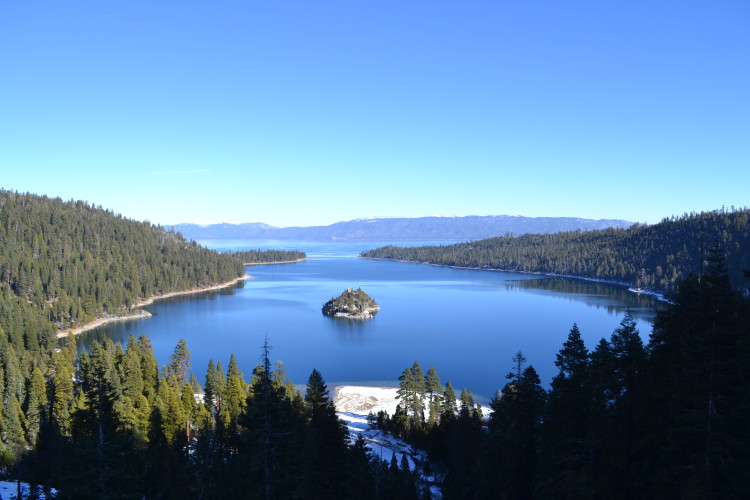 Ohhh, I'm absolutely enamored with all things Lake Tahoe, and can easily name it one of the best places to visit in California. Period. If you adore shockingly blue waters, snow-capped mountains, and water spots, I have a slight feeling you'll agree as well.
Emerald Bay is a gorgeous inlet on the western shore of Lake Tahoe, one of my favorite road trips from San Francisco. Exploring this area will take you away from the cozy little towns of North or South Lake Tahoe down a scenic, winding road and through the rugged Desolation Wilderness (the name is misleadingly depressing).
One of the best ways to explore Emerald Bay is on foot, by hiking the 9-mile Rubicon Trail. The hike begins in D.L. Bliss State Park– camp there if you can – high up in the granite, pine-topped cliffs. It winds through gorgeous lake vistas down to Vikingsholm, which was once some eccentric rich person's Scandinavian style villa, and is now one of the most curious things to see in Emerald Bay.
It sits directly on the shore of Emerald Bay and visitors willing to hike the 1 mile trail from the parking lot are rewarded with a beach, tours, and a little gift shop which, you'll be happy to know, sells ice cream.
Oh, and that island in the middle of the bay? That was their tea house. Rich people, amirite? In addition to camping and hiking and random viking villas, you can explore Emerald Bay by boat, kayak, or Stand-Up paddle-board – you'll want to rent in South Lake Tahoe and cruise over. // Lia Garcia
03 | Sand Harbor, Lake Tahoe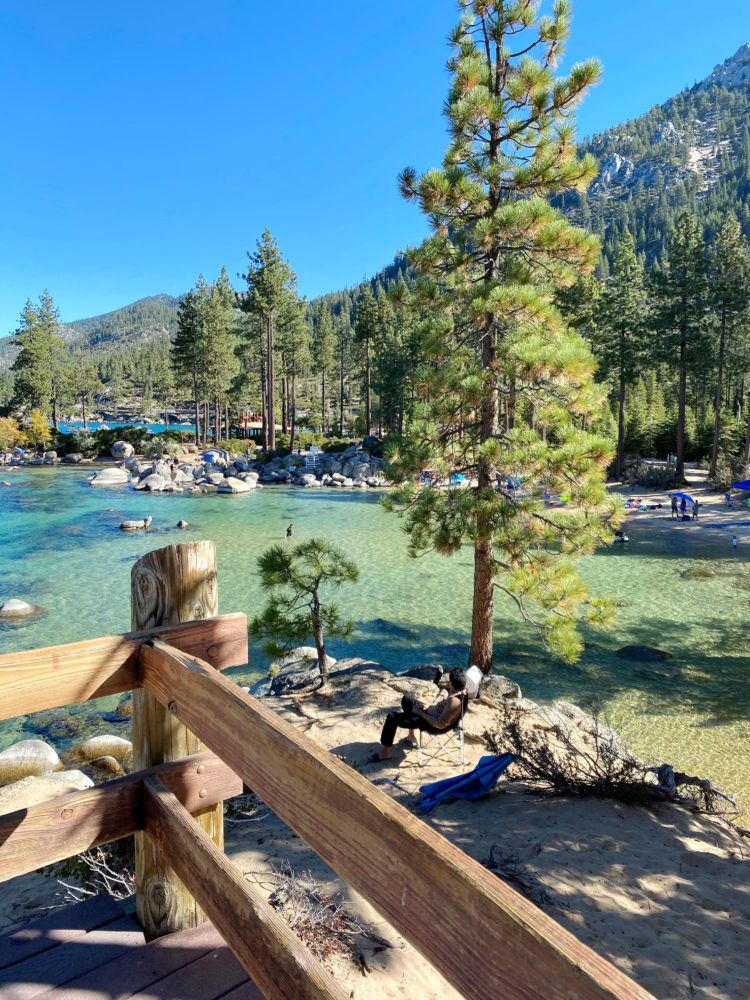 Yup, another one of the best places in California is in Lake Tahoe! Sand Harbor is a gem in the Sierras with crystal clear water and magnificent boulders every where you look! The sand on the beach is perfect and the experience is magnified by the stunning nature all around.
The smell of the piney scent and the sound of birds and other wildlife around you makes it feel like a dream you don't want to wake up from. It's easily one of my favorite stops when driving around Lake Tahoe!
People with an appreciation for photography will definitely have plenty of opportunities to take breathtaking shots that will remember them of this paradise. Especially the combination of sand and rocks is picturesque beyond imagination. The water looks so clean that it makes you think that it's drinkable and it feels so good that once you get in you won't want to get out.
Boulders are perfect for jumping from them and if you are not an adrenaline junkie you can kayak and scuba dive as well. Sand Harbor on Lake Tahoe is definitely a place you should visit and it's an experience you won't forget. // Viktor Vincej
04 | McWay Falls, Big Sur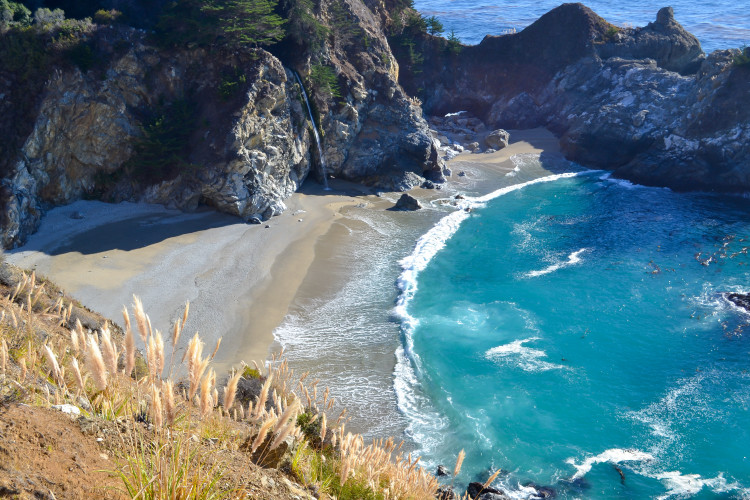 There are not many places like Big Sur in the world, and McWay Falls is a true testament to that!
Whenever heading down the coast, we always make a stop at McWay Falls – every single time. It's just THAT beautiful, and easily one of the best views in California. I promise you – any California coast road trip needs to include McWay Falls, located in Julia Pfeiffer Burns State Park.
So why is this waterfall just so mesmerizing? For starters, it's 80 feet tall, and one of two waterfalls in California that flow right into the Pacific Ocean (with Alamere Falls near SF being the second). And secondly – you only have to walk about 8 minutes to see it (the mini trail is no more than half a mile). When people say they're "hiking" to McWay Falls, they're really just casually strolling down a paved path.
Do note there is no beach or ocean access, and it's actually forbidden to go down there. There are plenty of other beaches to hang around, so do your part and just stay where you're supposed to be.
05 | Pfeiffer Beach, Big Sur
Purple sand? Say whattttt? Yup, Pfeiffer Beach most definitely wins the title for #1 of all exotic places in California. I mean, how could you compete with purple-hued sand?
Although quite hidden in Big Sur, once you make it there (after a few too many u-turns), you'll be absolutely amazed. The beach has streaks of purple sand from eroded crystals of garnet. Yes, you read that right – the sand is actually purple and marbled in with black and white sand. Spectacular rock formations are found here as well. Quite rare to say the least.
Psst – the best time to witness this purple sand is right after it rains – make sure you bring your camera.
Don't miss this lesser-known beach (it's really easy to miss the turn off of CA 1 as there aren't many signs pointing you in the right direction – only a small one at the turn off). Don't confuse it with other "Pfeiffer" parks in the area, it's its own separate spot! Put it in your GPS and you'll be golden!
You'll probably need a light weight jacket if you come after hours as it gets quite windy. Windy and rocky yet downright beautiful. One of the rarest and most beautiful places in California, in my opinion!
Read Next: A Visitor's Guide to Big Sur – What to See, Do, Eat, and Explore
06 | Valley View, Yosemite
Visiting California for the first time and not visiting Yosemite National Park is a crime. And thank god, I didn't commit one. The Yosemite Valley, carved by glaciers, fenced by granite domes, watered by the Merced River, hemmed with pine trees, is a dream place for a landscape photographer like me. Inside the park, I visited almost all the vantage points to get that one postcard picture and all views were equally stunning.
However, out of all the spots in California, Valley View won my heart. I prefer this view over any other view as it is an ideal place to shoot mirror view postcard pictures. With the Merced River creating a flawless mirror reflection of El Capitan to the left and Cathedral Rocks to the right, the Valley View is a great spot to click that masterpiece either during the day or at the golden hour.
And if you come at the right time (during off-season, perhaps), I can assure you this will be one of the most peaceful places in California you'll visit on your trip.
Add this to your list of must see places in California, you won't be disappointed, I promise you that, even if the weather disappoints a bit! // Archana Singh
07 | Glacier Point, Yosemite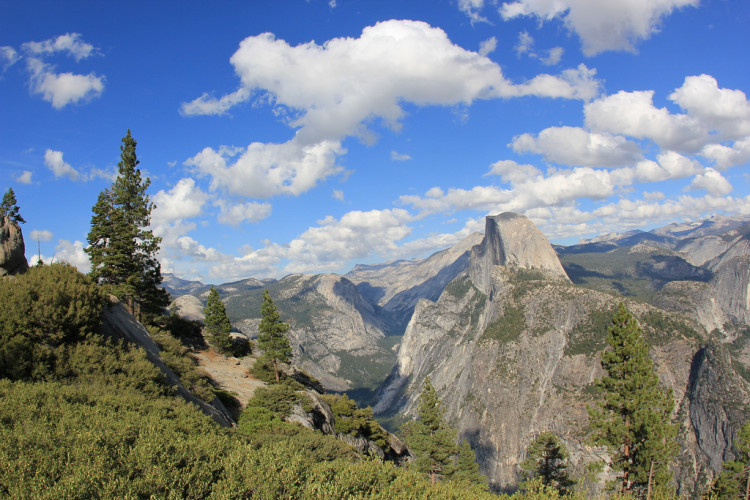 Gazing over the edge at Glacier Point is not an exercise in uncovering subtle beauty. The obviousness of it can take your breath away. It's almost too beautiful, and your brain will struggle to take it all in. And that's surely why Glacier Point is most definitely one of the must see places in California.
From this vantage point, the vast expanse of the Yosemite Valley stretches out below, but your attention will undoubtedly turn first to the majestic curving profile of Half Dome. From there your eyes can follow Tenaya Canyon up and over the High Sierra or focus on the massive Nevada and Vernal Falls as they cascade to the valley floor.
The impressive view to the West can't quite capture the full splendor of Yosemite Falls, but even that can be remedied by a short hike down the "Four Mile Trail". If you hiked or took the bus to the top, you might as well just keep going, the views are almost as spectacular on the way down. // Jessica Brown
08 | Avalon, Santa Catalina Island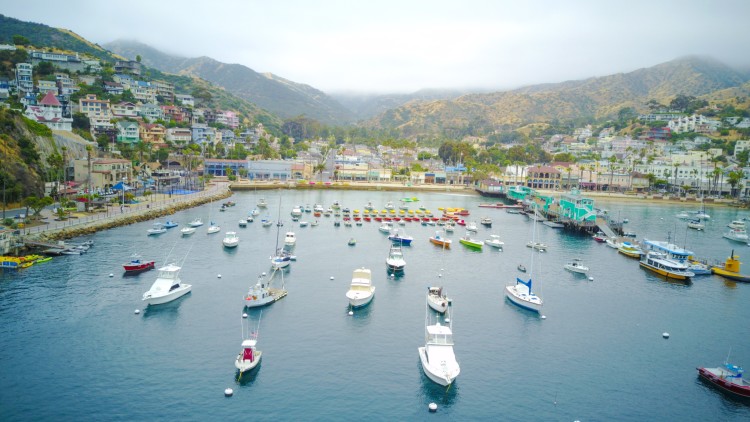 Catalina Island is one of our favorite weekend or day trips from Southern California. There are three port options which makes it really convenient from LA and OC: Dana Point, Long Beach, and San Pedro. After just an hour ferry ride, it feels like you're somewhere on the Mediterranean. Catalina Island is such a gorgeous location with mild weather year around.
There are SO many options of things to do; you can have almost any type of trip you'd like from romantic, adventurous, to relaxing. Here are some of our favorite activities:
Walk along the waterfront, go from the beginning of the town to Lover's Point
Relax at Descanso Beach Club and grab a frozen drink
Rent a golf cart to explore the island
Go snorkeling or scuba diving at Lover's Point
Take a jeep tour to check out the Avalon backcountry and see the bison
Try a water activity like parasailing, jet skiing or kayaking
Take a zip line tour
Go hiking at Garden to the Sky
Go on a food tour
As you can see, there's a great variety of activities available! We hope you enjoy this charming and magical island! // Photo and text by Lena Elzayn
09 | Hearst Castle
Hearst Castle is possibly the most fascinating and the most opulent historic attraction in California. When William Randolph Hearst inherited the land from his father, he set about building his dream home: the 165 room Hearst Castle which is set upon 127 acres of gardens, terraces, pools, and walkways.
Hearst Castle today is an incredible attraction where visitors can marvel at William Randolph's eclectic taste of world treasures (it's an absolute must-do on any California coast road trip). I don't think there's many places where you can walk upon ancient Italian mosaics whilst looking at Egyptian artifacts and medieval tapestries all in the same room. He collected what he liked and placed them where he thought they looked good rather than by eras.
In 1957, Hearst Castle was donated to the State of California and today the California State Parks manages the site. To visit, head to San Simeon on the coast of California and follow the signs. You may even notice the zebra on the side of the highway! It's definitely one of the more popular places in California, so be sure to book a ticket ahead of time. // Leah Smileski
10 | Alamere Falls, Point Reyes National Seashore
Looking for a waterfall hike in the San Francisco Bay Area? Check out Alamere Falls, a 10+ mile round trip hike that takes you to the base of the waterfall (which flows right into the Pacific Ocean actually!) Don't expect any peace and solitude as this hike is rather popular, but the views highly make up for it. Note that it's usually pretty foggy in the morning, so dress accordingly and even though it could be a bit chilly, make sure to bring some water. The gradual up-hill climbs will keep you warm.
Throughout the hike, you'll get ocean views from atop a high cliff, walk in densely wooded areas, pass a big pond and some open meadow areas. Quite a long hike, and definitely not "easy", but is worth it to see the falls pour directly onto the beach. One of the more active places to go in California, so be sure to wear your hiking boots and pack a backpack filled with necessities (including snacks)!
11 | Dana Point Harbor, Orange County
Dana Point Harbor has everything and then some. From whale watching and fishing to restaurants and bars, tourists shops to small local boutiques and yoga studios and a beach, this harbor is more than just a place where locals keep their boats. Grab a coffee, marvel in the view, and go window shop the magnificent yachts. A great place to get a fresh seafood lunch or dinner (with ocean views of course!). If you're looking to chill and relax, this beautiful place in California is your spot.
12 | Hawk Hill, Marin County
Many visitors to San Francisco never make it over the bridge besides the obligatory Golden Gate Bridge drive-over. But look just how amazing this spot is! SWOON! Located on the other side of the bridge in the Marin Headlands, you get picture-perfect postcard views of that famous rust-colored San Francisco icon.
Not scared of raptors? This area is the best place to witness the fall raptor migration on fog-free autumn days (don't worry, you still need binoculars – they're not thaaat close), and provides habitat for the mission blue butterfly as well.
Make sure you venture on over to the other side of Hawk Hill as well. Although there's no bridge view here (endless ocean views here instead), it's just as splendid and much quieter, and one of the prettiest places in California in my opinion. And since you're already over the bridge, may as well head to Sausalito and/or Muir Woods!
Psst: Visiting San Francisco? Here are the best places to photograph the Golden Gate Bridge.
13 | Napa Valley Vineyards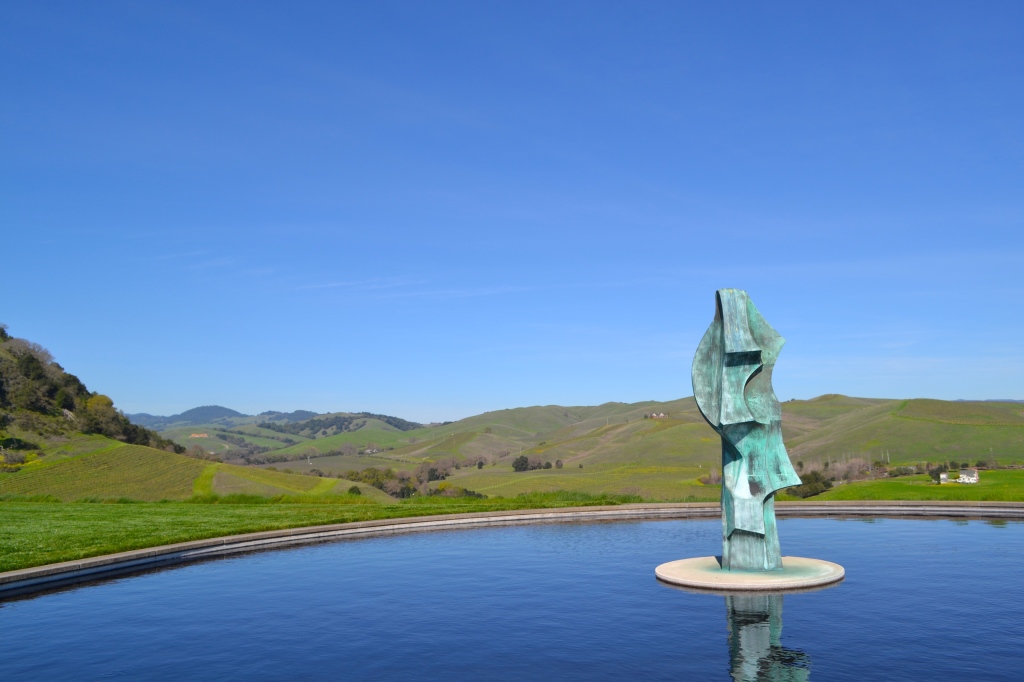 No list of beautiful places in California would be complete without the famous Napa Valley Vineyards. From home to the Patwin Native Americans in ancient times to the home to America's finest wine, Napa Valley has come a long way. The process of cultivating vineyards in Napa started in the 18th Century when Europeans came to this part of the country and started making wine.
Today about 400 wineries dot Napa Valley and make some of the most sought after wine in the world, including the iconic Cabernet Sauvignon. Napa makes a wonderful day (or overnight) trip from San Francisco, and you'll soon see why. But really, I recommend staying at least 3 days in Napa to get the full experience.
A few activities include wine tasting (of course!), tours of some old and iconic vineyards, great food, hot air balloon rides, mud baths, and more. There are beautiful resorts with spas, fine dining restaurants, as well as cool hangout joints to suit the needs of all types of travelers. Pro tip: Don't miss the wine cellar at Beringer Winery as well as the The Rhine House there. // Siddhartha Joshi
Not into wine? Don't fret >> Here are a bunch of Things to do in Napa Valley Besides Drink Wine. Looking for the best views? I've got you covered >> Wineries with the Best Views in Napa (my favorites)
14 | Santa Cruz, Channel Islands
Not to be confused with Santa Cruz in Northern California, this island off the coast of Santa Barbara is one for the bucket lists. Imagine taking a road trip down the Pacific Coast Highway, and spending a day cruising to what feels like a Mediterranean island. Yes, in California!
If you are in need of an escape from the frantic pace of the LA area, this is the perfect getaway for you. Located within the Channel Islands National Park, this island not only boasts spectacular views from it's many vantage points, but also a wide array of hiking trails, kelp forests, tide pools, and seasonal whale sightings.
Note that the only way to reach the island is by boat (from several ports in Southern California), as there are no bridges which connect it to the mainland, and you'll almost always see dolphins, whales, and sea lions on the way out.
15 | Point Lobos, Monterey
Point Lobos is one of those special places in Monterey County that is often overlooked when visiting Monterey and the Carmel Valley region. But for those that take a little effort, the short drive to the coastal state park is an incredible experience.
I would recommend taking some of the popular hiking trails along the coastlines dotted with beautiful annual blooms. The jagged rock islands and terrain is really breath taking to see and photograph even in cold or cloudy days, which tend to happen regularly along the Monterey coastline.
You will definitely enjoy the hikes here, but if you don't have that much time, you can easily drive to the coastal parking areas for a shorter visit. Make sure to check out the smallish but cool visitors center and talk story with the ranger – there's a lot of interesting photos, artifacts and other historic things to see and learn about the history of the area. // Noel Morata.
16 | Joshua Tree National Park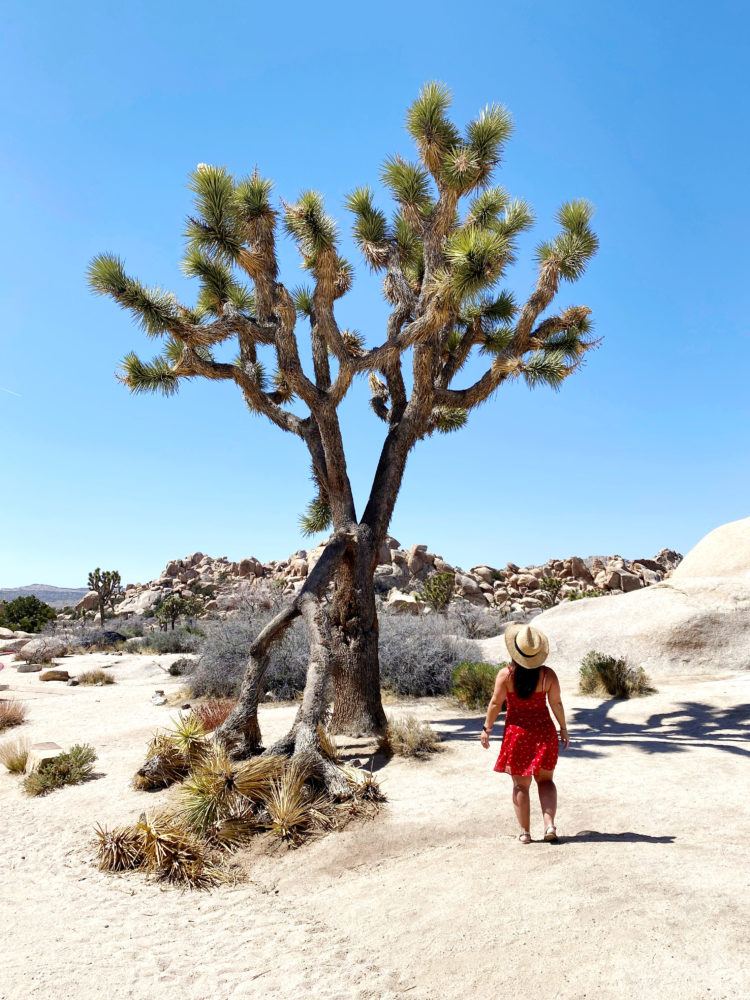 A visit to Joshua Tree National Park is a unique experience, which will let you explore the desert from a different angle. The Park is easy to navigate, so it is possible to see the main highlights in one or even half a day. If you want to stay longer, you will find several camping options within the park.
The most popular time for visiting the park is spring, but I am sure you will still find things to do at any time of the year. No matter what the length of your stay is, make sure that you put the Keys Views, Skull and Jumbo Rocks and Cholla Cactus Garden on your list. Full day trip itinerary here (including all the Joshua Tree highlights)!
Apart from admiring the Joshua trees, there are numerous other activities to do in the park, ranging from the usual hiking, cycling and bouldering to more unique, such as star-gazing, night festivals and wild flower walks in spring time. // Ana Rozanova
17 | Mount Shasta
Located 290 miles north of San Francisco, Mount Shasta is a 14,161-foot-tall volcanic mountain. It last erupted in 1786, and it is the origin of the Sacramento River. Many consider it the most beautiful mountain in the west, including poet Joaquin Miller who described it as "lonely as God and white as a winter moon."
Strange stories about it abound, including some about UFOs, and because it is said to have unusual energy fields, some think it is as mysterious as Stonehenge and the pyramids and others have ranked it as one of the world's seven sacred mountains.
All this, and it has some spectacular trails and waterfalls, too, and for the price of a hamburger you can sit in a comfy booth in the town's Burger King and enjoy a million-dollar view. // Carole Meyers
18 | Cypress Tree Tunnel, Point Reyes
While not an actual tunnel, the Cypress Tree Tunnel is made up of Monterey cypress trees, located on the Point Reyes Peninsula. It's a very popular scenic driving location, so bring your camera and a friend, and test out some shots!
When the light is good, you're bound to get a few Insta-snaps to make any friend jealous. Psst- come in the late afternoon for the best lighting. With the sun shining and birds chirping, it's an idyllic California spot not to be missed if you're in the area.
19 | Painted Canyons, Mecca
Ready for a hike with some epic scenery along the way? The hike isn't too difficult, as long as you're not afraid of ladders or heights, and don't mind some heat!
Psst – make sure the ladders are stable before going up or down them!
Along the hike you'll head through some crevices and down onto the canyon floor. Definitely a great day if you're in the Palm Springs area! Remember to bring water! A lot of water! It's the desert we're talking about!
20 | Glass Beach, Fort Bragg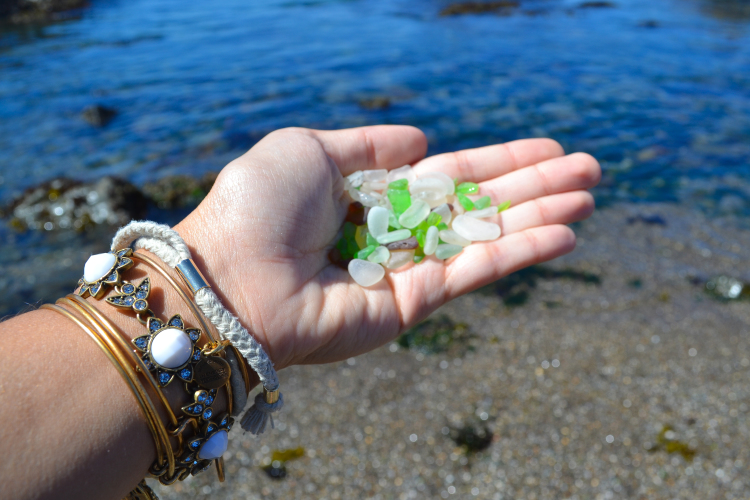 The glass beach at Fort Bragg is one of those special places worth visiting if you are driving around Mendocino County in Northern California. Once a dumping ground for early settlers in the area, all the bottles, glass, ceramics and other junk dump from early settlers is now a treasure trove of fun collecting along the shoreline of glass beach.
In between the sandy beaches are large swaths of polished and smooth glass pieces and ceramics that are fun to pick up as souvenirs of an earlier time. Now that the beach areas have been cleaned up and reclaimed as a natural coastal beach area, it is a perfect place to relax and also hunt for treasure at the same time. // Noel Morata.
21 | Point Cabrillo Light Station, Mendocino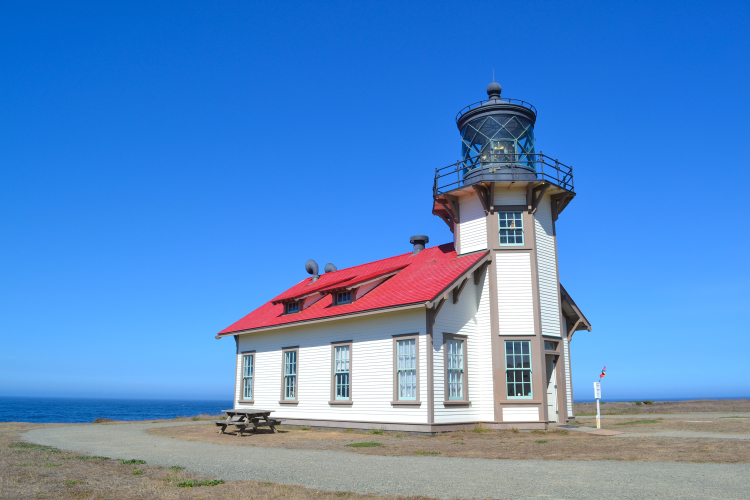 If you're in the area of Mendocino, you absolutely must visit this light station. How cute is it?! Can you tell I'm just an absolute sucker for lighthouses? I honestly don't know what it is about them, but I feel the need to visit them all! Of course this would hold a firm spot on the list of most beautiful places in California!
The Point Cabrillo Light Station has been used for navigational purposes since 1909 (#wow!), and is now part of the California State Parks system. There is a short trail to reach the lighthouse, but if you haven't caught my drift yet, it's worth it. And really, it's super short. No excuses. Get your coffee and go.
Want to make a weekend out of it?! Check out this fantastic 3-day Mendocino weekend itinerary!
22 | Antelope Valley Poppy Reserve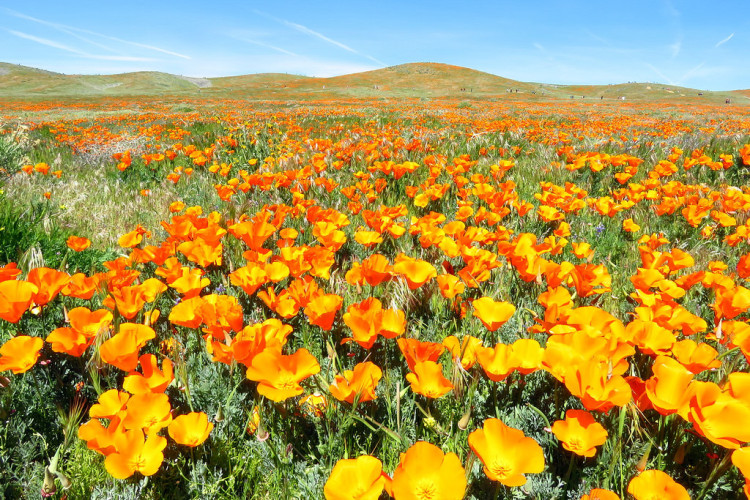 If you appreciate and LOVE flowers, this is your place! Antelope Valley Poppy Reserve is a state nature reserve within the Mojave Desert with tons of hikes and a wildflower season every March to May. So many orange flowers it looks like the hills are on fire!
Don't just drive by – the place is too beautiful to miss and should hold a first spot on any list of places to go in California. The reserve is quite large so although it may be crowded at times (especially during wildflower season), you won't be walking on top of everyone. Signs warn of snakes, so be careful. And remember where you parked your car as it is the desert and everything looks the same!
23 | Lone Cypress, Carmel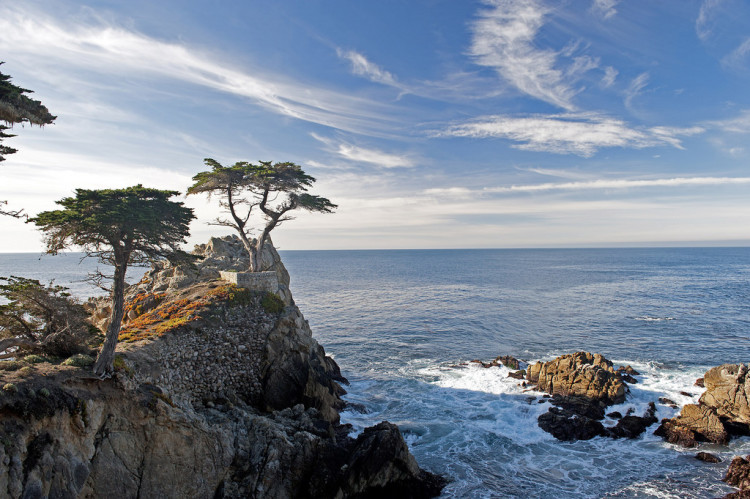 Prized for its beauty and rarity, the Lone Cypress stands on a rocky outcropping off Pebble Beach's famous 17-Mile Drive. At 250 years old, it has stood in this postcard-worthy place longer than just about anything but the nearby surf and sand.
The Lone Cypress has weathered fog, fire, and the sometimes-unpredictable weather of Northern California. It is so important to the area that caretakers have held it in place with steel cables for the last 65 years.
For $10.25 per vehicle, visitors can cruise 17-Mile Drive (part of the Pebble Beach resort) to visit the tree, which is located between two of the best-known golf courses in the world. While you can't get too close, you can certainly get close enough to appreciate the starkness of the lone tree against the horizon. // Laura and Lance Longwell
24 | Mono Lake, Sierra Mountains
Whoa, is this place in California even real?! You betcha! Like the purple sand at Pfeiffer, you'll find another top contender of the most exotic places in California in on the eastern slope of the Sierra Mountains in Northern California. It's just outside of the eastern boundary of Yosemite National Park, so easily accessed in the summer with the road is open.
The park became famous for its tufa formations which appeared when the level of the lake was dropped to provide water to the city of Los Angeles. The water began being diverted in 1941 and the amount of water being diverted to LA was greater than the amount replenishing the lake.
Over time the lake dropped 49 feet and lost over half its volume. An agreement was eventually reached with Los Angeles which would put a limit on how far Mono Lake could drop, preventing it from disappearing completely. // Photo and text via Gary Arndt
25 | Salton Sea, Sonoran Desert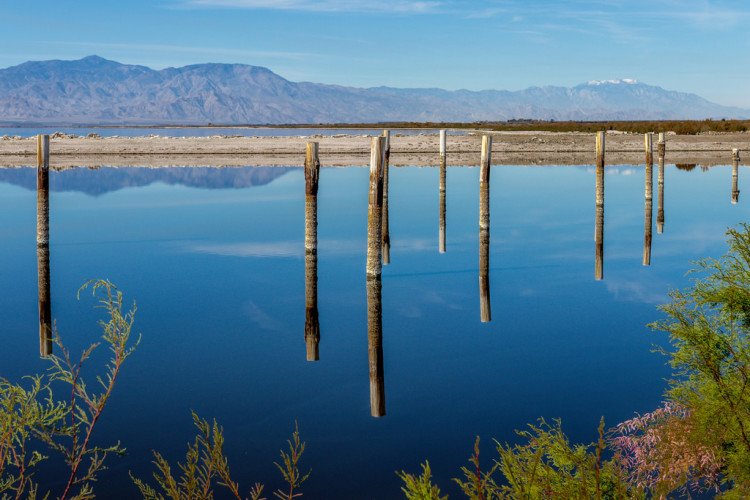 The Salton Sea is an anomaly in the California desert. Situated 235 feet below sea level, the "sea" is actually a lake, and as you may guess from its name, a salty one. It's actually the largest lake in California, and truly a dream for moody photographers for its post-apocalyptic nature and desolation.
If you choose to camp the night you may very well be the only person there. As you near the lake, you'll notice the pungent smell, the abundance of crushed fish bones, and even a few dead birds littered around the shoreline. This is due to the combination of overly salty water and the agricultural run offs from nearby farms.
Without a doubt, it's a unique stop to make on a California road trip, and a scenic spot for pictures or to simply be alone in nature. It's a place to wonder how abandoned places like this still exist in as populated a destination as California, which just goes to show you how big of a state it really is. // Mimi McFadden
26 | Salvation Mountain, Slab City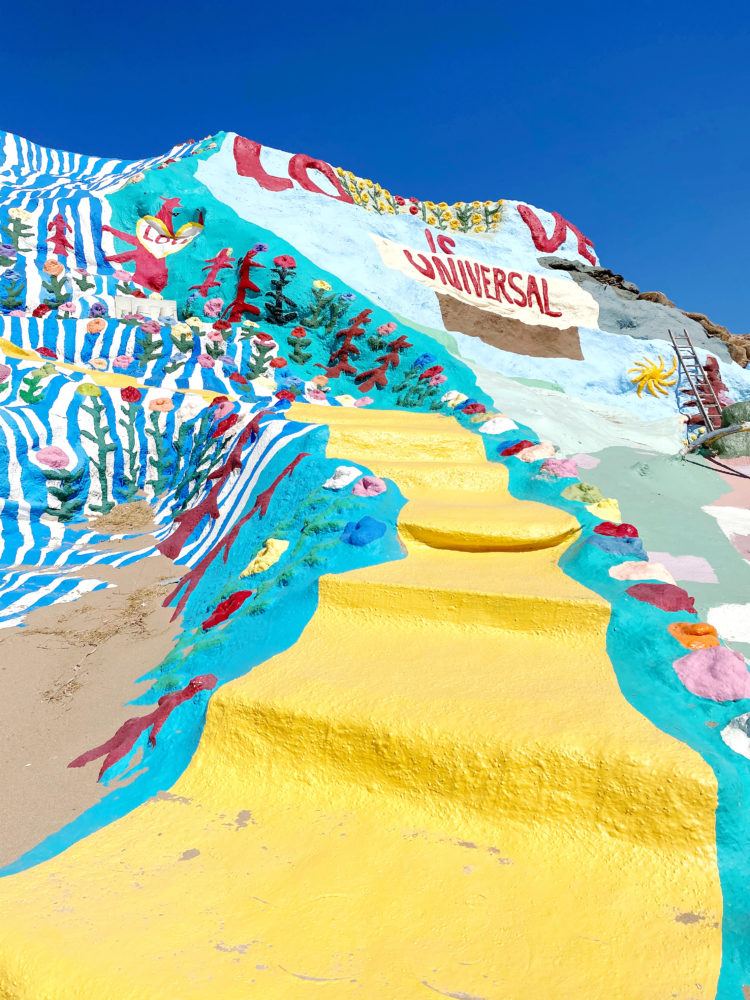 Salvation Mountain is one of those little known gems in the middle of nowhere that you don't really stumble upon, rather you seek out. It is awesome, inspiring, and a little nutty too!
Deep in the desert of Southern California, near the Salton Sea lies Niland, home of Salvation Mountain. Created as Leonard Knight's tribute to God, it is covered with religious scriptures.
Apart from the religious aspects, it is filled with flowers, trees, waterfalls, beautiful patterns and wonderful vibrancy that will have even non-believers feeling the happiness and love of the space.
Read Next: Everything You Need to Know for a Visit to Salvation Mountain!
Made of adobe clay, donated paint, and various recycled material, it is a sight to see – and photograph! One of the most colorful and beautiful places in California! // Karilyn Owen
27 | Zabriskie Point, Death Valley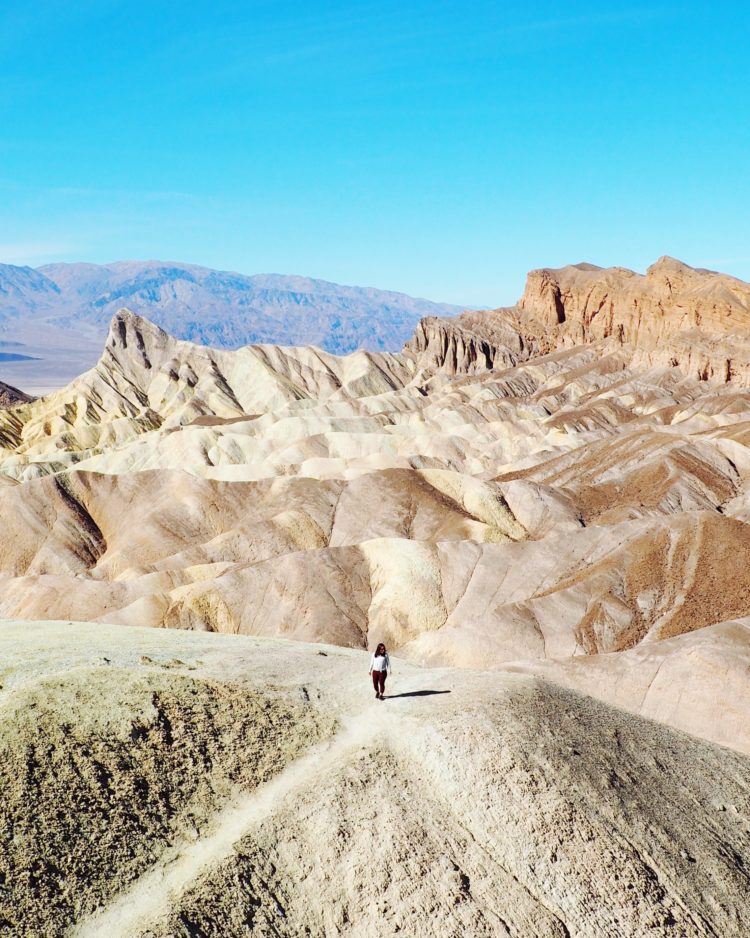 Death Valley rewards lovers of a spare landscape. To some, it might look like an endless expanse of brown on brown. But to the discerning desert-lover, there a great subtlety in Death Valley's landscape and nowhere is that more on display than at Zabriskie Point!
Zabriskie Point looms over Badwater Basin, the lowest spot in the United States. Right underneath the scenic overlook are wrinkled hills that roll away in waves toward the flat, dry lakebed and the Panamint mountains beyond.
Read Next: The Perfect 2 Day Death Valley Itinerary
The westward facing overlook and the rippled topography create stunning views at dawn. The emerging sun spotlights the distant mountains first and then as it rises higher, it begins to reveal the striated colors in the hills. Many visitors leave right after dawn…but you should wait. Because as the sun rises yet further, the hills light up with a corrugated play of light and shadow.
Pro tip: Visit Death Valley in the spring for the best weather and go down to the valley floor for equally stunning views at dusk. // Carol Guttery
28 | Mesquite Sand Dunes, Death Valley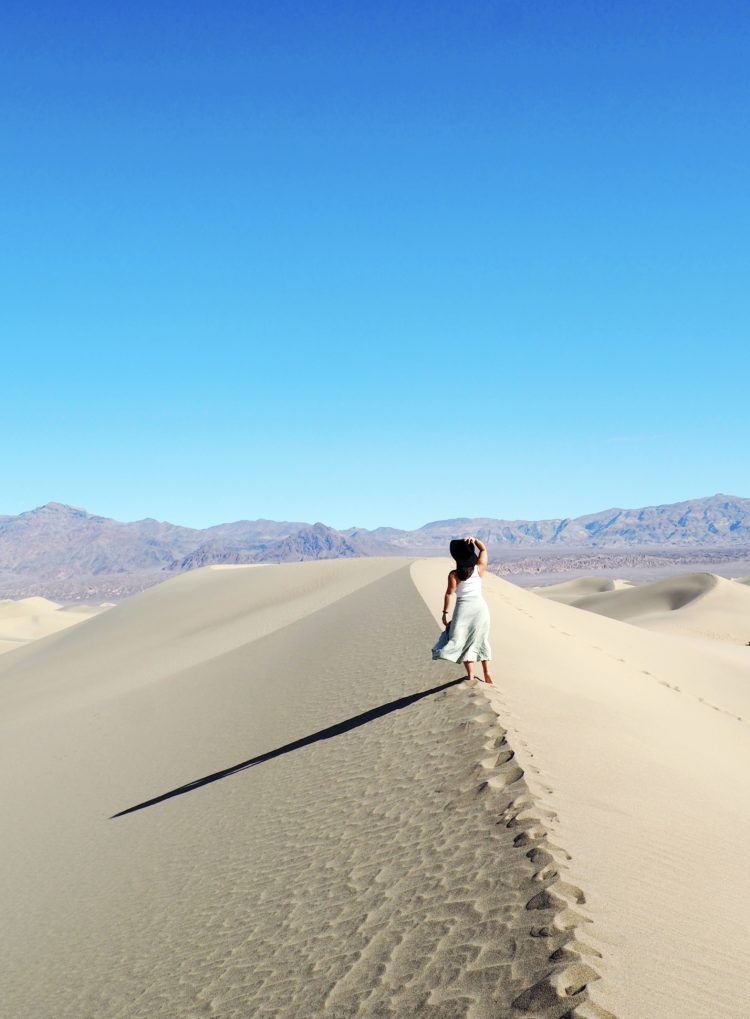 The Mesquite Sand Dunes of Death Valley are conveniently located in hell. Yes, you read that right – Hell!
Wondering how Death Valley got it's name? During the pioneer migration, Death Valley essentially starved and dehydrated any wagon trains foolish enough to attempt transiting the desert. With a 140 mile valley floor bordered on both sides by mountains. The prevailing winds and the geology have created a wind funnel that has swirled up the old lake bed into dunes.
While Death Valley and the dunes were hard on the pioneers, they are a revelation for the modern photographer. If you position yourself in the middle of the dunes right before dawn, you will be treated to a subtle light and shadow show that is abstract and organic. There is something very peaceful about a quiet dawn in such a spare landscape. A must-visit during any trip to Death Valley.
Pro tip: Go in the spring or fall to avoid the worst of the heat and consider making a road trip out of it by visiting more dunes in Utah and Colorado. // Carol Guttery
29 | Bowling Ball Beach, Mendocino
Any trip up the coast of California should to include a visit to Bowling Ball Beach. Part of Schooner Gulch State Beach in Mendocino County, you won't find many other natural formations like this one, making it one of the most beautiful views in California.
The beach is named for it's spherical sandstone concretions which are found there at low tide (aka plan your visit around low tide!). A short hike across the bluff top and a scramble down a dirt path will take you to Bowling Ball Beach. The trail and the stairs down the cliff have eroded considerably in the past few winters so be careful.
Read Next: Must-Do Things in Mendocino and Fort Bragg
30 | La Jolla, San Diego
Known for its curving coastline and steep ocean bluffs, La Jolla is a charming seaside community just inside the San Diego city limits. Secluded beaches and scenic walking trails wind their way along the La Jolla coast, adjacent to ritzy restaurants, upscale boutiques and luxurious homes.
The best way to experience La Jolla is to spend a day strolling along the coast: walk along sandy stretches of beach, climb over massive boulders, peek into the many crystal-clear tide pools, and watch as the powerful Pacific Ocean crashes into the rocky shoreline.
Be sure to keep an eye out for seals, sea lions, pelicans, and other coastal wildlife! When you're tired from walking, pop into one of the many cozy restaurants for fresh seafood and good California wine. // Kelly Borglum
Read Next: Top Day Trips from San Diego, my favorite way to spend a long weekend in San Diego, photo spots in San Diego, and the ultimate San Diego bucket list!
31 | Pacific Coast Highway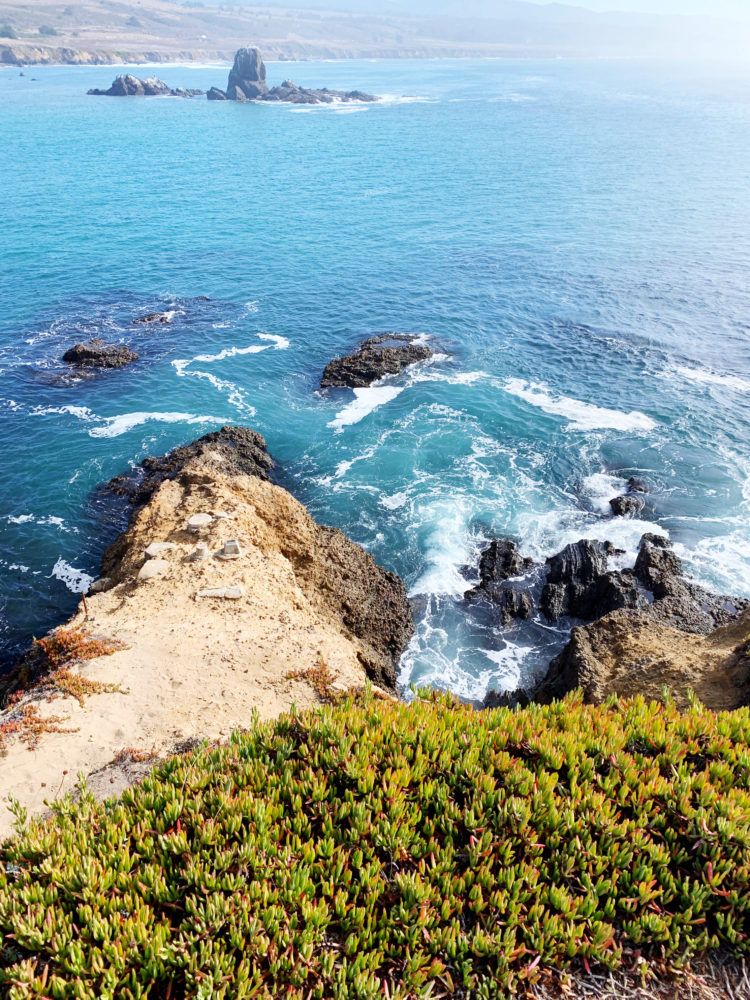 The Pacific Coast Highway is a part of the US Highway 1 in the Golden State, California. This state route is one of the most scenic roads in the world. You get to cross stunning scenery, gorgeous beaches, beautiful green forests, cute tunnels, and quaint villages along the way. If going on road trips is your kind of fun, you would totally fall in love with this amazing drive!
A few stops to consider adding to your Pacific Coast Highway road trip: Montara State Beach, Half Moon Bay, Santa Cruz, Monterey, Big Sur, Malibu, Los Angeles and San Diego. Every stop deserves its own day to explore. The Pacific Coast Highway is a destination on its own and is a must-added item to any California bucket list. Road trip, anyone?! // Priya Rejendran
Read Next: The Ultimate California Coast Road Trip Itinerary
32 | Griffith Park, Los Angeles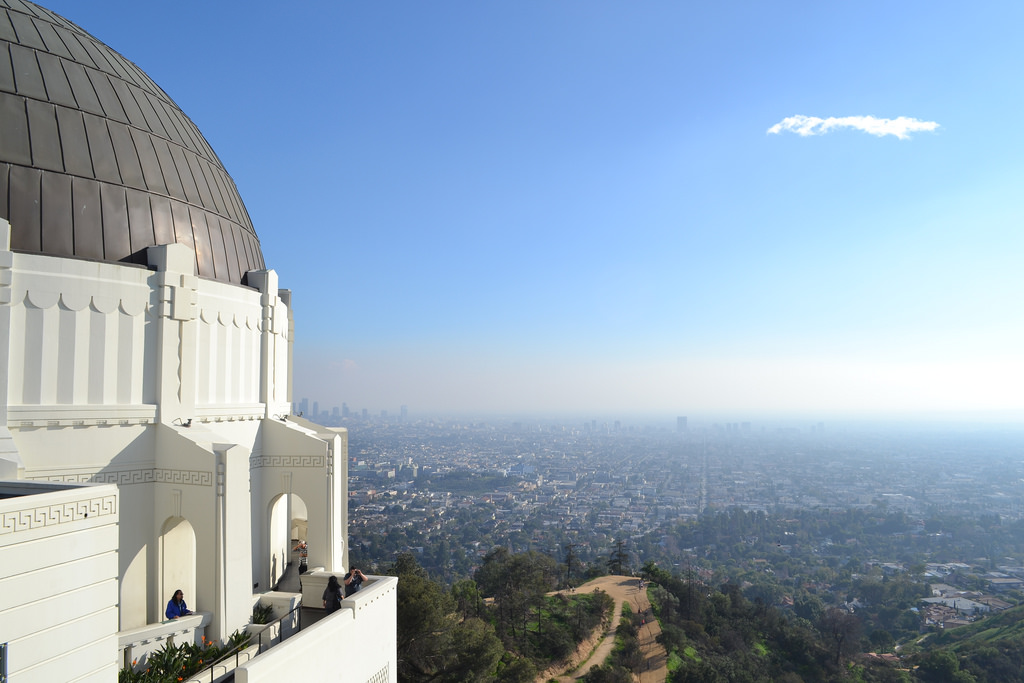 Yes, LA does have some beautiful spots, haha. I mean, just look at that view from Griffith Park! It's actually the second largest municipal park in California and one of the largest in the United States.
With its foundation in 1896 the park has grown to over 4,300 acres in size. The park contains a host of attractions for its visitors. The most popular of these being the Los Angeles Zoo and botanical gardens, following this in popularity is the Griffith observatory. This area provides one of the most stunning views of Los Angeles stretching from the Pacific Ocean up to the Hollywood hills.
Headed to LA soon?! Check out these other resources: 25+ Things to do in LA, The Tourist's Guide to LA, Hip/Funky Long Weekend in LA + Santa Monica
Within the observatory itself are exhibits to Nikola Telsa, a planetarium and a host of other scientific and cultural memorabilia. In 2010 the Hollywood sign and its lands became an official part of the park. Other smaller attractions within the park include The Greek theatre and Autry museums along with other venues. A trip to Griffith park is a must do when visiting LA as it provides a stunning backdrop to the city. // Eoin Dolly
33 | Carlsbad Ranch Flower Fields
A dazzling display of color and nature, the Flower Fields at Carlsbad Ranch are one of California's most whimsical sights. If you love flowers like me, you'll definitely agree that the Flower Fields are by far one of the prettiest places in California. More than 50 acres of Giant Tecolote Ranunculus flowers bloom each spring from mid-March to mid-May, during which time the ranch opens to visitors.
Guests are free to wander the fields, admiring the colorful blossoms and watching as they sway in the soft Pacific breeze. Snacks, lemonade and other refreshments are available to purchase, so picnicking with a floral backdrop is highly encouraged!
Welcome in the spring season by twirling through one of California's most scenic flower fields (and snagging that perfect Instagram-worthy shot). // Kelly Borglum
34 | Mt. Whitney
Being the highest summit in the continental United States, Mt. Whitney stands tall at 14,505 feet (4,420m). Located within Sequoia National Park and the Inyo National Park, the best place to view the mountain is actually at the Interagency Visitor Center on Highway 395 due to a chain of mountains blocking the views from the park roads.
Hoping to climb the tallest mountain? You'll need a permit for that. All hikers entering the Mt. Whitney zone, including day-hikers, are required to obtain a permit. Don't forget this as you'll be turned around without prior permission. And make sure you bring your water – the shortest and most popular route to climb is 10.7 miles!
35 | Pismo Beach Sand Dunes
Pismo Beach in Central California is one of those typical beaches that you may have in your mind what the scene is all about in visiting the area. But what's really cool about this beach is the fact that you can actually drive on the beach in very compact and solid ground even up to the water.
The sand dunes of Pismo Beach are quite impressive with large sand dunes covering a big area in the park and dotted with swaths of summer annual blooms and other colorful plants.
Pismo Beach is a fun place to explore with the dunes, driving on the beach and the beach culture is in full swing with the cool shops, galleries and eateries in the hip and funky coastal beach town which is a perfect spot to just hang out, enjoy the beach community and local vibe of the area. // Noel Morata
36 | Butterfly Beach, Santa Barbara
Santa Barbara is any beach lovers dream. With miles and miles of sun-drenched sandy coastlines, any beach visit will prove to be better than the last. Thirsty? Grab a cocktail at Four Seasons Resort The Biltmore Santa Barbara across the street from the beach.
You may even catch a celebrity sighting! Yes, this place is that good! Hoping to catch a spectacular sunset? Wait for a night with a few clouds for a more dramatic effect, and you'll hopefully get to witness the sky changing from blue to yellow to pink to purple!
37 | Heisler Park, Laguna Beach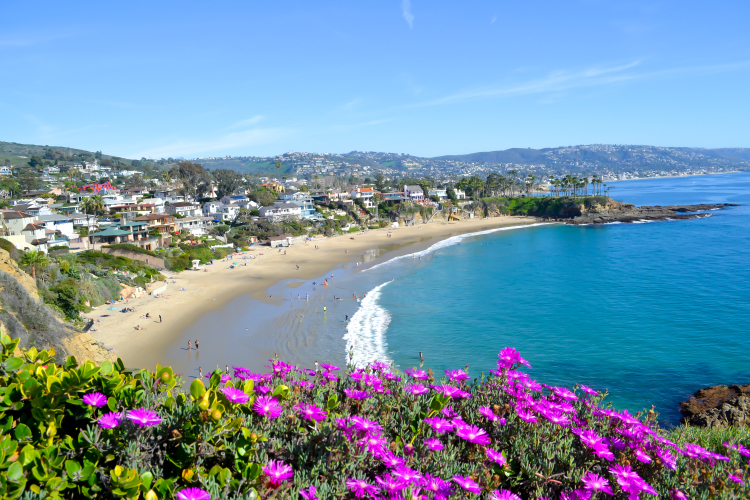 Heisler Park is a treasure located just up the road from central Laguna Beach. The beautifully manicured park is perched above the sea cliffs with picnic lawns, benches, and pathways perfect for an afternoon stroll. Everywhere are Bougainvillea, wild flowers, palm trees, various cacti and other exotic flowers I couldn't name.
If you look westward you can see Catalina Island in the distance or watch the surfers down below navigating a treacherous surf spot. There are steps that will lead you to the beaches, coves and hidden tide pools. In my experience, Heisler Park is one of the most gorgeous places in Southern California and it's a must visit if you're ever in the Laguna area. // Asher Fergusson
38 | Pigeon Point Lighthouse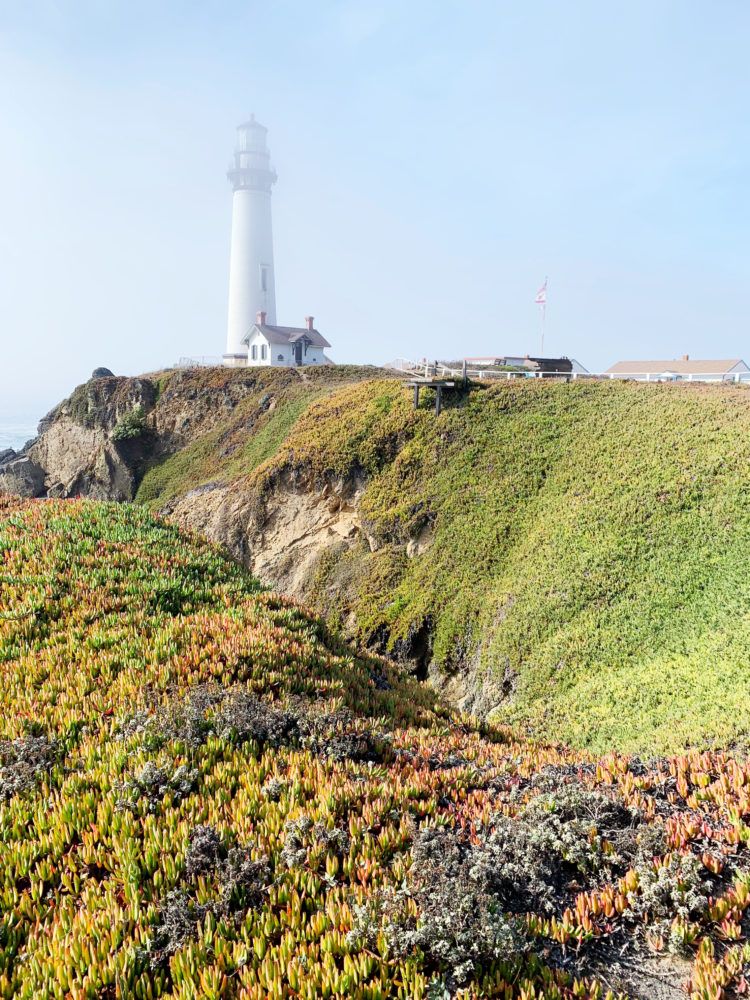 Perched on a cliff on the central California coast, the Pigeon Point Lighthouse is one of the tallest lighthouses in America. It's a stop we always make on our way to Santa Cruz (all my favorite stops from SF to Santa Cruz here).
And the lighthouse has quite a history – it's been used to guide boats and other mariners since 1872, and you can even see the light showcased in a building nearby. Renovations are currently underway, but the lighthouse is still intact and such.
Don't miss the area surrounding the lighthouse – the waters and nearby rocks are so rich with marine mammals (we typically see whales spouting water from their blowholes in the distance). Be on the lookout for harbor seals hanging out on the rocks as well.
39 | Morro Bay Rock
California's famous coastal Highway 1 is known for its views from North to South of the State. However, very few people talk about Central California. Morro Bay is a small coastal city in Central CA that Highway 1 cuts through and in my opinion one of the pleasant surprise packages on the drive.
As you head to the lagoon where Morro Bay State Park is, first thing that will catch your eye is a gigantic volcanic rock formation in the middle of the bay. That's the iconic Morro Rock after which the city gets its name.
There are plenty of activities to do at the State Park including hiking, fishing, sailing, and bird watching. Morro Bay Harbor is another great spot in the city to enjoy a chilled beer, fresh fish, and great view of Morro Rock. A combination of Morro Rock and sunset can be quite impressive. // Photo and text by Richa Joshi
40 | Shaver Lake
Shaver Lake is one of the best-kept secrets in California! Nestled in the Sierra National Forest, you will find snow capped mountains, crystal clear water, and green wooded forests but none of the crowds of Tahoe or Yosemite. On the lake, you can rent kayaks or motor boats and spend the day visiting each of the dozens of small beaches along the lake. Each beach is separated from the next by rock formations so it's easy to find a private spot to relax or swim.
If you're camping, you can walk to the lake from Dorabelle campground. Try to get a campsite further from the lake and at the end of the loop. You'll have to walk farther to the lake, but your campsite will back up to enormous rocks and you won't have many neighbors. Even if you can't get your desired spots, Shaver Lake is one of the few truly desirable campsites in California where you can get reservations even at the last minute. // Jessica Covington
41 | Muir Woods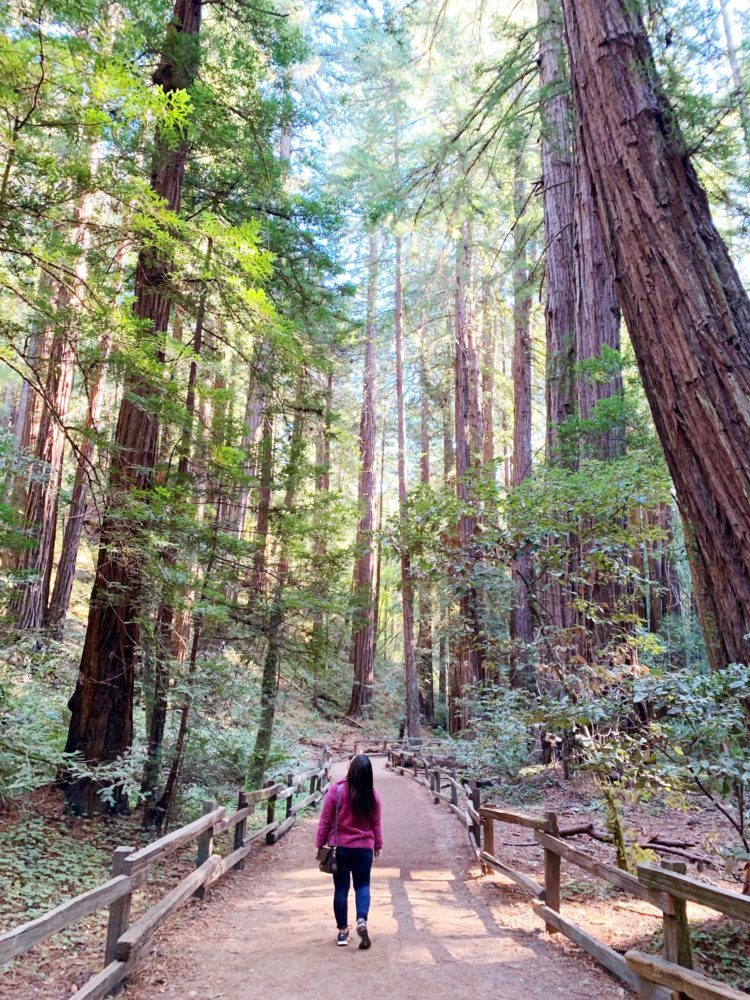 Just north of the beautiful Golden Gate Bridge, atop Mount Tamalpais, you'll find the towering redwoods of Muir Woods National Forest. Though they lie a short distance from the city, hiking the trails here will transport you to a seemingly extraterrestrial realm.
Your eyes will be drawn up immediately as you enter the park. Your gaze will follow the trunks of the old-growth redwoods to what feels like an infinite length as they pierce into the sky above. Not only are these trees soaring in height (even thought to be the tallest of all living things!), their colossal trunks can reach a diameter wider than the length of a car!
Some of the enchanting forest trails even lead to peaks overlooking the mighty Pacific Ocean. Hikers can find themselves admiring the natural wonders in these woods for hours while getting a great cardio workout and then suddenly exit the portal of greenery to the beautiful blue vastness of the ocean below. // Taiss Nowrouzi
Read Next: 30 Spectacular Day Trips from San Francisco
42 | Fern Canyon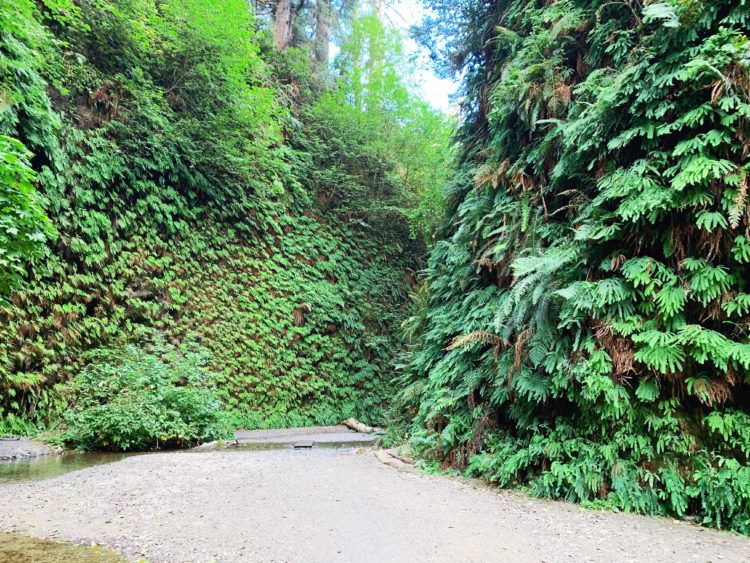 With 50 feet tall walls covered from top to bottom with ferns the aptly named Fern Canyon is one of the most iconic locations in California. Hiking back to the canyon is taking a step through time back to the time of the dinosaurs, and Hollywood agrees.
Fern Canyon has been in several documentaries about dinosaurs and was even in one of the Jurassic Park movies. The trail is incredibly easy to walk, though not wheelchair friendly. Be sure you have extra socks on hand as you will be walking through some very wet terrain. Fern Canyon is incredibly photogenic and usually not very busy. // Shannon Doyle
43 | Avenue of the Giants, Humboldt Redwoods State Park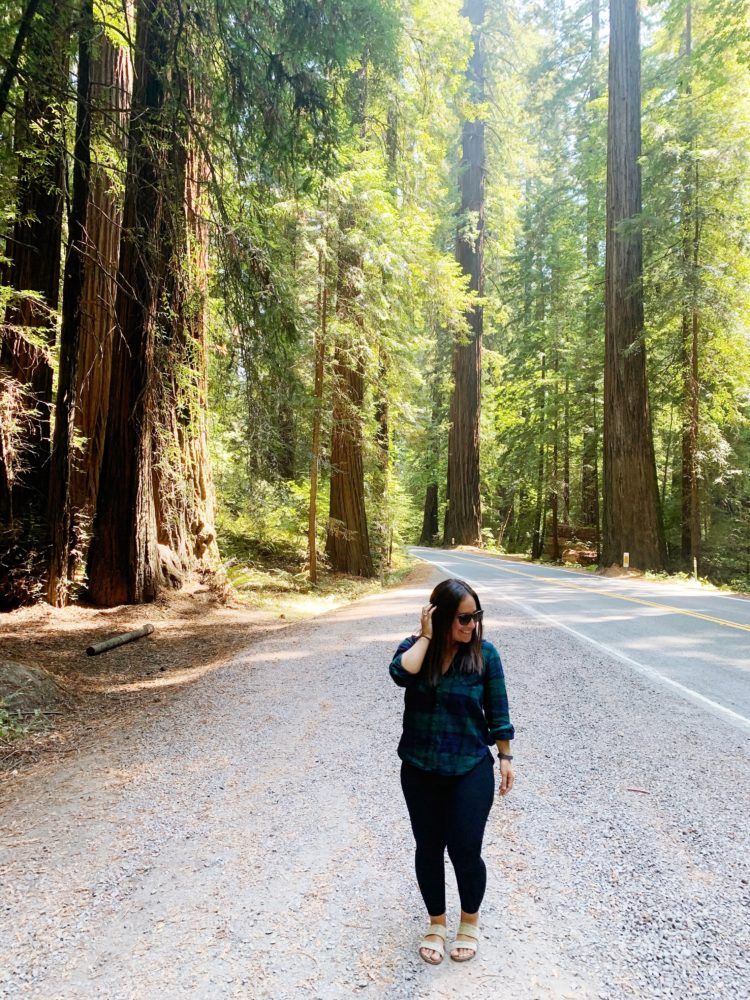 Avenue of the Giants is a scenic redwood tree-lined highway in northern California located about 4hrs north of San Francisco. The main portion of the route runs through the Humboldt Redwoods State Park for approximately 20mi between Miranda and Redcrest. Key sights off of the road include the Immortal Tree, Founder's Grove, the Dyerville Giant, the Rockefeller Forest Grove, the Shrine Drive-Thru Tree, Eel River, and South Fork.
Looking for more redwoods near San Francisco? Here's a whole bunch of them!
Driving through the forest on this road is one of the most beautiful drives and my favorite thing to do in this area. But you can't come to a Northern California redwood forest and not go hiking! For a leisurely walk, I highly recommend the Founders Grove Nature Loop; this trail takes you to the Founders Tree, a 346ft tall tree with a circumference of 40 feet, and the fallen Dyerville Giant, which was once a 370ft tall redwood believed to have been about 1,500 years old! // Constance
44 | Bumpass Hell, Lassen National Park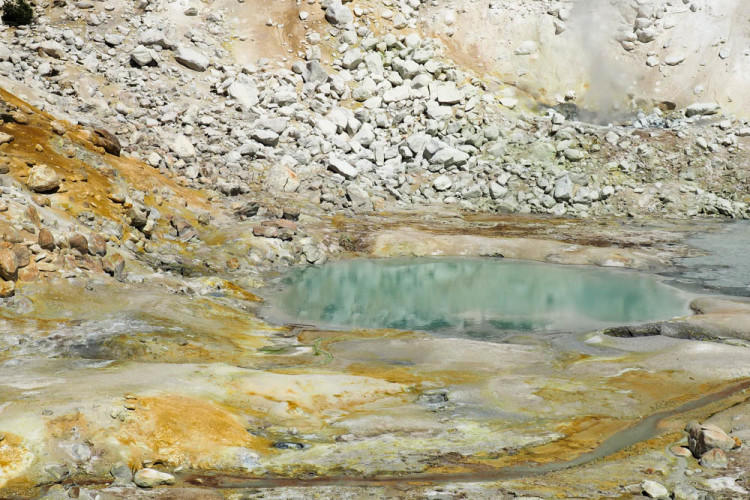 If you're looking to escape the crowds at some of California's National Parks, an ideal place to head to is Lassen Volcanic National Park. Located at the Northern tip of California's Sierra Nevada range the park is a geothermal hotspot which hosts some incredible scenery. The majority of the geothermal areas within the park are found around Mount Tehama's caldera, with the highlight being Bumpass Hell.
Aptly named, this geothermal area was named after an unlucky early pioneer named Kendall Vanhook Bumpass fell into these hydrothermal features in the 1860s. The largest fumarole in the park, Big Boiler, is also one of the hottest fumaroles in the world with temperatures measured as high as 322°F (161°C). The best way to explore the bubbling and gurgling of Bumpass Hell is to venture around the fumaroles on the 3 mile boardwalk trail. // Rand Shoaf
Read Next: A Weekend in Lassen Volcanic National Park (plus not-to-miss waterfalls!)
45 | Thousand Island Lake, Ansel Adams Wilderness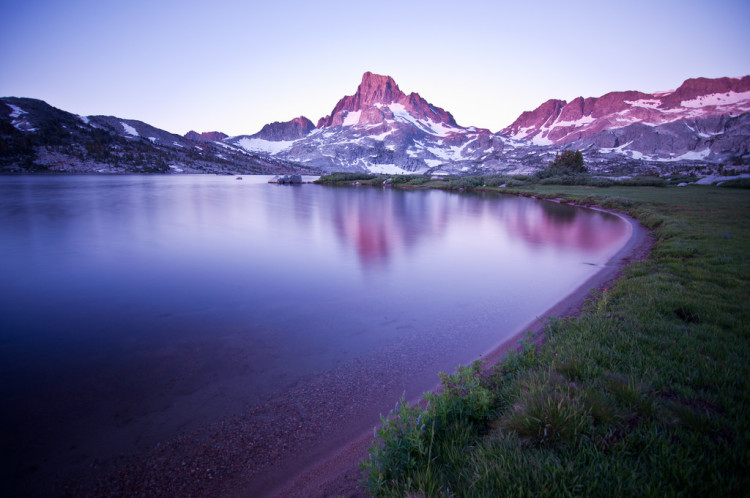 With hiking it often goes that the most beautiful places are not the easiest to get to. Thousand Island Lake falls in this category. This stunning alpine lake sits below massive Banner Peak in the high country of the Sierra Nevada mountains within the Ansel Adams Wilderness. The hike up to the lake offers magnificent scenery with towering snow-covered peaks, canyons filled with glistening waterfalls, and crystal clear lakes.
Filled with many tiny islands scattered throughout, Thousand Island Lake lives up to it's name and although not the easiest to reach, it is well worth the effort of getting there. The lake can be reached via both the iconic Pacific Crest Trail and John Muir Trail, but be sure you're prepared for a very long full-day hike or better yet, pack along camping gear and enjoy a sunset dip at the lake! // Rand Shoaf
Which of these most beautiful places in California would you like to visit the most? Have any others to add to this list?!
Photos via 5 | 6 | 7 | 10 | 11 | 14 | 15 | 17 | 18 | 19 | 22 | 23 | 25 | 26 | 27 | 28 | 29 | 30 | 33 | 34 | 35 | 36 | 39 | 40 | 41 | 42 | 43 | 45