Visiting Morocco and looking to take a whirlwind of a trip from Fes to Chefchaouen? Hoping to dazzle yourself in the blue city of Morocco? Keep on reading, my color-obsessed friends, as I'm sharing my exact Chefchaouen day trip, including not only things to do in Chefchaouen, but how to get there, what to wear, and other important cultural aspects to keep in mind.
I'm sure you've seen hundreds of photos of the Blue City of Morocco, as they've been popping up on IG feeds and pinterest walls for some time now. And if you haven't, well, I'll just sheeply ask, where have you been hiding the past few years? Instagrammers from around the world flock to the blue city, as well as others looking to take a day trip from Fes to Chefchaouen.
After visiting a few spectacular cities in Spain, my sister and I made our way down to Morocco, eager to check out the medina and indulge in all the tagines in Fez. And once the initial culture shock wore off, we were pleasantly surprised with our choice to include this northern African country on our itinerary.
We essentially had a free day, and while the bulk of our group were heading to Volubilis and Meknes, I made it my mission to head north to see the colors of Chefchaouen (pronounced Chef-show-win) once and for all. After begging persuading some others, we were able to get our own private transportation from Fes to Chefchaouen to visit the Blue City.
AND IT WAS A DREAM COME TRUE.
DEFINITE TRAVEL HIGHLIGHT SO FAR.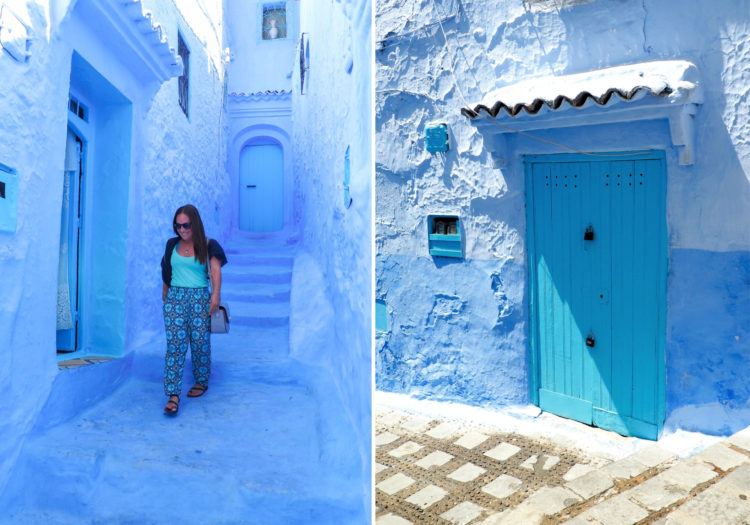 The walled city of Chefchaouen (which was actually closed to outsiders until the 1920's) is surely a site to see. Any aspiring photographers will find this place a dream come true as the photo ops are seemingly endless.
There's always another cobblestoned street to wander down, another playful kitty to watch, and never enough tagine to eat. After my Fes to Chefchaouen day trip, I can most definitely see myself returning again, next time for far more than a mere few hours.
P.S. → Chefchaouen is commonly simplified to "Chaouen", so if you see/hear this, just know they're the same exact place. 🙂
Why is Chefchaouen blue?
Cornflower blue. Cobalt blue. Turquoise blue. Sky blue. It's all just so blue – every single variation of the hue you can think of! Makes sense of course since Chefchaouen is nicknamed Morocco's Blue City!
When initially seeing photos and beginning my research, I had wondered if the city really is that blue, or if it's just a few streets or so.
Welllll, I'm happy to report back that the entire place is completely decked out in the stunning blue hue, and you'll easily find photo ops around each and every bend. We actually got a tad bit lost since all the narrow streets looked so extremely similar in color – whoops!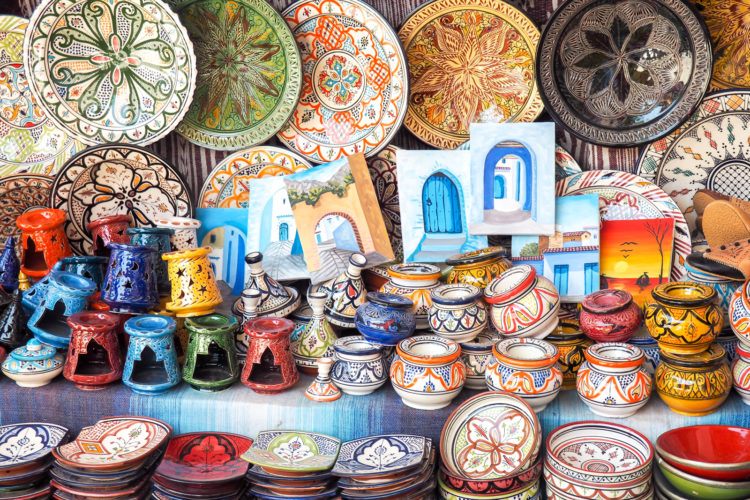 You may be wondering why Chefchaouen, the blue city in Morocco, is actually blue, and there are quite a few theories! One popular (and quite practical) theory is that the blue color helps keep mosquitoes away, and I actually don't remember getting any bites on my day trip to Chefchaouen (psst – I usually get eaten alive no matter where I go).
It's also been said that the blue color helps cool off the city from the high mountain sun, and after experiencing Chefchaouen during their hottest month, I can understand why! Both very plausible theories!
Another common theory is that the Jewish community introduced the distinctive blue color in 1492 (20 years after Chefchaouen was founded), once they took refuge from Hitler to replace the green of Islam. Short history lesson: They're now long relocated to Casablanca or Israel.
And lastly, it's been thought that blue is a symbol of the sky and the heavens, which reminds us to lead a spiritual life.
So whatever the reason, I'm thankful the city is now dazzled in blue, as it's absolutely spectacular.
When to Visit Chefchaouen
Since temperatures vary greatly, it's important to plan your Chefchaouen trip during a month where you'll feel most comfortable. It doesn't rain much, so you don't have to worry about precipitation in these parts thankfully! Just that nasty, nasty heat come summer time!
SPRING AND FALL: best time to visit Chefchaouen
Next time I visit Chefchaouen and Morocco in general, I want to do so in spring (March to May), when the temps aren't ridiculously high and I can enjoy being outside for more than .2 minutes at a time. I also heard great months to visit are in autumn (September to November) as well.
Highs during this time range from 65°F (18°C) in March/November to 83°F (23°C) in late May/early September, so thankfully the days don't feel as hot. There's a tiiiny bit higher chance of rain, although not much. One main difference between spring and fall – spring is busiest for tourism (meaning higher accommodation costs) while fall is much slower.
SUMMER: worst time to visit Chefchaouen
Steer clear from June, July, and August, as these are the hottest months in Chefchaouen, with regular highs of around 96°F (36°C) in early-mid August.
We visited in late July and it was less than ideal – we were dripping in sweat from head to toe! Since you'll want to respect the cultural norms, you'll essentially be pretty covered up, meaning your clothing will force you to be warmer than average. Keep this in mind when planning a trip from Fes to Chefchaouen.
However, THANKFULLY the humidity is at bay come July, so those scorching hot temps won't feel as uncomfortable with humidity levels of only ~40%.
WINTER: slightly chilly but pleasant
If you're not scared of the cold, you may enjoy visiting Chefchaouen from December through February. And in all reality, it ain't really that cold (I mean, I just came back from a winter in Banff where the temps were in the negatives every. single. day).
Temps in Chefchaouen range from a cool 65°F (18°C) – [pretty perfect if you ask me] to a slightly colder 58°F (15°C). Reallllly not that bad, like at all.
Currency in Chefchaouen (and Morocco in general)
Morocco currently uses the Moroccan dirham (DH or MAD), with the exchange rate being approximately 9DH = $1USD (at time of this publication, April 2019). Morocco is still very much a cash society, so be sure to have enough before heading out for the day.
In addition, some debit cards may not work at ATMs, so I found it to be a good idea to take out as much as I thought I'd need for my time in Morocco once I found an ATM that worked, and hid the money in different places in my luggage/backpack/wallet.
Thankfully there is an ATM in the middle of medina should you need to take out some cash while in Chefchaouen, but I'm come prepared with money before arriving in case your debit card doesn't work.
How to get from Fez to Chefchaouen:
Since Chefchaouen is basically situated in the middle of nowhere in the Rif Mountains, it's not the easiest of places to reach. But thankfully, there are a few simple-ish ways to get there, they just take some time and advance planning.
If you're aiming for a Fes to Chefchaouen day trip, you'll need to plan out your transportation in advance. Or at least know your options.
Public transport/bus
Thankfully, the bus system in Morocco is efficient, clean, and usually on-time (good thing because there's no train station in Chefchaouen!)
Get yourself to the CTM bus station (the largest bus network around, and conveniently located in the city center, although not walkable from the medina from where you're probably staying), then take the CTM bus to Chefchaouen. It's about a 5 hour journey from Fes to Chefchaouen, so not advised if all you've got is a day.
However, if you're planning on staying overnight, the bus is a definitely a viable option. Check out CTM bus times here and book your ticket in advance if you're visiting during a busy time.
Private driver/taxi
It takes roughly 3 and a half hours to drive from Fes to Chefchaouen.
We were in an air-conditioned shuttle and our driver was friendly and experienced. You'll drive through some beautiful Moroccan countryside so be sure to stay awake!
You can get your hotel/guest house owners to arrange a taxi for you, although it'll most likely be a bit more expensive than flagging one down on the street.
And just so you're aware, a Grand Taxi (your best bet of getting from Fez to Chefchaouen) will be roughly 250 dirham ($25USD) per person (or 800-1200 dirham/$80-$125USD per vehicle). Remember to haggle; this is Morocco afterall! We were able to fill our taxi and therefore got decent rates per person.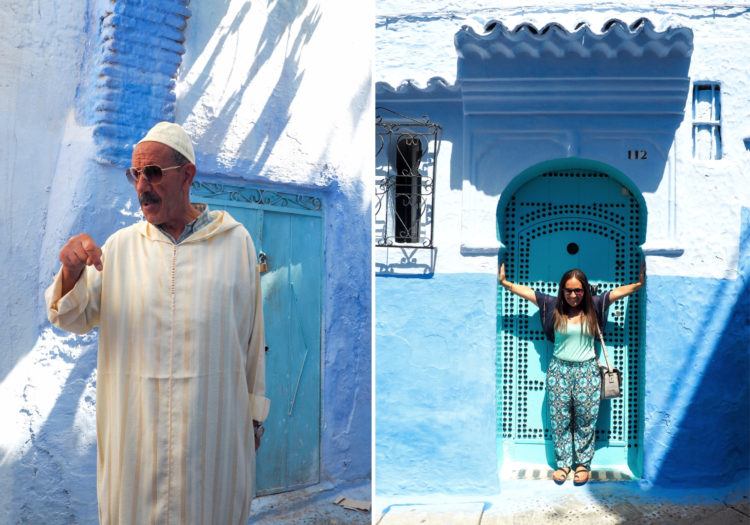 Tour from Fes to Chefchaouen
If you don't want to rely on public transportation or try your luck haggling with a private driver, a tour from Fes to Chefchaouen is your best bet. Not only will they pick you right up from your accommodation in Fez, but they'll save you time getting a taxi and any worries about getting back to Fez at a reasonable hour of the night.
Highly advised if you don't have enough people to fill a Grand Taxi and are only visited Chefchaouen for a day. And remember, while the the prices of these tours appear higher, they include transport back to Fez as well, unlike the private driver or bus.
Recommended day tours from Fes to Chefchaouen:
All tours are about 12 hours long and provide air-conditioned transport to/from Chefchaouen.
Option 1 // Option 2 // Option 3
Option 1 has tons of great views, is only ~$50 per person round trip, and is the best option in my opinion. It's a 12-hour private day tour, so you can ensure you'll have ample time to wander the colorful city and hear tales of culture and history from your guide. And even better, they pick you up directly from your hotel/riad in Fez.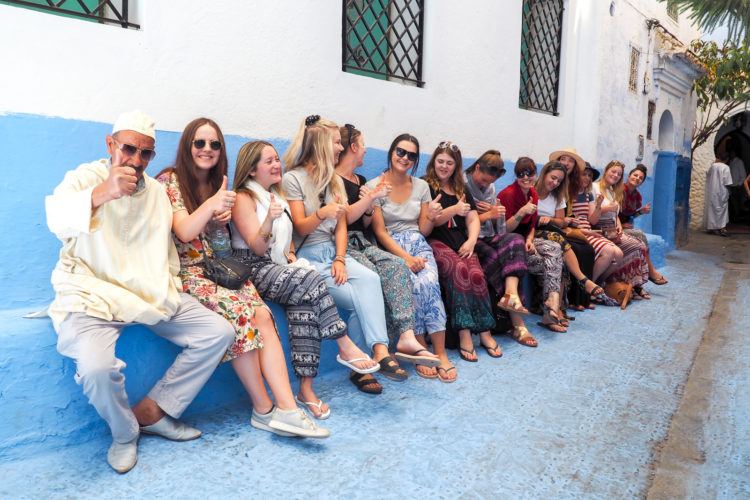 Option 2 is similar to option 1, but you'll also be able to stop at viewpoints along the way to capture photos of the city and visit the small waterfalls at the source of the Ras El-Maa River just outside the city as well.
Option 3 is a fully private tour for you and your friends/family. You'll have time to visit the medina and can make other stops as you wish with your driver.
Making Your way home from Chefchaouen to Fes
As noted above, if you're planning on taking a Chefchaouen day trip, you'll need to find your way back to Fez of course! Because of this, it's suggested that you take a tour.
If you are in fact staying over night and need to get from Chefchaouen to Fes, you can easily take the CTM bus back or hire a private driver.
What to do in Chefchaouen
You'll undoubtedly want ample time to just wander and explore the little nooks and crannies of the area, but there are a few things you just shouldn't miss while in the area!
Explore Chefchaouen's compact medina: The medina of Chefchaouen is by far one of the best in all of Morocco – it's small and relatively uncrowded, meaning it's easy to explore it's narrow alleys and steep climbs.
And yes, practically all of the buildings are painted that blinding blue color, so it's quite easy to get lost considering the entire space is the same hue! Grab your camera and get wandering!
Go shopping in the medina: You'll find a mesmerizing traditional souk (market) in the heart of Chefchaouen; don't leave without stopping by. The area is most famous for it's thick woolen blankets, chunky hand-knitted socks (great souvenirs), and goat cheese (which you'll commonly find on the outskirts of the medina).
There's tons of hassle-free boutique shops nearby with everything imaginable, from hand-spun pottery to artisanal soaps made right in the city. Don't miss the main square (known as Plaza Uta el-Hammam) which is full of local shops and cafes.
Photograph the city: Yeah, yeah, this isn't an actual activity specific to the city. BUT Chefchaouen is just so photographic, it'd be a shame to zip right by all the stunning architecture and blue hues without stopping to appreciate it from every angle possible.
I wanted to pose in front of about 100 doors, as each one was more intricate and beautiful than the last. I think I need to head back to Chefchaouen just to take more photos!
Say hello to the kitties: Trust me, you can't miss them – they're alllll over the place! And thankfully, it's apparent that the locals of Chefchaouen truly care for all the cats and kittens wandering their streets.
When I visited, the little balls of fur looked rather healthy, and I didn't see any starving to death like I did in Fez. In all honesty though, I'm not a cat person per say, so didn't really interact with them much, but they definitely made a few of my photos more interesting!
Relax: Considering Chefchaouen is one of the most laid back towns in all of Morocco, take some time to just sit on a bench with some fresh OJ and people watch for a bit. Take it all in – the colors, the smells of leather and mint tea, the interesting clothing, the cute kitties playing.
FUN FACT → Chefchaouen is famous for its hashish (an extract of the cannabis plant // weed). You won't realize it when walking around town, but 1000's of people are employed in the marijuana business over in this region! Quite possibly the reason why everyone is just oh so chilled out here! 😉
Hike to Bouzaafar, the Spanish Mosque for unparalleled views of the city: If you're looking for those postcard worthy views of Chefchaouen from above, you'll want to make the short trek to Bouzaafar, the tiny white-washed Spanish Mosque located about 30 minutes up in the hills.
How to get here → find the medina's east gate and follow the wide dirt trail, cross the Ras el-Maa river (you'll probably see locals doing their laundry here) and hike up into the hills for about 30 minutes, where you'll ultimately reach the mosque!
Take a guided walking tour: since Chefchaouen is comprised of so many little nooks and crannies filled with interesting stories and hidden gems, it may be wise to take a tour.
Most guided tours will teach you about the majestic walls and gates of the town, share some fact-filled stories, take you through the flour mill, and show you around the small medina.
As noted above, we were given a guided walking tour of the medina from our private driver. You can take a guided walking tour here and here.
Do note that if you're just visiting for the day, you won't be able to do all of these activities. On my day trip from Fez to Chefchaouen, we were given a short guided tour to some of the must-see spots in the area, taken to a marvelous lunch at Aladdin Restaurant, then had about 2 hours or so to wander around ourselves.
What to Wear in Chefchaouen
Before visiting Morocco, you should read up a bit on the customs. Morocco is primarily a Muslim country, and alcohol consumption is strictly forbidden in the Quran (just FYI), but apparently marijuana is not (?).
You'll want to dress modestly and respectfully while traveling in Morocco. Women should wear long skirts and dresses, or cotton, loose fitting pants (always covering the knee), and tee shirts that cover the shoulder area.
Sandals and sneakers are generally worn, without many wearing heels. It's also a good idea to bring a scarf to drape around your head and shoulders as well if you don't want to bring extra attention to yourself.
A few points to think about when planning your outfits for Chefchaouen:
Be modest and respectful
Cover your knees and shoulders
Think about the color you'll wear for photos! As you know by now, the entire city is covered in stunning shades of blue, which makes the perfect backdrop for photo ops. Wearing white, pale yellow, pink, basically anything that contrasts nicely with blue, will look great in your shots!
Depending on when you visit, it may be exceptionally hot and sticky, so plan your clothing with this in mind. Loose tops and cotton bottoms (pack long pants/skirts for Morocco), comfortable walking sandals, and hats are definitely recommended. Pashminas and thin head scarves are recommended for Morocco as well.
The heat in Morocco is notorious, so please be careful and plan your days accordingly if you'll be visiting when it's hot hot hot. Make sure to drinks LOTS of water, apply sunscreen (yes, even though you'll be covering yourself), and set aside time to cool off in the shade/indoors.
What and Where to eat in Chefchaouen
Try traditional Moroccan cuisine; kefta to every kind of tagine and couscous available (at an affordable price), fish, spices, vegetables
Fresh orange juice (no ice though!)
Homemade baked bread in wood-fired ovens
Mint tea (tradition in Morocco, and has great health benefits)
Make sure to schedule some time to eat at the Aladdin Restaurant, as the views from up here are absolutely wonderful and the food is a decent price.
→ If you'll be in other parts of Morocco and want to head to Chefchaouen, there's day trips available from both Tangier and Rabat.
Tangier is a bit closer to Chefchaouen than Fez at around 2 hours away, so you'll have about 5 hours to explore the medina and surrounding area. Check here for prices and availability
Rabat is quite far, at around 4 hours away, which will only give you about 2 hours to explore Chefchaouen. It's probably best to stay overnight if you're coming from Rabat, although not 100% impossible to do as a day trip.  Check here for prices and availability
Do you have plans to visit the Blue City of Morocco anytime soon? Be sure to take along your camera!