So you're headed to the Pacific Northwest and have 3 days in Portland?! Great choice! I've got the perfect 3 day Portland itinerary for you – including the best food, views, and some great nature spots outside the city!
Portland, Oregon is best known for its delectable donuts, snobby coffee culture, orgasmic food, and, of course, for being weird. It is their slogan after all! 3 days in Portland will give you enough time to see all the city highlights, as well as get you outta town for some much needed nature breaks!
I've visited more than half the states in the US, but before last year, I had never made it to Oregon! Living in NYC on the East Coast for most of my life, Oregon and the PNW in general hardly crossed my mind. But once I moved to sunny California, I became instantly enamoured with those states just to the north of me. I quickly visited Seattle and Mt. Rainier, but it took me almost 4 years to make it to Oregon! Shame on me!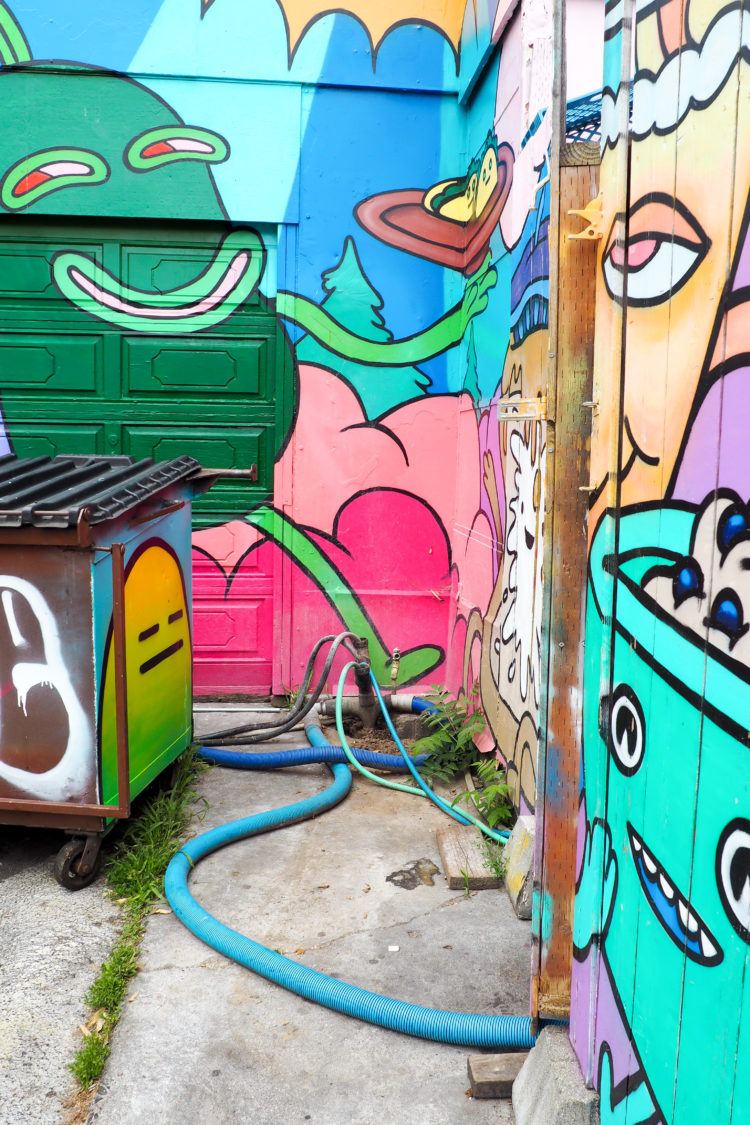 So when my old coworker (and friend) invited me to spend 3 days in Portland at her place, I just couldn't say no. We were LONG overdue for a proper catch up anyways. And plus, I could already taste the donuts and coffee I've heard so much about. Spoiler alert – they did not disappoint.
If you're thinking about spending a long weekend in Portland, I highly encourage it. I'm already figuring out the next time I can get myself back to PDX.
Portland Itinerary Logistics
How to Get Around
If you'll just be staying around Portland proper, then you can get away with public transportation (buses, MAX light rail, streetcars, and commuter rail) and the occasional Uber or Lyft. The city also has a few bike share programs (including Biketown which has 100 stations across the city) if pedaling around town is more your thing.
However, if you'll be following my itinerary and making a few (highly) recommended day trips, you'll want to rent a car for your three days in Portland. Note that most parking within the city is metered, although we never paid more than a few bucks per day.
Where to Stay in Portland
If you want to explore the more touristy parts of the city (where most of the items on this Portland itinerary are located, minus the day trips of course), you'll want to stay on the West side of the Willamette River, which divides the city in half. Downtown, the Pearl District, and Nob Hill are your best bets over on the west side.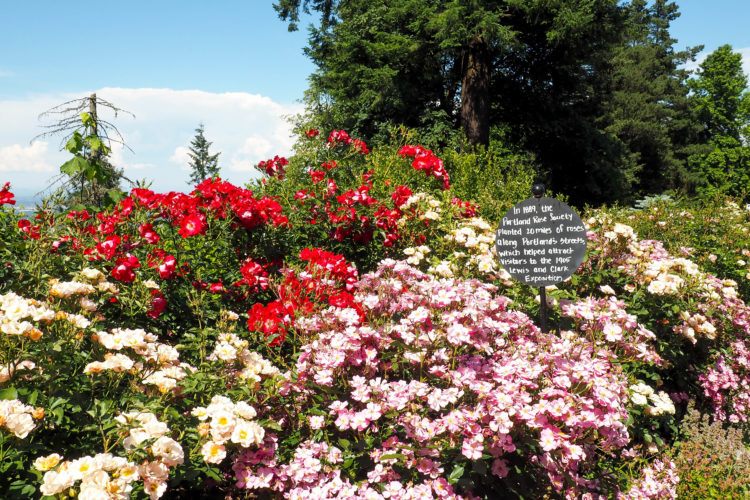 Downtown: Stay here if you don't have a car, it's your first time visiting Portland, and/or want to do a ton of (tax-free) shopping. Plus, there's tons of food carts and farmers markets here. // Recommended hotels: Kimpton Hotel Monaco (enchanted forest vibes), Sentinel Hotel (5 star property with easy access to the street car), Kimpton Riverplace Hotel (modern riverside), and The Paramount Hotel (super stylish and well-priced).
Pearl District: A super easy walk to downtown, and absolutely lovely! It's rather upscale and trendy, with tons of galleries and boutiques. Plus, the Pearl District is home to Powell's City of Books – what can be better? // Recommended hotels: Mark Spencer Hotel (classy Portland), McMenamins Crystal Hotel (quirky Portland), and Residence Inn by Marriott (kitchenettes, anyone?!)
Nob Hill: Sometimes referred to as the Alphabet District, Nob Hill has a more small-town feel to it with lots of charming victorian architecture, although is still in a central location.
When to Visit Portland: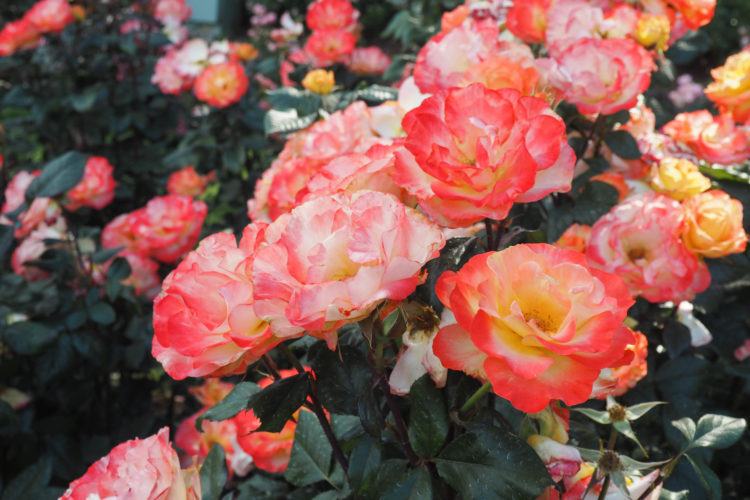 Yes, it's the PNW, and yes, it can be rainy many months of the year. Thankfully, despite all the rain, the air typically doesn't get cold enough for snow, so you most likely won't need to bust out your winter gear.
With that being said, if you're hoping for sunny days (like most), come during July and August, which is undoubtedly the city's busiest time of year. Because of this, a mid-week visit would highly be to your advantage, as restaurants get packed and traffic can be somewhat unbearable depending on where you're going.
For the sake of transparency, I visited in mid-June from a Tuesday night to early Saturday (for a total of 3 full days in Portland), and we got lucky with both minimal wait time for food and traffic. The days are long in summer (with the sun setting around 9pm), giving you ample daylight for day trips and Portland adventures.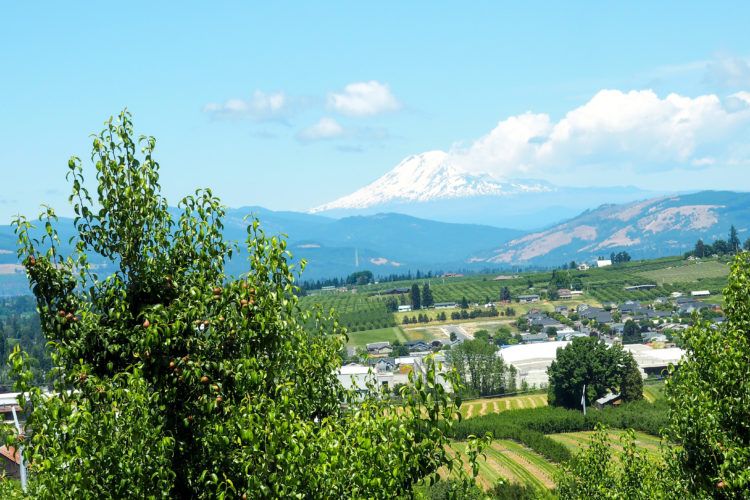 I highly advise that you plan your days around the weather. I visited in mid-June, and during my 3 days in Portland, I experienced 90+F temps, as well as a tad bit of rain, some chilly mornings, and warm summer nights. The weather here is tempermental to say the least (and changes throughout the day), so be aware when planning your activities for the day. It's best to come prepared with an umbrella and cute rain jacket any time of year, juuuuuust in case – this is the PNW afterall!
A note on food & eating and drinking in general
One of the big draws of the city is all it's eating (and drinking – the beer and coffee kind), so you'll be finding a lot of that on this 3-day Portland itinerary (#noshame). Vegans will have no problem finding food here as there are tons of vegan options on almost every menu in the city. PSA: Portland is not the place to visit if you're on a strict diet – heck, donuts, ice cream, and coffee concoctions are big around here!
Just know you most definitely won't be able to get to allllll the Portland foodie hot spots in one trip – I already have a long list for next time! The city is constantly adding new restaurants to it's (already long) line-up, so you can be sure you'll eat well on any 3 day trip to Portland! Just whatever you do, get a few Blue Star donuts – they're worth the calories (promise).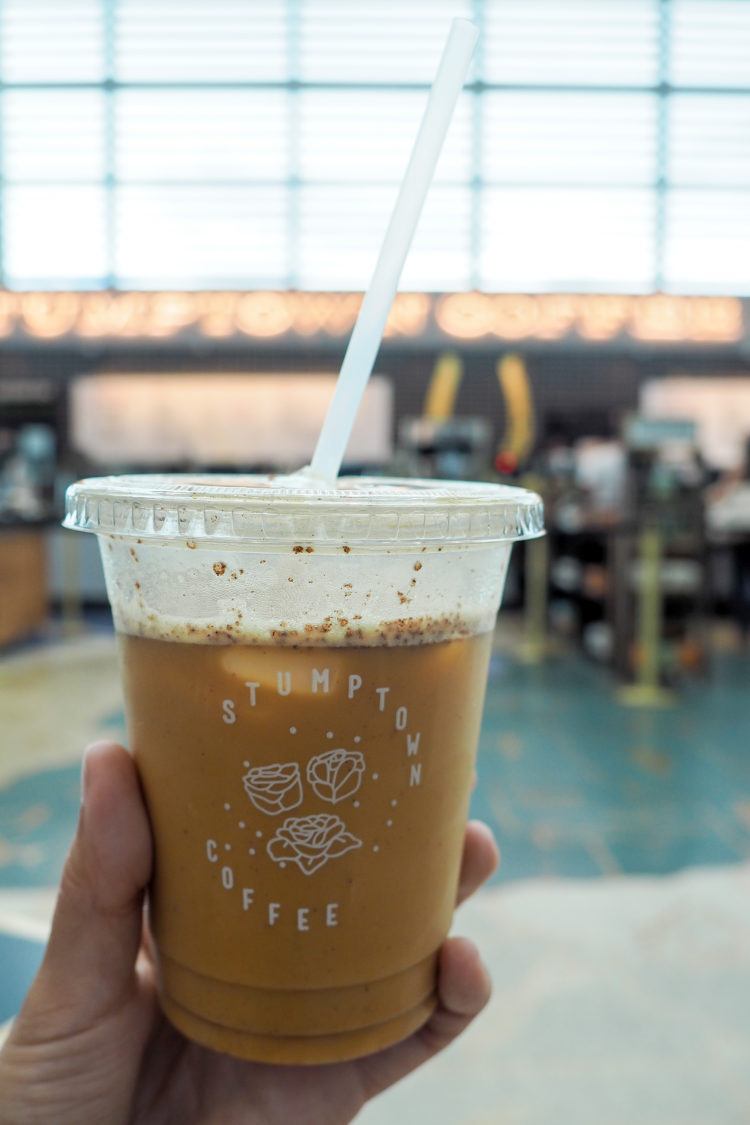 And up next, what you've been waiting for, my exact 3 days in Portland itinerary:
3 Day Portland Itinerary
Day 1: Cannon Beach + First Stops in Portland
For the beginning of your 3 days in Portland, head to the beach! The coast is absolutely beautiful and as soon as you get there, you'll be glad you included it on your Portland itinerary!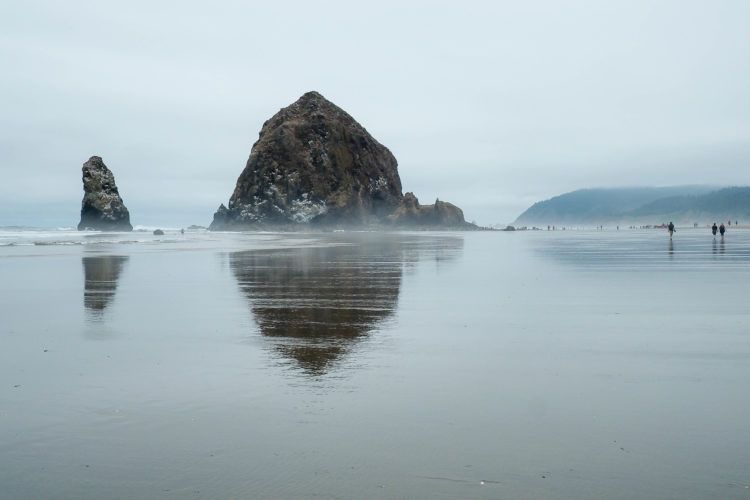 Check out Lionheart Coffee Company, located a few minutes outta town, for some coffee to go before heading to the beach. Get the cold brew – it's infused with cocoa nibs and ridiculously delicious.
Cannon Beach
Start your Oregon adventures by making your way to Cannon Beach, about an hour and a half drive east from the city of Portland. Heading to the Coast provided much needed relief from the heat, as it was in the 90s when I visited! Here at Cannon Beach, you'll find the famous and ever-so-popular Haystack Rock (it's a sight to be seen).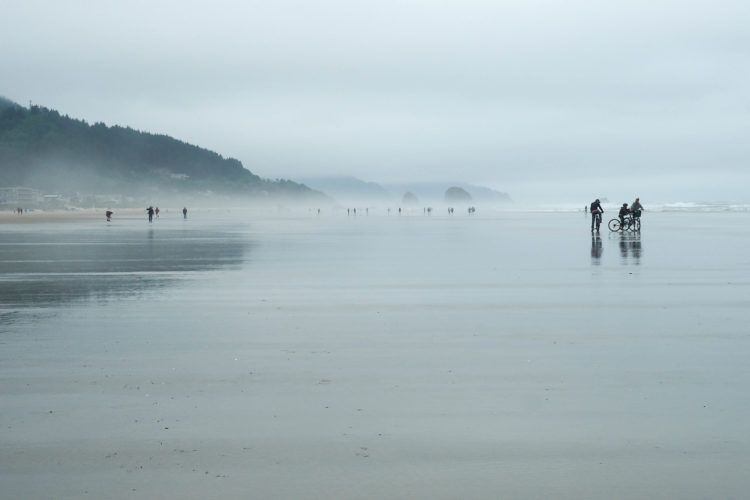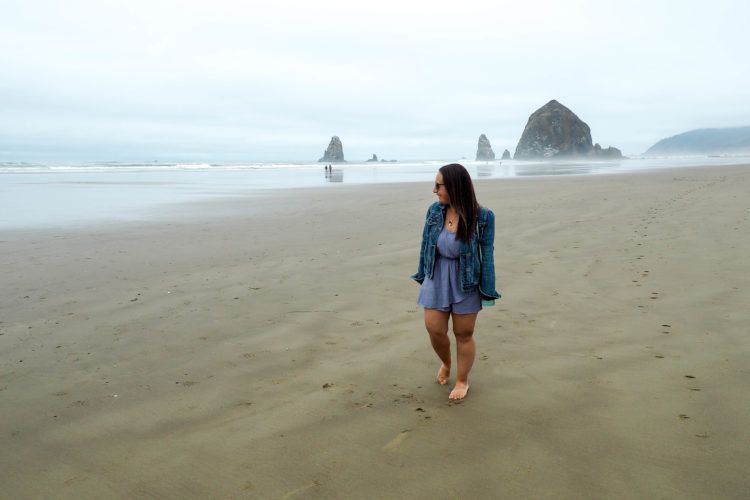 No matter where you stand, you'll see it (I promise), as it towers 235 feet over the beach. If you can, plan your visit during low tide so you're able to walk right up to Haystack Rock to search for sea creatures (crabs, sea anemone, mussels, and snails). Check here to see when the tide is at its lowest. Check out Pelican Brewing Company should you get hungry (the fish tacos were bomb), then make your way back to the city to continue your Portland itinerary.
Don't have a rental car? No problem. You'll find a few companies offering tours to Cannon Beach and Haystack Rock, along with additional scenic spots on the coast including Short Sand Beach at Oswald West State Park, Neahkahnie Point, and Manzanita (on my list for next time). Check it out and sign up here! Just note that these tours are usually more of a full day, so you'll need to add the following activities elsewhere on your Portland itinerary.
Back in Portland: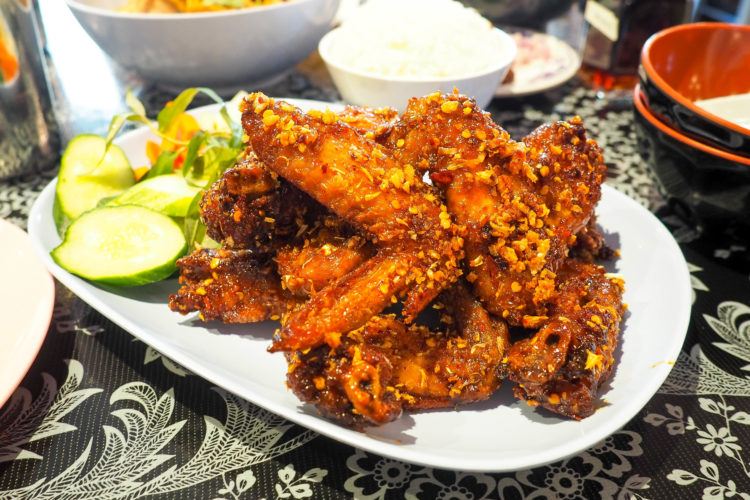 Depending on how long you spend at the beach and your hunger level, I URGE you to head on over to Pok Pok for at least a snack of vietnamese fish sauce wings. One bite and you'll understand why. Note that this place gets insanely crowded for dinner most nights, which is why I recommend going for (a late) lunch instead.
Still hungry? You'll find Salt and Straw across the street for some of Portland's best ice cream. Try the salted caramel and/or the gooey brownie. Can't decide? I get it, I've been there. Order the ice cream flight (with 4 flavors) – you won't be disappointed.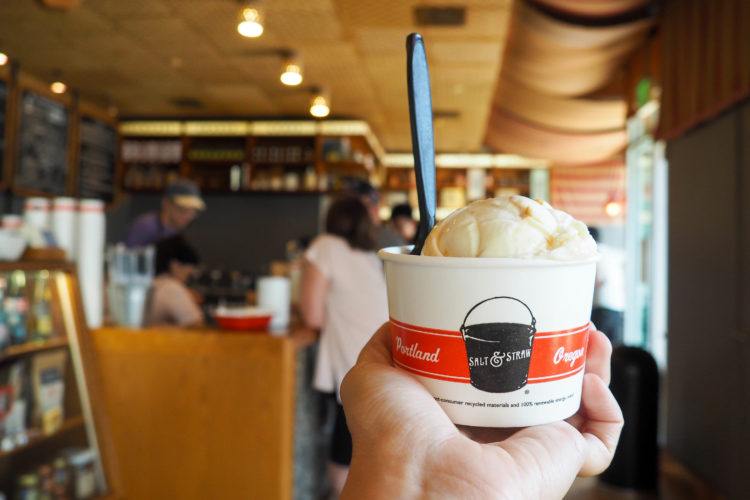 Next, check the following off your Portland itinerary:
Pittock Mansion: Looking for spectacular views of the entire city? You'll find those here at Pittock Mansion. Note that while the view is free to admire, a ticket is required to tour the mansion grounds.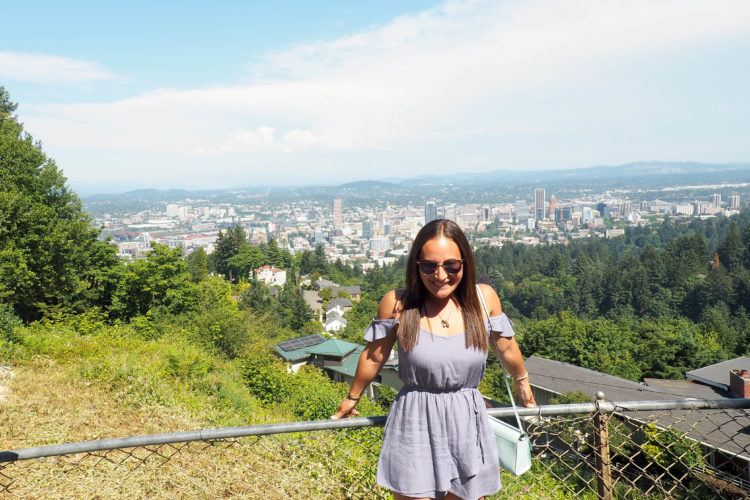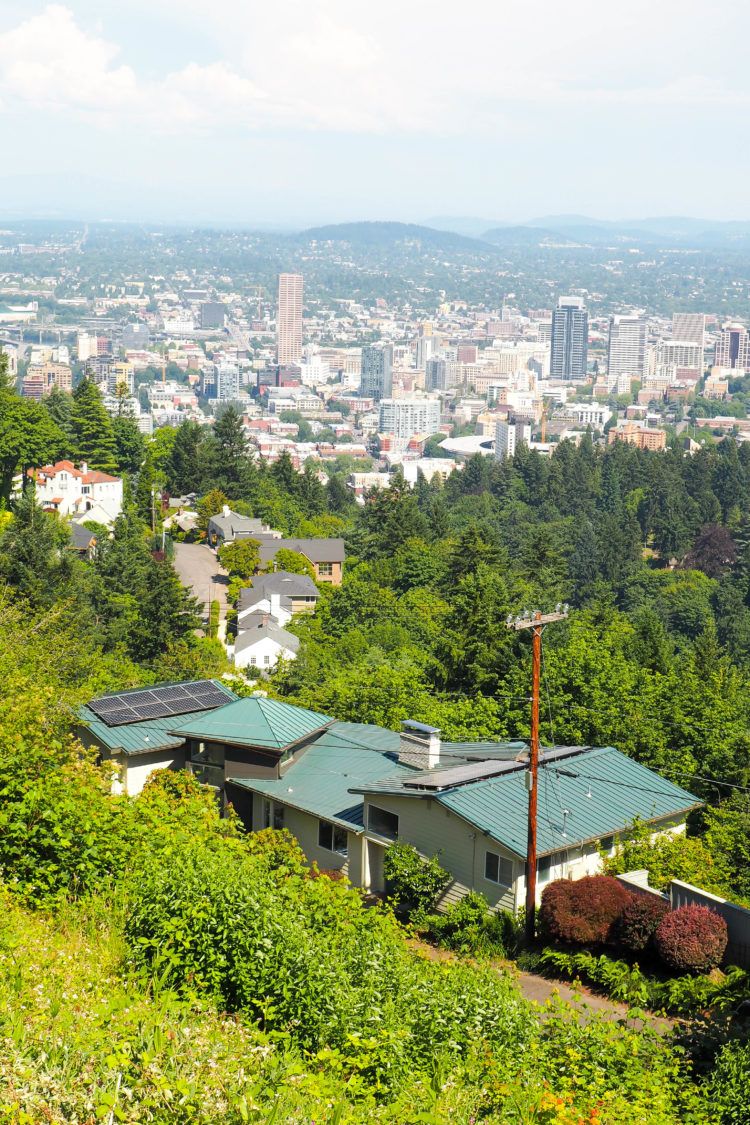 International Rose Test Garden (located within Washington Park): What's better than rows and rows of sweet-smelling roses? The garden boasts over 10,000 of the pretty things, in every color combination imaginable (over 650 varieties)! Wander around for a half hour or so, and be sure to actually stop and smell the roses. :p Make sure you visit when the roses are in bloom (April through October, although June is the peak season). FYI – Entrance to the garden is free, but you'll need to pay for parking.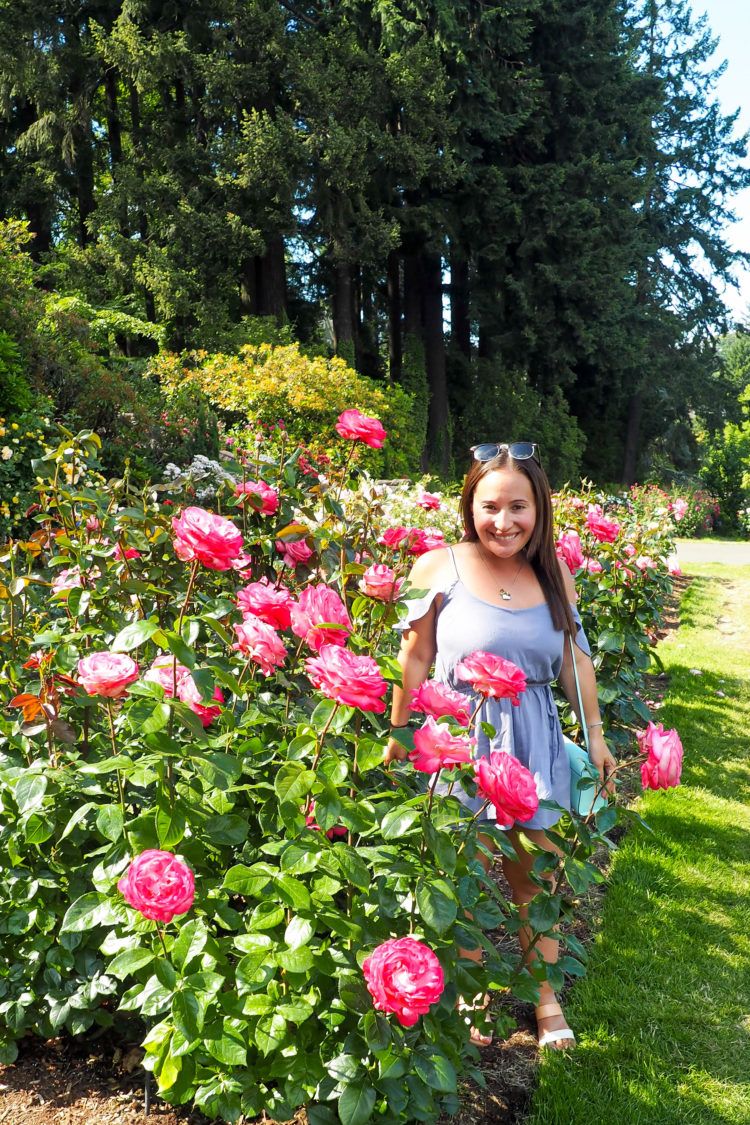 Blue Star Donuts: I know, I know, you may have already had some ice cream, but you REALLY can't leave Portland without at least tryyyying a blue star donut or two (or three). We split the chocolate almond ganache, real maple bacon, and orange oil olive. Psst: you can always buy a few donuts at the airport before heading home if you didn't get a chance to visit in the city (I did both, shhh).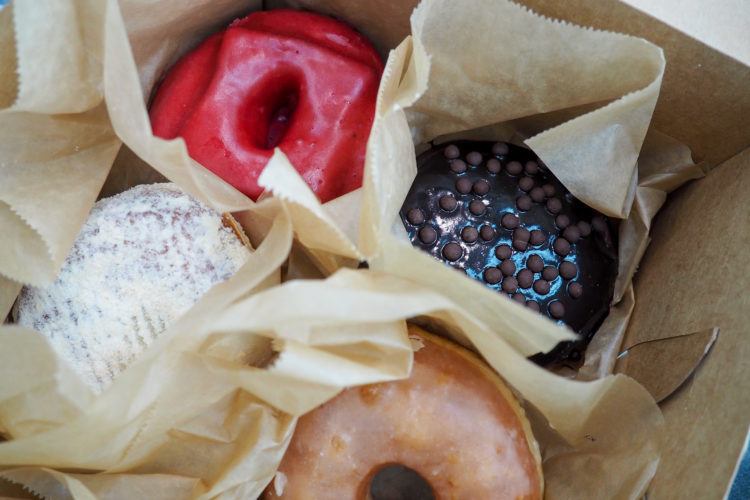 Recommended Dinner options: Portland has a WIDE array of restaurant choices, and to say I had no bad meals is an understatement (they all thoroughly exceeded my expectations). Check out either Yama Sushi & Izakaya for some Japanese food or Abyssinian Kitchen for some tasty Ethiopian food – both are a few feet away from Fifty Licks should you be craving more ice cream (no judgements – you're on vacation!)
Day 2: Multnomah Falls – Columbia River Gorge – Rowena Crest – Mt. Hood
Next up on this three day Portland itinerary: a rather long day trip that will take you to a bunch of northwest Oregon's best sites! Be sure to start early as the Multnomah area gets jam packed with tourists.
First up, Multnomah Falls!
Being the tallest waterfall in all of Oregon state, this stop really should be any Portland itinerary, no matter how long or short. Looking up at the 600+ foot tall roaring cascade of icy water is awe-inspiring to say the least!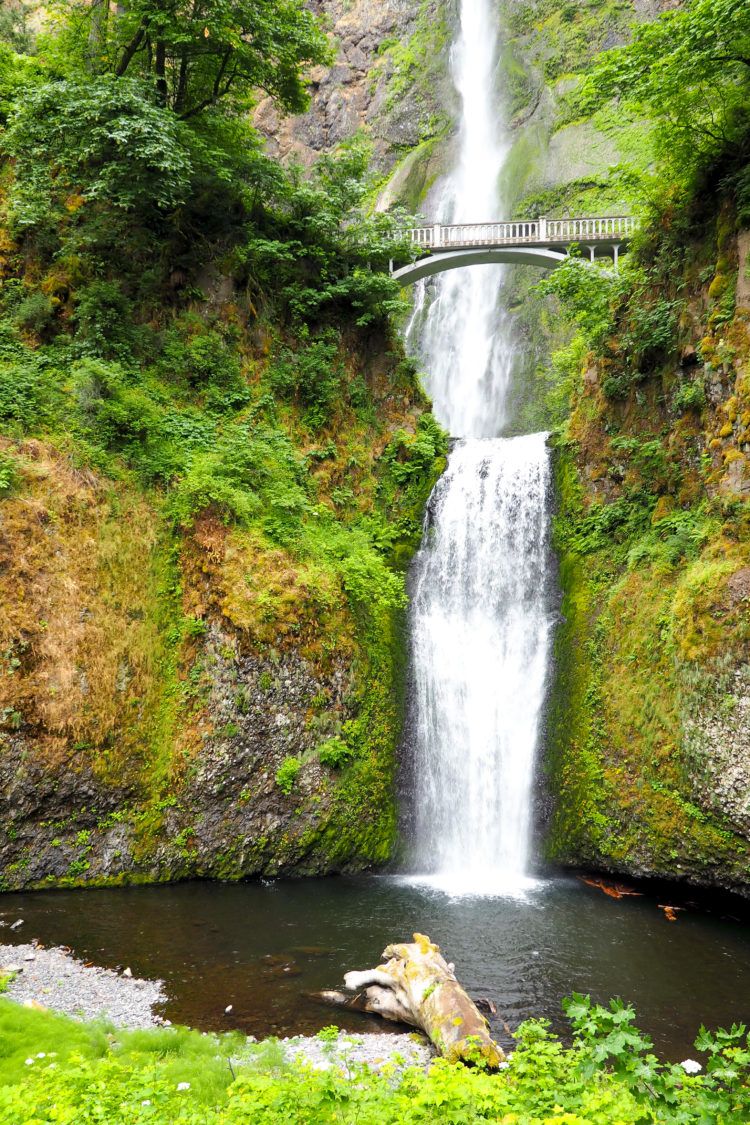 Because of the horrific fire in 2017, Multnomah Falls can only be seen from the lower viewing platform, and it's unfortunately not possible to hike to the upper platform (bridge) at this time. Still worth visiting? I think so. Check for other trail closures before planning more waterfall hikes into your Portland itinerary as most are closed on the Oregon side (I've heard Horsetail Falls and Wahkeena Falls are spectacular – but both were closed during my June 2018 visit).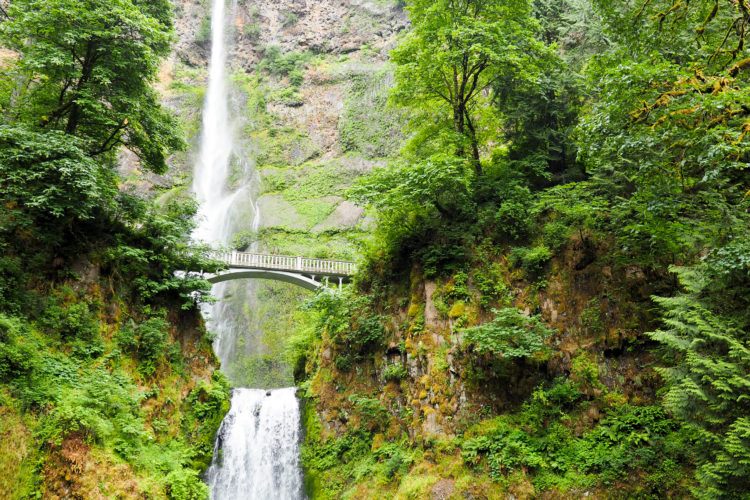 Like I said before, Multnomah Falls get absolutely crazy-busy, so it's best to come as early as you possibly can! It's actually the most visited natural recreation site in the Pacific Northwest (whoa), so be prepared to share the views with 34534 of your closest Portland-loving friends if you come after 10am. 🙂
Rowena Crest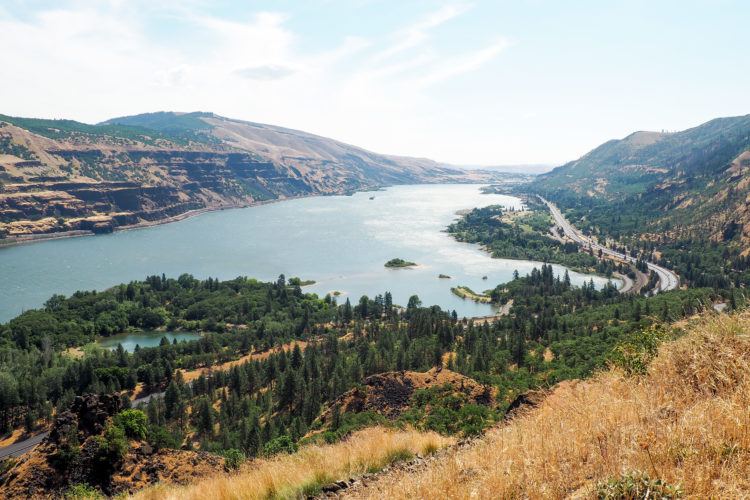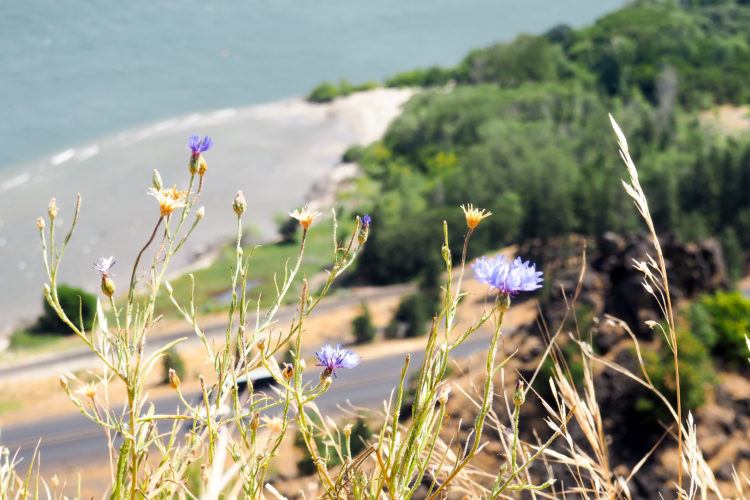 It's about 25 minutes out of the way, but most definitely worth it for that insta picture (I'm sure you've seen it somewhere – haha)! So what is it about this place that makes it rather popular?! Yes, it's technically just a bend in the road but the surrounding scenery makes it a worthwhile stop.
This iconic horseshoe curve is actually one of the most photographed roads in all of Oregon! It does get pretty windy up here, so if you're planning on taking that insta-photo, please be extra careful! Note that you'll need to hoist yourself up and over the railing if you want more than just shoes in your shot (I was too much of a chicken to do so).
Lunchtime!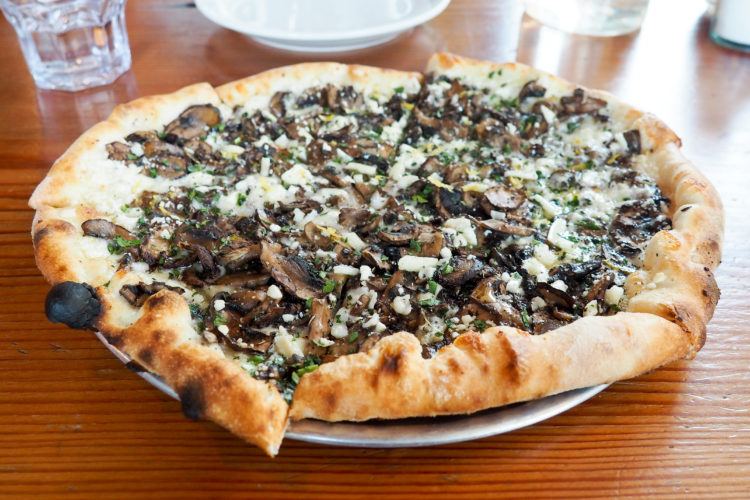 Solstice Wood Fire Cafe: By this time you're probably hungry/hangry, and no better place to calm those pains than at Solstice for some wood-fired pizza. There's a heated patio if you prefer to sit outside. Walk along the Hood River Waterfront for some great views of the area as well!
Basik Acai Cafe: Not necessarily an Oregon thing to do, but just putting it out there that Hood River has a fantastic place to get acai bowls (there's even a location in SF and Hawaii). I'm a huge acai lover, so naturally, had to stop here to stuff down an acai bowl (yes, right after pizza, I know, I know).
Hood River Lavender Farm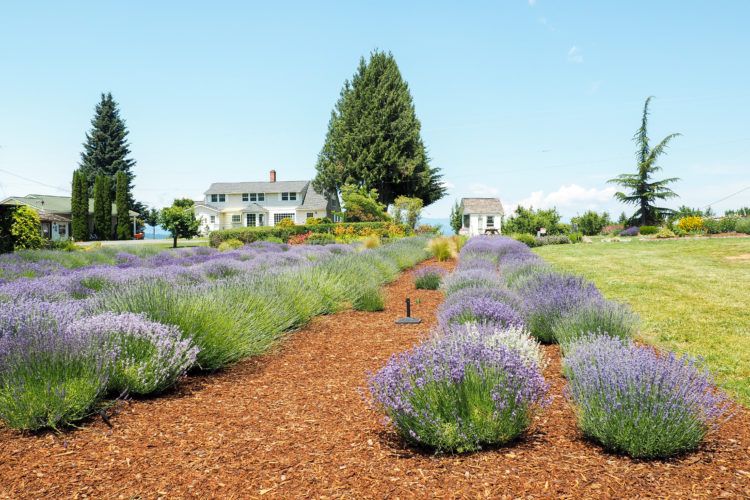 A must-stop for anyone who's even a little bit lavender obsessed. Not only can you wander around the whole place smelling the sweet smells, but for $5, you can pick your own lavender to tie up and bring home! The place was smaller than I had expected, but there's tons and tons of lavender bushes so it doesn't even matter. Be extra careful when picking, as there's lots of bees!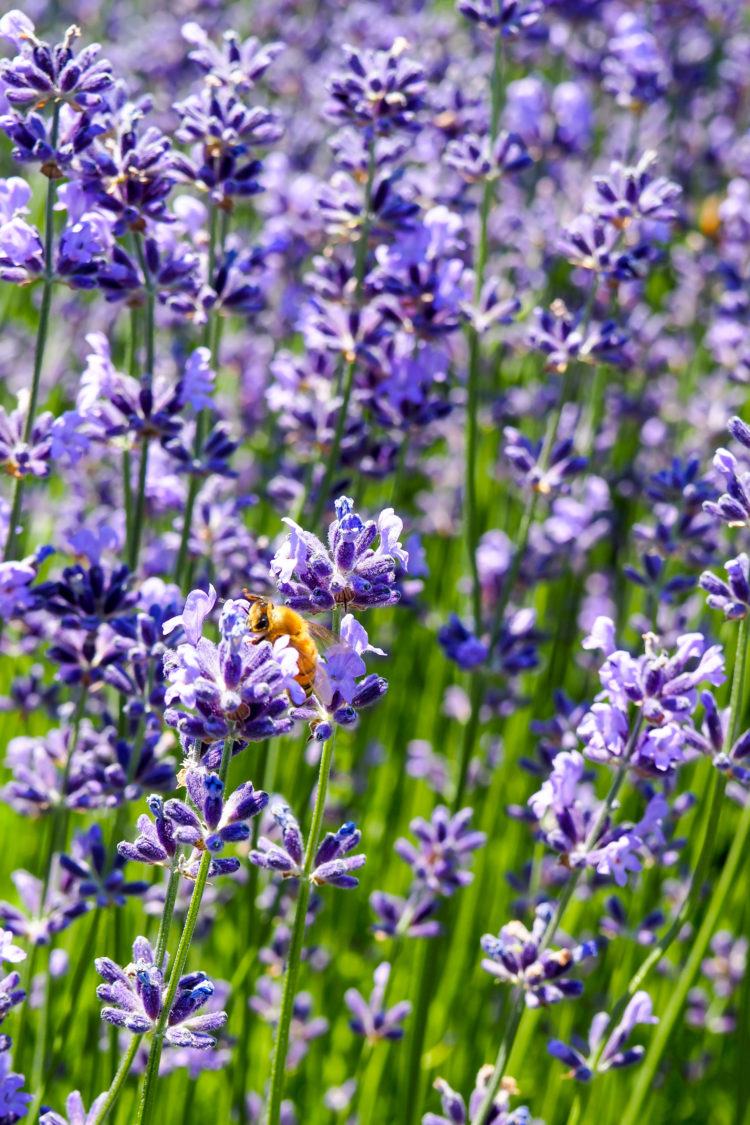 Be sure to look inside the gift shop for lavender jams/jellies, soaps, etc. If you come on a clear day you can even see Mt. Hood in the distance! FYI: Lavender picking season is from April/May to November, with peak bloom being July-August.
Trillium Lake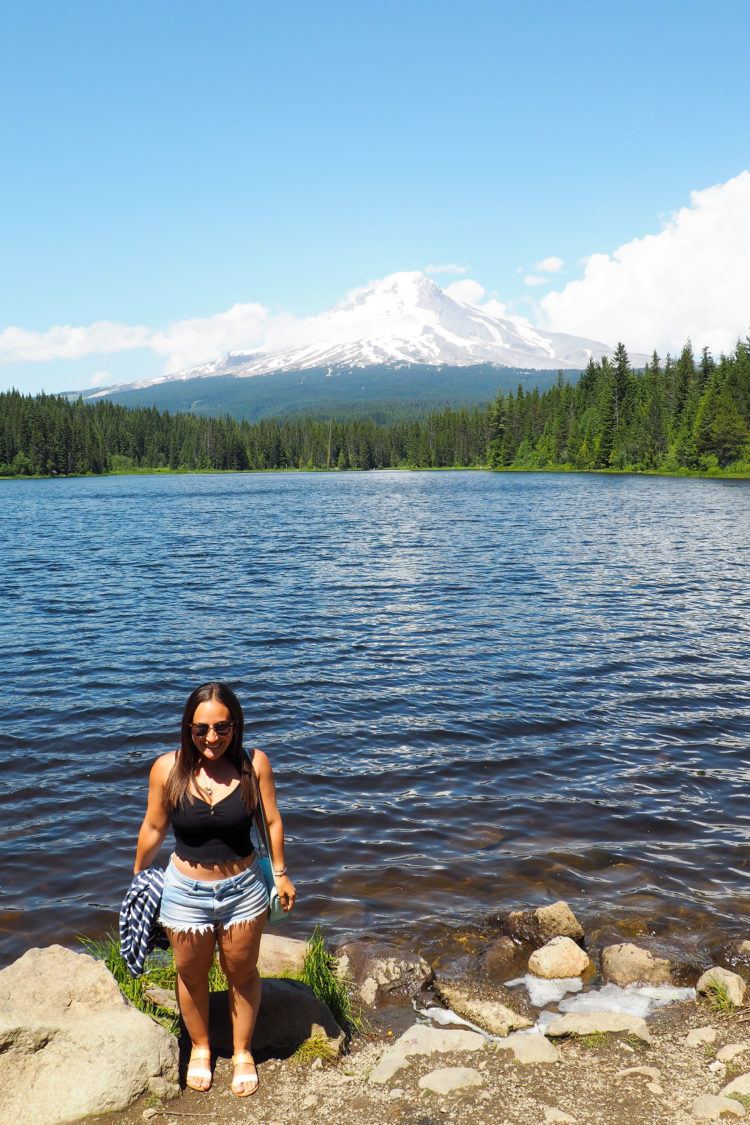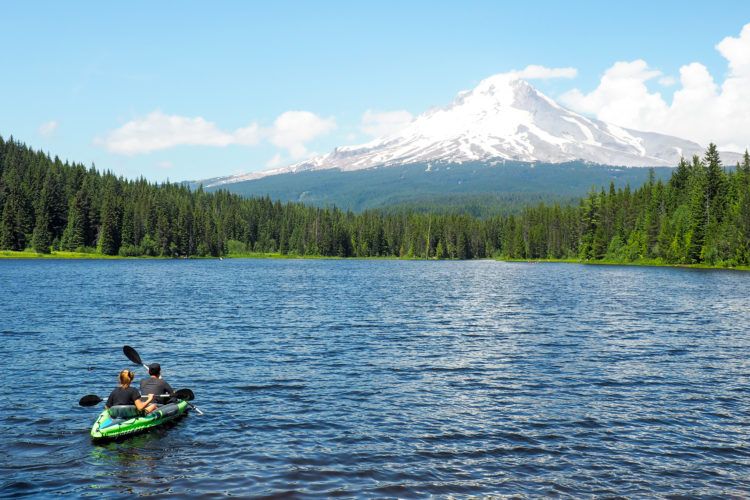 What's better than a mountain reflection in a jazzy blue lake? Not much! On a clear day, you'll find Mt. Hood perfectly reflected in the water. Worth the short photo stop for sure! You can also walk around the lake for additional views as well, but we wanted to make it back by dinner so skipped the almost-2-mile loop trail. I want to visit during sunrise or sunset next time!
Timberline Lodge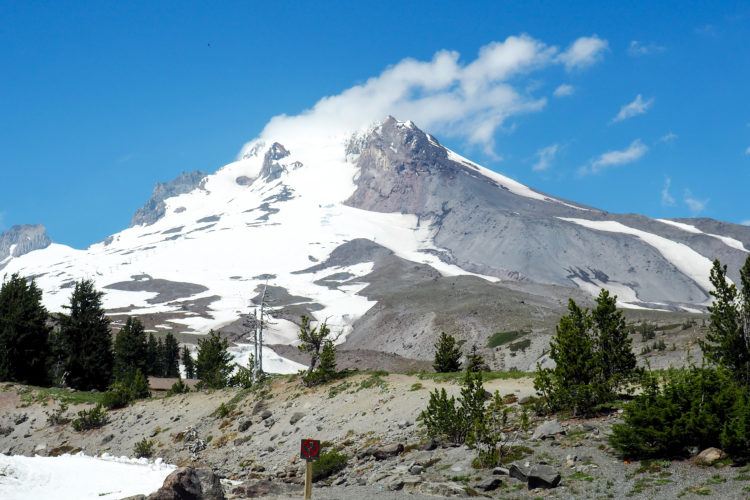 End this long day at Timberline, a mountain lodge right at the base of Mt. Hood, where you can watch the skiers summer ski and grab a bite to eat (if you're so inclined). You of course can spend the night here if you're planning on actually using the mountain for skiing or snowboarding (be sure to make reservations in advance), but we were just observers for the day.
Again, if car rentals ain't your thing or you just want someone else to do the driving, check out the following half and full day tours to Multnomah Falls and Mt. Hood, with many of the stops I recommended above.
Recommended dinner option: Katchka (russian) // For Dessert: Petunia's Pies & Pastries (all 100% vegan!)
Day 3: More Waterfalls + More Portland
Get ready for another early day, because you'll be admiring more waterfalls and then ticking more things off your Portland itinerary! To give you an idea of timing, I think we made it to breakfast around 8:30ish or so.
Start with an early breakfast at Pine State Biscuits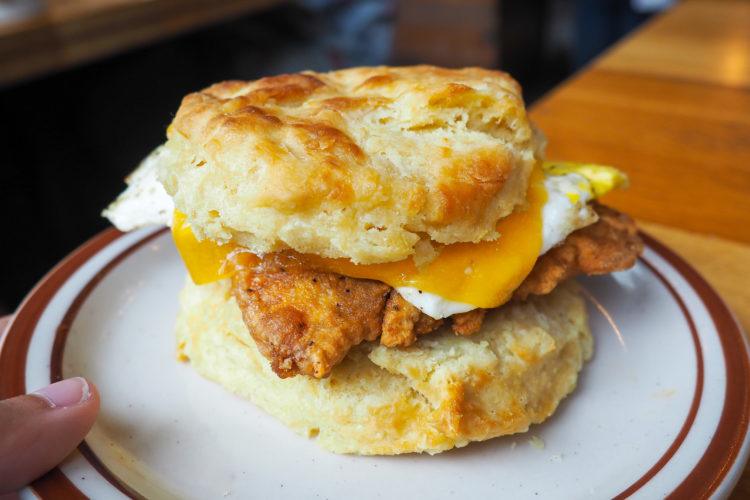 I went for the Reggie Deluxe sans gravy, and lemme just tell you – the fried chicken did not disappoint, nor did the biscuit. Highly recommend this place. Vegetarians will appreciate the fact that mushroom gravy is available. The line can get ridiculously long (for good reason, the biscuits are outta this world), so MAKE SURE to get here early, especially if you want ample time for the rest of the day's activities. 🙂
Short hike at Silver Falls State Park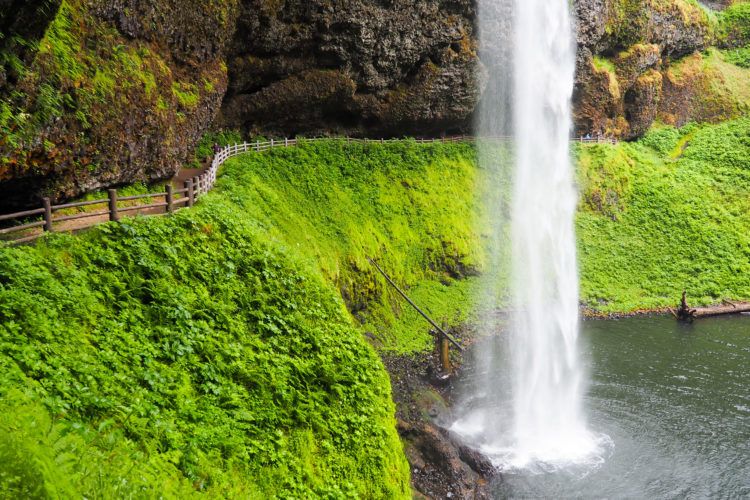 If the waterfall at Multnomah wasn't enough for you, or you're just a waterfall fanatic like myself, make the hour and a half drive to Silver Falls State Park. (Psst – I actually found the waterfall at Silver Falls State Park even more spectacular). There are numerous trails available, with the easiest of them leading to the most impressive waterfall in the park – South Falls. You can even go behind some of them! Definitely reminded me of the some of the waterfalls I saw in Iceland!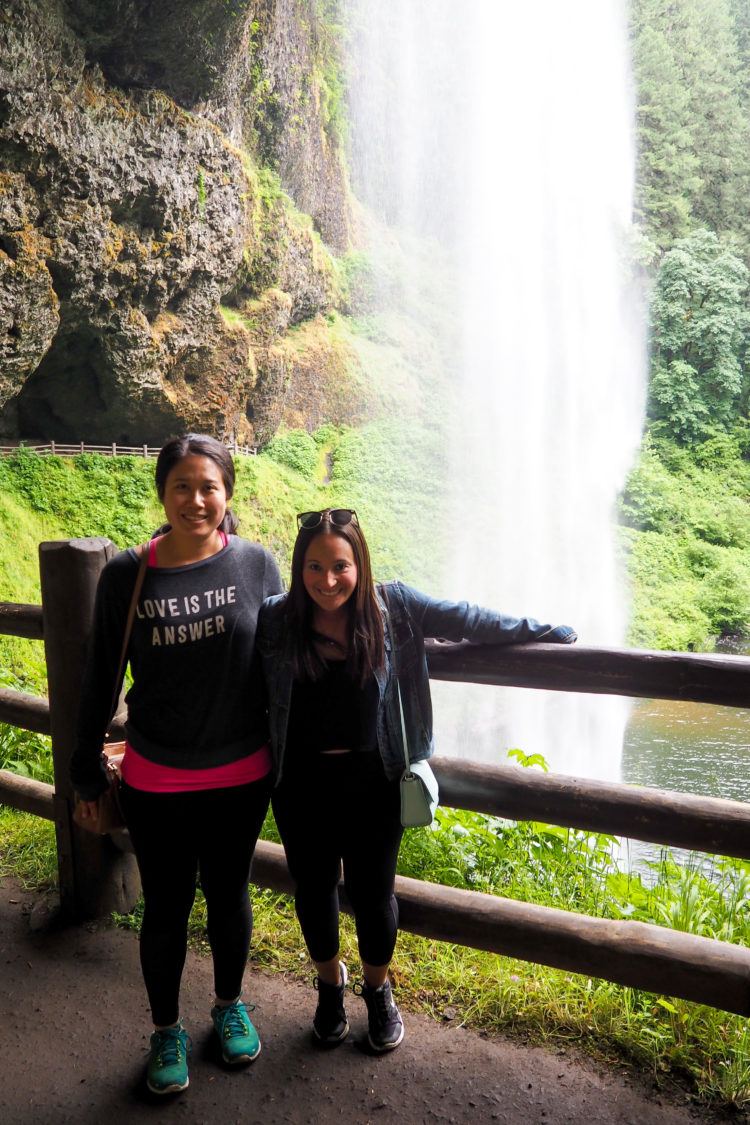 If you're looking for a longer hike, trek the entire 9 miles and you'll be rewarded with 10 waterfalls (yes, 10!). Where else can you see 10 waterfalls on one hike?! We hiked about 3 miles or so and saw two waterfalls.
People actually call it the "crown jewel" of the Oregon State Parks system – you'll quickly understand why after your first visit! I mean, who doesn't appreciate a leisurely walk the rainforest (Oregon's only one actually!)
Food Cart Lunch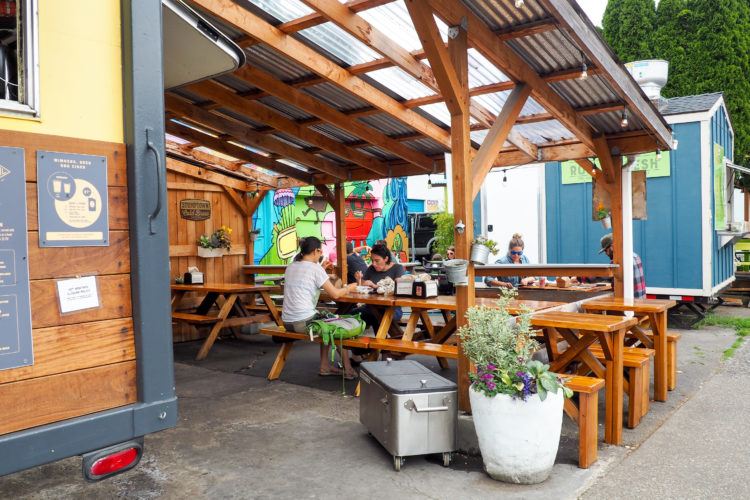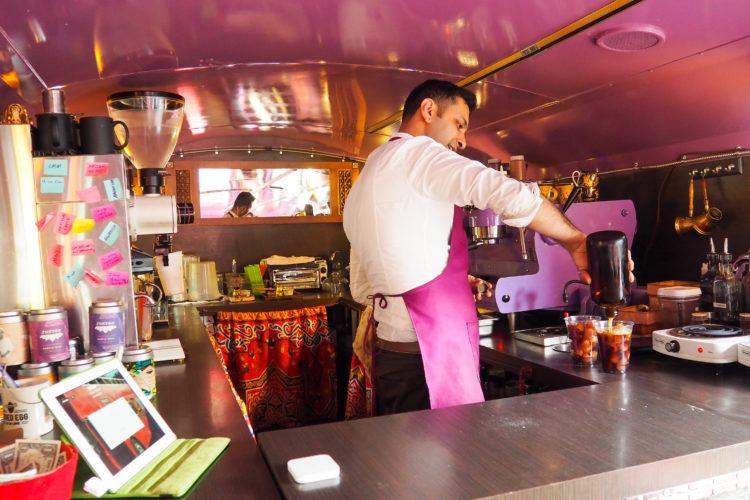 Back to the city it is, for more food of course! Time to check out one of Portland's food cart hot spots, this one with Fried Egg, I'm in Love and Tov Coffee (two of my new found favorites). Although there are waaaaay larger food truck areas, I really wanted to try out Fried Egg, I'm in Love, and yes, partially because I am a true egg lover.
Powell's City of Books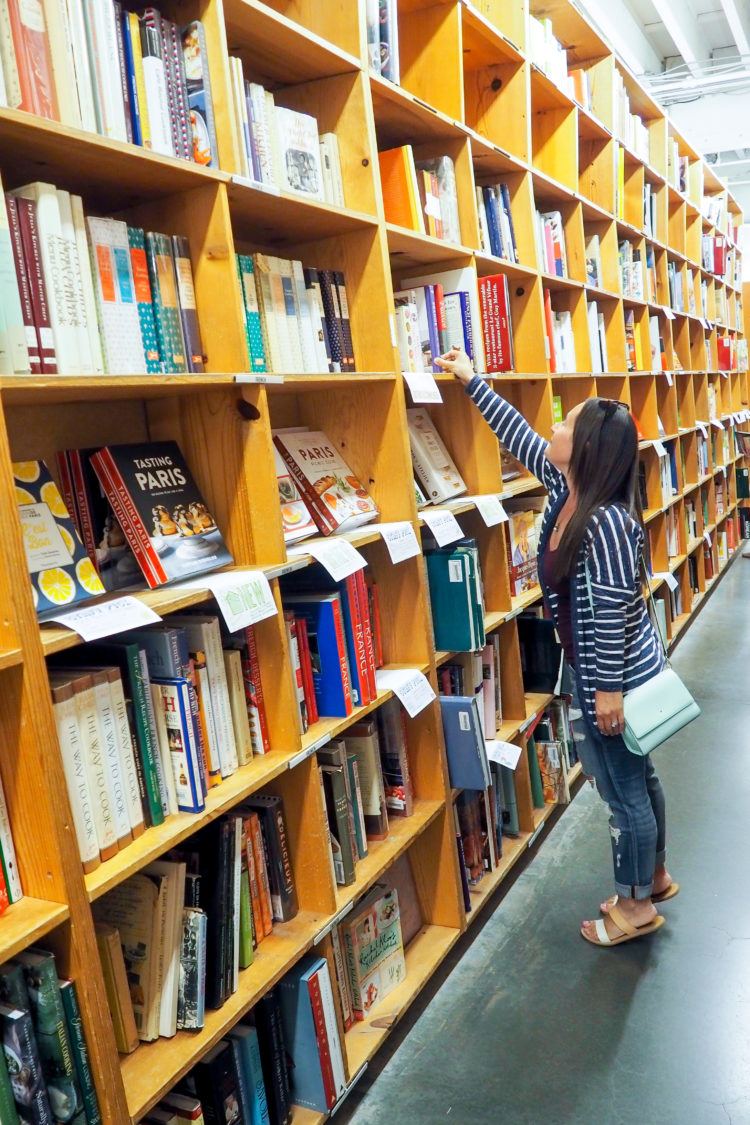 Book lovers, rejoice! You can easily spend HOURS exploring Powell's flagship store – you'll even need a map (which they happily supply). Be warned: this place is HUGE huge (like, multiple floors with rooms opening into rooms opening into rooms, etc etc). It actually takes up an entire city block and then some. If you can't find what you're looking for, you're just not looking hard enough – they have EVERYTHING imaginable and then some (new, used, rare, and even out-of-print books).
Ace Hotel Portland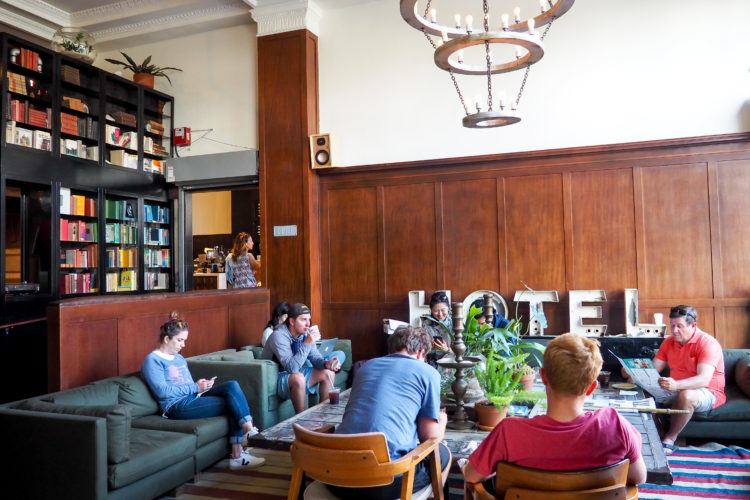 A block away from Powell's you'll find the Ace Hotel, a super aesthetic and super hipster hotel located within the heart of downtown. Not only is it super photogenic, but the hotel is famous for its restored vintage photobooth in the lobby, which invites visitors to use (for $5). Next time for me!
This is also a good time to try some Stumptown Coffee, as there's a location within the Ace.
Voodoo Donut
Voodoo is known for their super unconventional donuts, eclectic decor (one look inside and you'll see what I mean), and their pretty pink boxes. A few of their specialties include: cock and balls doughnut with cream filled "balls" (my friend had this one), bacon maple bar (with actual strips of meat), and the old dirty bastard (looks better than it sounds).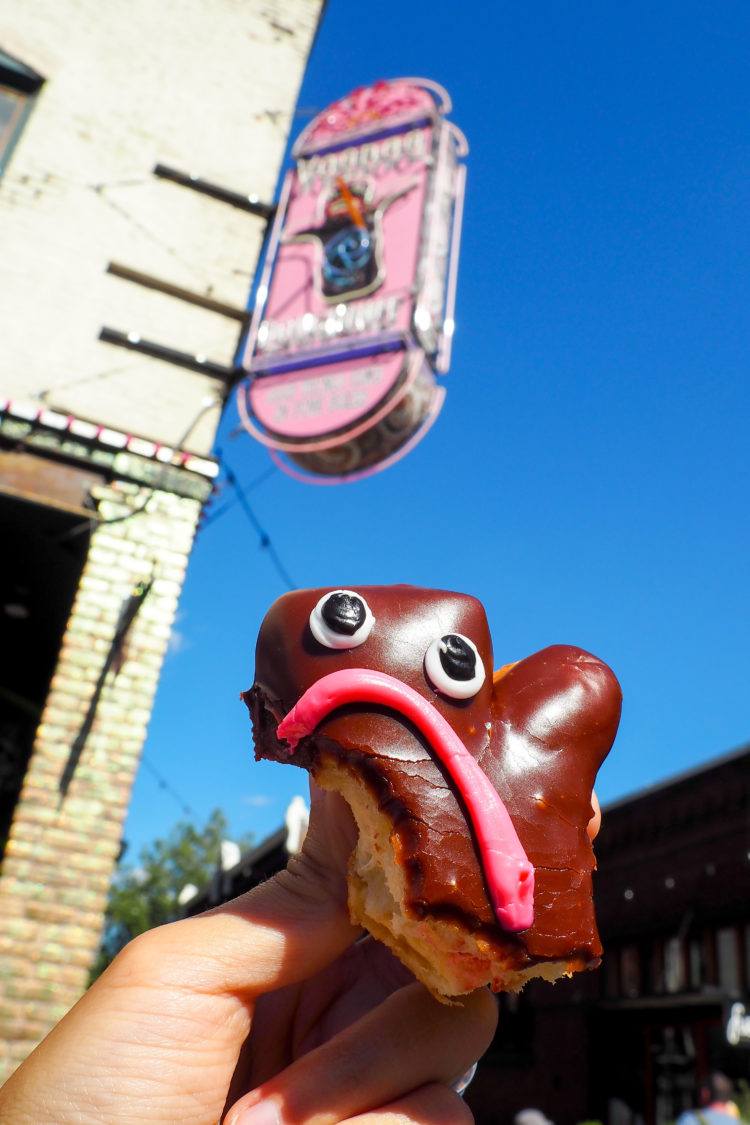 Okay, so everyone says Blue Star is better, but I actually really enjoyed my donut at Voodoo (the Voodoo doll with raspberry jelly)! Or maybe I just like all donuts?
Go to the original location at 22 SW 3rd Avenue, just south of the Burnside Bridge, if you want to see the Keep Portland Weird sign below. Keep in mind it's CASH ONLY, which is probably a good thing so you don't overly over-do it.
Keep Portland Weird Sign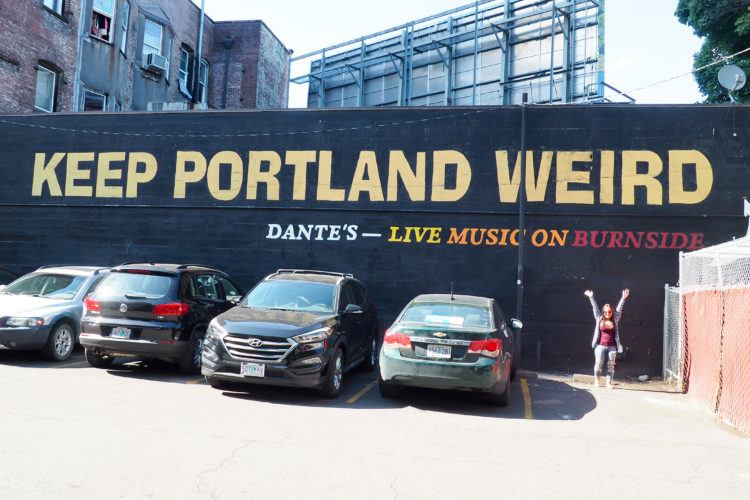 Right across from Voodoo Donuts you'll find this quick photo spot. Don't miss this iconic mural! The sign itself is just a wall in a parking lot, but just go, be weird, and take your picture. 🙂
The actual address is 350 W Burnside St in case you can't find it (it's right behind Dante's).
Tillikum Crossing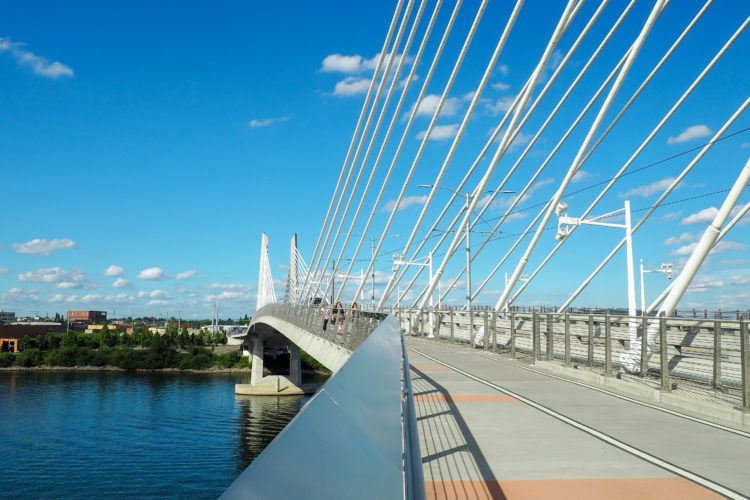 Have more time and looking for a scenic leisurely walk over the river? Head to Tillikum Crossing, also known as the "bridge of the people", a .35 mile pedestrian, bike, and light rail bridge with unparalleled views of the Willamette River. Smart, right? Why don't more cities have this (bridges that ban cars that is)?
You can easily do this walk back and forth in under an hour. I reckon it'd be even more dramatic and scenic at night with all the city lights shining down on the river! Be sure to look out for the submarine near OSMI!
EXTRAS: Have an extra day or so?! Something on the above Portland itinerary not really you're thang? I've got a few more ideas up my sleeve for you, don't you worry my friend.
Beacon Rock
Lan Su Chinese Gardens
Japanese Gardens
Portland Aerial tram
Mill Ends Park: the world's smallest park
Are you visiting Oregon soon?! Which things on this Portland itinerary will you be checking off your Portland bucket list? Do you think 3 days in Portland will be enough to eat alllll food and see allll the waterfalls?