Happy 2020, friends!
It's annual review time – my yearly post on what I got up to the entire previous year! I know you've been waiting for it!
Boy oh boy did this year just fly by. And yes, I tend to say that every year (haha). But not only is it the end of 2019, but the end of a decade (!!!). I read the other day that "if you were born in the 80s and raised in the 90s and make it to 2020… you have lived in 4 different decades, 2 different centuries, 2 different millennia's and you're not even 40 yet". Kinda crazy if you ask me.
In the past decade I married my high school sweetheart (barf, I know), traveled to over 45 countries (and discovered my love for solo travel), graduated with my Masters Degree in speech language pathology and started my career in the field, moved to California after a whirlwind of a cross country road trip, bought our very first home, and most recently, adopted a puppy! It's been a wild ride, and can't wait to see what the next 10 years bring!
I could probably go on and on about the 2010s (let's face it, I'm ridiculously wordy), so I'll keep this year in review focused on 2019.
2019 in Numbers:
States visited: 9 (California, Oregon, Nevada, New York, Pennsylvania, Massachusetts, Hawaii, Washington, Florida)
Beds Slept in: 40 (yes, I counted!, and yes, I'm cookoo)
Photos taken: thousands beyond thousands, aka too many to count
Concerts: 4 (Lizzo/Halsey, USHER (!!!), Backstreet Boys, DMB)
Broadway Shows: 6 (Hamilton, Charlie and the Chocolate Factory, Mama Mia, Lion King, Beautiful, Legally Blonde + Beach Blanket Babylon)
101 in 1001 goals completed: a whole bunch
After going through my year, I'm always amazed just how much I crammed in. I keep thinking the previous year would be my last super hectic, run-around-the-world non-stop year, but I prove myself wrong each and every time. Although I did have more laid-back, chill-on-the-couch weekends, which was kinda nice.
[ If you're extra curious (or just feeling a bit nosy), feel free to read past round-ups here: 2013, 2014, 2015, 2016, 2017, + 2018. Can't believe this is my 7th year of recapping! ]
January
After ringing in the New Year in Mexico City with Noah (boy we ate a lot), I was already off on my first solo trip of the year. I was headed a few hours south to Oaxaca, dubbed the land of Mexican art + chocolate.
Despite only having a few days to explore, I really made the most of my time by feasting on tlayudas and tons of atole, memelas, and tejate on a chocolate and maiz tour, day tripping to the petrified waterfalls of Hierve al Agua and El Árbol del Tule (with some gals I had just met the previous day), marveling at all the cacti at the ethnobotanical gardens, and admiring all the local handicrafts at the local markets.

One of the main highlights was a day spent out with En Via, an organization that empowers women by providing financial loans so they can open and continue their own businesses. I also made it to Teotitlan del Valle, a nearby village specializing in rug weaving, and San Marcos Tlapazola to watch the women make red pottery and giant tortillas. Oh, how I miss those squash blossom quesadillas and Oaxacan cheese.
Later on in the month, we were also lucky enough to meet up with our friends Lena and Bassam from Happily Ever Adventures for a fun weekend in San Luis Obispo.
We checked out cute brunch spots around town, blew bubbles at the gum wall, danced in the rain on Avila Beach, went dune bashing in Pismo Beach (PS – SO much fun on those crazy hills), and just spent lots of time loving on Buddy (their cute pup!).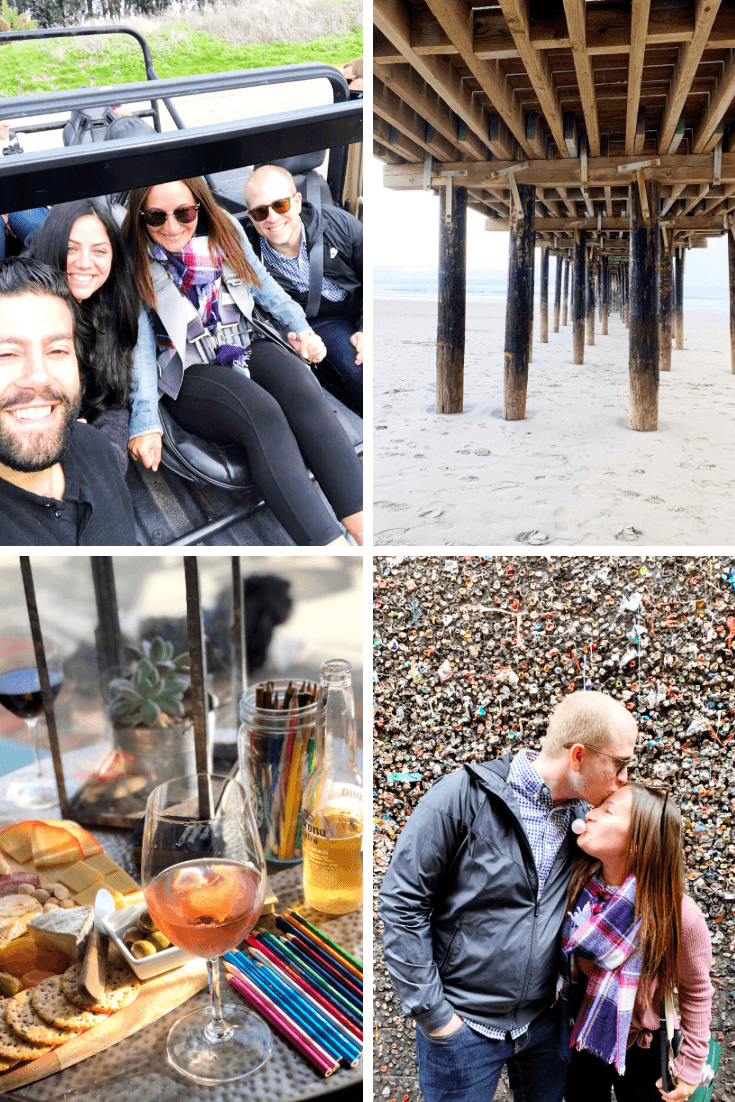 Of course we also managed an afternoon sipping wine and eating too much cheese off the fancy platter at DAO, with the rolling hills as our backdrop and Spanish architecture all around us. Our hotel, The Kinney, was the cutest and we played lots of late-night board games.
February
Since living in San Francisco doesn't really provide us with the joy of seasons, we like to "go to the snow" (a phrase I learned that Californians like to use) at least once a year. We chose the cute little(ish) mountain town of Bend, Oregon to get our snowy weekend fix for my birthday (Jan 31) with Visit Bend.
Our time was spent snowshoeing through the wintery wilderness of the Oregon forests, learning all things photography at Smith Rock State Park (on a photo tour), and checking out Bend's local craft beverage scene (we visited a cidery, a kombucha taproom – the first one around!, a micro craft brewery, and a whisky distillery).
And get this, we even had a full-on sauna in our hotel room. IN OUR ROOM. Wild!
We ended our quick winter getaway by playing in the snow with alpacas, which was a definite highlight of the trip (I mean, how could it not?). You heard me say alpacas, right?! Read more about our quick snowy weekend getaway to Bend here!
Since I just can't seem to sit still, less than 2 weeks later I was off to another frigid destination – this time to Banff, Canada with Travel Alberta! I had visited the area in the past during it's busy summer season, so I was eager to see the lakes in all their frozen glory.
And I must say – the pristine wilderness, snow-capped mountains, and frozen waterfalls really took my breath away (figuratively and literally – it was quite windy at times!).
We drove around in the snow (a somewhat terrifying experience for both of us Californians), partook in exhilarating dog sledding rides, spent too much time at cute local coffee shops, went hot tubbing in the snow (which we loved, despite our hair freezing up!), gawked at the snowy mountains on a scenic helicopter ride, hiked to frozen waterfalls at Johnston's Canyon, and rode up a breathtaking gondola ride through the snowy trees.
We stuffed our faces with poutine, indulged in last-day beavertails in the nearby town of Canmore, splurged on a cheesy fondue dinner date (and yes, we opted for chocolate fondue as well), and drank fancy hot chocolates looking out at the frozen Lake Louise. It was absolutely glorious, despite freezing our butts off 98% of the time and holding on to our hot hands for dear life.
Banff transformed me into a winter person, and I'm itching to take my husband back and stay at the Fairmont Lake Louise (it's absolutely gorgeous – trust me).
March
For Spring Break, we made our way down to Central America for a week of beachy jungle fun in Panama! Although it was a super fast-paced mad dash around the country (we split our time between Panama City, San Blas, Boquete, and Bocas del Toro in a mere 10 days), the trip was an absolute success.
We found the country to be full of stunning turquoise waters, white sandy beaches, lush rainforests, laid-back surf towns, misty mountains, and vibrant cafes.
In Panama City, we cooled off with icy raspados on the Cinta Costera, explored/photographed the stunning colonial Casco Viejo, watched huge ships pass the Panama Canal, and threw back many sunset drinks and fresh ceviches. We left completely obsessed with the American Trade Hotel (promise me you'll stay there if you ever find yourself in Panama City).
Our few days on the San Blas islands were the perfect mix of relaxation and exploration – but we were happy to head back to civilization after 3 days. It's safe to say that all our tropical island dreams came true over there in San Blas, despite the limited electricity, bumpy and complicated ride over, and overall confusion. We ate fresh fish everyday (for breakfast, lunch, and dinner), strolled and snorkeled around the different islands, and just reveled in island life.
The little time we had in Boquete was spent learning everything there is to know about coffee farms, strolling through town sipping famous gesha coffee, and gawking at the jungle views. Kinda wish we had more time at our resort as we LOVED it (highly recommend The Haven Spa if you ever find yourself in Boquete)!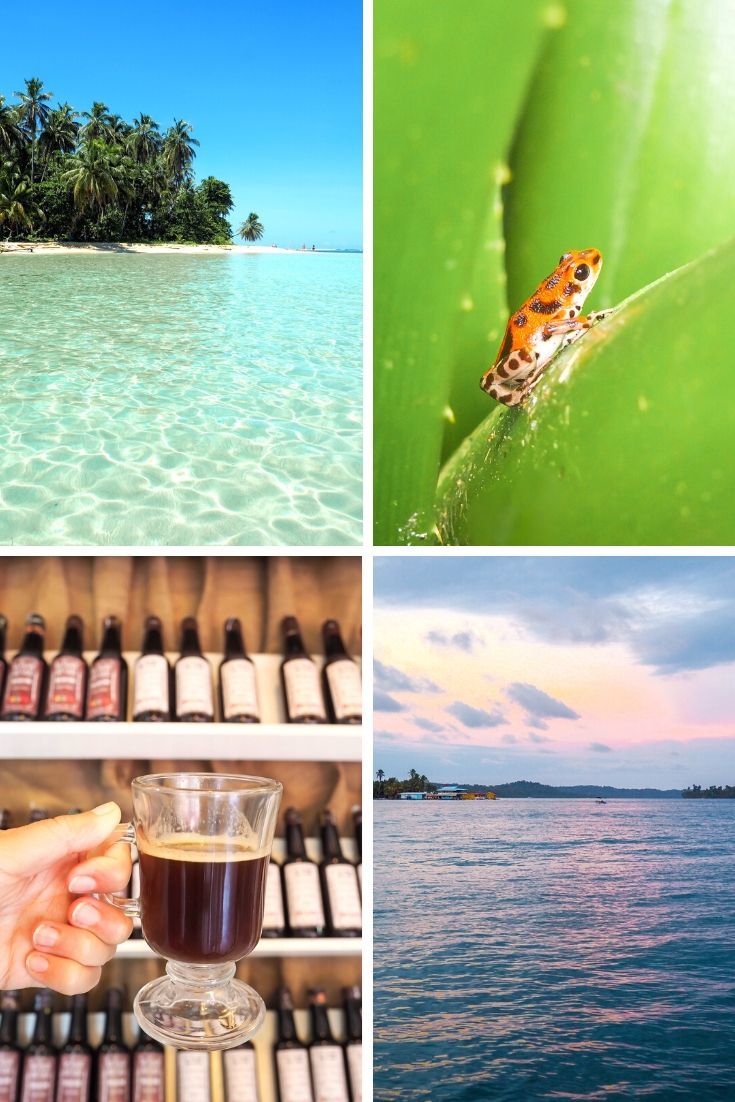 The rest of our time was spent in Bocas del Toro, where we splurged on a first-class upgraded room (which was lovely despite it's where we think we got bed bugs) , wandered around town, spent a fun day in the Zapatilla islands (possibly even more gorgeous than San Blas), searched for sloths, went snorkeling and anfibia boarding, explored a chocolate farm on Bastimentos (with poisonous red frogs), and strolled through the sleepy town of Old Bank.
And sometime during that whirlwind of a trip I started making my 101 goals in 1001 days list! Lots to do still!
April
How, oh how, can my little sister be THIRTY? It still sounds absolutely ridiculously crazy to me. I had initially planned to surprise my sister in New York for her birthday, but somehow my mom ruined it (by accidentally texting her instead of me) – oh well! My parents threw her a great party, filled with lots of yummy Italian food (the best!), friends, family, and fun.
We also made sure to plan a family day in the city, where we checked out the brand spankin-new Vessel sculpture at Hudson Yards, had Sunday brunch at Jack's Wife Freda (highly recommended), wandered Chelsea Market (my favorite), and continued on our childhood tradition of Chinese food at Wo Hop in Chinatown (+ some black sesame ice cream from The Original Chinatown Ice Cream Factory, of course).
It was a super quick weekend, but one I wouldn't have missed for the world.
We then flew to Las Vegas for a weekend of pool parties, yardstick margaritas, and indulgent brunches with our friends Alli and Dave.
But who are we kidding? The real reason we headed to Sin City – to see the Backstreet Boys, of course. I grew up listening to them, and once I heard they were doing a reunion concert as a residency tour at Planet Hollywood, I just knewwww I had to be there. They were by far the most expensive concert tickets I've ever purchased, but worth every penny.
I also got to see Hamilton the Musical with one of my good friends, Shirley, after buying tickets months before!
May:
The month of May was relatively quiet travel-wise, but we did manage to make it down to Huntington Beach for the long Memorial Day weekend.
We had chocolate covered frozen bananas on Balboa Island, did some beach and mansion hopping in Laguna (Crescent Bay Beach, I'm obsessed), watched donuts being made at Sidecar, and stopped on Melrose for a fun afternoon of brunch (complete with rainbow lattes) and mural hunting. Of course we made it our mission for some beach time, but the weather hardly cooperated! Love quick little getaways with my man!
June:
As soon as the school year was over (and we celebrated our 7th year anniversary and took our nephew cherry picking – different occasion, obv), I was off to Europe – I can't seem to get away from the place! I somehow end up there every single summer! And this time, for a quick solo jaunt to London and Paris.
London was spent ducking in and out of rain, hopping from market to market and museum to museum. Favorites included Borough Market, the Leake Street Graffiti Tunnel, Tower Bridge (of course!), Notting Hill, Brick Lane, and the Columbia Road Flower Market.
I also managed to make it to two Broadway Shows in the West End – Lion King and Mama Mia, which were both absolutely spectacular! Despite the rainy weather (I mean, we are talking about London afterall), I managed to make the most of my few days and would now go back in a heartbeat. And yes, I'll gladly go back for more salt beef bagels, Dishoom (my new found love), fish and chips at Poppies, and fancy eclairs.
In Paris, I learned how to make macarons in a local Parisian's kitchen, listened to live music at the Trocadero for hours, found myself dancing with strangers at the annual Parisian White Party, watched the Eiffel sparkle, climbed the Arc de Triomphe for the most fantastic views, went window shopping on Champs-Elysees, tried too many cheese samples on Rue Cler, and ate my weight in crepes, croissants, macarons, and eclairs (whoops).
I toured the Louvre at night, watched painters in Montmartre, and admired as many cute cafes in St. Germain as I possibly could. I now finally understand the true magic of Paris, as I just didn't get the city on my first visit (which was a whopping 10 years ago, whoaaaa!).
After my solo European trip, I made my way back to the East Coast, where I spent a weekend in Philly with my immediate family (Magic Gardens, Dizengoff, and the Eastern State Penitentiary were my faves), had a sisters day in NYC, finally tried a rose latte (it was about time), admired the blooms at the NY Botanical Garden, got to tour my sister's new-ish digs in Port Washington, hit up a Mets Game with my dad, and saw Beautiful, my 4th Broadway Show of the month.
I also reconnected with two old friends of mine (Amanda and Vicky, hi!), which was a definite highlight, to say the least.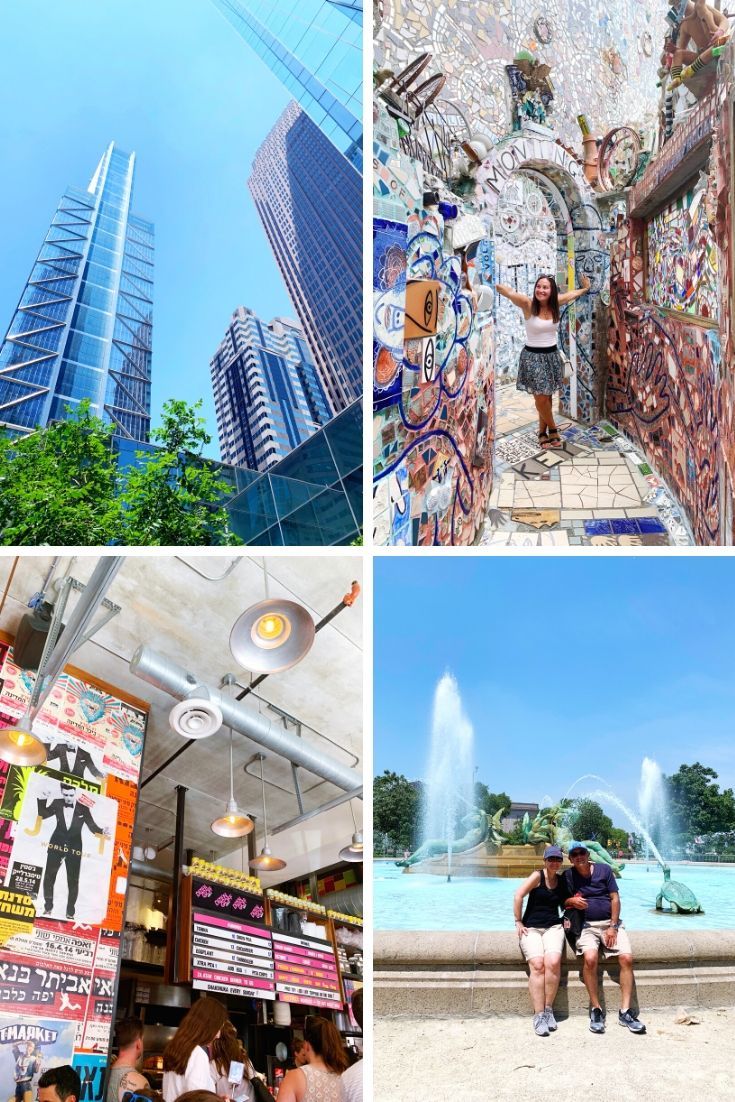 In between my trips to NYC and Philly, I bussed over to Boston for a few nights for a friends wedding (Danny + Betsy, heyyyy). Besides the beautiful ceremony and party, I explored Acorn Street/Beacon Hill, had a few too many meals at Tatte Bakery – that ricotta jam toast was OMGGG, and spent a whole lotta time in Boston Common and the Public Garden.
I also took a food/history tour of the North End (stuffing my face with a cannoli larger than my head in the process), indulged in high tea at the Boston Public Library, wandered around Harvard, and window shopped on Newbury.
I somehow managed to make it to a Red Sox game at Fenway (super spontaneously) for $9 with some travel bloggers who were in town for a conference (and just so happened to be staying in my hostel).
July:
Ohhh Bali; I don't even know where to begin as we fell in love with this magical island the second we landed. Our days were filled with infinity pool hopping, checking out the local cafe culture and trendy shops in Canggu, running away from monkeys, wandering the Campuhan Ridge Walk, shopping at the Ubud market, being mesmerized at the Kecak Fire Dance at Uluwatu Temple, waking up early for day trips to Lempuyang Temple and Tirta Gangga, getting stuck in that serious Bali traffic, waterfall trekking, and lots and lots of pool time (yes, even more).
We loved the Tegalalang rice terrace (of course I did the typical Bali swing), our private pool villa, my super-relaxing flower bath, and nightly Rock Bar sunsets.
We also spent some time on a liveaboard in Komodo National Park, sailing to scenic islands everyday, snorkeling among colorful fish and corals, watching millions of bats fly overhead on their nightly migration, sipping fresh juices every morning, and gawking at the stars in the dark sky.
I even jumped off the side of the boat (from 2 stories high) into the water – something that scared me to the core. The sunsets were unreal (the most fiery red I've ever witnessed), dragons more docile than I thought, and sand softer than imaginable.
We even wandered around a pink sand beach and hiked to the top of Padar Island for sunrise (difficult but so incredibly worth it once we reached the top). And of course we went trekking a bit on Rinca Island to see the Komodo dragons (the main reason why we came in the first place!). It was just the perfect few days and one we'll keep talking about for years on end.
Our time on Gili Air was quick, but boy did we LOVE our resort (The Pink Coco) and the entire island as a whole. We listened to live music on the beach every night, got $7 hour-long foot massages (pure bliss by the way) every single day, snorkeled above statues and with sea turtles, spent tons of time relaxing at our hotel pool, and watched the sunset every night.
Despite our bags getting lost for a scary 24 hours and the treacherous boat ride back to Bali, we're aching to go back to Gili Air sooner than ever.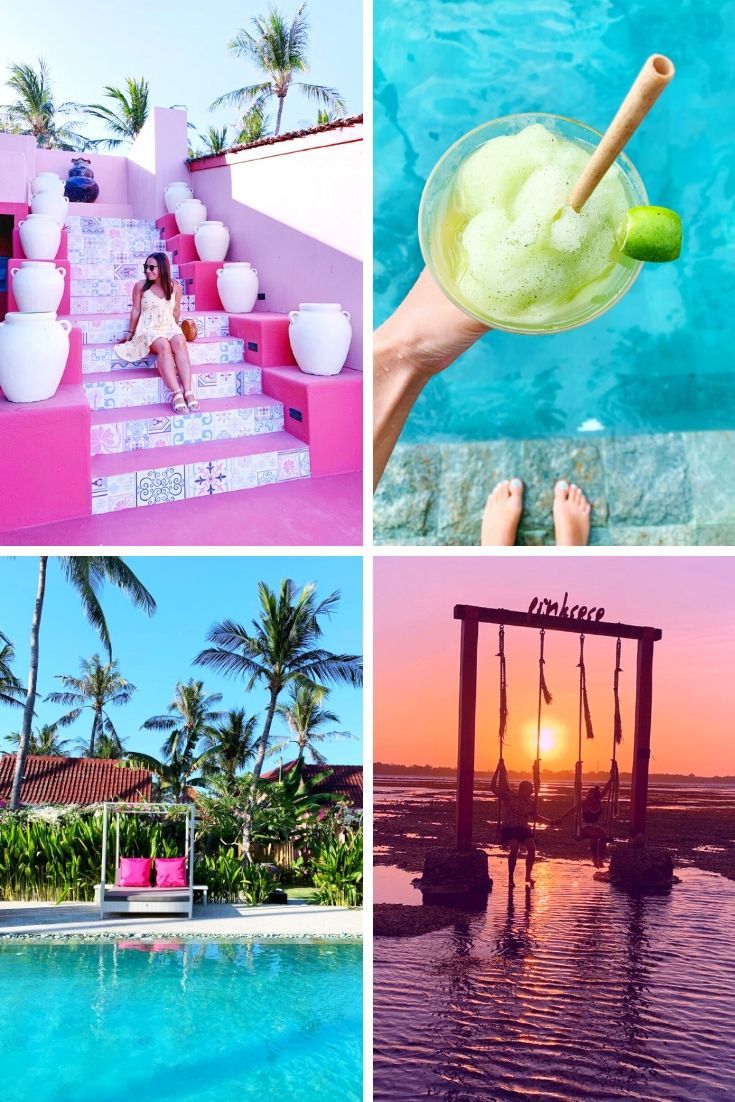 And once we got back, Noah was in full training mode for his full marathon in late July! So inspired by his dedication!
August:
I just don't stop (or sleep, apparently) in the summer, because a few days after returning home from Indonesia, I was off again – this time on a road trip to Banff, up the Icefields Parkway, and into Jasper National Park with my friend Bella. I'm semi-obsessed with this area, and visit after visit, it never disappoints (I mean, I was just here in February)!
In Banff, we took the gondola up Sulphur Mountain (for the best views ever), spent an ample amount of time at Lake Louise just casually walking around the lake and eating our pb&j sandwiches, and taking ski lifts up to a viewpoint at Sunshine Village. We also managed to trek to the lower and upper falls of Johnston Canyon, indulged in some beavertails, and stuffed our faces with some local fondue.
We visited all the hot spots along the Icefields Parkway, including Bow Lake, Peyto Lake (that's the one that looks like a wolf!), and Athabasca Glacier (in a special snow-vehicle with tires taller than me!).
Our time in Jasper was spent mostly on Maligne Lake in order to check out the super scenic Spirit Island, but we also managed to make it to Maligne Canyon and saw quite a few bears – grizzly and black! We saw glaciers on the Edith Cavell Trail, gushing waterfalls at Sunwapta Falls, and had the best poutine ever imaginable.
And then the inevitable happened – back to work it was! So long, sweet, sweet summer. Noah and I did manage a few day trips – once to Sausalito (my fave) and another to Half Moon Bay for some lobster rolls (my other fave).
My in-laws came for a visit and we celebrated my sweet niece turning 3!
September:
To start off September, we were off to Kauai for Labor Day weekend. We had lots of fish tacos and shave ice, plenty of sunset cocktails, took an epic helicopter ride over the Na Pali coast, checked out some waterfalls, and explored Princeville and Poipu.
But the main reason for heading to Hawaii – for Noah to run the Kauai marathon! And brutal it was – I could see it on his face the last few miles (I was 'wife of the year' and walked a few miles in the pouring rain to meet him around mile 24 to help [mentally] get him to the finish line). He successfully completed the race; 3/4 marathons in Hawaii complete! He'll do the last one in Kona, probably in 2021!
Not all trips are happy ones, and we had to book last-minute tickets home to New York after my Grandpa suddenly passed away from congestive heart and kidney failure. His death shook me hard, and as difficult as it was, it was so comforting being surrounded by loved ones for the week. </3 I'll miss ya, toots. Keep carving and playing the clarinet up there!
October:
October was pretty mellow, which was quite nice after what felt like pretty much nonstop travel for the last few months. We took a few day trips around the Bay, including a beach day at Capitola (what a cute, colorful town) and another to Pacifica for more beachy views and some famous fish and chips by the sea.
We did take a quick weekend trip to Seattle to see some old college friends and their cute little babe (who we had never even met before), and basically spent the whole time stuffing our faces. We did manage to make it to Kerry Park for some fall foliage views, Pikes Place and the surroundings for some market finds, and to the Pop Culture Museum in between all our eating.
November
November was the month of visitors, first my parents came to visit, and then our friends Danny and Betsy came less than 2 days later! And then the in-laws later on!
With my parents, we spent a day in Half Moon Bay (wandering the local market, indulging in lobster rolls at Sams, taking lots of pictures of the moody coastline), a day exploring the city (with views from the top of Twin Peaks, wandering the Inner Sunset Flea market, taking fun photos at the Hidden Garden Steps, and exploring the funky Haight-Ashbury neighborhood).
We hit up the CA coast another day (stopping at Pigeon Point Lighthouse, Shark Fin Cove in Davenport, seeing the monarch butterflies on their annual migration, and walking the Santa Cruz Boardwalk and West Cliff Drive).
Our friends requested a morning at Muir Woods, which was absolutely perfect since we hadn't been in YEARS, and I forgot how much I just love those redwoods. We also wandered around the Japanese Tea Gardens, had enormous burritos at El Farolito, checked out the street art on Clarion Alley, had some great mole at Nopalito, and walked the Lands End trail.
I finally snagged Noah and I tickets to Beach Blanket Babylon, which was just as hilarious as I'd expected.
And once our first two sets of visitors packed their bags – off to Tokyo it was (yes, we decided to blatantly skip out on Thanksgiving this year). After our trip to Japan a few April's ago, we just couldn't wait to get back there. And (kinda) funny story – our trip to Tokyo was kiiiinda a spontaneous accident.
We had bought our tickets 10 months ago on a complete whim, after I randomly found cheap flights while sitting in the car for 7 minutes waiting for an activity to begin while working with Visit Bend.
We snagged those babies right up with the understanding we'd think rationally about the impulsive ticket purchase later (since there's a 24 hour cancellation policy of course)…. But… we completely forgot about them and therefore couldn't cancel anymore! We're not mad about it, but it was definitely a surprise when we remembered the next night – haha.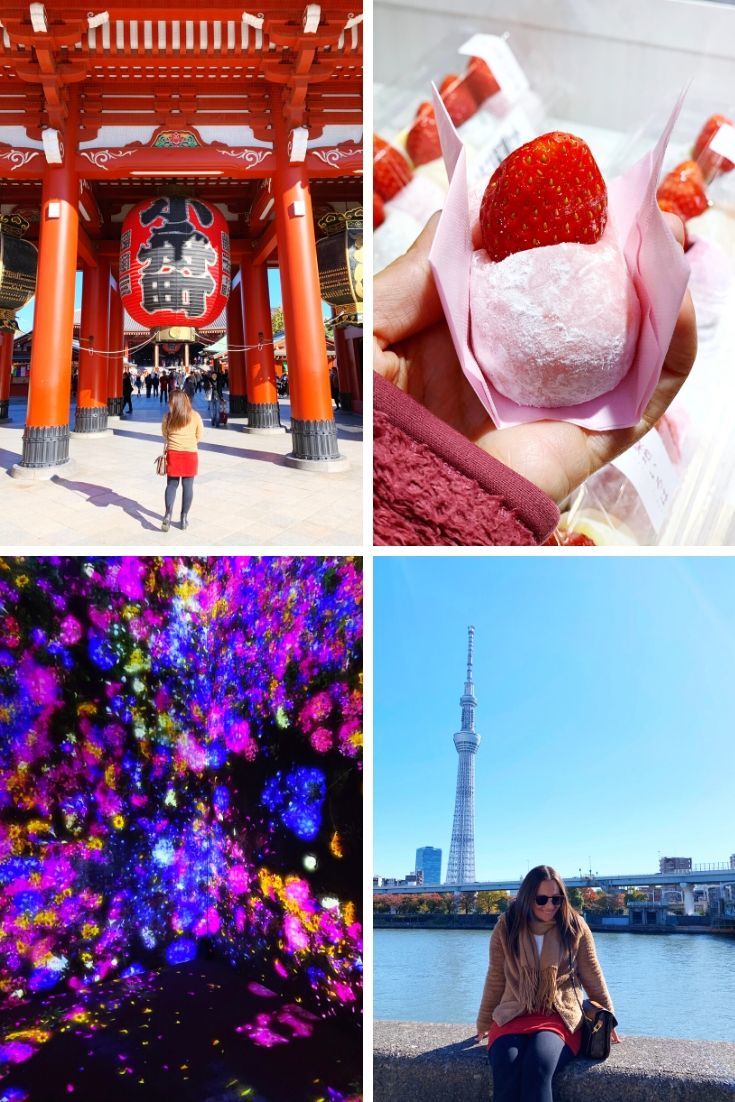 We spent our time eating rainbow grilled cheese/gyoza/cute animal ice cream/giant cotton candy in Harajuku, running through Torii Gates, photographing both Meji and Senso-ji Temples, eating absolutely EVERYTHING in sight (Noah has way more self-restraint than I do), checking out Teamlab Borderless (digital art museum), and playing loads of games at the arcades in Akihabara and Shinjuku.
Oh how I missed the vending machine coffees/teas, tonkatsu, bright city lights, claw machines, yakitori on Piss Alley, and sushi breakfasts. Okay, so the daifuku, tomago, wagyu beef, and ramen meals were a highlight as well. I also introduced Noah to purikura, and we had a bit too much fun taking silly Japanese selfies.
My initial reasoning for visiting Japan this time of year was for the stunning fall foliage, and that it was x1000. Since the seasons are kinda skimpy here in California, it's always nice to get a bit of autumn color. We made our way down to the Fuji Five Lakes area, and stayed in a ryokan right on Lake Kawaguchi with the most delicious kaiseki dinners and comfy yukatas (once we learned how to put them on).
Although it was a tad rainy and Mt. Fuji was only visible one morning for a few hours, the fall colors more than made up for it (as did soaking in the private onsen and indulging in hotu noodles, the best!).
And once we got home from Japan, our law-ins came for a visit! Phew – busy, busy month!
December:
The beginning of December was relatively quiet after all our visitors left, with the Lizzo/Halsey concert being a definite highlight. Ohhhh what a queen she is. The show was lit y'all (is lit still a thing?). *crosses fingers and hopes it is*
OH! And we semi-spontaneously adopted the cutest little puppy imaginable. I had met the pup on Monday (a teacher at my school brought in the litter she was currently fostering), we put in the adoption application Wednesday night, and took him home on Saturday. It was a whirlwind of a week, lemme tell ya. We had been toying with the idea of adding a furry friend to our fam for a while, and he just stole our hearts the minute we laid eyes on him.
And after just 3 days at home with our 8-week old, 3 pound little fluff ball (who we named Kona), we sadly left him with his foster mom to go off on our Christmas/NYE trip. It unfortunately wasn't the greatest timing, but I couldn't say no to his adorable tiny face.
We then flew across the country to Florida, spending time in both Miami and the St. Pete/Clearwater area (after changing our initial plans to go down to the Keys because crowds). Highlights of the trip included snorkeling with manatees (!!!) in Crystal River, grabbing brunch with friends (hey Matt and Ellen!) and meeting their new babe, looking for allll the shells on Sanibel Island, geeking out over allll the street art and colorful walls in both St. Pete and Miami, and indulging in Cuban Food (and multiple mojitos) in Little Havana.
We loved South Beach with its colorful lifeguard huts and pearly white sand, of course had Joe's Stone Crab one night (Noah's absolute favorite), and some delicious seafood at The Rusty Pelican on Key Biscayne for the best sunset and skyline views.
We finished off 2019 by spending New Years Eve at Bayfront Park in Miami, arepas in hand, patiently waiting for Pitbull who never arrived (although I think we were in the wrong area of the park…). We watched the most insane fireworks show though, and my entire body was pulsing from the crazy shots.
Whew, what a year it's been!
NOTABLE BLOGGING HIGHLIGHTS:
Surpassed my 9-5 income: Whoaaaa stop the tracks. How on mother Earth ever did that happen? When I first started this thing, that was never my intention, but here we are and I ain't complaining!
Redesign in the works: I'm in the middle of a complete redesign of my site, and it's looking soooo good so far (aka I'm completely obsessed and can't stop looking at the mockups). I can't wait to share it with you guys in the next few months. 🙂
All the emails/DMS/etc from readers: It makes my world when I receive sweet messages from you guys saying you've stayed at (and loved) places I recommended, or planned entire trips around my itineraries! Keep them coming, I appreciate each and every one!
So, what's planned for 2020 you ask? I've already got a few trips in the works, including a snowy winter trip to NYC to see family, a birthday trip to Mexico in late January/early February, and my spring break trip to Jordan (can't wait to get back to the Middle East!).
I think we'll most likely do southern France/northern Italy road trip in the summer, visit my cousin in Arizona, and of course fit in a whole buncha weekend trips in California like always (I'm itching to finally get down to Disneyland and head back to Tahoe). We're also planning on taking little Kona on as many weekend trips around California once he gets all his shots!
Happy New Years, friends! Here's to the next decade!