Headed to Mexico and looking for fun things to do in San Miguel de Allende? Keep on reading, my taco lovin', handicraft-scouting amigos, this handy dandy piece of what to do in San Miguel de Allende will most definitely help you plan your trip!
San Miguel is any art lovers dream – with it's stunning colonial architecture, thriving arts scene, and all around fiestas (almost) everyday, I found myself falling for this picturesque little city as soon as I arrived.
Set high in the mountains of central Mexico, San Miguel is worthy of it's UNESCO World Heritage Site status, filled with quaint cobblestoned streets, artisanal craft shops, nearby hot springs, and organic and inventive restaurants popping up every month. And with all the street art and brightly painted buildings, it's practically bursting with color (just look at my photos throughout this post). I mean, what's not to love?!
But get here soon: What was once a sleepy hill town (without even a single traffic light!) has evolved into a bustling little city attracting those with an appreciation for the arts and gastronomy. I would say to get here before everyone else, but it's too little too late; this charming town see's a great deal of visitors (both domestic and international), with many ultimately deciding to make San Miguel their expat base. Yup, it's just that fantastic.
So without further ado, lemme start sharing alllll the info I acquired after spending a few days in this special place. This piece was partially written as I was sitting on the bus headed back to Mexico City (I figured starting this San Miguel de Allende blog before I forgot anything important was a good start)!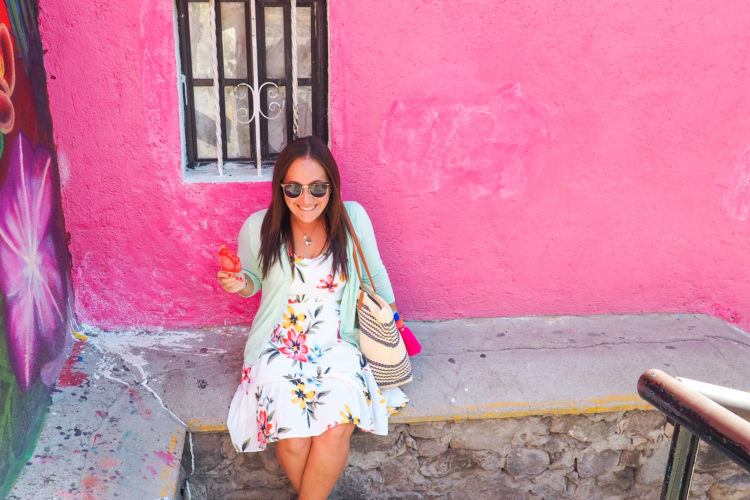 Before we get into all the fantastic things to do in San Miguel de Allende, let's get into the nitty gritty of how to get there, where to stay, when to visit, and how to get around.
Important San Miguel de Allende Info and Logistics
How to get to San Miguel de Allende:
When traveling to San Miguel de Allende, you've got a few options on how you can get there. Since I was traveling around Mexico for a few weeks, I chose to fly into Mexico City from San Francisco and then took the bus to San Miguel, but more on that below.
You've got 4 main options:
1. FLY to Leon/Guanajuato: If San Miguel is your final (and only) destination, or you've found decently priced flights, you may consider flying into Del Bajio Airport (BJX), servicing Leon and Guanajuato. The airport is about and hour and fifteen minutes from San Miguel de Allende, although there is no direct bus service from BJX airport and San Miguel.
The easiest way to get from the airport to San Miguel is to book a shuttle van, which is about $30 (US) per person. One of the companies that operates a shuttle van service is BajioGo. Do note that you'll probably find cheaper flights into Mexico City if you're coming from northern USA, in which case you can take the bus (info below).
2. BUS from Mexico City: If you're flying into Mexico City (for a visit or because you found cheaper flights), you'll need to take the bus to San Miguel de Allende. Buses depart from Mexico Norte (about a 15 minute uber drive from the CDMX airport), and take roughly 3 and a half hours. A few different luxury bus companies exist, including Primera Plus (what I took) and ETN.
The bus was very comfortable, I felt safe the entire time, and the station was relatively easy to navigate. Buses come equipped with USB ports for charging, foot rests, bottled water, and a snack or two. You can typically buy your bus ticket once you arrive at the station, but I chose to buy in advance (up to 30 days beforehand) since I was traveling over a busy time (Christmas). Bus tickets from Mexico Norte (in Mexico City) to San Miguel de Allende should cost roughly ~$25US/440 pesos.
Some claim to have difficulties buying bus tickets with foreign credit cards, but thankfully, my American Express worked like a charm and I was able to buy my tickets first try. If you're not as lucky when booking tickets in advance, try www.clickbus.com.mx.
3. PRIVATE driver: If money is no concern, you can hire a private driver from Mexico City for about $250USD (note that's in American dollars and NOT pesos!) The drive will take about 3 and a half hours (same amount of time as taking the bus). I'm not really sure the benefits of doing so as I found the bus to be extremely comfortable and safe.
4. DAY TRIP from Mexico City: If you're very short on time and only have one day allotted to exploring San Miguel, you can take a day trip here from Mexico City. I highly recommended more than one day, but if it's all you've got time for, a day trip from Mexico City to San Miguel de Allende is better than nothing!
And with the drive taking a bit over 3 hours (each way), it's best to go with a tour company to ensure you'll see all the highlights of San Miguel during your short stay there. Read reviews and book trip here.
Where to Stay in San Miguel de Allende:
Since I was traveling solo I stayed in a hostel (more on that below), but I was able to check out a few hotels in town as well! All staff at the hotels let me in with open arms, and I was able to wander around their common areas, use their bathrooms (free of charge), and even sit by the pool at the Matilda (I probably overstayed my welcome, but they didn't make it known). If I had been accompanied by my husband or a few girlfriends, I have a feeling we would have preferred one of these posh hotels:
Super chic and super elegant, this boutique hotel is located right in the heart of San Miguel de Allende. Had I not been traveling solo, this would have been my hotel of choice by far. I mean, just look at that pool area (amiright?) The hotel even boasts Moxi, a popular restaurant by Mexico City culinary superstar Enrique Olvera, which you'll want to eat at regardless of whether you're staying at the hotel or not.
I met a sweet couple at the pool area (yes, I hung out there and read for a while), and they couldn't stop raving about their pool-side room decor and the cocktails they had the night before at the bar. I'm bringing my husband back to San Miguel and staying here. Read reviews and check prices here.
Once you step foot into the Rosewood, you'll feel the elegance of the courtyard and be wowed by the general overall design of the hotel. Yes, it was that spectacular. I wandered around, relaxed on one of the comfy chairs in the garden area, and took a quick peek at the luxurious pools (where guests seemed to be loving life in their private oasis).
Even if you don't stay here, make a reservation at The Luna for sunset, which is known to be one of the best rooftop bars and restaurants in the whole city. Read reviews and check prices here.
3. L'Otel at Doce18 Concept House
Okay, so I didn't actually see the hotel portion of this space, as I only ate down below at the Taco Lab (which was stupendous and perfectly filled with spice). But after doing a bit of research on the space (it's relatively new), I was fascinated by all the raving reviews and modern photos.
Hotel guests gushed over the spacious and light-filled atrium, the indoor and outdoor terraces, and in-room fireplaces. And one look at the pool- this makes it tough competition with the Matilda Hotel. Read reviews and check prices here.
If you're traveling solo or just want to save on your accommodation (me!), I highly recommend Lool Beh. The staff at the hostel were especially helpful, and although we had some difficulty communicating (my Spanish is pitiful), they always looked after me and attempted to answer all my silly tourist questions. Breakfast was included and staff were always willing to make me something not on the menu (grilled cheese for breakfast one morning, why yes please)! Read reviews and check prices here.
→ All my female solo travel tips over here (useful for you men as well, but it's catered towards women, just FYI). 🙂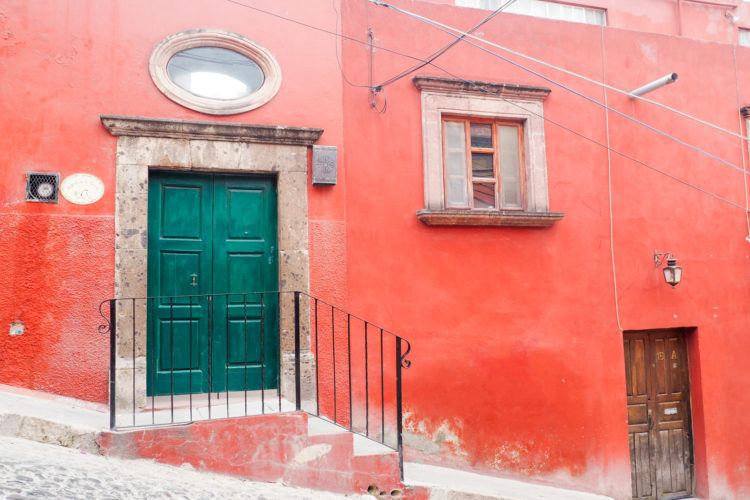 Another option:
AirBnB: I met a ton of people on my tours and around town who were staying in AirBnBs located high up in the hills near the Charco del Ingenio in the Balcones area. They raved about the stunning views from their terraces and the sense of privacy they had. Note that if you decide to stay in this area you'll need to walk about 10-15 downhill to get into town (I suggest taking a taxi for 25 pesos back up to avoid those uphill hikes everyday!).
→ Sign up for AirBnB (through this link) and receive up to $35 off your first stay!
When to Visit San Miguel de Allende:
Thankfully, there's no terrible time to visit San Miguel, as it's basically the land of perpetual spring (aka the climate doesn't change too much throughout the year)! Boasting over 300 days of sunshine every year, San Miguel never gets too hot or too cold (with temps hovering between 73 and 88 degrees F year round).
You'll most likely see locals bundling up in the early mornings and once the sun goes down, but if you're coming from a cool-weather destination (especially in the winter), you'll appreciate the toasty afternoons and fresh morning air.
You'll find the most crowds in winter (November-February; high season), especially around Christmas and New Years, but with clear days and only semi-chilly nights, it's understandable why so many flock down here to celebrate the holidays (I did!).
You'll want to be prepared for rain if you visit during the summer season (June through October), which experiences much more precipitation than during winter, yet rarely rains all day.
I visited in late December (I actually arrived on Christmas!) and found the weather to be warm and pleasant during the day, with chilly mornings and evenings. For reference, I brought along a jean jacket, light fleece, and a few cardigans for bundling up, and was perfectly fine.
How to get around:
San Miguel de Allende is quite a compact little city, so I found myself walking almost everywhere. Beware – 95%+ of the streets are uneven cobblestone, so you'll want to bring along comfy shoes (aka no heels).
Unlike Mexico City, Uber is practically non-existent in San Miguel de Allende. There are about 10 Uber drivers in the whole area (not exaggerating), and if you do find yourself a driver, expect exorbitant surge pricing and double-triple the expected wait time. Taxis are the much more reliable option, with rides within the city costing about 50 pesos (~$2.50), and slightly higher to get to the outskirts of town. Don't fret – there are taxi's alllll over the main areas; you'll find one no problem.
What to bring:
comfy sneakers (cobblestone and uneven streets EVERYWHERE, there's no paved roads in these parts!)
Reusable water bottle (or just buy a water at the beginning of your trip and use it for a few days- that's what I do to save precious carryon space), or you can be all fancy/smart and get this foldable one
Jacket for mornings and nights if you're visiting in winter (it gets chilly!)
Other things to note:
Public restrooms are aplenty around the city and will cost you between 5-10 pesos. Carry some change around. Or you could just use a hotel bathroom instead! Everyone's so friendly and helpful and from my experience, didn't mind me using their facilities. Hotel staff would even walk to me the bathroom (to help me find it) and then let me walk around afterwards.
If my Spanish was better, I could totally see myself living here in the future! I met a handful of retired expats and plenty more who were using their trip as a test to see if they'd like the SMDA life! One expat family even invited me into their home for homemade tortilla soup and tequila! Like I said, everyone's so friendly here! Don't be shy!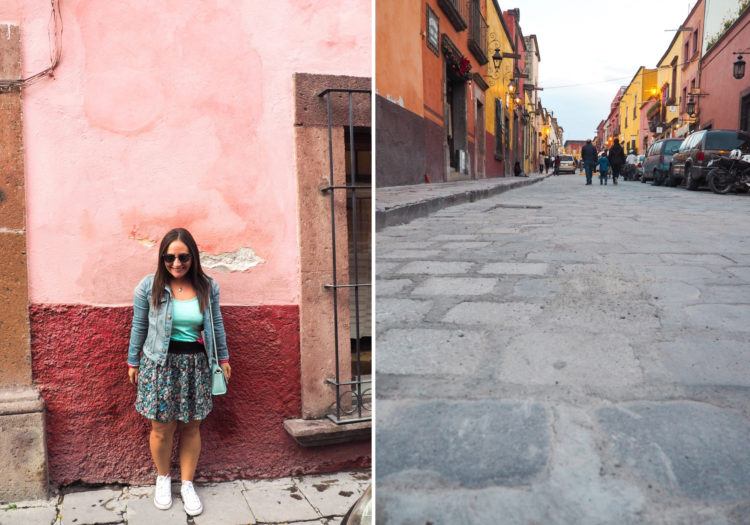 Health and Safety:
You cannot drink the tap water here. It's not potable. Fear not though- all restaurants serve drinking water and the ice used in town must be sourced from specific places. I drank bottled water throughout the day, refilling my bottle at my hostel and at other hotels when I was out and about if need be.
I felt safe walking around town myself during the day, and used typical precautions come night.
And finally, what you probably came to this San Miguel de Allende blog post for – to check out all the fantastic things to do in San Miguel de Allende! Keep reading, I'm sharing everything!
Things to do in San Miguel de Allende:
Mercado de Artesanias
A super cute little artisan area that has everything you could possibly want/need and then some. From clothing, jewelry, and shoes, to artwork, housewares, and rugs, there's tons of different shops all decked out in tons of color.
Half indoors, half in an alleyway of sorts, with reasonable prices. So much life, energy, food, and color. I found this popular mercado by mistake, and it was a happy accident to say the least. Come with a few pesos if you wanna use the bathroom, which is surprisingly clean.
Mercado Ignacio Ramirez
I mean, did you really visit Mexico if you didn't wander around a few mercados (markets)? Head to the bustling Ignacio Ramirez, which just so happens to be the oldest market in San Miguel. You'll find tons of fruits and veggies, spices, snacks like roast corn, jicama, and fruit slices, and everything else you'd need to cook up a traditional Mexican meal. This vibrant local market is full of both visitors, expats, and locals alike, all shopping for their needed ingredients.
Oh, and be sure to try some pan dulce, complete with condensed milk for a sweet afternoon snack! I also loved the fresh juice and agua frescas at the many fruit stalls inside! Un jugo de naranja y piña, por favor!
Parroquia de San Miguel Archangel (Church of St. Michael the Archangel)
It's hard to miss this majestic pastel-colored church with its towering pink spire, as it's right in the center of town and is by far the city's most recognizable landmark. I found myself in the area at all hours of the day admiring the grand, neo-Gothic 17th-century church, and stuffing my face with all the street snacks nearby (including elote, esquite, shave ice, etc).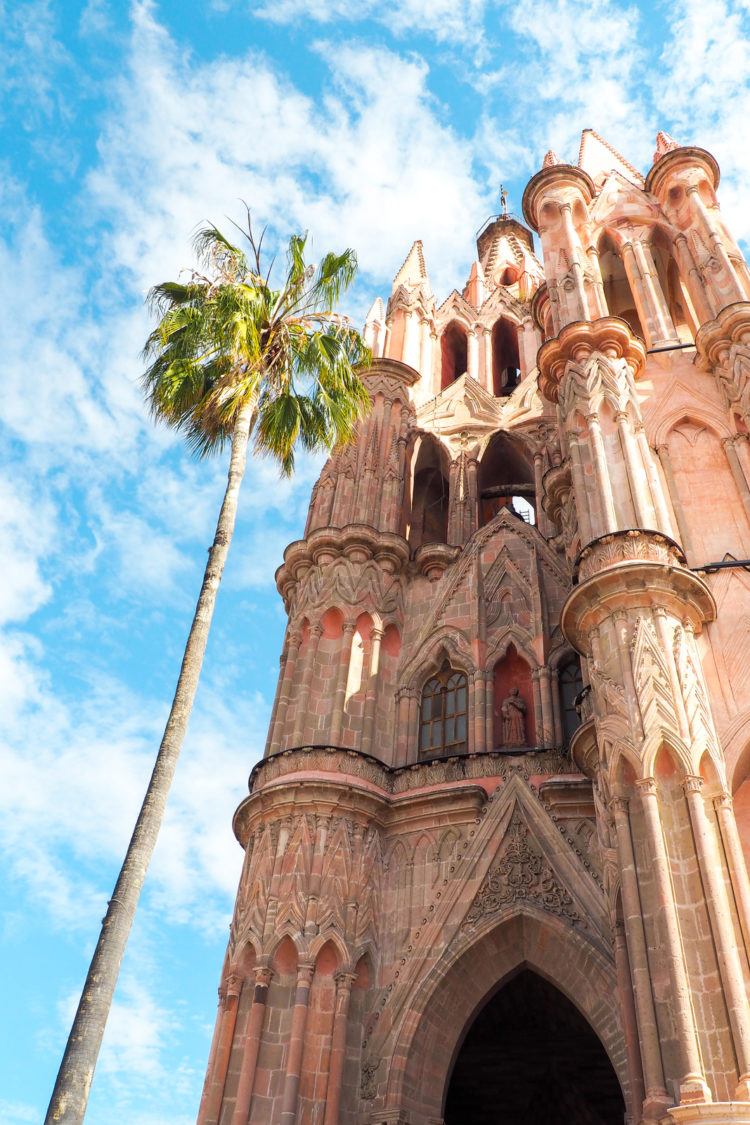 And even better – it's where so much of the action happens, both day and night. By day, it's light pink color is beautiful against the lovely blue sky, and at night it's all lit up and shines like no other. I even witnessed a beautiful Mexican wedding led by a few ridiculously colorful and whimsical mojigangas (captivating giant puppets resembling large dolls, who are known to be icons of San Miguel de Allende).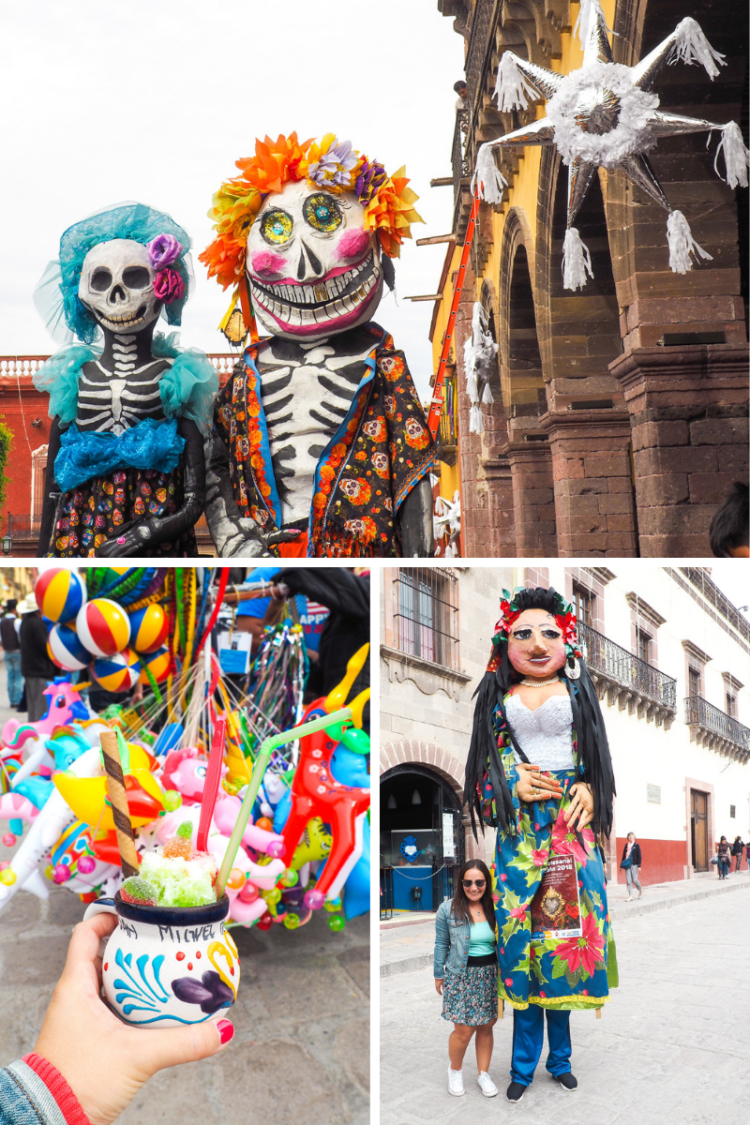 But back to the church: Make sure you go inside to see the historic building with its beautiful altar and soaring ceilings. Don't forget to look up! You really haven't been to San Miguel de Allende if you haven't spent some time near the pink Parroquia! Just note that it'll most likely be rather crowded, but there's enough space for everyone as the area nearby (El Jardin) is quite spacious.
El Jardin
El Jardin is easily San Miguel's most central plaza and the social heart of the city, and known as the Zocalo to many. Besides being perfectly positioned with a fantastic view of the Parroquia de San Miguel Arcángel, it's the place you'll find all the fiestas, live music, vendors selling hats, handicrafts, balloons, and toys, and tonssss of street food (with stalls literally everywhere you look).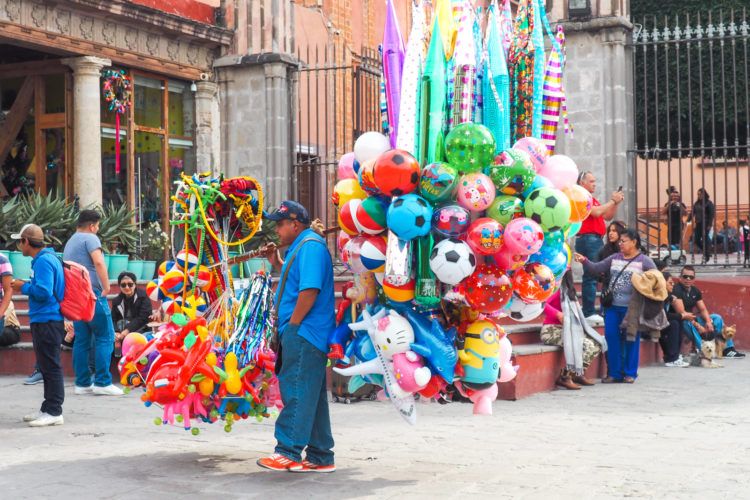 Every night after dinner I'd plop myself on a park bench with some elote and just people watch for hours. Kids bouncing wacky balloons sold from huge bunches. Men carrying 100 hats on their head at once. Nights here are tons of fun, I promise. It's known to be especially lively around Christmas, New Years, and the holidays, which is when I was visiting.
Fabrica La Aurora
What once was an old fabric mill is now a modern, trendy space with tons of artist galleries and little cafes. If you're into art you can easily spend a few hours here, although I was done after an hour or so (possibly because I came here early-ish, around 11am or so and it wasn't as hoppin' as usual just yet?) During my wanders around the Fabrica I explored tons of galleries and shops, ranging in price and styles.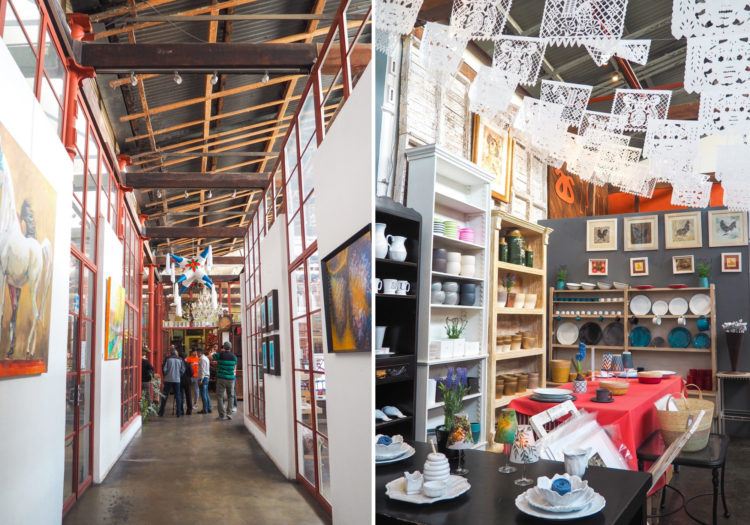 Psst – you won't find any crap here, it's all handmade by a variety of different artists, each with their own influences and craftiness. This sprawling arts complex is not to be missed!
I also heard there is a small butterfly garden here but I unfortunately missed it. Look for it before you leave!
La Gruta Spa
Located a few miles outside of town, La Gruta Spa boasts several pools of various temperatures, including one very hot cave/grotto. It's known for its peaceful relaxation opportunities and massages.
Everyone around town told me La Gruta was worth the time and small expense, but after reading tons of mixed reviews and looking at the photos (which just looked like regular old pools to me), I decided to spend my time in San Miguel doing other things. While researching, I found that visitors complained of ridiculous crowds (even in early morning), extremely loud children, dirty grounds, people eating in the pools, unpleasant staff, and decent food at best.
Doesn't sound very spa-like to me. Don't let the few stunning instagram photos fool you (it almost got me until I realized the "grotto" is only one tiny section and crowded).
To get here, you'll need to take a taxi from the center of San Miguel for around 450 pesos (~$23) roundtrip, and then pay an admission fee of about $10. I much preferred to hang out at the pool at the Matilda Hotel and eat my fresh coconut meat in peace. But to each their own – if you do decide to spend time at La Gruta, I hope you prove me wrong!
Biblioteca Publica
Book nerds – this one's for you. While you're strolling around town, be sure to check out the Biblioteca Publica, as it's by far one of the most impressive libraries I've seen to date. With ornate frescoes on the walls, an extensive collection of books (in both English and Spanish), and the most beautiful courtyard and seating areas, I found myself at the public library a few times (guilty).
And besides all the books, the library also organizes walking tours and day trips, has a whole schedule of lectures, live music, and movies available, and volunteers are always willing to answer any questions you may have about the city. Oh, and it's also the second largest bilingual library in Mexico.
Templo del Oratorio
Walking around town you'll come across about 297,546 old churches, and this one's high on the list of must-see's. The colors are just remarkable, and while the inside is a bit dated, it's still impressive to say the least. Worth a quick visit.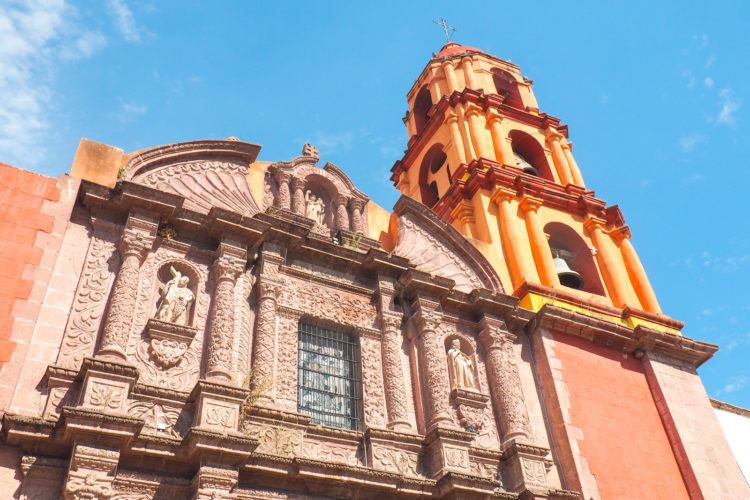 Parque Benito Juarez
Being San Miguel de Allende's version of Central Park, it'd be a crime to not wander throughout the sprawling space at least once during your visit. I strolled around before and after exploring the wonderful Rosewood Hotel, and found fresh coconut meat for 15 pesos ($.75) and tons of interesting handicrafts.
Along the entrance to the park, there are a variety of "amateur" artists (those who don't have a place to showcase their art), showcasing and selling their works of art to the public. There are tons of benches to cuddle up to with a good book, and since Parque Benito Juarez is quiet and often very private (unlike the busy and noisy Jardin), it's the perfect place to do so.
Tacos and Tequila Tour
This was by far one of my favorite things to do in San Miguel de Allende, and I highly recommend it to any first (or second) time visitor. The tour takes you to a whole slew of top taco restaurants and stands, with accompanying drinks at each one.
We indulged in molcajetes, al pastor tacos, fish tacos, garlic grasshoppers (and more), and guzzled down palomas, kiwi-cucumber juice, margaritas, and mezcal. Let'ssss just say that I wish I had worn my eating pants. – BOOK HERE
Mirador for the best bird's eye view of the town
Wondering what to do in San Miguel de Allende on a clear, sunny day? Head up to the best viewpoint in all of the city, of course – the Mirador! From up here you can see all the places you've visited on foot, including Parque Juarez, San Juan de Dios, the Parroquia, among others. Grab a coffee or a snow cone and just enjoy the panoramic views.
And thankfully, you've got quite a few easy options for getting up here: The tourist trolley (Tranvia Turistico) stops a few feet away, you can take a cheap taxi, or if you're up for it and wanna walk off all those taco-induced calories, you can make the short-ish climb uphill (great to get in your morning cardio workout). Take the set of stairs within the Benito Juarez Park for the easiest access. I chose to take a cheap taxi up and hiked back down.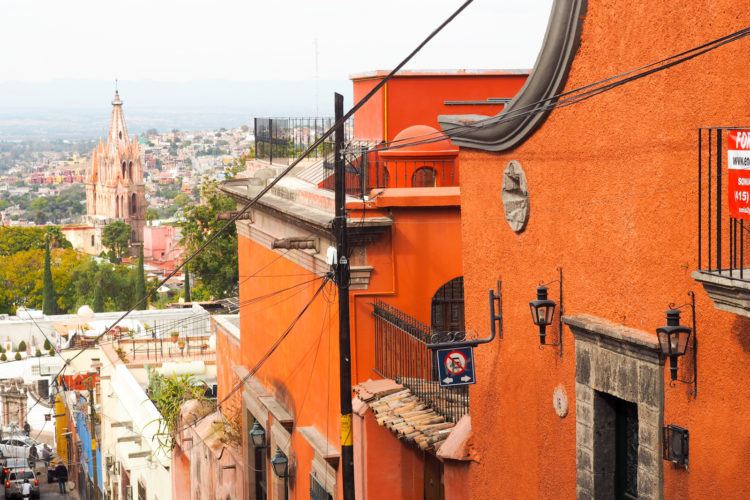 El Charco del Ingenio (Botanical Garden)
El Charco del Ingenio is a botanical garden and nature preserve just a few minutes from the historical city center of San Miguel. Here you'll find an extensive botanical collection, complete with rare and/or threatened cacti and tons of other Mexican succulents, which are thankfully being carefully preserved in this very naturalistic setting. The area, with it's Conservatory of Mexican Plants, scenic overlooks, historic sites, and trails, has even been declared as a holy Peace Zone by the Dalai Lama himself!
I must admit that I didn't actually make it here during my time in the city, but I heard it's one of the best things to do in San Miguel de Allende. Why I didn't go there, we'll never know. In all reality, I was probably feeling lazy or had stuffed myself to sleep from all those tacos.
Day trip to Guanajuato
If you're this close to the city of Guanajuato, it'd be a shame to miss out on visiting, even for a day! I opted for an organized tour (similar tour here), but heard that it's easy-ish to do yourself. Since I was traveling solo I wasn't in the mood to figure out the bus schedule, especially because the bus doesn't drop you off in the middle of Guanajuato (forcing visitors to find their own way into town).
On the day tour I gazed over the entire city at the amazing El Pipila viewpoint, toured Teatro Juarez, wandered through Mercado Miguel Hidalgo, and visited a few museums including the Diego Rivera Museum and Museo Iconografico del Quijote. While all those highlights were fascinating, the best part of the day was exploring and climbing up dozens of tiny alleyways, decked out in tons of colors.
With all that being said, here's a brief breakdown of how my 3 days in San Miguel de Allende went:
Day 1: Mirador, Mercado de Artesanias, Mercado Ignacio Ramirez, Iglesia de San Francisco, Parroquia de San Miguel Arcángel, Jardin Allende
Day 2: Josephine's, Fabrica de La Aurora, Biblioteca Publica, Templo Del Oratorio, San Agustin Churros y Chocolate, Hotel Matilda, Rosewood Hotel, Parque Benito Juarez, Panaderia La Colmena, Tacos y Tequila Tour
Day 3: Day Trip to Guanajuato, including Monumento a El Pilpa, Teatro Juarez, Mercado Miguel Hidalgo, Plaza de La Paz, Museo Iconográfico del Quijote, and Diego Rivera Museum
*Note that I didn't make it to La Gruta Spa (just wasn't in the mood after reading all the mixed reviews) and El Charco del Ingenio. You can easily squeeze them in if you aren't planning to check out the hotels and definitely if you aren't planning a day trip to Guanajuato.
Where to Eat in San Miguel de Allende
Paletas, elote, esquina, churros, gringas, tacos, mezcal, horchata, agua fresca – make sure you try it all! There are a ton of restaurants, with new ones popping up all the time, so ask around and you'll have no trouble finding some tasty dishes!
As mentioned earlier, I highly recommend you sign up for the Tacos and Tequilas dinner tour I did – it was a definite highlight during my time in San Miguel.
San Agustin for churros con chocolate: By far the most popular place for churros in all of San Miguel, so be sure to allot ample time for waiting in line, or go solo like I did (I got lucky and got seated at the bar right away). Note that if you're on a time crunch you can order churros to go. San Agustin also serves a full breakfast/lunch menu as well if eating churros and chocolate isn't your idea of a hearty and nutritious meal (like it is mine).
Andy's Taco Truck: Ohhhh, this was one of my favorite places I ate during my 3 days in San Miguel (I ate a lot, ok), and I'd gladly go back time and time again. Andy's doesn't open until sundown, so don't expect to grab a quick lunch from here. But come nightfall, this place is hoppin' like no other (they close at 2am most nights, and as late as 6am over the weekend).
The staff doesn't speak much English, and you'll probably get wildly over-charged if you can't get by in Spanish, but those gringas and tacos al pastor are worth the few bucks. It gets insanely crowded so expect to wait on line.
The quality of the food is fantastic, the flavor is beyond amazing – you can't beat these authentic, cheap, and tasty treats!! Load up your juicy and delicious tacos al pastor (on tender warm tortillas) with onions, cilantro, pineapple, and salsas.
Nectar Restaurante y Casa De Té: If you're looking for something a bit on the lighter side (I needed a break from all the heavy Mexican food I'd been eating), get the spinach frittata at Nectar Restaurante! The plate comes with a whole mound of avocado and salsa and it's muy delicioso. Super sweet ambiance and a whole great selection of teas to enjoy.
Josephine's Buenas Bebidas: I found this little drink shop by accident as I was walking to Fabrica La Aurora from my hostel, and kept on saying I'd go back later for a treat. Spoiler alert, I never did, but the colorful street art on the shops exterior is more than worth the short walk if you're staying in the area.
The PB Platano frappe and El Camino smoothie sounded especially tasty, and you betcha I'll be making a beeline there when I get myself back to San Miguel de Allende.
Panaderia La Colmena: By far the best bakery in all of San Miguel, which is more like a typical Mexican bread shop. They've been around since 1901 so they must be doing something right! Upon entering, grab a metal tray and a pair of tongs, and go wild (everything I tried was delicious and super inexpensive).
Grab some pan dulce (sweet bread), bolillos (rolls), chipotle empanadas, campechanas, and assorted pastries, and prepare to open the button on your pants prompting after indulging. It's also known as the "Blue Door"centrally located on Reloj, near the Jardin. Note that some items sell out FAST, but everything's great, so oh well?
Doce 18 Concept House: A modern cafeteria/food halls of sorts, with a whole slew of different eateries and restaurants for picking. If I hadn't had known where I was, I would have guessed either Brooklyn or Mexico City's Polanco or Roma neighborhoods.
Some of the stalls seemed a bit overpriced, but the place was packed, so apparently the food is worth your extra pesos. You'll find speciality tacos, burgers, traditional Mexican dishes with a contemporary twist, really great pastries, pizza (if that's what you're currently craving), and ice cream.
And even better – you can get some of your shopping done here as well, which have everything from specialty food items, teas, coffee, jewelry, clothing and art.
I also heard great things about: La Unica San Miguel de Allende, BOVINE, Hecho en México, Restaurante Ten Ten Pie, and Panio, although my stomach couldn't handle any more food!
So there ya have it, my complete list of things to do in San Miguel de Allende, plus a whole lotta extra information to help plan your trip! Are you visiting soon?