Planning your trip and looking for the best Mexico City itinerary?! Whether you've got a full week or just 3 days in Mexico City, you can be sure you'll never be left bored. Tacos al pastor. Tequila palomas. Frida Kahlo. Lucha Libre. Oh, and you can't forget about the mezcal. This city is all that and waaaaay more.
If you're looking for a colorful city full of vibrant culture, numerous neighborhoods to explore both day and night, and exciting half-day trips, you'll be pleasantly pleased with all that Mexico City has to offer. There's castles and canal rides, dog parks and green space. All my (wildly high) expectations were met and then some.
Oh, and don't forget to stuff your face. Mexico City is full of restaurants and street carts just begging to be indulged in. Chilaquiles. Avocado ice cream (my new obsession and muy muyyyy encanta). Late-night churros. Street tacos. I'd go back just for the food (ok, and all the puppies literally everywhere).
If you guys don't know by now, I do tons of research before heading off any trip! And it always pays off! I've compiled all my ridiculous over-the-top, everything-you-need-to-know research into this handy México City guide to help you plan the ultimate 3 days in Mexico City.
And since CDMX (commonly used as it's short for Ciudad de Mexico) is the 7th largest city in the world, cramming tons of activities is best done on a schedule. FYI- don't attempt to wing your Mexico City trip if you wanna see, do, and eat it all.
The city is too spread out for this – follow my carefully crafted Mexico City 3 day itinerary and I can guarantee you'll check off tons of the hot spots. Now, let's get to it.
Read Next — The 40 Best Photo Spots in Mexico City (the city truly is a photographers dream; just think about the IG photos!)
Logistics for your 3 Days in Mexico City
When to Visit Mexico City:
In all honesty, there's really no horrrrible time to visit Mexico City. The weather is quite mild year-round, although summer (May through September) experiences more rain (with frequent downpours) and winter (November through February/March) can be chilly at times.
Chilly is all relative though – as the city rarely experiences temps lower than 50 degrees (just bring along a cardigan/light jacket in winter). I recently wore dresses everyday during our last visit in late January, early February! So you really never know what you'll get!
If I had to pick a perfect time to tick off all these activities on this Mexico City itinerary, I'd choose March through May. Not only will the room rates be reasonable, but you'll be rewarded with the most idyllic weather (highs in the mid-to high 70s and very little rain). Because of this, it's a very popular time to visit CDMX, so be sure to secure your accommodation early.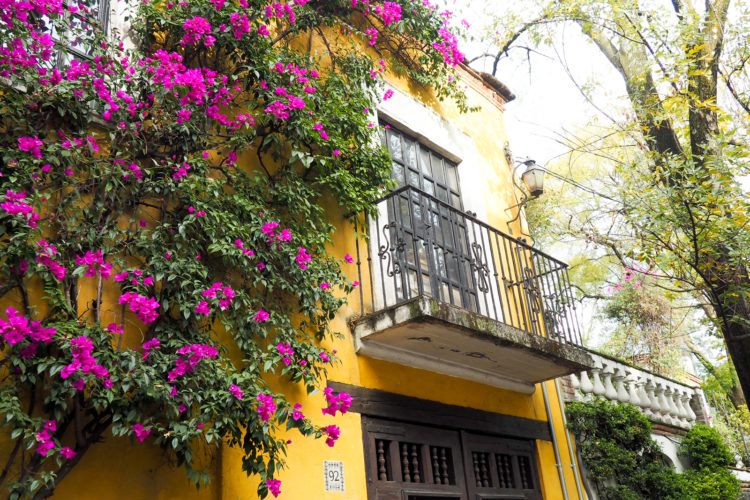 I visited in late December for New Year's Eve, and found the mornings and nights to be somewhat chilly (jeans and a tee shirt weather), and the late-mornings/early-afternoons to be quite warm. The lows can drop to the 40s at night so keep this in mind if you plan to have lots of late-night shenanigans. I still wore dresses practically everyday during my trip, and brought along a cardigan and jean jacket to keep me warm.
To Keep in Mind:
A note on Mexico City's high elevation: Before spending your 3 days in Mexico city, it's important to understand that the city sits at a very high elevation — at a whopping 7,385 feet above sea level. Because of this, some experience altitude sickness, including headaches, nausea, fatigue, and dizziness. Make sure to stay hydrated and keep some medicine on you at all times.
It's also important to take it easy the first few days, but if you've only got 3 or 4 days in Mexico City, you may not have this luxury. Don't let this deter you from visiting, just don't plan on hiking any mountains (aka, keep your activity level to a minimum if you can).
Note #2 on Air Quality: In addition, the air quality in Mexico City is notoriously bad, so be sure to check ahead and take along a mask should the pollution be expected to be super poor. If this does happen and you don't feel comfortable spending ample time outdoors, plan to rearrange this Mexico City itinerary to group all the indoor activities on the same day.
And after doing some research, I learned that since CDMX is located in the crater of an extinct volcano (um, so cool) and therefore at a much higher elevation (meaning the sun is waaay stronger over here), pollutants react differently to each other than they would normally — how fascinating (in the most annoying way of dirty air for our lungs). Alas, let's not focus on the negatives, okay? 🙂
I should note that the air quality was acceptable during our stay, although the minute I breathed in that sweet, sweet Mexico City air the moment I stepped foot outside the airport, it smelled like pure garbage. Just FYI.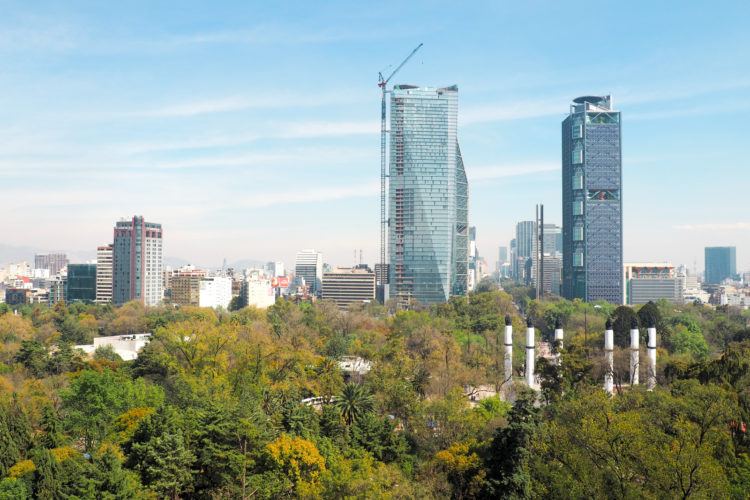 How to Get to Mexico City:
If you're coming from the states, you'll be pleased to know that Mexico City International (Aeropuerto Internacional de la Ciudad de México) is a major airport servicing so many locations with nonstop flights (from Los Angeles, San Francisco, New York City, Chicago, Houston, Dallas, etc etc).
I honestly never realized just how accessible CDMX really was. There's tons of nonstop flights from my home airport of San Francisco, with the flight time being shorter than heading to NYC (which I do quite frequently for long weekends to visit family). In just 4 hours, 15 minutes I could be hanging around Mercado Roma stuffing my face with churros con chocolate – fine by me!
I like using Skyscanner and Google Flights to check for prices. We chose to fly economy and paid around $650 per person round trip from the West Coast USA during one of the busiest times of the year- Christmas and New Years. If your dates are more flexible you can surely find cheaper airfare, although we did not have this luxury. For reference, I commonly see roundtrip economy flights from San Francisco to CDMX for around $400, with flights as cheap as $300 occasionally!
How to Get Around Mexico City:
Uber: You'll be pleased to learn that Uber is painstakingly cheap over in these parts of Mexico, and is what we relied on most to get around the different neighborhoods. And I'm talking ridiculously cheap – like $2-4 USD to get across town, in an UberX.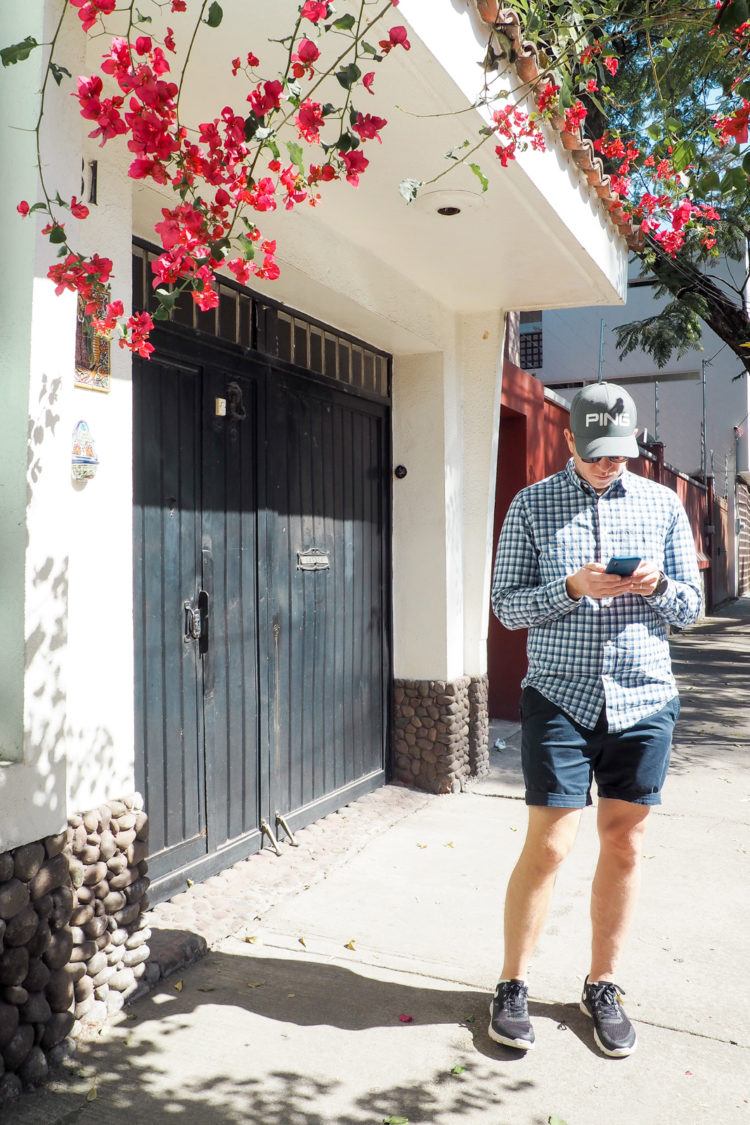 If you wanna feel like a local, take a stab at the metro. It's clean, quick, and super efficient, and only a few cents (USD!) per ride. We took the easy way out by taking ubers, but if we had more time and weren't stuffed with churros and chilaquiles half the time (true story), I'm sure we would have been more motivated to use public transportation. Uber was just sooo cheap and convenient it was hard to diverge from it even once!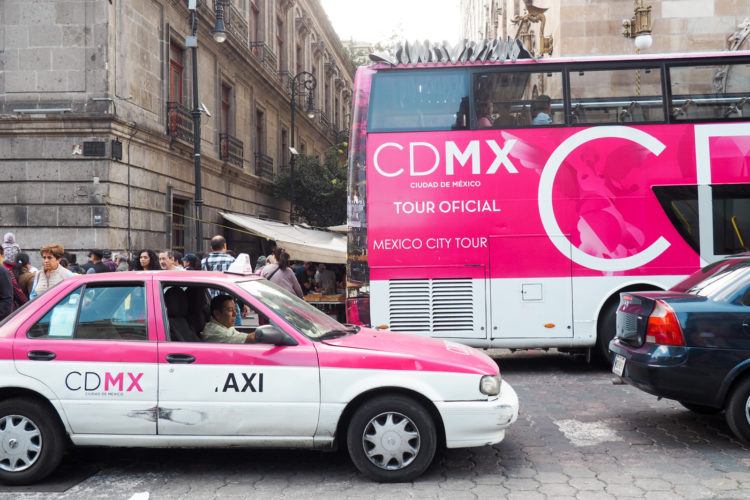 And if you wanna guarantee you absolutely see it all, grab a ticket for the hop-on, hop off bus, which makes stops in all the popular tourist areas for only a few bucks.
Where to Stay in Mexico City:
Top picks: La Condesa, Roma Norte, Polanco
I personally recommend anywhere in La Condesa or Roma Norte. The Polanco neighborhood is a good choice as well, just know that it's on the northern part of the city so may take a wee bit longer to get around.
We chose to base ourselves in the super cute, trendy neighborhood of La Condesa, and absolutely loved being so close to tons of great restaurants (Chilpa, we <3 you), stately art nouveau mansions, and Parque Mexico (which houses a dog park filled with tonsss of cute perritos [puppies] – I went here numerous times to just watch them run around and play).
Our hotel, Casa Decu, was stylish to the max and had the most marvelous rooftop garden deck where we sipped coffee most mornings. Plus, it was only about $120/night, which for NYE, felt was a bargain.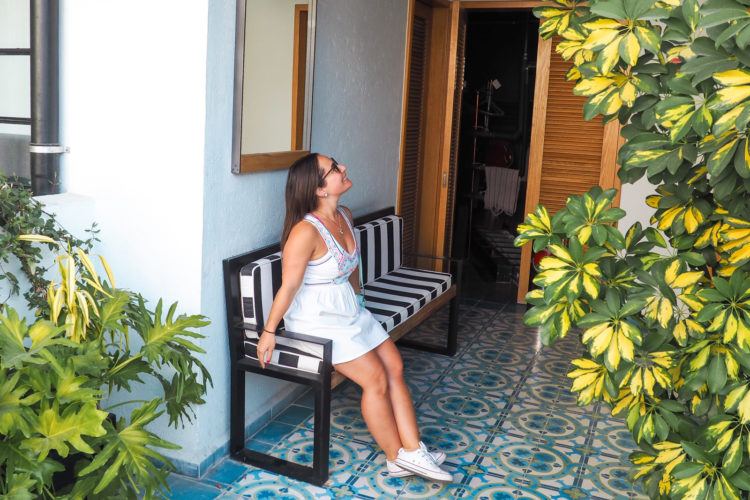 There's a whole slew of trendy hotels here, but since we booked so super late in the game (and we were traveling over New Years), those were all swooped up before we even began planning.
Next time I've got my eye on Hotel Carlota (innovative and modern in Cuauhtemoc), Chaya B+B Boutique (stylish rooms and rooftop terrace in the Centro), and Hotel Condesa DF (hip and upscale rooms and suites in La Condesa). Go check those out if you wanna stay at one of the hippest spots in Mexico City.
In addition, I found a myriad of AirBnB's I had wanted to stay at in wonderful locations, but my husband preferred a hotel. A few I'm considering for next time as well (because of course I'm aiming to get back to CDMX sooner than later):
→ New to airbnb? Sign up here and get up to $40 off your first stay!
Language and Currency in Mexico City:
At the time of this writing (November 2021), 1 Mexican Peso = 5 cents USD , or 1 USD = ~19 Mexican Pesos. I found it easier to think in hundreds and kept these numbers in my head when figuring out the bill/shopping: 100 pesos = ~$5USD. I found it beneficial to have some pesos on me at all times, as little shops and food stalls didn't all take credit cards obviously.
The official language of Mexico is Spanish, and I definitely found myself in more situations than one where the person I was attempting to talk to spoke zero English at all. Because of this, it's wise to brush up on your Spanish before heading to Mexico City. At least learn a bunch of common verbs, question words, and foods.
Although I've taken multiple years of Spanish in high school, I realized in Mexico that I really hadn't retained much, unfortunately. After being in Mexico for 2 weeks (I also visited San Miguel de Allende and Oaxaca on my trip), I picked up quite a bit of Spanish and started feeling more comfortable.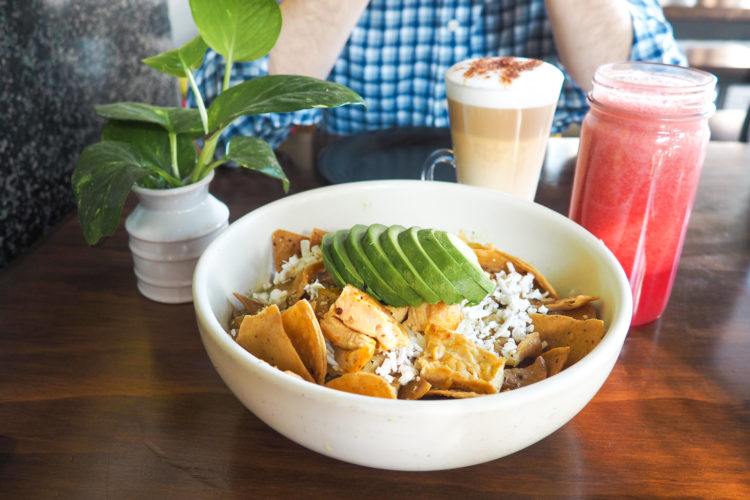 I commonly used a translation app (my favorite being Google Translate) in order to communicate at times when I had a more specific request/question. With all that being said, the locals were extra friendly and always showing appreciation for my attempts at speaking their language, despite failing quite a bit on my end.
Useful Phrases in Spanish:
hello/goodbye: hola/adios
please/thank you/you're welcome: por favor/gracias/de nada
Ice cream: helado/nieves
To go (as in take-away): para llevar
Where is the bathroom: Donde los banos?
I want/need ___: quiero/necesito ____
Avocado: aguacate
Safety in Mexico City
I knowww what you're thinking – is Mexico even safe to visit these days? Well, my enchilada-loving friends (you do like Mexican food, right?), I had the same exact thought. Crime, drug cartels, gang-related violence, and kidnappings are all, unfortunately, associated with Mexico (past and present). It's true — Mexico's got a bad rep.
BUT the tacos (and aguacate ice cream)! After seeing a whole slew of photos from my friends recent trips to CDMX, I did my own research and found that visiting Mexico City is just like visiting any other big city. Sure, there's areas to stay away from and I wouldn't gallivant around solo at night, but those are precautions I take regardless of the destination.
And wouldn't you know – Mexico City has the same travel advisory as Paris does (Level 2: Exercise Increased Caution) according to the U.S. Department of State. Read more about the travel advisory (highly recommended) here before making any travel plans to Mexico, as it's wise to always do your own research as situations and safety can change.
Be smart, don't flash expensive electronics, and be extra aware/cautious at night (especially if traveling alone). During my 3 days in Mexico City, I felt just as safe as I do in my own city of San Francisco.
The popular tourist areas of Roma, Condesa, Juarez, Polanco, Cuauhtemoc, and San Rafael all felt super safe to me. I actually spent about 2 days here solo in addition to my trip with my husband (worked out that way logistics wise on my 2-week Mexico trip), and felt safe here myself as well.
→ All my female solo travel tips over here (useful for you men as well, but it's catered towards women, just FYI). 🙂
OH — and get travel insurance! It's so important!
Yes, you need this. I always recommend purchasing travel insurance before your trip. You never know what might happen (flight delays, lost baggage, illness), and travel insurance definitely helps with all of those unfortunate unexpectancies.
I highly recommend the company SafetyWing and always buy a short term plan (depending on how many days/weeks we'll be away) before leaving for any trip! Even if you don't end up using it, peace of mind is 100% worth it in my opinion. Find plan options and pricing here (and at only a few bucks a day, there's no excuse not to!) I always say, if you can't afford travel insurance, you can't afford your trip. It's that easy.
A few tips to stay extra safe:
Use Uber to get home after dark, especially if you're traveling solo
Keep all your valuable belongings tight to your body, and never (ever) let a bag out of sight
Use your gut/intuition: if a situation doesn't feel right, get out of it. Your safety should always be your number 1 priority.
I'll sound like a mama, but PLEASE limit your alcohol, ESPECIALLY if you're a female solo traveler
GET TRAVEL INSURANCE. I know I keep saying this, but please, it's so important!!!! If you find yourself in a situation where you need medical assistance, you won't wanna pay outta pocket for it.
Do note that the more northern states in Mexico (no where near Mexico City) have an increasing amount of drug violence right now (2019) and I wouldn't consider traveling to those parts any time soon. Again, read the State's travel advisory for specific locations to avoid.
WIFI AND STAYING CONNECTED
Although you'll most likely have wifi at your accommodation, it's a good idea to bring along a pocket-sized personal WiFi hotspot, to keep you connected during your time in Mexico. WiFi hotspots are a cost effective option to ensure you can use GPS apps like Google Maps, check your emails, and catch up with friends and family while away.
With this portable device, you'll have WiFi wherever you go (even if your phone doesn't have service), unlimited internet (on up to five devices at a time!!!), and it's fast and reliable. At less than $9 a day, this device can't really be beat.
Note that some cell phone plans allow for international use, but many of these are costly. I accidentally turned on my phone service for LESS THAN 2 MINUTES while traveling once and got charged $150 by my phone carrier! I desperately wished I had a personal WiFi hotspot with me then!
Find more information and plan options here. HIGHLY RECOMMENDED especially when you don't speak the native language of the country you're visiting. A true life saver.
In addition, it's important to note that since I have T-Mobile, coverage in Mexico is completely covered. If you're thinking about doing a bunch of international travel over the next few years, it may be worth switching to T-Mobile if the service is decent in your home area.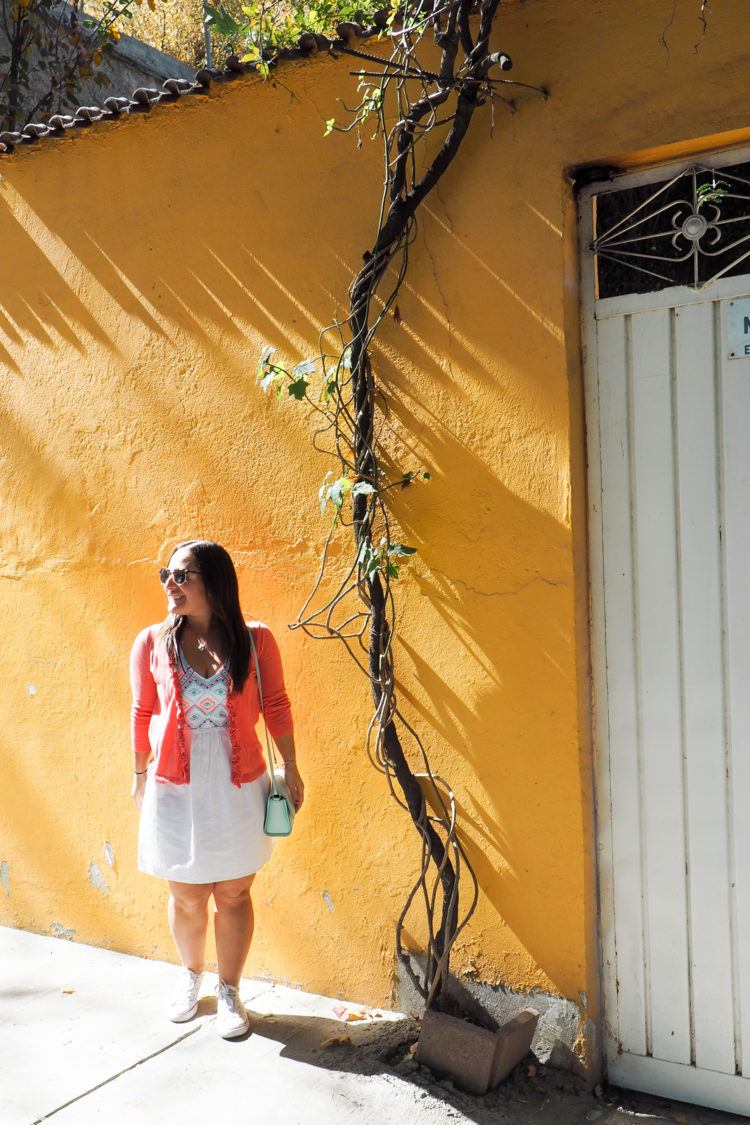 Extra tips/notes:
And just one more thing, Mexico uses the same plug types as the USA, so you don't need to worry about lugging around any power convertors.
Now let's get what you've actually come here for – an absolutely perfect Mexico City itinerary, crafted by yours truly. <3
I won't be offended if you decide to switch something around should it make more sense during your 3 days in Mexico City, but do realize that I've grouped the following activities together for a reason. Note that it's smart to visit the Frida Kahlo Museum and take a canal ride on the same day as they are both somewhat south.
3 Days in Mexico City
Day 1 of your Mexico City Itinerary
Morning: Teotihuacán
Wake up early because on our first official morning of our Mexico City itinerary, we're off on a day trip! It might seem weird to start off your 3 days in Mexico City by actually leaving the city, but Teotihuacan is the perfect way to start off your trip.
History and archaeology enthusiasts will especially love the remnants of this ancient civilization, and I mean, who doesn't love exploring former pyramids. It's definitely one of the most amazing and unique attractions in the area, and is worth visiting to understand the origins of the Mexican civilization.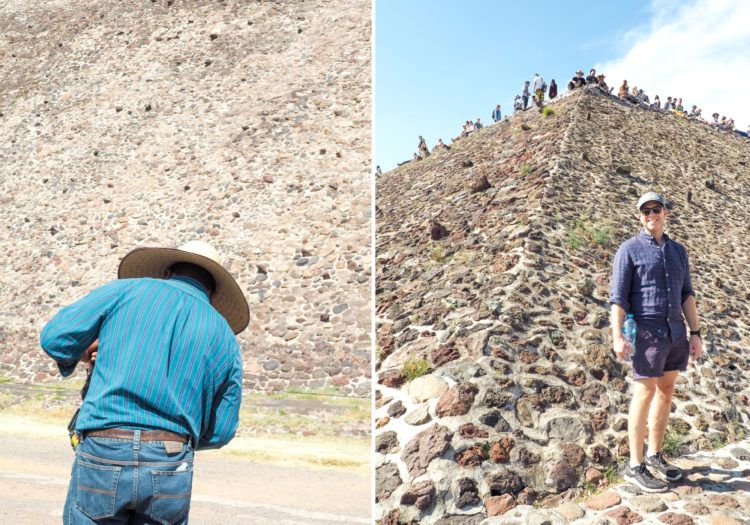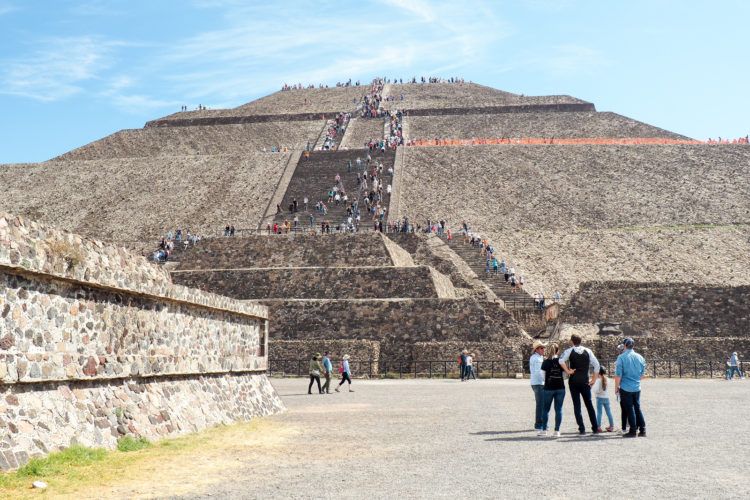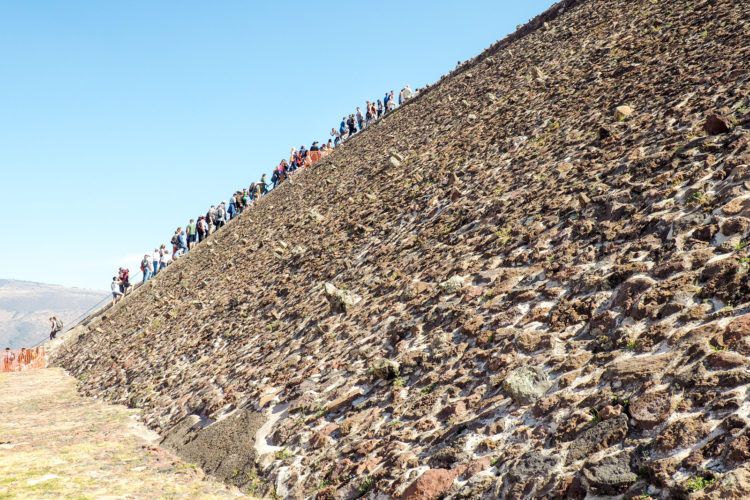 Located around 1 hour outside of Mexico City proper, Teotihuacan is a massive complex of ruins that was originally constructed as a large Mesoamerican settlement in ~300 BC. Within the complex, there's a whole grid-like city with several towering pyramids, some which visitors can actually climb! And you betcha climb I did (hopefully any altitude sickness that is creeping up hasn't caught up with you just yet).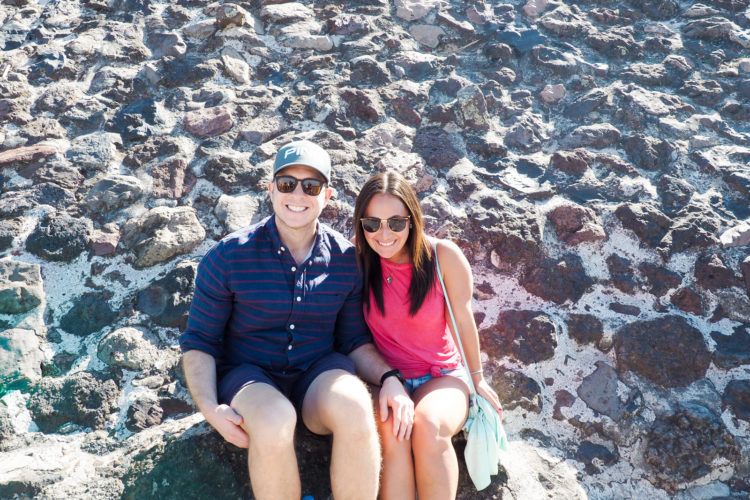 A little history: Some sources say that Teotihuacan predates the Aztec rule in the area by over 1,000 years (um, what, hello!). The name Teotihuacan, given by the Aztecs hundreds of years later, means "birthplace of the gods." It's easy to see where the name comes from – it's an incredibly picturesque settlement located amidst a beautiful landscape of rolling hills.
Today, you can easily visit these incredible ruins as a half-day trip from Mexico City. Upon arrival at the park, you'll pay a small entrance fee before gaining entrance to the entire complex and the archaeological museum.
While there, I recommend simply exploring the entire area by foot. It's fun to wander through the avenues and ruins without a plan, although if you only have 3 days in Mexico City, you'll probably be on a bit of a time crunch.
If you don't wanna spend all day at the complex, it's wise to visit with a clear understanding of how you'll most likely wanna spend your time. Since Teotihuacan is most famous for its large, towering pyramids, you don't wanna miss the two most popular pyramids: the Sun Pyramid and the Moon Pyramid.
We climbed to the top of the Sun Pyramid and were rewarded with a bird's eye view of the entire complex and the surrounding villages. Since it was scorching hot the day we visited, we ultimately decided climbing one huge-a** pyramid was enough for us and called it a day. You could easily spend lots more time here, but we had other things on our agenda.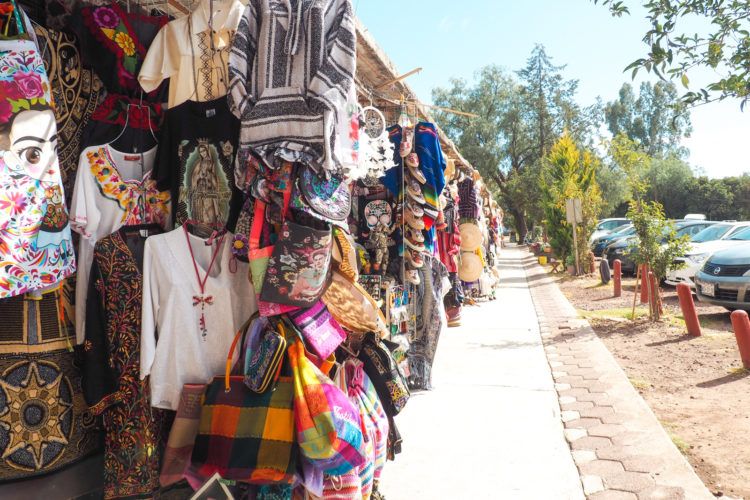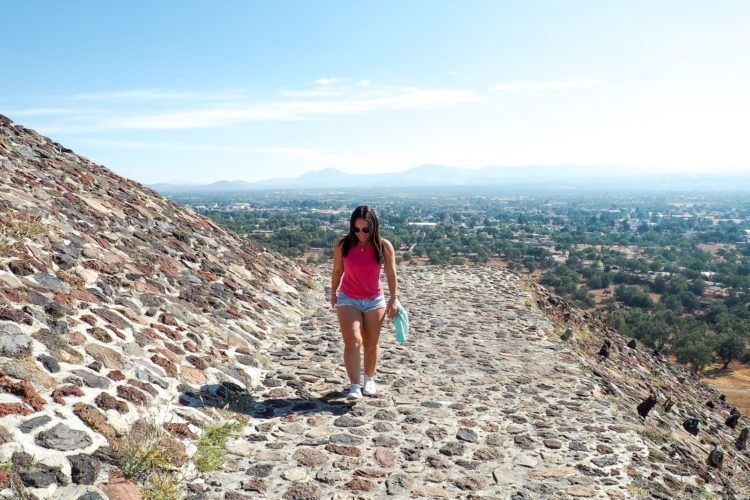 Before heading to Teotihuacan for the morning, you should make sure to put on some comfortable closed-toed shoes, as you'll be walking quite a bit and climbing up many flights of stairs. To protect yourself from the sun, bring a wide-brimmed hat and sunscreen. I'd also recommend bringing along snacks and lots of water, as it can get HOT hot hot in the Teotihuacan complex and climbing up the pyramids throughout the day.
And thankfully, the archaeological area of Teotihuacan can't be easier to reach:
Uber allll the way there: We originally planned to take the bus from Mexico Norte, but once we realized the uber would cost just about $20USD each way to Teotihuacan, we opted for this much simpler choice. Sure, it cost a bit more money, but we saved some time and loved the convenience of it.
Public Transportation: Yes, it'll take a bit longer to reach the pyramids using public transport, but it's the most cost-effective way. If you're planning to spend all day at Teotihuacan and don't have to rush back to anything (i.e. have at least 4 days in Mexico City), a metro/bus combo is a-okay. First, take the metro (line 5, yellow) to the Autobuses del Norte (bus station). Next, walk all the way to the end to Gate 8, buy your ticket to Teotihuacan, and you're all set! Buses leave approximately every 15 minutes and take roughly an hour to reach the pyramids.
Organized Bus Tour: If public transit really ain't your thang, or you want to ensure you'll actually learn about the pyramids, book yourself on an organized bus tour. There's quite a few options, and psst – you can even take an early morning hot air balloon ride here.
As noted above, if you're hesitant to go to Teotihuacan independently using your own transportation, there are tons of tour options to choose from. Tours are awesome because they come with a guide who can explain what you're seeing and provide historical context for the various sites. As much as I loved exploring on our own, we honestly didn't really learn too much. Sure, we could have googled, but who wants to essentially read a textbook on their vacation?
These tours are especially beneficial for people who have 4 days in Mexico City or more, as they usually last the full day. Here are three Teotihuacan tours I'd recommend:
1. Early–Morning Special: This is an amazing tour that gets you to Teotihuacan early in the morning while the sun is still beginning to rise. And because of that, you'll enter the park before the larger tourist crowds begin to arrive. The tour also provides a guide that can explain the historical significance and context of each structure. You'll have time to explore the complex before touring through an obsidian workshop run by a Teotihuacan family. // BOOK TOUR HERE
2. Teotihuacan and More: For more information and exposure to Mexico's history and culture, you can take this tour which not only goes to Teotihuacan, but also the Our Lady of Guadalupe Basilica (an important Catholic pilgrimage site nearby) and Tlatelolco, another pre-Columbian archaeological site. Your guide will teach you about the history and significance of each site and how it shaped Mexico's past and present. // BOOK TOUR HERE
3. Hot Air Balloon Above Teotihuacan: For true adventure seekers, you can actually take an early morning hot air balloon flight over the Teotihuacan complex (say what?!). Your guide will transport you from your hotel to Teotihuacan, you'll help set up the balloon for flight, and you'll fly for an hour over the pyramids, temples, and city streets. It's one of the most unique and epic ways to see this incredible pre-Columbian civilization. I've hot air ballooned over both the cacti in Arizona and the grape vines in Napa Valley, and can honestly say I think Teotihuacan would make a great first flight choice! // BOOK BALLOON RIDE HERE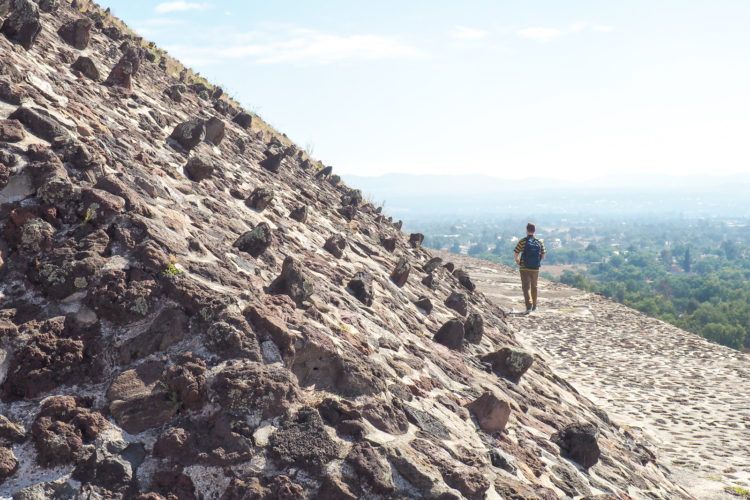 *Note that if you decide to go on a tour, you most likely won't arrive back to your accommodation/CDMX until mid-late afternoon. Because of this, you probably won't have time to explore the Zocalo (which was actually my least favorite hour or so on our trip).
However, if you've got 4 or 5 days in Mexico City, you can definitely take your sweet time at Teotihuacán (or go on an organized day trip with no fear of missing out on other parts of the city).
Lunch at La Gruta
After Teotihuacan, head to La Gruta, a nondescript restaurant located very close to the Teotihuacan complex. While it may seem unassuming, La Gruta is a super impressive (and traditional!) place to add to your Mexico City itinerary…mostly because it's located inside of a cave.
Yup, that's right, you can stuff your face with incredibly delicious traditional Mexican food while sitting in a volcanic cave. Pretty cool, huh? Also, if that doesn't convince you enough, both Frida Kahlo and Diego Rivera have eaten here, along with Queen Elizabeth II (!!!!!!!!!!!!).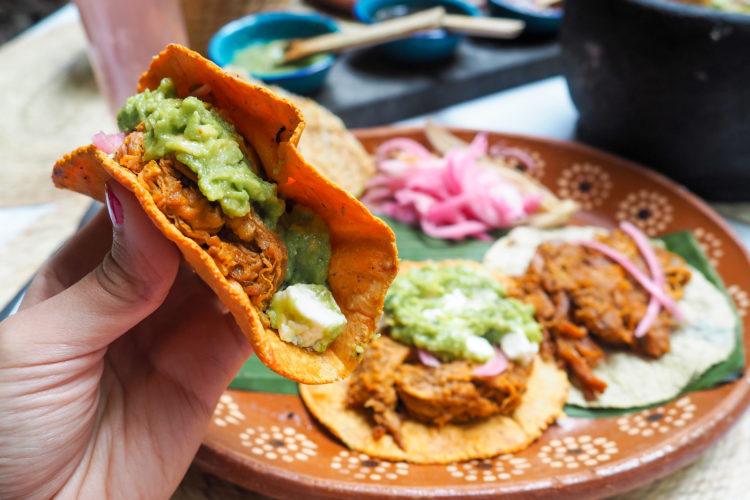 La Gruta is literally across the street from the Teotihuacan Pyramids, so it's the perfect place to go once you're done exploring the area. And thankfully, getting here couldn't be easier. Just exit the ruins from Gate #5 (back right of the Pyramid of the Sun), cross the street, turn left, then take the first right, and follow the signs to La Gruta. I promise you it's not hard to find – if I was able to navigate to the cave, you will too.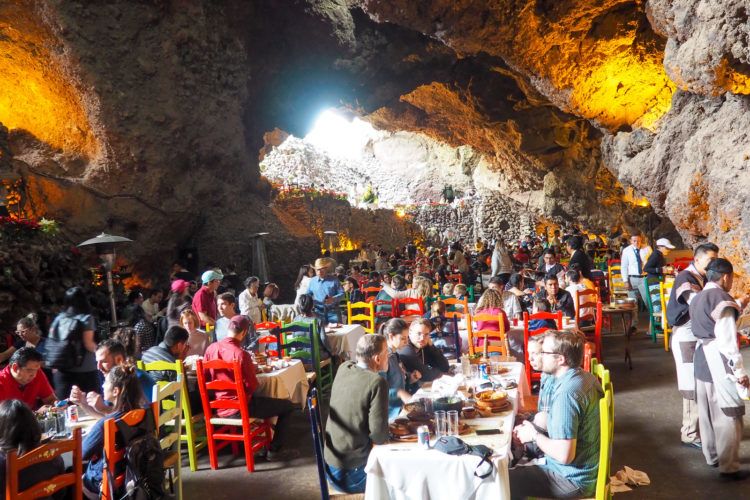 Inside the restaurant, you'll find cave walls lined with decorations and cool string-style lighting. It's basically an Instagrammable restaurant at its finest! Once you've had a chance to take your photos and sit down, you can look over (or drool over) their extensive menu full of Mexican specialties.
You can choose from various types of tacos, or go for more unique traditional dishes like escamoles al epazote (spicy seasoned ant larvae). We chose the giant mortar to start – basically a giant pot full of all the Mexican appetizers you could ever dream of: guacamole, grilled spring onions, crisp pork rinds, fresh farmer's cheese, and more. Oh, and the prickly pear bebida [drink] was a dream (get it, you won't be disappointed).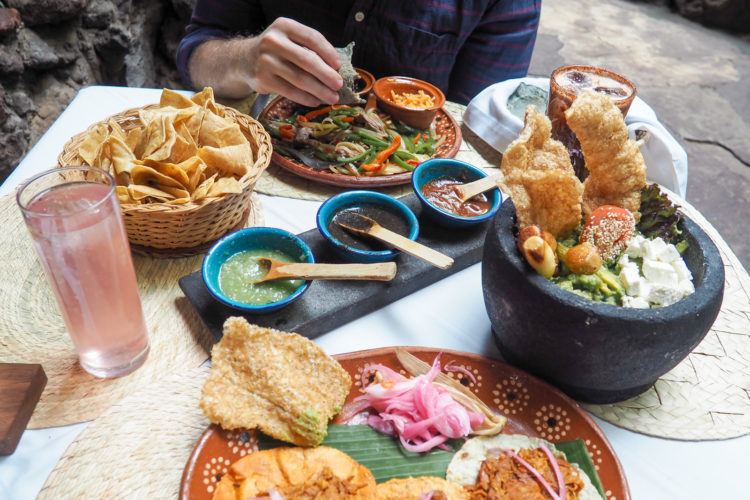 Many of the organized tours include a meal at La Gruta as well, so don't feel like you'll automatically miss out should you take a bus tour.
To understand the timing of our day, we left our hotel around 8ish, grabbed a quick breakfast, then headed straight to the Teotihuacan Pyramids. We climb We ate lunch at La Gruta around 12:30, and were back in the city around 2:30ish or so.
Get dropped off directly in the Zocalo if you don't mind staying in your (possibly) dirty-ish clothes from climbing/exploring all morning. I sometimes keep a change of clothes in a small bag to not waste time heading back to the hotel for this reason.
Afternoon: Zocalo (The Historic Center of Town)
Depending on how much time you spend exploring Teotihuacan, you may have some time to check out the Zócalo before dinner. To be completely honest, the Zocalo is my least favorite neighborhood on this Mexico City itinerary, and I don't think I'll be making it a priority on my next visit.
I found it to be rather dirty, somewhat run down, extremelyyyy overcrowded (it was an absolute mess), and quite honestly, the opposite of charming. It's definitely not somewhere I'd choose to stay each night, that's for sure. However, if you do find yourself aiming to tick off all the things, you can squeeze a few of these below into an hour or two (if you must):
Palacio Postal: You may be wondering why I've included a post office on this Mexico City itinerary. Well, my friends, it's absolutely beautiful. I was surprised to learn that in the middle of Mexico City's center lies an ornate, opulent postal building that's open for visitors. It's got a seriously beautiful lobby with an amazing staircase that has been mostly intact since its inauguration in 1907.
And yes, it's still a functioning post office today. When you go, you'll see people going about their daily business like they're not in a gorgeous, epic, photogenic building in the middle of Mexico City. Don't mind us tourists…
The House of Tiles (La Casa de Los Azulejos): You can't miss this meticulously decorated tiled home located near the Zocalo. This former house, owned by wealthy families until the 19th century, is now a restaurant. And look how gorgeous those tiles are — almost as beautiful as all the azulejos in Porto, Portugal which I just loved on my last visit!
However, if you don't feel like sitting down to eat, you can simply marvel at (and take photos of) this unique building from the outside. Don't miss it – totally I felt like I was hanging in Portugal for a hot second.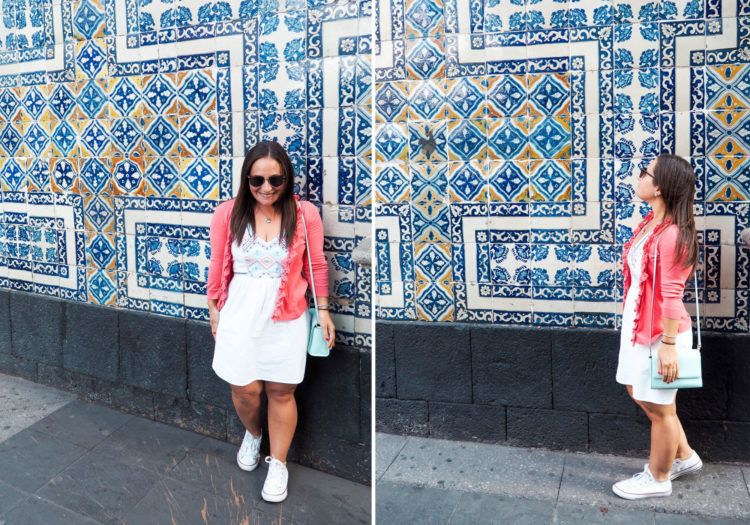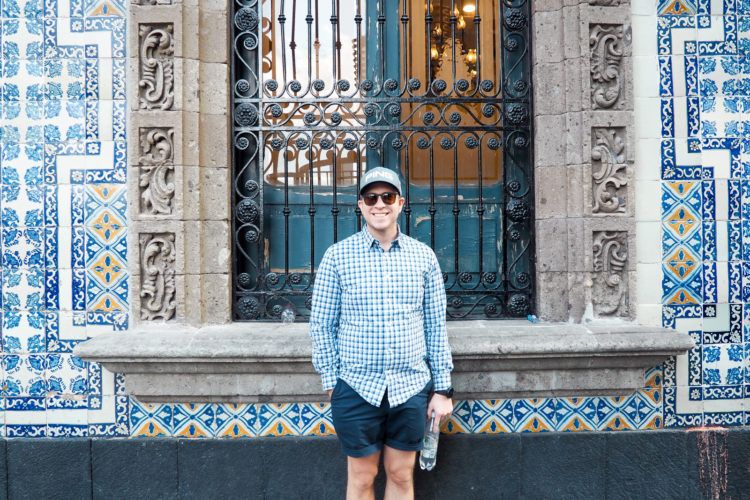 Palacio de Bellas Artes: The Palacio de Bellas Artes is arguably the most beautiful building in all of CDMX, a regal white Art Nouveau structure with its iconic yellow domed roof. It's a cultural center that's home to a lot of performances, exhibits, and more. Inside you'll find elements of Art Deco style and it's totally worth popping your head into as well, even if you're not attending a show.
Do note that the line is usualllly out the door, so plan to tack on a chunk of time if heading inside the structure is on your must-do list (we opted out and got the view from above at Sears, info below).
Torre Latinoamericana: For amazing views of Mexico City from one of the highest points in the city, head over to the Torre Latinoamericana. For 70 pesos, you can ride the elevators up to the 44th floor of the tower to an observation deck that has 360 degree views of the city.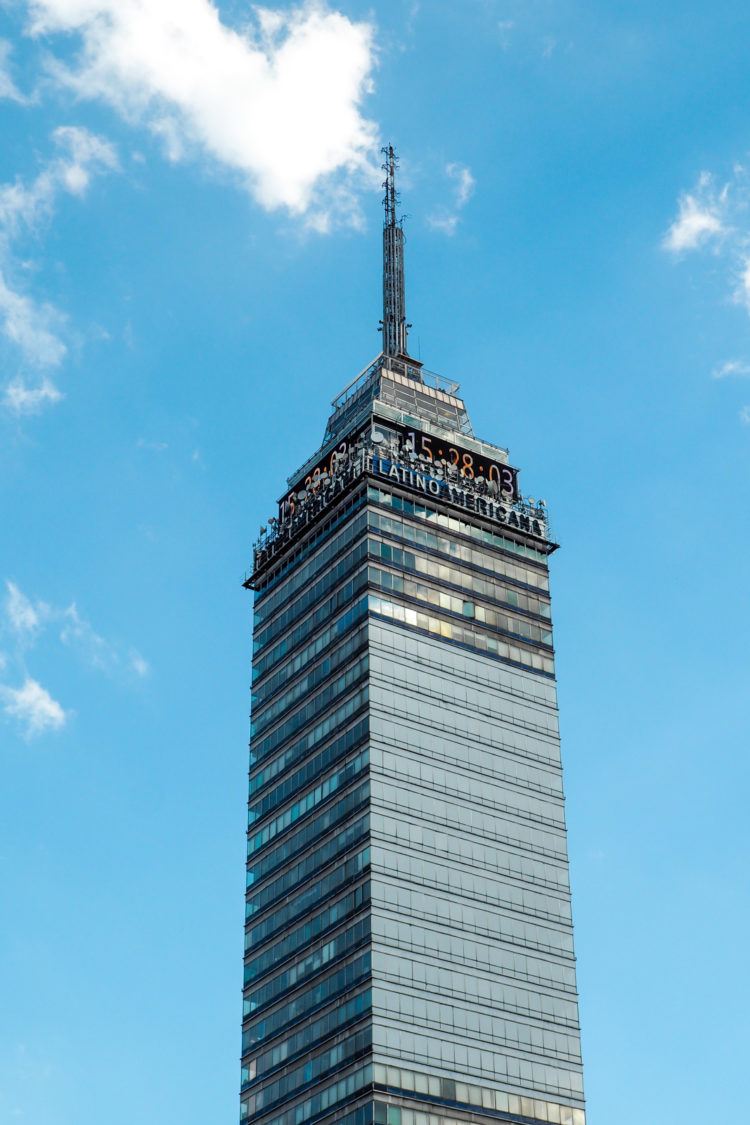 Biblioteca Vasconcelos: For the book lovers out there, there are few places in the world more awesome (or instagrammable) than Biblioteca Vasconcelos. The geometric, colored stacks of this bright and modern library are filled with books on books on books. It looks like something out of a sci-fi novel or a contemporary art museum.
Kiosco Morisco: If you like colorful structures, Kiosco Morisco is a fascinating place to visit. At first glance, it's a large, gazebo-like structure that's a reddish color from afar. Upon closer inspection, though, you can see the intricate detail that went into this unique work of art and architecture in the center of the city.
Sears CDMX & Cafe Don Portiri: The not-so-secret place to get amazing views of the Palacio de Bellas Artes is the Cafe Don Portiri in the Sears across the street. The sidewalks in front of the Bellas Artes building can get super crowded, so making my way up the elevator to the cafe was an absolute must to hide from the touristas.
Don't miss this photo op – you can click away to your heart's content from the Sears balcony, just be sure to order a drink (just note there's hardly any food here)!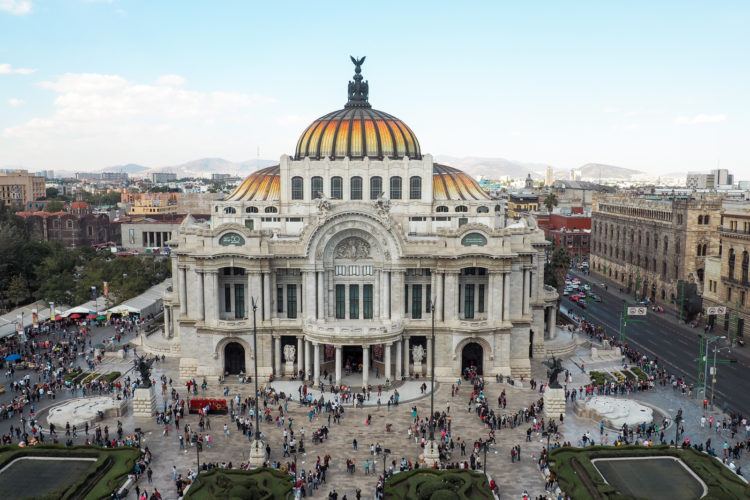 Templo Mayor: A large architectural site in the center of CDMX, this is an ancient temple of the Mexica people from the original capital city of Tenochtitlan. It's a critical part of the UNESCO World Heritage Site of the Historic Center of Mexico City and a wonderful place to stop by if you're in the area.
If you have 4 or 5 days in Mexico City, you can split up some of these activities into a few different days if you wish, although I recommend picking your top 3 and squeezing them in before dinner. We only visited the House of Tiles and Cafe Don Portiri before hunger set in.
Late Afternoon/Night: wander the streets of Polanco and have dinner at Pujol
Polanco is one of Mexico City's most fun and lively neighborhoods to explore – it's got a little bit of everything. It's a high end neighborhood (and sometimes referred to as the Beverly Hills of CDMX) with plenty of areas to wander and walk around. Here, you'll find some of the city's best museums, markets, upscale international restaurants, and high-end shops. There are also a few different theaters in Polanco where you can catch live musical shows, plays, and more.
While you're here, hit up the high-end shops on main street or stop by and marvel at the strange art structures of the Polyforum Siqueiros and the Soumaya Museum. Or you can do as we did, and just wander around getting a feel for local life in this vibrant neighborhood (of Mexico City's wealthiest people).
Dinner at Pujol
I cannot stress this enough, head to Polanco's premier restaurant, Pujol, for dinner. Pujol is one of the most famous restaurants in all of Mexico (and the world) for good reason, led by acclaimed chef Enrique Olvera. It's consistently rated as one of the world's top restaurants (yes, I said the WORLD), and is a foodie heaven worth the splurge in Mexico City.
Splurge is all relative though, and this meal would have easily (easily!) costed double if not triple in either NYC or SF. We're still talking about our meal and it's been welllll over 3 months since we ate it (guilty).
Every single dish was beyond perfection, and I honestly would book a plane ticket just to go back to Pujol. Yes, it was that good. Are we crazy? Maybe.
This is modern traditional Mexican food at its finest, with a multi-course dinner tasting menu option served to you within the restaurant's sleek, minimalistic vibe. And of course there's classic local mezcal drinks, wines, and beers to pair with your dishes as they arrive. Try the bar-side "Taco Omakase" menu, which comes with beverage pairings and therefore reduces the cost of drinks if you're already planning on downing a few.
→ Read Next: What to Eat in Mexico City (aka where to stuff your face)
I don't wanna spoil all the surprises, but a few of our dishes consisted of baby corn with chicatana (flying ant) mayo, ceviche-style sea bass, Mole Madre (OMG the absolute best), and cauliflower with almond salsa macha. And you should know that each tasting menu comes with two desserts. Yes, I just said TWO desserts; one of your choice and a post-dessert churro treat that makes my mouth water just thinking about it.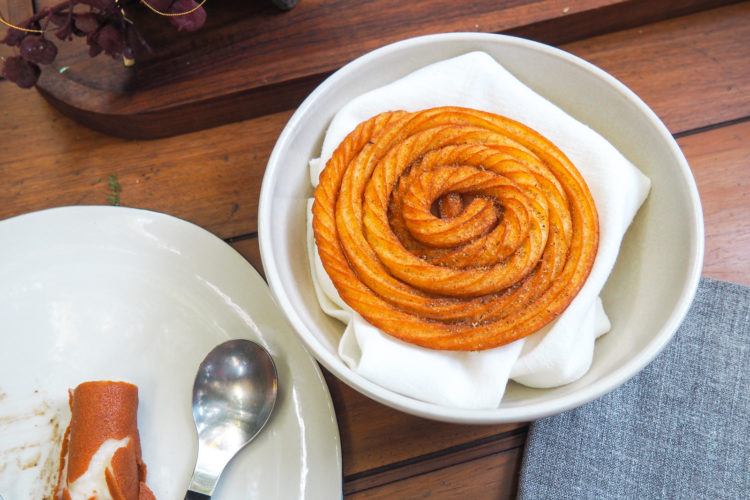 If you're planning on eating at Pujol, be sure to make your reservations as soon as you know your dates. Reservations here sell out quickly and if you wait too long, you probably won't be able to get a table. On the night of your visit, set aside ~2 hours for dinner as you'll be given a whole slew of courses, and then desserts! This goes without saying, but come to Pujol hungry and ready to eat.
Mexico City Itinerary Day 2
Morning: Frida Kahlo's House and explore Coyoacan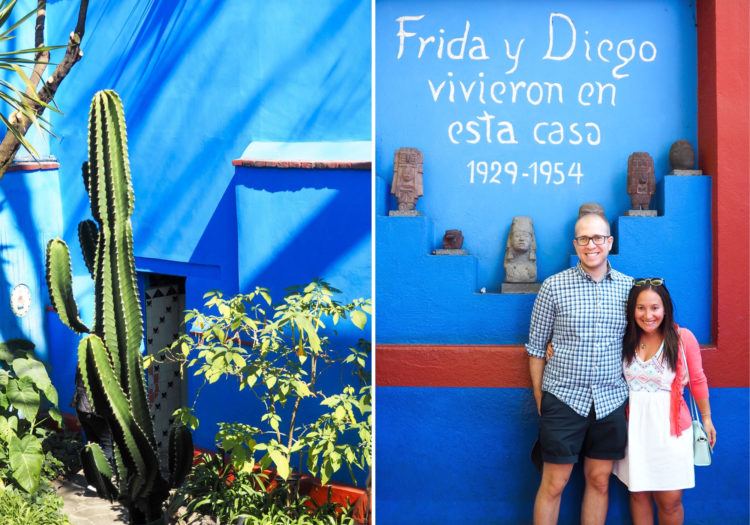 Rise and shine for day 2 of your 3 days in Mexico City! You'll start this day off with a visit to the beautiful home of renowned artist Frida Kahlo – no Mexico travel blog would be complete without it. This is one of Mexico City's most famous destinations as it gives visitors an intimate look into the life of one of the world's most beloved artists. Located in Coyoacan, head to Frida's home first thing and spend the rest of the morning in this popular Mexico City neighborhood.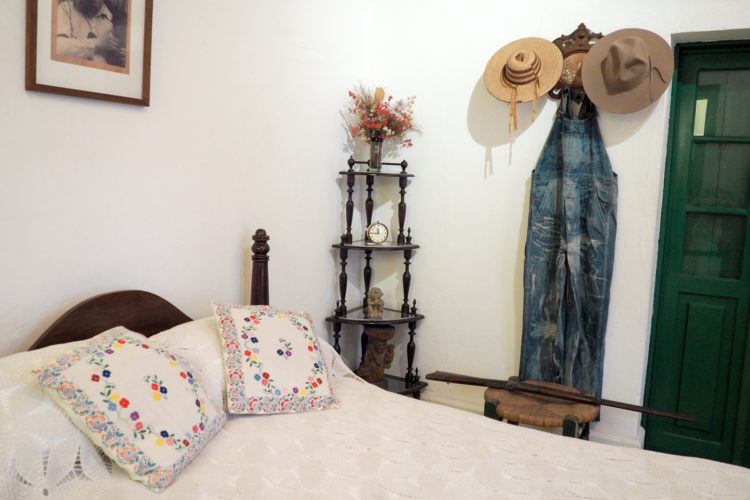 Also known as "The Blue House," the home of Frida Kahlo is a picturesque little spot. In 1958, the house was converted into a museum featuring the life and work of the artist. If you're familiar with Frida Kahlo's work, it's especially fascinating to see one of her main places of inspiration.
But don't be fooled – it's actually one of the most in-demand attractions in all of Mexico City. To make sure you get a chance to visit, you need to book tickets as soon as you know you're headed to Mexico City. As in, the online tickets literally sell out weeks (if not months) in advance.
Don't think you'll be able to casually walk up to the museum and snag a ticket – you won't. The line snakes around the building even for timed ticket holders, and those without tickets are instructed to buy a ticket online for a later date.
If you can, purchase a ticket for as soon as they open (which is typically 10am most days). We booked a little later than ideal and got a ticket for noon, but decided to check out the market and go for a wander around Coyoacan beforehand so all was ok in the world. Psst – tickets are timed and you won't be able to enter until the time allowed on your ticket.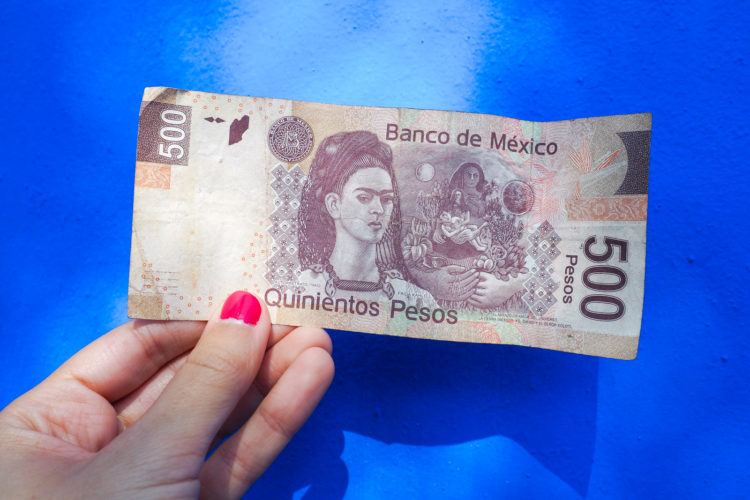 Once you arrive, you'll show your tickets and have the option to buy a photo pass for ~$1 USD. This pass will enable you to take photos inside the home and around the gardens. And trust me, the photo police absolutely checks for the photo pass when they see people taking photos.
After entering the building, you can wander through the various rooms (some permanent and some temporary/rotating exhibits). In the house, you can see old photographs, letters, furniture, and traditional Mexican decor. One of the most amazing things about visiting the house is how they've maintained its original essence and character across the years, complete with everyday household items and decorations.
And don't miss the outside courtyard, full of beautiful gardens and greenery that will help you enjoy the tranquility of this beautiful historic site. I could have photographed it all day (much to the dismay of my husband)…
Coyoacan Market:
Once you're finished at Frida Kahlo's house, plan to head to the Coyoacan Market, which is a huge indoor market selling all kinds of produce, spices, homemade goods, and more. And get this – it's the same local market that Frida and Diego would have frequented!
It's everything you'd expect from a local Latin American market, with the smells, sounds, and colors surrounding you and filling your senses. While you're here, you can also grab a traditional Mexican snack, like tostadas or fresh fruit juices should you find yourself needing a bit of a pick-me-up.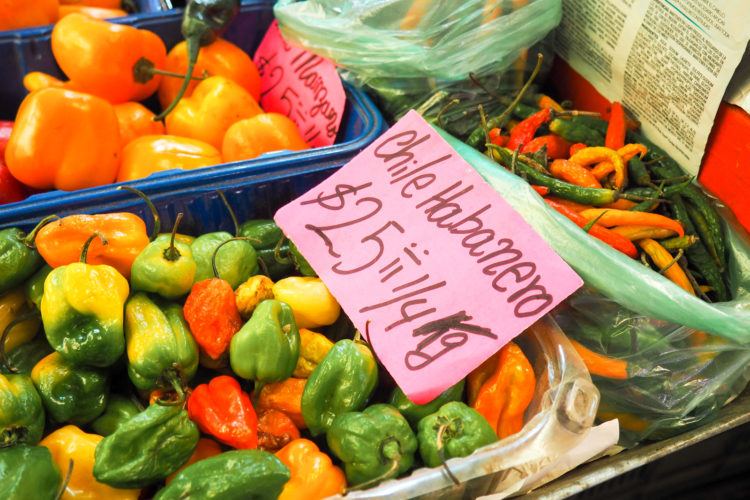 Inside the market, you'll also find artisan decor, artwork, and souvenir stalls that sell traditional Mexican gifts. Many of these are handmade or hand painted. While the market is busy with people left and right, it's a super colorful and picturesque place that will give you a taste of local life in Mexico City and Coyoacan.
If you're hoping to learn even more about Frida Kahlo's life and legacy, as well as getting a local's perspective at the lively market building, consider taking a guided tour. Having a guide is really helpful for understanding both landmarks, especially within the context of the broader Coyoacan and Mexico City communities.
This tour will even bring you to a local stall in the market so you can taste the most delicious tostadas. Not a bad idea for a morning of exploring! // BOOK FRIDA KAHLO AND MARKET TOUR HERE
My favorite part of Coyoacan (besides learning about the amazing Frida): the avocado (aguacate) ice cream! One of the most unique ice cream stands in the entire city – Nieves El Kiosko de Coyoacan – is in Coyoacán, and you can sample unique flavors of ice cream here like tequila, jamaica (red hibiscus), and zapote (a local Mexican flavor).
And that's not even all the crazy flavors they have – there are tons more to try! If you're a big ice cream aficionado, you may need to come here twice to try them all! No judgments. 🙂
Before heading off to Xochimilco, go for a short wander around the area as it's just so colorful and full of life. I especially loved exploring this area that I came back once more at the end of my Mexico trip (after visiting Oaxaca for a week)!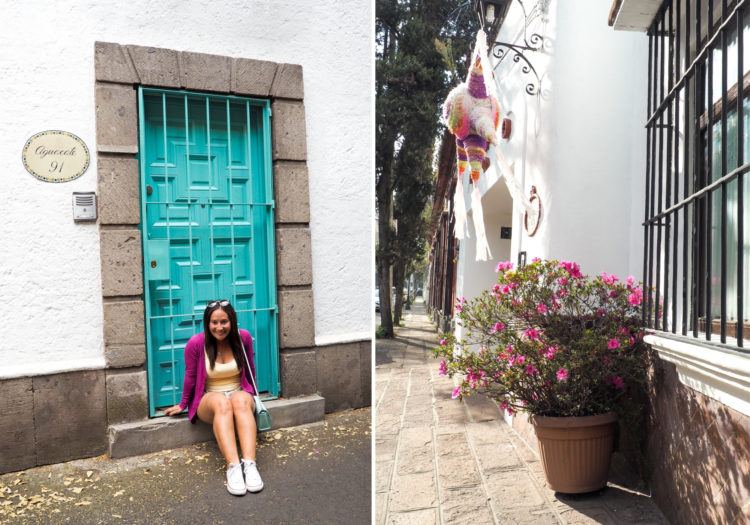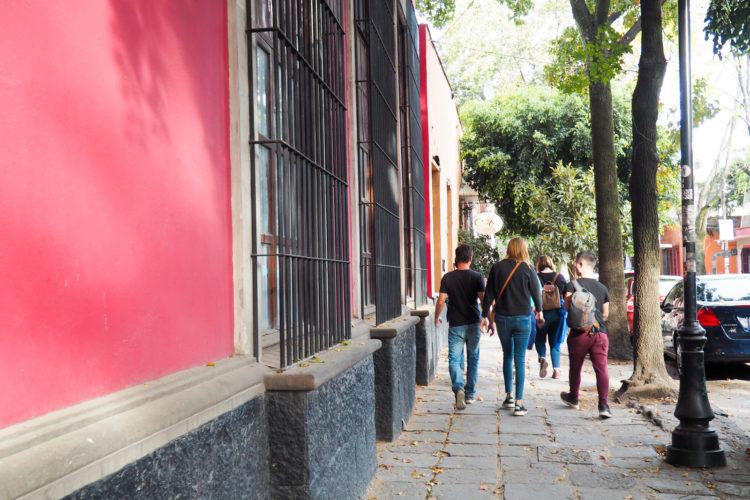 Afternoon: Canal Ride at Xochimilco
I told you this would be a jam-packed Mexico City 3 day itinerary, didn't I?! Well, buckle up tightly because you're about to take a ride at Xochimilco, a charming little waterway area that's full of colorful boats, mariachi bands, and people drinking traditional mezcal cocktails and pulque. It's basically like a party on a boat floating in the middle of Mexico City, and it's absolutely wild (in the best way possible).
"Xochimilco" in Nahuatl language means "where the flowers grow," and the name signifies the series of gorgeous floating gardens around the Xochimilco waterways and canals. Here, you'll ride along on your own boat with a driver and admire all of the beauty (and sometimes, welcomed craziness) that's going on around you.
One thing to note: Xochimilco can be fairly crowded. There are usually dozens of boats competing for space with rowdy tourists or locals blasting music from their boughs. This just adds to the whole experience, promise. It's kinda like a mix of the Venice Canals in Italy and the Floating Markets in Thailand, but with more color and Mexican pizazz.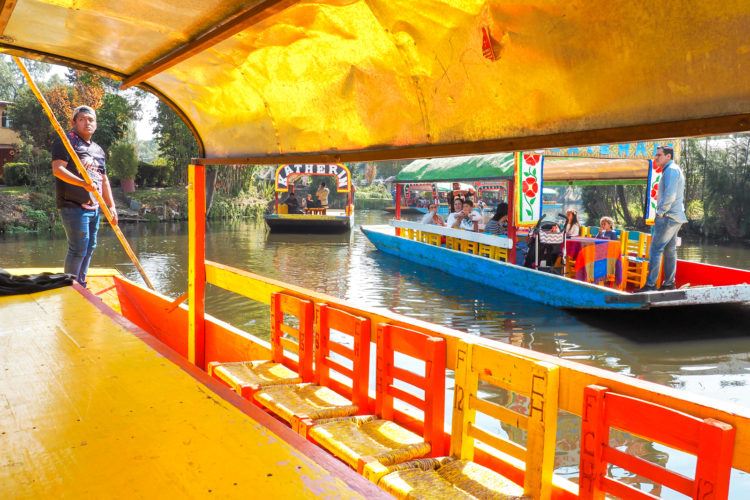 Logistics: Getting to Xochimilco can be a bit of a challenge, so I recommend simply calling an Uber to take you from Coyoacan to Xochimilco. The trip can take anywhere from 30 minutes to over an hour, depending on the traffic and what time of day you decide to go. Before you leave, grab some snacks and drinks for the boat ride, as they'll be cheaper in the city center and you'll have more variety available. All of the boats are BYOB and you can bring as much food/beverages as you want.
It's totally up to you if you want to book a boat rental ahead of time or simply do it once you arrive in Xochimilco. We chose to do the latter, but definitely overpaid a bit due to our lacking Spanish skills and got taken advantage of because of this.
Later we learned that prices should cost 500 pesos per hour (NOT per person), so thankfully we didn't over pay toooo much (if I remember correctly we paid 1000 pesos for an hour and a half, but thankfully our ride ended up being more like 2 hours). It's most cost effective (and fun) if you split the cost with a larger group of people- I can see it being a super fun activity with a group of friends!
While you're on the boat, you'll see vendors floating by selling souvenirs (I should have gotten that flower crown), drinks (alcoholic and not), and snacks/food (tacos, corn, etc). Bring along a few bills and plan to get a few things – it just adds to the overall experience.
If you see anything you want to buy or any places on the shore you want to stop into, ask your driver to pull the boat over! We got elote from a local woman grilling the corn directly on her boat, and it was the best decision we made all day. Psst – don't worry about throwing back too many beers; there are restrooms available along the shore for a small fee as well.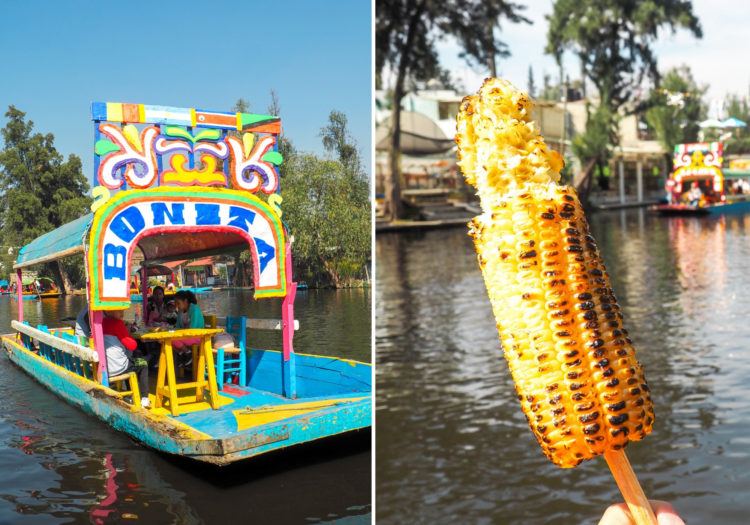 If planning all of the logistics seems overwhelming to you (or you don't wanna get ripped off), it's easy to find a tour that will organize everything for you. You can book this tour to Xochimilco that provides a guide and all of the boat ride amenities I listed above. As mentioned above, we went just the two of us, but I think it would have been even more fun if we were with a whole bunch of other people, even if just meeting them. // BOOK XOCHIMILCO BOAT RIDE HERE
You can also spend this entire day of your 3 days in Mexico City on its own guided tour. This recommended group tour starts with a visit to Xochimilco, then brings you to the Frida Kahlo House and around Coyoacan. If you'd rather relax than worry about transportation and logistics during your trip, this is an excellent option that covers everything on Day 2 of this Mexico City itinerary. // BOOK TOUR TO XOCHIMILCO, FRIDA KAHLO, and COYOACAN HERE
Night: Lucha Libre Match
If you're visiting on a Tuesday, Friday, or Sunday, be sure to add a Lucha Libre match to your Mexico City itinerary! You've probably seen it on TV or in Nacho Libre, but the Lucha Libre is actually a real thing that you can experience in Mexico City.
This expressive wrestling display is an amazing way to soak in the energy of Mexico City and get in on the action of the luchadores, the colorful, costumed fighters who steal the show.
Mexican wrestling has been a tradition in the country since the late 1800s, complete with costumes and all. When you attend a Lucha Libre match, it's as much of a fight as it is a comedic drama. The audience gets really into it, shouting, cheering, and booing as the night progresses.
Warning: you might find yourself laughing hysterically, staring in awe, and shouting in Spanish all within the span of a few minutes. It might also be the most fun you'll have in your 3 days in Mexico City.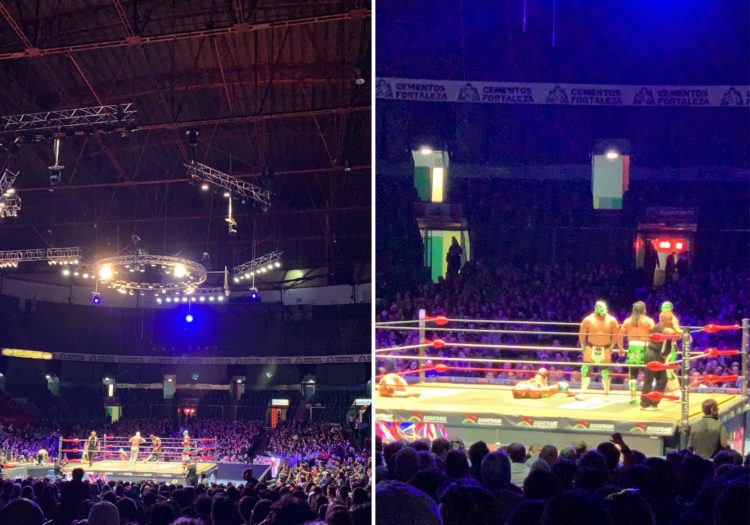 The Lucha Libre shows only happen on Tuesdays, Fridays, and Sundays in the late evenings, so grab an early dinner and head to the Arena Mexico. Be sure to leave your snacks, drinks, and camera at home (cell phones are fine), as you won't be allowed to enter the arena with any of these.
Security does a full pat-down and bag check so come prepared for that, too. I read horror stories of cameras getting taken away or people not being allowed to enter the arena. Just leave it at home and you'll have zero problems.
The Arena Mexico is located about 10 minutes away from the Cuauhtemoc Metro station, or you can Uber to the arena. Once you're there, you can buy your ticket from the ticket booth and head through security to enter the arena.
I have to admit it was a bit confusing with all the people crowded into different lines, and we weren't sure exactly how to purchase a ticket at first. Due to our (extremely) limited Spanish, we found ourselves just following another tourist-looking couple who was taking orders from a man speaking Spanish.
You can try to organize getting to and from the Lucha Libre yourself (and getting tickets), but the easiest way to do it is by booking an organized tour. That way, you won't have to worry about transportation, buying your tickets, and other logistics. And plus, many Lucha Libre tours include some tacos before the match (and I'll never say no to a taco!). We recommend this one and this one, both excellent options.
If you're not able to squeeze in a Luche Libre match into your 3 day Mexico City itinerary, check out a Mexican folklore ballet instead!
Mexico City Itinerary Day 3:
I PROMISE the last day on this Mexico City itinerary will be a bit more relaxing. It's a big city with a ton to see and do, so gotta fit it all in, right?!
Morning: Chapultepec Castle and Park
You'll start your final morning at in the Chapultepec area! If you have 4 or 5 days in Mexico City, I'd recommend going a bit more slowly in this area, as there's a LOT to see here. However, do note that you don't HAVE to see it all – we chose to visit the castle and the Anthro Museum and were pleased with our picks.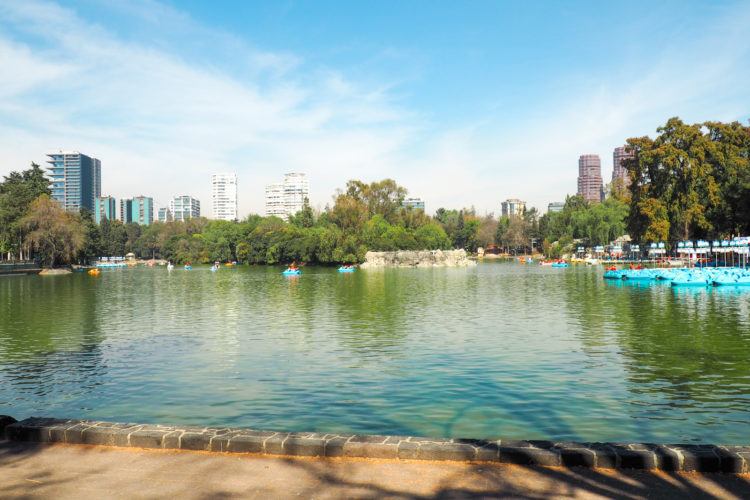 Located inside of a sprawling park, Chapultepec is one of the most iconic sights in all of Mexico City and a necessary stop on your Mexico City itinerary. A beautiful and elegant historic house located atop a hill, Chapultepec Castle is actually the only castle in all of North America that actually had a "crowned" ruler as an inhabitant.
After the Mexican-American War, an Austrian prince assumed the crown of emperor of Mexico for a couple of years and lived in this home. Who knew this Mexico blog post would be a bit of a history lesson, am I right?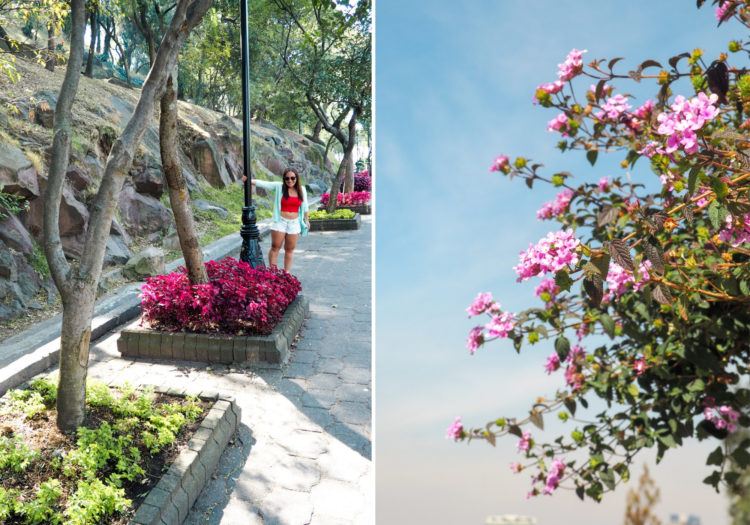 As you can imagine, the castle is incredibly beautiful, with spacious rooms, amazing architecture, lovely gardens, and a terrace with some pretty spectacular views. We spent the morning wandering through the house and gardens, admiring its beauty and splendor.
And if you're up for even more history, Chapultepec also houses the National Museum of Cultures. Inside, you can see many exhibits and artifacts from the Aztecs and other pre-Columbian societies in Mexico, as well as more modern artifacts from the Mexican Revolution and beyond. I have to admit that we were a bit historied out at this point, so chose to skip this museum.
The surrounding park is also home to several attractions, including 3 other museums (told ya it was big), the zoo, and several trails leading to fountains and statues of important figures in Aztec and Mexican history.
It's pretty easy to get here by Uber or on the Metro – just get off at the Auditorio or Chapultepec stops. When you arrive at Chapultepec, you'll walk up a hill before reaching the official entrance to the castle. We were kinda confused as to how to get in, but figured it out eventually. It costs 70 pesos to get in, plus a small fee for camera use.
And plus – if you're a student or teacher of sorts (like me!) you'll get in for free; don't bother waiting on line, just show your ID card to the guard at the entrance to the hill. Note that Chapultepec is closed on Mondays, so if you find yourself in CDMX, you may need to take that into account.
Anthropology Museum
Once you're finished at Chapultepec, you can walk over to the nearby Anthropology Museum. Because no Mexico travel blog would be complete without a visit to the largest museum in Mexico, of course! The Anthropology Museum is one of the most complete and breathtaking museums in Mexico City with its extensive collection of artifacts from the pre-Columbian time period.
Two of the most famous pieces in the museum include the Stone of the Sun, an Aztec stone calendar used to tell time, and some giant stone heads from the Olmecs civilization (and trust me – they're more than impressive).
I also saw a bunch of other outstanding artifacts during my visit to the Anthro Museum, including tools and ceremonial items which really gave me a first-hand look into the history and culture of the various civilizations that occupied modern day Mexico.
Cost: 70 pesos. Do note that it's really popular amongst tourists and locals (especially on Sundays), so don't be alarmed if you have to wait in a line to get in.
If you arrive at the right time, you can see the voladores, a traditional rain and soil fertility summoning ritual of the Totonac people which involves men in traditional costumes playing music and swinging around poles at the front entrance of the museum. It happens regularly throughout the day, so if you wait long enough, you should be able to catch the performance.
Grab a Snack at the Original El Moro
After all of your adventuring this morning, it's time for a well-deserved snack! Take a short Metro ride to the original El Moro Churreria, located on Eje Central Lazaro Cardenas. There are other locations around town, but honestly this one is the cutest and prettiest and it's worth the extra trek to get here (if you're like me and care about branding and instagram-worthy desserts).
El Moro is famous for their churros, chocolate, and mini consuelos (ice cream sandwiches), which, let's just say, I indulged in a few too many times during my 3 days in Mexico City. I was even able to watch my scrumptious churros being made in the kitchen! Prices here are reasonable (50-70 pesos per item) and it's a fun break and sugar fix.
It's also open 24 hours in case you just so happen to be craving sugar and caffeine at an odd hour of the night.
And just like Pujol, I'm still raving about the mini consuelos to everyone who'll continue to listen to me annoyingly gush about them.
Afternoon: Explore Condesa/Roma Norte
In the afternoon, we headed to the neighborhoods of Condesa and Roma Norte to wander around on our own. This area of town is SUPER cute and trendy, with lots of adorable boutiques, chic cafes, and colorful buildings. Don't miss strolling down the leafy green Amsterdam Street (my favorite), which is a circular tree-lined street with art deco architecture, unexpected corners, and a haven for people watchers.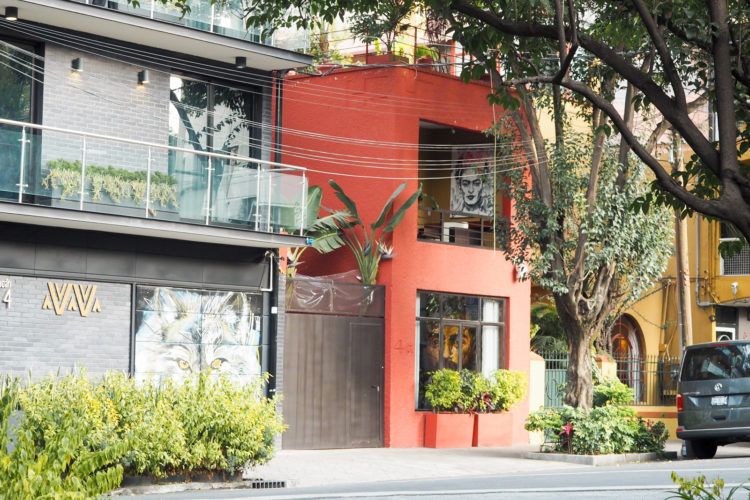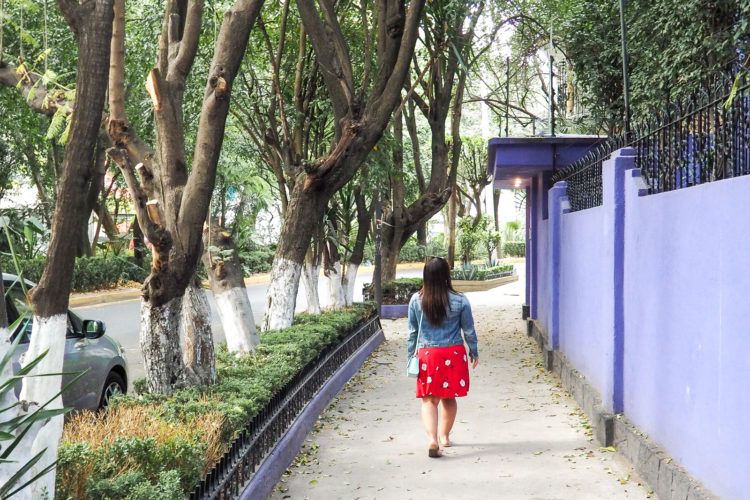 While in the Condesa, you can visit one of the largest bookstores in Mexico, Libreria Rosario Castellanos. Or, alternatively, just pop into a bunch of the local shops and soak in the fun and laid-back vibes of this popular neighborhood.
Parque Mexico
Parque Mexico is inside of La Condesa, and it's a local hangout spot popular amongst street musicians and bands. There are very few times where someone isn't playing music in Parque Mexico – my advise, stop for a few minutes and take it all in!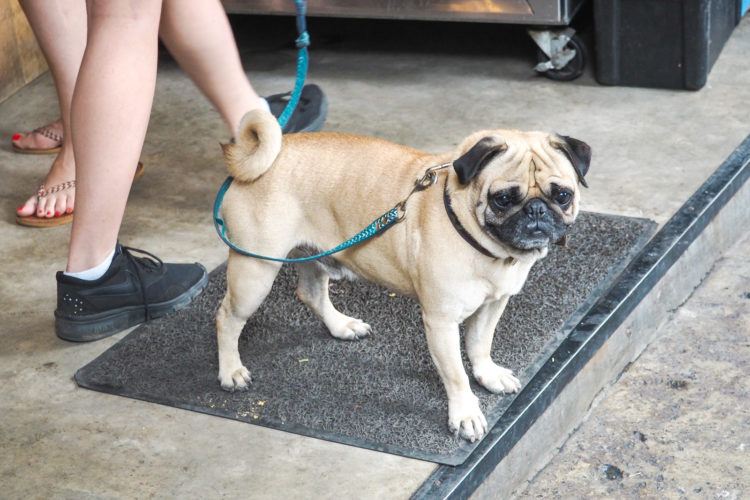 Also, if you're a dog lover, you'll absolutely LOVE Parque Mexico. The park is a popular spot for local dog walkers and trainers, who bring dogs here to play and walk around. There's actually a dog school in this park where they train the dogs on all of the basic commands, and it's sooo fun to watch all the pups!
I actually visited Parque Mexico numerous times (as our hotel was only a block away) just to spy on all the dogs.
Casa Luis Barragan
I'm gonna preface this paragraph with this: I didn't go here (cue the sad face). I wanted to oh so badly, but silly me didn't realize you have to book your tickets weeks in advance. I'm still so mad I didn't plan far enough in advance to go here, so be sure to snag a ticket early on if this is something you wanna do.
Now that my sad story is over, lemme explain exactly what Casa Luis Barragan is – and why I wanted to go so badly.
With it's highly saturated color, unique architectural designs, and blend of Mexican culture, Luis Barragan's house is all this and more. He was a famous Mexican architect who was known internationally for his designs, eventually earning him the acclaimed Pritzker Prize for his work (!!!). His home features furniture and decor from the architect's life, as well as an opportunity to visit his workshop.
It's walkable from La Condesa and I heard it's an interesting place to visit, if not for the unusual design of the building itself. And if you're looking for places to photograph in CDMX, Casa Luis Barragan is easily one of the most instagrammable places in Mexico City.
As noted previously, to visit, you must make a reservation in advance, as tickets sell out quickly. They're a steal at only 400 pesos each, and you can book online here. I unfortunately attempted to book way too late, and wasn't able to snag a ticket. There's always next time for me!
Night: Mercado Roma
In the evening, grab dinner at Mercado Roma, which is a local open air public market filled with lots of food and dessert stalls. Mercado Roma is located in Roma Norte on Queretaro street, and you can easily identify the entrance of the market by the huge, retro signs at the front.
At the Mercado Roma, the vibe is more hipster than traditional Mexican, so you can expect to find some indie-type vendors and international fusion stalls. It's a super Instagrammable location, with charming little food stalls in front of old, exposed brick walls.
Mercado Roma is known locally as a meeting point for the trendy young-professionals of Mexico City, and we saw a ton of them working alongside each other on their laptops. Inside of the market, there's an adorable hanging garden and long, communal picnic tables to sit and hang around.
If you'd prefer to sip on a cold beer, there is a craft beer garden on the third floor of the building where you can toast to your amazing 3 days in Mexico City. And don't forget to get more churros from El Moro at Mercado Roma, as there's another location here as well!
Are you currently planning 3 days in Mexico City? Hopefully this Mexico City itinerary cuts down your planning time and gives you loads of great ideas for your stay!