Planning two weeks in Thailand and looking for a complete two week Thailand itinerary?! Welcome, you've come to the right place!
I just returned home from my first ever 2 weeks in Thailand and can not wait to share all the tips I've learned! Having only been to Asia once before (on a 10 day trip to Japan – which was downright AWESOME), I couldn't wait to get back on Asian soil.
If shiny golden temples, $5 foot massages, mango smoothies, and stunning beaches amongst towering limestone cliffs are your thing, I can guarantee that you'll love Thailand just as much as I did. My only regret- not staying longer, and not going sooner!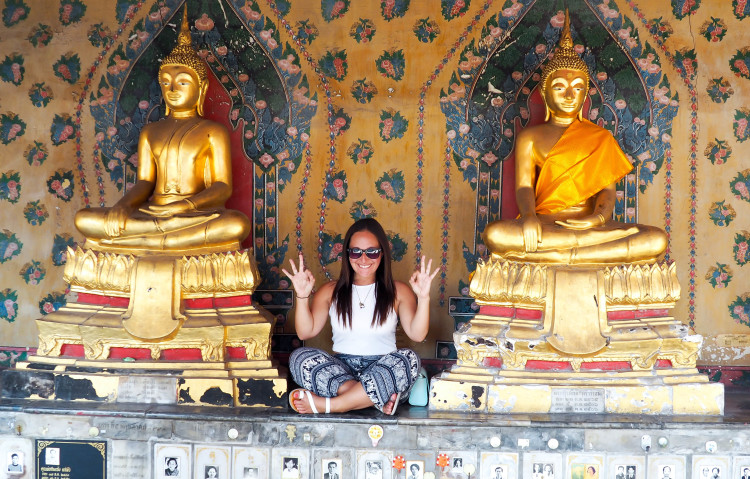 However, even with our limited time, we really did SO much during our two weeks in Thailand, and I'm incredibly pleased with how our entire trip went. I carefully planned this entire two week Thailand itinerary long before take off, and we followed it pretty much to a T! The few changes/spontaneity to our original plans are included below because they are just too good to miss! And you might as well learn from our trip!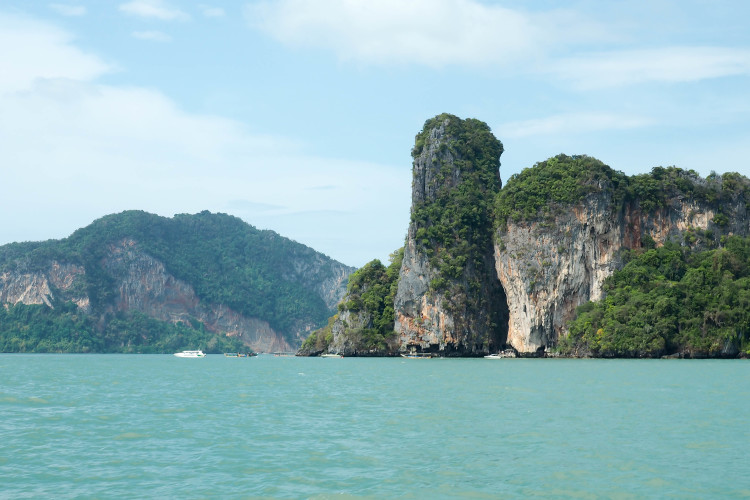 ** You can alter this itinerary quite easily if you've only got 10 days in Thailand (more about that later on).
But first, a pre-travel guide to Thailand to learn a bit about the country and what to expect when you're there.
Pre-Travel Guide to Thailand
Main Regions Visited on This Itinerary:
Bangkok
Chiang Mai
Andaman Sea (Krabi and Koh Phi Phi)
Where is Thailand you ask? The country is located in Southeast Asia sharing borders with Cambodia, Laos, and Myanmar.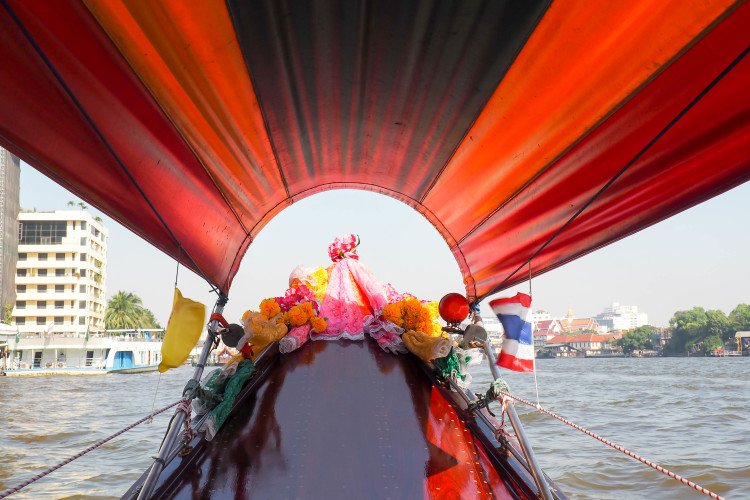 This itinerary starts in Bangkok (which is where most international travelers arrive in the country), heads up north to Chiang Mai, and then even further south to the Thai Islands on the west coast in the Andaman Sea. We chose to fly from region to region, as this saved us lots of time considering we only had a short two weeks in Thailand. The country is large but not too large, making it possible to visit three (if not four) areas during your two weeks.
When to visit Thailand:
Before planning a trip to Thailand, it's important to understand its weather patterns. Thailand experiences two distinct seasons, the dry season (December to May) and the rainy season (May to November).
If you're looking for comfortable temperatures and little to no rain, I highly suggest you visit during the dry season, which is actually Thailand's winter. Don't be put off by "winter", as the temperatures are still in the 80s almost every day!
Although this seems ridiculously uncomplicated, when planning a trip to southern Thailand and the islands, different islands are best weather wise at different times. The islands on this itinerary (Krabi and Koh Phi Phi) are located in the Andaman Sea, with the optimum visiting time during December and January.
Note that the popular islands of Phuket and Koh Lanta are also located in this area. Thailand's eastern side, with island in the Gulf of Thailand, including Koh Samui, Koh Phangan, and Koh Tao, are best visited from the end of January until mid March. However, although dry season is known to be obviously dry, short and torrential bursts of rain are possible, as with any tropical destination.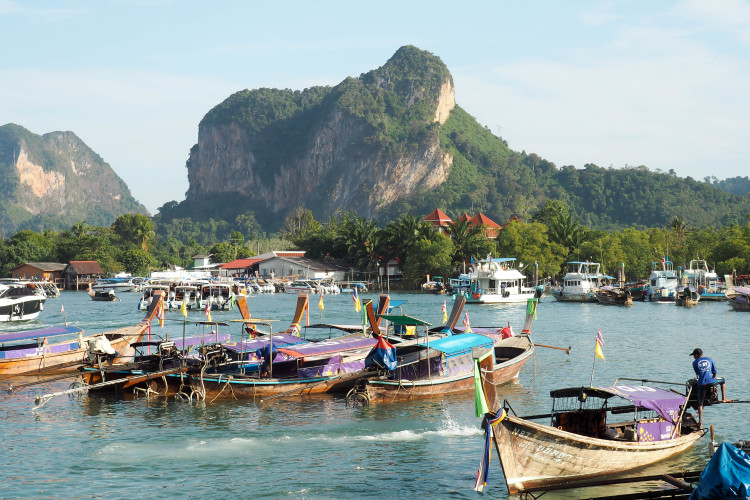 The short answer? Just make sure to avoid monsoon season (May to November), and you'll find many warm (or hot) and sunny days.
In Thailand during New Year's? I highly suggest you cater your Thailand itinerary to be in Krabi during New Year's Eve, like we were able to do! We were amazed with the lanterns and fireworks on the beach, and couldn't have imagined a better way to ring in the New Year.
Health and Safety:
If you're coming from the USA, you'll need to get a few vaccines prior to traveling to Thailand. Recommended shots from the CDC include typhoid, hepatitis A, and hepatitis B. In addition, some choose to take daily malaria pills to prevent this mosquito-borne disease, but consult with your doctor. My doctor recommended I take malaria pills since I'm very prone to mosquito bites, but my husbands did not for him.
You cannot drink the water in Thailand, but don't fret as most hotels provide their guests drinking water free of charge. In addition, you can find bottled water at every restaurant/convenience store for 5-50 baht (10 cents-$1.50 approximately).
Also, use caution when eating any suspicious looking fruits/veggies and meats on the street. During our two weeks in Thailand neither of us thankfully experienced any major stomach issues, but it's always best to be careful. In addition, you may want to ask your doctor for a prescription of Ciprofloxacin in case of any disturbing stomach issues you may find yourself in.
Visas:
No visa is required for U.S. citizens traveling to Thailand as long as a valid tourist passport and proof of onward travel is in possession, and you're traveling to the country for 30 days or less.
How to get to Thailand:
Most international flights arrive in Bangkok, many with layovers in neighboring/nearby countries. Our flight stopped in Taipei, Taiwan, which we decided to make into an extra long layover (17 hours) so we could have ample time to leave the airport and explore the city. PSST- if you're looking to do the same, here's our one day in Taipei itinerary (coming soon!)
I like using Skyscanner and Google Flights to check for prices. We chose to fly premium economy (between regular economy and business class), and paid around $2,000 per person round trip from the West Coast USA during one of the busiest times of the year- Christmas and New Years.
If your dates are more flexible you can surely find cheaper airfare, although we did not have this luxury. For reference, I commonly see roundtrip economy flights from San Francisco for around $800, with flights as cheap as $650 occasionally!
Where to Stay in Thailand: (more info on each one throughout itinerary below)
Bangkok: AVANI Riverside Bangkok Hotel
Chiang Mai: U Nimman Chiang Mai or U Chiang Mai
Krabi/Ao Nang: Aonang Cliff Beach Resort
Koh Phi Phi: Holiday Inn Beach Resort Koh Phi Phi
How to get around:
You'll be taking a myriad of public and private transportation during your two weeks in Thailand! My husband and I counted over TEN different modes of transport during our trip, including plane, tuk-tuk, van, shuttle bus, golf-cart, motorcycle, songthaew, long-tail boat, speed boat, metro, Uber, etc.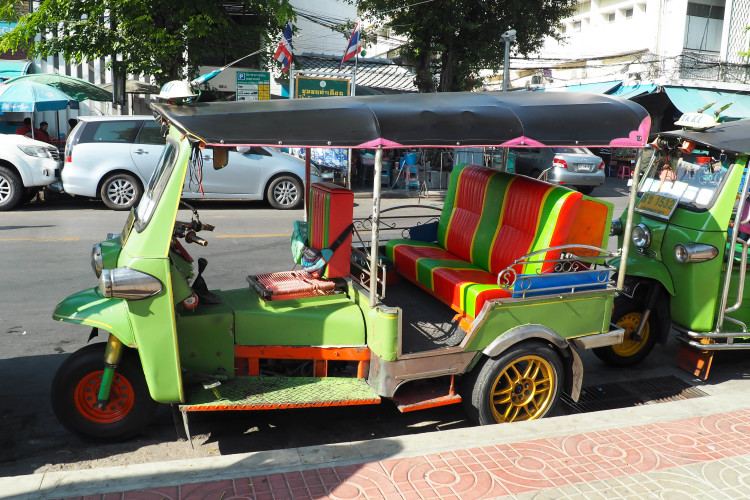 Uber works in a bunch of places around the country, and rates are normally cheaper than taxis and tuk-tuks. Don't have Uber yet? It's super easy to use!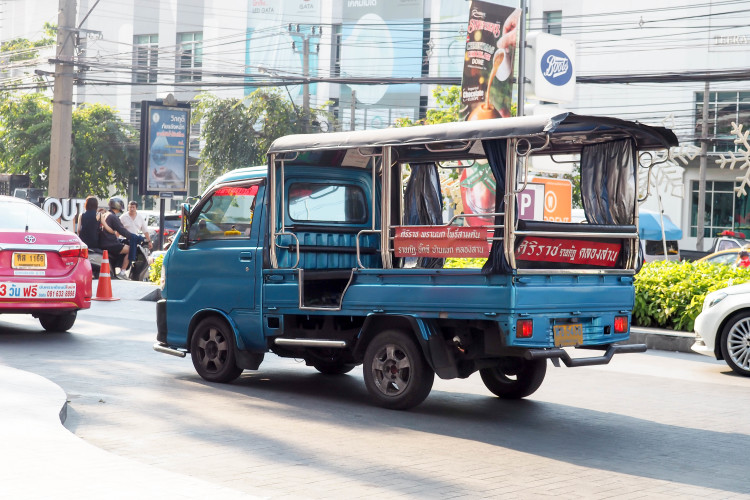 We flew within the country to get around to the main areas which is much faster than any other mode of transportation. We took three inter-country one-way flights: Bangkok to Chiang Mai, Chiang Mai to Krabi, and Krabi to Bangkok. All were between 1-2 1/2 hours, and each cost roughly $100ish.
WiFi and Staying Connected
Although you will most likely have wifi at your accommodation, it's a good idea to bring along a pocket-sized personal WiFi hotspot, to keep you connected during your time in Thailand.
WiFi hotspots are a cost effective option to ensure you can use GPS apps like Google Maps, check your emails, and catch up with friends and family while away. With this portable device, you'll have WiFi wherever you go (even if your phone doesn't have service), unlimited internet (on up to five devices at a time!!!), and it's fast and reliable. At less than $9 a day, this device can't really be beat.
Note that some cell phone plans allow for international use, but many of these are costly. I accidentally turned on my phone service for LESS THAN 2 MINUTES and got charged $150 by my phone carrier! I desperately wished I had a personal WiFi hotspot with me then!
Find more information and plan options here. HIGHLY RECOMMENDED especially when you don't speak the native language of the country you're visiting. A true life saver.
What to bring to Thailand:
Because of its hot, sticky climate, you'll want light, airy clothing.
Appropriate clothing for temples: Long pants, shoulder covered shirts, shawls
Comfy footwear- you'll be walking ALOT!
Sandals/bathing suits for the islands
And now, what you've been waiting for, a complete two week Thailand itinerary!
TWO WEEKS IN THAILAND ITINERARY
Day 0: FLY TO THAILAND!
Fly into Bangkok! You'll find most international flights to Thailand will fly to Bangkok, which is perfect as it's the first stop on our two week Thailand itinerary! The flight is long from most parts of the world (18 hours from West Coast USA, and 10-14ish hours from Europe) without many inexpensive direct flights, but I promise you, a trip to Thailand is well worth it!
PART 1: THREE DAYS IN BANGKOK
*Where we stayed in Bangkok: Avani Riverside Bangkok Hotel
To make things short and sweet, we loved absolutely EVERYTHING about this hotel. The staff really made our three days in Bangkok so special, and were always willing to answer all our crazy tourist questions, make reservations for us if need be, and refill our glasses with mango smoothies. And oh, that infinity pool was absolutely to die for (which we went in every chance we got!)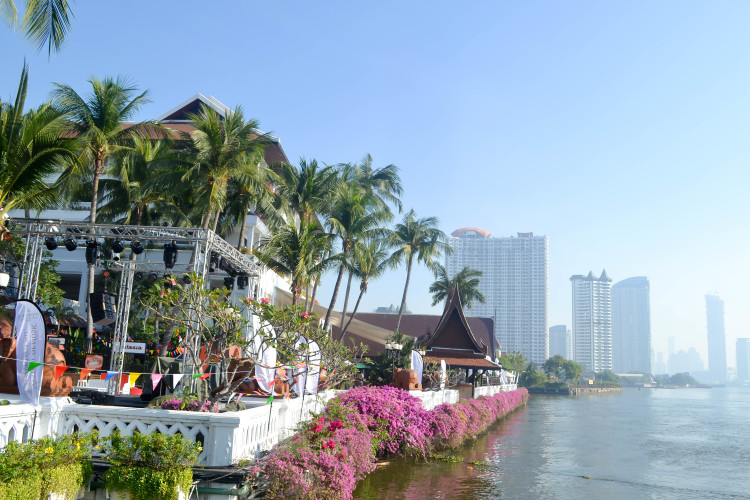 Note that the Avani Riverside Bangkok is on the "other side" of the Chao Phraya River, but a free shuttle boat is available every 20 minutes which goes straight to the metro. We didn't find this location a nuisance at all like we had originally thought, and revelled in being away from all the hustle and bustle of downtown Bangkok. Check prices and reviews here.
What's the capital of thailand? You guessed it – it's Bangkok! A perfect start to any 2 week Thailand itinerary!
Day 1: BANGKOK // Relax and Shop
We didn't fly into Bangkok from Taipei until 2am, and didn't get to our hotel until 4am, so we didn't do all too much our first day in Bangkok. We slept in until around 10, relaxed at the (super awesome) infinity pool of our hotel (AVANI Riverside- highly recommended), then did some shopping at Siam Center and happy hour at Red Sky Bar.
If you have a full day (or even half like we did and are up for it), I highly recommend the following itinerary:
1) INFINITY POOL // RELAXATION
Whenever we take a long flight, and in this case, over 18+ hours, I think it's best to start the trip on a low-key note, as to not overwhelm ourselves (and our poor tired bodies) right away. We found the perfect place to do this just steps from our king-size bed – at the infinity pool of the AVANI Riverside Hotel.
With views overlooking the Chao Phraya River and Bangkok skyline, there was no better way to spend the morning. Well, the pool plus my first mango smoothie of the trip! #yassss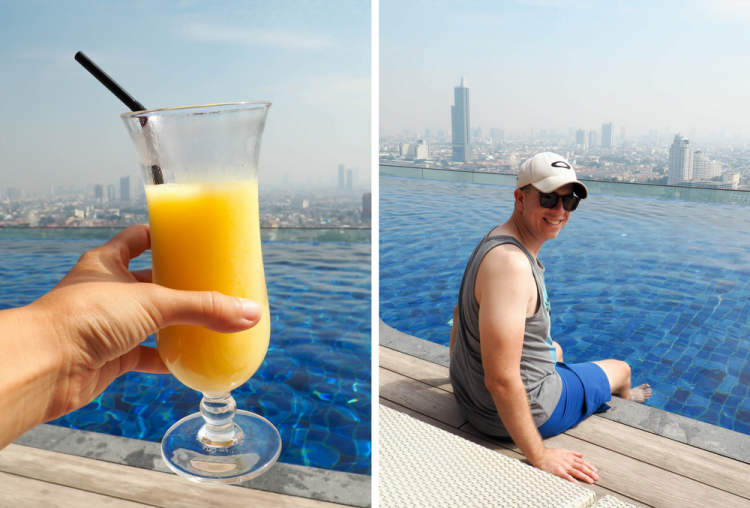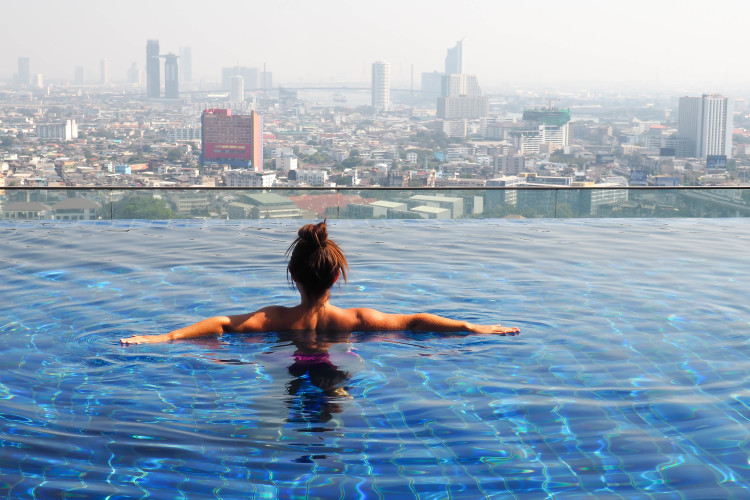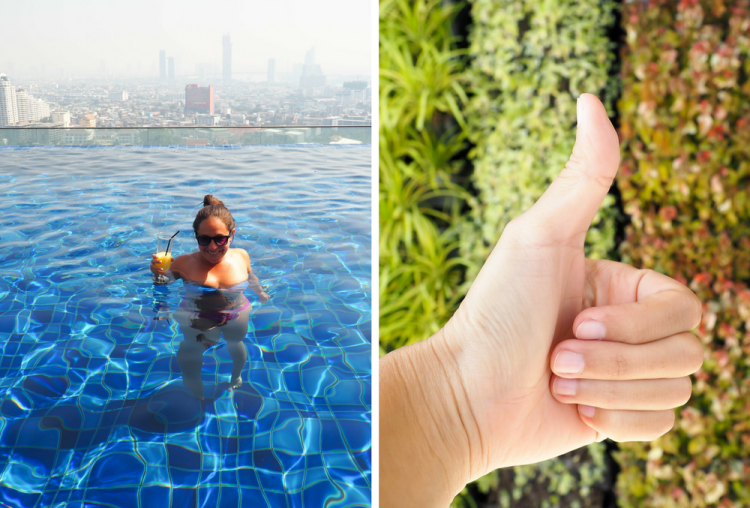 2) Flower market (Pak Khlong Talat)
Although it's absolutely best to visit either super late at night (midnight to 2am) or super early in the morning (6-7am), you'll be able to see a myriad of fresh flowers guaranteed any time of day.
And oh yea, the flower market is open 24 hours a day, and is located inside, so no matter the weather (hot and humid or hot and rainy :p), this space is open for business! Skip this spot if you'll be joining the Bangkok by Night Tuk-Tuk tour the following day!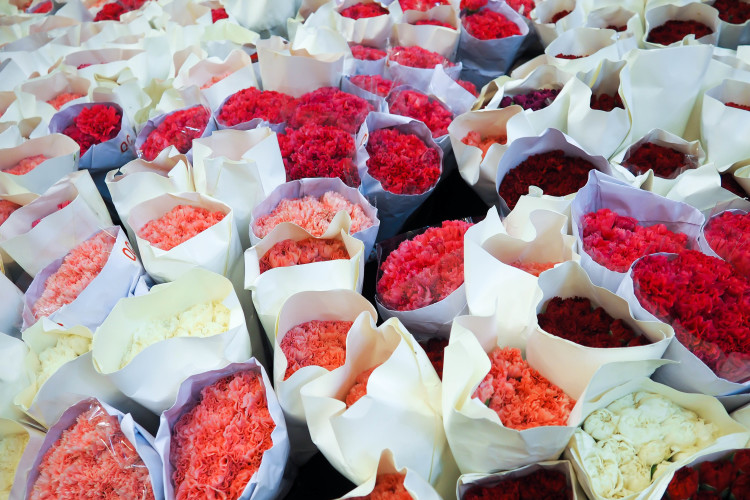 3) Lumpini Park
Next stop, some relaxation at Lumpini Park, Bangkok's largest public city park. If you're lucky, you'll spot some monitor lizards hanging around. Be sure to rest up, as the next destination on Day 1 is busy, busy, busy, and even more chaotic than you could ever imagine! That's Bangkok for ya! 😉
4) Siam Center/Siam Paragon
Today's your afternoon to shop til you drop! In this area of Bangkok, you'll find everything you'd want to buy and more. There are a few different areas, with the more affordable stuff at Siam Center and the luxury, high class goods at Siam Paragon.
I highly encourage you to check out both, even if you only do a bit of window shopping at Siam Paragon – the interior is BEYOND gorgeous, you'll see what I mean the instant you walk in there! If you're buying things from the street at Siam Center, remember to always haggle down to roughly half the originally quoted price, and be sure to always question the item's authenticity.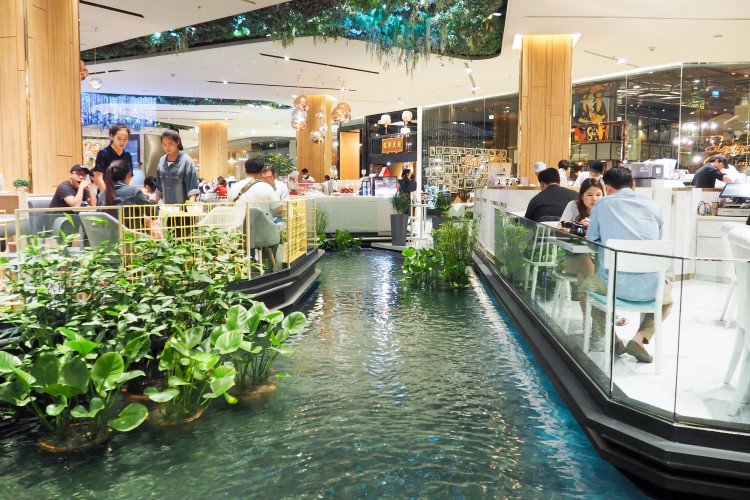 Hungry? Check out Mango Tango for your first mango sticky rice and mango smoothie! The perfect afternoon pick-me-up! This speciality shop specializes in everything mango, and you'll find a few locations around Bangkok (we saw another at Asiatique).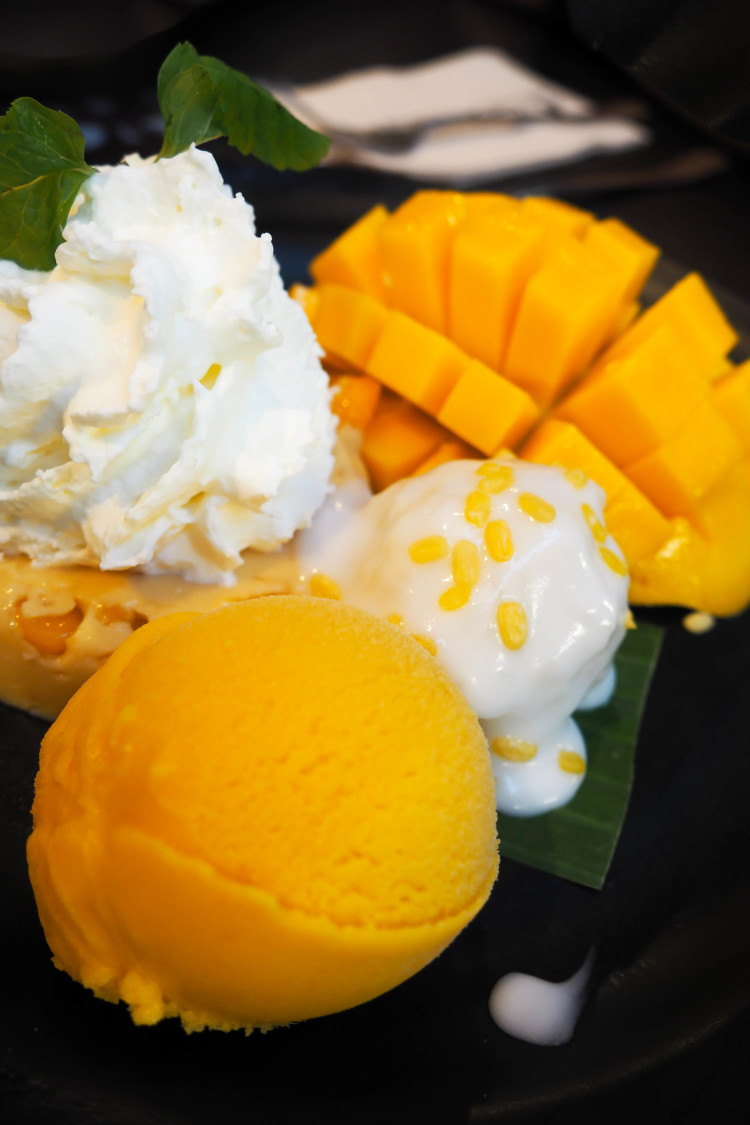 5) Central World
Only a few minutes away from Siam Center/Paragon, but a world of a difference. Here you'll find your typical clothing stores by local brands (aka it's a HUGE mall), a huge food court, and tons and tons of massage parlors. Foot massage anyone? It's easy to get lost in the maze of complexes in this area, so if you don't have anything special you're looking for, just wander and take it all in.
6) Happy Hour Drinks at Red Sky Bar
No matter what you do, do not leave Bangkok without a rooftop drink at sunset. And thankfully, there are numerous options to choose from! We decided on and loved Red Sky Bar, located in the Centra Grand Hotel on the 55th floor super close to Siam and Central World.
We greatly appreciated that there was no strict dress code (we both wore shorts and sandals), as I heard others will turn you down if you aren't dressed to their standards. We got there about an hour or so before sunset to ensure we got a good seat facing westward to watch the sun go down. And plus – you'll want to come at this time anyways to take advantage of their happy hour specials from 4-6 daily: buy 1, get 1 free drinks and appetizers.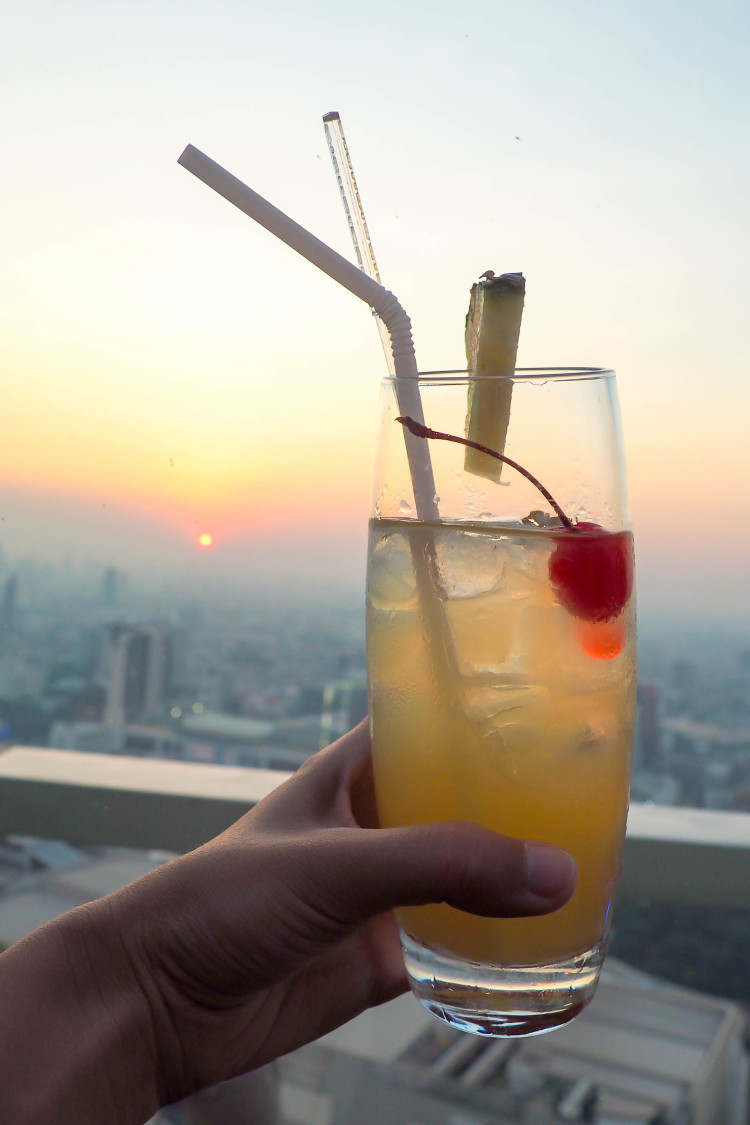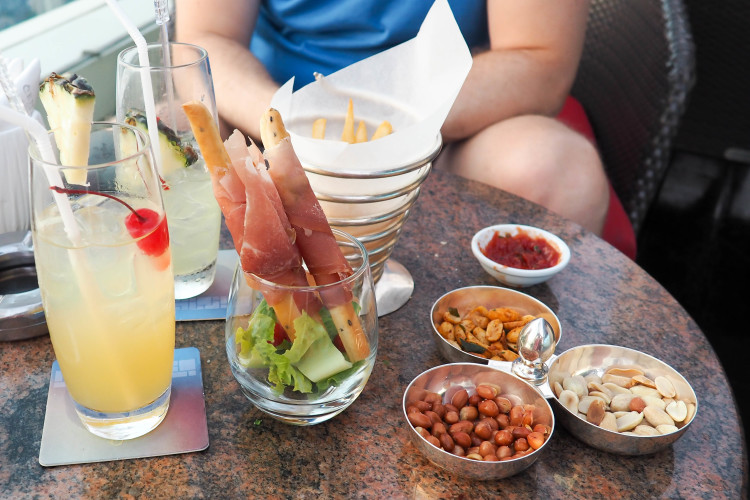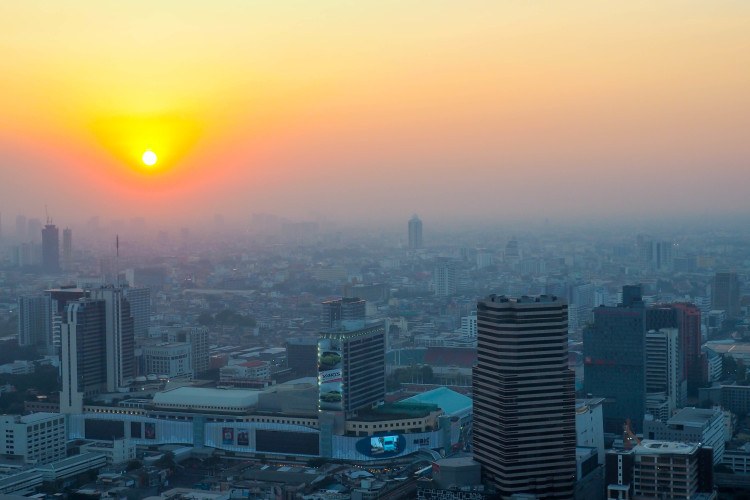 7) Bangkok Food Tour
If you're still going strong, consider signing up for a Bangkok Food Tour. We had originally wanted to do this, but silly us waited until the last minute, and it was completely sold out the entire duration of our time in Bangkok. If you go, make sure to tell me how it was!
Where we slept: Avani Riverside Bangkok Hotel
Day 2: BANGKOK // Temples Galore
On today's busy agenda: the most popular temples in Bangkok! And plus, you can walk to all of them (minus a super short boat ride across the river).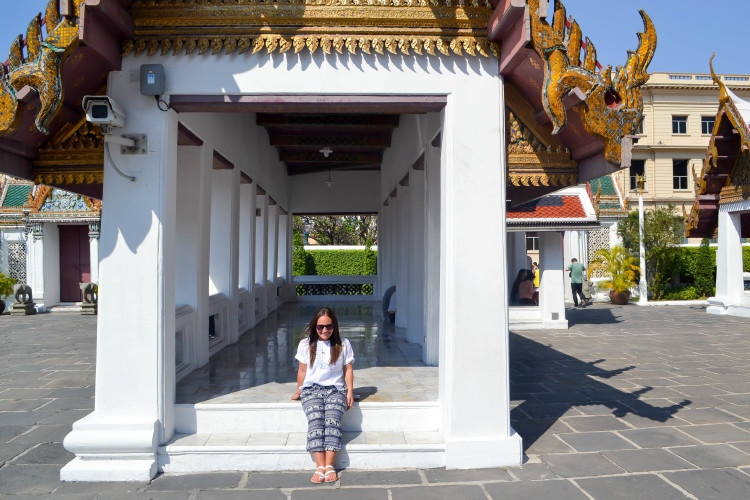 Note #1: Make sure you wear appropriate clothing today. Men and women must have their shoulders and knees covered (with an actual shirt with sleeves, a scarf or shawl will not cut it at the Grand Palace // pants or a long skirt/dress are best to wear on the bottom). Certain temples are more strict than others, but since you'll be temple hopping today, best to wear clothes that suit them all!
Note #2: On your way to certain temples, you may get stopped and asked if you are headed in that direction and then get told that the temple you're going is closed. These people are SCAMMERS, do NOT believe them.
They are trying to persuade you to visit different temples with them, bringing you to shops and restaurants in which they get a cut of the proceeds if you buy anything. The scammers told us the Grand Palace was closed and we walked right past them, only to find that the temple was very much open to visitors.
Note #3: "Wat" translates to "temple" in Thai. 🙂
Note #4: You can for sure walk around the temples yourselves, but if you're interested in learning about the history and use for each one, I highly recommend you book a Bangkok temple tour. They're not expensive, and you'll actually learn something. And not miss out on the most important spots (like we unfortunately did).
1) Grand Palace AND Wat Phra Kaeo (5 min walk from each other)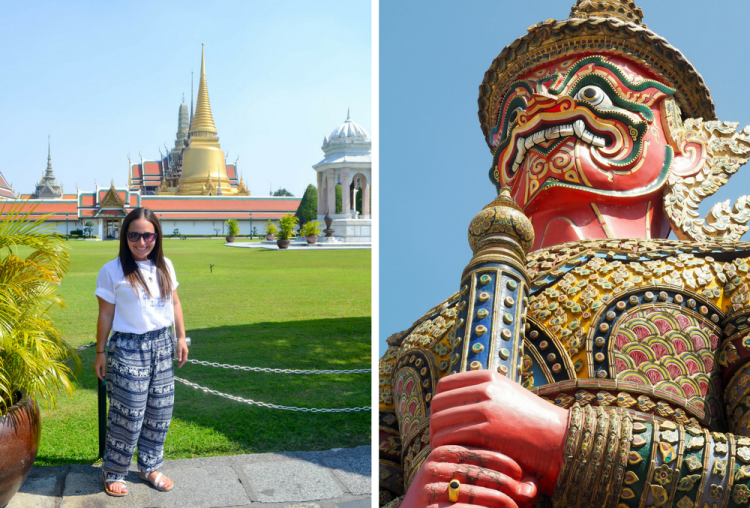 Out of all the temples you'll see in Thailand, the Grand Palace will be the most crowded by far. Therefore, it's absolutely imperative you visit this sacred site first thing in the morning when they open, at 8:30am (close at 3:30pm). Crowds aside, this place is downright spectacular, and you'll see more shiny golden structures than ever before.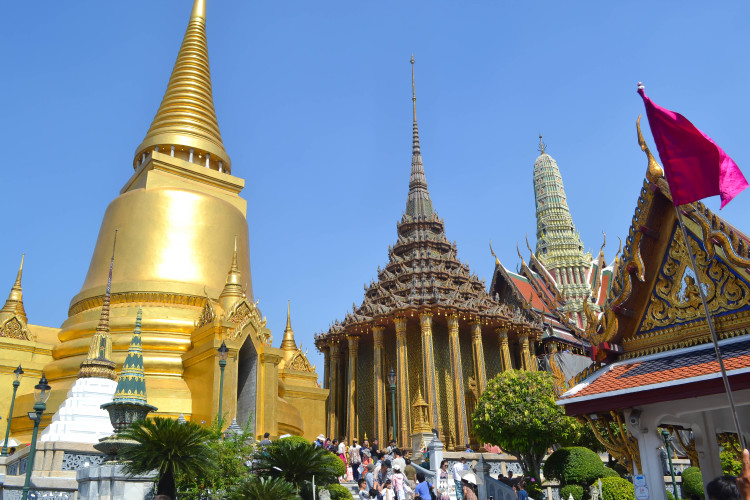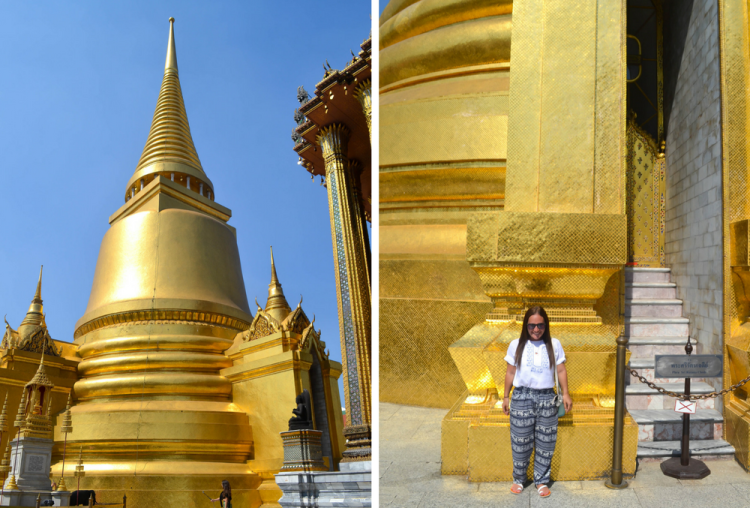 Wat Phra Kaeo, within the grounds of the Grand Palace, shouldn't be missed either as it houses the Emerald Buddha! It is regarded as the most important Buddhist temple in Thailand! The cost, 500 baht per person (roughly ~$15USD) is significantly higher than other temples, but well worth it in my opinion, just make sure you visit early.
2) Wat Pho (Temple of the Reclining Buddha)
Super impressive, and definitely a temple to add to any three day Bangkok itinerary. Wat Pho is famed for its giant golden reclining Buddha standing at a remarkable 50 feet tall and 150 feet long!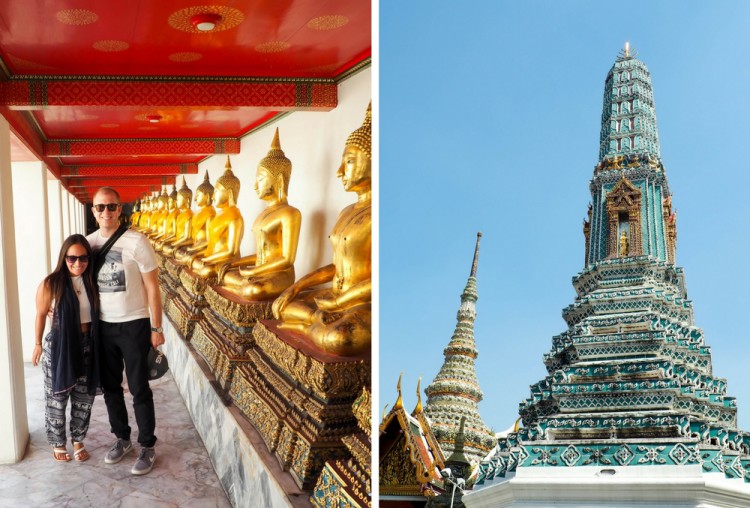 Don't make our mistake – we completely missed the reclining Buddha! Make sure you enter the actual building that the reclining buddha is housed in, as it's this that the temple is most known for. We were so overwhelmed with the glamorous yet immense temple grounds that we completely forgot all about the reclining Buddha until we left!
Book a tour (like this one) if you want to make sure you don't miss out on any top temple spots!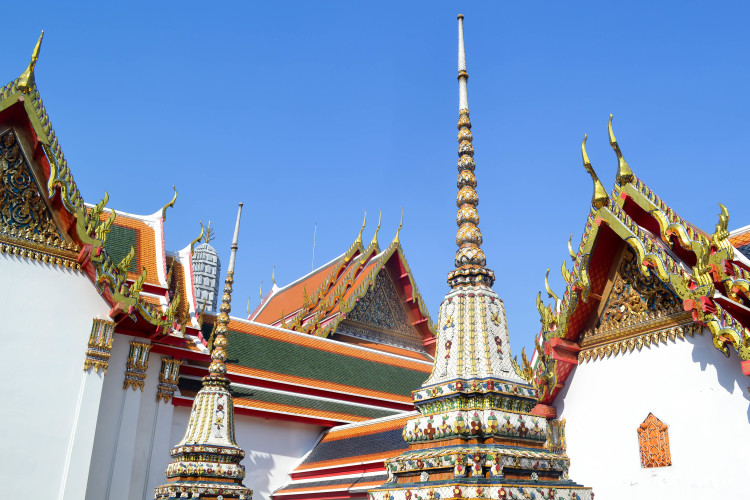 Note that the temple grounds are open 24 hours, but the temples close around 5:30pm, including the one housing the reclining Buddha. The dress code here is more lenient than at the Grand Palace, and you'll find free sarongs for women to cover their knees/shoulders if need be. 100 baht per person (~$3USD)
3) Thai Massages at Wat Pho!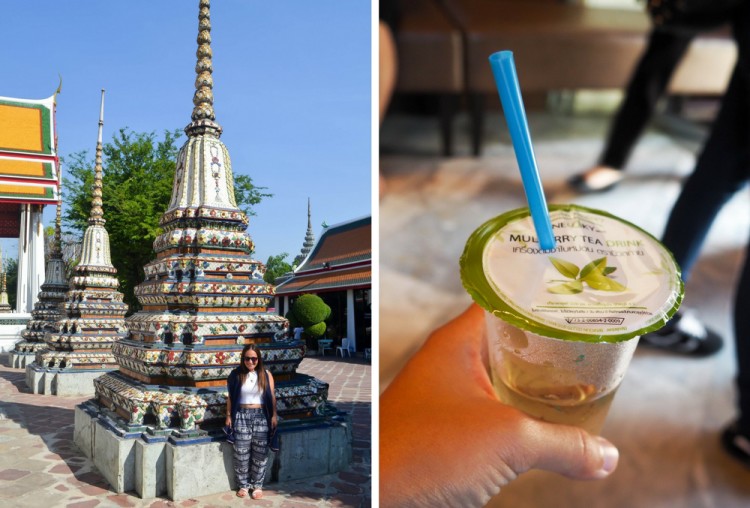 After exploring in the morning, head on over to the Massage School and get a half or full hour Thai massage. If you've never had a traditional Thai massage and/or don't know much about it, just know that it's not your typical soothing, relaxing treatment. You'll get stretched and bent more than you ever thought possible and the masseuse will use various body parts to get all your knots out (including knees and elbows). Definitely a different type of experience than the massages I'm used to!
I read online that there is commonly a long line to get massages at the massage school within the grounds of Wat Pho, but we did not have to wait at all. Guess it depends on the day, perhaps? Also- we tried making appointments but the workers at the front desk said we didn't need any.
4) Wat Arun (Temple of Dawn)
Third and last temple of the day! Cross the river by shared taxi boat (a mere 4 baht to do so), and you'll wind up at another temple, Wat Arun! By this time in the day, you'll likely be "templed-out", but I promise you this one is waaaaay less crowded and not as large, so you'll be in and out in no time! And you're already pretty far from home – might as well see as many as you can cram in!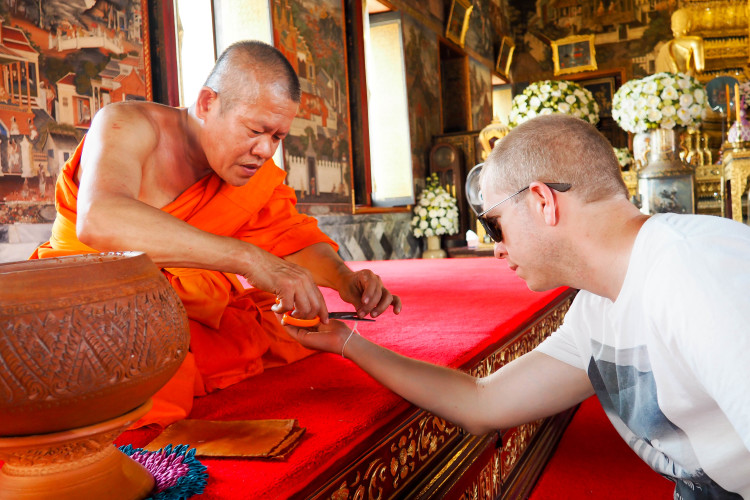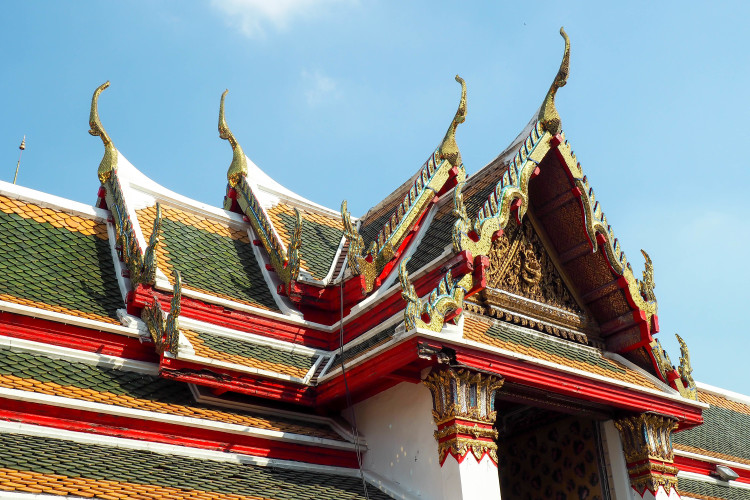 If you've still got a bit of energy in you, you can climb the stairs around one of Wat Arun's tall steepas to be rewarded with one of the best views in Bangkok. Come right before sunset and the view will be even better – the Grand Palace across the river against a beautiful Bangkok setting sun! Unfortunately when we visited, climbing the steps were off-limits, and I'm not entirely sure why. Fingers crossed they're available to climb for you!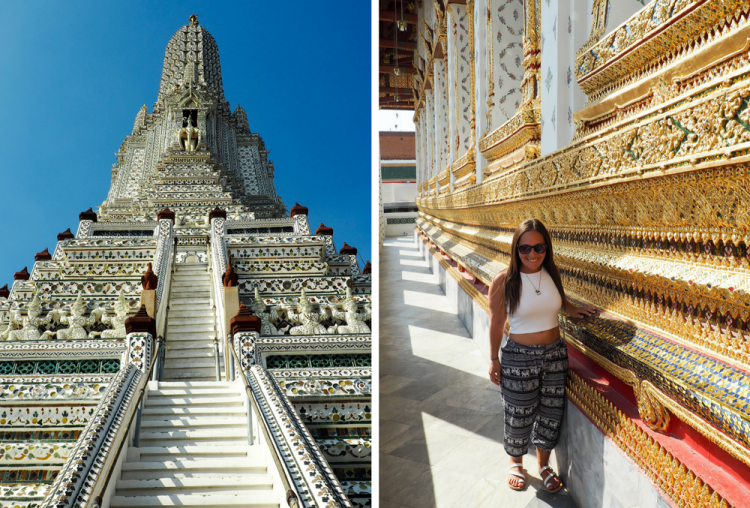 *** Depending on whether or not you are able to scale a steepa at Wat Arun, and just how early you started your day, you may have some time before the next activity! We chose to head back to the hotel, relax by the pool, and get ready for the night. No need to eat now because next up in the itinerary includes dinner!
5) Bangkok by Night Tuk Tuk Tour (7-11pm) w/Pad Thai dinner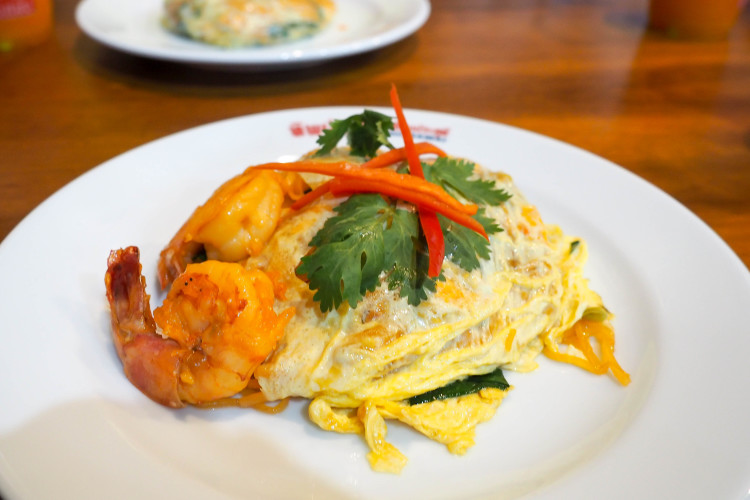 What could be more fun than zipping around Bangkok in a tuk-tuk? We signed up for this tour and visited the Flower Market, two impressive temples (one we had previously visited, which looked entirely different at night, and a completely different one altogether), a local market for some food samples, the most famous Pad Thai restaurant in all of Bangkok, and a few other stops!
It was a long tour and we were definitely tired and ready for bed afterwards, but definitely a highlight of our trip! // BOOK TOUR HERE (likely to sell out, book in advance)
6) Chinatown
If you're not utterly exhausted like we were, go for a wander around Chinatown, as it's super close to the ending of the tuk tuk tour. I had originally put this on our itinerary as I heard Chinatown is not to be missed, but we were still getting over jet lag and I honestly couldn't keep my eyes open. Your call!
Where we slept: Avani Riverside Bangkok Hotel
DAY 3: BANGKOK // Floating Market
1) Floating Market Day Trip
It's time to get out of Bangkok, but only for a few hours! On this day trip, we visited the Damnoen Saduak Floating Market, and it's the most popular floating market in Thailand for good reason! We found great photo opportunities around every corner, wonderful food (OMG the coconut ice cream), and an insight into a very different way of life.
We opted to take an organized group tour (as many do), and were picked up at 7am to ensure an early morning start in order to avoid the heat and catch the market at its liveliest. Make sure to barter when buying anything! // BOOK TOUR HERE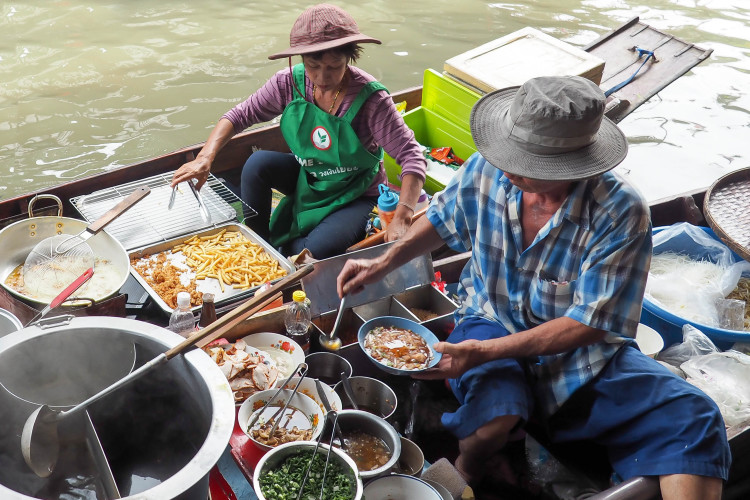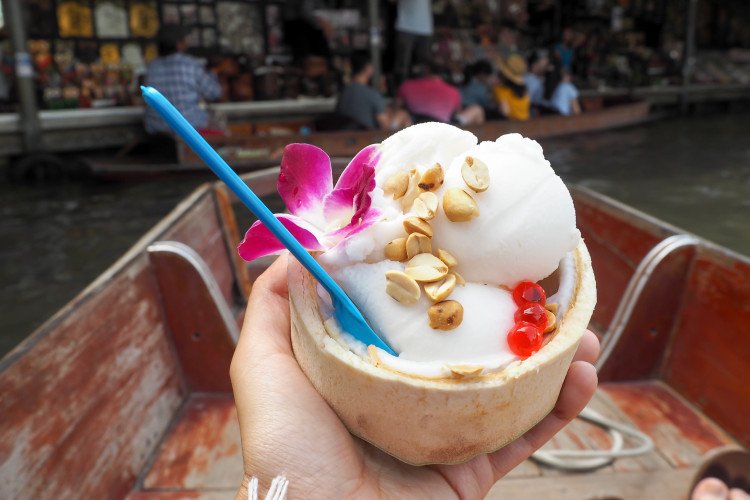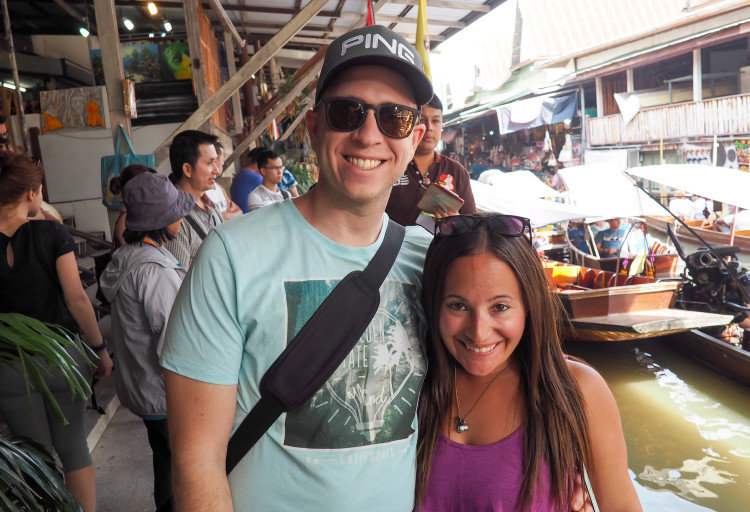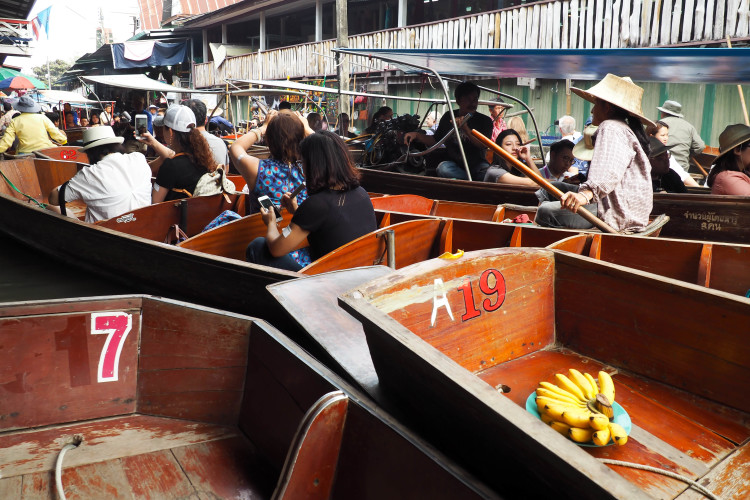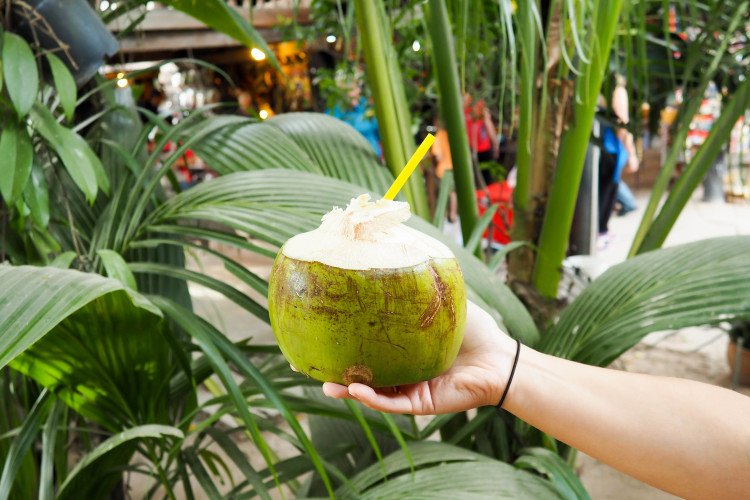 *And plus, if you opt for an organized bus tour like we did, you'll get back to your hotel around 1:30/2pm. This leaves the rest of the afternoon/night open for more exploration!
2) Grand Mount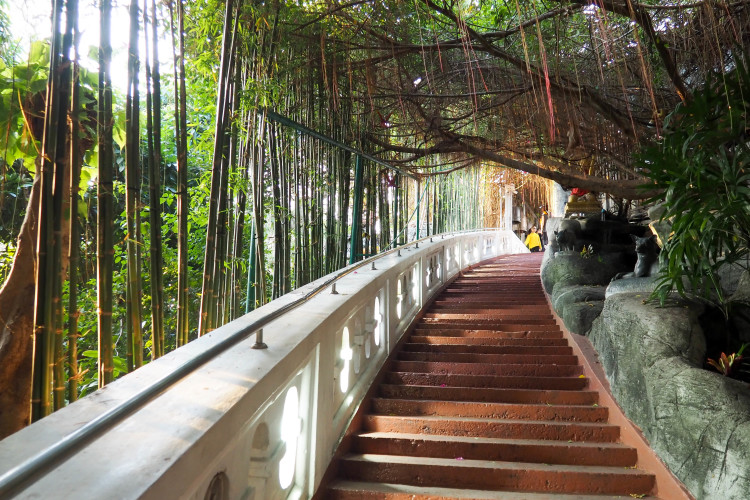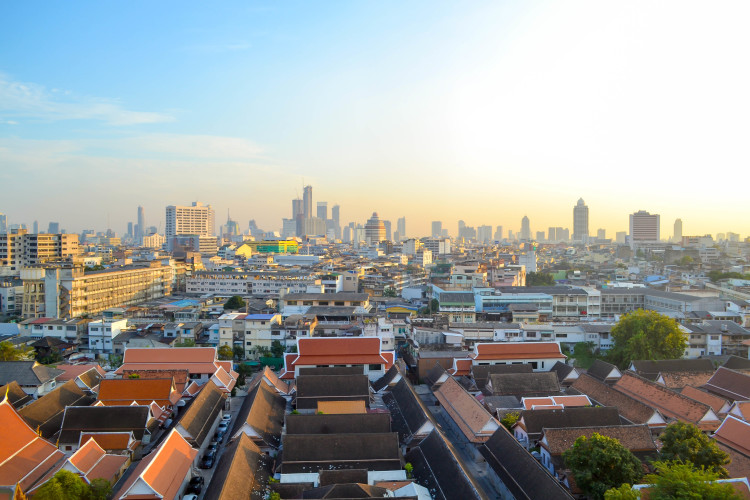 After some more pool time (yes, the pool was THAT awesome at our hotel) and getting a bite to eat, we made our way to Grand Mount, a temple originally not scheduled into our itinerary. And good thing we came — it ended up being one of our favorites in all of Thailand!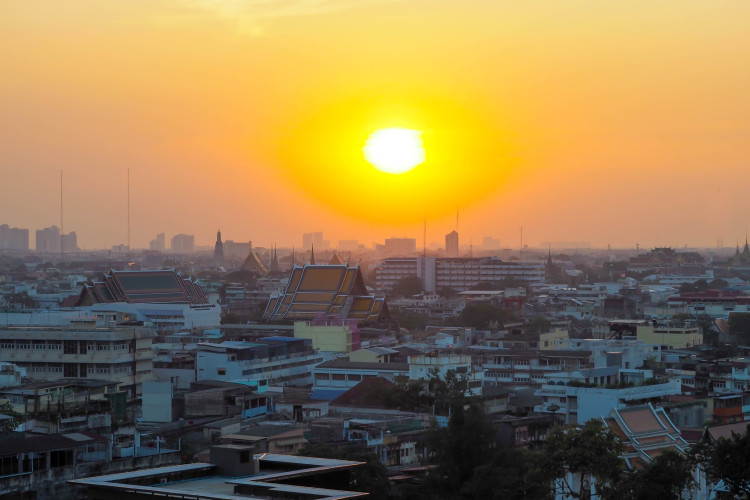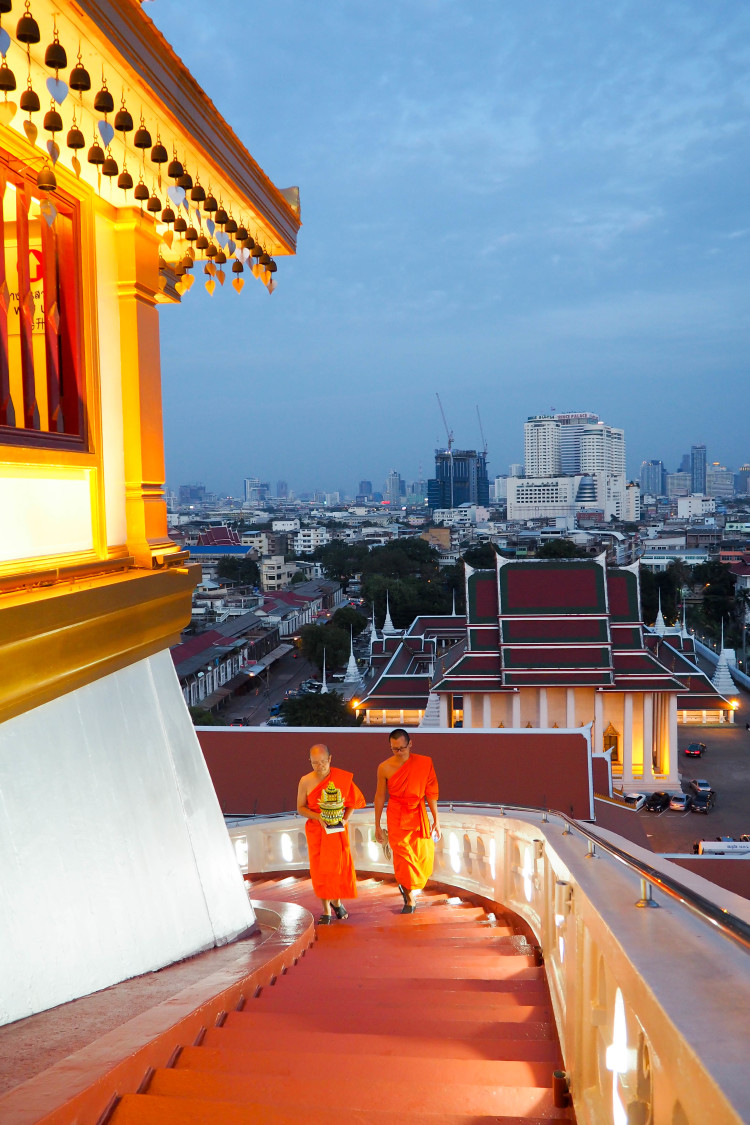 We somehow ended up at Grand Mount at the most perfect time – during sunset – which provided the most gorgeous views of the city and temple itself. At only 20 baht, it'd be an absolute shame to miss this spot. Make sure to add this to any Bangkok itinerary – you won't be disappointed!
3) Muy Thai Fight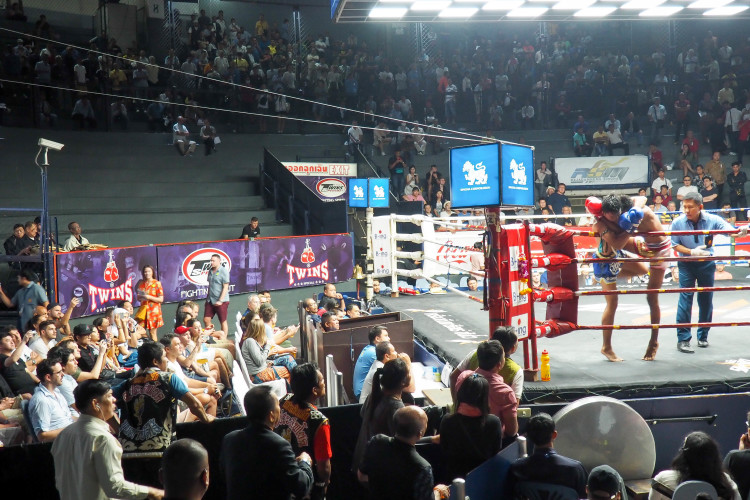 Straight from the Grand Mount we made our way to Rajadamnern Stadium for a traditional Muy Thai fight! Muy Thai fighting is a martial art form originating from you guessed it – Thailand – and is so much more impressive than any boxing or wrestling match in the USA.
These fights incorporate attacks and maneuvers utilizing fists, legs, elbows, and knees, and is absolutely fascinating to watch. The dedication these fighters have to their sport (with many super young, 15 or so!) is absolutely dumbfounding and quite impressive to say the least.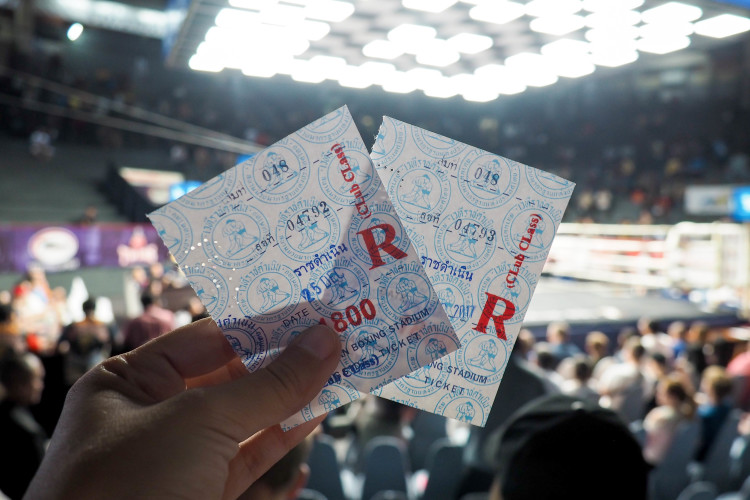 The fight we bought tickets for started at 6:30pm, and while we got there quite promptly at opening, it's absolutely not necessary if you don't mind missing the first fight or so. Staying the whole time is not mandatory, as we only stayed for four fights out of nine (we felt like we had had enough by that time).
When booking tickets, go for the club level seats – they're the same level as the fighting stage and you'll be close enough to see the action and take decent photos. Note that we bought our tickets online ahead of time to ensure availability but am pretty sure you can buy tickets at the door. // BUY ADVANCE TICKETS HERE
4) Khao San Road
Ready for some partying or late-night strolling? Depending on what type of experience you're looking for, don't fret – this area has got it all. Khao San Road is commonly dubbed as the center of the backpacking universe, and that definitely holds true due to holding some of the cheapest accommodation in all of Thailand.
You'll find more teenagers drinking vodka from buckets (alcohol the Thai way!), vendors selling insects, flickering neon signs, loud dance music, and more mayhem (trust me) than anywhere else in the country. The scene is definitely not for everyone, but is a hugely popular tourist spot, so expect prices of food and drink to be higher than normal here.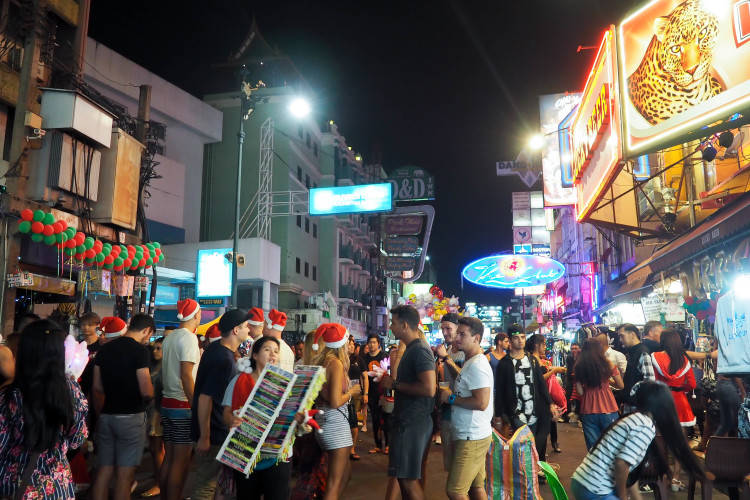 We stayed for about an hour and a half, and that was enough for us. We tried our first roti with nutella and strawberries here, got foot massages at Charlies (the absolute best, and super cheap at 150 baht per ½ hour), and enjoyed watching the interesting characters that passed by.
If you're looking for something a bit more chill, head to Rambuttri Street, which runs parallel to Khao San Road, with tons of restaurants, higher-class bars, food stalls, and a much calmer group. Despite their super close proximity, they really are a world away. In other words, Rambuttri is Khao San's more attractive, well behaved brother, but still super fun!
Where we slept: Avani Riverside Bangkok Hotel
PART 2: THREE DAYS IN CHIANG MAI
*Where we stayed in Chiang Mai: U Nimman Chiang Mai
While the hotel's 4 star rating is most definitely well deserved, we felt the U Nimman Chiang Mai didn't really fit with the rest of the city. It was too modern, too far from the city center, and just felt out of place in general. However, the hotel definitely had it's positives, with a gorgeous infinity pool overlooking the city, complementary over-the-top breakfast buffet each and every morning, and a 5 minute walk to a huge shopping complex.
We didn't have a negative experience here by any means, just wish we picked something with a bit more Thai character. Unfortunately we waited to book our hotel only weeks before heading to Thailand, and had they been available, would have loved to stay at it's sister property U Chiang Mai, Shangri-La Hotel – Chiang Mai, or Le Meridien Chiang Mai instead. Don't make our mistake and book as soon as possible, especially during busy season (November – April). Find more Chiang Mai hotels here.
Next Up, Chiang Mai, the hub of northern Thailand which is home to hundreds of elaborate Buddhist temples, sweet sweet majestic elephants, and oh so much history. You won't be able to visit all the temples (nor would you want to, you'll get templed out reallll quick), but just a stroll around throughout the four walls of the city will give you a feel for what Chiang Mai is really about.
So much quieter than Bangkok, and way less people. You'll absolutely love your time in Chiang Mai.
DAY 4: FLY TO CHIANG MAI and explore the city in the afternoon
1) Fly to Chiang Mai
We picked an early morning flight out of Bangkok in order to have the rest of the day to explore Chiang Mai. The flight takes roughly an hour and a half, so if you choose a flight in the morning like we did, you'll have a bunch of daylight hours left once you land (and with a tight Thailand itinerary like this one, you need every hour you can get!)
2) Visit the temples and get some lunch
After dropping off your bags at the hotel (we stayed at U Nimman Chiang Mai), set out into the middle of the city to visit a few famous temples! Don't miss Wat Chiang Mun, Phra Singh Temple, and Wat Chedi Luang, all gorgeous in their own way! And thankfully, you'll find that these temples (and all of those in Chiang Mai) are so much quieter and way more peaceful than the temples you visited in Bangkok.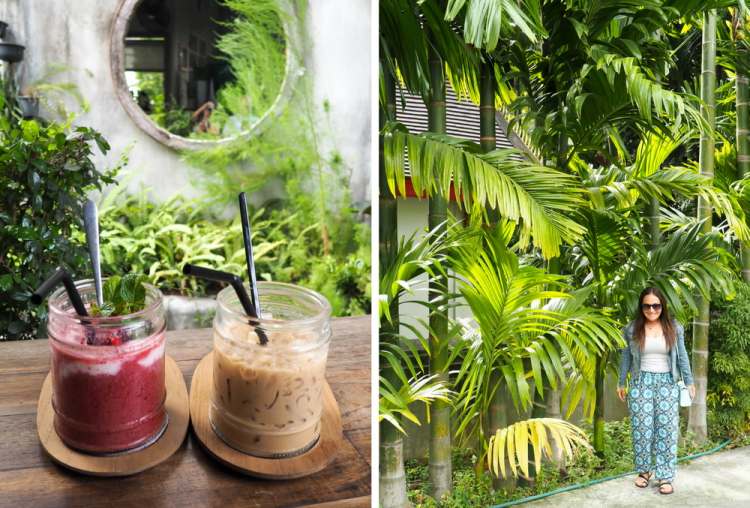 Hungry? Check out Chiang Mai's wonderful cafe scene! We walked over to Woo Cafe for a late lunch of berry smoothies, spicy minced meat, and salad. The menu contains both traditional Thai and Western items, and is a good fusion between the two.
The ambiance is wonderfully cozy and charming, with leafy greens and fresh flowers lining the space and art lining the walls. And if you have to wait a bit, don't fret- go check out the art gallery upstairs!
3) Massages at Fah Lanna Spa
After some Chiang Mai exploration, you'll probably be downright exhausted (we were!) What better than a massage at one of the cities premier massage spas?! We chose to make reservations at Fah Lanna Spa, located within the Old Town, and were glad we did. With complimentary homemade welcome drinks and a cool towel, you'll be immediately relaxed even before your treatment starts!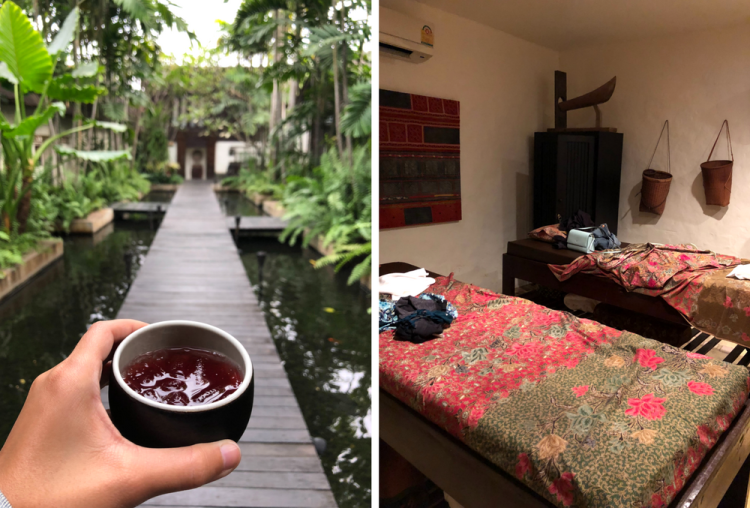 There are a myriad of different treatments you can get here, from facials and mani/pedis to Thai massages and oil reflexology. We went a bit overboard and booked ourselves packages of THREE HOUR MASSAGES each, which in retrospect, was a bit much. Because of that (and the fact that we were already tired from traveling and exploring), we both fell asleep during our massages.
Not the worst that can happen (actually, far from it), but we both felt three hours was a bit too long. I think next time we'll book a 2 hour massage instead.
After your treatment, you'll receive some hot ginger tea and a light snack. With free drinks, snacks, and free roundtrip transfers, make sure you book in advance as this place fills up quickly.
Where we slept: U Nimman Chiang Mai
DAY 5: Day Trip to Chiang Rai
Hope last nights massages were relaxing because today's a tiring day, and a super long one as well. Book a day trip from Chiang Mai to Chiang Rai, and see the White Temple, the Golden Triangle, and even take a short boat ride over to Laos! Bet you didn't think you'd be visiting another country today!
Some tours visit the Long Neck Karen tribe which we unfortunately missed out on due to last-minute planning on our part. Book early to guarantee your desired tour! Here's the tour we wished we booked way ahead of time.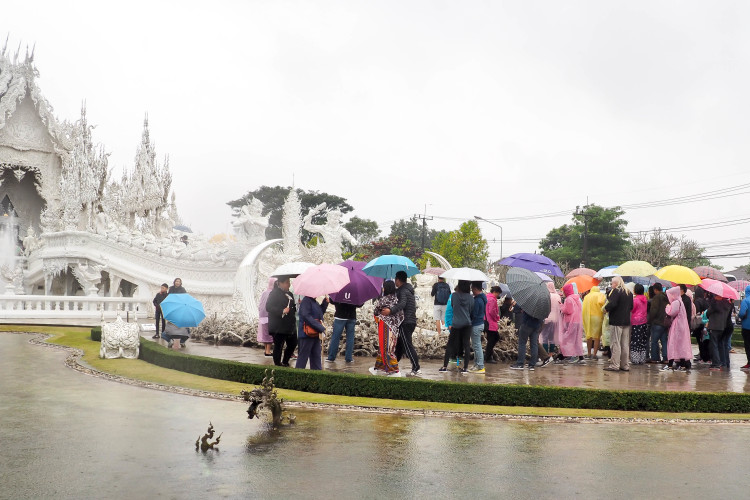 You'll start off the day with a drive through Northern Thailand's countryside, and finally reach one of the most recognizable structures in Thailand, the White Temple! The stunning Wat Rong Khun (commonly referred to as the White Temple), is absolutely incredible, with it's attention to detail and impeccably unique architecture.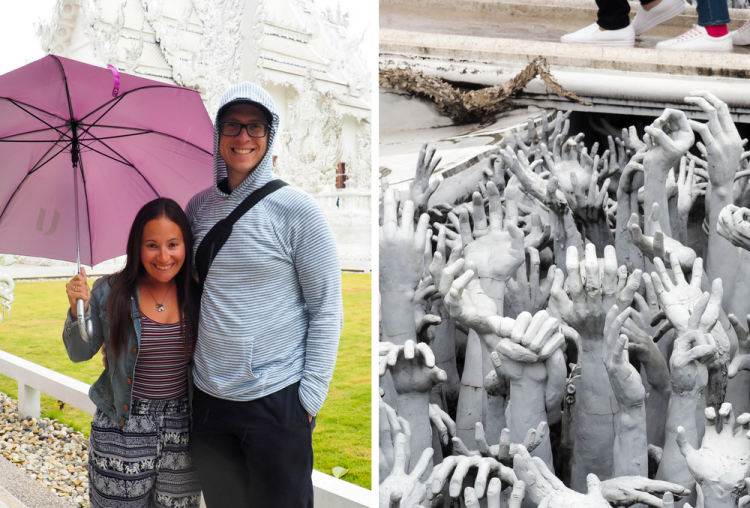 This artistic masterpiece is covered in a dazzling white color inlaid with mirrored glass; a photographers absolute dream. Beware, the temple is crazy busy, although take your time taking pictures of the entrance as it definitely has the largest wow factor.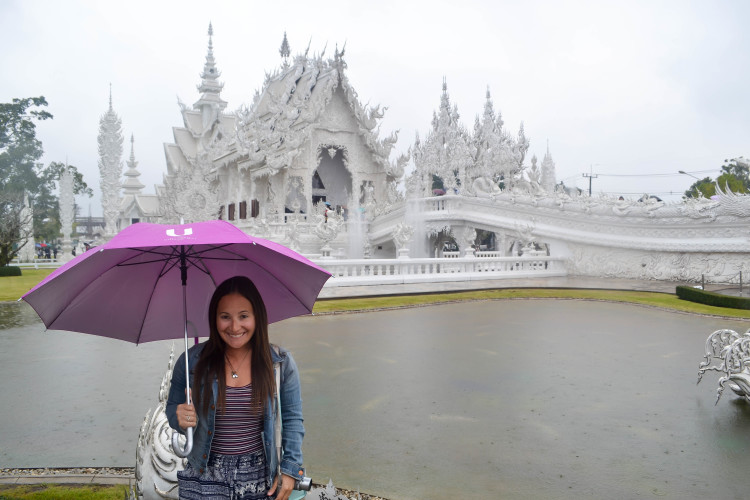 The main attraction of Chiang Rai is the White Temple, but on many tours you'll also get to see the Black Temple, visit the Long Neck Tribes, and possibly even an opium museum. Unfortunately the weather hardly cooperated during our time in Chiang Rai, as I've heard the white temple is even more stunning against a clear blue sky (and it actually reflects in the water!)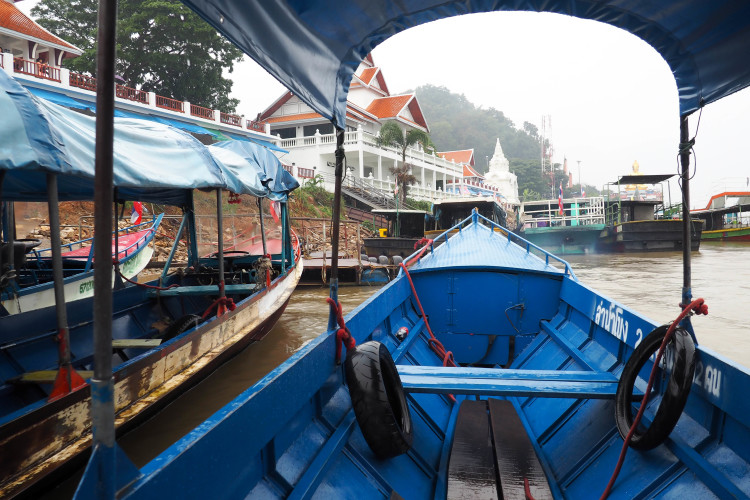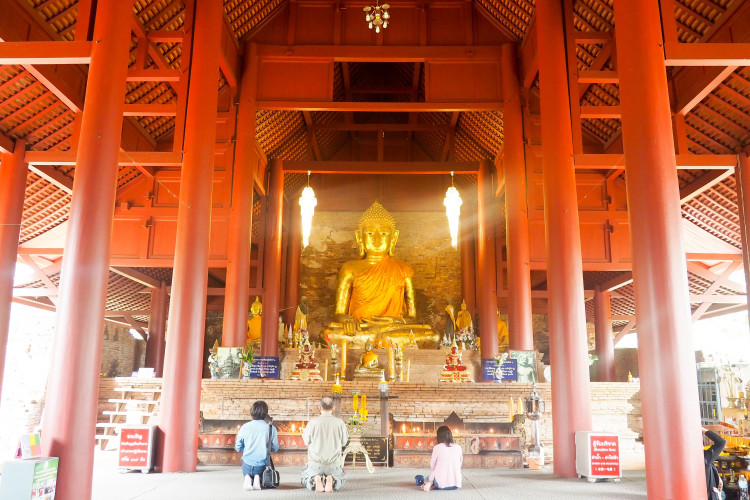 I guess it's possible to rent a car and go yourself, but I highly encourage you to book a tour – the drive is exceptionally long and if you aren't planning on spending the night (which would be difficult on this two week Thailand itinerary), you'll likely be too drained to drive home. // BOOK TOUR HERE
Where we slept: U Nimman Chiang Mai
DAY 6: Day with the Elephants!
1) Elephant Jungle Sanctuary
You've seen those pictures of elephants around the internet, correct? Well you'll be visiting them today!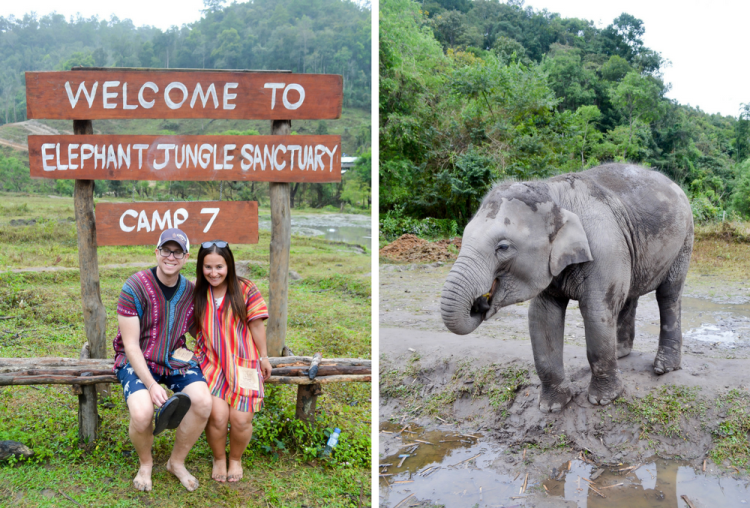 There are dozens of elephant camps to choose from, and no two are the same. We chose to visit with Elephant Jungle Sanctuary because Elephant Nature Park was all booked up, so be sure to book way ahead of time if you have a preference (like as soon as you know your dates).
With that being said, our time with Elephant Jungle Sanctuary was still quite possibly my favorite day of our entire two weeks in Thailand!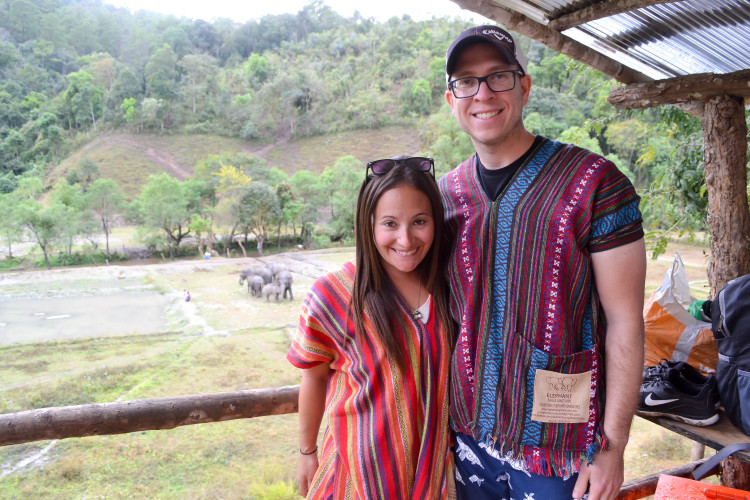 We fed them bananas and sugar cane, watched them play in the mud, took loads of elephant selfies, and after took a 10 minute walk to the river to wash them up! In total, I'd say we spent about 3 hours interacting with the elephants. The group also learned how to make elephant medicine (a mixture of rice and other foods), which we then fed to them as well. They flapped their ears, curled their long trunks around us looking for snacks, and were free to wander freely.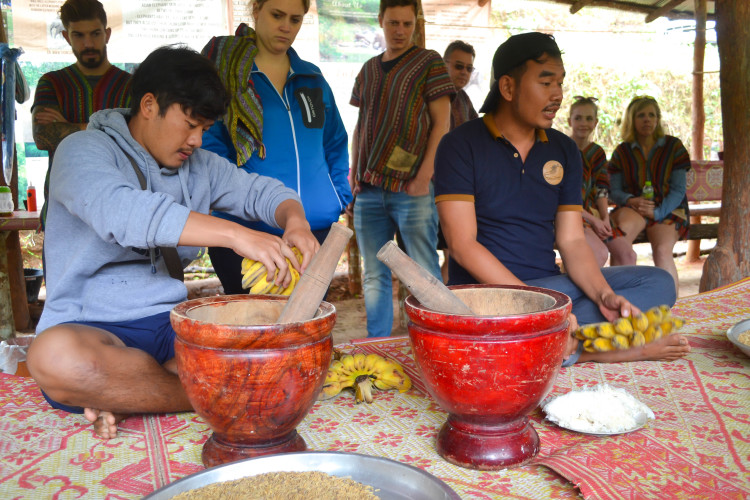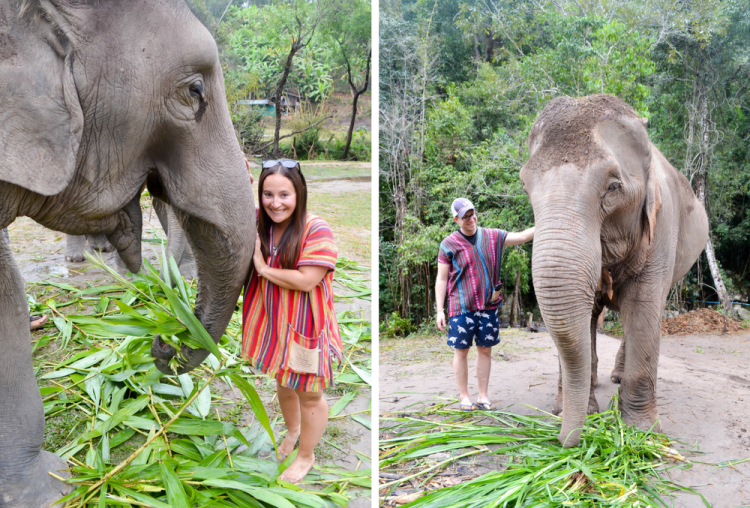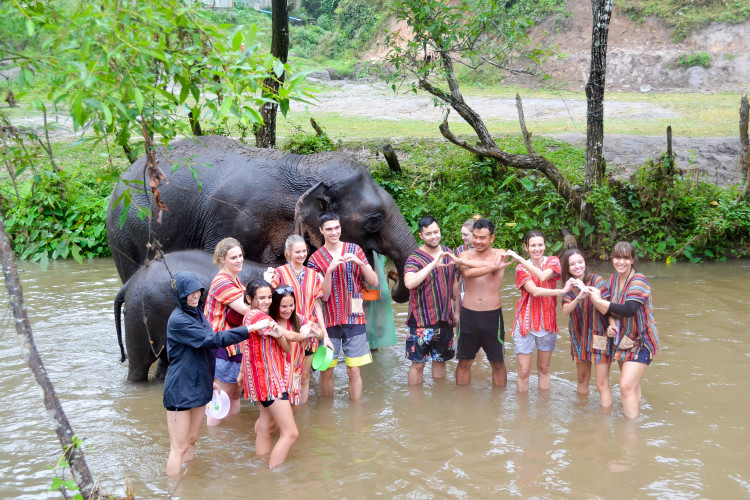 The baby elephants were so sweet and absolutely adorable – my husband begged a mahoot to bring one home! The staff was knowledgeable, we spent the majority of the day up close and personal with the elephants, and lunch was delicious!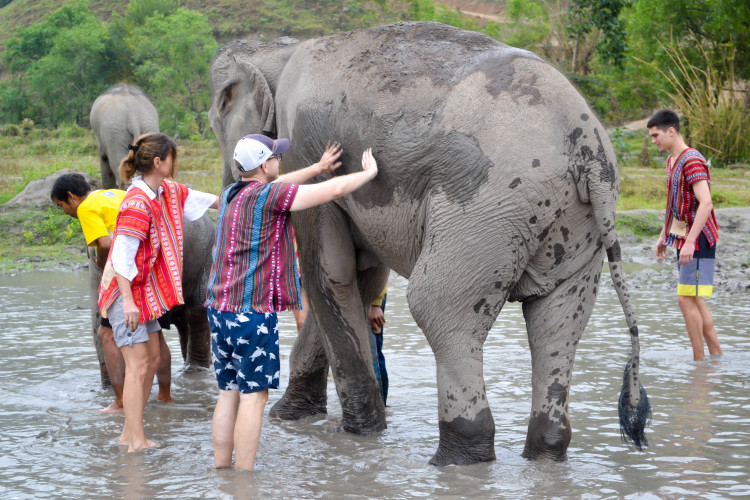 IMPORTANT TO NOTE: When choosing a company to visit the elephants in Chiang Mai (and really anywhere in Thailand), please oh please do your research. Unfortunately, many companies who claim to be ethical still use unethical tactics (such as using chains, shackles, whips, etc) to "train" the elephants.
If a company allows elephant riding, painting, or any other unnatural "tricks", stay far, far away. During my research, the two companies that I found to be most ethical were Elephant Jungle Sanctuary and Elephant Nature Park. Elephants should be roaming around not free to do what they like.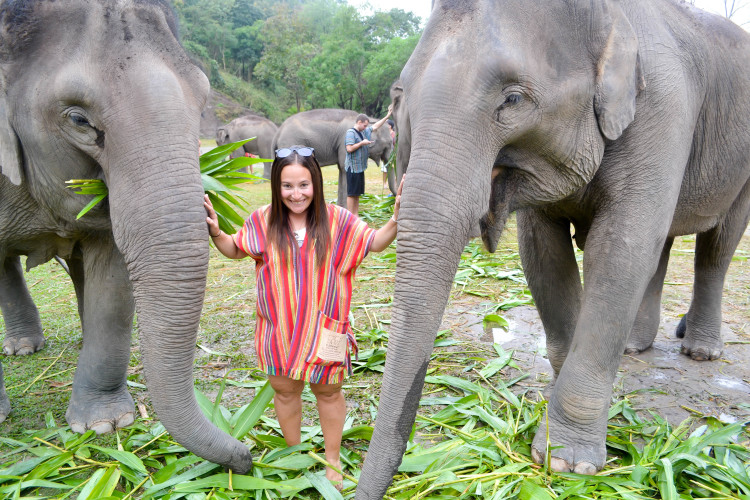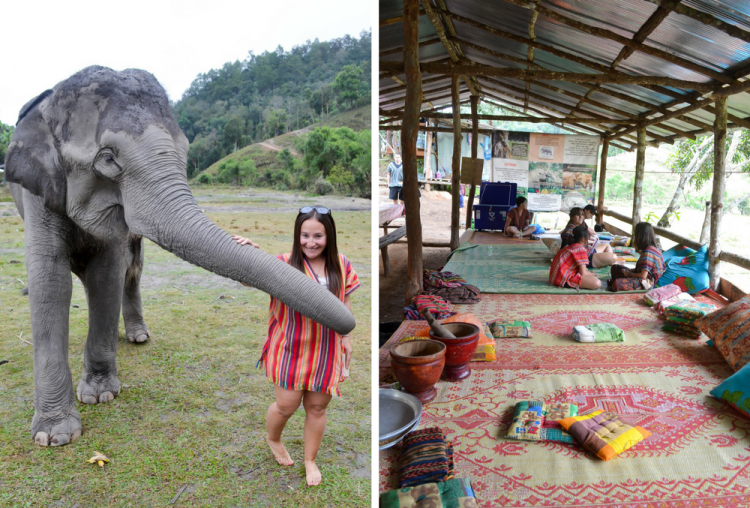 If you have less time in the area, I would cut something else out to ensure you can spend a full day with the elephants in Chiang Mai.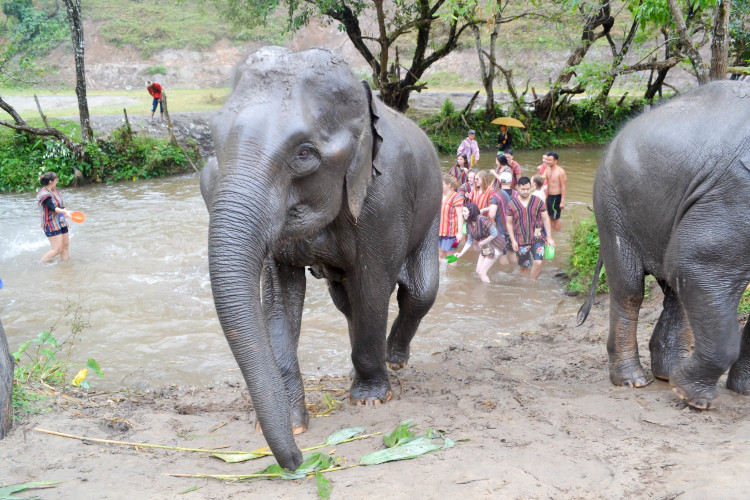 If you do a full day trip with Elephant Jungle Sanctuary like we did, you'll arrive back to your accommodation around 3pm. We then checked out the mall near our hotel and found the quirkiest pancake spot – one that makes pancakes out of the shape of your face!
2) Night Bazaar
Chiang Mai's Night Bazaar opens from 6:00 PM to midnight every day, and is the perfect place to get some dinner. You'll find a lot of delicious food in and around the Night Bazaar, including Khao Kha Moo, a street stand famous for its pork leg and the "cowboy lady" who works at the stand everyday wearing a cowboy hat! Be sure to look out for Mrs. Pa's smoothie stand as well!
Where we slept: U Nimman Chiang Mai
DAY 7: CHIANG MAI IN MORNING // FLY TO KRABI IN AFTERNOON
1) What Phra That Doi Suthep in the Morning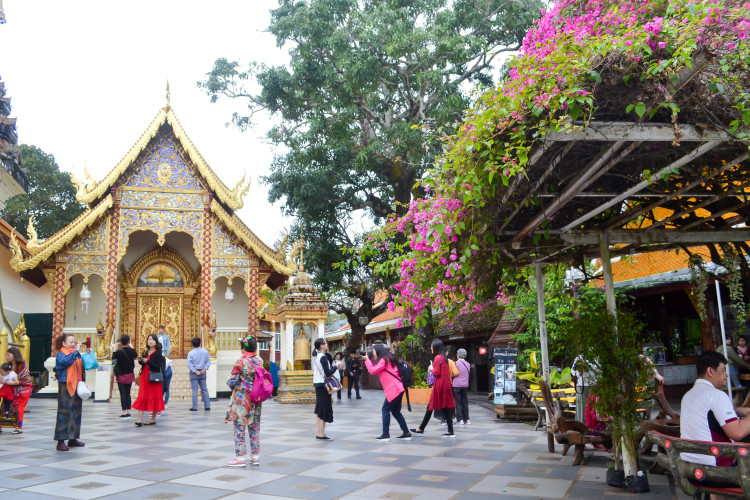 You can't leave Chiang Mai without visiting it's most magnificent temple! Being short on time, we decided to take an organized tour which also visited the super colorful Hmong village (oh those sugared strawberries were SO good). Located high in the hills above Chiang Mai, you'll get wildly awesome views of the city itself from Doi Suthep, and don't miss out on the staircase – with 333 tiled steps to reach the top, it's something to behold!
Don't worry, there's an elevator if don't want to make the trek up! The whole temple breathes tranquility and peace, being a great last stop during your three days in Chiang Mai. // BOOK TOUR HERE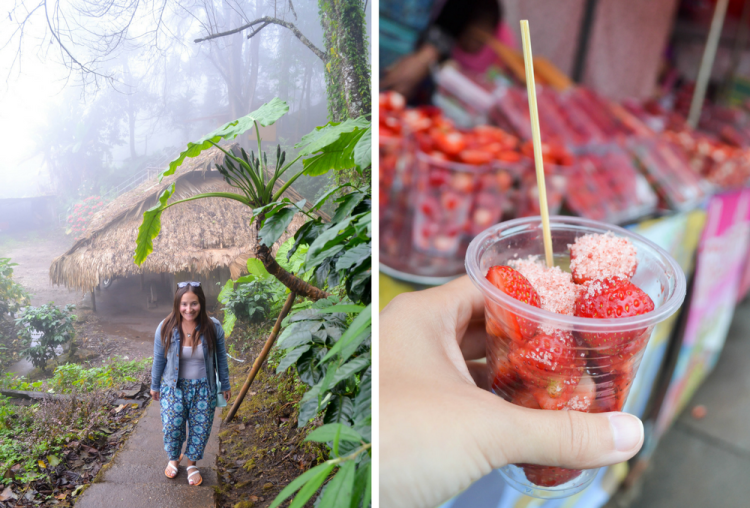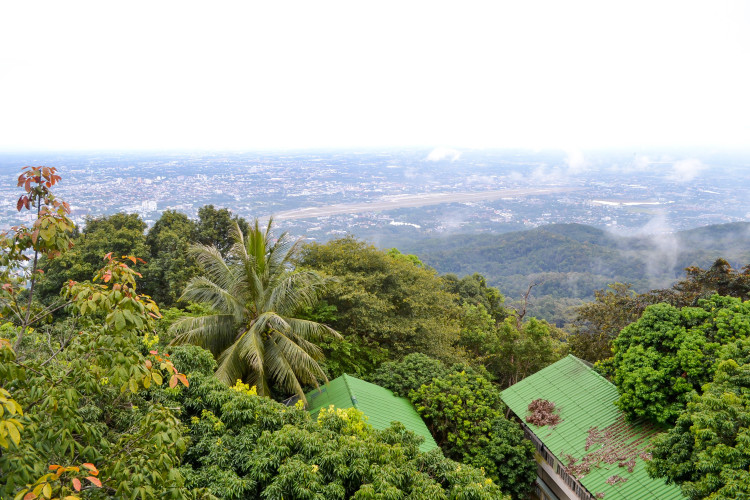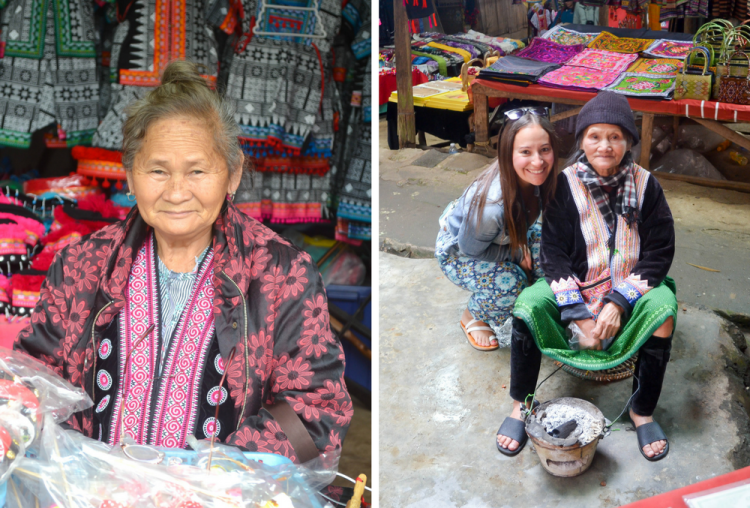 Note that this temple is about 30-40 minutes away by car up through winding streets, so unless you want to sit in an overpriced uber or a bumpy songthaew (red taxi car) the whole way, I suggest you take a bus tour as well. We also booked an organized tour because we HAD to make our flight and I would have spent hours up there.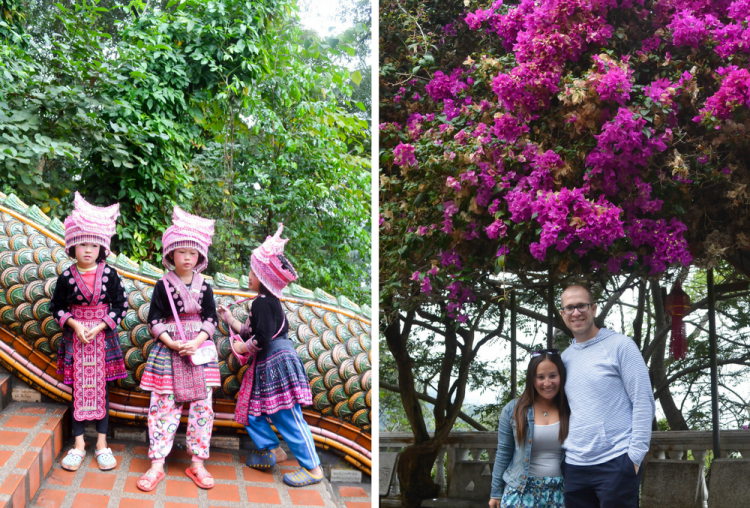 2) Fly to Krabi!
Say goodbye to your wonderful three days in Chiang Mai, and get ready for the luxurious Thai islands! We chose to fly from Chiang Mai to Krabi around 4pm and landed around 6:05pm, which was perfect timing for dinner on the beach our first night (hellooo pineapple fried rice)!
Note that it'll be about 600 baht for private taxi or 150 baht per person for shared van to hotel. You don't need to book this in advance as they'll be numerous signs directing you to your preferred method of transport.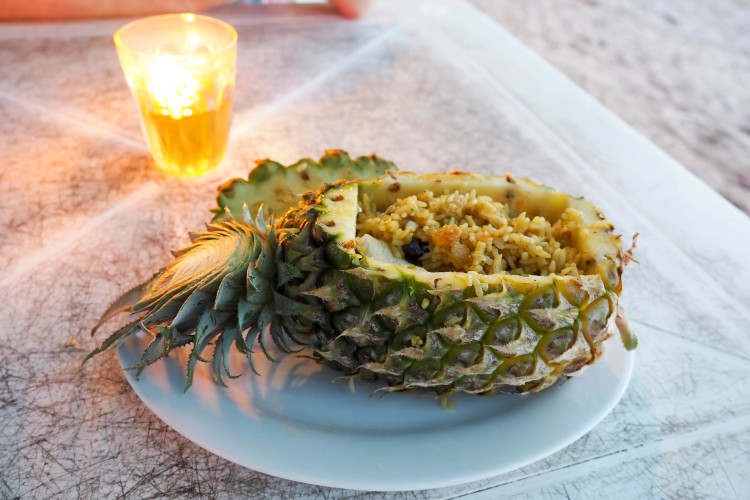 Where we slept: Aonang Cliff Beach Resort >> HIGHLY RECOMMENDED!
PART 3: A WEEK IN THE THAI ISLANDS
Time to do some Thailand island hopping! If you thought the first week on this Thailand itinerary was blow-your-socks-off amazing, get ready for week two! The Thai islands are any beach-lover's absolute dream, and a place I can see myself going back to time and time again (I have a hard time revisiting places since there's just so many on my bucket list!).
NOTE: If you've only got 10 days in Thailand, I suggest you pick either Krabi/Ao Nang or Koh Phi Phi. However, it's possible to take a day trip to Koh Phi Phi from Krabi/Ao Nang quite easily, so basing yourself in Krabi may just be the best answer!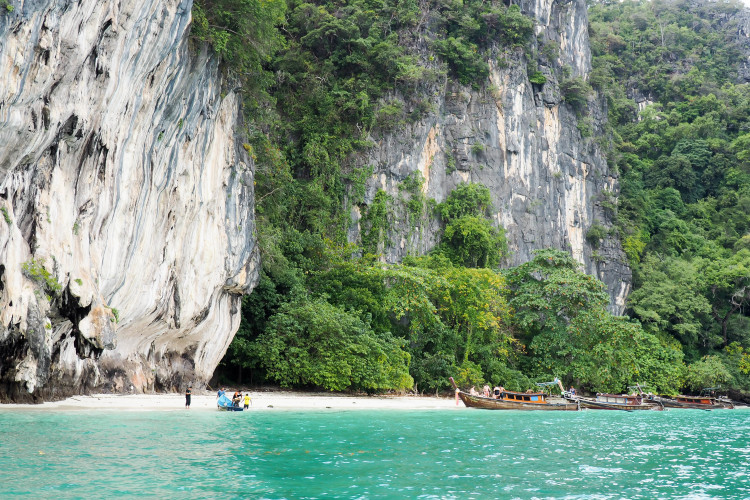 THREE DAYS IN KRABI
Note that the southern Thailand town of Krabi is a whole area, with two main spots for visitors to base themselves: Krabi Town or Aonang. We chose to stay in Aonang as it's the main beach area and a good base for day trips to other islands.
Krabi Town is generally regarded as a transit town, is the administrative center of the area, and boasts no stunning beaches. My tip – stay in Aonang! It's a bit farther from the airport and missing the Night Market, but it's worth it to be on the beach, trust me!
*Where we stayed in Krabi/Aonang: Aonang Cliff Beach Resort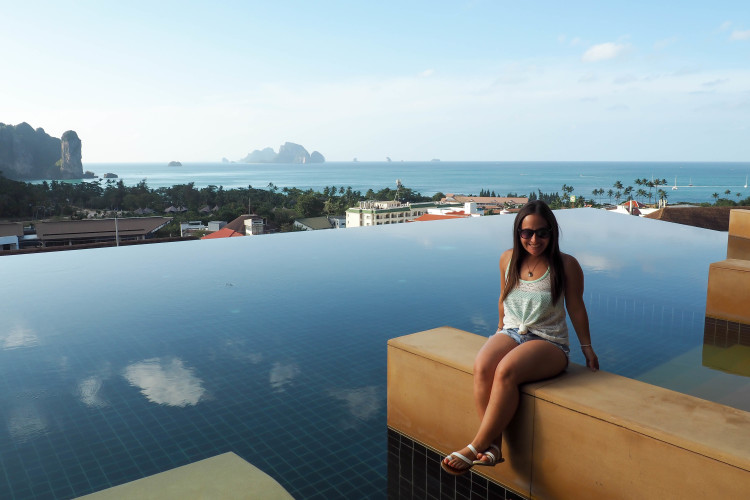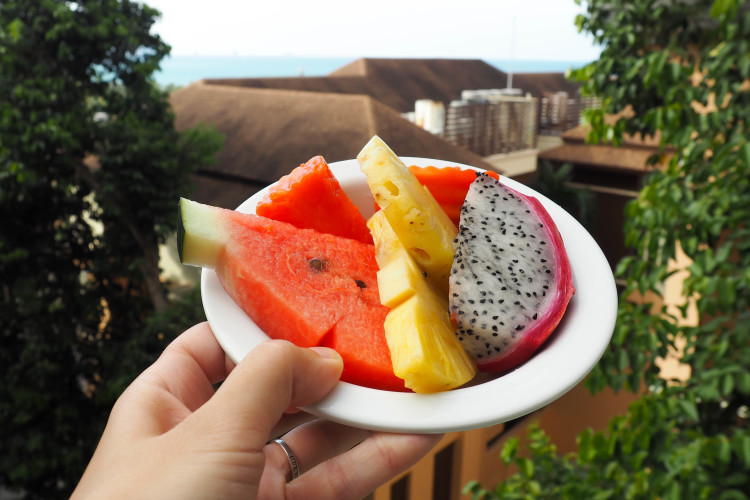 I cannot stress enough how much we LOVED this resort, and just looking at the photos has me longing to go back ASAP! Aonang Cliff had one of the best infinity pools I've seen, with beautiful views of the limestone cliffs and pristine Andaman Sea. Being only a 5 minute walk to the beach was also a definite highlight as well!
The resort is located on the main street with tons of bars and restaurants around, but thankfully is surprisingly quiet despite its prime location.
There's even a McDonald's and 7-11 right next door if you need them! We ate the complimentary breakfast each morning overlooking the mountains and sea before heading out for the day, and it was the perfect way to wake up! I could never have enough dragon fruit and guava juice! Highly recommended. See reviews and rates here.
DAY 8: BEACH DAY!
If you're staying in Aonang (and specifically at the Aonang Cliff Beach Resort), getting to the most beautiful beach in the area is super easy! (No one really swims/suntans at Aonang Beach, everyone goes to Railay – it's that much more scenic).
From the resort, just walk 5-10 minutes to the main Aonang Beach, and catch a long tail boat to West Railay Beach! Note that Railay Beach is only accessible via 15 minute long tail boat ride due to high limestone cliffs cutting off mainland access, but thankfully transfers are only about 150 baht round trip ($5 US) and 10 minutes long.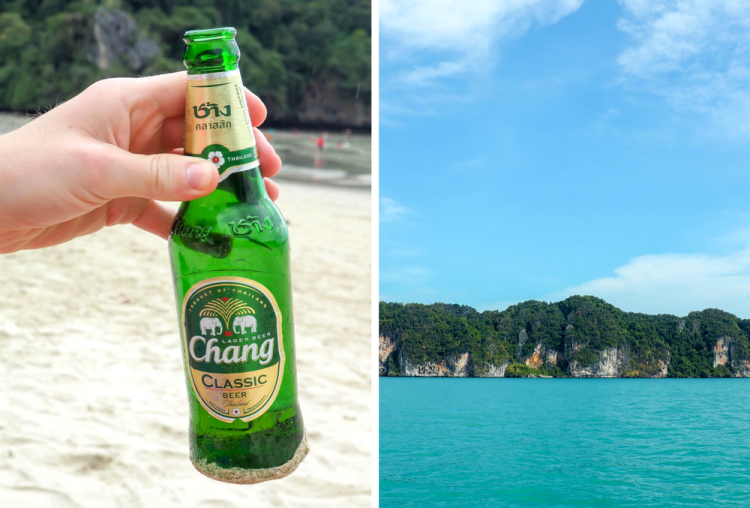 Be sure to head to West Railay Beach, as you can't swim on East Railay because of the muddy shores. The east side has no beach really, and it's just water that comes up to the footpath when the tide is in, and water which recedes really far when the tide is out, leaving a muddy mucky rocky bank behind. In short, go to West Railay Beach and skip the east side.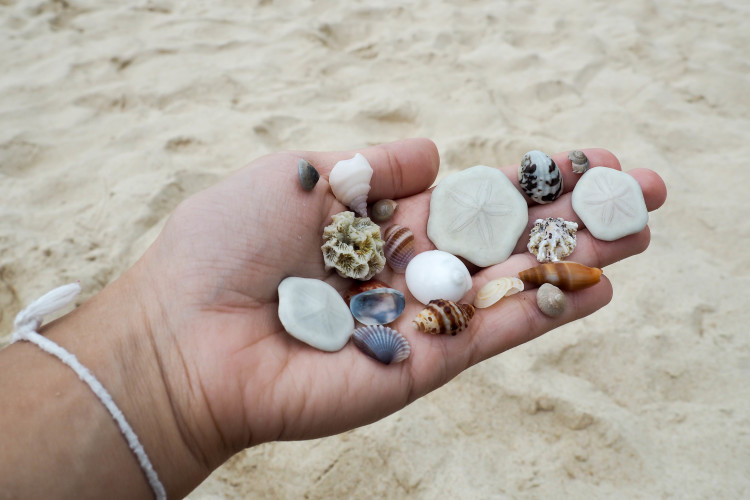 What to do in West Railay Beach? Rent a kayak, paddle board, or simply just lay in the sun on the powdery-soft sand. Along the beach you'll find some restaurants, street stalls, and smoothie stands – be sure to get a few mango smoothies (my favorite!) and fresh coconuts! You can also walk to some caves on the other side, but we left that for another day as one of our tours stopped there.
I also enjoyed going shell hunting – I found a bunch of sand dollars which was a huge shock to me!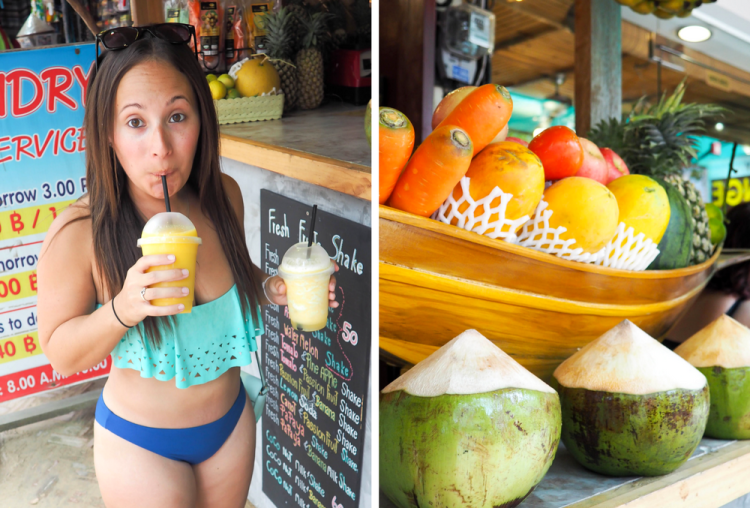 Any rock climbing enthusiasts out there? Railay is the most famous destination for rock climbing in southern Thailand, so be sure to give it a go once there!
Where we slept: Aonang Cliff Beach Resort >> HIGHLY RECOMMENDED!
DAY 9: JAMES BOND ISLAND
Next up, a day trip from Aonang to James Bond Island and Hong Island – two absolutely STUNNING islands in the area. Technically, James Bond Island is in Ao Phang Nga National Park in Phuket, but you can definitely do this day trip from Aonang no problem, it just takes a bit longer via speedboat (and with all the gorgeous views, who cares).
Phang Nga Bay is home to over 100 islands, and you'll see rocky, limestone outcrops jutting out of the emerald green sea every few seconds. Pure magic. I promise!
James Bond Island: This landmark was made famous due to its starring role in the James Bond film The Man with the Golden Gun. My husband is a long time lover of Bond, so this was exceptionally exciting for him.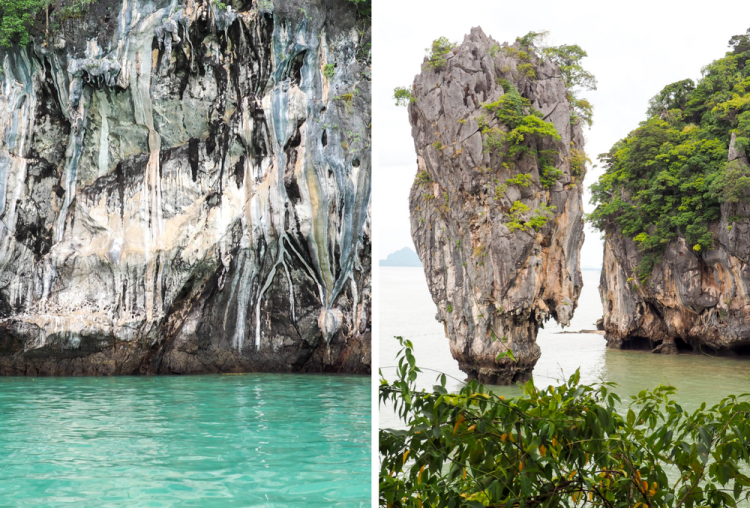 Hong Island: We were some of the only ones there, and felt like we were on a secluded beach! Lots of seashells to be found here, and the snorkeling wasn't half bad either.
With dramatic limestone karst formations, a visit to a floating Muslim fishing village for lunch, snorkeling at Hong Island, a kayak tour of Lot Noi Cave, and some of the most stunning scenery you'll see all trip, this day trip is 100% recommended.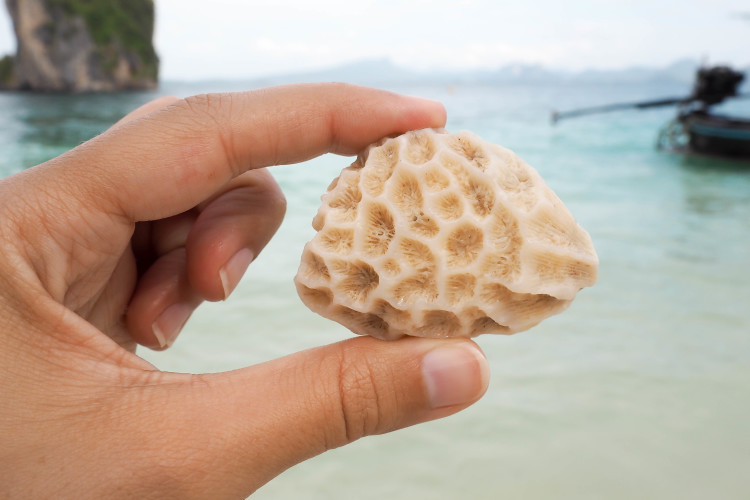 I recommend booking this tour in advance as there are not as many companies who sail to James Bond Island from Aonang/Krabi. // BOOK TOUR HERE
I'll let the photos speak for themselves: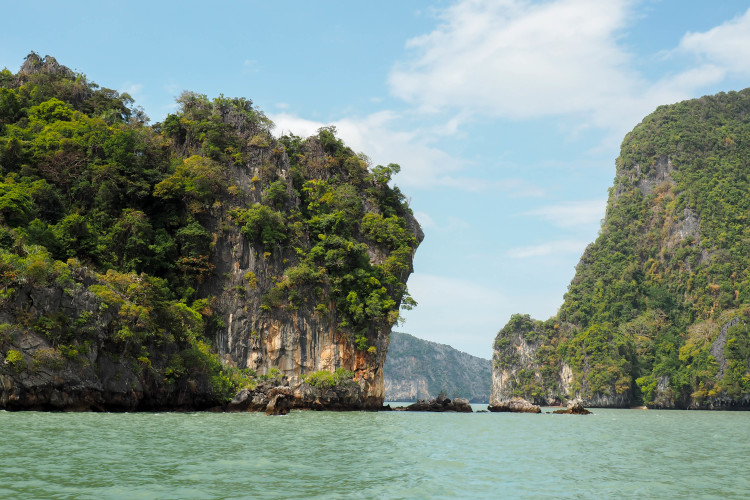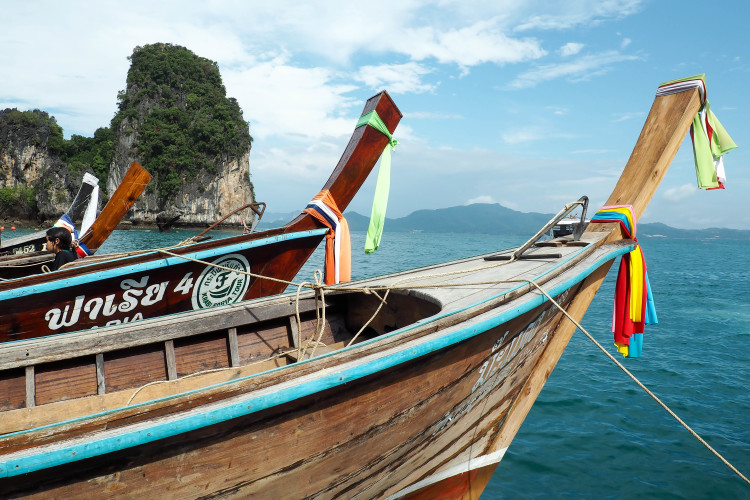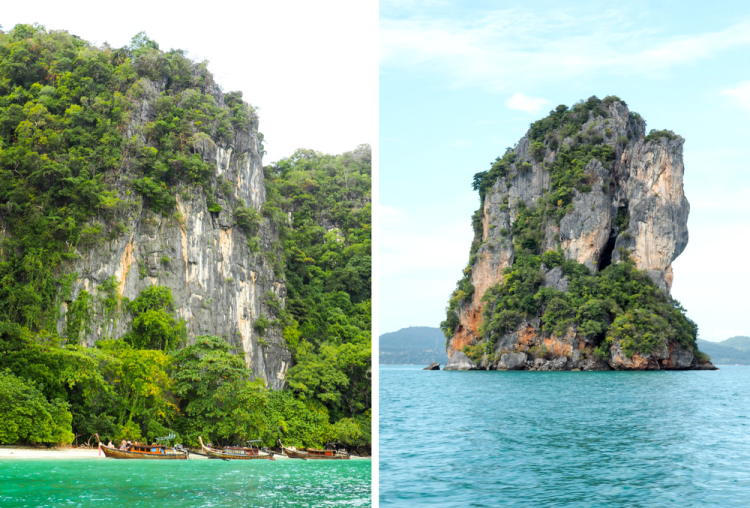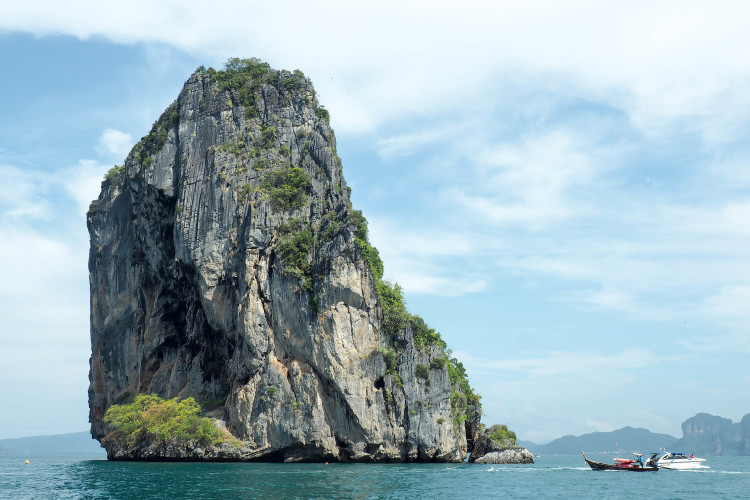 After the tour, hang out at the infinity pool at the resort and get dinner on the beach again! An absolute necessity on any Thailand itinerary, especially since the days are HOT and sweaty!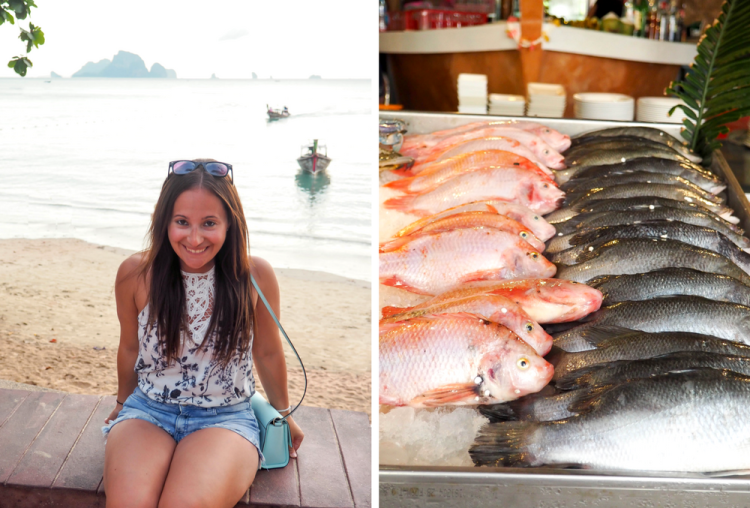 Where we slept: Aonang Cliff Beach Resort >> HIGHLY RECOMMENDED!
DAY 10: FOUR ISLAND TOUR
Another day out on the water, and this time, to four different islands near Aonang! We booked a tour (very similar tour here) and had a fantastic time taking in the group of islands closest to the coast (you can actually see them on the horizon from the beach in Ao Nang!
The four islands we stopped at Koh Poda, Koh Gai (Chicken Island), Koh Tub, and Koh Mor. If you book the tour we did you'll also stop at the Phra Nang Cave Beach on the Railay Peninsula which is absolutely STUNNING!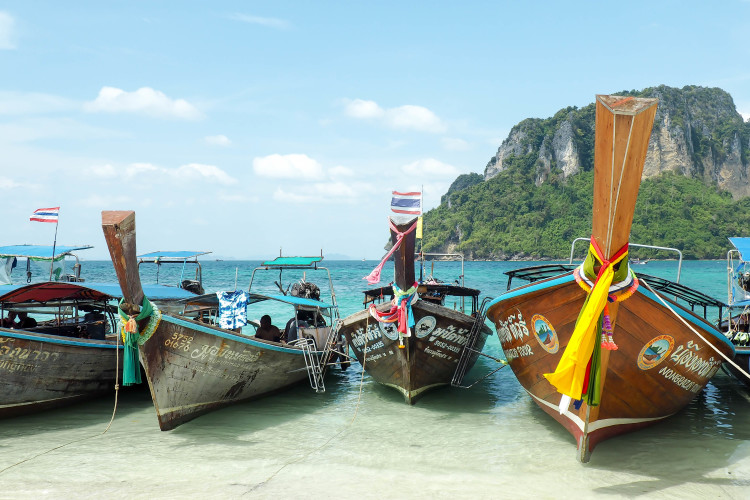 The 4 island tour is known for the perfect white sandy beaches and turquoise water, sand bars, snorkeling, and lunch on the beach. And besides stopping around Chicken Island, we also cruised around the "head" of the island, with the odd rocky outcrop that you guessed it – looks like a chickens head!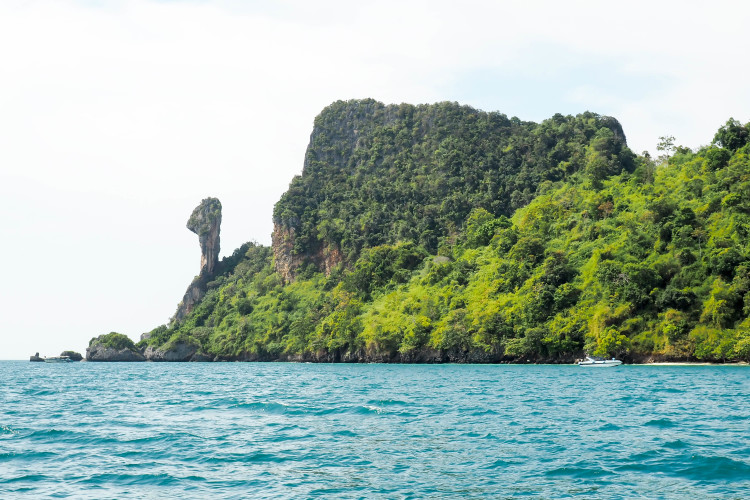 You can choose to take either a longtail or a speed boat, with the speed boat option giving you more time on each of the islands, and what we preferred. // BOOK TOUR HERE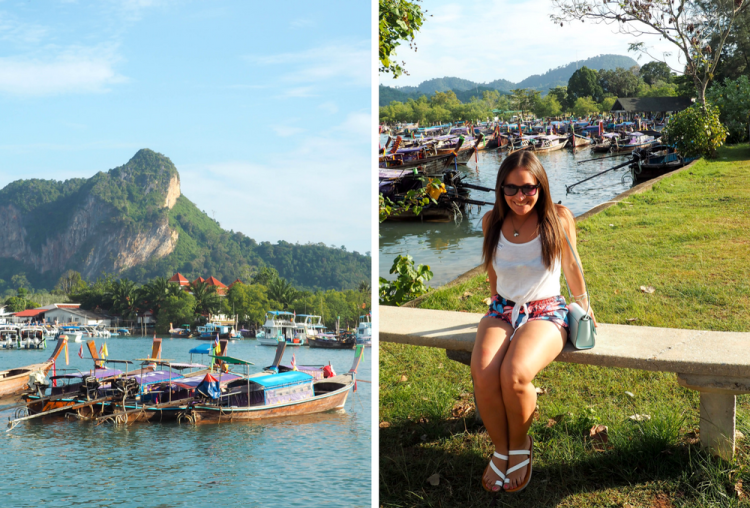 Where we slept: Aonang Cliff Beach Resort >> HIGHLY RECOMMENDED!
THREE DAYS IN KOH PHI PHI
Where to stay in Koh Phi Phi: When it comes to accommodation options on Koh Phi Phi, most people stay in Tonsai as that's where you'll find 90% of the hotels and guest houses. People claim the beach is dirty, filled with drunk backpackers, and ridiculously noisy club-goers each and every night.
And because of this, Koh Phi Phi has gotten a bad reputation in the last few years. HOWEVER, there ARE a few resorts on the northern part of the island, which most people never even visit, let alone think to stay.
So, with that being said, we chose to stay on the more private, quiet part of Koh Phi Phi, and it was absolutely fantastic. You won't find any hostels or cheap hotels here, but if you're willing to fork over some cash, you'll be rewarded with a semi-private beach and peace and quiet under the stars at night.
*Where we stayed in Koh Phi Phi: Holiday Inn Resort Koh Phi Phi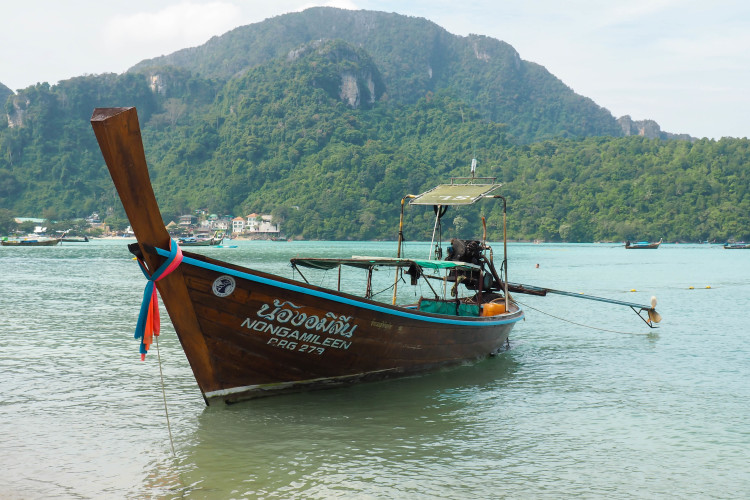 When my husband originally suggested we stay at the Holiday Inn, I was skeptical to say the least. He usually prefers posh, upscale hotels, and the Holiday Inn (while a wonderful budget option in most places) is not what comes to mind. HOWEVER, I was 100% wrong. Little did I know that the Holiday Inn brand also includes a few high-class beach-style resorts around the world, and there just so happens to be one on Koh Phi Phi.
To make a long story short, the Holiday Inn Resort Koh Phi Phi blew all our expectations out of the water and then some, and I wish I could stay there for weeks. A few of our favorite things: being upgraded to a villa overlooking the beach, sunset bar for dragon fruit mojitos, the three swimming pools (two of them being infinity pools), and the fact that we felt like we were in the middle of the jungle walking through parts of the resort!
After eating at the restaurant next to the hotel (Chile and Pepper), we ate all our remaining meals there. Promise me you'll try the banana fritter with coconut jelly! I could have it eaten it numerous times during our three days in Koh Phi Phi, but only discovered this dessert on our last day!
DAY 11: Ferry to Koh Phi Phi
From Ao Nang, it's best to give yourself a full day to reach Koh Phi Phi, not because it actually takes that long, but because it can be a bit confusing if you decide to do it yourself (if you're staying on the north part of Phi Phi like we were). Because of this, we opted for transfers directly through the Holiday Inn. While we definitely paid a bit more than if we had booked everything ourselves, the convenience was well worth it to us.
If you do in fact decide to head to Koh Phi Phi yourself and are staying on the northern part of the island, you can take a ferry from Ao Nang to Tonsai Pier (where most of the hotels and guest houses are), and then a pricey longtail boat to Laem Tong Beach. It's doable, but didn't want to have to worry about this with our baggage.
Depending on which route you take (independent group transfer vs. premium private transfer directly through hotel), you'll have varying amounts of time after check-in. We had a bit of time for swimming, and wandering around the resort before getting dinner on the beach at one of the nearby beach restaurants located to the left of the resort (you can't miss them).
Where we slept: Holiday Inn Resort Phi Phi
DAY 12: Koh Phi Phi – BEACH DAY/pool!/kayak
Today was our chill-out, relax at the pool and beach day, and I highly encourage you to spend at least one day during your two weeks in Thailand to truly do nothing. By this time in our trip we were utterly exhausted, and reveled in having this spare day to bask in the sun and go infinity pool hopping. If you're at a resort like ours (Holiday Inn Resort Phi Phi), you'll have enough to keep you busy for the full day.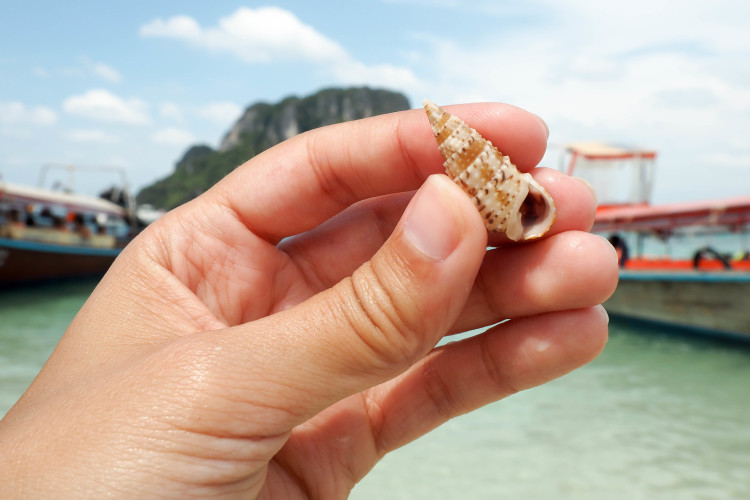 Today's also a good day to try out Chili and Pepper – our favorite restaurant in Koh Phi Phi. The restaurant is located in a converted tree house run by a local family, and has only 5 tables! All the food is cooked by the husband and brought out to you by the wife. And if you go at night you'll see their kids helping out! Everything we tried on the menu was absolutely delicious, and oh so fresh!
Where we slept: Holiday Inn Resort Phi Phi
DAY 13: Snorkeling Longtail Boat Trip
I definitely saved the best day trip for last on this Thailand itinerary, and it was one of our favorite days of our entire trip to Thailand!
You can either organize a trip around Phi Phi Leh through the hotel, or hire a longtail boat owner for a private tour of the area. Before dinner one night we stumbled upon longtail boat owner Juan, and instantly booked a six-hour tour with him for the following morning. He picked us up bright and early a few feet from our hotel, and whisked us away to other neighboring islands and bays for the best snorkel spots and towering limestone cliffs around.
We loved having the boat to ourselves and being able to decide how long we wanted in each stop. We cruised along Koh Phi Phi with a custom itinerary, and all the spots Juan helped us pick were even more impressive than the last!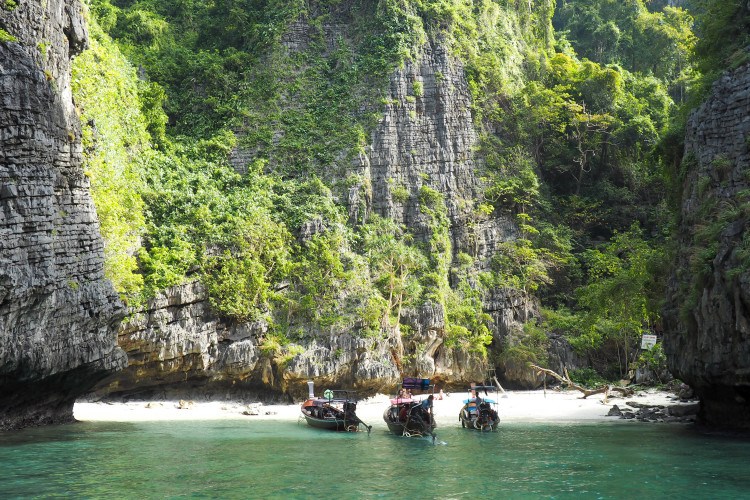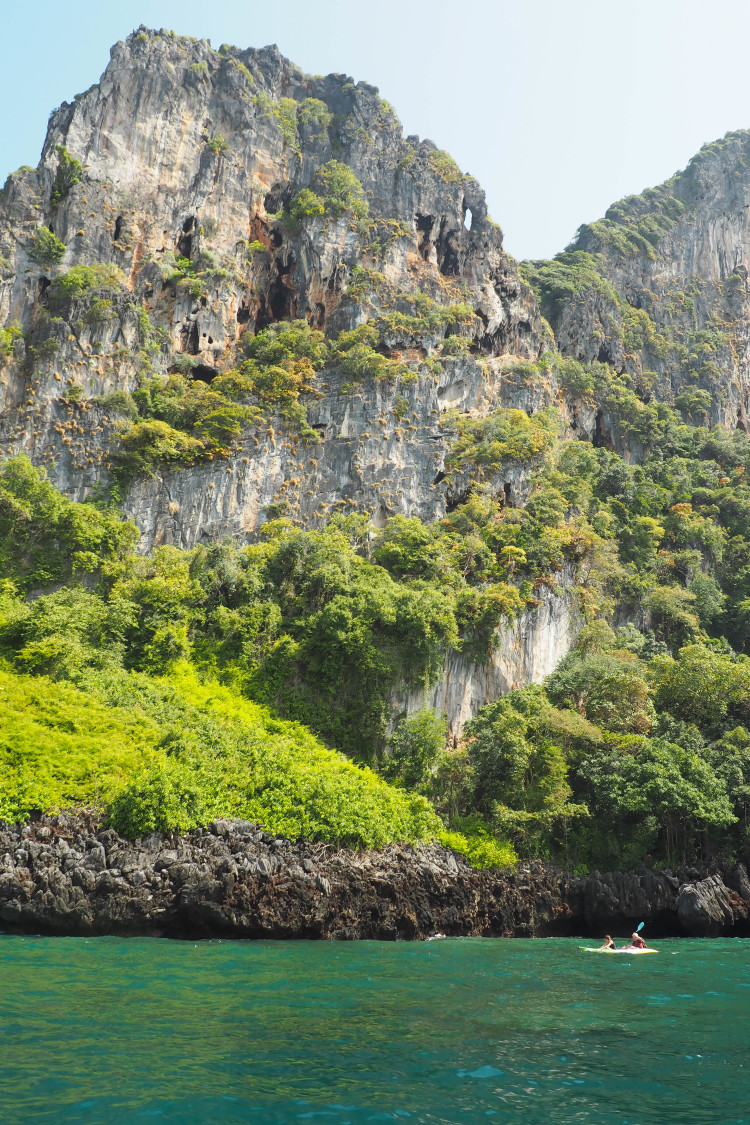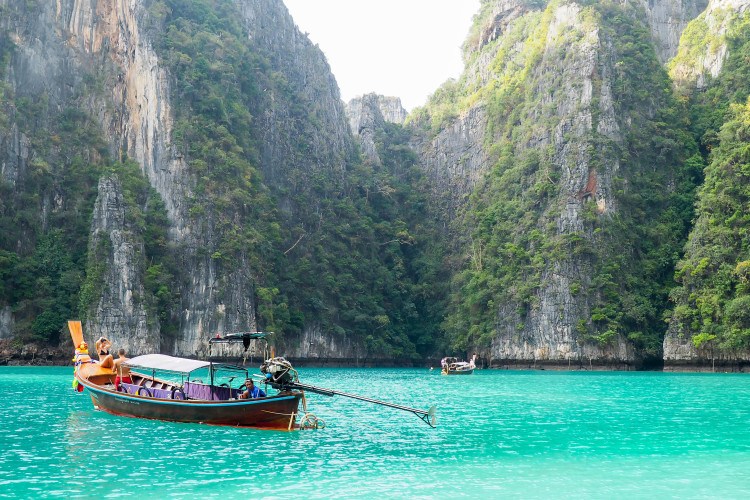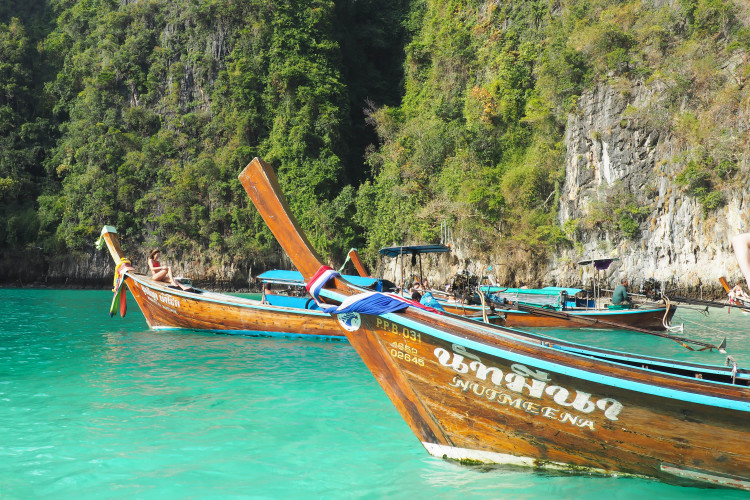 I saw some of the most impressive views of my life on that longtail boat with Juan, and it was by far some of the best snorkeling locations I've ever been to. And of course that was the day I decided to leave my GoPro in the hotel room – learn from my mistake and bring it! Highlights included Maya Bay snorkeling, Monkey Beach, Viking Cave, Pileh Lagoon (a must!), snacks on Tonsai, and snorkeling in Nui Bay.
Beware of the monkeys though, as they can bite! Be careful with your kiddos!
I highly recommend getting to Maya Bay around 8:30am or earlier, as most boats start coming at 9am. Note that most private longtail boat owners will provide you with life jackets and snorkels, but not fins, water, or snacks. A longtail boat hire for 6 hours should cost you between 1800-2400 baht, and we paid 2000 (~60 USD). You can bargain with the boat owners to find the best price.
Where we slept: Holiday Inn Resort Phi Phi
DAY 14: MAKE YOUR WAY BACK TO BANGKOK
If you've only got two weeks in Thailand, today's unfortunately your last day! You most likely booked round trip tickets from Bangkok, so you need to make sure to make your way back before your flight!
**We booked tickets home for the next morning to be on the safe side, but you could probably make a late night flight if you plan your transfer to Krabi and then flight back to Bangkok correctly. It did take us almost the whole day to get back to Bangkok, so I highly suggest you do the same.
Instead of getting a private boat back to Krabi directly through the Holiday Inn (like we had done to get there), we hired a longtail boat to take us back to Tonsai pier and then hopped on a midday ferry to Krabi. We then flew back to Bangkok at night and arrived at our hotel in Bangkok around 10pm.
I suspect we could have made it back to Bangkok should we had decided upon the private transfer, but we weren't in a rush since our flight back home to San Francisco wasn't until the next day.
Where we slept: Silver Palm Rama Hotel Bangkok
For our last night, we stayed at the Silver Palm Rama Hotel in Bangkok, and couldn't have picked a better spot. We picked this hotel partially due to it's close proximity to the airport, and the fact that we got a great deal on it (around $50 USD). The hotel had a wonderful pool area with a delicious breakfast spread for all it's guests (all complementary) and extra large rooms.
Day 15: FLY HOME!
Get your last pineapple juice and/or mango smoothie and head home! 🙁 Our flight was midday, so we didn't really have time to head out into the city, but if you've got a much later flight, head back into the city for any things you may have missed at the beginning of your trip, or just relax and lay by the pool to get your last hours of Thailand sun.
TRAVELING TO THAILAND SOON? Don't forget travel insurance! I'm a big fan of SafetyWing when traveling abroad. Be sure to protect yourself from possible injury and theft before it happens. Learn more and Sign up here.
Feel free to share this 14 day Thailand itinerary with a friend, and get started planning your trip!
HAVE YOU BEEN TO THE COUNTRY BEFORE?! WHAT THINGS ON YOUR THAILAND ITINERARY WERE YOUR FAVORITE?!