Do you have a travel dream of visiting 30 countries in 30 years? A 30 by 30 bucket list if you will? I just achieved that status! Come check out the countries I went in my first 30 years!
Phew! Goal achieved! 30 countries in 30 years!
Can't believe I can actually say that! Nor did I think I'd ever make it to 30 countries. In my life.
I wasn't always as travel obsessed as I am now. Sure, I highly enjoyed the occasional family vacation (usually to a warm place like the Caribbean..), but it wasn't until my mid-20's did my love for travel actually become an obsession.
Like, I can't NOT travel now. I just can't. It's part of my normal life.
Every break I have from work (and I'm lucky to work in a school and have a decent amount of holiday time), you can find me in a different country (or that's how I'd like it to be). Short three-day weekend? Road trip, here we go! Week off for Spring Break? Hello Asia! THREE months off for summer? Backpacking around Europe it is! No one to come with me? Oh well, I'll go alone!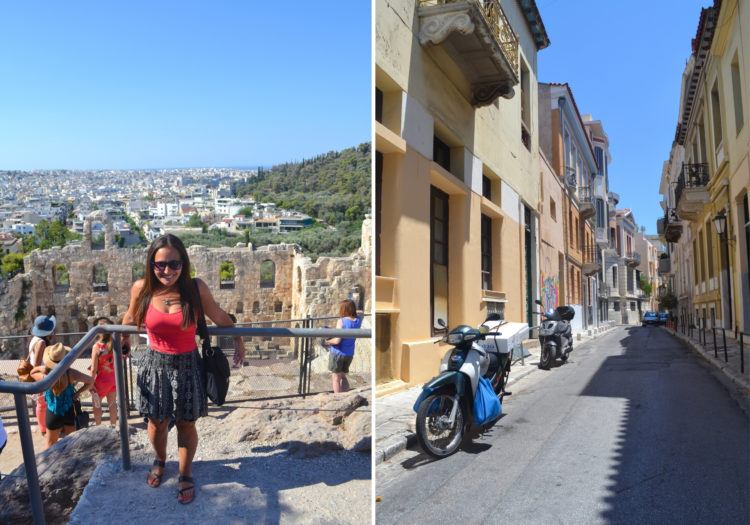 While I'd like to say I don't pick new travel experiences in order to cross more destinations off my (never-ending) list, I'd be lying. There, I said it. Nothing like being brutally honest on the internet, right?
Especially since it was my aim to achieve/visit 30 countries by the time I turned the dreaded 30. Although, I've heard 30 is the new 20, right? (Just amuse me and say yes…).
With that being said, I did it! I've visited 30 countries in 30 years! And I've still got my entire 30th year to add to that! Hoping to add in Japan, more of Croatia, more of Canada, another European country or two, and someplace epic next winter by the time I turn 31. And then maaaaaybe it'll be time to start thinking about real life… ha.
[EDIT: As you know, I turned 30; it's not so bad. And I jumped out of a plane to celebrate – more on that another time.] 😛
I visited some of these countries a while ago (some even 20 years ago), so it makes sense that I don't remember much from some. You're getting the main highlights from me. Photos help, but there's only so much they can do. Must be the start of old age…
Reality Check/Disclaimer: I actually started this behemoth of a blog post years ago, back when I had just turned the ripe old age of 29 (which I then thought was a ridiculously crazy-old age). Fast forward three years, and I finally forced myself to finish the post (boy were the pictures, um, shall we say, interesting to look at). I also dug up a lot of old stuff that brought back a ton of old memories, some of which I'd like to just completely erase from my brain, let alone post in public on the internet (Ohhh my early 20s, SMH).
I'm leaving all my original words from when I started this piece, and just adding text when a section was not yet completed. To say this post took me forever and a day to write is no understatement. I'm now well into my thirties (approaching 33, ack!), but I've decided to obviously only list the 30 countries I visited before turning the dreaded 3-0. See all the places I've been to since then, upping the country count to ~45!
Also, when I made this list, I expected a few (like the Virgin Islands, St Martin, and the Cayman Islands) to be countries. Now that I'm older and wiser, I learned that they are actually NOT separate countries, but territories of different nations.
I guess this post should technically be titled "28 countries by age 30", but there's absolutely no ring to that, so we'll keep the original uninformed title and blame it on my young, undeveloped mind.
My 30 Countries in 30 Years >> COMPLETED:
I've sorted this list in chronological order for some good fun…
1. Canada [1990's + multiple times after that]
>> Toronto | St. Johns | Halifax | Niagara Falls
Makes sense that Canada was my first international trip, as it's kinda right there! I honestly don't remember my official first time hopping the border as I was too young.
My first real Canadian memory was when my family and I took a Canadian Cruise back in 2008. We visited St. Johns and Halifax, and I remember my sister and I obsessing over moose and the fact that we had to wear sweatshirts in May (isn't it funny what our young brains choose to remember?).
During my college years, Canada was a much more frequent occurrence since I studied at SUNY Buffalo, a hop, skip, and jump away from Niagara on the Lake. Friends and I visited frequently to see the falls, drink legally, and gamble our little teenage hearts out.
Ah, the college years – I'll never forget the time we filled a bathtub with ice to keep our numerous liquor bottles cold. I've also been to Toronto once or twice (I honestly can't remember) to visit some family friends in the area, but am not entirely sure what we ended up doing. There's still SO much of Canada I want to see, and I'm hoping 2017 includes much more of my sister country up north (Banff/Vancouver/Quebec/Montreal to name a few…).

[2019 EDIT: 2017 was apparently the year of Canadian exploration for me! I checked off all those places on my Canada Bucket List list above, and added on Whistler as well! And in 2019? More time in my neighbor up north! I froze my freezing butt off in Banff, and then returned to the region for a road trip in Banff and Jasper!]
2. Barbados [late 90's or early 2000's // 2011]
Besides visiting Barbados on a day trip via cruise in 2011, I also took a family vacation to the island when I was much younger with my parents and younger sister. Those banana boat memories will never be forgotten, and I'd kill for a chance to see those photos now! *Must ask mom next time I'm in NYC.*
Thankfully on our next visit, I was old enough to sample the Rum Cake and appreciate the island for more than its beaches. We visited the capital city of Bridgetown, plenty of lookout points, and the oldest church on the island. Yeah, I think I'd go back to Barbados one day…
3. US Virgin Islands [early 2000s // 2011 // 2016]
>> St. Thomas | St. John
I consider myself extremely lucky that I grew up with parents who not only loved to cruise around the Caribbean, but let my sister and I tag along. Because of this, I've been to the Caribbean more times than I can count (thanks mom and dad!), and therefore my love of the (ever-so-beautiful turquoise Caribbean Sea) water is never-ending.
I learned how to snorkel in these clear blue waters, and it's since become one of my favorite activities whenever visiting a destination with sea life. We traveled to St. Thomas quite a few times together, and most recently, St. John, which I highly recommended as a day trip from St. Thomas whether you're visiting via cruise ship or not. Unremarkably beautiful. Don't miss Magen's Bay, a walk around the harbor, Sapphire Beach, and Charlotte Amalie.
4. Belize [2003, 2013]
>> Belize City | San Pedro
My first official visit to Belize was a doozy and one I hardly remember via cruise ship, hence being a young teen and therefore only interested in pool hopping on the boat and the unlimited ice cream on board. Our group had signed up for a tubing tour in Belize, and besides the bus breaking down, all I can remember was lots of brown muddy water, causing me to think Belize lacked the bright blue sandy beaches we were promised.
Thankfully, I was able to rediscover this little gem 10 years later after spontaneously booking a Christmas/New Year's Eve trip to San Pedro with some colleagues/girlfriends.
We treated ourselves to massages on the beach, drove around in golf carts (the primary mode of transport on the little island), drank too many coconuts and 2-for-1 specials at local beach bars, went cave tubing in the pouring rain (which just added to the level of excitement), watched chickens compete in the chicken drop (a local favorite), scrambled up Mayan ruins, and snorkeled in Belize's vast, turquoise reefs.
5. Cayman Islands [2005]
Ohhh… the stingrays! We visited Grand Cayman as another destination on a cruise, and took an excursion out to Stingray City. And yes, it's exactly as it sounds – tons of slimy stingrays swimming all around you! Since then, I've swam with stingrays in Belize and Tahiti as well, but back then, this was a pretty epic experience for me! Still need to dig up a photo or two from that trip!
6. England [2008 // 2016]
>> London
My first time across the pond to Europe really ignited my love for travel, when I visited my high-school best friend once she had completed her study-abroad program. We managed 4 countries and 6 cities during a short 2-week span, and while it felt extremely rushed, I'm grateful she did all the planning.
Let's just say my geography wasn't the greatest was absolutely despicable back then. As in, I didn't know if London was a city or a country… yes, embarrassing but true.
We managed a bunch of the main tourist sites throughout London, but considering how fast-paced it all was, I can't tell you what we did or saw.
I briefly visited London again this past year, but only managed to make it out of my hostel for a quick bite at a typical London pub (and I didn't even like fish and chips at the time, silly me). I think a return trip to England (and London in particular) is in the cards for the near future.
[2019 EDIT: I recently re-visited London on a quick solo jaunt to the city this past summer, and kinda sorta already wanna go back….]
7. Italy [2008 // 2016]
>> Rome (x2) | Amalfi Coast | Venice (x2) | Taormina, Sicily | Florence | Pisa | Lake Como | Verona | Paratico
Ah, Italy. One of my favorites. I'm grateful that I've gotten to see quite a bit of this country, with Rome being the first (and only) city I visited in 2008. And that's when my love affair with bucatini began. I remember it raining a whole bunch, but we made the best of it and wandered around with our umbrellas. Plus, we were in Italy!
This past summer, my whirlwind of a Europe trip (2 months solo), took me back to my beloved Rome with my husband (more pizza, fresh pasta, and gelato, please!), and a quite a few more cities/areas, including Venice (twice), Naples and the Amalfi Coast, Taormina (in Sicily), Florence, Pisa, Lake Como, Verona, and the cutest little town called Paratico.
I'd gush about each one, but I'm guessing you didn't expect a novel. Oh, how I'd love to be back in Italy, like tomorrow.
8. France [2008]
>> Paris | Cannes | Nice
It rained again during my (first and only – so far!) trip to Paris (can a sense a theme of my first Euro-trip back in 2008?). We did however, make it to a bunch of the city sights, and tried hard to not let the rain deter us from visiting (and loving!) this famous city.
The Eiffel at night is just spectacular you guys, no matter what the weather. We actually walked up the Eiffel Tower (it was cheaper than taking the elevator), and then walked up the Notre Dame the very next day. Hey, stairs = extra macarons and croissants, am I right?
We were lucky enough to be visiting at the exact time of the 2008 Cannes Film Festival, so we found ourselves in the midst of movie premiers, paparazzi, and the "Kung Fu Panda" red carpet event. I still have yet to see the movie though… whoops! Old Cannes was something for the books, and getting lost on those cobblestone streets lugging our bags to our hostel is a memory I'll unfortunately never forget.
[2019 EDIT: I spent a glorious few days re-visiting Paris in the summer of 2019, where I learned how to make macarons from a local chef, spent a ridiculous amount of hours listening to live music at the Trocadero, and ate enough chocolate croissants to feed a small army.]
9. Switzerland [2008 // 2016]
>> Geneva | Jungfrau | Lucerne | Interlaken | Wilderswil
The first time I ventured into Switzerland [Geneva] was simply for that high-school best friend to say that, yes, she had been to Switzerland (not that I was complaining the least bit). And yes, we made it, but it rained for our entire visit! It downright poured – we were drenched our entire 48 hours in the country.
Being poor college students, we had no money so attempted to do very-expensive-Geneva on a tight tight shoestring budget: staying at the cheapest hostel we could find, using our student cards for discounts at the Red Cross Museum, and walking around Lake Geneva in the pouring rain (hey, it was a free activity), with our one main splurge being huge vats of Gruyère cheese fondue. Boy, was that the best decision we made all weekend.
My second trip into Switzerland was much more enjoyable, as the skies were sunny and I actually had some money to blow. I spent a day riding the cogwheel train to the "Top of Europe", Jungfrau, which utterly blew me away (literally and figuratively, it was pretty windy at times)!
On the way up, we passed dozens of waterfalls, super charming little towns, and spectacular scenery. The views atop the mountain were unsurpassable, as was playing in the snow in the middle of June.
Other days were spent admiring the beautiful Lucerne, heading into Interlaken for a rainy dinner date with some special people (then running back to the hotel in the pouring rain), and staying in the absolute cutest town nearby called Wilderswil. Hows that for a name?
10. Vatican City [2008 // 2016]
Confession time: before I went to Rome I hadn't even realized that the Vatican was technically another country. It's square footage is so tiny, yet so utterly encompassing all at the same time. While I didn't have a run-in with the Pope, the buildings were truly fascinating as was the Sistine Chapel, of course.
Shh – I may or may not have snuck a few pictures in forbidden photo-taking spots… both times. Don't tell my mom.
11. Dominican Republic [2010]
>> Punta Cana
The DR was the first international trip my then-boyfriend-now-husband took together. We stayed at an all-inclusive in Punta Cana and didn't leave the resort, so while not getting the most cultural experience, we enjoyed the beach and the mamajuana (super strong!).
A few of the excursions seemed super appealing (like that one to "Starfish Island"), but the trip was a stretch financially back then, so we couldn't spend additional money on extra optionals. Next time! We did go parasailing above the beach though!
12. St. Kitts [2011 // 2016]
Another country "checked off" via cruise ship (multiple times), and although I've only spent a brief amount of time here, I feel like I've seen the best of the best of this tiny little island. Being so small at only 65 square miles in total, I feel like the few days spent will suffice for now.
We explored Brimstone Hill Fortress National Park, historic Romney Manor (once owned by ancestors of Thomas Jefferson!), and were greeted with the most magnificent view from Frigate Bay. Oh, and lots of more-than-marvelous family beach time, of course!
13. St. Lucia [2011]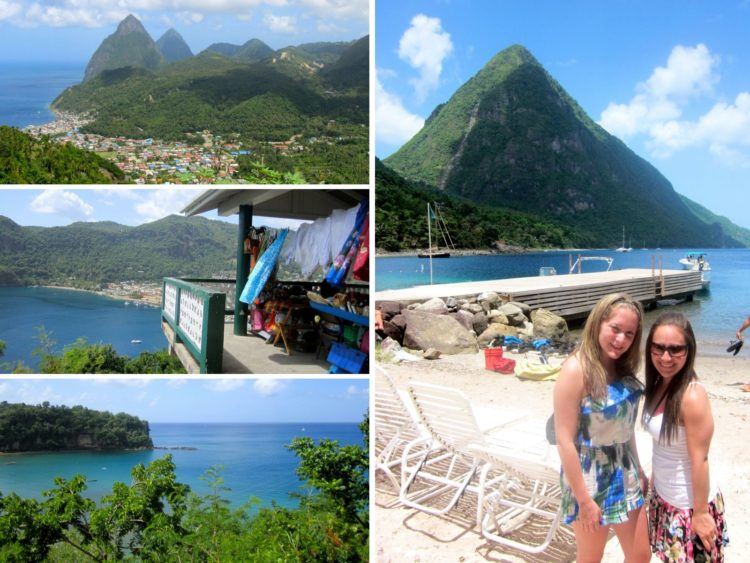 Of all the Caribbean islands I've seen (and if you haven't noticed I've been lucky to visit a whole bunch – again, thanks mom!), I think St. Lucia is the one that intrigues me the most.
Not only was the trip full of lush, green mountains (dubbed The Pitons), hidden white-sanded beaches only accessible by boat, and the most gracious hospitality, but we were able to pick our own bananas, taste traditional local foods (banana ketchup, anyone?), and marvel at the most amazing viewpoints. And plus, parts of St. Lucia were featured in Pirates of the Caribbean, so hello… best island out there. Period.
Those pitons are calling my name again and I'd LOVE to go back and bring my husband this time around. We actually haven't been back to the Caribbean -together- since our trip to the Dominican Republic in 2010!
14. St. Martin [2011]
Being the 7th island-nation on this list, it's apparent the Caribbean has a soft spot in my heart. While we didn't do anything too specific to St. Martin, I do remember a shit-ton of beach time, drinking a few Caribs, admiring the bay, and visiting an outdoor craft market. What a colorful place!
15. Israel [2011] – Birthright!
>> Jerusalem | Tel Aviv | Negev Desert | Dead Sea | Masada
My whirlwind of a trip to Israel was just that – new locations every single day, new foods to be tried at every meal, and new spaces and faces everywhere I turned. And I have Birthright Israel to thank for such an inspiring experience.
Birthright's an organization who sends Jewish young adults to Israel on a complimentary mini-tour of the country (in order to learn about our Jewish upbringing and life in Israel there today – as well as eat ALL the food).
A few of the experiences my group was able to partake in: swimming in the Dead Sea, riding camels in the Negev Desert (where I unfortunately fell off a donkey…), going rafting in the Jordan River, partaking in an eating frenzy in the traditional markets, experiencing the booming nightlife in Tel Aviv and Jerusalem, sleeping in a Bedouin tent and interacting with the locals, and spending ample time with soldiers our own ages in the Israeli Army. We also hiked up and down Mount Masada and watched the most beautiful sunrise at the top.
The Middle East is just so fascinating (unbeknownst to most), full of color and life and (delicious) FOOD — I've got to get myself back there and properly explore.
16. Greece [2012 Honeymoon // 2016]
>> Santorini | Mykonos | Crete | Athens | Hydra | Poros | Aegina | Delphi | Meteora
Ah, Greece. I'd go back every single year if I could. My first trip to the country was on a 2-week romantic island-hopping honeymoon to Santorini, Mykonos, and Crete, where we went sailing, hiked an active volcano, spent time at red-sanded, black-sanded, and white-sanded beaches, went scuba diving for the first time, explored the tiny cobblestone streets, and marveled at the blue-domed churches of quintessential Oia.
We also took an ATV around one of the islands (which almost didn't make it up a steep hill), had a frantic few hours trying to fill up our rental car in Crete after hours, and missed our original flight to Athens, therefore missing our one day in the city entirely.
Greece was a special spot on my Europe itinerary this past summer, as I visited quite a few new places, including Delphi, Meteora, and 3 new Greek Islands – Hydra, Poros, and Aegina. My husband came to meet me in Athens where we explored for a few days (where, unlike most, I loved everything about it), before setting off to our beloved Santorini again for a quick visit.
17. French Polynesia [2014]
>> Tahiti | Moorea | Bora Bora
Confession time: I have a napkin on my fridge with a few destinations in mind that I'd like to tick off before life really settles down. And while Bora Bora is most definitely on that list, I had originally thought we'd save it for our 5-year-anniversary (which just passed this past June #timedoesflymyfriends).
Little did I know all of my husbands airline miles and hotel points would come in handy so quickly, as we were jetting off to Tahiti and Bora Bora for our soon-after wedding anniversary (second honeymoon, anyone?!). All my Bora Bora money saving tips riiiight over here.
We visited Tahiti, Moorea, and Bora Bora, and the islands got even more spectacular as the trip went on. By far the clearest, most turquoise water I'll ever lay eyes on, and yes, we stayed in an over water bungalow each and every night, thanks to hotel points of course.
By day, we explored the beaches, went swimming with reef sharks, kayaked, snorkeled, rice ATVs up mountains and pineapple fields, and let ourselves be lazy. Come night, we marveled at the sunsets and got freaked out by the sharks and other creatures which swam right beneath our little bungalow. Yes, true story.
18. Guatemala [2015]
>> Antigua | Lake Atitlan | Chichicastenango | Guatemala City | Pacaya
Guatemala took me by surprise. Before heading south to this Central American country, I honestly had zero expectations. All I had previously heard was that Guatemala was as unsafe as they come and downright dirty – no place for a 20 something female to be headed.
Well, my friends, Guatemala turned out to be an absolute highlight of my year, as I quickly fell in love with this highly underrated country with the tourism board (perks of being a travel blogger). We hiked up an active volcano (and roasted marshmallows from its intense heat), explored the super colorful yet charming city of Antigua, played with local kids on black sand beaches, went sail fishing for fish larger than me (I caught one!), and ate more delicious food than I can remember. Did someone say horchata?
I think I want to come for a few months and brush up on my Spanish while taking a language immersion class- something to add to the bucket list!
19. Mexico [2015]
>> Cabo San Lucas | Playa del Carmen | Tulum | Chichen Itza | Cozumel
Despite Mexico being pretty darn close to the US, I hadn't made it to my neighbor down south until a few years ago, when I was 28.
For years (and I mean years!), my husband had this obsession of re-doing Vegas for his 30th birthday. He absolutely loved the weird, off-beat city on our first visit (don't know why, Vegas doesn't appeal to me so much), so when he claimed he'd rather go to Cabo to celebrate his 30th, I was all over that.
We lounged pool side for days with unlimited cocktails in hand, loving life at our adults-only all-inclusive. Snorkeling, sunsetting, and lots of (FREE!) sushi was how we spent the long weekend in Cabo.
Guess we didn't get Meh-hi-ko out of our system because we were back in another part of the country for winter break that same year. We based ourselves in the bustling Playa del Carmen, and took day trips to Tulum, Chitzen Itza, and Cozumel. We swam in cenotes, went down the lazy river at Xcaret, and ate more tacos than humanly possible. Yea, we had a good time I'd say (despite the rain on our one and only beach day!).
[2019 EDIT: Since turning 30, I spent a glorious few weeks eating my brains out in Mexico City, exploring the colorful streets of San Miguel de Allende, and day-tripping to Hierve al Agua in Oaxaca. I'm longing to go back to brush up on my Spanish and dive right back into life in CDMX. I think a return trip to Mexico is in store for 2020, perhaps for my birthday?!]
20. + 21. Aruba [2016] & Curacao [2016]
I told you my family loves cruising! Aruba and Curacao (yes, 2 separate countries) were other spots on our latest family vacation (along with the already visited ports of St. Kitts and St. Thomas).
All the islands are kinda becoming a blur to me now (despite visiting less than 5 years ago), but I remember strolling around Oranjestad, getting in some beach time at Eagle Beach, dining at the Bread Basket (ok, Foursquare told me that), and pretending to be a guest at the fancy schmancy Hyatt Regency Aruba Resort and Spa.
On Curacao, we visited a liqueur distillery (helloooo free samples of blue Curaçao), soaked up the baby blue waters of Mambo beach, and explored the Rif Fort. A fair share of gawking at all the colorful buildings in the port of course happened as well. Oh, and the sister and I got matching sunglasses that broke nearly a week later.
Those crystal clear turquoise waters and colorful umbrellas of the southern Caribbean keep calling my family's name. Maybe I can convince my parents to do a redo soon?
[2019 EDIT: It's still the closest I've been to South America. Should probably knock Colombia or another country down there off my list sometime soon…]
22. Montenegro [2016]
>> Kotor | Perast
Ohhhh, Montenegro. An absolute surprise of 2016. Out of all 30 countries visited by turning 30, this one was probably the least expected. Because I had never heard of it before :p
Sure, we only had one short day in this tiny town hidden by towering limestone cliffs, but we sure packed a lot in! To start off our morning, we hauled our bums up the 1,000+ stone steps to the top of the Kotor Fortress. Well worth it for those unparalleled views of Kotor Bay.
By the time we climbed back down, we had worked up an appetite, so a hearty lunch of bruschetta and mussels was in order and downright delicious. Plus, a gelato never hurt anyone; we had definitely earned it! So many cute kitties (as well as winding streets and squares) in the Old Town where we ate!
The afternoon was spent lazing on a boat headed to Perast and Our Lady of the Peace, two highly recommended (and downright beautiful) spots right off the coastline. I think we'll be back to Kotor, and Montenegro in general, in the future.
A few days would have been ideal, but there's always a next time!
23. Spain [2016]
>> Barcelona
We (husband and I) first visited Barcelona on the tail-end of a Mediterranean cruise (the one that went to Santorini, Kotor, Taormina (Sicily), Athens, and the Amalfi Coast).
I remember staring at too much Gaudi architecture, eating too many tapas, and walking up too many hills to catch a panoramic view of the city from the Bunkers del Carmel (well worth it though). We indulged our gluttonous selves in a few too many churros con chocolate (which we found at the airport as a last resort, haha), skipped the line at La Sagrada Familia (still not completed), and drank all the fresh fruit juice and tasty empanadas at Mercado de la Boqueria.
And to be completely honest? I just didn't "get" Barcelona the first time around. I thankfully revisited roughly a year later with my sister, and discovered my intense love for the city then.
[2019 EDIT: During my 30th year, I also visited Valencia, Sevilla, and Granada, but do I count that in this list of places I've been before 30? I'm really not sure. But hey, they were all wonderful and I'd love to visit again in the future.]
24. Slovenia [2016]
>> Lake Bled | Ljubljana | Postojna Caves
Lake Bled was a dream. An absolute dream. We roamed around the lake (stopping every .3 seconds for photos), took lots of photos of the friendly swans, befriended local fisherman, and took a row boat to the island in the middle of the lake for even more overwhelming views.
I also stopped in Ljubljana for a quick day, and remember checking out the castle, walking everywhere, and remarking on how clean the city really was. We chased dragons at the Dragon Bridge, walked along the river, and hid from the rain. Taking the funicular railway to Ljubljana Castle was definitely a highlight, despite the intense cloud cover impacting the views a bit (and blowing my hair in 23534634 directions- the photos are 500% hilarious).
Hmmmm, Postojna Caves. I honestly don't remember too much about it, besides taking a long-ish underground train ride into the caves and wandering around the stalagmites and other features of the fascinating subterranean paradise. And then the lights went off (yes, intentionally). It was as dark as possible – I'm talking like, I couldn't even see my fingers. Talk about a spooky experience in Slovenia.
25. Croatia [2016]
>> Pag Island | Zadar
Sunny, sunny Croatia. My time was spent with lazy days strolling around town, hitting up the beaches, mesmerizing at the moonlike landscape, searching for Pag cheese, and learning about lace (the little island's specialty). Oh, and getting kinda crazy at night at Zrce Beach.
Anyone looking for an epic, festival-ish experience, put Zrce Beach on your bucket list. It's absolutely wild in all the right ways – we face painted/stickered our faces, partied under the strobe lights, danced alongside the sweaty Croatians on the pebbly beach, and didn't make it home until after 4am. Yeah, I used to be a good time (haha).
We took a quick little day trip to Zadar (after literally running to make the only possible bus), and climbed the bell tower for tantalizing views over the city, listened to the natural music of the sea organ, and wandered the old town.
[2019 EDIT: Ohhh Croatia, how I miss you dearly, despite your cold showers and disgusting heat, humidity, and summer crowds. In 2018, I found myself back for a good 10 days of solo travel to explore much more of the country – Split, Plitvice Lakes, Krka National Park, Hvar, Dubrovnik, Elaphite Islands, and more.]
26. Germany [2016]
>> Munich | Berlin | Romantic Road | Rothenburg ob der Tauber | Neuschwanstein Castle | Dresden | Andechs
Germany was the kick-off country and final goodbye to my European Summer "backpacking" trip when I was 29. While the whole 10-week trip was quite a blur (learned the hard way that cramming too much in too little time is not always the best idea), I do have a few specific memories of Germany.
In Munich, there were schnitzels consumed (as well as sausages, giant pretzels, and German Burger King, of course), walks around the Karlsplatz and Marienplatz (which are just oh so fun to say), and gawking at the Nymphenburg Palace (also fun to say) and its surrounding gardens.
I found Berlin to be so incredibly hip and trendy (maybe too trendy for my basic butt), effortlessly cool, and oh so bad for the waistline. Besides for a day of rain, I fell in love with this chic city – getting history lessons about all things war at the Brandenburg Gate, Checkpoint Charlie, the Berlin Wall, the Holocost Memorial, and the Topography of Terror.
We wandered around Alexanderplatz, ate too much Amorino (those flower-shaped ice creams with limitless flavors) and currywurst/bratwurst. Oh, there was a little Primark action going on as well, because, ya know, Europe.
The Romantic Road, and the picturesque village Rothenburg ob der Tauber in particular, charmed my socks off with it's medieval old town. My time consisted of walking around the walled town, getting bombarded with Christmas everything (even in July!), and stuffing my face with fried balls of pie crust called schneeballen. It's quite literally a fairytale dream town (quite the theme during my time in Germany).
Schloss Neuschwanstein (I quickly learned schloss is castle in German) was a place I had been wanting to get to for a while, and seeing this fairytale come to life was absolutely incredible. Besides one of our group members getting in trouble for taking photos inside (a big, big no-no) and one of the main viewpoints being closed, it was still worth it to see the inspiration for so many Disney classics.
It's safe to say I'll be re-visiting Bavaria on future trips to Europe.
27. Austria [2016]
>> Innsbruck | Salzburg | Austrian Alps
Austria will always hold a special place in my heart, as it's where I met the most wonderful people. First up was Innsbruck, where I spent hours and hours just walking the little city (day and night), missing the funicular back down, sharing some ice creams, and picking out my new dream house in the middle of town (first choice was the one with the Golden Roof).
It was also there on the bus in Austria watching The Sound of Music that I realized that sweet, sweet song my mom sang to my sister and I growing up was actually not made up – but from that movie! Talk about chills! I had no idea.
Although I was super pumped up for paragliding, the whole experience was rather underwhelming (I'm allll about honesty over here). I thought running/jumping off the side of a mountain sounded kinda insane (…and it still does), but that was the only adrenaline rush I got during the whole activity.
Sure the views below were outstanding, as was floating in mid-air with just a harness, parachute, and 200 pound man attached to me. (Guess that's why I decided on skydiving as my next adrenaline-pumping activity).
And on those meadows in the alps with hardly anyone there (once we descended from the air of course)… we may or may not have taken our tops off. Sorry mom – it was just us girls! Afterwards, we literally ran through the meadows and sang our little Austrian hearts out.
Later on in the trip I took a lovely day trip to Salzburg and the Lakes District, admiring all the impeccably designed gardens in the Mirabellgarten, climbing up some streets for views of the city, and checking out all the pastel-colored architecture. Of course there was a torrential downpour just as soon as we started the boat tour on Wolfgangsee Lake (just my luck), but the mountains were still some of the best I've seen.
I have family roots in Austria (and Poland – adding that to the list right now) and would love to see where I come from – guess that means a return trip is in order!
28. Liechtenstein [2016]
>> Vaduz
Liechtenstein, one of the smallest countries in the world (and one I still cannot spell)! Coming from Austria and on the way to Switzerland, we stopped for lunch in Liechtenstein, a country I knew very little about (considering I had just heard its name a day or two prior).
But after seeing it's alpine landscapes and tiny villages from the bus window, I knew it'd be a place I fell for. Vaduz, the capital city we visited, excited me more than I realized. Unfortunately, we didn't have much time here.
But I couldn't complain about breakfast in Austria, lunch in Liechtenstein, and dinner in Switzerland: 3 meals in three different countries in just one day – something not many people can say they did, I reckon.
29. Czech Republic [2016]
>> Prague
Despite the rainy days (it always seems to rain when I'm in Europe…), we made the best use of our time by crossing the historic Charles Bridge numerous times, walking down Golden Lane (although missed out on all the houses because we didn't feel like paying up), meandering around Josefov (the Jewish quarter), checking out the graffiti on the Lennon Wall, watching the Astronomical Clock (which is still operating today!) in Old Town Square, and exploring Prague Castle.
My time in Prague wouldn't have been complete without a night out to Karlovy Lazne, one of the largest nightclubs in Europe spread over 5 floors (with different music on each one and crowded beyond belief), as well as some scrumptious bites of trdelnik.
I definitely want to re-visit Prague in better weather.
30. Netherlands [2016]
>> Amsterdam
We walked around the museum-plex, taking pictures at the iAmsterdam sign among 1,000s of other tourists, ate too many piping hot chocolate-covered stroopwafels, sampled too much cheese, took a stroll in Vondelpark, dodged about a million bikers, and watched a stunning sunset via canal cruise. We unfortunately didn't buy Anne Frank tickets ahead of time, so I missed out on visiting her house (something I definitely want to do in the future).
Although no coffee shops were involved, we did venture into a few sex shops, and there was that one night at a live sex show in the Red Light District. Let's just say watching people have sex a few feet away on stage isn't something I can pretend didn't happen to my eyes.
And yes, in true Jess fashion, I was too scared to go on a bike tour with my new-found friends, so just ate a bunch of things instead.
31. USA [born and raised]
And since we're technically counting countries here, I can't leave out the country I was born and raised, the good 'ol US of A. I've been lucky to live right by two of the most desired cities in the entire country (NYC and SF), and aim to make the most of that!
While I absolutely love visiting other countries and learning about the culture, eating their food, and marveling in all the scenic hot spots, there's nothing like getting to know your own country better. I've made it a personal goal to explore this vast space we call the good ol' US of A. Full post on that coming up soon eventually – be on the lookout for 30+ USA hot spots I've visited sometime before I turn 40 (ha!)
[2019 Update: Yeahhhh, this post will probably never happen, despite already having 2500+ words written on it. I'm the queen of half-started, never-completed blog posts. Whoops.]
Since turning 30, I've also visited Japan, explored WAY more of Canada and Mexico, lots more of Spain, experienced culture shock in Morocco, Portugal, Indonesia, took an epic road trip in Norway, spent a few days in St. Petersburg (Russia), sneaked in a quick visit to Stockholm, Copenhagen, and Helsinki, and traveled around Croatia, Bosnia, Thailand, and Taiwan.
I also managed to make it to Hong Kong, Singapore, Iceland, and Panama. Oh, and Hawaii and few times. 😉 I've certainly got lots to write about!
Is it one of your goals to visit 30 countries in 30 years? If so, where have you been so far and how many more countries do you need to check off?