Headed to Central America with your mask and fins and looking for the best snorkeling in Belize? Keep on reading, as I spent some time underneath the waters in San Pedro testing out the nearby snorkel spots!
Ever dream of swimming with sharks without getting your leg bitten off? What about swimming throughout schools of fish and watching a sea turtle glide gracefully throughout the water? Does snorkeling with a sting ray tickle your fancy?! Care to swim alongside a manatee (!!!) anyone? Well, my H2O lovers, snorkeling in Belize will be riiiight up your alley.
And such, Belize is the place to be. This post has got just what you're looking for – some of the best snorkeling in Belize, coming right up!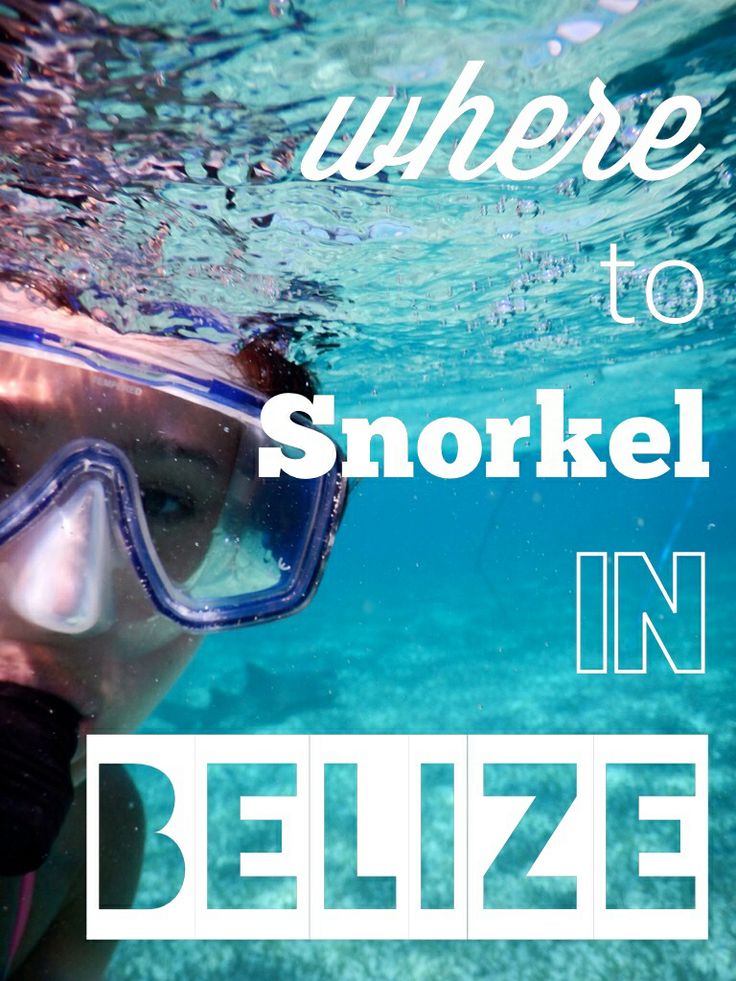 With a 185-mile barrier reef (only second in size to Australia's), the opportunity to see a vast array of sea life while snorkeling in Belize is pretty amazing. Pretty gosh-darn epic if you ask me. The options are basically endless when it comes to sticking your head below the surface.  
Many tour operators will lend you a mask and snorkel, but I highly suggest you bring your own.  These have excellent reviews and come in a wide array of colors.
All around the island of Ambergris Caye there is an abundance of sea life and colorful corals just waiting to be explored. The water is turquoise in color, and the best Belize snorkel spots are easily accessible by both half or whole day tours. Diving is also an option, although requires a PADI license.
But Belize took me by surprise.  It was a whole different experience. (And thus, this list of the best snorkeling in Belize spots was born).
And if you're wondering where to snorkel in San Pedro Belize, read on for lots of information!
Photography:
I get a lot of questions about what camera I use when snorkeling, and I currently use a GoPro Hero 4 and Nikon Coolpix AW120 (updated version (with wifi) here).  Refer to the end of this post for a few more snorkeling must-haves, or check out my travel store for even more personal recommendations. 🙂
Best Snorkeling in Belize: Top Spots
1. Hol Chan Marine Reserve
Hol Chan Marine Reserve is arguably one of the most impressive snorkeling spots in the entire world- and for good reason.  Therefore, the fact that it is considered the most popular snorkel site in Belize makes perfect sense.
Being so incredibly close to the town of San Pedro, just about 4 miles south (a short 15 minute boat ride), makes it easily accessible for a half day trip.  It was so easy (and downright impressive), that I came back the next day for some more underwater fun.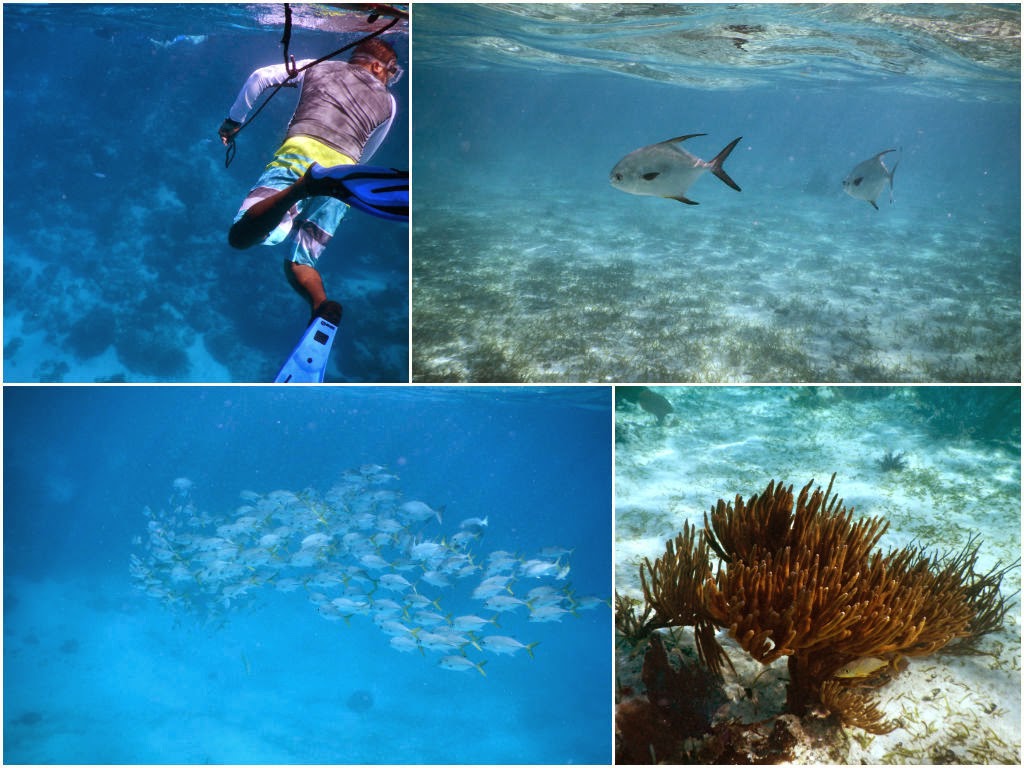 Hol Chan can actually be divided into four main zones or habitats: the coral reef, grass beds, mangroves, and shark-ray alley.  Within these zones, over 160 species of fish exist, as well as roughly 40 species of coral, 5 sponges, 8 algaes, and 2 seagrasses.  Oh, and 3 species of sea turtles >> my absolute favorite.
Occasionally, sightings of tarpon, Hammerhead sharks, and West Indian Manatee's are reported.  Let me know if you are one of the lucky ones to swim alongside a Hammerhead Manatee.
2. Shark-Ray Alley
It's no coincidence that the Sharks and Rays hang around one particular section of the reef.  In the past, local fisherman would often clean their catch in this area, thereby attracting Nurse Sharks and Southern Sting Rays.  When they noticed this, the fisherman notified the dive shops in San Pedro, which quickly made "Shark-Ray Alley" an extremely popular dive and snorkel site in Belize.
With excellent visibility, you can almost always see all species of fish (including jacks, groupers, snappers, parrot fish, angel fish, barracuda), but the main attraction will definitely be nurse sharks and sting rays for sure.
As soon as your boat arrives to the site, you will notice dark shadows nearby.  Hello sharks and rays!  
Nurse sharks average four to six feet in length, while the rays have a "wing-span" of two to four feet.  With numerous boats in the area each and every day, these animals have a great tolerance for humans and seem to enjoy this interaction.  Many will even swim right up to snorkelers!  Although not harmful in any way, it is best to keep a safe distance and not touch the animals.
This is a must-stop for any snorkeler wishing for a unique underwater experience.
3. Mexico Rocks
Located off the far northern tip of Ambergris Caye in the Belizean Barrier Reef (just a 20 minute ride from San Pedro), Mexico Rocks is a popular snorkeling destination.
Here, you will have the chance to admire giant Brain Corals, as well as a large collection of Star, Elk Horn Coral, and Staghorn Coral, with juvenile fish scurrying about.  Colorful sea fans, azure vase sponges, and butterfly fish add life to the area as well.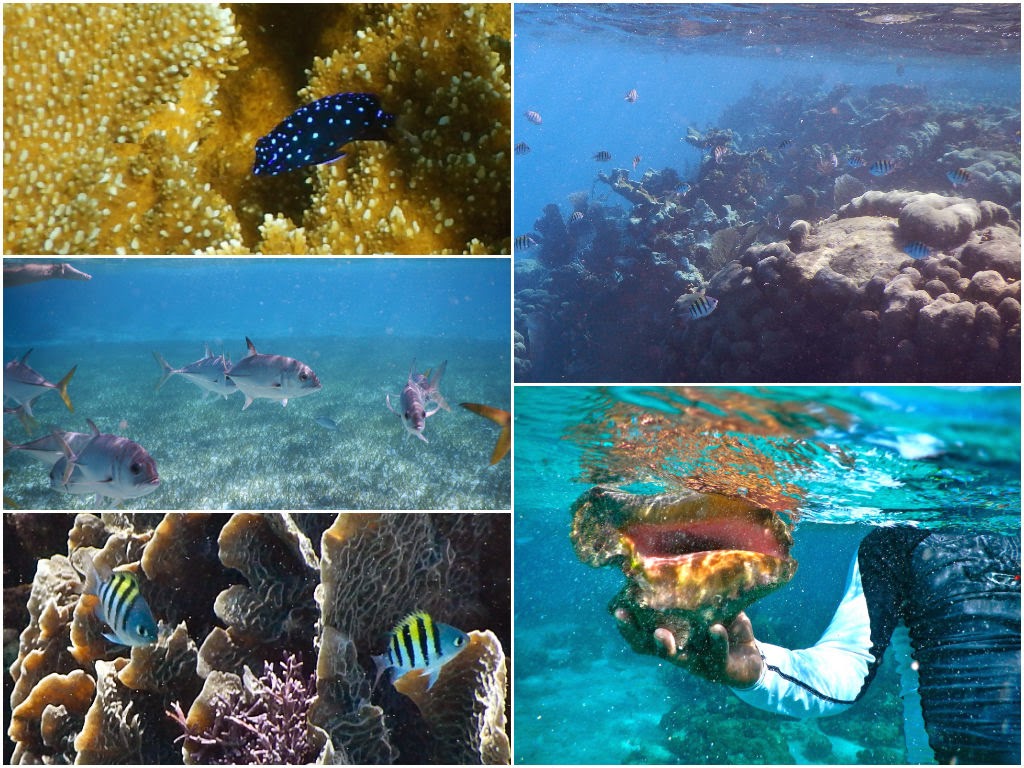 The area is also known for conch, banded shrimp, arrow crab, flounders, yellow tail snappers, and an assortment of angelfish.  It is also possible to see spiny lobsters and sting rays here (which is why I'm dubbing it one of the best Belize snorkeling spots you can find).
The underwater visibility at Mexico Rocks is pretty perfect, and makes for an excellent half-day snorkel adventure.
4. Goff's Caye
On our Manatee watch, our boat stopped at a pristine little island with beautiful, clear water.  Unfortunately, mother nature decided to do a little dance, and it downpoured for a majority of our tour.  However, once we ducked our heads below the surface, the rain didn't matter one bit.  Thankfully, we were still able to snorkel off the Caye's white sandy beaches among colorful coral and fish.
The snorkeling is great for those just getting used to the idea, although a professional is necessary to guide you to the right places around the small island.  The waters were rather shallow, which was great for my friends who have never snorkeled before.  After we held hands for a bit and she became comfortable, I was able to let go and explore on my own with the group (and take pictures)!
At Goff's Caye, there is an abundance of brain coral, every color fish you could imagine, sting rays, barracudas, and small (harmless) sharks hanging around.
The island is particularly small, and there is nothing much but sand and palm trees. There is a dock that the boat tied up to, and a small shack selling food and drinks. On a bright and sunny day, I bet it's absolutely surreal, an idyllic "deserted island". Maybe next time… just gives me an excuse to go back 😉
5. Coral Gardens
After snorkeling four times in Belize in just a few days, I still wanted more. Crazy, right? The marine life was out of this world, so I signed up for yet another half-day tour, this time to explore the Coral Gardens. This spot, located between Ambergris Caye and Caye Caulker, is a patch of reef whose main attraction is the beautiful colorful corals.
Although the fish life isn't as abundant as some of the other snorkel spots, I still saw the most gorgeous reef fish, including Parrot Fish, Hog Fish, and Fairy Bassets. Moray eels are frequently spotted here, as with the occasional nurse shark and lobster.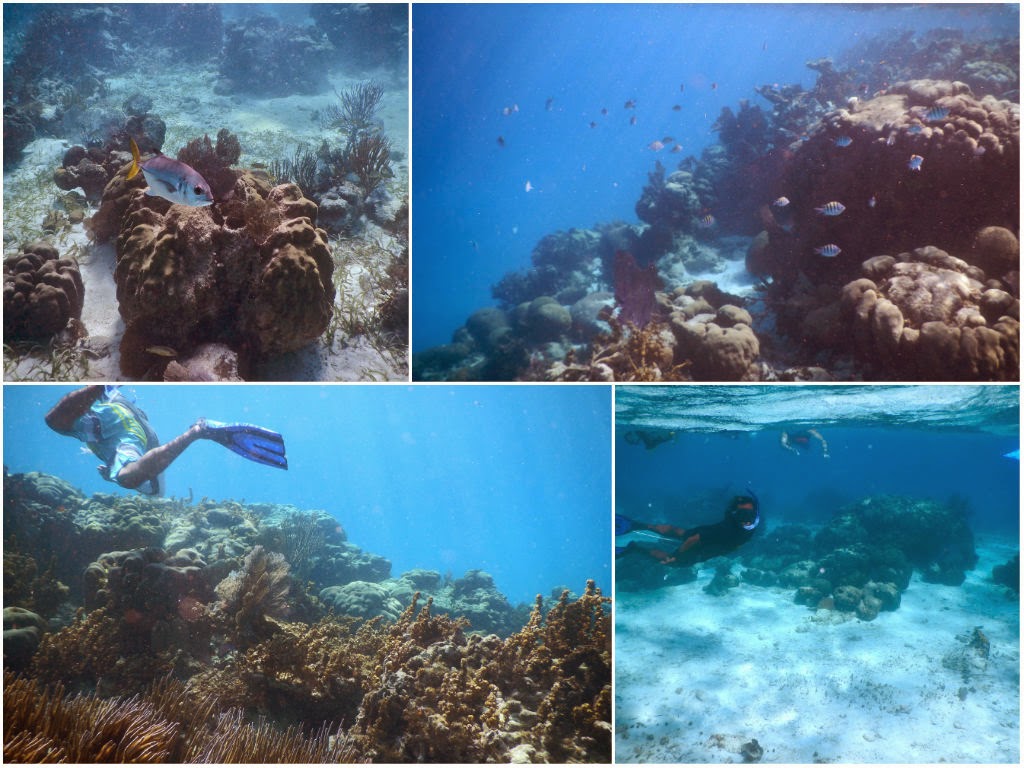 MUST-HAVES for an excellent snorkeling experience:
Have you been snorkeling in Belize before? Would you snorkel with sharks?!