San Pedro definitely wasn't love at first sight.  I despised the garbage along the beach, the seemingly looking "run-down" town, and the millions of no-see-ums/mosquitoes (the reason why I was so itchy all god-damn week).
But after my week or so there, I finally realized why Madonna dubbed this little island "La Isla Bonita".  Sure, the palms and beautiful blue skies were easy on the eyes, but the island called to me in a deeper way than any other, say like Maui or St. Lucia.
It was just different. Tons of character in every direction. The longer I stayed there the more I felt I was connecting with the island.  I had met so many people coming back year after year, bringing their families and small kids.  It finally made sense.
And when I sat down and actually thought about my newfound love with this tiny blip of land in the ocean, I discovered what my life is truly missing- the stress-free island life atmosphere.
And 23 reasons more:
1) The fact that you get old school soda bottles at almost every restaurant just brings a permanent smile to my face. A great way to recycle and reduce waste (instead of using plastic cups which will eventually either get thrown out or left on the beach) <– something that makes me completely furious inside! I love that the restaurants do this- way to conserve! Plus, its super fun feeling like you're back in the 80's for a hot second. Kind of funny that this was the first thing that came to mind while making this list…
2) Snorkeling with (harmless) nurse sharks and sting rays, a unique experience only available off the coasts of Belize, is only a 10-20 minute boat ride away. You may even witness some
sea turtles
hiding out along the grassy ocean bottom. An experience not to be missed! And definitely one of my favorite days!
3) The locals are friendly. EXTREMELY friendly. As are the expats who now live there. I have no idea how many hellos (and even more "hey shawty"'s) I got on my morning walks along the beach. The locals are very willing and eager to give out restaurant and food recommendations. We wouldn't have tried and loved Carambas if it weren't for some local chit-chat. And one thankfully told me that snorkeling in the blue hole is a waste, which thankfully saved me over $100 big ones!
4) The artwork in town is beyond gorgeous, as are the handmade bags and backpacks seen along the beach. Im still pretty pissed at myself for not investing in a small piece or two, especially since it was so readily available. Oh well :/ Guess I'll just have to go back!
5) The chicken drop. Enough said.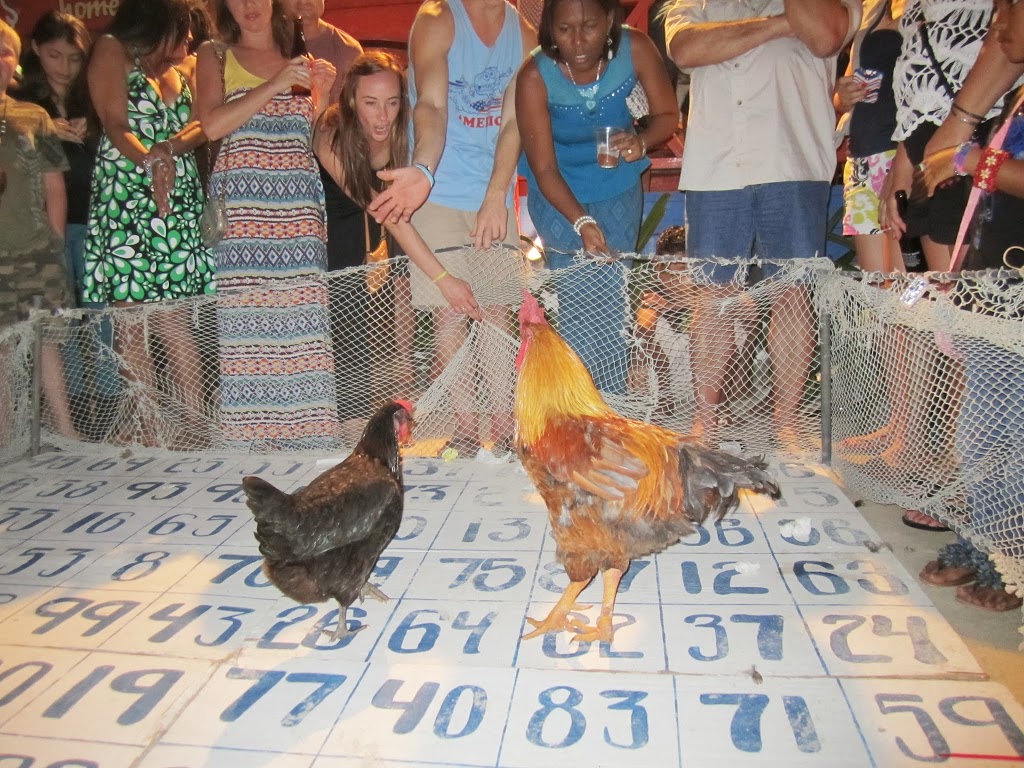 6) The easiest way to get around is by golf cart (or walking), which is easier and way more fun than it sounds. You'll see a ton of BMWs in San Pedro, basic men walking or on wheels. Haha- get it?!
7) The food. And a whole lot of it. A myriad of restaurants to choose from, from cheapy cheapy to what they consider five star. Plantain crusted calamari, breakfast burritos, and coconut curry galore. I could go for a strawberry mango smoothie right now. Oh and the artisan grilled cheeses. Drool.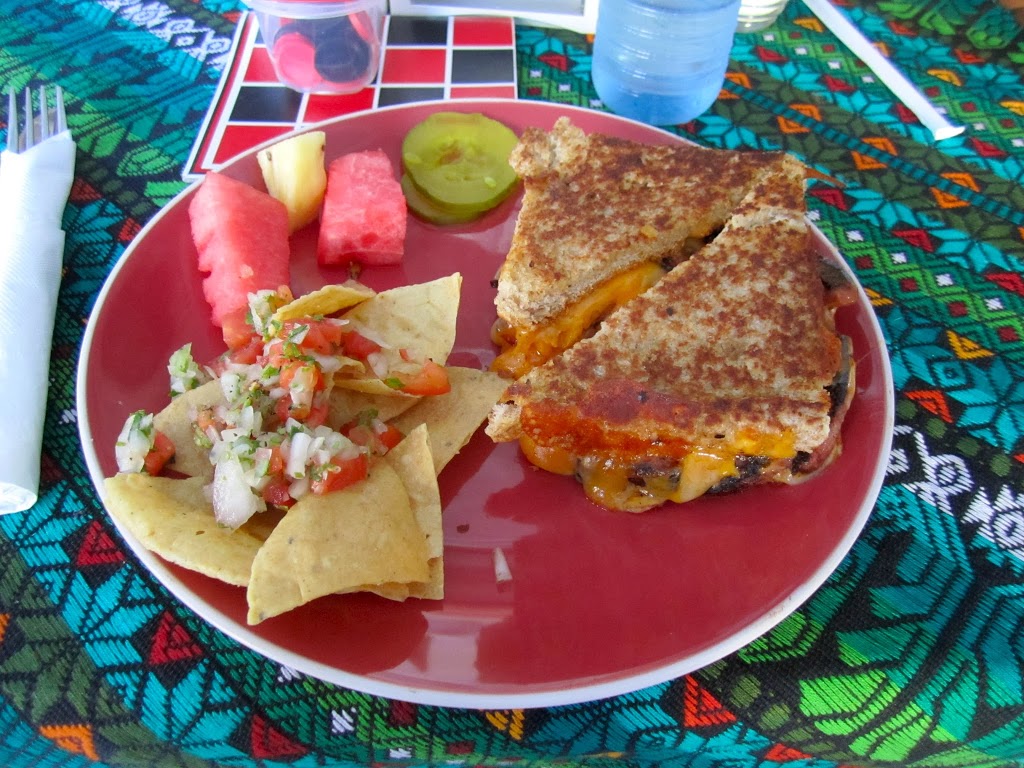 8) If you're in town, make sure you head to D and E's frozen custard, my absolute favorite on the island. Walk in and you'll see that people from around the world agree as well, by looking at all the drawings and holiday cards they receive. Try Mannelys as well, another ice cream shoppe, but I had heard too many good things about D and E's to even venture off.
9) Belikins, Lighthouses, and Panty Rippers. Cant go wrong with any of these staples on San Pedro.
10) The town isnt full of tourists alone. There's just something nice about walking alongside locals and their dogs (fully trained and very friendly btw!) and seeing local children laughing and playing in the town park. Definitely makes it seem a little more homey.
11) The beach isn't lined with all-inclusives and crazy stupid drunk spring breakers (I actually didn't see any high rises along the beach at all). There are however some beautiful resorts, such as The Phoenix, which I'll definitely be checking out next time I visit San Pedro. There is definitely a party scene here- you just have to know where to look.
12) High adventure activities, such as cave tubing and ziplining, are available on the mainland. We tried both, and i have to say that flying throughout the forest and floating down our tubes in complete blackness will surely get your blood pumping. Another favorite day of mine!
13) The average yearly temperature is between 75-80 degrees F. Cant complain about that. The sun's calling my name right now.
14) Hol Chan, the world's second largest barrier reef is only minutes away (colorful corals, schools of fish, graceful sea turtles, and friendly sharks galore). I even saw a pufferfish here! Being that snorkeling is one of my ABSOLUTE favorite things to do (like, EVER), the ability to see so much in such a short period of time was astonishing. I could have stayed in that 80 degree water all week just exploring and discovering new fish to swim along with.
15) Madonna's lyrics describing San Pedro as"la isla bonita" sure are true. The palms line the shore, the drinks are overflowing, and the fresh fish is outstanding (from what others tell me- as Im not a big fish eater myself)
16) Head to the mainland, a quick 15 minute flight from San Pedro, and theres a whole slew of Mayan Ruins to check out and explore. Fascinating sights, with a few of the smaller options on Ambergis Caye itself.
17) Two words: Manatee sightings!!!!!!! Although we didnt see any 🙁 it must have been a unlucky day for us. But it's possible to get up close and personal with these beauties sea cows.
18) (Fairly) cheap deep tissue massages on the water. Like literally right above the water. Book at Ocean Essence Day Spa and lay on the massage table with the wind on your back, waves crashing just a few feet away, and the ocean right beneath you. It was a perfect way to spend Christmas.
19) The flight to the island is like an adventure in and of itself. Flying over the barrier reef in the tiniest plane I've ever been on (they even arrange people based on weight) was a great time. All 4 times we did it. Its even possible to spot manatees from this high up!
20) I ate fresh coconut "meat" and sipped coconut water (with rum, of course) all week like it was no big deal. The flesh inside the skin of the coconut is so tangy yet so sweet at the same time. My new favorite! Thanks Leo!
21) And with that being said, Leo deserves a whole bullet to himself. This man, originally from the island, has crafted the skill of shimmying himself up palm trees to get locals and tourists the freshest of fresh coconuts in a matter of minutes. Talk about "farm" (or beach in this case) to mouth!
22) The clear night skies with hardly any light pollution. I swear I saw more stars than I ever have before. I think I may have even spotted a shooting star out there on the beach one night. A mesmerizing experience. Something that I've only seen in Israel before.
23) And lastly, the (super) relaxing atmosphere. Definitely beats my extremely fast-paced life back in NYC. We all need some rejuvenation at some point.  Especially after waking up at 5am every morning for work!
San Pedro's charm took me by surprise. I wasn't expecting to develop such a deep connection to a place I had not even heard of just a few short months back.
Have I convinced you enough to go?!  
Has a place ever taken you by surprise?!
Did you enjoy this post? If so, please consider sharing on Facebook, Twitter, or via Email. Also, I'd love to keep sending you updates about my adventures around the world, so please subscribe to A Passion and A Passport via RSS or by email!